The Redwoods are a combination of Redwood National and State Parks that spread all up the northern coast of California. This means there is a good amount of ground to cover and a lot of cool things to do in Redwood National Park. Below we explain more about how the parks are setup and the things you don't want to miss.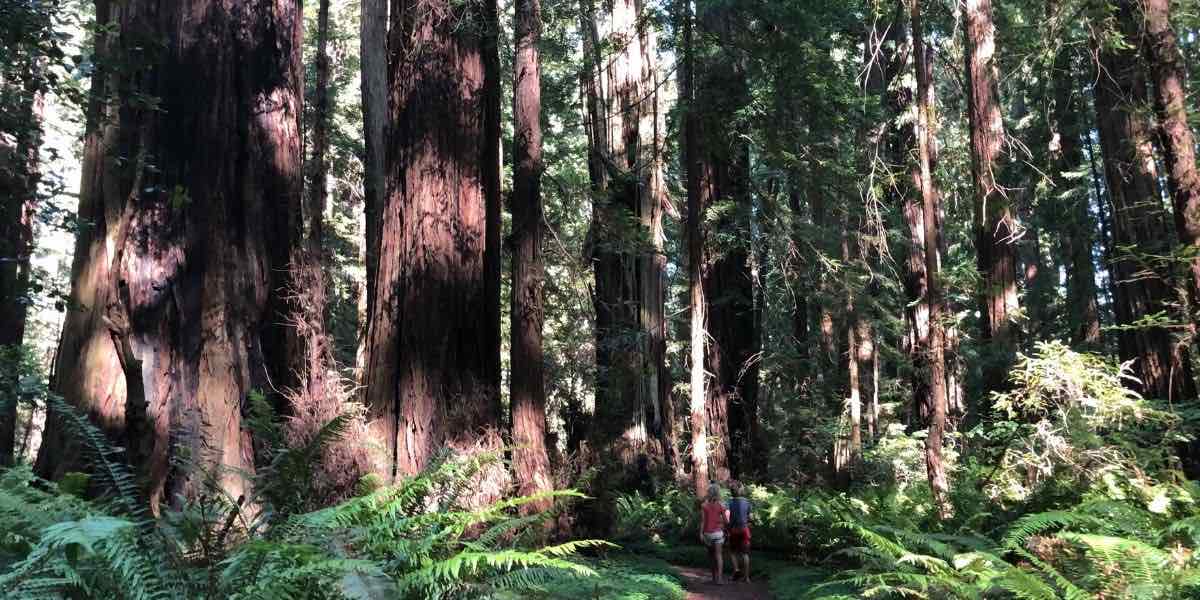 The official Redwoods National Park consists of 4 parks: Redwood National Park, Del Norte Coast Redwoods State Park, Jedediah Smith Redwoods State Park and Prairie Creek Redwoods State Park. But beyond that you have even more Redwood State Parks.
I am not sure how they picked which state parks to put with the national park but needless to say there are a LOT of Redwood parks to visit and some amazing hiking trails!
Here are our recommendations on how to visit the majestic Redwoods. Take note that all of this covers 100's of miles so you can't really do it all in one day. We will start from the south end of the park and work our way up.
Map of the Redwoods National Park
I know I find it helpful to have a Map so wanted to share the picture of the Map they give you at the visitor center.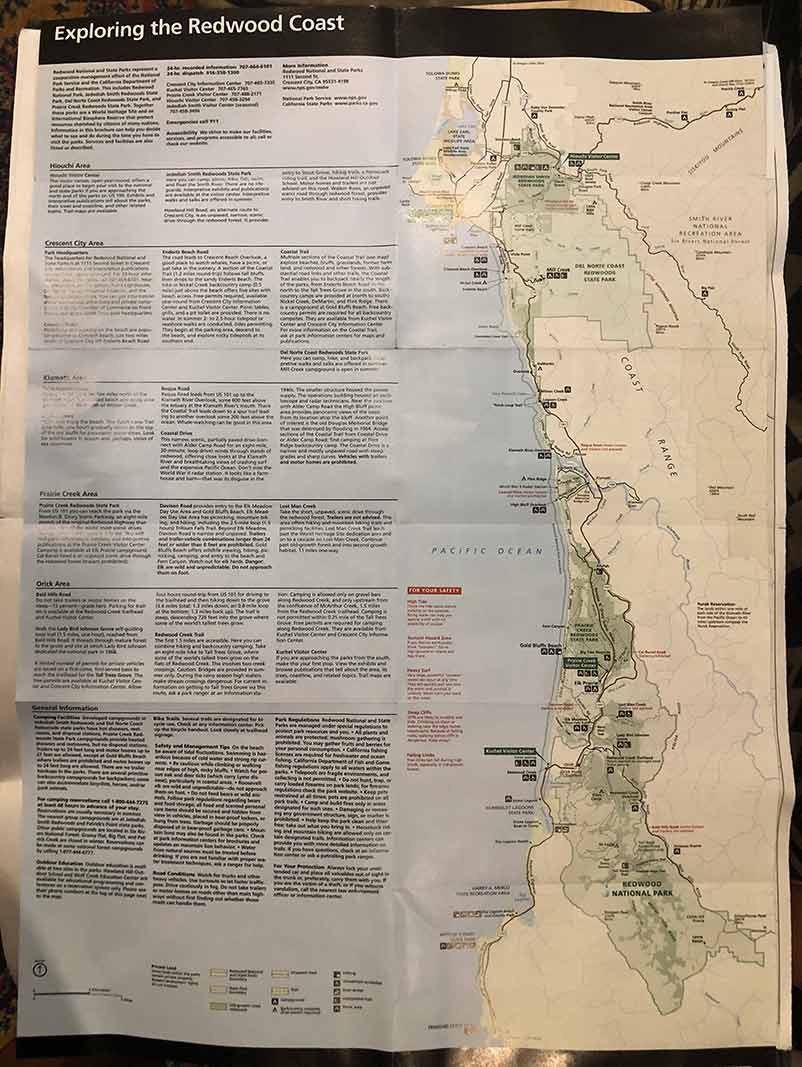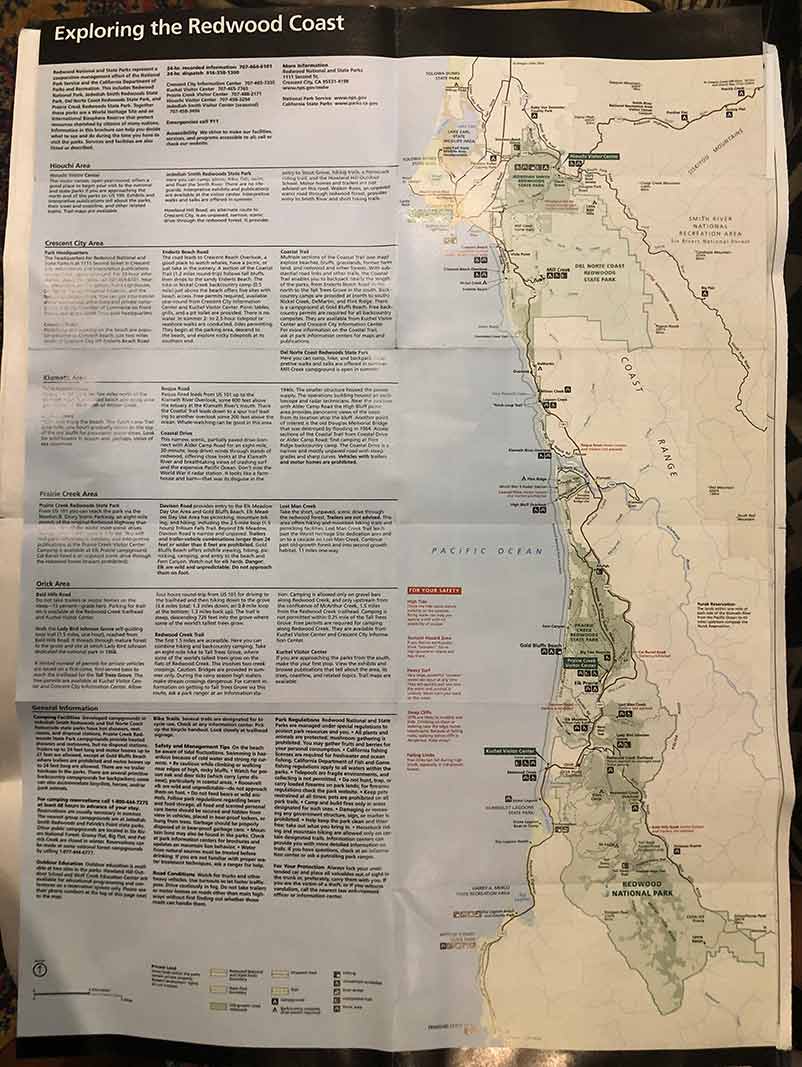 How Long To Explore
In our opinion you only need 2 days to explore the Redwoods National Parks and then 1 day to explore the State Parks we mention below. Of course, you could stay longer and do more but the scenery doesn't change that much :). Everything listed below could easily be done in 3 nights/4 days.
Interactive map of the area:
Redwood State Parks
Grizzly Creek Redwoods State Park
When we were in Ferndale we found a pamphlet that recommended this park and hike and we are so glad we did it! It was about a 30 minute drive from Ferndale to get there but it was a beautiful drive.
When we got to the trail we were the only people there! It was magical having a whole Redwoods forest to ourselves.
Cheatham Grove hike
It was a short 1/2 mile loop trail that took us through the massive Redwoods. It was a nice level and easy hike. The parking lot area is small but assuming you can get a parking spot (we didn't have any problems) it is well worth a stop. This is one of many great trails in Redwood National Park.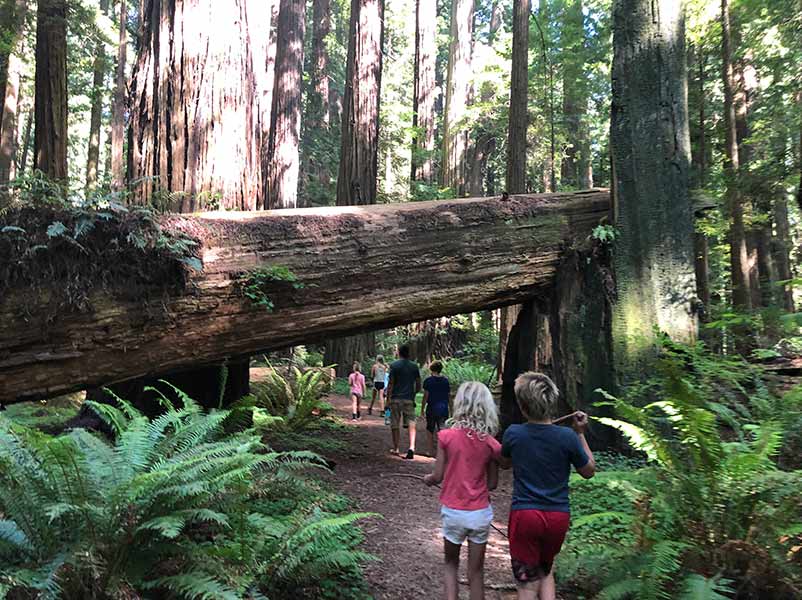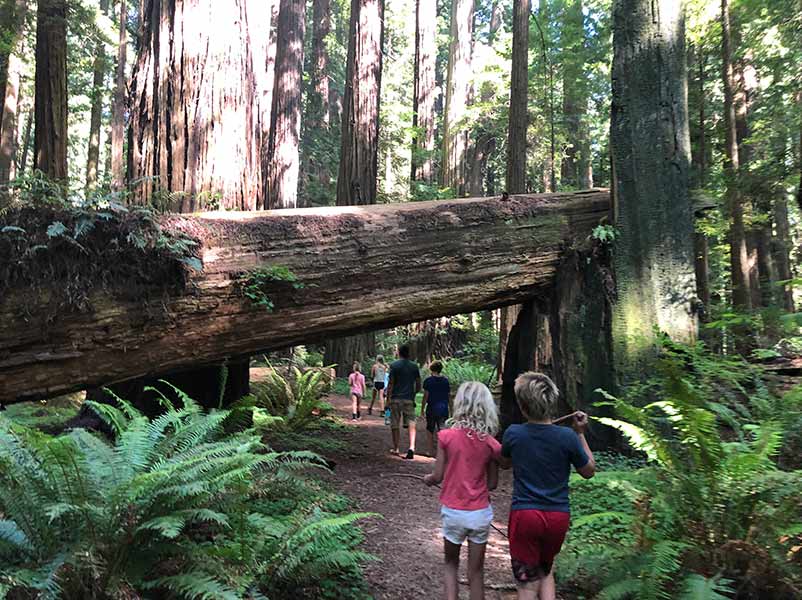 This is a well known State Park in the area but isn't part of the official National Park state park list. Again I have no idea why. There are lots of great trails to explore here and nothing is too strenuous so kids should be totally fine.
Visitor Center
The Visitor Center is a great first stop. They have a small museum inside and people there to help you with recommendations on what to do in the area along with a great information center with maps that you can pick up. It is worth making a stop here to learn more about the Redwoods.
Nature Trail by the Visitor Center
This is a short trail that heads out right across the street from the Visitor Center and is a nice and easy stroll through the huge Redwoods along with getting to see multiple Redwoods that have fallen. Their roots are amazing to look at!
Founders Grove Trail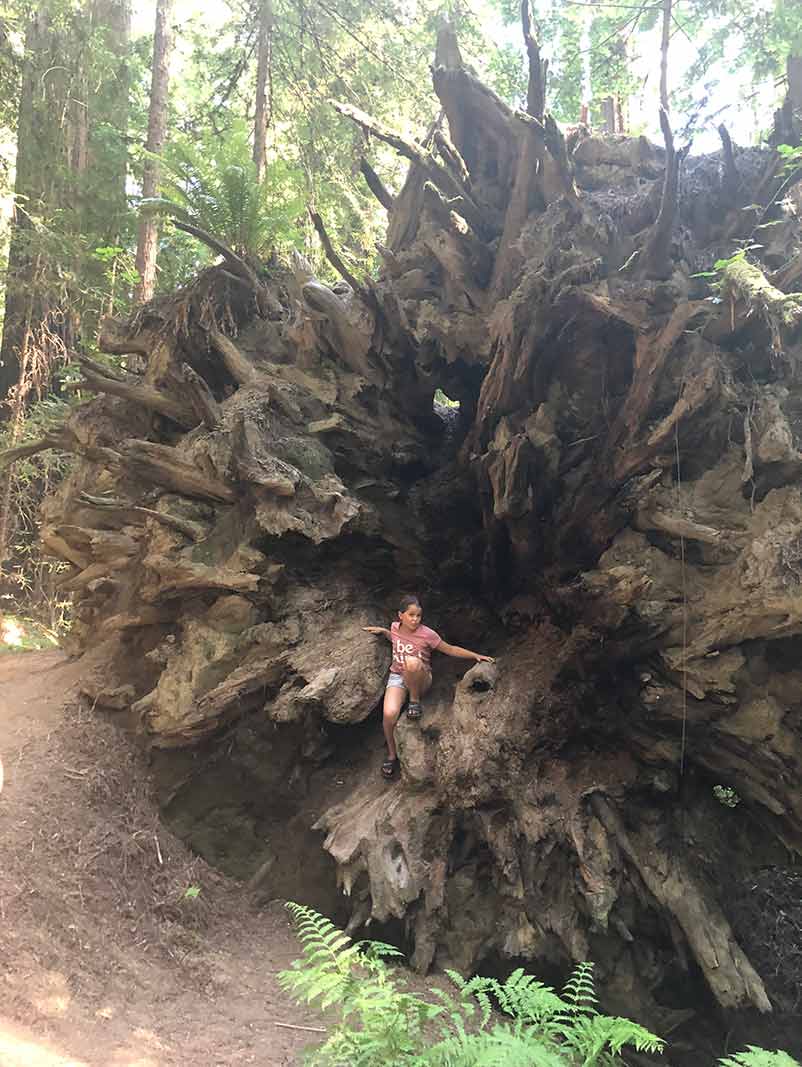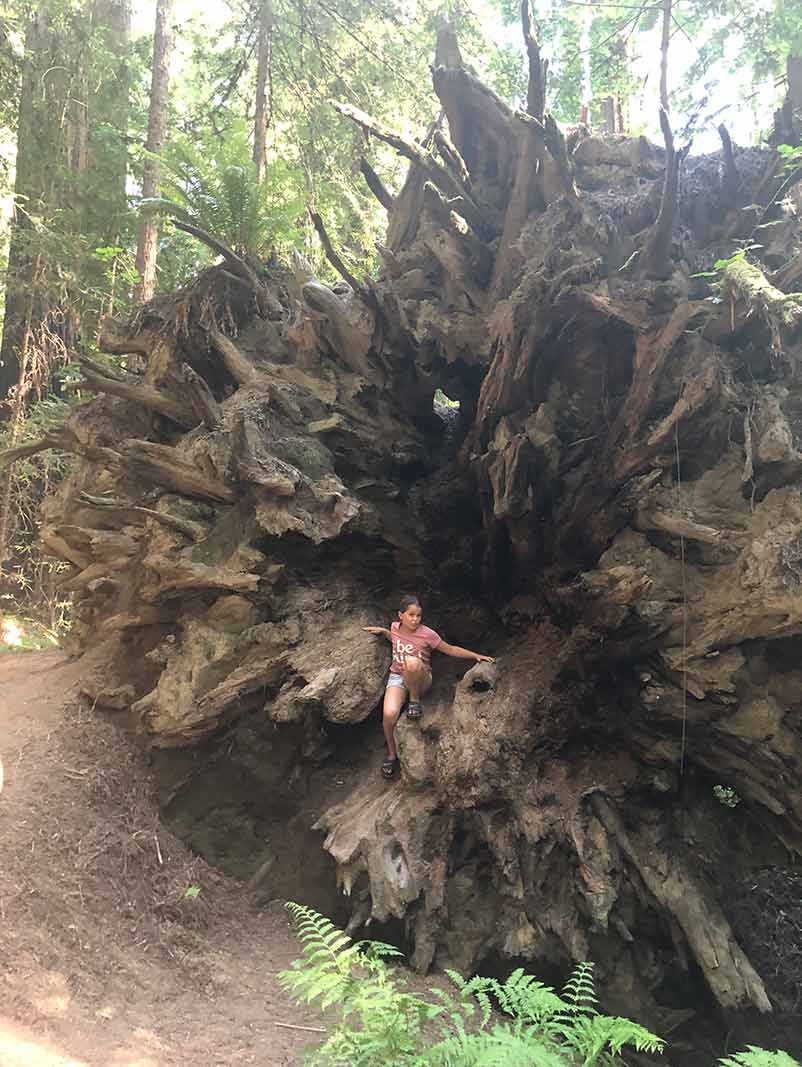 This was a beautiful trail through huge Redwoods. When a tree falls across the trail they cut an opening in the middle of it so you can walk right through it. And I think seeing the roots of the fallen trees impresses me more than anything.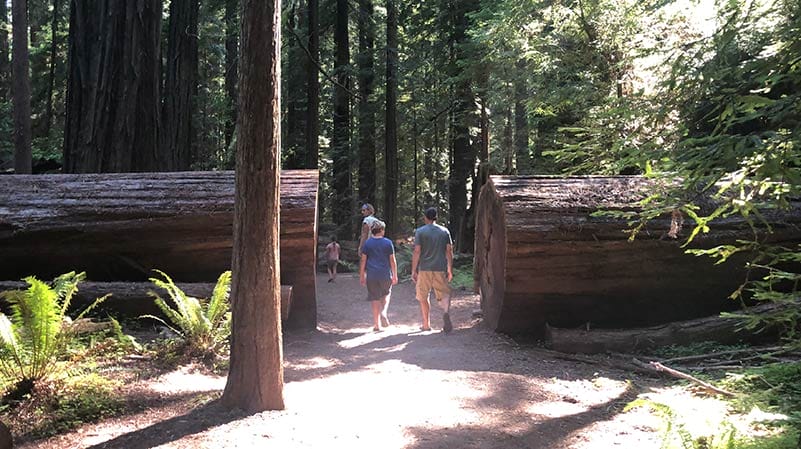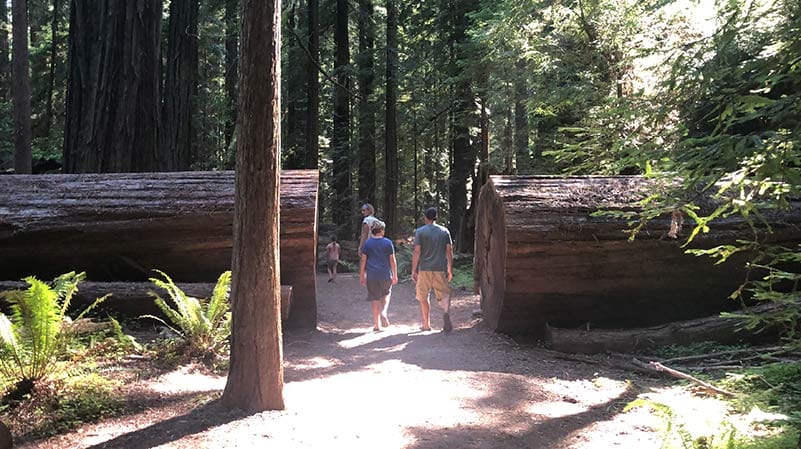 These trees really are unbelievable!
We stopped at the Founders tree and with our friends from yTravelBlog the 10 of us hugged the tree!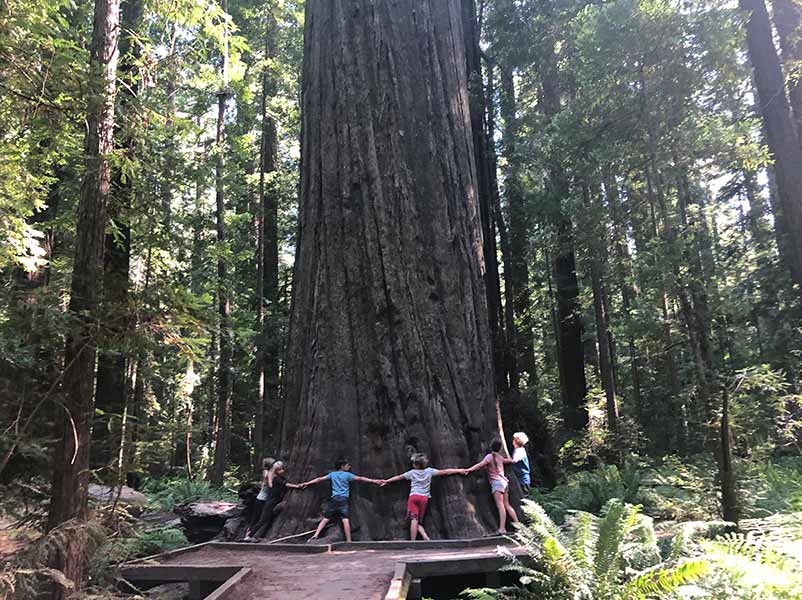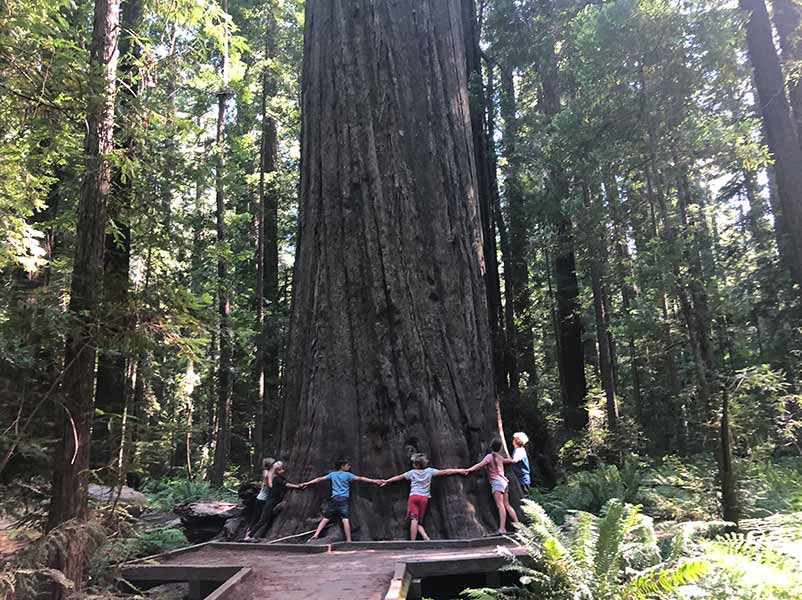 Big Tree Grove
This was a recommended trail by the Visitor Center team and it is where there are 2 marked trees that are supposedly the largest Redwoods (1 is still standing, the other fell over!). Locals would disagree and just say they are the largest that have been measured on record but really there are a lot bigger ones further out into the wilderness that have not been measured yet.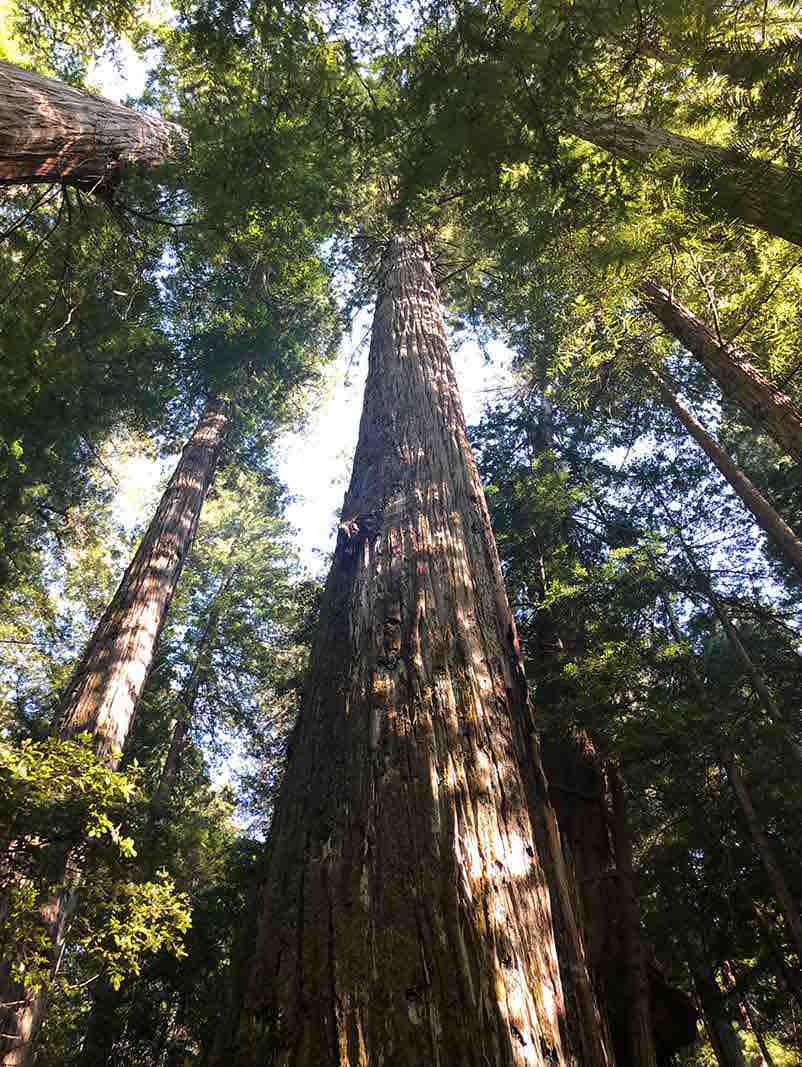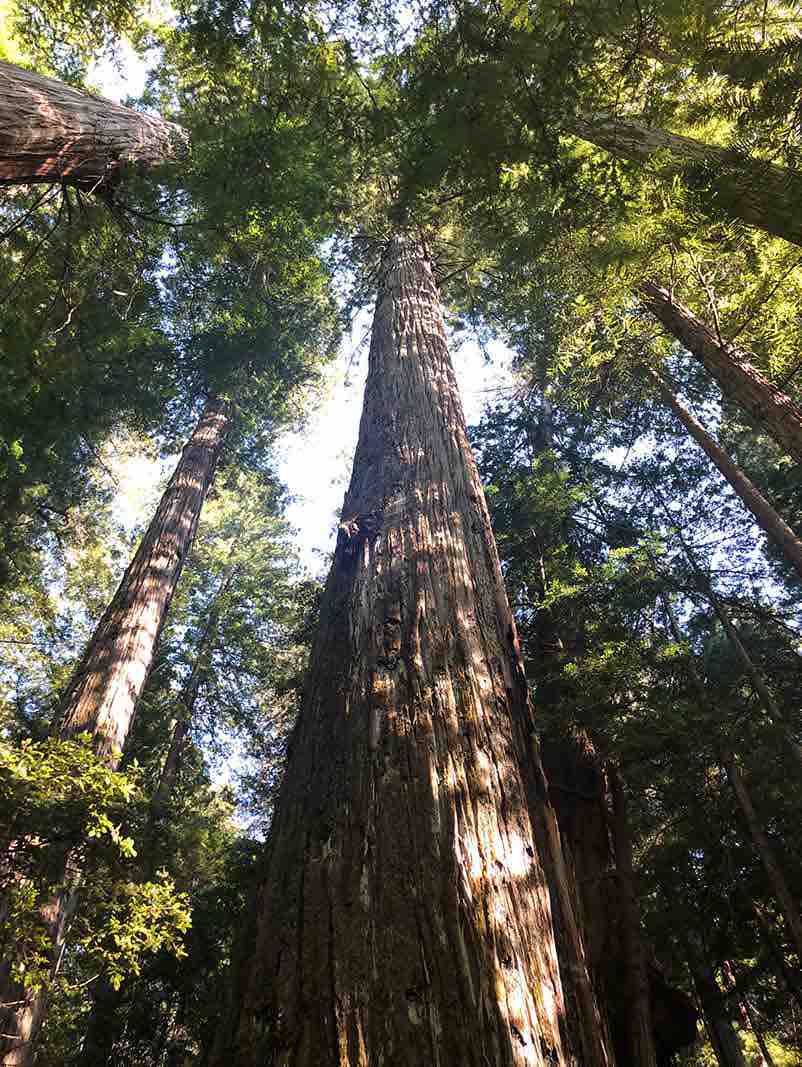 No matter what, they are amazing to see! You can park and take a short walk to both of the big trees. Or you can decide to do the loop trail.
The Giant Tree is 363 feet tall and 53.2 feet around and it looks as big as that sounds!
Avenue Of The Giants
The beautiful Avenue Of The Giants drive takes you on a nice paved road through the Redwoods. This one you could do with your RV or trailer and may have to if you are staying at the Humboldt Redwoods State Park campground (one of our all time favorites).
There are multiple stops you can make along the Avenue of the Giants road. We didn't do a lot of them since our van was too tall with our box on top to fit through the trees and we weren't there long enough to check out the Trees of Mystery. Here is a map of the area: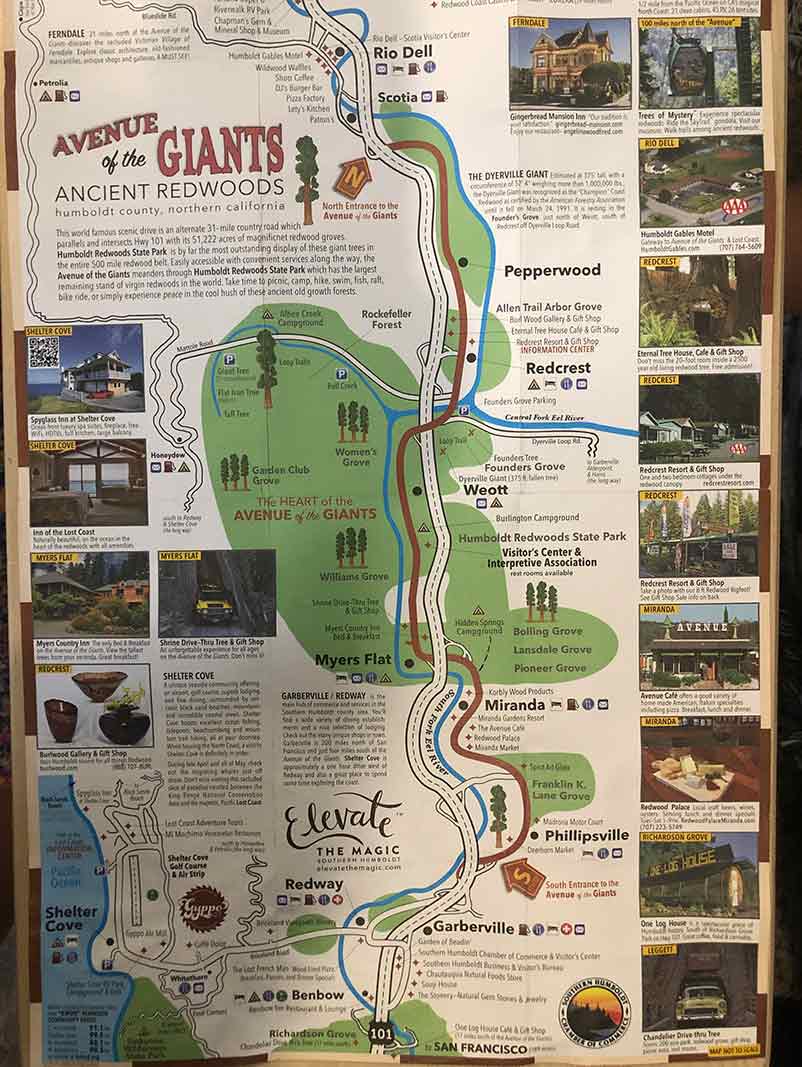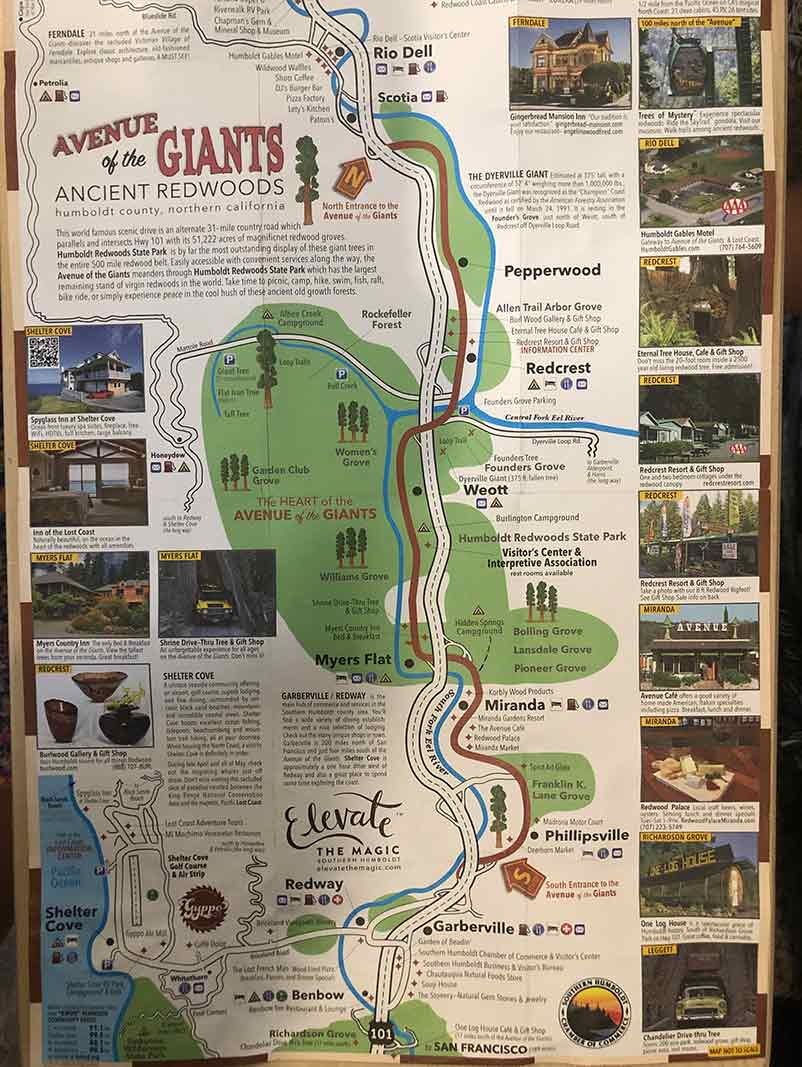 Cities In The Area
Arcata
When we came through here last year we stayed in Eureka but spent most of our time in Arcata. It has a really cute downtown square area with some fun stores!
Eureka
We stayed at a KOA in Eureka. We didn't spend much time in Eureka but if you stop here be sure to check out the Humboldt Cider House for a flight of cider!
Loletta
It is worth taking a drive here to eat at Queso Kings inside of the Loletta Cheese Factory. You can also stop in the store at the cheese factory and sample a bunch of different cheeses!
Ferndale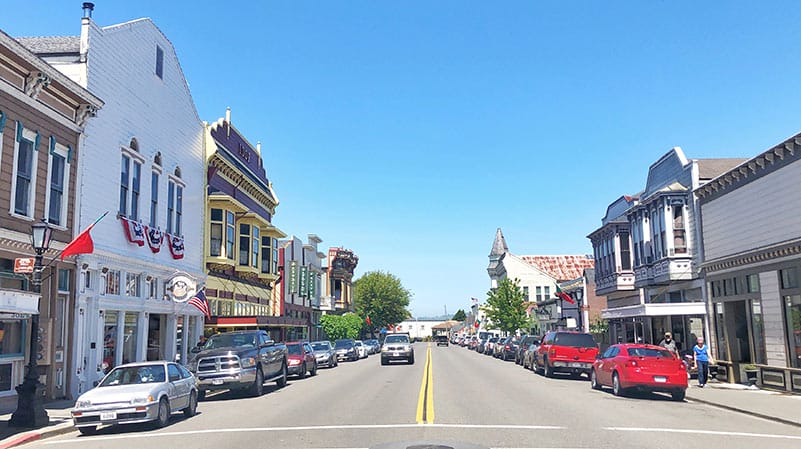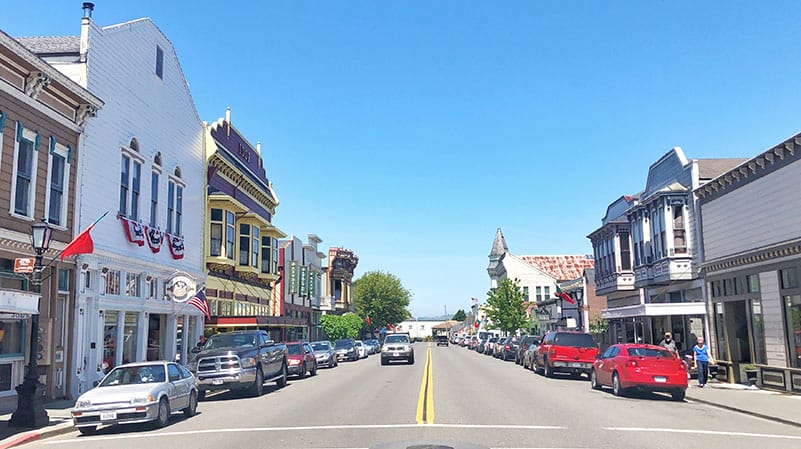 Ferndale is an adorable town! If you walk through downtown you feel like you are transported back in time. The shops were awesome. They even have a real blacksmith shop – I wanted to buy so many things there!
Lost Coast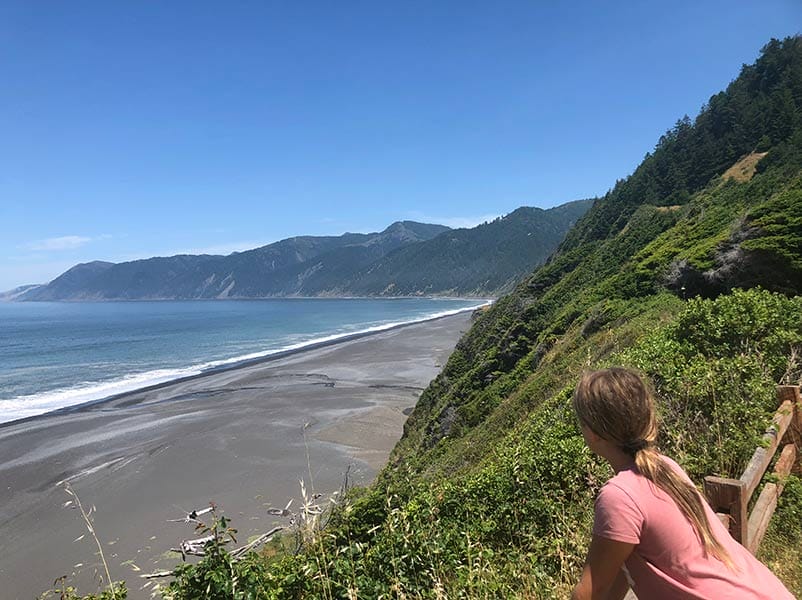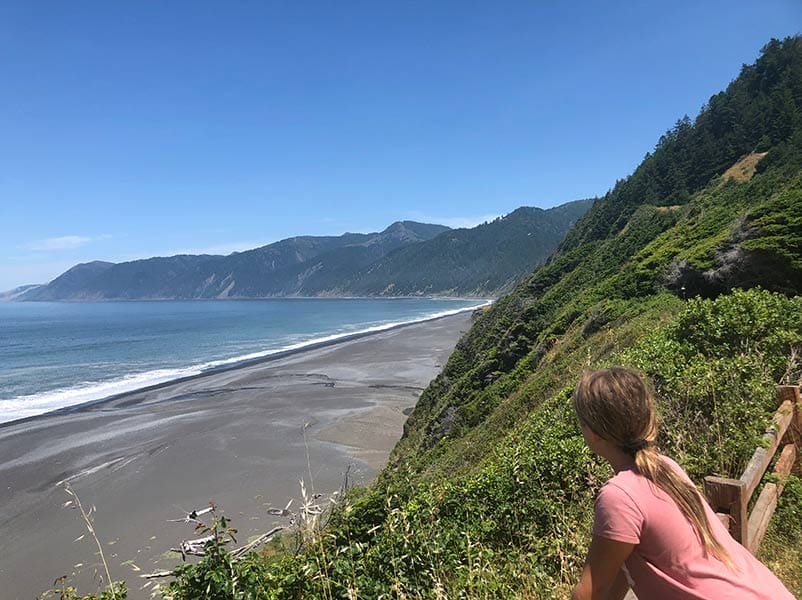 If you have an extra day you could do the 4+ hour to and along the Lost Coast. The road you drive on is really beautiful when you are on the coast and Shelter Cove is an amazing place to visit. But be aware a LOT of the driving is on a tight 1 1/2 lane road that twist and turns through the forest.
Humboldt Counties
There really is a lot to do in the Humboldt county area. If you have more time to stay and explore do it!
Where to Stay
RV Parks/Campgrounds
Humboldt Redwoods State Park Campground – one of our favorites since you are camping right in the middle of the Redwoods. But there is a length restriction of 24 feet.
Humboldt State Fair Grounds – there is a boondocking option and also a water and electric hook-up option (there is a dump station on site). It was basically a field on the road – but it worked! It was also close to Ferndale and to the beach.
Redwood Coast Cabins and RV Park is where we stayed in Eureka!
Hotel
Ferndale – If a traditional bed and breakfast is your thing, Ferndale may be for you – they have plenty! If you'd like a more traditional hotel stay, here is a good one in between Ferndale and Grizzly Creek Redwoods State Park.
Arcata – If you'd like to stay in Arcata, check out the Best Western or Ramada.
VRBO
Ferndale – Check out Francis Creek Retreat or The Beauregard Victorian Home!
Arcata – If you'd love your own private garden, check out the Magic Garden. For views of the Humboldt Bay, try The Hillside Home.
I am going to put these in 2 groups:
Redwoods National Park and Prairie Creek Redwoods State Park
Del Norte Coast Redwoods State Park and Jedidiah Smith State Park
I did this since you could stay in 1 place and explore 2 parks. Under these grouped sections below you will see places to stay.
Redwoods National Park
We didn't officially stop in this section of the park. Unfortunately we weren't staying near here so we weren't able to explore it this time. But we kept hearing about Lady Bird Johnson Grove!
Lady Bird Johnson Grove
It is a self guided loop trail that takes you through the redwoods to the grove where Lady bird Johnson dedicated the Redwoods into the national park service in 1968!
Fern Canyon Trail
This was an awesome trail where you will get wet. That is perfect for our family! One of the fun facts about this trail is that part of one of the Jurassic Park movies was filmed here. How cool is that! If you are visiting Redwoods National Park with kids you should definitely add this to your list.
You have to drive on a crazy road to get to the trail head but that is part of the adventure and is well worth the bumpy road to get there.
The trail starts and goes back into the canyon as far as you want to go. It doesn't really have an end point but the further you go back the wetter you get. It was a beautiful hike with random waterfalls and canyons covered with ferns.
You could almost imagine real dinosaurs being here millions of years ago.
Additionally, Prairie Creek and Golds Bluff are home to a herd of the largest subspecies of Elk in North America, the Roosevelt Elk. Keep an eye out for these majestic animals!
Newton B Drury Scenic Parkway
You can also drive the Newton B Drury scenic parkway. It is a ten mile drive through the beautiful trees of the park.
Klamath River Overlook
While you drive north to Del Norte you will want to stop at the Klamath River Overlook for amazing ocean views. Plus in spring and fall you can sometimes see whales!
If you are looking for awesome things to do in northern California or planning a National Parks road trip the Redwoods should be on the top of your list! Before we went I didn't quite understand how the parks worked and how much area they covered.
Where to Stay
RV Parks/Campgrounds
You can stay at either Elk Prairie Campground or Gold Bluffs Beach Campground, both are inside Prairie Creek Redwoods State Park. Reservations for either can be made here.
If you are there at the right time of year, you might be able to see the sea lions from Golds Bluff Beach! You can check with the Visitor Center to see when they are passing through!
Kamp Klamath RV Park & Campground, Riverside RV Park are located in Klamath, CA and offer beautiful views of the Klamath River.
*We didn't stay in this area but instead took a drive to Fern Canyon from Eureka. It was about an hour drive.
Hotel
There closest place to stay in a hotel near these parks is in Trinidad, which is about a half hour drive from either park. Check out the Trinidad Bay Bed and Breakfast or The Lost Whale Inn!
VRBO
If you want to stay right smack in the middle of Prairie Creek Redwoods State Park and Redwood National Park, consider staying in Orick. These VRBO options will have you out of the city and right into nature!
Check out the remote Prairie Beach Home or this Stylish, Private Wooded Cabin.
We didn't do a Redwoods hike here but instead explored the coast!
Coastal Trail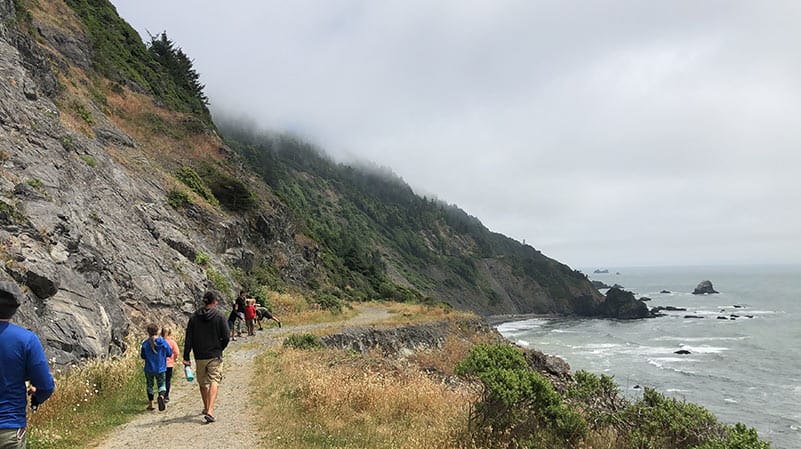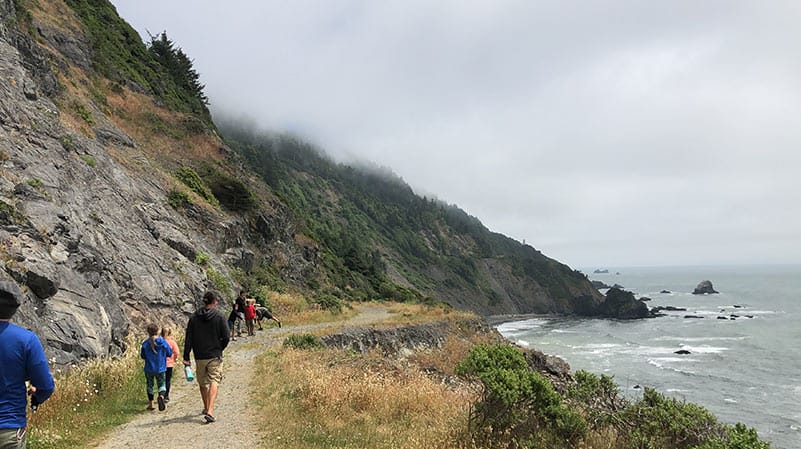 The Coastal Trail runs for miles down the coast of California all the way to the Prairie Creek Redwoods State Park! When we went on the trail we choose to just do a 1.2 mile round trip hike that took us down to Enderts Beach. The trail was a little scary since there were some big drop offs so be prepared for that.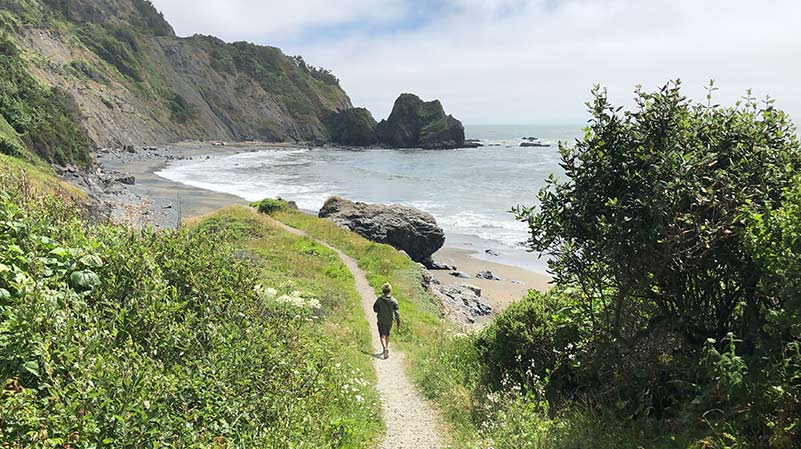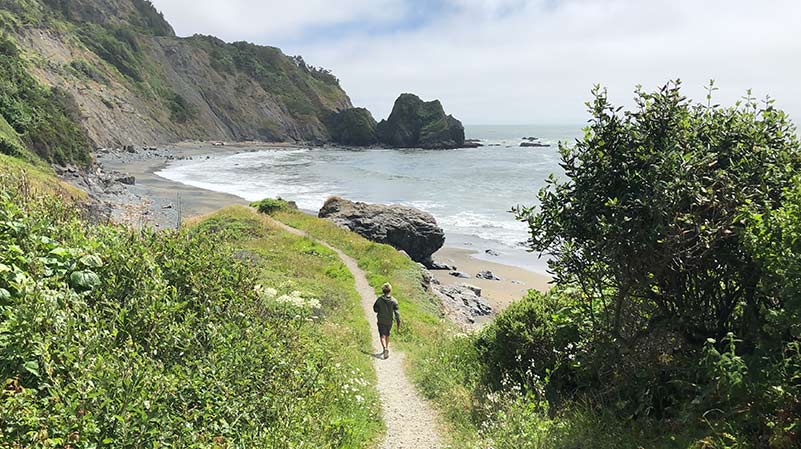 Enderts Beach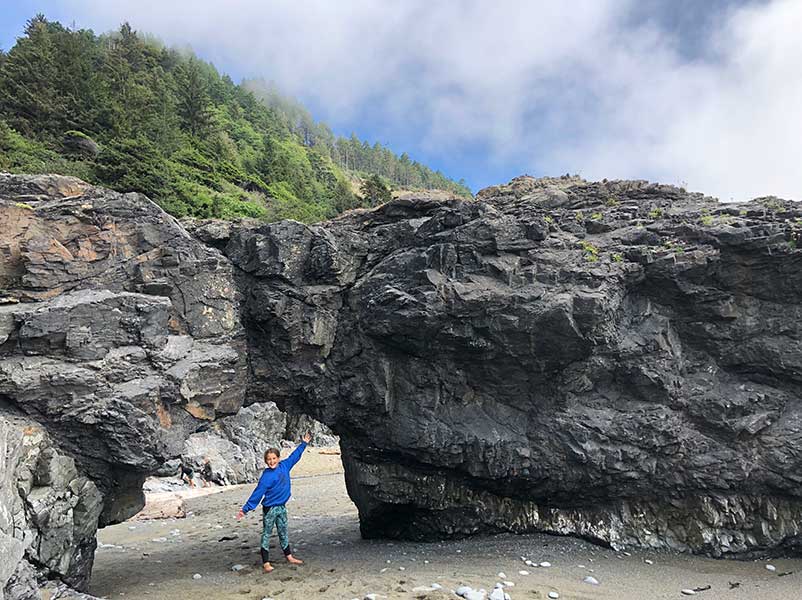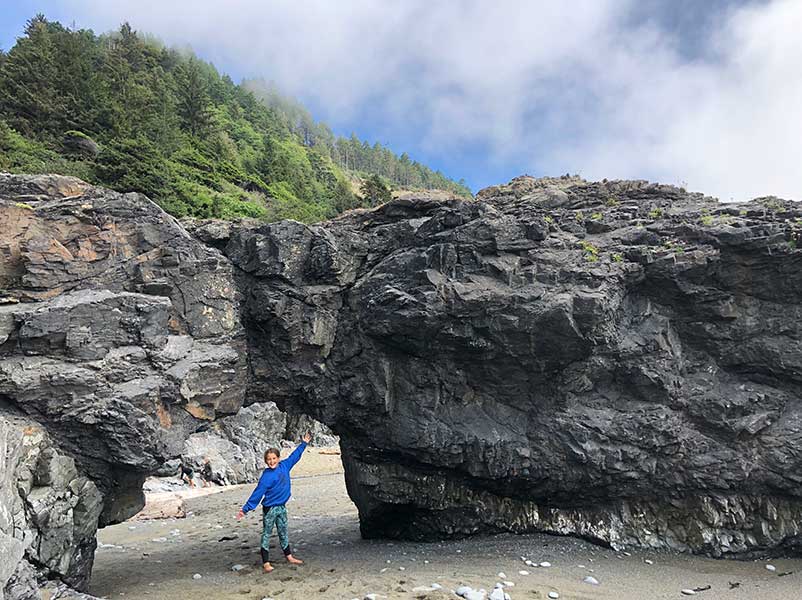 It was so beautiful with the blue of the ocean, the sand and then the green of the trees! We could have stayed here all day to just hang out at the beach and play.
Jedidiah Smith State Park
Howland Hill Road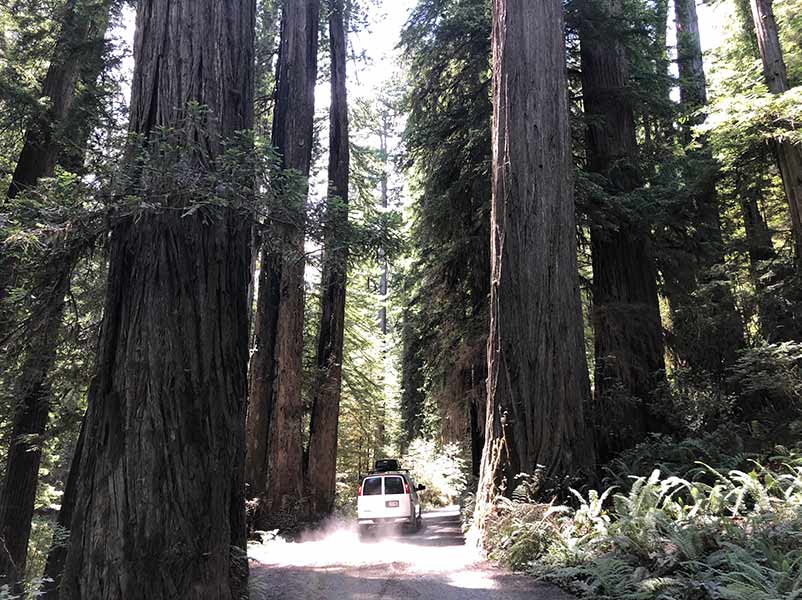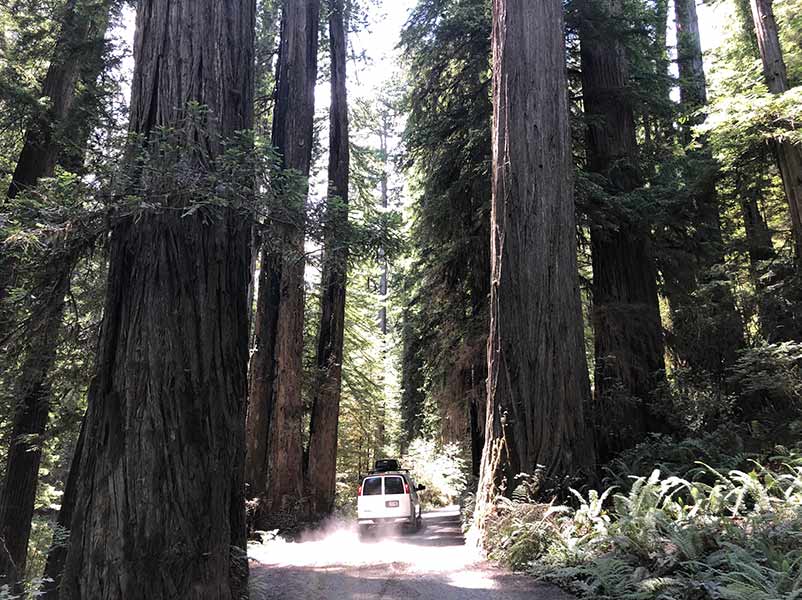 Multiple people told us this was a road we had to drive on! We did it and now we see why. It is an old stage coach road and is a dirt road with potholes and bumps plus it is a tight squeeze in some spots.
You should NOT do this with an RV or a trailer. But we were fine with our 2 wheel drive conversion van (with a cargo box on top).
The road takes you right through the Redwoods. At some spots you could literally reach out of your window and touch a tree (but don't do that :)).
The road is only 6 miles but it will take you about 45 minutes to 1 hour to drive through it due to the windiness and having to pull over to let other cars pass.
Stout Grove Trail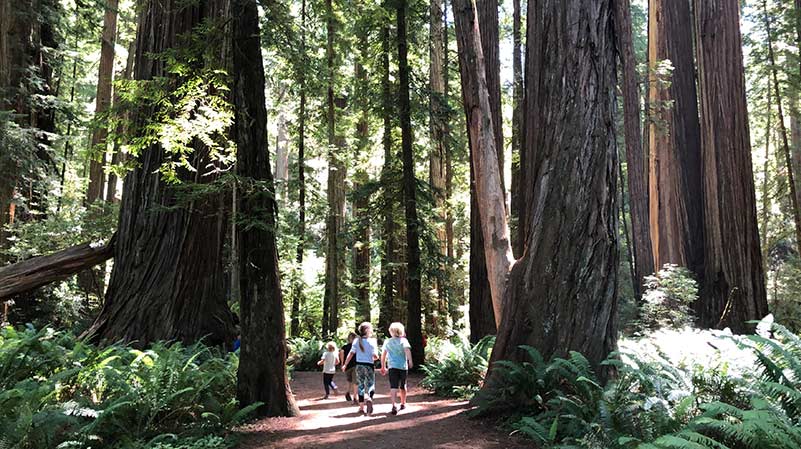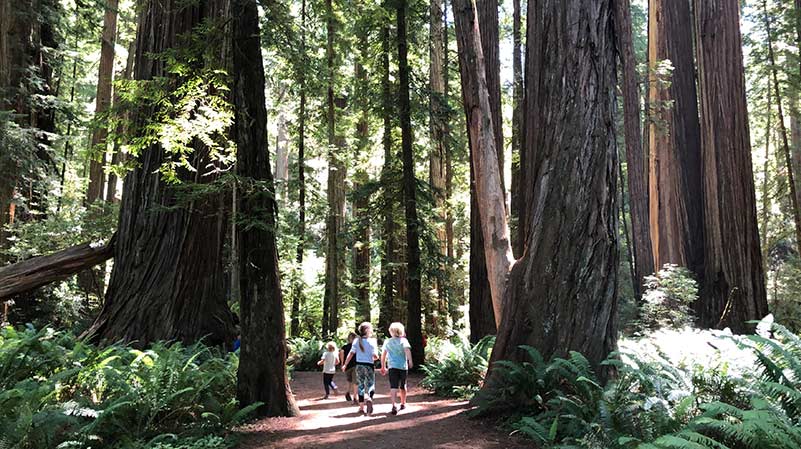 You have to drive on the Howland Hill Road to get to the trailhead. Then the trail is a short 1/2 mile trail that takes you down into the Redwoods. There is a steep hill down to the trail.
The kids loved the trail as there were lots of great places for them to climb on fallen trees. When we were there we did hear a big branch fall so be on the lookout for that and don't let the kids run off the trail or out of site!
Hwy 199
This was a beautiful scenic drive that took us through the Redwoods. We hit it on the perfect day too. It was cloudy and dark and eerie but exactly what I imagined the Redwoods would look like! I loved it!
Hiouchi Redwoods National Park Visitor Center
This was a great place to stop in the northern Redwoods to pick up information and figure out what we should do while we were here. They were very helpful and had the perfect recommendations for a drive and a hike for our family.
They also have the Junior Ranger program here so the kids were able to complete that and got a badge before we headed out! Luckily we had already explored a lot of Redwoods so we could do the book before we headed out.
Cities to Explore:
Crescent City
I wish we would have had more time to explore Crescent City. It was right on the coast and has those amazing coastal views that I love! We just went into the city to eat and it was well worth it!
Seaquake Brewery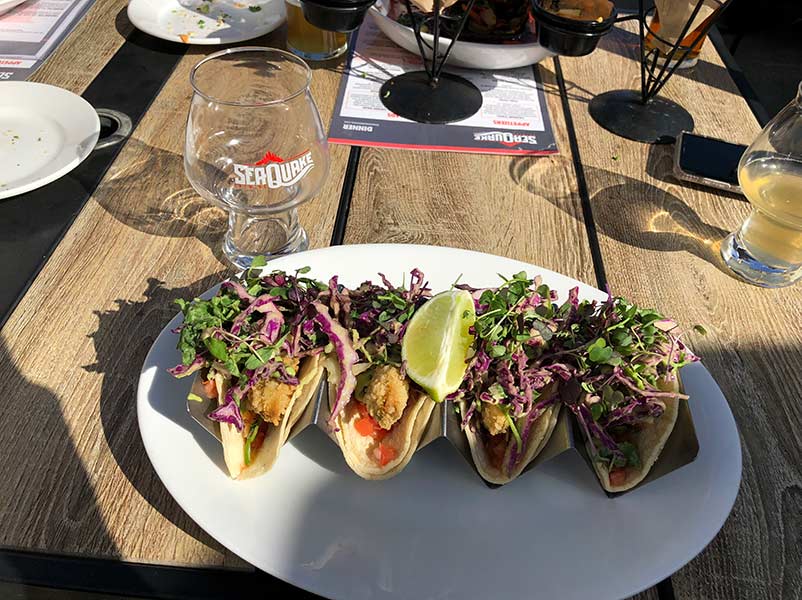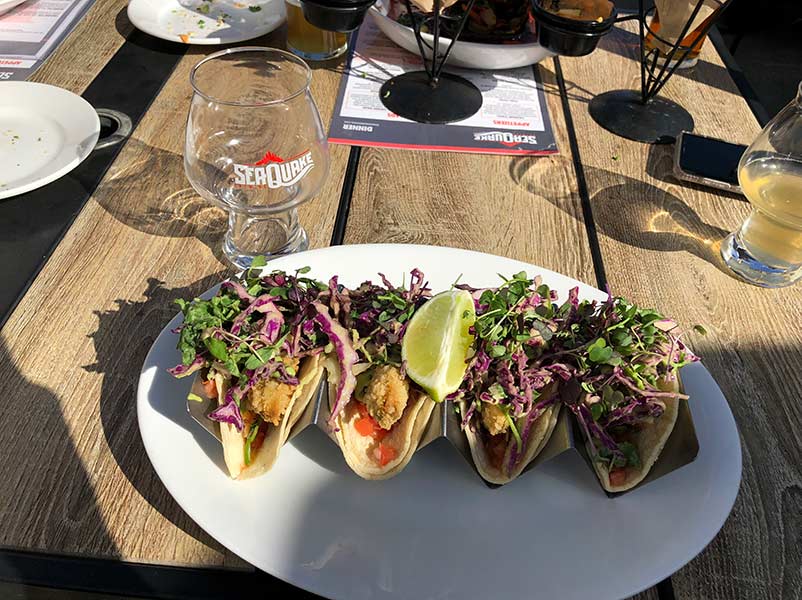 Don't miss this brewery in Crescent City. The food was delicious and they had so many options plus the beer was really good and lots of great cider options!
Where to Stay
RV Parks/Campgrounds
Campground: Panther Flat Campground – no hookups – nice on the river access. Close to Jedidiah.
The Ramblin' Redwoods Campground and RV Park – located in Crescent City. Near Tolowa Dunes State Park.
Hotel
It can be a little difficult to find a more modern hotel in Crescent City, but check out this one.
VRBO
In contrast to the hotel options, there are a bunch of great VRBO options in this area!
For comforts like your own home, check out this rental blocks away from B Dock.
Or for amazing views in a beachfront rental, check out the Pebble Beach House.
Dogs In The Redwoods
Here is a map showing where dogs are welcome in the Redwoods. They can also get a Bark!Ranger badge – ask about it at the National Park visitor center.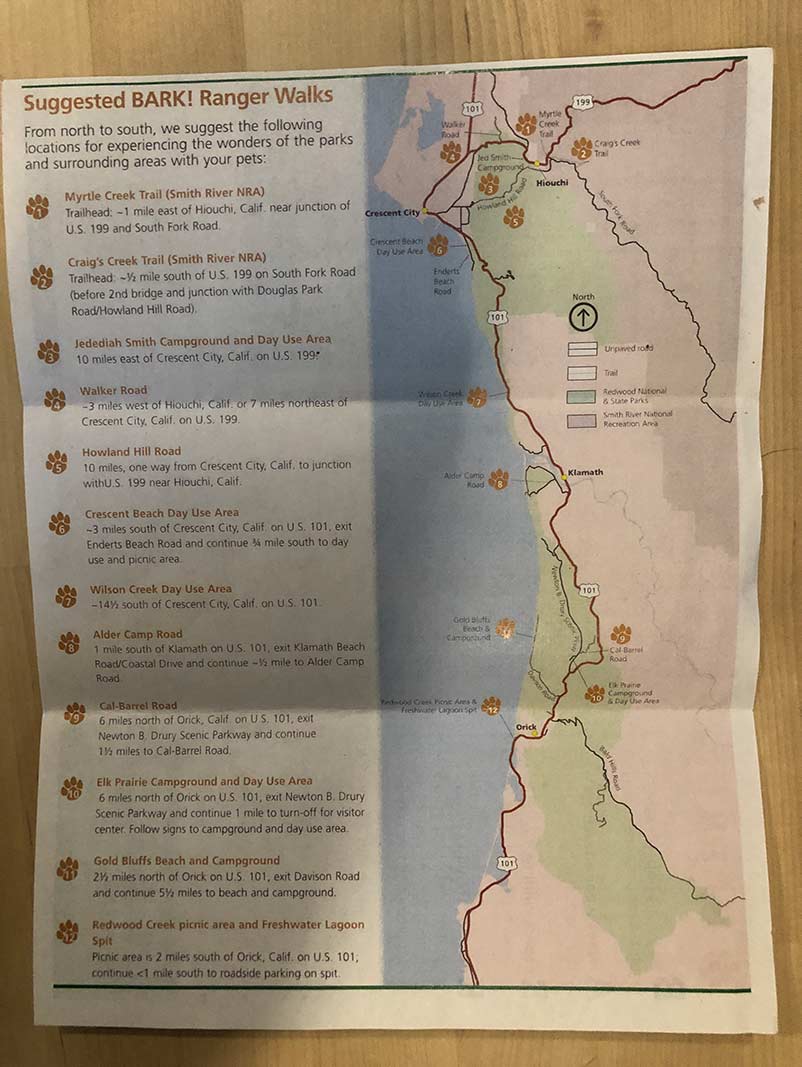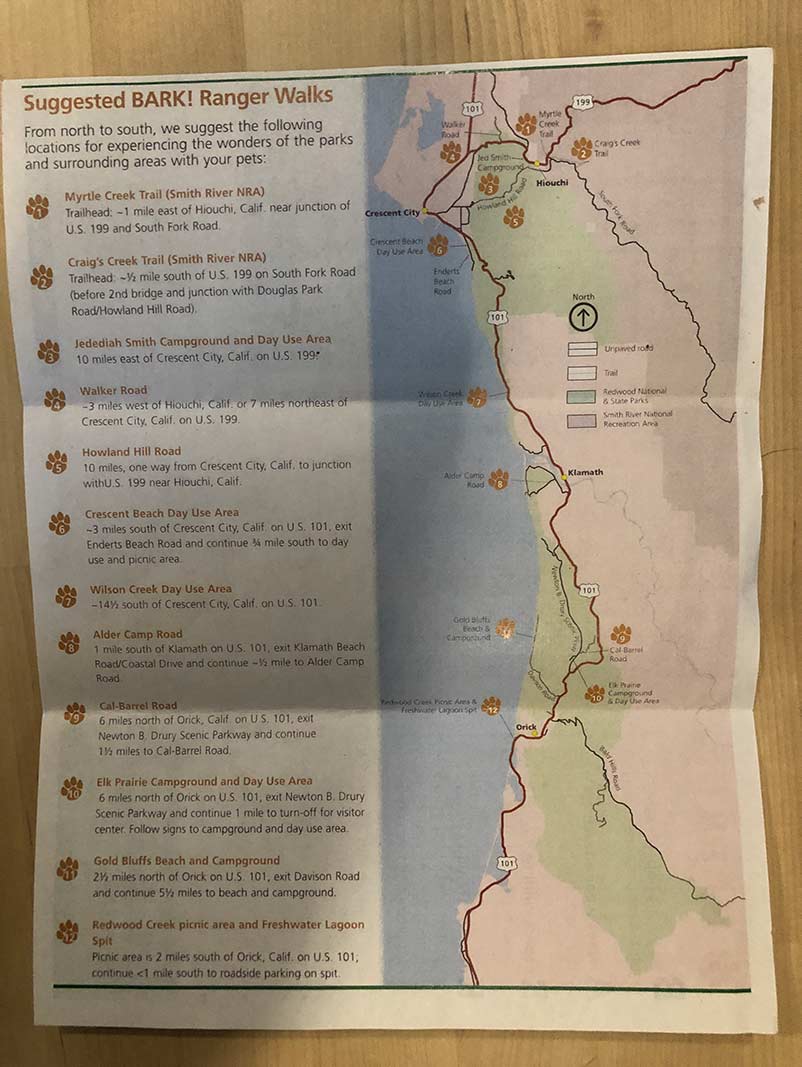 Exploring the Redwoods should definitely be on everyone's bucket list. It is a magical area of the country and just so beautiful. If you are closer to San Francisco, you can also check out Muir Woods for another amazing way to see the Redwoods!
Our National and State Parks protect and preserve these amazing trees for us, make sure you do your part by staying on trails and packing in what you pack out so future generations can enjoy the Redwoods!
If you liked this post, you may also enjoy:
12 Epic Things To Do In Northern California [Map Included]
11 Awe Inspiring Things To Do In Southern California
14 Magnificent Things To Do In Big Sur California
54+ Things To Enjoy On The Ultimate Baja California Mexico Road Trip
19+ Unforgettable Things To Do In Sequoia National Park
14 Awesome Things To Do In Death Valley National Park [And Where To Stay]
Pin it for later: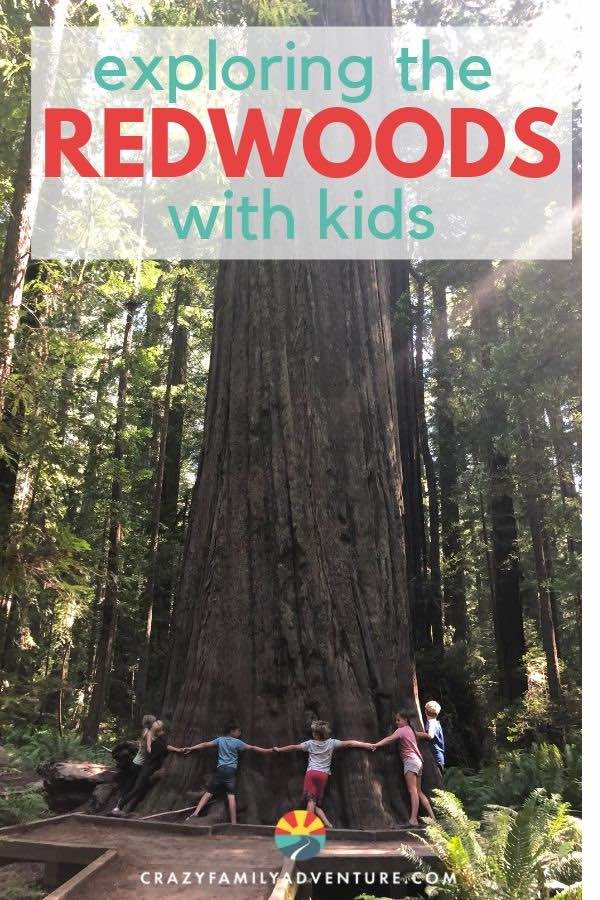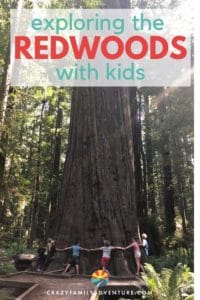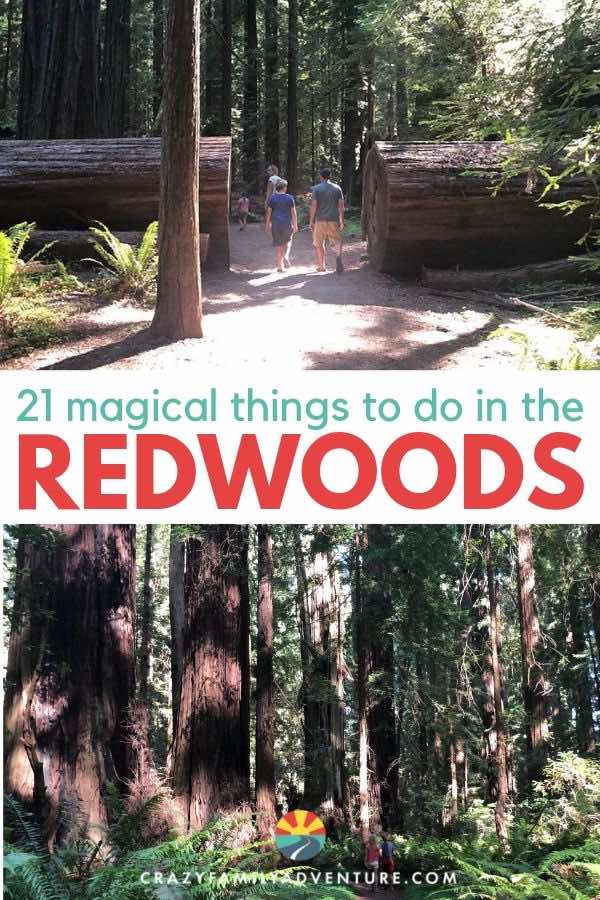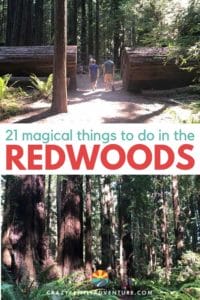 DISCLOSURE: This post may contain affiliate links, meaning I get a commission if you decide to make a purchase through my links, at no cost to you. Please read my disclosure for more info.