We explored San Francisco and the surrounding area with our 4 kids and had such a great time! You won't want to miss the interactive museums, Alcatraz Island, Pier 39, Chinatown and the food. There are so many great things to do in San Francisco with kids and just outside the city at Muir Woods and the National Seashore.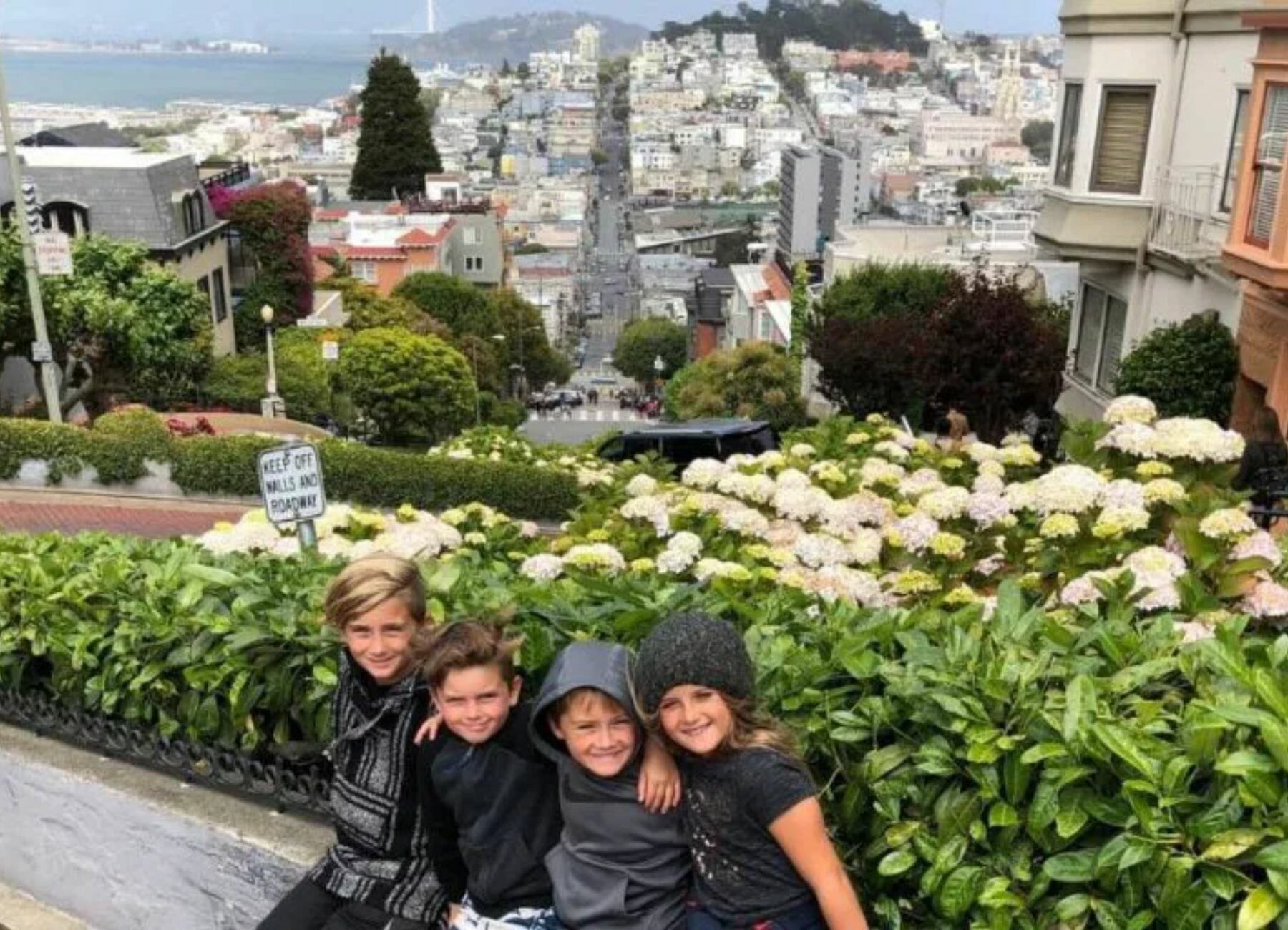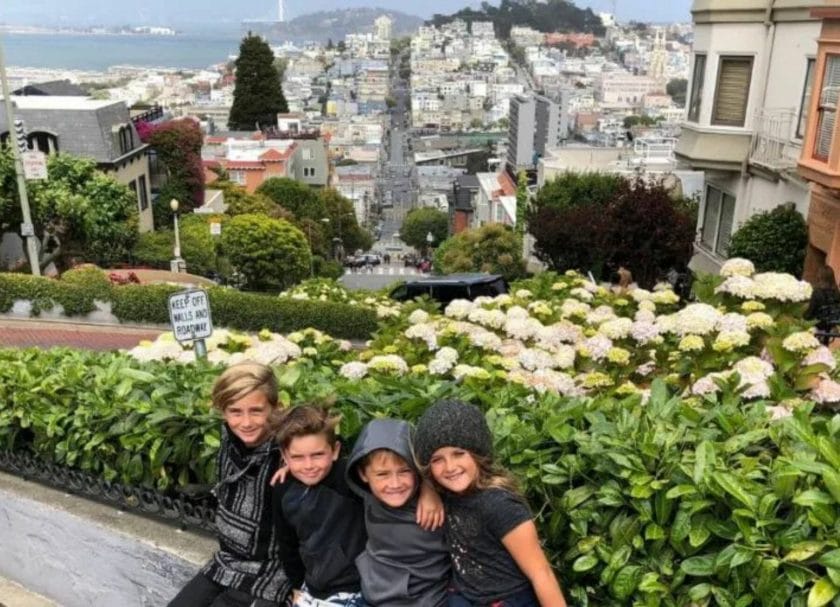 If you are exploring all the awesome things to do in Northern California or taking a Pacific Coast Highway Road Trip you are going to love your time in and around San Francisco. Let's start by sharing our top things to do when you visit.
Top Things To Do In San Francisco
Best Place To Stay: Westin St. Francis in Union Square
What To Do Outside The City
Yes I am going to start the post off with a place that is outside of the city. It is by far our favorite thing we did while we were there and we would highly recommend you make the time to visit.
**PLEASE NOTE THIS MAP DOES NOT SHOW ACCURATE DRIVING TIME – Be sure to check on Google Maps on your phone as traffic is known to be bad in San Francisco. Also, note you will cross the Golden Gate Bridge and there will be a one-way toll.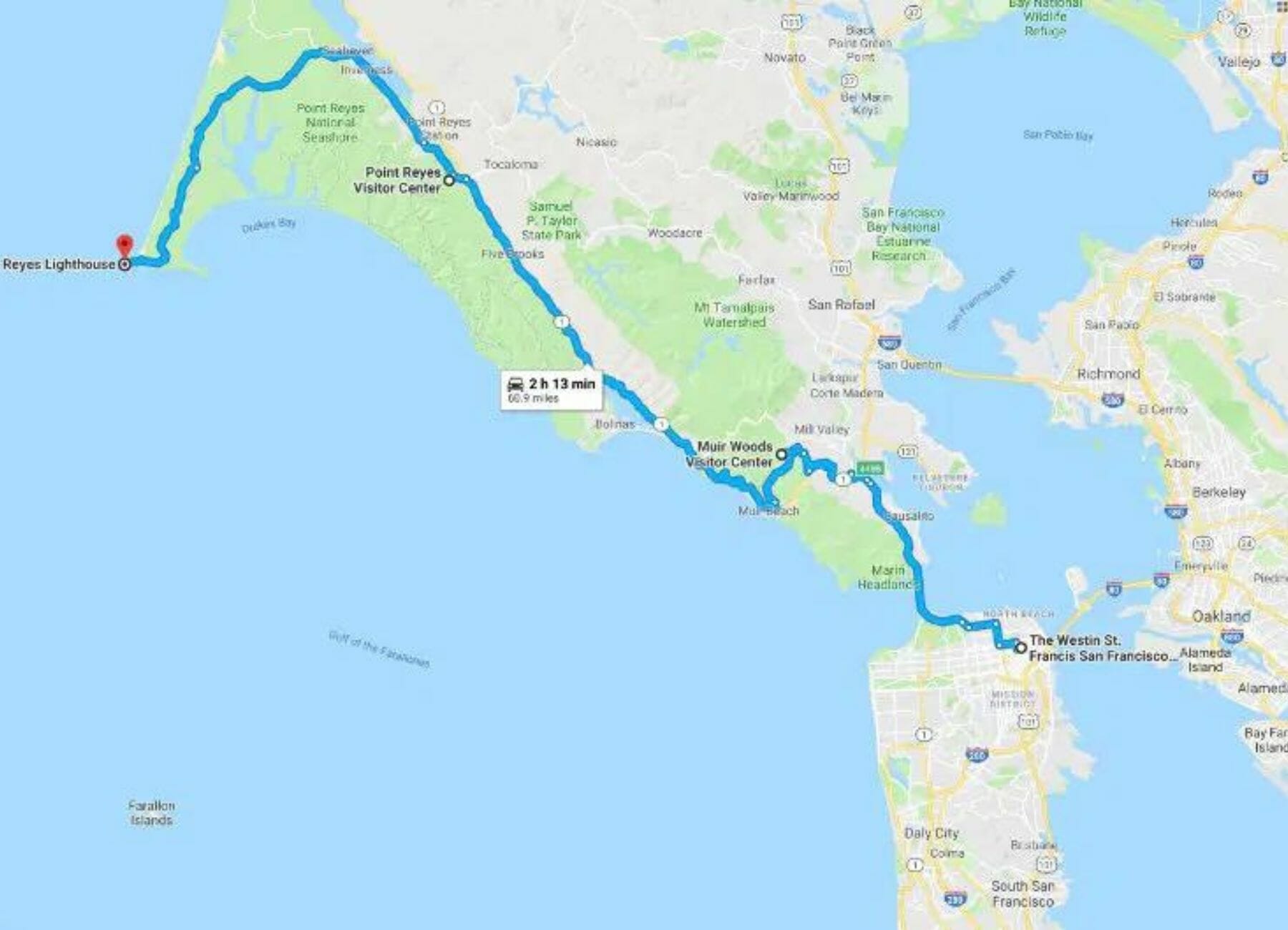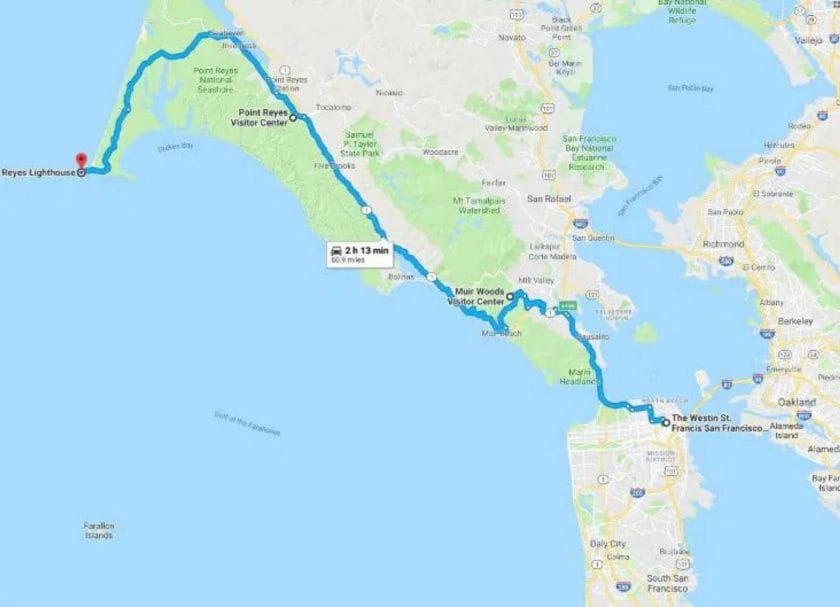 Click here for an active Google Map.
Muir Woods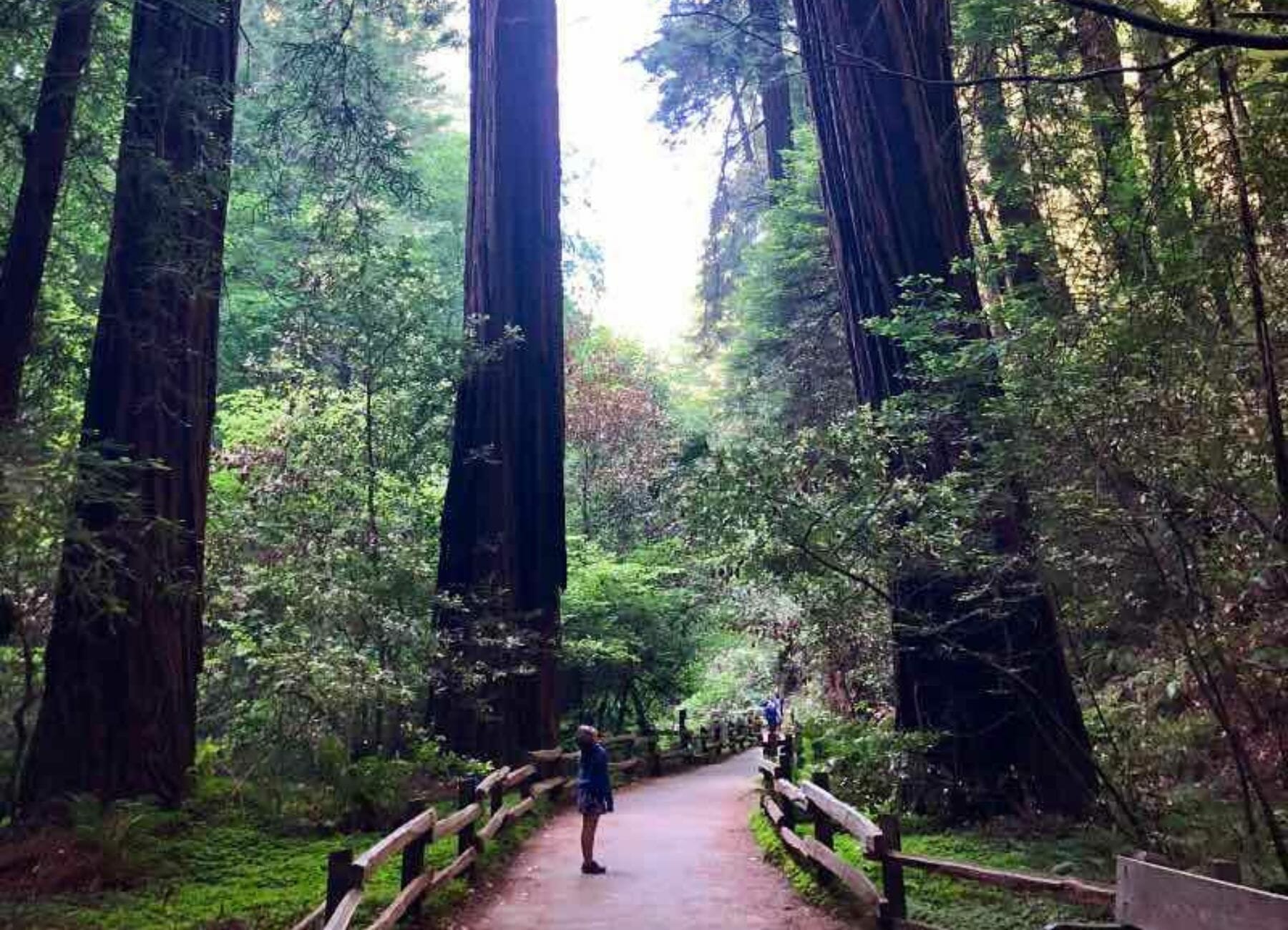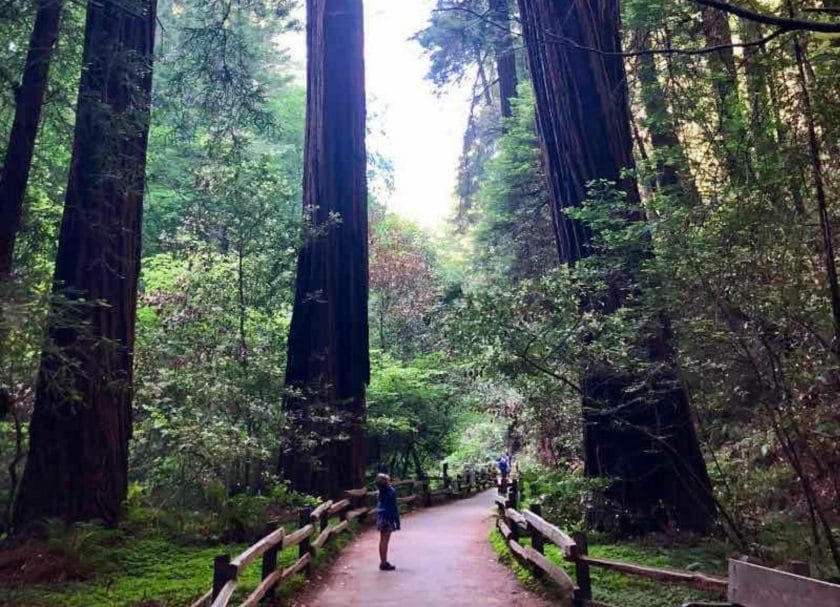 You walk through these magical woods filled with gigantic Redwoods and you can just feel and sense the power of Mother Nature and how beautiful she is. Kids of all ages will love walking among these beautiful giants.
It was so interesting that this oasis is just a short drive from the hustle and bustle of the city. When you are there you feel like you are hundreds of miles away from it all! It is well worth the drive and the time to come out and visit Muir Woods. To this day it is one of our top things to do in the whole US!
When To Visit: Any time of year and any time of day. We went right before they were going to close and it was really cool to see the sun setting through the trees. But I doubt you could pick a bad time of day to go.
How To Visit: You have to plan a little ahead for this trip since you have to purchase your parking spots online before you show up. We were there in the offseason so we could get a time slot for later the same day. But we have heard during high season (summer) or weekends you may need to get your time slot days in advance.
Or don't worry about parking and instead take a tour bus from downtown San Francisco that will take care of the driving for you!
There are so many great National Parks near San Francisco!
Point Reyes National Seashore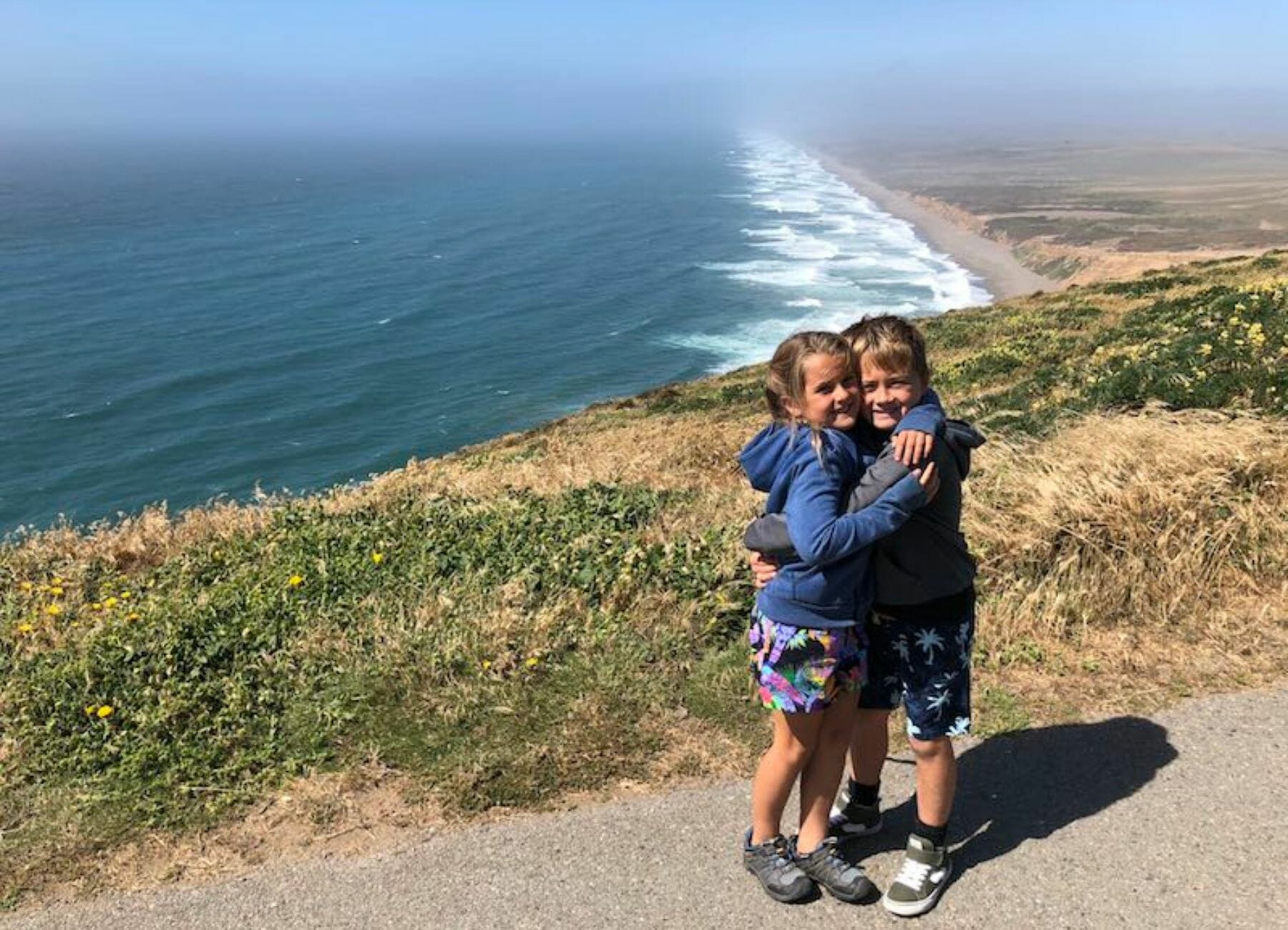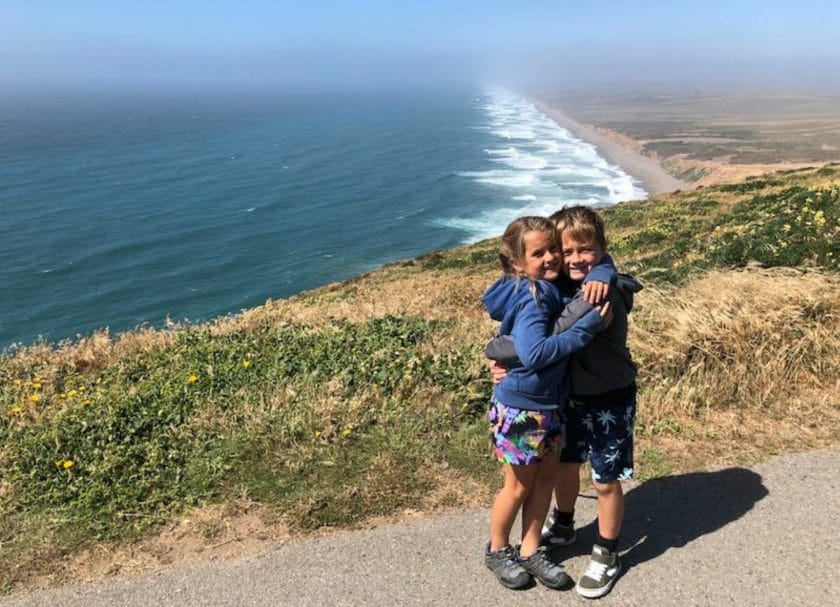 Another option for the nature lover or if you are looking to get out of the city is the Point Reyes National Seashore. Take note, with traffic and the distance this could be an all day event to visit. But if you are looking to get away from the hustle and bustle, this is your escape.
The drive out is beautiful and once you are there the views of the coastline along the Pacific Ocean are pretty epic. Look ahead and plan to visit on a day that the lighthouse is open. They also have a visitor center with small museums and rangers on staff to help make recommendations on what you should do while there (based on the weather and what is open and closed).
When To Visit: The Visitor Center closes at 5 pm on some days so be sure to check the hours as you will want to stop to get a map and look around the museum there. Also, check on what days the lighthouse is open so you can make the walk down
How To Visit: Be aware that this drive could take you over an hour to get to the Visitor Center and then another 30+ minutes to drive to the lighthouse of another destination in the park. You also want to take rush hour into consideration – and just know there is always traffic in San Francisco.
What Do In The City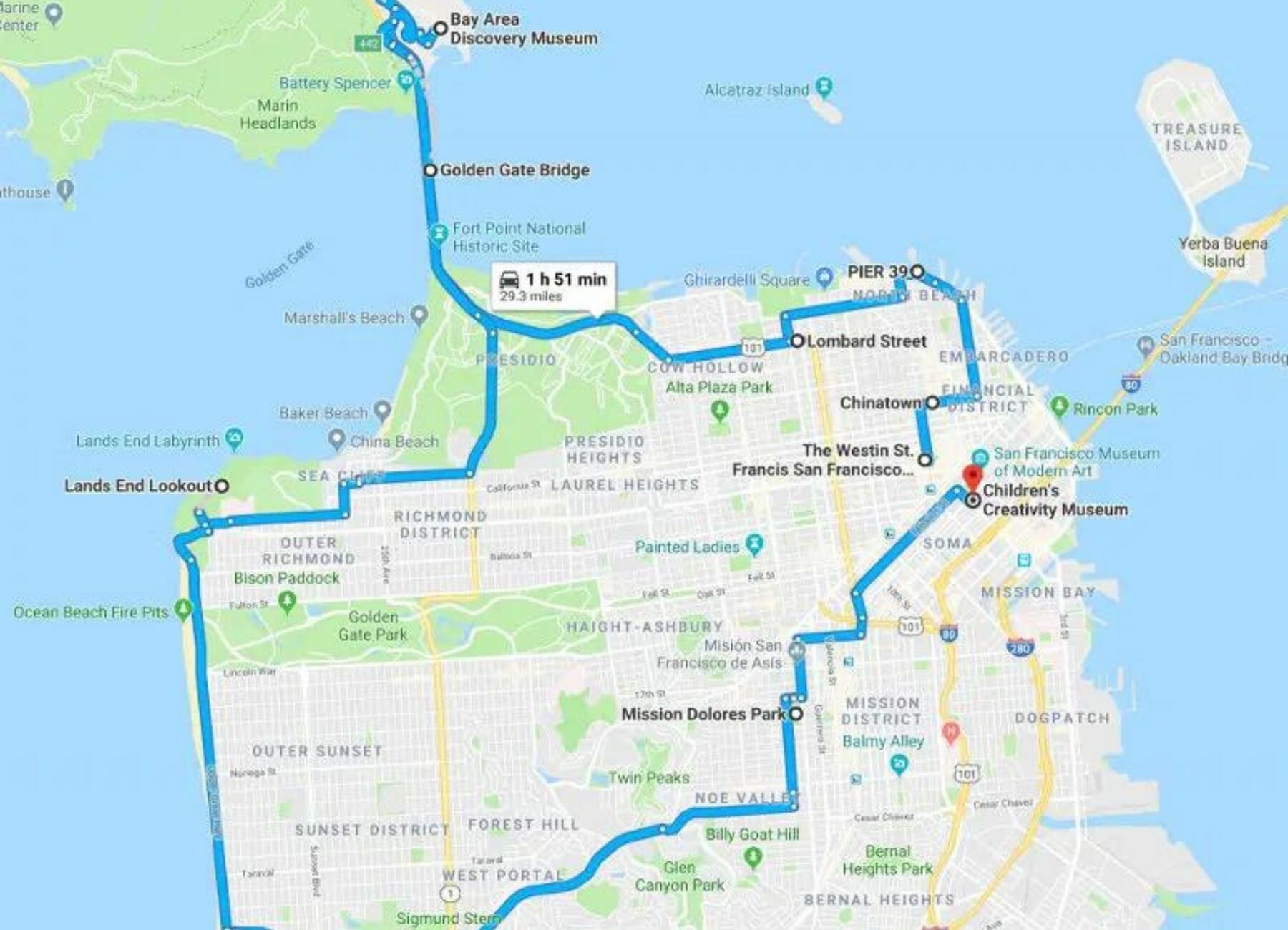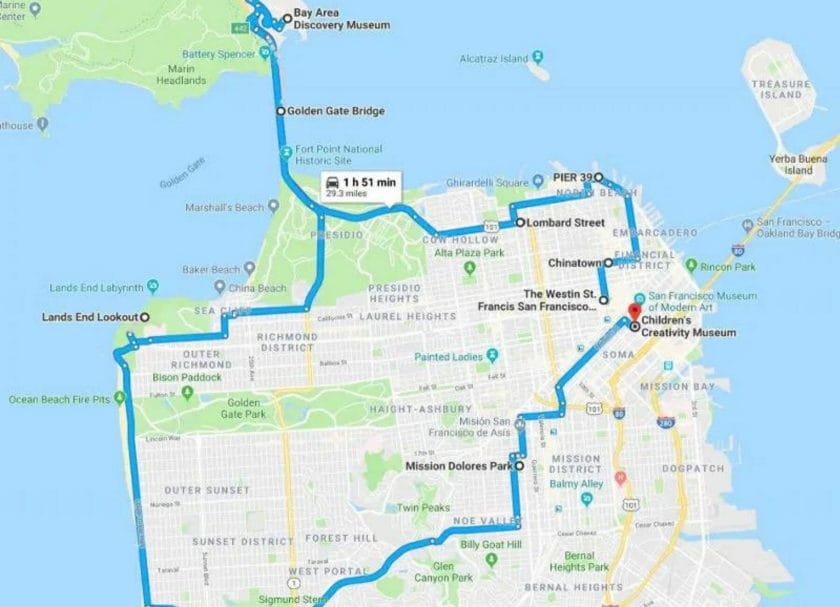 Click here for a working Google Map
Golden Gate Bridge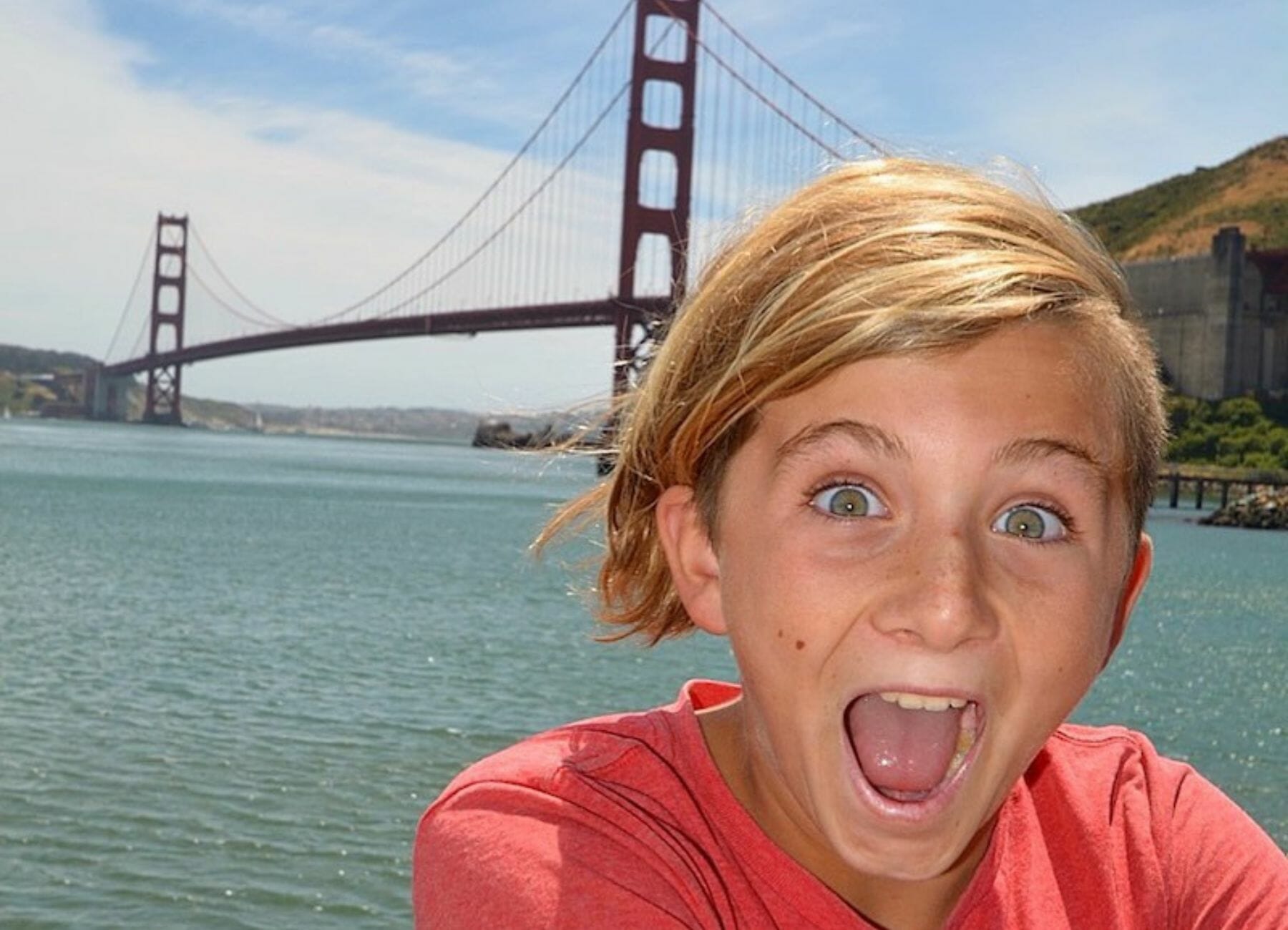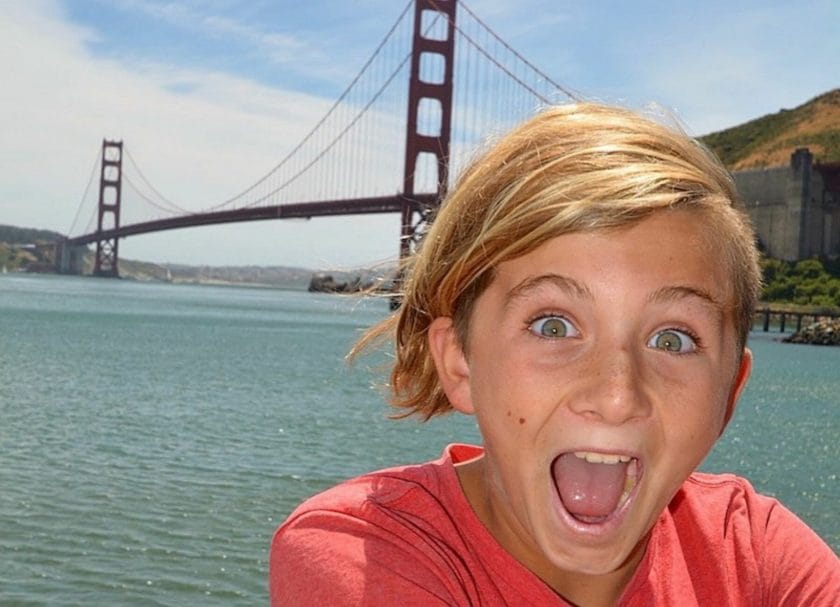 Of course, when you visit San Francisco you will want to check out the Golden Gate Bridge the top California landmark! We didn't stop (parking is pretty much impossible down there) but instead drove across the bridge to get to the Bay Area Children's Museum to see a view of the Golden Gate Bridge. We then headed out to Muir Woods.
It is an iconic place and well worth a visit. If you want to see it from the water, be sure to check out the Golden Gate Bay Cruise! Or jump in a GoCar for a GPS-guided tour!
When To Visit: Any time of year – pretty much always busy
How To Visit: If you drive be prepared for a steep toll – but you only have to pay it one way so that is good!
Bay Area Discovery Museum
Your kids will love the Bay Area Discovery Museum and it is in a great location. You are right by the Golden Gate Bridge – you can see it while you are exploring the museum. You can also walk over in the parking lot and get some fun pictures with the museum in the background.
They also had lots of great activities for the kids and exhibits including indoor and outdoor options. It was a little bit on the younger side (our 11 year old was a little too old but he still found things to do).
When To Visit: Check hours – they normally close at 5pm and also check for events going on and if you can go during an event there will be more people, but also more to do.
How To Visit: Using your Reciprocal Museum membership to get in at a discount! Also note they have a really cute children's restaurant on site.
Lands End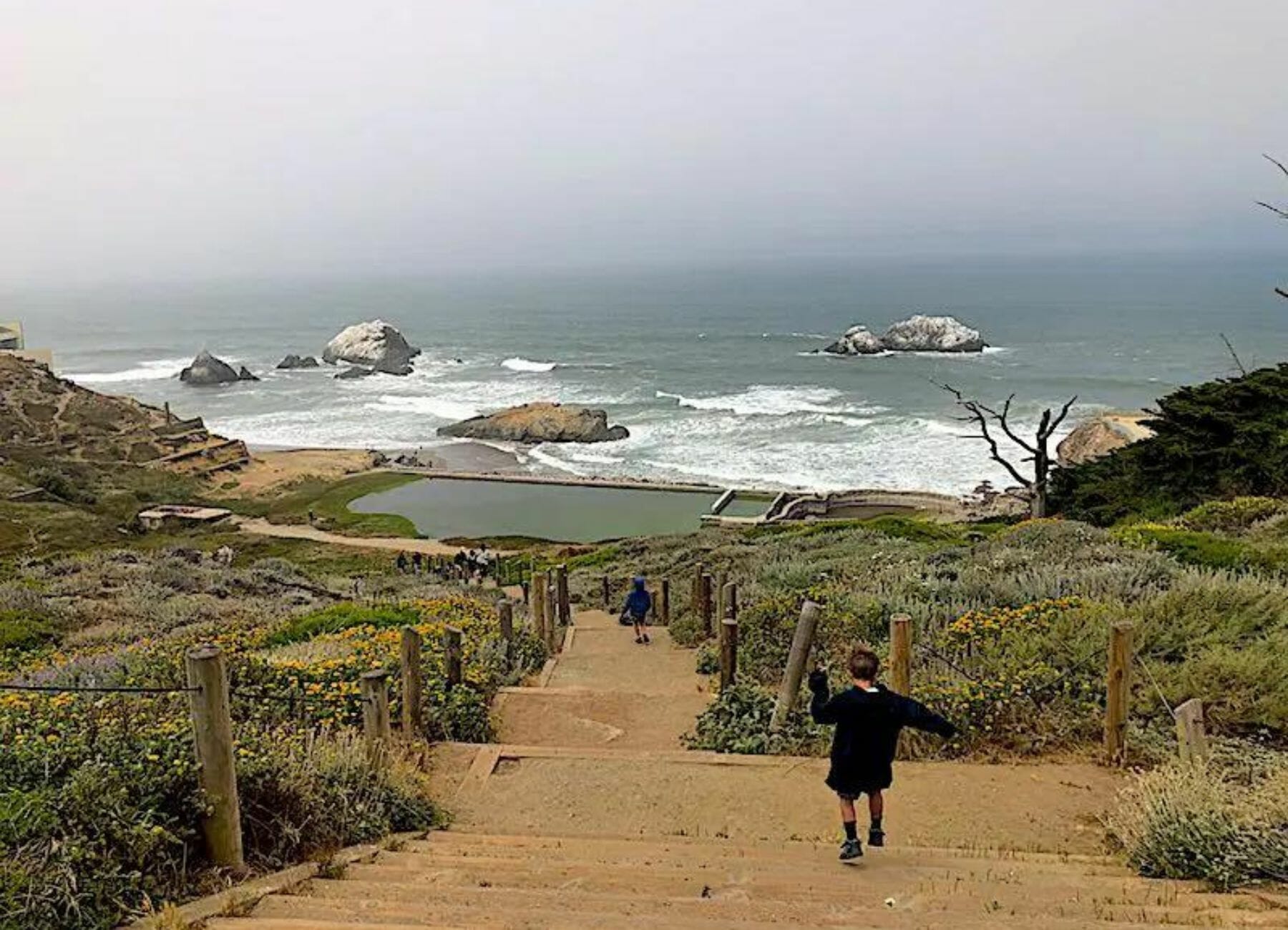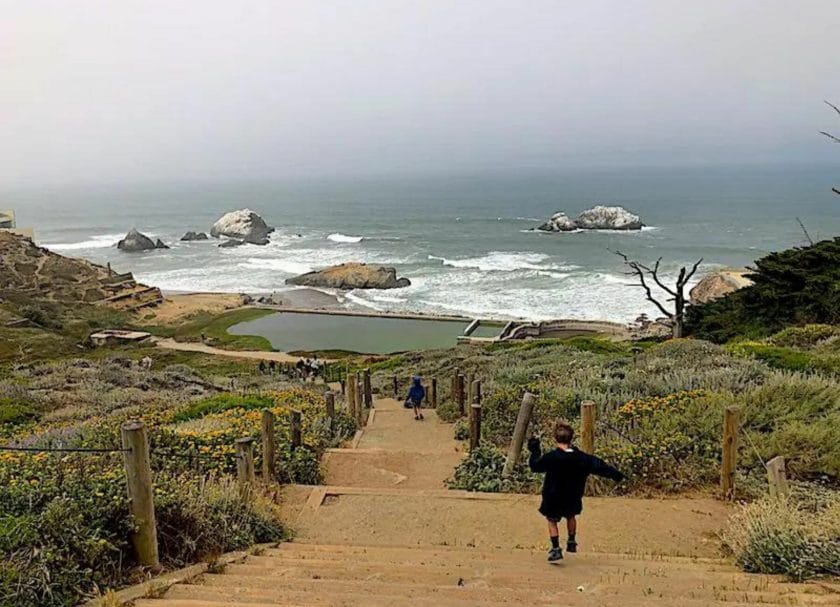 Lands End is a National Monument that is part of the San Francisco National Parks department. It is a beautiful location on the water that use to be a famous bathhouse. The bathhouse is no longer there, but you can walk on the grounds and walk through some of the ruins.
It is a beautiful area and another way to get a little but outside of the city and all the fun and craziness there. They also have a really cute gift shop.
When To Visit: A sunny day would be great. But we went when it was overcast and it was still beautiful.
How To Visit: There is a parking lot on site so you should be able to get a spot in the parking lot and then get out to walk around.
Pier 39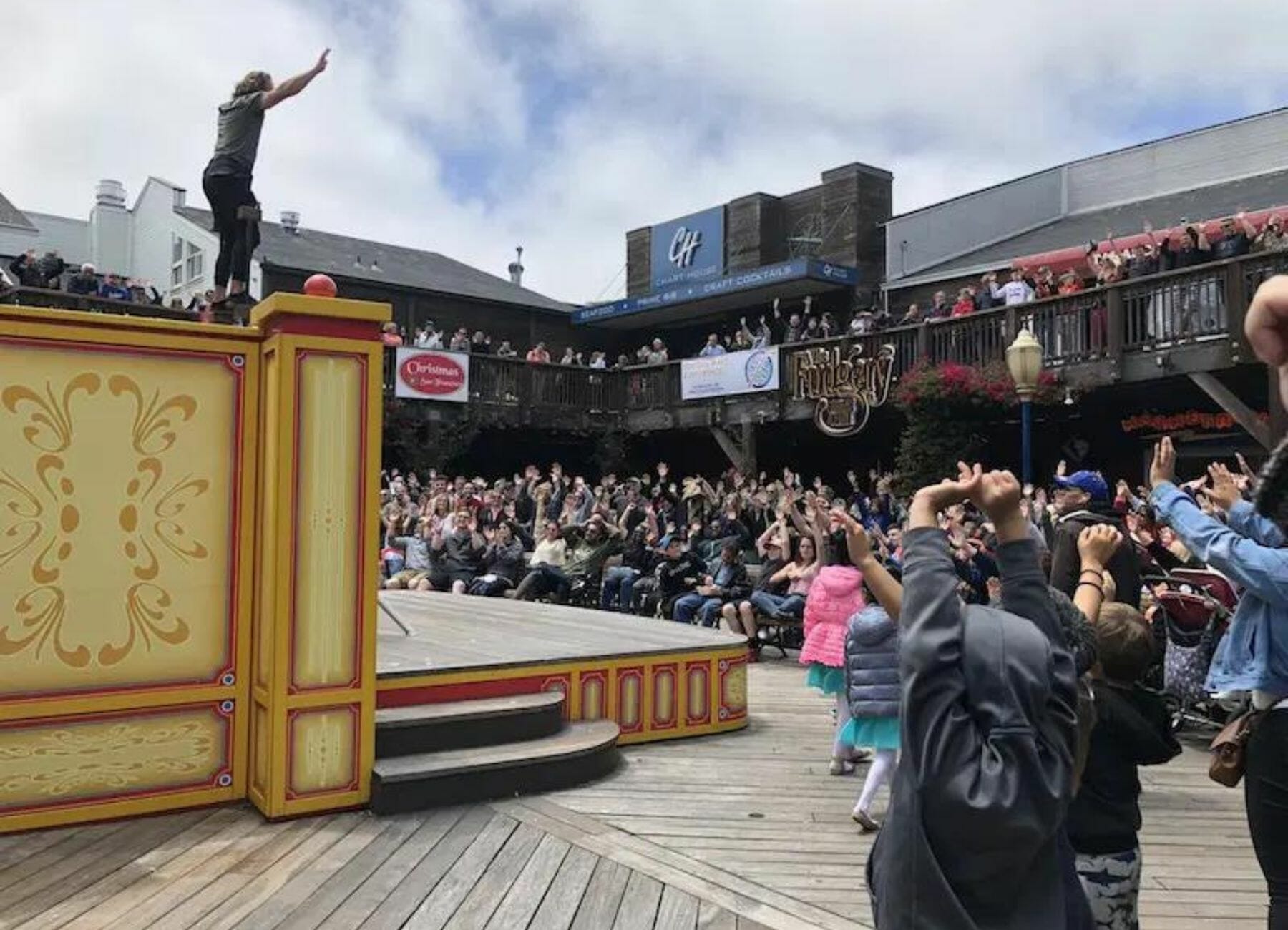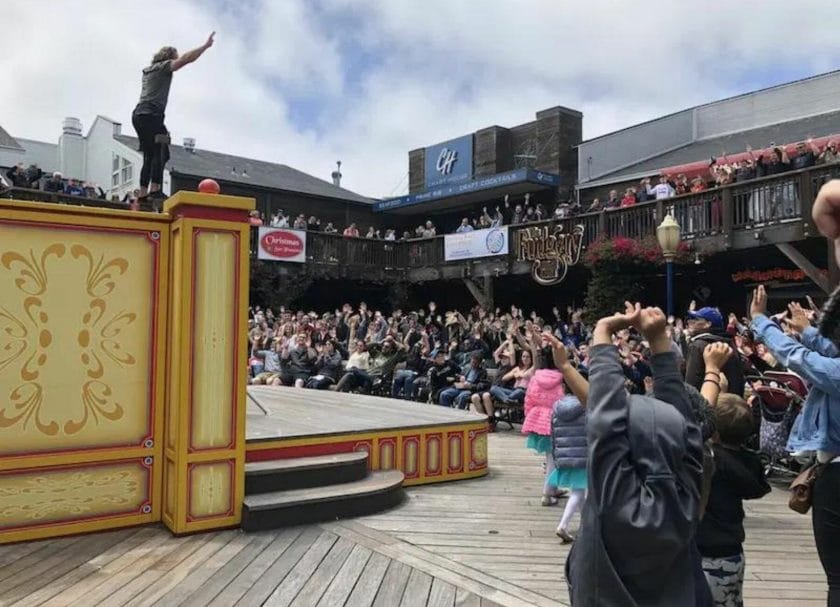 Here is an activity that is in the heart of city life! An always busy area that is filled with shops and entertainment! It has a really cool vibe and look and feel to the area and some fun shops and restaurants you will want to check out.
We walked through the Pier 39 area and checked out a few shops before sitting down to eat . . . we stupidly put our backpack on an open seat at our table and someone walked by and stole it! Be aware down here as it is an area known for things like this to happen.
You can also go to a look out over the San Francisco Bay where you can see Alcatraz or if you planned ahead (I am so not good at planning ahead) you can take a boat ride out to tour Alcatraz! I am really disappointed that we missed it. Next time!
Be sure to look for the Sea Lions sunbathing and if you want you can check out the Aquarium On The Bay. And if you want to keep exploring head over to Fisherman Wharf for more restaurants and stores.
When To Visit: Whenever you want to.
How To Visit: There are parking lots and structures all around downtown, but they are expensive. You could take a bus, the cable cars, or an Uber and you will most likely be better off.
Golden Gate Park
If you are looking to get out in nature without having to leave the city then check out Golden Gate Park. In the park, you will find Stow Lake, Ocean Beach, and the Japanese Tea Garden to name a few. The park is huge!!
We didn't get to explore all of those places but we did spend a few hours at the Koret Playground and the kids loved it! They had a slide that you needed a cardboard box to sit on so you could slide down it! So San Francisco and so cool!
Make sure to grab a GoCar and experience this GPS-guided tour of the city's parks and beaches.
San Francisco Zoo
The San Francisco Zoo is a great zoo that is filled with animals that you and your kids will enjoy seeing. They also have a great park for the kids to play at.
You could spend a whole day here looking at the animals and playing at the park. With a quick break to grab a bite to eat.
When To Visit: The animals are normally more active when it is cooler outside.
How To Visit: There is a large parking lot so you can park right by the Zoo and walk in.
Children's Creativity Museum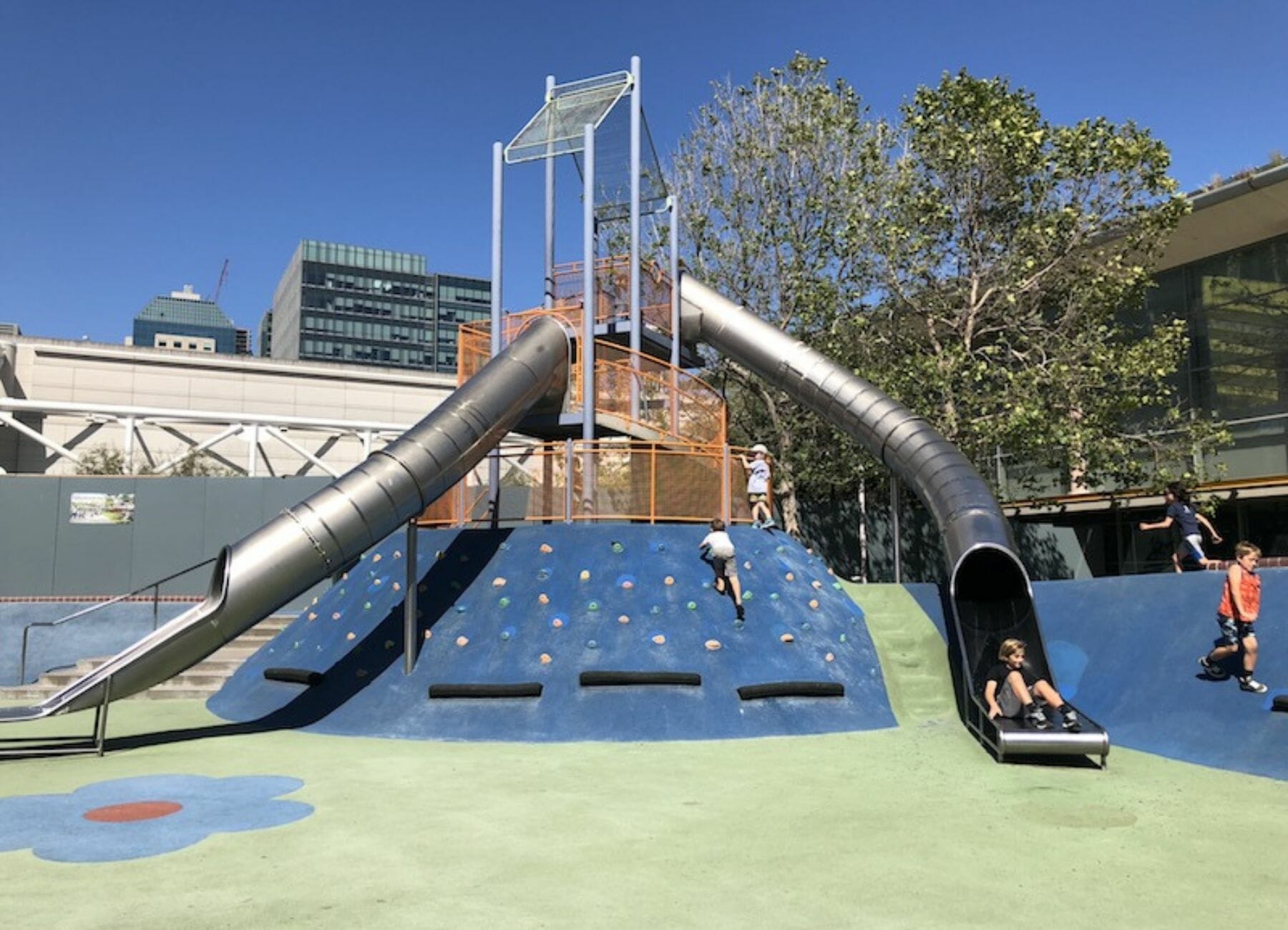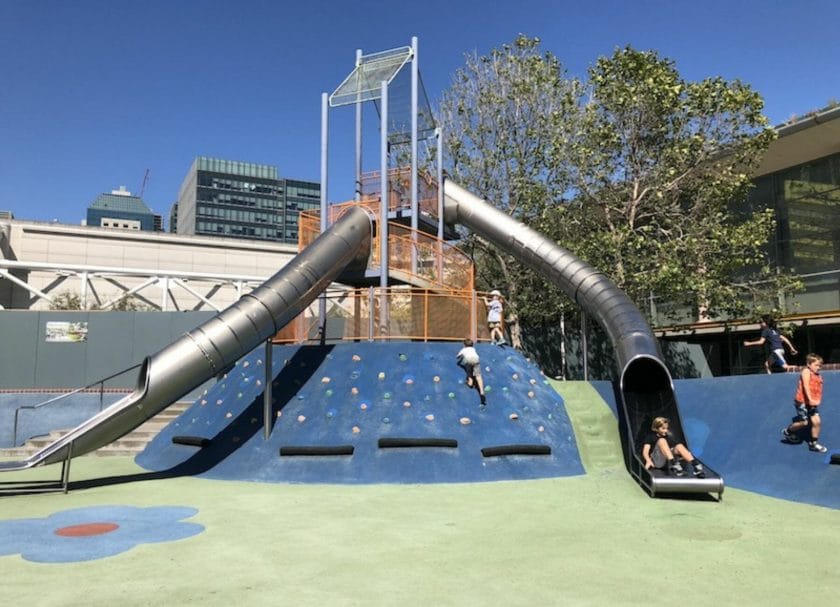 Located in downtown is this awesome Children's museum! They have so many different activities to do with the kids. We could have stayed all day. Then once you are done you can head outside to play at the park.
This isn't a children's museum filled with play grocery stores and the like, but instead they have clay animation you can do (The kids can make their own stop motion movie), karaoke where the kids can dress up and be recorded with a green screen setup behind them!
When To Visit: Whenever they are open.
How To Visit: You will have to find somewhere to park. There are parking garages around, but be prepared that you may have to walk a little ways.
Lombard Street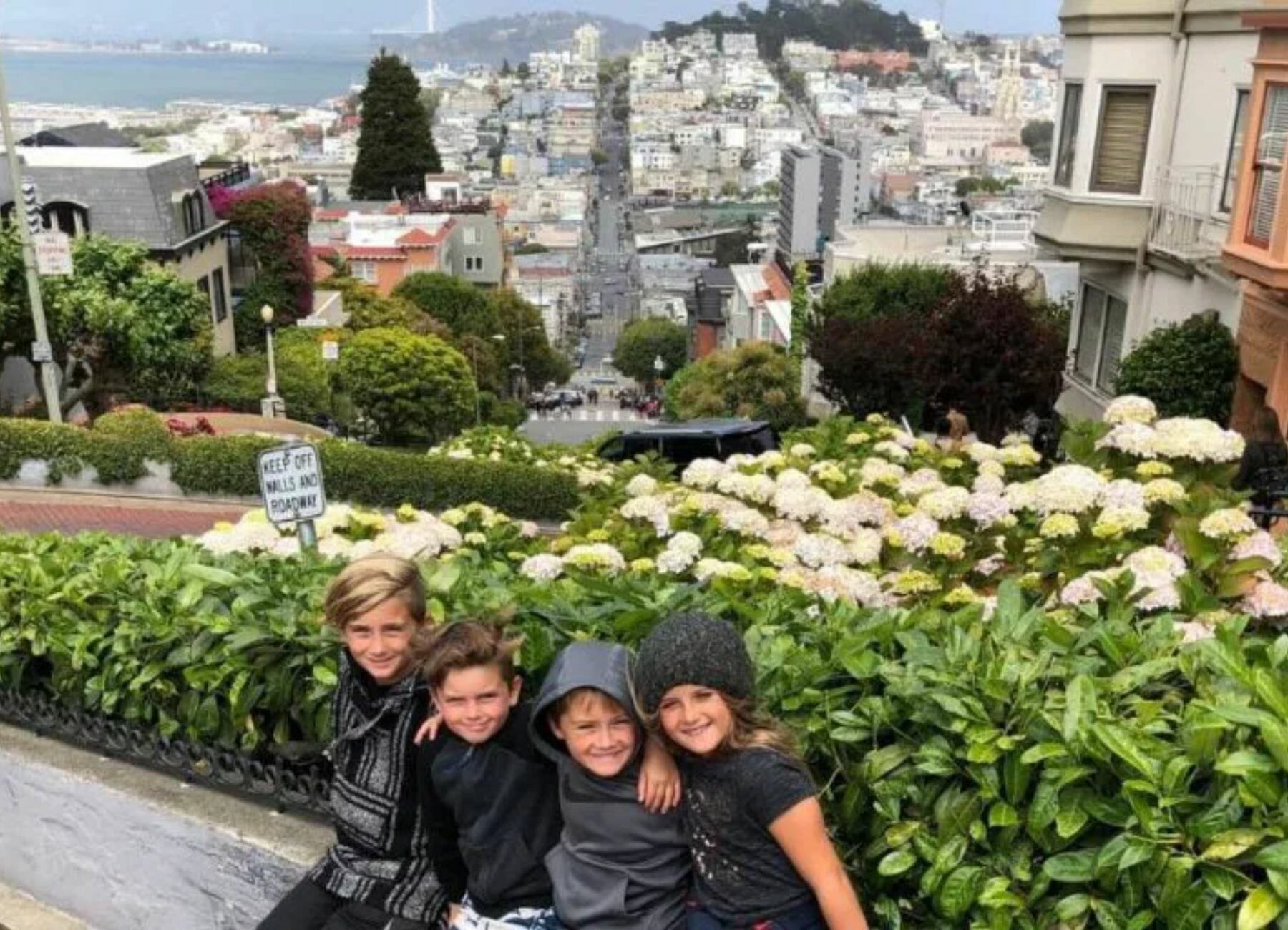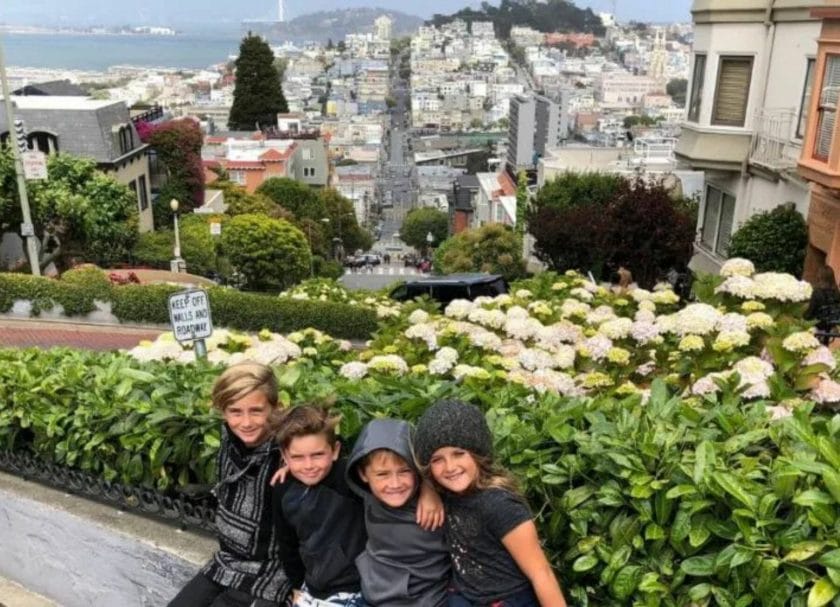 Take a walk to check out this cool zig zagging street known as the crookedest street! You can drive down Lombard Street but being able to walk it meant we could take it slow and take in the views. Plus you get to walk up some of the steep streets that San Francisco is known for.
When To Visit: During daylight.
How To Visit: Best to walk to it – there is some street parking around there. Just be prepared for the steep incline! If you have young ones or a larger group, check out the electric Tuk Tuk City Tour!
China Town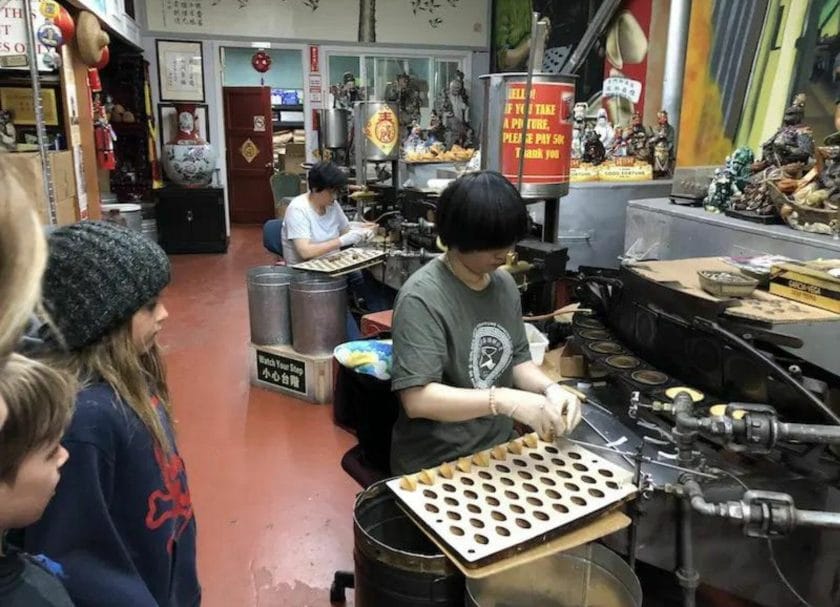 China Town was quite the experience! You literally felt like you could be in China. There was so much activity and so many people. With fish and food just hanging from everywhere. The vibe was so energetic.
Then we found the fortune cookie-making store so we walked down an alley and there it was. Women sitting making fortune cookies by hand. It was cool to watch and see.
When To Visit: During the day.
How To Visit: Park outside of Chinatown and walk through the area. Follow an expert and explore the history and culture with a Walking Food Tour! Visting China Town is definitely one of the best fun things to do in San Francisco!
Mission Dolores Park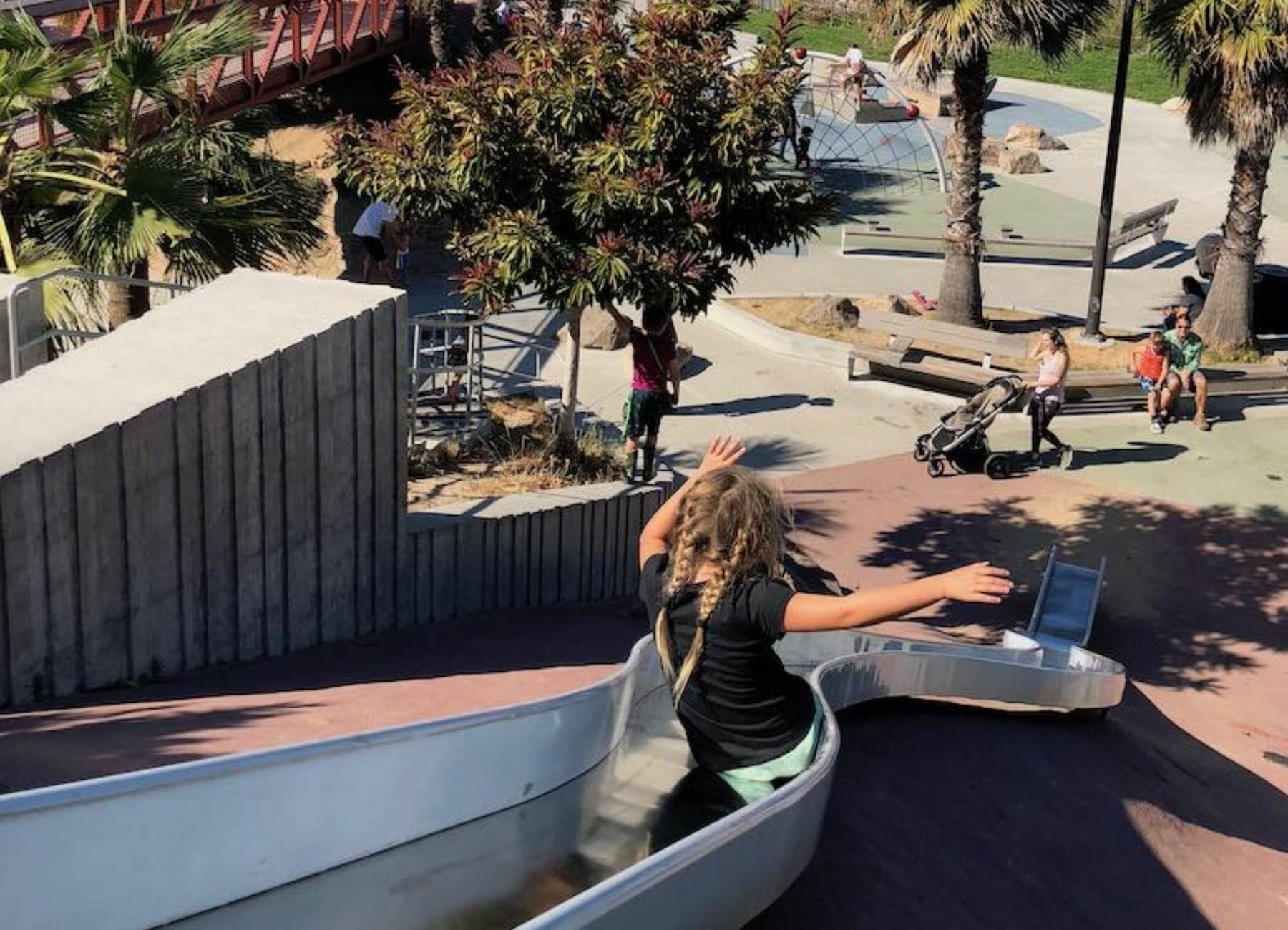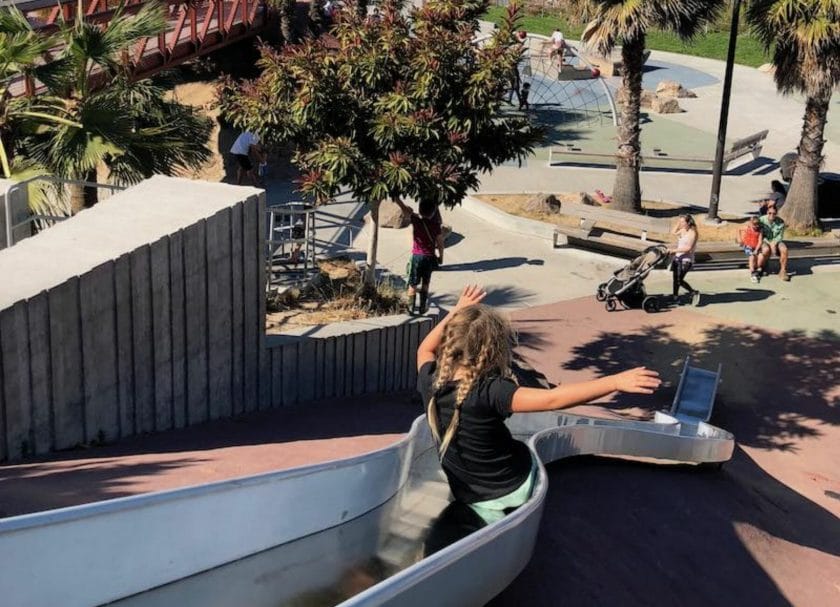 Check out a park right in the middle of San Francisco. There are big grassy areas to hang out or you can head to the super kid friendly playground to let the kids play. All while you take in the views of the city around you. The Park is also within walking distance to Pizzeria Delfina and Bi-Right Ice Cream both recommended to us by locals – more on these below. This park is one of the best things to do with kids in San Francisco.
When To Visit: During the day.
How To Visit: You can drive and park along the street but be aware that windows get broken out all the time – there is shattered glass lining the grass by the road . . . We did go this route and parked our car here and walked over to the park for an hour or so and everything was OK. But something to keep in mind. You can also rent a GoCar and take a GPS-guided tour of the city's parks and beaches.
Ghirardelli Square
We have also heard this is a great place to visit in San Francisco. We haven't been ourselves but our friends have and have a great post on it: Ghirardelli Square in San Francisco: The Ultimate Guide for Families
Ride The Cable Car
We didn't even end up doing this because it was too confusing to figure out the cost and where to get it and then there was a line to get on. I wish we would have done it. My recommendation would be to ask at the hotel and have them give you directions to the best place to pick it up to ride the Cable Car. If I am understanding it correctly you would have about a 1 mile walk from the Westin to the Financial district and then you could pick up the California line there.
California Academy of Sciences
We also heard great things about the California Academy of Sciences which is also a natural history museum (located in Golden Gate Park) if your kids are into Science be sure to check it out! You may also want to look into the Randall Museum of Science, Nature and the Arts. Or if arts museums are more their thing check out the De Young Museum.
It's fun to catch views of the California Academy of Sciences building when exploring San Francisco. The grass covered roof is unique!
The Escape Game
The Escape Game is always a great family activity. We took our crew to the one in Chicago and had an awesome time!
You get locked in a room and work together to solve clues and riddles to help you escape. The staff watches you through video and provides hints through a TV screen to help you out if you get stuck. The rooms all have different themes, so you can go back more than once and have a totally different adventure.
It is really fun to watch the kids work through clues and work as a team to Escape together!
Check out the Escape Game San Francisco!
There really is no shortage of things to do in San Francisco! Here are a few other places you may want to check out:
Palace of Fine Arts
AT&T Park for a Major League Baseball Game
Ferry Building Marketplace
Or check out some of the neighborhoods like Telegraph Hill, Twin Peaks, North Beach or the Mission District.
You can also check out the less visited Bay Bridge and venture over to the Berkley area to see what is going on there. Take note we tried to do this and the traffic was so bad we turned around.
CityPASS
If you want to do several activities in San Francisco, you will want to check out CityPASS San Francisco! Save 45% on the top 4 attractions in San Francisco. Check out the list of activities you can choose from here!
Get your San Francisco CityPASS here!
If you are into Disney you may want to check out the Walt Disney Family Museum.
Where To Stay
San Francisco has a large variety of hotels and accommodations to choose from. There are hip boutique hotels in San Francisco, chain hotels, VRBO options, RV parks, and more! Here are a few we recommend:
This hotel offers a great location in a safe neighborhood and is perfect for families! They also have 3 restaurants and 1 coffee shop on site and you are right by Union Square. Not to mention the amazing views!
If you are traveling with a family they have a variety of different room options available including suites, free cribs and roll away bed options. Plus they advertise as being kid and family friendly.
Planning on visiting San Francisco around the holidays? This is the perfect hotel for you with lots of great holiday activities!
Where it is located:
It is basically a parking lot with RV's parked next to each other. But it has full hookups and you are right on the water. There is also a bus stop down the street that will take you to the train station that takes you to the bus station so that you can get into downtown without having to drive.
Where it is located:
If you want to stay outside the city, Santa Cruz Redwoods RV Resort in Felton, CA is situated on the San Lorenzo River near Henry Cowell Redwoods State Park. It is a little over an hour (south) from San Francisco. An hour and a half the other direction is Casini Ranch Family Campground in Duncans Mills, CA. It sits on the Russian River and is minutes from the coast.
There are also great San Francisco and Bay Area glamping options!
Transportation in San Francisco
Check out this great post from our friends at Trips With Tykes on how to get around San Francisco: Complete Guide on Transit in San Francisco and if you plan to fly in learn all about flying to San Francisco here.
Where To Eat
Pizzeria Delfina
A great local pizza place that has all varieties of pizza and the prices are good too. We didn't sit down to eat but instead took it to go and ate at Mission Dolores park.
Trisha's Mini Donuts
For a delicious bucket of donuts stop here while visiting Pier 39. They were yummy!!
Bi-Rite Ice Cream
You can buy these in the grocery store or go to their ice cream shop and get this delicious ice cream in a variety of fun flavors!
Beer – Pliny The Elder
My husband's all-time favorite beer! They brew this up in the Russian River and sell it at Whole Foods and a few other stores in San Francisco – but you have to know when it is being stocked because it is all sold out within hours! You can also find a few restaurants that have it on tap. My husband firmly believes it is worth all the effort to find it!
1 Week Itinerary
**Please note this itinerary is best if you have a car while you are there. There are Uber options, but they don't have car seats for kids. You could do a lot of walking to do the city center activities but to get to other locations a car is going to be easiest. San Fransisco does have public transportation so you could look into that.
Day 1:
Visit ChinaTown, Pier 39 and Lombard Street. You could do this walking from the hotel – but note it is a 5 mile walk and there are steep inclines: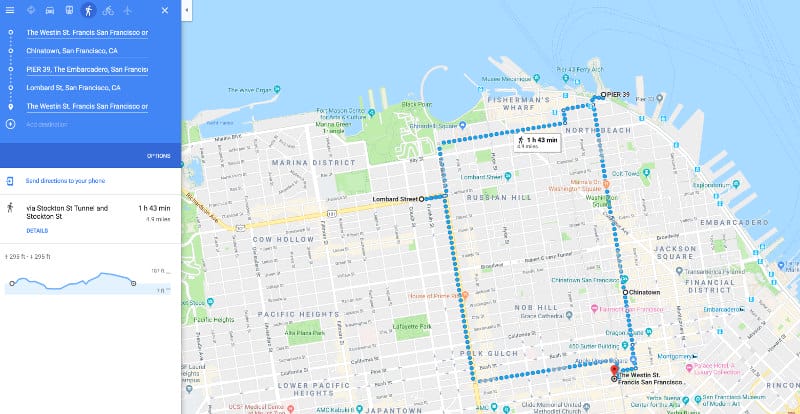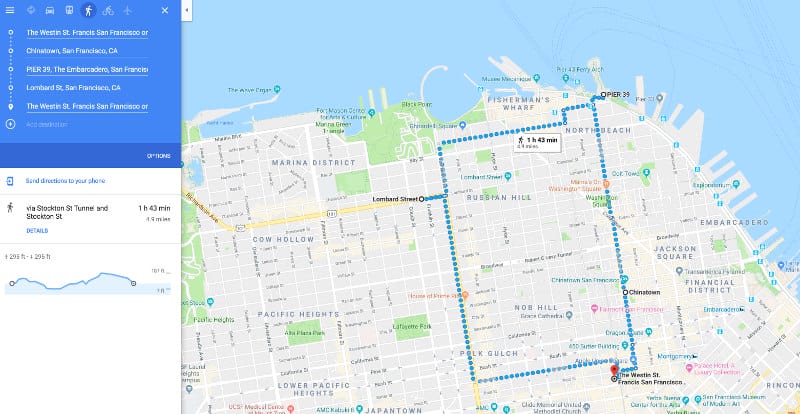 Click here for active Google Map.
Day 2:
A day away from the city. Take your car and drive to both Muir Woods and Point Reyes National Seashore. Plan to leave early and be gone all day and to run into some traffic going and coming back (especially if during rush hour). ** You could be in the car for 3-4 hours for this day trip.
If you don't have a car or don't want to drive then skip Point Reyes National Seashore and opt for the: Muir Woods Tour Of California Coastal Redwoods
Information to know about the bus tour through Expedia (take note of car seat requirements):


Day 3:
Have a lazy morning at the hotel and explore Union Square before heading to the Children's Creativity Museum (find a parking garage by the museum). Then head over to Mission Delores Park (parking on the street) to walk and get Pizza to go and hang out at the park and playground before finishing the night with Bi-Rite Ice Cream.
Day 4:
Visit the San Francisco Zoo (parking at the zoo). This can be an all day event – especially if you leave plenty of time for the kids to play at the park.
Day 5:
You need a break right? Don't plan anything for this day and instead just wing it or relax at your hotel and don't feel guilty about it!
Day 6:
Head over to Lands End then up to the Golden Gate Bridge and then over the Discovery Bay Children's Museum. (Parking at Lands End should be fine – you may not be able to stop at the Golden Gate Bridge but you will drive over it and can park at the Children's Museum and get great pictures there – be prepared for the one way Golden Gate Bridge Toll).
Day 7:
Time to head home.
Before adventuring with your family to San Francisco be sure to read up on the gold rush and how so many people around the United States rushed to San Francisco hoping to become rich! And check out this post on ride sharing tips for families with Lyft and Uber.
If you are planning to come to San Francisco you may want to consider a Pacific Coast Highway Road Trip or a Northern California trip! Or at least check out Big Sur and maybe jump over to Lake Tahoe for a weekend. There are so many great things to do in California!
Other posts on California:
Joshua Tree, South California, Disneyland, Death Valley National Park, San Diego, Sequoia National Park, Yosemite National Park, or Los Angeles.
Posts beyond California:
6 Epic National Park Road Trip Ideas [Maps Included]
17 Amazing Things To Do In North Cascades National Park
Pin This Post: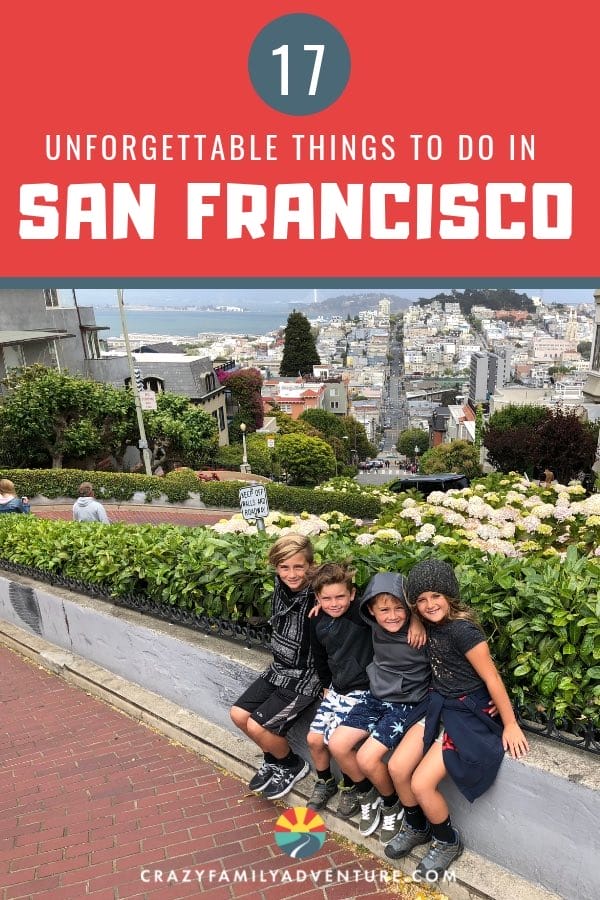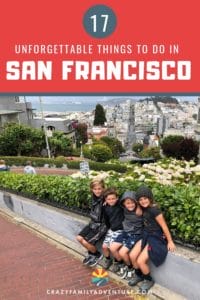 DISCLOSURE: This post may contain affiliate links, meaning I get a commission if you decide to make a purchase through my links, at no cost to you. Please read my disclosure for more info.