No matter what time of year you go there are so many things to do in Lake Tahoe and so much beauty! This post will share things to do in winter and things to do in summer – plus there are things that overlap and can be done any time of year.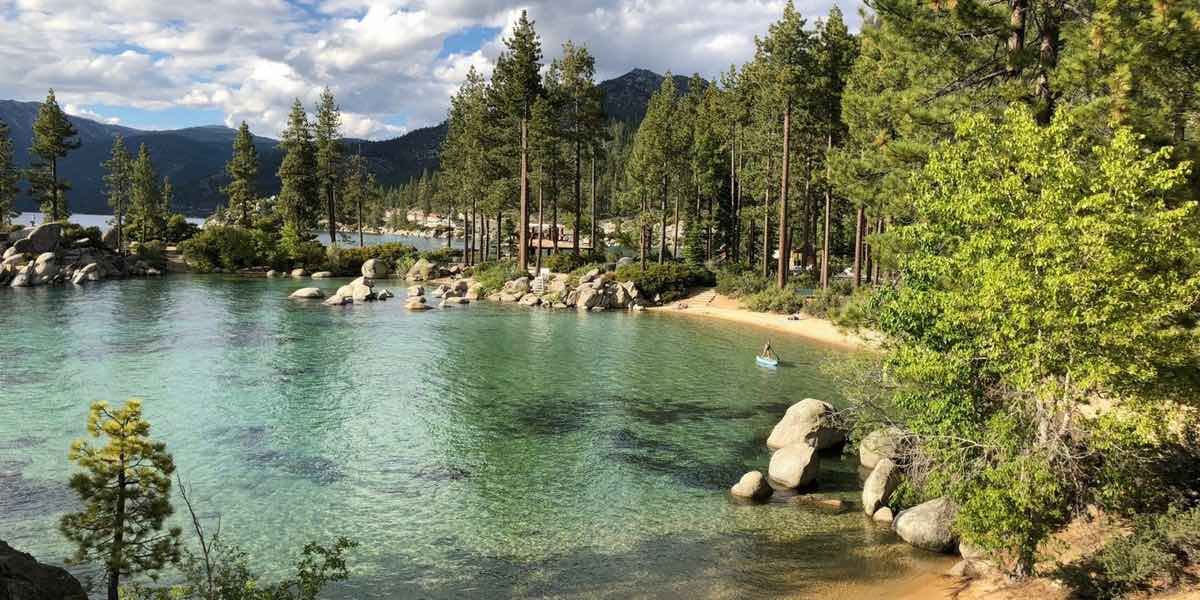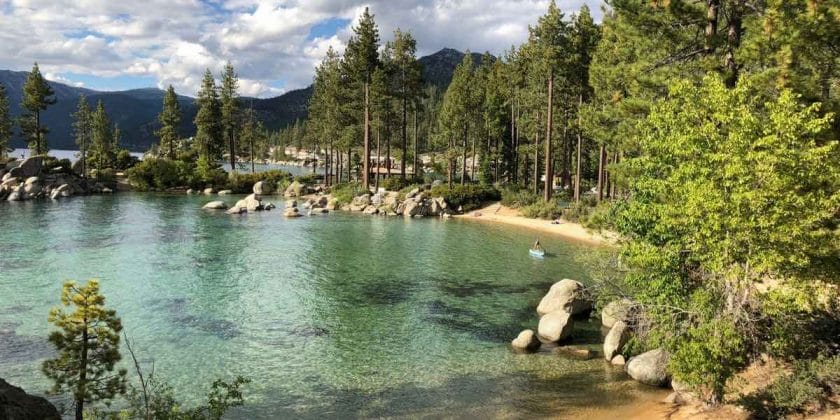 If you are looking for fun things to do in Northern California Lake Tahoe should be on your list! It is a gorgeous place and the lake is unbelievable.
Tips on Visiting
It is a small city, but VERY busy. This can mean traffic jams on the way into town and once you are there if you try to go anywhere off of the main road you run into traffic again . . . guess that is what happens when there is such a beautiful place to explore.
Also note this wasn't just on the weekend, but also during the week. So prepare for it to take longer than you anticipated getting there. Once there, know you either have to get up early to get a parking spot at trailheads or drive around for a while until someone leaves.
Lake Tahoe is split up into South Lake Tahoe in CA and North Lake Tahoe in Nevada and is also referred to as the California Side or the Nevada Side because it crosses the California/Nevada state line.
Yeah, not confusing at all. Good to know . . . yeah we didn't know that going into it. And each part of it offers something a little different or unique. We ended up spending a little bit of time on both sides. You'll know when you're on the Nevada side when you see a few casinos on the main strip.
Things To Do In Lake Tahoe In Winter
Lake Tahoe is a great winter family vacation destination! There is so much to do and a lot of great outdoor activities. It is one of the best mountain towns in California!
Snowshoeing
Head out to "hike" in the snow with Snowshoes! There are a variety of different trails you can take – some easy and some hard. But all of them beautiful. Learn more about the trails you can take here.
Sledding/Tubing
If your kids are like ours they love to go sledding and tubing. Adventure Mountain is the perfect place for this. They have tube and sled rentals and great runs that your kids will want to go down over and over again.
Sleigh/Carriage Ride
Looking for something unique to do with the whole family? Head out on a sleigh ride with a horse drawn carriage. It will be a trip that your kids won't soon forget.
Skiing
The number one thing to do here in winter is skiing! Check out these recommended ski resorts below and a map showing where they are around Lake Tahoe.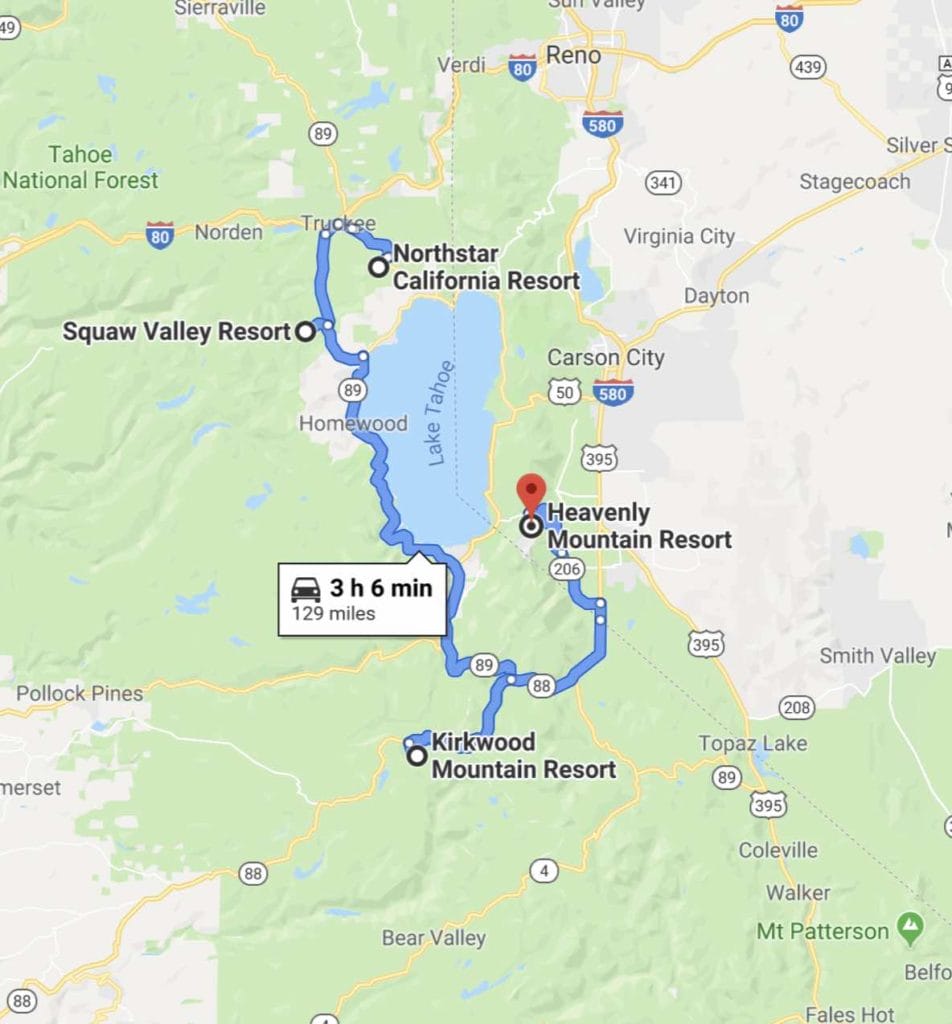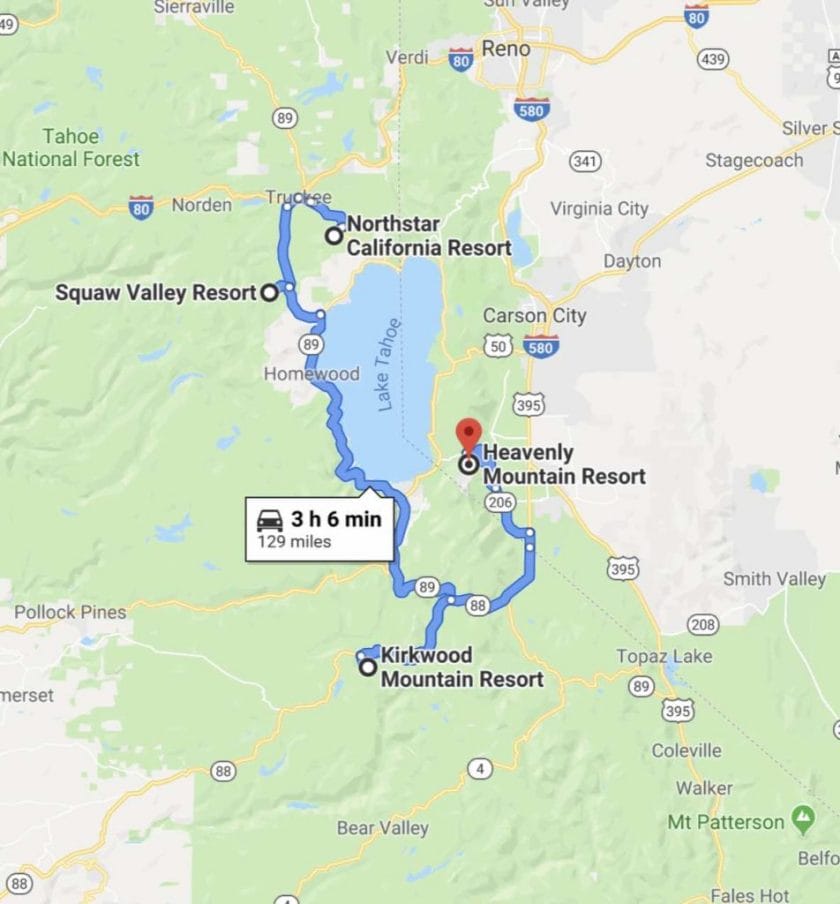 Northstar California Resort
Located in North Lake Tahoe near Truckee, Northstar California Resort has grown to become one of the largest ski resorts in the Tahoe area. With a Ritz-Carlton on property and a ton of money poured in by owner Vail Resorts, it's also one of the most luxurious. The resort has a large village with activities like ice skating, snow tubing, and a movie theater as well as numerous restaurants sure to please even the most discerning of foodies.
Although it's pricey, Northstar California Resort is often well worth the splurge for families. Northstar's ski school is as good as it gets for younger kids. Especially pioneering is the resort's "Ultimate 4" ski lessons that guarantee no greater than a 4:1 student to instructor ratio. Families with kids ages 2-6 not ready to ski can take advantage of childcare at Minors Camp.
Recommended by: Leslie at Trips With Tykes
Ski Lift Tickets and Rentals
Click here to check out all of the great prices on Undercover Tourist for the Northstar hotel, ski lift tickets and ski rentals!
Heavenly Ski Resort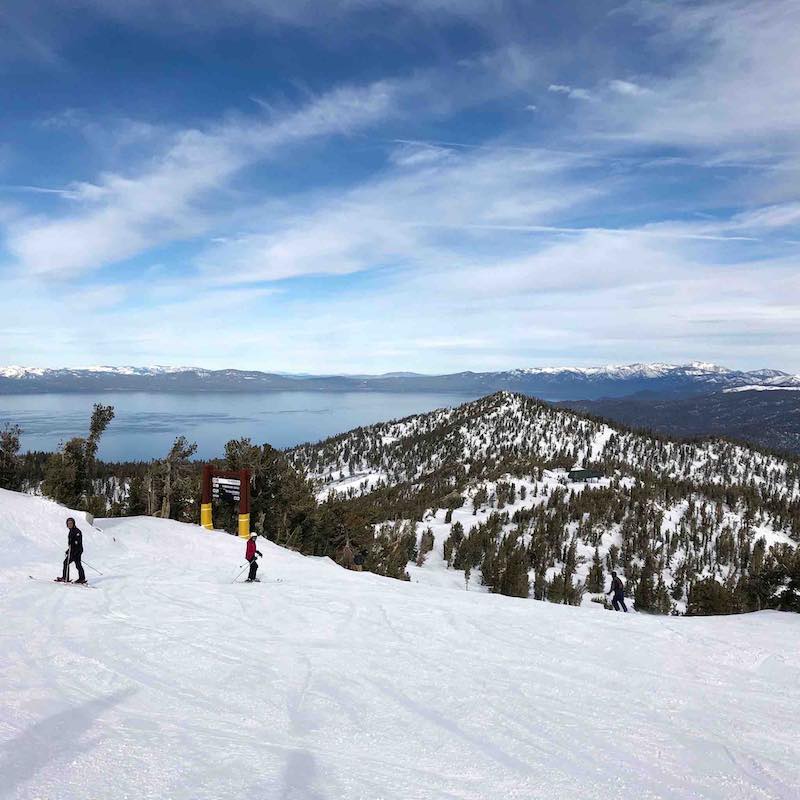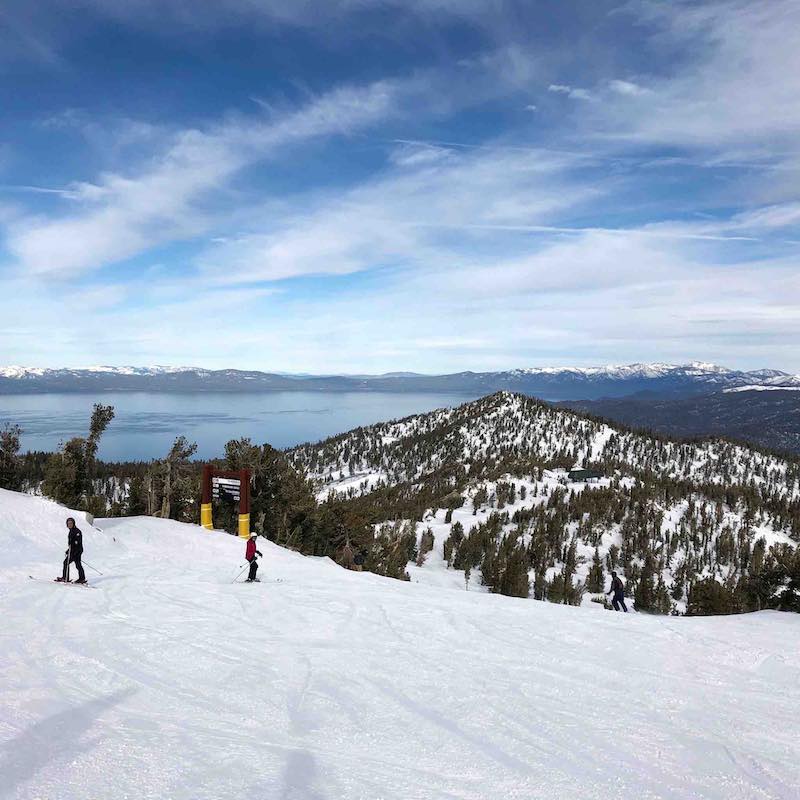 Heavenly Ski Resort in South Lake Tahoe is another large Tahoe area resort owned and operated by Vail Resorts that participates in the Epic Pass. Located not far from the casinos in Stateline across the Nevada border, the resort has a more urban vibe, numerous lodging choices, and lots of off-the-slopes activities and restaurants.
Heavenly is an incredibly large and spread out resort, so it's vital to study the trail map and understand each of the different base areas before a trip. Luckily for families, the resort runs children's ski school from three different locations (from the California Base Lodge, at the Heavenly Gondola, and at Boulder Lodge on the Nevada side). Heavenly also offers childcare for kids as young as 6 weeks old as well as a hybrid ski school and day care combination for preschoolers not ready for all day ski school.
Recommended by: Leslie at Trips With Tykes
Ski Lift Tickets and Rentals
Click here to check out all of the great prices on Undercover Tourist for the Heavenly hotel, ski lifts tickets and ski rentals!
Check out these recommended hotels near Heavenly Ski Resort:
Squaw Valley Ski Resort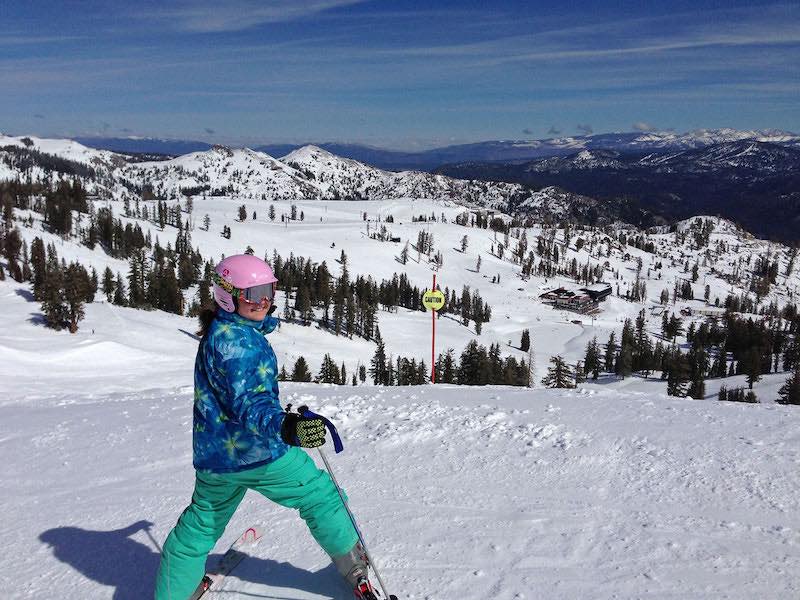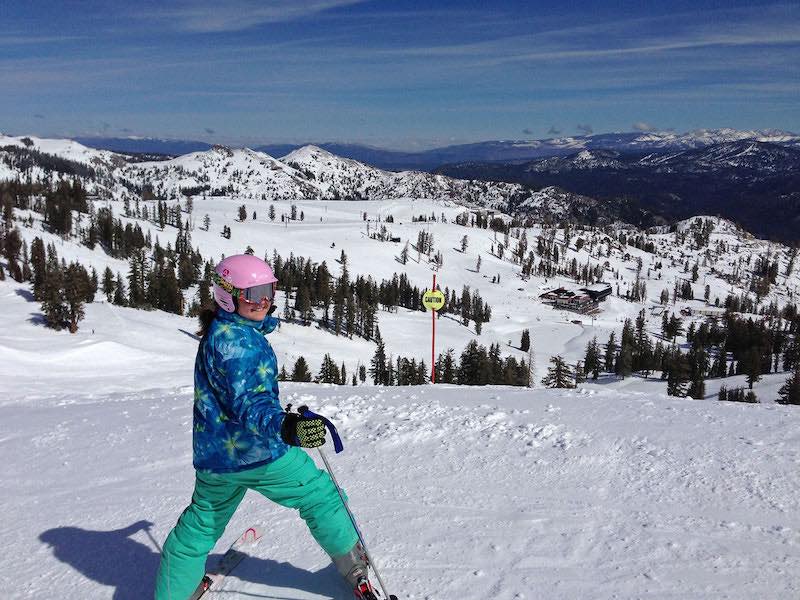 Squaw Valley, site of the 1960 Olympic Games, has everything you need for the perfect ski vacation. Thrill-seekers will love the steeps, cliffs, and jumps, while beginners can enjoy nearly-flat terrain near the top of the mountain. Many bunny slopes overlook a parking lot or a busy base lodge, but beginners at Squaw get to ride the funitel to the top and enjoy gorgeous views of Lake Tahoe!
At the end of the day, the bustling Village at Squaw Valley offers fantastic restaurants, food trucks, live music, shopping, a spa, yoga, and kids activities. Squaw Valley is also the perfect choice for spring skiing – they regularly stay open into July!
Recommended by Shannon at The TV Traveler get more tips on skiing here.
Kirkwood Mountain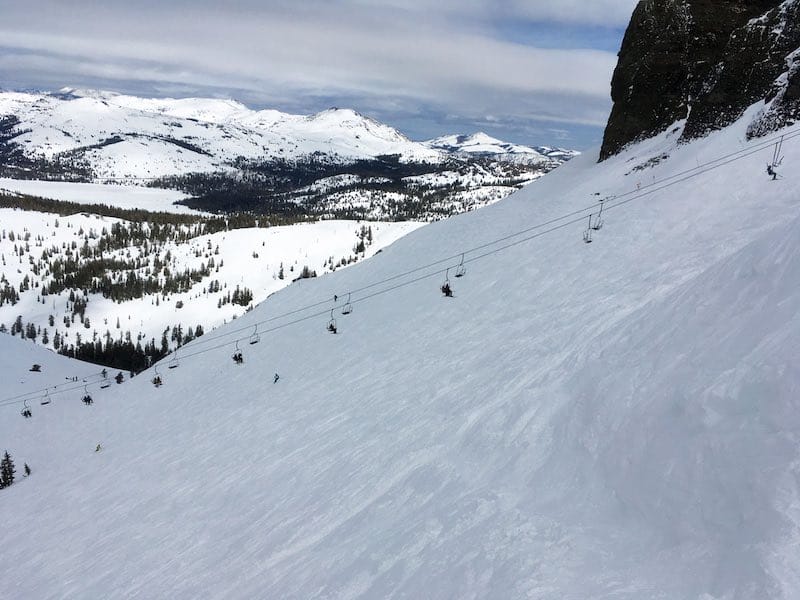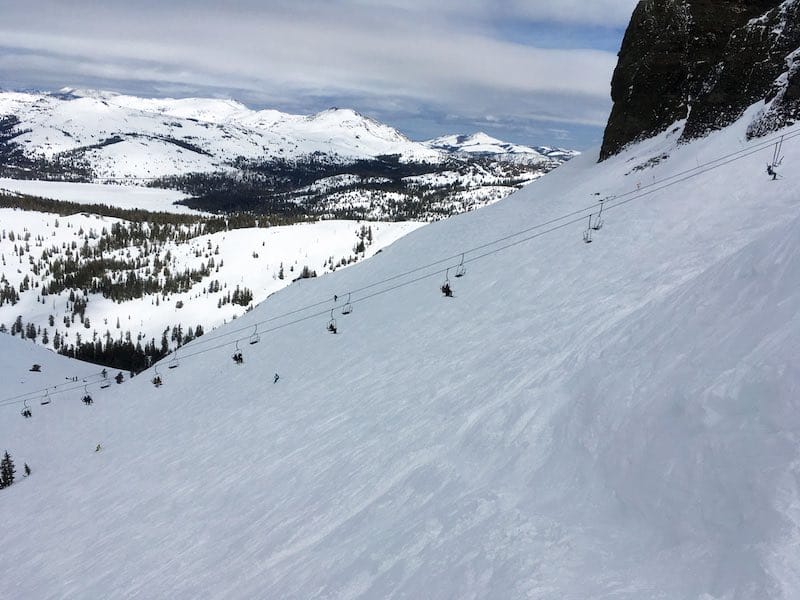 Kirkwood Mountain is known for challenging terrain, and the best powder skiing in the Lake Tahoe area. Some of their crazy terrain has been made famous in classic ski movies! But that doesn't mean beginners should shy away. Their beginner skiing area is a hidden gem that is safely set aside from the more advanced skiers.
Kirkwood's retro vibe and out-of-the-way location keeps the crowds to a minimum. There is really no "town" at Kirkwood. Those looking for a lively resort area might find it a bit lacking, but they do have a few good restaurants and some shopping at the base. It's the snow and the terrain that shines here. For those who just really love to ski, Kirkwood will not disappoint.
Recommended by Shannon at The TV Traveler get more tips on skiing here.
Ski Lift Tickets and Rentals
Click here to check out all the great prices at Undercover Tourist for Kirkwood hotel, ski lift tickets and rentals
Or if you plan to ski multiple times this year be sure to pick up your Epic Pass for unlimited skiing at Kirkwood and other ski resorts around the country. Or if you are just planning to take 1 ski trip this year then check out these other options:
Traveling with kids? Click here to learn more about the best Tahoe ski resort for kids.
Another popular ski resort in the area is Palisades Tahoe – like I mentioned lot's of skiing!
Things To Do In Lake Tahoe Any Time Of year
Cruise Lake Tahoe
If you'd like to enjoy the beauty of Emerald Bay and learn about the history while sipping on a cool beverage, this cruise on the Tahoe Bleu Wave is for you! Enjoy a two hour narrated tour of the Bay, including waterfalls, mountains and the only island in the lake, Fannette Island! Food and drinks are available for purchase.
You can also book a cruise on the MS Dixie II. Or check out these boat rentals in Lake Tahoe and take a boat out yourself!
Helicopter Tours
A helicopter tour would be a phenomenal way to experience Lake Tahoe. Take in the breathtaking mountains or sparkling waters with one of these epic tours:
30 Minute Sand Harbor Helicopter Tour
30 Minute Lakes and Waterfalls Helicopter Tour
15 minute Emerald Bay Helicopter Tour
Drive Around The Lake
Take a drive around Lake Tahoe and pull off to take in the beautiful lake views or stop by the beaches. Yes it could be way to cold to swim if it is winter but it is still gorgeous!
Art Galleries
There are several art galleries in and around Tahoe – if you love looking at art, check out this list!
Where To Eat
Blue Dog Pizza
Blue Dog Pizza is the pizza place that was recommended to us over and over again!
Heavenly Village
We also recommend spending time in Heavenly Village where you can grab a drink during happy hour and sit out to watch the gondola going up and down the mountain or grab a bite to eat at one of the many restaurants or spend time shopping in the stores.
Fire and Ice
We grabbed a happy hour drink at Fire and Ice after we came down from Heavenly Mountain and it was a perfect way to end the day.
Donner Memorial State Park
If you want to check out the location of the Donner Party event that led to people in the party eating each other back in the 1800's you can go to the Donner Memorial State Park. The visitor center has an exhibit on the Donner Party.
Things To Do In Lake Tahoe In Summer
We couldn't wait to get to Lake Tahoe in the Sierra Nevada Mountains to explore that magnificent blue water! We know it is known for downhill and cross country skiing, but we had heard summer was amazing too (Spoiler: It is!).
On the drive in the views were spectacular and got us even more excited to get out to explore the largest alpine lake in North America. Plus we were so excited to try the best hikes in Lake Tahoe. Here's our list of 24 things to do in Lake Tahoe in summer.
Water Activities
Paddle-boarding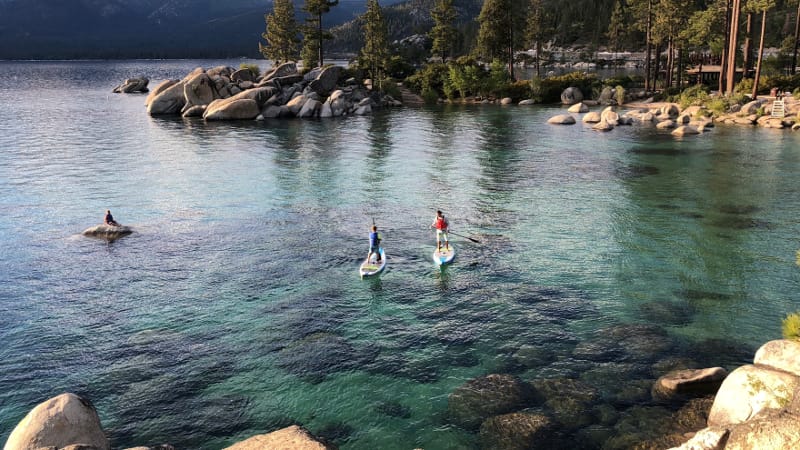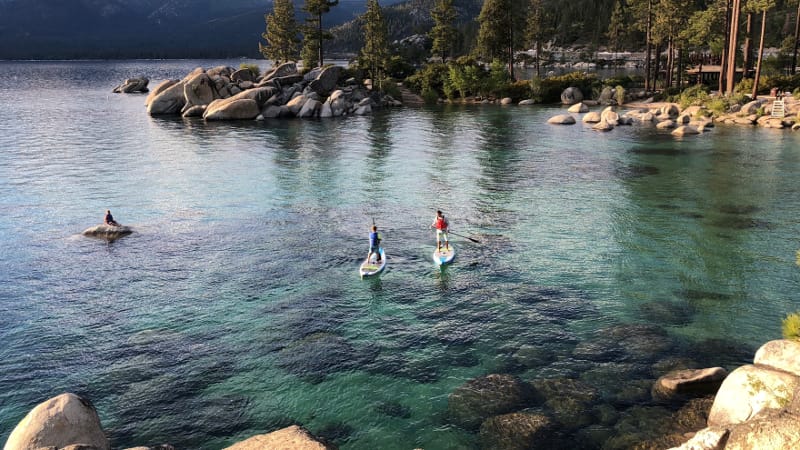 Paddle-boarding, or SUP'ing as the kids say these days, is a great thing to do in Tahoe. You can either plan to bring your own paddle-board or there are rental places around the lake as well for paddle-boards and other water sports.
We used an inflatable stand-up paddle-board and we loved it. The one we used is no longer on Amazon, but this one is very similar and has excellent reviews.
Our favorite place to paddle-board was Sand Harbor beach in North Lake Tahoe on the Nevada side – a short and pretty 30 minute drive from South Tahoe.
The water on the shores of Lake Tahoe are amazing and clear and you can paddle around all of the signature Tahoe rocks. The water is cold, but that didn't stop our kids from playing in it and enjoying the beach area as well. I just loved the color of the water and being able to see all of the rocks I was paddling over.
We have heard that the Nevada side of the lake is the place to go for all things paddle-boarding. But if you are on the California side DL Bliss State Park at Lester Beach is suppose to be good for paddle-boarding.
Kayaking
If you prefer to sit, you can rent a Kayak instead of a stand-up paddle-board. You can rent for 4-8 hours and take in Lake Tahoe's North Shore at a more leisurely pace. All of the same benefits of stand-up paddle-boarding, but a little more laid back.
If you're new to kayaking, consider booking a 2-hour kayak tour geared towards first timers. After your lesson, you will learn about the history of Lake Tahoe while taking in the gorgeous scenery with a guide.
Parasailing
Parasailing is always a blast, and in Lake Tahoe you have the added benefit of gorgeous scenery to take in from the air. This parasailing adventure on Lake Tahoe's South Shore even lets you choose how high you want to go! Learn more and book your parasailing adventure here!
Rent a Boat
Renting a boat is a great way to enjoy Lake Tahoe! If you rent from this location you have multiple different boat options to meet your needs, as well as varying lengths of time you can rent for. You can bring your own equipment for water skiing, knee boarding, tubing, etc. or you can rent that as well.
You can enjoy time on the lake, with your friends and family, away from the crowds and explore the natural beauty of the lake with some privacy – it doesn't get better than that!
Jet Skiing
Of course, any time you are on the water, jet skis are a thrilling way to have some family fun. You can check out Tahoe Sports for jet ski and other rentals. This company states that they allow you to explore the lake freely, while others in the area limit you to a ski area. OR you can rent a jet ski in advance here!
Other Activities
Heavenly Mountain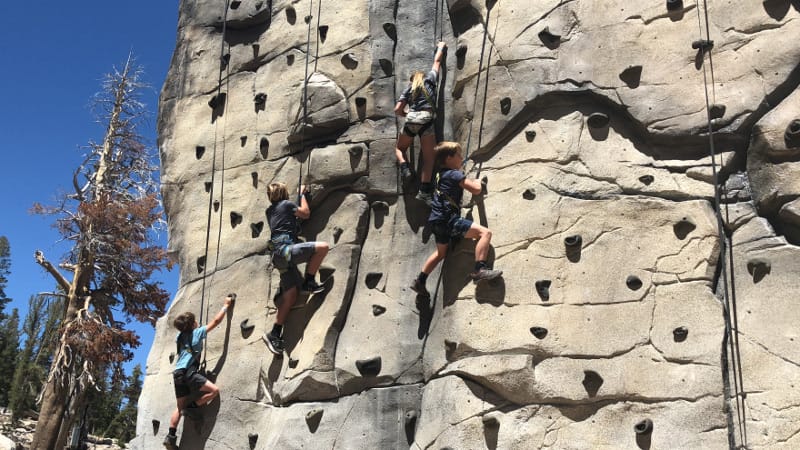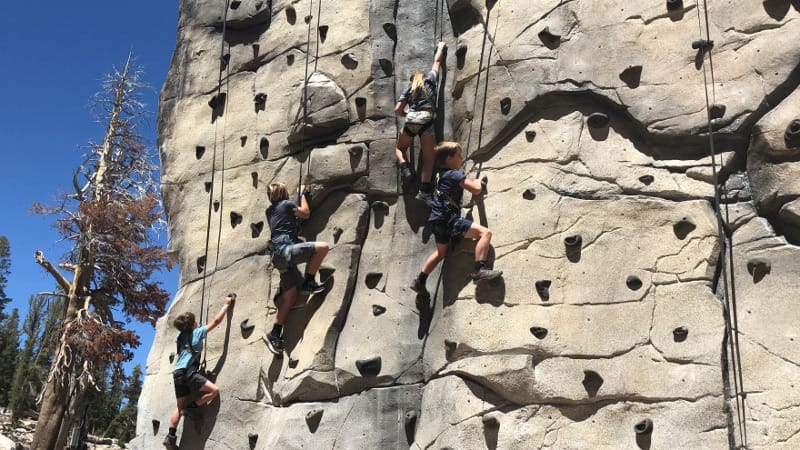 Take a gondola up from Heavenly Village to the gorgeous Heavenly Mountain where you get unbelievable views of Lake Tahoe. Once at the top there are all sorts of activities to do and we highly recommend getting an all access pass so you can do them all more than once.
Click here for great deals on Heavenly Inn from TripAdvisor!
We also recommend getting there when they open at 10am so you have time to enjoy it all. We were lazy and didn't get moving in the morning and got up there around 1pm and wished we had had more time. Before we knew it they were closing things down and we still wanted to do the other ropes course and the kids would have definitely gone on the tubes a couple more times.
There are so many options including a rock wall (with a variety of different levels of setup for younger kids to older), ropes course (there are 2 courses so take a look at both and choose which one you want or if you have time do both), tubing hill, ski lift that takes you up even higher up the mountain, and if you pay extra for it, a zip-line course. Plus play areas where you can do games or just throw a frisbee around. The kids really enjoyed all of it (minus the zip-line which we did not do).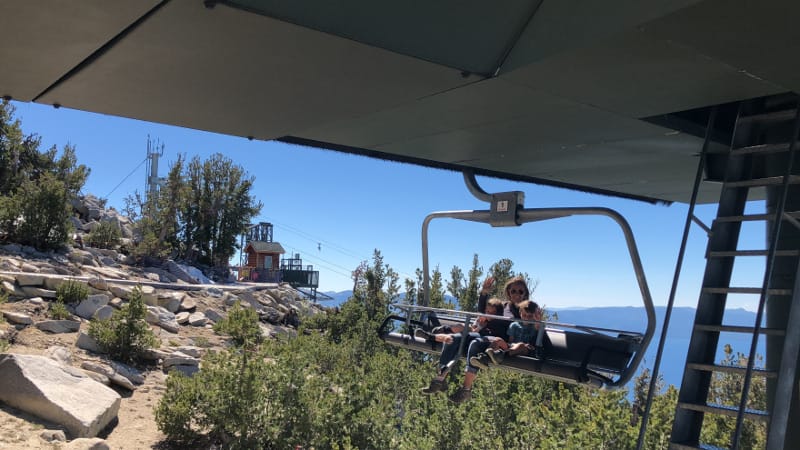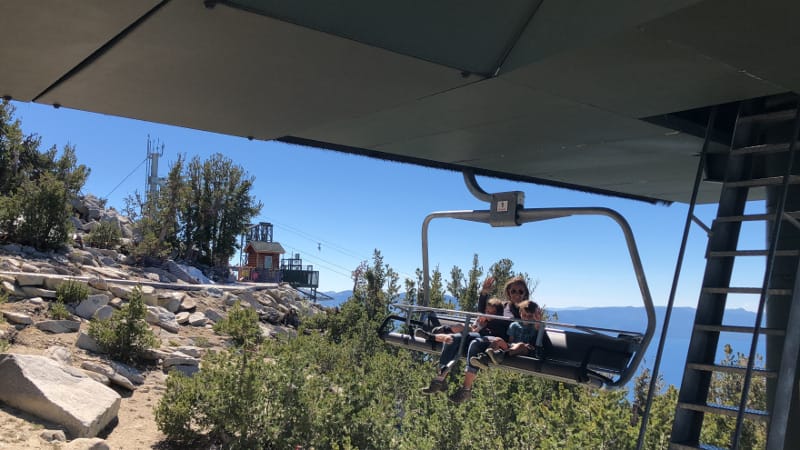 Note: bring your own food or eat before you go. A cheeseburger with fries and a drink was $25!!! With 6 people in our family I couldn't see spending over $150 for lunch. So instead we got the 3 $15 12 inch size pizzas and all split them and drank water :).
If those costs don't deter you, then go for it. The burgers looked yummy and they do sell beer and soda up there. But if you are like us, then bring a backpack and pack a lunch or bring some snacks so you can all share a pizza.
Trail Ride
Do you have a horse lover in your family? Then go on a trail ride through nearby Truckee! This trail ride is perfect for beginners and kids who love horses.
The company also has a petting zoo you can visit after your trail ride is finished.
There really is something for everyone at Lake Tahoe. If the activities above aren't your cup of tea, check out some of these:
Golf – Lake Tahoe has a wealth of golf courses. If golf is how you like to unwind, check out the top golf courses in Tahoe here!
Music and Entertainment – Check out the Valhalla Tahoe for a night out. With shows ranging from live musicals to comedy, bands and more, this is the place for you if you like live entertainment.
Map of Hotel Azure, Campground By The Lake and Heavenly Mountain Resort: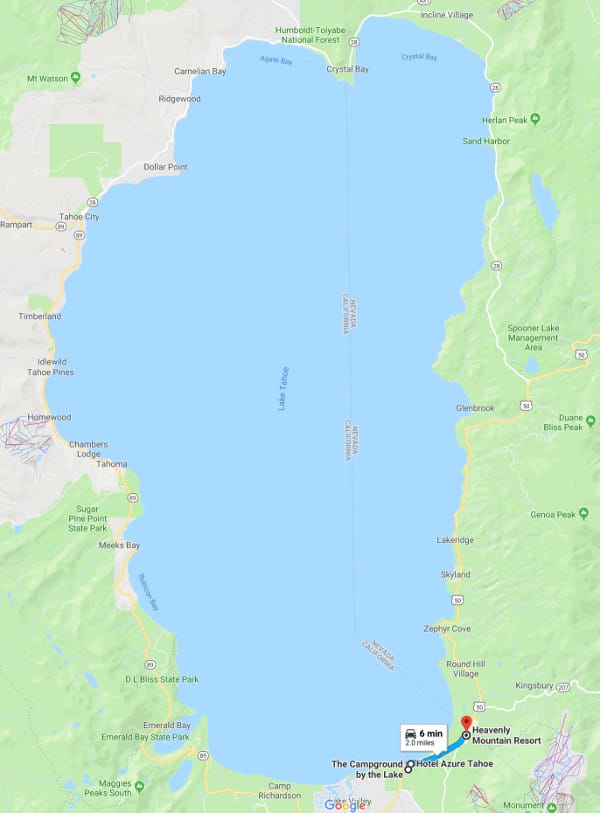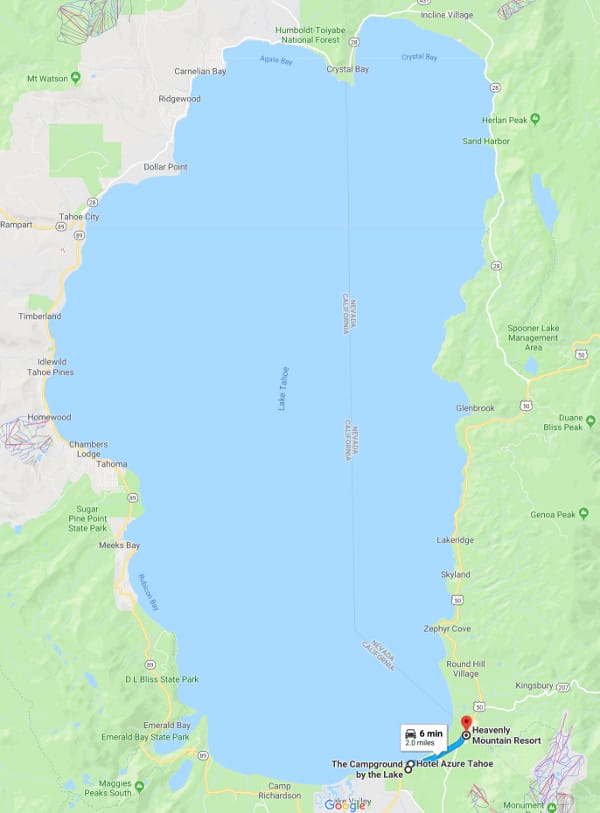 I wanted to provide a map as I know I was very confused when we got into Lake Tahoe about where everything was. In this post you have the map above plus a map of the beaches we recommend visiting in the area and also a map of Lake Tahoe hiking trails. I hope these maps help you plan out what you want to do when you visit!
Scenic Tours
Guided Kayak Tour
Enjoy a 4.5 hour scenic guided Kayak tour of Sand Harbor! This tour will take you to some hidden gems: secluded swimming holes and beaches to get away from the crowds. It also includes a picnic lunch and time out to swim and explore a bit. Learn more here!
Stargazing Tour
If you are visiting Tahoe in the month of July, check out this awesome stargazing opportunity! Learn about the stars and constellations as you gaze through telescopes or sit back in the provided lawn chair with your eyes to the sky and a warm mug of hot chocolate to keep you cozy! Book a stargazing tour here!
Beaches
The California side has some beautiful sandy beaches where you can pull in to park and walk to the beach. There is a $10 fee to park at most of them and there is a chance the lot will be full if you go after 10am. Tahoe is not an easy place to get around . . . but if you are able to time it right and either go early in the morning (well, before 10am is early for us 🙂 ) or later in the afternoon you will have a better chance of finding a spot.
We went to Sand Harbor beach around 5pm and had no problem getting a spot. However the sun did go behind the clouds and it got cooler and we wished we had more time. So it may be worth it to set your alarm and get moving in the morning so you can enjoy the beaches!
California Side Beaches
Nevada Side Beaches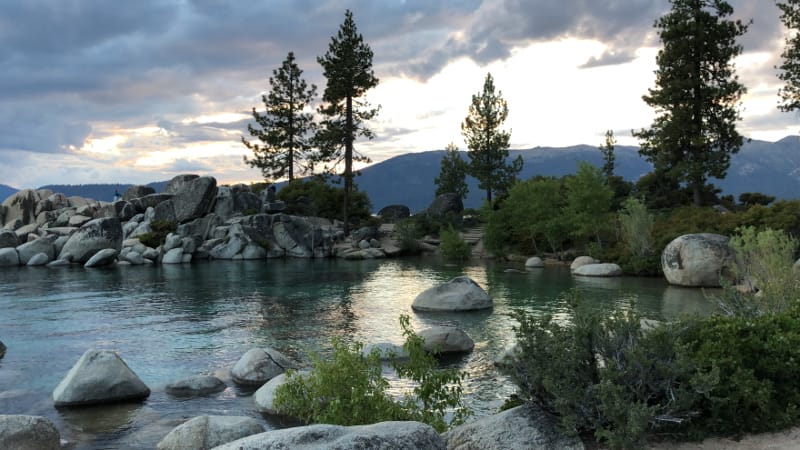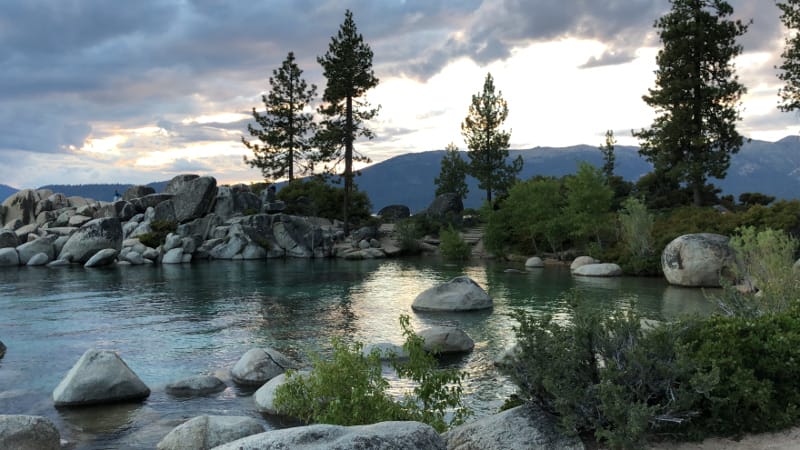 On the Nevada side there are a few amazing hike in beaches (obviously may be a challenge with kids and all the gear – so be prepared that you do have to hike into these):
Sand Harbor Beach – we mentioned this one above for the paddleboarding. It would also be a great place for a day trip at the beach. It wasn't open when we were there but they do have a restaurant/grill that is right by the beach so would be a great place to grab lunch or dinner too.
Here are more Lake Tahoe beaches you wont want to miss!
And here is the Google Map of the beaches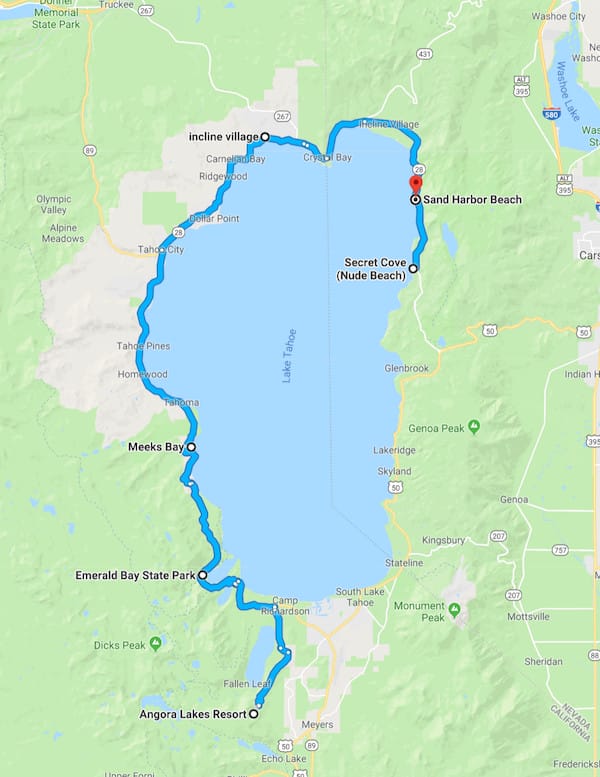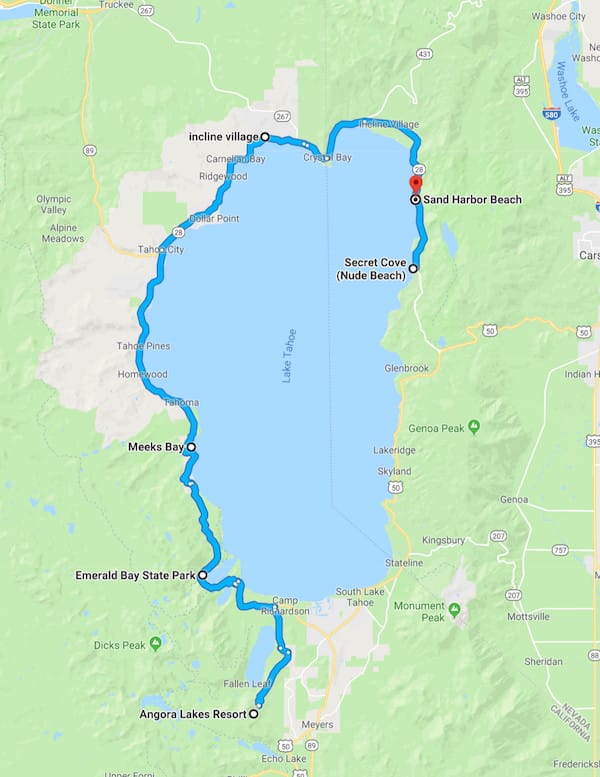 Hiking Trails
We didn't get out to do any hiking while we were there . . . we tried one day and took an hour to get up to the trailhead (lots of traffic) then once we got there there was absolutely NO parking . . . we do have a 12 passenger van so we need a decent size parking space and can't just squeeze in anywhere but still, there was NOTHING in the parking lot! So we turned around and left . . . but we did get these great recommendations from readers who are familiar with the area.
We also found out that there are a couple of trails you can bring dogs on, but for most of them you can't. So if you have a dog with you be sure to check to see if the trail allows them.
Also note there is a fee to park at most of the hikes so have cash on hand. Anything from $5 to $10 is what we saw.
California Side Hikes
The Angora Lakes hike – a short hike that takes you to 2 beautiful mountain lakes. Approximately 1 mile round trip
Cascade Falls – more strenuous then Angora Lakes but amazing views! It takes you up to the edge of a waterfall that empties into cascade lake. – 2 mile round trip hike
Rubicon Trail at DL Bliss State Park – 13 Miles round trip
Eagle Falls – Approximately 1 mile round trip
Vikingsholm Castle Historic Site – A Steep one mile hike, downhill, that leads to a Castle with Scandinavian architecture that you can tour!
Nevada Side Hikes
Monkey Rock – Approximately 2 miles round trip
More Summer Hiking Trails to Check Out
There are also plenty of biking trails and bike paths in the area, if that is more your thing!
Map of Hiking Trails by the west shore.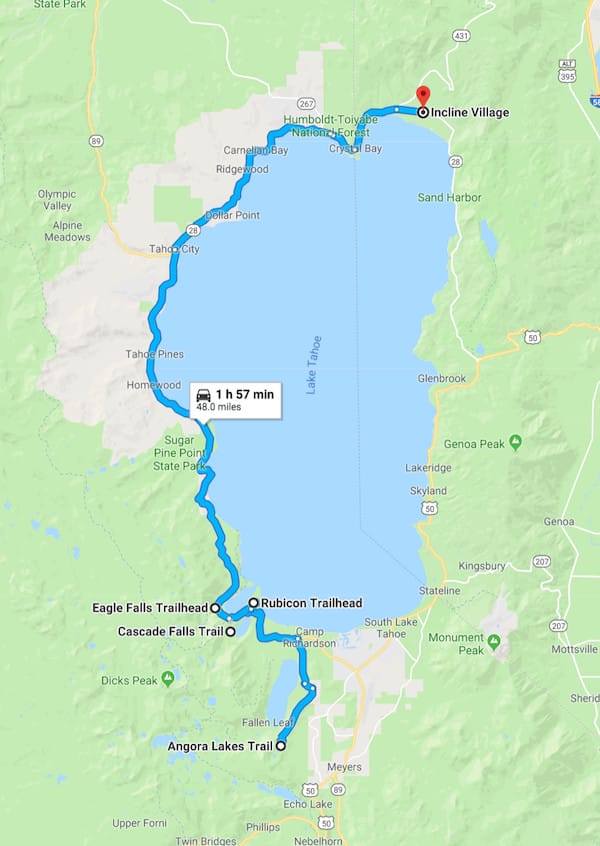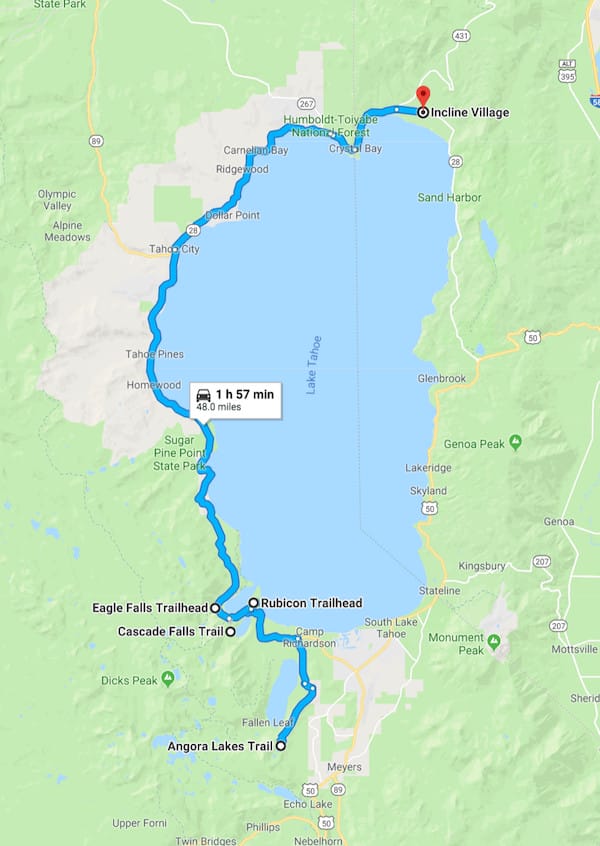 Where To Stay
If you want more of the restaurant, casino, city area where you can walk to a lot of the attractions then you want to stay in South Lake Tahoe at somewhere like: Hotel Azure.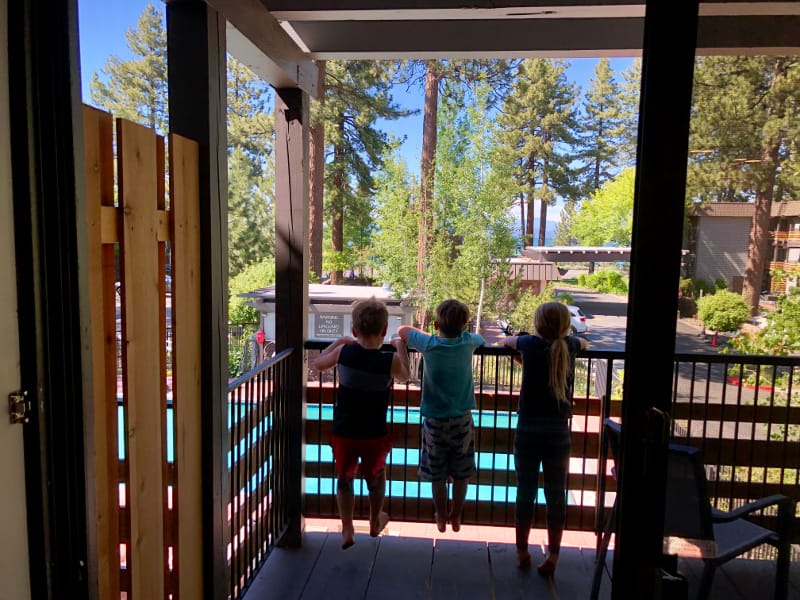 Hotel Azure
Hotel Azure is a great place to stay and is a little ways down the road from the main hustle and bustle of South Tahoe, but still in walking distance to most of the area.
They offer a beautiful 2 bedroom suite plus a pull out couch and they have a nice pool and hot tub! Would be a great places to stay with a large family or group of people. They also offer regular size rooms. Plus they are pet friendly so our dog Indy was able to come with and stay in the room with us.
We really enjoyed staying here and loved that we had a full size kitchen in our room so we could make breakfast and then enjoy it out on our patio. Plus the living room area was huge so it was perfect for hanging out!
Click here for great deals on Hotel Azure from Booking.com!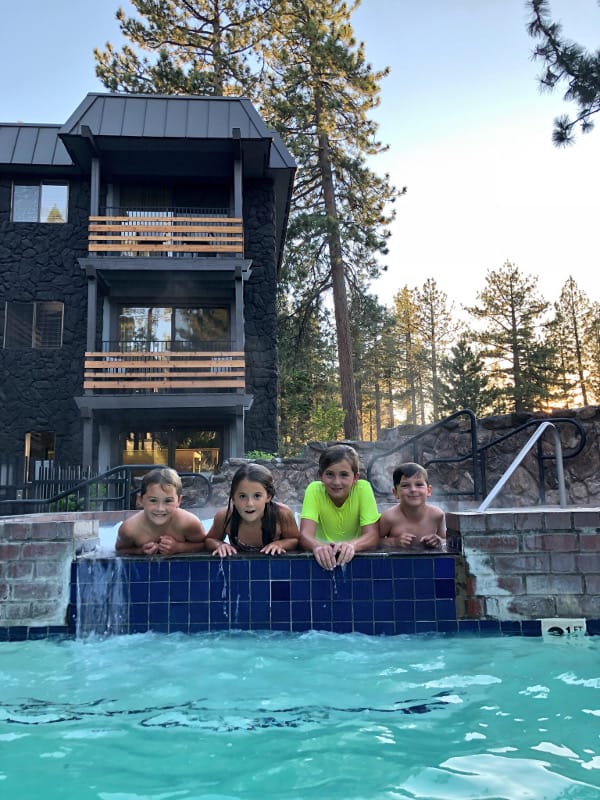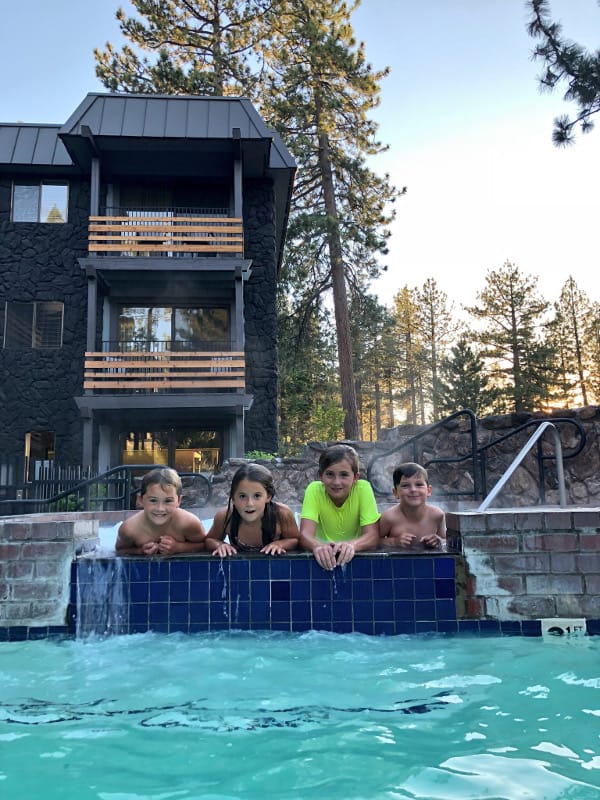 And nothing is better then coming back from a day of exploring to an amazing hot tub. The hotel was a win-win for all of us.
Camp Richardson Historic Resort
Take a look at Camp Richardson Historic Resort And Marina. This year round resort offers just about every single activity available in Lake Tahoe, as well as lodging options from hotel rooms to cabins to camping. Check out the Camp Richardson Historic Resort and Marina and see if it is the right fit fo your trip!
Rent An RV
The Lake Tahoe Basin would be a great place to visit in an RV! If you don't have one you can rent one. Here is a link to RV Rentals in the area. The Campground By The Lake is beautiful so it would be a great place to stay during your trip.
Campground By The Lake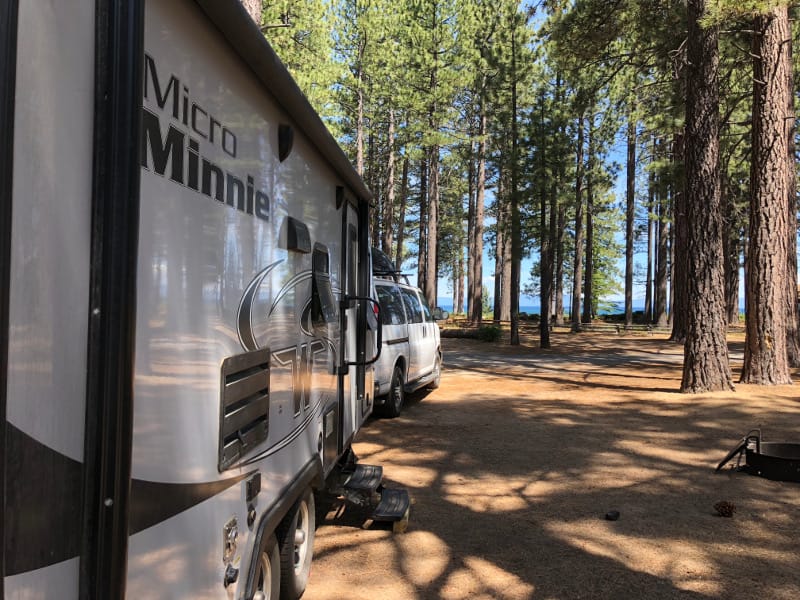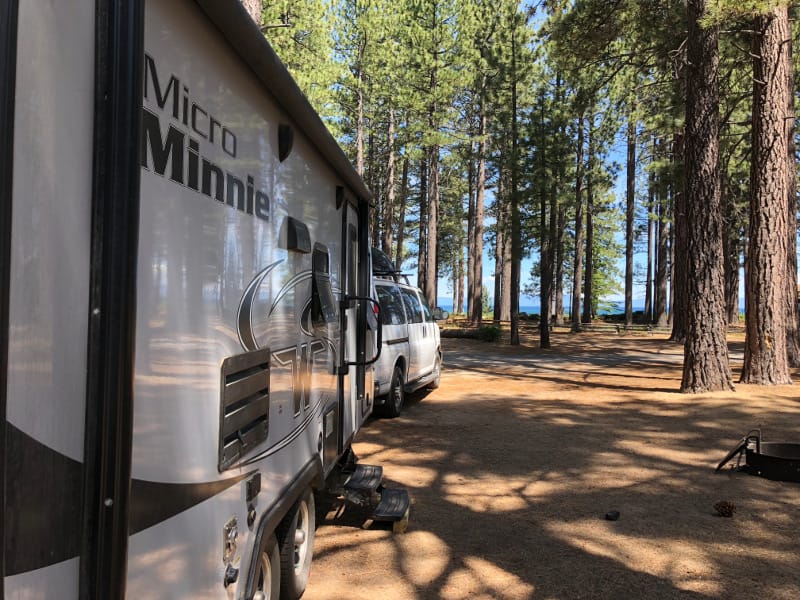 If camping is more your style, then The Campground By The Lake is the perfect place for you. It is actually right next store to Hotel Azure, so it offers walking to attractions as well. Plus you are right across the street from the lake.
If you are more into tent camping or have a really small RV or trailer you may want to check out some of the state park campgrounds. We were too big with a 21 foot trailer . . .
Fallen Leaf Lake Campground is another great option for camping in the area. It is just a mile south of Lake Tahoe's South Shore, but less well known and so has less traffic, though still busy.
You can also camp at Sugar Pine Point State Park or Nevada Beach Campground!
Additional places to check out
It would have been great to spend more time in the area and explore it more. We received so many great recommendations that we will definitely have to go back. It would also be great to come back in the winter – but that would be a whole different experience and I don't know if we are ready for that amount of snow yet. Plus we would all have to learn how to ski!
Fun fact! Lake Tahoe is the second deepest lake in the United States. (Crater Lake in Oregon is the first.)
Here are a few other places you may want to look into if you plan on visiting the Lake Tahoe area. And if you want to take in a lot of what it has to offer I would recommend at least a week stay! Enjoy your Lake Tahoe Summer!
If this is your first time to Lake Tahoe be sure to check out this awesome post: First Timer's Guide To Lake Tahoe.
More Things To Do In California
We have found so many amazing things to do in California. Be sure to check out our post on Things To Do in San Diego, Visiting Disneyland, and Sequoia and Kings Canyon National Park. Here are even more posts from our 5 month road trip up the West Coast:
12 Epic Things To Do In Northern California [Map Included]
14 Magnificent Things To Do In Big Sur California
How To Find The Magnificent Pfeiffer Beach [Maps Included]
17 Unforgettable Things To Do In San Francisco With Kids
21 Epic Things To Do In Yosemite National Park With Kids
21 Magical Things To Do In Redwood National Park
10 Unbelievable Things To Do In Joshua Tree National Park
11 Awe Inspiring Things To Do In Southern California
14 Awesome Things To Do In Death Valley National Park [And Where To Stay]
The 23+ Most Epic Things To Do In Los Angeles With Kids
Here are some great tips if you are planning to visit Lake Tahoe in the winter for a family skiing trip.
Interested in skiing in other parts of the U.S.? Check out The Top 14 Best Family Ski Resorts To Visit This Year, The 5 Best Ski Resorts In Colorado For Families, and All The Details On The Amazing Wilmot Mountain Ski Resort.
We hope you have enjoyed our list of Lake Tahoe things to do! Are there any activities, beaches or hikes that you would add to our list of things to do in Lake Tahoe?
Pin This Post: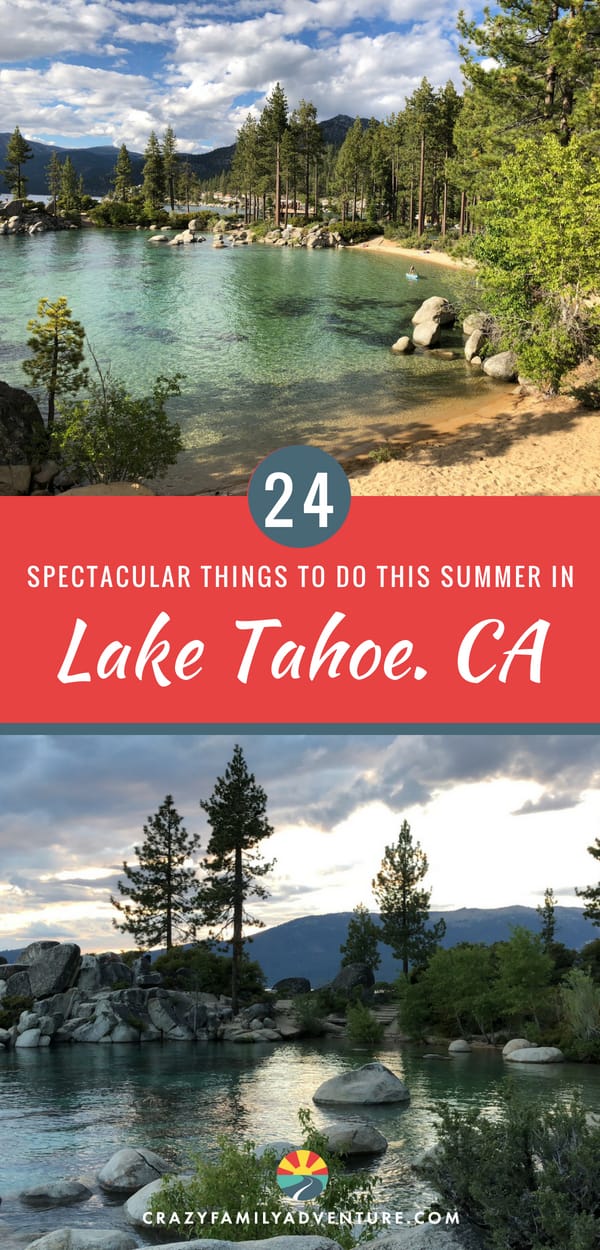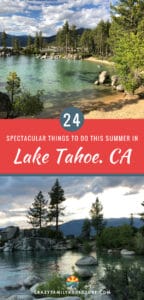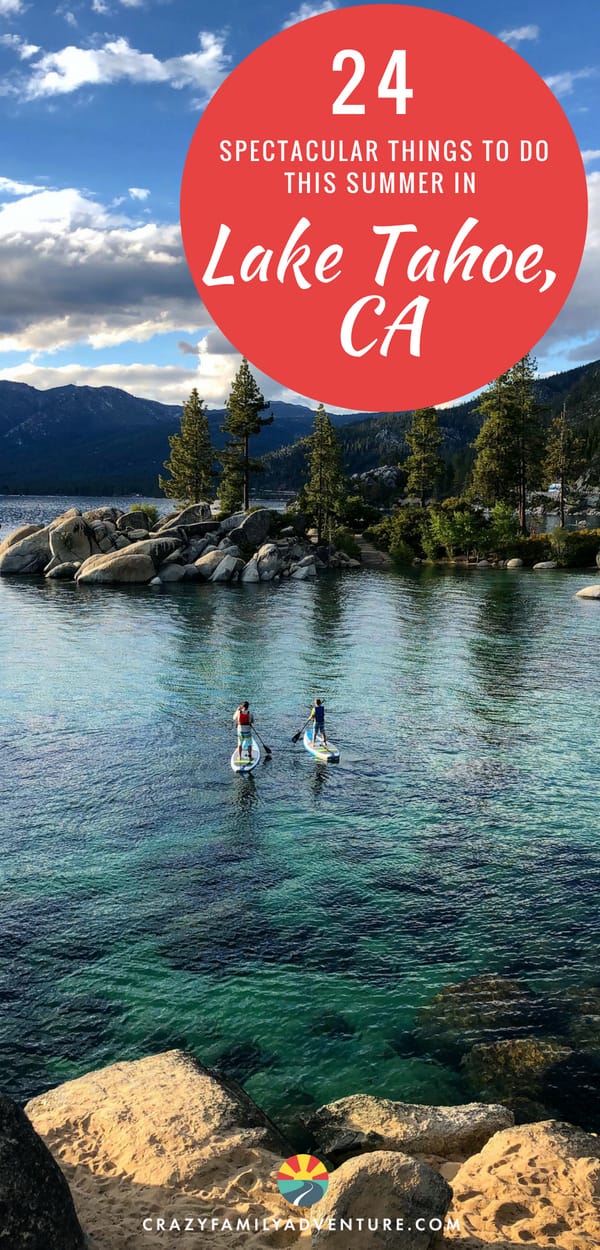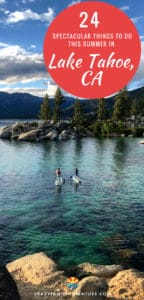 DISCLOSURE: This post may contain affiliate links, meaning I get a commission if you decide to make a purchase through my links, at no cost to you. Please read my disclosure for more info.