There are so many amazing things to do in San Diego with kids. You could spend a month exploring the city and still not see everything!
When planning a west coast road trip or putting together your list of things to do in Southern California you and your whole family will love San Diego.
There is the Donut Bar which has the best donuts San Diego has to offer – and I guarantee you will want to go back more than once to try all the flavors! And did we mention the San Diego breweries yet?! Plus the San Diego beaches and all the awesome day trips from San Diego you can take.
So many to pick from and so little time. We also love that you can visit San Diego at spring break, winter break (it is a great Christmas town in California), summer or fall. Really any time of the year!
Without further ado, here you go: our list of 15 things to do with kids in San Diego. Yes it includes the best breweries in San Diego (where you can bring the kids), desserts in San Diego, our favorite San Diego beaches, the best San Diego attractions and more!
Attractions
There are so many attractions in San Diego to take your kids to. It can be overwhelming! We have put together our list of what our family enjoyed to help you narrow down your list and enjoy this fun city!
San Diego SEAL Tours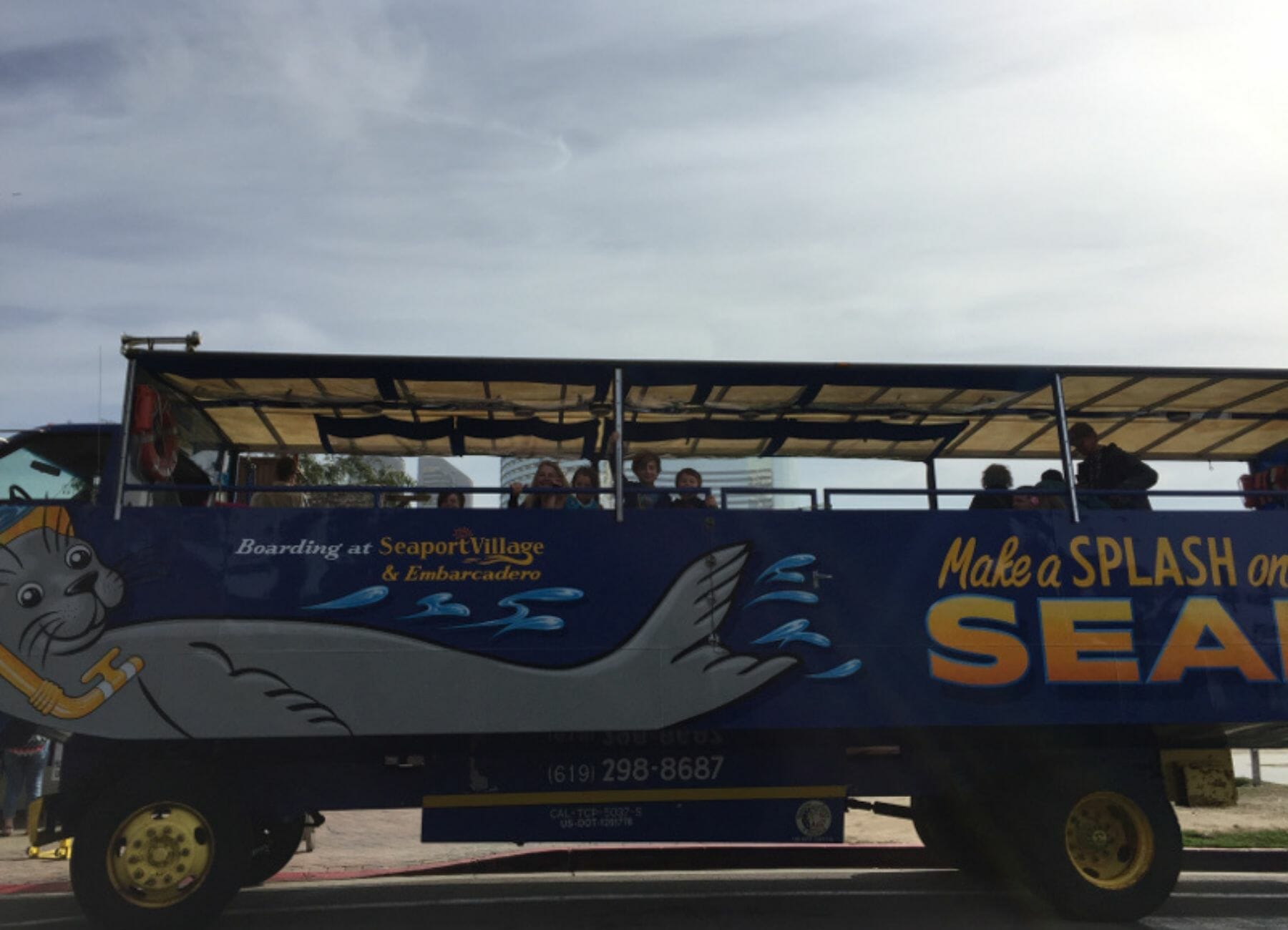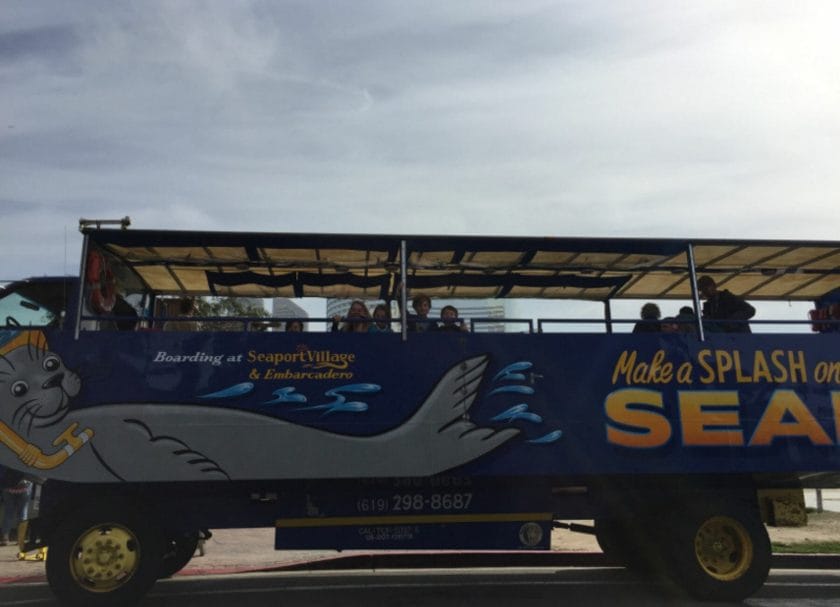 The San Diego Seal Tour is a great way to get out and see the seals that the area is so well known for and also to go on a bus/boat! The tour is extra fun since you first start out in the boat on land. Yup, you read that right, the boat drives on the road and then drives straight into the water of San Diego Bay.
Prior to going into the water, the guide does a great job telling you about the lakefront in San Diego and pointing out all of the points of interest. Then, once in the water, the information continues with a great overview of all the buildings and areas you pass as you head out to find the seals.
We all had so much fun being in the bus/boat and seeing the seals on this open-air cruise on the Pacific Ocean!
CLICK HERE TO BOOK YOUR SAN DIEGO SEAL TOUR TRIP!
Old Town Trolley Tours San Diego
Taking a tour of a city when you get there is a great way to give yourself a nice overview of where you are visiting. We have always been pleasantly surprised that we see a part of the city we may not have normally visited. Plus we get to learn so much about the locations from the knowledgeable guides.
The Old Town Trolley Tour is a hop on hop off trolley. However, we decided we would stay on for the whole ride so that we could take in the city before deciding if we wanted to hop off at all. It worked out really well and was great with the kids since everyone was comfortable and enjoyed being able to look out the window at everything we passed.
We highly recommend taking a tour when you visit a new city and Get Your Guide has some great options for booking tours ahead of time so you don't have to wait in line and can just get right on the tour!
CLICK HERE TO BOOK YOUR TROLLEY TOUR NOW!
San Diego Zoo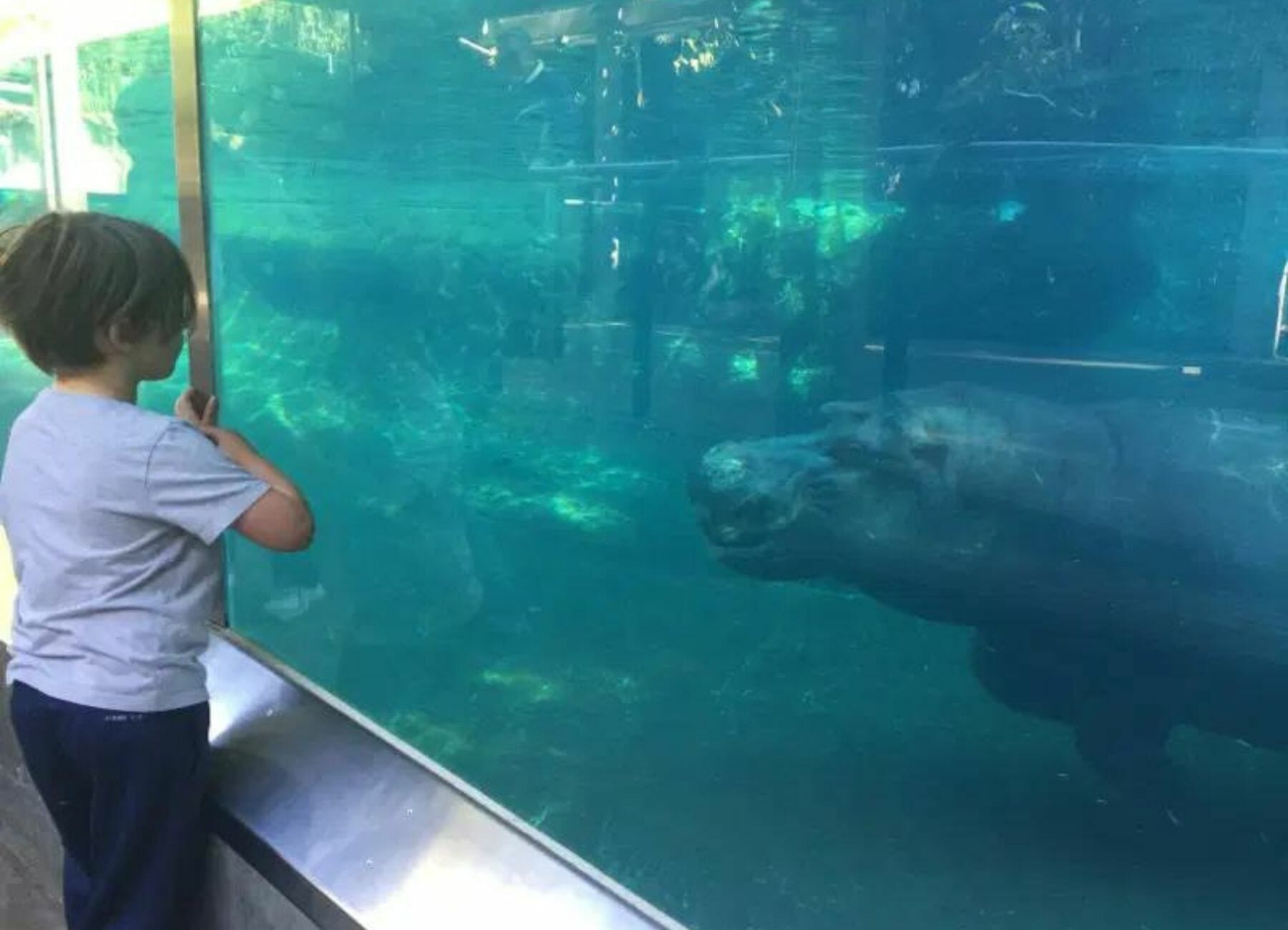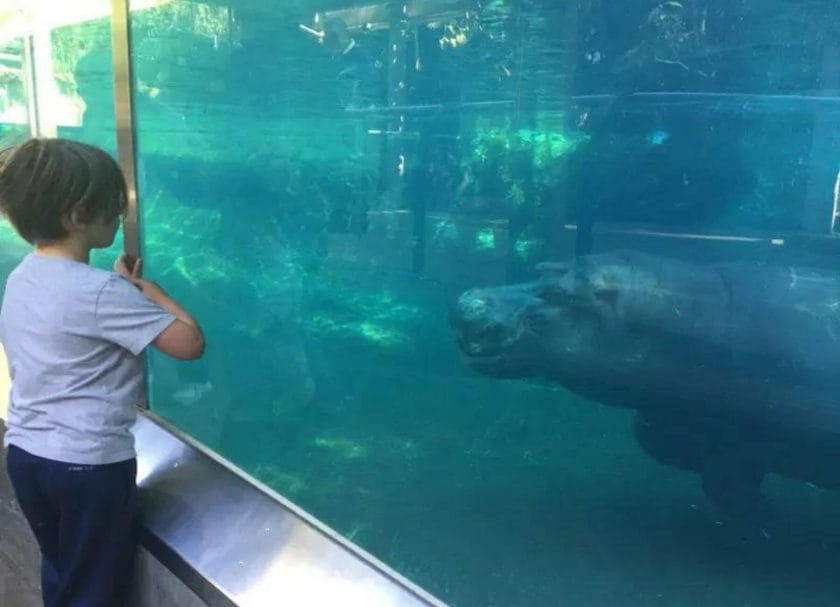 In all honesty, we have been to so many zoos that we normally skip them when we come to a city. But there was no way we would skip the San Diego Zoo. I mean come on now, it is THE zoo. We looked up the San Diego Zoo animal list and were definitely most excited to see the Panda Bear! (The giant pandas, unfortunately, made their way back to China in 2019.)
The Zoo did not disappoint! It is HUGE and around every turn there is something else cool to see. The volunteers were super helpful and took lots of time to talk to us at some of the animal habitats to answer our questions and tell us about the animals. Did you know the first open heart surgery on an Orangutang was performed at the San Diego Zoo?
The animals that stole the show for us were the hippos! We just happened to catch it when the zoo keeper was giving them some water out of the hose so the sleepy giants were super active. It was amazing to watch them through the glass and see them move all around in the water. They really are beautiful creatures.
We ended the day the perfect way by taking the Skyfari and aerial tram that takes you from the back of the park up to the front. We couldn't see many animals from the tram but it was still a fun ride for tired feet. When planning your San Diego itinerary be sure to include the San Diego Zoo!
The line to buy tickets and get into the Zoo can be long. Book in advance and don't waste time standing in line.
Looking for more animal viewing options? Check out the San Diego Zoo Safari Park.
Check out a video of our time in San Diego:
USS Midway
The USS Midway is one of America's longest-serving aircraft carriers. It is located in San Diego Bay. It's a massive ship with more than 60 exhibits and 29 restored aircrafts. We had heard from friends that had visited that you could literally spend a whole day here exploring. There was that much to do. This is also a great option of a something to do in San Diego with teenagers.
They were right! There are multiple levels to the ship and so many buttons and hands on things for the kids to do that you will be there for hours. I always like visiting somewhere that realizes kids like to touch things to help them learn and explore. The USS Midway and USS Midway Museum was perfect for that!
If you want you can also catch a presentation where they take you up where the captain of the boat used to sit. And yes, the kids can sit in the captains seat like they are driving the boat! There are also multiple planes where they can sit in the cockpit and pretend like they are flying.
We all learned so much when we were here and the WWII Veteran volunteers were all very helpful and more then willing to answer the kids questions.
CLICK HERE TO GET YOUR TICKETS FOR THE USS MIDWAY!
LEGOLAND California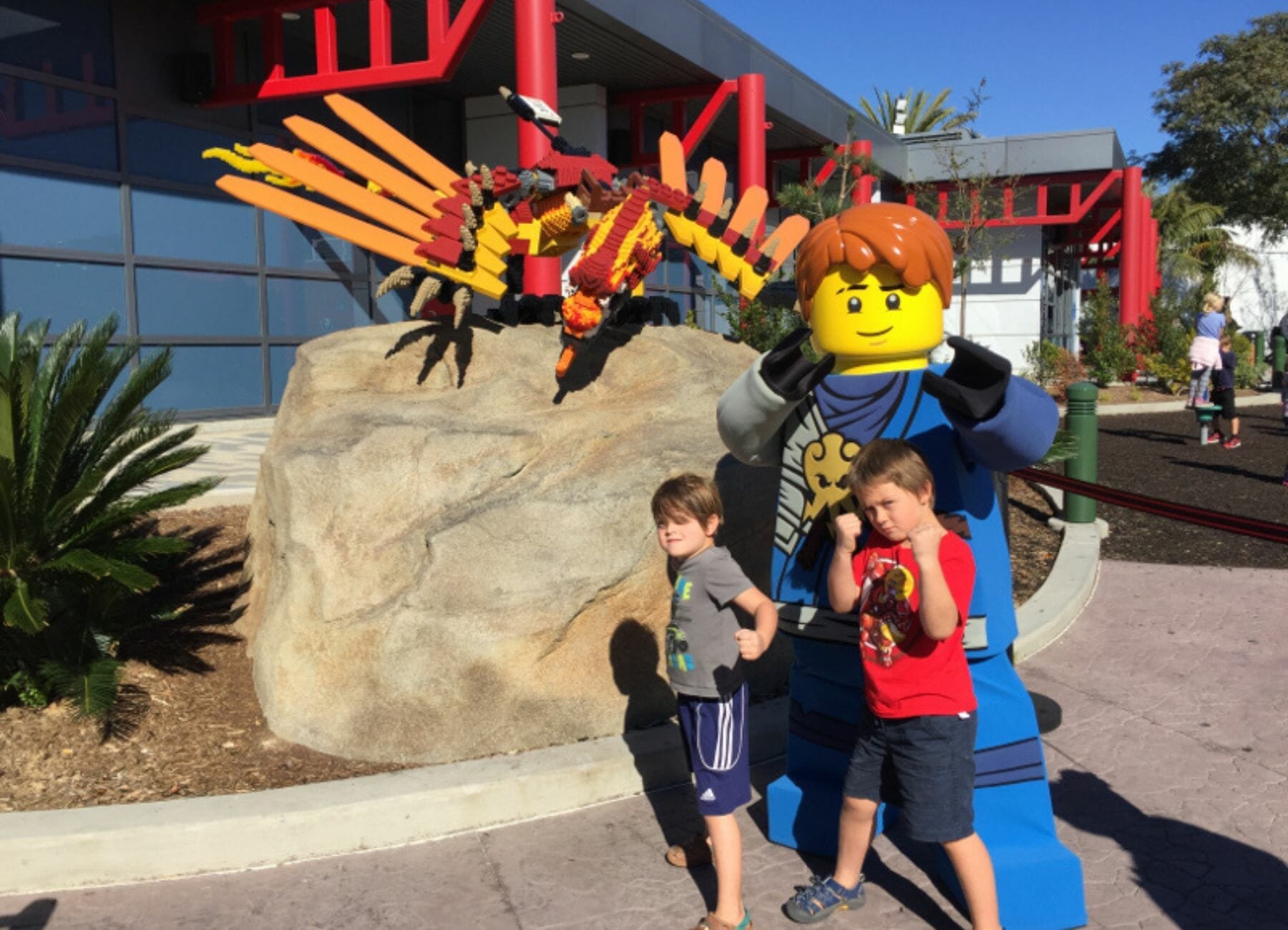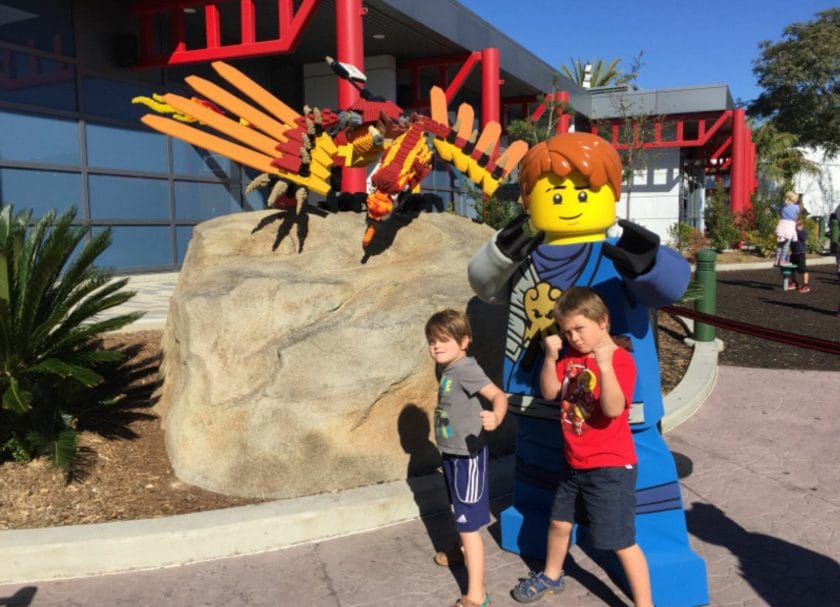 We were super excited to visit LEGOLAND in Carlsbad, California – just up the coast from San Diego. We love the LEGOLAND in Florida so we couldn't wait to check this one out, plus our youngest was really in to Ninjago so he couldn't wait to visit that area of the park!
Because we were there in the winter, the waterpark area wasn't open and, unfortunately, a lot of the other roller coasters were closed due to maintenance. Sometimes coming in the off-season isn't a good thing. But, even with that, we still had a great time and we found plenty of things to fill our day! The kids really enjoyed the rides, the shows, and all of the Lego structures in the amusement park.
LEGOLAND is one of our favorite theme parks to visit since you don't get the craziness that is Disney. Instead the park is very manageable and easy to do in a day. Plus it is perfect for our kids ages – 9, 7, 7, and 4. I have had people with teens say their kids love going too! Your kids will love it!
Want to stay at LEGOLAND? Check out this great post on the LEGOLAND Hotel!
Click here to check out the Go San Diego Card for discounts on Legoland and a variety of other San Diego attractions.
Living Coast Discovery Center
This nonprofit Living Coast Discovery Center is there to provide environmental education related to coastal resource conservation. You park in a parking lot and bus takes you over to the center. Once there you can see the sharks, visit the sting ray touch tank, and see the bald eagles they have there.
It is a small facility but the programs they did were well done, it is a pretty area, and lots of opportunity to learn! It is a little ways outside of San Diego in Chula Vista.
Tip: If you are finding lots of things on this list that you want to do then the Go San Diego Card may be the way to go. The Living Coast Discovery Center and the 2 San Diego museums below are on the card.
Fleet Science Center
We had a great time visiting the Fleet Science Center in Balboa Park and actually ended up going twice while we were in San Diego. (Our reciprocal membership made this possible.) It wasn't the largest Science Center we have been in, but it had a great collection of hands on activities for the kids – including a Lego section.
Our favorite part was the Tinker Lab where the kids eyes lit up when they saw tons of cardboard and other fun materials they could use to build whatever they wanted. We ended up spending most of our time down there with cardboard and a hot glue gun!
TIP: If you don't have the reciprocal membership recommended above then check out the Go San Diego Card which has the Fleet Science Center and the Natural History Museum mentioned below on it. If you got there when the first museum opened and planned accordingly you could definitely do both the Fleet Museum and the Natural History Museum in one day.
San Diego Natural History Museum
Like the Science Center, it wasn't huge but was a nice place to go to explore and learn about the area during one of the rainy days we had when we were in San Diego. It didn't have quite as many hands on activities for the kids but there was definitely enough to keep them occupied for a few hours.
Tip: Same as the tip under the Fleet Science Center: If you don't have the reciprocal membership recommended above then check out the Go San Diego Card which has the Fleet Science Center and the Natural History Museum mentioned below on it. If you got there when the first museum opened and planned accordingly you could definitely do both the Fleet Museum and the Natural History Museum in one day.
Save Money On Your Trip
If you are thinking about doing more than one activity while in San Diego, you can save an actual fortune by getting the Go San Diego Card. Most of the activities on this list, as well as things like the Birch Aquarium, Belmont Park (great for older kids), Whale Watching (see the blue whales!), Harbor Cruises, Water Parks, Birch Aquarium at Scripps where you can see marine life and SO many more (over 35!) amazing activities, are included in this card for an incredibly low price. It is not even just worth the money, it will SAVE you a ton of money.
ORDER THE GO SAN DIEGO CARD HERE!
You can also check out the Cabrillo National Monument.
Desserts In San Diego
Donuts In San Diego
You can't come and not try the best donuts San Diego has to offer and they have a lot to pick from! You can easily make a map and draw out a plan to try a different donut each day or you can go with our top picks. Discover more about Donuts in San Diego!
Donut Bar – Don't miss it! Donuts as big as your head, french toast donut (this isn't on the menu so be sure to ask for it), coffee, and alcoholic beverages if you are interested – it is a bar after all.
Donuts Plus – Good old fashioned donuts. No frills – just good donuts. Plus they are open 24 hours!
A few other options are Golden Donuts and OB Donuts. There are so many places to choose from in San Diego that they do kind of start blurring together. But I can guarantee that Donut Bar will stand out!
The Baked Bear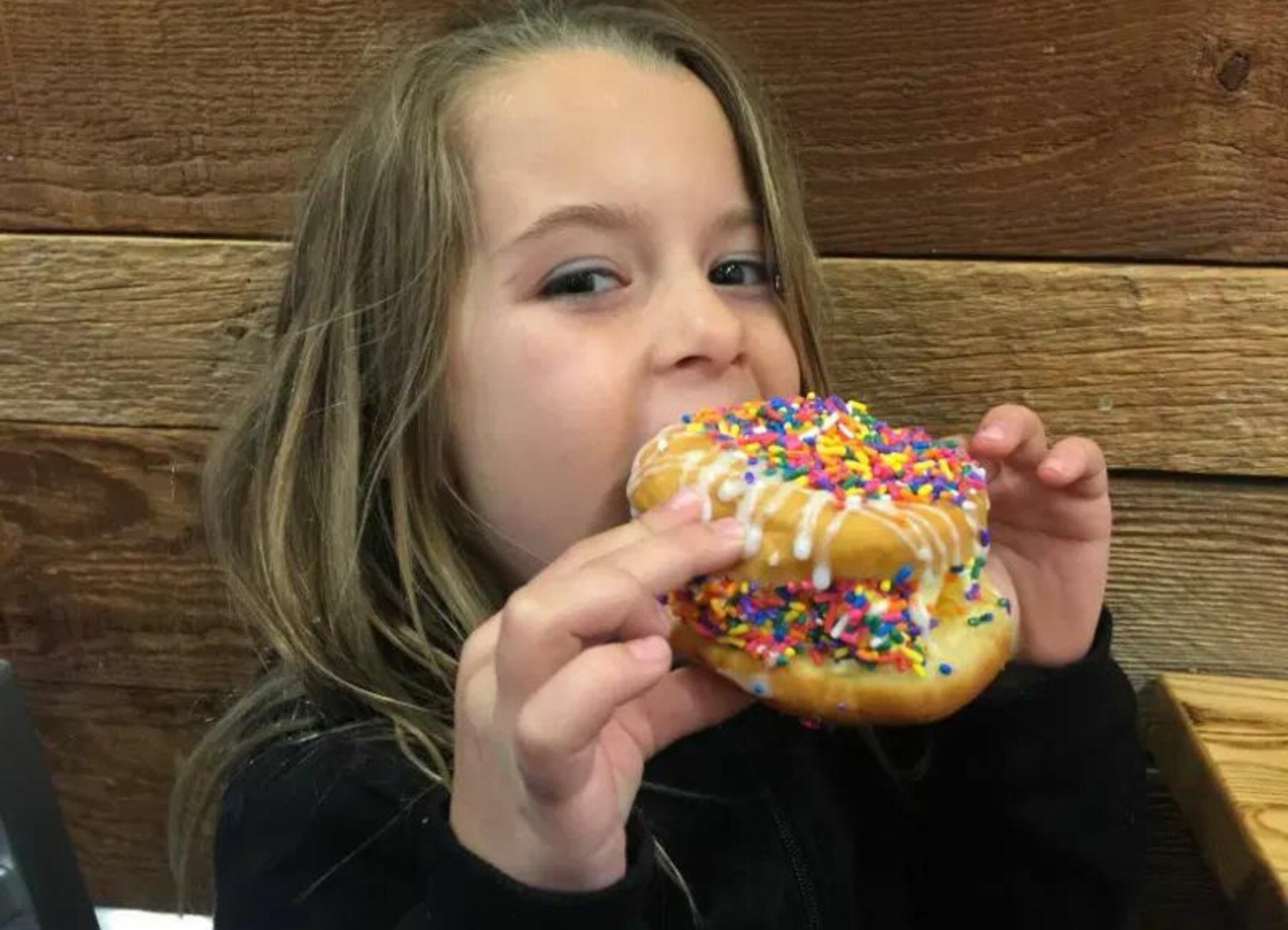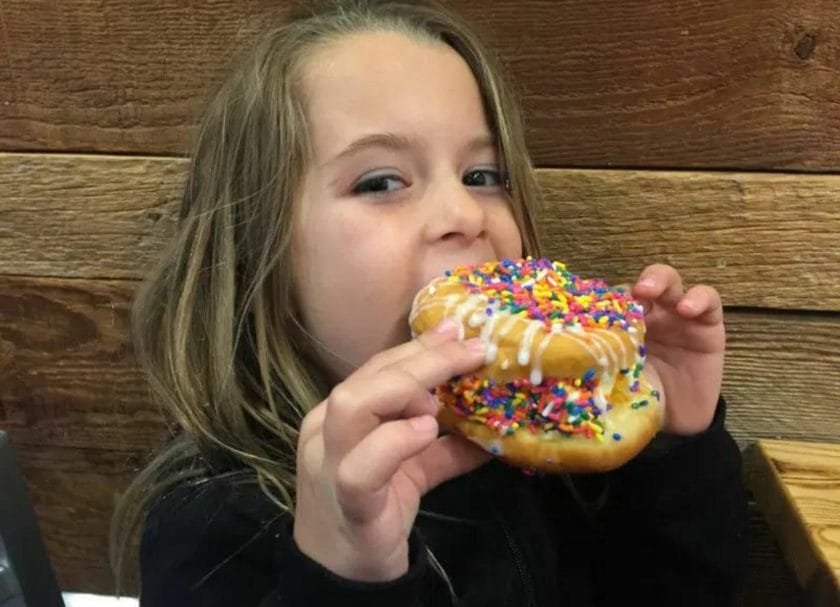 The Baked Bear was a nice surprise for our kids and Craig and I liked them too! They have ice cream sandwiches that you can pick what you want as the sandwich part and inside. They were REALLY good.
Highly recommend making a stop here with or without the kids :)!
Starbucks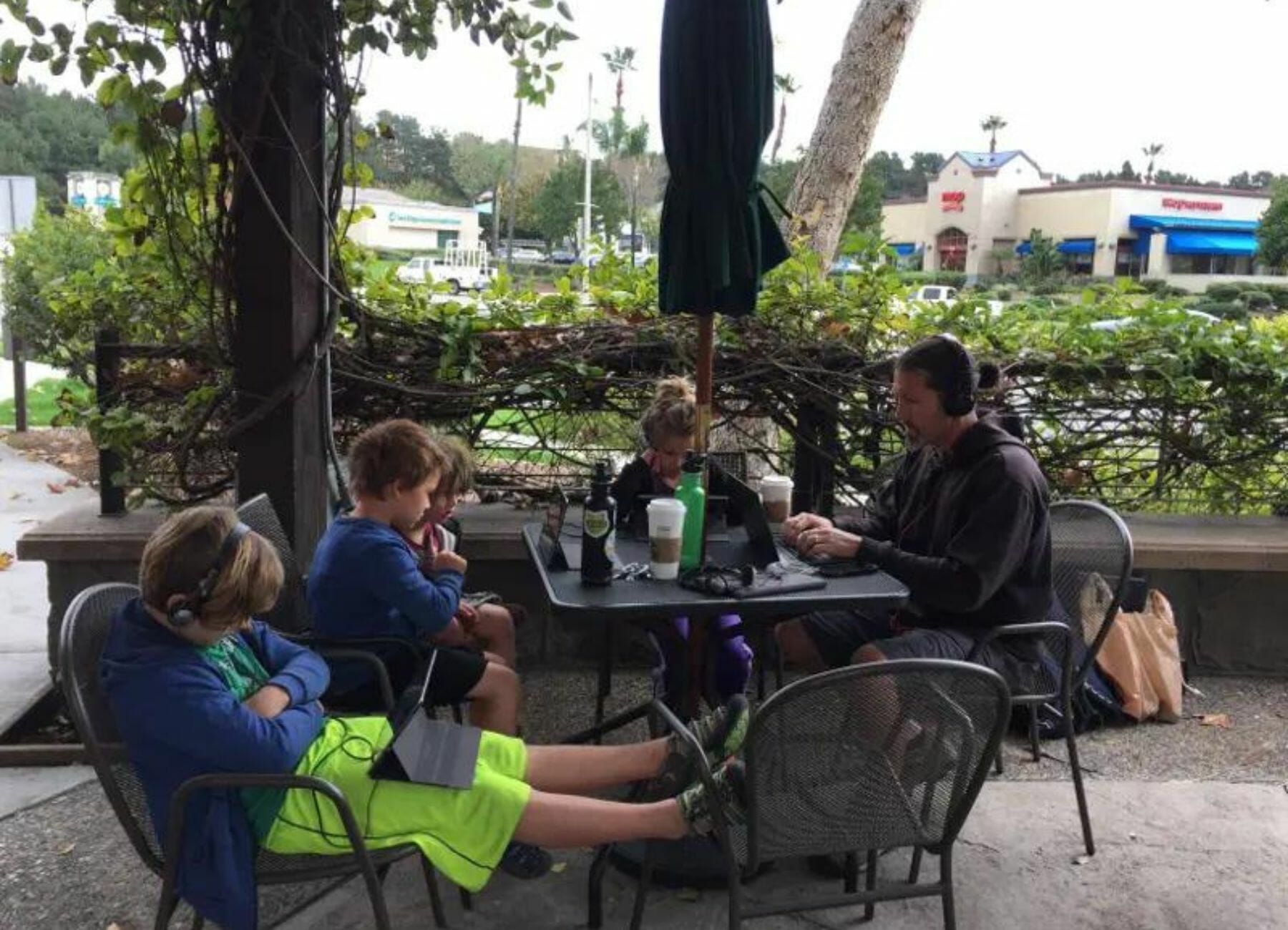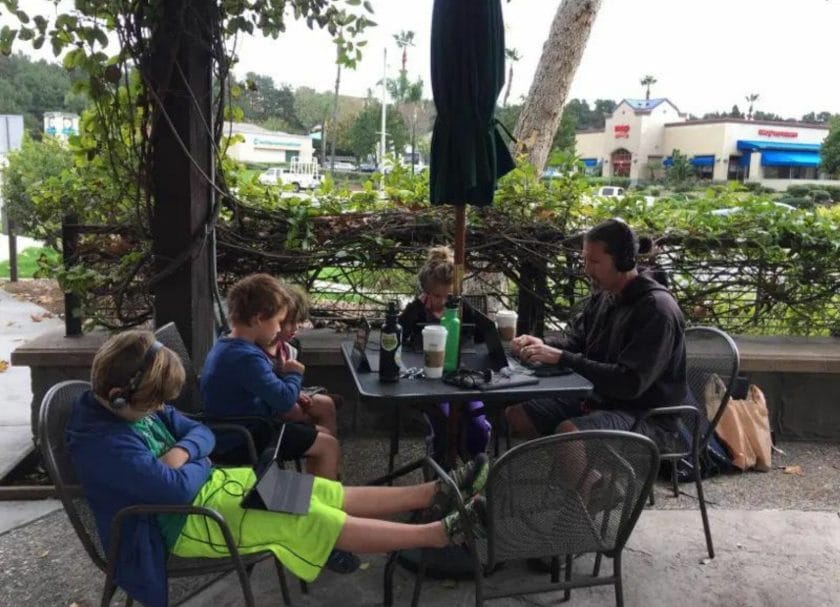 Had to throw this one in since between all the fun we were having in San Diego we did still have to work! One of the realities of full time family travel is we still have to make a living . . . but it isn't that bad when you can work from a Starbucks (and since we are in San Diego we can be outside) or at any time of the day you like since our business is location independent!
Interested in learning more about us and our lifestyle of full time travel (we sold our house and bought an RV in May 2014 and have been on the road ever since) check out our Start Here page.
Outdoor Fun
San Diego Beaches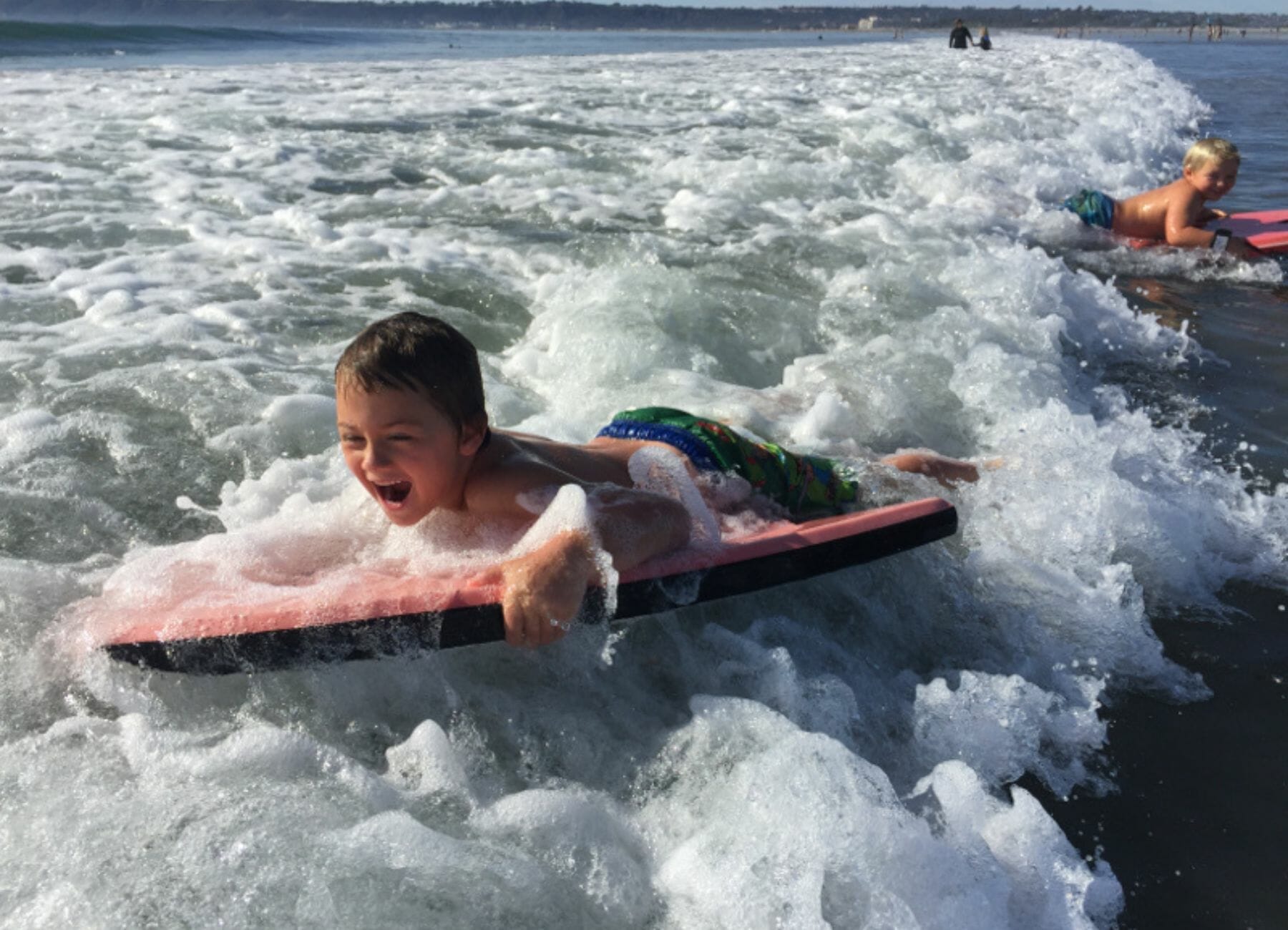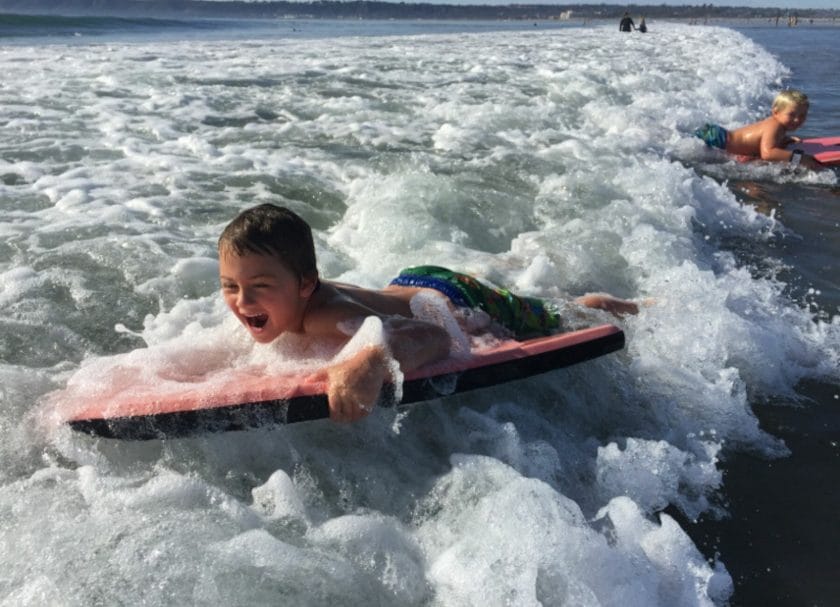 You can't come to San Diego and not go to the beaches! What we loved about the San Diego beaches was that there was a different vibe and feel from each of the beaches that we visited.
We could get the upper class feel of Coronado, the down home feel of Mission Beach, or the surfer hipster vibe at Ocean Beach. We loved the variety and really enjoyed spending time at the beaches in San Diego!
Waterfront Park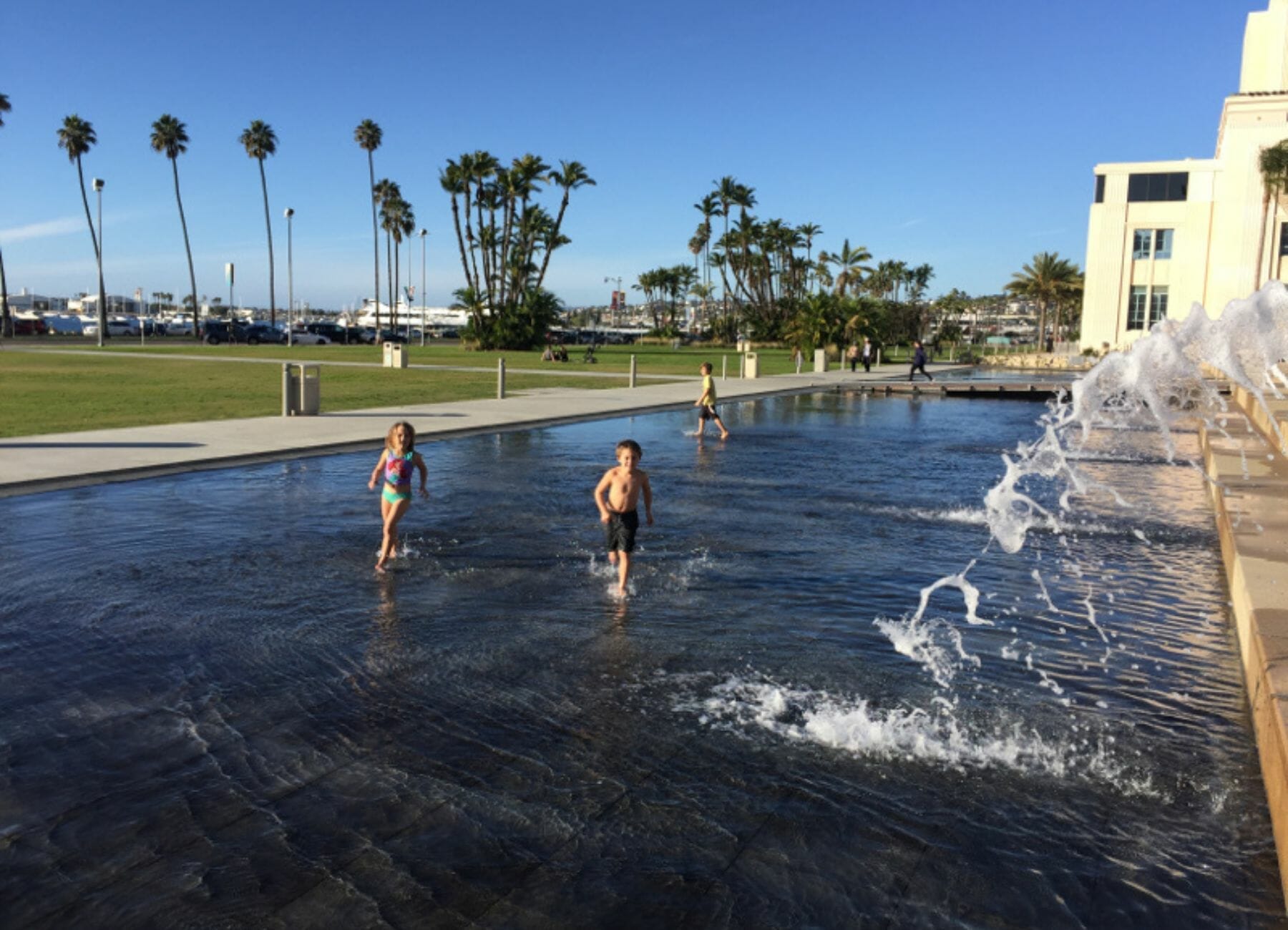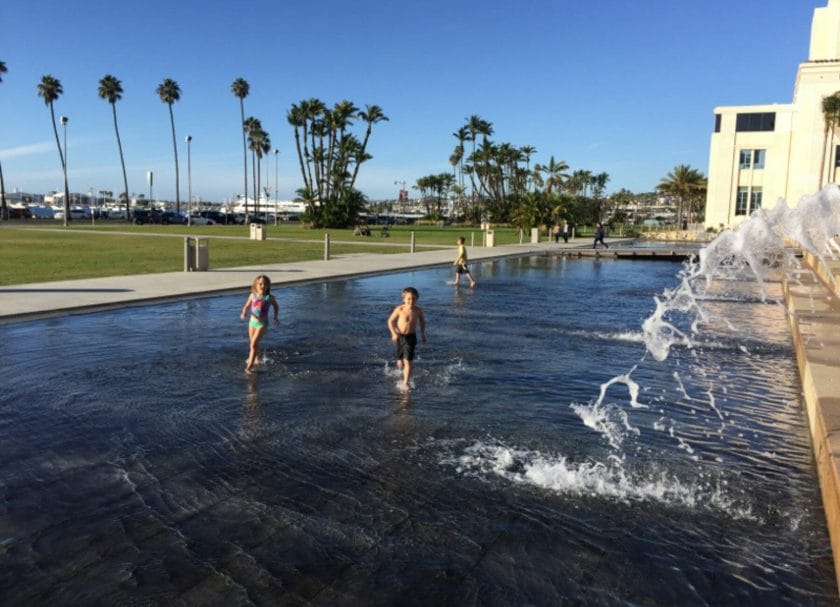 We had a lot of fun at this awesome Waterfront Park in downtown San Diego. The kids had fun playing on the park equipment and there were some unique things like a surf board type thing they could balance on and this spinning thing that they spent a lot of time at!
What I liked best is it is by the water so the view is amazing. Plus there is a fountain that the kids can actually run in. I did verify this with some of the workers there and it was totally fine for them to go run and around in it!
La Jolla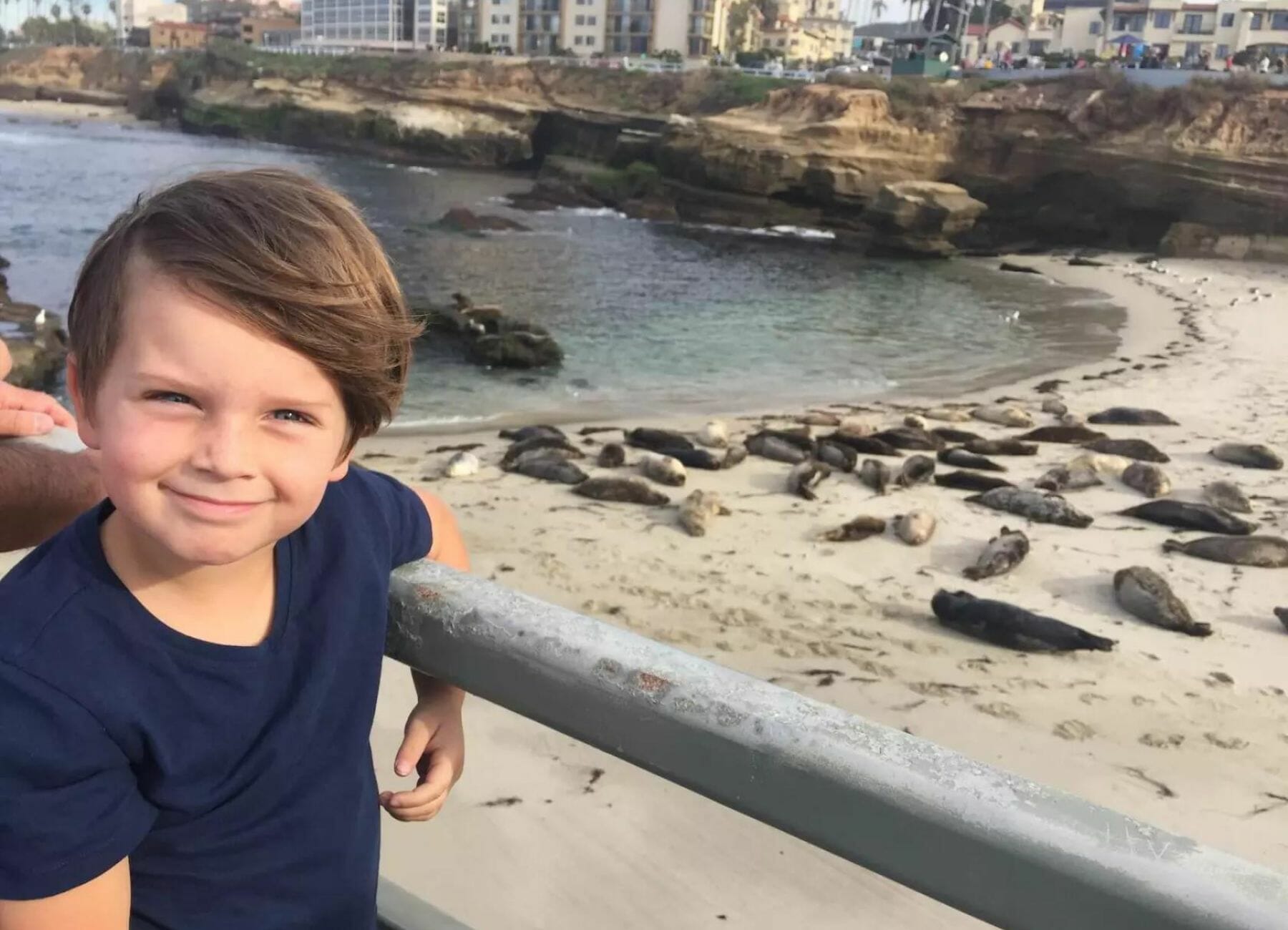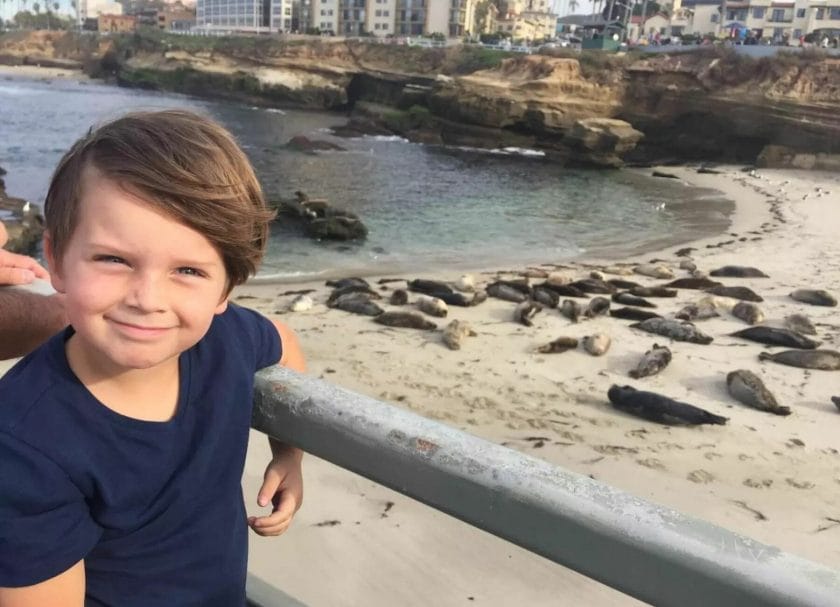 When in San Diego make sure to make your way up to La Jolla to walk along the beach and to see the seals at the Children's Pool. This is a really beautiful area and an amazing place to see the seals, walk around, people watch, take in the scenery and if the water isn't too crazy go for a swim. Learn more about seeing the Seals or Sea Lions at Tips for Family Trips.
To the East of Children's Pool is La Jolla Cove followed by La Jolla shores. La Jolla Cove is very beautiful and great for taking pictures. La Jolla shores is great for swimming in the summer due to the gentle waves in the area.
You could also check out Southern California kayaking in San Diego County. There are some great options in La Jolla!
Breweries
We had no idea that San Diego was filled with so many amazing breweries! And the best thing is, the majority of them are family-friendly and some of them are even dog friendly.
We had a lot of fun going as a family to the multiple breweries throughout San Diego where we enjoyed a beer and the kids had a root beer or soda while we all played a round of Jenga. Yes, the breweries have games for the whole family to play!
Some of our favorites were Mission Brewery (dogs welcome), Tiger Tiger Brewery, and Belching Beaver. All of these were kid friendly.
If you are looking for a fun, adults-only, craft beer trip check out the San Diego Craft Brewery Tour!
For more on La Jolla be sure to check out La Jolla Mom.
As you can see there are a ton of options of what to do San Diego the hard part is picking what you will do. We were there in January and it was colder and wetter than we were hoping for. If we go again, we would go in the spring or fall not in winter. But there is no doubt there are a ton of things to do in San Diego any time of year.
Here are a few more ideas of fun things to do in San Diego: Stroll around the small but upscale town of Del Mar, view the Botanic Gardens, see the Point Loma tide pools, walk around SeaPort Village, explore Mission Bay Park and, if you are here in the summer, enjoy some water sports and water activities!
Viator has a great collection of tours and attractions that you can book ahead of time and get a great deal and skip the lines. Click HERE to book now!
More Things To Do In California
If you are looking to continue your California travel here is a great list of things to do in California.
All baseball lovers should be sure to check out Petco Park where the San Diego Padres play.
If you get a chance head over to Death Valley National Park! It is an amazing place to visit.
Here is an awesome 7 day Southern California Itinerary including Disneyland! Here is a great list of Disneyland hotels to stay at while you are there. There are also a lot of other things to do in Anaheim besides Disneyland so be sure to check those out too.
Another recommendation in the area is Knotts Berry Farm. And here is a great list of FREE things to do in San Diego.
Check out LA and all the Things To Do In Downton Los Angeles and Make your way up to San Francisco: 2 Days In San Francisco With Kids and Free Things To Do In San Francisco With Kids.
Looking to plan a spring break trip? Check out: 10 Amazing Spring Break Destinations in California for Families
California is a huge state and we can't wait to explore more of it!
Where To Stay
Camping
You are sure to have a good time camping or RVing at the San Diego Metro KOA with activities like lazer tag and cookie decorating available?! Looks like a blast for the whole family.
RENT AN RV FOR YOUR CALIFORNIA VACATION! Have questions about it? Check out our post on tips on how to rent an RV and tips on Planning an RV trip!
Where to Stay
Hotel
Homewood Suites by Hilton – is extremely family friendly, offering one and two room suites and fully equipped kitchens.
Catamaran Resort Hotel and Spa – offers suites and family rooms, has a private beach, tropical gardens and offers a kitchenette.
Vacation Rentals
There is no shortage of VRBO options in San Diego. Here are a few family-friendly options:
Private rooftop deck beach house – only 1 1/2 blocks to beach access, 2 story house, private rooftop deck, pet friendly
Luxury Stay
If you are looking to enjoy your trip to San Diego in fantastic style, consider staying in a Top Villa. These are high end, luxury stays with every possible amenity. There are two in the surrounding area, take a look:
Private Gated Home In La Jolla
More posts you might like:
California National Parks: Joshua Tree, Death Valley, Yosemite, Sequoia, and the Redwoods.
Other locations to explore: Disneyland, Big Sur, San Francisco, Lake Tahoe, and Los Angeles.
3 Delightful San Diego Beaches To Take Your Family To
5 Terrific San Diego Breweries To Visit With Kids & 1 To Skip
Mind Blowing San Diego Donuts That You Will Love
2 Superb San Diego Tours To Take Your Kids On
11 Awe Inspiring Things To Do In Southern California
12 Epic Things To Do In Northern California [Map Included]
Pin it for later: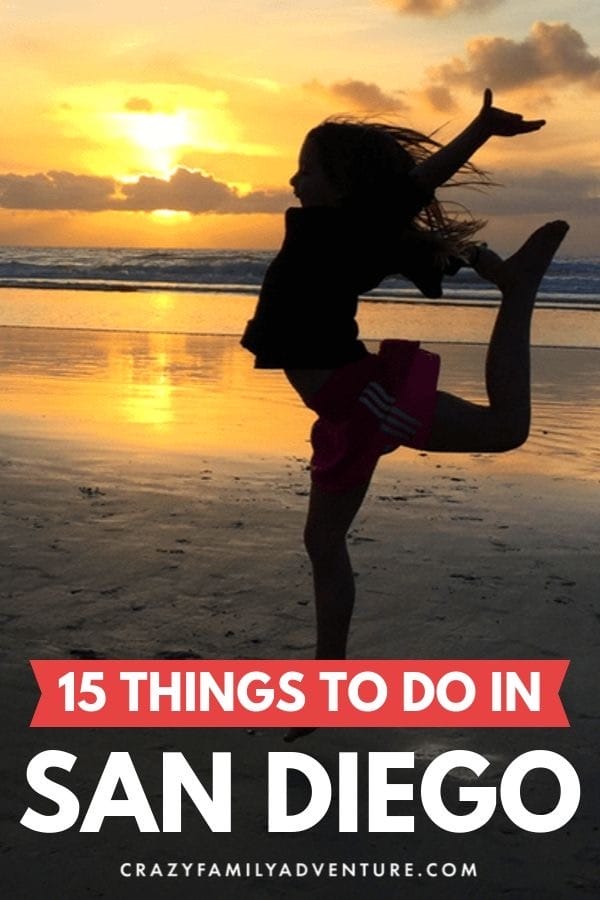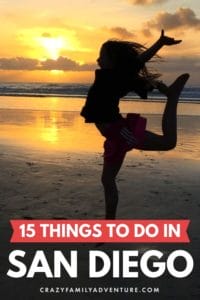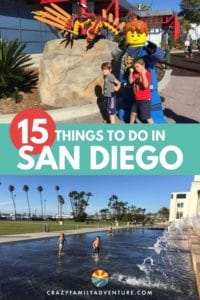 DISCLOSURE: This post may contain affiliate links, meaning I get a commission if you decide to make a purchase through my links, at no cost to you. Please read my disclosure for more info.