There are so many donut shops in San Diego to pick from that either you have to plan to have donuts for breakfast, lunch and dinner so you can sample them all or plan on being in the area for a few weeks. As you are putting together your list of things to do in San Diego be sure to add donut tasting to the list!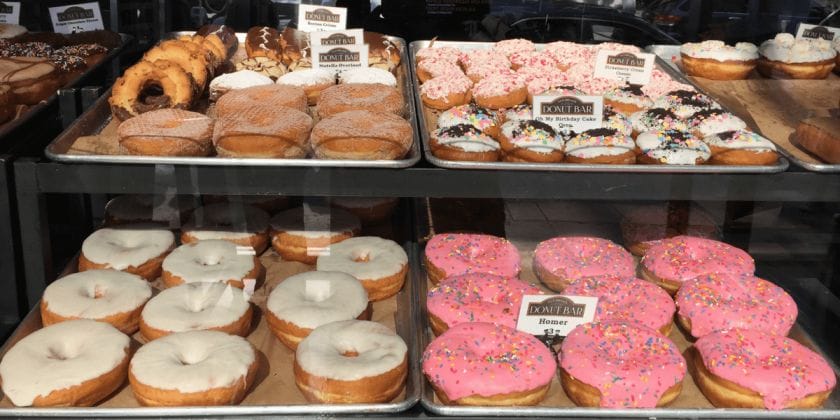 Here are our top picks for the best San Diego donuts!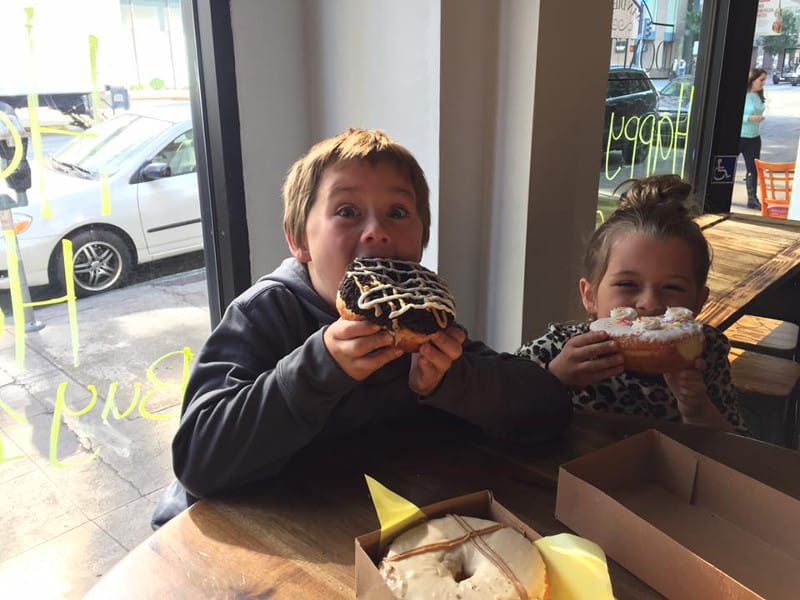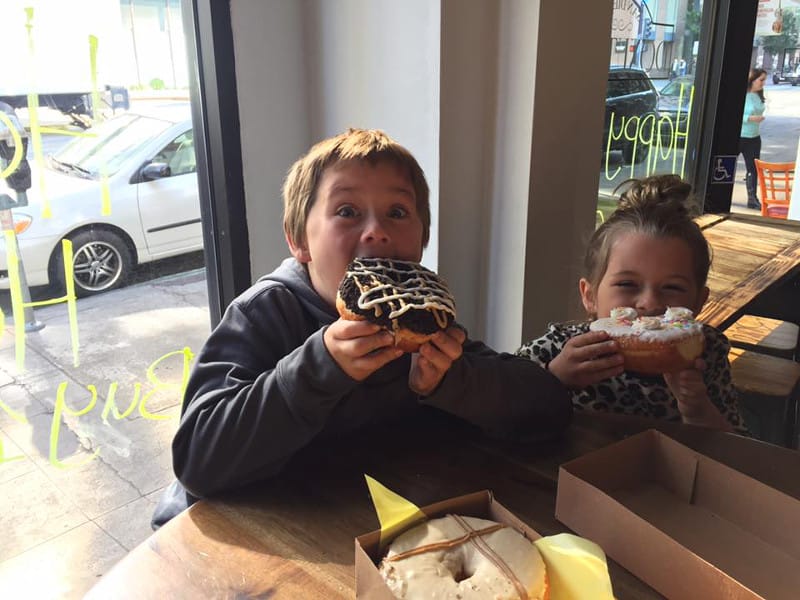 The Donut Bar is on the list of the 21 best donut shops in America according to Thrillist so we knew we needed to check them out. They did NOT disappoint.
First of all we got there right when they were starting their Happy Hour. Unfortunately you can't predict when this is going to be. Sometimes it happens and sometimes it doesn't. But if you are lucky enough to catch it it means by one get one free! HELLO! That is like Christmas for our family!
The kids eyes got huge as they looked at the size of these donuts. They were literally the size of their head – no joke! All of them looked delicious so we had a pretty hard time picking the ones we wanted. But once we did we couldn't wait to dig in.
They also offer a great line of coffee and alcoholic beverages – yup you read that right. Anyone want a mimosa with their donut?! How about a coffee stout?
As we were sitting there enjoying our donuts looking out on the streets of downtown San Diego one of the workers walked around with samples. Donut samples? Heck yeah! But this just wasn't a donut sample it was a donut turned into french toast. Say what?! Why didn't anyone tell me about this.
The French Toast donut is not on the menu. I repeat is not on the menu. BUT if you are in the know you can order one of these and they will cook it up fresh for you! GET ONE. It was yummy, yummy, yummy!!!
The Donut Bar was by far our favorite donut place in San Diego. Finding a parking spot near The Donut Bar can be frustrating. This isn't like downtown Chicago or anything, but it does mean you may have to drive around for a while to find a spot and walk a few blocks to get to the donut shop. But hey you will be burning off the calories from the donut so it's all good.
Donuts Plus
This is more like the donut joints we are use to where you can get a dozen donuts for $10. No, you don't get all the glamours flavors or donuts as big as your head. But instead you just get good ol' donuts made the old fashioned way.
This worked for us plus with our dozen donuts we got a free bag of donut holes. More donuts works for us! Plus they are open 24 hours. Parents of the year here took our kids to Donuts Plus for dinner one night. Let me tell you everyone was more than willing to eat all their dinner that night!
Golden Donut
Located in a strip mall these donuts were another round of good ol' fashioned donuts. The price was right, the selection was good, and everyone left happy! Another good choice for no frill donuts in San Diego.
O B Donuts
O B donuts was very similar to Donuts Plus but had less of a selection. But the price was right and since we came later in the afternoon they threw in a couple extra donuts for free.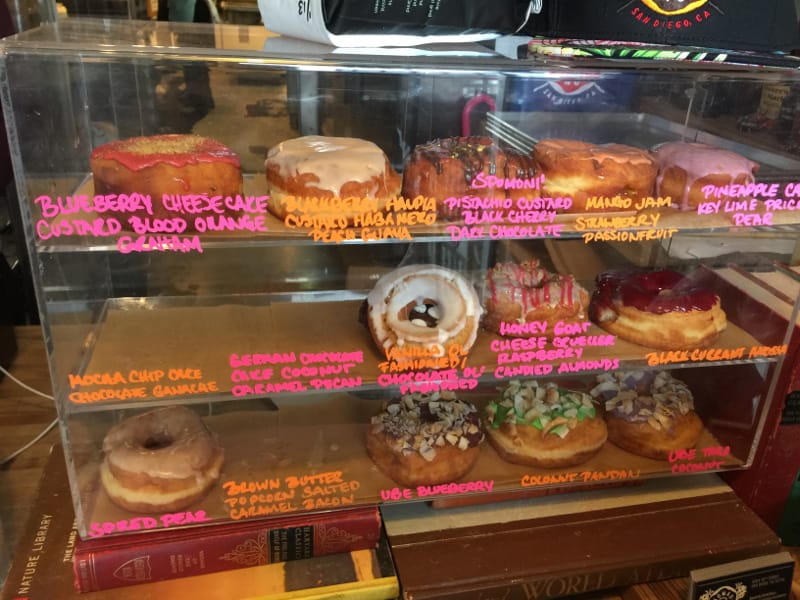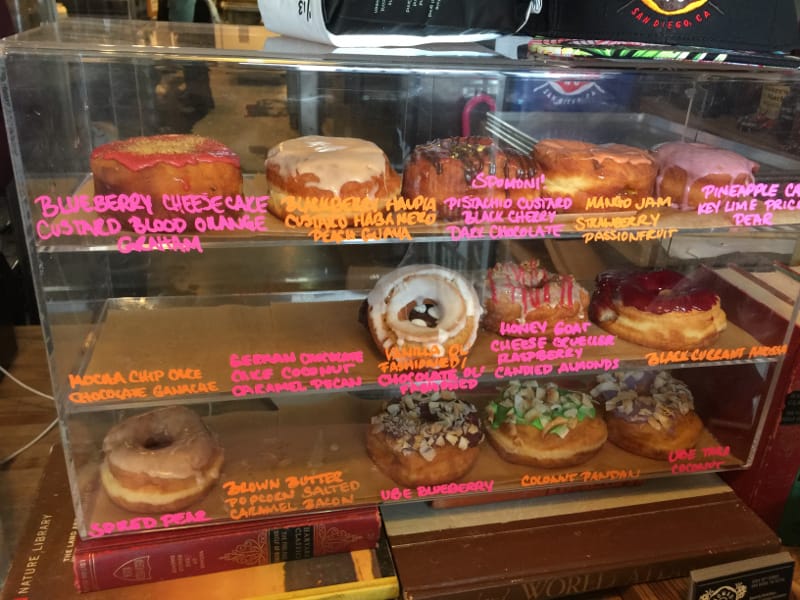 We were excited to check out Nomad Donuts, I mean we are nomads and all, so it is a perfect fit right?! Not really. Unfortunately the donuts were small and overpriced and really weren't that good. Maybe it was just the flavors we got? Or maybe Donut Bar ruined us. Just didn't work out this time.
Here are a few other donut shops that were recommended that we didn't make it to:
VG Donuts
Peterson's Donut Corner (actually located in Escondido, CA)
Donut Star (on 601 W Washington St in San Diego)
Broad Street Dough Co (actually located in Encinitas, CA)
Donut Factory North Park
Sidecar Doughnuts & Coffee (located on Del Mar in San Diego)
If you are looking for red velvet donuts, chocolate glazed, apple fritters, gluten free, cinnamon rolls or vegan donuts you are going to find it in San Diego! Time to get sampling! And while in San Diego be sure to check out these San Diego Tours, San Diego Breweries and San Diego Beaches.
If you want to keep exploring check out these San Diego Day Trips and also all the awesome things to do in Souther California!
More fun in California:
Things To Do In Los Angeles With Kids
Things To Do In Big Sur California [Maps Included] (Pfeiffer Beach included!)
12 Tips For An Amazing 1 Day Disneyland Park Hopper Trip
Things To Do In Joshua Tree National Park
Things To Do In Death Valley National Park [And Where To Stay]
Pin This Post: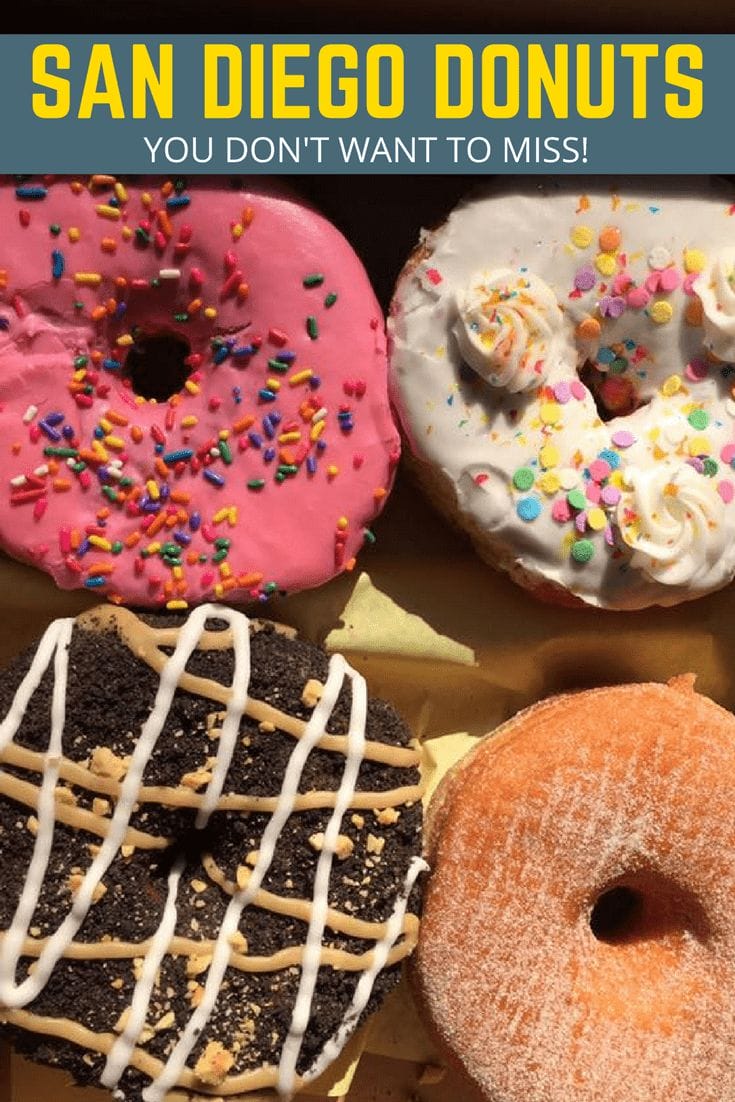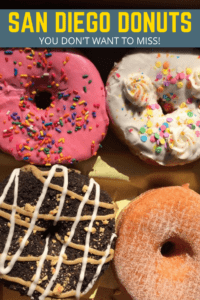 DISCLOSURE: This post may contain affiliate links, meaning I get a commission if you decide to make a purchase through my links, at no cost to you. Please read my disclosure for more info.