There are so many great things to do in Joshua Tree National Park. A stop here should be on everyones Southern California trip or on a National Park Road Trip!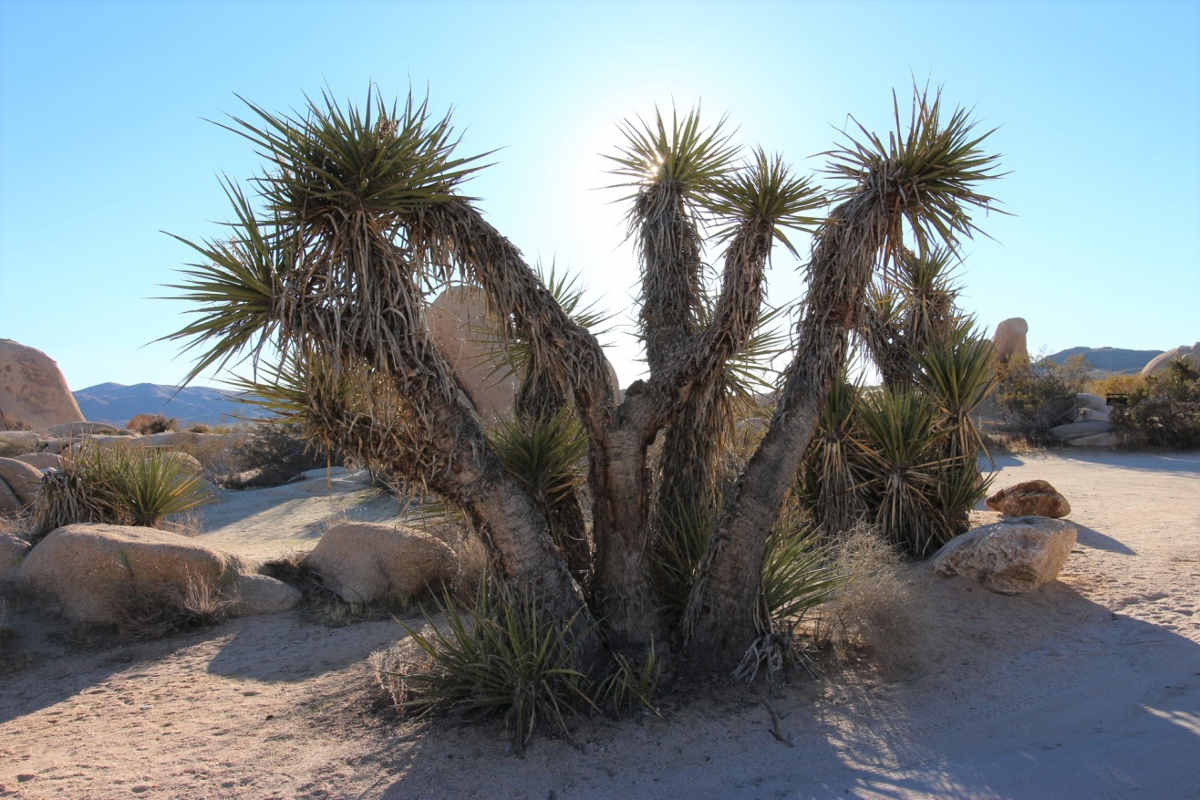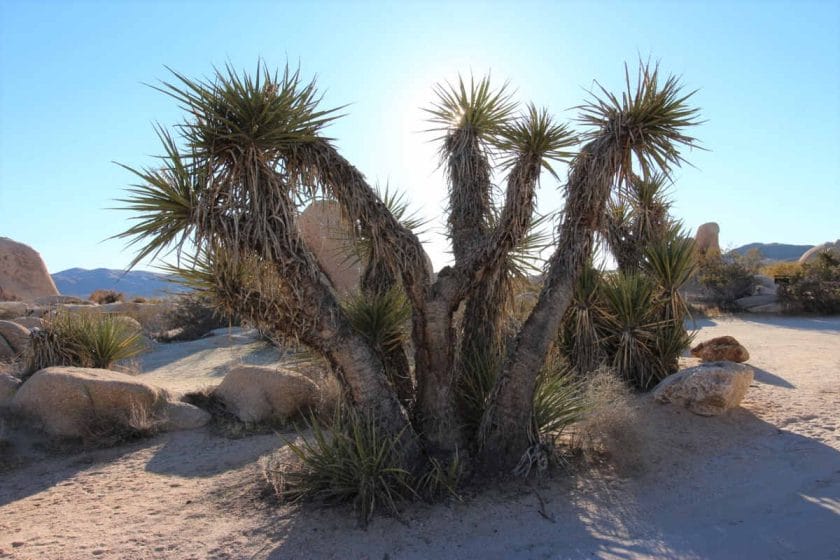 We are excited to share this guest post from Fummins Family Road Trip on things to do in Joshua Tree National Park. Keep reading to learn about some of the best activities in the park.
Our family of 7 has been traveling North America in our RV since September of 2016. In that time we have visited countless National Parks all over the United States and Canada, but there is only 1 national park we have visited on numerous occasions in every year we have been on the road: Joshua Tree National Park. So if you're looking for things to do in Joshua Tree, you're in the right place!
Below we will share what to bring, hikes to do in Joshua Tree, sites to see, where to eat and where to stay. Joshua Tree is an awesome National Park in California.
What Is Joshua Tree National Park
Joshua Tree National Park is a true desert wilderness that is best described as a big playground illustrated by Dr Seuss. Some say the Joshua Trees were the inspiration for the Truffula Trees used in many of his books.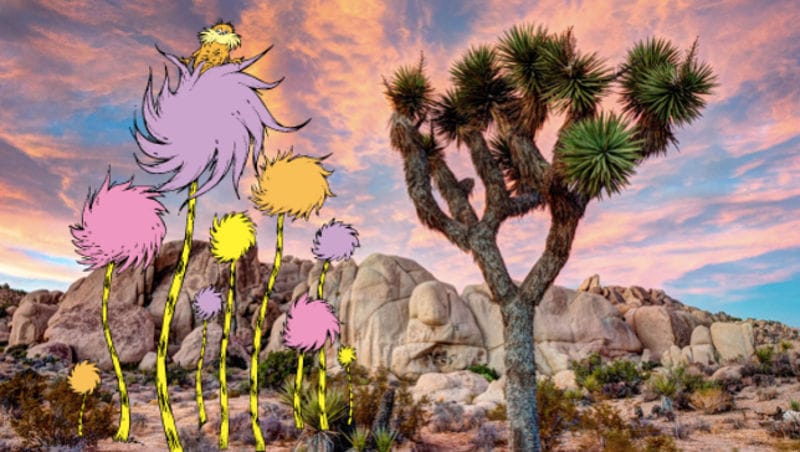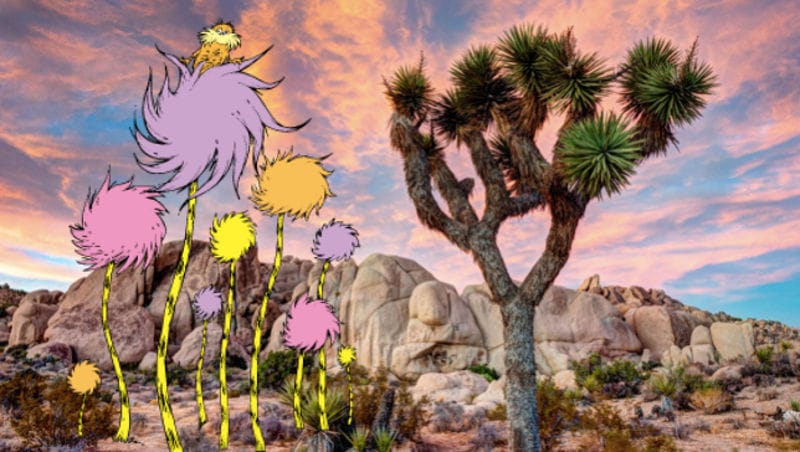 This national park is close to 800,000 acres that covers part of the Mojave Desert and sits on the San Andreas Fault. There are visitor centers at both the North and South entrances for you to stop for a map and learn about any ranger lead programs going on in the park.
Location
Joshua Tree, a west coast national park, is located in Southern California just a few hours outside Los Angeles, San Diego, Las Vegas, and Phoenix and is accessible on the south side from I-10 or on the north from State Highway 62. We have be to Joshua Tree so many times and we have used all 3 of the entrances. We have used the southern one primarily due to its close proximity to Palm Springs (which has some great hiking) and some great BLM Boondocking just outside of the Cottonwood Visitors center.
What You Should Bring
Bring plenty of water, especially if you plan to do any hiking. The visitor centers do have water available, but out and about in the park it is not. Also make sure you bring comfortable footwear and warm and/or cooler cloths. The weather can be a bit bipolar and change at the drop of a hat. It is typically windy and very dry throughout the park.
Visitors Centers/Entering The Park
There are 3 different visitor centers in Joshua Tree that you can visit: Joshua Tree Visitor Center at the Village of Joshua Tree, Oasis Visitor Center at the Twentynine Palms entrance and the Cottonwood Visitor Center at the south end of the park off of I-10. You shouldn't feel the need to visit all 3, use the one closest to the entrance you enter through. Our kids are avid Jr. Rangers and you can pick up Jr. Ranger books at any one of the 3, and return the completed books to any of them as well.
Things To Do
So now that you're at Joshua Tree, what is there to do? In addition to all of the driving tours to check out the native Joshua Trees, this park is packed with outdoor adventures such as: Hiking, biking, rock climbing, spectacular overlook views or star gazing in the dark desert night sky. There are a ton of cool things to do with kids in Joshua Tree!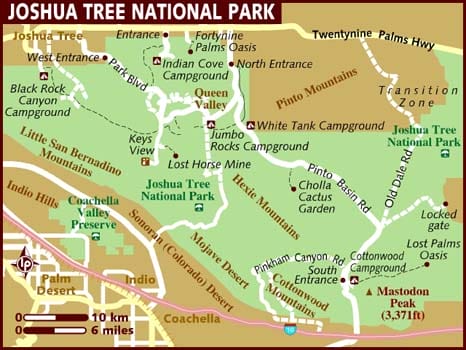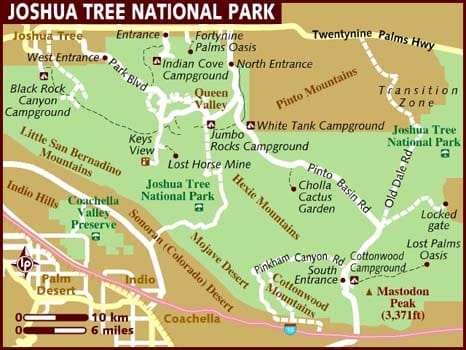 If you only are taking a Joshua Tree day trip check out this post!
Ranger Led Talks
We have caught many ranger led talks during our visits there; you can get the schedule at any of the visitor's centers, but need to make sure to find out the location of the program and give yourself enough time to drive to the venue as the talks are spread throughout the park and not usually in the same place twice in one day. These are usually free of charge and highly informative. You can find the NPS calendar for Joshua Tree National Park here.
Rock Climbing
We are not rock climbers whatsoever, but this park is loaded with climbing routes, bouldering, highlining and slacklining opportunities. Our kids love all of the scrambling in the area and, as they get older, I am sure that we'll have to start doing some real rock climbing and this will be the perfect place for them to learn the sport.
If you plan to rock climb you may want to build an indoor rock climbing wall at home to practice before you go!
Arch Rock Trail that starts at Twin Tanks Parking Area is one of our kids favorite Joshua Tree hikes. It is an eighth of a mile hike up to a natural arch within the granite formations that our kids love scrambling and climbing all over. The trailhead in the campground has restrooms, ample parking and picnic areas available making it a great place to spend a couple hours, an entire afternoon or a couple days!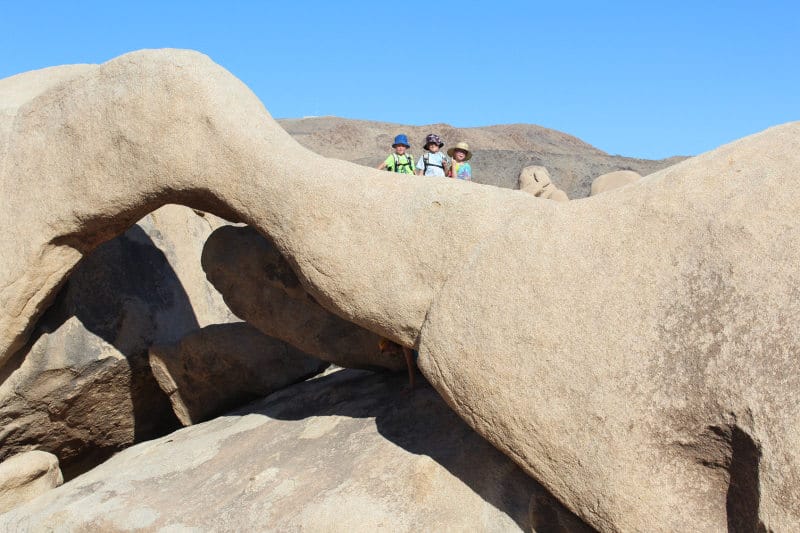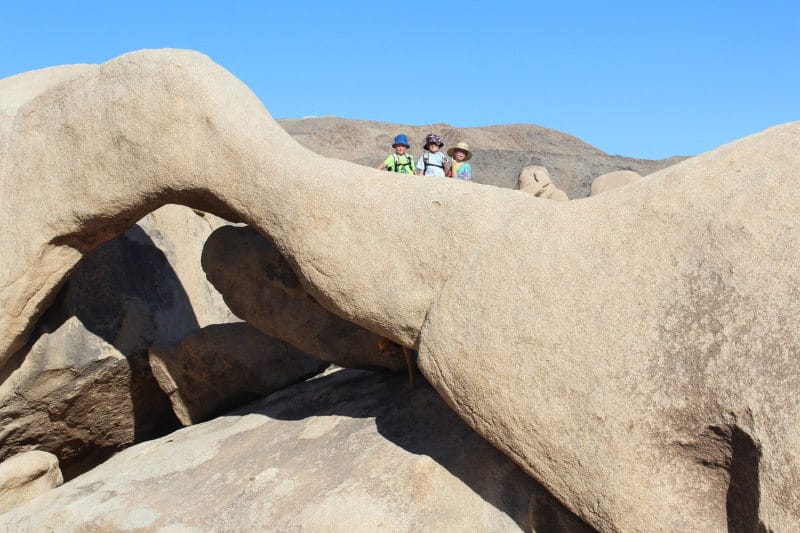 Hidden Valley Trail
One of our favorite Joshua Tree hikes in the park is Hidden Valley. This mile loop trail winds around massive boulders and is a great place to watch the rock climbers in action. This is one of the most scenic trails in the park and is packed with history that dates back to the 1930's when it was used as a cattle rustlers hideout. One thing we learned the hard way, if you set out on this hike in the evening, take a flashlight!
Cholla Cactus Garden Nature Trail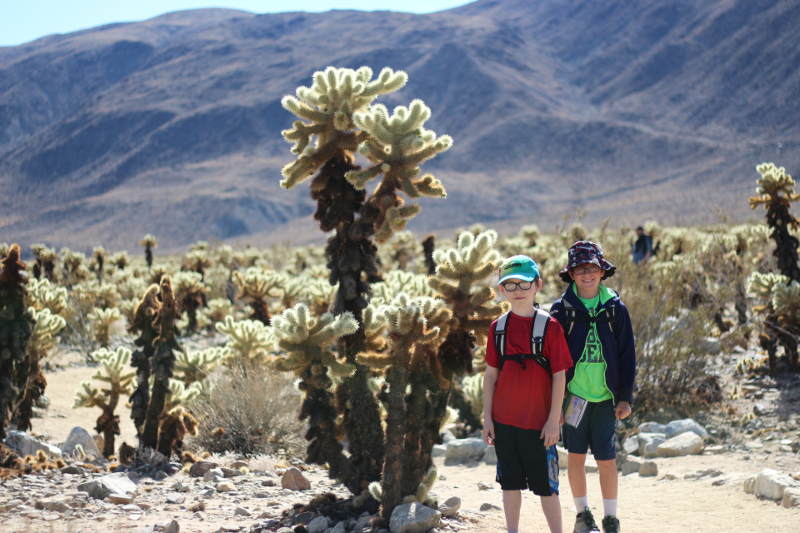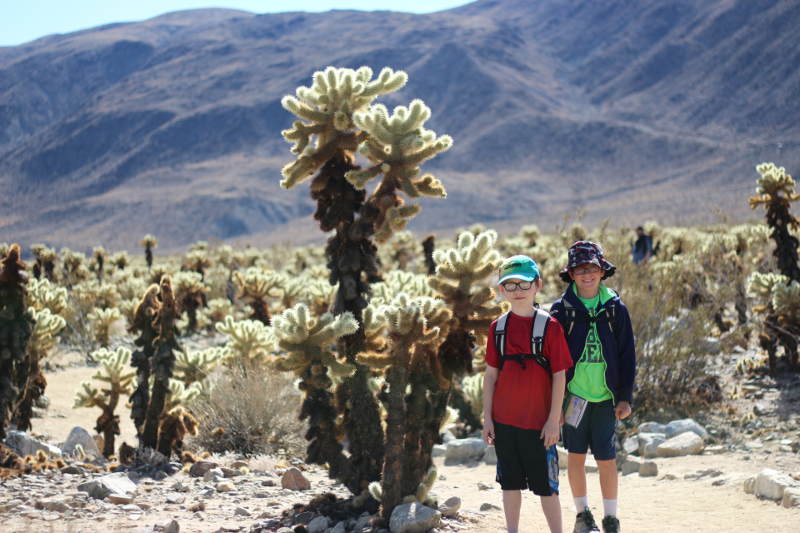 If you drive down Pinto Basin Road to or from the southern part of the park you will come across the Cholla Cactus Garden Nature Trail. This roadside stop is a great place to check out the many different types of cactus! It's a great nature trail that is good for all ages! During our first trip to the Cholla Cactus Garden, Emmett, our youngest, who had just learned to walk, navigated this trail with ease!
If you know us at all, you'll know that we love pirates; so we could not pass up a photo opportunity with a place called Skull Rock! This roadside area located just behind the Jumbo Rocks Campground is a great place for the kids to play. There is plenty of parking and lots of rock scrambling opportunities so the kids love the Skull Rock area!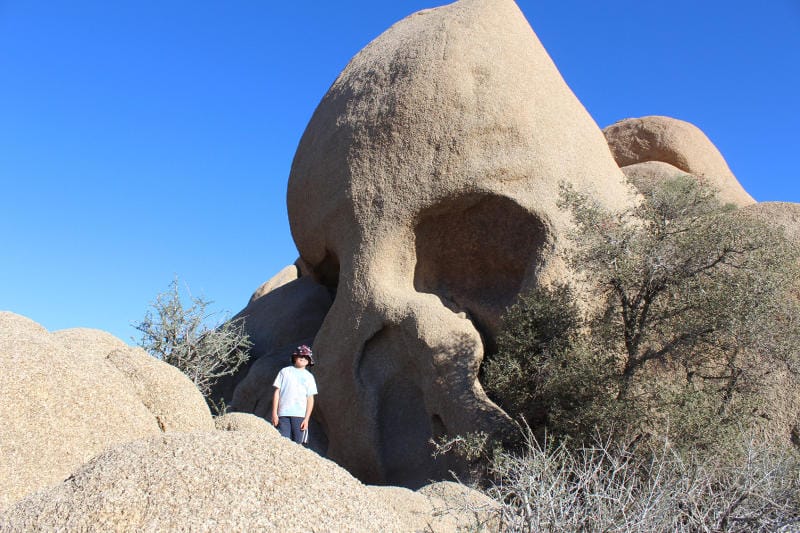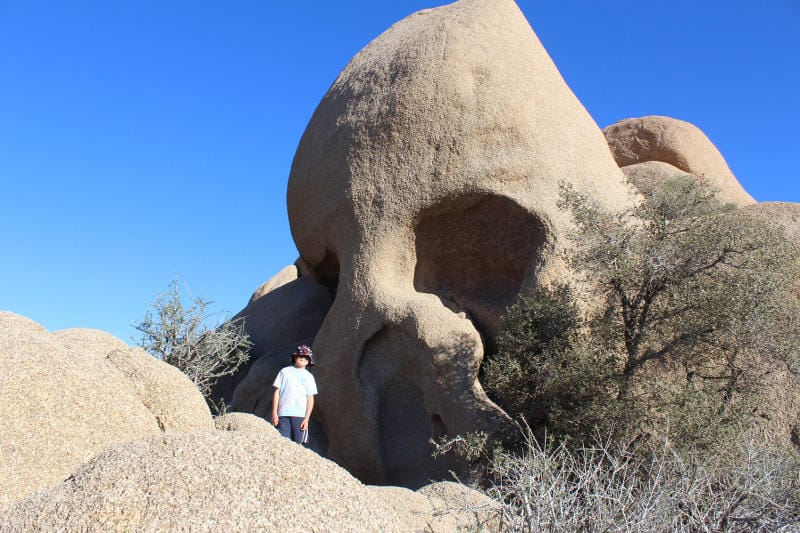 About a 20 minute drive from the North West entrance of the park is Keys View. This is a perfect place to watch a sunrise or sunset. This easily accessible viewpoint provides spectacular views of Palm Springs, Salton Sea, the San Andreas Fault and even as far as Mexico! This quarter mile round trip path is wheelchair accessible and something you won't want to miss.
Stargazing
We have stayed well into the evening a few times. Joshua Tree comes to life after dark, and we have really enjoyed looking for critters. Pack a dinner and some flashlights and just enjoy the quiet night sky. We have also stayed later and brought out telescopes. It is just far enough away from the hustle and bustle of southern California to provide you with some spectacular star gazing.
Salton Sea
If you have seen everything you wanted to see at Joshua Tree, but still have some time, head south toward the Salton Sea. This area is filled with some interesting things. Don't let the names scare you, but Salvation Mountain; Slab City and East Jesus are worth a trip.
Where To Eat
Pappy & Harriets
If you are looking for some local flavor, be sure to check out Pappy & Harriets. This cantina located in Pioneertown was originally built in the 1940s as a western style movie set and was used to film more than 50 films and television programs. It's located on State Route 62 about 4 miles northeast of Yucca Valley outside the north entrance. This western BBQ honky-tonk has great food, live music and once hosted the likes of Roy Rogers and Gene Autry while it was a movie set.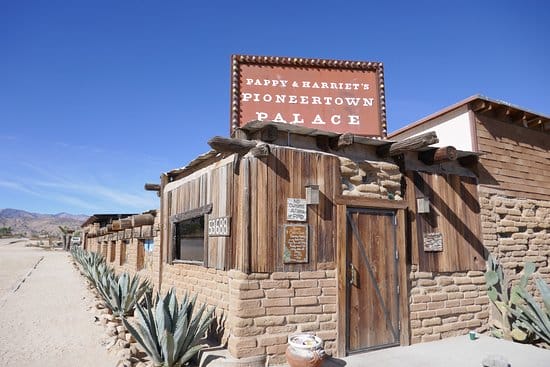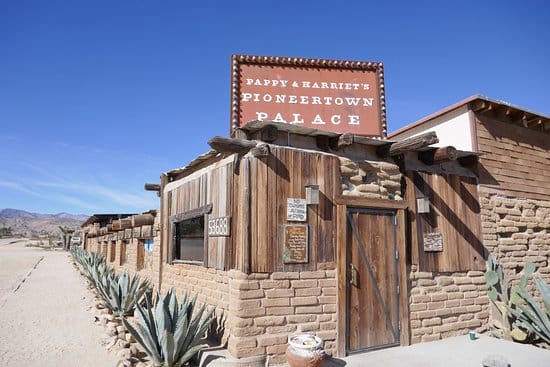 Where To Stay
Since we are fulltime RVers, we always have our house with us, and have explored Joshua Tree from a several different places in the area. There are 9 campgrounds with 500 total sites within the national park that are first come first serve in the summer or can be booked through recreation.gov during the busier winter months. Unfortunately our RV is much larger than the 25' maximum length that is in most of these campgrounds so we have had to use alternative options.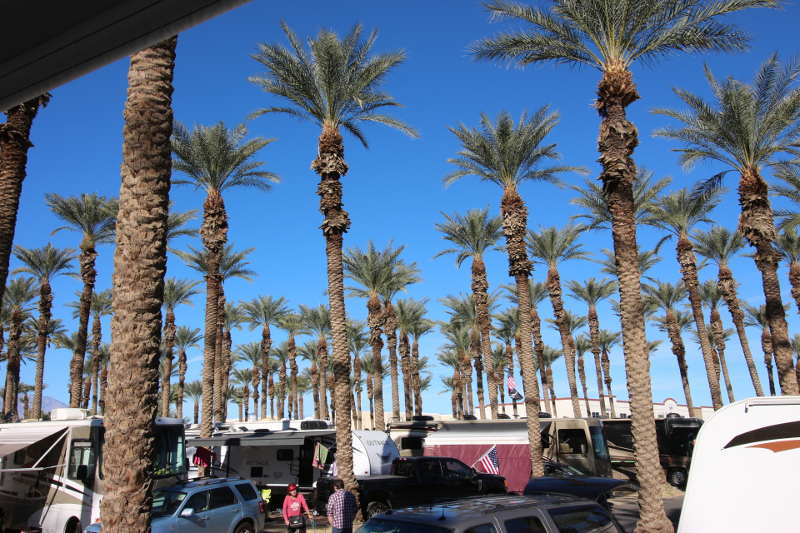 RV/Camping
We have spent a lot of time at Palm Springs RV Resort about an hour away in Palm Desert, so most of our Joshua Tree explorations have started from there. The Joshua Tree South BLM is also a favorite of ours offering free dry camping just outside the southern Cottonwood Springs gate. Although this spot is a little bit of a drive to the main parts of the park, we really enjoy the views and don't mind the drive.
There are many campgrounds and RV parks throughout the area from Palm Springs to Twentynine Palms offering camping options for all shapes and sizes of RV's or amenities needed. If you're not into RVing or camping, there are countless motels, hotels or Airbnb to choose from in the area.
Click here to learn more about Joshua Tree camping and white tank campground.
Don't have an RV? Rent one! Check out Outdoorsy, it is kinda like AirBnB for RV's!
VRBO
The Town of Joshua Tree is well known for its small businesses and artsy atmosphere. There are some really fun and artistic VRBO options in the area that would be perfect for kids! They are bright and colorful and have some interesting and beautiful features, check out a few below:
Eclectic Artist Desert Retreat
Hotels
The hotel options in the actual town of Joshua Tree are a little rough as it is a small and rustic town. However, just a few miles over you can find some nice places to hang your hat for the evening with all of the amenities, especially a pool in that desert heat!
This Holiday Inn Express and Suites is only a couple miles away from Joshua Tree National Park!
If you haven't picked up on it, we absolutely love this area, and we have found something new and interesting every time we go back. We would definitely suggest planning to visit this awesome corner of Southern California for as long as your time allows. If you want to learn more about us and our journey, check out https://www.roadschool.com.
Check out this post for more information on visiting Joshua Tree With Kids.
Looking for more adventures in California? Check out our following posts:
12 Epic Things To Do In Northern California [Map Included]
14 Awesome Things To Do In Death Valley National Park [And Where To Stay]
15 Magnificent Things To Do In San Diego With Kids
54+ Things To Enjoy On The Ultimate Baja California Mexico Road Trip
17 Unforgettable Things To Do In San Francisco With Kids
11 Awe Inspiring Things To Do In Southern California
32 Spectacular Things To Do In Lake Tahoe [Maps Included]
12 Tips To Enjoy An Amazing 1 day Disneyland Park Hopper Trip
14 Magnificent Things To Do In Big Sur California [Maps Included]
15 Fun and Exciting Things To Do In San Diego With Kids
21 Epic Things To Do In Yosemite National Park With Kids
21 Magical Things To Do In Redwood National Park
The 23+ Most Epic Things To Do In Los Angeles With Kids
Pin This Post: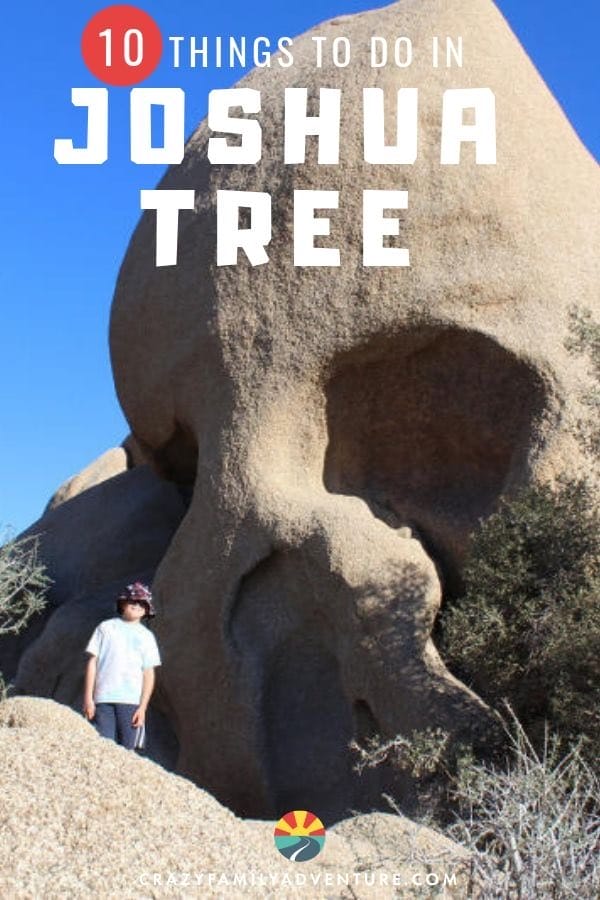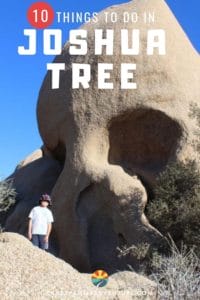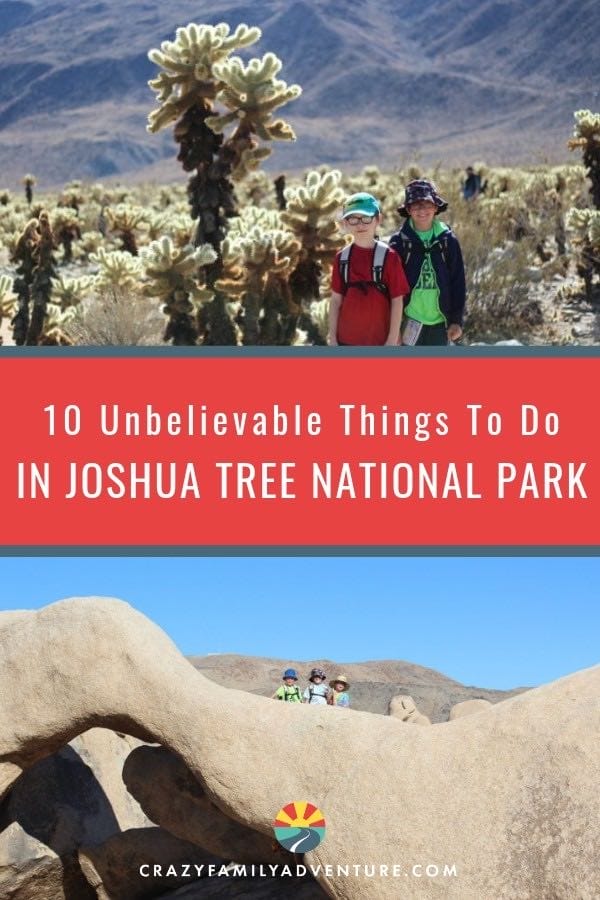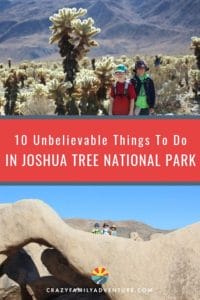 Latest posts by Road School
(see all)
DISCLOSURE: This post may contain affiliate links, meaning I get a commission if you decide to make a purchase through my links, at no cost to you. Please read my disclosure for more info.