When you visit Los Angeles with kids you are going to want to check out the beaches, theme parks and museums. If you are like us and enjoy outdoor activities be sure to hike up behind the Hollywood sign too!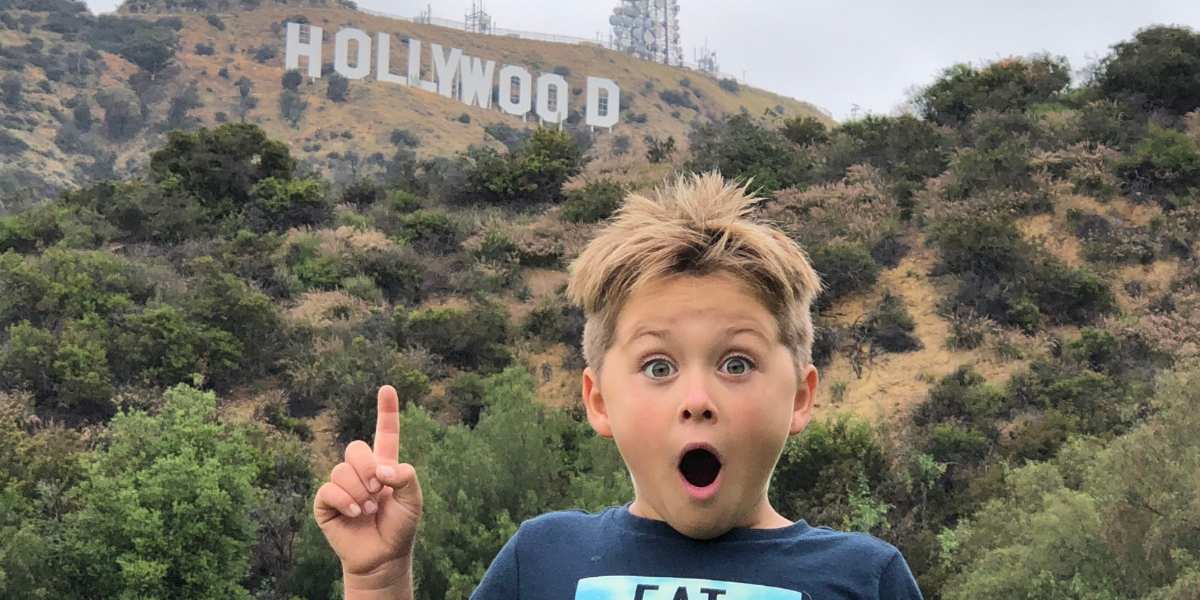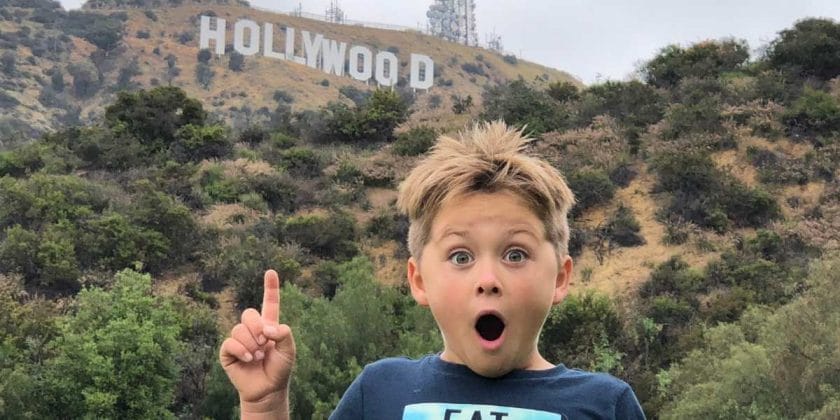 In our post we share our top 36 things to do in Los Angeles with kids. The weather is beautiful, the attractions are unique and you won't run out of things to do, enjoy!
---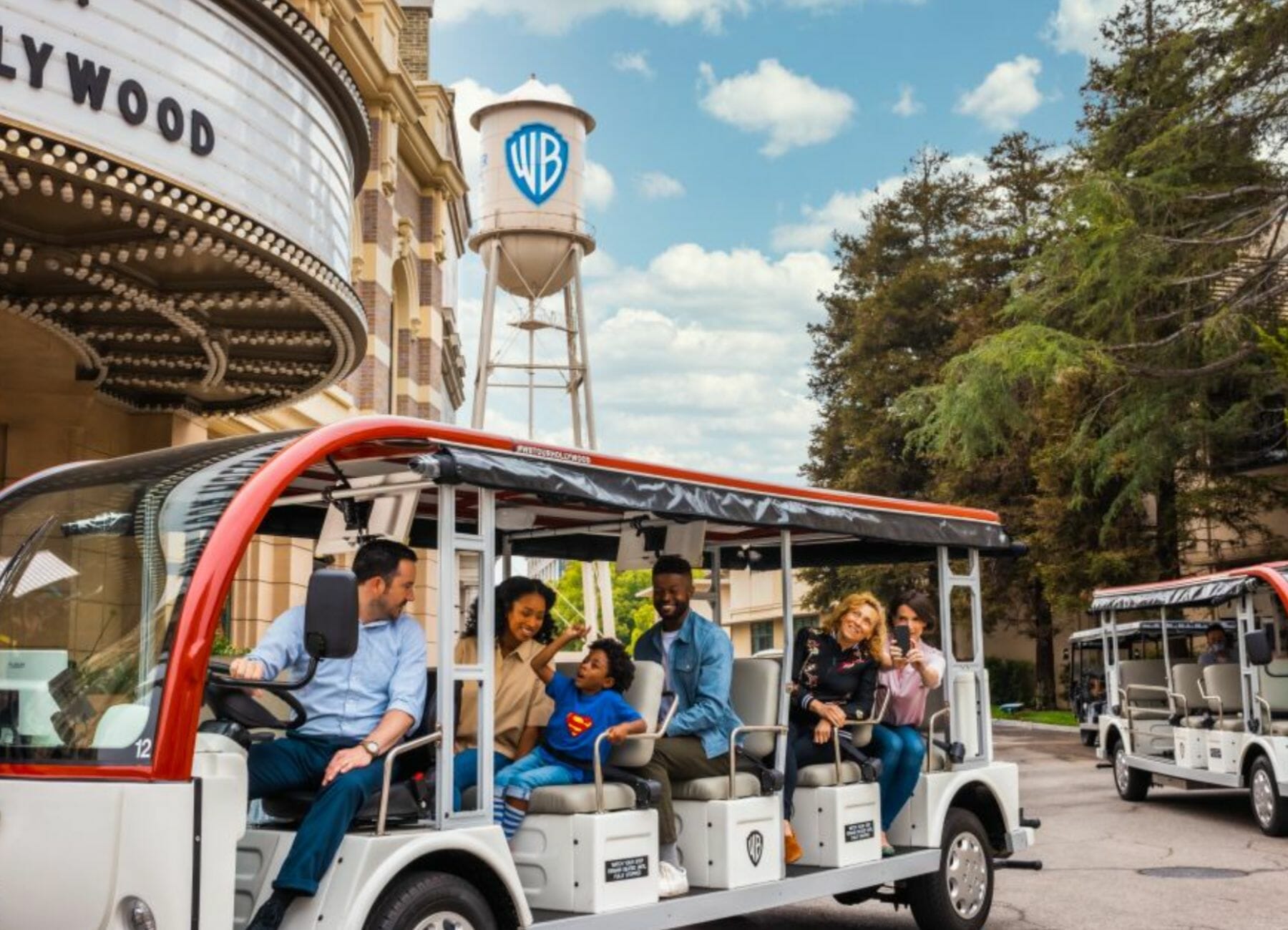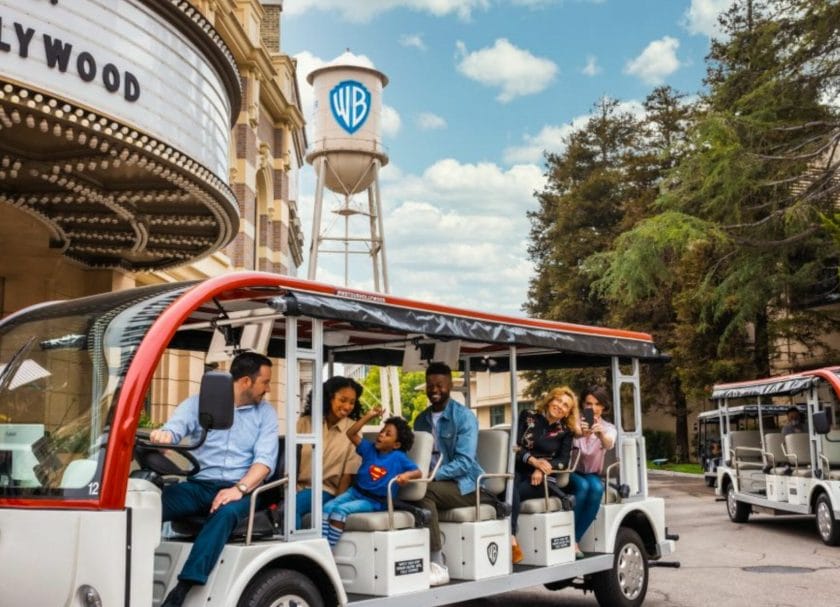 Featured Activity: Warner Bros Studio
Explore the 110 acre backlot of Warner Bros Studios. See movie sets and sound stages from famous movies. Plus participate in hands on activities. Click here to learn more.
Over 2,000 reviews and 4.5 stars!
---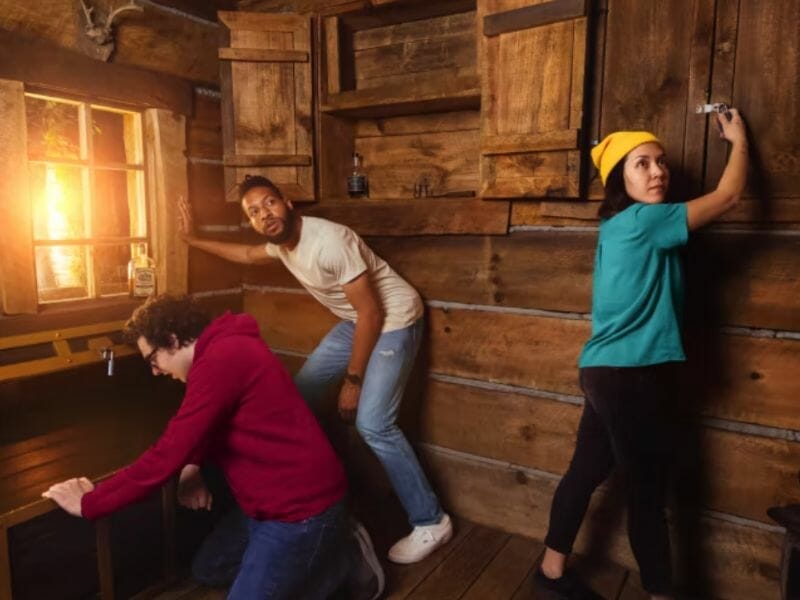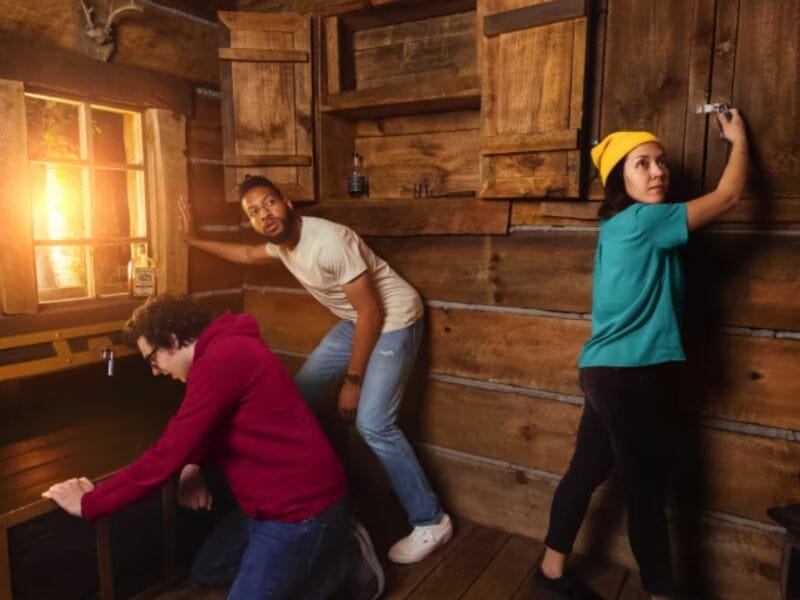 Featured Activity: The Escape Game
Come see if you can escape! Multiple rooms and themes available. It is fun for the whole family. Click here to learn more.
Over 1700 reviews and 5 out of 5 stars!
More Los Angeles Highlights not to miss:
If you are interested in doing a variety of activities be sure to check out the LA Go City Explorer Pass.
Southern California is filled with so many amazing family friendly things to do! Let's jump right in and get started planning your time in and around LA.
Things To Do
1 – Hollywood Sign
You can't get much more iconic then the Hollywood Sign! And hiking to the Hollywood sign is a great way to see it and to get a view of all of LA. You won't be able to touch the sign but you can hike right up behind it.
Take note this is a long hike – probably about 3 mile – 4 mile round trip hike from the Lake Hollywood park (where there is free public parking) and a lot of it is uphill. It isn't easy, but our 6 year old did it with just being carried on our back a couple of times.
It is also very confusing. Some people were telling us you can't hike up there and then we would see others that said you could . . . we kind of just kept following the signs and the people and we ended up going the right way. And no, we did not go in any of the no trespassing areas!
If this sounds too confusing and stressful you can also check out this guided Hollywood Sign Hike.
Once at the top you get an amazing view of LA with the Hollywood sign right below you. Also on the way up you get some pretty amazing views of the sign.
We talk with the kids about how when we see the sign in movies and TV shows now we can be like, "Hey, we have been there!"
Map to Hollywood Hills
We followed the map on this post. And parked at Lake Hollywood Park and then walked up the Mt. Lee route – you do end up walking on a road as you are going up – but that is the right way to go. It is a service road and we did see service vehicles so be aware of that. We also walked through a neighborhood to get to the road. It was an interesting trail but it was all good and we just kept asking people who were walking towards us if we were going the right way.
There is also an option to do a Horseback Ride on the Hollywood Trail where you can see the sign.
Check out: Tips On Hiking With Kids
2 – Walk of Fame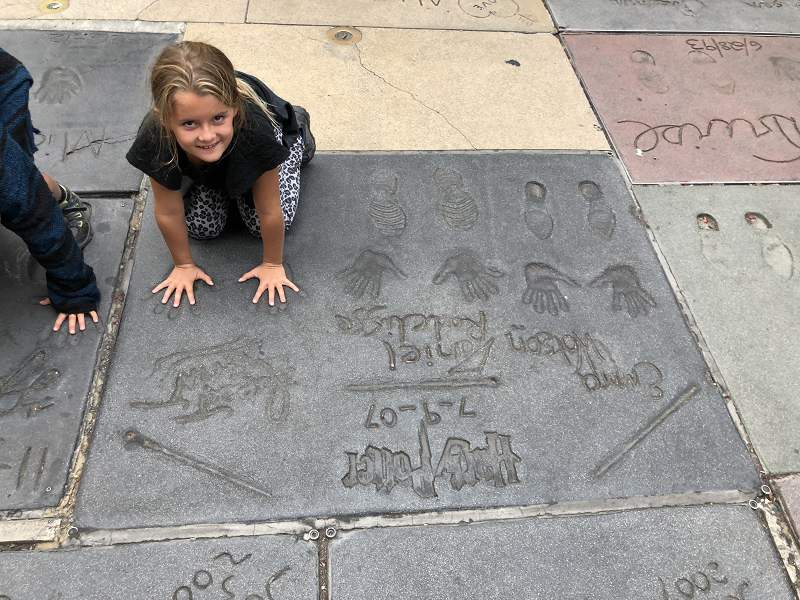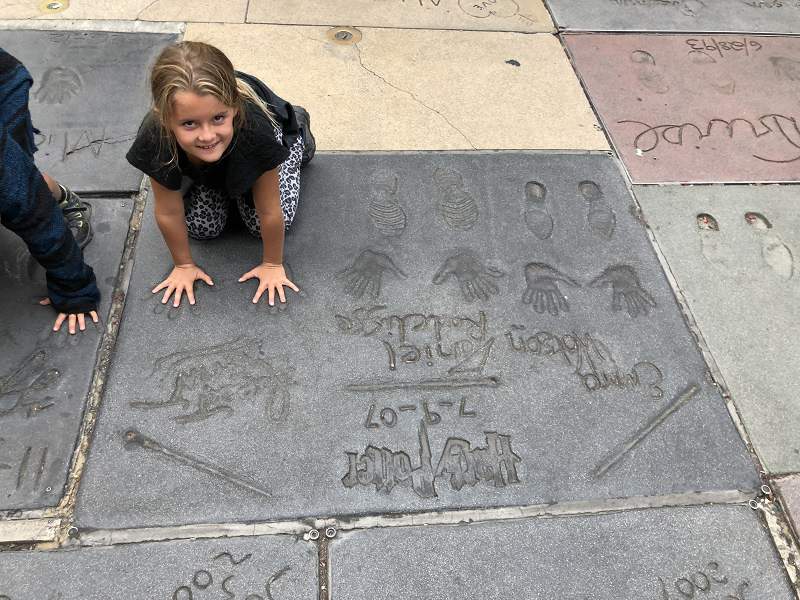 Is a visit to LA complete without doing the Hollywood Walk of Fame and seeing the Chinese Theatre?! Probably not, but in my opinion it is a little disappointing. I mean sure you can see the stars and see some handprints at the Chinese Theatre but I don't know, I think I expected more.
This is also located in a busy part of the city so you have people selling you things up and down the street and lots of activity going on. If you like that vibe, you may love it here!
3 – Venice Beach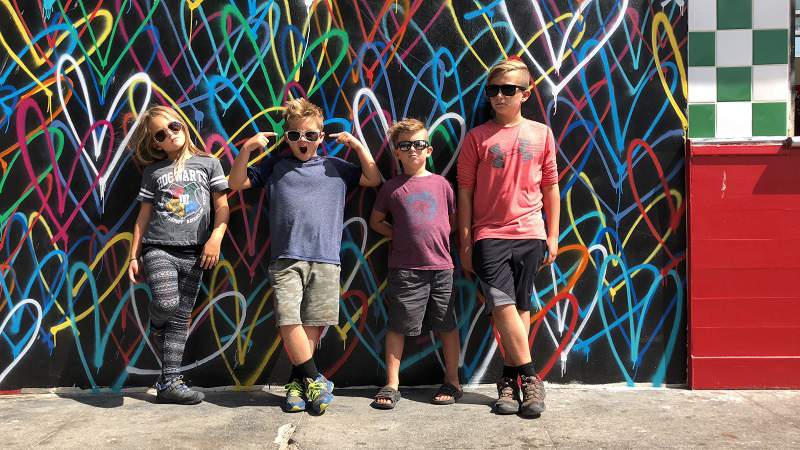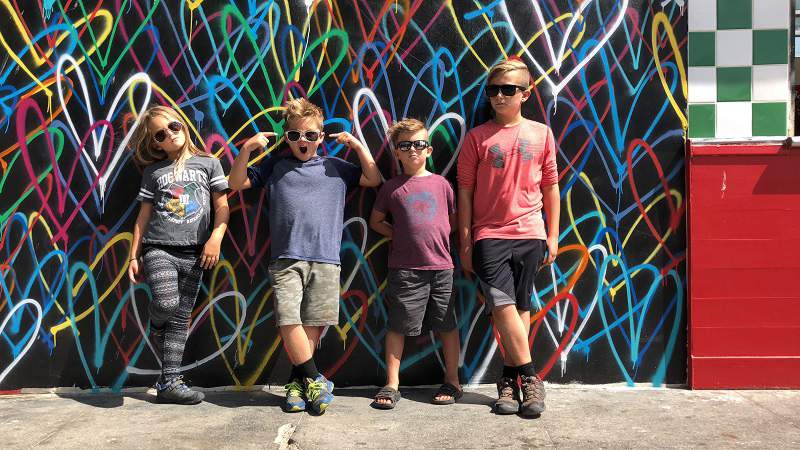 If you are looking for a unique experience than Venice Beach is the place for you. There is a nice sized walkway that takes you from the Santa Monica Pier to Venice Beach so we opted to park right in the middle in a large parking lot – you do have to pay for it.
Then we tried to get the kids skateboards out so that they could ride down the walkway, but it didn't work out . . . they are still learning to skateboard and the walkway was super busy and lots of people had the motorized scooters so it didn't feel very safe to have the kids on their boards.
We opted to put the boards back and instead choose to go on the walking path where we walked along the beach and into Venice beach. The Venice beach boardwalk is filled with shops and has a pretty constant smell of weed . . . it is legal in CA and is sold right on the boardwalk.
We then headed over to the skate park to check that out and we could have stayed for hours watching the skaters. Right behind us the roller bladders were working it with a group rollerblade dance session so that was interesting to watch too!
Next was Muscle Beach – it was much smaller than we anticipated but was still cool to see. There are also a ton of really cool contemporary art murals painted on the walls and people watching is top notch!
Want more? Check out this awesome 2 hour group surfing lesson at Venice Beach! Must be 14 or older to participate.
4 – Santa Monica Pier
We have heard a lot of really good things about the Pier but have never made it there ourselves. It was super busy the day we were there – but it is definitely on our list of places to check out next time we are in the area. With the ferris wheel and ice cream options I know our kids would love it! You can read more about the Santa Monica Pier here.
5 – Malibu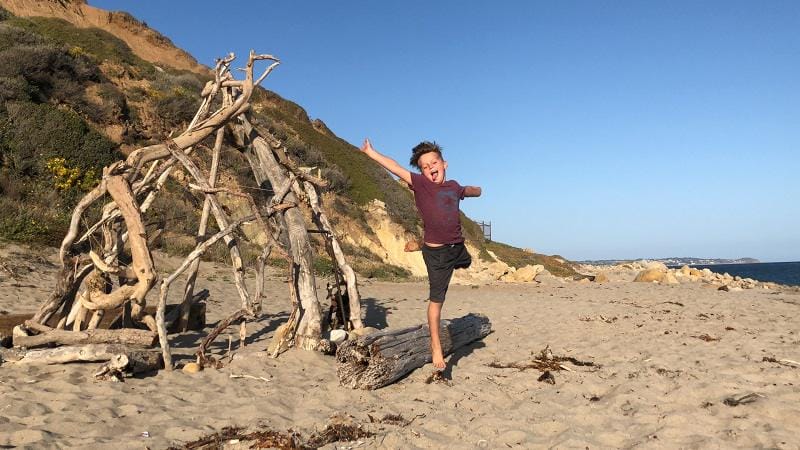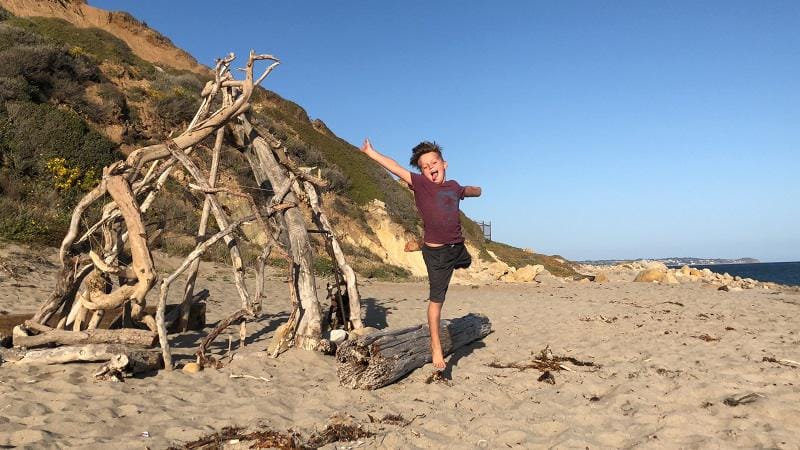 After the craziness of Venice Beach we were looking for something a little quieter so we headed out to Malibu to see what that was all about and to find a beach to let the kids run on.
We ended up at El Pescador State Beach in Malibu which was a beautiful state park with a beach and was a really nice introduction into what the Pacific Ocean and California coast would look like as we made our way north.
Other fun activity to check out in Malibu:
6 – Natural History Museum Of Los Angeles
Carson (our oldest) is really into Dinosaurs so we made a stop at the Natural History Museum. With our reciprocal museum membership we were able to get in for free. And we spent a couple hours exploring the dinosaur bones and a few others things at the museum.
It is a good size museum and well worth a stop if your crew is into natural history and/or Dinosaurs!
If you don't have a reciprocal museum membership, you can get tickets to the Natural History Museum here!
7 – Kidspace Museum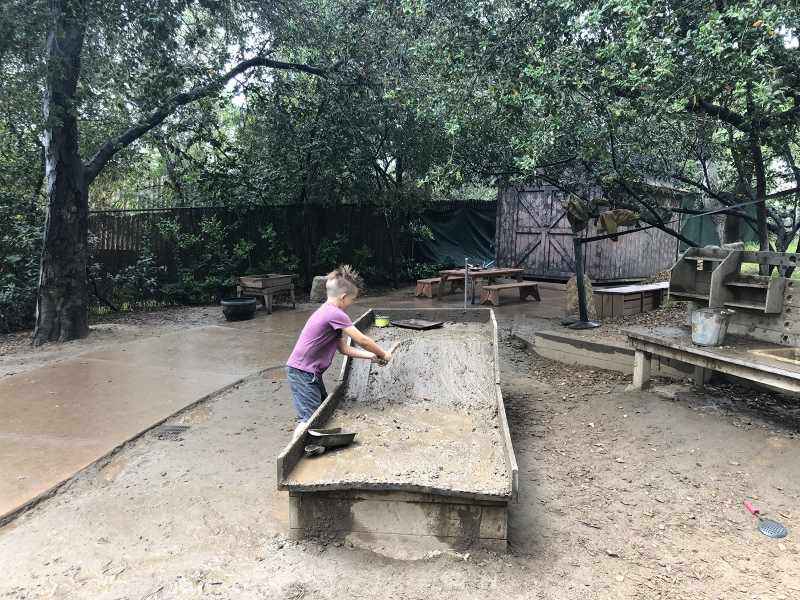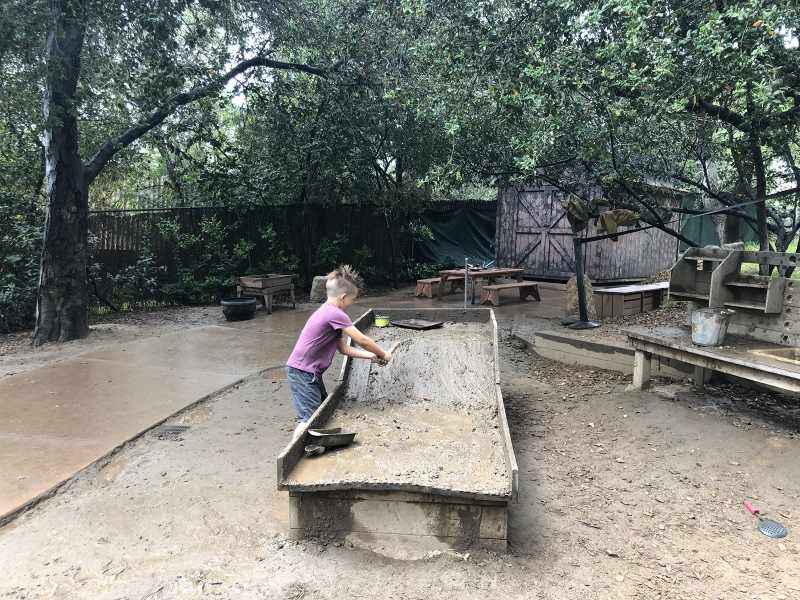 This kid friendly museum is out in Pasadena so may be a bit of a drive but it was an awesome museum – we easily could have spent all day here. We again used our reciprocal museum membership and were able to get 4 tickets covered.
The children's museum is almost all outside with great hands on activities for the kids to do. It is a perfect fit for kids age 11/12 and under. Well worth a visit if the kids need a day to run around and play.
8 – California Science Center
We had also heard great things about the California Adventure Center and definitely would have gone but we ran out of time! Note that the museum usually closes at 5pm . . . At the museum you can check out the Space Shuttle Endeavor Exhibition which looks amazing.
We had asked our followers for recommendations on things to do in LA with kids but we ran out of time and couldn't do all of them. But we wanted to share the list with you in case you have more time to explore the area:
9 – LA Train Station
Great for anyone that loves trains and when you are done you can walk across the street to grab lunch at Philippe the Original Beef Dips!
10 – The Farmers Market at the Grove
We heard this one over and over again from people and sounded like a really unique and fun place to visit.
We could see the observatory when we did the Hollywood Sign hike and I was disappointed we didn't make it there. Would have loved to go at night and to see the Samuel Oschin Planetarium.
There is also the beautiful Griffith Park that you can explore and you won't want to miss Travel Town! Griffith Park is a great place for kid activities, Los Angeles has a lot to offer on that front! You can visit the LA Zoo, take Pony Rides or Train Rides and so much more!
The building one of many Art Deco buildings found in LA.
Tour options for Griffith Observatory:
12 – El Capitan Theater
A great place to see a movie! Plus it is gorgeous inside.
13 – The Los Angeles Public Library
Beautiful inside and lots of great events and activities going on.
14 – La Brea Tar Pits
Which I was disappointed we didn't do but the location didn't really work with the other things we did.
Get tickets to the Tar Pits here!
15 – WB Studios Tour
I looked into this one and it was pricey and there was an age restriction – everyone is suppose to be 8 years old or older. If the shows would have been ones the kids watched we probably would have done it but they weren't.
Click here to get tickets to a WB Studio tour!
An art museum along with gardens to walk through plus a beautiful building to admire.
Check out: Tips On Visiting An Art Museum With Kids
17 – Universal Studios Hollywood
Universal Studios Hollywood is a perfect attraction to add to your list of things to do in Los Angeles. Especially if you are Harry Potter fans!
We had just done Universal in Orlando earlier in the year so we opted to skip Universal Studios Hollywood theme park this time around and did Walt Disneyland instead. My parents and sister's family went to Universal and they enjoyed it. But we were surprised to hear it closed super early at 6pm . . . so be sure to check the times. If you go check out this great Universal Food Guide.
18 – Puppet Show
Looking for a unique experience? Check out a Puppet Show in downtown LA like the Bob Baker Marionette Theater.
19 – San Pedro
Check out this historic downtown waterfront where you can shop, dine, visit an art gallery or just walk around. You can also stop to see the USS Iowa in this area.
20 – Skirball Cultural Center
This Cultural Center has so much to offer! They offer events including weekly story times, guided tours, and a mini Noah's Ark! Food, drinks and snacks are also available while you take in all the Center has to offer. This would be a great place for kids birthday parties! If you are interested in checking out museums, you may also want to go to the Autry Museum or the Getty Center!
If you are a foodie, you must check out Grand Central Market! So many different food vendors and options to choose from.
22 – Take Flight
If you want to get a birds eye view of Hollywood, check out one of these options:
Beverly Hills and Hollywood Helicopter Tour
Los Angeles At Night Helicopter Tour
23 – Aquarium Of The Pacific
If your family likes visiting aquariums then be sure to check out the Aquarium of the Pacific in Long Beach. They have a lot of great outdoor exhibits along with indoor things to do.
Go City Explorer Pass Los Angeles
If you are loving this list of activities and are planning to do a few of them, the Go City Los Angeles card can save you a ton! It includes more than 30 activities to pick from and you can choose if you want to do the 2 – 7 of the activities based on the card you get. Take a look and use the Go Los Angeles Card to help you maximize your trip!
Check out the Go Los Angeles Card here!
24 – Long Beach
Plenty to do with the Aquarium, nature center, plus the harbor and marina. Learn more about Long Beach here: 14 Things To Do In Long Beach.
Walk the streets and window shop, check out the farmers market, see what events are going on. If your kids or you are into it then sit and people walk looking for celebrities!
You could also check out this tour: Los Angeles, Beverly Hills & Hollywood Afternoon City Tour.
A cemetery is a weird thing to have on the list. But it is a world famous landmark in Los Angeles and know for its events. Be sure to check out the open air events happening during your visit!
Check out the mural, the time travel mart for interesting finds, shop at the cookbook or rent a pedal boat for the lake. Lots of fun things to do here!
28 – Huntington Library, Art Museum and Botanical Garden.
Yes it is a library but it is beautiful! Plus they have a botanical garden.
You can also check out the downtown Los Angeles: Food, Arts and Culture Walking Tour.
There are quite a few in the Los Angeles county area! If your kids are into this it is worth finding one close by and making a stop.
There is a lot to do in this urban park. It is home to a variety of museums including the California Science Museum and Natural History Museum.
Check out our video of our visit to LA:
We visited Los Angeles on our Pacific Coast Highway Road trip, check out more of that here. Visiting LA with kids is a fun time and definitely something you want to do when visiting or exploring the United States!
If you are visiting in winter check out: The Closest Ski Resorts To Los Angeles.
31 – California African American Museum
Covering the cultural and heritage history of African Americans and the history of California and the western US.
32 – Drive Sunset Boulevard
If you are looking to take a drive check out Sunset Boulevard. This iconic drive takes you from the oldest part of LA down to the beautiful beaches. It passes by the mansions of Beverly Hills and Bel Air as well!
33 – Visit Santa Monica Mountains National Recreation Area
Visit the nations largest urban National Park – Santa Monica Mountain National Recreation Area. There are hiking trails, gorgeous viewpoints and a visitors center to check out!
Recommended Places to Eat
34 – Pinks Hot Dogs
35 – Philippe the Original Beef Dips
36 – Randy's Donuts
Where To Stay
Hotel
There are, of course, plenty of Hotels to choose from in LA, but here are a couple excellent options with stellar reviews right next to LAX- both include shuttle services!
Sheraton Gateway Los Angeles Hotel
Residence Inn by Marriott Los Angeles LAX – includes a full kitchen!
RV
Stay on the beach at Dockweiler RV Park or check out Hollywood RV Park.
If you want to stay outside of Los Angeles, the Thousand Pines Christian Camp & Conference Center is right in the San Bernadino mountains about 75 minutes from LA. It's an absolutely beautiful area to camp!
Or if you want a water view but not on the beach, check out Launch Pointe, about an hour from LA, in Lake Elsinore, CA. Here you can actually rent a vintage Airstream!
If you want to try out the RV life on your trip, you can rent an RV here! Plus we have posts to help you learn more about how to rent an RV and planning your RV trip.
Vacation Rental
There is always something for every taste with vacation rentals and Los Angeles is no exception. You can find a ton of gorgeous places for any need. Here are just a few:
Venice 'On the Canals' Contemporary
Hollywood Hills Spanish Contemporary
If you are looking to seriously ramp up your trip, consider staying in a Top Villa! Guaranteed to make you never want to leave your rental. Here are a few of Los Angeles' Top Villas.
Travel Info
Flights
If you are looking to take a flight into LA we recommend checking out WayAway. They offer cash back options on flights! Click here to learn more about flights to Los Angeles.
Car Rental
For the best prices on car rentals in LA check out Discover Cars. They check prices across all the major car rental companies to make sure you get the best price.
LA Go City Explorer Pass
If you are interested in doing a variety of activities be sure to check out the LA Go City Explorer Pass.
Check out these posts for even more things to do in California:
17 Unforgettable Things To Do In San Francisco With Kids
21 Epic Things To Do In Yosemite National Park With Kids
19+ Unforgettable Things To Do In Sequoia National Park
15 Fun and Exciting Things To Do In San Diego With Kids
15 Magnificent Things To Do In San Diego With Kids
The Ultimate Baja California Mexico Road Trip
14 Magnificent Things To Do In Big Sur California
14 Awesome Things To Do In Death Valley National Park
12 Epic Things To Do In Northern California [Map Included]
11 Awe Inspiring Things To Do In Southern California
Pin this post for later: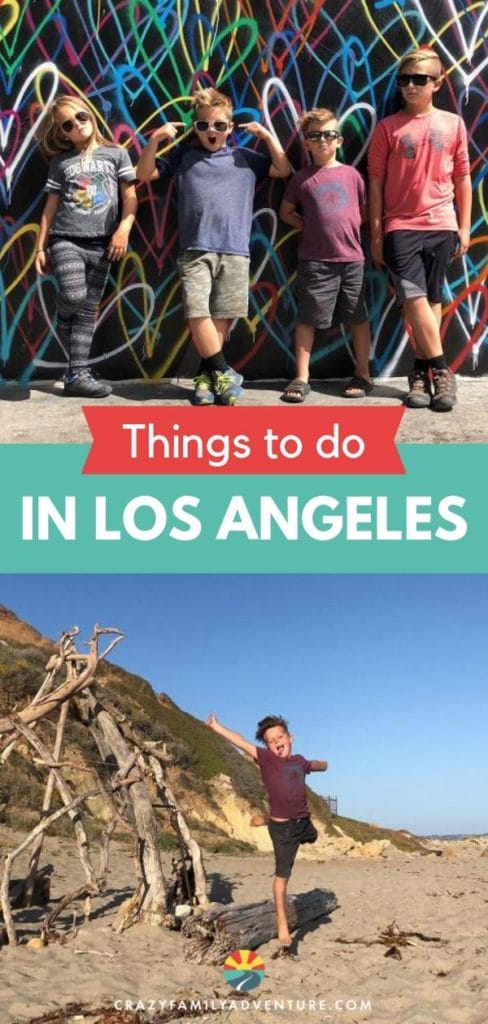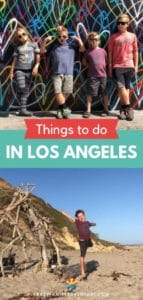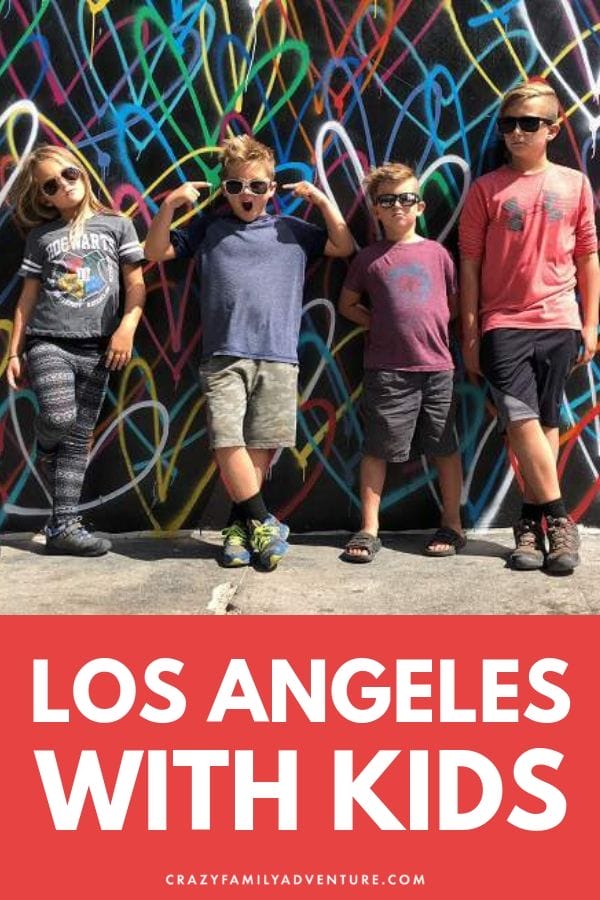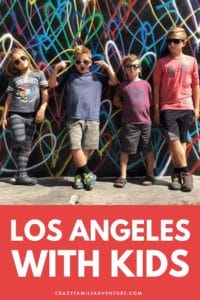 DISCLOSURE: This post may contain affiliate links, meaning I get a commission if you decide to make a purchase through my links, at no cost to you. Please read my disclosure for more info.