We kept seeing and hearing it couldn't be done. Knocking out both parks in one day. But looking at the prices we decided it could be done and it would be done! In order to do this we purchased a Disneyland 1 Day Park Hopper Ticket.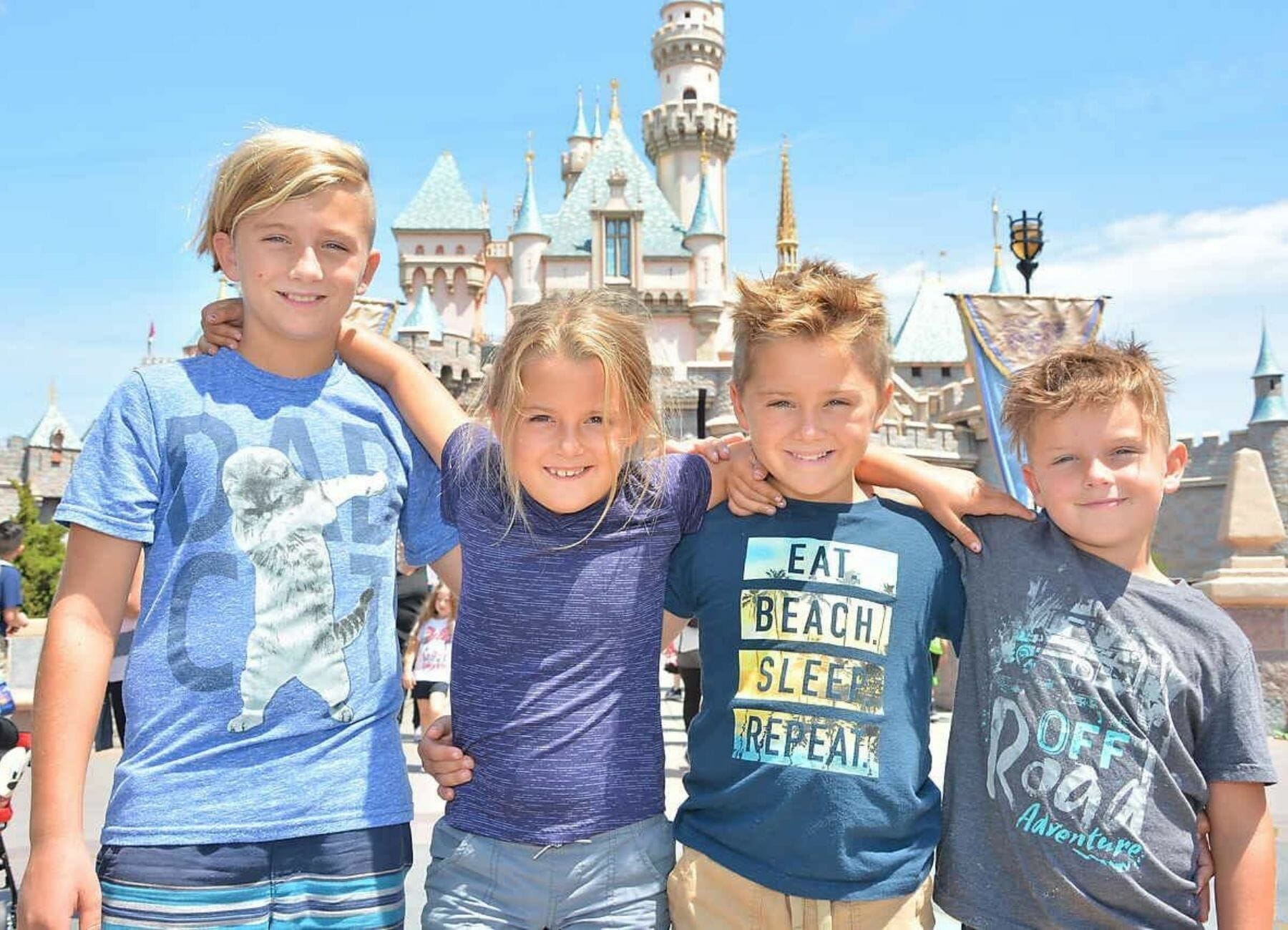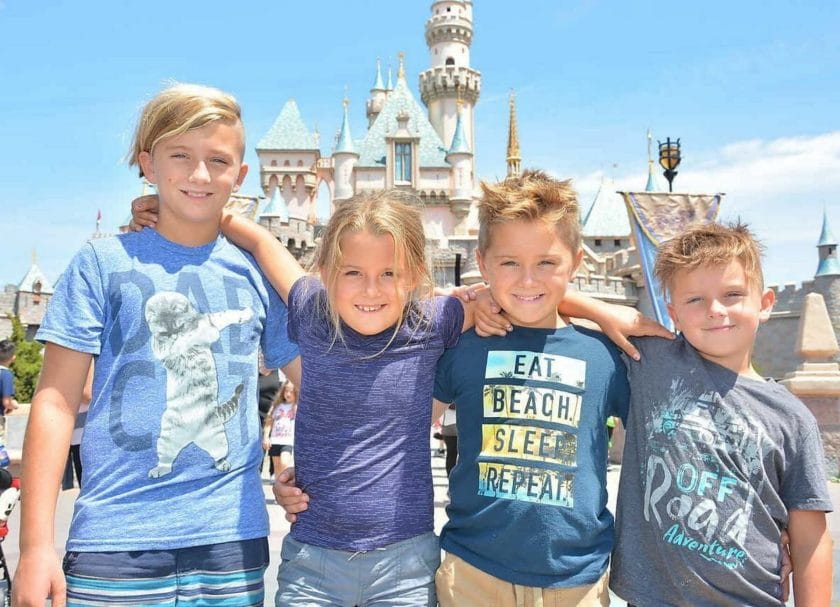 The tickets include park entry into both Disneyland and California Adventure on one day. Visiting in 1 day makes it easy to add to your list of things to do in Southern California or your west coast road trip.
We got a lot of great advice and tips from our friends at Trips With Tykes and No Back Home so we felt like we had a pretty good handle on it and should be able to do everything we wanted to at the Disneyland resort parks.
Here are our Disneyland tips on how to visit both parks in one day when you have never been there before. If you are trying to hit the park during one of Disneylands Special Events be sure to check the calendar so you know when the park is open and what is going on!
Getting Your Parks Tickets
**Update you know need reservations ahead of time to go to Disneyland. Learn more about Disneyland Reservations here.
Let's be honest, to make the most out of one day you are going to want to go in the off season. Don't try during a busy day, it won't be worth it. Guessing the Disney crowds can be a total shot in the dark but I would recommend checking the Disney Calendar sites and seeing when is supposed to be a low day and plan your trip then.
The night before you are going to go, head to Downtown Disney to take a look around, grab a treat, and head over to get your tickets. In order to keep costs down we ate dinner before we left and then got cupcakes at Sprinkles when we were there.
This does 2 things – makes the kids happy (and lets be honest Mom and Dad too) and means that you can park for free for 3 hours in the Downtown Disneyland parking lot. Win, Win.
Also make sure to check the dates for when you are going to go. Some days are more expensive then others so choose a less expensive day to go – which usually means less people too. Another win, win!
Also note that kids tickets are cheaper then adult tickets but our son at 10 years old is considered an adult?? Yup that's right. Not sure how they get away with that?
Now remember your theme park tickets include admission to both Disneyland and California Adventure and your ticket is valid for 1 day so you will want to do some planning.
Have A Plan
Ok, I say that one loosely. We didn't really have a plan besides knowing what park we were going to start in and what rides we wanted to be sure that we got on. Be sure to check the requirements for all the rides. For example Radiator Springs Racers the height requirement is 40″. Also, if there are some rides that one person may want to do and not another take advantage of the single rider lines. If you are riding solo the park cast members will fill empty spaces on the rides so they are full.
For picking your starting park, look to see which park has the earliest regular park opening and then also check to see if the park has magic hours (Where people staying at the property hotels get in early). If there are magic hours this means you will not be the first people in the park. The people from the hotels will have been there for an hour already.
If you are going for the rides be sure to check out this post: The Best Disneyland Roller Coasters
What Time To Get There
It was recommended we arrive 1 hour and 15 minutes to 60 minutes prior to regular opening time to get in line to enter the park. Then get in line to wait until the rope is dropped so we could go further into the park to the rides. They let you enter into the Main Street area where there are shops earlier. But not any rides.
If you have to buy tickets the day of then plan on getting there about 90 – 120 minutes before the park opens. If you are parking a car and taking the tram make sure to leave at least 20 minutes for this too!
In hindsight, since we went to a park that was having Magic Hour (early admission prior to regular park hours for people who stay at a Disneyland resort hotel) we could have gotten there 20 minutes early and would have been fine. If there wasn't Magic Hour, I could see getting there early to be at the front of the line and the first ones in the park.
Also note that when there is Magic Hour there are 2 separate lines into the park. . . Yeah we went to the wrong one and stood in the Magic Hour line and got denied when we went to enter the park. That was a waste of 20 minutes!
Hence the reason I said it would be fine to get in the normal line 20 to 15 minutes prior to the regular park hours when the rope drops. Since that is what happened to us and we still ended up at the front of the rope line.
Food
Bring all food with you in a backpack and eat while you are in line. Yup, we were that family and it totally worked to our advantage. The kids get bored waiting in line and they are much less bored when they are eating so again win, win!
We packed organic pizza lunchables – yes they have them and it made me feel less guilty about them eating lunchables! Then lots of PB&J's and LOTS of snacks. Unfortunately, we didn't bring much fruit since it would get squished in the backpack, but instead opted for easy snacks that could fit in a sandwich bag with each kids name on it.
We had crackers, pretzels, fruit snacks, granola bars – all the simple and easy yet yummy snacks that the kids like. It helped to keep the fed throughout the day!
For water we brought a 64 ounce Hydro Flask water bottle and 2, 20 ounce water bottles. Yes, the bag was heavy but we got everything in one backpack. We were able to fill the water bottles outside one of the restaurants in the middle of the day.
If you are wondering what to pack for Disneyland check out this great post: Best Disneyland Packing List! 60 Things to Bring (Printable PDF)
Max Pass – Now Disney Genie
So the Max Pass is gone and the Disney Genie replaces it. Since we have never used the Disney Genie I wanted to share a post from our friends Trips With Tykes (Disney pros!): Disney Genie+ & Lightning Lane at Disneyland: 17 Frequently Asked Questions Answered
Walking
We walked A LOT. If your kids aren't use to this, make sure you figure out the best way for it to work for them. Good running shoes for the kids with the right socks. A backpack carrier for younger kids – we used our Ergo as a backpack until Knox was 5!
Then of course find spots throughout the day or when in line where they can sit down to rest their feet. Or offer up piggy back rides! Makes for a good workout for Mom and Dad too!
Suckers
Get a pack of good suckers – like the Jolly Rancher ones that last a long time and have them on hand for when the kids are losing it. It is amazing how much further they can walk if they are eating a sucker :)!
Pictures
With the Disney Genie you get all pictures from your day on the app! We have never paid for any pictures in an amusement park so I didn't expect to like this as much as I did. But it was awesome! We got amazing professional pictures of our whole family. AND we got to keep the pictures from the rides – these are always the best :).
My tip for this is take the time to wait in line to get your picture taken in front of the castle if you bought the Disney Genie. Yes, it wastes time. Just do it.
When you come off a ride, find your picture and take a picture of the number at the top so you can add it into your Disneyland App later. Then you can download a higher quality picture. Just be sure you put in the right number or else you get a picture of another family . . . not that I did that . . .
If you want to learn more about Pictures at Disneyland check out this great post: How To Book An Epic Disneyland Photography Session
Have Fun
Above everything else, don't let all the planning and possibility of planning mess with your day. Instead, above all, focus on having fun and enjoying the time with your family. I mean these tickets aren't cheap!
Skip The Parade
We have never seen a Disney parade. We usually only do the one day pass so it seems like a waste of time to wait for a spot and do the parade since this is normally a time when ride wait times are a lot shorter!
Catch The Fireworks Wherever You Are
We never wait for the fireworks but instead just catch them where we are. This saves time on trying to hold the perfect place to see them. We could always watch it on You Tube :).
Plus, we found a super less busy area to watch them and they had the whole Pixar animation show where they project it onto the It's A Small World area! There were separate fireworks here and also the animation show. It was really well done.
Skip The Playground Areas
This is hard for me to say as I know our kids would really enjoy hanging out and playing at all of these. And Disneyland offers some great ones. But unfortunately I know our kids would want to spend hours here. If we did that, we would miss out on a lot of the rides so we just ignored them.
If we were here for 2 days we would definitely spend a good amount of time letting the kids run around here!
Rides – Disneyland Itinerary
Here are the rides we hit being there for 1 day.
Arrived at Disneyland and got in the RIGHT line at 8:40am. Park had magic hours so we got into the park and waited by the rope until 9am to go in.
Disneyland
Ride 1 -Dumbo (gotta do this iconic one right???!!!)
Ride 2 – Big Thunder Mountain Railroad
Ride 3 – Indiana Jones Adventure
Ride 4 – Buzz Lightyear Astro Blasters
California Adventure
Ride 5 – Goofy's Sky School (ate lunch in line)
Ride 6 – Silly Symphony Swings
Ride 7 – Jumpin Jellyfish
Ride 8 – Grizzly River Run
Ride 9 – Soarin Around The World
Ride 10 – Mater's Junkyard
Ice Cream Break at Ghiradalli's
Ride 11 – Guardians of the Glaxay
Ride 12 – Radiator Springs
Back To Disneyland
Ride 13 – Matterhorn Bobsled
Ride 14 – Space Mountain
Ride 15 – Star Tours – The Adventures Continue
Ride 16 – It's A Small World
Ride 17 – Big Thunder Mountain Railroad
Fireworks
Ride 18 – Mad Tea Party – Tea Cups
Conclusion
When we were there California Adventure closed at 9pm and Disneyland closed at 10pm. Be sure to check for park hours for the dates you are visiting Disneyland. The hours do change depending on time of year. You may also want to look into the best time of year to visit Disneyland.
We felt we got a lot done and really enjoyed our day! With 2 days we could have done more the playground type of "rides". And also watched some shows and the parade and enjoyed the food in Disneyland. Some other exciting areas that we didn't make it at Adventure Park was the Avengers Campus and Pixar Pier. If you are a thrill seeker check out the drops on the Guardians of the Galaxy ride. But honestly we didn't leave feeling like we missed out on a whole lot. We were glad we didn't have to come back the next day to deal with the crowds and sore feet!
Check out these Disneyland Tips for even more great information on planning your visit. If you are a Disney fan be sure to check out Disney Aulani and all the cool thing to do there!
If you are looking for more family fun check out Universal Studios Hollywood or all the awesome things to do with kids in Orange County.
And if you are flying into Disneyland check out this post: Everything You Need To Know About Flying To Disneyland.
If you are interested in doing a character meal be sure to check out this post on which Disneyland character meal is best for your family.
WHERE TO STAY
HOTELS
Courtyard by Marriott Anaheim Theme Park Entrance – If you don't want to stay on property and still want the Disney theme and luxury, the Courtyard by Marriott is the perfect place. The hotel is within walking distance of the park and is the nicest hotel off property. It even has a small waterpark attached to it with water slides.
Fairfield by Marriott Anaheim Resort – Recently renovated and only a 5-10 minute walk to the park the Fairfield by Marriott is a more budget friendly option. Has an outdoor pool and a game room but does not include breakfast. There are plenty of restaurants close by to pick up a quick bite to eat on the way too and from the park.
Howard Johnson by Wyndham Anaheim Hotel & Water Playground – How about a hotel and a pirate themed waterpark? With a 30 foot pirate ship and drench buckets kids and adults alike will enjoy the stay here. On days when you head to Disneyland it is only an 8 minute walk to the entrance.
Disney's Grand Californian Resort is suppose to be amazing too!
VRBO
The Neverending Story Home – A 5-star vacation home within walking distance of Disneyland. Offers 4 bed rooms each with a unique Disney Theme. After a long day of walking through the park relax in the saltwater pool or jacuzzi.
Flexcation Home – This vacation rental is right across the street from Mickey and Friends parking lot and a 10 minute walk to the Tram Station at Magic Way. From there it is a free ride to then entrance of Disneyland. House includes a pool, hot tub, patio grill, and is wheelchair accessible.
Custom Built Anaheim House – With 4 bedrooms and 3 baths and only 2 miles from Disneyland resorts, this house can accommodate a large family or family and some friends. If you take a day off from Disneyland the California beaches are only 20 minutes away or feel free to drive less than an hour into LA.
CAMPGROUNDS
Bonelli Bluffs RV Resort & Campground – Do you want to enjoy Disneyland then get away from all the noise and busy streets? Bonelli Bluffs is about a 40 minute drive from Disneyland but has some wonderful views of the San Gabriel Mountains. Campground has a beach front park, 2 pools, fishing, hiking trails, and is about 45 minute from LA.
More posts to check out:
The 34 Most Epic Things To Do In Los Angeles With Kids
6 Epic National Park Road Trip Ideas [Maps Included]
11 Awe Inspiring Things To Do In Southern California
10 Best Things To Do In Joshua Tree National Park
14 Awesome Things To Do In Death Valley National Park [And Where To Stay]
15 Fun and Exciting Things To Do In San Diego With Kids
12 Epic Things To Do In Northern California [Map Included]
Pin This Post: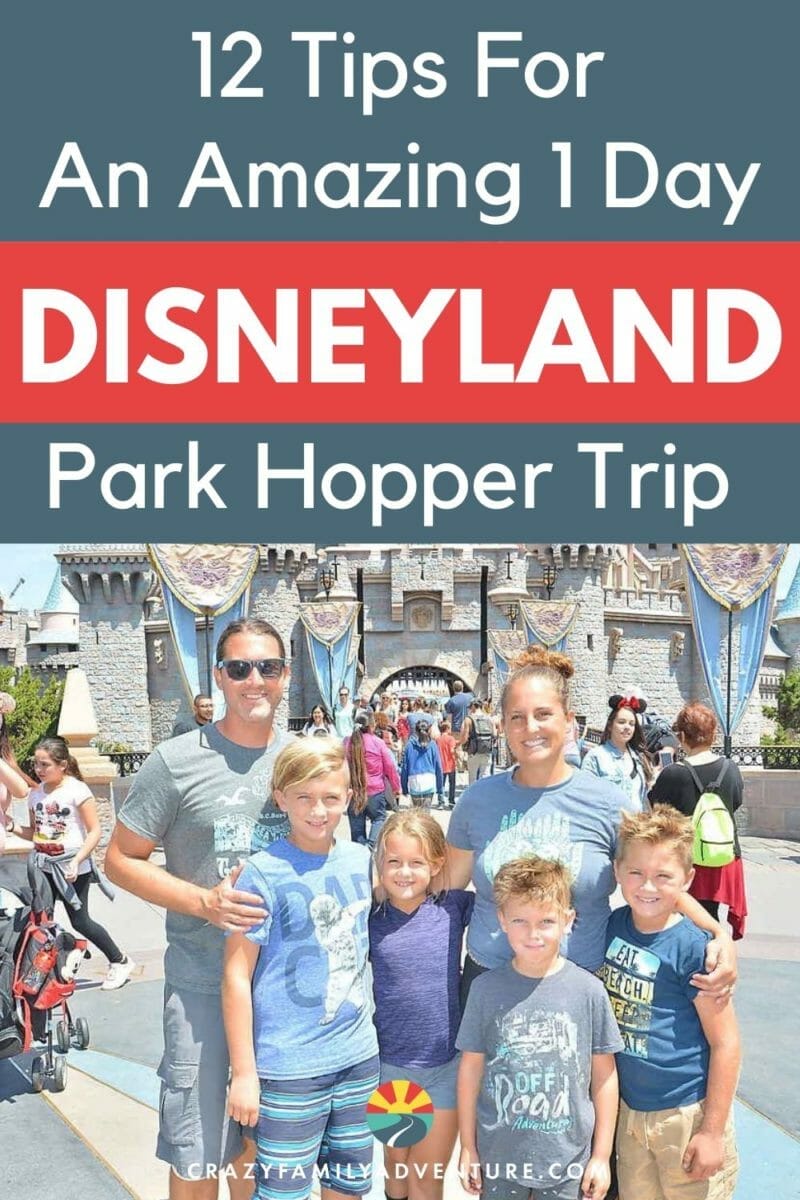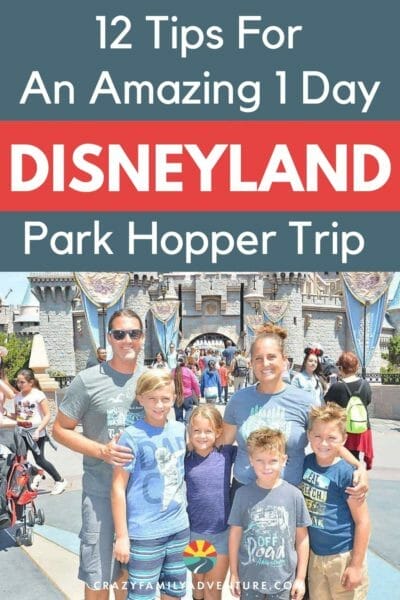 DISCLOSURE: This post may contain affiliate links, meaning I get a commission if you decide to make a purchase through my links, at no cost to you. Please read my disclosure for more info.