.As we were writing our post on things to do in Big Sur we decided Pfeiffer Beach needed its own post for a couple of reasons. 1 it is really hard to find . . . 2 it is so amazing! I mean like, really amazing. It needed its own post.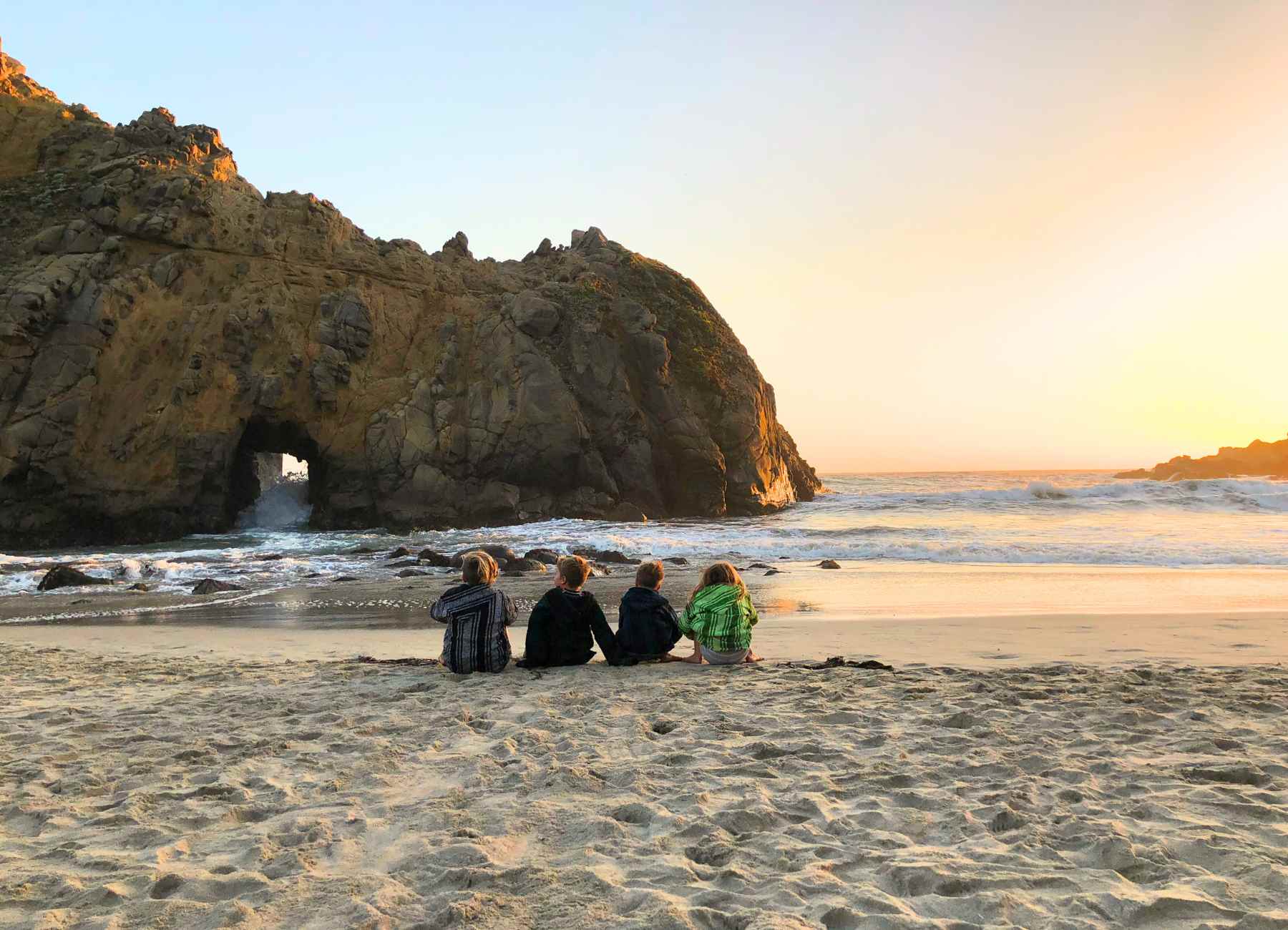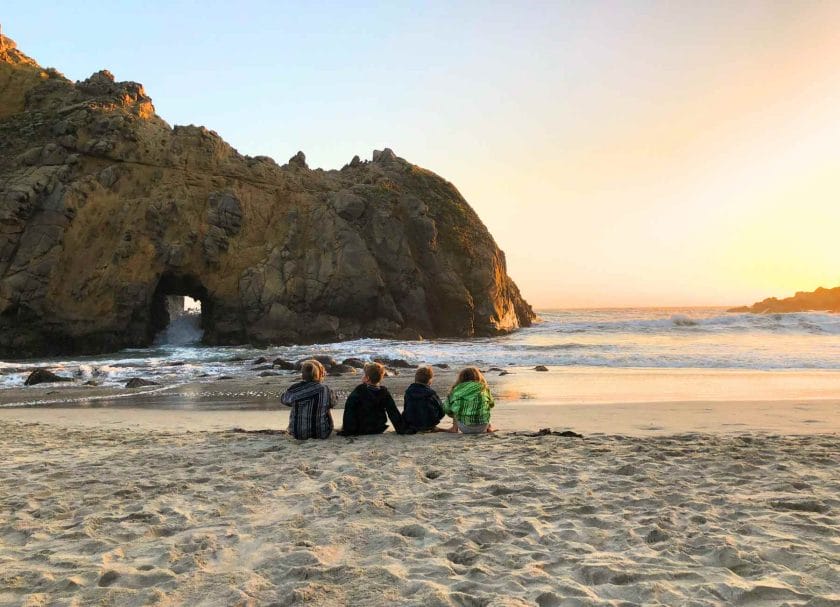 If you are looking for things to do in Southern California be sure to add Big Sur and Pfeiffer Beach to your list! Without further ado here is how to get there, what to do while you are there, and tips for enjoying your time!
Always be sure to check if access to the beach is open. Due to flooding in the area it may be closed. You can check the status here.
How To Get There
You can either drive into Pfeiffer Beach or take the bus (Memorial Day to Labor Day) from the Big Sur Visitor Center area. Always be sure to check in at Big Sur Station or call before you go to see if the bus is running and what the current fees are. We opted to drive since with 6 people the bus would have cost us $30 plus $10 to park our car at the shuttle parking lot at the Big Sur Station. Then the shuttle was $5 per person.
To park in the Pfeiffer Beach day use lot there is an entrance fee of $12 CASH. Let me say that again it is CASH. So be sure to have $12 with you. There are a few other options which you can check out on their site.
Driving
Now the challenge of finding the road down to the day use parking area for the beach . . .
There is NO sign for the beach at the road entrance. I repeat: there is no sign for the beach. There is a yellow sign that says narrow road . . . that you can only see if you are driving south on 1. So here are what I hope are helpful directions for finding the beach:
Go to the Big Sur Station (this is the visitor center for the Big Sur). You can find it here: 47555 CA-1, Big Sur, CA 93920
If you are coming from the south driving north and trying to find it – you can if you know where to look – but it will be harder. That is why I recommend going to the Big Sur Station and turning around and coming at it from the north heading south.
However if you are coming from the other direction look for the post office on Hwy 1. Once you pass that it will be about .5 miles up the road on your left hand side. If you reach the Big Sur Station you have passed it.
While at the Big Sur station check with rangers to see how busy the beach is. There is a chance they will turn you away at the parking lot or the road leading to it if the parking lot is full. That does happen, so going during the week or at the end of the day is normally your best bet.
This is the route you will go on:
Here is a high level view of the road off of Hwy 1 and where the day use parking is: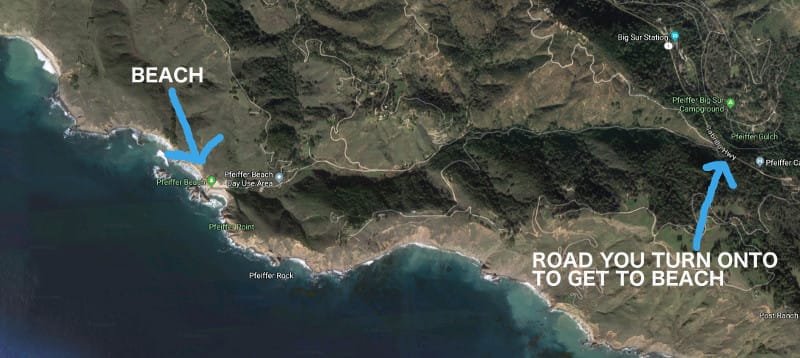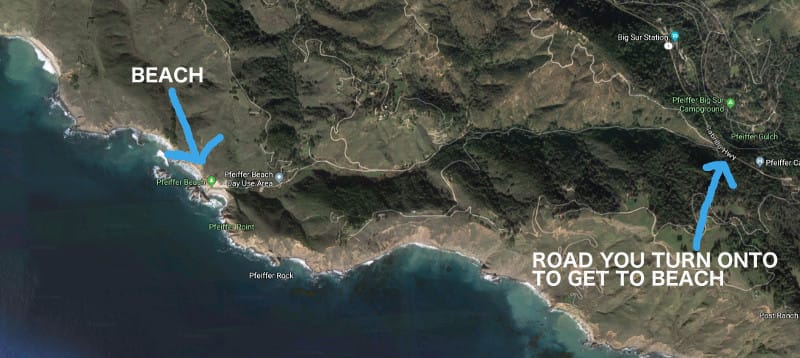 Here is an idea of where the road is that you turn off of 1 onto: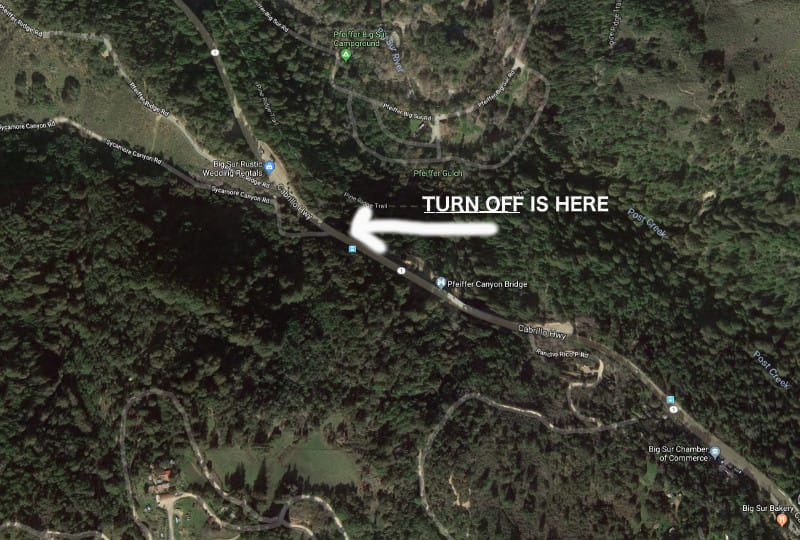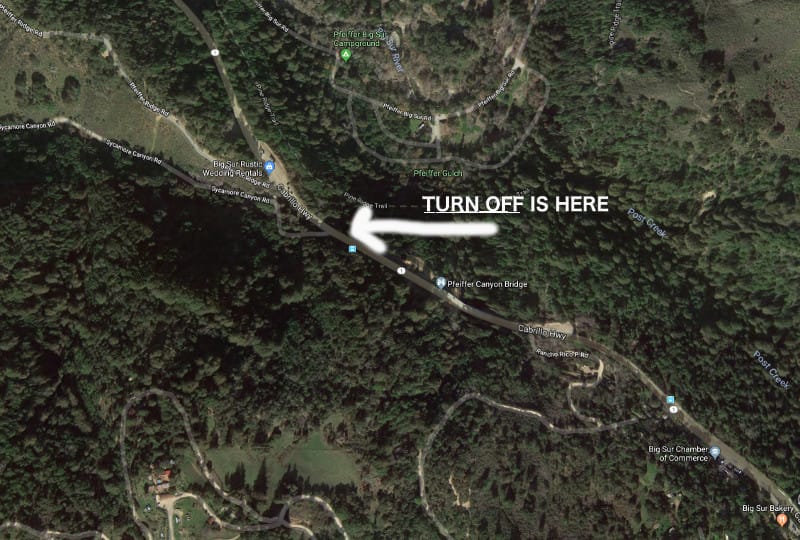 Leave the Big Sur Station and go left or south. About .5 miles south you will see the yellow sign:
**Note: If you come to the Big Sur Bakery on Hwy 1 and have not seen the yellow sign you have gone too far and have passed the sign and road. Return to the Big Sur station and start over.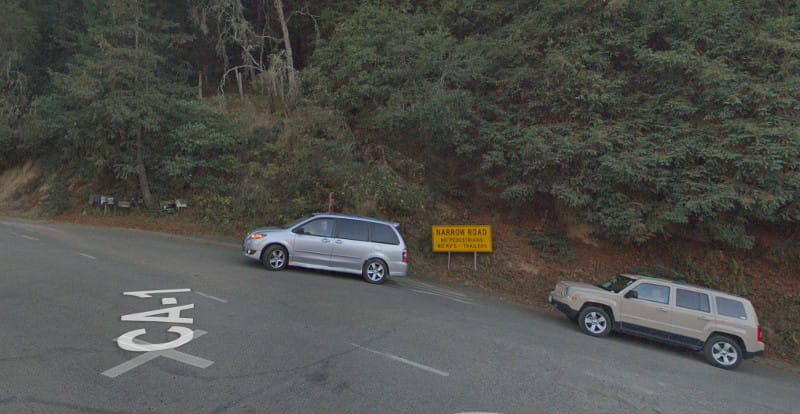 You will have to make a tight right turn to get onto Sycamore Canyon Road. You are at the right place. About 2 miles down – after driving on an interesting road that takes you through a residential area you will reach the day use area.
Here is where the beach is located: At the day use area you will have to pay $10 to park to an attended at the booth. It is worth it just pay it. From here you will take a short walk down to the beach.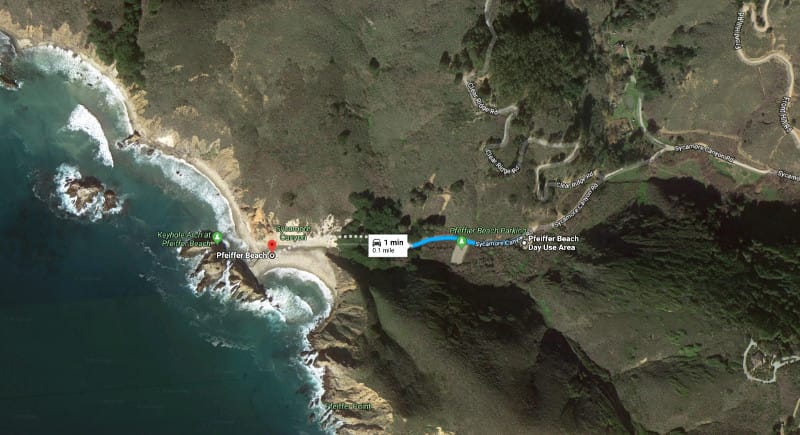 The Bus/Shuttle
The other option is to take the shuttle from the Big Sur Station. Like I mentioned above it was $5 a person so with 6 of us it would be $30. Versus $10 for parking.
The shuttle service operates Thursday – Sunday from Memorial Day to Labor Day. And runs from 11am to 7pm. With shuttles leaving about every 20 minutes. It costs $10 to park in the shuttle parking lot and then $5 per person to take the shuttle. From what I can see the shuttle returns before sunset so be aware you will not see the sunset if you take the shuttle.
I think it is great that they are offering this service since I know the weekends get so busy that people can't drive down to park! That being the case if you really want to drive come during the week and there is a better chance you will be able to park in the day use area.
What To Do When You Are There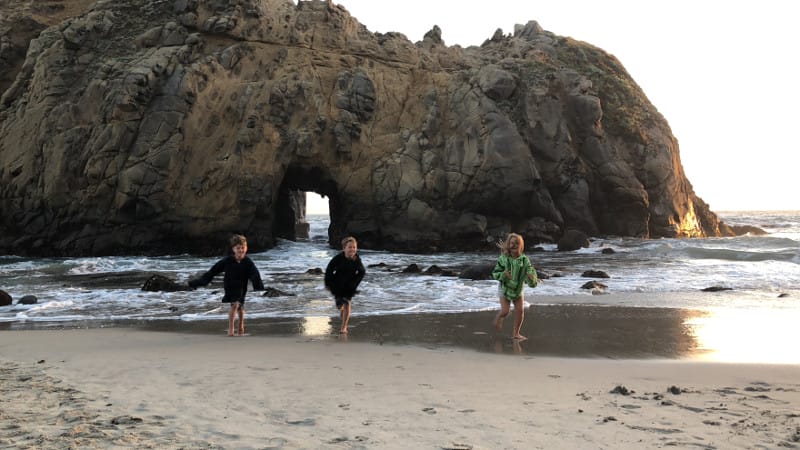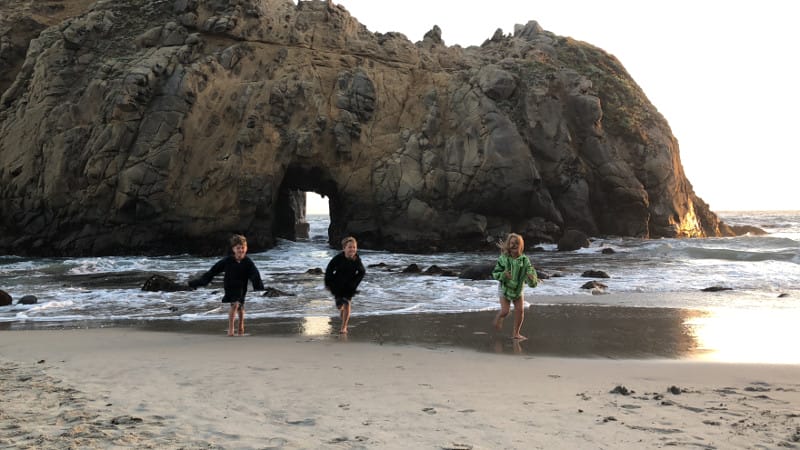 The best thing to do while you are there is just hang out and watch the waves crash. And take in the beautiful rock formations. Seriously! It is a secluded beach but it can be busy so don't expect to be here by yourself. But even with people around it is a magical experience.
Be prepared that it can get very cold and windy. So wear layers and bring chairs or a blanket to sit on. If you can manage it plan to be here for sunset it is magical! I have heard if you are there later in the year that the sun sets through the arch and it is quite amazing.
We were there in the summer so the sun set on the opposite side but it was still well worth being there for it.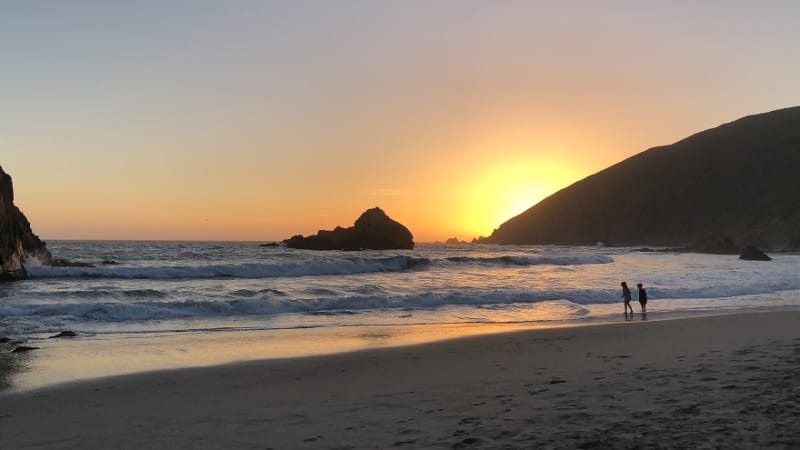 If you have kids be prepared that they may get wet dipping their toes in the water or playing by the water that can accumulate from the tide in small pools on the beach. However please note the water is crazy so don't let your kids out of your site or more than just their toes in the water.
There is also Purple sand here. It may be stretch to call it Purple sand . . . it isn't like neon purple or anything. But if you look close enough you can see it really is a purple color!
We also saw flowers blooming when we were there. The whole experience is magical and is well worth a visit. So plan a few hours to go at sunset or a whole afternoon if you can to bring a picnic dinner, a blanket, a bottle of wine and your camera.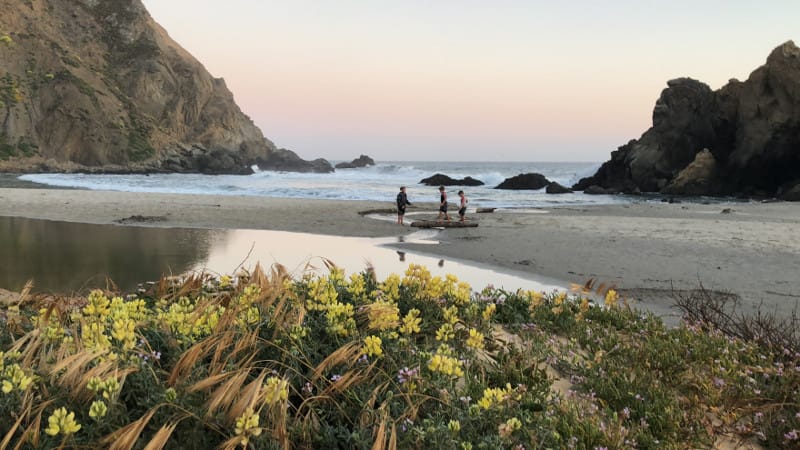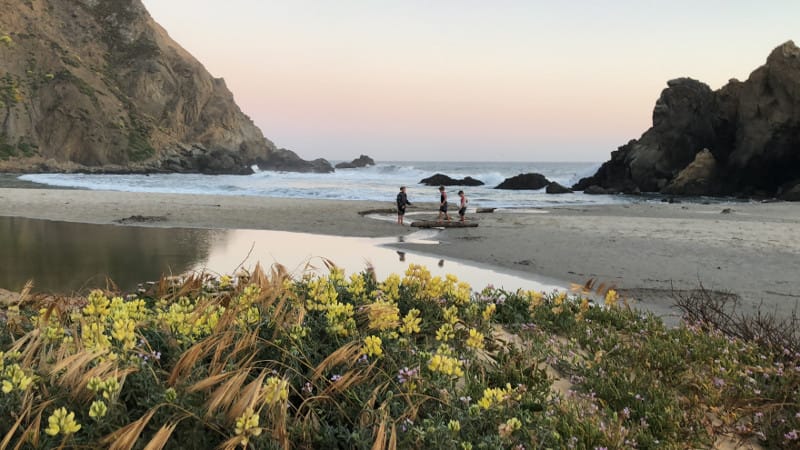 What To Bring
$12 CASH to get in
Layers of clothes – it can get very cold!
A change of clothes – in case anyone wants to dip their toes in the water and may get splashed by the waves or chose to play in the wet sand.
Sand toys
A Blanket or chairs
Snacks or a picnic
A bottle of wine
Your Camera
When you are in the area be sure to check out Julia Pfeiffer Big Sur State Park. Or the full name: Julia Pfeiffer Burns State Park where you will find the beautiful waterfall beach! We also have a few more places we recommend you check out on our post about Things To Do in Big Sur.
In the meantime check our our Pacific Coast Highway road trip posts where we share things to do in Los Angeles, Yosemite, Sequoia (I know they aren't on the coast but we couldn't miss them) and more!
11 Awe Inspiring Things To Do In Southern California
12 Epic Things To Do In Northern California [Map Included]
10 Best Things To Do In Joshua Tree National Park
14 Awesome Things To Do In Death Valley National Park [And Where To Stay]
26 Oregon Coast Road Trip Stops You Don't Want To Miss
23 Magical Things To Do In Redwood National Park
Here is a video of our time in Big Sur:
Pin This Post: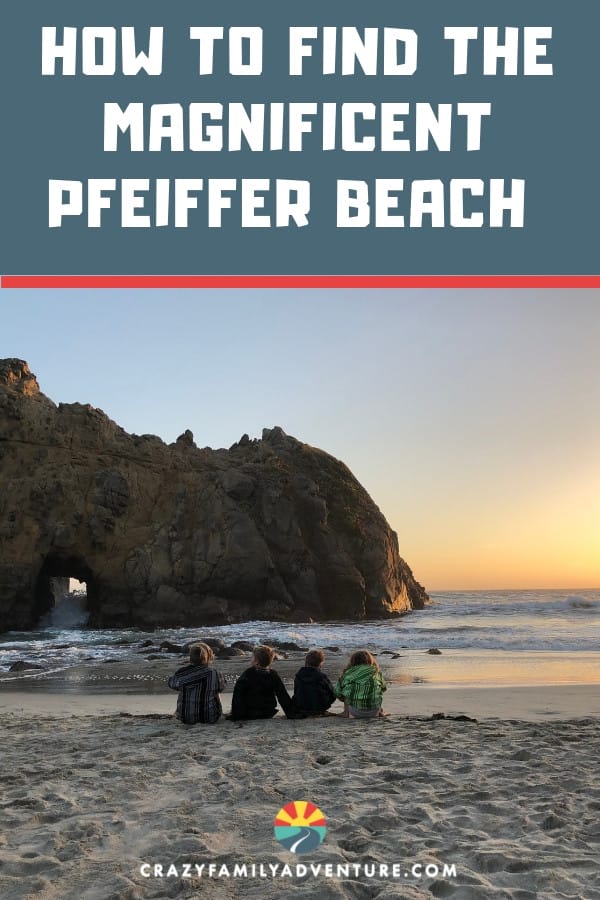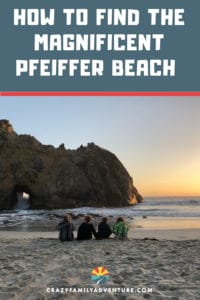 DISCLOSURE: This post may contain affiliate links, meaning I get a commission if you decide to make a purchase through my links, at no cost to you. Please read my disclosure for more info.