Looking for the best family ski resorts? Look no further, you've come to the right place! We reached out to some of the top family travel bloggers to get their recommendations on the best resorts in the U.S. to take your family for an amazing ski vacation. They are listed below in alphabetical order by state. Let's jump right in.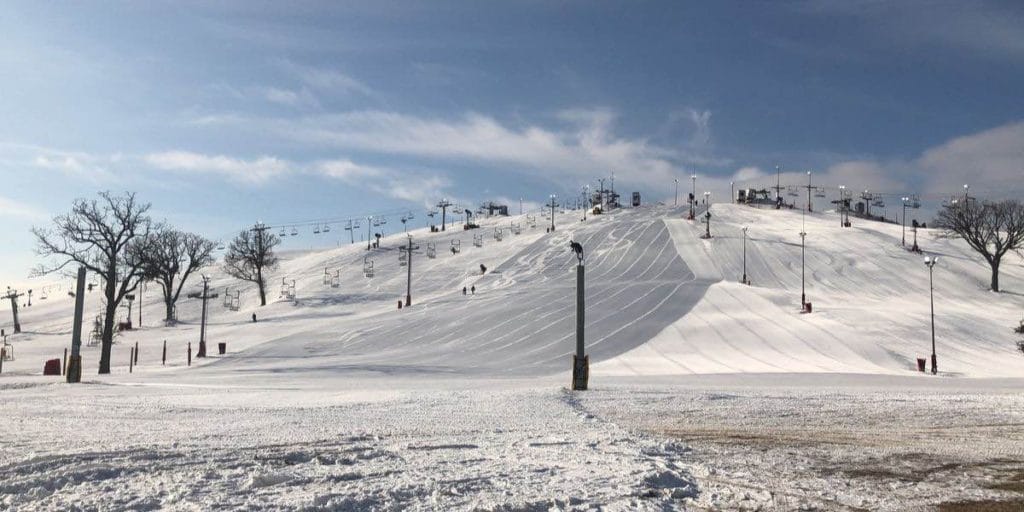 California – June Mountain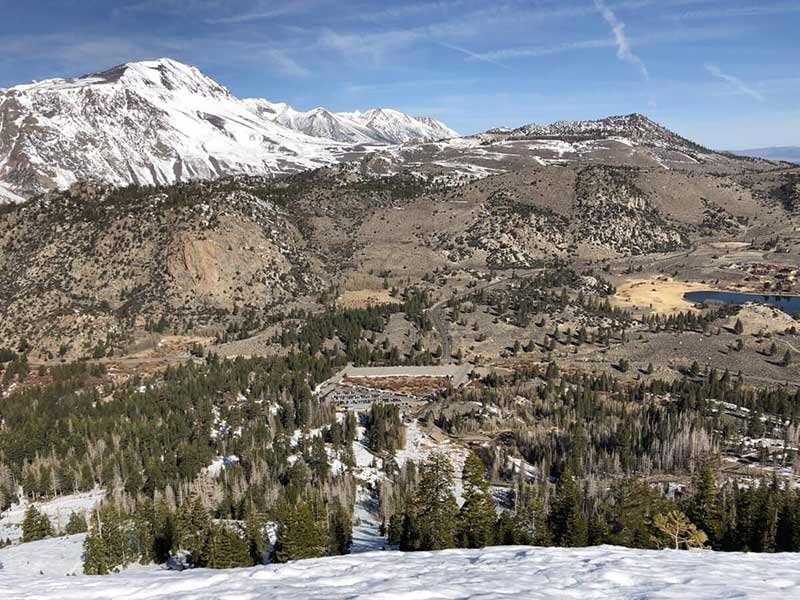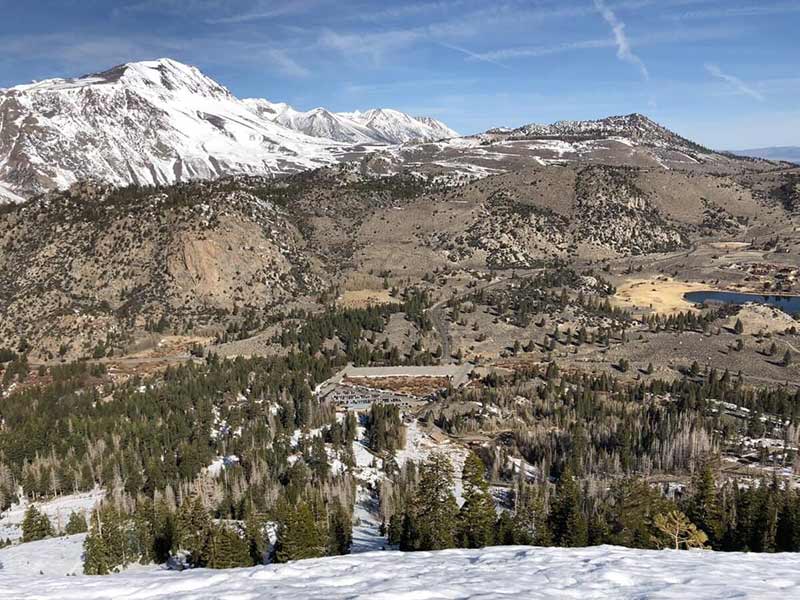 June Mountain Ski Resort in the Eastern Sierra region of California is a cult favorite for Southern California residents. Often overshadowed by owner and neighbor Mammoth Mountain, June Mountain is the perfect family resort with their kids ski/ride free policy.
With 1500 acres of world class runs and a local feel, June Mountain is great for beginners and advanced skiers alike. With steep chutes, excellent back country trails and 80% of the runs beginner or intermediate, there is plenty of flexibility for families of all levels to enjoy. Kids will also love the terrain areas for even more entertainment.
Lessons for both adults and children are provided at June Mountain on what are typically less crowded runs than neighbor Mammoth. Skilled instructors and reasonable prices make June Mountain the perfect base for kids who are just trying their hand at skiing or snow boarding.
For non-skiers there is a fantastic lodge with free Wi-Fi and excellent views over June Lake where you can relax while the kiddos are in lessons.
Recommended by: Karilyn at nobackhome.com
Lodging – there are a variety of lodging options at June Mountain and the surrounding area.
We recommend the Double Eagle Resort and Spa in June lake, or The Village Lodge in nearby Mammoth Lakes.
Vacation Rentals
A-Frame Style Cabin Rental in June Lake
Mountain Condo with Great Views
California – Northstar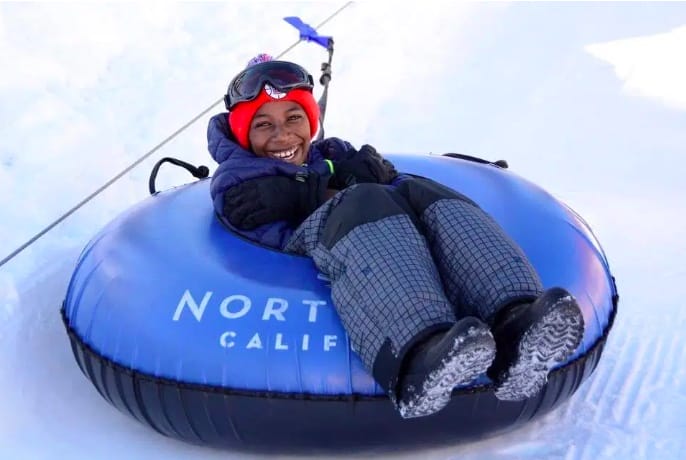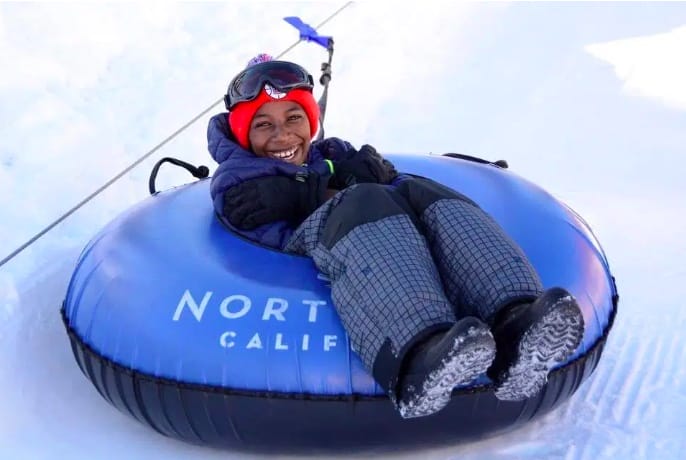 Occasionally, we trade in our sunny Southern California weather for the snowy mountains. Northstar Ski Resort in Tahoe is one of our family's absolute favorite places to do so
They have many different options as far as lodging goes, but we love to stay in the vacation rentals so it feels like coming home after a long day on the slopes! If you're looking to be more in the center of the action, I would definitely recommend staying in The Village but either way, you can't go wrong at this beautiful ski resort.
As far as skiing goes, the trails were well-groomed and absolutely beautiful. We rented all our gear easily in town, which makes packing a whole lot easier!
We're no professionals, but we still had an amazing time. I mean, there has to be something for everyone with over 100 trails and 20 different lifts. The kids even went to the Ski & Snowboard School and had a blast while learning a ton.
If you are someone who doesn't quite love skiing or snowboarding, I would still recommend checking out Northstar. There are tons of other activities as well, like tubing, ice skating, shopping, building snow forts or roasting s' mores. Tubing at Northstar is something we still talk about today because it was so much fun!
Bonus: we got some amazing pictures because they have a photography team there. This means you don't have to worry about pulling your own camera out! All in all, Northstar is just an amazing place for the whole family and you will leave with some amazing memories.
Recommended by: Amber at globalmunchkins.com
Ski Lift Tickets and Ski Rental – there are a variety of options for ski lift tickets and rentals (including snowboard rentals). Click here to learn more.
Epic Pass – plan to ski at more then one ski resort this season? Click here to check out the Epic Pass.
Lodging – there are a variety of lodging options at Northstar and the surrounding area.
Hotels
Hampton Inn and Suites Tahoe- Truckee
Vacation Rentals
Gorgeous Mountain Lodge Home This showstopping home sleeps 10
Learn more about Tahoe in our post 32 Spectacular Things To Do In Lake Tahoe including zip lining and climbing walls in the summer!
Colorado – Breckenridge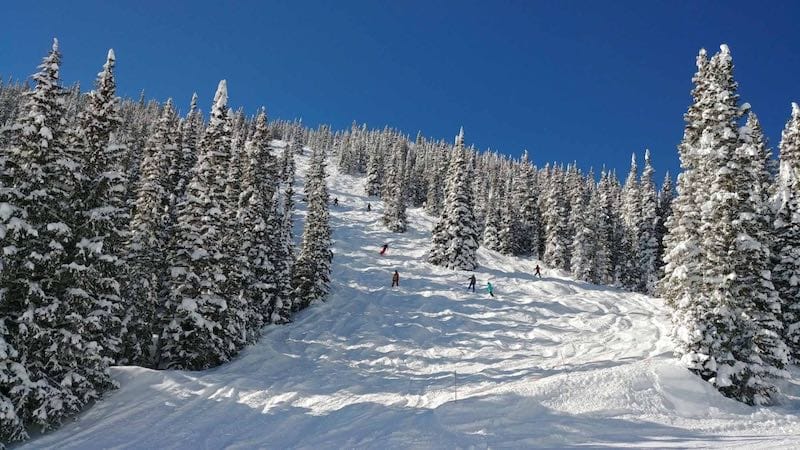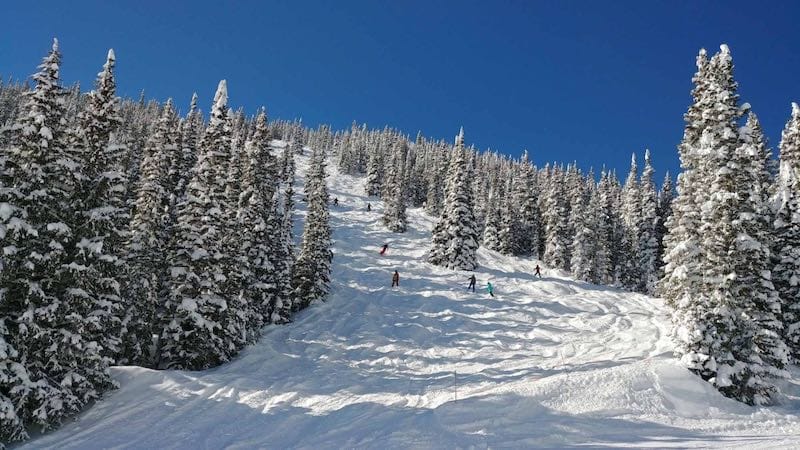 Breckenridge Colorado, is a historic mountain town 90 minutes outside Denver. Although Breckenridge is arguably one of the best ski resorts in Colorado, one of the many reasons I love Breck is that it's not just a contrived ski resort, but a real working, breathing town with a history beyond the snow.
So once the family has finished the last run of the day, and you've already taken a few turns on the alpine gold coaster, head to downtown Breck to the Welcome Center where there is a great little hands-on (and free) museum where you can learn all about the town's mining history and how it became a ski town. While there, check out the tours through the Heritage Alliance. I can recommend the ghost tour which is really more historical stories, or if it's just adults, the saloon tour.
The whole family can enjoy some free fun at the Carter Park sledding hill. During our visit, we even saw a family of fox scampering across the snow. If your condo doesn't have saucers, you can purchase some at the local City Market.
If you are more the bookish type, you'll love Old Man Berkin's Bookstore. This local book store is as quirky as the town itself and has some very interesting merchandise (like a card to send to your ex who just broke up with you).
In addition to Old Man Berkin's, you'll find lots of locally-owned shops and restaurants. A family favorite is Downstairs at Eric's. They have a wide variety on their menu and kids can play video games while they wait.
Mom, take this time to leave dad with a beer and slip away to peruse the gifts at another one of my favorite stores Marigold's Farmhouse Funk and Junk.
Recommended by: Sue at 365Atlantatraveler.com
Ski Lift Tickets and Ski Rental – there are a variety of options for ski lift tickets and rentals (including snowboard rentals).
Epic Pass – plan to ski at more then one ski resort this season?
Lodging – there are a variety of lodging options at Breckenridge and the surrounding area.
Hotels
Residence Inn by Marriott Breckenridge
Vacation Rentals
Main Street Retreat in the Heart of Breckenridge
Condo Walking Distance to Main Steet
Colorado – Vail & Beavercreek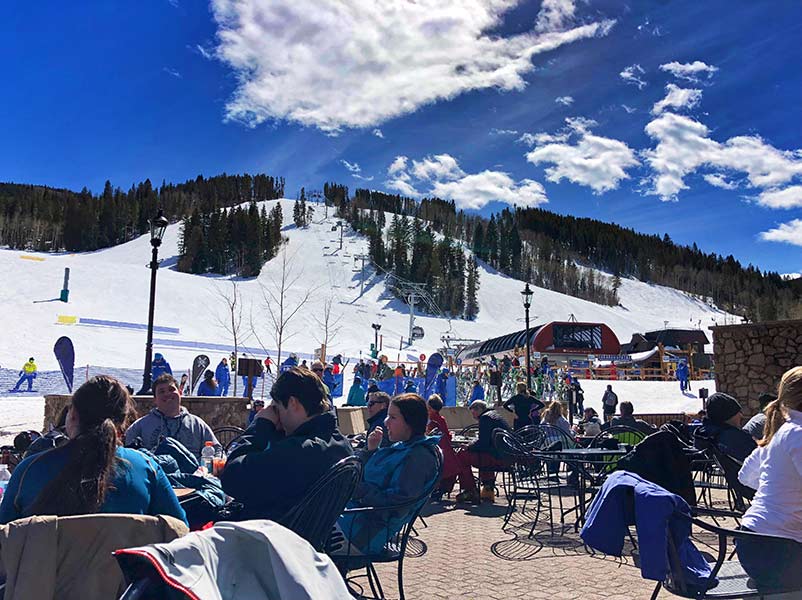 About two hours west of Denver, Colorado, the Vail-Beavercreek area is great for family skiing. Between ski school options, local activities in the towns (including in Avon), and plenty of hotel availability on fairly short notice, it's an easy ski resort escape.
A top recommendation is the Sheraton Mountain Vista Villas. Here you can be close to the skiing action and have plenty of space for family (and the expected explosion of winter clothes whenever you come in from the snow.
Recommended by: Rob at 2traveldads.com
Ski Lift Tickets and Ski Rental – there are a variety of options for ski lift tickets and rentals (including snowboard rentals).
Epic Pass – plan to ski at more then one ski resort this season?
Lodging – there are a variety of lodging options at Vail and the surrounding area.
Hotels
Vacation Rentals
Sunny Condo with Mountain Views
Learn more about ski resorts in Colorado in our post The 5 Best Ski Resorts In Colorado For Families.
Maine – Sunday River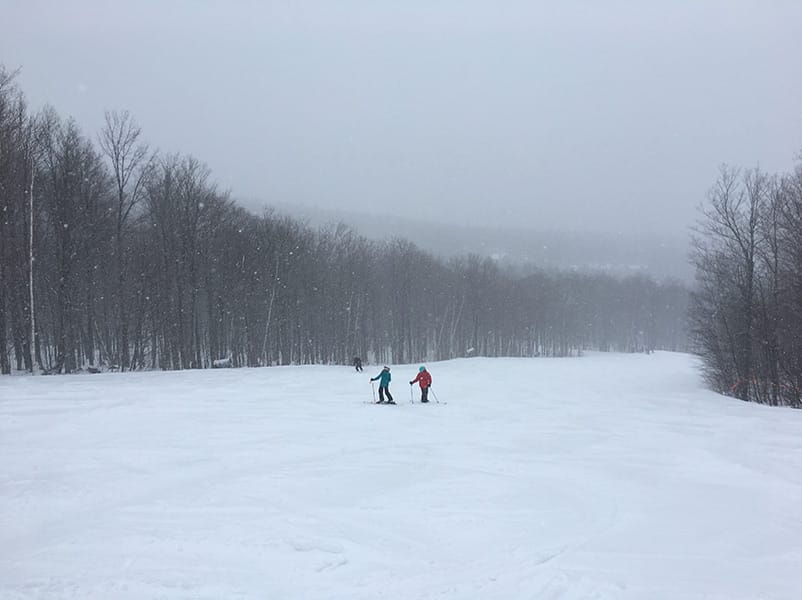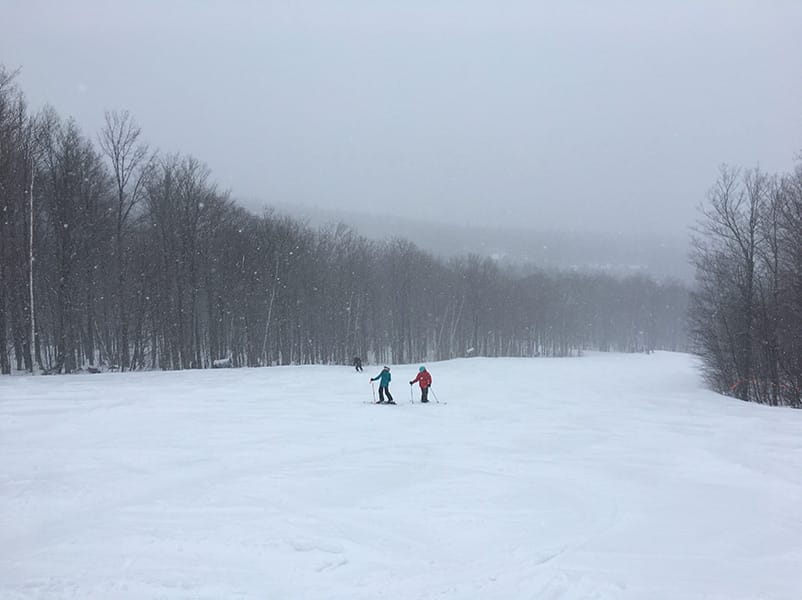 Sunday River in Newry, Maine is our family's favorite ski resort in the Northeast. After trying resorts in Vermont and New Hampshire, we keep coming back to Sunday River. The ski school was how our daughter learned to ski and they offer so many options for families from private, group, or family full or half-day lessons.
It is a great mountain for beginners because they offer the option to buy a limited lift ticket that only gives you access to the green and blue trails off of the lift near the ski school. These trails rarely intersect with higher skill level trails, so nervous skiers don't need to worry about expert skiers racing by and throwing them off balance.
Yet, this area offers enough options that you can spend a long weekend skiing and not get bored. More advanced skiers will find 135 trails and glades, including terrain parks, spread across eight peaks with 15 lifts.
Parents can enjoy a nice dinner while their kids have a "night in" at the lodge, or families can enjoy special events like fireworks together. There are three hotels, plus multiple condo communities which offer ski in and ski out access. My favorite part is that the mountain never feels as crowded as the peaks in Vermont or Massachusetts.
Lodging – there are a only a few hotels close to Sunday River and in the surrounding area.
We recommend the Riverview Resort.
Vacation Rentals
Montana – Big Sky Resort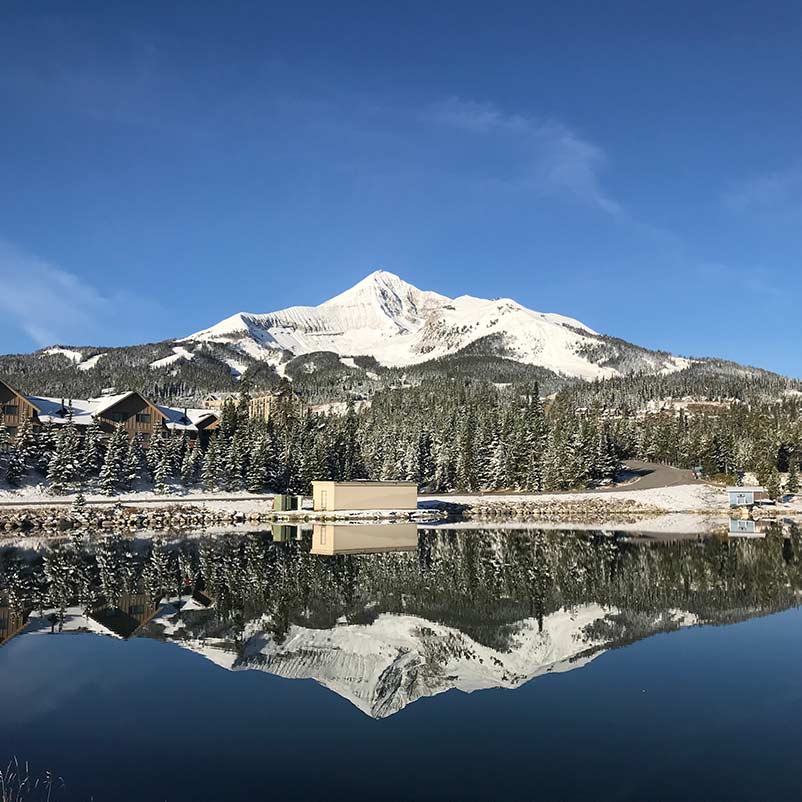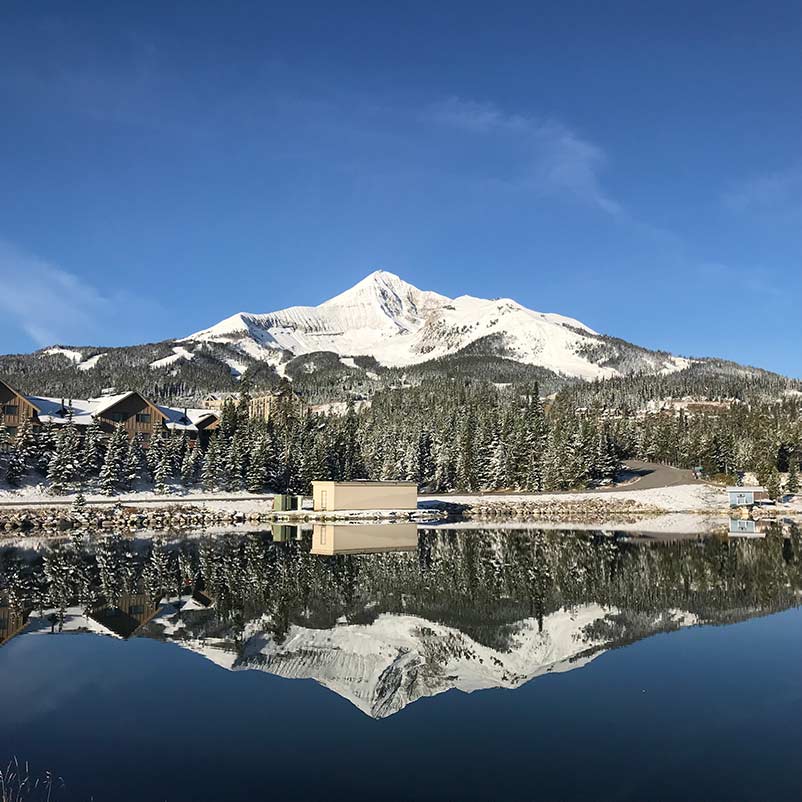 While summertime in Montana is remarkable with the jagged, mountain-goat-covered hillsides, winter brings some of the most epic ski runs and unique ski getaways. The Big Sky Resort is located just south of Bozeman and about 40 minutes north of the west entrance to Yellowstone National Park. With picturesque views of the Rocky Mountains, you will find several great resorts for families.
Whether you want to stay in a five-star hotel at the base of the Lone Peak ski runs or rent a Cowboy Heaven cabin for a week and just ski out your front door, there are lots of choices. The Huntley Lodge, part of the Big Sky Resort, is home to Solace Spa, which is ideal for relaxing after a few days on the slopes.
Check out more lodging options in Big Sky here.
Tip: there are countless things to do in Big Sky in summer. For every type of outdoor adventure, from rafting to mountain biking and horseback riding, summer gives winter in Big Sky a run for its money. Big Sky also offers some of the best spots for after skiing or après ski.
Recommended by: Rob at 2traveldads.com
Lodging – there are a variety of lodging options at Big Sky and the surrounding area.
Check out Big Sky Resort Village Center or the Residence Inn by Marriott.
Vacation Rentals
North Carolina – Beech Mountain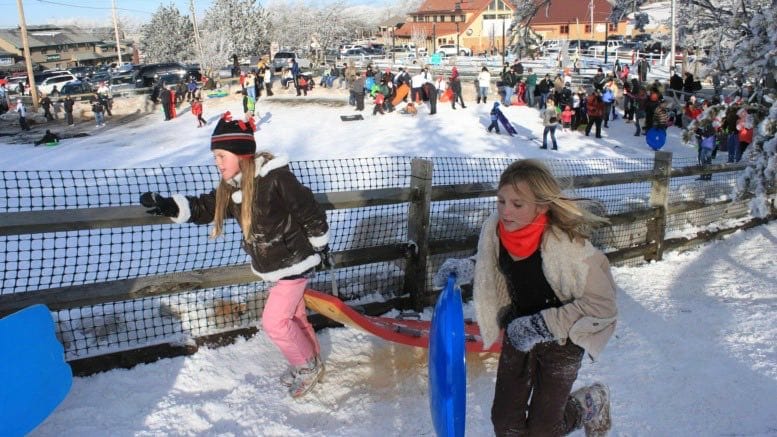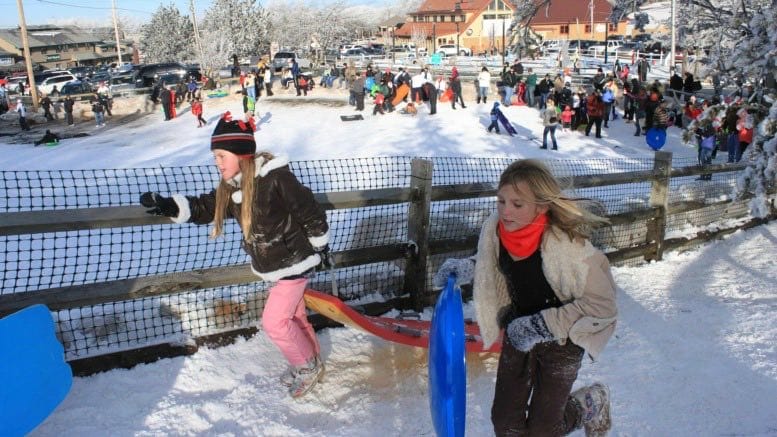 You don't have to travel out west to experience great skiing and snowboarding. Beech Mountain Resort, just a five-hour drive from the world's largest airport in Atlanta, offers families a centralized location within the Town of Beech Mountain, NC.
Whether you have yet to experience skiing with kids or it's already old hat, Beech Mountain Ski Resort is a fantastic place for a family ski trip, especially if it's your first time (or a first for the kids!) And after the family is worn out…don't miss the new sledding hill!
There are several ski resorts in North Carolina, but Beech Mountain hails as the highest elevation to ski east of the Rockies. This means that if there is snow in the forecast for Western North Carolina, you are more likely to experience it at Beech Mountain. Plus Beech Mountain Ski Resort has 17 trails and 95 skiable acres of terrain.
Winter in the southeast can be fussy; it can be snowing one weekend and bordering on hot the next. Don't let this deter you from planning your trip. If the weather is not cooperating, depend on Beech to make excellent snow.
They have 65 high-tech, powerful snow guns and over 100 smaller ones. We discovered that even in relatively warmer weather, the snow was not slushy and there were few bare spots on the open lifts. Even the locals were carving it up in 55-degree weather.
Recommended by: Leslie at 365atlantatraveler.com
Lodging – there are a variety of lodging options at Beech Mountain and the surrounding area.
We recommend the Holiday Inn or Courtyard in nearby Boone, NC.
Utah – Deer Valley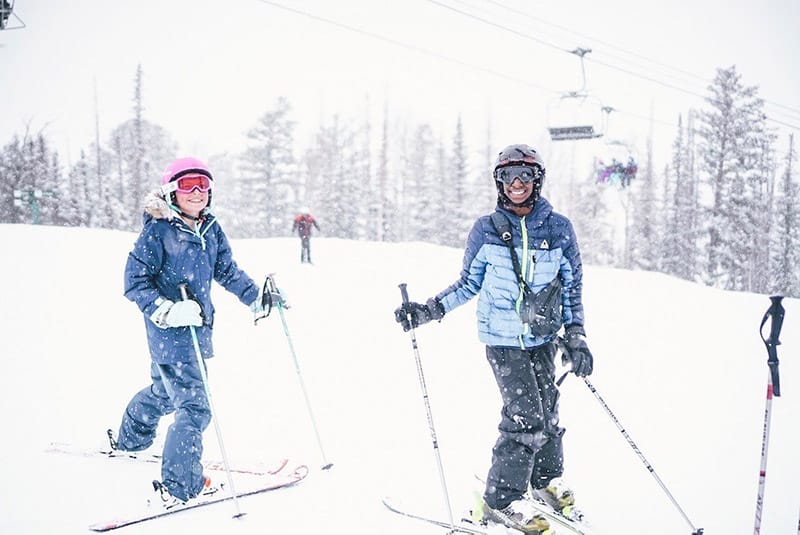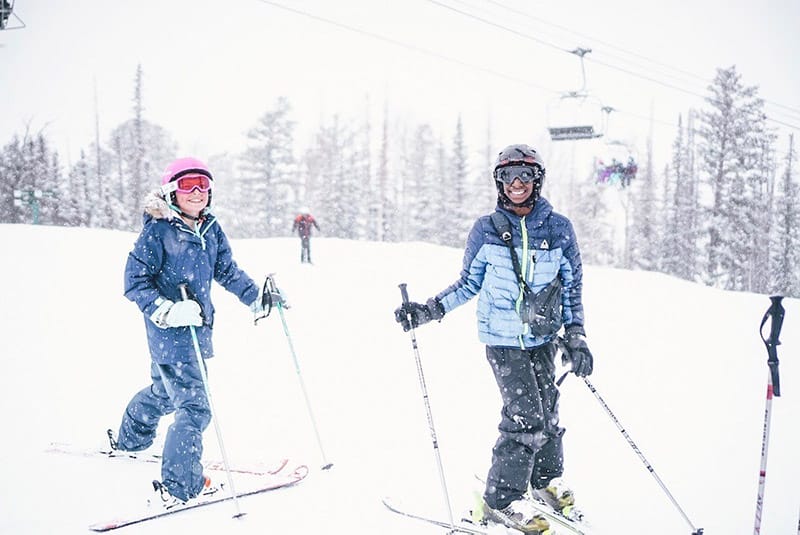 Deer Valley in Utah is not only beautiful year-round, but is home to one of our very favorite luxury resorts – the Stein Ericksen Resort. It is dreamy and the service is top-notch.
On top of this, Deer Valley is a wonderful resort option for newbies to skiing and snowboarding because everyone is so accommodating. The helped us get on our boots and even brought our skis out to the mountain for us so we didn't have to lug them around.
Our daughter, Ella, was nervous about skiing (rightfully so because she face-planted within her first two seconds), but after a couple of hours at the Ski School was zipping down the mountain with no problems.
Bring your stretchy pants to Deer Valley because unlike many ski resorts that offer the basic chicken strips & burgers, this place has incredible food. From yummy breakfasts to fuel you with enough energy for the day to unique dinner experiences, you can really find it all here.
I would highly recommend making a reservation with Fireside Dining, where you can book a sleigh ride to make your evening extra special. And I won't lie, the melted cheese platter is unbeatable and worth a reservation in itself.
Recommended by: Amber at globalmunchkins.com
Lodging – there are a variety of lodging options near Stein Erickson Resort and the surrounding area.
Hotels
Vacation Rentals
Utah – Park City Mountain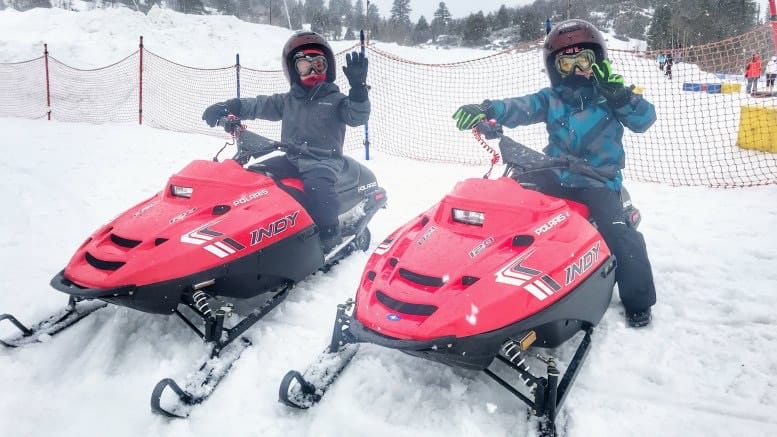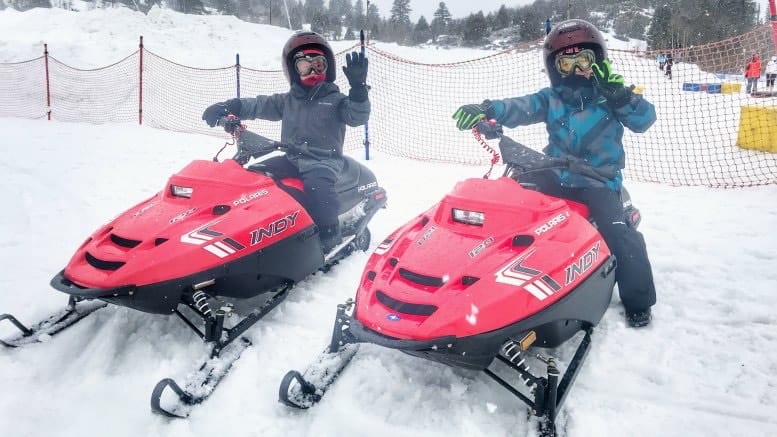 Park City Mountain resort located in Park City Utah is one of the best ski resorts in Utah! It has been through many changes over the years but still offers world class skiing and snowboarding in a convenient, affordable location. With its 6,900 foot base, 41 lifts, 348 trails and over 7300 acres, Park City rivals the best in Colorado, but at a fraction of the time and effort to get to. And this is why we love it.
A rental car or shuttle from Salt Lake City Airport to Park City will take you a whopping 45 minutes. Side note – you'd be remiss to not stop at the Red Iguana 2 on the way in or out of Salt Lake. And if you have time be sure to check out all the awesome things to do in Salt Lake City!
Click here for lodging options in Salt Lake City.
The distance to Salt Lake makes for an extremely affordable ski vacation if you're willing to make the short daily commute and stay in a cheaper hotel. If you're going to stay in Park City, the resort offers a number of slope-side accommodations.
We recommend Hyatt Centric Park City for its spacious rooms for families, great dining, and vicinity to all of the shops and restaurants in Park City Mountain Village. Check out The Farm for the best food in the village.
Did we mention the 7,300 skiable acres? Those confused by this large number should know that Vale Resorts purchased the neighboring Canyons Resort (formerly Park City West) in 2014 and combined the areas into the single massive location that it is today. Park City Utah even offers dog sledding and ice skating rinks.
Don't be afraid to bring the kiddos. Only 8% of the runs are beginner, but this is substantial on this large mountain. And we found that of the 41% intermediate runs, our two young boys brand new to boarding were able to handle quite a few.
And while nobody can guarantee great snow conditions all of the time, the chances of finding that fresh powder, or powdery groomed trails are better at this mountain than many across the United States.
To enjoy down days, pick from the myriad that the historic quaint town of Park City, Utah has to offer. Don't miss the Park City Museum, Kimball Art Center, and High West Distillery and Saloon.
Feel free to skip Deer Valley Resort, who does not allow snowboarders. (Unless you're into that kind of thing.)
Recommended by: Dan at 365atlantatraveler.com
Ski Lift Tickets and Ski Rental – there are a variety of options for ski lift tickets and rentals (including snowboard rentals).
Epic Pass – plan to ski at more then one ski resort this season?
Lodging – there are a variety of lodging options at Park City and the surrounding area. We recommend the Hyatt Centric Park City
Utah – Solitude Mountain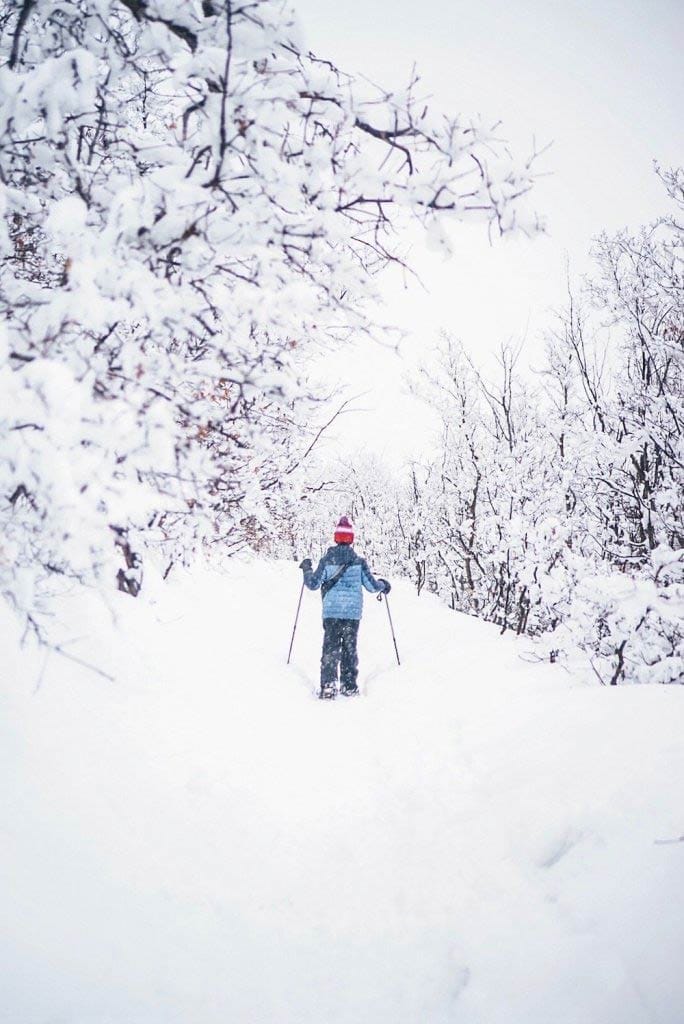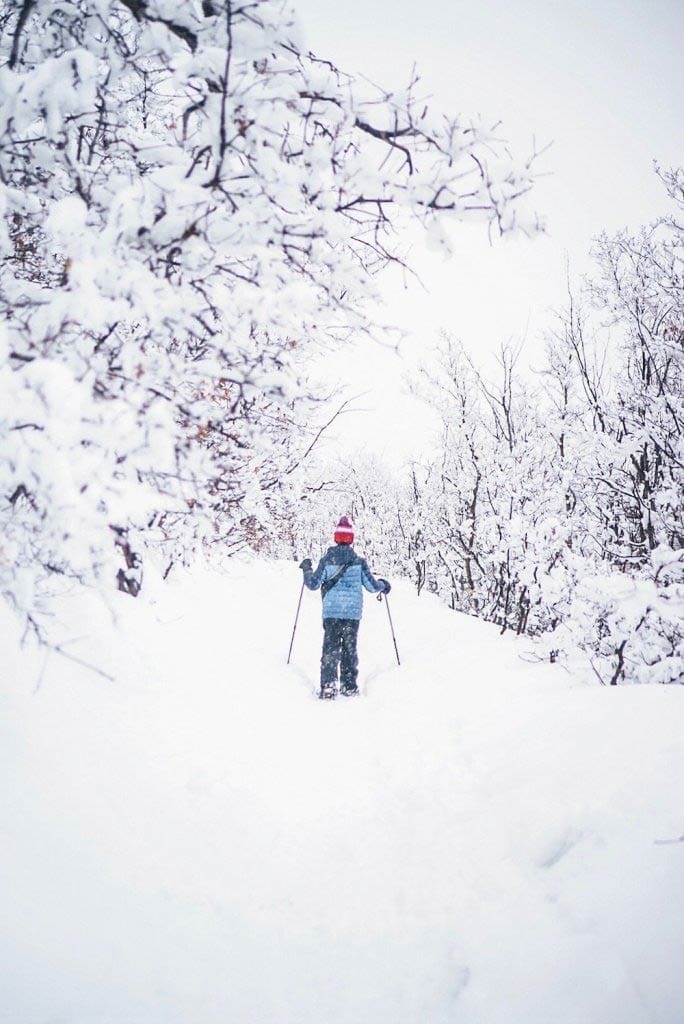 Not too far from the ever-popular Deer Valley, you will find Solitude Mountain.
Solitude Mountain Resort is a wonderful place for families looking for the ski-in/ski-out experience. Find out why this is one of the best ski resorts for families.
In fact, our very favorite thing about Solitude mountain is how close everything is together. You can head right out from your room to the slopes, as well as shops, ice cream, and the pool. So, once you have parked your car, there's no need to hop in again until you are ready to leave.
We also had the best ski lesson of our lives at Solitude Mountain Resort where we were taught by Helen (an 80-year-old woman!). We learned so much from her and the kids were even riding up banks and trying to do jumps by the end. This mountain is also typically less crowded, which we really enjoyed.
A big bonus to Solitude Mountain Resort is its proximity to Heber Valley, where we decided to stop along the way. The kids were constantly comparing Heber Valley to a winter wonderland because the scenery was absolutely stunning. We decided to go snowshoeing here, which was new for us and definitely quickly became a favorite activity for all!
The visitor center also offers Fat Tire Bikes and Cross Country Skis to rent. I would highly recommend both Solitude Mountain Resort and Heber Valley for any families looking for a beautiful ski destination with plenty of activities!
Recommended by: Amber at globalmunchkins.com
Lodging – there are a variety of lodging options at Solitude Mountain and the surrounding area.
We recommend Alta's Rustler Lodge or The Lodge at Snowbird
Vermont – Smugglers' Notch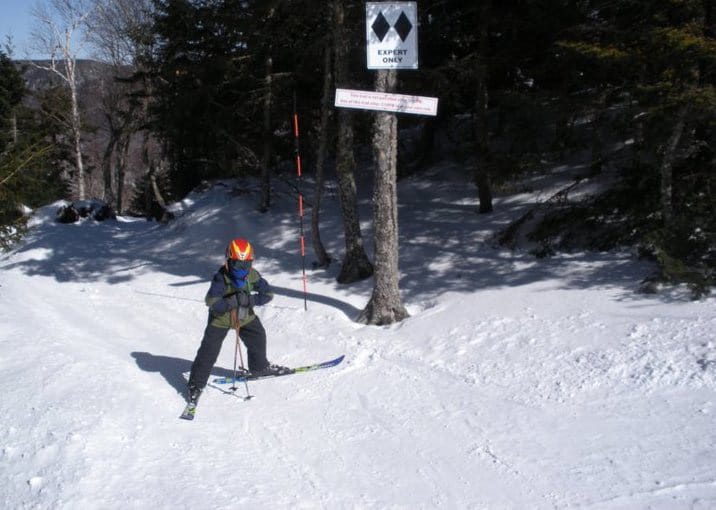 Smugglers' Notch Ski Resort is not only considered a top ski resort in Vermont, but it's also often rated as one of the best family-friendly ski resorts in the East—and rightfully so. Located in Jeffersonville, just outside of the quaint village of Stowe, you'll find the resort located on the descent of scenic Route 108 as you make your way through the winding terrain of the Green Mountains.
Colloquially called "Smuggs," Smuggler's Notch isn't a luxury resort, but it has all the amenities you need for a family ski vacation for skiers of all levels. Smuggs features a magic carpet for true beginners, as well as the only triple black diamond run on the East Coast (the Black Hole is steep with its 53-degree pitch).
Book your stay at Smuggler's Notch Resort here.
Morse is the perfect mountain for beginner skiers, while the other two mountains that comprise Smuggs—Madonna and Sterling—offer much tougher terrain, more moguls, intense vertical, and trees for those who like a little more challenge.
Not wanting to teach your kids yourself or want to take a break and let someone else do the work? Smuggs offers a great ski school for kids grouped by age level and ability.
My husband was a coach at Smuggs for years, and we now have a ski racer in our family and all of our kids are black diamond and above skiers. Their Mom & Me/Dad & Me option is a nice, unique program to give you the skills as a parent to bring to the slopes the next time you take your child skiing.
Looking for a break from the slopes? Treasures is an onsite childcare program available. There are also resort facilities such as an aquatics center, coordinated resort activities, games, FunZone, a teen alley for older kids, and so much more to entertain all ages.
The condo rentals at Smuggs are perhaps a bit stale in terms of decor and a tad dated (think 90s all-wood trim). But their location is great and so is the pricing. They all have ski lockers and most have washers and dryers, too.
There's a shuttle that takes you around to the other parts of the Village. As well as to the base lifts, where you can access the dining options, equipment rentals and shops, and such.
Easy, relaxing, and accessible with lots of options for families of skiers with all levels of abilities. It makes Smugglers' Notch the best family-friendly ski resort on the East Coast.
Recommended by: Jana at whiskynsunshine.com
Lodging – there are a variety of lodging options in Jeffersonville and the surrounding area.
Book The Smugglers Notch Resort or check out The Lodge at Spruce Peak.
Washington – Leavenworth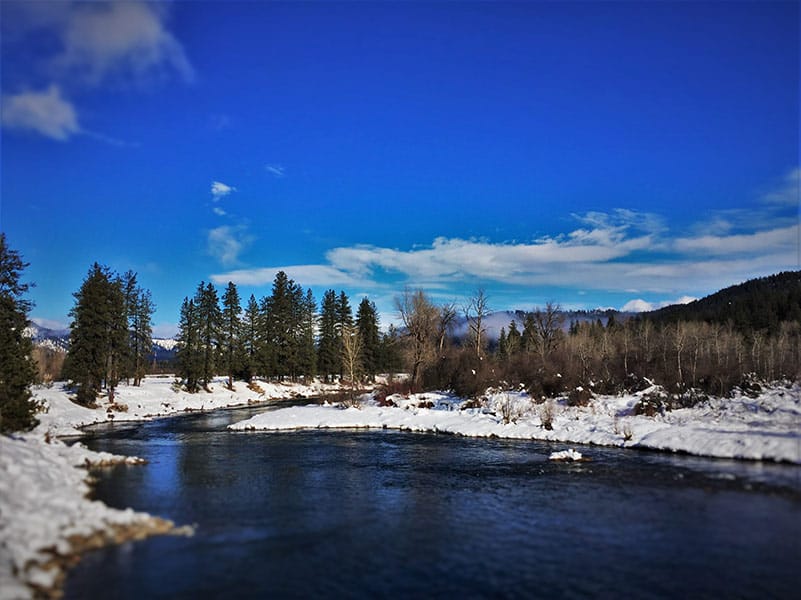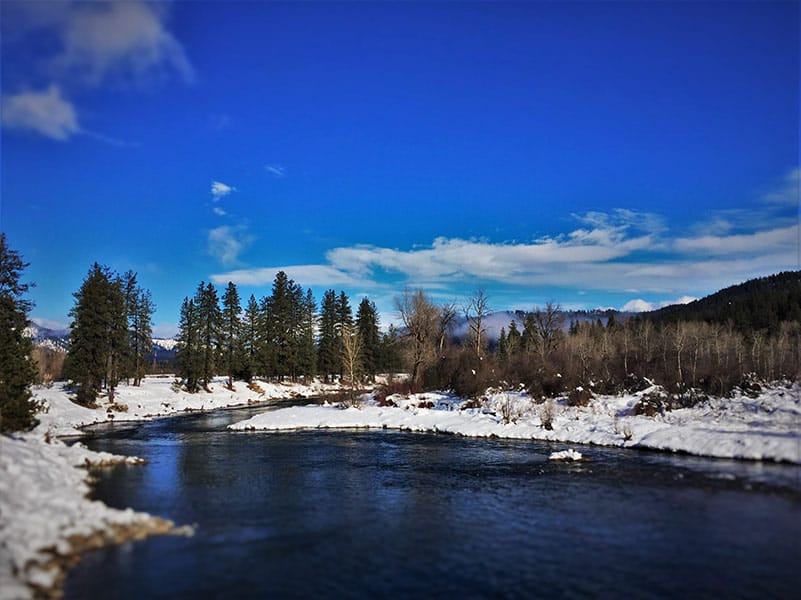 If you hadn't considered Washington State for a Bavarian ski vacation, you need to. Leavenworth is an adorable village located just east of the Stevens Pass ski area and has a gorgeous cross country skiing route on the edge of the town.
The Sleeping Lady Resort is the perfect place to enjoy winter in Washington, as its collection of lodge cabins is perfectly rustic AND totally modern at the same time.
Besides being just off the cross country skiing trails, the Sleeping Lady also has a "hot pool" nestled among the rocks. This beautiful hot tub grotto is amazing late at night while the snow falls around you.
And there's nothing more Pacific Northwest than craft beers and cocktails in the woods, which is just what you'll find at the Sleeping Lady Resort.
Book the Sleeping Lady Resort Here.
Recommended by: Rob at 2traveldads.com
Lodging – there are a variety of lodging options in Leavenworth and the surrounding area.
Check out the Leavenworth Village Inn or the Pine River Ranch.
Wisconsin – Wilmot Mountain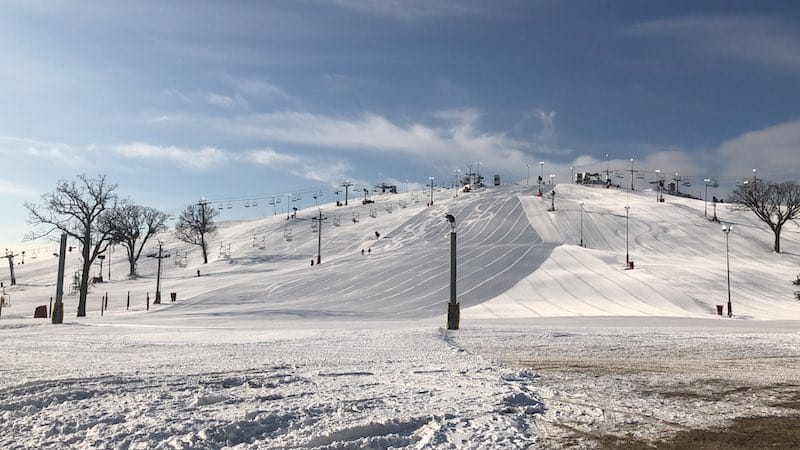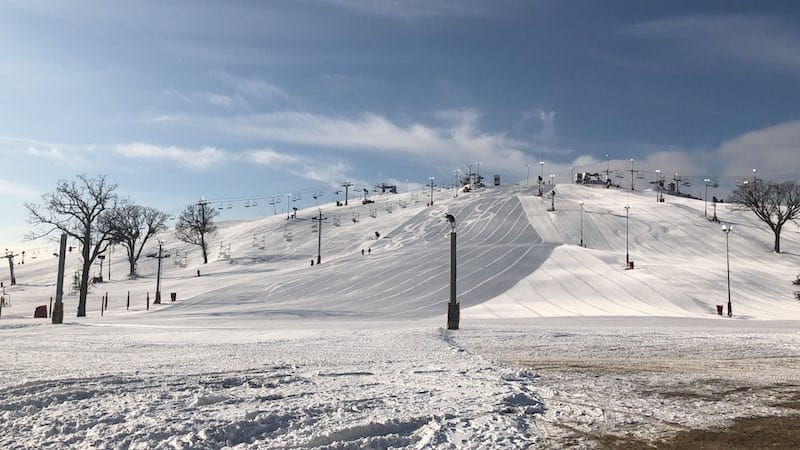 The Wilmot Mountain Ski Resort is a great place to take families. It is a smaller resort with ski hills that work for all ages. When skiing with kids it is nice to be at a place that is compact with everything in the same area.
If you are looking for lessons they have you covered as well. Both for skiing and snowboarding. The instructors here are great and very helpful for helping young kids learn how to ski. Skiers and snowboarders both love this resort.
They have a tavern on site – that looks right over the ski hills and offers elevated tavern cuisine. They also have a bar which – let's face it, after spending a day on the slope with the kids a glass of wine – at the end of the night is very welcome! If you are looking to save money, you are also able to bring in your own food and eat in the back "picnic" area.
If you are looking for a break from skiing or snowboarding, head on over to the Tubing Hill! Another great option with kids who may be looking for something different to do.
We really enjoyed our time at Wilmot Mountain and everyone was so nice and helpful. If you are looking for a small scale place to visit with kids to start learning how to ski – this is the perfect place. Plus there are a lot of cool things to do in close by Kenosha, Milwaukee and Chicago!
Epic Pass – plan to ski at more then one ski resort this season?
Lodging – there aren't a lot of options at Wilmot Mountain and the surrounding area but you can check out Kenosha hotels here.
The Baymont Inn and Suites in Richmond or the Doubletree by Hilton in Antioch are both within easy driving distance.
Wyoming – Grand Targhee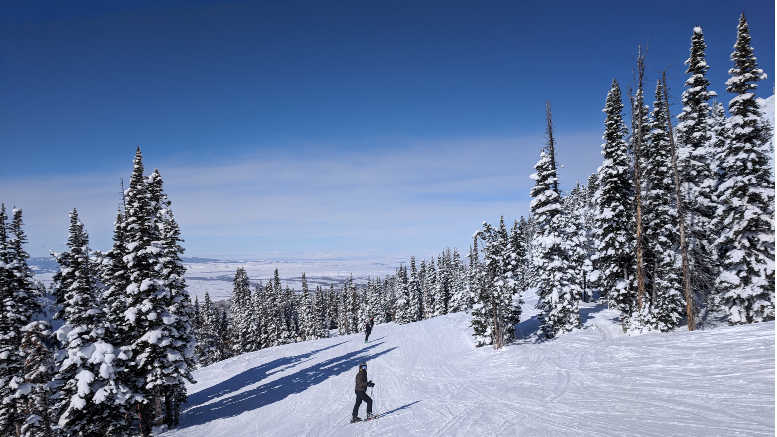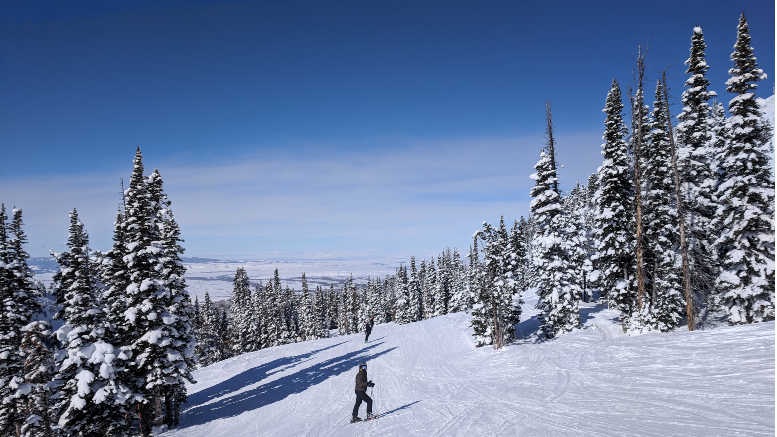 If you are looking for a skiers resort as opposed to a resort with skiing, look no further than Wyoming's Grand Targhee located roughly 45 miles from the more well-known Jackson Hole ski area.
Don't get me wrong, Teton Teepee Lodge has all the necessary amenities – A choice of simple accommodations; restaurants from quick-serve to sit down; a robust ski school; apres activities that include pool, hot tub, snowshoeing, fat biking, and tubing.
Book your stay in the Teton Teepee Lodge today.
The focus for most visitors however, is on the uncrowded beginner to expert trails that are not easily skied out. They can retain powder into the afternoon.
Getting to Grand Targhee is as easy as flying into the small and easily navigable Jackson airport in Wyoming. From there, rent a four-wheel drive car, or if you aren't used to winter driving, take the shuttle to the resort.
For kids, there is a simple slope with magic carpet to get your ski legs. From there progress to the green Shoshone trail where you can ski in the open or take some side trips through the trees following fun kid friendly signs.
For intermediate skiers, I recommend participating in the Mountain Tour offered each day at 10:30 am to get the lay of the land and the many different runs. If you are taking a lesson, your instructor can help navigate the trails too.
For those who want first dibs on the fresh powder, sign up for the Early Tracks program. Then head out with a guide an hour before lifts open to ski the virgin snow. If the day is clear do not miss the view from the green Teton Vista Traverse. Even if you are a more advanced skier. You'll be rewarded with a stunning view of the Grand Tetons covered in snow.
Recommended by: Sue at 365atlantatraveler.com
If coming to Jackson Hole you can also check out the Jackson Lake Lodge.
Epic Pass
If you are an avid Skier or plan to ski a lot this season, you should definitely check out the Epic Pass! It offers unlimited Skiing with no blackout dates at many of the resorts on this list. Plus a ton of additional resorts as well. You also get up to six ski with a friend passes. Plus an awesome app to help you make the most of your trip.
Check out this post by Trips With Tykes if you are interested in more tips on How To Pick A Kid Friendly Ski Resort. And here is an awesome post on: What To Pack For Your Ski Trip from our friends at Stuffed Suitcase.
You can also check out Aspen Snowmass for another great resort option in Colorado!
If you like this post, you may also enjoy these:
All The Details On The Amazing Wilmot Mountain Ski Resort
32 Spectacular Things To Do In Lake Tahoe [Maps Included]
The 5 Best Ski Resorts In Colorado For Families
The Top 14 Best Family Ski Resorts To Visit This Year
Pin this for later: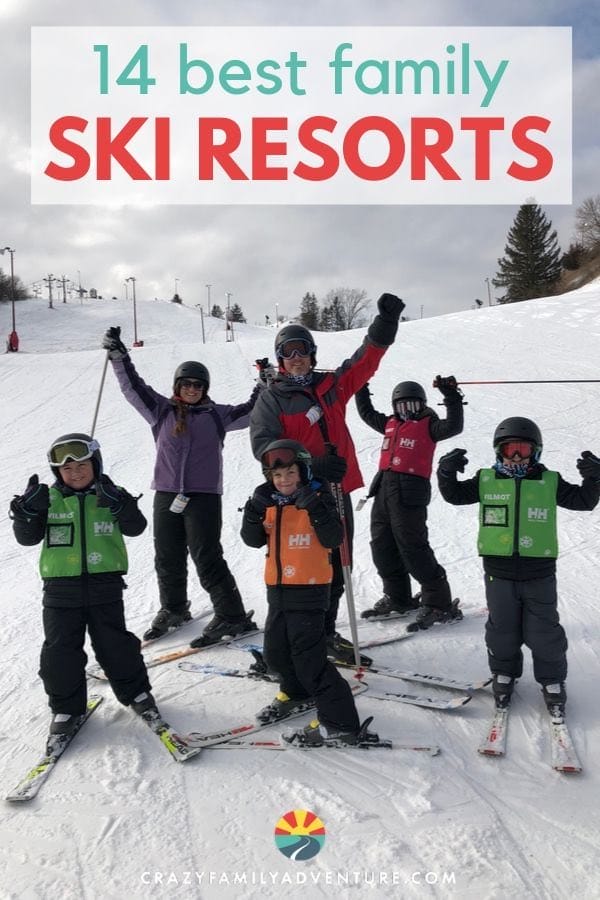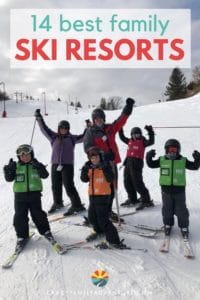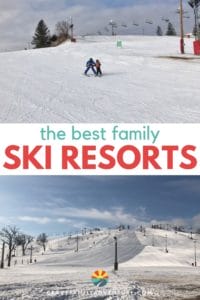 **This post contains affiliate links.**
DISCLOSURE: This post may contain affiliate links, meaning I get a commission if you decide to make a purchase through my links, at no cost to you. Please read my disclosure for more info.