Looking for the perfect place to go skiing, snowboarding or tubing in southern Wisconsin?! Wilmot Mountain Ski Resort is the place for you. They have everything you will need to have an enjoyable day out on the slopes.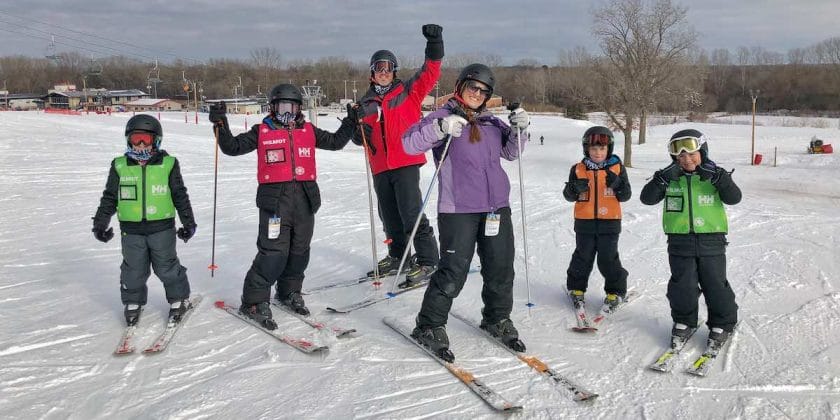 Wilmot Mountain is located in Southeastern Wisconsin in Kenosha County and is part of Vail Resorts. They are located in between Milwaukee, WI and Chicago, IL which makes it a perfect place to take a short drive to come and ski for the day. There are ski hills and tubing (when the weather is right). You can also do ski lessons – which is where we found our family since the kids had never skied before.
Rentals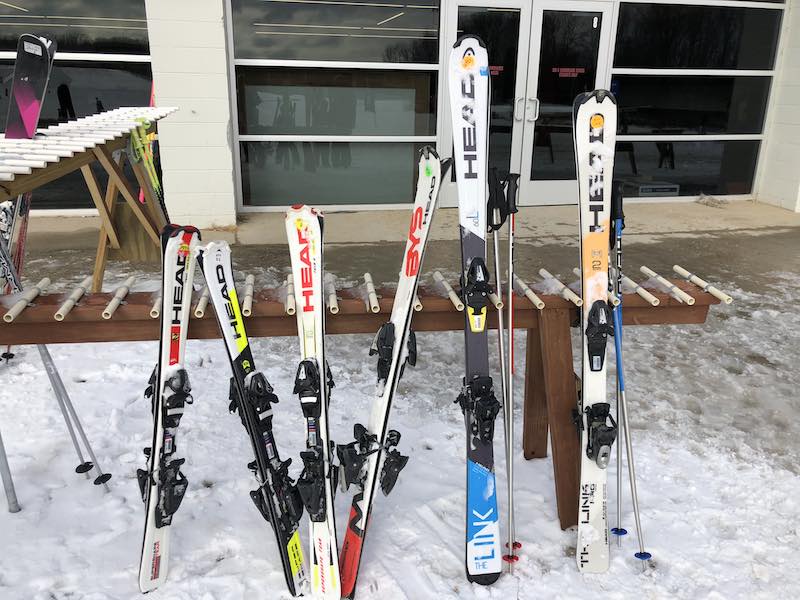 If you don't have your own equipment – no problem! They have everything you need to rent from skies to snowboards, boats, helmets the whole deal. For a new to skiing family this was perfect and a great way for us to give skiing a try.
Ski and Snowboarding School (Lessons)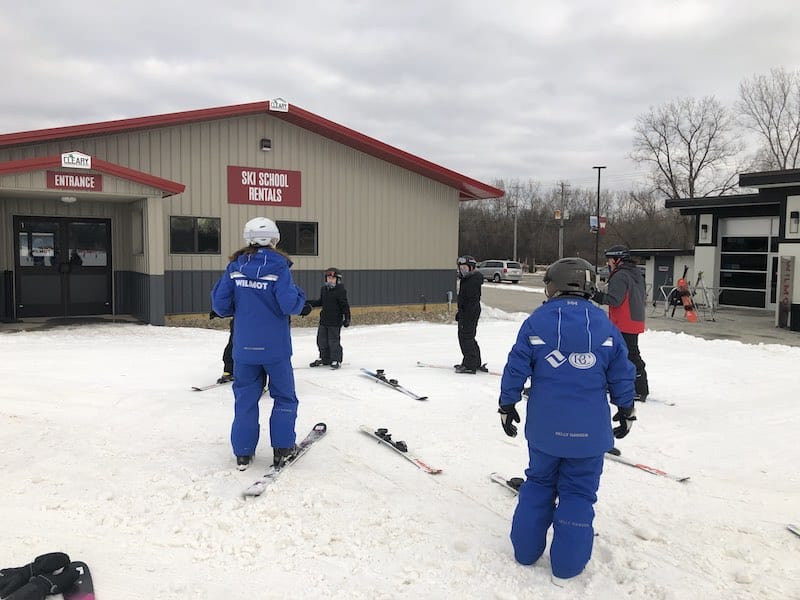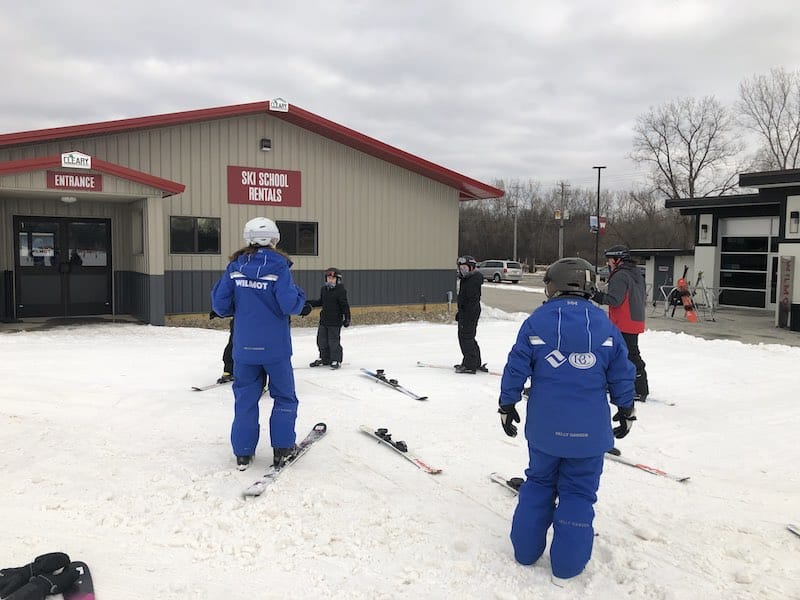 They have an amazing team of instructors that offer all different levels of lessons from 1 hour to all day. With our family we had a 2 hour lesson with 2 instructors (for a family of 6) and it was perfect. By the end of the lesson the kids knew how to ski down the bunny hill (with a rope tow) without help.
Everyone "passed" the lesson so the instructors took us up on the ski lift to try the big hill. At the time Knox was 6 so one of the instructors stuck with him and helped him down the hill with a bar to hold onto. It was perfect for his age and experience and allowed him to experience a real hill!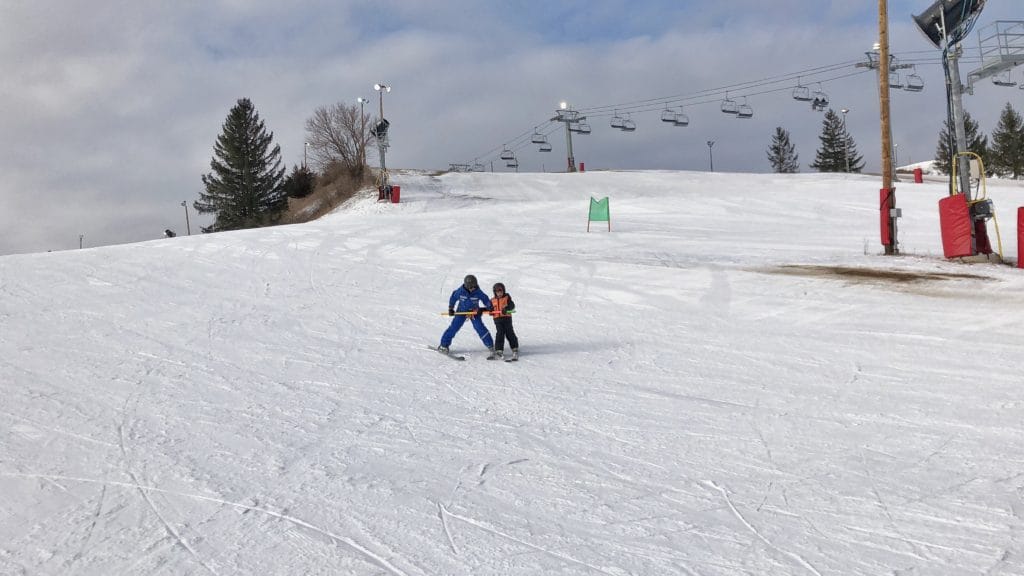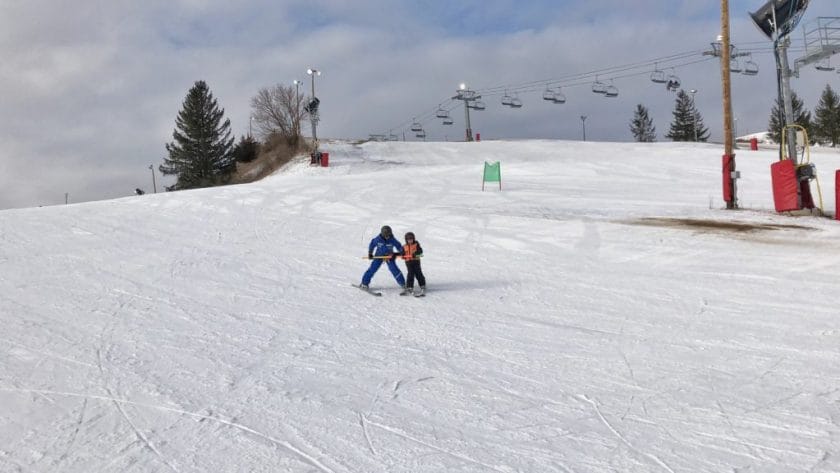 Everyone else (the other kids were 11, 8, and 8) made it down the hill just fine. Even I did – ha :)! Craig had skied as a kid so he was good to go. It was awesome that after such a short lesson we were all able to get up on a real hill (not just the bunny training one) and all make it down safely.
Craig and Cannon went back up and did a few more runs on their own. Everyone else was pretty exhausted (we weren't in skiing shape!) and headed over to the lodge for lunch.
They also have snowboard school, and we would love to come back and give that a try. If you are interested in lessons be sure to check out the lesson area on their site. They have a variety of different programs for all ages and have converted many first timers to lifelong skiers and riders.
You can watch our day at Wilmot Mountain on this video – along with a few other things to do in Kenosha!
Terrain Parks
For those looking for something more they have a terrain park with a high speed tow. The park was designed by staff at their properties out west in the US. It is an awesome way for skiers and snowboarders to challenge themselves even more.
Skiing and Snowboarding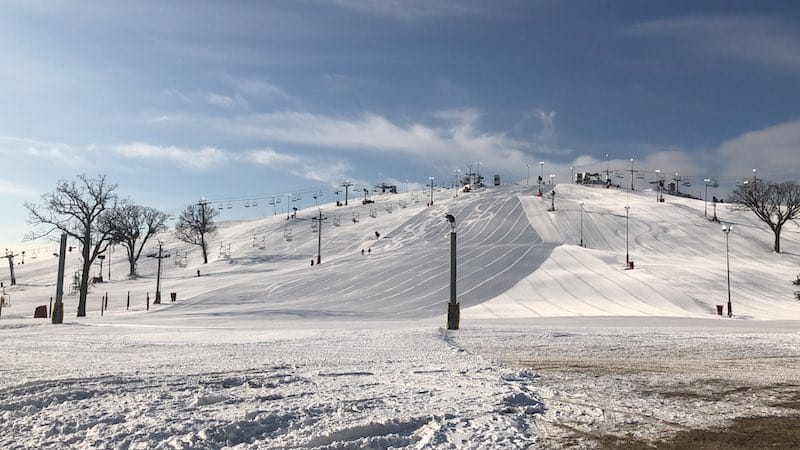 There are 5 different hills that skiers and snowboarders can pick from with different levels of difficulty. You can check out the Trail Map here.
Snow Tubing
They also have a tubing area which is perfect for people that either don't know how to ski or want a break. And you don't have to worry about bringing your own tube – they have all of that. Plus once you go down there is a conveyor belt to take you back up – perfect!
Dining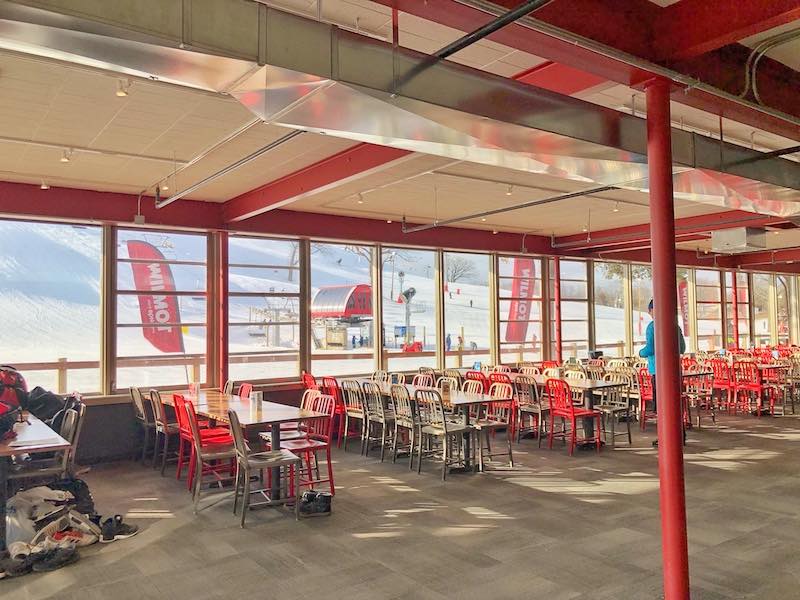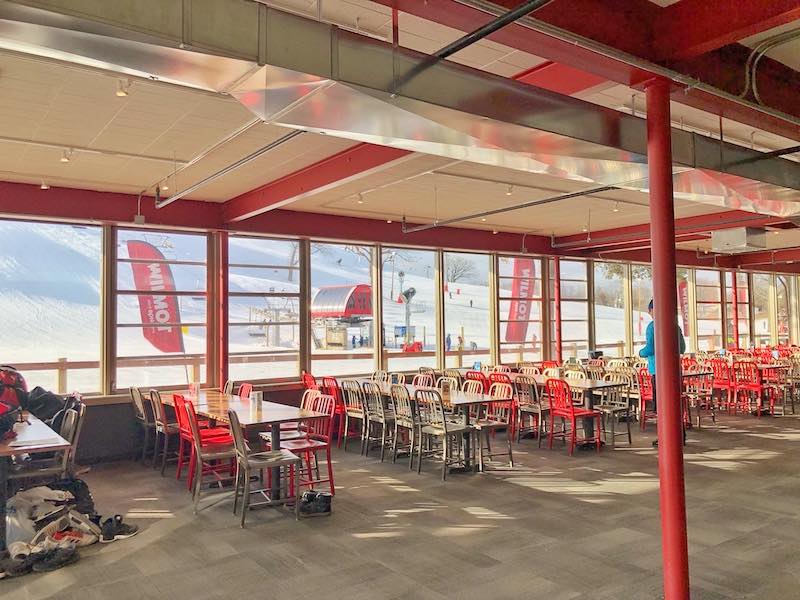 Walts Tavern is where you will head when you get hungry. They have elevated tavern cuisine that you can enjoy while you look out over the mountain. They also have a bar on site – this is Wisconsin so of course there would be a bar.
The other option is to pack your own lunch and enjoy it in the back cafeteria area. This is a great option if you are looking to save money or have picky eaters with you.
Outside Seating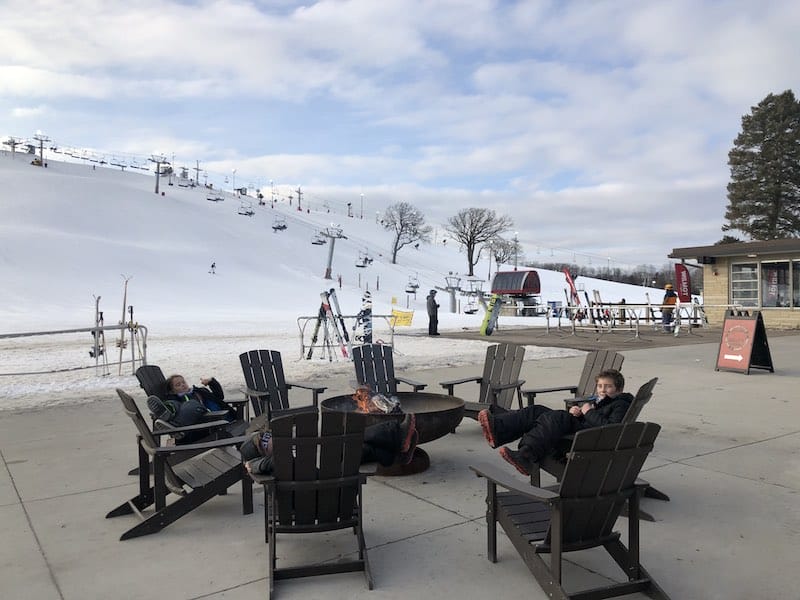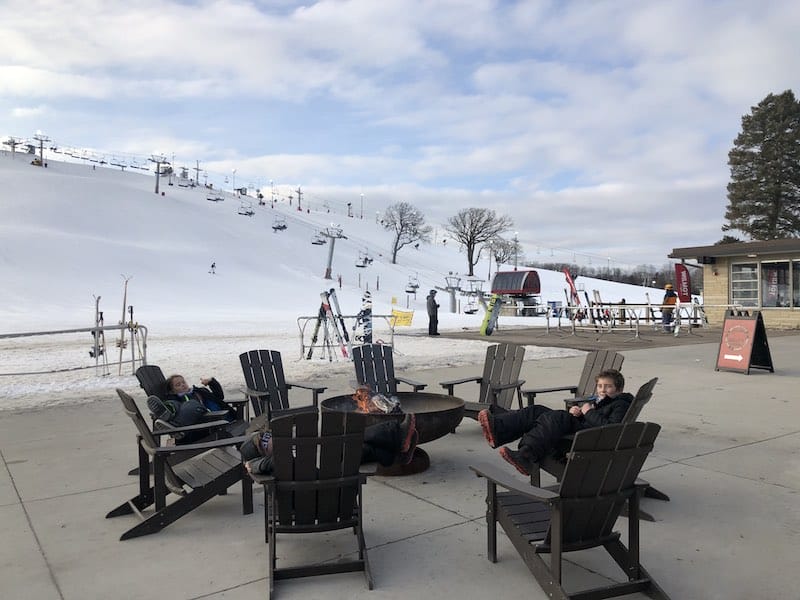 They also have a beautiful outdoor area with a firepit that overlooks the ski area. Which is perfect if you just want to watch the skiers and snowboarders while you put your feet up and relax after a day on the slopes!
There are a variety of different ticket options from preferred programs to single days. Plus lessons and tubing. Click here for more information on Wilmot Mountain tickets.
Or if you plan on skiing all winter or visiting other ski resorts you may be interested in the Epic Pass. Click here to learn more about the Epic Pass.
Adaptive Sports
There are also programs for people with physical and/or cognitive disabilities that take place at Wilmot Mountain. They have some awesome programs and our ski instructor is part of the program and she was amazing. Click here to learn more.
Where To Stay
There is not a hotel on site but there are a lot of different hotels in the area. Along with some great AirBnB's. Check out our recommendations below:
Hotel
Double Tree by Hilton – Get the standard 1 king or 2 queen beds, or opt for a suite with separate living space and additional pull out bed.
Hampton Inn and Suites – Just about 20 minutes from Wilmot Ski Resort, you can choose family rooms or suites and relax in an indoor salt water pool.
Check out more hotels near Wilmot Mountain here.
AirBnB
Living the Dream Lakehouse – The name says it all – live your best life in this amazing lakehouse just miles from Wilmot Ski Resort.
The Lake House – This gorgeously appointed lake house just 12 miles from Wilmot Ski resort will have you relaxing the evening away in style after a day on the slopes.
Check our more AirBnb's near Wilmot Mountain here.
Other Things To Do In The Area
When you are here make sure to set time aside to go into the city of Kenosha. There are a lot of great things to do there along with some delicious restaurants.
Click here to learn all about the fun things to do in Kenosha.
Since you are so close to Milwaukee and Chicago you should make a weekend out of it and visit these awesome cities too. Learn more here:
Things To Do In Milwaukee
Things To Do In Chicago
Interested in skiing more of the U.S.? Check out these posts:
The Top 14 Best Family Ski Resorts To Visit This Year
The 5 Best Ski Resorts In Colorado For Families
32 Spectacular Things To Do In Lake Tahoe [Maps Included]
Pin this for later: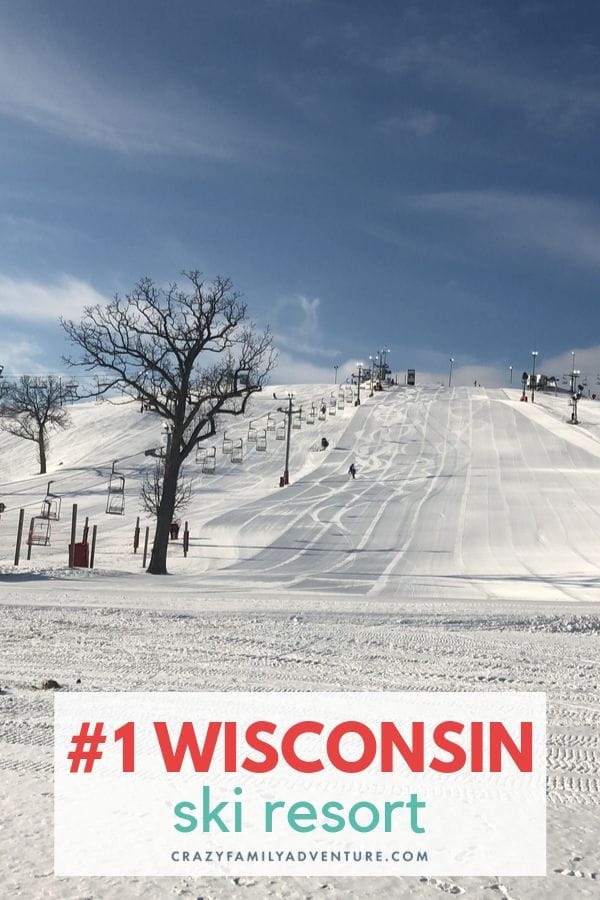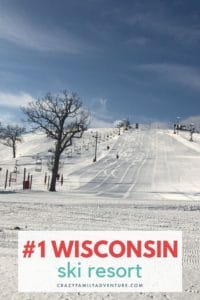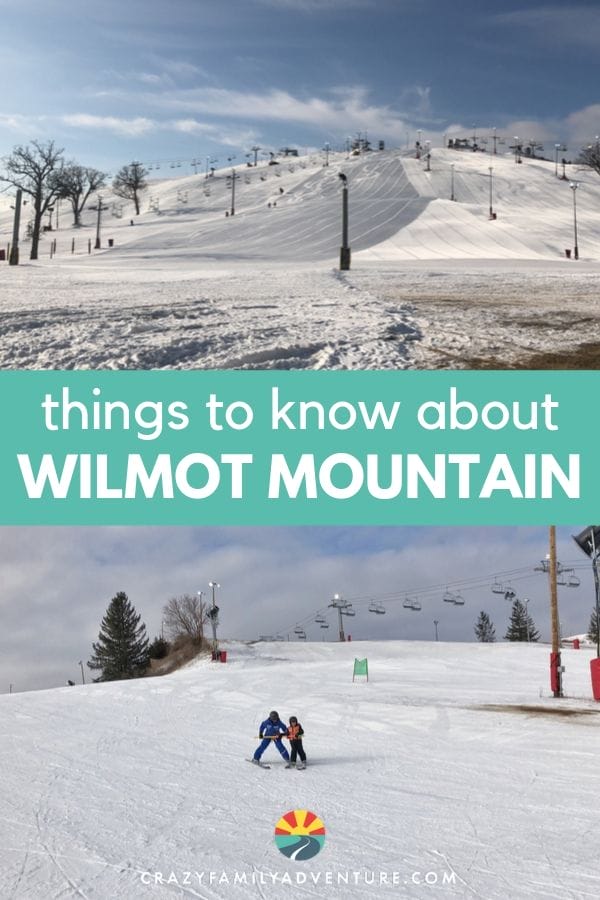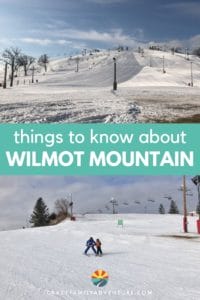 Thank you to Visit Kenosha and Wilmot Mountain for hosting us.
DISCLOSURE: This post may contain affiliate links, meaning I get a commission if you decide to make a purchase through my links, at no cost to you. Please read my disclosure for more info.