We have lived in Kenosha for over 35 years and have explored the city inside and out! We are excited to share with you the top things to do in Kenosha, Wisconsin when you visit.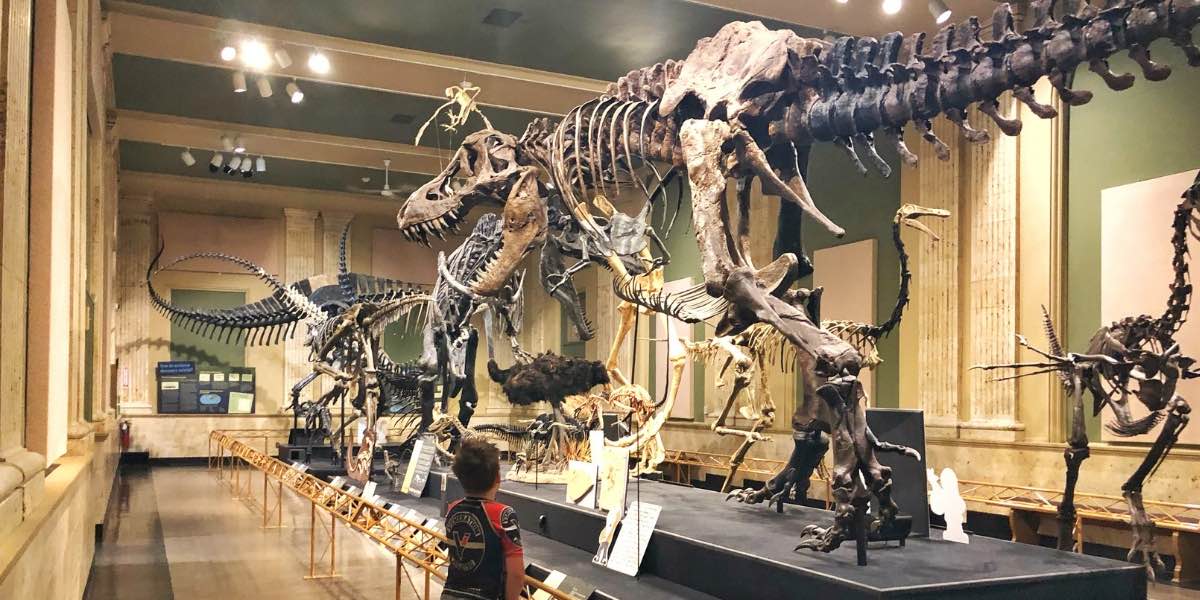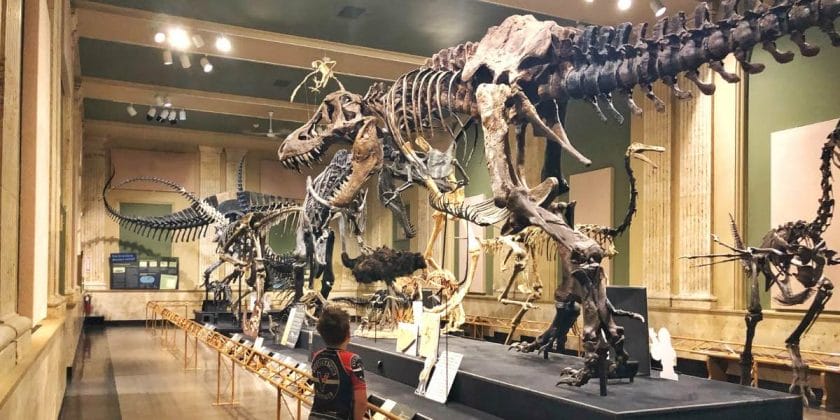 Being located between 2 large cities – Milwaukee and Chicago – you get a small town feel with lots of great activities to do. Here are our recommendations on things to do when you visit Kenosha either for a day trip, the weekend, or a romantic getaway in Wisconsin! You will definitely want to stay long enough to try out all of the great Kenosha restaurants.
Museums
There are 5, yes you read that right, 5 museums in the Kenosha area and some of them are even listed as part of the Smithsonian Institution. These museums are no joke and well worth a visit! And the best part is you get an amazing museum without all the people that are drawn to the larger museums in Milwaukee and Chicago.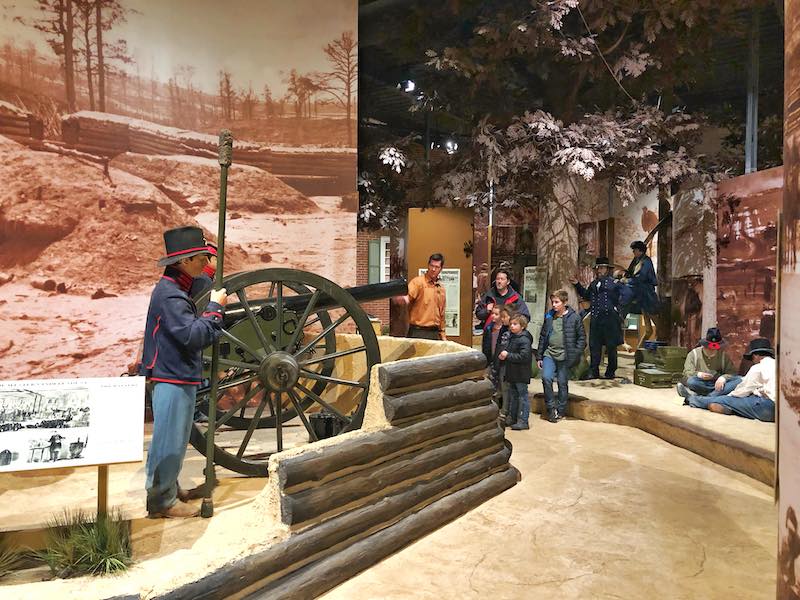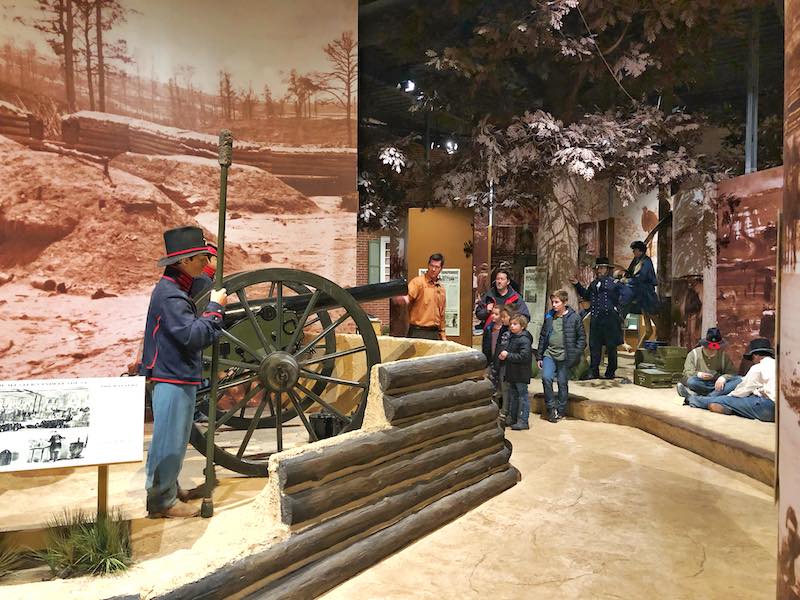 A top of the line museum where you can learn all about the Civil War and how it impacted the Midwest. It is the only Civil War museum in the country that focuses specifically on the Midwest during the Civil War.
Part of the museum is free where you can walk around and then go into the activity center for hands on Civil War activities including costumes you can try on and different activities you can do. All for free.
The Fiery Trail and Seeing The Elephants film are the sections you have to pay for. $9 per adult and kids 15 and under are free with a paying adult. It is definitely worth it to pay for this.
The Fiery Trail takes you on a journey through the personal stories of Midwesterners before, during and after the Civil War. The stories range from nurses to soldiers to slaves and children.
You can even sit next to them on the "train" and here their story first hand! No they aren't real people but figurines dressed up in period clothes with voice recording. Still a pretty cool experience!
Seeing The Elephants is a 360 degree movie that shares the story of first combat for a group of soldiers. The 360 degree screen it is shown on is a whole experience in itself.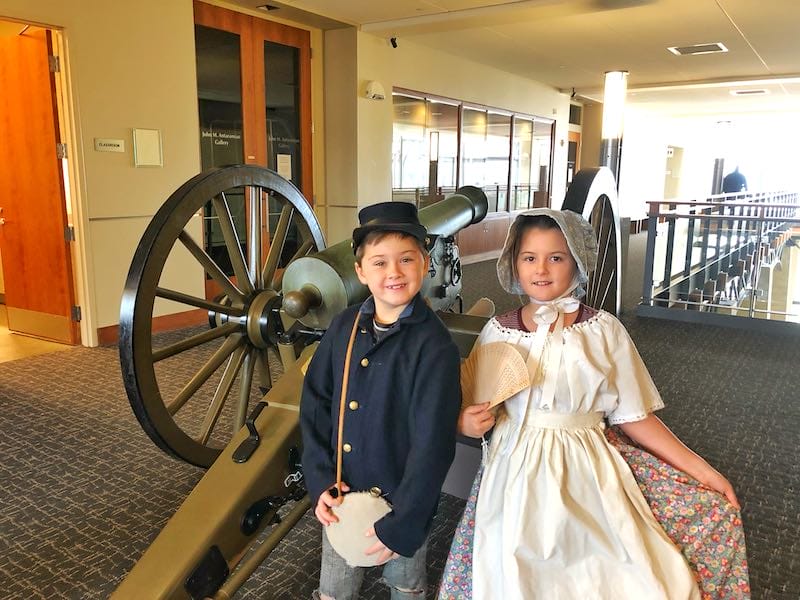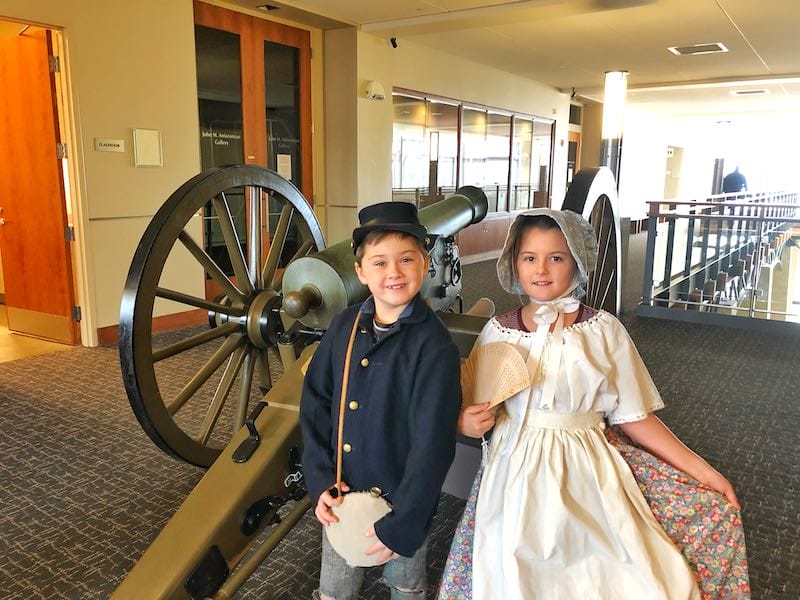 They also have a variety of workshops and classes throughout the year – so be sure to look into that as well. And once you are done with the museum head over to the gift shop for a look around.
Cost: $9 to see everything (kids under 15 free)
Hours: Monday – Saturday 10am – 5pm and Sunday 12 – 5pm (always check the website to confirm dates and times they are open)
Website: https://museums.kenosha.org/civil-war-museum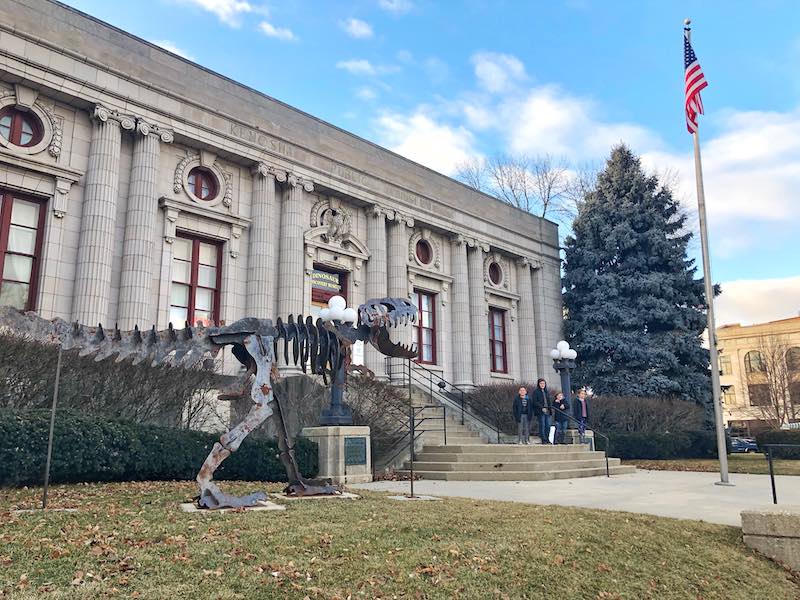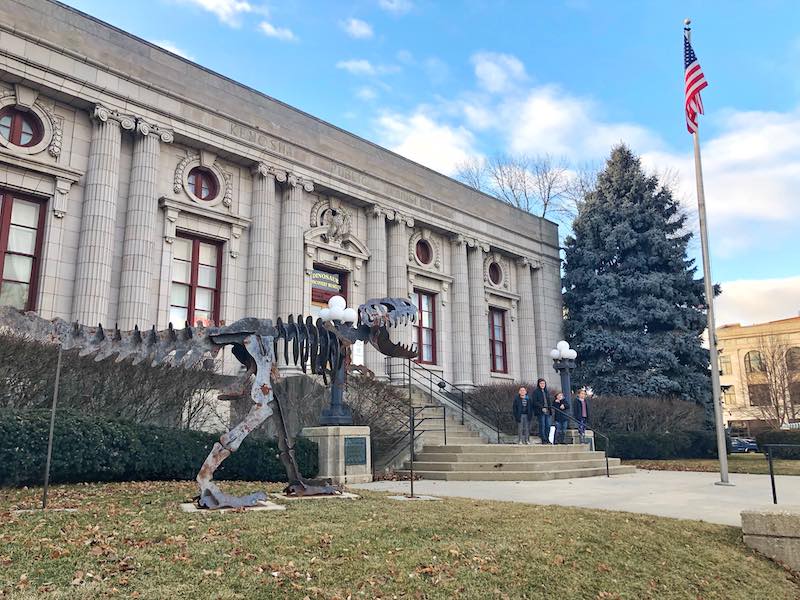 The Dinosaur Museum is the only museum to focus on the link between meat-eating dinosaurs and birds with the largest collection of meat-eating theropods on display. They are also recognized by the Smithsonian Institute. And it is all FREE!
When first entering they have a great hands on area that has a large digging station, puzzles and a variety of other dinosaur related activities. It will be hard to get your kids to leave this area.
Next you head into the main Dinosaur room where they have more than 20 dinosaurs displayed. This would be a great time to ask if Nick is in and available to do a tour. Yes FREE tours by someone that knows everything there is to know about the museum and dinosaurs! Hopefully you are there on a day he is available – just ask at the front to see and tell him Crazy Family Adventure sent you.
If he isn't available never fear there are signs sharing the names of the dinosaurs along with facts on them.
Once done here (could take 5 minutes to quickly walk through or over an hour if Nick comes up to take you on a tour or if you take your time reading all of the signs). Head down to the basement. This is where a working lab exists that the local Carthage Institute of Paleontology group uses to work on bones they have found on their expeditions. You can look in on what they have been working on from glass windows.
This area is also filled with more hands on activities that you can do with the kids. Nick had mentioned there was going to be even more added to this area soon so it is definitely worth coming down to see what they have setup.
Classes
They also offer a variety of classes so be sure to look into that.
Cost: FREE – donations accepted!
Hours: Closed Monday. Open Noon – 5pm Tuesday thru Sunday (always check the website to confirm dates and times they are open)
Website: https://museums.kenosha.org/dinosaur-discovery-museum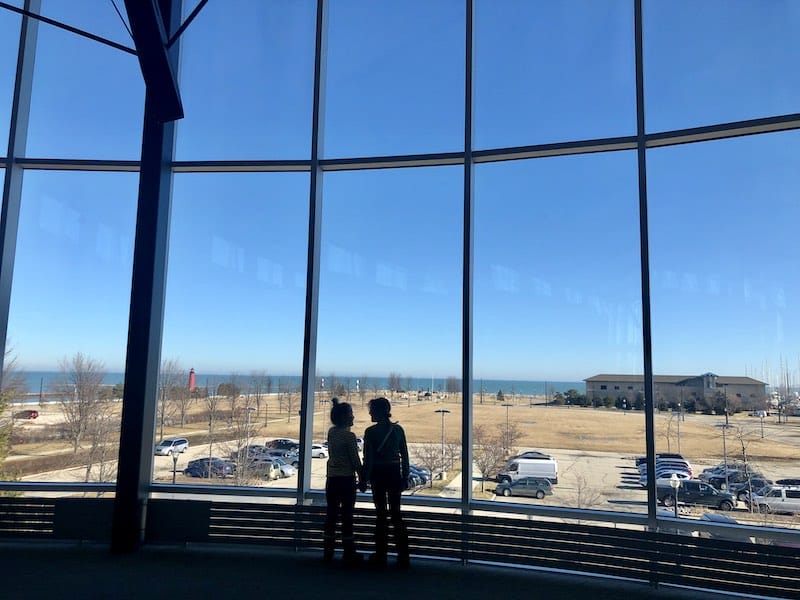 The Kenosha Public Museum is a natural sciences and fine and decorative arts museum located down by the lakefront in Kenosha – right next to the Civil War Museum and overlooking Lake Michigan. One of the main attraction is the Mammoth that was excavated right in Kenosha. You can also walk through the four season Native American display. And on some dates they will have a worker at the end of the display dressed in costume and available to show you artifacts and to talk about the history of the area.
Upstairs they have evolving exhibits – usually fine arts inspired. Plus an amazing place you can sit out to look out over the beautiful lakefront and Lake Michigan.
One of the things our kids like to do best is head to the hands on area that is filled with different activities for the kids to do. From light tables to building blocks to books and stuffed animals. There are lots of things to touch, feel and play with here!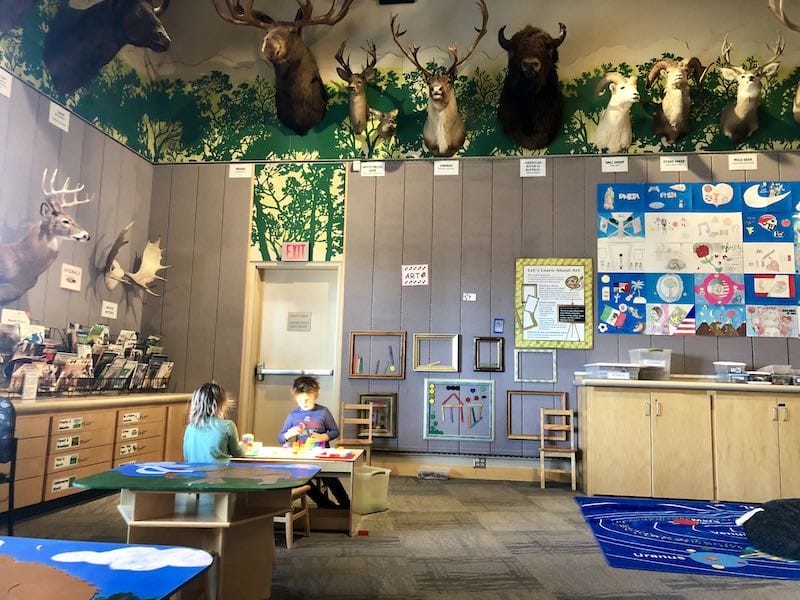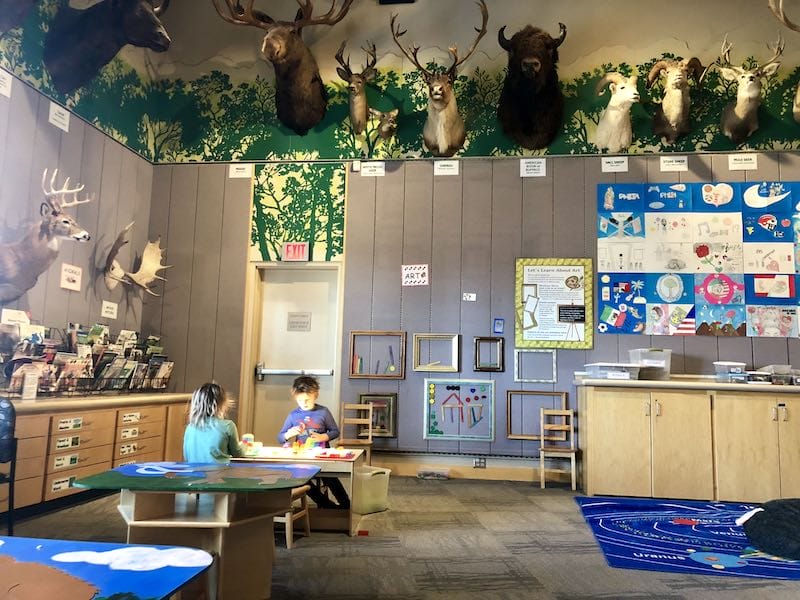 They also offer a variety of classes so be sure to look into that.
Cost: FREE – donations accepted!
Hours: Monday – Saturday 10am – 5pm and Sunday 12 – 5pm(always check the website to confirm dates and times they are open)
Website: https://museums.kenosha.org/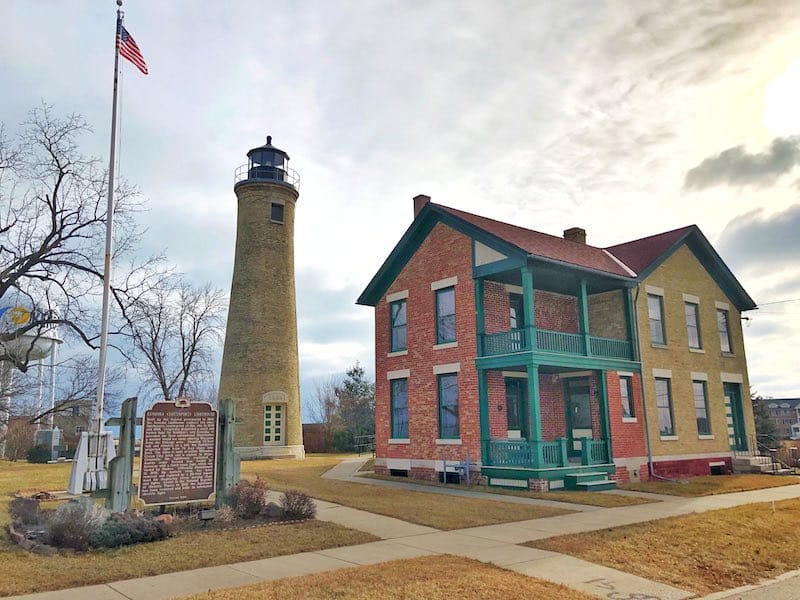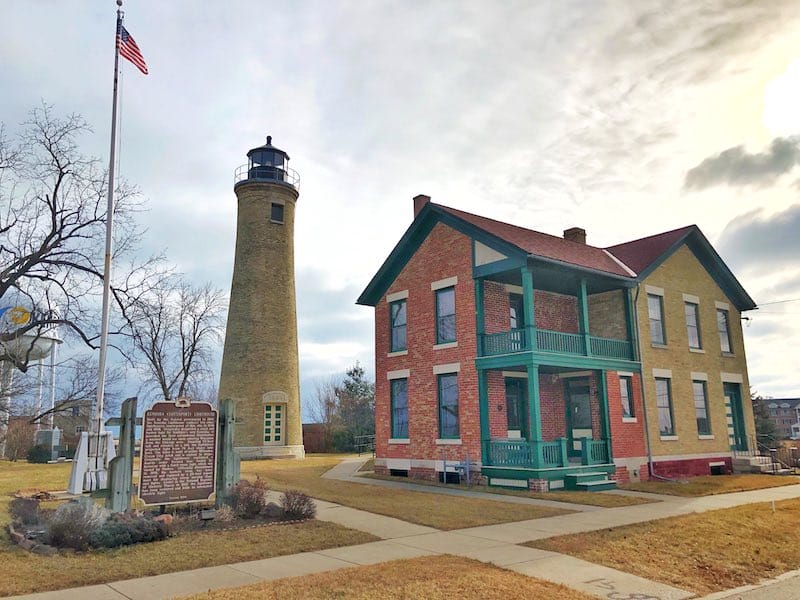 Come learn all about the Lighthouse and the history and growth of Kenosha. Plus if it is open you can go up in the Lighthouse for an amazing view of the lakefront and Kenosha.
The museum is located in the Lighthouse keepers house. A few of the rooms show what it would have looked like back with the Lighthouse keeper lived here. The other rooms have displays and images explaining the history of the Lighthouse.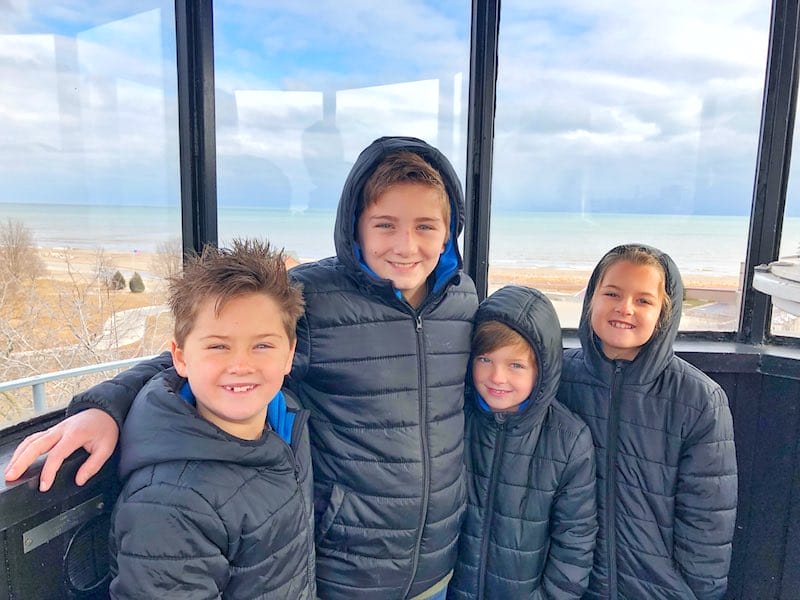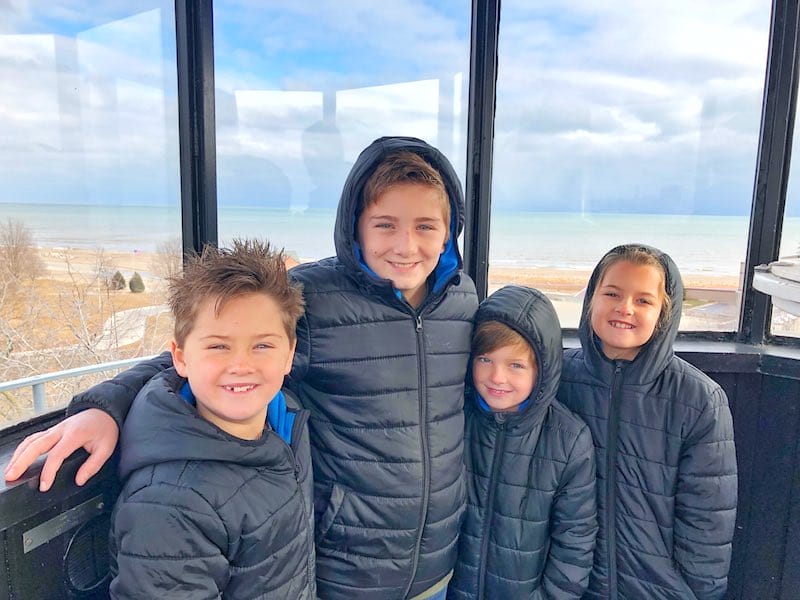 Ron is usually there when the museum is open and he is loaded with amazing information on Kenosha, the Kenosha Lighthouse and just lighthouses in general! If he is available ask for a tour and you will learn everything you want to know.
Cost: FREE
Hours: Open May – October: Thurs.-Sat. 10am-4pm, Sun. 12-4pm (always check the website to confirm dates and times they are open)
Website: https://www.visitkenosha.com/things-to-do/southport-light-station-museum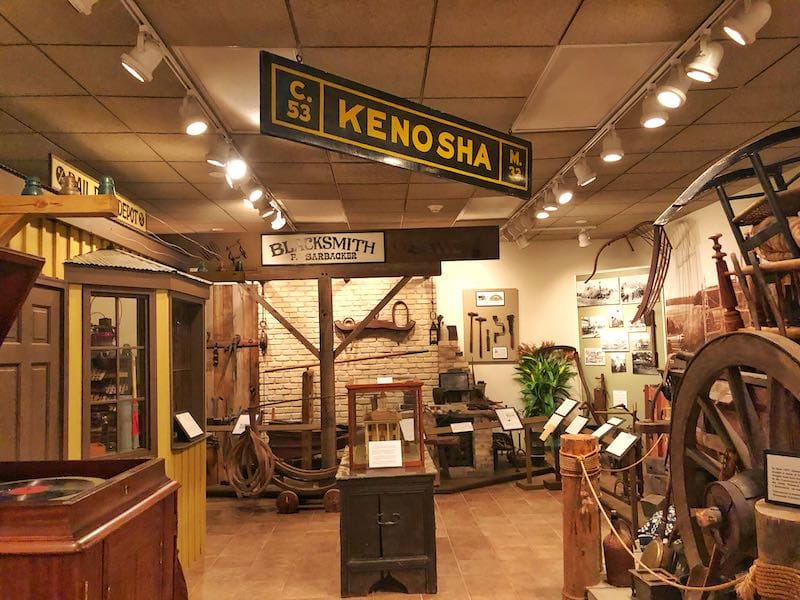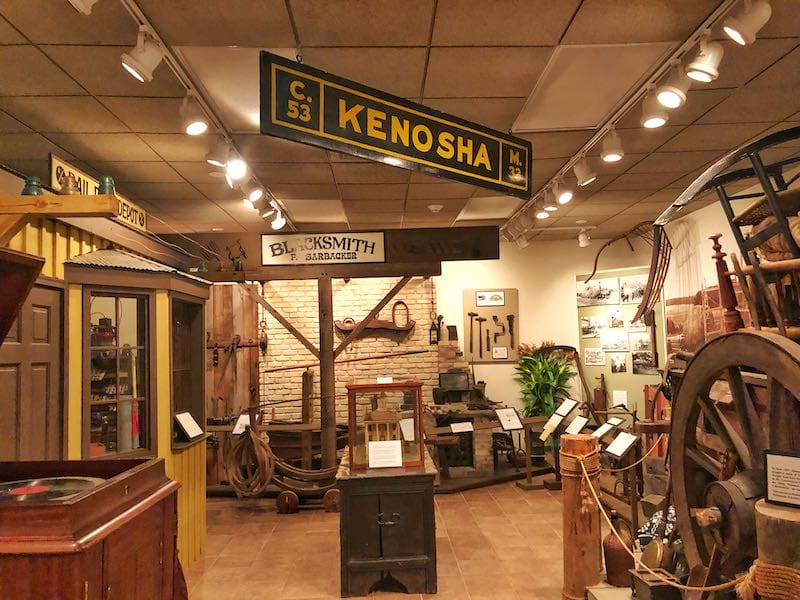 The Kenosha History Museum is split up in different timeframes. Starting from when Kenosha was first settled into the automobile era. With a variety of other displays throughout.
Plus the gift shop is the perfect place to get books and documents on more Kenosha history! If you are interested in learning more about the city this is where you should go!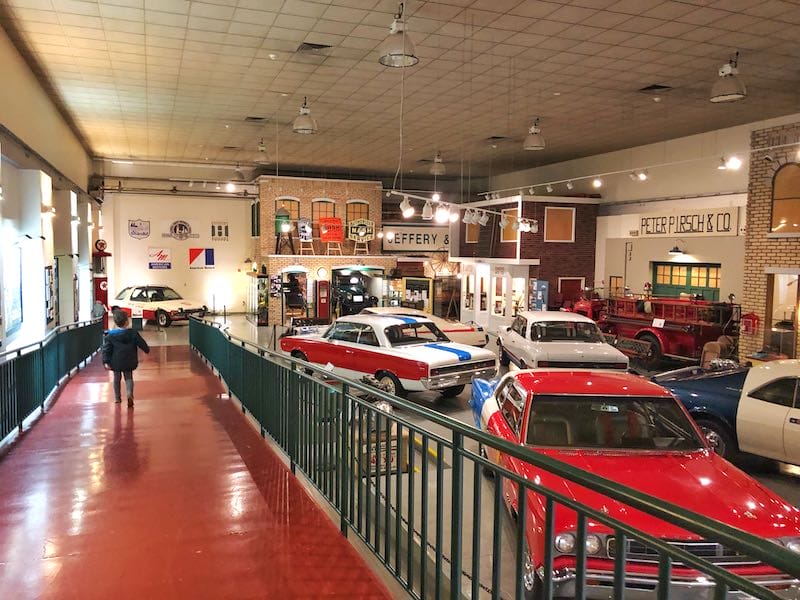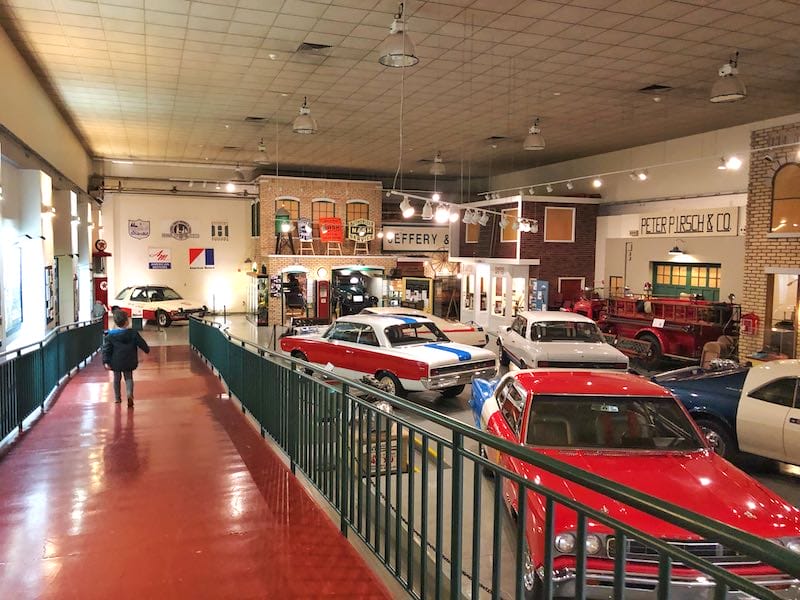 Cost: FREE
Hours: Open Tues.-Fri. 10am-4:30pm, Sat. 10am-4pm, Sun. 12-4pm (always check the website to confirm dates and times they are open)
Website: http://www.kenoshahistorycenter.org/
Activities
Kenosha is filled with all different kind of activities from things you pay for to things that are free. Visit the Renaissance, go skiing, watch a play, take in a sporting event, the list goes on and on!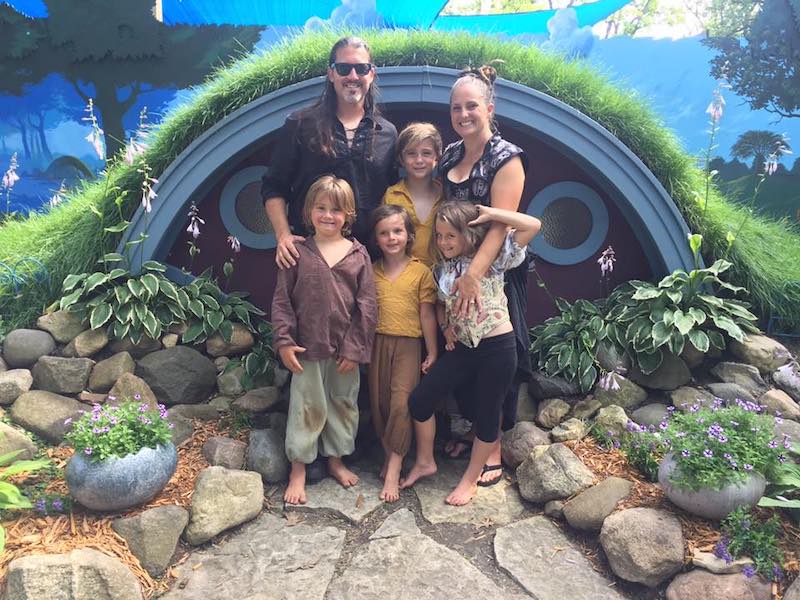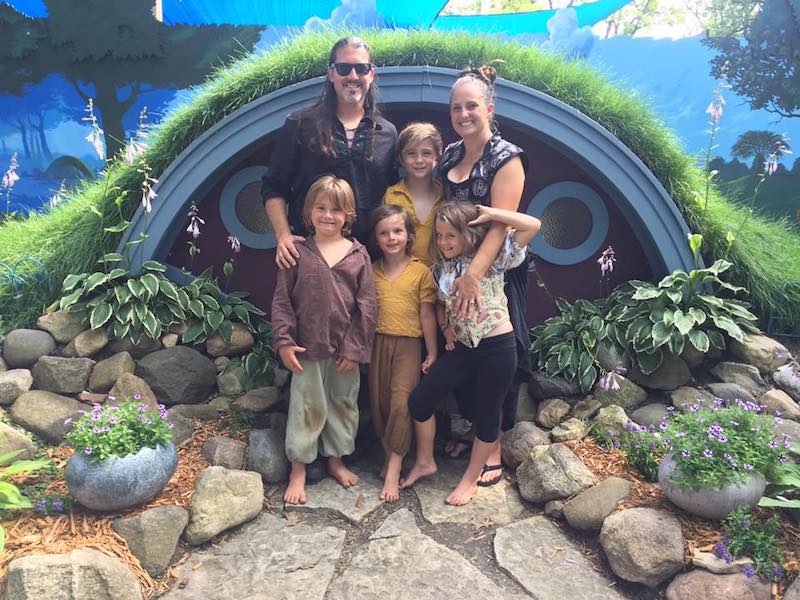 If you are coming to the area in the summer you won't want to miss the Renaissance Faire. It is such a unique and fun experience for the whole family! It is a whole village that is built to represent Renaissance times when Queen Elizabeth the first ruled. And yes Queen Elizabeth will make an appearance.
You can walk around and check out all of the shops – that are only allowed to have products similar to what would have been sold during the renaissance timeframe. Things like hand made candles, swords (REAL swords), jewelry, wood cups, chain mail (for real!), and so much more.
Then spend the rest of your time watching the fun shows! They have a mud wrestling show, Adult only Pub Crawls, Comedians, Acrobats, hawks and more! They even have a joust!
These are really shows that you won't find anywhere else – well unless you go to another Renn Faire somewhere else in the country. A lot of the shop owners and performers do this full time and travel around the country attending Renn Faires all year.
It has been a tradition for us to go to the Renn Faire (and dress up in costume – people do that!) since I was 8 years old!
Hours: Usually opens the weekend after July 4th to Labor Day and only weekends – always check the site to confirm open dates/times.
Website: http://renfair.com/bristol/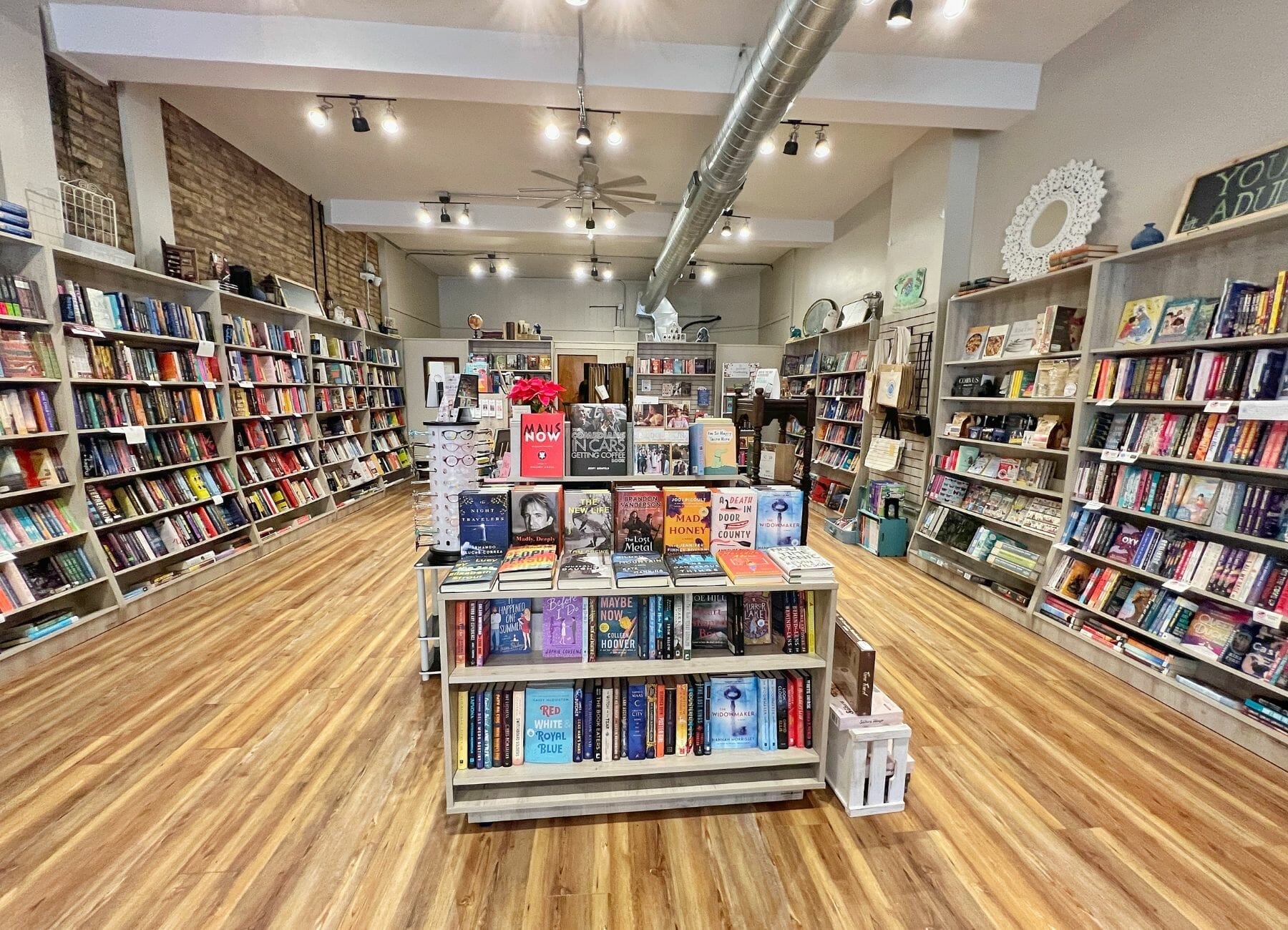 You may not consider a book store an activity. But it is! Blue House Books is an adorable book store located in downtown Kenosha. They have your normal books but also a great selection of unique gifts and items for purchase.
Prior to going out for happy hour or dinner make a stop at the book store and browse around, check out the new books and look for the Jason Momoa coloring book – yes they actually have that!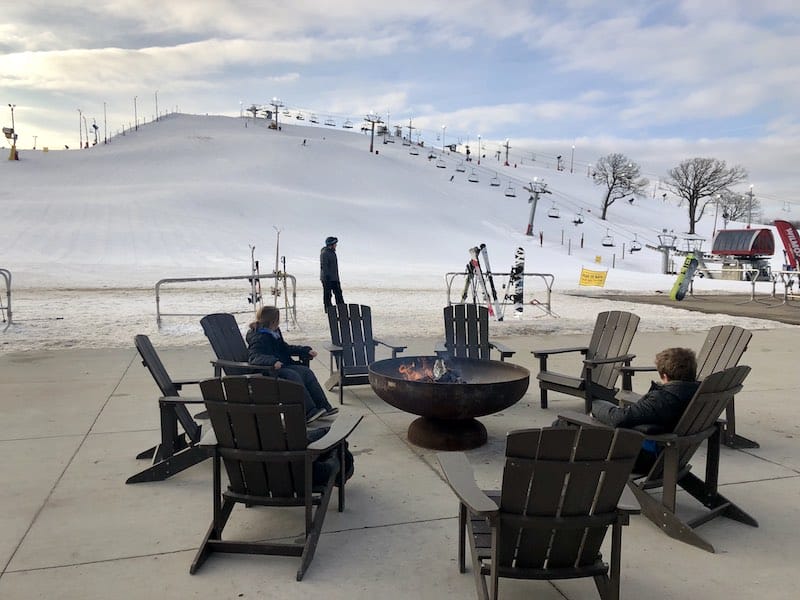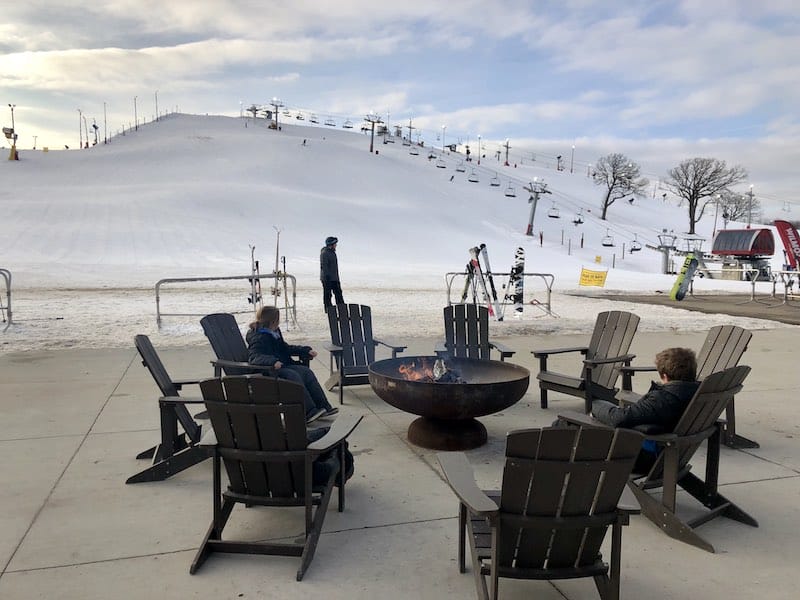 If you are looking to spend an amazing day skiing, snow boarding or tubing this is the place for you. Wilmot Mountain has a variety of different levels of ski hills. And if you don't have equipment – never fear! They have a huge collection of everything to rent.
If you are new to skiing or snowboarding they have an awesome group of instructors to show you the ropes.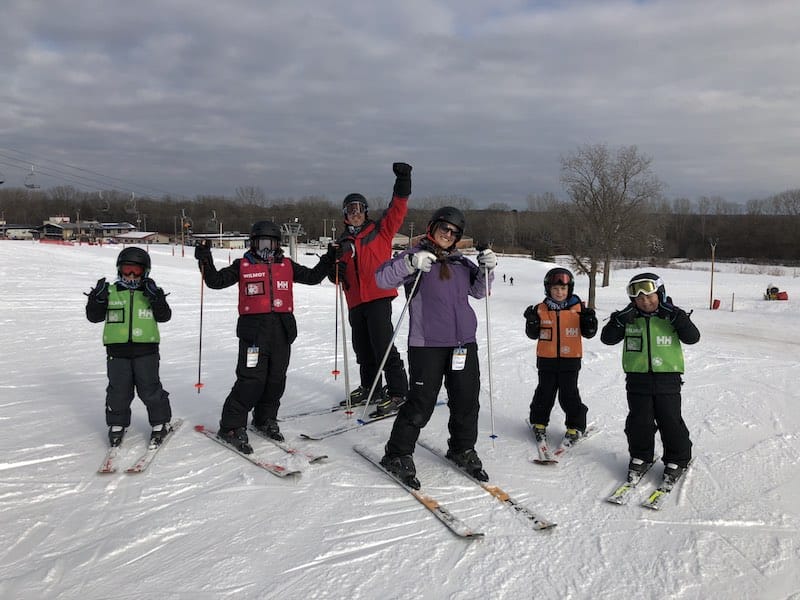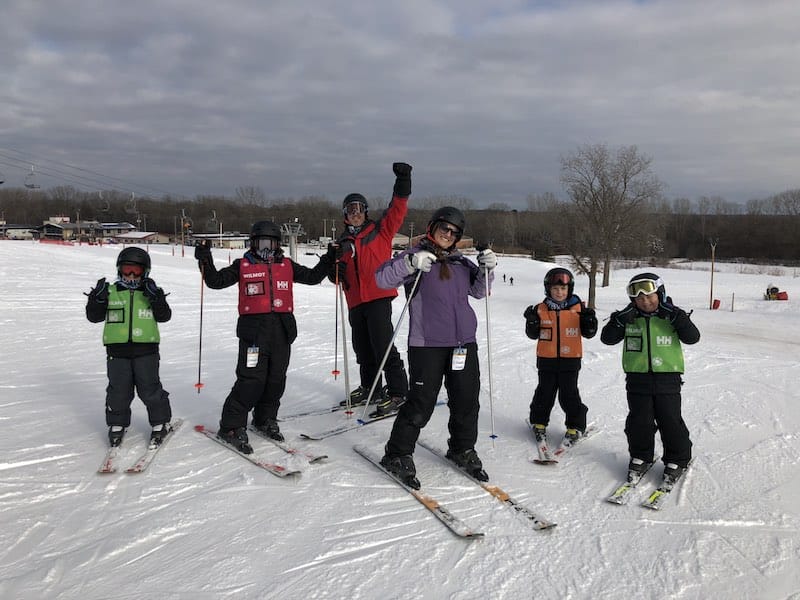 You can easily make a day out of it by starting the day with lessons then spending the rest of the time on the hills. They also have a cafeteria and a restaurant. Along with a fire-pit you can sit around and watch the skiers come down.
Cost: Varies based on what you are looking for – check their site for details.
Hours: Check their site to confirm when they are open based on when you want to go.
Website: https://www.wilmotmountain.com/
If you are in to theatre, then be sure to check out what is playing at the Rhode Center For The Arts. It is small town theatre but they still do a great job. Plus it means it is a smaller theatre so every seat is good! They have different plays throughout the year so check out their site for the most recent info.
Cost: Vary depending on the event.
Hours: Check site for plays, dates and times.
Website: http://www.rhodecenter.org/
If you are there during the season don't miss Kenosha's collegiate league baseball team. They do a really great job of having activities for the kids throughout the game. Plus the stadium is nice and compact so there isn't a bad seat in the place!
Cost: Check site for all options
Hours: Spring and Summer – check site for game dates and times
Website: https://northwoodsleague.com/kenosha-kingfish/
College Athletics
What sport do you want to go and see? Between Division 2 UW-Parkside and Division 3 Carthage College there is a huge list! Football, Soccer, Basketball, Baseball, Wrestling the list goes on and on. Check out the college website for details.
Cost: Varies – check site and event for pricing
Hours: D2 and D3 – year round
Kenosha has its own Comedy Club where you will see two opening comedians plus a national touring headliner for 90 minutes on Friday and Saturday nights. No need to deal with traffic and big cities to see a comedian. Make a night out of it in downtown Kenosha with dinner at one of the many downtown restaurants and then walk over to the Comedy Show.
When Craig and I went to a show (without the kids :)) we weren't sure what to expect but we really enjoyed it! The venue worked out great. We were able to get a high top table in the back, there was drink and food service during the show. Plus the 2 comedians we saw were hilarious!
Cost: Tickets start at $16 each – check site for details based on show
Hours: Friday and Saturday nights – check site for times of shows.
Website: http://www.kenoshacomedyclub.com/
During the warmer months (May – October) you can visit the outside Farmers Market. Every year it gets bigger and bigger and they bring in more vendors. The have local honey and meat, handmade baskets, popcorn, all sorts of food and more!
It is a fun way to spend a Saturday morning. During the winter months they bring the market indoor – it is a smaller market but still has a lot of good items.
Cost: Free
Hours Outdoor: Saturdays outdoors, mid-May to mid-October, 9am-2pm Saturday
Website: Summer: https://www.visitkenosha.com/listing/kenosha-harbormarket/318/
Hours Indoors: Saturdays indoors at The Kenosha Union Club – 3030 39th Avenue Kenosha, WI 53144, mid-October to mid-May, 10am-2pm
Ice Skating (Winter)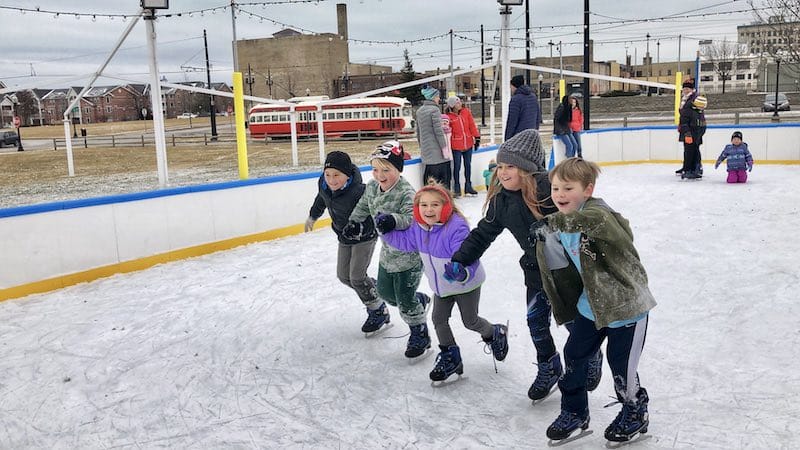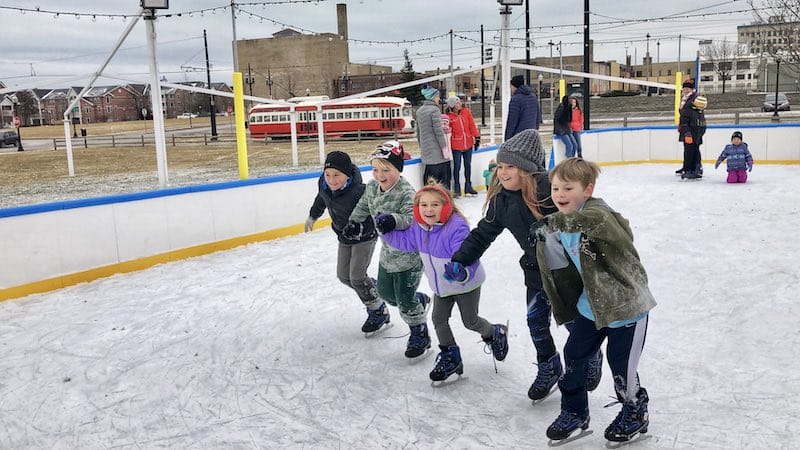 A perfect winter activity. The city sets up a small ice rink – it is small, but that works out well for beginner skaters. Don't have skates? Don't worry you can rent them for FREE – yes Free!
Here is a great activity to do and if you aren't sure if you will enjoy it you can go and try for free – love that!
Cost: Free
Hours: Skate Rental: 4 to 9 p.m. Mondays through Fridays; 9 a.m. to 9 p.m. Saturdays, and noon to 7:30 p.m. Sundays
Website: https://www.visitkenosha.com/things-to-do/veterans-memorial-park
A German Biergarten in the middle of a county park. Love it! You put a deposit on a "boot" – a big glass when you get there – it is $5 cash only. Then order and pay for what you want to drink.
Before you leave turn in the token they give you for the glass and you get your $5 back.
They also have super big pretzels and a few other German style snack foods. Wednesday night is trivia night and pretty much every other night of the week they have something else going on.
Perfect for parents since it is surrounded by a big open field that the kids can run and play on while you sit at the picnic table and enjoy your beer! Win – Win!!
Cost: Cash – $5 for beer glass rental then cost of beer or food you purchase
Hours:
Website: https://www.petsbiergarten.com/
This is the county park where the Biergarten is located. There are trails for short hikes and a paved bike path that runs through the whole park. Plus multiple playgrounds and pavilions you can rent or just hang out in if no one is there.
If you like Golf be sure to check out the golf course here. It is priced well and is a nice course.
Hawthorn Hollow is another fun outdoor place to check out!
Cost: Free
Hours: Sunrise to Sunset
Website: http://www.kenoshacounty.org/1652/Petrifying-Springs-Park
If you are into trail running or just like to go on a nice walk be sure to checkout the Parkside Cross Country Trail – which is located right across the street from Pets and the Biergarten.
In Winter you can cross country ski here too.
Just be aware if there is a cross country race going on you will not be able to go on the trails.
Cost: Free
Hours: Sunrise to Sunset
Website: http://www.trailville.com/wiki/WI_Kenosha_Parkside_Trails
Golf courses
There are a variety of golf courses in Kenosha at great prices and nice courses! Petrifying Springs, Muni and Brighton Dale are all owned by the city. If you are looking for a private owned course you can check out Maplecrest.
Cost: Varies by course
Hours: Seasonal (Spring/Summer/Fall)
Website: https://www.visitkenosha.com/things-to-do/outdoor-recreation/golf/
Disc Golf
Looking for a different thing to do? Check out the professionally built Disc Golf course at UW Parkside! The course is woven throughout 700 acres and is an 18 hole course! If you don't have equipment be sure to check out the Disc Golf Pro-shop located in the University Bookstore – they have everything you would need to buy to play a round!
Cost: You have to pay for parking during the week – check out the site for details so you don't get a ticket!
Hours: Always open
Website: https://www.uwp.edu/live/play/disc-golf.cfm
Kenosha Lakefront
Kenosha has done a great job focusing on the Lakefront and making it a great place to go to hang out for the day, to have a picnic or to go for a nice walk. There is nice walking trail, parks, beaches, flowers, and benches everywhere.
Cost: FREE
Hours: Always open
Trolley Ride
When you are downtown jump on the Historic Trolley for a tour of downtown between Kemper Center and Carthage. What kid doesn't like a trolley ride!
Cost: $1 for 13 & older, $.50 for 5 – 12. 4 & under FREE with paid fare. Military – FREE
Hours: Open Seasonally – warm weather: Wed-Sun. 1:45-9:15pm (always check site to confirm times)
Website: https://www.visitkenosha.com/things-to-do/lakefront-trolley
Electric Streetcar
Not just a Trolley but also a Streetcar downtown! Be sure to jump on the Streetcar for a 2 mile roundtrip along the Lakefront in Kenosha.
Cost: $1.00 ages 13 and older / $.50 ages 5 to 12 / 4 and under free.
Hours: Open year round – different hours based on season. Check website for hours.
Website: https://www.visitkenosha.com/things-to-do/electric-streetcar-circulator
Beaches
No, this isn't Florida but there are still nice beaches to visit in Kenosha! The water is a little bit colder and don't let a lake fool you – the currents and riptides can be more dangerous than an ocean. So be aware.
On a sunny day bring the sand toys and beach chairs and spend a day hanging out at the beach! There are 5 beaches in Kenosha on Lake Michigan to pick from.
Cost: Free
Hours: Open all the time
Peanut Butter and Jam
One of our favorite summer activities! Head down to the lakefront with your lawn chairs, dinner, and drinks to enjoy a FREE concert series!
They do this every Thursday in the summer and it is awesome! Bring your own and free music. Love it!
Cost: FREE
Hours: 11:30am and 6pm on Thursdays in July and August (check site for details)
Events
All year long there is Event after Event being held in Kenosha. These events never disappoint so be sure to check them out! Everything from Tall Ships (that come in on Lake Michigan), a Marathon, Beer Festivals and more! 
Cost: Some have fees and some are free
Hours: Vary based on event
Website: https://www.visitkenosha.com/events
Breweries
You know we love to check out breweries and Kenosha does not disappoint! There is: Public Craft Brewing Co, RNoggin Brewing Co, and Rustic Road Brewing Co.
Public Craft Brewing Co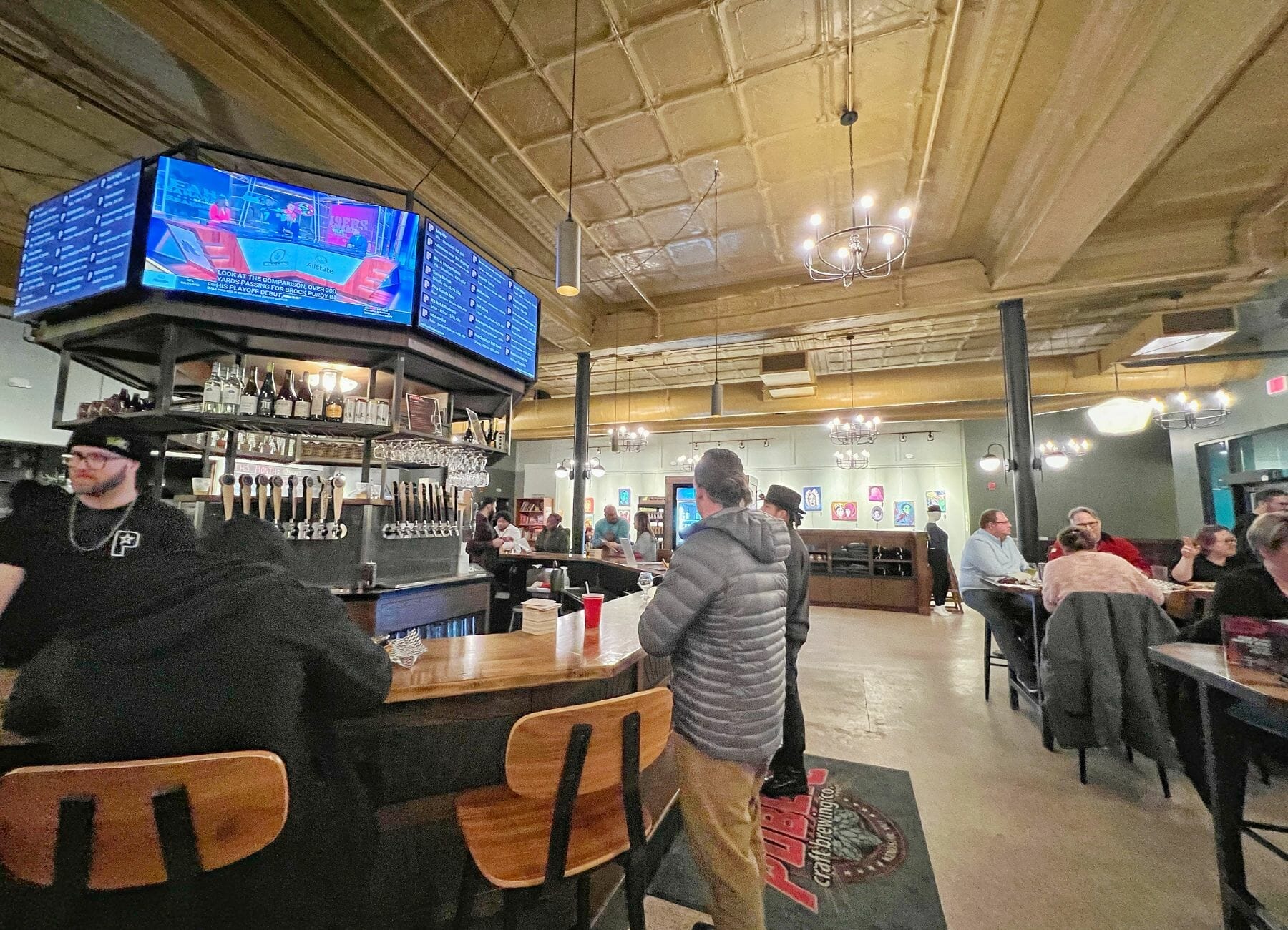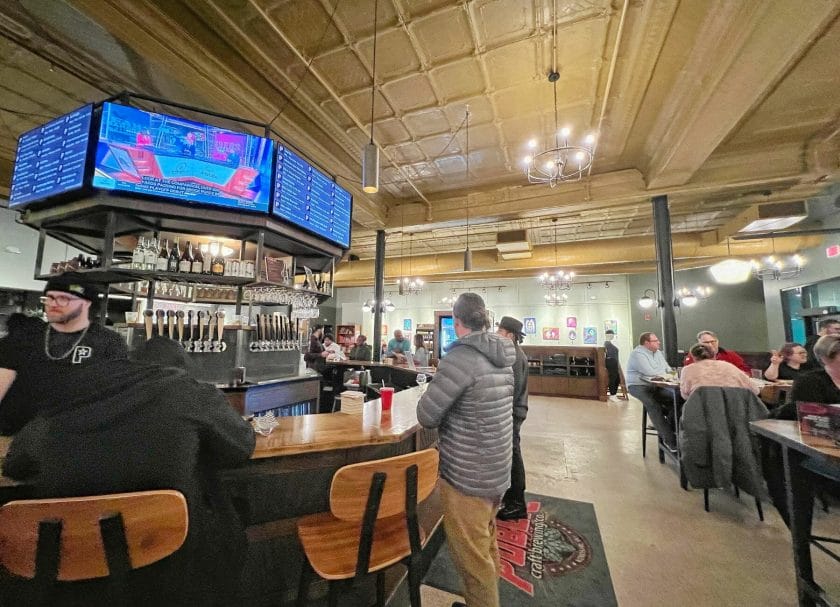 This is a great place to go to try local craft beer. The owner is awesome and has really made the space very inviting. I appreciate that it is a large space with lots of room so you don't feel like you are crammed into a small brewery.
We have gone to see live music and also to their Thursday night trivia and have enjoyed it every time we visit. It is also a place we have felt comfortable bringing our kids to when we want to go earlier in the day.
They do have a full menu now and also serve wine and a few non Beer drink options.
Where To Stay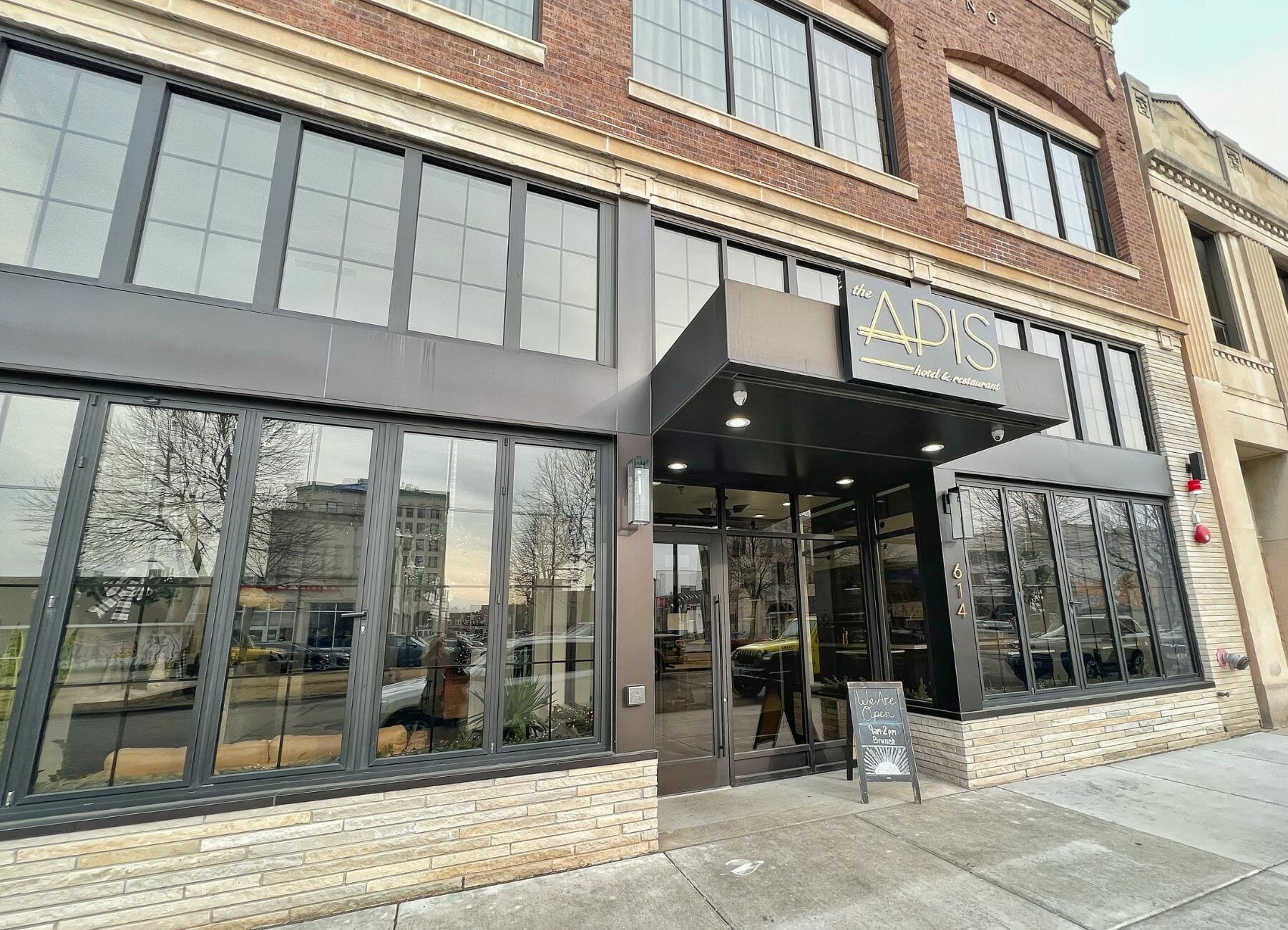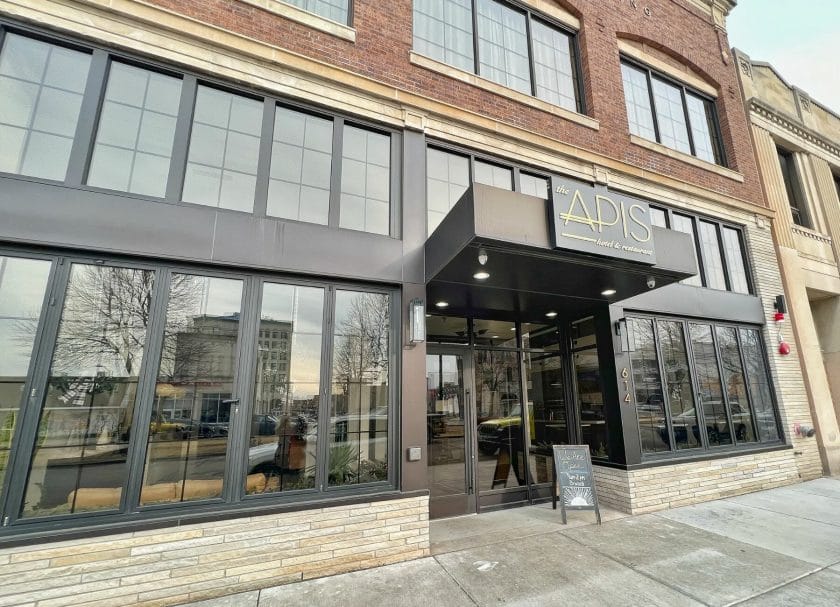 I will be honest. I didn't know a hotel like this existed in Kenosha! We have been to the Apis to eat and have craft cocktails, which we always enjoy. But we have never been up to see the rooms or to spend the night.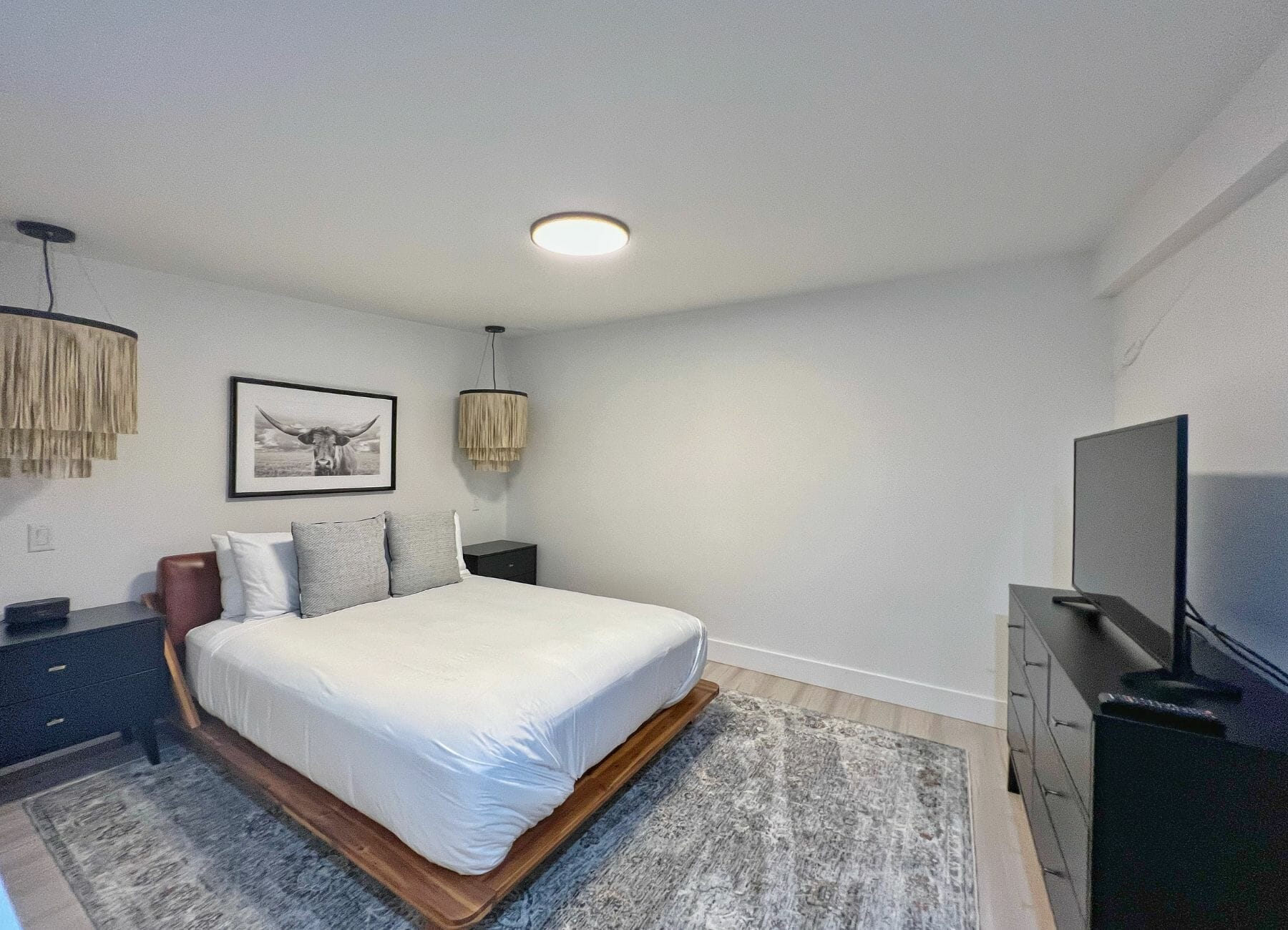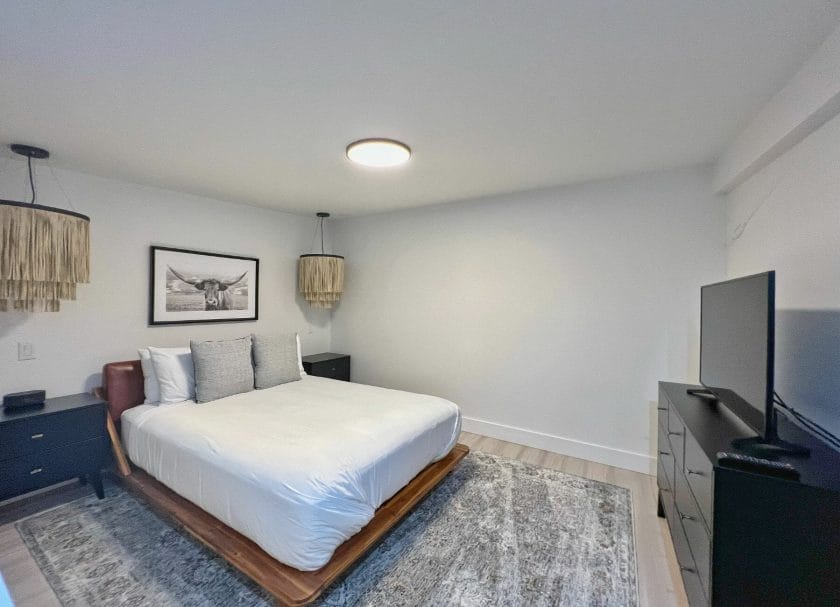 The night we went to stay we couldn't believe how nice the rooms were. Everything was top notch from the fixtures to the mattress. I usually have a hard time sleeping in hotel rooms but not here!
It was a two story room with the bedroom upstairs and the bathroom, small kitchen area and living room downstairs.
In the living room area there was also a fireplace and gigantic windows looking over downtown Kenosha. If you are looking for a night away or want to recommend a hotel when friends and family come to visit this is it!
A Boutique Hotel – with on-site restaurant/bar and seasonal rooftop bar with views of Lake Michigan.
An older hotel that has been remodeled. Located right in downtown by a lot of the attractions and museums. Walk everywhere!
This hotel (and a variety of others) are located out by I-94. It is about a 15 minute drive to get to downtown from here. It is located by a lot of the chain restaurants in town and shopping. 
What To Eat
Pizza!!
Pizza!! We've traveled the country and we still think Kenosha has the best thin crust pizza any where. You can't lose picking from Villa D Carlo, Tenutas, or Casa Capri, just to name a few.
The Apis – Dinner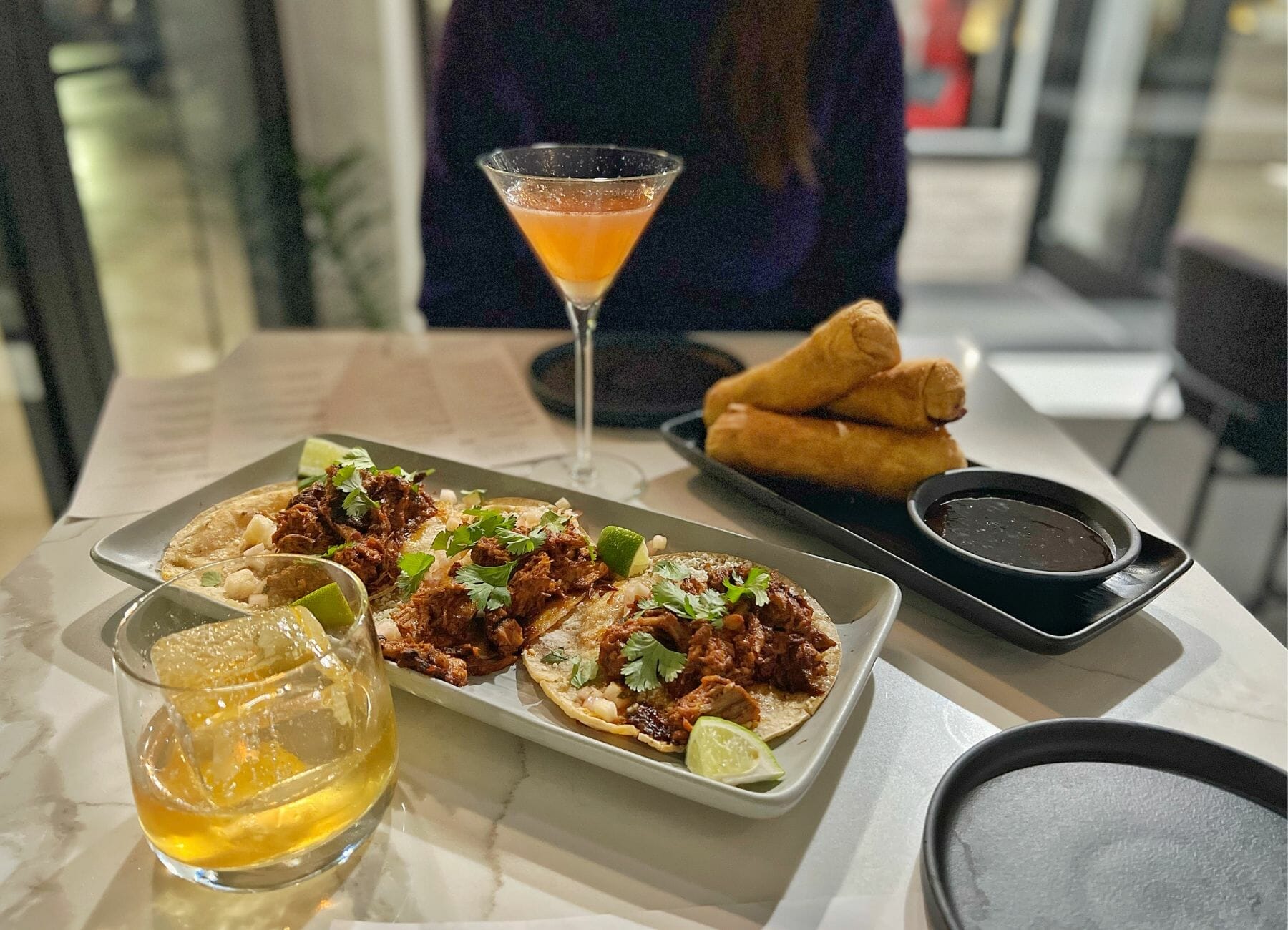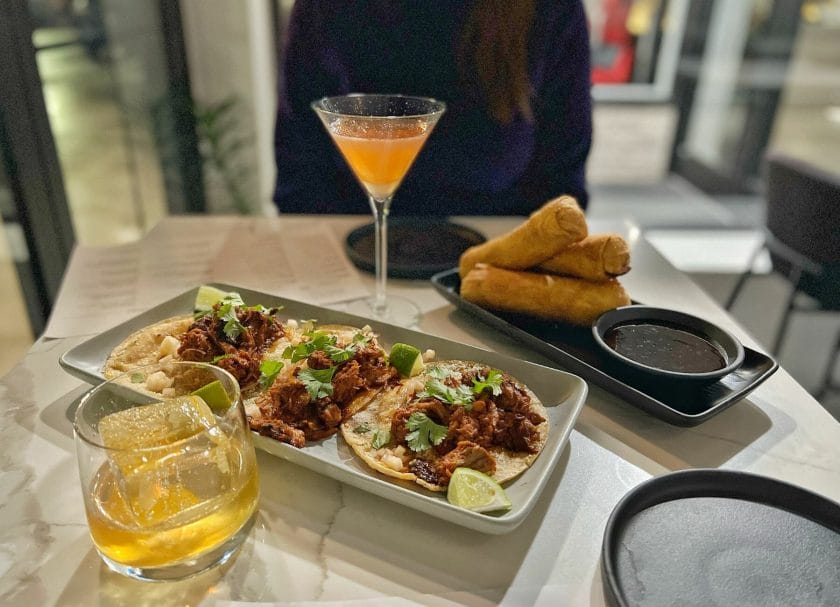 The Apis is another one of our favorite restaurants in Kenosha. They do tapas style meals and the menu changes multiple times a year. (Tapas means small plates so the idea is you order more than one option for yourself or order 3-5 things for the table to share). I love that with the tapas style you are able to try a variety of things.
We also really enjoy the drink menu at The Apis. It has a variety of unique craft cocktails that also change with the season. And of course the Old Fashion is always a top notch!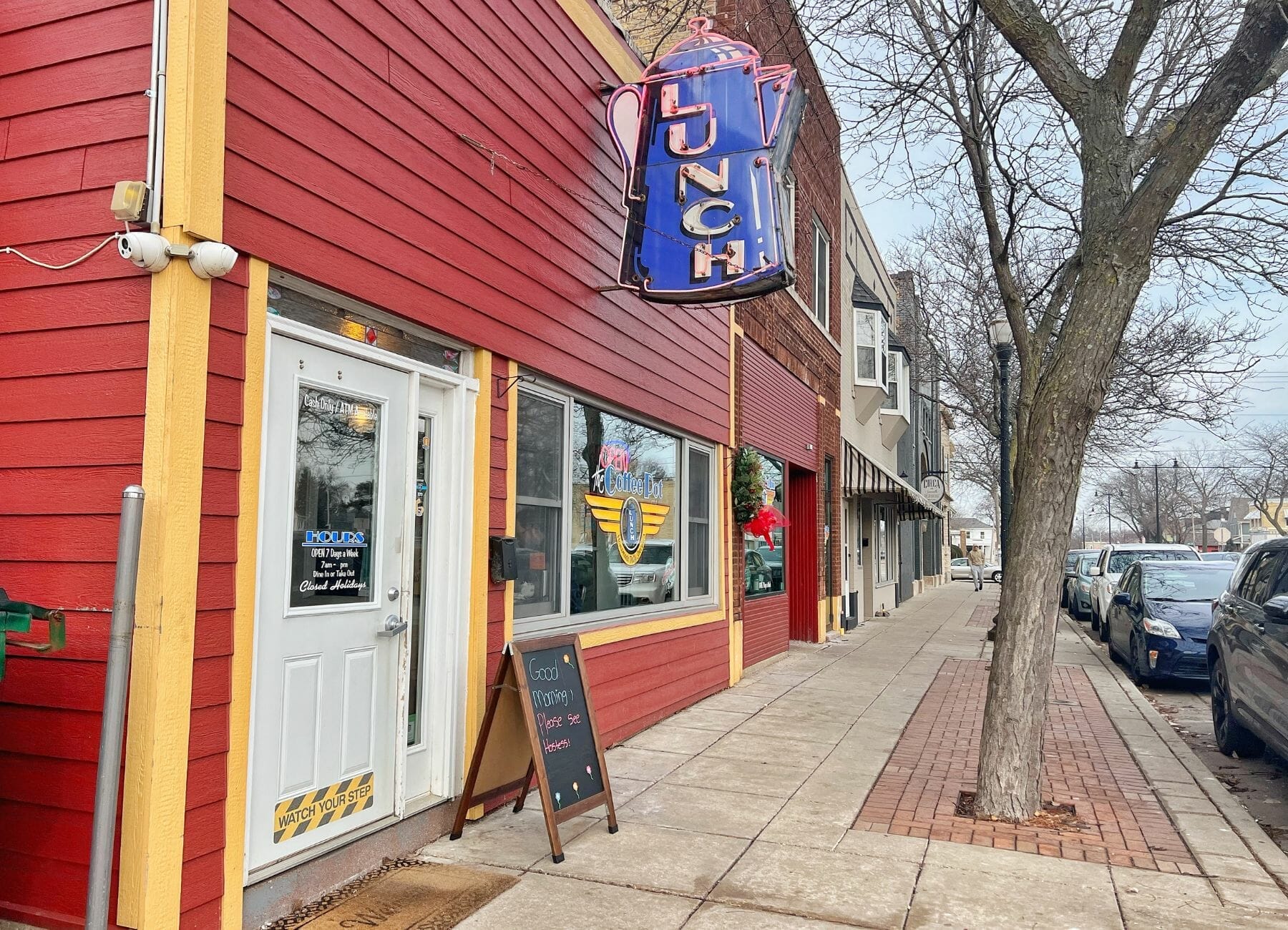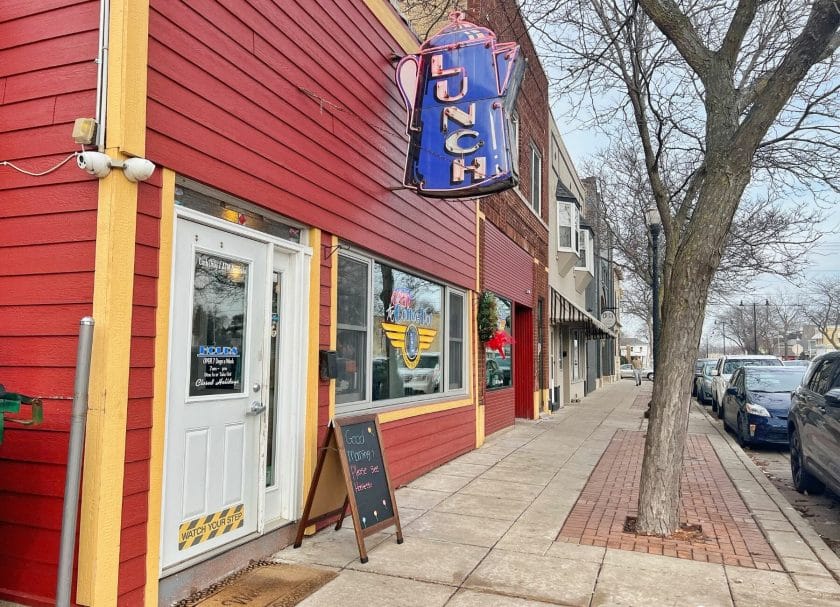 If you are looking for a diner breakfast head to the Coffee Pot! Be prepared it is a small restaurant so you may have to wait for a table. Or if you don't mind you can sit at the bar quicker than a table.
They offer your typical diner breakfast options along with a large list of morning alcohol beverages. When in Kenosha visiting The Coffee Pot should be on everyone's list and don't forget to check out the cool vintage Lunch sign that hangs outside of the restaurant.
Check out our post: 9 Delicious Kenosha Restaurants You Will Want To Eat At for more ideas on great food and drinks in Kenosha!
**The Jelly Belly Visitors Center is no longer in Kenosha.
Kenosha Gift Card
If you are looking for a unique gift idea check out the Kenosha Gift Card! It is a gift card you can buy that is good at a whole list of stores in Kenosha. You can learn more here.
Other Things To Do In The Area
There are so many great things to do in Kenosha and around Kenosha! Be sure to check out Lake Geneva and Milwaukee!
The 21 Best Places to See Christmas Lights in Wisconsin
15 Best Pumpkin Patches IN Wisconsin to visit in 2021
9 Amazing Things To Do In Minneapolis With Kids
Amazing Things To Do With Kids at Mall of America
Sleeping Bear Dunes in Michigan
Things To Do In Chicago With Kids
17 Awesome Airbnb Milwaukee Rental Options
Top 15 Best Places For Apple Picking Wisconsin
Pin This Post: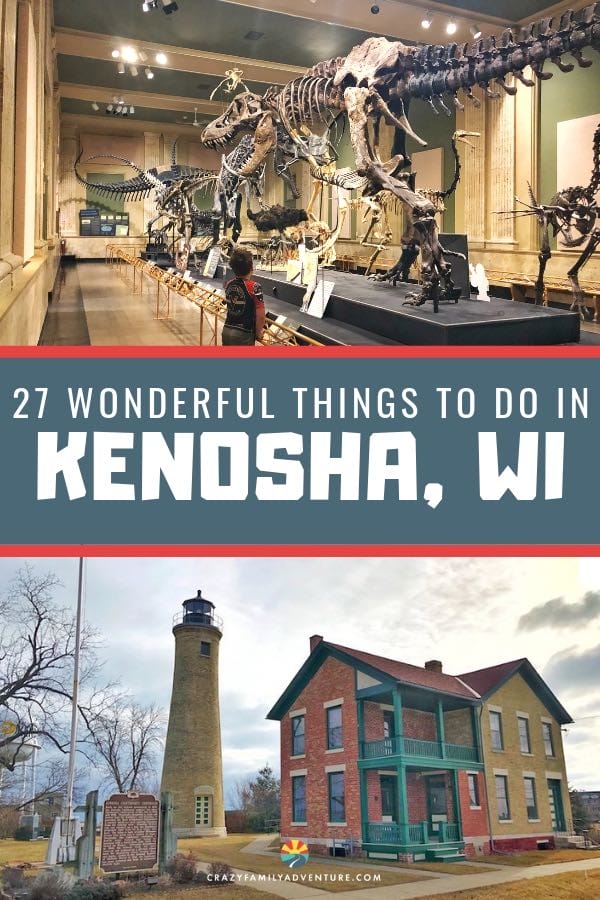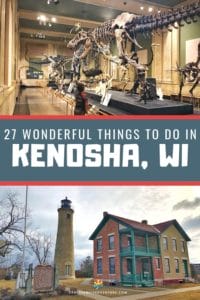 **Thank you to Visit Kenosha for hosting parts of our stay. All opinions are our own. This post contains affiliate links.**
DISCLOSURE: This post may contain affiliate links, meaning I get a commission if you decide to make a purchase through my links, at no cost to you. Please read my disclosure for more info.