You may hear the word "mall" and imagine a bunch of shops and people and think whats the big deal about a mall? Let us tell you the Mall of America (in Bloomington, MN) is so much more than just a mall. The Mall of America offers a true experience and is a great family travel destination.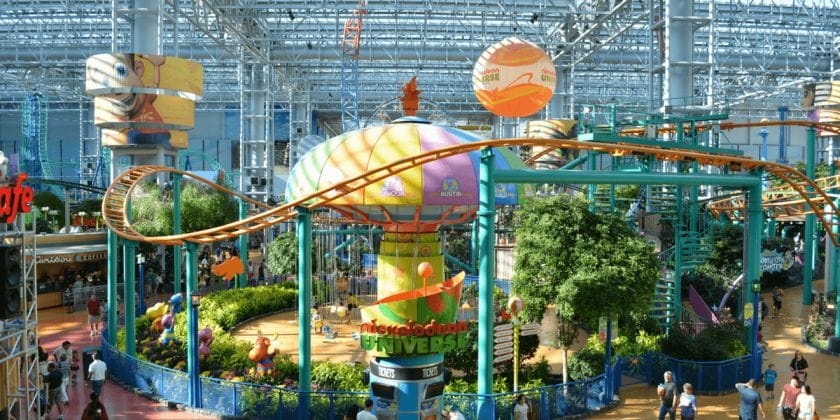 The Mall of America is the largest mall in the United States and has over 520 stores (and NO sales tax on clothes and shoes!), over 50 restaurants and has undergone several renovations over the last 8 years costing more than $500 million.
When we visited Minneapolis and the Mall of America we only went into 2 stores and attractions including Nickelodeon Universe.  Yes, you read that right 2 stores (Lego and Nickelodeon Universe Store). We were having too much fun to take time to go shopping!
Here is our list of top things to do with kids at Mall of America:
Things To Do At Mall of America With Kids
Crayola Experience
AMAZING. The Crayola Experience is so cool and so much fun. We literally could have spent all day here. It is filled with creativity outlets for your kids and you!
When you pay, you get a bag and 2 tokens. You will need both so make sure each person in your party has one. The bag is for all of your goodies you will be bringing home and the tokens are for your magic model clay and your personalized crayon.
Personalized Crayon
The first exhibit you see when you walk in is the crayon personalizer. You pick what color you want and then you are able to pick an icon to go on the crayon along with the name of the crayon. For example, Carson chose Captain America on his. Then the machine gives you a crayon and a wrapper. You then take these over to a machine where the kids can put the crayon and wrapper down and slide the handle back and wa-la! You have your own personal crayon!
Personalized Color Sheet
Loving all these personalized things! For this one you select a background and stand in front of a camera and it takes your picture and then prints out a sheet that you can color.
You know the old "make a photo copy of your butt on the copy machine" bit? Cannon did the kids version here…
There's a coloring table close by where you have hundreds of crayons to choose from to color your picture. Beyond that, there is the dancing crayon where you stand and watch a life-size crayon mimic your movements on a screen in front of you.
Magic Model Clay
A candy machine dispenser takes one of your tokens and in return you can pick a color of model magic clay and then sit down and play away with a bunch of cool tools. Things like pizza cutters, knives, cooking cutters, and markers.
Melted Crayon Art
Try your hand at making a piece of art out of a variety of melted crayon colors. So much fun! Or make a puzzle by drawing a picture and running it through the puzzle cutting machine. Or paint a picture and run it through the picture dryer.
Are you seeing how this could be an all day event?!
In case your kids are getting tired of sitting still, which I doubt is happening with all these cool activities, they also have a play structure that the kids can run around in.
A large cafeteria area for eating and also where they put on a variety of shows. Plus a couple snack stands in case you just want a quick Icee.
Next up comes the more complicated activities like where you draw something and see it show up on a big screen as part of a movie. Or color a dragon and select a background and email it to yourself.
The last thing we did was melt a crayon into a shape. A bull, car, or a ring. The kids were able to pick a color and then pick the shape and watch the whole process.
Of all the things to do at Mall of America with kids the Crayola Experience was our favorite! It would be good for kids of all ages.
Recommended time: At least 4 hours if not all day!
Younger kids: plenty for them to do plus a toddler play area.
Food: Snack shop and cafeteria on site.
Cost (as of November 2023): Regular price: $27.99 per person. Under age 2 are free.
Total for a family of 6: $168 (totally worth it!!!)
Flyover America
We weren't exactly sure what FlyOver America was all about, but when we looked it up online it looked really cool! What you do is sit in a roller coaster type of chair where you are buckled in. Then the lights go off and they bring you forward so you are hanging over an IMAX size screen.
They then take you on a flying adventure over America! It is really cool and it was amazing how the movie made it seem like you could literally touch the water or land on the mountain you were "flying" over. They also send a mist of water out now and then to help with the effect.
You have to be 40 inches tall and Knox wasn't too sure if he liked it . . . I think he really thought we were flying over water and kept asking if it was real. From experience, I think he is afraid of heights. If you or your kids are afraid of heights this may not be the experience for you.
Everyone else loved it and thought it was really cool!
Cost: $21.99 for adults $17.99 for kids 12 and under – if you buy online they are a few dollars cheaper.
Recommended: Check height restriction (40' tall with adult 48" and over 8 years old without adult). We recommend it for anyone not afraid of heights.
Tips: The ride runs every 15 minutes and you don't need a reservation. You can head over whenever you are ready.
Total cost for a family of 6 (as of November 2023): $116 (It was really cool so if you are on vacation and have the extra money we recommend it.)
Nickelodeon Universe
Nickelodeon Universe is an amusement park with 27 rides inside in the middle of a mall? Now that is cool! Our kids are really into Sponge Bob right now so they had fun meeting him and we went home with a few Sponge Bob toys. We got the unlimited wrist band and would highly recommend this if you are going to spend a few hours here. If your kids are into Sponge Bob they will love the Rock Bottom Plunge ride!
The lines weren't long at all so we were able to get right on everything. There was a decent selection of rides for kids 46 inches or smaller, but for Cannon and Melia they weren't fast enough! There was one roller coaster: The Fairly Odd Coaster that we went on multiple times that was perfect for them, but all the other ones they wanted to go on you had to be 47 inches or taller.
They were literally 46 and 3/4, so they just missed . . . that made it a little less fun than it could have been. But we still enjoyed the park and stayed until it closed jumping on one last ride before we left.
The kids did not want to leave and can't wait to go back when they are a little taller.
Cost: Unlimited Wrist Band $49.99 with deal days at $39.99
Recommended time: If everyone is tall enough for the rides you could spend a good 4 hours or more here. We went on a Monday and there were barely any lines.
Younger kids: They had a good selection of rides for younger kids. And also kids 47 inches and over.
Food: A few snack stands and the MOA has over 50 restaurants – many of them over looking Nickelodeon Universe.
Total cost for a family of 6 at Nickelodeon Universe for unlimited wristbands (as of November 2023): $300 (if you are going to be here all day and are able to get a coupon or deal it is totally worth it. Even though 2 of our kids weren't tall enough for some of the rides they wanted to go on they still had a blast!).
Get Your Ticket for Nickelodeon Universe At A Discount Here!
Sea Life Aquarium
I was excited to go to the Sea Life Aquarium and walk under the shark tunnel! When you first walk in there is a touch tank filled with bright, colorful marine life for you to touch. We always love places where the kids can be hands-on!
Right next to the touch tank was the sting rays. You can normally pet and feed them, but this time there was a sign up saying some were pregnant or mating so no touching today. Darn! But we totally get it and appreciate them getting their space to do what needs to be done…
The jelly fish area was really cool since it was pitch black and all of the jelly fish were glowing. You walked through the room filled with glowing jellyfish.
The shark tunnel was awesome! You walk under a glass tunnel and look up to see sharks swimming right over your head. They are so close you can see their sharp teeth. It was a little scary, but also really cool to see them up close like that.
Cost: $20.99 per person
They do have specials where you can get an unlimited wristband for Nickelodeon Universe and entry to the aquarium and some other coupons they had on their site.
Recommended time: Any time they are open. They close earlier than the mall so be sure to check the hours.
Younger kids: Kids of all ages would enjoy it!
Food: No food
Total cost for a family of 6 (as of November 2023): $126 (it was a cool experience, but we enjoyed the other activities on the list of things we did at MOA a bit more – that may be because we have been to lots of aquariums. So if you or your family is really into sea life and/or sharks and loves aquariums the check out the Sea Life Minnesota Aquarium it is worth it).
Get your ticket to Sea Life Here!
The Escape Game
For a fun and unique activity try The Escape Game with your family! You and up to 8 people are put into a room and you have 60 minutes to figure out how to get out . . . The room is filled with props and clues that you have to find in order to unlock the next set of clues to figure out how to get out.
We did this activity with our kids (10, 7, 7 and 5) and they all had a blast! It is a great family activity. You can learn more about our experience here: The Escape Game Is A Unique And Awesome Activity.
Eating
You could come to MOA simply for the food. I mean with over 50 restaurants there is something for everyone! Since we were just there for a day and had so many activities lined up we didn't put much focus into eating. Instead we took advantage of the food courts.
Food courts are great for families since everyone can pick out what they want! Plus it was quick so we were able to eat and then get right back to all of the fun. If you have more time and want to sit down at a restaurant there are a lot that overlook Nickelodeon Universe and the kids would be occupied watching all the rides while they eat.
Due to time constraints on our side we crammed all of this into 1 day. It is doable, but to truly get everything you can out of each experience we would recommend spreading it over 2 days and staying at one of the hotels on site or at the RV park we were at (which had full hookups and was only about 15 minutes away) called Lebanon Regional RV Park.
A few other things we would have liked to check out are: The Lego Store, The Amazing Mirror Maze, The Firelake Grill House Cocktail Bar, Rick Bronson's House of Comedy, The Fair on the Fourth Floor, and Moose Mountain Adventure Golf.
MOA is a great family travel destination and there are so many things to do at Mall Of America with kids since there is such a variety of options. Plus it doesn't matter what the weather is like outside since everything is inside. Perfect for a hot summer day or a cold winter day. If you are looking to get away for a few nights add MOA to your list of top places to visit!
What are some of your favorite things to do at Mall of America with kids?
Check out our post on Things To Do In Minneapolis! The Twin Cities area is amazing and there is so much to do both inside and outside.
**We did receive complimentary passes for a variety of these activities. Our opinions are our own.
Where to Stay Near the Mall of America
Hotels
Home 2 Suites by Hilton- Mall of America located just a short 10 minute walk from MOA, this family friendly hotel offers a fitness center, pool, shuttle service and free continental breakfast. 
Towne Suites by Marriott Stay across the street from MOA. Amenities include a free hot breakfast, kitchenette in each room, pool, and fitness center. 
Radisson Blu Mall of America this family friendly hotel is next door to the Mall of America. Filled with amenities this is a great place to stay while visiting MOA. 
Vacation Rentals
Cottage on Crystal Lake Stay on beautiful Crystal Lake, this gorgeous 3 bedroom sleep 8. In close proximity to all the local attractions, including a golf course this is the perfect relaxing get away. 
The Beatles House This unique newly renovated house is decorated with Beatles memorablia. This cool house has 2 bedrooms and sleeps 6. 
Pin to Save for Later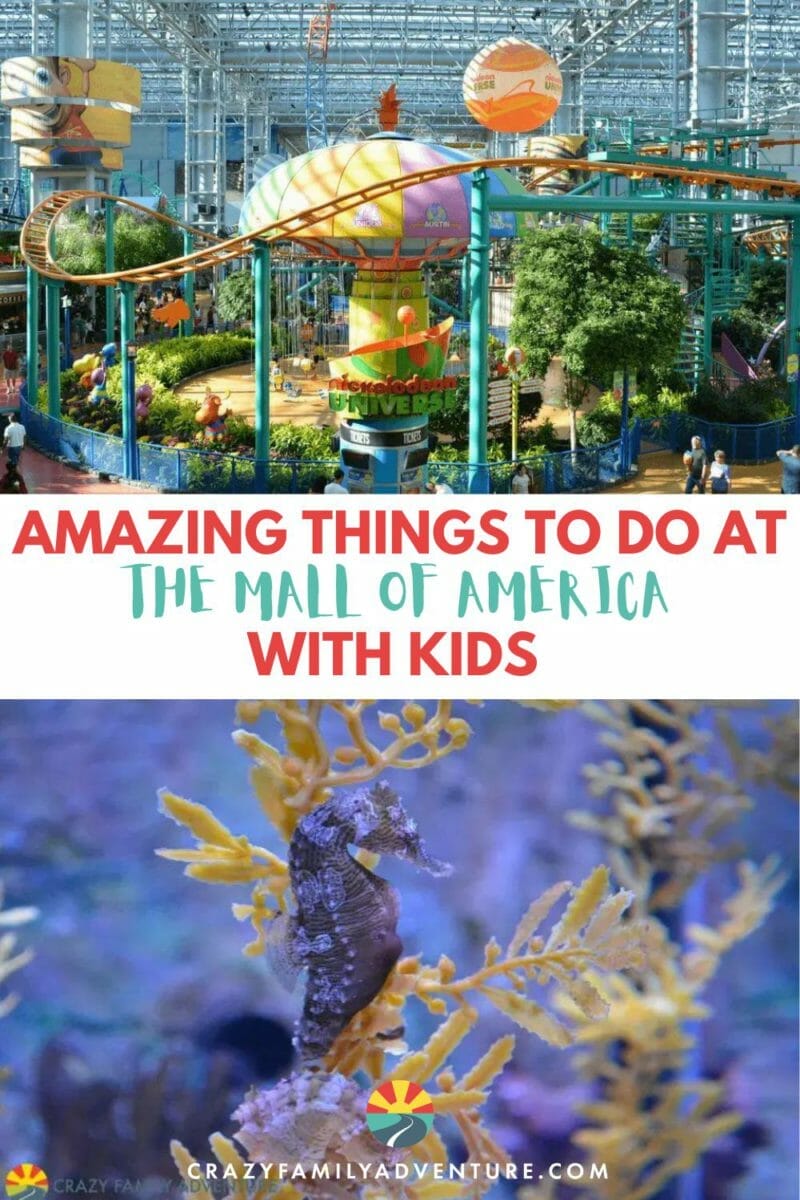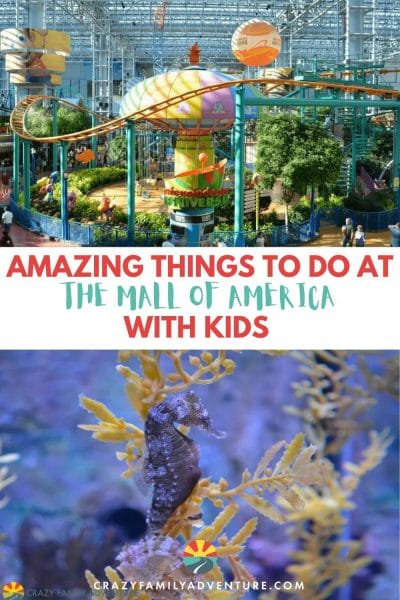 More Family Fun to Check Out
18 Amazing Things To Do In Milwaukee
25 Fun And Exciting Things To Do In Chicago With Kids
13 Places to go Camping in Wisconsin
27 Wonderful Things to do in Kenosha
16 Terrific Things to do in the Wisconsin Dells with Kids
DISCLOSURE: This post may contain affiliate links, meaning I get a commission if you decide to make a purchase through my links, at no cost to you. Please read my disclosure for more info.