When you are in Wisconsin in the summer or winter you can't not go to the Water Park Capital of the World! There are literally countless things to do in Wisconsin Dells with kids! Everything from the most thrilling waterslides to an upside-down White House. Yeah, they got that too.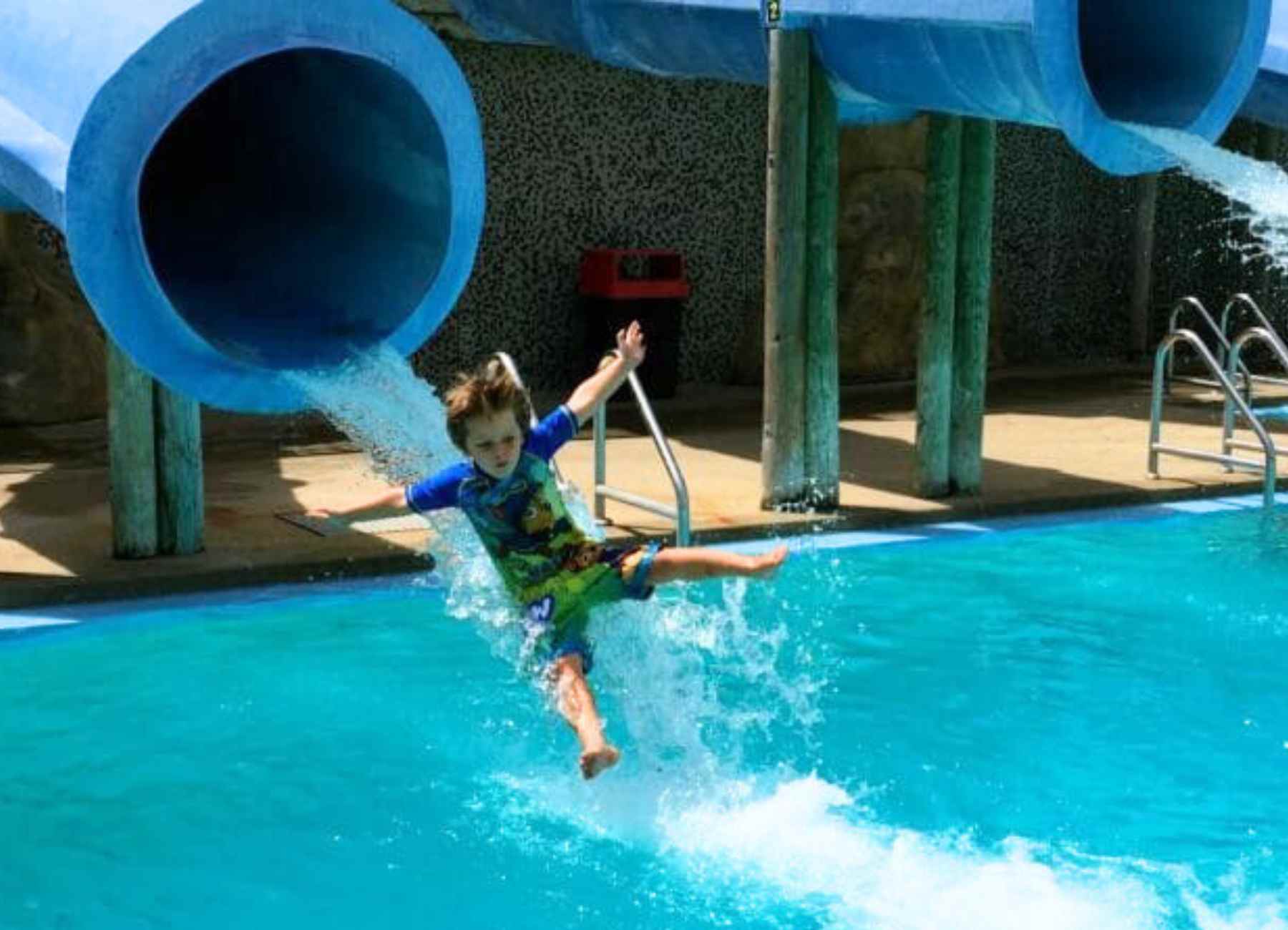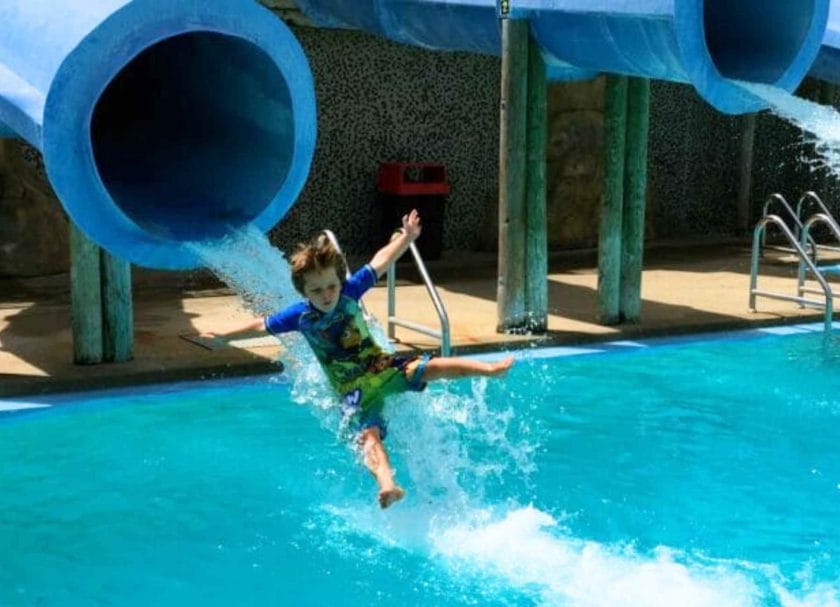 Having grown up in Wisconsin we have visited multiple times since I was a kid and one of the cool things about it is so many of the things haven't changed. It has a very nostalgic feel to it.
That being said, the waterparks (indoor and outdoor) are top notch, and have been updated over the years and a few new ones are on the scene now too. You and your kids will love all the awesome water slides and rides along with the wave pools, lazy rivers, and of course, Go-Karts!
Being that Wisconsin Dells is in Wisconsin and the state is only warm for about 2 1/2 months out of the year (mid June – August) you will appreciate that there are a ton of amazing indoor waterparks too.
The nice thing about that is if you stay at a hotel in the summer with an indoor waterpark and you get a rainy day or are looking for a day or afternoon out of the sun you can hit up the indoor parks and have just as much fun as you would have at the outdoor parks.
Here are our top picks for things to do in Wisconsin Dells with kids – and not all of them involve getting wet! Wisconsin Dells is known for its indoor water parks and it's outdoor water parks. Below we have broken the post into sections: Indoor Water Parks, Outdoor Water Parks, Things To Do In Summer and Things To Do All Year
Indoor Water Parks and Resorts
There is a large selection of indoor water parks in Wisconsin Dells and an indoor water park makes for the perfect family getaway when the cold weather hits Wisconsin! Below are our recommendations on which ones to visit and why!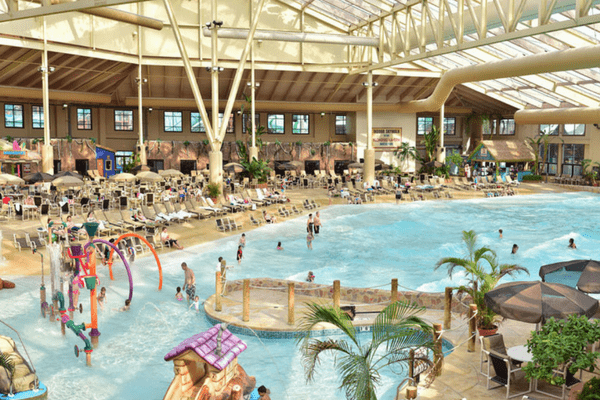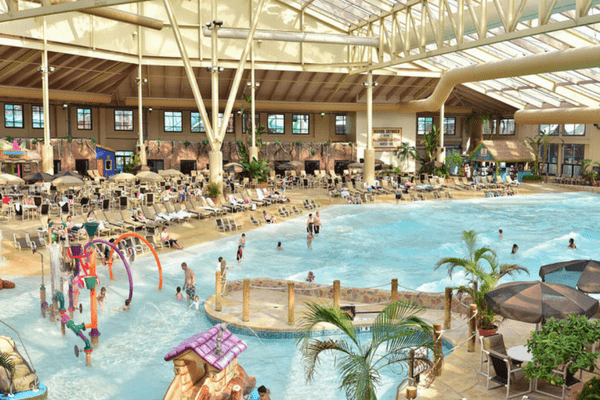 Once you enter the Wilderness Resort you never have to set foot outside again yet you will have days of activities to do with your family! I am sure the kids will first want to start with the water parks and never fear there are 4 water parks on the Wilderness property.
Wild West Waterpark – a huge indoor water park area with over 70,000 sq feet of water park fun! It has a large water play structure, bumper boats, body slides and multiple other large water slides including the black hole . . . be prepared before taking that crazy ride. Also note that this area can be closed during the week so be sure to check your schedule.
Wild WaterDome – The 70,000 sq foot doom has the wave pool in it. This is always a favorite place for our kids. When our kids were younger I loved that they also have a small toddler area for the little kids to play in. Plus it is a doom so even if it is 10 degrees outside if the sun is shinning you can feel it through the dome!
There are cabanas to rent here the dueling mammoth slides and a swim up bar (adults only). We usually end up spending a few hours here enjoying the fun of the wave pool and the slides.
Klondike Kavern – The 65,000 sq foot cavern is connected to the Wild WaterDome by a small hallway. In here you will find another family favorite the 400 foot Lazy River. The Lazy River takes you through the kavern and is a great way to spend a few minutes floating along relaxing.
When the kids are ready to move on from there they will find another huge water play structure, multiple slides and slideboarding which combines gaming with waterslides.
Cubby's Cove – This is what we like to call our Wilderness secret – so shh don't tell anyone! You do have to leave the main resort and take a 10 minute drive to get here but we have always found it worth it. Inhere you will find a small water park area with a deeper pool and a large indoor outdoor hot tub. What we love about it is we are normally the only people here in the water park!
The fun doesn't stop there. Next you can head to all the indoor fun! They have a ropes course, lazer tag, lazer maze, Wild Abyss – a 3d ocean themed indoor mini golf course and multiple arcades.
Not to mention the candy shop and ice cream stand. Seriously your kids are going to LOVE it and it is pretty fun for Mom and Dad too!
We also enjoyed the multi level indoor go cart track and one of our favorite things the huge Timberland play park climbing structure that always keeps the kids busy for hours. Just remember to bring a pair of socks with.
There have been times we have forgotten but luckily they have a sock vending machine – however you will pay a lot for a cheap pair of socks. But I promise it is worth it if it means the kids get to run around, climb and slide throughout the big play structure.
There are a large variety of different restaurants on the property from sit down to cafeteria order style. But prices are high and healthy options aren't always easy to find. Learn more about the restaurants here: Wilderness Dining Options.
The rooms at the Wilderness are nice and pretty typical. They also offer condos, villas and cabins if you have a larger group or want more space. Take note the property is HUGE and no you don't have to leave BUT you will be walking a lot to get from your room to the different water parks and indoor activities.
If you have small kids or a lot of things to bring with you you may want to bring a wagon or a stroller. And always remember dry clothes. It is never fun to walk a long distance with wet suits on!
We have been back to the Wilderness multiple times and have had a great time every time we visited!
Address: 511 E Adams St, Wisconsin Dells, WI 53965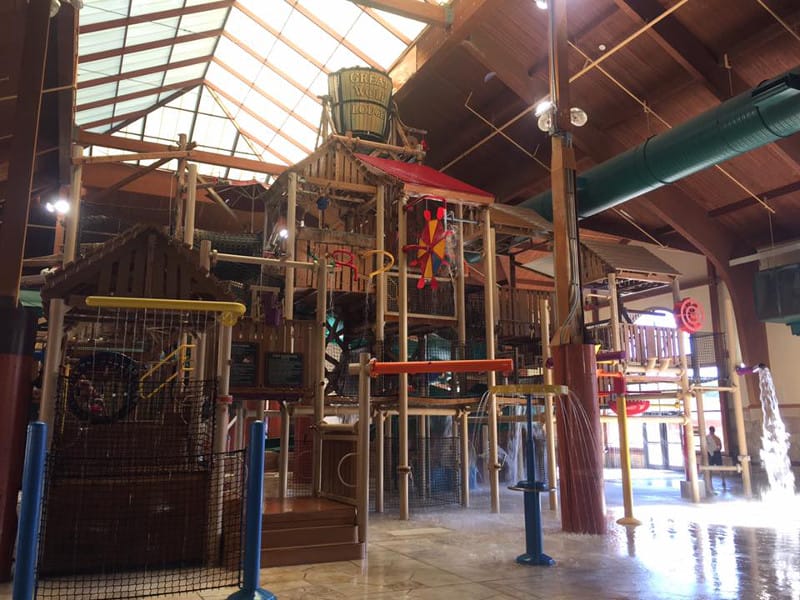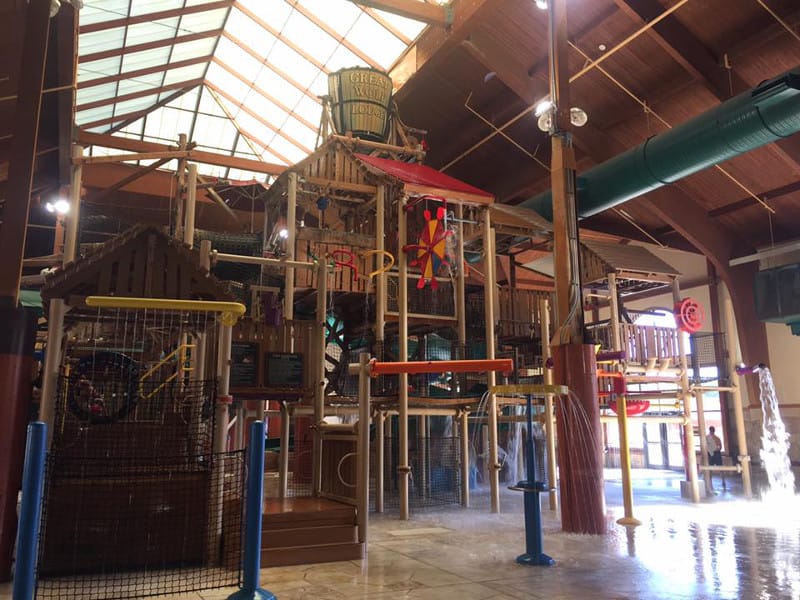 We were super excited to check out Great Wolf Lodge on our last trip to the Dells. They definitely know how to cater to families! Right when you check in all of the kids get a set of wolf ears to wear. Then a list of all the upcoming activities for that day and there was a lot and that doesn't even include just playing in the waterpark.
Indoor Water Park
The water parks at the Great Wolf Lodge are all setup right next to each other. That was very convenient for exploring all of the different water parks while we were there. One section has the wave pool with a kiddie play area and a couple of slides.
The next area has a big water play structure and the Hurricane slide. This slide is no joke and is only for older and taller kids for good reason. I went on once and that was enough for me. My husband took the kids a few more times.
The 3rd section has a few smaller body slides and a small lazy river which you can enter from a short tube slide. The kids spent a decent amount of time here and also on the rope crossing over water area.
Dining
You can chose to eat in the water park or plan to meet at the one of the restaurants on property. Our favorite thing we got was The Tipping Bucket. It was a large sundae with cookies and brownies and whipped cream and sprinkles.
It was huge and a perfect way to end our day at the water park. Be sure to check the time as the place we got this closed at 6pm.
Activities
GWL is known for their activities for good reason. They have a night time story time with interactive characters that come to life outside of the clock tower to tell a story. Along with scavenger hunts and other fun crafts and activities for the kids. Plus they do some great seasonal things too!
Rooms
Our room was a nice sized room with a electric fireplace (that put off a good amount of heat) and enough room for 6 of us to sleep comfortably.
The Great Wolf Lodge water park was perfect for our 5 year old – he liked the smaller more open slides. Our 7 year olds and 10 year old enjoyed it too but wished there were a few more larger slides.
Address: 1400 Great Wolf Dr, Baraboo, WI 53913
Chula Vista has a smaller sized indoor water park, which can be really nice when you want it to be easier to keep an eye on everyone.
Indoor Water Park
There is a large indoor water play structure with a couple of nice sized body slides. Then they have a lazy river that goes around the whole park. A toddler play area with slides and a deeper pool with basketballs and a rope and lily pad things for crossing over the water.
They have a handful of big slides as well and the kids enjoyed going on these over and over again!
The Rooms
We had a condo type of room with a full kitchen, huge jaccuzi tub, 2 bathrooms, 2 fireplaces, a living room, and 2 rooms – 1 with 2 queen beds and 1 with a kingsize bed. There was plenty of room for the 6 of us and if we would have known about the full kitchen we would have brought dinner to make. There was enough room, we joked that we could live there!
The hotel was very clean, the waterpark was nice, and we really liked our room!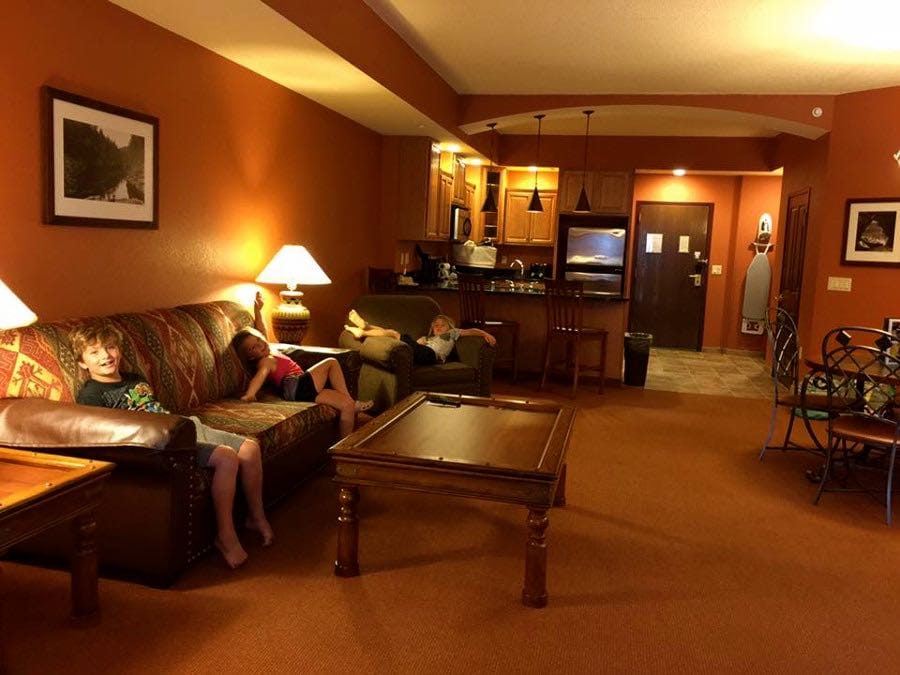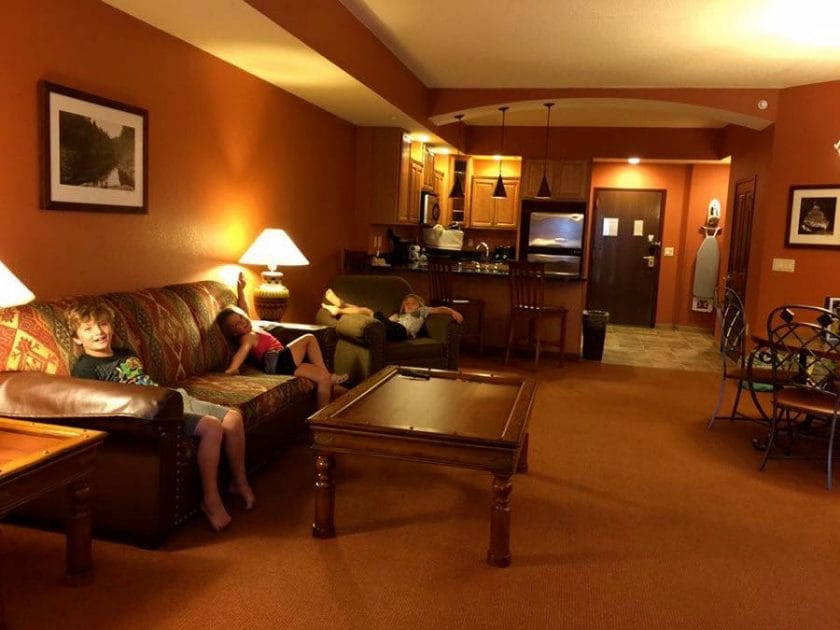 Address: 1000 Chula Vista Pkwy, Wisconsin Dells, WI 53965
A couple other popular ones are the Kalahari resorts and Christmas Mountain (skiing, snow tube hill and golfing here).
Things To Do In Wisconsin Dells Inside
Wisconsin gets cold in the winter! Here are some ideas for indoor things to do when you are done with the water parks. And here is a great list of Wisconsin Dells VRBO's to check out for your stay!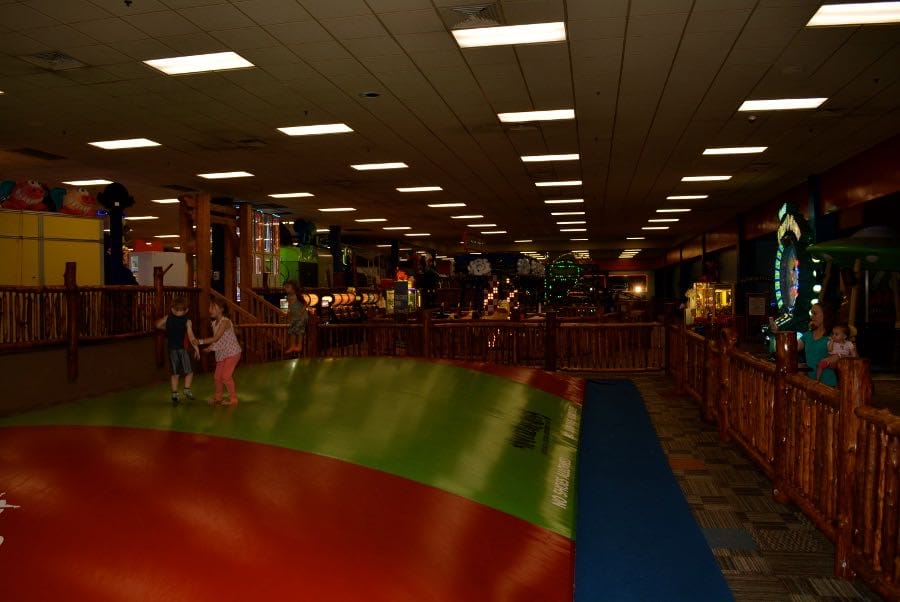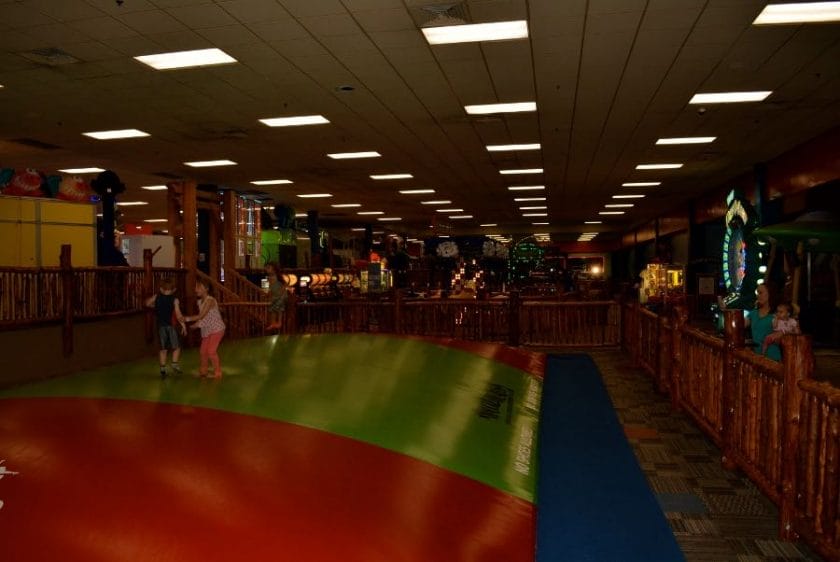 Be prepared to spend a few hours here, at least. Especially if you get the unlimited wrist bands. This is another great indoor attraction that helps to get you out of the sun. Or gives you something to do if it is a rainy day.
With an unlimited wrist band you are able to ride all the rides as many times as you want. Do the ropes course, and ride on the go carts as much as you want. Our kids LOVED it!
Again they were 8, 6, 6, and 4 but we saw teenage age kids that were enjoying the go carts and ropes course as well. The rides are definitely geared towards younger kids but there are a few the older crowd would enjoy.
If you are going to be there a while we also recommend doing the trampoline park. You get an hour of unlimited jumping and it is so much fun. You can jump and flip into large mats, play dodgeball, dunk a basketball, or just jump around (jump up, jump up, and get down!).
Be aware, if you have never been to a jump zone you will have to purchase jumping socks for everyone. They have grip on the bottom so they are different the regular socks. If you happen to have some from a previous trampoline park visit, bring 'em along!
We love Knuckleheads and try to make a stop here every time we come.
We were always curious about the big upside down White House. But I have to say we were a little disappointed. There really wasn't much to it. You walk through the building and everything is upside down/hanging down from the ceiling.
The floor is uneven but that's about it . . . This is one we would recommend skipping.
HH Bennett Studio
A historic photographic studio and museum. The studio was built in 1875!
Escape Rooms
There are a variety of Escape Rooms in Wisconsin Dells. This is a great indoor activity to do with the family. If you have time try more than one escape room to see which one you like best!
Outdoor Water Parks
Noah's Ark and Mt Olympus are both great outdoor waterparks. Instead of picking which one to go to we recommend going to both!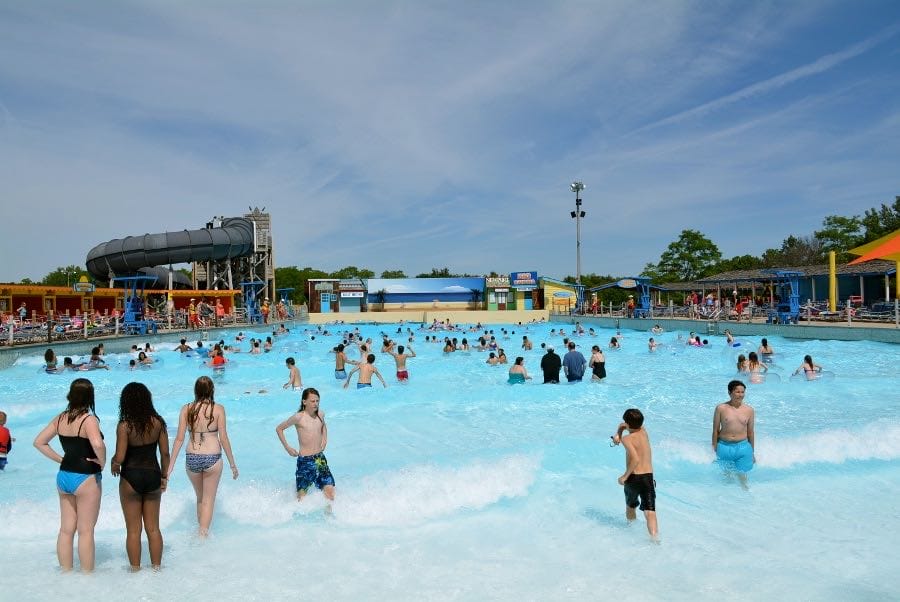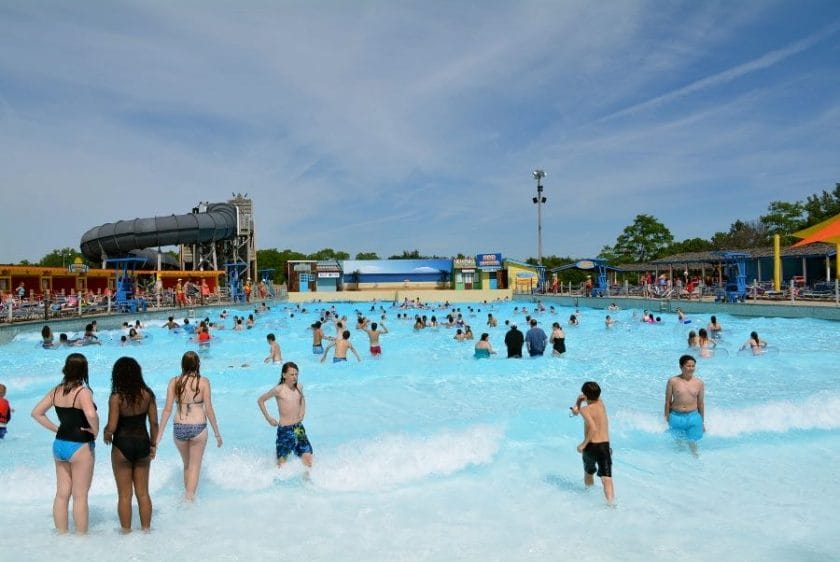 If you are only going to do one of the waterparks in Wisconsin Dells, then do Noah's Ark. Noah's Ark is one of the original waterparks and has wave pools and water slides for all ages. We felt the kids (8, 6, 6, and 4 years old) were able to do a lot of rides and activities so it was great for their age range.
If you have older kids – they won't be disappointed! Craig did the Scorpion's Tail, which was CRAZY!! He got in an enclosed chamber at the top of the slide, then the operator hit the button on the control deck and a voice came inside the chamber counting down 3..2..1.. then the floor literally drops out and you plummet straight down before going into an almost vertical loop. Talk about a rush…and a wedgie!
There are a few other slides that we didn't do since the kids did need to be bigger. So young or old you will enjoy Noah's Ark!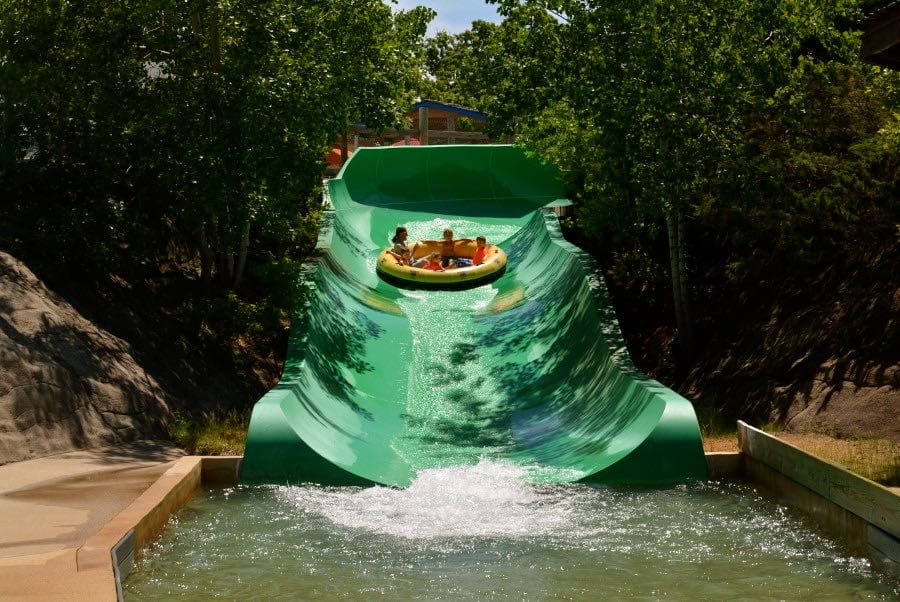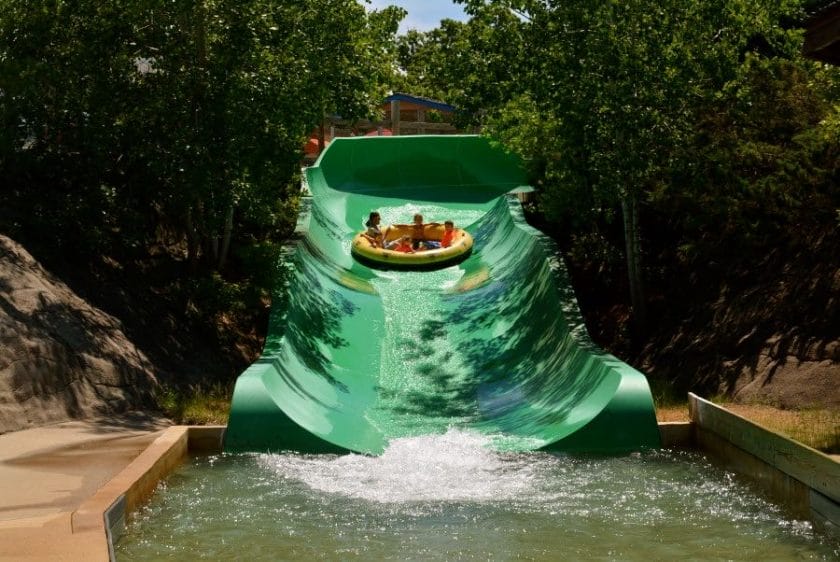 Get the kids an over-priced Dip and Dots, grab a beer or margarita and sit back and people watch while you relax in the middle of the day. Or head to one of the kiddie pools and let the kids run around while you sit in a lounge chair keeping an eye on them.
A trip to a waterpark is by no means relaxing when you have young kids. So make the most of the opportunities to sit back and take a minute to relax.
You cannot bring a cooler or food in. But if you don't want to buy lunch (which is what we recommend) then pack a cooler and put it in your car. You can get your hand stamped so you can go out have lunch and then come back in. The parking lot is not far from the wave pool area so this is totally doable.
This was our first time visiting this behemoth of a resort and they had some pretty cool attractions for kids. Instead of a lazy river they have The River Troy that was a fast paced moving river that the kids loved swimming around in.
They also have Poseidon's Rage, which is a tidal wave pool where every 2 minutes one gigantic tidal wave would come rushing across the pool. It was pretty cool and a neat spin on the basic wave pool.
There were a few good waterslides here, plus there is an indoor waterpark that you could go too. We felt there were less rides for the younger kids to do.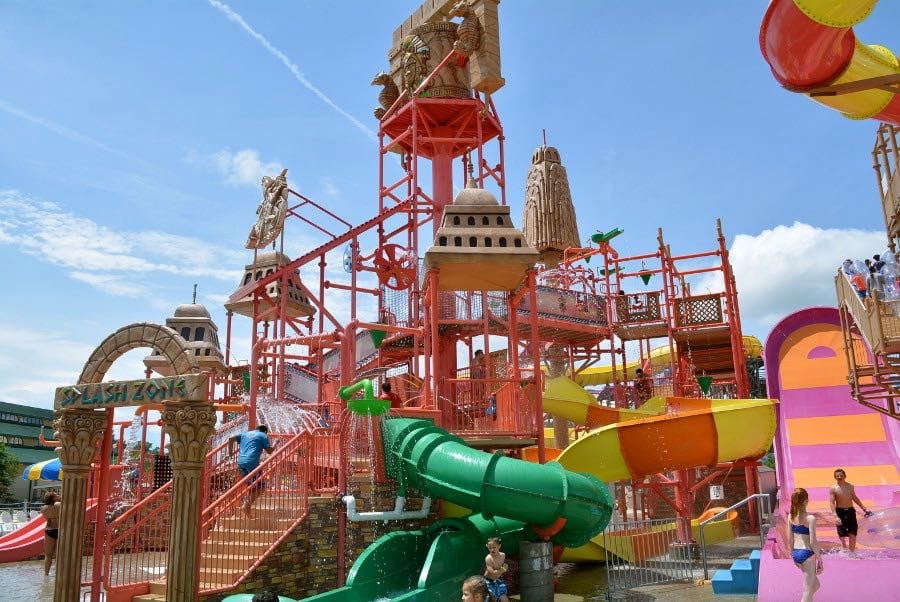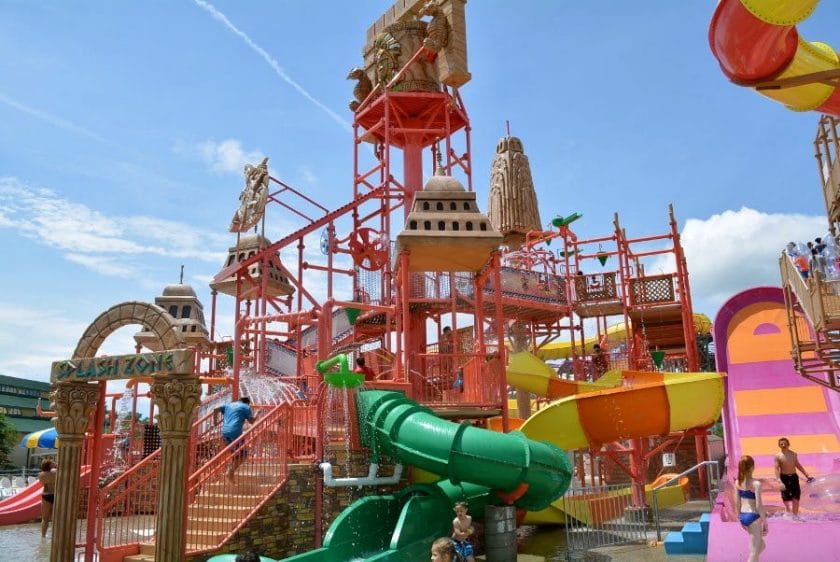 If you pay extra you can also get tickets to an amusement park – which is attached to the water park. The theme park has several roller coasters, go-karts, spinning rides, and even a petting zoo.
We did not do that. For us, the hassle of changing the kids into dry clothes so we could do a few rides wasn't worth it. Plus they had so much fun at the waterpark they weren't even interested in it.
Note that if you are just going to do the waterpark and you are not staying at the hotel you have a long walk through the amusement park (where they have roller coasters) to get to the waterpark. Packing a lunch for here would be hard. That being the case, eat before you come and pick up a few snacks while you are there. Another heads up is that they charge $20 for parking, so factor that into your expenses.
Things To Do In Wisconsin Dells In The Summer
There are a lot of fun non-waterpark things to do in Wisconsin Dells too! Some are seasonal or better done in summer. Below you will find our list of the top things not to miss when you visit in season (when it is warm enough to be outside).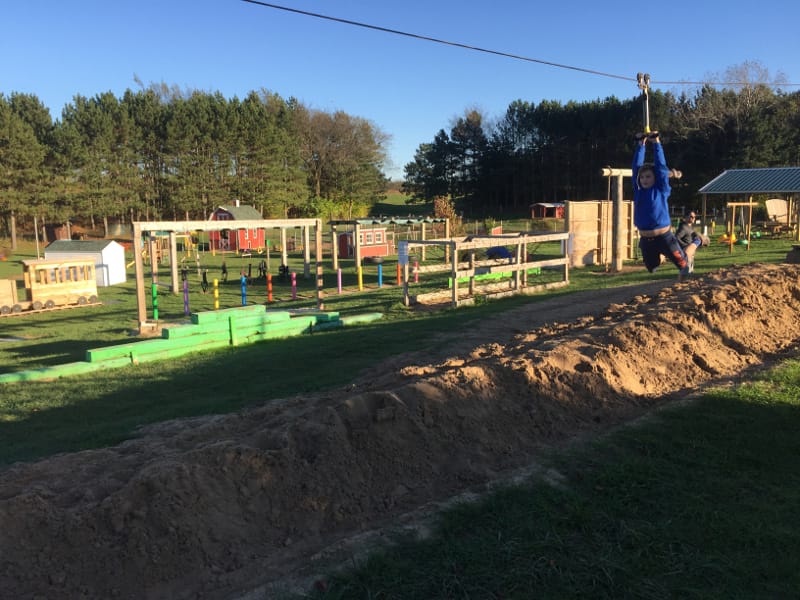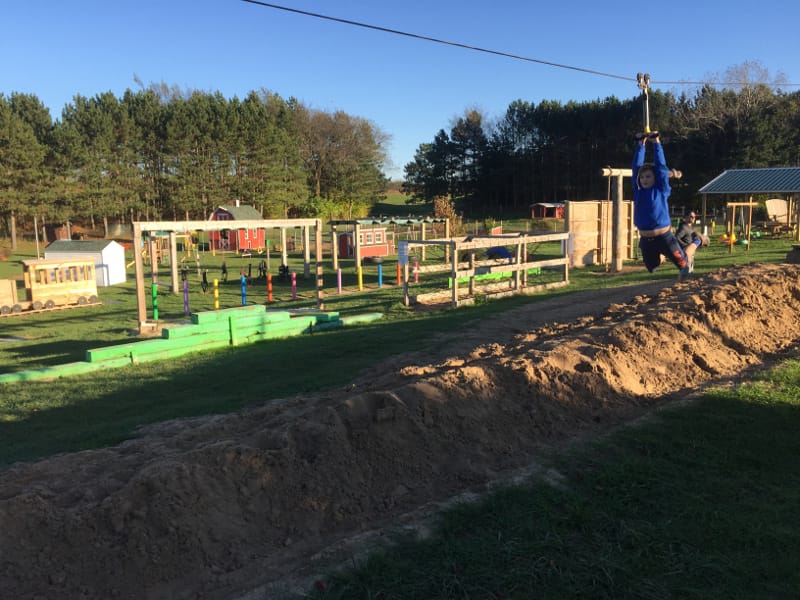 This is the first time we have ever heard of this place and we are so glad we found out about it! It was the perfect place to take our kids to to let them run around and play without us having to worry about water. We were there in the fall so they had a corn maze with clues which was perfect for the family.
They also offer a train ride which takes the kids on a tractor pulled train ride throughout the property. Mom and Dad can do it too if they want. There are a few animals where you can purchase food and feed them through the fence.
What our kids liked the best was running around and playing in the kid size play houses – they had a house, a church, a school and my kids favorite the jail. They could actually lock each other in the jail cell, they had a blast with that one!
We also did the obstacle course which included a zip line and running through tires and rock climbing. On our way out we stopped and picked up a couple of delicious pies to go. We will definitely be adding Country Bumpkin to our list of places to visit when we come to the Dells.
If you are looking for some outdoor fun then head on over to the Pirate Cove Mini Golf Course. They have multiple courses to choose from with the option to go easy, moderate or difficult. We had a great time playing the course and the kids actually made it through the whole round (that doesn't normally happen)!
A total Wisconsin Dells staple. You can't come and not do the Original Wisconsin Ducks! The Ducks are old amphibious WWII boats that can go in water and on land. The one we road in literally could have been the same one I road in as a kid almost 30 years ago…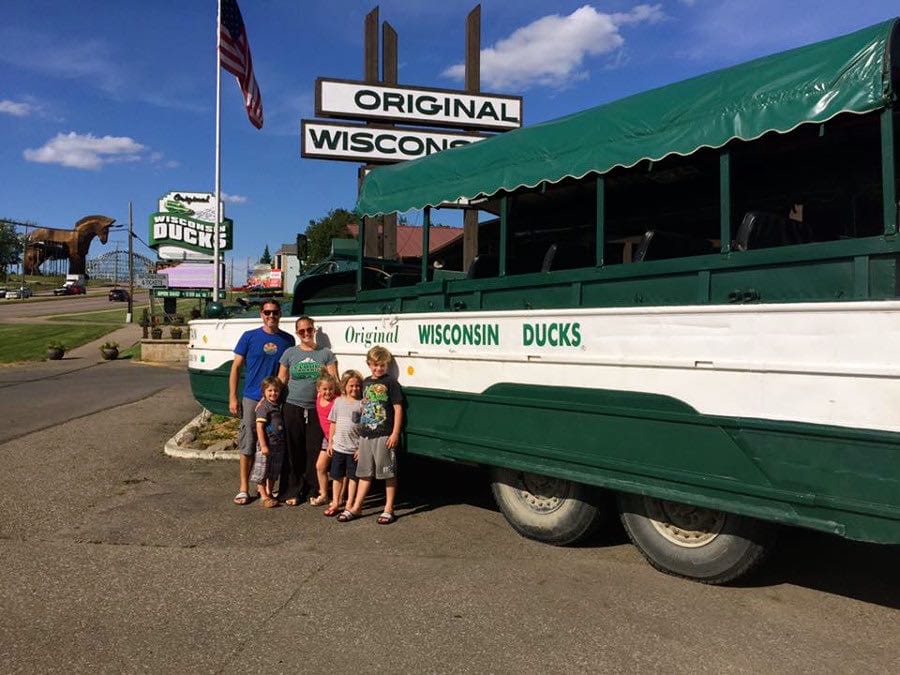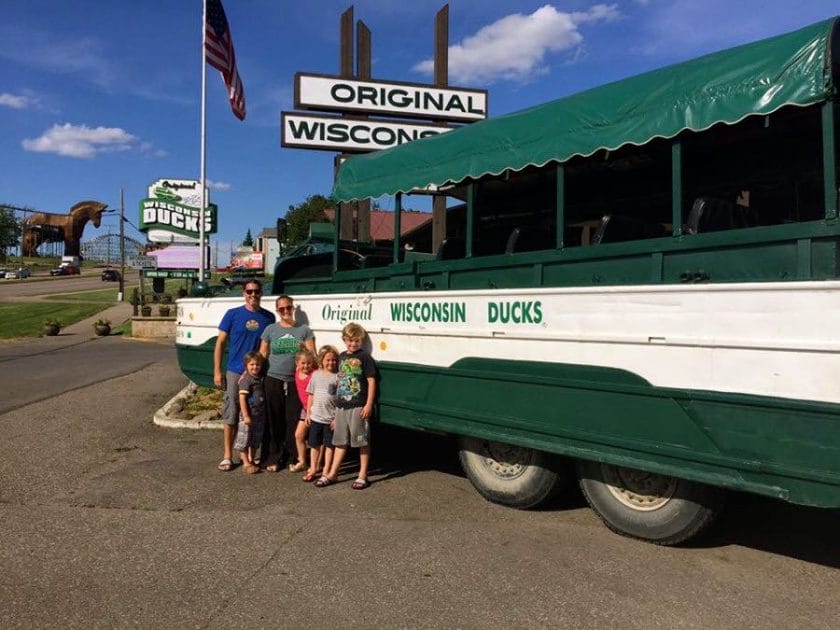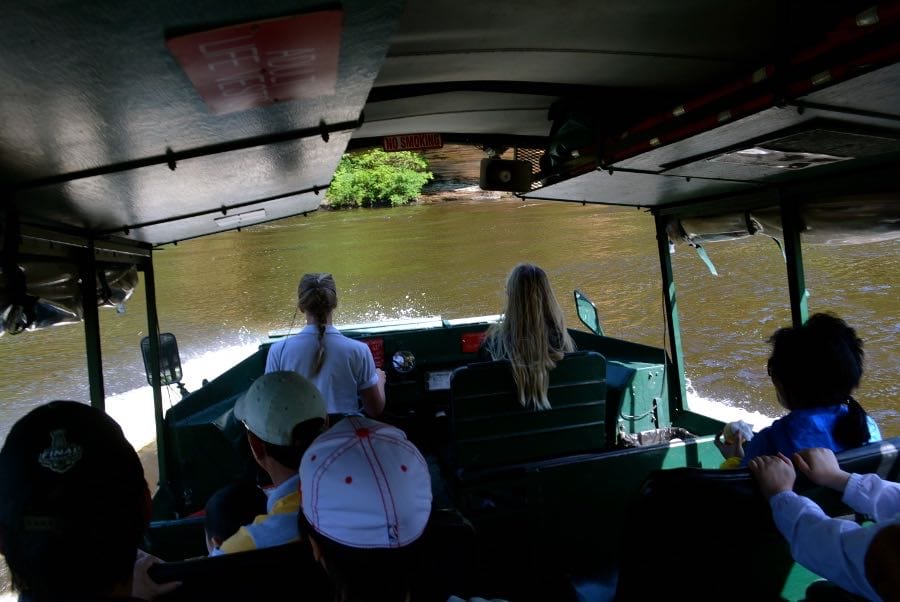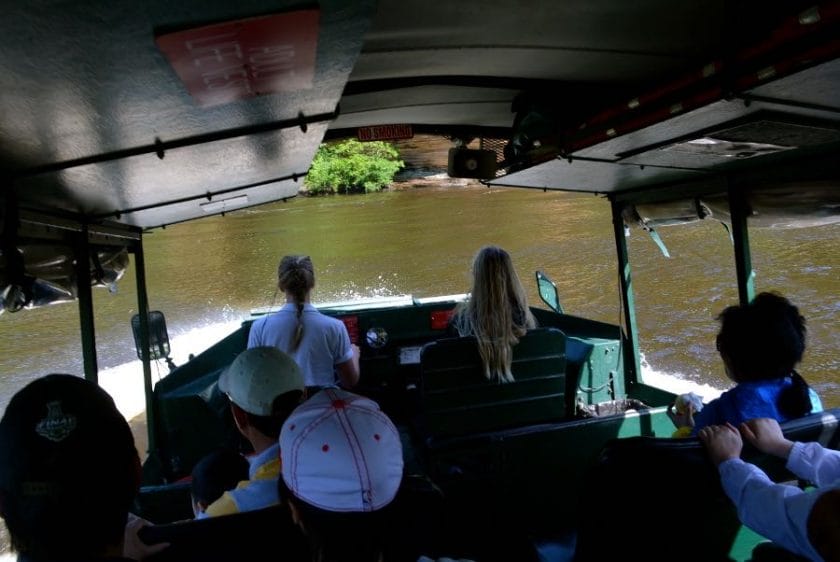 The trip is a little over an hour long and they take you through a forest and out into the Wisconsin River, then back onto land, and over into Lake Delton. The ride is fun, the scenery is beautiful (it is so cool to see the rock formations), and the drivers are pretty funny too!
Big Chief Go-Karts
Another great Wisconsin attraction for kids is go-karts!! We had a great time zipping around the race course! At only $3 a ride it is super reasonable and is a great way to spend a few hours after being at the waterparks.
Just go! You will be glad you did! This is one of the best Wisconsin Dells restaurants for kids and adults. But get there early if you can.
They have an all-you-can-eat breakfast with fresh made donuts, pancakes, eggs, sausage, hash browns, and more.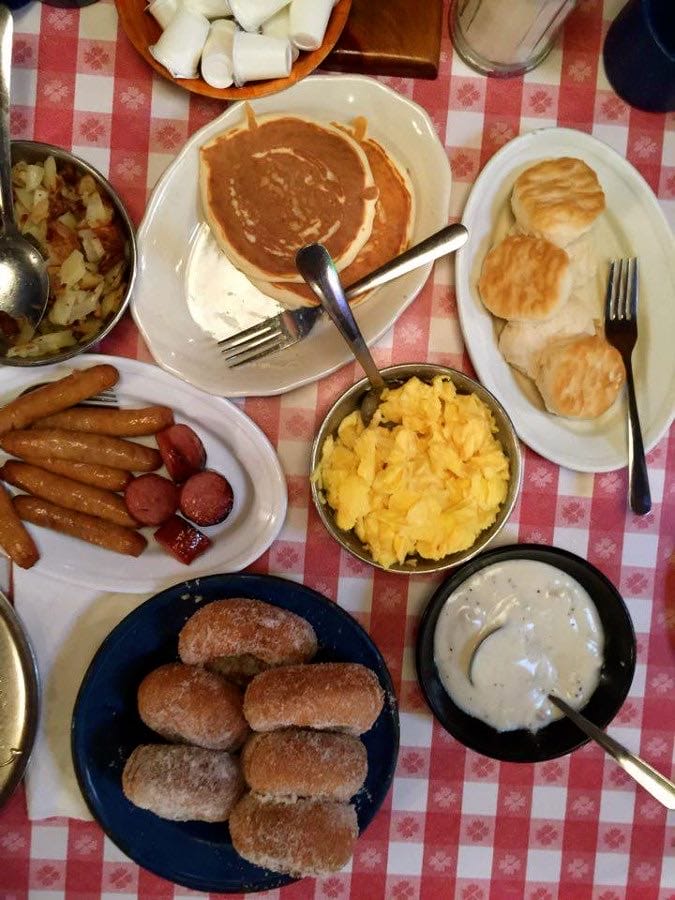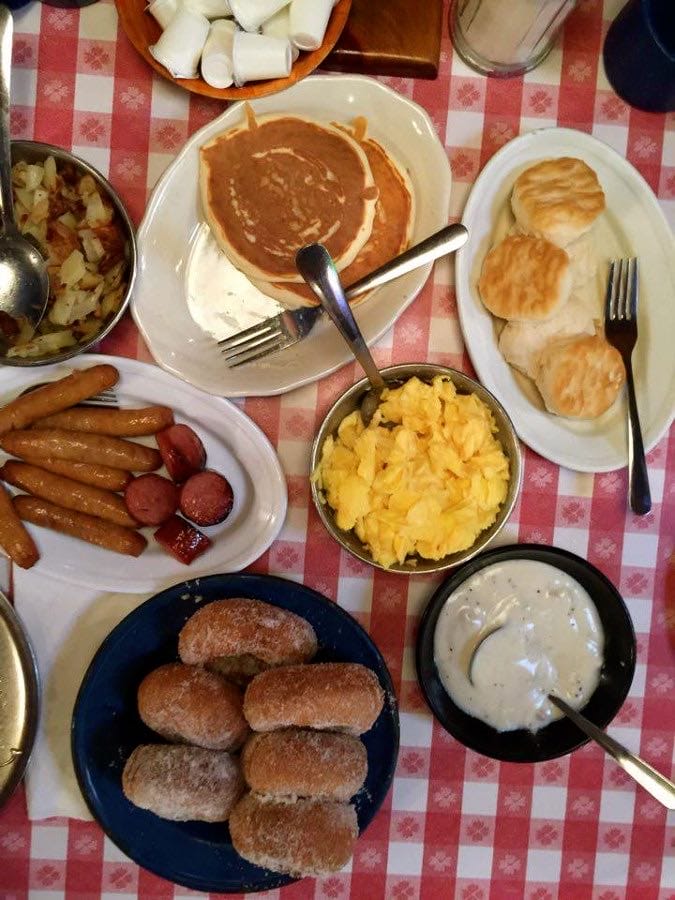 It is great with kids because they actually charge you based on how old your kids are. I believe it was $.89 times their age. So for Knox, who was 4 it was under $4. We thought that was a great way to figure out what to charge for kids.
The food was served family-style right to your table so not to much waiting and it was all you can eat. We filled up and told the kids this was basically breakfast and lunch :).
River Walk and Downtown Wisconsin Dells
If you are looking for something free to do, then head downtown. Walk the strip and do some window shopping. Then head over to the Riverwalk for a nice trail that goes along the Wisconsin River. Plus you can see the Duck boats go by!
If you happen to be here during Halloween be sure to check out the Ghost Outpost for a family friendly (kind of) haunted house. Our kids got a little freaked out. So if your kids don't like scary things you might want to wait until they are 10 or older.
If you are looking for live entertainment be sure to check out the Wisconsin Dells Event Calendar. There is always something going on!
If you are looking for more things to do check out Timbavati Wildlife Park. Or head on a Dells Boats tour to check out amazing places like Witches Gulch!
Campgrounds in Wisconsin Dells
Wisconsin Dells KOA
If you are coming with your RV or are looking for a cabin the Wisconsin Dells KOA is the place to be. The park was beautiful and really well maintained. Our site was a decent size and if you want you can pay for an upgraded site with a cement patio and grill.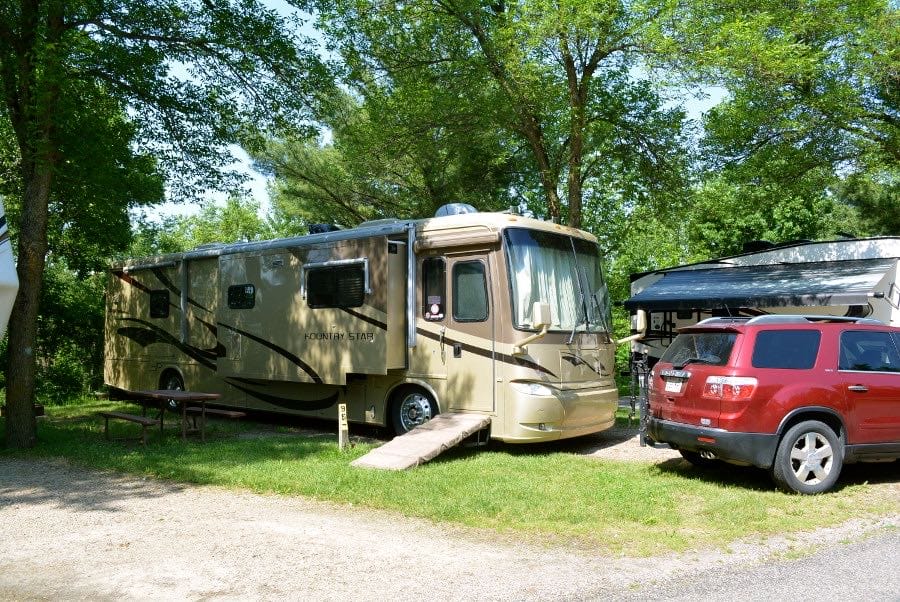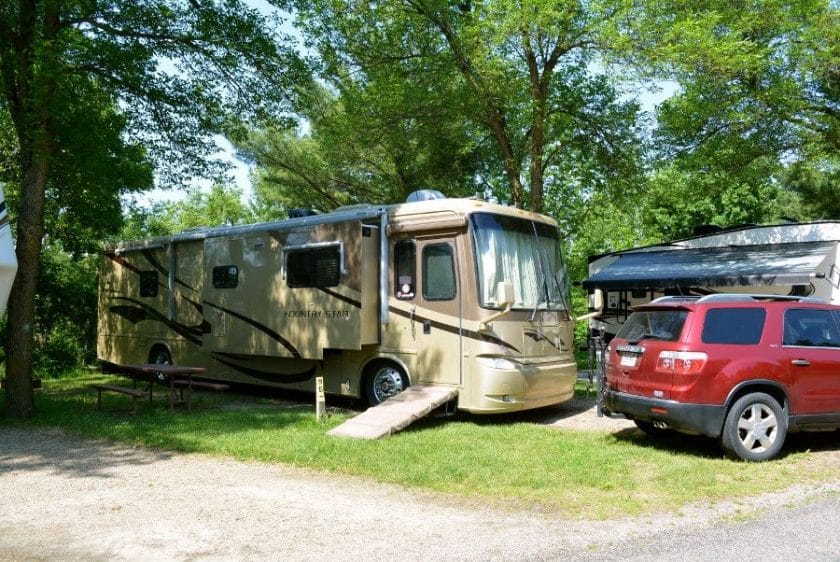 The pool was heated and right next to it was a splash pad area for the kids. When you are in Wisconsin Dells there are so many attractions to do, but it was nice to be at a place where we could hang out for a few hours and just relax.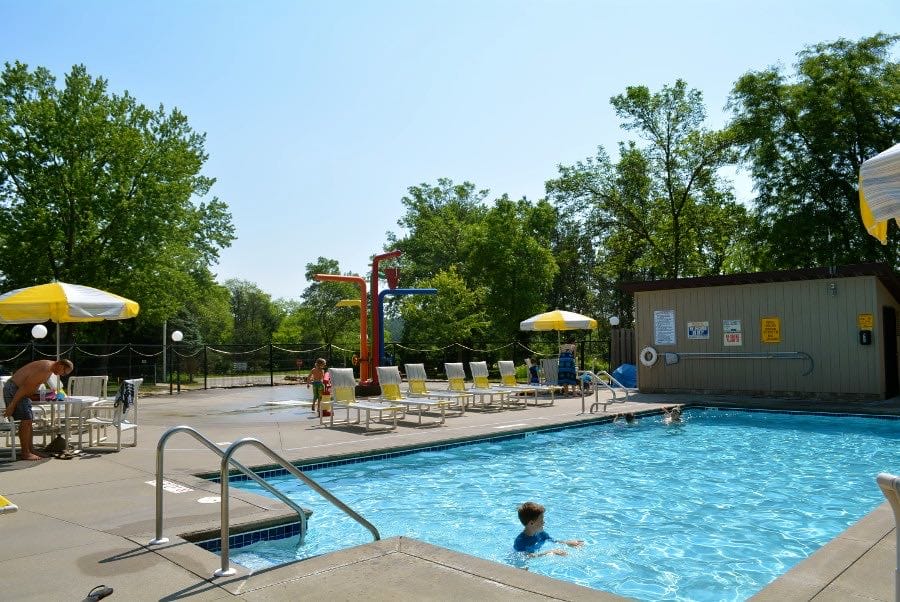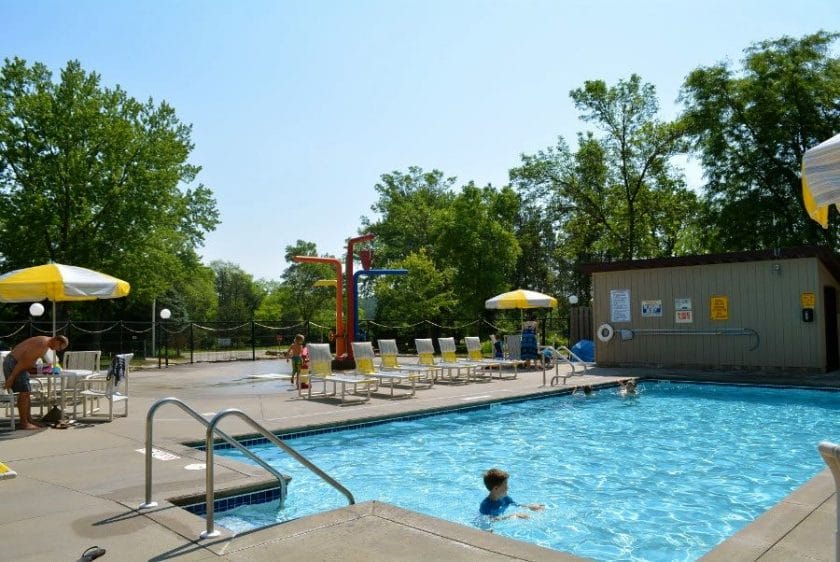 They also had a playground and a few other activities you could do with your kids. So really you could spend a whole day at the campground!
Wanna Bee Campground & RV Resort
If you want to camp in a wooded area, you can't beat Wanna Bee Campground & RV Resort. Only two miles from downtown Wisconsin Dells, this campground also offers cabin rentals for friends or family who may want to visit.
Yogi Bear's Jellystone Park
If you aren't familiar with the Jellystone Parks around the country and you have kids, you need to be! With so much to do, it may be hard to pull them away to explore other areas of Wisconsin Dells. But if you're looking for entertainment and willing to pay more for the total experience, Jellystone Park in Wisconsin Dells may be your answer.
Fox Hill RV Park & Campground
A few miles outside of Wisconsin Dells is Fox Hill RV Park & Campground in Baraboo. Here you can escape the atmosphere of downtown and enjoy 60 acres of nature. This campground also offers 20/30/50 amp sites as well as tent sites and cabins.
We were definitely exhausted after all of these things to do in Wisconsin Dells with kids, but we knew going in that this was going to be a busy and fun vacation. So it was all good! We all had a blast and would love to come back again next summer. Wisconsin Dells really is a great place for a family vacation!
Wisconsin Dells is by far the best place to visit water parks in the United States!
More Info Check Out:
The 4 Best Indoor Water Parks in Wisconsin
19 Epic Indoor Water Parks You Will Want To Visit This Year
Top 15 Best Places For Apple Picking Wisconsin
Pin this Post: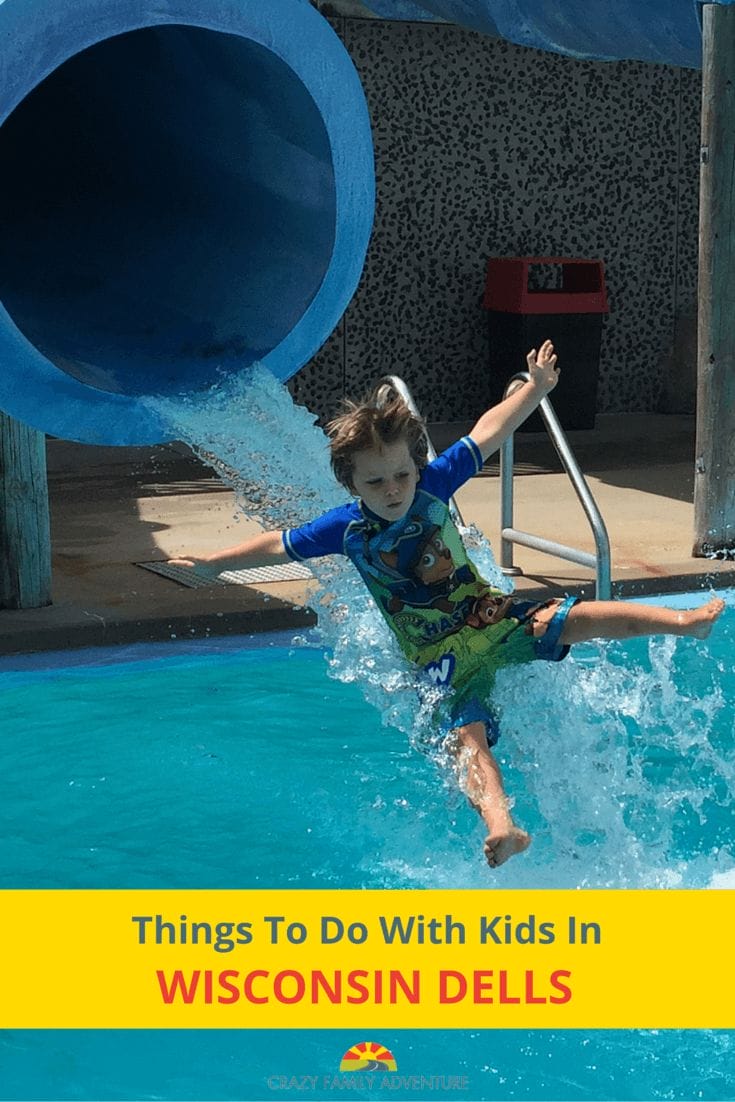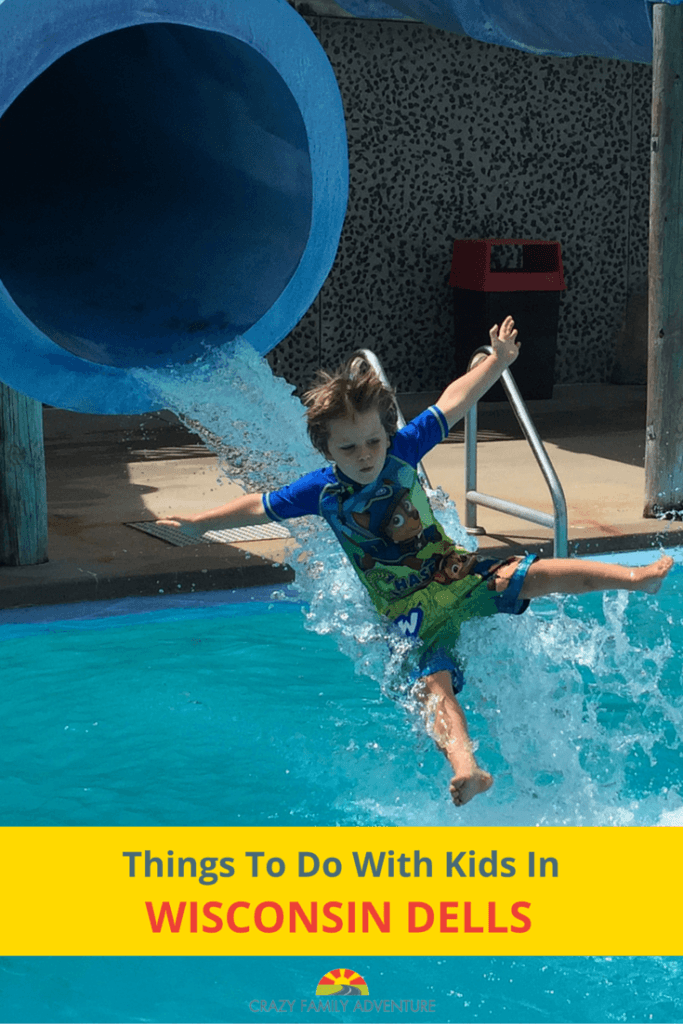 Disclosure: A big thank you to the Wisconsin Dells Visitor & Convention Bureau, Chula Vista, and the KOA for hosting us during our visit. All opinions here are my own. #truth
DISCLOSURE: This post may contain affiliate links, meaning I get a commission if you decide to make a purchase through my links, at no cost to you. Please read my disclosure for more info.