The best indoor water parks in Wisconsin come with dump buckets, lazy rivers, water slides and indoor activities to keep you busy when you don't want to be in the water.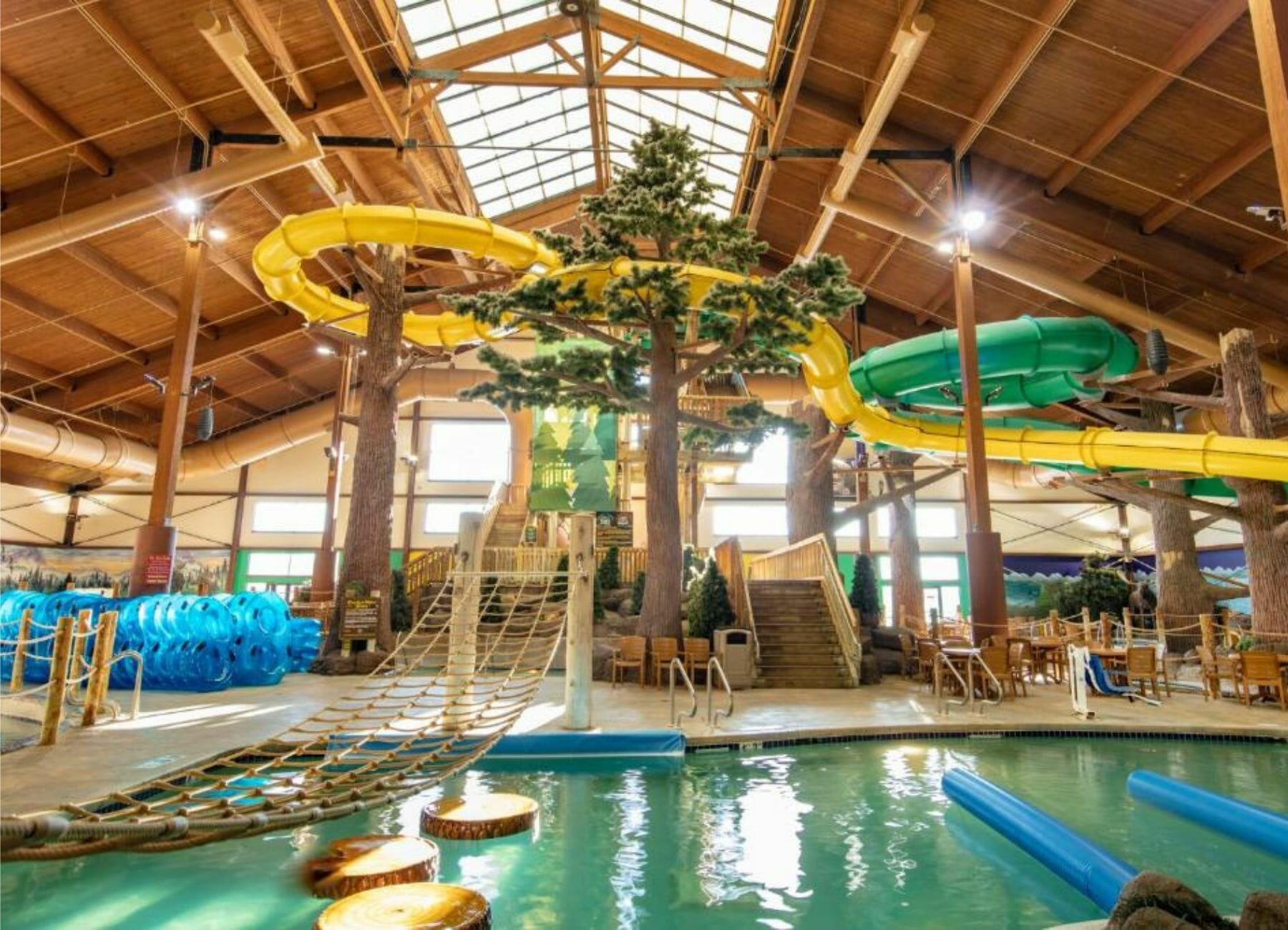 Visiting an indoor water park allows for an escape from the cold in the winter, family friendly activities and awesome water adventures!!
If you are planning a trip to these awesome water parks consider spending some time in Kenosha, Wisconsin and Milwaukee, Wisconsin too!
Great Wolf Lodge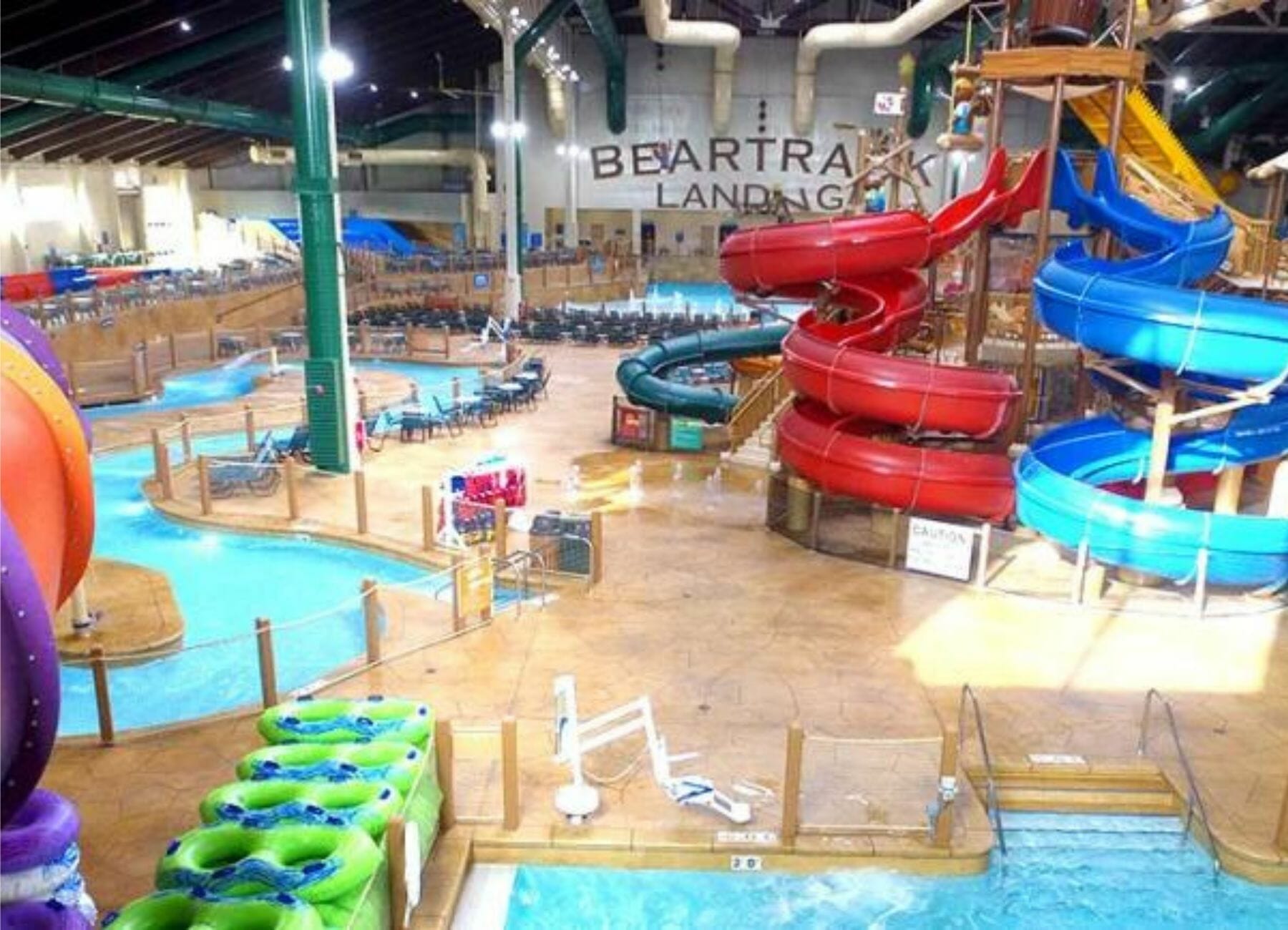 Admittedly, when I think of Wisconsin Dells, I lean toward a unique and hard-to-reach roller coaster called Hades 360. It's hidden neatly in an Amusement park called Mount Olympus in Wisconsin Dells, WI.
This wooden/steel coaster hybrid actually sends riders full speed underneath the parking lot! It's worth the idea of heading to Wisconsin Dells all by itself.
But something even coaster enthusiasts like myself also know about Wisconsin Dells is that it's pretty much the birthplace of the indoor water park trend in the United States. Also labeled the "Water Park Capital Of The World," The Dells boasts over 200 water slides and 16 million gallons of water in 20 separate water parks right here in one city!
Europe was ahead of us in the states on this one, but it all boils down to Wisconsin Dells when talking about indoor water parks.
For our first deep dive today, we're going to tube slide right into the original Great Wolf Lodge! The biggest name in Indoor water parks had to start somewhere, and it happens to be right in Wisconsin Dells, WI!
Great Wolf Lodge Features
When heading to any Great Wolf Lodge location, you can expect a certain quality baseline. The truth is, I've been to a few, and while one lodge might have an attraction that the other one does not, they will all give you a very similar bang for the buck.
They do what they do, and they do it exceptionally well. It's always clean, well staffed with happy people, and an absolute blast.
The Wisconsin Dells location is their first, and you can sense their pride in this one from the moment you arrive. There's just a little something extra. Let's talk about what that is.
Dumping Bucket: Yes
Fort Mackenzie is the first of their famous indoor splash and play structures and is here waiting for you. It is a four-story interactive structure with that famous dump bucket proudly taking center stage. The structure also has smaller dump buckets, water slides, fountains, and so much more. It's a great time for kids of all ages and will likely consume much of the time spent in the water park!
Water Coasters: No
We don't have a water coaster at this water park, but we do have a slide that isn't seen at every Great Wolf Lodge. The Mountain Edge Raceway is a mat racer slide that pits the whole family against each other in a race to the bottom!
Mat racers are all the rage these days and while it's not a water coaster, it's a fantastic addition to this location!
Wave Pool: Yes
The Wisconsin Dells lodge has a nice-sized wave pool they call Slap Tail Pond. Zero depth entry all the way to five-foot deep water makes this fun for everyone. Even the little toddlers can splash and play near the entrance and experience the waves' thrill!
Tube Rides: Yes!
We have a few options for tube slides at the Great Wolf Lodge! Starting with the beautifully themed Lookout Mountain, you can make your way down a 200-ft slide through mountainous landscapes before landing directly in the lazy river!
Then we have the traditional Lodge staple, the Howlin' Tornado. Climb into the four-person clover-style raft and slide down six stories of awesomeness! Shooting out of the tube into the massive funnel toward the end will make everyone in your group want to head right back in line to do it again!
Swim-up Bar: No
There are options to purchase drinks, but there is not a swim-up bar here.
Lazy River: Yes
Crooked Creek is Great Wolf Lodge's version of this water park standard. A wonderful and relaxing float down the lazy river is a great way to break up the excitement of the other slides. And it's great for the whole family!
Children's Play Area: Yes
We can obviously consider Fort Mackenzie a children's play area. Still, the lodge also has a couple of additional options that might fit the specific age of the little tykes a bit better.
Cub Paw Pool and Whooping Hollow are designed with toddlers in mind. Areas where you won't have to worry about too many distractions from other age groups.
Perfectly sized water slides, fountains, and swimming pools offer nice spots focused specifically on the smallest "cubs" in the pack.
Dining Options at Great Wolf Lodge
Another comforting aspect of what Great Wolf Lodge offers could be the uniformity of its dining options. Sure, variety can be a major plus when traveling to new places, but there is also something great about knowing what you're going to get.
If it's good food, it's good food!
In some cases, I have seen the same restaurants from one lodge to the next, and a few old faves are offered in Wisconsin Dells as well.
Hungry As A Wolf is a lodge staple that offers a really nice selection of pizzas, salads, and Italian-style sandwiches.
There are also options to satisfy the sweet tooth with Bear Paw Sweets & Eats. This is another offer where you can be confident the quality from one location will cross over to another without much concern.
Cupcakes, ice cream, coffee, and even homemade fudge will delightfully handle any cravings you find yourself dealing with while at the lodge.
Where To Stay When Visiting Great Wolf Lodge
There's really only one place to stay when you're heading to Great Wolf Lodge. Of course, we could make plans to stay elsewhere and purchase a day pass for the water park, but where's the fun in that?
In my humble opinion, the most significant part of this fantastic water park chain is the complete immersion into the world they've created for you. Great Wolf Lodge is a world that includes unlimited entry into the water park during your entire stay. Even the day you check out!
From the moment you pull up to this hotel's front door, you know there is a high level of attention given to theming. They put a ton of thought into transporting you to another world. It is a world where fun and excitement are all mere steps from your suite.
Great Wolf Lodge has rooms from the standard two queen bed hotel rooms up to multi-floor premium suites with living room, fireplace, balconies, and extra bathrooms. They offer the perfect fit for whatever group you are towing along with you.
Our favorite is usually the family suite. A slightly larger standard room with a somewhat separate living area and a small kitchenette. The microwave, refrigerator, and wet bar can change the dynamic of an indoor water park vacation.
Additional Information
Towel Rental: Yes
Well, it's not a rental, but towels are offered. The only difference is that they're free. Complimentary towels are offered for all hotel and water park guests. It's important to remember that those complimentary towels are to remain inside the water park.
So if you're hoping to wrap a towel around yourself for the walk back to your room, they will stop you. They allow you to bring in your own towels if you'd like, so this is something to consider. You will have a towel in a pinch though!
Cabana Rental: Yes
They have cabanas for rent at both indoor and outdoor water parks. Although they vary in size, the cabanas do a great job of carving out a little slice of privacy amid a whole lot of screaming, yelling, and laughing.
All cabanas come with chairs, a sofa, an ottoman, a mini fridge, a flat-screen TV, and a safe to store your belongings. They even throw in a few bottles of water and a deck of playing cards, so taking a nice break can include a little fun too!
Lockers: Yes
They offer lockers in different sizes where you can keep all your belongings nice and dry.
Showers: Yes
There are showers available.
Day Passes Available: Yes
A relatively new turn for Great Wolf Lodge is offering day passes without staying at the hotel. For many years the only way to enjoy the water park was to stay at the hotel. Not anymore!
The prices range from $50.00 for a full-day pass to $40.00 for a 4 pm-close pass. It will not break the bank if you're just stopping by on your way through town.
The only thing I would say about the day pass is that while Great Wolf Lodge is a truly amazing place, I don't know if the water park alone would get me there these days. It's spacious and fun, but it's limited in what it offers.
If I'm heading to a water park for the day, I'm going to look at how many different slides they offer for the price I'm paying. With a total of five slides for the adventure seekers, this might be a little bit of a letdown if looking at it through that lens.
I view Great Wolf Lodge as an experience. A lot of which would not be accessed by purchasing a day pass alone.
If your group is made up primarily of small children, I might change my stance on this, as the Lodge has more than enough to keep them busy and smiling all day.
This place truly is an amazing indoor water park, but what really sets them apart from many other indoor parks is everything else that comes with it. The arcade and the nightly events held around the hotel for the kids are a fast track to creating positive memories that will last a lifetime.
Believe me, my children still beg to stop whenever they see a sign for the Great Wolf Lodge. Those memories stuck deep.
But it's the whole package that gets me.
Additional Hotels
Hampton Inn and Suites at Wisconsin Dells Lake Delton
Holiday Inn Express Wisconsin Dells
Wingate by Wyndham Wisconsin Dells
Vacation Rentals
Sunshine Retreat steps away from Broadway
Kalahari Resort And Convention Hall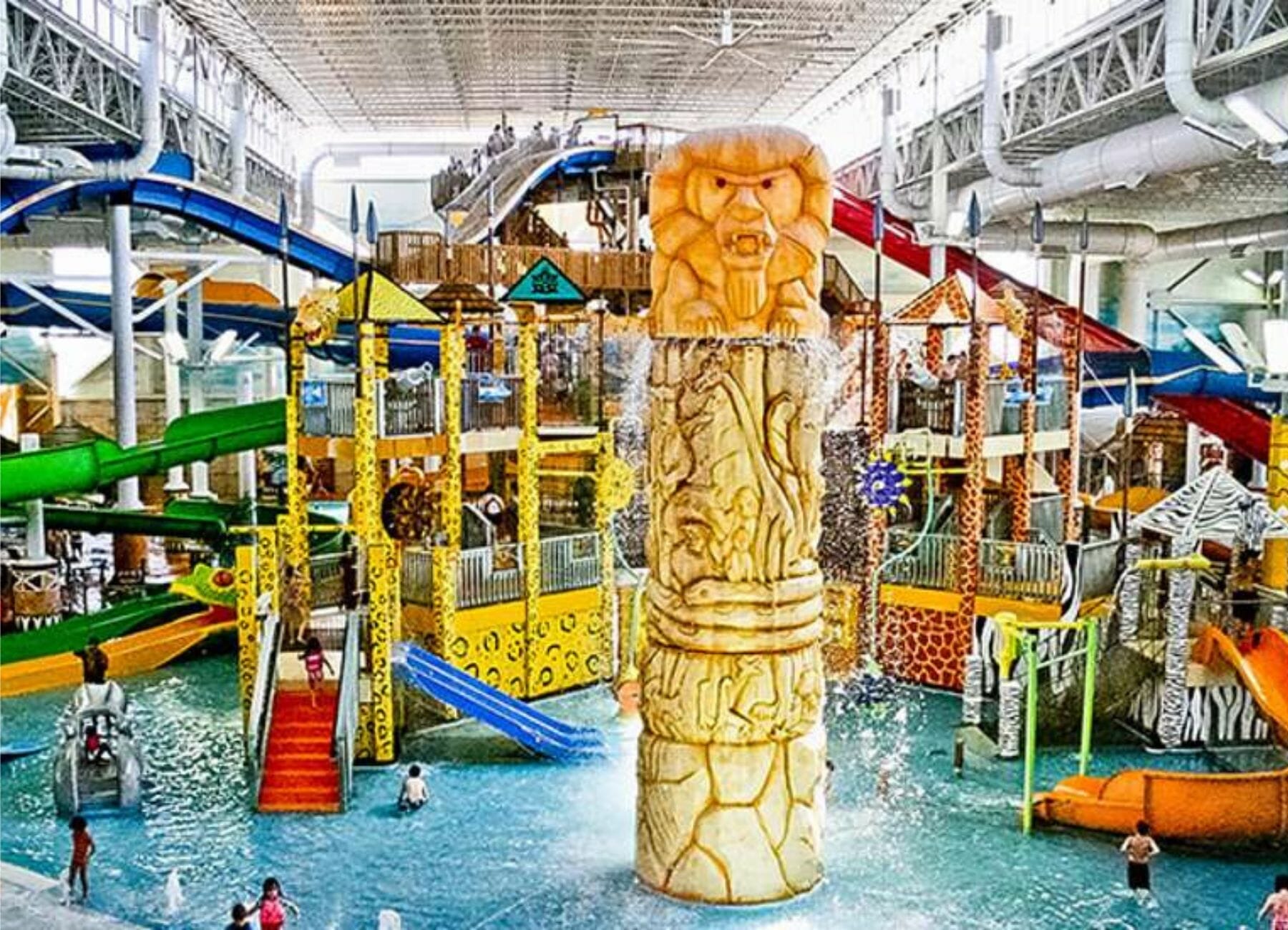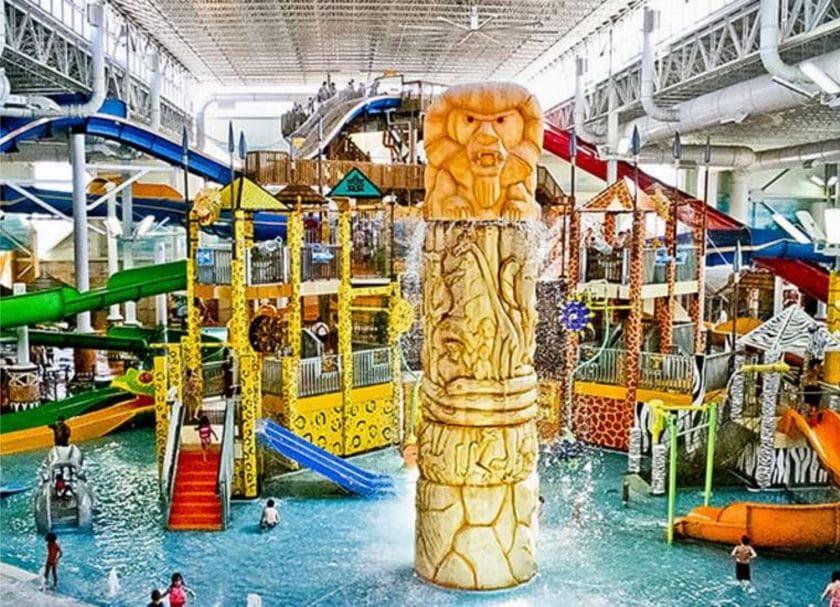 We don't have to travel too far to see our next great indoor water park. In fact, we're going to stay right in Wisconsin Dells and talk about the largest indoor water park in Wisconsin!
That's saying a whole lot too! With the Dells being the water park capital of the world, even being the largest indoor water park in the city is saying a lot!
The 125,000 sq foot indoor outdoor facility opened its doors in May of 2000. It held the mantle of the largest indoor water park in America until the Kalahari Sandusky, Ohio, location opened to the public in 2007.
Sporting an African Desert theme, Kalahari places a premium on their theming. This is a really great addition to the water park genre. Theming changes everything.
In many cases, a water slide can be like any other, but theming can whisk you away to another land or another time.
Kalahari does a good job of doing just that, transporting you to another continent to experience delights you could only imagine before!
Kalahari Resort Features
125,000 sq ft is a lot of space. Make no mistake, and this is the big one on this list. Packed with all sorts of different water slide experiences, Kalahari is a great place to explore. Let's take a look.
Dumping Bucket: Yes
Kalahari does have a dump bucket, but it's in the outside water park. The inside park has a series of water cannons and waterfalls, which produce a similar effect.
So, if you're at the park between Memorial Day and Labor Day, you can head outside to enjoy that water park, complete with a dump bucket!
Water Coasters: Yes
The Master Blaster is a fantastic slide that fits right into the mold of what we call a water coaster. Water slides that not only head downward but back upward as well!
Water coasters are super cool, but if you haven't ridden one yet be forewarned! Without the chain lift or magnetic launches of traditional coasters, there has to be a way for the slide to propel you back up the hill.
The way they do that is with water. Jets of high-pressure water! Even heated water, such as at the Kalahari resort, can be quite a surprise the first time.
It's much worse with the frigid water in an outdoor park, though.
Wave Pool: Yes
This is a unique wave pool. A little bit on the mellower side, it's nicely sized for the kids. Themed well with faux rock walls and trees around, it's got a feel that can almost make you believe it's outside.
The unique part? This wave pool actually has a lazy river flowing directly through it. In all of my experiences, this is the first time I've seen that.
They even have a children's level slide toward the outside of the Wave pool so kids can get that excitement of sliding down a water slide right into the waves. This is a really neat wrinkle to the idea of a wave pool.
There is also the standard style of pool called Crocodile's Cove which will provide everything you'd want from a traditional swimming pool. Nice and large with some basketball hoops arranged in the center. This pool alone would be the main attraction at many hotels.
Tube Rides: Yes
There are numerous tube slides at Kalahari. From the tandem tube of the Ripping Rhino to the big four-person family raft ride named Victoria Falls, they have quite a bit to offer in this department.
Interestingly, the Elephant's Trunk slide complex has a body slide and a tube slide to choose from. You will spill out directly into the lazy river when you take the yellow tube slide.
The slide keeps going for as long as you'd like to float around on that tube!
The interaction between the slides and pools is a fantastic bonus that isn't seen often on this level.
Swim-up Bar: Yes
The Mud Hut Swim Up Bar is the place to be if you'd like to grab a signature cocktail but just don't want to leave the water.
There is also the Cracked Coconut bar inside the water park if you feel like you're getting a bit too pruney for the Mud Hut!
On a similar theme, you might also find the indoor-outdoor hot tubs a nice break from the kids. Really well-themed with underwater LED lights, rock work, and waterfalls, there are numerous options for the hot tub experience.
Lazy River: Yes
I feel like I've been talking about the Lazy River for the entire article so far, but to confirm what you already know, Yep, they have a lazy river at Kalahari. As I've been mentioning, this one seems to connect to the rest of the park more than usual.
It's kind of the lifeblood of the park in some ways. At 920 ft long it's a nice long ride that will definitely keep up with its name as a lazy river, but be warned. When you get to the portion near the wave pool, the pace picks up a bit. Nothing crazy, but it can be a bit surprising and fun. Who doesn't love a little choppy current on their river ride?
Children's Play Area: Yes
Oh yeah, they do. How does giving the littlest kids their very own Lazy River sound? Pretty good, right? You can find that inside the area called Tiko's Watering Hole.
The children's area has lots of mini slides and themed elements such as elephant and crane fountains, swings hanging from the big tree, and splash and play areas. All surround the kids-sized lazy river, which is only 1 ft deep!
We also have the multi-level Water Tree Fort called Leopards Lair, which is perfect for the kids who've grown up past the Tiko's Watering Hole level of attractions. Lots of themed fountains and splash effects surround a pretty robust assortment of water slides for the kids to have fun on.
Just like Fort Mackenzie in Great Wolf Lodge, this is potentially the centerpiece of the whole day for many of the kids in your group!
Dining Options at Kalahari Resort
As you'd expect from a resort of this size, there are a few different options to choose from when the tummies begin to rumble.
One of the more flexible options is the Ivory Coast Restaurant. Serving breakfast, lunch, and dinner can be a consideration whenever you're hungry.
They have a few options right inside the water park for quicker bites, in addition to the Mud Hut and Cracked Coconut.
They also take great pride in their signature restaurants, such as the Double Cut Steakhouse. A genuinely fantastic option when you're in that carnivorous mood. This one is a can't miss!
Where To Stay When Visiting Kalahari Resort
These mega Hotel/ Indoor water park resorts make it pretty tough to recommend anything other than staying at the hotel itself. So, that's what I'll do. Find out more about Kalahari here.
Boasting 756 rooms ranging from the standard hotel room all the way up to the 10-room Entertainment Duplex, you will be able to find whatever your group needs without leaving the property.
I've said it before and I'll repeat it now. There's nothing quite like spending the day at an amusement/water park and just flip-flopping it back to your room for the evening.
I'm even a fan of staying in the RV parks which straddle amusement parks. The ability to walk right from the fun to the bed has a charm and allure that's hard to beat for me.
Additional Information
Towel Rental: Yes and No
Towels are included for all hotel guests in the water park, which is a nice touch. If you purchase a day pass, please remember that towels are NOT included with the park admission.
If you forget a towel and feel you need one, you can purchase one at the park. But who wants to do that if you can avoid it? As nice as a new towel can be.
So, bring your own towel, stay at the hotel or get yourself a new one! Those are our options.
Cabana Rental: Yes
Kalahari has plenty of cabana options for you to choose from. From the standard 5-8 person cabanas equipped with a TV, tables and chairs, refrigerator, and safe all the way up to the 20-person mega cabana. The biggest ones have their own private hot tub which can really add to the secluded privacy feel.
All cabanas come with food delivery service and that can't be undervalued. Being able to stay immersed in the fun all the way until the moment lunch arrives is just the best!
Lockers: Yes
They have a few sizes of lockers available for rent. The prices range from about $10- $20.00, so you will most likely be able to find what you need.
.
Showers: Yes
They have separate areas for men and women to use the showers.
Day Passes Available: Yes
There are a few options for day passes at Kalahari. It's important to remind you that the indoor water park is not the only attraction here.
They have Tom Foolery's Adventure Park in addition to the outdoor water park (open Memorial Day to Labor Day).
There are combo passes to consider if you'd like to spend 1/2 the day in the water park and the rest in the Adventure park, which will run around $85.00
The all-day admission to the indoor water park will cost about $60.00 per person for everyone over the height of 42".
An important note to mention is that they go to great lengths to express how important it is to purchase your admission through the hotel directly. I'm not sure if they've run into issues with counterfeit tickets in the past, but they make a point to bring it up more than once on the website.
I recommend purchasing the day pass directly from them to avoid any potential issues.
Kalahari is another wonderful indoor water park experience and while not yet having the reach of Great Wolf Lodge, you can tell that they are serious about what they do. They have a few locations around the country with plans to create more.
With such strong attention to theming details and the wide variety of attractions available, this is a spot you should consider when looking for an indoor water park in Wisconsin!
Additional Hotels
Staybridge Suites Wisconsin Dells
Vacation Rentals
Downtown House Close to Everything
Moose Mountain Falls Water Park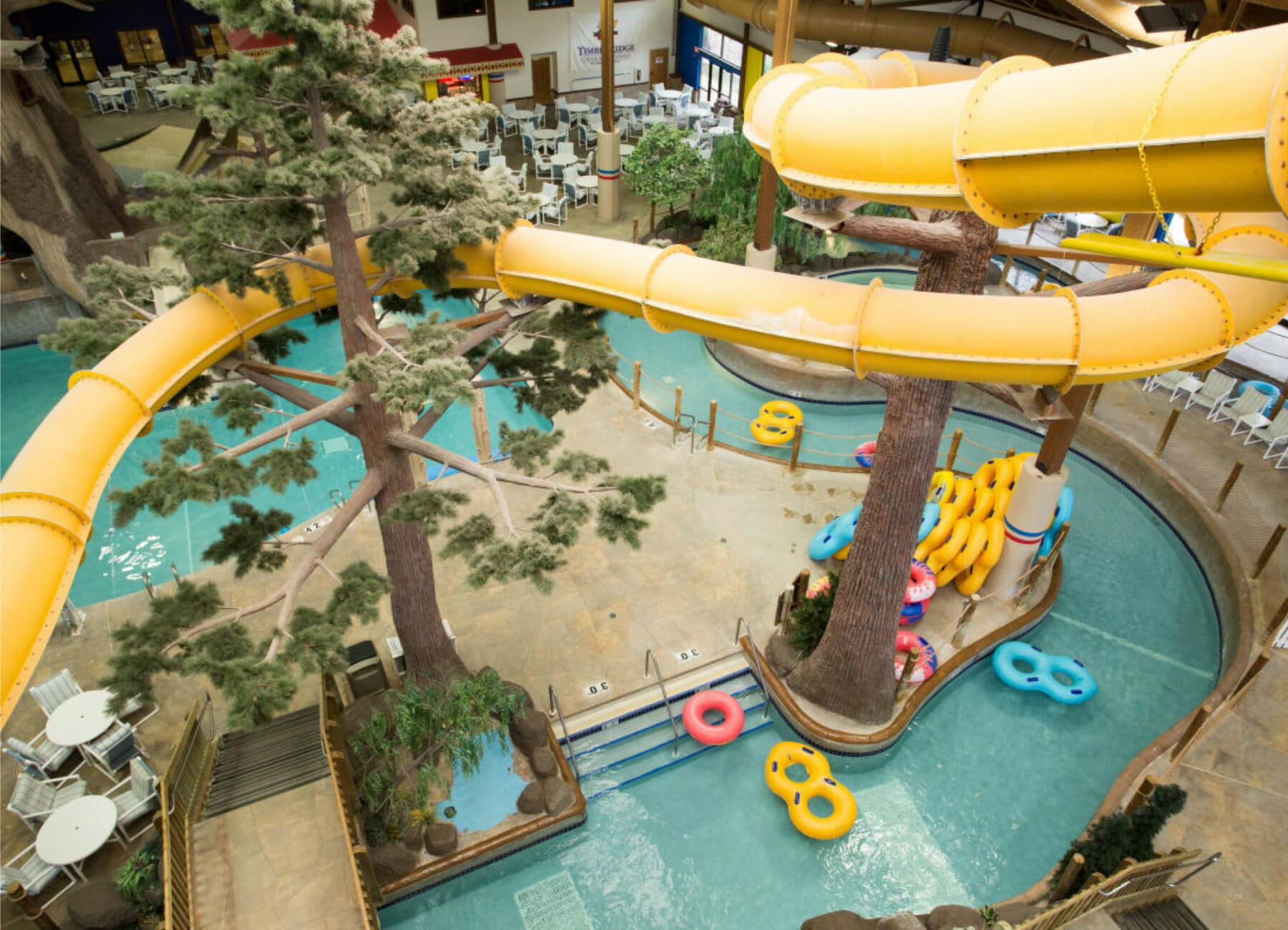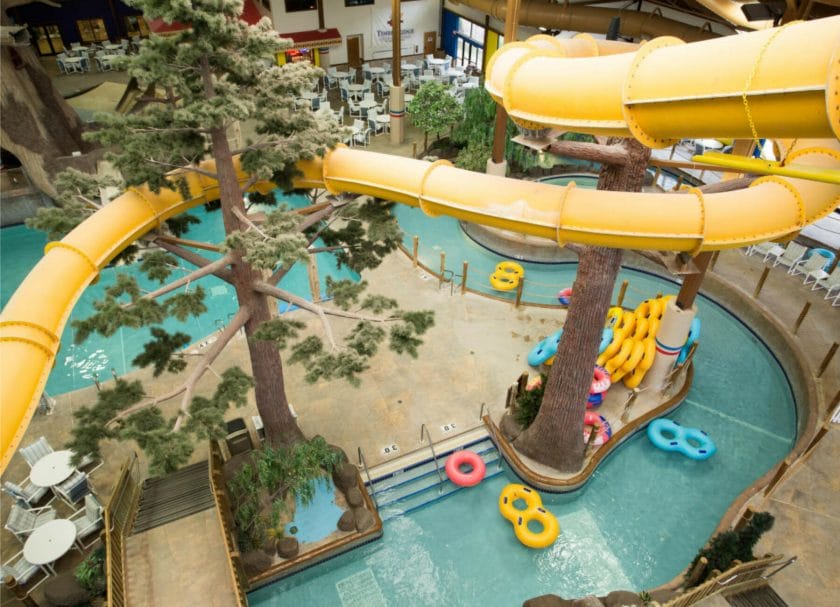 Ok, so let's continue our tour of Wisconsin Indoor water parks by heading over to Lake Geneva, WI.
The Timber Ridge Lodge is another resort/waterpark that might be the perfect spot for your hopes of finding a great weekend water park option.
Moose Mountain Falls Features
Rated as one of Wisconsin's best family-friendly resorts, the Timber Ridge Lodge is a well-themed hideaway for you to explore with the kids.
I tend to gravitate toward this particular brand of theming. The Pacific Northwestesque feel really does something for me. This isn't precisely the Pacific Northwest, but it reminds me of that style.
Lots of thick, lush trees and faux rock work create a magical getaway sensation and vibe. I love that. There's a separation between attractions that gives you the vibe of exploration. Each area is its own. That's the Moose Mountain Falls Water Park.
On the more limited side, as far as specific attractions go, we're still talking about a 50,000 sq ft facility. It really is a fun environment to splash around in. Let's take a look at what they have going on.
Dumping Bucket: No
Unfortunately not. We didn't find a dump bucket at the Moose.
Water Coasters: No
No water coasters at this park just yet. They have their water slides for sure, but not quite a water coaster.
Wave Pool: No
The centerpiece of Moose Mountain Park is their large heated swimming pool, but we won't see any waves not made by the kids. The more and more popular basketball hoops and ropes course activities are all present in the pool.
Kids can have a ton of fun right in this area!
Tube Rides: Yes
We're not talking about using a tube for this one, but the park has two enclosed slides that place you within a tube.
Timber Rapids and Avalanche Falls give the highest thrill in the park by sending you sliding down 300 ft slides in almost complete darkness at times. These will be a favorite of the teens and adults in the group for sure.
Swim-up Bar: No
We do not see a swim-up bar at this park. There are adult indoor/outdoor hot tubs, though. With beautiful LED lighting effects and waterfalls in the hot tubs, we'll definitely be able to find that relaxing moment.
Lazy River: Yes
The 500 ft lazy river is one of the favorite attractions at the entire Moose Mountain water park. Slowly floating through the trees and rock work feels like you just might be in a real river somewhere. Well, if that river was consistently a delightful 84 degrees, that is.
Children's Play Area: Yes
While the whole park feels very kid and family-friendly, the Tiny Timbers area is where you want to go with the toddlers. This kiddie play area portion of the park is designed to keep young ones away from the rambunctiousness of the older kids.
Lots of splash toys and effects make for a great time.
Dining Options at Moose Mountain Falls
Lake Geneva is known for its foodie scene. Plenty of great unique options to choose from all about the town. Live music, lakefront dining, and options such as the Maxwell Mansion 1880's Apothecary can allow you to have an experience only found in Lake or Grand Geneva.
That said, there are a few options right inside the hotel that are worth considering. At the top of the list, we find Smokey's BBQ House. Traditional BBQ fare such as brisket and chicken will give you exactly what you seek walking into a BBQ restaurant.
Where To Stay When Visiting Moose Mountain Falls
Well, the Timber Ridge Lodge is a good place to begin when considering where to stay in Lake Geneva. With the waterpark admission included in the price, it gets easier and easier to make the lodging decisions for our trip.
The Lodge has become famous for its family suites, including a full kitchen. This is the option that we choose whenever available. As much as we love exploring the food scene in resorts or the surrounding cities, we also love to save a little cash by preparing lunch right in the room.
It's helpful when trying to pack everything you can into a trip. Snack bars and quick service are great for convenience, and some even have solid food choices, but heading back to the room for an hour to whip up some PB & J sandwiches can really hit the spot.
This is especially the case when I'm planning to head out to the lake for dinner!
Additional Information
Towel Rental: Yes
Towels are free with admission to the water park.
Cabana Rental: Yes
They have cabana options available for rent. Having a cabana is still one of the best aspects of heading to a water park. Having that almost private home base can really make the day.
Lockers: Yes
There are lockers available
Showers: Yes
Showers are available in the restrooms.
Day Passes Available: No
They only allow hotel guests to use the water park. If you'd like to spend the day at Moose Mountain Falls, you must stay at the resort.
This is a good one, in my opinion. Very different from the other choices on this list, but I like this park. Maybe it's my propensity to lean toward their specific motif, but I think it's more than that.
There is a particular feel here.
The focus is on being family-friendly. That's their aim, and that's their goal. Moose Mountain Falls is a fantastic option for families with younger children.
Breaker Bay at Blue Harbor Resort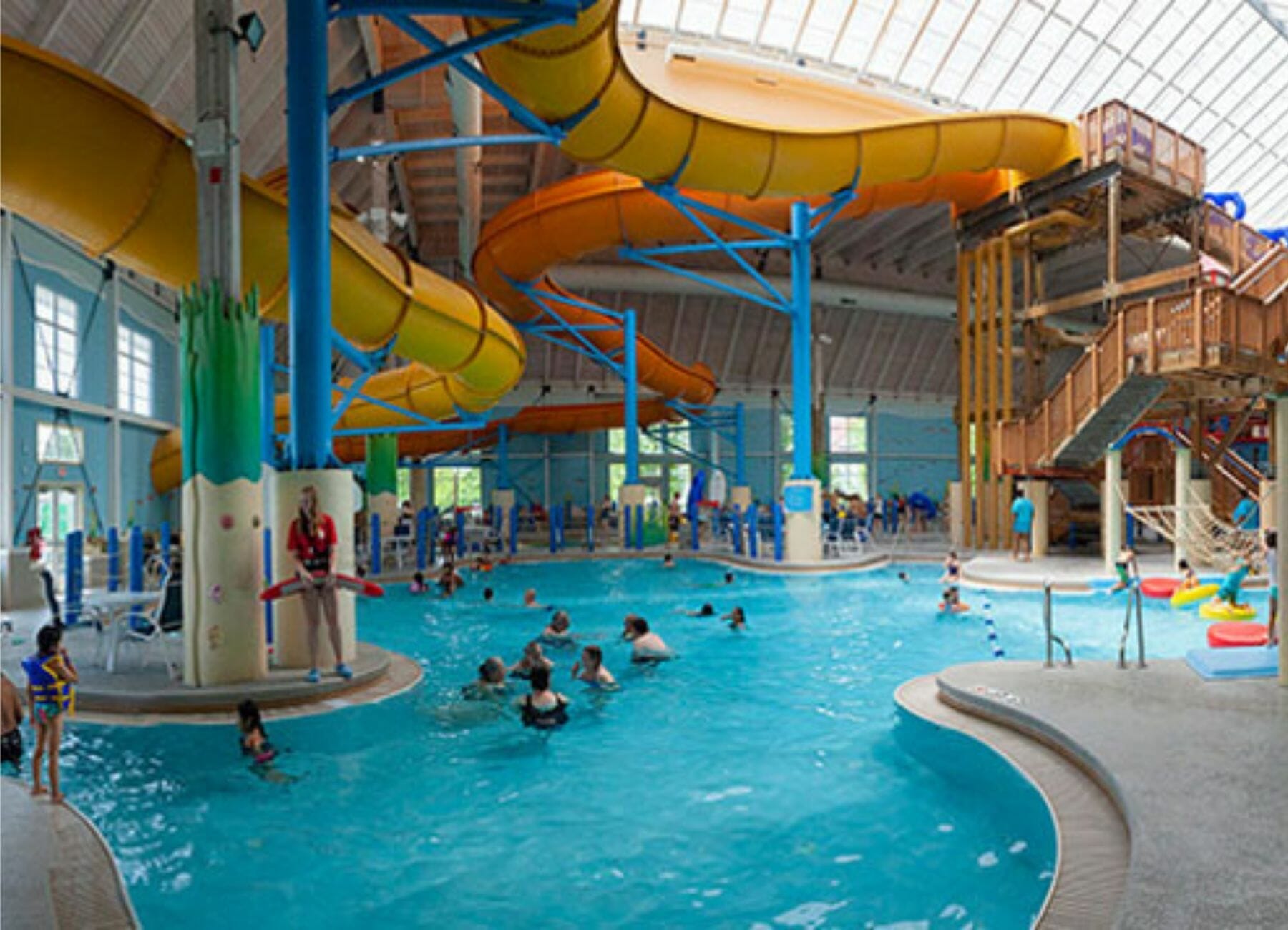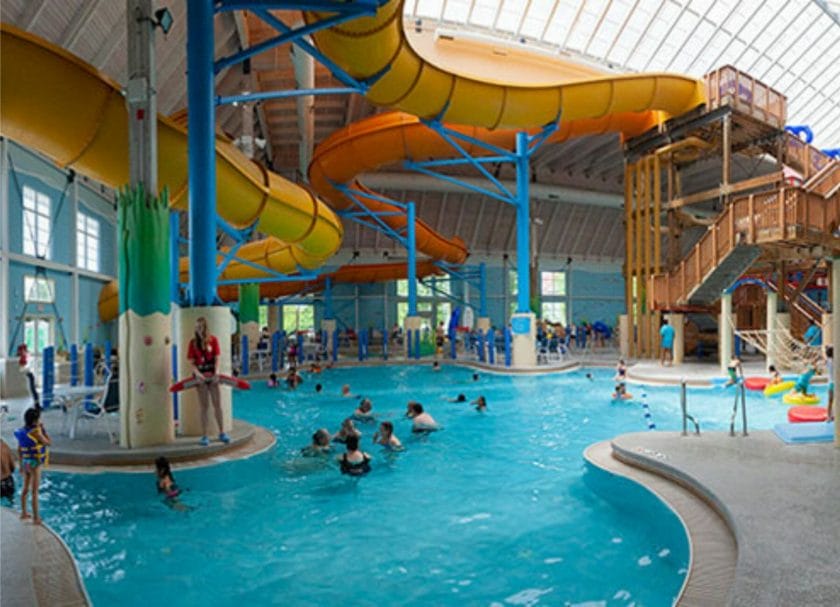 Wisconsin Dells obviously has a ton to offer us indoor water park lovers, but let us take a short trip east to the coast of Lake Michigan for our next exciting option to explore.
About an hour south of Green Bay, Wisconsin, is a place with a funny name. Sheboygan is home to one of the more sought-after vacation spots in the entire state.
Interestingly enough, the Blue Harbor Resort was created and built by Great Wolf Industries (Sound Familiar?) in 2004.
The company famous for its own indoor water parks does not own the property any longer, but its imprint is clear to see.
This is a departure from the other hotels we are discussing today. It's a stunning beachfront property with an obvious influence from the world-famous Hotel Del Coronado in San Diego. If that's not familiar to you, maybe think of the Grand Floridian In Walt Disney World.
It has that classic feel to it, and I certainly would not assume there was a 54,000 sq ft water park hidden within its majestic features. Let's peel back the onion and look at what's inside.
Breaker Bay Features
The Breaker Bay water park is not trying to claim they are on the same scale as the Kalahari resort, but that's no reason to exclude this park from the list.
Again, maybe not quite as large or having quite as many attractions as some others, but what they do they do well.
Dumping Bucket: Yes
The Breaker Bay Pier is their multi-level splash and play structure. This is where you will find the huge dumping bucket among many other water cannons and fun effects. A favorite for the kiddos, the Pier is the place your rugrats will most likely want to run to first!
Water Coasters: No
Sorry. We don't have a water coaster to discuss at this water park.
Wave Pool: No
We won't find a wave pool here, but you will find a 73,000-gallon activity pool right smack in the middle of the park. Basketball hoops and the Lilly Hop attractions add to the fun only a swimming pool can bring.
If you head to this park between Memorial Day and Labor Day, you can also use the large outdoor pool.
Lots of swimming pool action at Breaker Bay!
Tube Rides: Yes
Soaker and Splashdown are the main attractions at Breaker Bay in many people's eyes. Dueling tube slides take riders down from the top of a three-story structure. The best part about this is the unique dueling aspect.
Racing your friends (or maybe even beating the kids) down to the bottom can add a nice uptick in the thrill and fun of a water slide attraction!
Swim-up Bar: No
We don't have a swim-up bar at this park.
Lazy River: Yes
The Lazy River at Breaker Bay is labeled Molly's Moat and is a 900-foot leisurely float through a large portion of the park. Known for being exactly what it's supposed to be, Molly's Moat will provide that amazing lazy river feel you're looking for.
Children's Play Area: Yes
Toddler Tides is where you're going to wanna head with the littler kids in the group. Having an area designated just for the smallest buggers in the group can make all the difference.
Kid-sized water slides and zero-depth entry give them the feeling that they have the whole place to themselves.
It is a little bit on the smaller side, especially compared to the others on our list. That's important to remember when deciding on the best option for your group.
Dining Options at Breaker Bay
A good dining option right inside the water park can be a wonderful aspect of any trip. Breaker Bay has just that with their family favorite, the Rocky Bottom Snack Bar.
When it's time to munch, items like burgers, chicken fingers, and pizza are easy to find. And for the folks a little disappointed in the lack of a swim-up bar, you can take care of the desire for a crafted cocktail right at the Rocky Bottom.
That said, even though there are a couple of other dining options at this resort, I can honestly say that you might want to take a good look around town to see what's available.
The Beacon Restaurant inside the resort has a solid breakfast, lunch, and dinner menu. Still, if I'm spending a weekend at the Blue Harbor resort, I'm more than likely going to tire of the limited selections offered within the hotel itself.
I mean, dining options are huge when planning a vacation. I've been known to consider the food options of an area over some of the attractions offered. I've even had almost completely food-based trips before! It's that important!
Simplicity still supports staying right inside the resort, and the options won't disappoint, but this is a great opportunity to check out what Sheboygan has to offer you! How often are we ever in Sheboygan anyway?
Where To Stay When Visiting Breaker Bay
Like the other locations we discussed, the indoor water parks genre has done a good job of taking a lot of the guesswork out of the process.
Staying right inside the Blue Harbor Resort just makes too much sense. The good news is it's actually a beautiful hotel right on the coast of gorgeous Lake Michigan.
I can still remember the first time I spent time on Lake Michigan in the summer. It's so huge that it looks very much like an ocean.
Growing up on the Atlantic Ocean, I have an association with such large bodies of water being made up of salt water. Lake Michigan looks just like that, but it's fresh water. No salty, burning eyes from the ocean!
I couldn't get over it. It had waves and everything but without the salt.
Blue Harbor's proximity to one of the largest of the Great Lakes is not to be overlooked. Having a suite overlooking the water can add something that not every park we're looking at can offer you.
They have a similar selection of rooms ranging in size from the standard hotel room to the 450 sq ft family suites. Themed rooms and whirlpool suites are also available for you to choose from, so this is a no-brainer.
Another important thing to mention is that Breaker Bay is only available to hotel guests currently. So, if this indoor water park looks like the perfect option for you and your family, you are going to have to stay at the hotel itself.
Additional Information
Towel Rental: Yes
Towels are included for hotel guests, but day pass visitors must bring their own towel. This isn't applicable at the time of writing this article, but they have allowed day pass guests before, and they may again. Please call ahead to check whether or not this option is available.
Day pass visitors who need a towel will need to pay a $3.00 towel rental fee.
Cabana Rental: Yes
This is an interesting one. There were only two cabanas available when I checked on it. So, saying it's limited is an understatement. This is an aspect I would recommend you check on ahead of time if having a cabana is essential to you.
There are a few more cabanas in the outdoor water park, but they are extremely limited again.
Lockers: Yes
They have a small selection of lockers available to rent.
Showers: Yes
There are showers available in the men's and women's restrooms.
Day Passes Available: No
As I mentioned above, this is specific to the time I'm writing this. They are not accepting day pass guests into the water park at this time.
This will more than likely change back in the future, so checking ahead of time is a good idea.
Breaker Bay is a really well-appointed and maintained indoor water park in Wisconsin. It's definitely different from the other three parks mentioned in this list, but that's what makes all of this so fun.
Different options offering a wide variety of attractions is what makes the amusement park industry what it is today. The truth is we all have different likes, wants, and needs. Sometimes heading to the world's largest indoor water park is a perfect choice.
Another time it might be the exact opposite of what you need for your group.
Breaker Bay offers that more intimate option for groups with smaller children. Not quite the widest variety, but if you have 2 or 3 toddler-aged kids in the group, this just might be the perfect sized park for you.
It's got all of the fun you could want for the younger kids and still offers a few great options for teens and tweens.
Add that to a classic-style resort in Wisconsin containing other fun options like Lost Temples glow golf, and you might have found the perfect weekend getaway, smack dab on the beaches of Lake Michigan!
This was a fun list to make for you. I love exploring and learning as much as I can about the intricate details of amusement attractions in our amazing country.
I've been doing it for many years, and I seemingly can't get enough of it.
Please understand this. I would tell you if one of these indoor water park hotels was not a good scene. I know it can seem like I'm pretty consistent with recommending the conjoining hotels, but that's because I honestly believe they are the best option.
There are almost always other hotels and motor lodges in the area, so if the resort is a little bit outside your budget, know that you can still have an absolute blast at some of these parks while staying elsewhere.
Make sure that the hotel allows day pass visitors before you commit, of course. There's nothing worse than learning the plans you made are not going to work as you thought.
Doing your homework beforehand is the key to creating the perfect family vacation that will live in the memories of your family and friends forever.
Indoor water parks are just one of the newer ways for us to do that out there. The four on our list are pretty slam dunk options I'm confident you will enjoy!
More Family Fun in Wisconsin
16 Terrific Things to Do in the Wisconsin Dells with Kids
15 Places for Apple Picking in Wisconsin
The 15 Best Things to Do in Wisconsin in the Winter
The 13 Best Places to Go Camping in Wisconsin for Family Fun
More Indoor Water Park Fun
Top 4 Indoor Water Parks in Michigan
Check out these top 4 Indoor Water Parks Tennessee
12 Indoor Water Parks in Ohio You Want to Visit
Don't Miss These 5 Indoor Water Parks in New Jersey
20 Indoor Water Parks You and Your Kids Will Love
Top 7 Indoor Water Parks Texas You'll Want to Check Out
Pin to Save for Later in Your Family Vacations Board!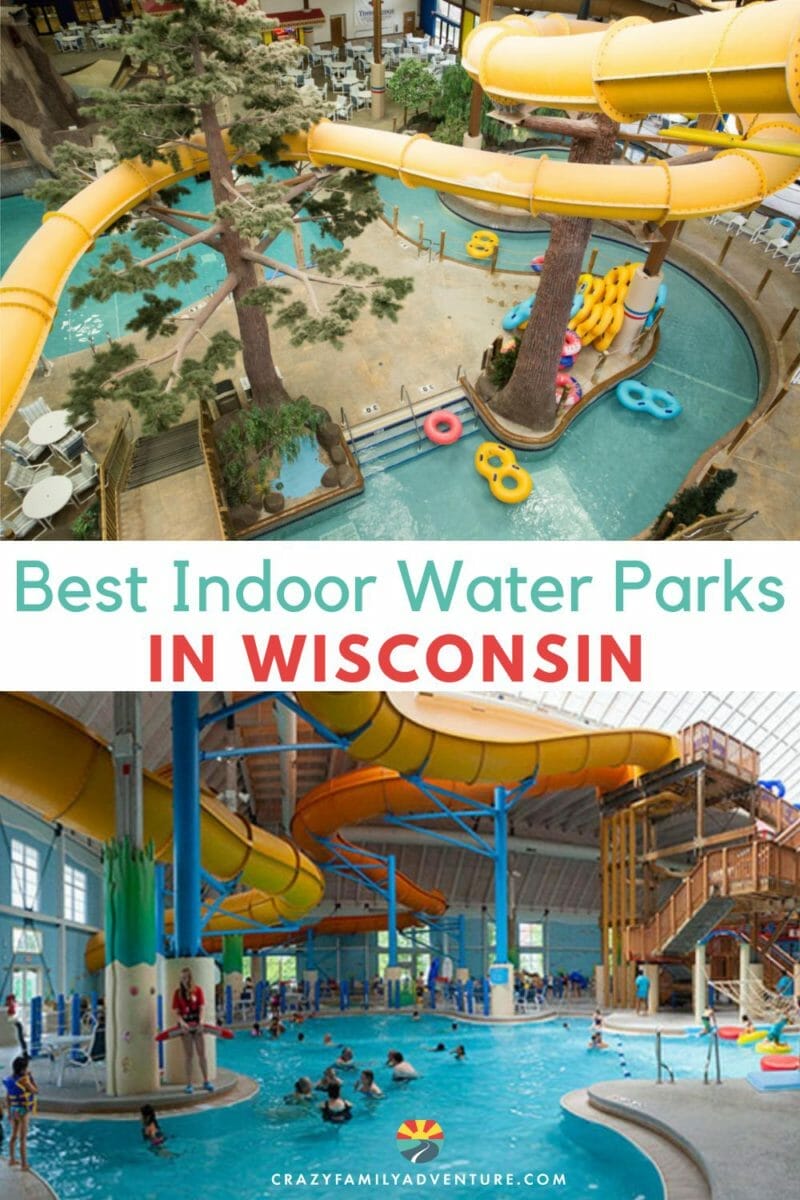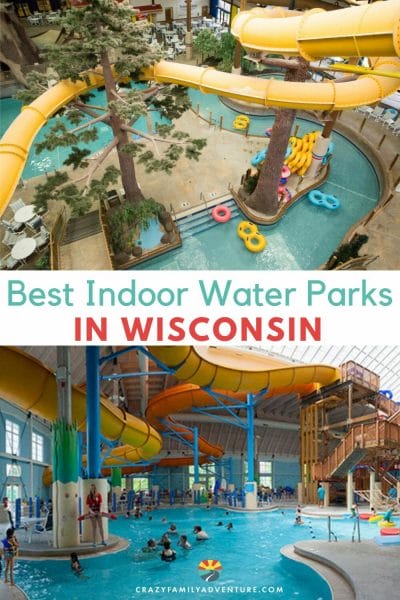 Latest posts by GreenBean
(see all)
DISCLOSURE: This post may contain affiliate links, meaning I get a commission if you decide to make a purchase through my links, at no cost to you. Please read my disclosure for more info.