My family and I head out camping whenever we can and we have explored a lot of the campgrounds around Wisconsin! we are excited to share with you our top picks for places to go camping in Wisconsin!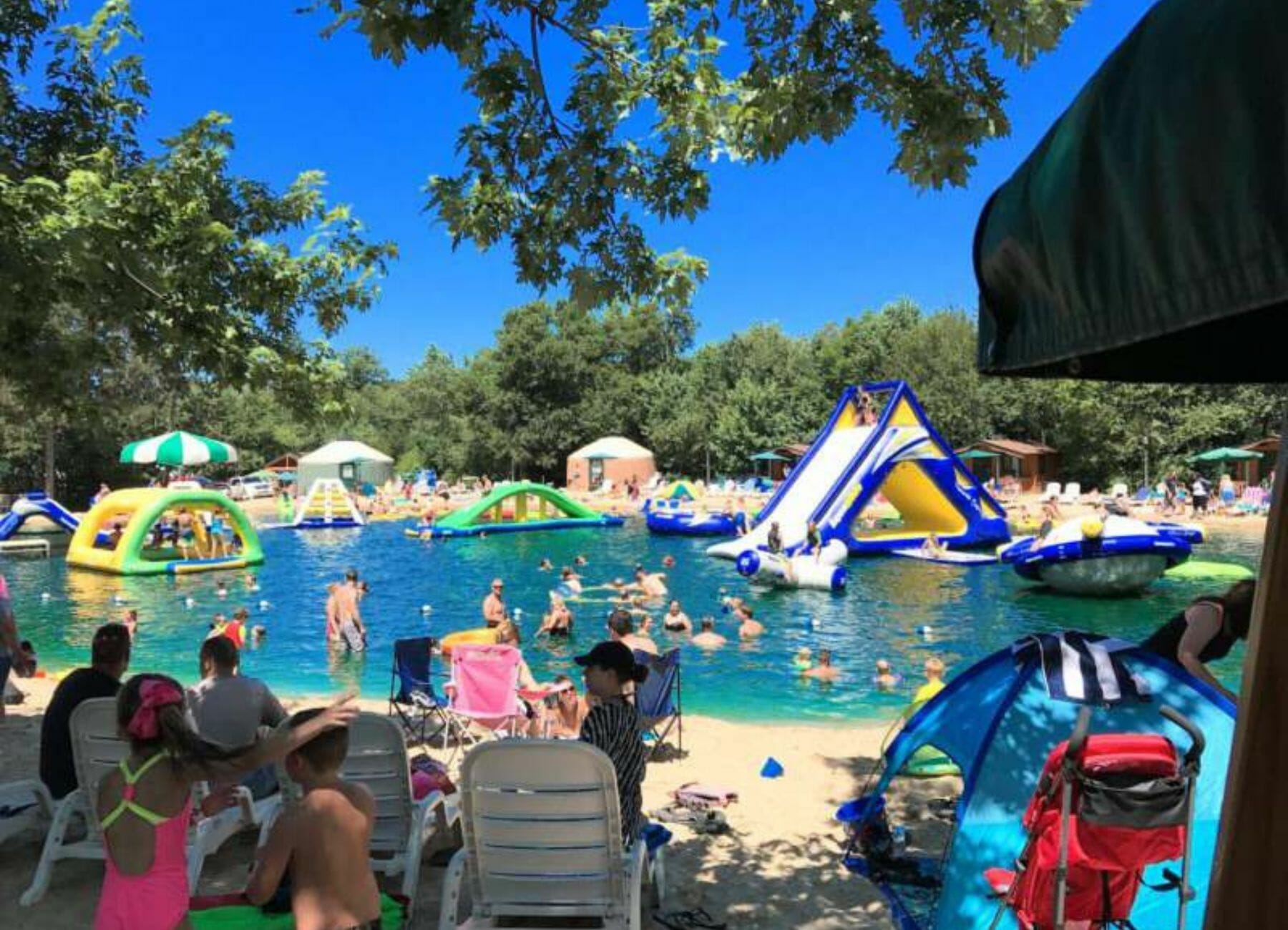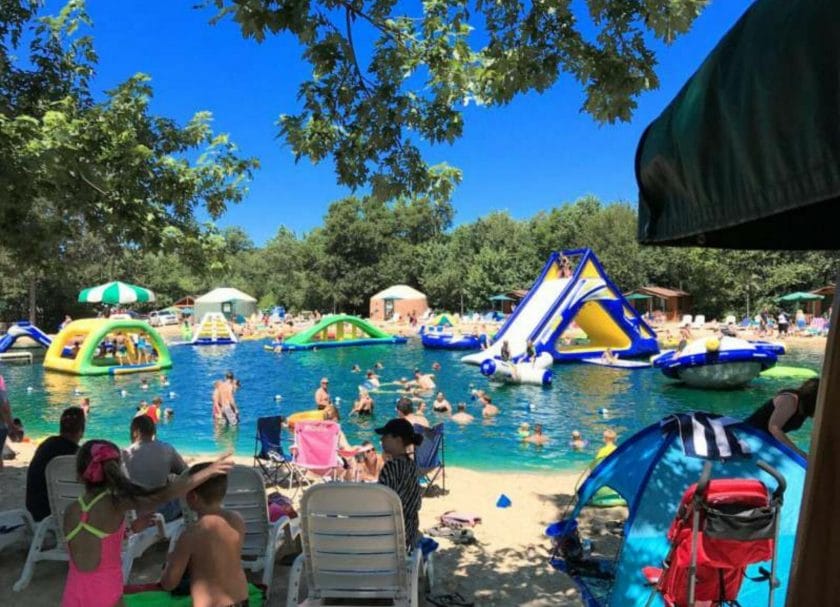 If you are interested in renting an RV for your trip check out our post: 18 Tips On How To Rent An RV [Discount Included]
Camping in Wisconsin has been not only a retreat but also a place we can count on to find adventure and unique experiences whenever we go. There are not any National Parks in Wisconsin but there are a few national scenic trails and lake-shores to explore.
We often plan our trip based on the activities, festivals and things going on in that area. For example, if we want to see the beautiful fall colors on the trees we will go to the upstate campgrounds in early October. If we want to experience rafting or fishing we will hit the campgrounds on the rivers.
We would love to share our top thirteen spots for the best camping in Wisconsin. If you have spots you like in Wisconsin please share in the comments below.
Devil's Lake State Park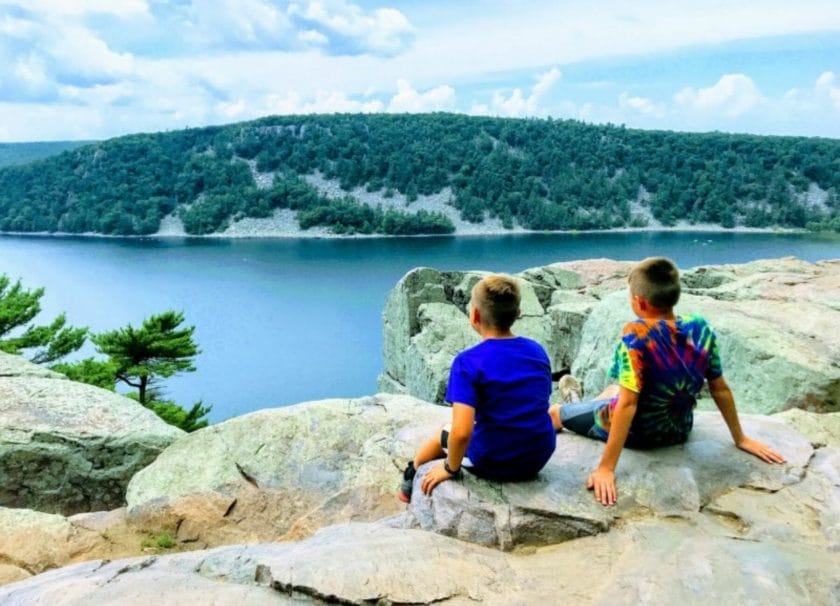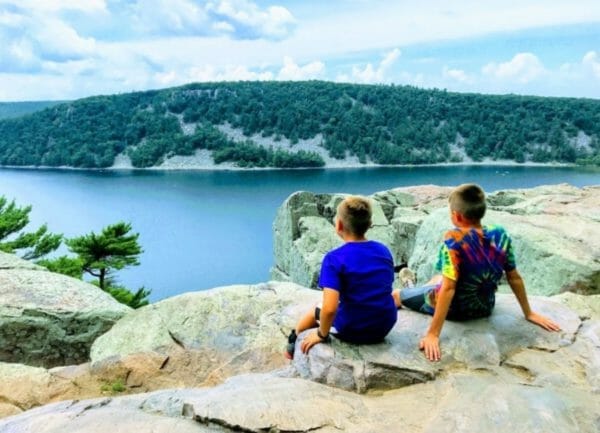 We will start in the middle of the state with the most popular state park in Wisconsin, Devil Lake State Park. Here you will find hiking trails, tent camping and beautiful sandy beaches. Wisconsin State Park System has many choices but this is by far one of our favorites.
The boys love to hike at Devil's Lake because the trails take them to look-outs over the lake. Even though some of the trails are difficult they never shy away from trying. This state park is only a short drive to Wisconsin Dells to experience water parks galore!
Don't miss nearby, Baraboo (Home to Circus World), we love to attend the Elephant Watermelon Party usually held in early August. This is truly a unique experience like none other!
Governor Dodge State Park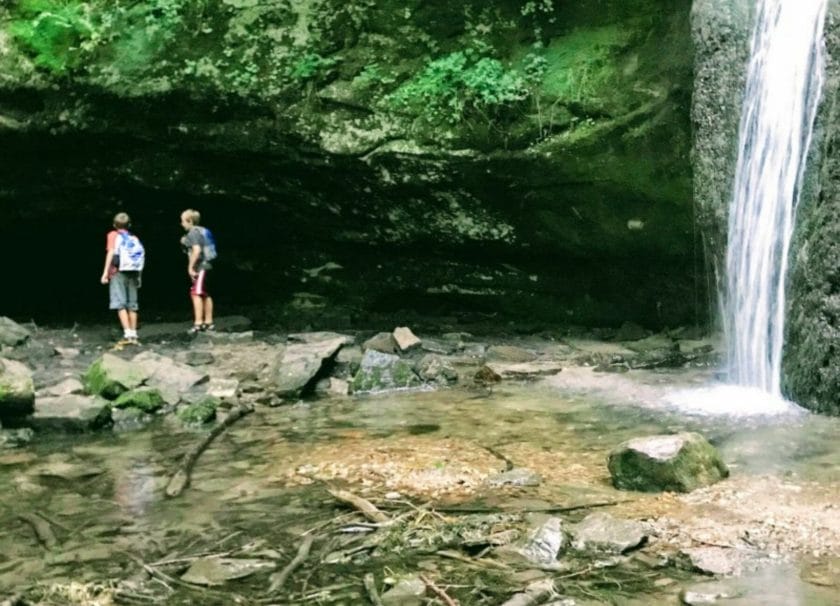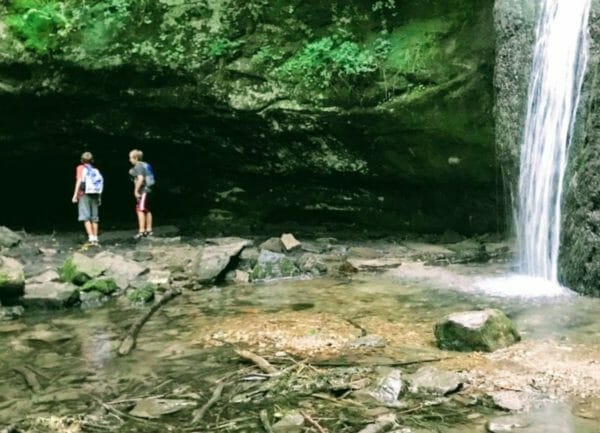 Just West of Madison, the state capital, is Governor Dodge State Park. There is a very special hiking trail that has a beautiful waterfall and, unlike some hiking trails, the waterfall is at the beginning of the hike, which, for our family, was so exciting! The trails here are perfect and remind me of trails featured in hiking magazines.
Sometimes we just want the perfect lake campground and Governor Dodge fits that description perfectly, with the beautiful green backdrop, watercraft rentals (no motors) and sandy beaches our family can spend the entire day on the lake. Grab your pop-up tent and head out there!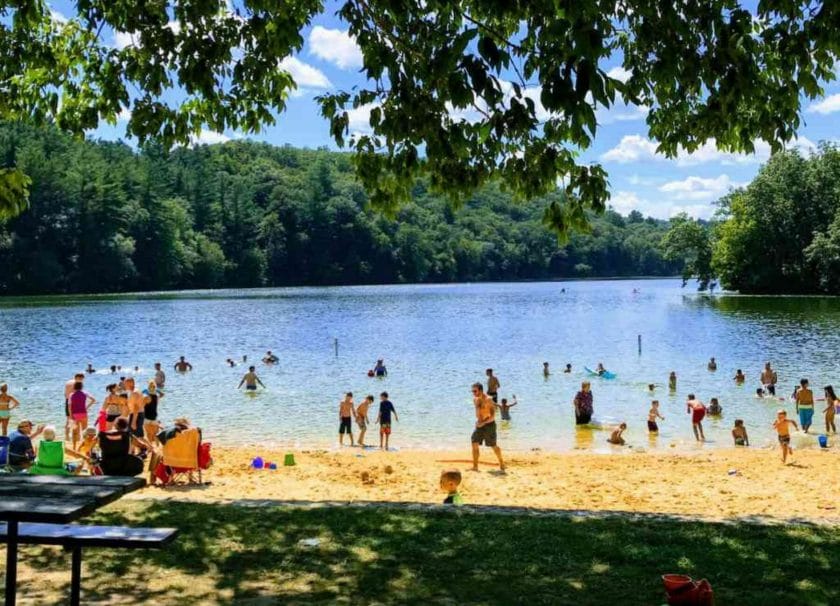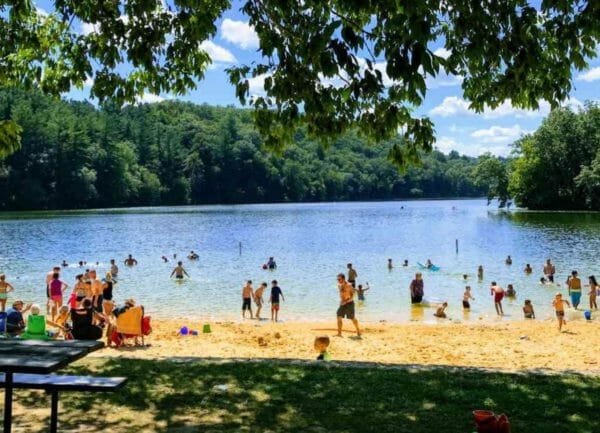 The boys loved being in the kayak alone, paddling out to a rock, getting off, jumping in then getting back on the kayak and back to the beach. They must have done this ten times each.
If you wait until fall to go, don't miss Fall Festival in Spring Green! This festival is at the perfect time to enjoy the fall colors (Did you know Wisconsin trees turn yellow, red, and orange in the fall?), a chili cook-off, beer tasting and more family activities.
Wisconsin Riverside Resort
Just a few miles north of Governor Dodge State Park is a private campground we love Wisconsin Riverside Resort. This is a perfect RV park campground with a variety of RV amenities such as full hookups at camping sites, an onsite restaurant and camp shop.
Dining on the patio is an extra special event that we don't often get while camping. Riverside Resort offers many river activities including camping on a sand bar! Now, that is a unique experience! This camping trip took us to the Wisconsin River for fishing, kayaking and tubing down the Wisconsin River.
This private campground is located only a half hour away from Governor Dodge State Park, so you can spend a day there hiking, and swimming too!
Wyalusing State Park
Heading over to the Mississippi River is Wyalusing State Park, a beautiful fishing paradise right on the Mississippi River that boasts panfish, bass, northern pike and walleye. This state park offers hiking trails, fishing, bike trails, nature preserve and campgrounds.
Even though there isn't a beach in the state park, just two miles away is the Wyalusing Nature preserve where there is a beach and boat landing. The beach was just the perfect size for an afternoon of swimming.
Just up the road is Prairie du Chien, and if you camp in mid to late July you will be able to catch the Prairie Dog Blues Festival.
Smokey Hollow Campground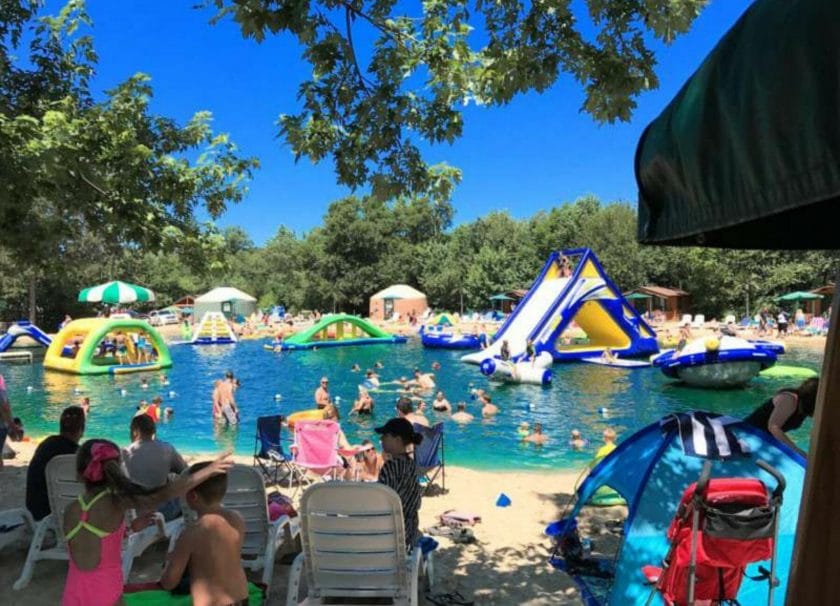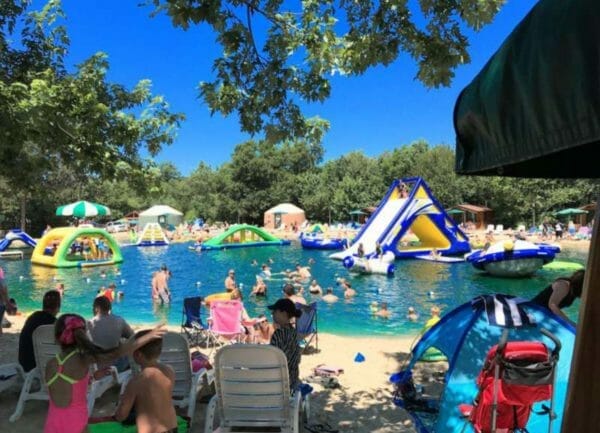 "It's all about the stuff!" is the moto of Smokey Hollow Campground in Lodi, Wisconsin and we can tell you Smokey Hollow does not disappoint! This family centered campground is all about having fun things for families to do together throughout every day.
There are inflatables, giant sized shopping carts to ride in, firetruck water fights, dance parties, sundae bars and the list just goes on and on and on. This is a very popular private campground in Wisconsin that many families go to year after year.
We went with a large group and camped together which added to our fun factor! This was also the camping trip I finally perfected the Gourmet Camp Doughnut! Lodi, Wisconsin where Smokey Hollow is located has a Susie the Duck Day in August, a family festival with a lot of fun but most importantly rubber duck races!!
Holiday Shores Resort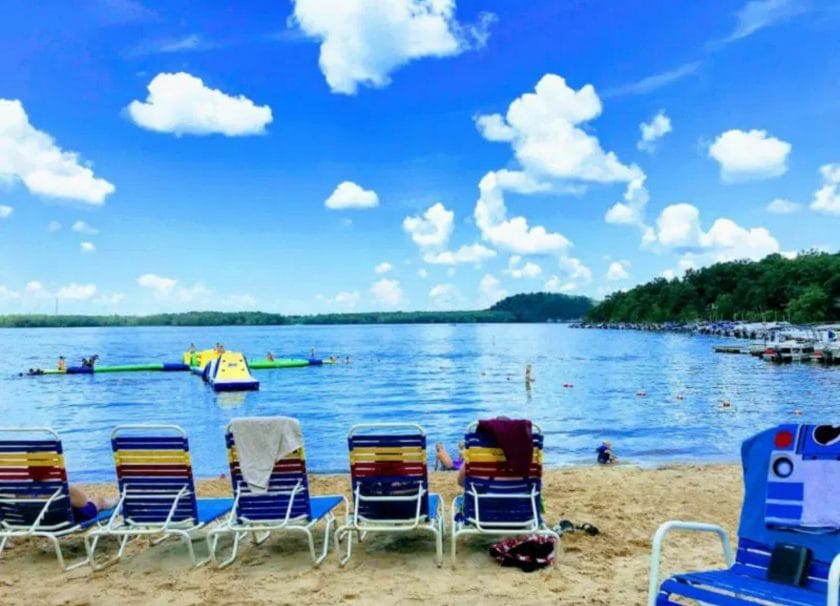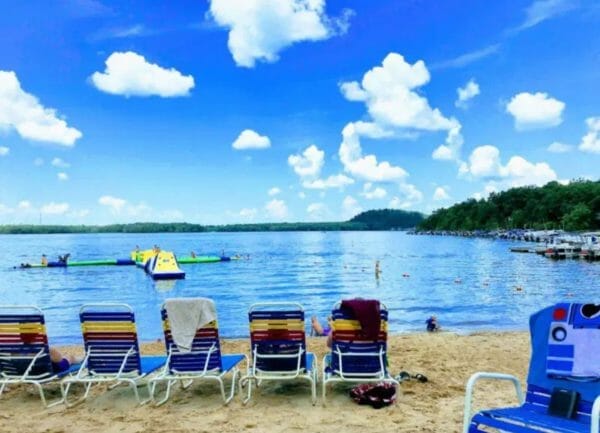 If we had to pick one private Wisconsin campground that is our favorite, it would be Holiday Shores Resort in Wisconsin Dells. We spent two weeks at Holiday Shores which is right on the Wisconsin River and offers a beautiful sandy beach with a specified swimming area and inflatables, a heated pool, fully stocked camp store and food counter, kids club, and an endless list of activities.
For the nature lover, it offers a front seat to the upper dells via the Wisconsin River, with watercraft rental (jet skis, ski boats, pontoon boats for tubing and skiing, paddle boards, paddle boats), boat slip rental and even personalized jet ski tours of the upper dells.
For a secret hiking trail, go to site one right by the river, and you will find the trail head. This is actually on DNR land, and the hike is beautiful!
If you have family members that just don't like to camp that is ok, there are many camper, cabin and motel rentals available. Summer time is always a great time to camp but don't forget fall in Wisconsin is beautiful. In Wisconsin Dells they celebrate fall with Wo-Zha-Wa (Fun Times in Ho-Chunk language) Festival, usually in mid-September to celebrate the end of the summer.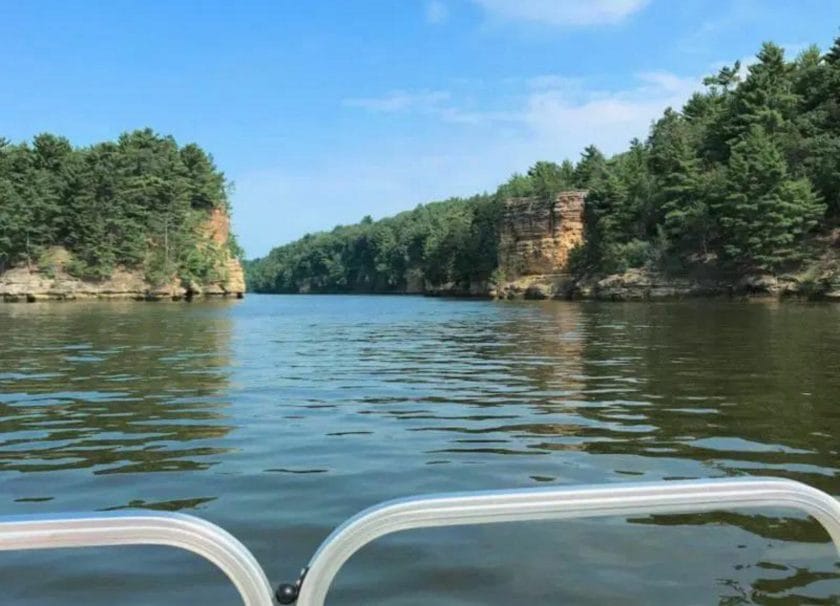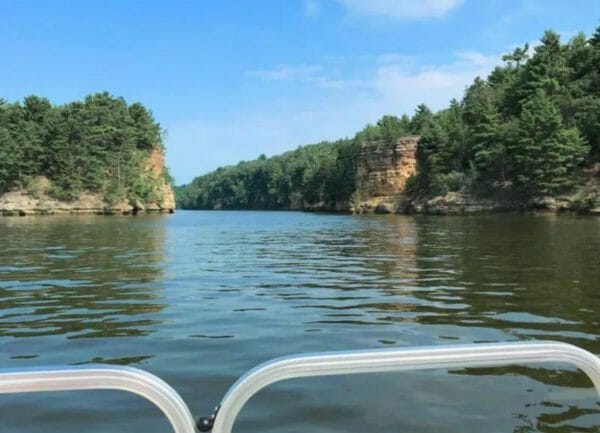 Buckhorn State Park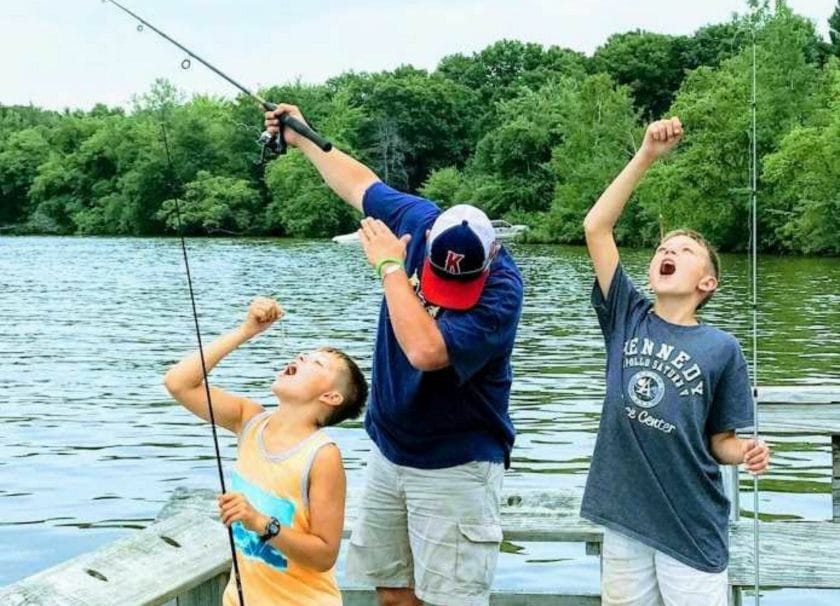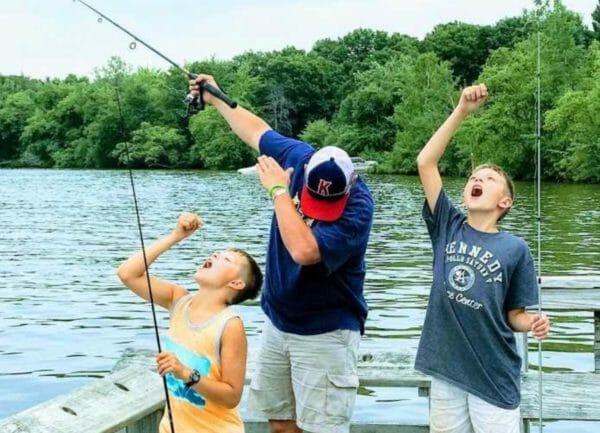 Just a few miles north of Holiday Shores is Buckhorn State Park which sits at the top of Castle Rock Lake a lake busy with boaters, skiers and pontoon riders. Buckhorn State Park includes a family campground, remote tent camping, swimming, fishing, boating and a beautiful self-guided canoe trail through a main flowage area. Pack a picnic in your canoe so you can stay on the water all day!
The actual Castle Rock, a rock formation that was just an island during prehistoric times, is just a few miles away. The best place for tubing is Sandy Shores Tubing where you and your entire family can tube down the Wisconsin River just relaxing the day away. We went with thirty people and it was a blast, but next time I think we will try just the four of us.
High Cliff State Park
Located on a high cliff, not joking, High Cliff State Park provides gorgeous views of Lake Winnebago in Sherwood, Wisconsin atop a very high cliff. This park cannot be beaten for the view it offers while hiking, biking, horse riding or skiing during the winter.
There are 100 boat slips for rent so that families can enjoy Lake Winnebago activities. Boaters will like that they can stay over-night on their boats at High Cliff State Park. Another unique attraction is that there is a public golf course right next to the park, this is a great additional activity that golfers will enjoy on a nice spring or fall day!
Peninsula State Park
Peninsula State Park is our number one recommended campground in Wisconsin, and we aren't the only ones to rate it number one, that is why it must be reserved eleven months to the day prior to your stay. It is a super popular Wisconsin State Park that families have flocked to for generations and generations.
It is located on Green Bay, a bay off of Lake Michigan in the town of Fish Creek. This state park offers over 400 campsites, three group camps, a summer theater, an 18-hole golf course, sandy beach, bike trails, a light house and eight miles of shoreline. We camp at this park every year and are never disappointed.
It is located in Door County, Wisconsin which offers adorable small towns, boutiques, art studios, boating, ice cream, wineries and 300 miles of beaches, bays, bluffs and rocks on the shore of Lake Michigan. Enjoy the Fourth of July in Door County with many choices of festivals, fireworks and picnics! You can even venture to Washington Island on a water ferry!
Check out this great post on Things To Do In Door County!
Huckleberry Acres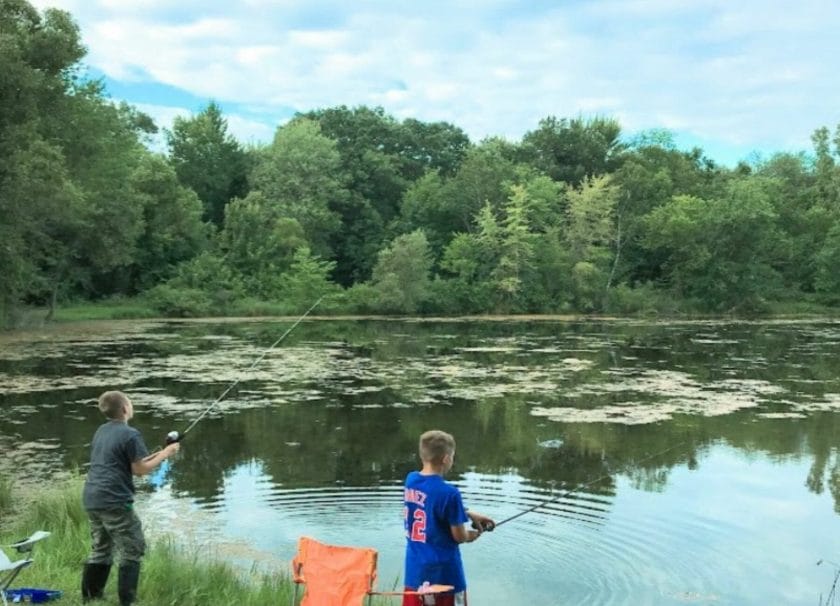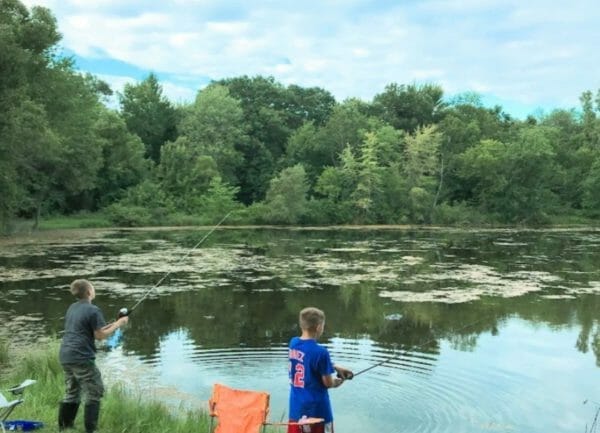 This is a hidden gem in the middle of Wisconsin, a small family owned private campground catering to families that camp on the weekends, yet keeping their seasonal families by always improving the campground.
Our favorite part of Huckleberry Acres is the swimming and fishing pond. This is a large pond with an island in the center that we can canoe or kayak around, years ago we were able to beach the boats and walk around on the island. Our boys love fishing here because the small fish are plentiful and require little skill to secure.
Adults might enjoy the fully stocked bar and Tiki bar where you can hear island music calling your name. The near-by small town offers great restaurants and cute shops. March might be a little early for some campers but we never miss the New Dublin Irish Fest in New London celebrating St. Patrick's Day.
Whistle Stop Campground

Whistle Stop Campground is a new campground that opened in 2017 in Marshall, Wisconsin. Excellent customer service is the focus of the general manager and workers. The Whistle Stop Campground has tent sites, group tent sites, back-in sites with water and electric, and pull-through sites with full hookups.
The cabins are large and beautiful. The largest sleep 10-12 people, which is perfect for camping with friends. There is a huge bonus to this campground that no others can claim!
Family campers will love this campground because of all the fun activities for the entire family. There are many inflatables in the swimming pond (this is where we spent much of our time), dunk tank, bikes, large paved roads, Space Ball, volleyball, jumping pillow and the most fun planned activities too!
The secret BONUS of this campground is a train to an AMUSEMENT park!!! The train goes to a great little amusement park, Little Amerricka. Our family took the train to LIttle Amerricka and spent the day on roller coasters, bumper boats, go-karts and more!
Staying at a campground, with a great train connected to an amusement park, family camping just does not get much better. Learn more about Whistle Stop Campground here!
Kettle Moraine State Forest – Northern Unit
The opportunities offered at Kettle Moraine State Forest range from backpack shelters, to horse campgrounds, to beaches, to hiking and biking. They did not miss an activity at this state forest area.
Our favorite place to camp is Long Lake Campground because of the beautiful campsites right on the lake. We always kayak on Long Lake as well as swim at the sandy beach. If there is anytime I wish we had horses it is when we camp at Kettle Moraine State Forest, the horse campground is awesome and the trails are beautiful.
There are more than 12 lakes and ponds (kettles) for fishing, along with fishing supply rental. The most popular fish caught are largemouth bass, bluegill, crappies and northern pike. With two family campgrounds you are sure to find the one that your family will love.
We like to choose this area based on festivals in Cedarburg, which is just under 45 min away. An adorable town with the most amazing small-town festivals, our favorite is Strawberry Festival in June.
Copper Falls State Park
With three waterfalls and two campgrounds your family will want to stay here for a week! This beautiful state park in Northern Wisconsin is just one of three state parks in the area with waterfalls. Pattison State Park and Amnicon State Park also offer beautiful waterfalls, with Pattison having the highest waterfall in Wisconsin.
Copper Falls State Park has seventeen miles of hiking trails. That unveil waterfalls, and Northern Wisconsin foliage as you enjoy your hike. A sandy beach is available for swimming at Loon Lake within Copper Falls State Park. This lake also offers a great place for boating (only electric motors allowed on the lake.)
Make Copper Falls your home base and travel out to the other state parks to explore the Wisconsin waterfalls.
Other camping spots in Wisconsin to check out: Rock Island State Park and Harrington Beach State Park. Any of the Apostle Island campgrounds, northern Wisconsin and Lake Superior.
Wisconsin has so much to offer, and we know you will enjoy your stay at any of these campgrounds! Whether you like nature, fishing and tents or amenities, hook-ups and glamping, Wisconsin has the perfect campground for you! Have you camped in Wisconsin before? Share your thoughts in the comments below.
More posts to check out:
5 Reasons to Visit Great Wolf Lodge Wisconsin Dells
40+ Helpful Tips For Planning An RV Trip
16 Terrific Things To Do In Wisconsin Dells With Kids
9 Amazing Things To Do In Minneapolis With Kids
Amazing Things To Do With Kids at Mall of America
27 Wonderful Things To Do In Kenosha, Wisconsin [Including Where To Stay]
11 Delicious Kenosha Restaurants You Will Want To Eat At
Top 15 Best Places For Apple Picking Wisconsin
Pin this for later: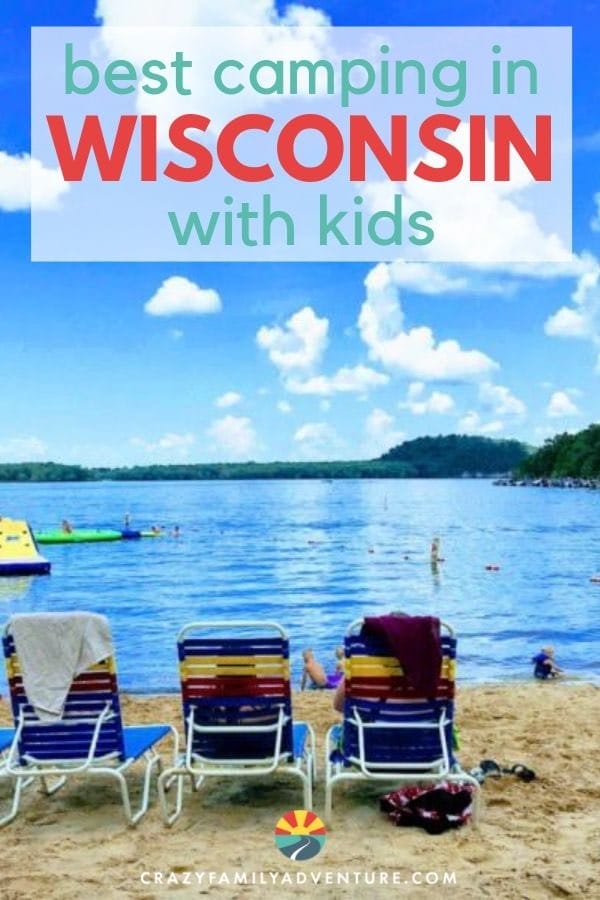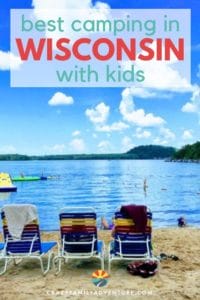 Latest posts by Pam Whyte
(see all)
DISCLOSURE: This post may contain affiliate links, meaning I get a commission if you decide to make a purchase through my links, at no cost to you. Please read my disclosure for more info.