When we think of Minneapolis, we automatically think of Mall of America. What we learned on our last trip there is that the Minneapolis area has so much more than just the Mall of America (though that is cool too)! We were pleasantly surprised by all the outdoor recreation options, the Mill City Museum, the Science Museum of Minnesota and all the family-friendly dining options. There are a lot of great things to do in Minneapolis with kids!
Below we share our favorites in and around this upper midwest city. Take note that Minneapolis along with Saint Paul (Minnesota's capital) make up the Twin Cities. You'll find a ton of family fun, outdoor nature and yummy ice cream!
Top Things to do in Minneapolis with kids
---
---
---
---
The Escape Game Minneapolis
If you are looking for a unique and fun indoor activity to do with your family be sure to check out The Escape Game! We weren't sure if it would be kid friendly but it totally was. You are put in a room and have 60 minutes to figure out how to get out. Don't worry the game master is there to help you.
Book Your Escape Game Tickets Now!
We really enjoyed doing this together as a family and loved how the kids were able to help us out with the clues and were part of solving them. We ended up making it out of the room in time! Check out our post on: The Escape Game for more information and to book your escape game!
Length of time: 90 minutes – you are in the room for 60 minutes but with the check in process and all that it should be about 90 minutes.
Kids: It was such a fun activity to do as a family! Our kids were 12,10,10 and 8 when we did it and it was the perfect ages!
Food: No food available
Learn more and buy your tickets at: Escape Game Tickets
Mill City Museum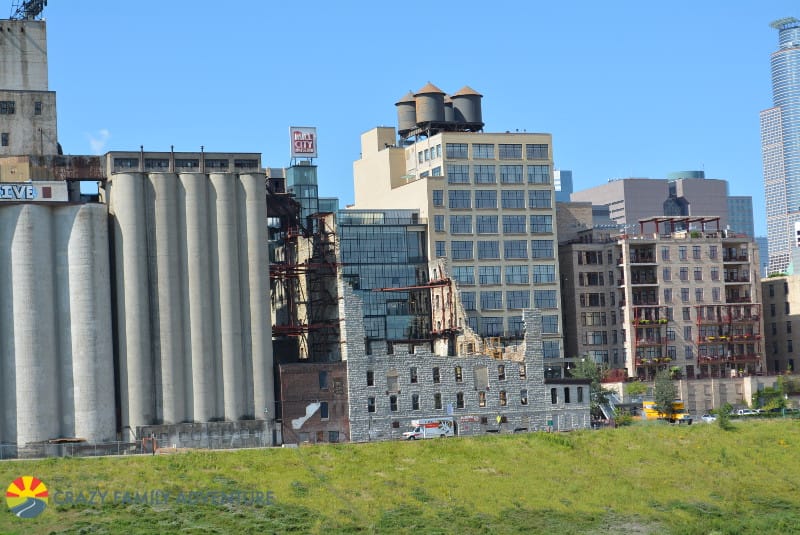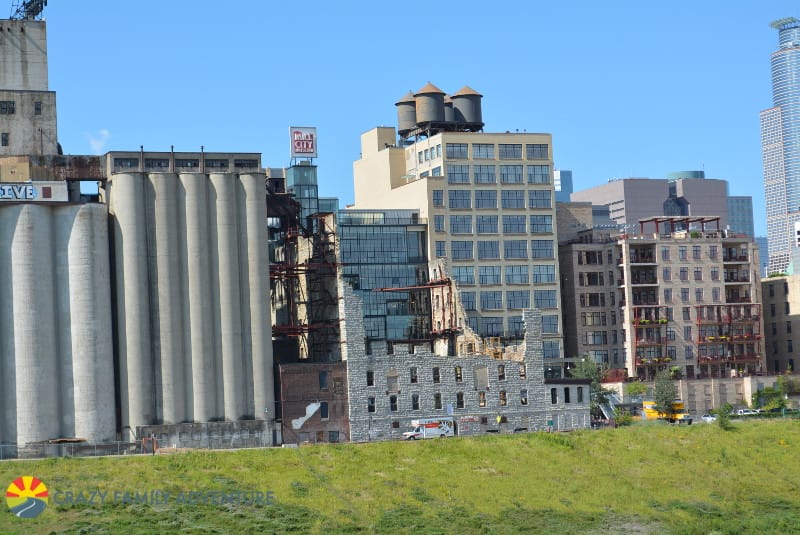 This is a great place to go to learn about the history of Minneapolis and how it became a city. It is located right on the Mississippi River. Plus there are great hands on activities for the kids – including bread sampling!
We really enjoyed the 19 minute movie that gave a very comprehensive overview of the history of the city. The Flour Tower tour takes you up in a freight elevator and elaborates on the history of flour in Minneapolis. Both shows were great for kids since they were quick and entertaining.
You also don't want to miss the view from the observation deck. So make sure to stop out there before you come back down after the Flour Tower.
Length of time: 2 hours at most if you do both shows.
Kids: There is plenty for kids to do and the shows are appropriate for kids of all ages.
Food: You can get a sample of fresh made bread!
Learn more at: Mill City Museum
Science Museum Of Minnesota
This is actually in St. Paul, but it is worth the short drive. It is 4 stories of hands on fun for you and the kids. Each level offers something different and you could spend all day here exploring the museum.
There is the "quackery museum", which has a collection of unique and quacky things that people have invented was one of our favorites. Along with the news center where the kids could pretend they were news anchors and actually see themselves on TV as well as the giant astronaut where you could super-impose your face on the astronauts helmet so it looked like you were the giant astronaut! We also spent a lot of time at the Hydraulics lab.
When you are there, don't miss the IMax show! We saw the one about the National Parks and it was fantastic. The shows change, so check into what show is playing before you go.
We also visited the Mummy exhibit which I thought was cool, but the kids weren't that interested in. Exhibits change too, so check to see which one will be there when you go.
Can you see how you could spend a whole day here? We kept having to tell the kids we have to move on or we weren't going to see everything before they close!
Length of time: All day
Kids: Great for all ages. For the older kids they can actually figure out how things work. For the younger kids they will love touching all the buttons and building things.
Food: They have an eating area, but no food is allowed throughout the museum.
Learn more at: https://www.smm.org/
Mall of America
So much more than a mall and an amazing family travel destination. You have an indoor amusement park, the Crayola experience, restaurants, Fly Over America and more. It is definitely a not miss stop on your trip to Minneapolis.
Check out our Things To Do With Kids in Mall of America post for a more in-depth look at our visit to the mall!
Children's Theatre Company
This was our first experience bringing the kids to a play and it was a great choice! The Children's Theatre Company is nationally known and we could tell why. The play was very interactive with the audience and perfect for kids of all ages.
Our kids sat still through the whole thing! If you know our kids that is quite a feat since they don't even sit through movies at the movie theatre.
The play had 2 acts, each about 45 minutes long and a 15 minute intermission. Here is a tip: Buy your intermission snacks before the show starts and they will have them ready sitting in a bag on the counter so you don't have to wait in line for your snacks. This theatre knows how to make things work for families!
Length of time: 2 hours. You will want to get there a few minutes before your show since you have to park. Other than that, it is really easy to get into the theatre.
Kids: Great for all ages and they actually have a room for kids that just can't sit still at the back of the theatre.
Food: Nothing in the theatre, but there is a snack stand for intermission.
Learn more here: https://www.childrenstheatre.org/ and learn more about all of the Theatre and Performing Arts locations in Minneapolis here.
St. Anthony Falls and Stone Arch Bridge
A beautiful place to take a walk out over the water to see the waterfall – which is a large part of Minneapolis's history. Plus you can see the Mill City Museum from here.
Length of time: it would only take 30 minutes or so to walk the whole bridge, but could be longer if you choose to linger and take in the buildings and the waterfall.
Kids: Great for kids since there are no cars on the bridge just people walking and bikes.
Amazing Scavenger Hunt Adventure
Discover and explore all that St. Paul, Minnesota has to offer with this fun experience for the whole family! Solve clues and complete challenges on your smartphone. Get your tickets here!
Or try your hand at the 3-hour Scavenger Hunt Adventure here!
Minnesota Zoo
If your kids are into the Zoo then you won't want to miss the Minnesota Zoo. Also be sure to check out their seasonal shows and activities that they have going on. Going to the Zoo is always a great family day.
They also have a great interactive, nature based play area that your kids will love.
Minnesota Children's Museum
You know if you have little kids a Children's Museum is a must! This one is pretty cool and has an area on the state habitats and a roof top park.
SEA LIFE Minnesota Aquarium
The kids will love the 300-ft ocean tunnel while viewing sharks, jellyfish, sea turtles, and more! Get your tickets here!
Minneapolis Sculpture Garden
It is free and outside so that means it is family friendly! Come check out the cool sculptures and stretch your legs.
Minneapolis Institute of Arts
An art museum and kids may not always be the best match. But with Family Day at the Minneapolis Institute of Arts it is a great combination! They have great creative in studio programs at their art center.
If you are in to art you may also want to check out the Weisman Art Museum or the Walker Art Center.
North Commons Water Park
If you are looking for outdoor summer fun check out this outdoor waterpark with a 3 story water slide and splash pool.
Lakes
Minnesota has over 10,000 lakes and Minneapolis definitely has its share of beautiful lakes and beach areas. Getting out on the water has been one of our favorite things to do with our kids. Unfortunately, we were only in Minneapolis for a few days so we didn't have much time to visit all of the amazing lakes in the area. We would love to come back to do that in the future!
Minnehaha Park
The park is located right by the city and had a nice stage area and restaurant. You could walk down to the river and actually dip your feet in the nice cool water. Cannon's dip turned into a full out swim. It was so cool because it wasn't expected in the middle of the city.
Another place that you could spend a lot of time just hanging out.
Bde Maka Ska Park
Formerly known as Lake Calhoun is the largest lake in Minneapolis and part of the Chain Of Lakes. There are great walking and biking trails here.
Lake Harriet
We stopped in to check it out and wish we would have planned to stay longer. We heard great things about the restaurant there and would have loved to rent a kayak or paddle board to take out on the lake.
Minneapolis was such a surprise because we thought of it as a large city, but didn't realize what a small city feeling it has and how much amazing indoor and outdoor activities they have. We could have spent a week there doing all the fun inside things and then another week enjoying all the outdoor fun.
If you plan on staying for a while, we highly recommend bringing bikes. There were bike paths all over the place and it would be a great way to get around the area.
A few other options you may want to add to your list are:
A Minnesota Twins game at Target Field
Where To Stay
Camping
Lebanon Hills Regional Park Campground, which was a beautiful campground and only 15 minutes from Mall of America. If you want to stay farther away from the city, O'Neil Creek Campground is about an hour and a half from Minneapolis in Chippewa Falls, WI.
Hotel
Embassy Suites are a good option. Especially when breakfast is included! Or check out the Hampton Inn & Suites.
Vacation Rentals
Stay in downtown east at this cool apartment. Or in the North Loop neighborhood at this cute 2 bedroom apartment.
To learn more about things to do in and around Minneapolis be sure to check out: Minneapolis.org
If you like National Parks check out: National Parks in Minnesota.
Other Things To Do In The United States:
27 Wonderful Things To Do In Kenosha, Wisconsin [Including Where To Stay]
18 Amazing Things To Do In Milwaukee This Week
11 Delicious Kenosha Restaurants You Will Want To Eat At
16 Terrific Things To Do In Wisconsin Dells With Kids
39 Reasons You Will Fall In Love With Green Meadows Farm
25 Fun And Exciting Things To Do In Chicago With Kids
Pin it for later:
Disclosure: A big thank you to the Meet Minneapolis Convention & Visitors Association for hosting us during our visit. All opinions here are my own. #truth
DISCLOSURE: This post may contain affiliate links, meaning I get a commission if you decide to make a purchase through my links, at no cost to you. Please read my disclosure for more info.