Waterparks are becoming an amazing day out. The tech that has gone into these places is just downright impressive these days! We have the best top 5 indoor water park New Jersey listings to keep you busy and cool!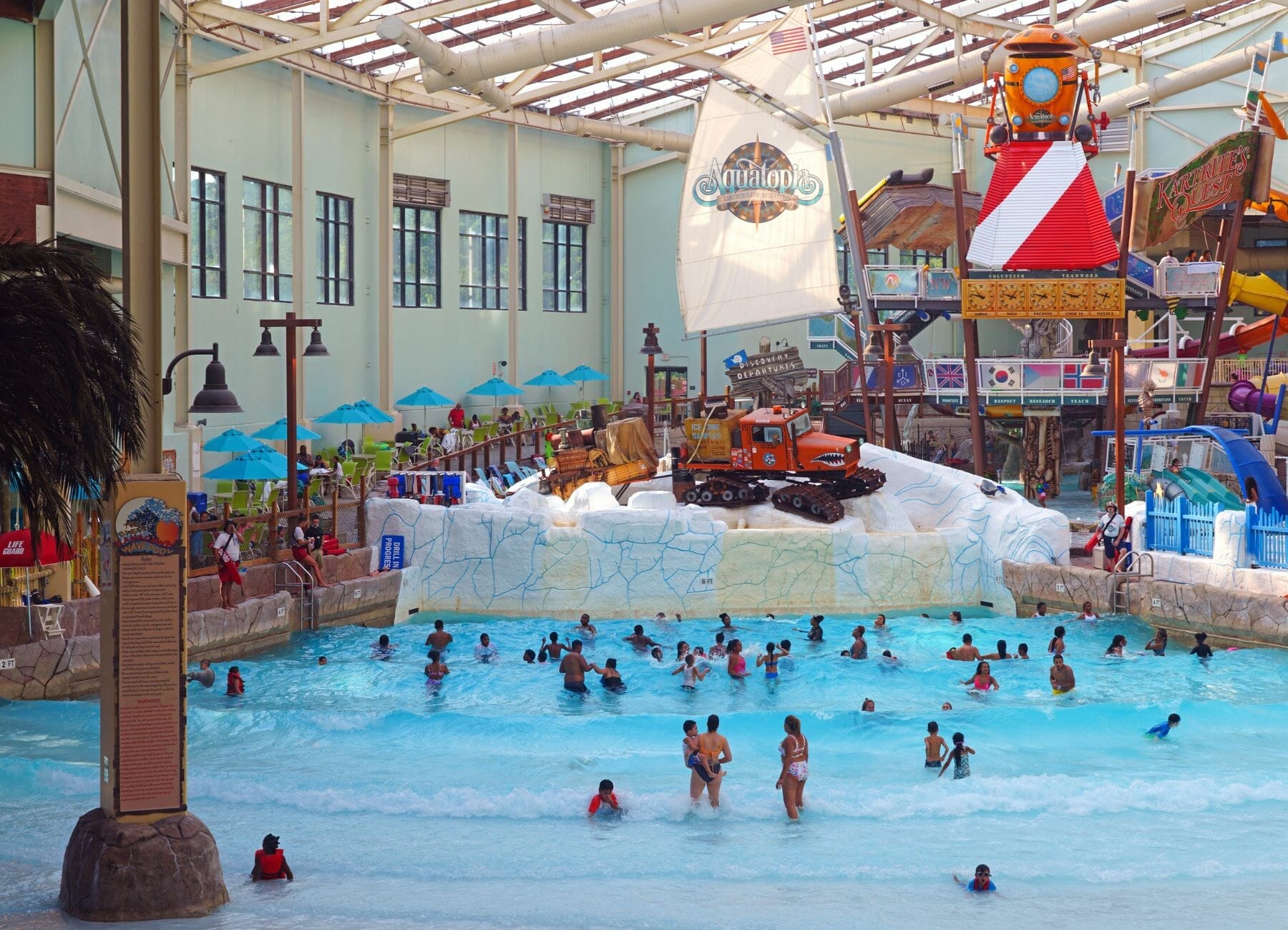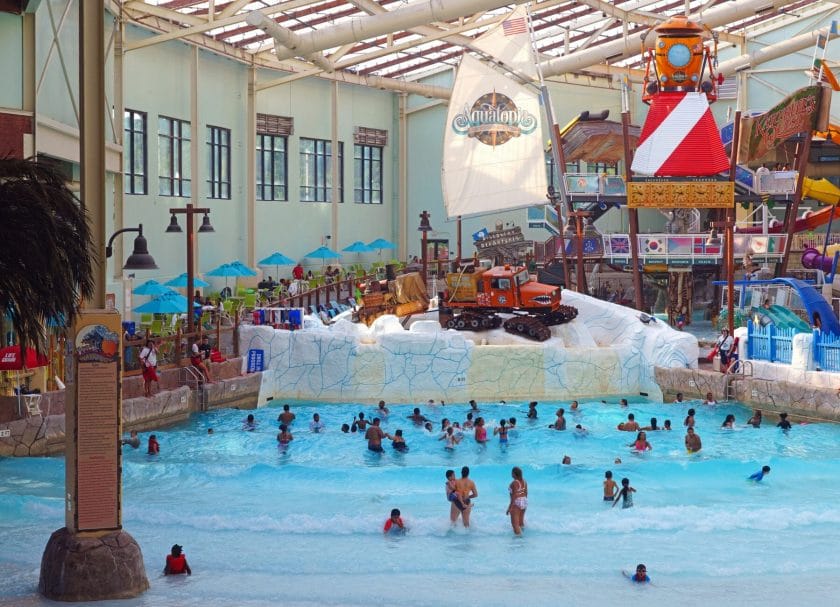 Walking into the water park today, you will see all different types of water slides, water activities, body slides, flow rider surf simulators, white water rivers, and activity pools that look like mini cities!
Coming from a theme park lovin' family, we were more roller coaster and carnival ride experts. But hovering above us at all times was the super special day when we would pack up the overly excited brood to head to the water park!
We did this every summer as kids; it was one of the most exciting things we could do!
We had no idea at the time that our home water park would end up being famous, or should I say infamous, for just how incredibly dangerous it was. Action Park, now known as Class Action Park, was where we went more often than not, and we had an absolute blast every time. Scrapes and bruises included!
The great news is that water parks have much more developed and defined regulations. In my well-worked opinion, the rules have changed and changed for the better.
It's not only the rules that have improved over the years either. The quality of slides and attractions has skyrocketed. If you haven't been to a water park in a while, you might not recognize what it is you're seeing.
Tunnels, launches, drop towers, and huge funnels reaching the sky could be a shock to the system!
Another area of focus has been building the mega water parks INDOORS! Can you believe it? Indoor water parks are open year round!
I remember many times when our planned day at the water park rained out. I can't tell you how many times I've uttered the sentence "why does it matter if it's raining? We're gonna get wet anyway!" as a kid.
Having an indoor water park New Jersey option would have been a literal dream come true for us back in the day. Well, the water park lovers of today have plenty of options on rainy days or even icy mid-December days, for that matter.
365 days a year, in some cases, indoor water parks are here and here to stay! If you've been to even one, you'll know exactly why.
Climate controlled, weatherproof, and just as good as the outdoor variety, indoor water parks are worth a look. So, let's do just that. Let's take a deep dive into the top 5 indoor water park New Jersey located in and around New Jersey today!
DreamWorks Indoor Water Park New Jersey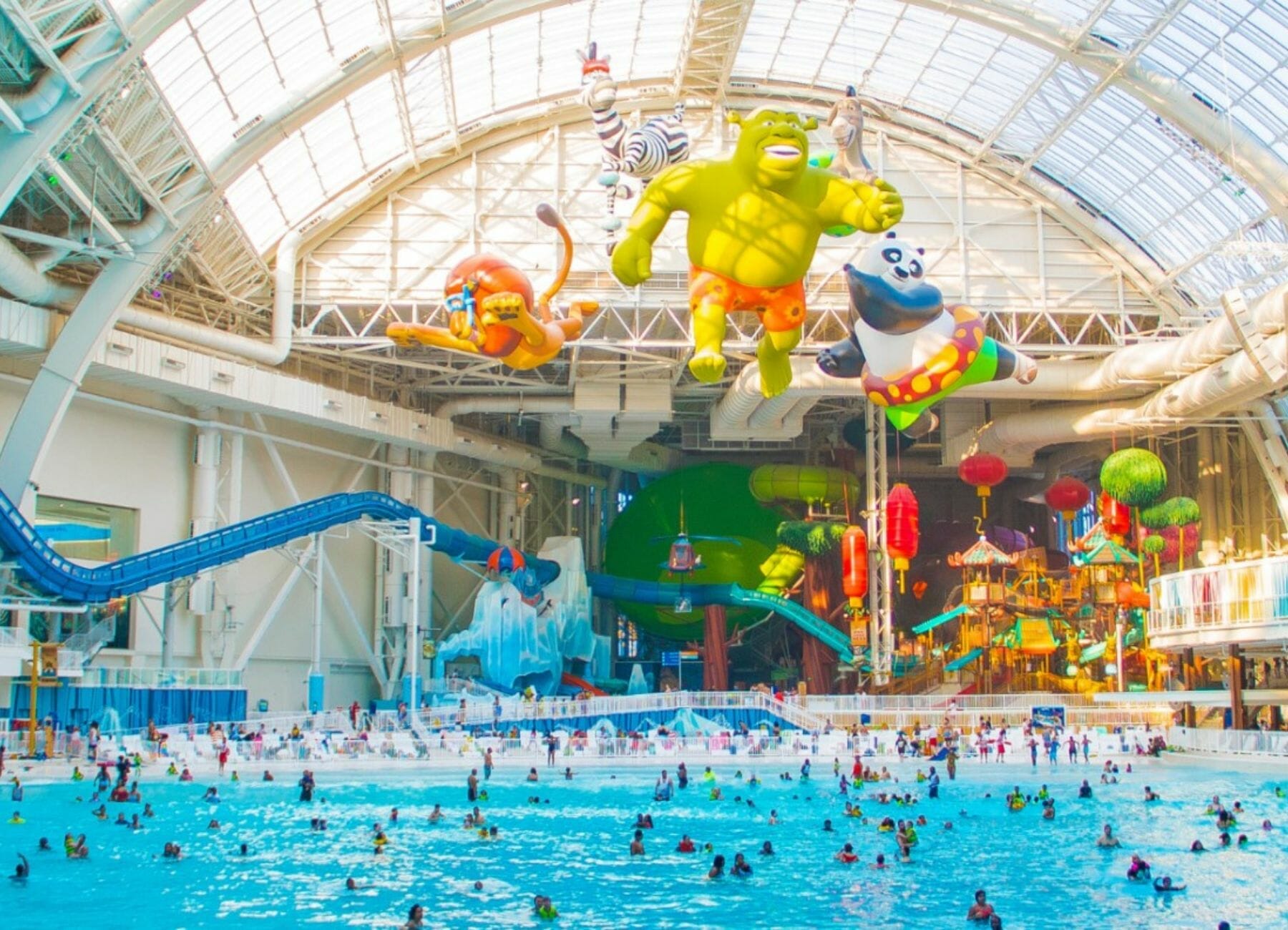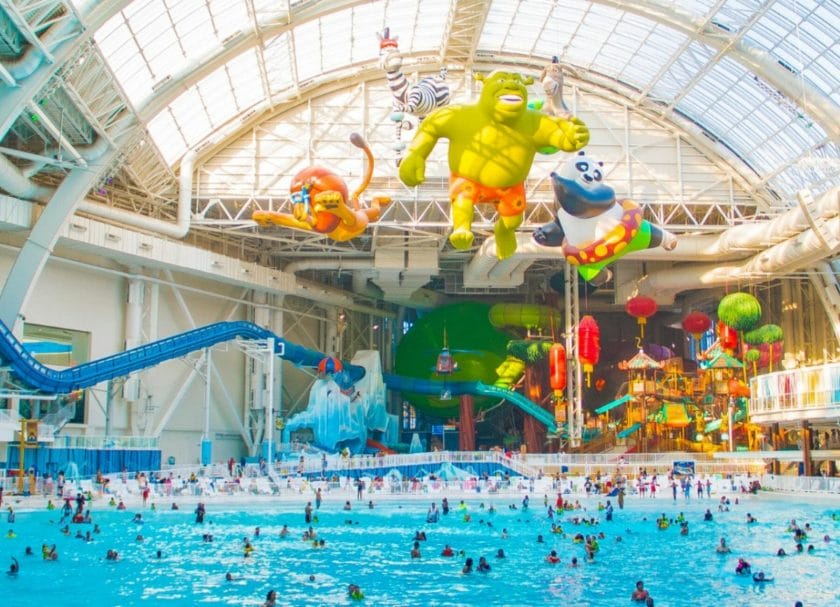 I'm a fan of just doing it. "Diving right in!" So let us begin with the newest, biggest, and closest to the country's largest metropolis New York City! DreamWorks water park is located in the American Dream Mall in East Rutherford, NJ.
Holy Cow! The first time I set eyes on this place was during our visit to Nickelodeon Universe, the brand new theme park sharing the same location as the American Dream Mall in East Rutherford, NJ, and is a part of the Meadowlands sports complex.
The Meadowlands is famous for housing MetLife Stadium, where the NY Jets and Giants play and the Meadowlands horse racing track and IZOD arena. It's a huge complex filled with more to do than maybe any other place I can think of.
Being a sad and beaten-up NY Jets fan and content creator, I've spent countless hours in the Meadowlands sports complex over the years!
The water park wasn't open, but we could press our faces to the glass and peer in amazement at the massive undertaking to welcome guests for the first time in a few weeks.
We were blown away just looking at it.
The park opened its doors officially on October 1st, 2020, and it immediately took the water park world by storm.
First, not every water park has the power and potency of the DreamWorks IP (intellectual property) spicing up the joint. This place lives and breathes famous characters such as Shrek & Donkey, The Madagascar crew, Kung Fu Panda, How to Train Your Dragon, and The Trolls.
The characters add legitimacy and a level of fun that is tough for other parks to match. Larger-than-life-sized statues and inflatables hanging from the ceiling are met with opportunities to meet the characters in person.
The 8.5-acre indoor mega complex just happens to be the biggest indoor water park New Jersey in North America! It's truly a sight with huge slide towers themed to the fun DreamWorks characters.
Record-breaking attractions include the world's largest wave pool, the world's tallest body slide, and the world's longest hydromagnetic rocket water coaster!
DreamWorks Water Park Features
Here is what you can expect when you visit DreamWorks
Dumping Bucket: Yep!
Theirs can be found in the Kung Fu Panda Temple of Awesomeness area.
Water Coasters: Oh yeah!
How does the world's longest hydromagnetic rocket water coaster sound? Toothless' Trickling Torpedo is just that!
Wave Pool: Yes!
Far Far A Bay is a 1.5 acre, 1,500,000 gallon wave pool, making it the biggest on the planet! Always at 84 degrees, the wave pool is the centerpiece of Dreamworks!
Tube Rides: Yes
Technically they have 3 tube rides. Swamp and Splash, Shrek's Sinkhole Slammer, and Speeding Frenzy. They vary from 1-4 person tubes. The Water Coaster is not considered a tube ride, but you are on an inflatable raft when you brave the coaster!
Swim-up Bar: No
No Swim up bar, but they do have a DJ named King Louie the Lemur at the Pineapple club! That has to make up for something, right?
Lazy River: Oh Yeah!
Another record breaker here! The Bubly Lazy River is the longest indoor lazy river in the world!
Children's Play Area: Yes
They have 2 children's areas. The toddlers get their own water slide complex with 6 slides at the Penguin's Frozen Fun Zone! The large splash and play area is the Kung Fu Panda's Temple of Awesomeness!
Dining Options at DreamWorks Water Park
They have the sort of humdrum pre-packaged sandwiches at the snack bar. Sandwiches are about $10.00, and Premade salads run about $13-15.00. Chips, drinks, and such are all right there for you if you're hungry.
But let me make a suggestion. Wait till the end of your day at the water park and hit the American Dream Mall. DreamWorks water park is nestled right inside the second largest mall in the country. There are tons of food options around that will almost certainly add a nice touch to the day.
Everything from 5 Guys and Bravo Pizza to Carpaccio and something called the Beef Jerky Experience is mere steps away inside the same water park building. Unless you're ravenous mid-day, this would be a better choice than the snack bar in most cases.
An interesting option will be if you are renting one of the Sky Boxes. They have a system where you can order food at restaurants such as Taco Bell or Wendy's.
They will happily pick it up for you and bring it back to your sky box! That's a pretty neat touch. Knowing the food will be here in a few minutes takes a lot of stress off of the day and could be a lot of fun!
More on this in the cabana section!
Where To Stay When Visiting DreamWorks Water Park
The American Dream Mall is located in one of the more populous areas in the North NJ area. Within 10 miles of New York City, you will be able to find accommodations galore. Having grown up in this general area, I can best advise you to stick to reputable hotel brands.
*Do not trust pictures online for hotels you are unfamiliar with! There are many seedy hotels and motels in the area that will look "perfect" on the internet. Don't do it.
Just pay the extra few dollars to stay at a hotel chain you are comfortable with. Hilton, Marriott, Lowes, and the like are amply represented in this basic vicinity.
Additional Information
Towel Rental: Yes
Cabana Rental: Yes
They have numerous options for cabana rentals here. The standard cabanas you think of are all over the place. On the side of the pool. Along the lazy river etc. It's the Sky Boxes that separate DreamWorks from the rest.
These are not cheap, mind you, but they are excellent. Think of having a hotel room above the massive wave pool. It reminds me of the Cabana Bay Hotel rooms at Universal Orlando.
Three options run from $700- $1200 for the day. Two and three floors above and overlooking the water park, the Sky Boxes pricing looks like this:
Bay View (8 people max) – $400-$700 per day
Sea Suite (10 people max) – $600-$900 per day
Ocean Suite (16 people max) – $1000-$1200 per day
Sounds expensive, but let me tell you, they also come with a stocked fridge filled with "free" Coca-Cola products. Does that help?
Showers: Yes
Day Passes Available: Yes
Ticket pricing is based on the time of year and whether or not it is their peak season. Full day passes run from:
3 – 9 yr olds – $64 non-peak / $74 – $94 Peak
10 yrs and older – $69 non-peak / $79 – $99 Peak
Under 2 – Free
They do have military and senior discounts, and it saves $10 to book online beforehand. There is a $10 surcharge to buy a ticket at the counter per ticket. A family of four will pay an additional $40 just for buying the day passes when you arrive.
DreamWorks water park is on another level as far as the attractions and environment go. It's just the truth of it. That comes with its own potential issues too. Obviously, pricing is higher than other indoor water park New Jersey, and it can get incredibly crowded on the weekends.
That said, if you just want a great experience that's hard to find elsewhere, this might be a serious option to consider. Bigger, faster, and longer with Shrek and Kung Fu Panda walking around are hard to replicate. Especially with your view from 3 floors up in the sky box!
Camelback Water Park/Aquatopia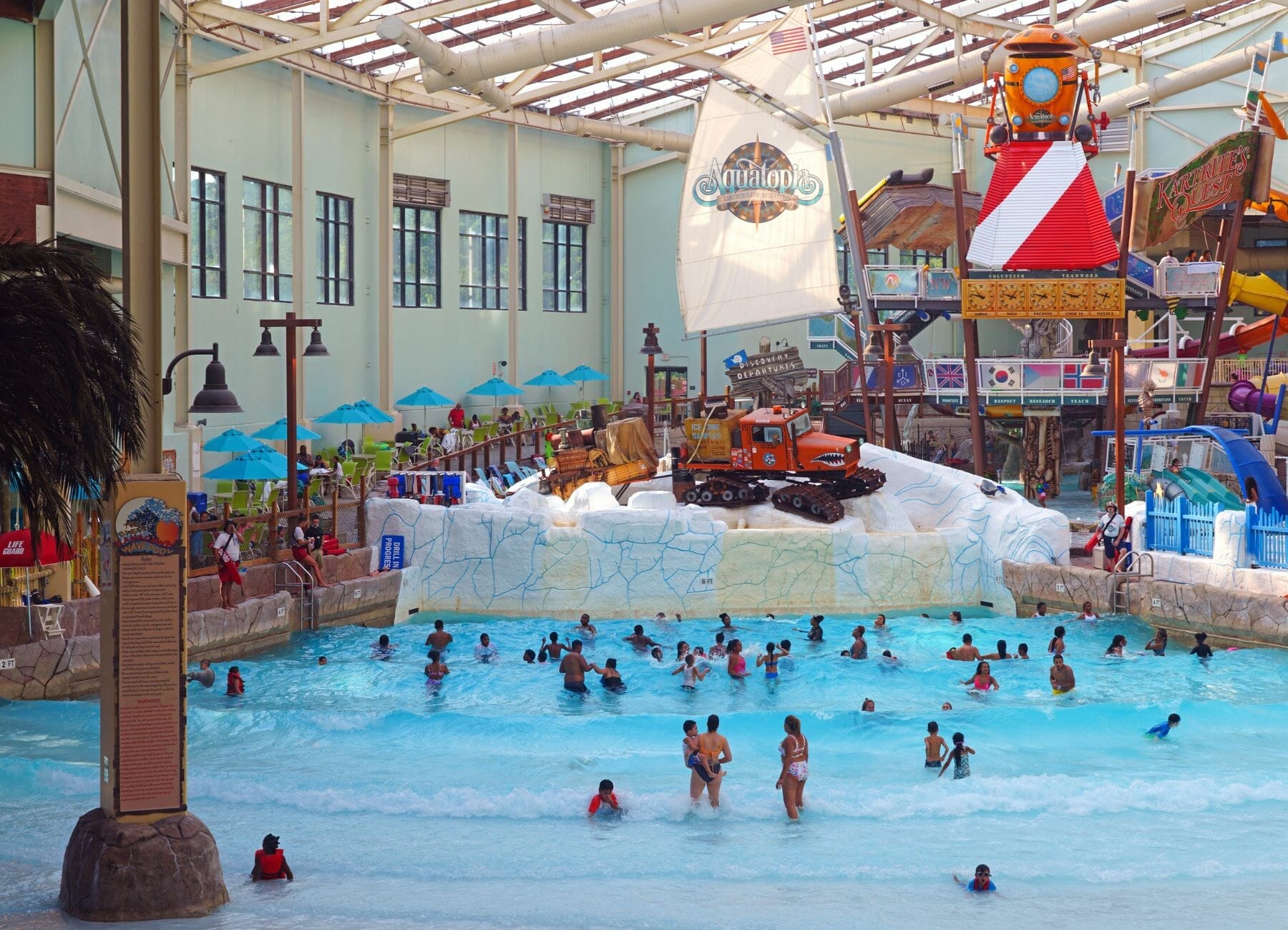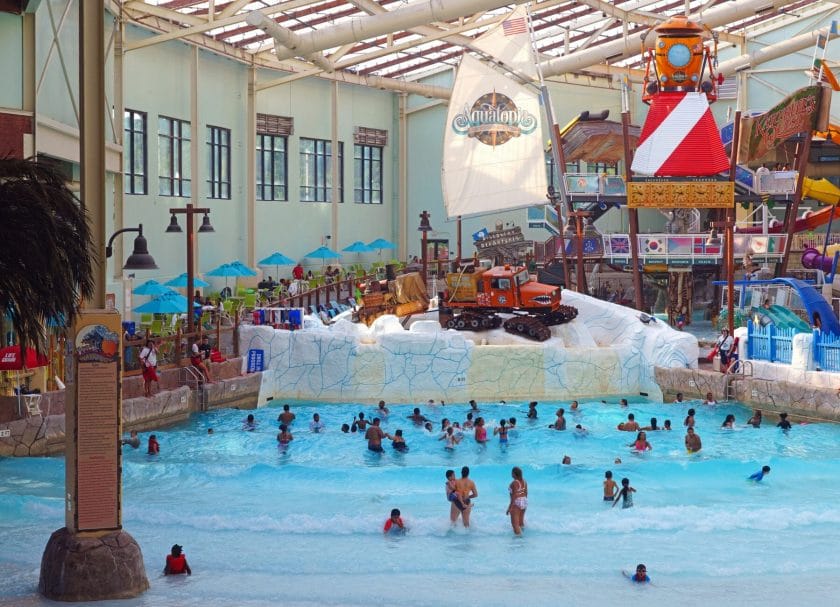 When people in NYC or Northern NJ want to get away from it all, they generally head to one of two places. The Jersey Shore or The Poconos. For as far back as I can remember, the Poconos were the place for Skiing in the winter, waterparks in the summer or a Poconos romantic getaway.
The Poconos are a section of the mountain range in North East Pennsylvania, so technically not in NJ, but it might as well be. Mere minutes from large swathes of Jersians, the Poconos are one of the top destinations in the area just over the PA/NJ border.
Camelback was one of my favorite skiing mountains in the Poconos as a youth. When we'd head there, we could see the outdoor water park looking pretty sad, all covered in snow for the season.
If we wanted water slides, we just had to wait till the weather cooperated with us.
Now? Camelback still has all of the other great attractions they always did, but since 2015 they also have an amazing indoor water park New Jersey called Aquatopia!
The gorgeous glass ceiling (actually Texlon) turns the winter sun into an environment where sunscreen is still a good idea… in the winter!
The park is open 365 days a year, so once again, water parks are becoming an all-year option for us thrill seekers out there!
A wonderfully themed water park with all the slides and fun you'd expect is right here at Camelback! Let's take a closer look at Pennsylvania's largest indoor water park!
Aquatopia Features
Here is what you can expect when you visit Aquatopia
Dumping Bucket: Yes
Located in the Kartrite's Quest play area. All the splash and play fun you could hope for in the world's first themed 'Next Gen" multi-level play structure!
Water Coasters: Yes
The Storm Chaser is North America's longest "uphill" water coaster and boasts 5 drops! There is rumored to be legitimate air time on Storm Chaser which is not always the case on a water coaster! Brace yourself for this one! It's not your mother's water coaster.
Wave Pool: Yes
The Great Ka-Na-Gawa wave pool has an interesting claim. How's the biggest waves in North America grab ya? Not the biggest pool, but the biggest waves. I like it!
Tube Rides: Yes
3 of their 13 slides are tube rides. Unique options such as the Venus SlydeTrap are really cool experiences you can only find at Aquatopia. Imagine coming out of a tunnel into a massive funnel shaped like a venus fly trap's mouth… with TEETH! That's Venus SlydeTrap.
Swim-up Bar: Yes
Aquatopia does offer a swim-up bar in addition to the Mystic Springs spa-like area. Children must be accompanied by an adult, but this one is really designed to leave the kids in the play areas for a few min. Hot tubs and hydrotherapy pools can add a nice touch for mom and dad after chasing the kids all day.
Lazy River: Yes
The Lost River is a bit different than many other lazy rivers. These days, lazy just might include rapids and fountains squirting you. Lost River does all that and then some with a lighting package to enhance the experience.
Children's Play Area: Yes
They have two areas that apply. The Penguin Play Bay is for toddlers and themed to an icy Antarctic penguin's home!
Kartrite's Quest is an extremely large multi-level play structure with slides, the splash, play area, and water basketball hoops. It's kinda crazy in there, and some kids might not leave the area for hours!
Dining Options at Camelback/Aquatopia
The great news about Aquatopia is that it is all part of the larger Camelback Resort. There are plenty of food options right within walking distance.
You can get everything from slices at Graffiti Pizza to my personal favorite, Berrelli's Italian Chophouse. There's something about the word chophouse to me, but this one is coupled with amazing Italian dishes, all made with their own unique flare.
Well worth the visit!
Where To Stay When Visiting Camelback/ Aquatopia
Again, I'd say the Camelback Resort aspect makes this a no-brainer. The hotel is beautiful, clean, comfy, and has terrific staff to help you out.
Booking ahead of time is the way to go here. The last thing you want to do is make the trek out to the Poconos only to learn there isn't a room available.
The truth is, there are plenty of other hotels and Airbnb rental homes in the Poconos area, but what's better than walking down the hall from the water park straight to your room?
Additional Information
Towel Rental: Yes
Cabana Rental: Yes
They have a few options in this regard. The standard cabanas are a great way to set up a home base and always make things easier, in my opinion. The Family Cabanas are able to accommodate up to 12 guests. Both come with a fruit basket, TV, mini fridge, and table.
The VIP seating is another rental option you might like. Private entrance to the wave pool as well as food and beverage service make this a much more relaxing take on the water park experience. VIP comes with lounge chairs, side tables, and even a towel!
Lockers: Yes
Showers: Yes
Day Passes Available: Yes
Aquatopia day passes run from about $109 for the full day.
They have all sorts of packages which can save you a lot of money. They are encouraging you to buy the season passes to save the price on the day pass.
For example, a Fall pass costs about $299. So if you stay for a weekend and hit the park for 3 days, it's already covered.
When you head back to the park a couple of months later, it's free!
Aquatopia Value Pass Summer comes with entrance to CamelBeach, the outside water park as well. For $399, you can have 2 water parks open all summer!
Camelback resort is an epic spot for so many reasons. Aquatopia is just the newest addition to an already wonderful place.
Their attention to detail has always been noticeable to me, even as an impetuous high school skier! It was one of my favorite places all the way back then, and they have continued that reputation with Aquatopia, a truly wonderful indoor water park!
H2OOOOHH! @Split Rock Resort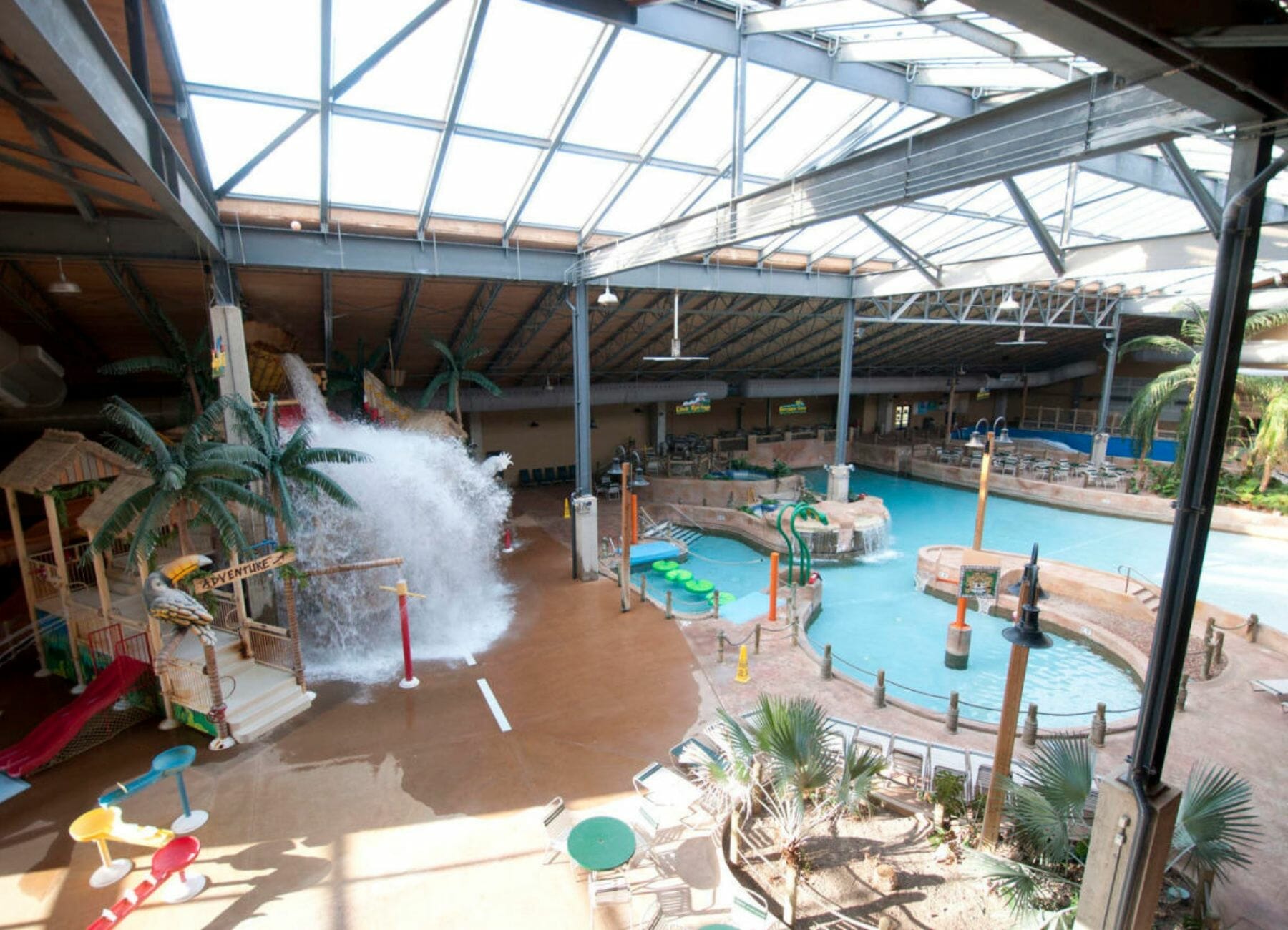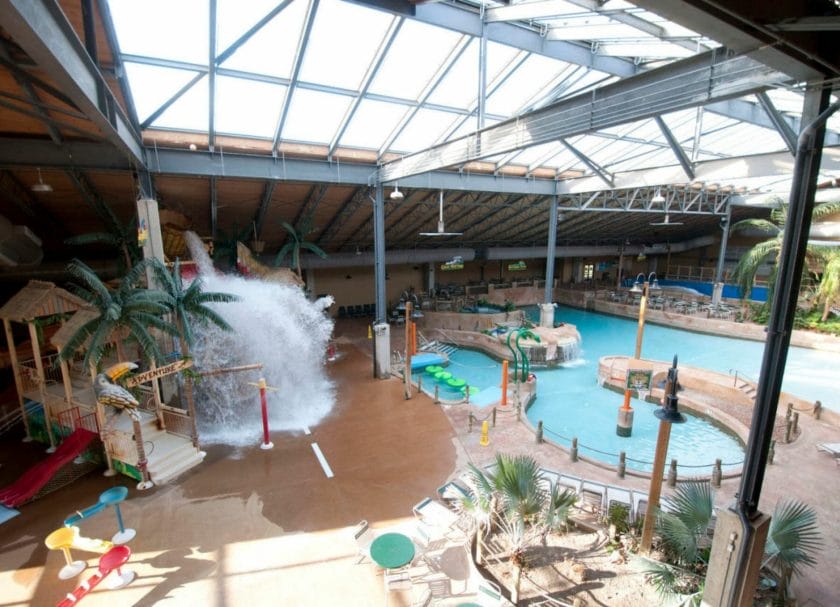 Ok, I'm a little tired after Aquatopia, so I'm gonna stay right here in the Pocono's to give us a taste of something a little bit different from the two mega parks we've already discussed in this article.
No reason to drive all the way to Southern NJ just yet!
H2OOOOHH! It is on the smaller side, but only if we can call 53,000 sq ft of water attractions small.
Located in the Split Rock Resort in Lake Harmony, PA, this one might be the perfect place for the smaller kids. Don't get me wrong, H2OOOOHH! It can provide a great day for the teens, but its focus is clearly on the little tykes. Hey, they need some attention, too, right?
H2OOOOHH! Features
Here is what you can expect when you visit H2OOOOHH!:
Dumping Bucket: Yes
Located in the Jungle Falls Adventure area, the bucket is timed to splash everyone brave enough to stand below it!
Water Coasters: No
No water coasters at this water park!
Wave Pool: Yes
Hurricane Cove is a wave pool focused on being a little tamer than the two previously mentioned here. But it's just as much fun!
Tube Rides: Yes
Piranha Viper and Amazon Blast are wonderful tube rides that will be included in the whole family's most exciting moments at the park!
Swim-up Bar: No
No swim-up bar, but there are hot tub relaxation areas in Lava Springs for the parents to get that moment of serenity among the storm. You can purchase cocktails at the Big Kahuna Tiki Bar.
Lazy River: No
No Lazy River at this one!
Children's Play Area: Yes
The Jungle Falls and Leapin Lizards play areas are more than enough to keep the young ones busy all day. And maybe even lead to a restful night. Now, doesn't that sound wonderful?
Dining Options at H2OOOOHH!
This water park connected to the Split Rock Resort offers a nice selection of dining options.
You can always get the munchies out of the way at the Snack Shack inside the water park, but if you're looking for more of a dinner after the fun, you have plenty to choose from.
The Thirsty Moose is what we would call comfort food in a comfortable setting. You can also try their newest restaurant, Bistro Fusion.
They have 7 different food options in or around the H2OOOOHH indoor water park New Jersey! There's an extremely good chance you'll find exactly what the doctor ordered!
Where To Stay When Visiting H2OOOOHH! Water Park
Being in the Poconos, you're going to be able to find whatever accommodations you'd like. Airbnb houses, comfortable resorts in the area, and hotels are plentiful. The best recommendation I can make for the most purely fun experience is to stay right in the Split Rock Resort at Towne Center!
For example, a Junior Suite with a kitchenette starts at around $205 per night. It accommodates 4 people perfectly and makes the whole trip to the water park simple and contained. Whenever I have the chance to simplify a vacation, I will jump at the chance to do so.
Additional Information
Towel Rental: No
It's important to bring your own towel to the water park.
Cabana Rental: No
Lockers: Yes
3 sizes of lockers are available. Pricing is anywhere from $12 – $22 for the day.
Showers: No
Day Passes Available: Yes
Day passes begin at $38. You can also get a twilight pass which provides entry for the final four hours of the day. The twilight pass will cost $25 or $20 for people under 42″ tall.
H2OOOOHH! It is a really great indoor water park. They are not trying to compete with places like DreamWorks. They focus on providing top-notch family fun in a well-maintained environment.
Perfect for families with little ones, you won't feel like you're getting gouged for the use of 10% of the park. The place is made for the kids, and they will more than likely come away thinking it was the best place they've ever been.
Having the run of almost the entire place can give the pre-teens that feeling of growing up and H2OOOOHH! Unabashedly provides just that for them!
Big Kahuna's/ Sahara Sam's Oasis Indoor Water Park New Jersey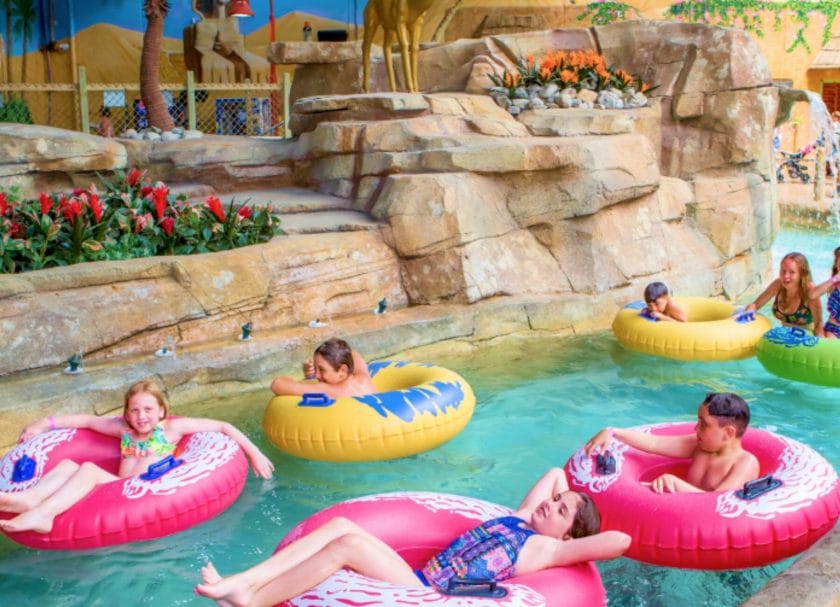 Ok, I have to be honest here. I have never actually been to this park. Over the years, I have been to literally hundreds of theme parks, amusement parks, water parks, and carnivals, but this one has eluded me up to this point.
It's ok, though; my second favorite pastime after visiting these awesome establishments is researching them! I love knowing all I can about the newest or most classic ride attractions around the country (and world), so this one falls into that category!
One thing I can tell you right off the bat is that the name is a bit confusing. Let's see if I have this right. The indoor water park New Jersey used to be called Sahara Sam's Oasis. They recently changed their name to Big Kahuna's indoor Water Park New Jersey.
The entirety of the place is a Boomer's park which is owned by Apex Parks Group. Apex is a company I've had a love/hate relationship with for over 15 years.
They don't know anything about this relationship I have with them, but it's pretty strong over here, let me tell you!
That said, there is a pretty well thought of indoor water park New Jersey in West Berlin. That's right between Philadelphia, PA, and Atlantic City, NJ but a little closer to the Philly side. So let's just call it South Jersey for today.
With a retractable roof, Big Kahuna's is already very different from the other indoor water parks we're discussing here today. It can give you the feel of an outdoor water park if the weather is good, but it can easily keep the fun going when the weather decides it's not a water park day!
With plenty of slides and splashy fun, I think Big Kahuna's is worth a deeper look, especially if you're heading to the southern portion of NJ.
Big Kahuna's Features
Here is what you can expect when you visit Big Kahuna's.
Dumping Bucket: Yes
It's a point of pride, actually. With the bucket done up to look like it's made of bamboo, it splashes everyone below on a timer that most kids can figure out pretty easily! Know exactly when to return, and you'll get the goods- hundreds of gallons of water dumped right over your head!
Water Coasters: No
There is no water coaster at Big Kahuna's indoor water park New Jersey, but they have numerous body slides, which can be a lot of fun. The combo of body slides and tube slides makes their attraction offerings nice and well-rounded.
Wave Pool: No
No Wave Pool, but there is a regular in-ground pool. Not quite Olympic-sized, but it's a decent-sized pool to get away from the excitement with a nice little dunk or soak.
Tube Rides: Yes
There are numerous tube slides here. The cool thing is that it looks like there aren't many water slides in the park when you first look around, but that's because most of them start inside and use the outside space around the building for their slide course.
It's not necessarily unique, but they really focused on the inside space, not being cluttered up with the slides themselves here. It's a nice touch that gives the illusion of a much larger park than it is.
Swim-up Bar: No
No Swim-up bar, but there is a tiki bar where you can purchase all sorts of island-themed cocktails.
Lazy River: Yes
The slides a lazy river traverses around the entire facility, and you will experience different water effects, including waterfalls throughout the lazy little tour!
Children's Play Area: Yes
There is a large children's play area where the big dump bucket is located. This takes up much of the main floor area and gives the little ones plenty of fountains, water guns, and dump buckets to play with throughout the day.
Dining Options at Big Kahuna's
They have a rather splendid snack bar inside the park itself. You can get many different options you might not be used to seeing in a water park. Everything from fries and hot dogs to BBQ chicken ranch pizza and chicken parmesan sandwiches.
I can't remember the last time I had a chicken parm between water slides.
Full pies are around $25.00, and the chicken parm will run you about $12.00. They also offer a full line of Coca-Cola products, including Mr. Pibb!
Where To Stay When Visiting Big Kahuna's
There are several choices of popular hotels in the area. One that we think is always a good choice is the Hampton Inn Philadelphia/Voorhees, located only 2.5 miles from the waterpark. The location is convenient and you will love the amenities we've all grown to love when it comes to Hampton Inn, such as free parking and free wifi.
Additional Information
Towel Rental: No
It's bring-your-own-towel day when you head to Big Kahuna's!
Cabana Rental: Yes
You can rent a limited number of VIP cabanas which will come with 2 chairs, two chaise lounge chairs, 4 bottles of water, and a table. I'm a big fan of having a defined home base, and the cabanas are a great way to accomplish that.
The Cabanas start around $65
Lockers: Yes
Lockers are available to store your belongings while splashing around the park! There are 3 size options to accommodate different amounts of stuff you'll need to keep safe and dry.
Showers: No
Day Passes Available: Yes
It will cost you just about $50 per day for everyone over 3 years old. They offer discounts for seniors 65 and older for $32.99 and a $5 discount for first responders. Not a bad price for a full day at the indoor water park New Jersey.
They required advance ticket sales last season, so it's always a good idea to check online or call ahead to secure your tickets before you head out to Sahara Sam's er… um… Big Kahuna's.
Whether it's Big Kahuna's or Sahara Sam's these days, the thrills remain the same. This is on the smaller side for indoor water parks but right at that borderline between big and small. It's over 60,000 square feet of fun!
It's a well thought of water park, and many people consider it the best indoor water park New Jersey in the southern end.
I'd say it's well worth a visit, especially for the price. This is a full-day park where the kids will have an absolute blast!
Kalahari Resort Indoor Water Park New Jersey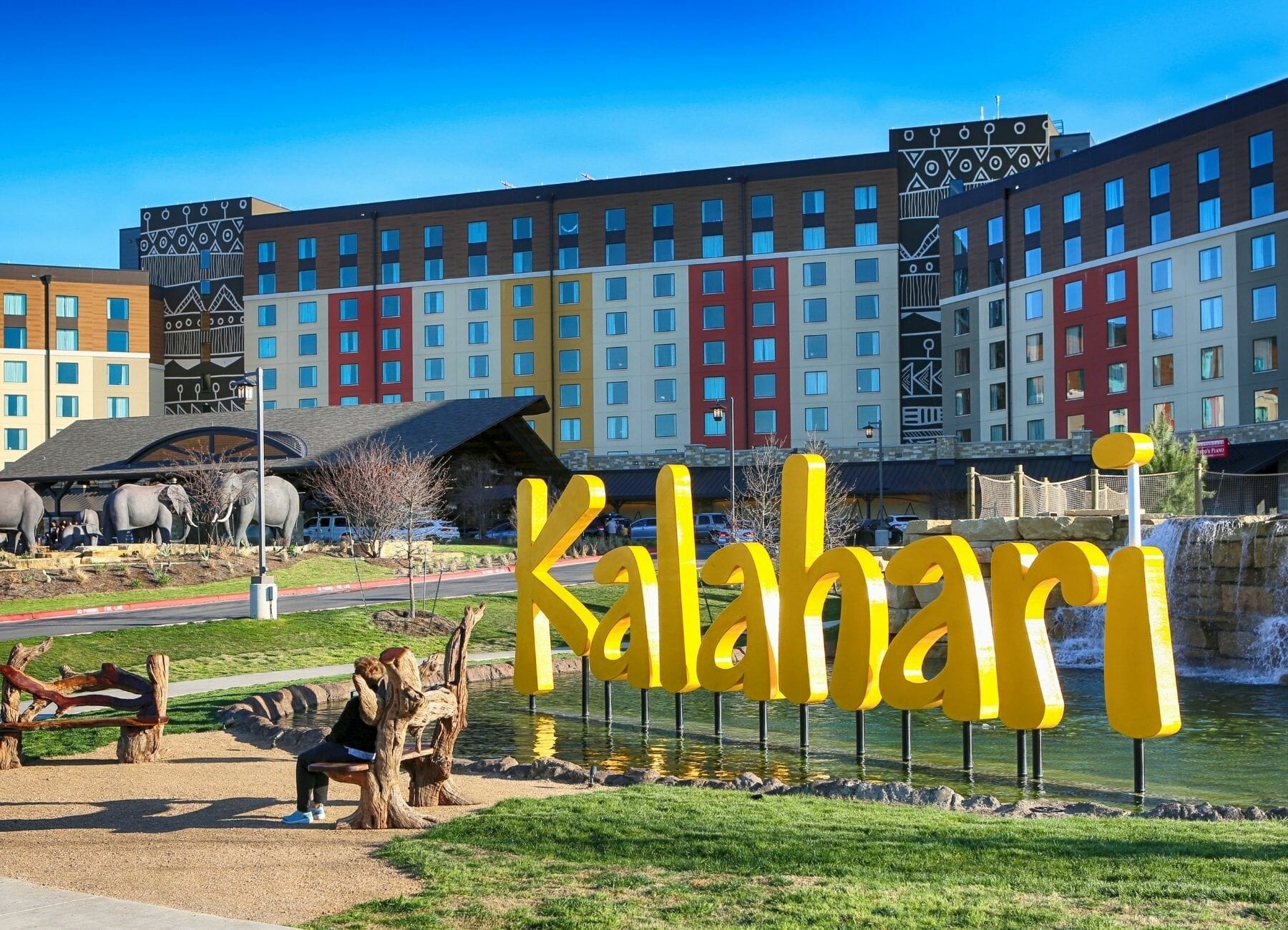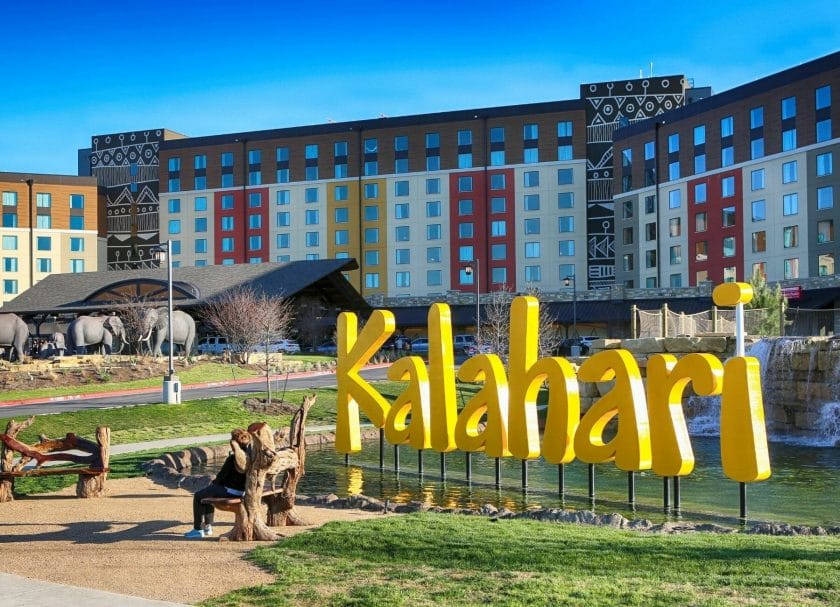 Let's head back to the Poconos to take a look at another mega park! Over 220,000 sq ft of awesomeness awaits all who travel to this massive complex which is literally 20 minutes from the Camelback resort we looked at earlier.
The park is part of the massive Kalahari resort, and right off the bat, I want to let you know that water park admission is FREE when you stay at the resort.
That causes my eyebrows to raise a bit, and I find myself making an interesting and contemplative noise. It sounds a little like HMMMMMMMM.
I love a good deal and with the indoor water park being the main reason I would head to Kalahari resort in the first place, receiving free admission is exactly the motivation I need to check a place like this out.
The Complimentary water park admission is available from 10 am on the day of your arrival until 3 pm on the day of your departure. Pretty awesome!
Getting it for "free" might lead you to think it's just a throw-in type of park. That is not the case at all. This park is serious and offers a ton of great attractions!
Kalahari Resort Indoor Water Park Features
Here is what you can expect when you visit the Kalahari Resort indoor water park New Jersey.
Dumping Bucket: You betcha
The Splashdown Safari area has tons of water features, including the abnormally large dump bucket of your dreams!
Water Coasters: Yep!
Anaconda is one of the longer water coasters out there. Not quite as intense as some others you may find (Busch Gardens Williamsburg Water Country comes to mind), the Anaconda is focused more on elongated fun than its punch. This is a welcome aspect when you've waited in line for a while.
Wave Pool: Yes
Not claiming to be one of the largest wave pools in the world, the Kalahari wave pool is the perfect size for the park. Large enough to accommodate a couple of hundred people or so, which is more than adequate.
The waves are also on the rougher side, which can be fun. It's important to keep an eye on everyone in your party, especially the younger kids, in any wave pool. As fun as they can be, it's paramount to remember the waves keep coming for a predetermined length of time.
If you have any concerns, speak to staff and watch a wave cycle or two from the zero-depth entry point before you bring the brood into the waves.
Tube Rides: Yes
They have numerous tube slides headlined by The Smoke That Thunders and Barreling Baboon! Two massive tube slides that have a series of elements to surprise and excite throughout the ride. They did an amazing job using the African safari motif for their themes, which adds so much to the attractions.
Theming is underrated by many out there, but there's a reason why Theme parks like Disney World and Universal Orlando are considered a cut above. It's the theming. Kalahari put a lot of effort into this aspect of the park, and it shows!
Oh, and the slides themselves are pretty amazing as well!
There is a family tube slide called Victoria Falls, which gives some true respect to a family that wants to have some fun. A nice long tube slide that meanders high above the park and offers some good fun and laughs while being on the mellower side. One of, if not the longest ride in the park.
I must mention the first VR tube slide in the United States. It's right here at Kalahari! This additional price is currently $14.99 for an unlimited pass to ride the first and only VR water slide in the country!
Swim-up Bar: Yes- Two of them!
Kalahari is large enough to keep the adult areas far enough from the kid zones to have it make sense. I've been to hotels where the swim-up bar was wonderful, and I've been to water parks where the swim-up bar seemed forced and out of place 15 ft from the kid's splash area.
Paxton Grotto underground cave bar and the Thirsty Turtle are perfect complements to the indoor water park and offer adults an opportunity to get a little "me" time in while the kids exhaust themselves until their fingers are wrinkled!
Lazy River: Of course! Two actually!
Children's Play Area: Yes
It almost seems like the entire ground floor of Kalahari is taken up by different kid's areas which is amazing when you consider just how many slides and attractions there really are in this place.
Having more than one children's area that's a bit more age-appropriate is super fun and can help design the day a little more specifically for your little ones.
Tiko's Watering hole has plenty of elephants and giraffes for the kids to play with and climb on, and there is even a kid-sized lazy river in 1 ft of water.
The SplashDown Safari is the king of the kid's splash and play areas in the park and has a ton of different features, slides, and themes. This is where the large dump bucket lives as well! But if a dump bucket wasn't enough. There is also a waterfall that pours out of a gorilla's mouth to add to the fun!
Coral Cove is designed for toddlers and has lots of space to splash and play in ankle-deep water.
There are also water basketball pools for the kids to play in as well. This is not so much for the toddlers, of course, but it adds a whole different feel to a day at the water park!
Dining Options at Kalahari Indoor Water Park
There are a few options for food while visiting Kalahari. Cafe Mirage is an interesting spot that offers specialty pizzas along with sandwiches and salads,
Where To Stay When Visiting Kalahari Water Park
Stay right at the Kalahari resort. That's the best advice I can give you for this one. It comes with admission to the water park, which begins at $69 per person per day. Plus, you get the towels! Admission and Towels??? How could I recommend anything else?
Rooms cost anywhere from $300 per night for a standard two queen bed room all the way to $3,200 per night for a 5 bedroom house. The house rental also includes a $100 game pass for the game room per night.
There are many price points in between, and it's a pretty good chance that Kalahari can accommodate whatever needs you'd have.
Proper planning can help to save a boatload of money, especially when you add the free park admission to the mix. Planning with another family of friends can really help mitigate some of the costs as well when renting one of the larger suites or a house.
Spend some time working on this one. There is a lot to consider.
Additional Information
Towel Rental: Yes
Towels are free with your stay, along with admission to the water park, which is super cool. If you do not return the towel at the end of the day, it's going to cost you $20 per towel not returned!
My suggestion? Return the towel at the end of the day.
Cabana Rental: Yes
There are both cabana and bungalow rentals available. With quite a few different options ranging from 8 guest outdoor bungalows to 22 guest Zulu Cove Cabanas, it's important to check the website to research which option fits your party.
There is also a private cabana that can accommodate 15 guests (5 at a time in the hot tub) that looks incredible. All come with chairs, tables, bottles of water, and varying size TVs.
Lockers: Yes
There are a few different sizes of lockers to rent if you have belongings you'd like to keep safe and dry. The smallest lockers start at $15.00 per day, and the large lockers will run from $25-$30 per day, depending on the season.
Showers: No
Day Passes Available: Yes
Day passes begin at $69 per day and can go up from there depending on the season. Kalahari also offers seasonal passes, which can save you money if you have the ability to hit the park more than once a season.
Kalahari is a part of the new wave of indoor water parks out there. It's getting better and better with more high-tech attractions. Light shows in the tunnels, lazy rivers with interactive elements, and amazing theming are here to stay. Kalahari does a fantastic job of blending the new with the classic slides you've come to love at a water park.
While DreamWorks might be the most exciting and attractive indoor water park on the list, Kalahari could definitely make a case for being the best on the list. I would imagine you'd have a great time in the Poconos if you're looking for a slam dunk indoor water park this year!
There are many other outdoor water parks in the state and surrounding areas you could go to on a hot summer day, but having the security of the roof overhead is a game changer.
Gone are the worries of rain and lightning stealing the day from you and your family. Gone is the idea that water parks are only for the summer months. We now have 365-day options that are just as good if not better than many of the traditional outdoor water parks out there.
It's the way of things to come, and if you haven't been to an indoor water park yet or in a long time, O think you'll be delighted with what you find at any of the water parks on our list.
Enjoy the wet and wild summer… and maybe even the winter!
More Info Check Out:
17+ Fun Things to do In Philadelphia With Kids!
Jenkinson's Boardwalk NJ (What To Know When Visiting)
20 Indoor Water Parks You And Your Kids Will Love
The Best Summer Fun At The Wildwood New Jersey Boardwalk
Casino Pier New Jersey – Everything You Need To Know To Have An Awesome Time!
Ocean City New Jersey Boardwalk (Everything You Need To Know When Visiting)
Top 12 Indoor Water Parks in Ohio You Will Want to Visit
Top 4 Indoor Water Parks Tennessee
Top 4 Indoor Water Parks in Michigan
The 4 Best Indoor Water Parks in Wisconsin
Things to do in Cape May New Jersey
11 Things to do in New Jersey Plus Food You Don't Want to Miss!
Pin This Post: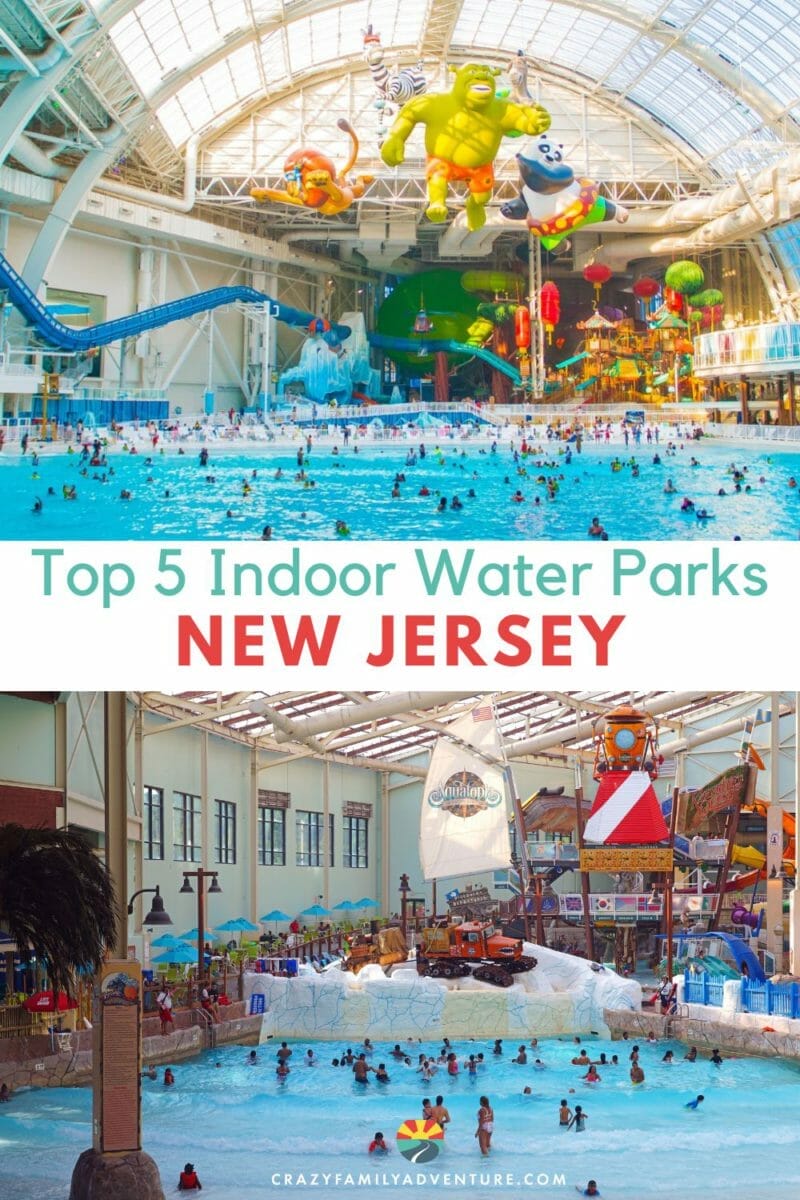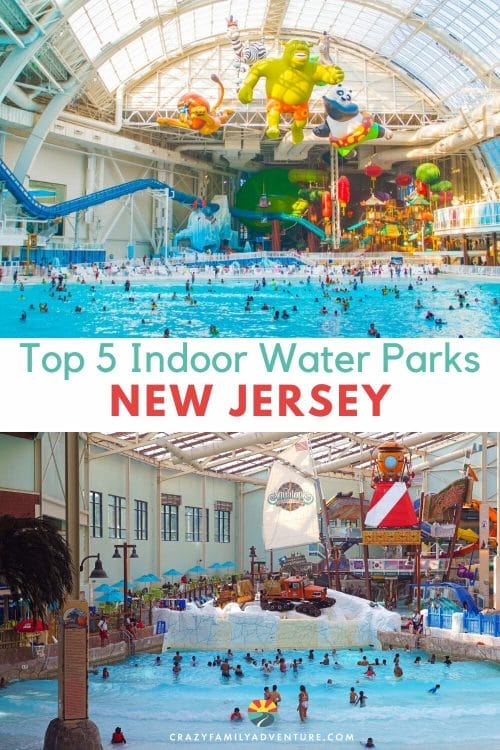 Latest posts by GreenBean
(see all)
DISCLOSURE: This post may contain affiliate links, meaning I get a commission if you decide to make a purchase through my links, at no cost to you. Please read my disclosure for more info.