So you have an interest in checking out the Garden State, do ya? Well, guess who spent the first 32 years of their life there? That's right, Lil' ol GreenBean is a born and bred New Jerseyan who scoured every inch of that state through childhood, adolescence, and adulthood. There are so many great things to do in New Jersey!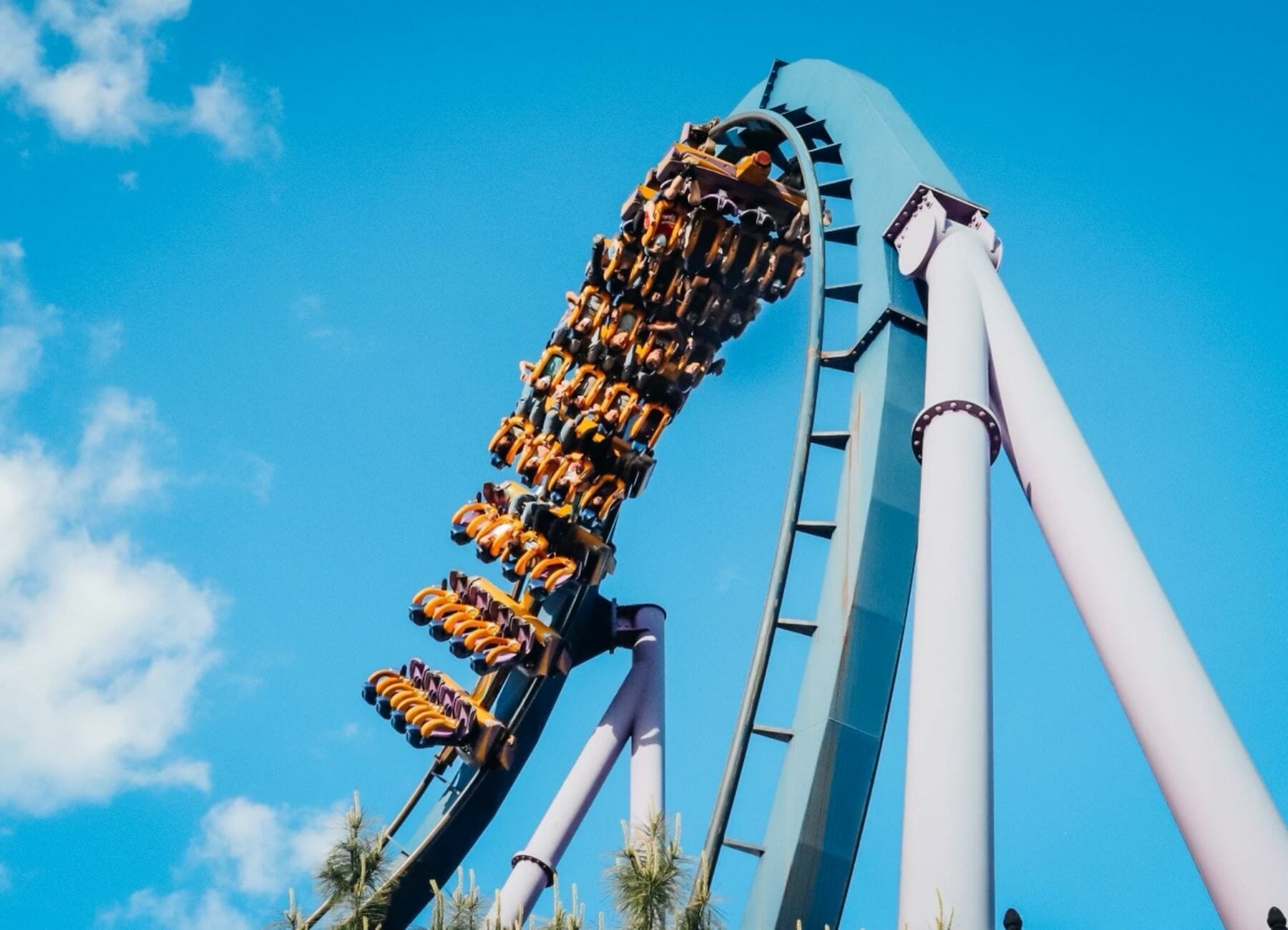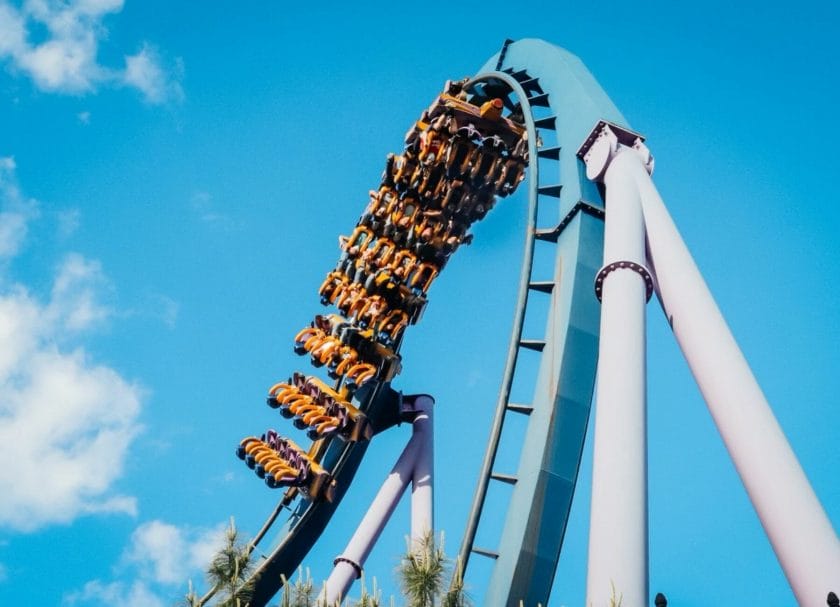 From the boardwalks of Casino Pier, Ocean City and Wildwood to Cape May and the New Jersey Indoor water parks there are so many great things to do!
The truth is New Jersey gets a bad rap at times. TV shows such as The Sopranos have characterized much of New Jersey.
A cool tidbit is that I worked props and stunt cars for said TV show for many years. I've frequented many of the locations seen in many episodes of the popular series on HBO.
So Many Cool Things To Do
New Jersey is so much more than "Fuhgettaboutit" and traffic.
Top-tier amusement parks, such as Six Flags Great Adventure and Land Of Make Believe, along with one of the most vibrant shorelines in the entire United States. New Jersey boasts so many seaside boardwalks and attractions it could make your head spin.
But that's merely scratching the surface. New Jersey also has a wealth of American history that few other states can compare to.
From Revolutionary War battle sites to Thomas Edison National Historical Park, and even Liberty State Park/ Ellis Island and the Statue of Liberty (that's right, we're talking about New Jersey), this great state has a ton to offer if this is what you're looking for.
From animal-based attractions, such as the Adventure Aquarium, The Turtle Back Zoo, or immense natural beauty, such as Patterson Great Falls or the Jersey Shore, which straddles the Atlantic Ocean, New Jersey has much more going on than many give it credit for.
And now, living in Virginia, I occasionally miss things about New Jersey. It's not that I don't go up there, I do, but there are some things that no amount of yearly visits could appease.
What is it that I speak of, you may ask? It's the food, of course! So let's begin right there!
New Jersey is known for many things in the food arena, but I'm going to focus on three CAN'T MISS items when you go to the Garden State.
Food You Don't Want to Miss In New Jersey
OK, let's do this the easy way. I will give you specific food choices that New Jersey is famous for.
Then I'm gonna give you my hand-picked location to sample said Jersey delicacy. That doesn't mean there won't be hundreds of other places where you can get a pretty slamming version of the food I'm discussing, but I can guarantee if you hit up the place I mentioned, you're going to leave satisfied and happy.
Pizza (Italian Food)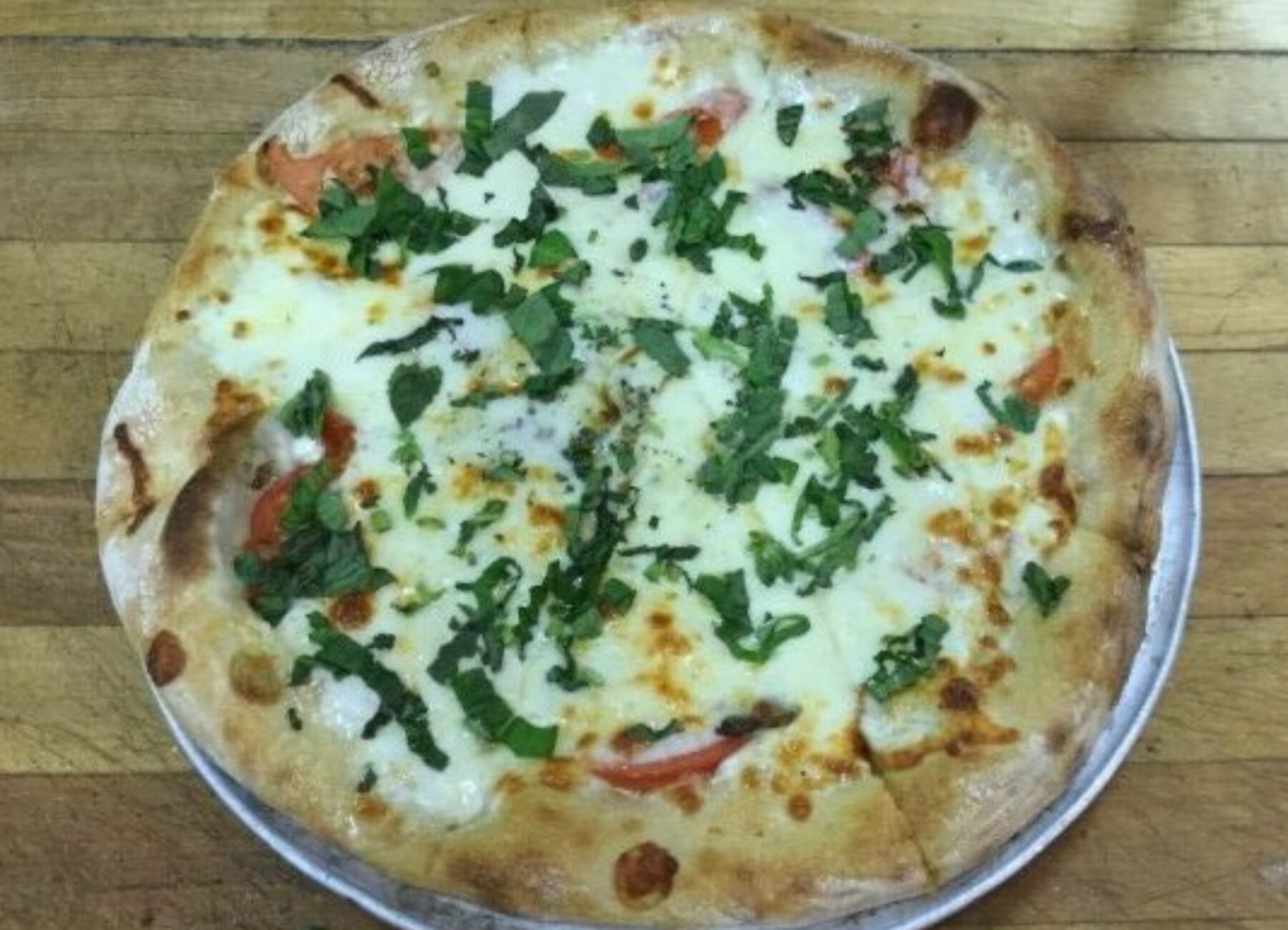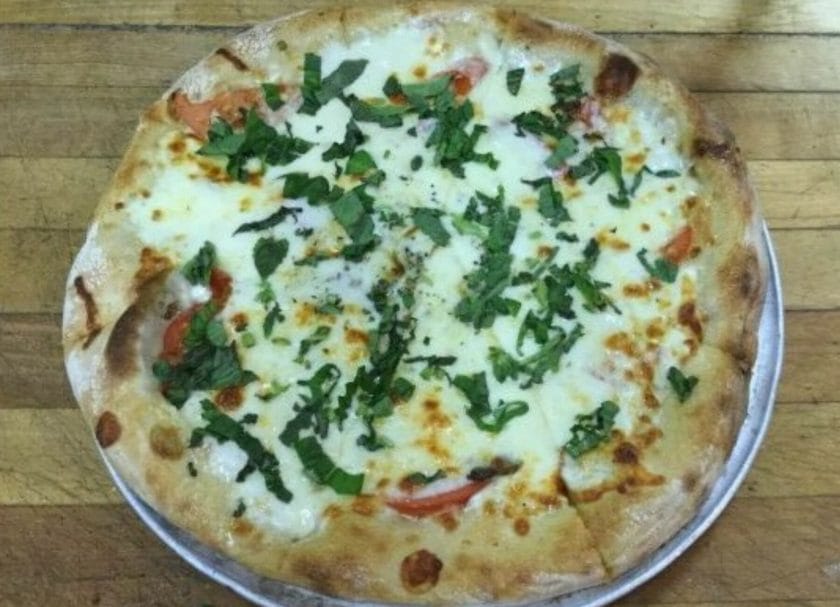 Once again, I want to remind you I am from this place, so I have been to probably 90% of the available options within the state's borders. That said, I've also come to know each different style of New Jersey pizza and/or Italian food very, very well, and I'm going to give you my number one spot in all of New Jersey.
Just about 35 minutes west-northwest of New York City. There's a little town called Boonton, New Jersey. Boonton is a classic old town that has a deep history in revolutionary war lore. Remnants of the Boonton Iron Works circa 1770 can still be seen and experienced when walking around the Boonton Falls in Grace Lord Park.
I used to ride my bike all the way from Lake Hiawatha (my hometown) to the Boonton Falls every day in the summer just to swim in and around the aggressive waterfall. You can still find coal and slag on the ground from the 1700-1800's operation that provided nails and iron rods for our fledgling nation.
It's also famous for having a huge reservoir called the Boonton Reservoir/ Jersey City waterworks.
Well, it just so happens that right over the Boonton Bridge on the Northwest tip of the reservoir, there's a tiny little place called Bevaqua's Reservoir Tavern
Bevaqua's Reservoir Tavern
The Reservoir Tavern has been there since 1936 and is the type of place you might drive right by without a second glance if it wasn't for the droves of cars mobbing the parking lot and the street surrounding the little tiny building.
Inside the Reservoir Tavern, you will find amazingly unique Italian dishes that are as good as you're going to find anywhere in the state, but what they're really famous for are their bar pies.
What's a bar pie, you ask?
It's pizza!
I have traveled all over the state of New Jersey. I've had quite literally thousands of slices, from tomato pies to Sicilian and everything else. I always compare them to the pie that I get at the Reservoir Tavern in Boonton, New Jersey.
There was a time when I lived about a mile away from this place on Grant St in Boonton, and I would go there spontaneously all the time to get a pie or even their massive calzones, which is essentially a full pizza Folded in half & stuffed with ricotta cheese and all sorts of other things like meatballs, pepperoni and what have you.
There are many great pizzerias scattered around the state, but this is the place I am proud to tell you is my favorite.
Go ahead and tell them GreenBean sent you; they won't know what the heck you're even talking about ha ha ha
Delicatessen Sandwiches
OK, I have to admit the Sub Shop that I'm going to tell you about would actually be different if it didn't end up closing down 10 years ago. That place is Don's sub shop in Lake Hiawatha, New Jersey.
Remember back in the days when you would get a sandwich that wasn't pre-measured amounts of meat separated by wax paper? A day when cheese triangles(half slices) were lovelessly tossed on your bun?
Well, that's Don's. Boy, do I miss it?
But don't fret; there are plenty of places that cut your meat right before your eyes or offer you abnormally large portions of pastrami, corned beef, or any other type of meat that does the trick for you.
This might sound weird because we are talking about New Jersey after all, but the place I'm gonna make sure that you know about before you leave is none other than Harold's New York Deli in Edison, New Jersey.
Harold's New York Deli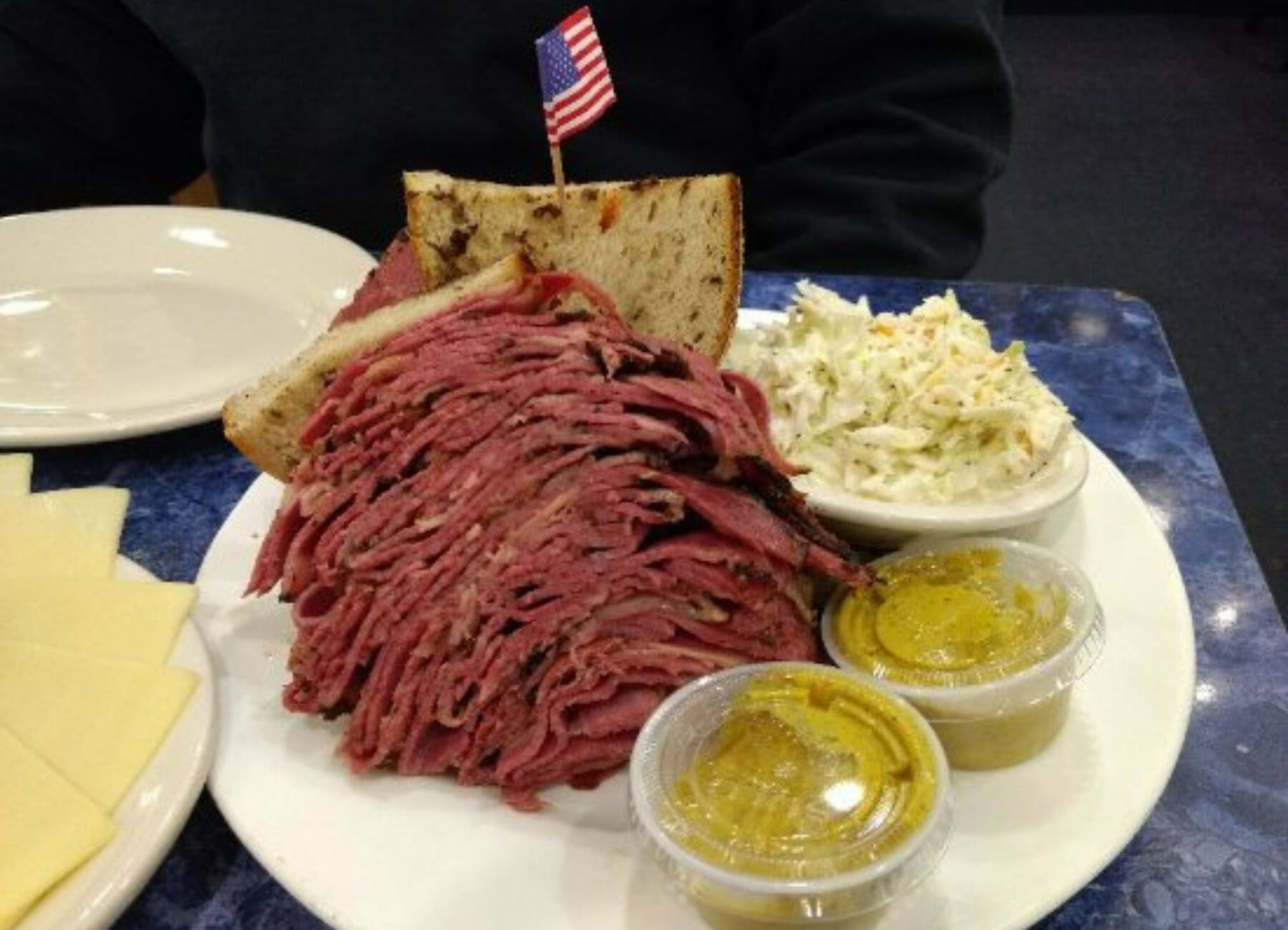 This place has portions so large that you won't believe your eyes. One story I have is when I took an old girlfriend of mine to Harold's for breakfast one morning.
We each ordered pancakes and corned beef hash. The waiter tried to tell us that we didn't need to order our own portion of these items, but being the type of guy that I am, I turned my nose up at this advice.
When he walked over with two stacks of pancakes that were quite literally the size of a pizza pie and a corn beef hash trays that had to be at least 2 pounds in each of them, all we could do was laugh and laugh hysterically.
You can get all sorts of great items at Harold's, but the real reason that we're going there is for their amazing and superhumanly large sandwiches. I once had a waiter tell me, "It's about the size of your head," when I asked exactly how big the sandwiches were.
In addition to their size, the meats are always incredibly high quality and never fail to hit the spot when you're searching for a true New York/New Jersey deli sandwich!
Harold's is the place to go without question
Pork Roll /Taylor Ham
Believe it or not, we are now treading into dangerous waters with this one. There has been an ongoing debate on whether to call this NJ breakfast meat pork roll or Taylor ham for quite literally decades.
It really breaks down to this. The product itself is, in fact, called a pork roll. There's no denying that.
But in the same way that we call cotton swabs, Q-tips, and elastic bandages, Band-Aids, the proper way to refer to pork roll is none other than asking for Taylor ham. Sorry folks!
To go another layer deeper for you, it really boils down to where you're from and/or ordering this breakfast meat.
Taylor Ham
If you're anywhere from central New Jersey up north, you're going to hear it called Taylor ham. If you're going south towards Philadelphia, the rest of the state refers to it as pork roll.
Without exaggeration, I have gotten into heated "discussions" on this subject as recently as two weeks ago. Really!
But no matter what you call it, it is a true New Jersey staple that rarely finds its way west of the Delaware River. Or even east to NY, actually.
The way to order this is to walk into a deli or diner and ask for a Taylor ham egg and cheese or "pork roll egg and cheese sandwich. They will ask you if you want "salt pepper ketchup" and go ahead and have them throw on whatever it is that you would normally like on eggs.
I'm a salt & pepper only fella myself.
What you're about to experience is incredibly unique, a salty, slightly chewy yet crispy, extremely flavorful meat to go with eggs and cheese, usually on a hard roll or bagel.
So you want to know where to get the best Taylor ham egg and cheese sandwich in the state of New Jersey?
Of course, you do.
Harold's New York Deli
While I have plenty of Delis and diners in New Jersey that I can point you to, I'm gonna stay right where we just were and tell you that the Taylor ham egg and cheese sandwich at Harold's New York deli is going to blow your hair back in a way a few other places can manage.
You can find the rare "bad" pork roll sandwich, but it's hard to do. As long as you get yourself to a diner or deli, chances are you're gonna be pretty happy with what they serve you in this regard.
And no trip to New Jersey is complete without one.
Things You Don't Want To Miss In New Jersey
As I mentioned earlier, New Jersey is a wealth of available things to see and do. When people from out of state fly into the Newark Liberty Airport, they see a very specific and urban area of New Jersey. Many people assume that the rest of the state is much the same. That's really not the case.
New Jersey can surprise even the most open-minded with all of the variety it has waiting to explore. Let's take a deeper look at some of those options.
Amusement parks
Six Flags Great Adventure- Jackson, NJ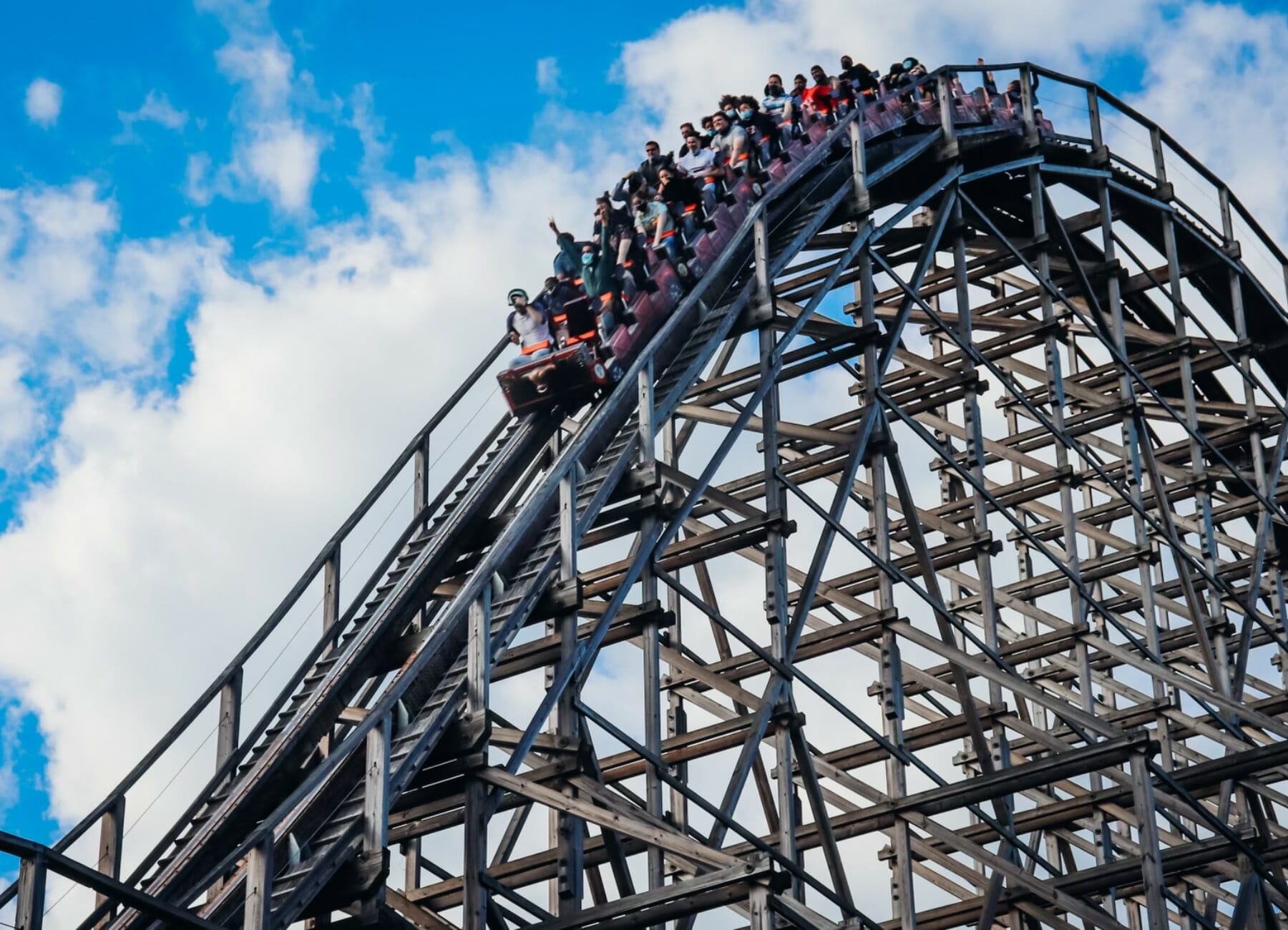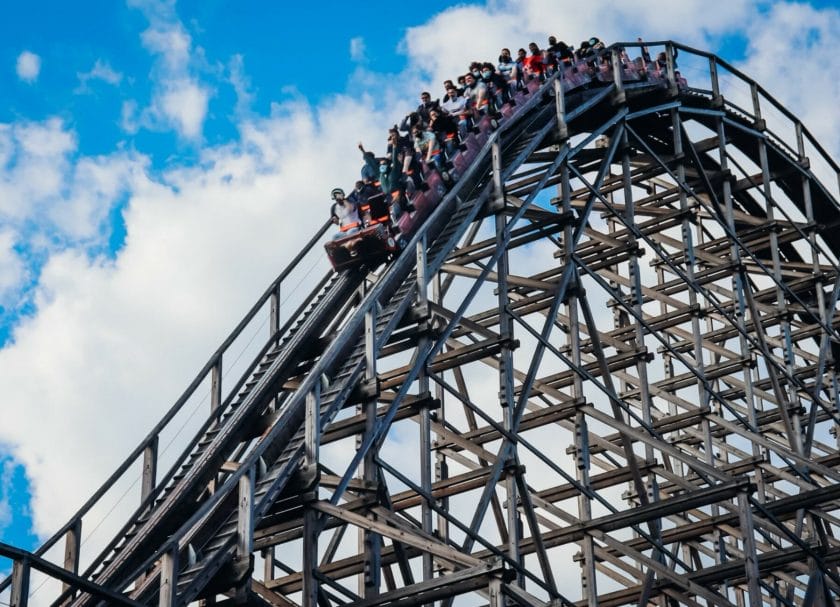 I contemplated leaving this one for last, but I figured, what the heck, why not start with the big one?
Six Flags Great Adventure is one of the largest and could be called one of the crown jewels of the Six Flags amusement parks chain.
As a matter of fact, before the 2008 crash, Six Flags was putting millions of dollars into making Great Adventure a destination park complete with hotels and world-class attractions you couldn't find anywhere else.
This period of time is called the "Coaster Wars" in the theme park enthusiast community.
The good news is that the amazing ride aspect of this dream was largely complete. The bad news is that they all but abandoned the destination park plan when they financially re-organized the company at the national level at that time.
Coasters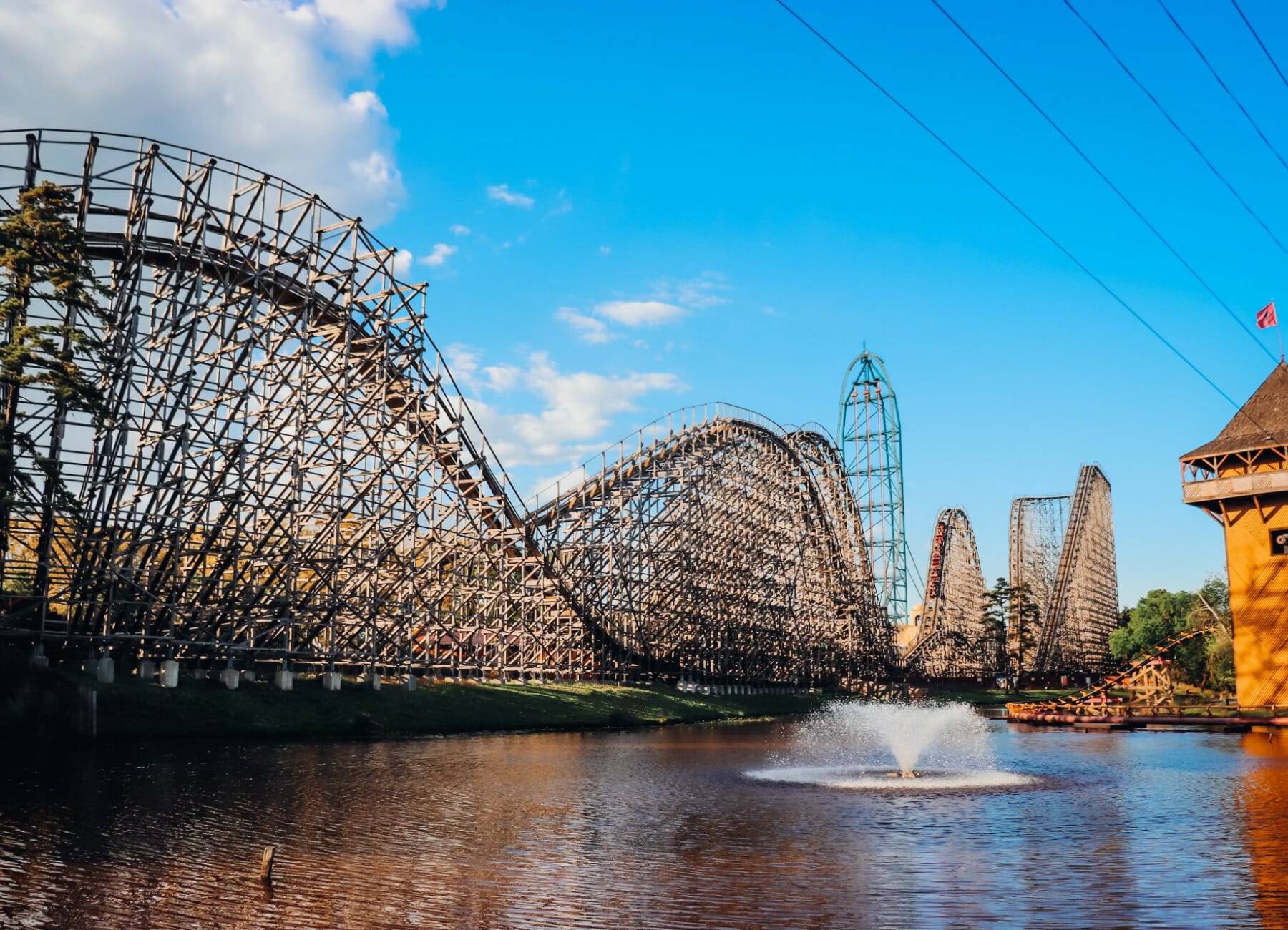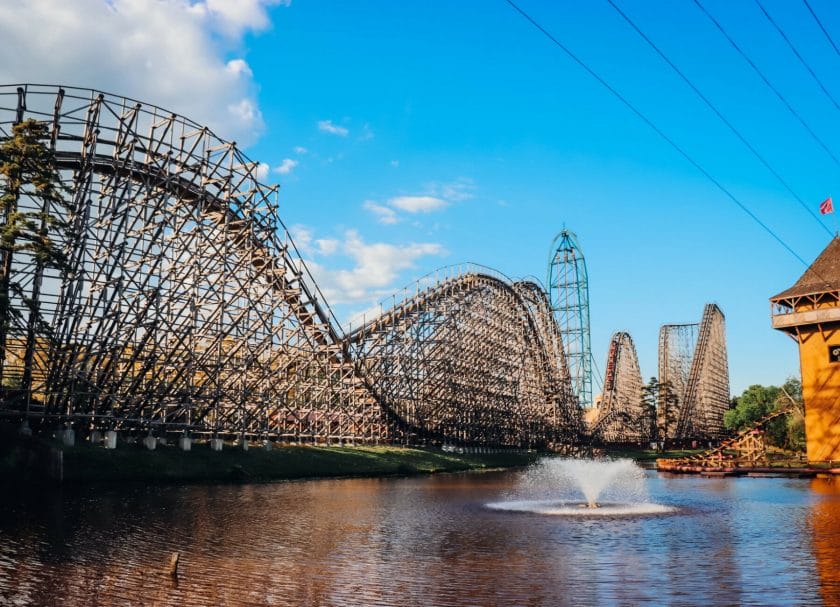 So we don't have the hotels, but we do have the world's tallest and, up till very recently, the world's fastest roller coaster, Kingda Ka!
This thing is a behemoth and is the first coaster you see when pulling into the parking lot.
Standing 456 ft tall and reaching a top speed of 162 mph in 3.5 seconds, Kingda Ka is an experience you can't find anywhere else. (Top Thrill Dragster at Cedar Point is similar but benign redesigned as I write this)
But that's not all this Park has to offer. A slew of world-class roller coasters, such as Nitro, El Toro, and the newest single rail coaster, the Jersey Devil, cause Great Adventure to be known as what's called a true coaster park.
If that's all it was, I would have every confidence that Great Adventure should make this list, but they also boast one of the country's largest animal safaris. That's well worth the visit as well.
Great Adventure also shares the property with Six Flags, Hurricane Harbor, a large water park packed full of all the water slides you could hope to experience on a hot summer day.
I've all but grown up in this place and have watched it evolve into the mega park. It is today.
Spending the day at Great Adventure will undoubtedly be one of the highlights of your New Jersey trip.
Land Of Make Believe- Hope NJ
Switching gears a bit here, we are going to head up to the Northwestern portion of the state to visit a smaller but wonderful amusement park. Land Of Make-Believe (LOMB) holds a very special place in my heart.
Not to be confused with Storybook Land in Southern NJ (Another Gem), this little park was created in 1954 with a singular purpose in mind. Create a place where parents can BE kids with their children.
It's fun to sit and watch our children frolic and play, but the idea of an environment that encourages parents to join in was a new and novel idea at the time.
Since then, LOMB has provided an awesome environment to do just that.
The place has added numerous updated rides and attractions over the years, but it still maintains a sense of innocence that I remember as a kid.
Coasters
With classic kid-style rides such as the Thriller coaster, which I'll admit I first rode when I was about 20 yrs old, bring ya back to that childlike mindset where organic laughter is better than expensive frills.
They have plenty of rides of varying thrill levels, but most are geared toward the younger members of the family.
The newest coaster is called Tumbling Timbers and is a well-themed coaster for kids that will have all of you giggling throughout the ride.
It's actually an extremely popular coaster model at the moment built by SBF Visa, and it's a great fit at LOMB.
We also have a full array of water slides to throw into this one as well which can round out a summer day perfectly. This was not always the case, but gratefully it is now.
This last nugget will give you a full understanding of what type of park this is. They encourage and have ALWAYS encouraged you to bring your own food so you can sit down and enjoy their picnic grove.
Sure, they have food for sale(and at lower prices than most), but they still love when families forgo the expenditure of buying lunch so they can see everyone spread out eating sandwiches they brought from home together.
That says it all. They're good people, and you can feel it when you are there.
If you are a family with young children taking a look into Land Of Make Believe is a positive move.
Tip:: And if you are largely going to be in South Jersey, Storybook land is cut from a similar cloth as LOMB. A lot of the same happy feelings can be found within its borders. I highly recommend that park as well.
Clementon Park- Clementon NJ
This one is actually amazing to write about today. Just a few years ago, in 2021, they decided to close the doors forever.
Years of neglect and poor attendance, after legendary status for decades, caused the park to fall into disrepair. That led to people staying away, and in 2021, it was closed "for good!"
But an interesting and sort of surprising thing happened right then. After having numerous owners from 2000-2019, the property was saved right before it was about to be torn down.
Gene Staples, the same Chicago Businessman who swooped in and saved the Indiana beach amusement park in Indiana, popped up and purchased Clementon Park as well.
This man had no previous amusement park experience and, in the last five years, ended up saving two classic and beloved old trolley parks, which were a part of American folklore for over 100 years.
Now, all of a sudden, there is a beautiful resurgence of investment and excitement surrounding the park that has stood where it has been since 1907.
Visiting The Park
The great thing about Clementon Park is while it's not the largest park in the world, there is a one-price-for-two park admission fee.
You pay the entry fee, and you get admission to both the dry amusement park and their newer water park.
Visiting Clementon Park gives you a window into a former version of what American amusement parks were really like. This is getting harder and harder to come by over the years, and it's so great to see this park rise from the "ashes."
Not so much about the flare and pomp of today's mega parks but a boatload of fun headlined by the classic wooden roller coaster they named Hell Cat!
The water park boasts over 20 water slides and a large wave pool, which, when coupled with the amusement park, can be a full day of laughs and thrills in southern New Jersey that you don't wanna miss.
The Jersey Shore
OK, to be clear, I could quite literally talk about the Jersey shore enough to fill a large novel. It could very easily be said that I grew up along its beaches.
From seaside piers packed with rides, games, salt water, taffy, and some of the best food in the state to pristine beaches and nature preserves, the Jersey Shore is some of the best NJ has to offer.
So obviously, I can't insert a novel here for you. What I will do is pick a few of the top spots that you won't want to miss if you happen to be in New Jersey looking to spend some time near the Atlantic Ocean.
Seaside Heights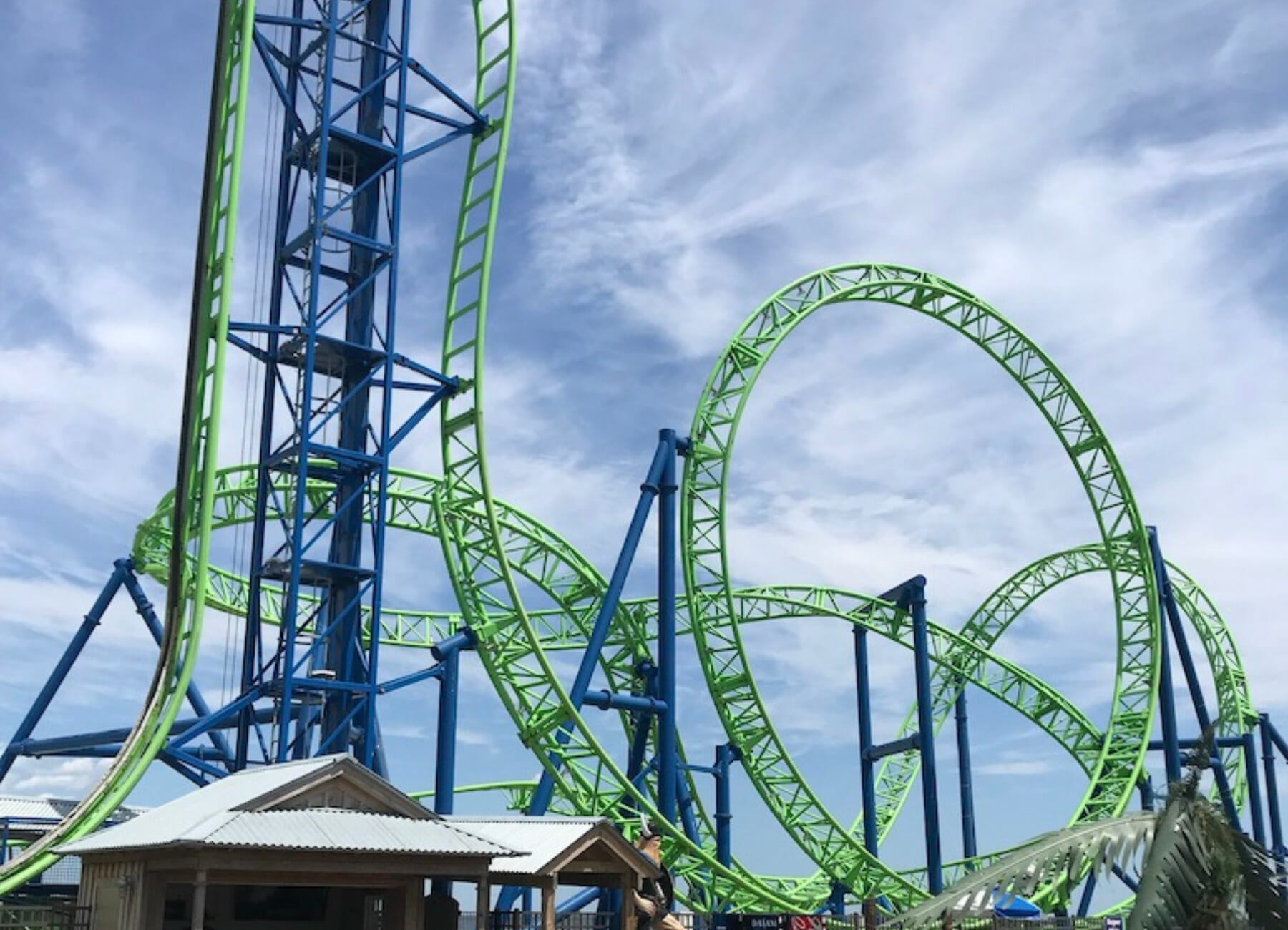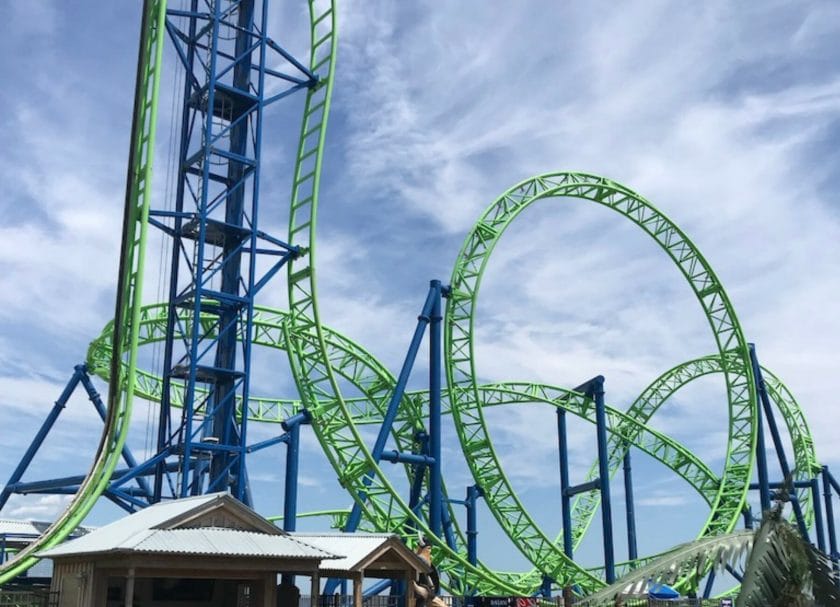 This is the place where I spent most of my childhood summers. An amazingly eclectic collection of attractions that rival any seaside location in the entire country.
Seaside Heights, and its quieter sister city, Seaside Park, have been drawing droves of people from around the country since the early 1900s.
Made even more famous, or should I say infamous, by the TV show Jersey Shore, Seaside Heights has anything and everything you could be looking for when deciding to vacation along the ocean.
Also made famous by the pier that was destroyed in Hurricane Sandy and the world-famous roller coaster that stood in the ocean after the superstorm tore through the area.
*As an aside, my grandmother's house was pushed into the bay during the same storm a mere 2 miles from where that roller coaster met its end in the Atlantic Ocean.
Post Sandy
Since superstorm Sandy, and the subsequent fire, Seaside Heights has put forth great efforts to revitalize the area, and in my opinion, they've done a fantastic job. Reshaping the casino pier to straddle the beach north and south, as opposed to extending east into and over the ocean, has given the city a sense of security when storms present themselves again.
While a lot of the classic rides that stood on the casino pier for so many years were destroyed, there are still some remnants of a more innocent and classic past that remain to this day.
That said, Seaside Heights has chosen to take this opportunity to upgrade a lot of its attractions, including a state-of-the-art Ferris Wheel with an incredible LED lighting package and a new roller coaster called Hydrus, which was built by the world Famous Gerstlauer coaster manufacturers.
Riding the rides is merely the beginning, though. The famous Seaside Heights boardwalk is jam-packed with amazing food, games, arcades, mini golf, and other attractions.
The Sawmill Tavern on the southern edge of the boardwalk just might have the largest pizza slices in the entire state. They're good too! I've made the trek all the way to the Sawmill for that slice more times than I can remember.
You will also find the fantastic Breakwater Beach water park opposite the casino pier along this very boardwalk as well.
Tip For Visiting
Tip: Something important I'll tell you is to make sure you understand that Seaside Heights is built for families during the day and early evening, but it changes at night into an extremely vibrant nightlife scene.
Numerous nightclubs and bars, along with thousands of teenagers and early 20-somethings, rule the night in Seaside Heights.
So if you have young children enjoying the beach during the day, take a little break in the mid-afternoon hours before heading out for dinner and rides in the early evening.
The casino pier has a certain magic to it at night, so you wanna try to make sure you get to experience that, but at the same time, you'll want to get the little ones back to the room before the town gets a little too crazy for them.
I'm not there anymore, so it's calmed down a little bit without my presence, but it can still be an intense environment as the night ticks by.
Seaside Heights is truly one of my favorite places in the entire state, but doing your research before you go can take a lot of the confusion out of the equation and ensure you enjoy all of the specific attractions that would best suit your family.
You're gonna love it!
Long Beach Island-LBI
We're gonna tone it down a little bit from the hubbub of Seaside Heights and head down to one of the calmer places along the Jersey shore.
Long Beach Island, affectionately labeled LBI by the locals, is the Jersey shore location where families go to get away from all the excitement that encompasses much of the state.
Lots of crabbing, fishing, and boating activities are available to you while on LBI. It's a fun way to explore and enjoy the Atlantic while you are there.
Everything is just more mellow on LBI.
Even the amusement park that they do have is smaller and obviously geared more toward the little ones than any true thrill seekers.
The Fantasy Island amusement park has approximately 20 rides and tons of games for the kids.
When spending a week on LBI, it's always nice to have one night reserved to head over to Fantasy Island and watch the kids laugh and play on all the attractions built for them.
And there's nothing wrong with hopping on the swinging pirate ship with them, by the way.
That's not to say LBI doesn't have its excitement, of course, but it really is predicated on quiet beach days and historical lighthouses such as the Barnegat Light State Park located on the northern tip of the island
Barnegat Light
I used to love going to see the Barnegat light when I was a kid. The truth is I lived in Barnegat from 1st to 3rd grade. The entire area holds a special place in my heart.
The original lighthouse, Built-in 1834, was quickly replaced by another larger one in 1855. Sadly that lighthouse collapsed during its construction, and a temporary light structure was installed for a while before it fell into the ocean as well.
The lighthouse we see today was erected in 1859 and stood as a beacon of warning to the busiest fishing seaport in NJ until 1944.
The surrounding area was granted state park status, and the Barnegat Lighthouse (light) was added to the National Registry of Historic Places in 1971. Directly across from Island Beach State Park, Barnegat Light feels like it's a different world than much of New Jersey.
Making the climb to the top of the 163 ft lighthouse is a wonder to behold, and you will not regret connecting with this incredible piece of NJ history during your visit.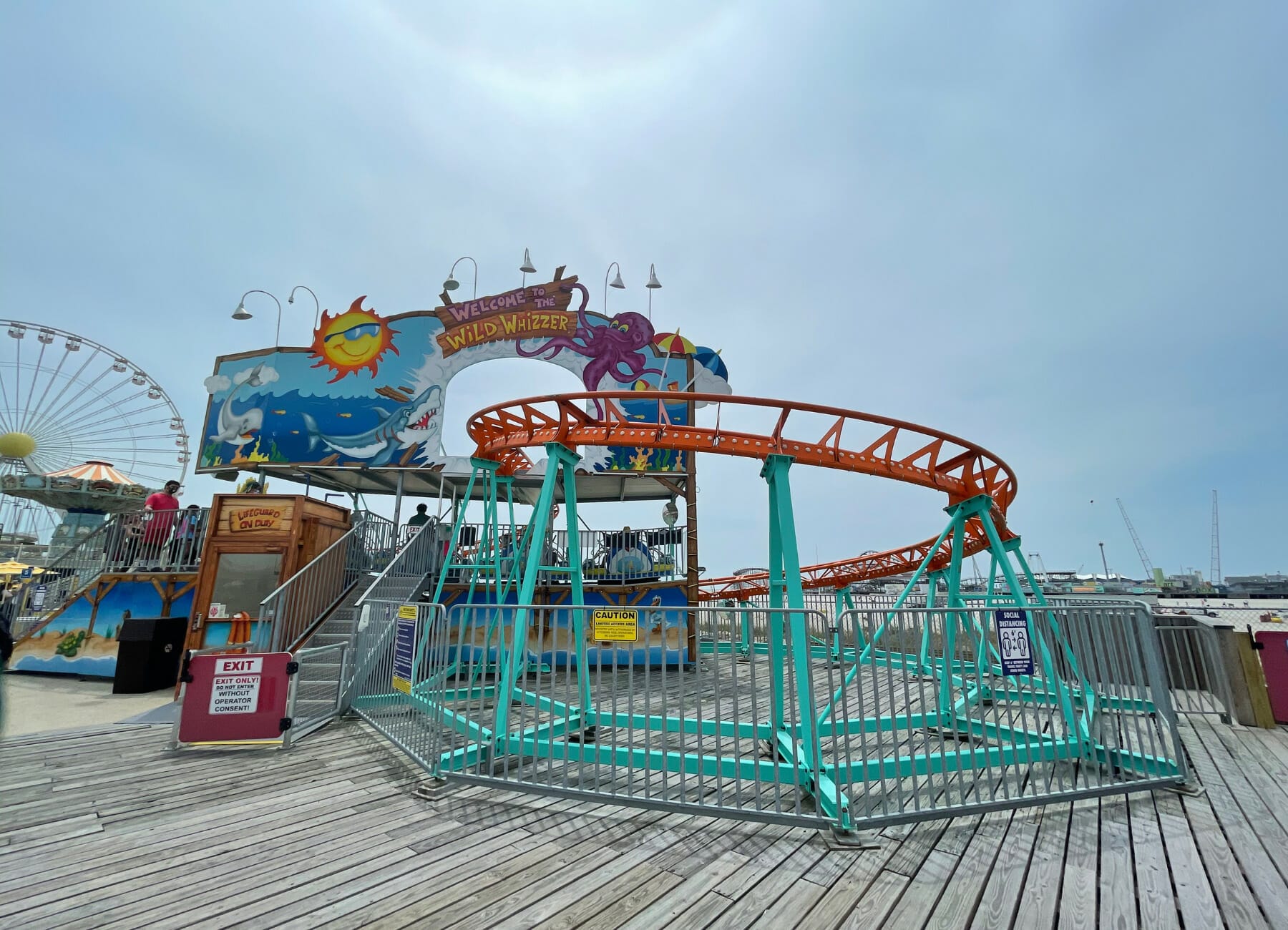 Now we're going to talk about the king of all jersey shore hot spots. Wildwood!
Boasting the longest boardwalk in all of New Jersey, Wildwood also has three massive Piers overly stuffed with rides and attractions. Some of the roller coasters, such as Great White, Sea Serpent, and the Great Nor'easter, are the same caliber that you would find in any Six Flags Park strewn about the country.
Only on a Seaside pier!
Having numerous experiences spending weeks at a time down in Wildwood, I can tell you that there's almost too much to do.
This is a place where it is vitally important to plan ahead if you want to squeeze in the best day(or night) possible.
Even the simple decision to walk the entire pier from one end to the other to absorb all of the sites can leave one filled with regret when they realize it's a 2 1/2 mile track back to the other side.
Don't fret, though. Wildwood is known for its ever-present and mildly intrusive Tram Car.
I have no doubt that one of your memories of this seaside wonderland will be the sound of "watch the tram car please!"
When you know, you know.
Just hop on and let them drive you back with boardwalk priority.
You can check out any sites you missed while sitting right on your butt! How nice does that sound?
Pizza
Dozens of amazing pizza places with huge Jersey Shore-sized slices, epic fudge factories, and saltwater taffy shops pull you in all directions throughout your day.
I won't get into it too deeply here, but there is a pizza battle raging in Wildwood. Loyalists of either pizzeria will swear theirs is the king!!
As long as you hit one of Mack's or Sam's pizza joints on the boardwalk, you're gonna be delighted.
Me? I'm firmly in Camp Sam's, but I've never cried a single tear at either Mack's location, so I'm confident you'll be happy with whichever joint you choose.
Hey, maybe try 'em both and join the party!!
Coasters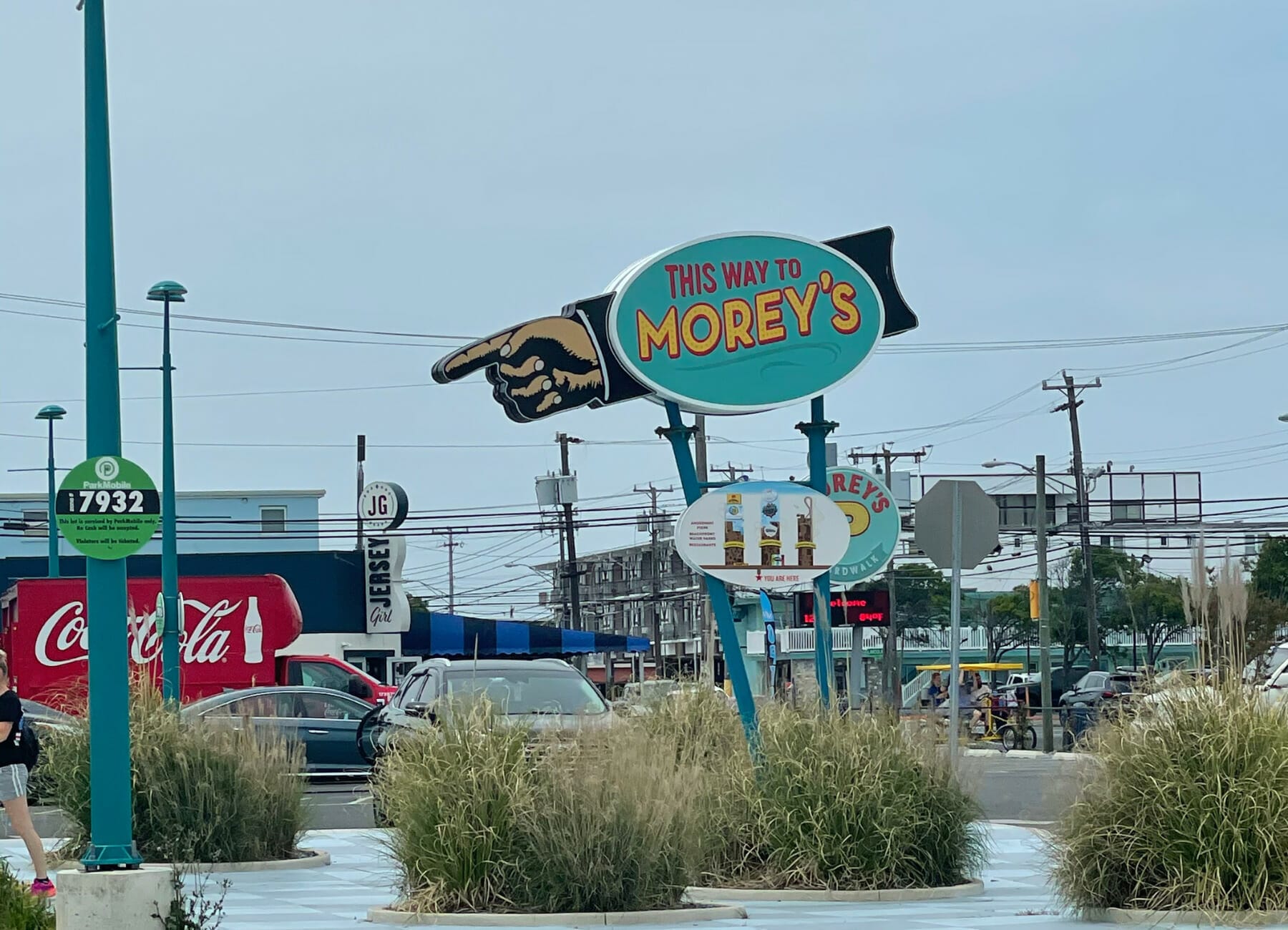 Acting as the first stop on our Jersey Shore Coaster Tour in 2021, which we did to help support an animal rescue charity in the state, we greatly underestimated the time needed to ride all seven coasters located on Morey's piers.
If you'd like to try them all, I'd suggest getting the unlimited wristband and clearing a few hours. The coasters are spread out over the 3 piers.
These piers are so unbelievably large that some even have full water parks located on the end of them.
It's truly snacking what they've done down there.
Oh, and there's a beach too! Imagine that!
Tip On Visiting
Tip: Something to know is that it's the longest walk to the water of any Jersey Shore beach, so make sure you have everything before you head over to the waves.
You won't want to walk back to get anything, I can assure you.
Wildwood is a great example of what's possible on the Jersey Shore and has a bit of everything.
I can recommend it highly for beach day excitement and fun!
Liberty State Park/Statue Of Liberty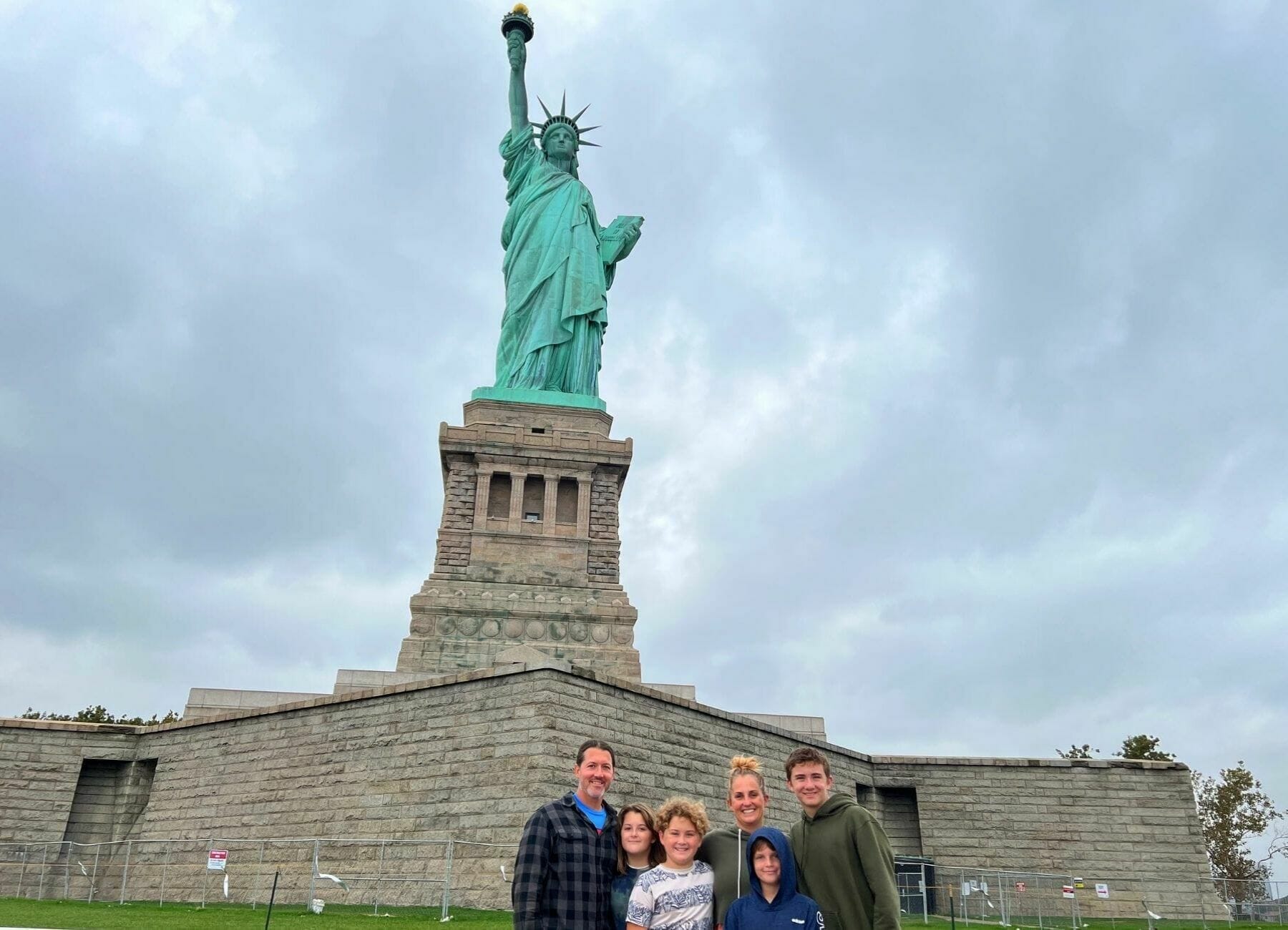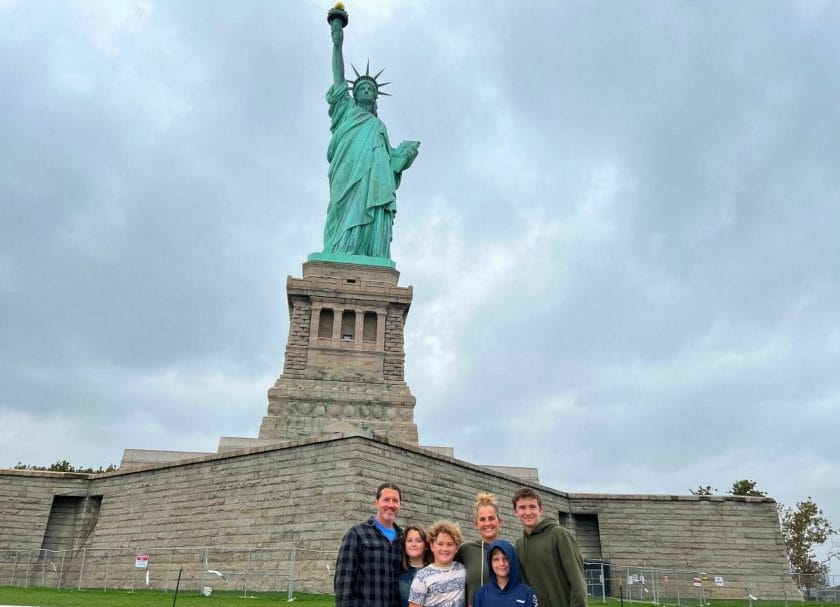 Yet another waterside attraction but on the Hudson River this time, let's switch gears a bit and talk about one of the most famous attractions in the entire country.
Typically considered part of New York City, most don't know that the Statue of Liberty actually stands within New Jersey's state border.
This has been a matter of contention for many years between the two states, but rest assured, Lady Liberty herself stands in Jersey waters.
You can absolutely get to the Statue of Liberty and Ellis Island from the New York side, of course, but the absolute best way to see the greatest view of New York City and take a trip to the most famous statue in the world is by visiting none other than Liberty State Park!
I've been taken there by my parents and on school trips. I have to admit; it's the type of place that can create an intense sense of gratitude and appreciation for the history of our amazing country.
We will talk about the statue and Ellis Island in a moment, but I want to make sure I mention a couple of the most potent exhibits in the entire park. First is the Liberation Monument.
Liberation Monument
The statue, placed in 1985, shows a US soldier carrying a holocaust survivor out of a Nazi concentration camp. I've stared at this thing for long stretches, and it never fails to impact me deeply. It's worth a look, for sure.
Empty Sky 911 Memorial
Another is the Empty Sky 911 memorial.
This entire place is designed to connect you to some of the more impactful moments in US history, and Empty Sky is one of the more powerful you will find.
Ellis Island
One of the great things about Liberty State Park, other than the AMAZING view of NYC and the Statue herself, is the opportunity to visit Ellis Island. This is the actual place where so many of our relatives arrived in the United States from countries all over the world.
It's just incredible to relive their trek in search of a better life in this country.
One of the coolest aspects is to try and find your family name on the Ellis Island Wall Of Honor.
My family didn't come in through Ellis Island (I think they snuck in as pirates or something), so I wasn't able to see my last name there, but most of the folks I've ever gone with were excited to see theirs on the wall.
Looking for and finding yours can make the entire Jersey trip to another level.
Tip On Visiting
Tip: Obviously, getting to climb up to the crown of the Statue Of Liberty is a big one, right? Well, let me just make sure you know it's not for the faint of heart. And by that, I mean ME!
It's a spiral staircase straight up to the crown. Being someone who's afraid of heights (I know, and STILL a coaster enthusiast??) It was a challenge, to say the least.
I'm slightly embarrassed to admit I crawled up the stairs one time in high school, but it was what I had to do. I wanted to get to the crown and look out of the windows up there!
It's well worth overcoming that fear, but it's important to be realistic. Know your limits and the limits of your family. Maybe speak with staff and ask them to be explicitly honest about what to expect before you just head on up.
Thomas Edison National historical Park
This is a unique one right here.
I mean, the entire world uses and depends on the electric light bulb these days right? Sure we are moving rapidly toward being entirely LED lighting. But that aside, we can all agree the electric light changed our entire planet.
Well, the world changed forever right in West Orange NJ at the Thomas Edison National Historical Park.
An interesting tidbit is if you drive a mile or so north on Main St, you'll see my first apartment on the corner of Main St and Eagle Rock Ave. I lived there for 2 years.
I got to drive past this amazing historical gem every day for work.
From the outside you will see an early 20th century factory complex. But inside is where you will learn all about the amazing inventions and see the home of one of America's greatest inventors.
To be clear, this is not the workshop where he invented the first phonograph and light bulb. That's about 20 minutes south in Menlo park. In fact, Edison was so famous during that time that he was dubbed the wizard of Menlo Park.
You can also visit the Thomas Edison Center at Menlo Park in Edison NJ. There is a beautiful museum there which only costs about $7.00 to enter. $5.00 for seniors, children and military. Children under 5 are free!
Visiting The Historical Park
The Thomas Edison National Historical Park is where he spent the last 40 years of his life. And was where he finally built the facility where he had enough space and facilities to do all that he needed and wanted to.
This is where he worked to improve his earlier inventions and also where he invented the Motion Picture Camera. That's movies to you and me! This guy did it all!
A lot of what we see as our normal every day world was born inside Thomas Edison's mind.
His incredible home, The Glenmont Mansion is also a part of the park and can be toured.
The stunning structure is an image to behold and is where Edison spent the remaining years of his life with his 2nd wife Mina and their three children.
Tips:
A few things to note are that The Glenmont Mansion, even though it is part of the Thomas Edison National Historical Park, is not on the same property. It is a short 4 minute car ride to Llewellyn Park. You will need to have your Edison park/Glenmont access pass in order to enter Llewellyn park.
You must purchase your tickets to this park before you arrive! I will link the web site below to make it easy, but my understanding is that there are only so many passes per day. Ensuring your entry will rely on your ability to plan ahead and purchase the tix before you go.
Nothing's worse than showing up with an excited group only to be turned away at the door.
Tickets are $15.00 for ages 16 and up and are valid for 7 days!
National Park passes are accepted here too which is awesome!
You can learn more on the Thomas Edison National Historical Park site.
Where to Eat
Ok, I wasn't gonna do this but I just CAN'T leave it out. There is a secret NJ gem a mere 1 min away from the park. There are only two locations in the world. And one of them just happens to be right here in West Orange NJ.
That place is called Jimmy Buff's Italian Hot Dogs.
What the heck is an Italian Hot Dog you ask?
Imagine a round loaf of bread cut in half. Now, scoop out the doughy center of that half loaf and stuff it with two hot dogs. Thick sliced (AND DELICIOUS) home fried style potatoes, grilled peppers and onions. Wonderful!
The ingredients are positively bursting out of the bread and it's fantastic. I'm actually thinking about how I can justify a trip to NJ just to get my hands on one of these soon.
It's well worth the stroll or short car ride to experience this NJ delicacy. Even if you don't love it, I'm confident you'll be happy to add the Italian hot dog to the list of unique regional food items you've sampled on your travels!
The Turtle Back Zoo
Amazingly, we're going to stay in the same town as the Thomas Edison National Historical Park for this next one. West Orange NJ is also the home of a wonderful little secret of New Jersians called the Turtle Back Zoo.
I spent many childhood days in this place.
I'll be dating myself with this next statement. But I even saw and participated in a live episode of the Romper Room TV show filmed at the zoo. I know… Old right?
The coolest thing about this zoo is that while it has a wide variety of exhibits and animals to observe. It feels like you know the entire place like the back of your hand by the time you leave.
We LOVED this zoo as children, and I think that's because the kids are really who it's designed for. Sure, adults will appreciate all of the exhibits as well, but this is a children's zoo if I've ever been to one.
They've updated the park numerous times with exciting new additions over the years.
Visiting the Zoo
Some of the more popular things to see and do are Amazing Asia (Red Panda, Snow Leopard), Wolf Woods, designed to make you feel like a member of the pack. Plus the Touch Tank, where you are able to feel manta rays and sharks in the water.
There are so many more experiences to explore and behold as well.
This is an amazing little spot neatly tucked in behind the Mennen Arena, which is where the NJ Devils NHL hockey team practices.
It's a cool spot that doesn't cost too much for a full day of laughter filled learning.
Entry is approximately $20.00 per adult and $16.00 for children and seniors.
It's open every day from 10am-4pm, Rain or Shine and comes with FREE PARKING!!
What's not to love about that??
Adventure Aquarium
Fishies!!! Yaaaay!
I have an interesting relationship with aquariums. I seem to be ultra sensitive to the comfort of the sea life contained within. A few I have visited have turned me off right away.
The Adventure Aquarium in Camden NJ is not one of those places. With numerous national accreditations and certifications, they are held in high regard in the field. That's good!
Truth is, I've only been here 1x but it was a positive experience.
This is the place that boasts the world's longest V-shaped suspension bridge (are there others? lol) which just so happens to hang over the shark tank, or the Shark Realm Exhibit as they call it.
The aquarium is in a beautiful area of the city and the entire vibe is one of wonder and beauty.
You will get to experience cutting edge examples of zoo/aquarium style attractions such as the aforementioned shark bridge, the shark tunnel, where you get to walk through the water where the sharks and other fish swim around you and so many others.
The claim to be the only aquarium in the world with Hippos on exhibit as well. This means that we are more able to interact with the hippos (through glass) than the standard viewing at other spots.
There are also beautifully kept areas for families and children to play such as Penguin Park, where you can view the amazing African penguins, but also run and frolic on the new soft play area.
Tips on visiting the aquarium:
Please keep in mind that, while the aquarium is well kept in a beautiful and well patrolled area of the city, Camden is considered the most dangerous city in the state. Wandering around like I encouraged you to do in West Orange is NOT a smart move here unless you keep to the Riverfront area.
I would go to Camden all the time for concerts at the Freedom Mortgage Concert Pavillion and attractions like this one, and I've never had an issue, but that's because I held firm to staying within the lines.
Sticking to the waterfront area, with a great view of Philadelphia is the move. There are other amazing attractions to see there as well.
I don't tell you this to scare you away, but only to ensure you have a great experience at a fantastic place!
The aquarium is about a 3 hour experience. It's a good idea to plan ahead to capitalize on the immediate waterfront area. There are a couple slam dunks right there.
The Camden Children's Garden is one that can offer some unique fun for the little ones, but I must admit, the big dog is right next to it.
Visiting the WW2 era Battleship New Jersey is an amazing learning opportunity and experience. As one of the most decorated battleships in the US Navy, it's an incredible tour.
I will say getting the guided tour, even though it's more expensive, is well worth your consideration.
So the Adventure Aquarium is more than just the aquarium. It's a way to jam a full day of incredible educational and fun experiences into your New Jersey trip!
Conclusion
I can do this all day with you, but before I go, I want to make sure you understand we are just getting started here.
So much history. A ton of natural beauty. So much fun to be had in this little tiny state. Tucked in what's called New York's Armpit (How DARE They??), it can be a forgotten and sometimes overlooked gem on the east coast.
That's probably why native New Jersians like myself tend to be just a little bit louder and more passionate about what we have there. We don't think you'll see it otherwise.
We just want a little love too!
Believe me, if you want it, it's in New Jersey. And I'm happy to tell you all about it.
You may want to check out Asbury Park, see the New Jersey cherry blossoms at the Cherry Blossom Festival in Branch Brook Park, visit Grounds for Sculpture, or the Liberty Science Center. If nature is your thing check out the Paterson Great Falls. You can also stop at a World War II memorial, take in views of the Atlantic Ocean and be on the look out for delicious food trucks!
Till next time, have a great time exploring one of the attraction-dense states in our union. The great state of New Jersey!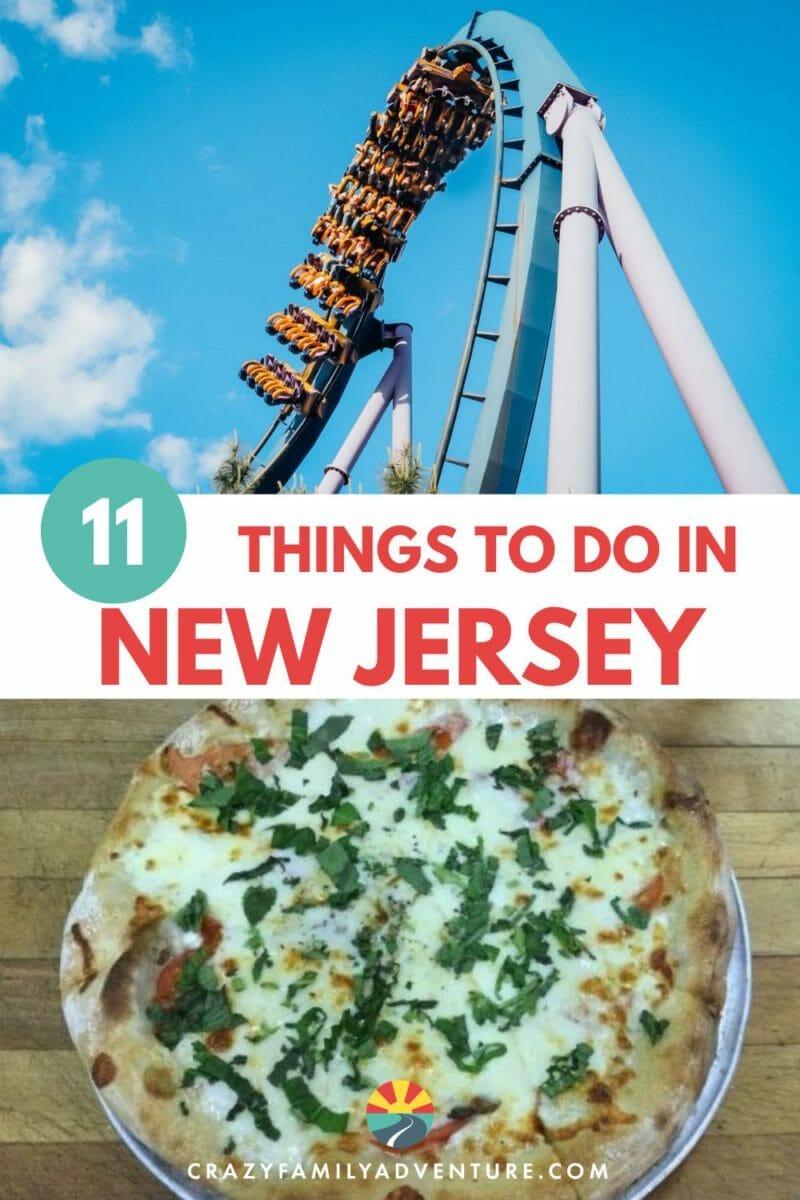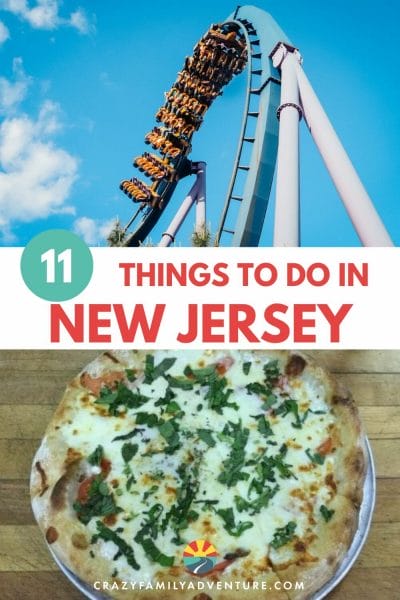 Latest posts by GreenBean
(see all)
DISCLOSURE: This post may contain affiliate links, meaning I get a commission if you decide to make a purchase through my links, at no cost to you. Please read my disclosure for more info.