Visiting New York City with kids is such a fun trip with all the educational opportunities, broadway shows and food exploration! It can be overwhelming to decide where to go and what to do and hours can go into planning your trip. Below we share our 3 day itinerary for exploring NYC with kids .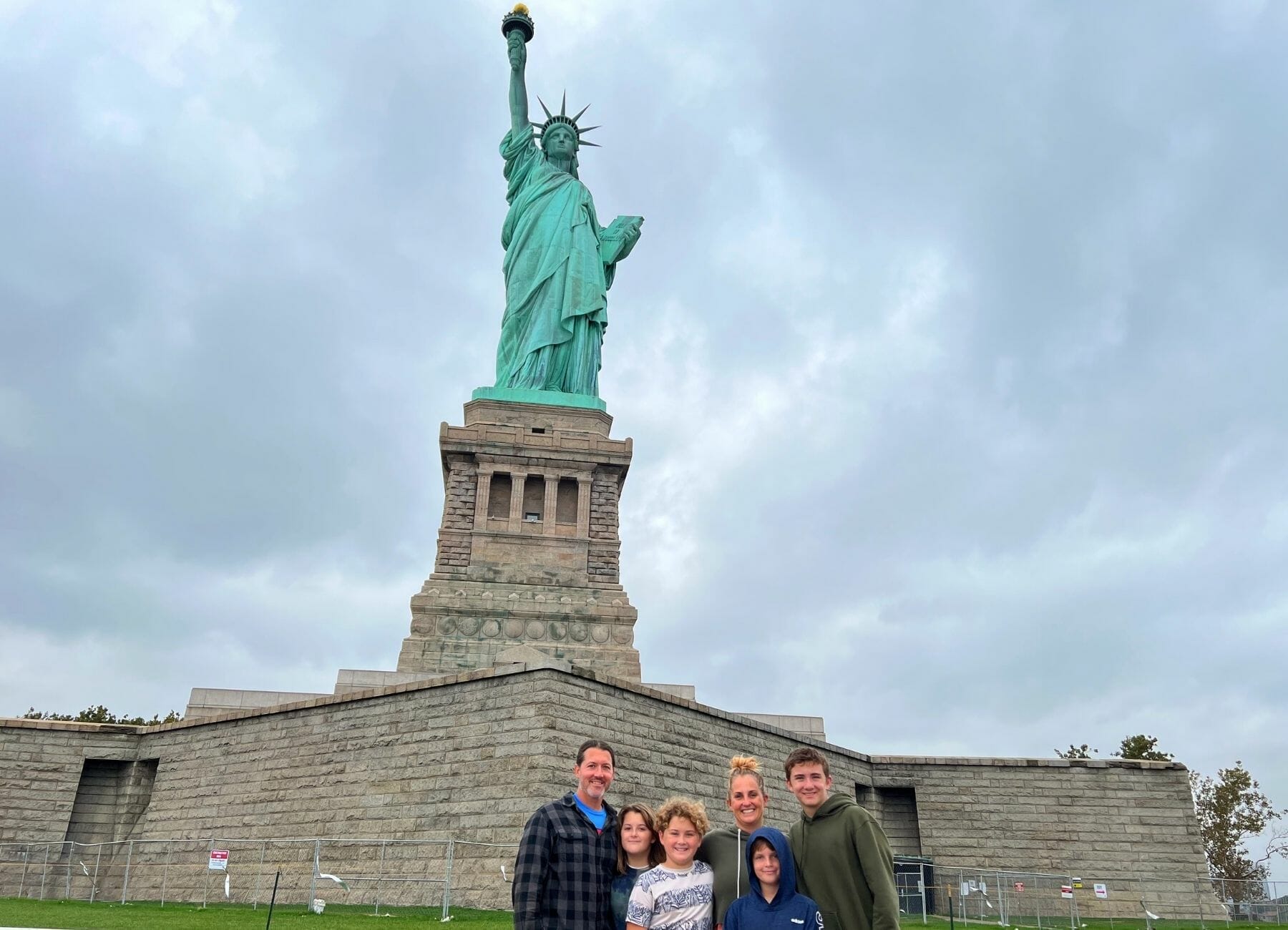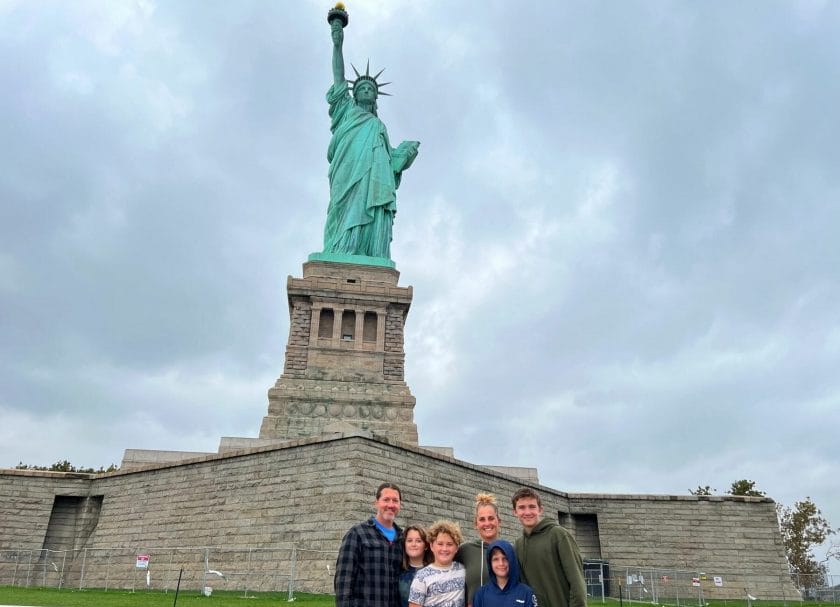 We packed a lot into our 3 day stop in New York City on our East Coast road trip, but it was so much fun! Check out all the things to do in New York with kids!
Day 1
2pm – Check in at Railroad Terminal for the New Jersey Ferry
Ellis Island and Statue of Liberty
4:45pm – Arrive back at Railroad Terminal and drive to the RV park
5:15pm – Get on the Liberty Harbor Ferry to head over to the Wall St Ferry
Walk across the Brooklyn Bridge
Julianna's For Pizza
Brooklyn Bridge Park Basketball Courts and Swings
Brooklyn Heights Promenade
Time Out
Washington Street/Water Street Picture
World Trade Center Path Station to take the train back to New Jersey
If you have time be sure to add in the Escape Game too!! We love escape games!!
Ellis Island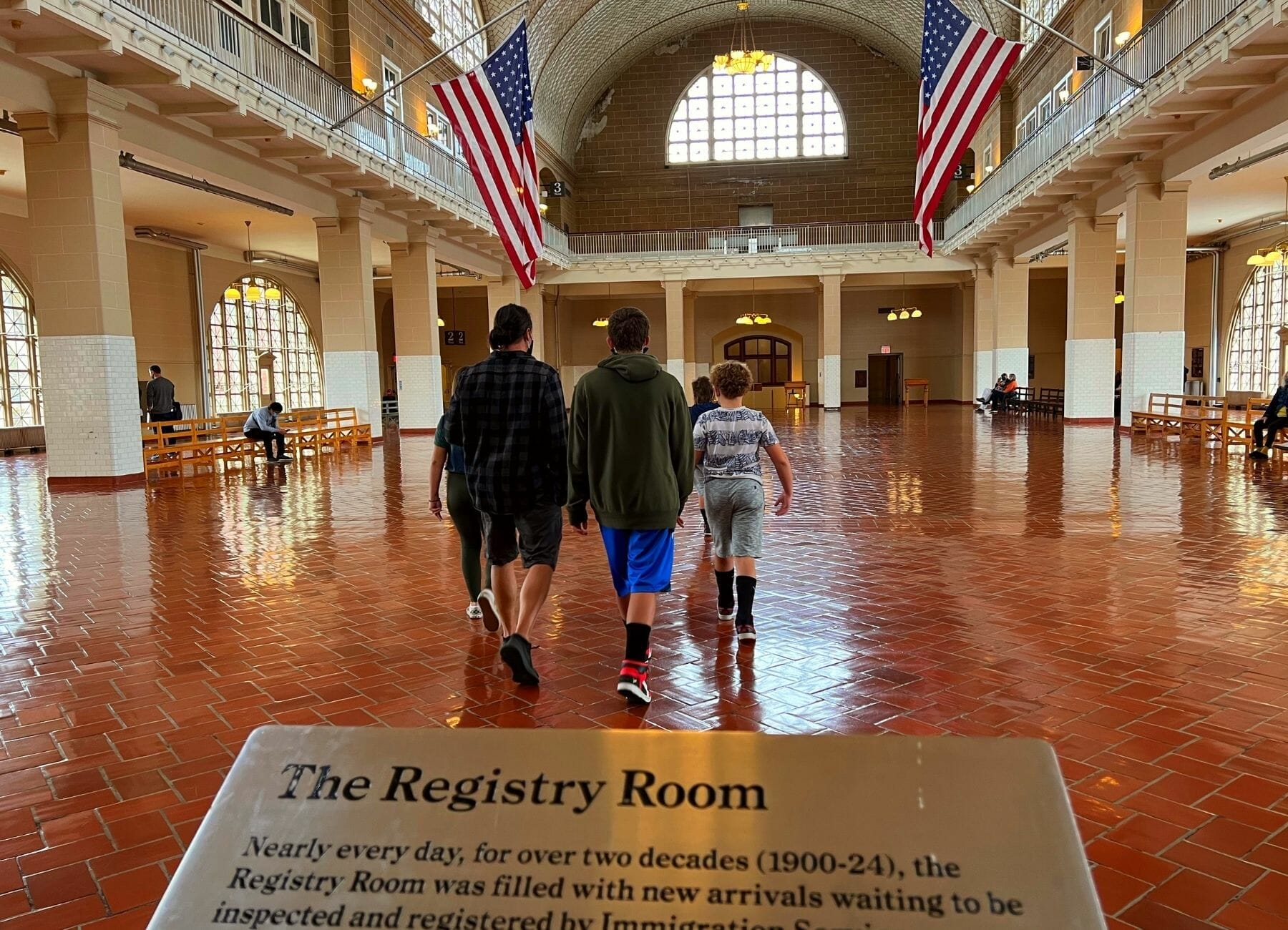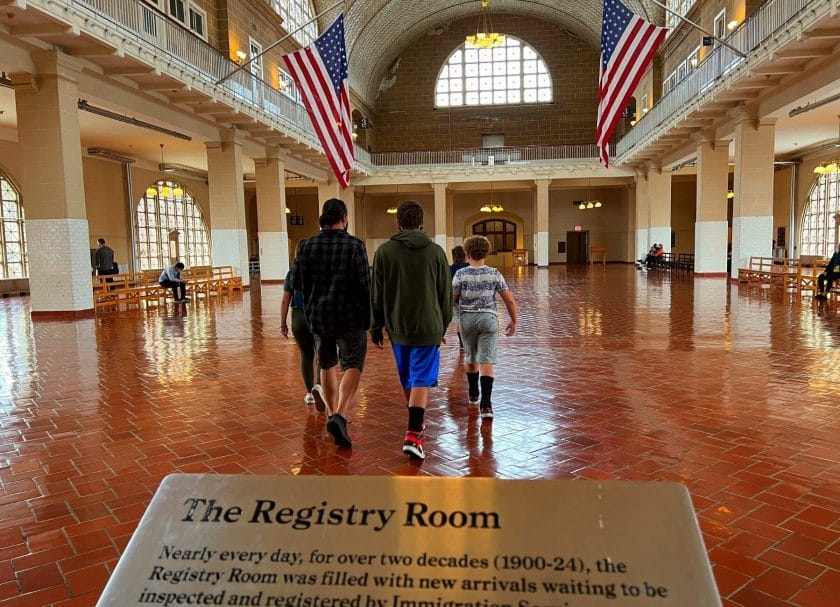 Since we were staying in New Jersey we parked on the New Jersey side ferry for Ellis Island and the Statue of Liberty. (We had to buy tickets ahead of time and had a timed entry in order to get in).
They have a metal detector and a lot of security as you are getting on the boat so plan time for that.
We checked in at 2pm and got on the boat and headed to Ellis Island first. They said with a 2pm checkin you couldn't do both Ellis Island and the Statue of Liberty – that sounded like a challenge to me :). We had to do a pretty quick tour of Ellis Island and definitely could have spent more time exploring. But we didn't want to miss the boat that would take us to the Statue of Liberty.
We took about 1 hour to explore Ellis Island – but really 2 would have been better – or even 3 if you really want to spend time reading everything there. It was a cool experience and our kids were really into it too. It is such a great way to learn about United States history and how/why we are the country we are today.
If you can make it where you aren't rushed I would recommend that. You can check out tickets and departure times here.
Statue of Liberty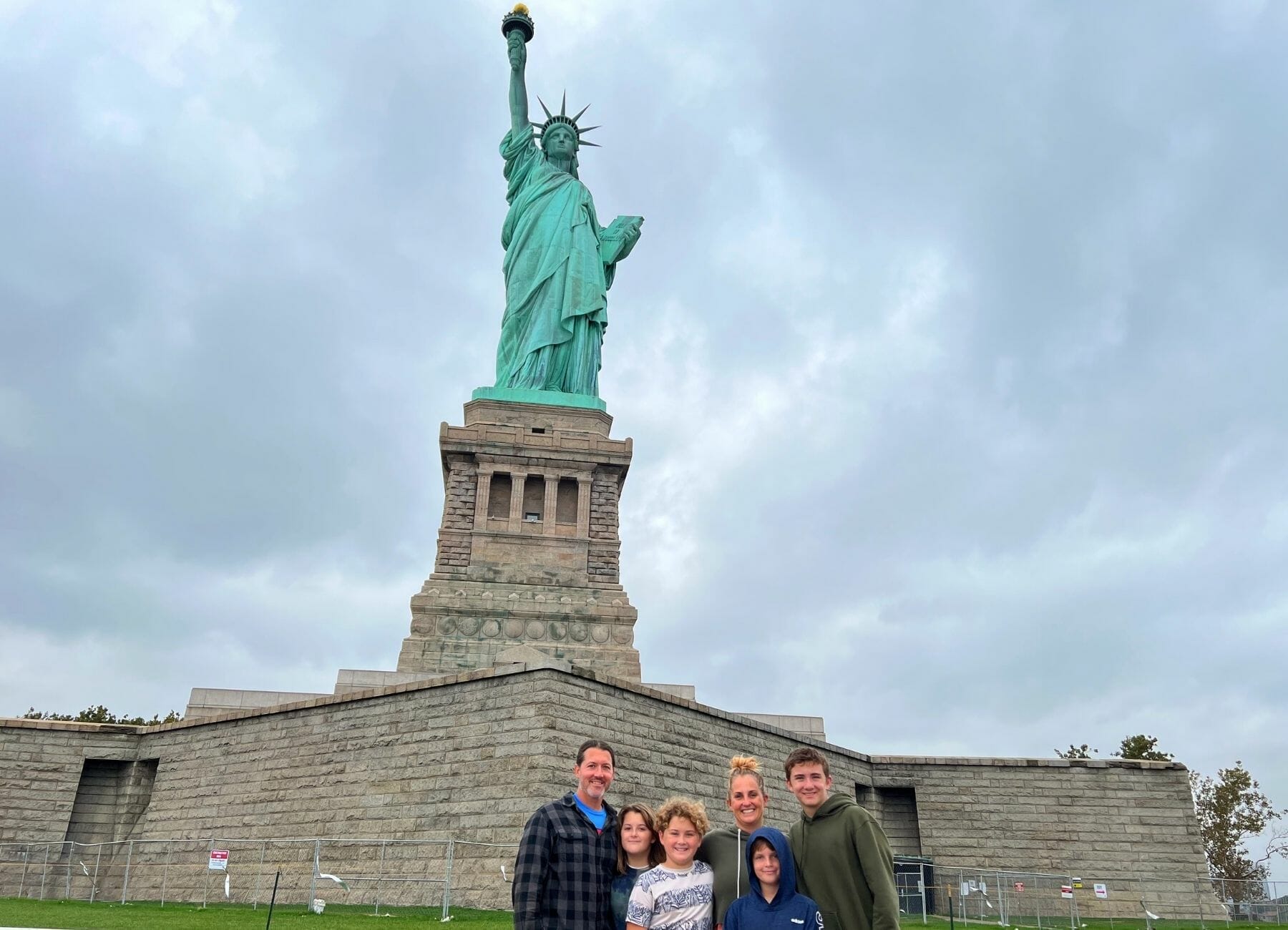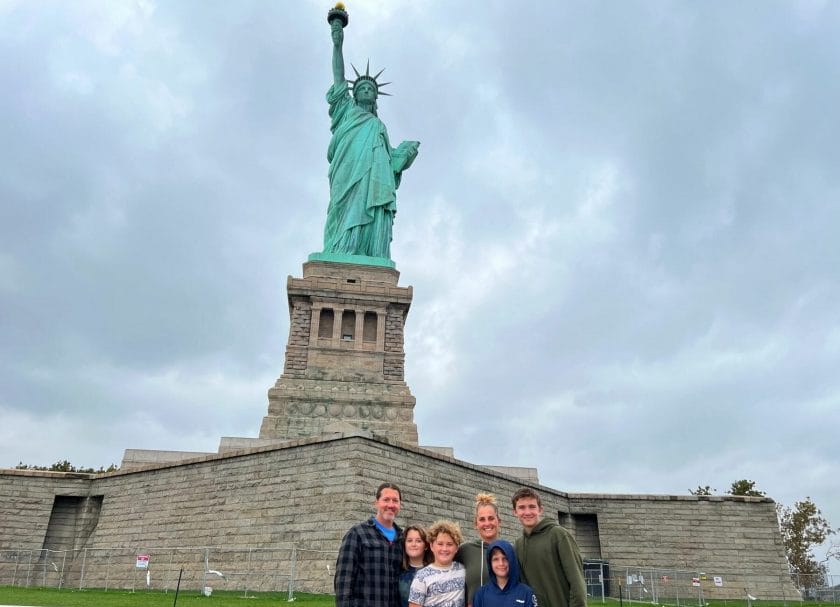 From Ellis Island, we got on the ferry to the Statue of Liberty. This was confusing to me. But it is exactly how it works. If you are coming from the New Jersey side and want to do both you will start with Ellis Island. Once you are done there you get back on the ferry to go to the Statue of Liberty.
If you are coming from the New York side (Battery Park) you would start with the Statue of Liberty first and go to Ellis Island second. And to be honest, when you check in at the ferry I would ask and confirm this is how the ferry is running that day. Also, be aware of the times the ferries go or ask before you get on so you know when to be out to pick the ferry up for the next destination.
Here is a good map of how the ferries run.
We got off, walked around the front of the lady liberty and took some pictures, and walked back to get on the ferry. We did this all in 20 minutes. Which meant the ferry never left but was just there the whole time loading people up to take them back.
This worked for us since we wanted to catch the earlier ferry back to New Jersey to head over to Brooklyn still that night.
It was a fast walk to make the 20 minutes work but we did it. With more time we would have explored the museum and the gift shop. Again if you have time I recommend giving this time to explore without feeling rushed. We were basically running to get back to the ferry.
The ferry brought us back and we drove and dropped the truck off at the RV park and walked over to catch the 5:15 pm ferry to New York City – which was right outside the RV park at Liberty Harbor Ferry.
We would go from Liberty Harbor Ferry which was a 1 minute's walk from the RV park to the Wall Street Ferry drop-off. We bought our tickets on the NY Waterway app and just showed those to the boat worker when they pulled up at the stop. Here is a link to our route.
Here is where you buy your tickets: NY Waterway. You are looking for the Liberty Harbor Ferry if you are staying at the Liberty Harbor RV Park.
Brooklyn Bridge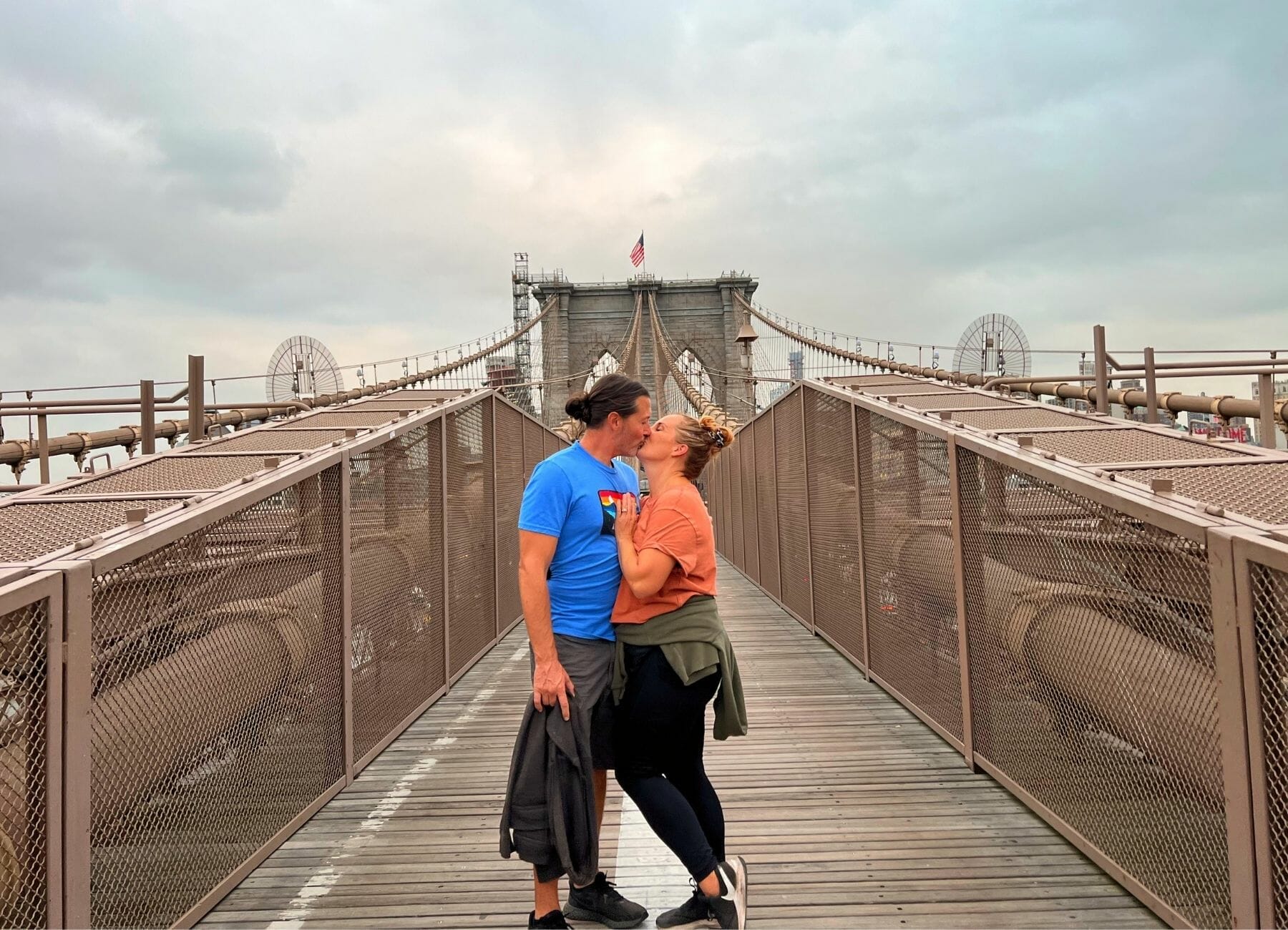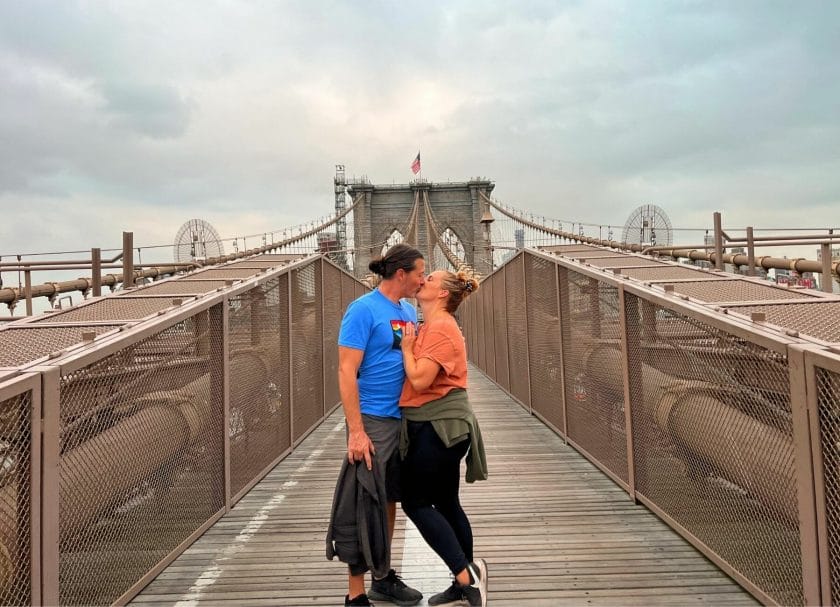 From there we walked to the entrance of the Brooklyn Bridge walkway and made our way across. Here is a map of where we walked to get on the Brooklyn Bridge.
We started on the Manhattan side which is at: right across the street from City Hall Park, along Centre Street. You can check out the map here. Also, look for the signs that point you in the right direction to get on the walking bridge NOT the driving bridge.
They are 2 very different things. The walking bridge is just that. Just for walking. You are basically walking over the cars that are driving across the bridge on a completely separate walkway.
The bridge is about 1 mile across. It is a nice pedestrian walking area. They even have a separate area for bikes so you don't have to worry about that. There are also a lot of great places to stop to grab pictures.
When you reach Brooklyn you are in the Dumbo neighborhood in Brooklyn which is a trendy area with great restaurants and outdoor activities.
Juliana's Pizza
Once in Brooklyn, we headed to Juliana's for pizza. Juliana's is owned by pizza legend Patsy Grimaldi who use to own Grimaldi's pizza. We loved Juliana's and it felt like a local pizza shop. Plus the pizza was good!
Brooklyn Bridge Park Basketball Courts and Swings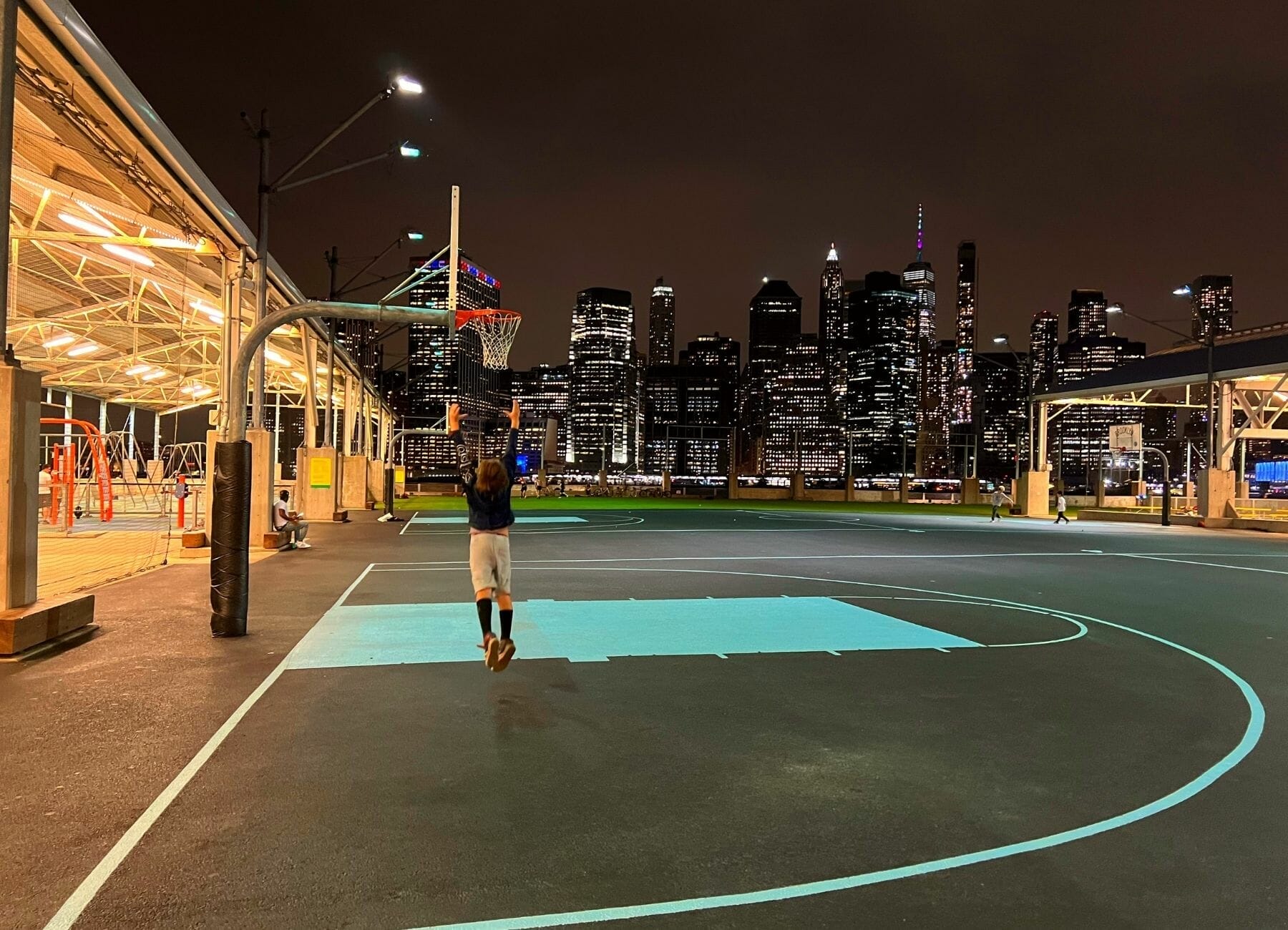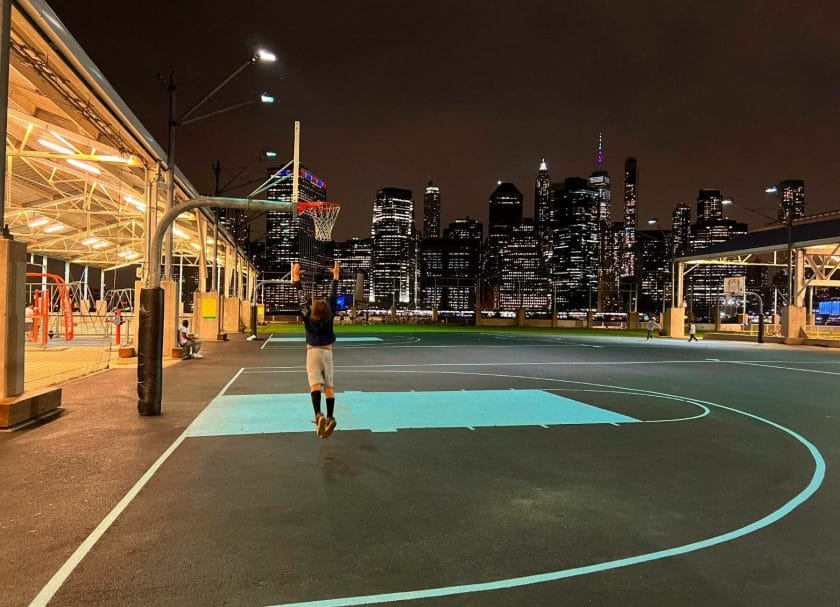 After that, we checked out the basketball courts and swings at the Brooklyn Bridge Park – with the NYC skyline in the back. These are public courts and anyone can play. Just the week before an NBA player was there playing a pick-up game.
They also have an astroturf soccer field and swings. All overlooking the New York Skyline.
Brooklyn Heights Promenade
After checking out the courts we walked on the Brooklyn Heights Promenade taking in the NYC skyline at night. It was a beautiful walk.
Time Out
We headed to Time Out a collection of restaurants located in a building. There was an awesome variety of different types of food and restaurants. Since we had already had pizza we got some Ice Cream at the Sugar Hill Creamery.
Washington Street/Water Street Picture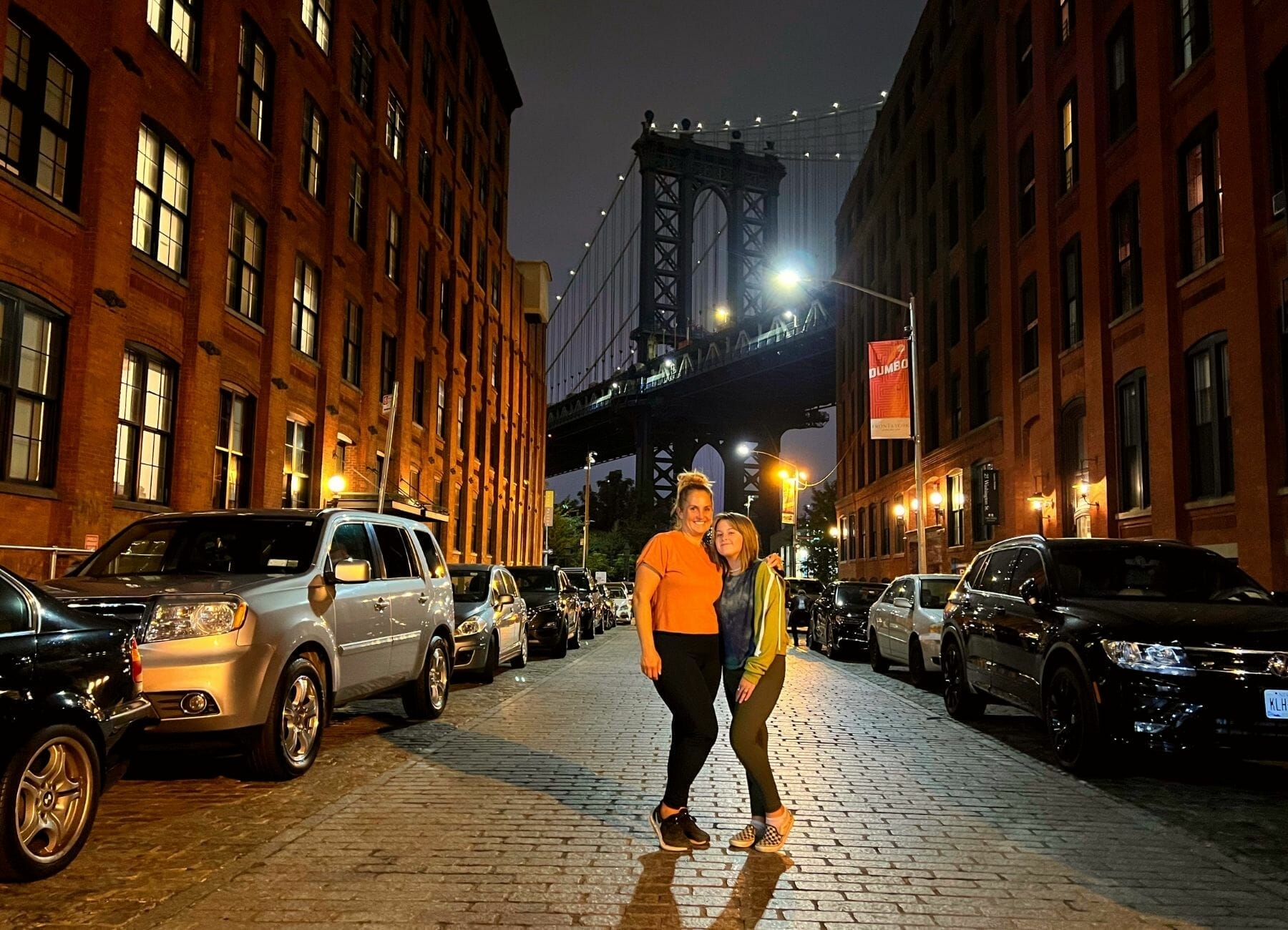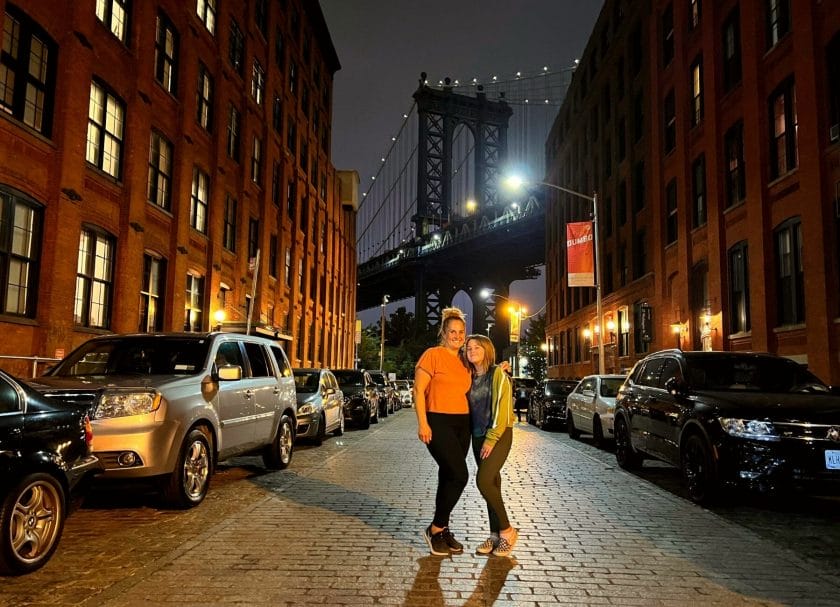 Next up we grabbed a picture at the Washington Street and Water Street intersection spot – one of the favorite street photo places in the Dumbo area of Brooklyn.
We headed back across the Brooklyn Bridge at night and to the World Trade Center PATH station to take the PATH train back to New Jersey and the RV Park (it was a 5-block walk from the Grove PATH station to the Liberty Harbor RV Park). Since the ferry wasn't running anymore and because this option was a lot cheaper than the ferry. Be sure to check out the great views of the city!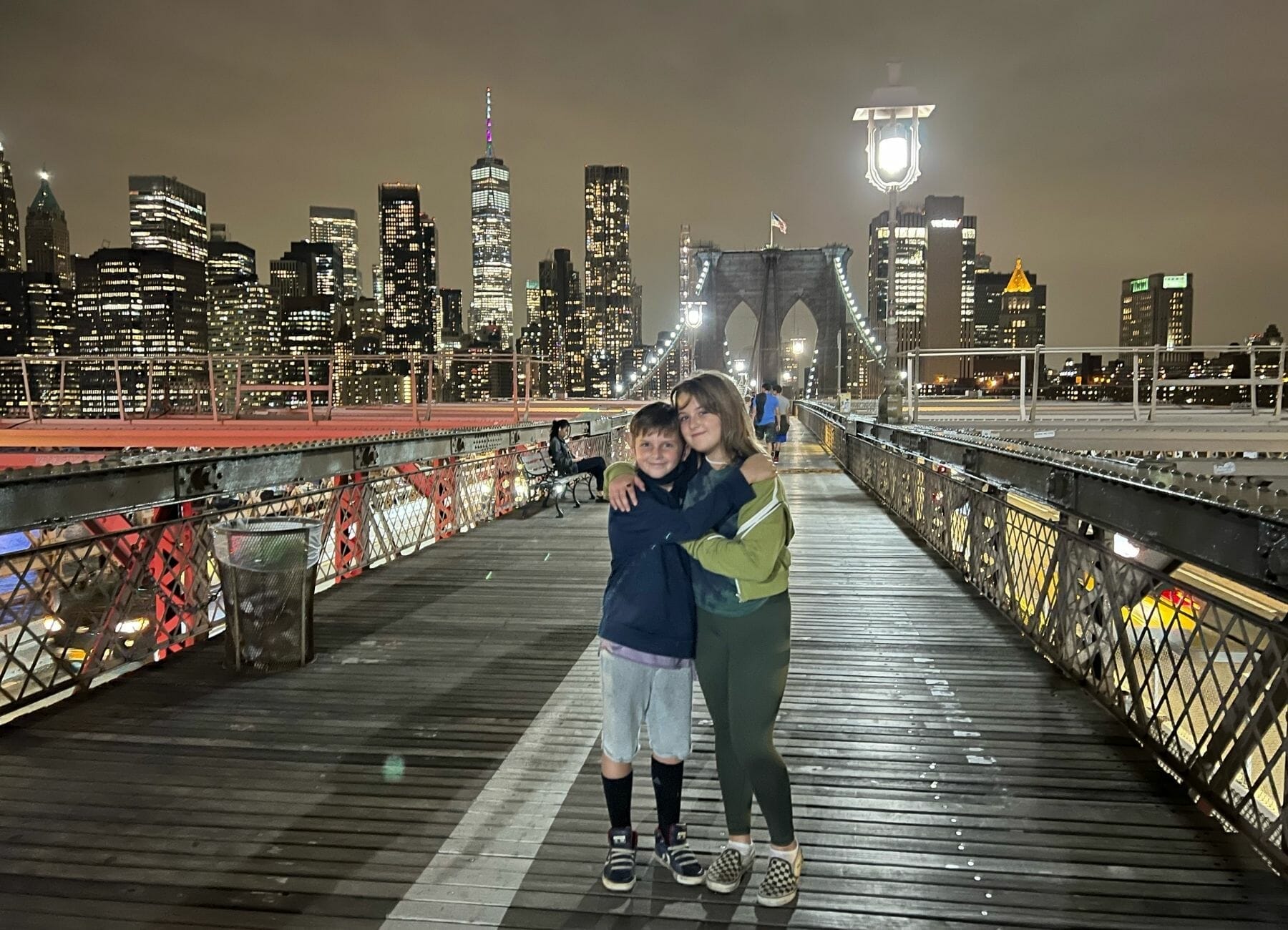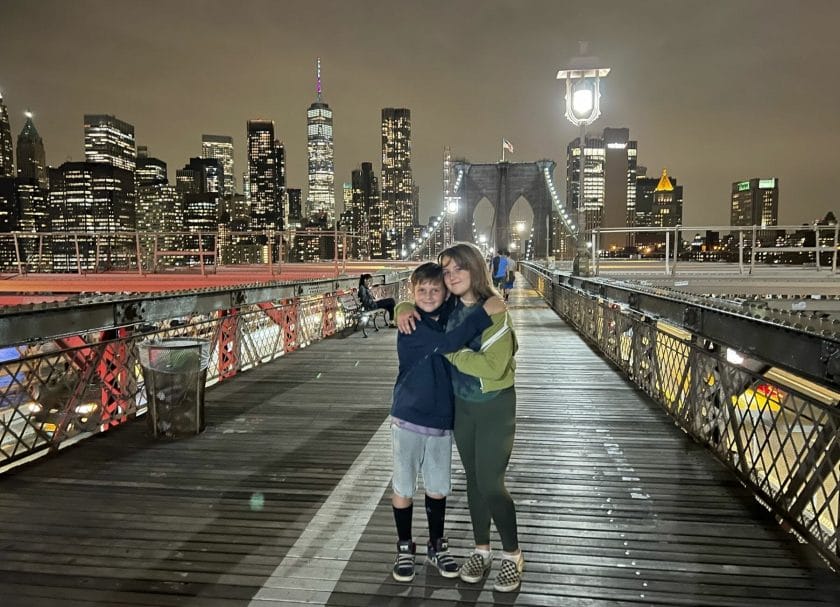 If it seems like that was a lot of walking it was! But we truly feel that walking around a city is a great way to really take in the sites and the vibe of the area.
Here is a map of what we did in Brooklyn.
Day 2
Bike Central Park
5th Avenue and Shopping
St. Patricks Cathedral
Rockefeller Center
Time Square
Dinner: Haru Sushi
Dessert: Juniors
Lion King on Broadway
New York City
We had bought tickets to see The Lion King on Broadway which meant the kids had to show a negative rapid COVID test that was done within 6 hours of the play. Or a PCR test that had been done 72 hours or less ago. We weren't sure where to do this so we ended up making an appointment at an Urgent Care place. It was a free rapid test and we had the results within 20 minutes. But we did see a lot of pop-up COVID testing places around NYC and we probably would have just done that.
Since we were going to Broadway this also meant we couldn't have any big bags or backpacks with us so we headed out with my fanny pack and that was it!
We again took the PATH over but this time took it to the 33rd street station that would get us closer to our starting point for the day: Central Park. It was about a 1.5-mile walk from there to Central Park and in hindsight, we should have taken the Subway further. But also thought it was good to get in the experience of just walking the streets of New York. The kids ended up seeing a Foot Locker shoe store so we stopped in to check to see if they had any Jordans in stock :). They did but not the right size.
We had eaten breakfast before we left and would get a few random snacks (and cupcakes) throughout the day before getting Dinner.
Bike Central Park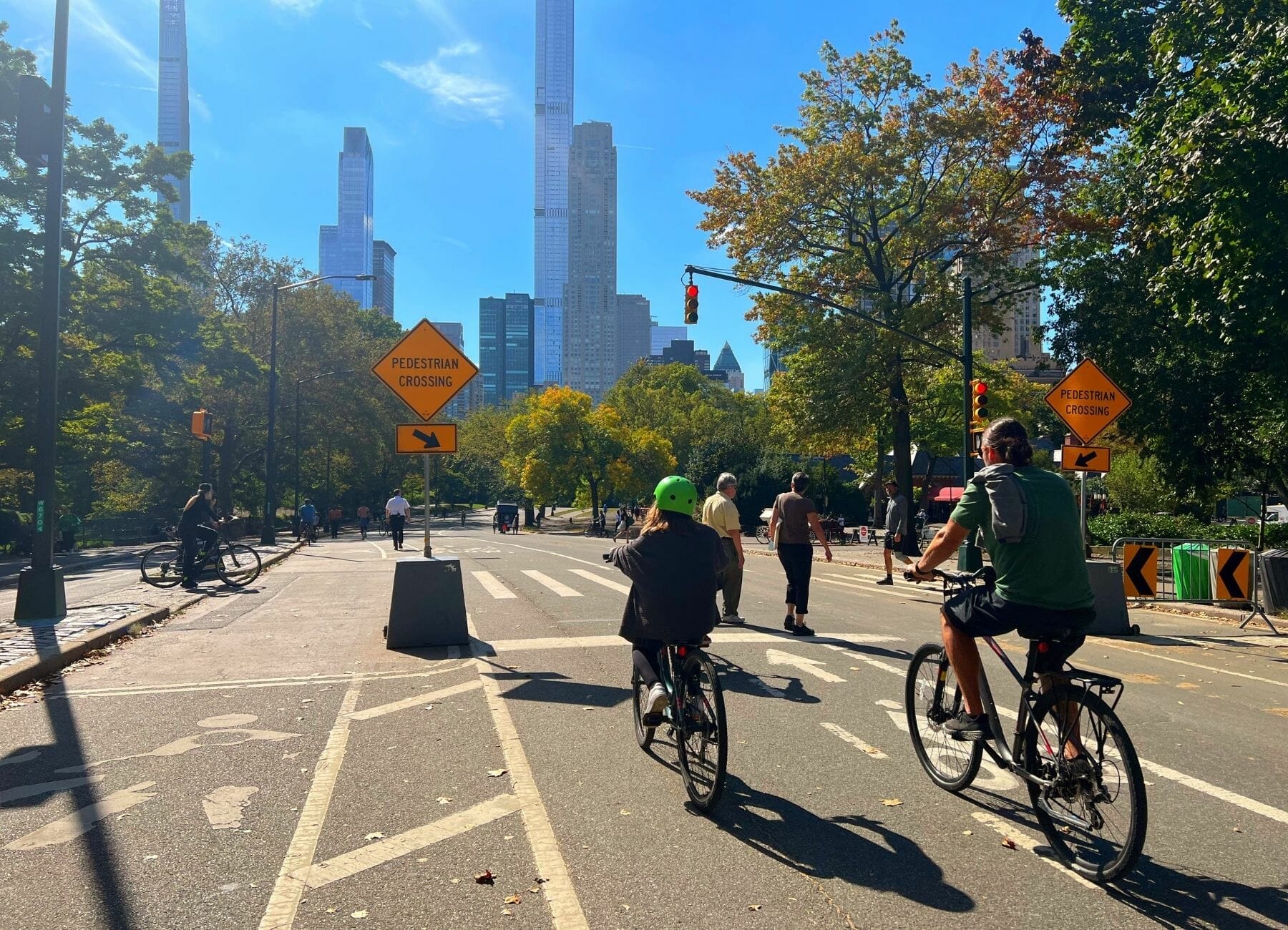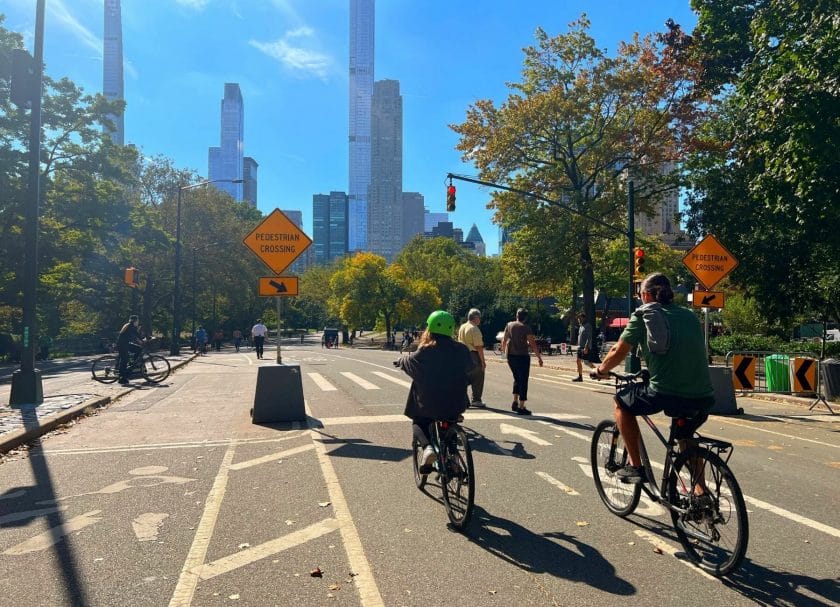 Next up we reached Central Park. We hadn't planned on biking it but someone was there with a brochure for Bike Rent NYC and after the 1+ mile walk a bike seemed like a good idea! We rented bikes for $15 each for 2 hours (he gave us the 2nd hour for free) and headed out to bike around Central park. They did provide helmets and the kids had to wear them.
There is a dedicated bike path but it is still pretty crazy on it and you definitely have to be careful. The kids 13 and under had to wear helmets (they provided them) and it was a good idea. We also had to talk to them about going straight and not swerving all over the place.
We ended up doing the whole 9 miles around the park and it was a nice bike ride. There were only a few times when the kids got off to walk their bikes up a small hill. We made one stop at the Fountain but other than that just biked around the whole thing. It took us about 60 minutes to do that.
We brought the bikes back to Bike Rent NYC – Central Park which was just around the corner from Central Park at 58th Street and 6th Ave and went on our way.
5th Avenue and Shopping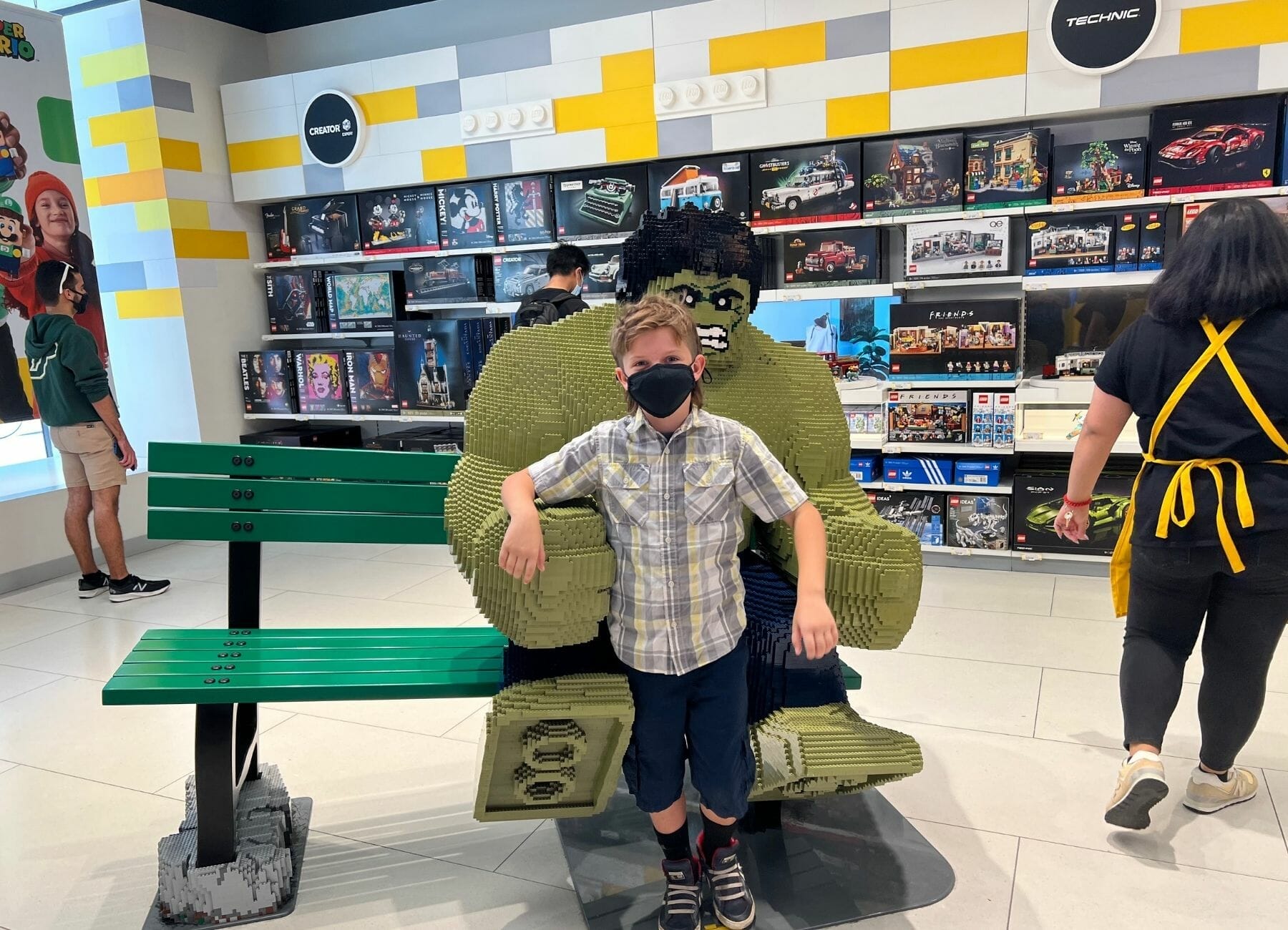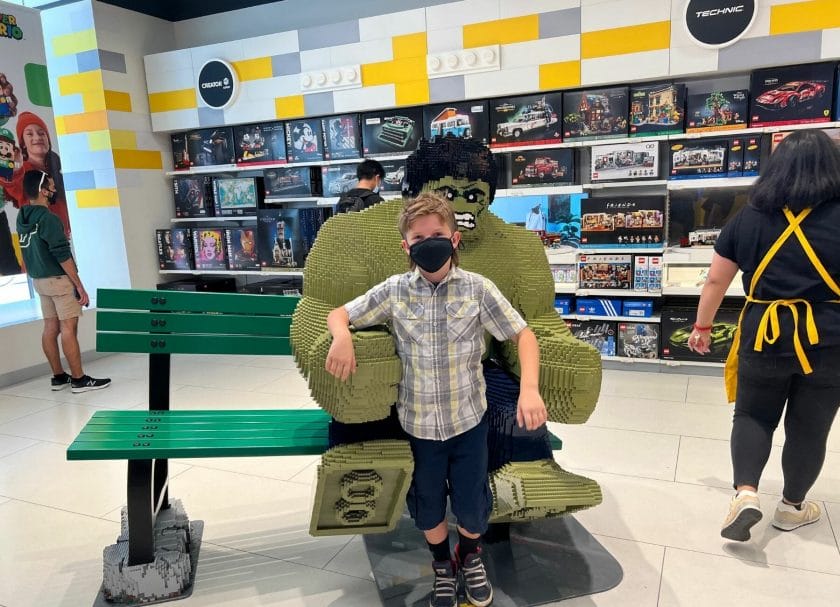 The plan was to explore 5th Avenue and some of the shops on it before heading to do the COVID test. New York is an awesome place to shop or even just look around as all of the stores are HUGE!
Where we stopped:
Nike Store
Foot Locker
Champs
The Lego Store
St. Patricks Cathedral
We walked over to the cathedral and walked into the entrance to see the church. It was a magnificent structure!
Rockefeller Center
We walked around the Rockefeller Center and found Magnolia Cupcakes – and of course, tried the cupcakes! Yummy!
After that, we headed to get the Covid test at the Urgent Care center. It took us about 45 minutes to do that.
From there we headed back to Time Square. We also got an email with the results and all of the kids were negative so that was good!
Times Square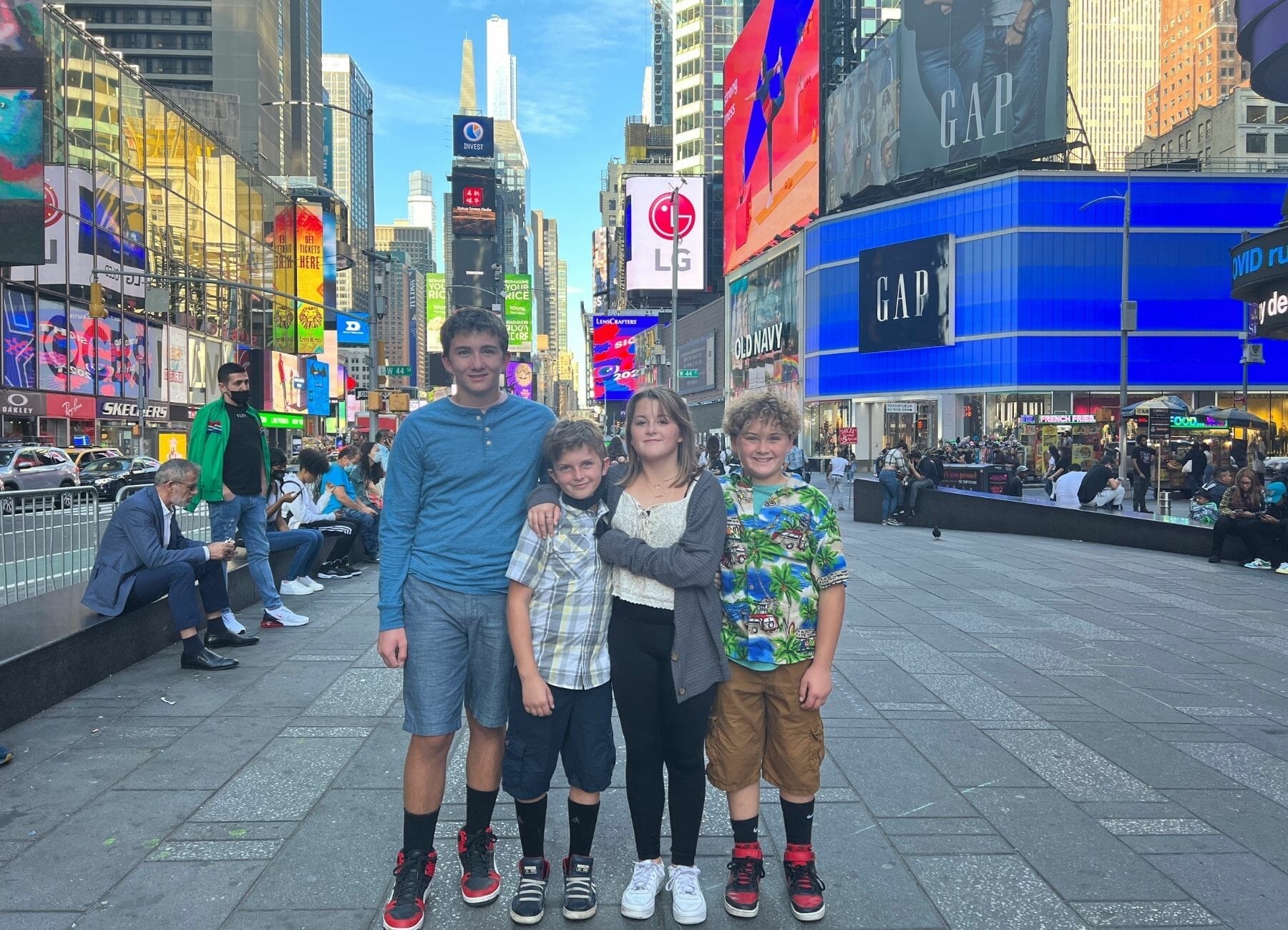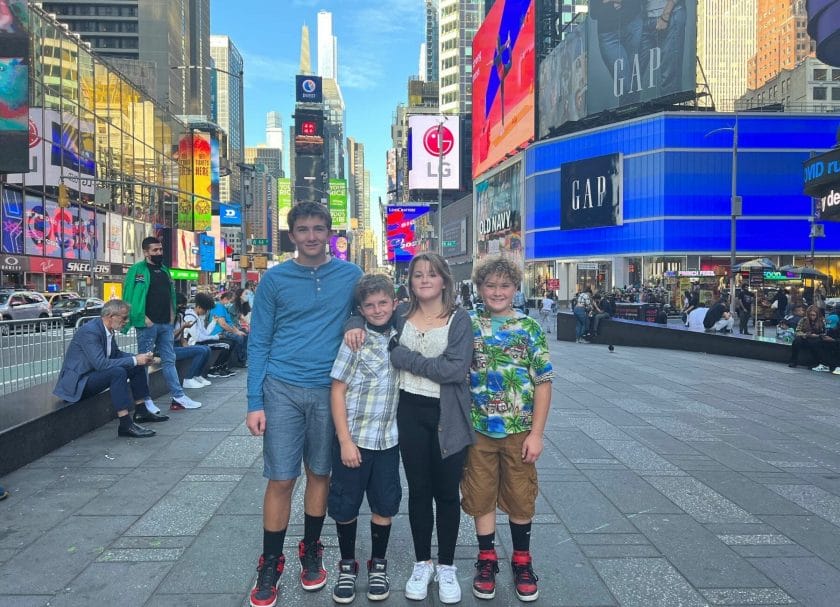 We walked around Times Square and stopped to look up and take in all the magic that is Time Square. We then headed to the following stores:
Dinner: Haru Sushi
Went to dinner at: Haru Sushi (We did have a reservation and did have to show proof of vaccination for Craig, Carson and I). They had Chicken Wings on the menu too for the kids that didn't want sushi. It was delicious and they had a happy hour menu with food and drinks on it!
Dessert: Juniors
We headed to Juniors to try their famous cheesecake for dessert. It was yummy!
Lion King on Broadway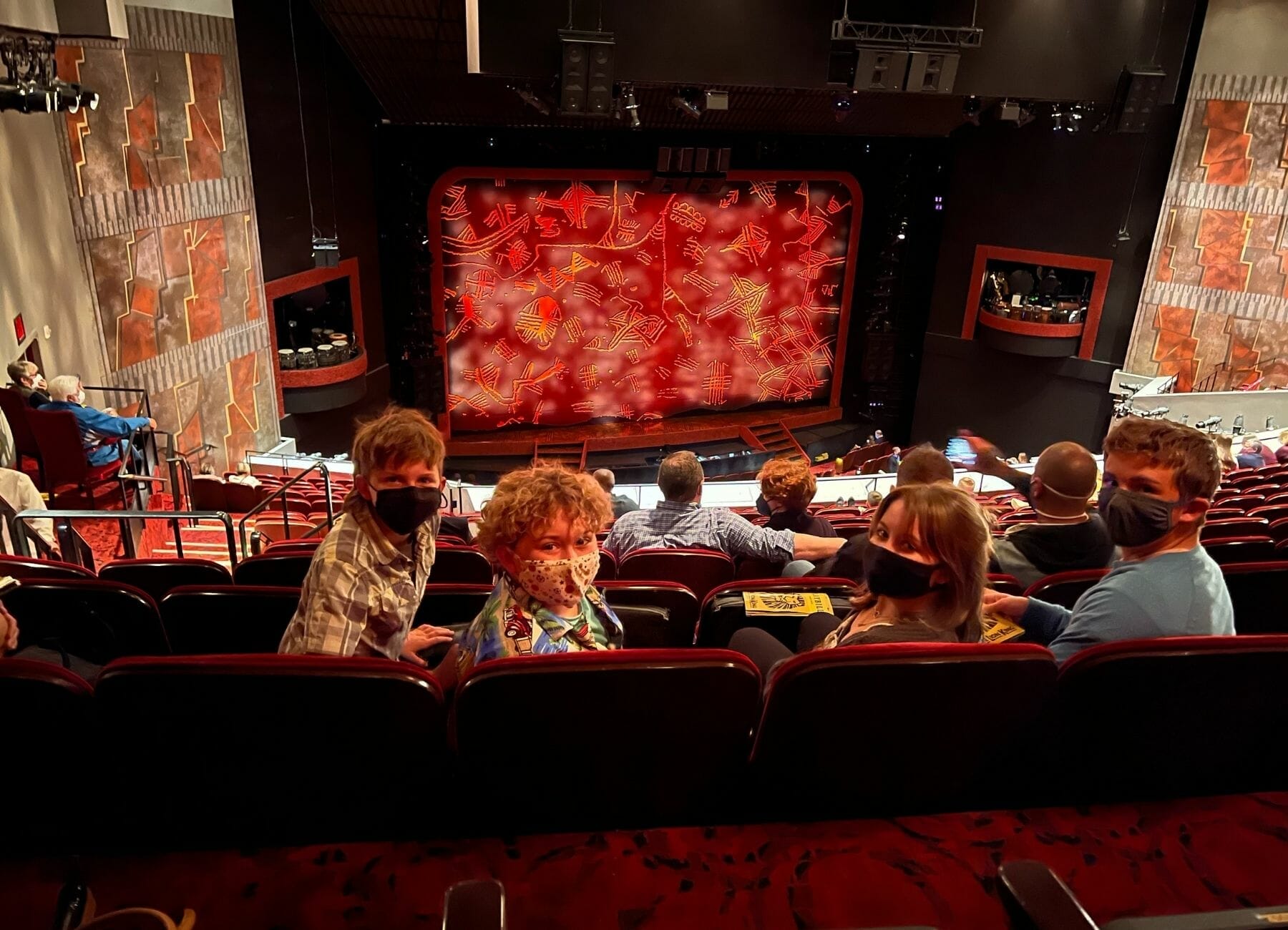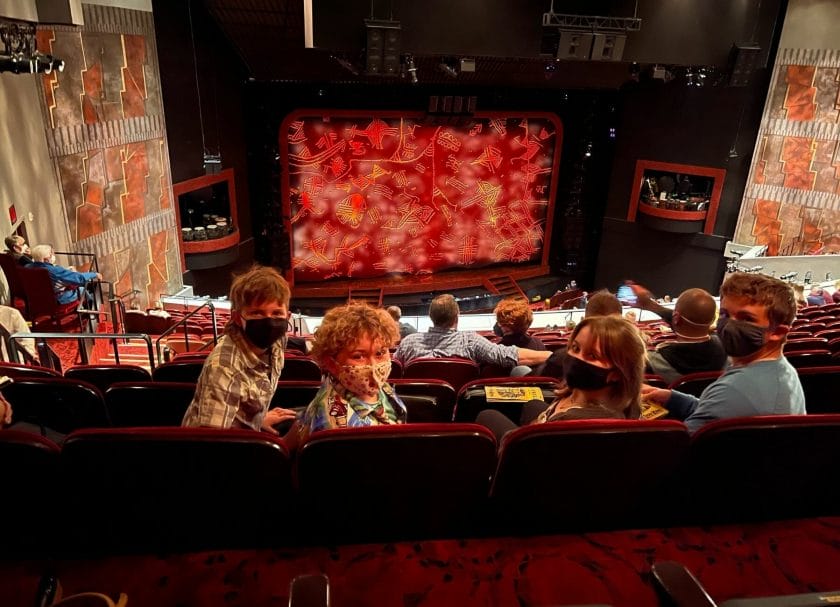 At the door, they checked our COVID vaccine records and I had to show the negative COVID test for Melia, Cannon, and Knox. It was all worth the effort to get the test! The show was so good!!
This was the first time the kids would see a Broadway play and it was amazing. From the first scene, the kids' eyes were glued to the stage. I also liked that the theatre was not humongous so every seat was a good seat!
They also had snacks and drinks. Since we had just eaten dinner we put in an intermission order at the concession stand before the play started. That way at intermission we just walked over and got our food. We didn't have to wait in the long line.
We bought our tickets here: https://www.broadway.com/shows/the-lion-king/
After the play, we headed back to 33rd street PATH station to take the PATH train back to the RV Park (Grove Station). It was a late night but it was a great day!
1st half of the day: https://goo.gl/maps/hcBFjFLQm7WsiLQP7
2nd half of the day: https://goo.gl/maps/4jZ1ssL6ePNPxwS96
Day 3
9/11 Memorial
Wall Street and NYSE
Chinatown
Little Italy
Shopping
Knicks Game
We didn't get back until after midnight the night before so everyone slept in a bit but we got up and moving and out the door by 11 am (for us that is an accomplishment :)). We took the PATH train from Grove Station to the World Trade Center. Craig and I had wanted the new Apple watches so we took a chance and stopped at the Apple Store at the World Trade Center and they had them! We bought them and after that went on with our day.
9/11 Memorial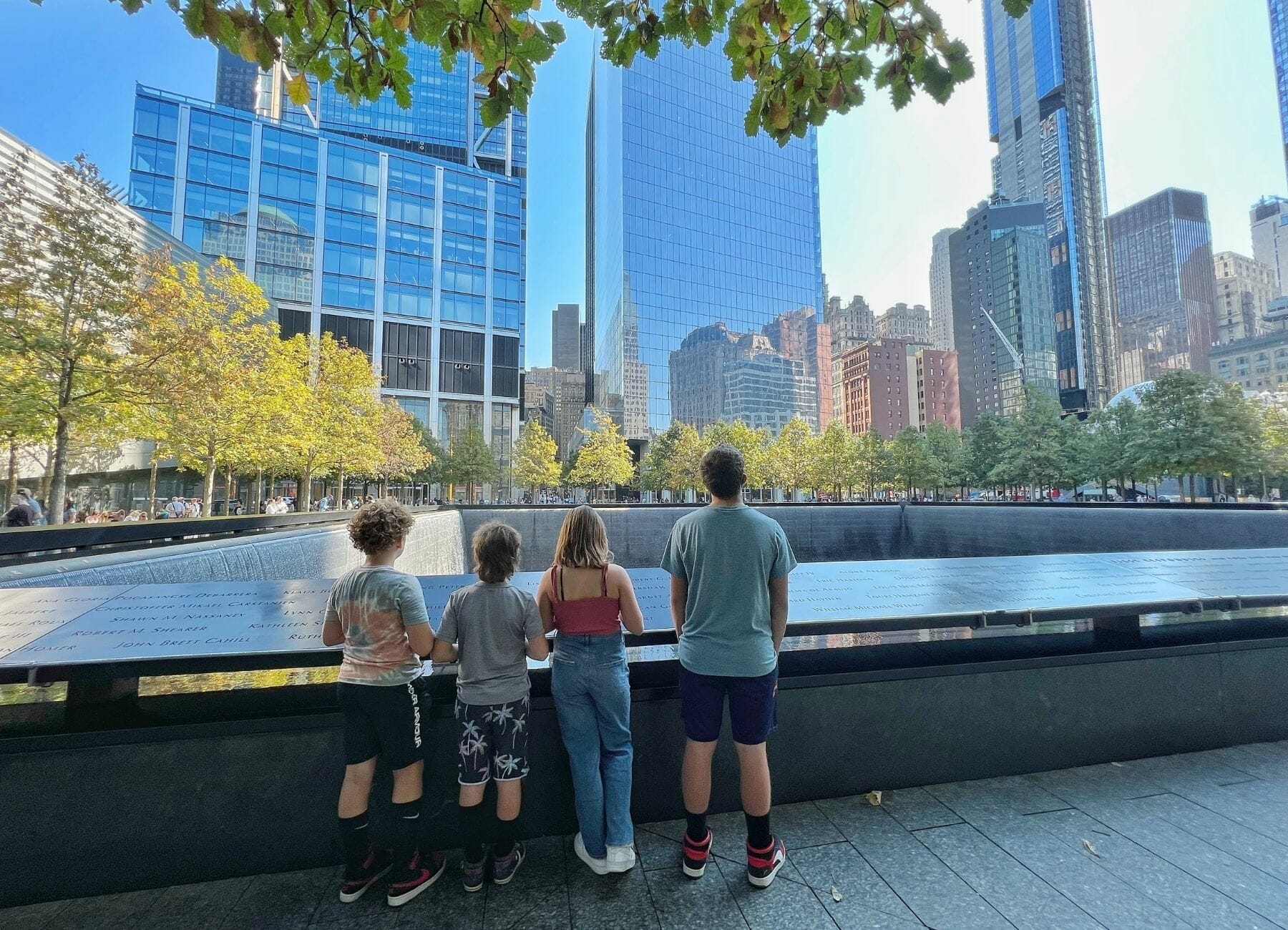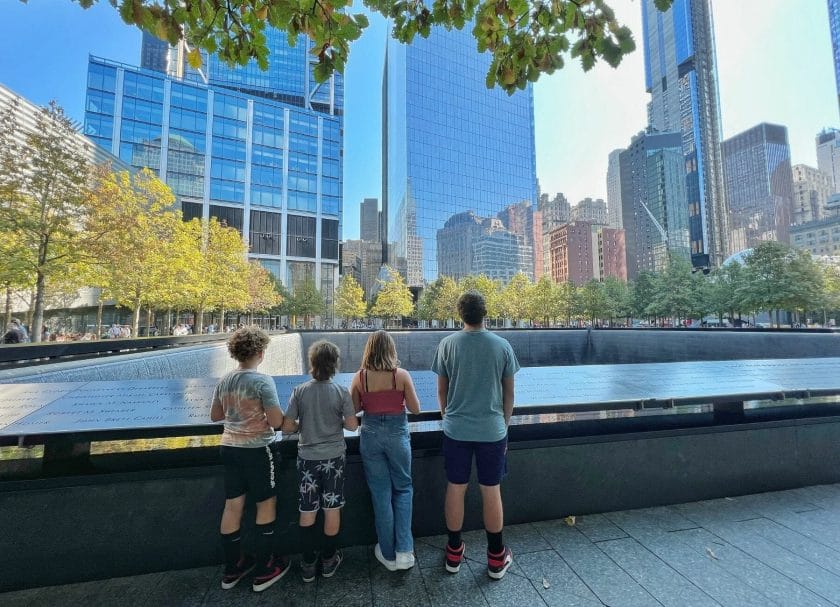 The first stop was the 9/11 memorial. We had read the What Were The Twin Towers book to the kids so they understood everything that had happened here before we got there. We went to check out both the South and North Pools and talked more with the kids about it and answered their questions. Next, we walked over to see the Survivor Tree.
We did not do the 9/11 museum this time but would like to come back to do that in the future.
Wall Street and the NYSE
Next up we walked over to Wall Street and the NYSE and talked to the kids about all of that. And went to see the Bull (well really the Bulls balls :)) There was a huge line for pictures so we didn't do that but talked to the kids about a Bull market.
Chinatown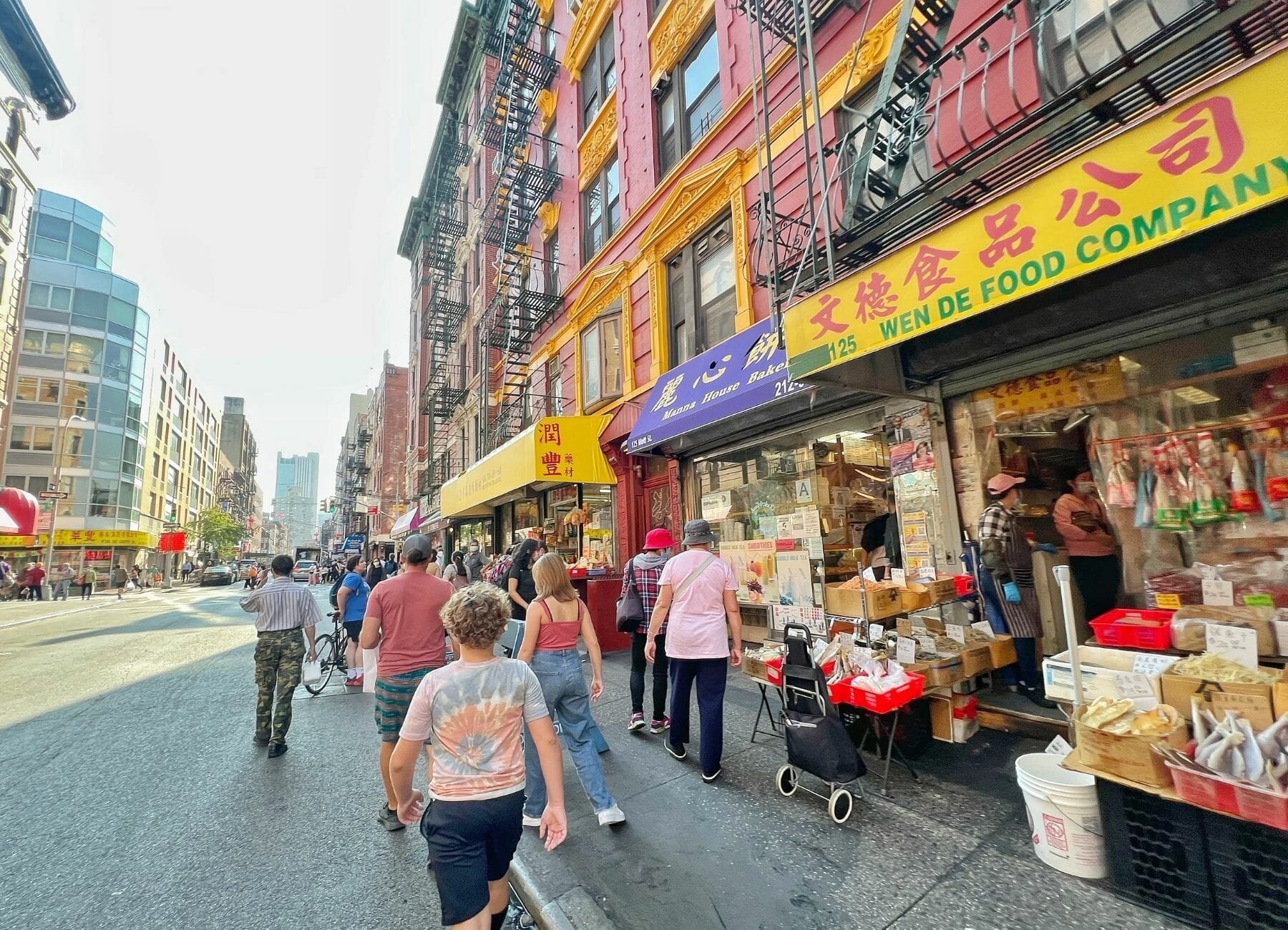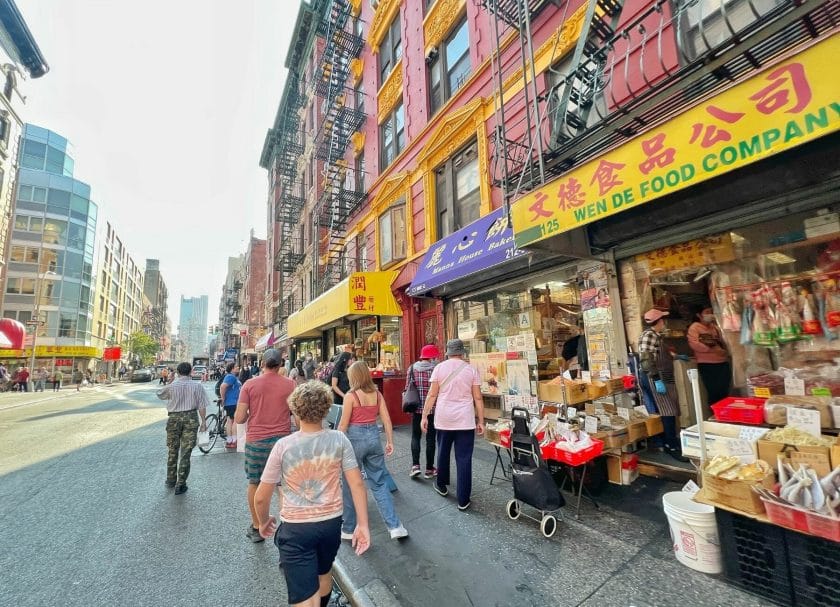 Next up we went on the subway to get to Chinatown. In Chinatown, we walked the streets, went to the Canal Street market to see the local shops, and get some rice rolls to try( they were yummy).
Sugar Tiger
Melia knew she wanted to try some Boba Tea in Chinatown. I looked online and Sugar Tiger had the best reviews so we could check it out! Melia said it was amazing.
Mahayana Buddhist Temple
We basically just stuck our heads into the Temple to check it out. It was gorgeous in there and so colorful.
Little Italy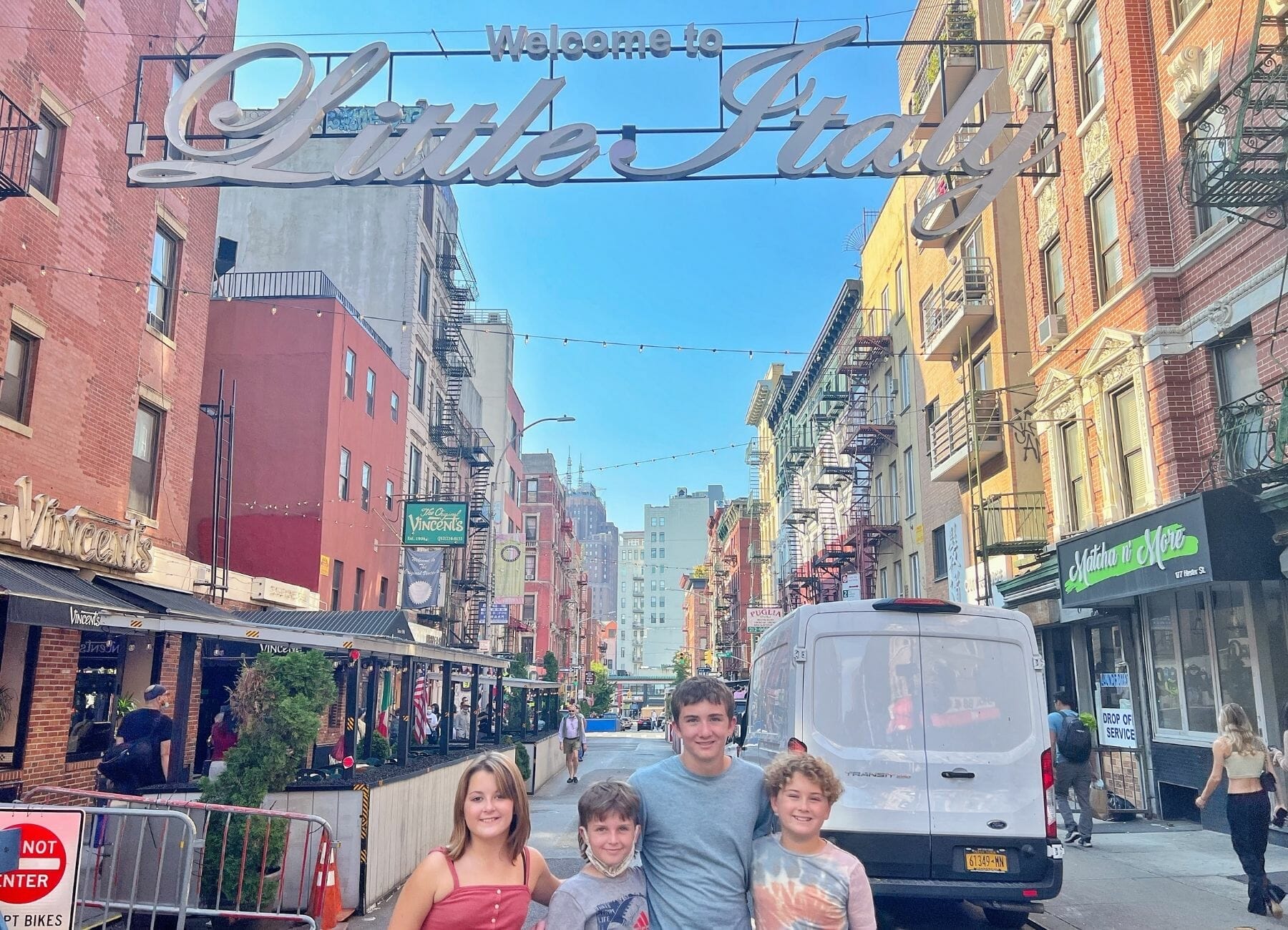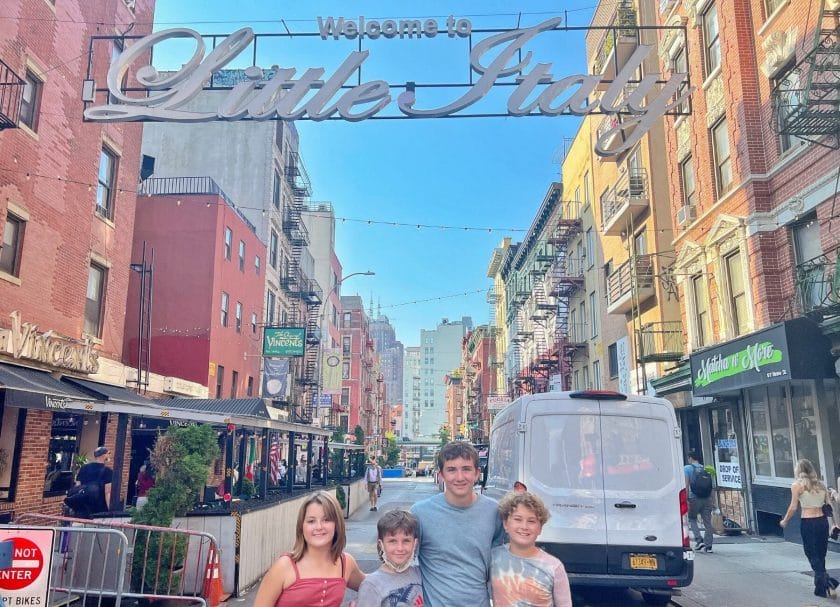 Next up we headed over to Little Italy to find some cannoli and cheese! We didn't do pizza here since we had already tried some New York pizza in Brooklyn.
Ferrara's
I had read in a blog post that Ferrara's was the place to go for cannolis. You could either grab one to go at their outside stand or head inside to a table. We decided to head to a table since everyone was thirsty too and it made eating the cannoli way easier.
The cannolis were delicious! We tried a regular one and a chocolate-covered one. It was a split decision about which one was the best.
Di Palo's
I had also read that Di Palo's was the place for cheese. We stopped in to grab a couple of different kinds of cheese to try and headed out.
The mozzarella cheese was delicious!
Little Italy Sign
I am a sucker for any cool signs :). So we had to stop and grab a picture under the Little Italy sign! To be honest, if we didn't just happen to walk by it we wouldn't have gone out of our way to find it. But I was glad we did.
More Shopping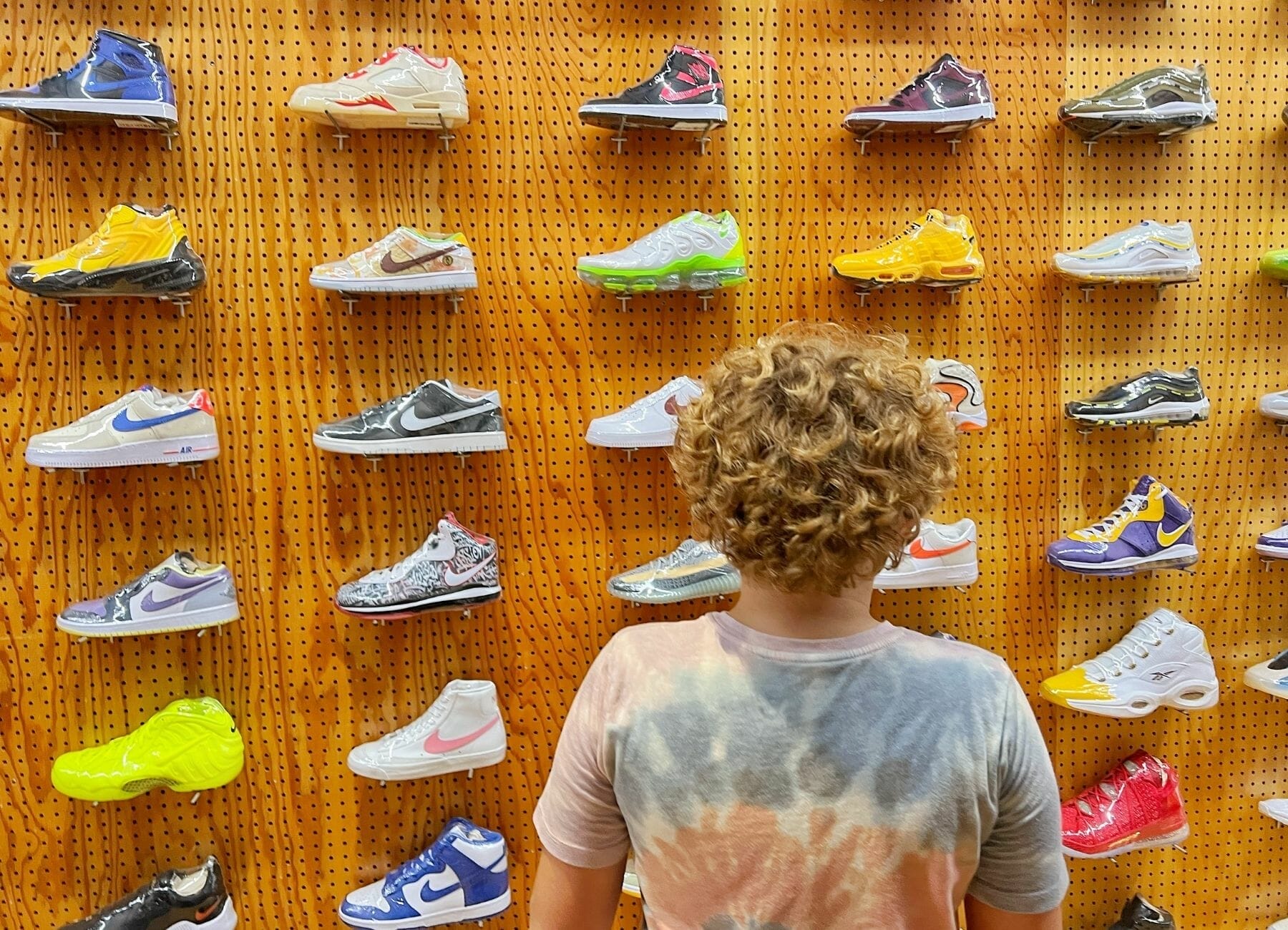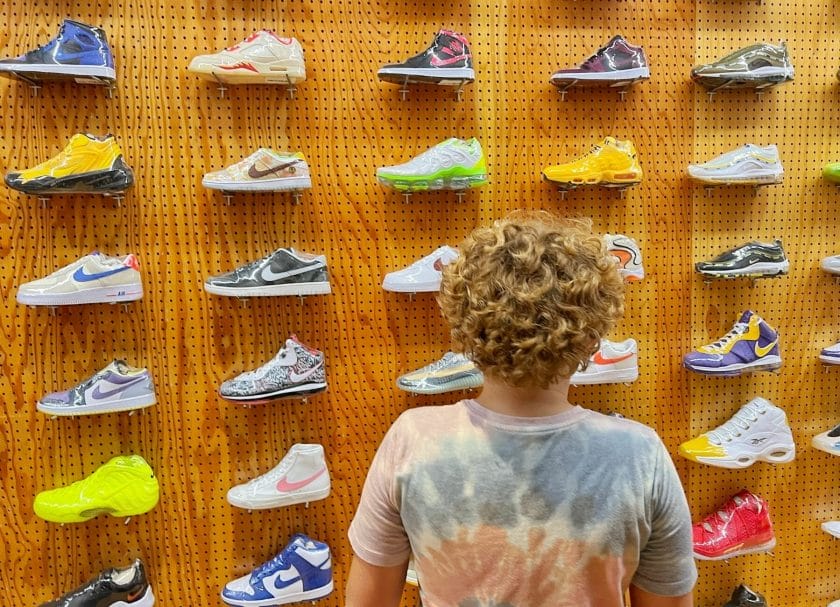 From there the kids wanted to do some more shopping. I don't blame them New York City is a great place to shop!
Thrift Store – Good Will
Melia wanted to do some thrifting at the Good Will so we started there and she found a few good things.
Flight Club
Next up we headed to Flight Club – an unreal shoe store with all the cool shoes that the kids have been wanting – but also unreal market prices for the shoes! We didn't buy anything but it was fun to see the walls of shoes!
Shoe Shopping
We went to Foot Locker and Champs so Carson, Cannon, and Knox could try to find a pair of Jordan shoes. Cannon and Knox ended up with a pair, unfortunately, they didn't have the ones Carson wanted in his size. It wasn't that big of a deal since he just got a pair of Jordans for his birthday and really we don't have room in the RV for more shoes!
Knicks Game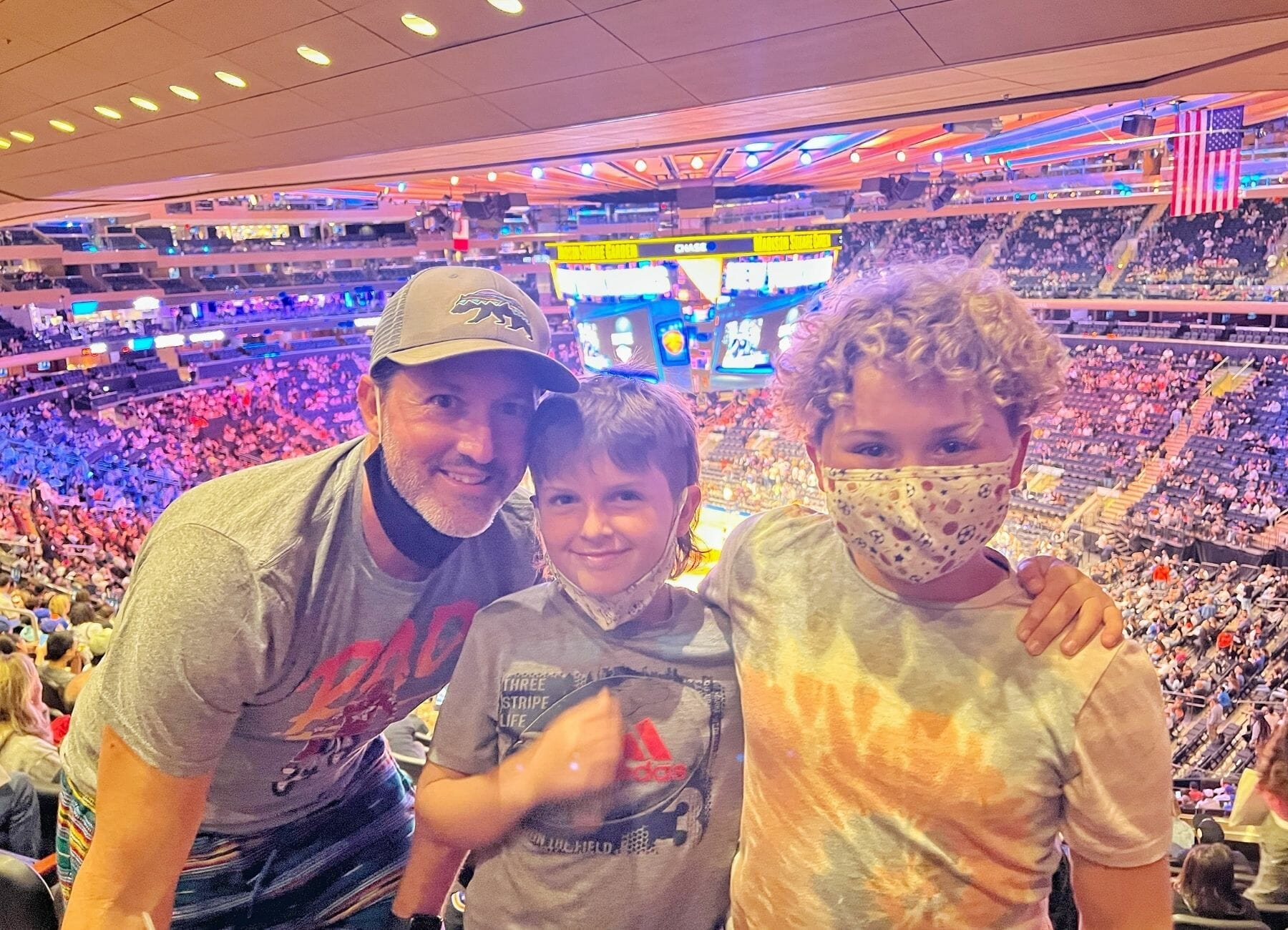 Our kids have been really into basketball so we knew we wanted to take them to Madison Square Garden. Craig found really reasonably priced – pre-season (the season hadn't started yet) tickets on Stub Hub.
We were going to catch dinner before heading to the Knicks game but we ran out of time so we ended up just getting food at the stadium. It was actually really good food from local restaurants so it worked out well.
If you plan to eat dinner there I recommend getting to the stadium with plenty of time before the game starts. It seemed like the lines were a lot shorter for food at that time. They know what they are doing and pack your food in a handy box that makes eating it at your seat pretty easy.
The Knicks were losing the whole time but right at the end they came back and won on a buzzer-beater shot! It was so exciting and fun!
From there we made our way back to the 33rd street PATH station and home to the RV.
Google map of our day: https://goo.gl/maps/yfVgpxZsUQU8nQMU8
Additional Places To Check Out
New York City can get expensive. For that reason, we picked and choose where we would spend our money – Broadway play and basketball game. Here are a few other family-friendly options to check out:
If you are interested in spending a week in New York with kids be sure to check out this post: New York In 7 Day With Kids
Path and Subway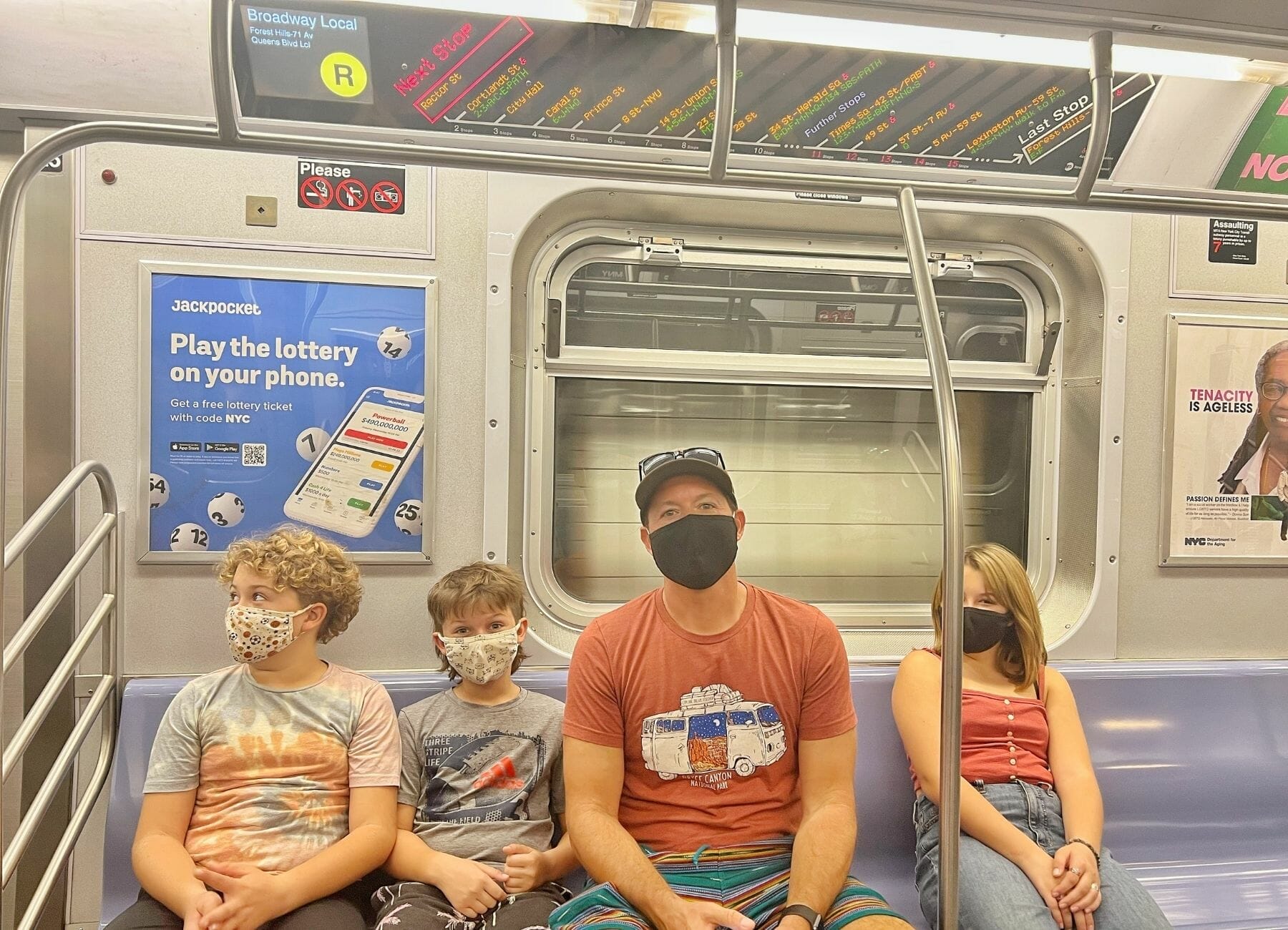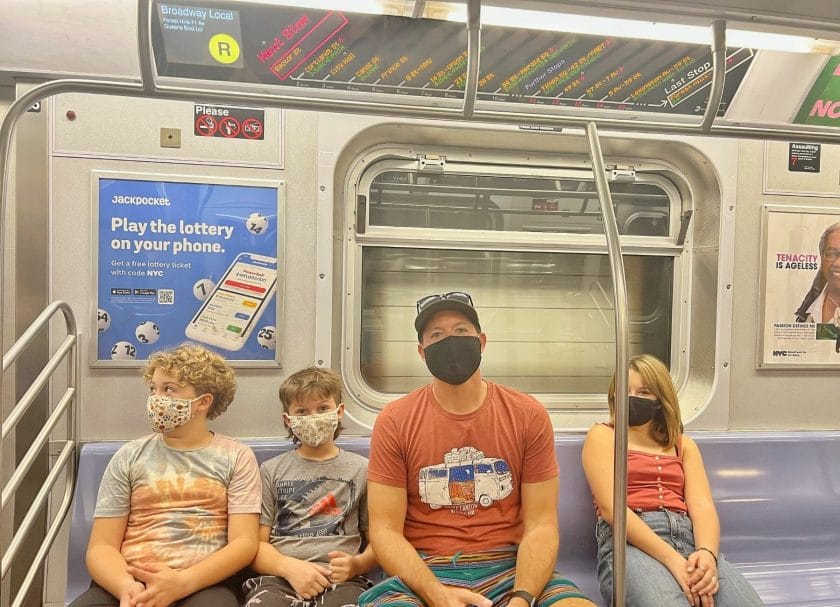 By day 3 we finally felt like we had the swing of the PATH and Subway! We were hoping we could just buy one ticket and use it for our whole family. That didn't work out as you can only use the same ticket 3 times in a row before it gives you an error. That meant for our family of 6 we needed 2 tickets.
We also quickly learned that the machines to fill your tickets don't always work . . . and that normally cash worked but using a credit card did not. We weren't the only ones having issues with our credit card at the machine so it wasn't a user error :).
Next time around we would know to buy 2 refillable cards and carry cash to use at the machines to refill the tickets. Plus if we knew we were going to be cutting it close – like trying to catch the last express train to the Path – that we should be sure our tickets had enough money on them. That one caused a fight between Craig and I when we missed a late-night train (because our ticket was out of money) and we had to wait for 30 minutes for the next one.
In reality, I think the Path and Subway just take a few days to get used to. By day 3 it was no problem and very easy to use.
We had so much fun in New York and loved it but were totally exhausted after 3 days in a row of 9+ mile walking days! There is so many things to do in NYC with kids, that we will be back!
Where To Stay
RV Option
We would 100% highly recommend the Liberty Harbor RV park as a great place to stay if you are coming in an RV. It wasn't cheap at over $100 a night for basically a water and electric parking lot (there was a dump station) but with the location, it was perfect for exploring NYC!
Craig drove the 5th wheel through the Bronx and over the George Washington Bridge and onto the New Jersey Turnpike. It was a nail-biter and a lot of traffic and we now know we are under 13 feet 6 inches . . .
We got to the Liberty Harbor RV Park in Jersey City, New Jersey – right across the Hudson Bay from New York City. It is basically a parking lot but perfect for exploring NYC! The Grove PATH Station was about 5 blocks from the RV Park and took you into New York City for $2.75 a person one way.
The Ferry was right outside of the RV Park and ran every hour from 6:15 am – 6:15 pm it was about $8 a person one way to get you to NYC.
Vacation Rental
One Bedroom Apartment With Den In NYC
Hotel Options
Hampton Inn Time Square Central
Pin This Post: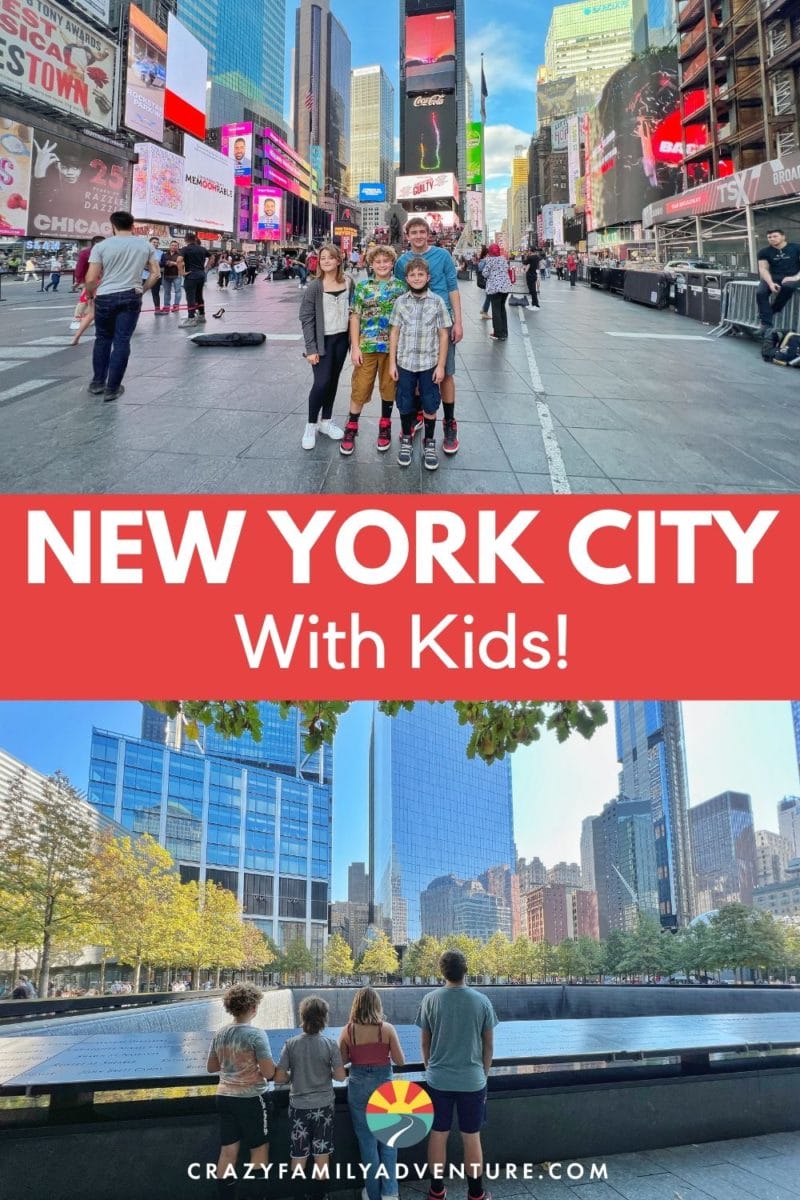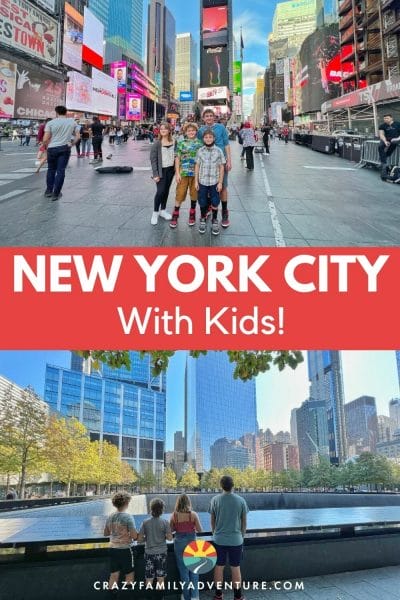 More Info Check Out:
31+ Fun Things To Do In Vermont [2 Day Itinerary included]
17 Fun Things To Do In Acadia National Park
6 Epic National Park Road Trips To Take This Year
20 Fun Things To Do in Stowe, Vermont
Top 8 Best Amusement Parks In NJ
The Best Summer Fun At The Wildwood New Jersey Boardwalk
Jenkinson's Boardwalk NJ (What To Know When Visiting)
Casino Pier New Jersey – Everything You Need To Know To Have An Awesome Time!
Ocean City New Jersey Boardwalk (Everything You Need To Know When Visiting)
14+ Things To Do in Gettysburg with Kids
East Coast Road Trip 25+ Spots You Don't Want to Miss!
Things to do in Cape May New Jersey
11 Things to Do in New Jersey Plus Food You Don't Want to Miss!
DISCLOSURE: This post may contain affiliate links, meaning I get a commission if you decide to make a purchase through my links, at no cost to you. Please read my disclosure for more info.