Gettysburg is a wonderful place to visit. This is particularly true if you're a roadschooling family, as there are tons of things to do in Gettysburg with kids, and the vast majority of these are educational. Since we happen to be roadschoolers ourselves, we knew we had to make a stop in the historic town when passing through Pennsylvania this summer—and boy, are we glad we did.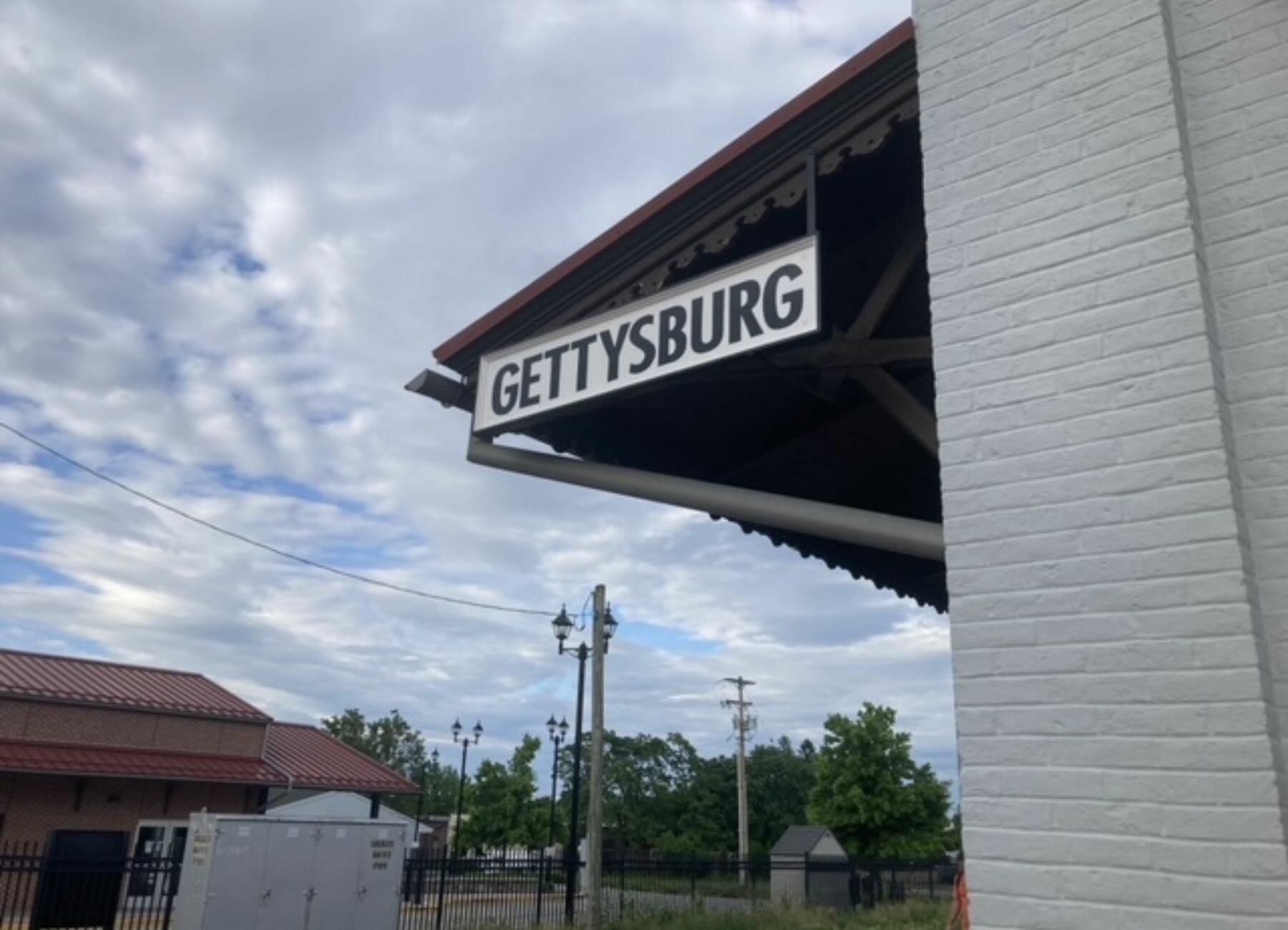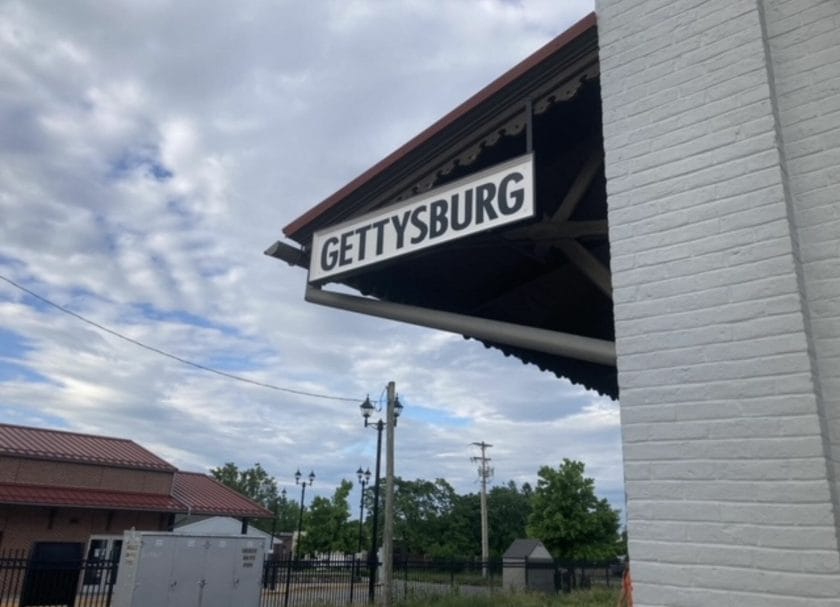 We did several different things during our time in Gettysburg and had a blast all the way through. Weaving the things we saw into our studies was a cinch, and seeing the many different historical sites made the history lessons much more realistic and memorable for the whole family.
Are you wondering what you should do while in Gettysburg? Below is a list of top things to see, as well as info on where to stay, what to eat, and a four-day itinerary.
When the area be sure to check out Philadelphia and Washington DC or plan a whole East Coast road trip!
Top Things to Do in Gettysburg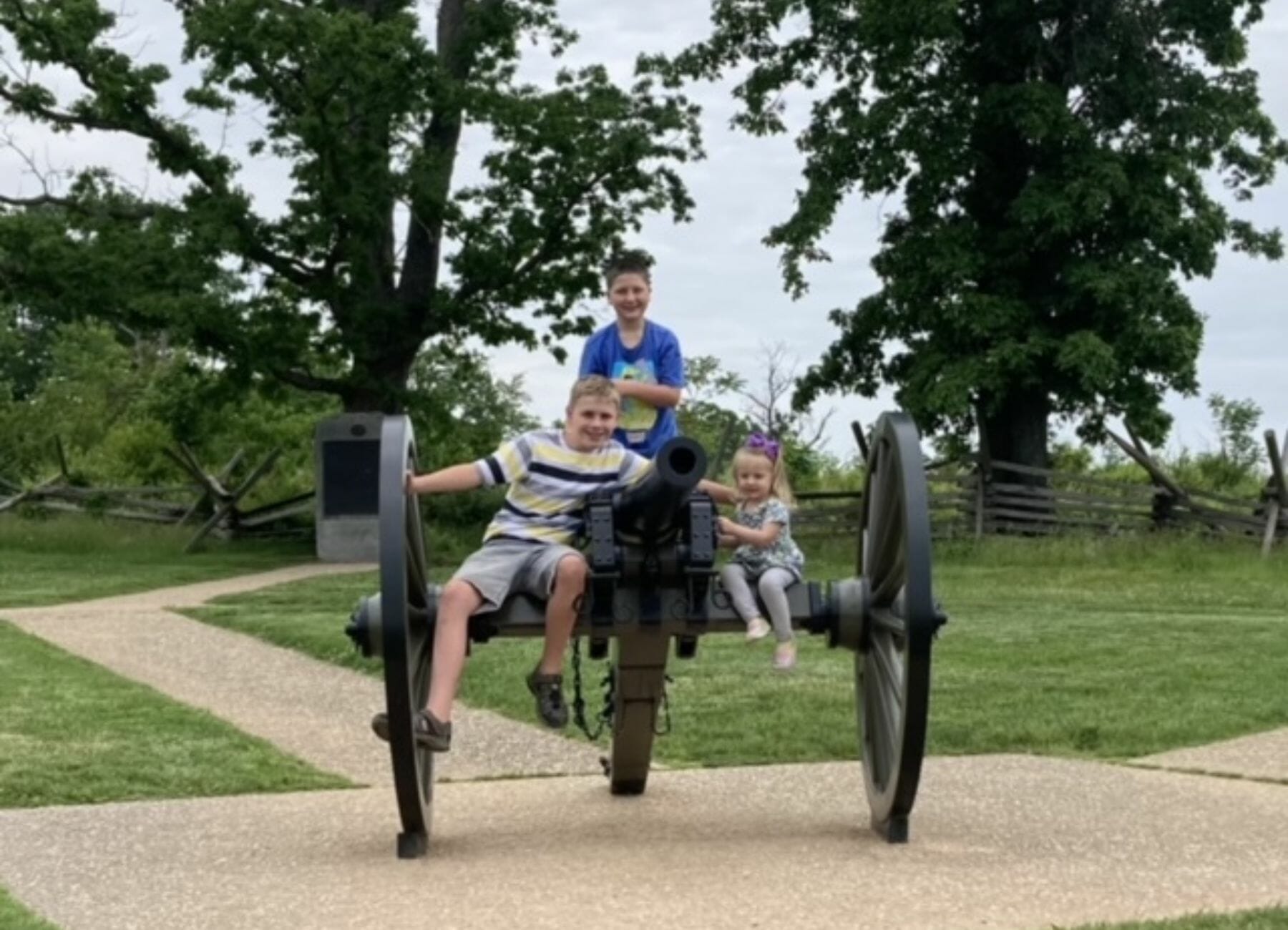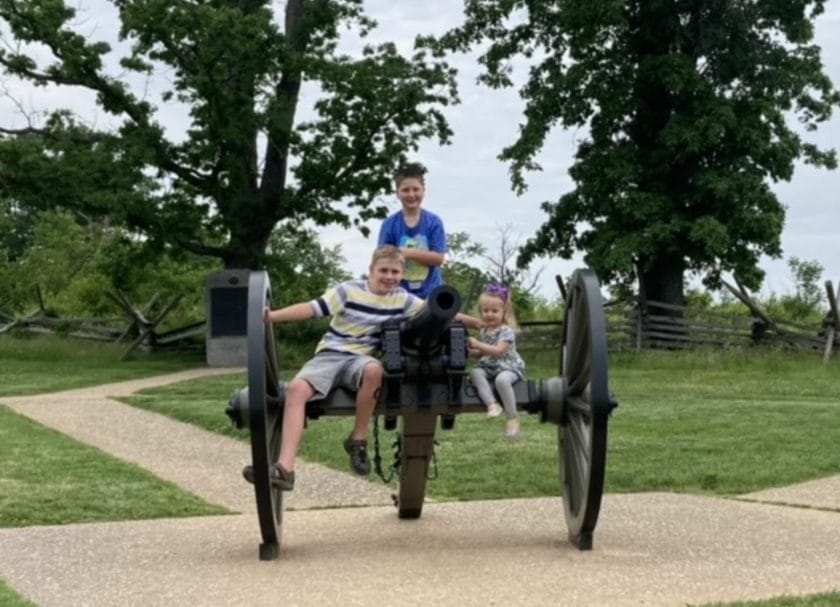 We'll start by listing the top things to do in the city. These incredible attractions made our list because they are the most interesting, fun, and unique options in the area, so choosing from this list is a great way to ensure an awesome getaway.
Gettysburg National Military Park Visitor Center
First on our list is the Gettysburg National Military Park Visitor Center. The Gettysburg Foundation runs this in partnership with the National Parks Service, and we found it quite different from most other national parks' visitor centers.
While there are a handful of exhibits that are free to look at, the vast majority of things to do in the visitor center cost money. This building has a well-put-together museum with a film and a cyclorama painting. These things are all great ways to start your visit to the area, but none are cheap, and there are no discounts available for "America the Beautiful" pass holders, so go in knowing that.
While in the visitor center, be sure to pick up a map of the battlefield as well as any Junior Ranger books you'd like!
Gettysburg Battlefield and National Cemetery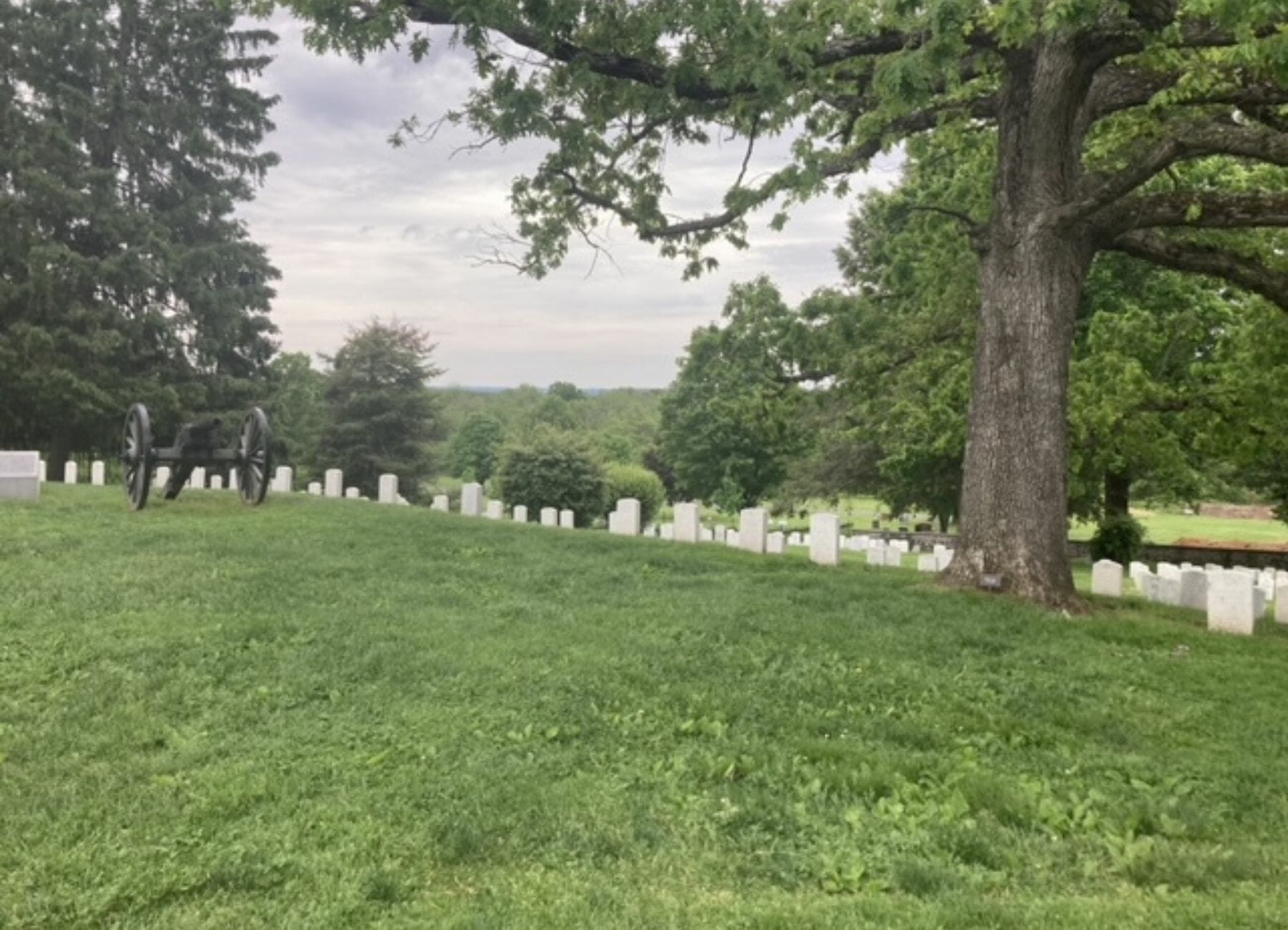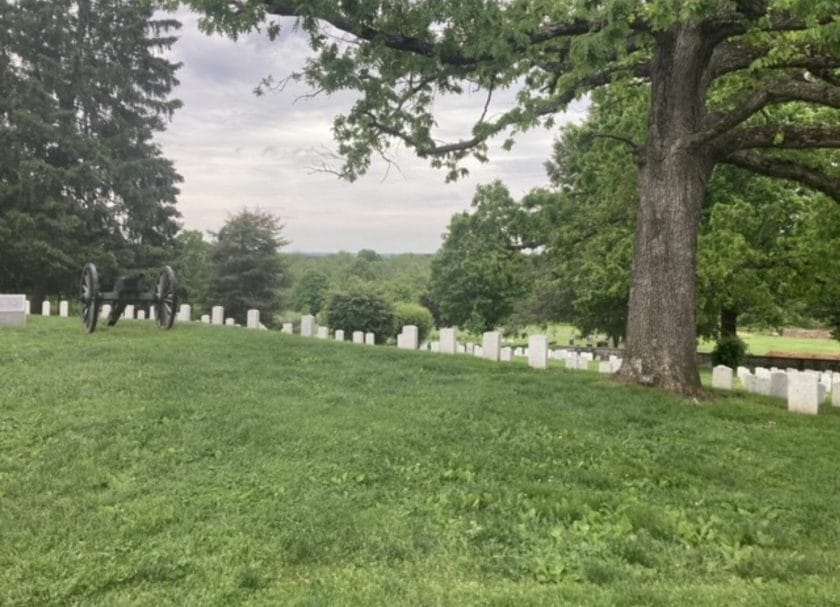 Obviously, you will want to see the battlefield while in Gettysburg. You can do this on a paid guided bus tour, but we actually just did a self-guided car tour and enjoyed it plenty. We ended up looking up short videos on YouTube along the way to better explain some historic events, but I recommend getting an audio tour like this one instead.
While touring the battlefield, be sure to stop at the National Cemetery. This is where Lincoln gave his famous Gettysburg Address. You'll also want to see Sach's Covered Bridge and Devil's Den.
Shriver House Museum
The happenings on the Gettysburg battlefield are only half the story. The civilians of Gettysburg had to deal with the aftermath, and it wasn't pretty. One of the best ways to learn about this is by visiting the Shriver House Museum.
This museum is set inside the restored 1860 home of the Shriver family. Tour guides wear period attire and walk you through the home, recounting the story of what happened in the town after the battle was over—a facet of wartime history that unfortunately tends to get overlooked.
Jennie Wade House
Another restored historic home in Gettysburg worth visiting is the Jennie Wade House. This was the home of Jennie Wade, the only civilian who lost her life during the battle of Gettysburg. This occurred when a stray bullet passed through two doors and struck Jennie through the heart.
The details of this story make it an even more tragic one and are especially compelling when told by the knowledgeable, costumed tour guides in the Jennie Wade House. Tours last about half an hour, are very affordable and are well worth taking.
David Wills House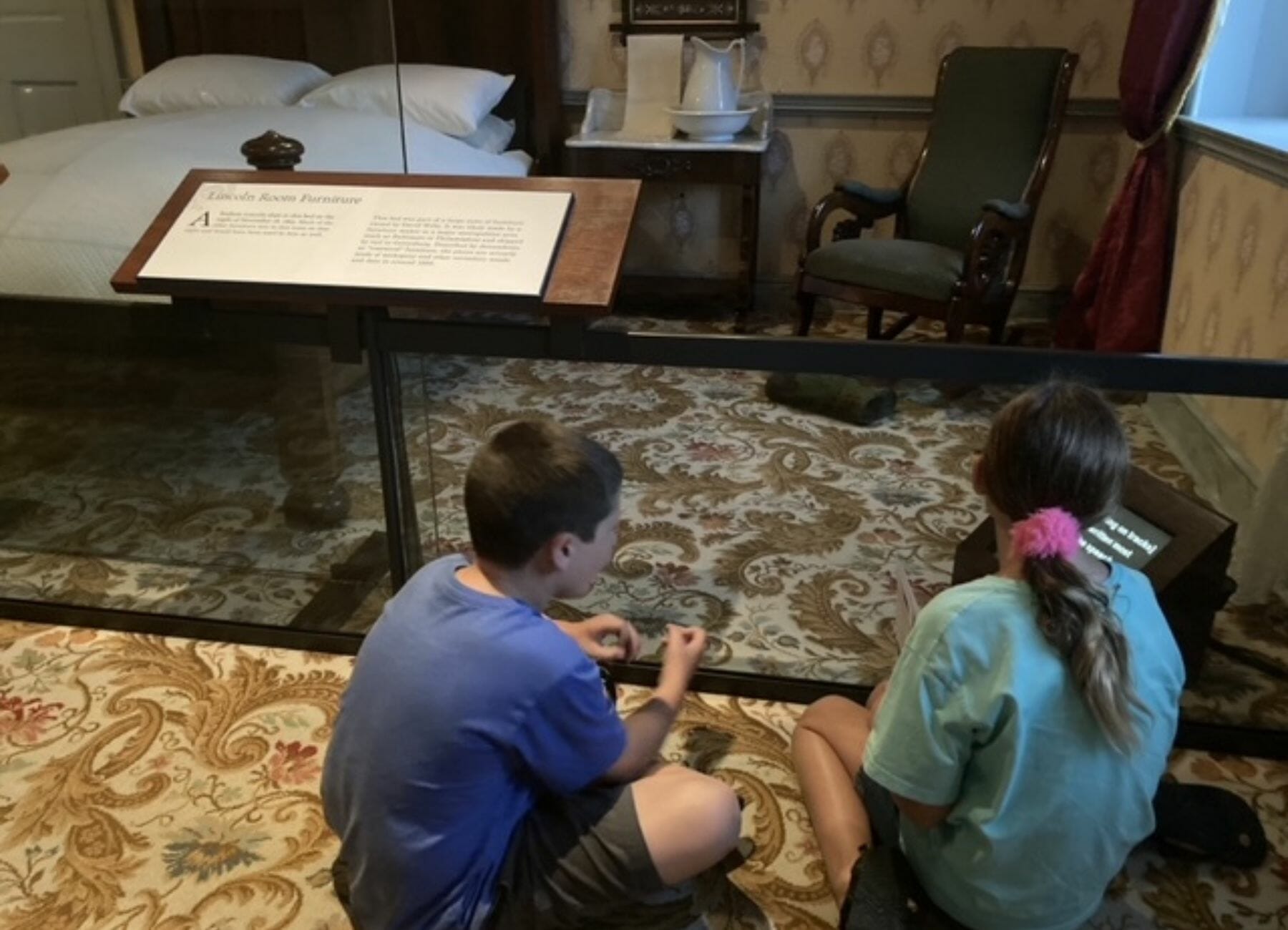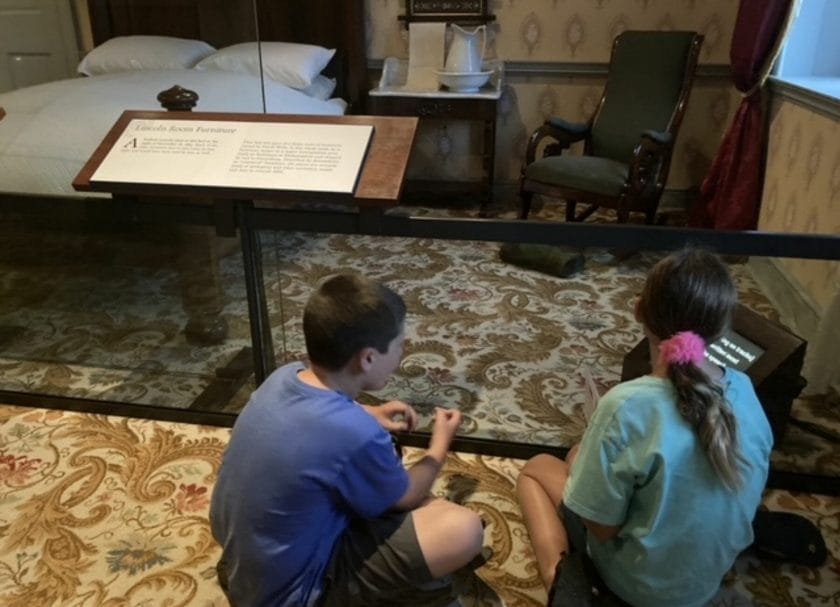 One of my favorite things in Gettysburg was visiting the David Wills House in Lincoln Square. As you may have guessed, this was the home of David Wills, a prominent Gettysburg attorney who had the Civil War show up at his doorstep in a manner of speaking. His house was where Abraham Lincoln stayed the night before his famous Gettysburg Address and where the president wrote the final words of that address.
Parts of the home have been restored to reflect what they likely looked like when Lincoln stayed there. Other parts now contain museum exhibits about David Wills, Abraham Lincoln, the Gettysburg Address, and more.
This museum is run by the National Parks Service and is free to the public. That said, it is essential to note that it is not always open, so you will want to check the hours before your trip.
Seminary Ridge Museum
The Seminary Ridge Museum is located in the historic Lutheran Seminary, which is conveniently located along the route of the NPS battlefield tour. It's a great addition to any Gettysburg trip, especially if you have older children or teens.
Be sure to get a guided tour of the cupola. This tour offers a surprisingly personal and moving look at the events of the first day of the Battle of Gettysburg. It also allows you to take in an amazing view of the area, the same view that General John Buford saw as he watched an onslaught of Confederate troops arrive.
During your visit, you will also learn about how the seminary was used as a makeshift hospital. You'll see how the hospital was set up and learn about some of the hospital's medical treatments.
Children of Gettysburg 1863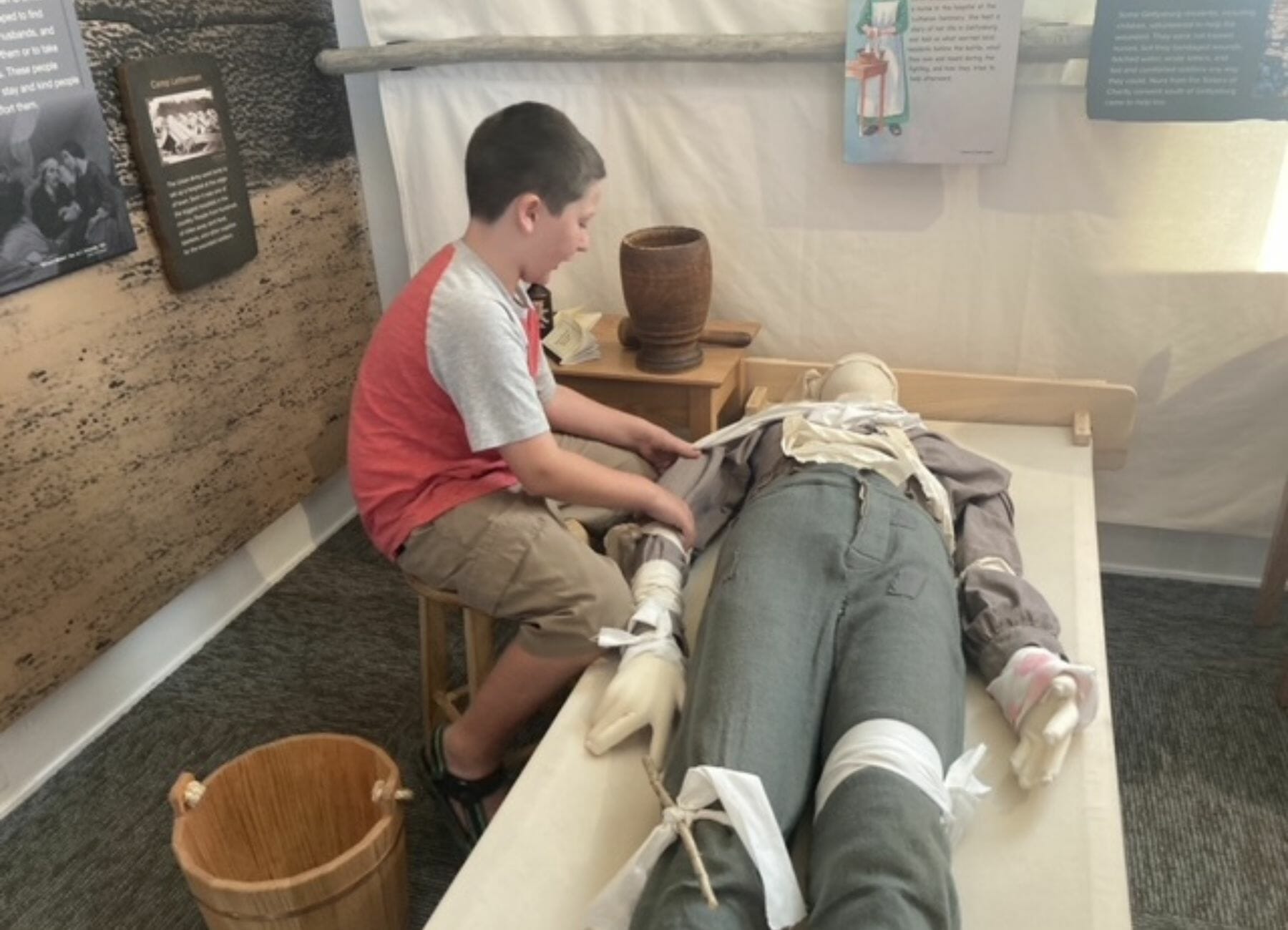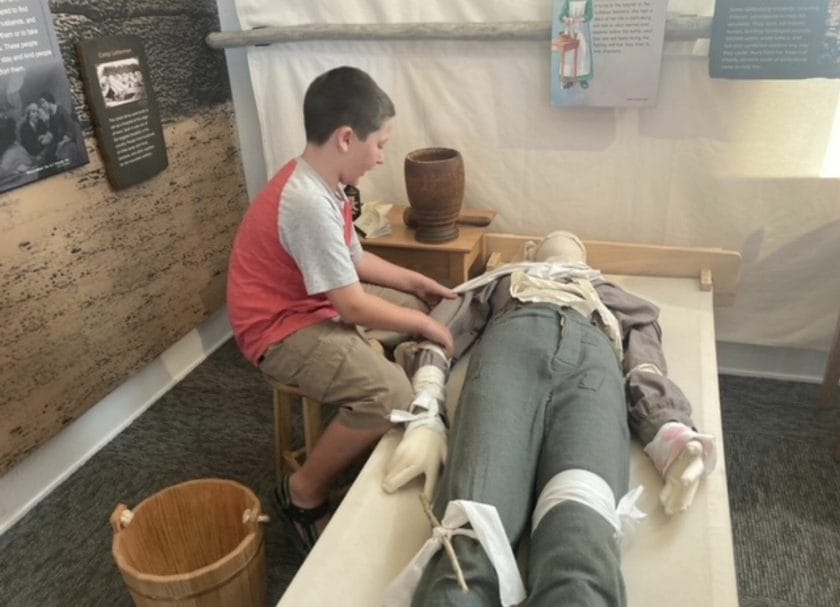 While the Seminary Ridge Museum is ideal for older kids, the Children of Gettysburg 1862 museum is perfect for younger kids (and even those up to age 11 or 12)!
The museum is small but jam-packed with family fun and plenty of hands-on fun that lets kids today get a taste of what life might have been like for children living in Gettysburg during the Civil War. They can play with the toys kids played with in the 1800s, try their hand at being a drummer boy, and even help care for an injured soldier.
Every visitor chooses a real child from the past and follows their story through the entirety of the museum, learning what became of them after the battle ended. This makes the whole experience more personal and helps kids connect with the past on another level.
Ticket to the Past – Unforgettable Journeys: A Virtual Reality Experience
I really wish we would have had time to do this! Ticket to the Past – Unforgettable Journeys is a virtual reality attraction that is new to Gettysburg. Like so many other attractions in the city, it is run by the Gettysburg Foundation and is very well done.
The attraction allows you to virtually travel back to 1863 and experience the sights and sounds of a bustling train station turned field hospital as crowds await the arrival of
President Abraham Lincoln. You'll get to choose a specific person from history to follow and have the opportunity to talk with various people in the train station.
This is the next best thing to time travel and a history lover's dream come true!
Eisenhower National Historic Site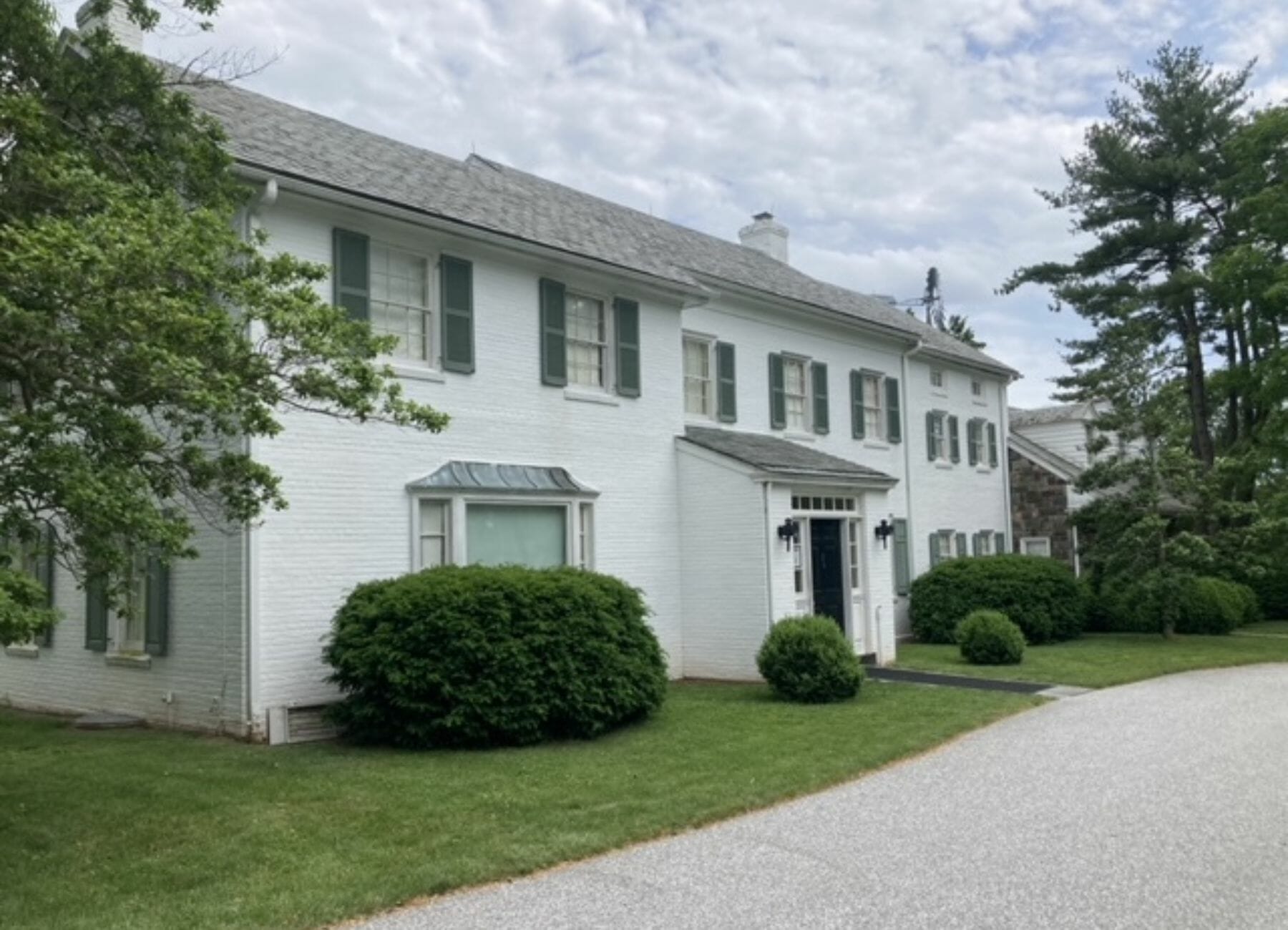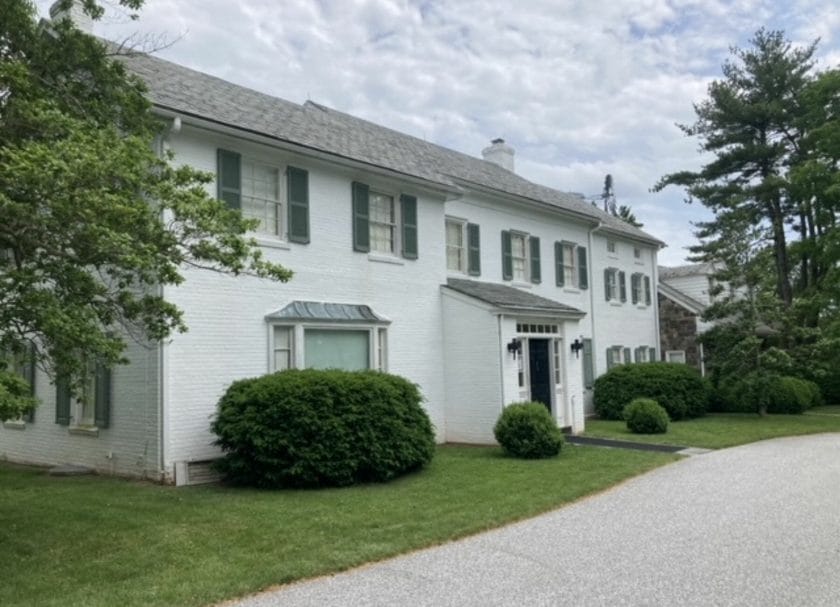 Okay, so unlike the attractions on our list so far, this one has nothing to do with the Battle of Gettysburg. Nevertheless, the Eisenhower National Historic Site was a great stop that I highly recommend adding to your list of must-dos while you're in the area.
This site was the home of Ike and Mamie Eisenhower. Tours of the house are run by the NPS and are 100% free to the public. They are also fascinating, and the kids had fun doing their Junior Ranger books as they listened to stories about this extraordinary man.
There is one thing you definitely want to know before visiting. However, parking at this attraction is minimal. In fact, it's so limited that a paid shuttle bus runs from the Gettysburg visitor center to the historic site. From what I gather, the shuttle is the only way to guarantee you get to see the house on weekends and during special events. That said, we went on a regular weekday in the summer and had no problem finding a parking spot.
Mister Ed's Elephant Museum & Candy Emporium
Looking for something fun to do that doesn't have anything at all to do with history? Mister Ed's Elephant Museum & Candy Emporium is one good pick. This is really just a gigantic candy and souvenir shop, but it is tons of fun to visit.
From giant elephants and a whimsical garden outside of the store to a collection of 12,000 elephant figurines inside, there is something unique around every corner of this attraction. To top it all off, many of the candies and treats are made fresh in-house, something you won't want to miss!
Perrydell Farm and Dairy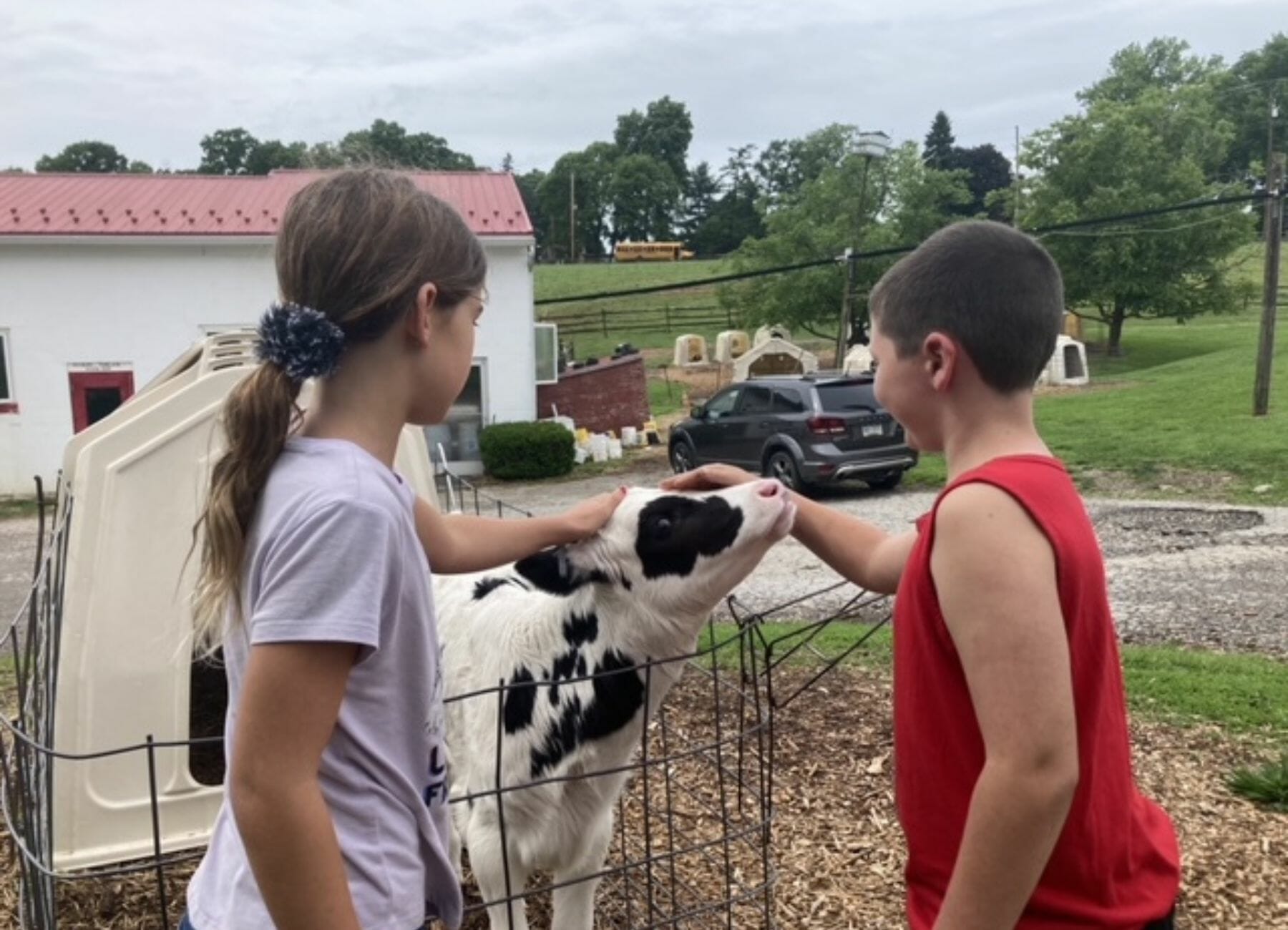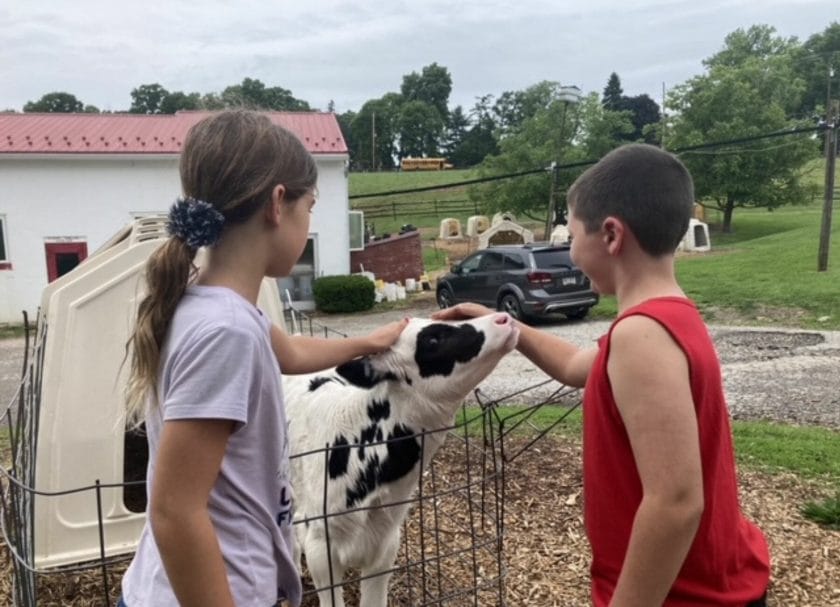 Okay, so this one is actually about 45 minutes from Gettysburg, but it was worth the drive. Perrydell Farm is a working dairy farm where visitors are invited to get up close and personal with the cows.
You can pet the baby cows, milk a fake cow, and even watch the actual milking process if you arrive at the right time. All of these activities are free, so all you have to pay for is your delicious ice cream, which is made right there at the dairy.
This was super fun and educational stop that the kids loved!
Land of Little Horses
Another great attraction for those looking for a bit of history-free fun, Land of Little Horses is a "performing animal theme park" that features adorable miniature horses. These horses performed a fantastic show in a wonderful, air-conditioned indoor arena.
After the show, be sure to check out the pig races, mini horse grooming experience, unicorn pictures, gem mining, and other fun family activities.
Utz Factory Tour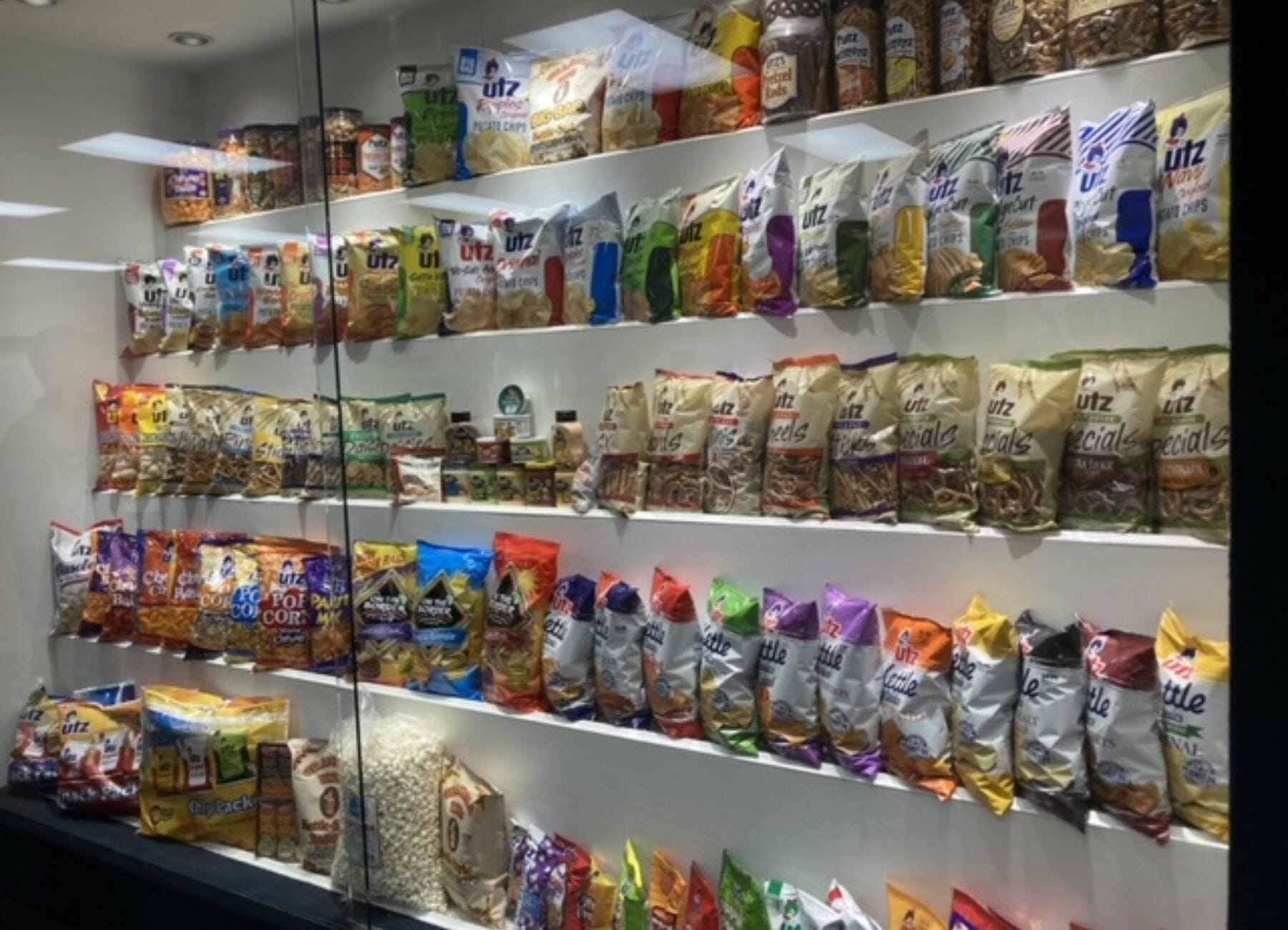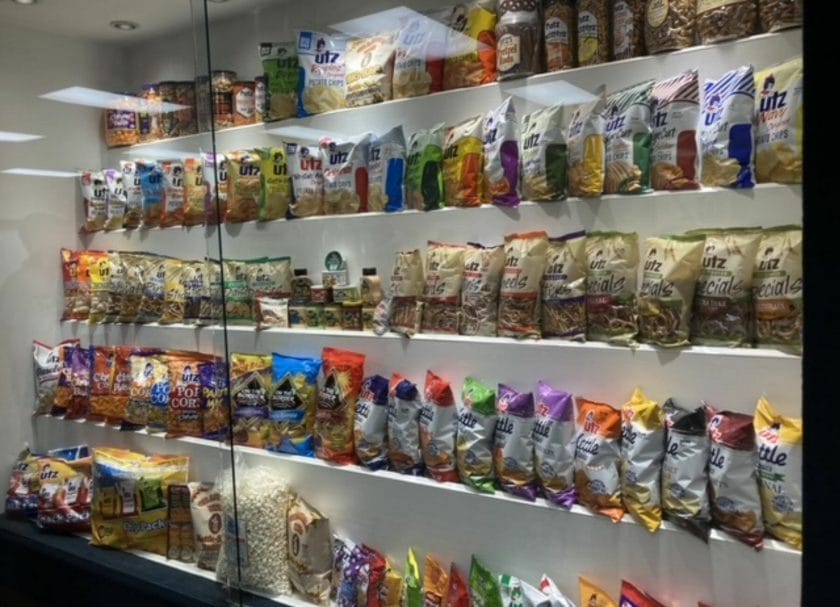 Yet another educational spot you'll want to check out is the Utz Factory. This chip factory offers free self-guided tours to anybody who is curious about the chip-making process.
The tour was very interesting. We could look down through windows at what the employees and machinery were doing and actually watch the chip-making process in real time. There was signage explaining what was going on, and even the kids in our group made a point of slowing down to read.
At the end of the tour, everyone got a free mini bag of potato chips. We also made sure to visit the factory outlet to get some awesome deals on even more snack foods.
Gettysburg Guided Tours
Besides the many museums and historic homes throughout the town, Gettysburg has a super cool downtown area that is well worth exploring. There are signs throughout the area explaining the history of certain buildings, and the whole downtown is just adorable.
One of the best ways to explore downtown Gettysburg is on a tour. Ghost Tours, Food Tours, Segway Tours, and Walking Tours are all available, and no matter which one you choose, you're sure to have an awesome time.
Tour the Battlefield in a Horse Drawn Carriage Tour the battlefield at a slow and relaxing pace
Guided Battlefield Horseback Ride Tour Great for family with kids older than 8 years old, this tour lasts for 2 hours.
Ghosts of Civil War Walking Tour Learn little known facts on this 1.5 hour tour.
Historic Downtown Walking Tour Hear untold stories of the battle.
Downtown Food Tour Check out 6 of the most popular food destinations in Gettysburg
Self Guided Audio Walking Tour Experience a large selection of historic Gettysburg including the Gettysburg Museum of History, Adams County Courthouse, Gettysburg Heritage Center, and the Witness Tree.
What to Eat in Gettysburg
Of course, you will want to have some good grub while you're visiting. We tried a few different spots during our two weeks in Gettysburg, and these were our top picks.
Gettysburger
Are you looking for a super-filling meal? Like your burger with a unique twist? Then the delightfully named Gettysburger is your spot. The burgers here are large—my husband and I could have shared one, no problem—and they come with unique toppings like apples or pulled pork.
Best of all, the staff here were super friendly and welcoming, something we all loved after a long day of sightseeing.
Lincoln Diner
For an inexpensive meal, head to Lincoln Diner. We went to this one with friends and had a lovely time.
The kids all enjoyed pancakes, the adults got various types of dinner foods, and everyone was happy. My salad was delicious! To top it all off, the eatery was within walking distance of the downtown attractions, and our bill wasn't much more than we would have paid at McDonald's!
Where to Stay in Gettysburg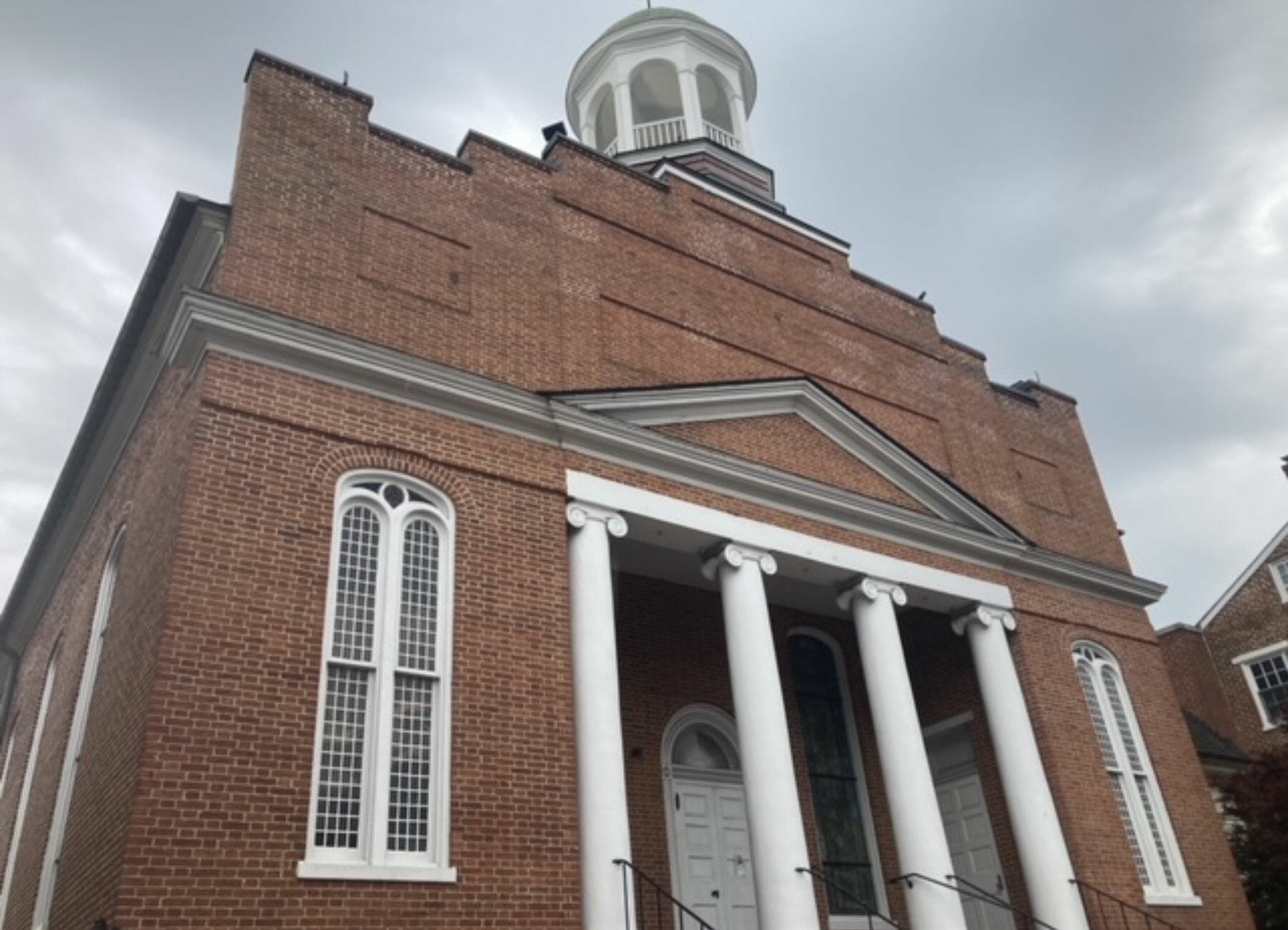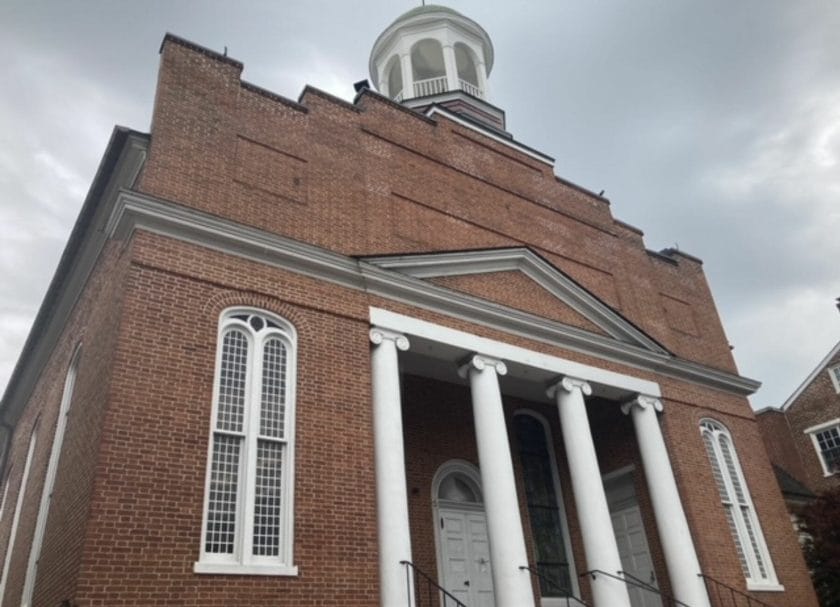 Having a place to rest up between days of exploring is essential. Are you wondering what sorts of lodging options are available in Gettysburg? Fortunately, there are plenty.

Camping
A beautiful and peaceful campground is located just 17 miles from Gettysburg, Campground Island is the perfect escape from the hustle and bustle. Both full-hookup and partial-hookup RV sites are available, as are tent camping sites. Amenities include a playground, an outdoor theater, spots for fishing and hiking, and more.

Hotel
Prefer a hotel over a campground? Best Western Gettysburg is a favorite in the area for a reason. This lovely hotel is located just a mile from Gettysburg National Military Park and close to all the other fun attractions the town offers. Guests will enjoy a swimming pool, free parking, and beautiful, clean rooms.
Located just minutes from all the historic landmarks of Gettysburg. This hotel is great for families.
Vacation Rental
Some people need room to spread out while they vacation. If you fall into this category, you might prefer this beautiful little Cushing Cottage at Brierfield. Set on 17 acres of lovely property just outside of town, this adorable cottage has a screened porch, a fully stocked kitchen, and everything else you need for a comfortable stay.
This historic farmhouse contains 40 acres and sits right on the battlefield. Perfect for large families, this house sleeps 8-10 people. Enjoy the catch-and-release pond right on site.
Four-Day Gettysburg Itinerary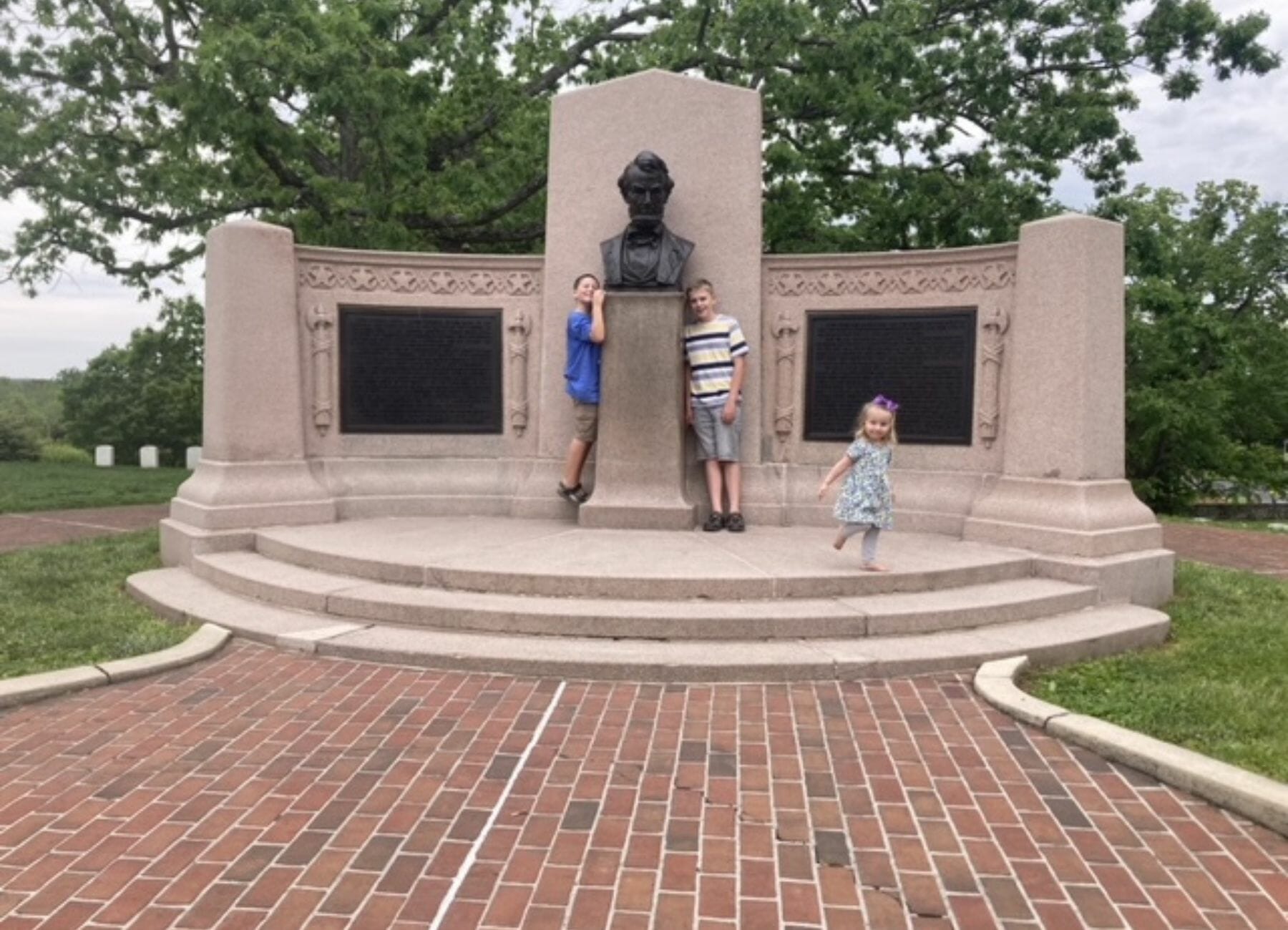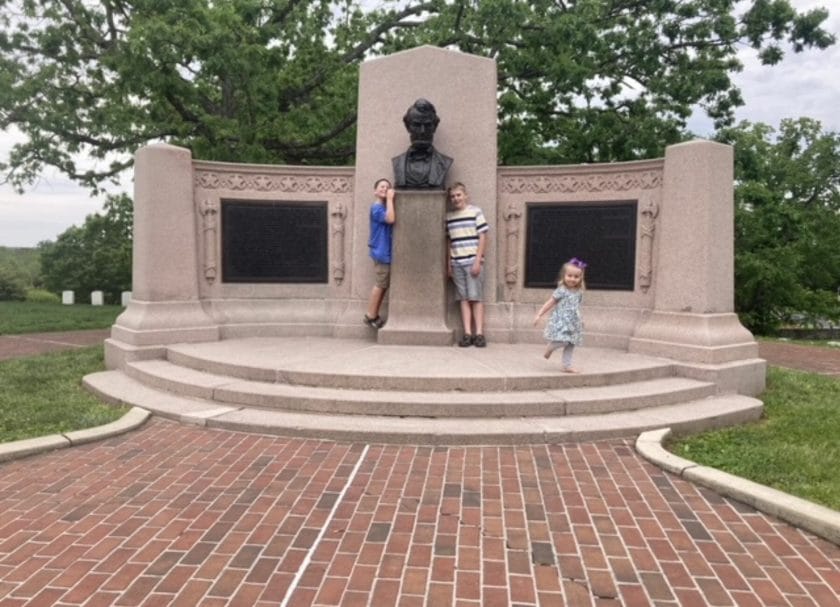 Last but not least, we wanted to share our 4-day Gettysburg itinerary with you. No, this doesn't include all of the attractions listed above, but it has many of them, and following this itinerary will ensure you get the most out of a short amount of time in the area.
Day 1: Visitor Center and Battlefield

Gettysburg National Military Park Visitor Center
Use the first day of your Gettysburg trip to get acquainted with the history of the place in the national military park museum. If you have time, see the film and cyclorama painting as well. Grab a battlefield map and Junior Ranger book before you leave!
Gettysburg Battlefield and National Cemetery
Once you have a map and Junior Ranger book, head to the battlefield. Use your audio tour (mentioned above) to learn about each stop as you make your way through the battlefield, and make sure to snap some photos and work on that Junior Ranger book along the way.
Day 2: Historic Houses
Shriver House Museum
Day two is spent visiting some of the historic homes in the town. Shriver House is the first stop, as it gives you an opportunity to look at the battle and the aftermath from a different point of view than you viewed the events on the first day.
Jennie Wade House
Next, head to the Jennie Wade house. Learn another personal story and better understand just how tragic this battle and the Civil War actually was for everyone involved, even civilians.
David Wills House
Finish the day at the David Wills House, where you learn the story of Abraham Lincoln's visit to Gettysburg following the battle. See where Lincoln slept and try to imagine walking in his shoes back in 1863.
Day 3: More History Lessons
Seminary Ridge Museum
Day three involves a stop for the adults and teens in your group, as well as an attraction for the little ones. This first stop, the Seminary Ridge Museum, is for the older people in the travel party. It gives them an opportunity to understand the details of what happened during the first day of battle.
Children of Gettysburg 1863
Stop two is all about the kids. This is a children's museum unlike any other. It focuses specifically on the children of Gettysburg in 1863, giving kids a chance to connect with kids from the past.
Day 4: Eisenhower National Historic Site
Eisenhower National Historic Site
On your last day in Gettysburg, take a minute to focus on something other than the Civil War and head to the Eisenhower National Historic Site. Take a tour of the Eisenhower home and admire the decorating skills of Mamie while listening to fascinating stories about the Eisenhowers.
Utz Factory Tour
Finally, celebrate a successful and educational visit to Gettysburg by watching the chip-making process and treating yourself to some delicious potato chips!
More Amazing Activities in Gettysburg
Lincoln Train Museum This amazing family-friendly destination includes a wonderful movie about historic train rides
History and Haunts Family Fun Ghost Tour This guided walking tour lasts for 75 minutes and explores the spooky side of this historic town.
Beer, Wine and History Guided Tour Experience some of Gettysburg's most popular distilleries, wineries, and cideries.
Find More Family Fun Here
17+ Things to do in Philadelphia with Kids
Top 5 Indoor Water Parks in New Jersey
37 Stops for Your Cross-Country Road Trip
Washington, DC 8 Monuments, 4 Kids, 5 Miles, 1 Day
Don't Miss the Ever Satisfying Yuengling Brewery Tour
Pin to Your Family Vacation Board to Save for Later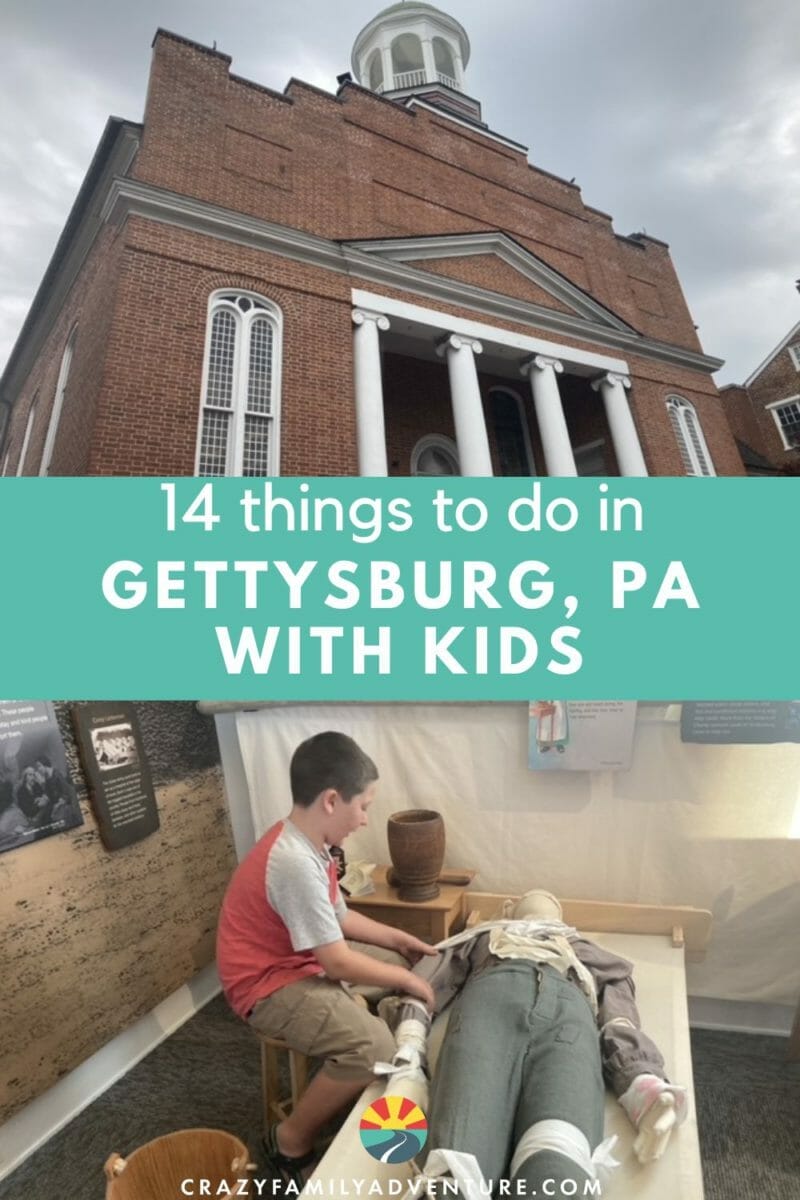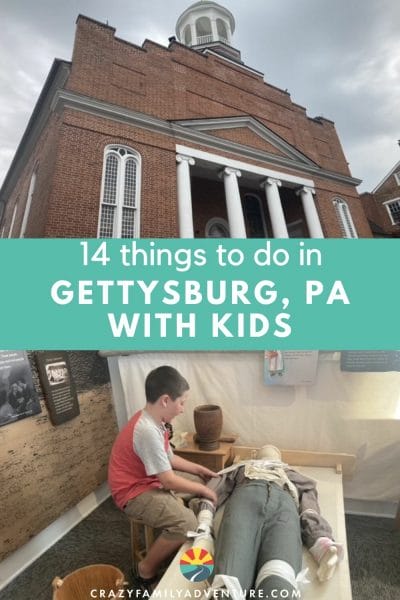 Latest posts by Chelsea Gonzales
(see all)
DISCLOSURE: This post may contain affiliate links, meaning I get a commission if you decide to make a purchase through my links, at no cost to you. Please read my disclosure for more info.