Washington D.C. in a day! We were staying in the Gettysburg, Pennsylvania area. And Craig randomly mentioned if we were close to DC. We looked it up and we were about 2 hours away. We talked to our friends at free2breathe who we were traveling with and we all agreed we wanted to make a day out of it!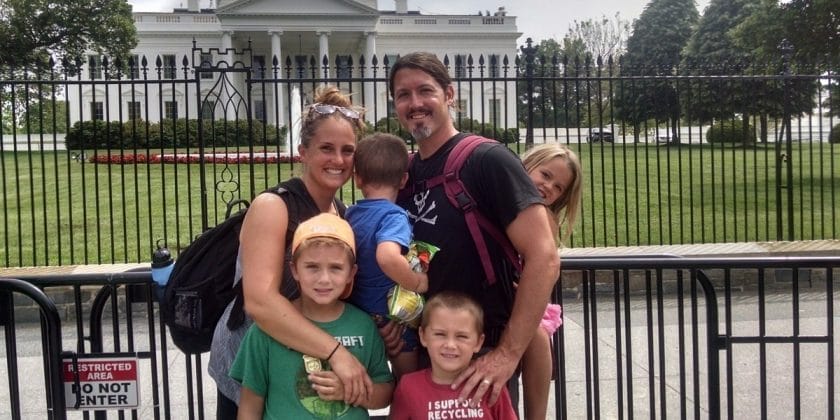 Jen from free2breathe who was our resident planner knew someone who worked in DC so she was able to get us the lowdown on how to make the most out of our day. Thanks Jen! They are earlier risers so they headed out while we were still sleeping :). As we got close to DC there were cars lined up on the side of the highway and people out of their cars just standing on the grass in the median on the highway. We were like what is going on here. We later found out that there were old WWII plans flying over DC so everyone was stopped to check them out. Yup – totally missed that one. We told the kids to look through the sky roof in the car to see if they could see anything.
Start: Parking and the Metro! 
Once we got there we parked at the Pentagon Mall – it is an actual Shopping Mall with a garage parking structure. That is just outside of the city and has a Metro Train Station. We pulled in and parked and headed out to find the Metro. When we found it we had to look like the BIGGEST tourist . . . we had no clue how to pay for the Metro, what train to go on or anything! This nice worker came out and tried to explain it to us but he was talking so fast we really had no idea what he was saying. We grabbed a schedule and headed down to the platform we thought we should be on. The first train that came we jumped on – because why wouldn't you right?! As I pulled out the schedule with the Metro Map on it I started to follow the stops to make sure we were on the right one and headed the right direction. Stop 1 and 2 were right – ok good on the right train. Stop 3 – not the right one! OH NO!! We quickly looked over the map and realized we had gotten on the Yellow Train instead of the Blue. We quickly jumped up at the next stop and I told everyone to hurry out the door – but we didn't make it in time – Melia almost did without us! That was scary!!! Luckily she didn't go through the door. There was a guy there with a business suit on and he gave me a look like what are you doing. He was nice then and asked where we were trying to go. He then told us what stop to get off at and we were only a couple of miles off of where we wanted to be . . . We told him the our friends from Free2Breathe were by the Lincoln Memorial and he said you wouldn't be able to walk there with your crew it is too far. Little did he know that we are more then capable of walking miles a day :)!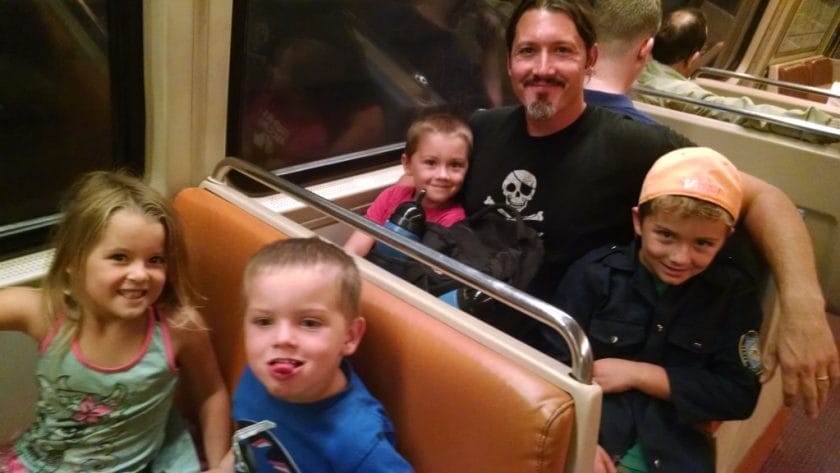 We got off the Metro and headed out. We no longer own a double stroller – it was just to big and bulky to bring with. YES there are times I miss it – but in most cases we don't need it. We do have an umbrella stroller but for the ease of not having a stroller Craig just uses the Ergo as a backpack carrier (Even Melia and Cannon can fit) **Check it out here. And I bring my sling for Knox and then wear the backpack – **Check out the sling I use here. Yes it gets tiring but it is much more convenient then lugging around a stroller and having to deal with stairs, the subway, and big crowds! Plus it is a great workout.
I use the term Monument loosely (I don't think the White House or Tidal Basin is a monument but you get the idea).
8 Monuments visited in our day in DC!
Monument 1: The White House Visitor Center and THE White House
When we got off the Metro we were close to the White House area so we figured we would head to the White House Visitor's Center. We had to walk quickly because everyone had to pee! I had forgotten that in big cities it is not always easy to find public restrooms. We made it there and headed through the metal detectors to get in. It was a really neat Visitors Center and it was Air Conditioned! Score! We headed to the desk and got the Junior Ranger books. We don't normally do the Junior Ranger programs since the kids lose interest so then Craig and I end up doing everything. But since we were in DC it just seemed fitting for some reason so we got them. The kids had a lot of fun walking around the visitor center finding different images and answering the questions in their books. We had bought a National Park stamp book – since at all National Parks they have a stamp that you can use to stamp your book. But we have no idea where it was or maybe Craig knows but we always forget it! So we went and bought a new book and then I picked up some more power pellets (I talk about these in my post on Shenandoah National Park) this time they were Jelly Bellys! And our magnet – we have started a magnet collection from all the places we go.
After that we briefly met up with Free2Breathe and had snacks on a bench on the sidewalk. Drew from free2breathe had a chance to go on a tour of the Pentagon (Craig did too but the timing just didn't work out). We headed out to see the White House while they went to do the White House Visitor Center.
It is pretty crazy how small the White House really is. It was very cool to see it and I am glad we had a chance to do it! After that we started to walk down to see all of the monuments. At this point we had probably walked a mile and it was hot! There were street vendors all over the place so we were going to stop BUT I had like no cash! Opps! Don't ever go to DC without cash! I asked someone where the closets ATM was and yup you guessed it right back by the White House which was almost a mile away . . . that wasn't happening! So we continued on.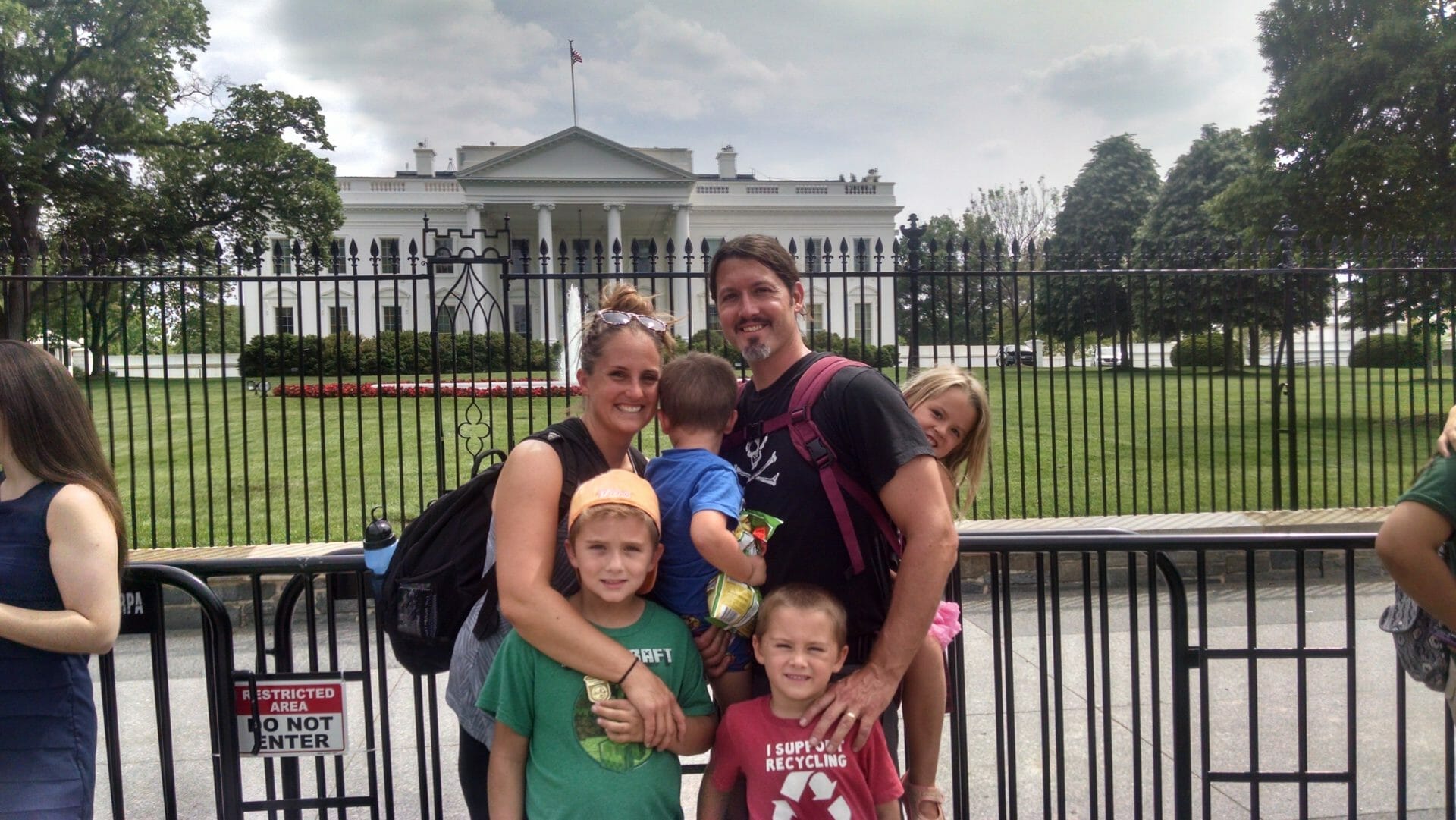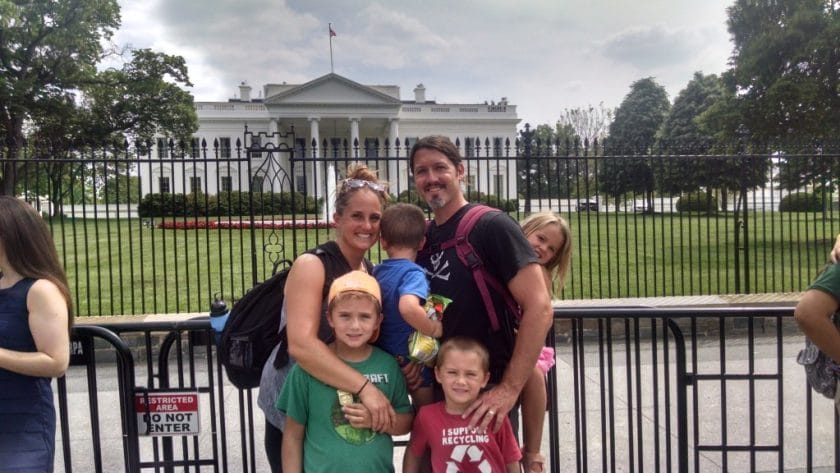 Monument 2: The Washington Monument
Maybe I shouldn't call this a stop since we didn't even go to the monument. But instead walked by it on our way from The White House to the Lincoln Memorial. It was a perfect spot for some fun pictures! Carson kept calling it: The Washing Machine Monument! The pictures show how close we got. If you want to go in the monument you need to show up early to get tickets if you haven't gotten them in advance. We didn't even try.
Monument 3: The Lincoln Memorial
Next we headed over to the Lincoln Memorial. We saw the reflecting pond – which was not very reflecting but was instead really dirty. But it was still cool to see it and to thing about all of the cool events that have happened there. We walked the path next to the Reflecting Pond and you can tell how beautiful it would be when the Cherry Blossom's were in bloom! So the thing about DC is that everything is really far apart. By this time we had probably walked another mile – but we made it. We walked up to the Memorial – got the Junior Ranger programs – which the kids had no interest in doing. We walked around the top of the monument, took a picture, and headed back down.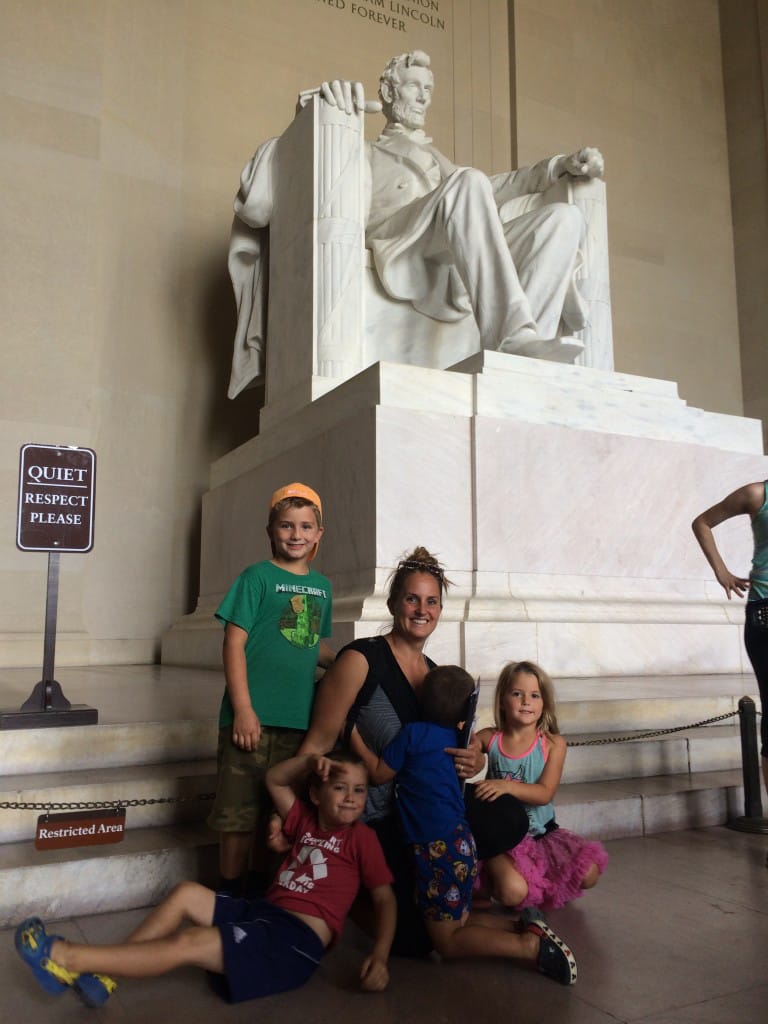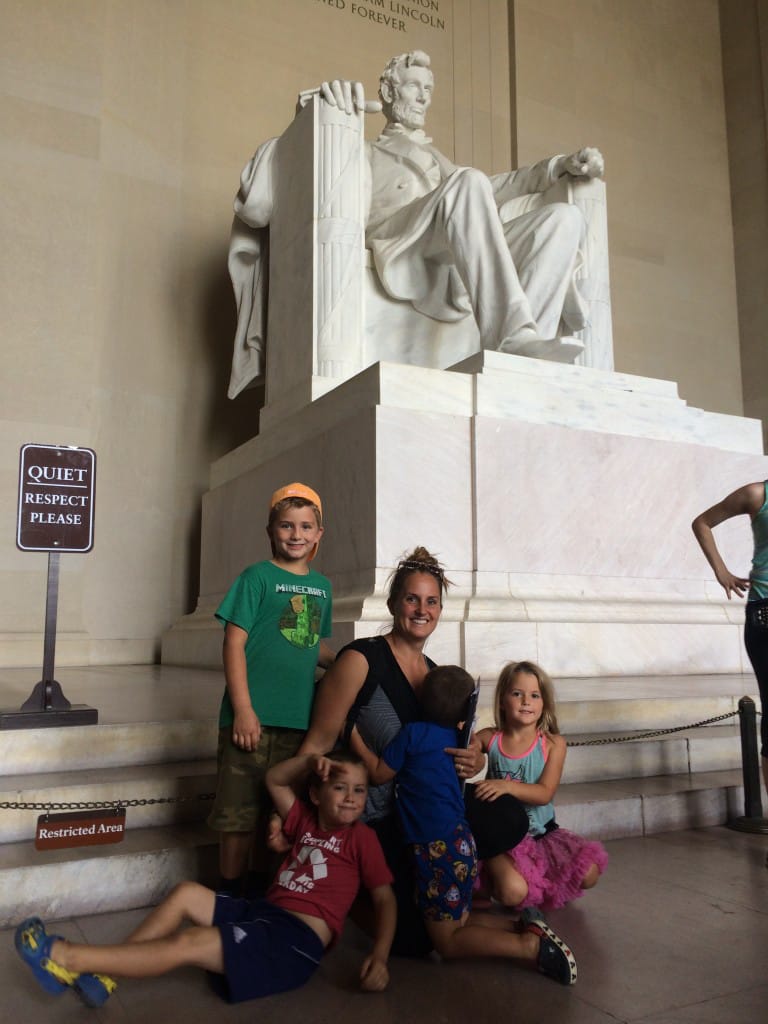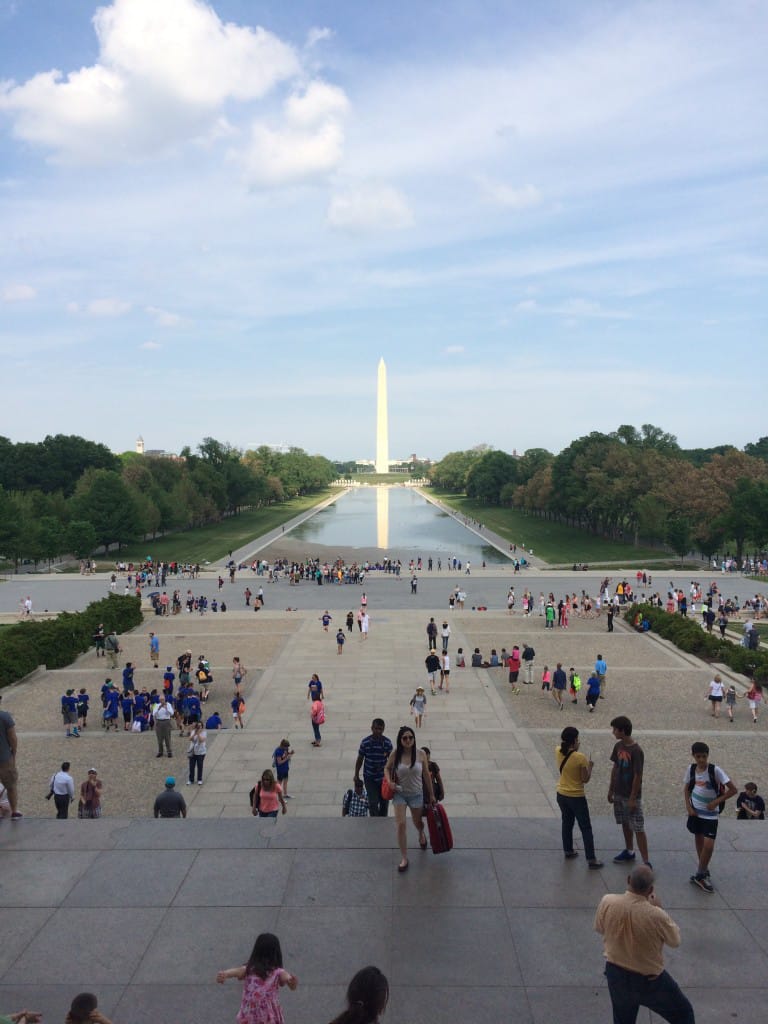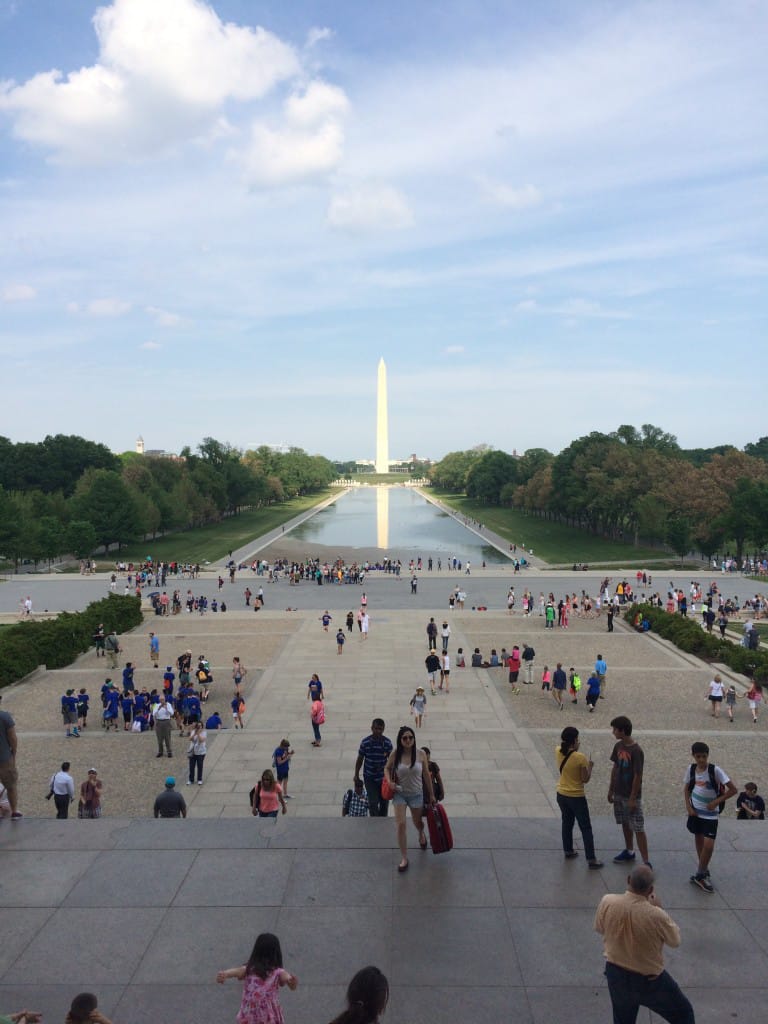 Monument 4: Korean War Monument
We then walked over to the Korean War monument. Washington DC does a great job with their monuments. And if you and your kids are into the Junior Ranger program there are a lot of activities that you can do with it.
Time to eat!
After this everyone was tired and luckily there was an outside restaurant right across the street from the Korean War Monument that took Debit Cards. We headed there next and got dinner for everyone to split. It was nice to sit down for a minute and take a break. They had things like Hot Dogs, Soft Pretzels, and BEER!
Monument 6: Martin Luther King Monument
Next was the Martin Luther King Monument. We checked it out (didn't even try the Junior Ranger program by this point) and took some fun pictures. The monument was really cool and worth spending time to read everything.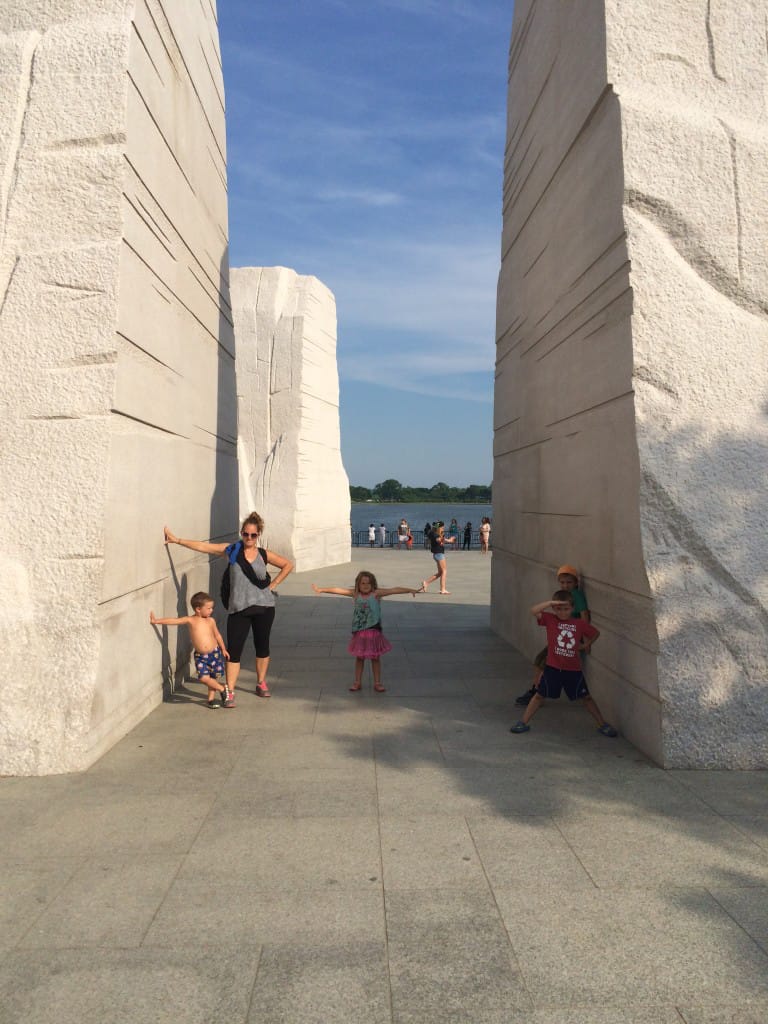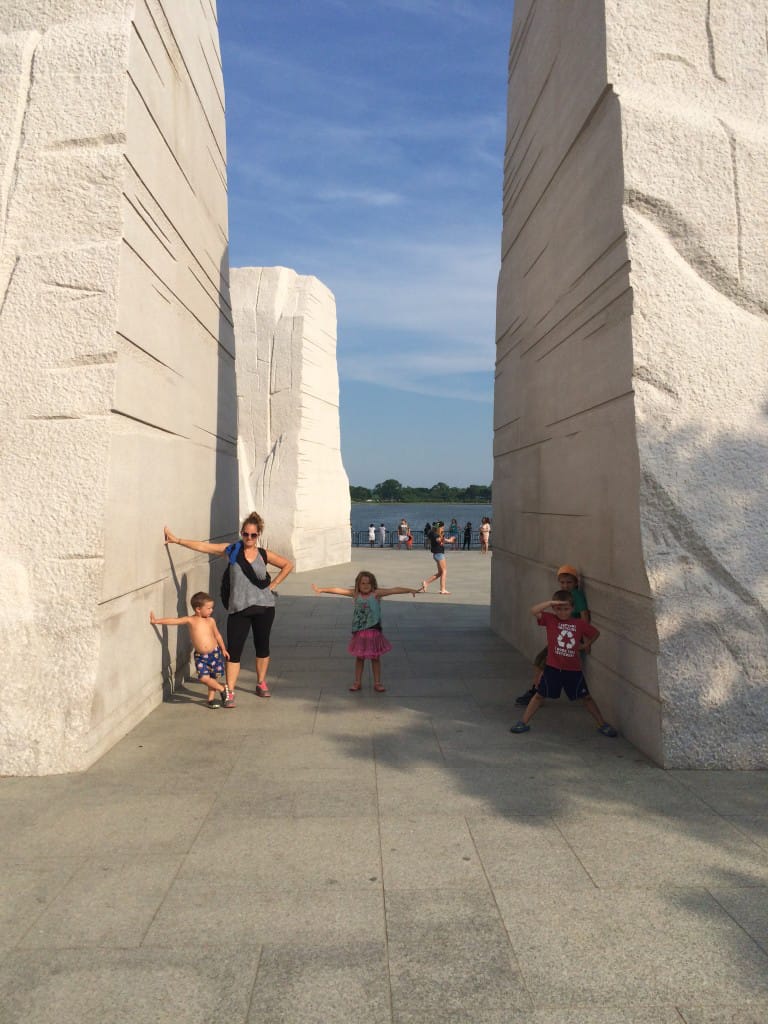 Monument 7: Tidal Basin
Then we went to walk around the Tidal Basin. Craig and I recognized the Tidal Basin from some TV shows that we had seen that were based in DC. It was pretty cool! We all sat down on a bench and could see the Thomas Jefferson monument but it was all the way on the other side of the basin. But Melia said she wanted to go see it – so we got up and continued walking.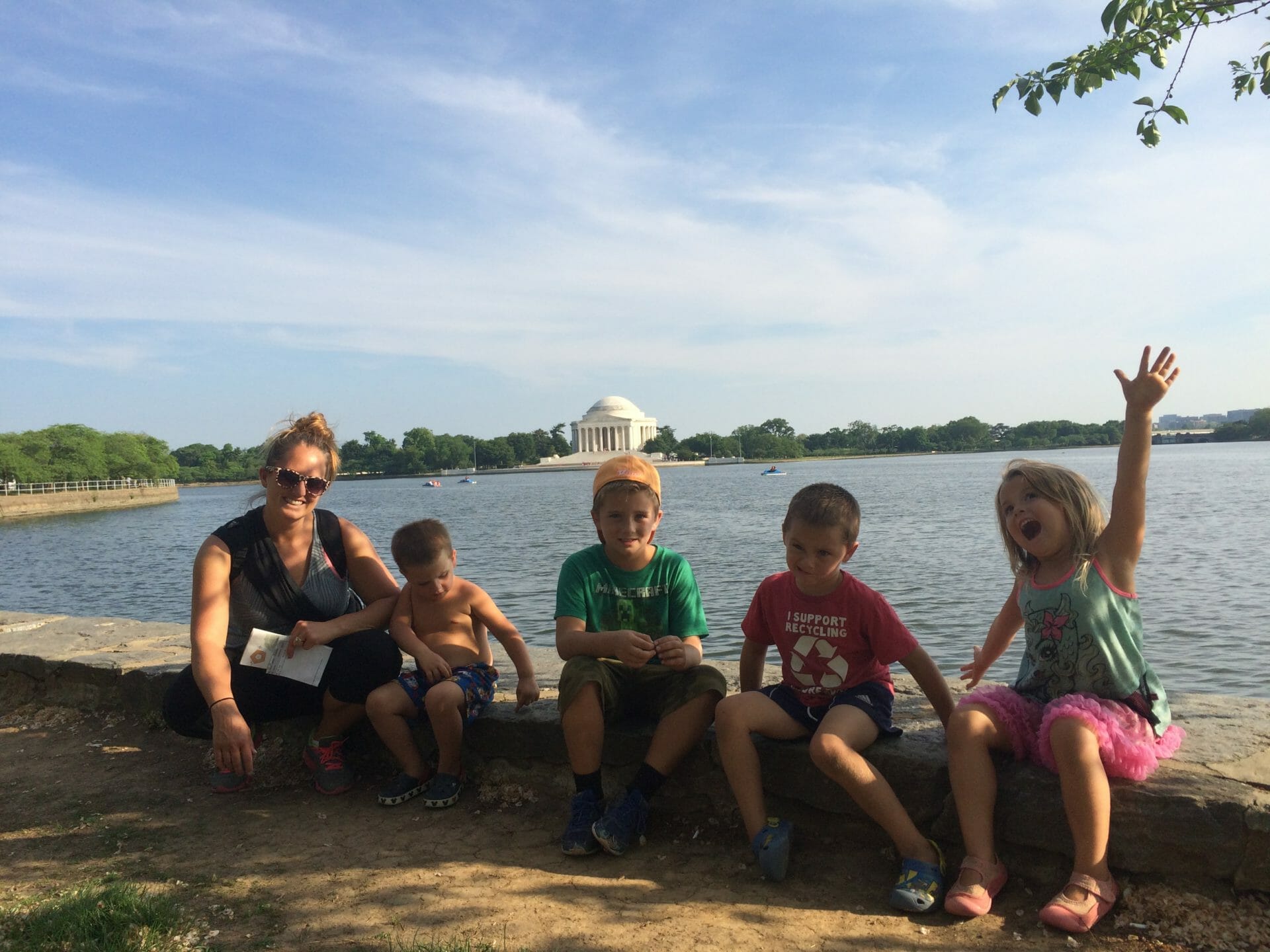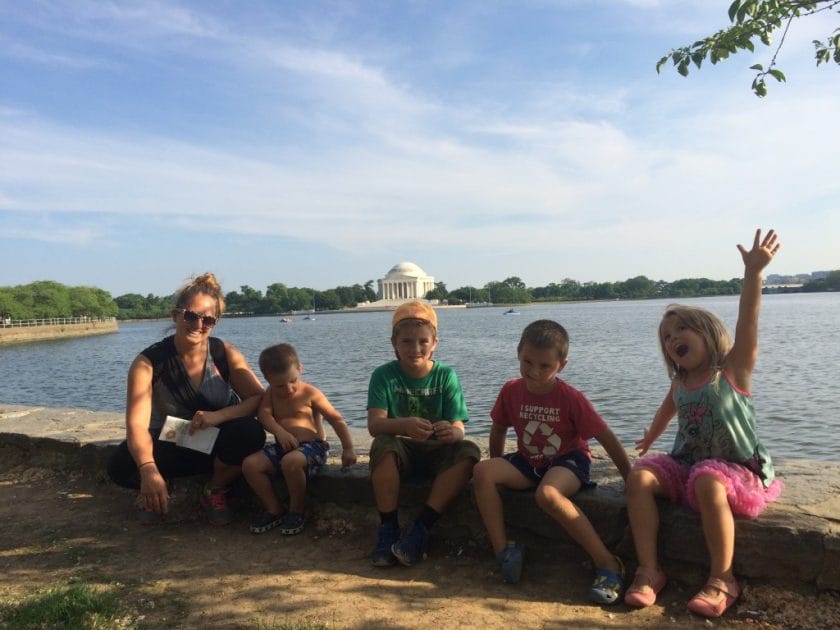 Monument 8: Thomas Jefferson Monument
If you are exhausted by this point you may want to skip this one. It was a pretty long walk around the Tidal Basin. We are glad we did it. We don't know when we will be back to DC so it was worth it to see everything we could.
The End: Back to the Metro Station (They are still smiling!)
Then it was time to go so we started the hike back the Metro Station. This time we found the Metro Station we were originally suppose to go to the National Mall stop. We got there went in and bought our tickets – we knew how to do it this time! Then I remembered that when doing the subway you have to pick out the end spot on the line you want to get on and that is how you know you are on the right one! D'oh! I knew that. This time we got on the right one and headed back to our car. We made it back paid the $18 for parking and headed home.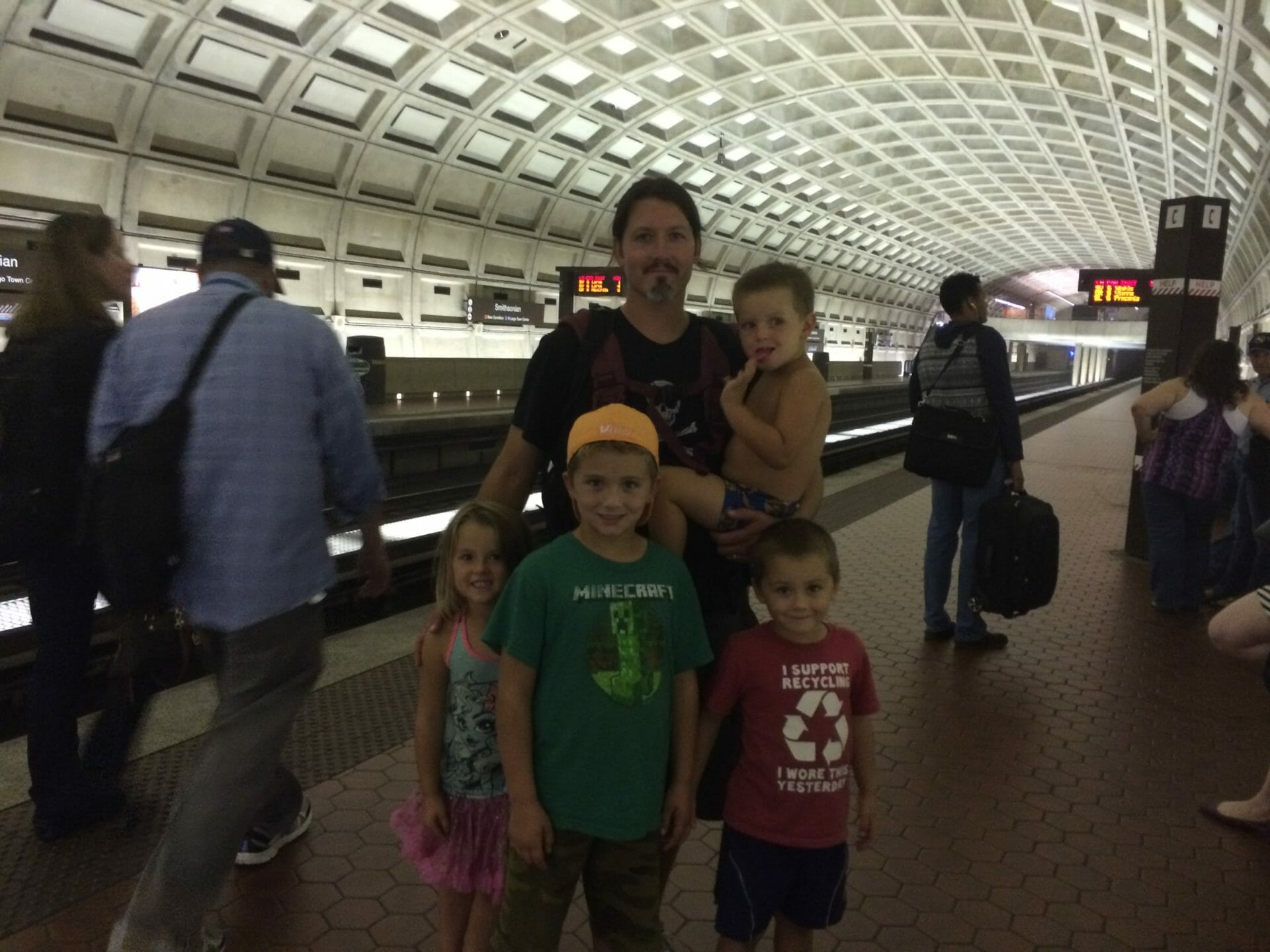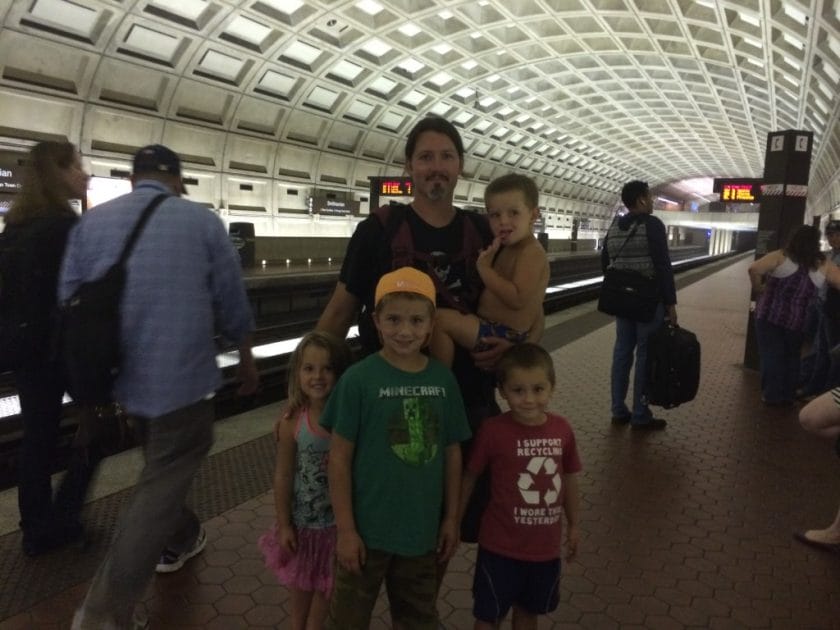 Granted we were in DC for the day with about half of all middle schoolers in the US. But the energy and vibe of DC was really cool! We walked about 10 miles – but the kids did awesome and we really had a great day. We are glad we took the day trip and will be back in the future when the kids are older. If you are planning to see all of this in one day make sure to wear comfortable shoes and that everyone in your group is capable of walking for long stretches!
Things to know:
Bring Cash! You can use cash at the Metro to buy set dollar amount tickets. You also need cash to purchase anything from the street vendors.
Metro: Do your research before you get there so you know which stop you should park by and which Metro line you want to get on. Remember you determine that by seeing where the Metro Line will END – that will tell you which train you should get on.
Pentagon Mall – The parking garage worked out great. We were far enough outside of the city that traffic wasn't crazy and we were parked in a parking garage. At the time it was $18 for the day. Bring your ticket with you and pay at the mall before you leave. You then need your ticket to leave the parking strucutre/lot.
Stroller: You could bring a stroller. All the monuments have elevators. So if you are ok with dealing with that and navigating your way through crowds with your stroller and up and down the sidewalk/street you can bring one.
Walking: No Joke! all the monuments are FAR apart so if you plan to walk to see everything you will be walking for miles.
Water: Bring water bottles. There are drinking fountains at all the monuments and with all the walking you will need water.
If you want to go into the Washington Monument you need to get tickets ahead of time – or potentially in the morning if you are the first one there. Do your research on this one if it is something you want to do.
There is more to do in DC. We didn't even make it to the National Mall! So in 1 day you can do most of the monuments. But to see everything DC has to offer you would need to go for more then 1 day.
If you want to plan the same trip with your family here is a map of the route we took! If you have any other suggestions for people on must see things in DC comment below and tell us!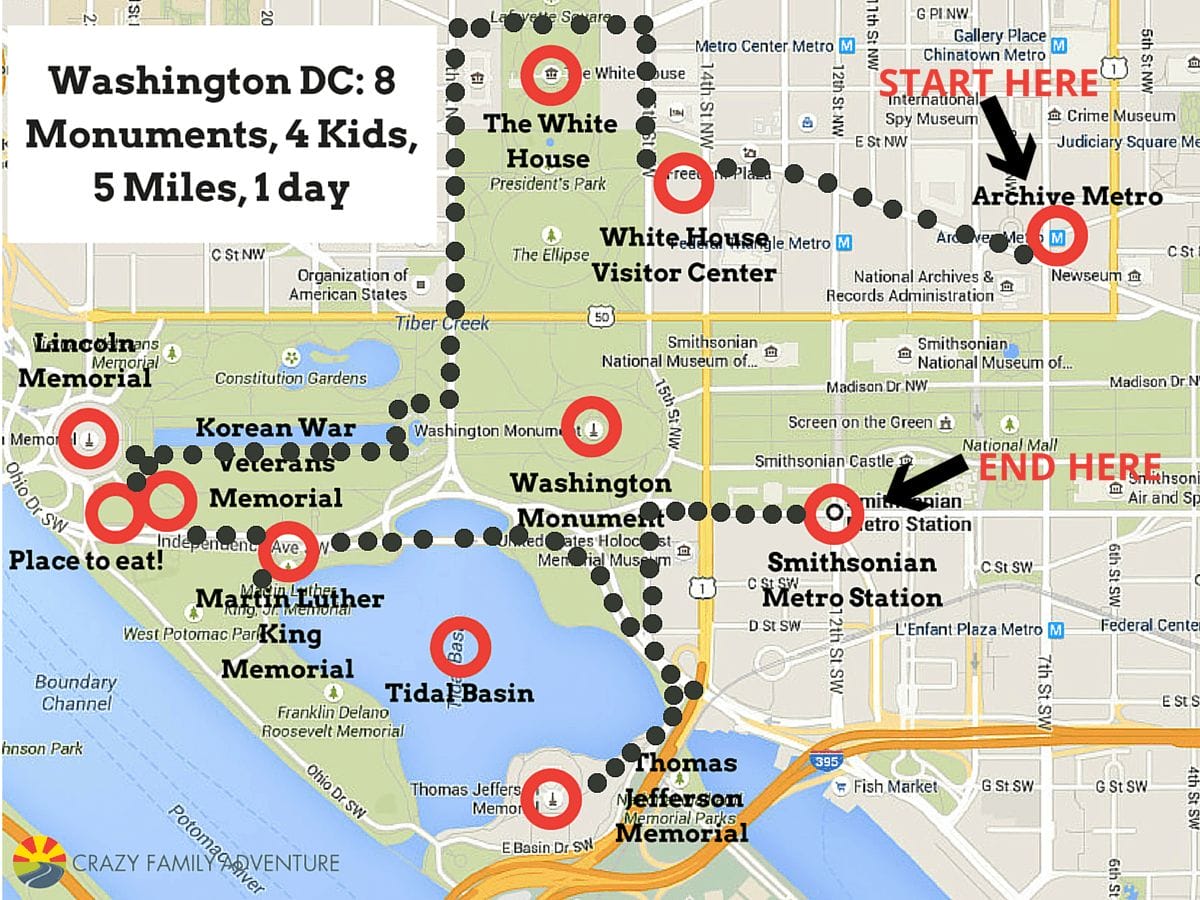 Here is a great post on apps you should download for your Washington DC trip!
There really are a lot of great things to do with kids in Washington DC and we are excited to come back again in the future to explore more! Looking to extend your East Coast Trip? Consider visiting New York City, Boston, or New Hampshire!
**In the spirit of full disclosure, this post contains one or more affiliate links, which means that I may get a commission if you click the link and decide to purchase. I only recommend products that I use and love myself, so you'll be in good hands.  The cost of the item remains the same for you whether you purchase it through the link or not.
DISCLOSURE: This post may contain affiliate links, meaning I get a commission if you decide to make a purchase through my links, at no cost to you. Please read my disclosure for more info.