There are so many things to do in Washington DC with kids. Plus, there is so much history to see and share! We did Washington DC back when the kids were 7, 5, 5, and 3 and went again when they were 14, 11, 11, and 9.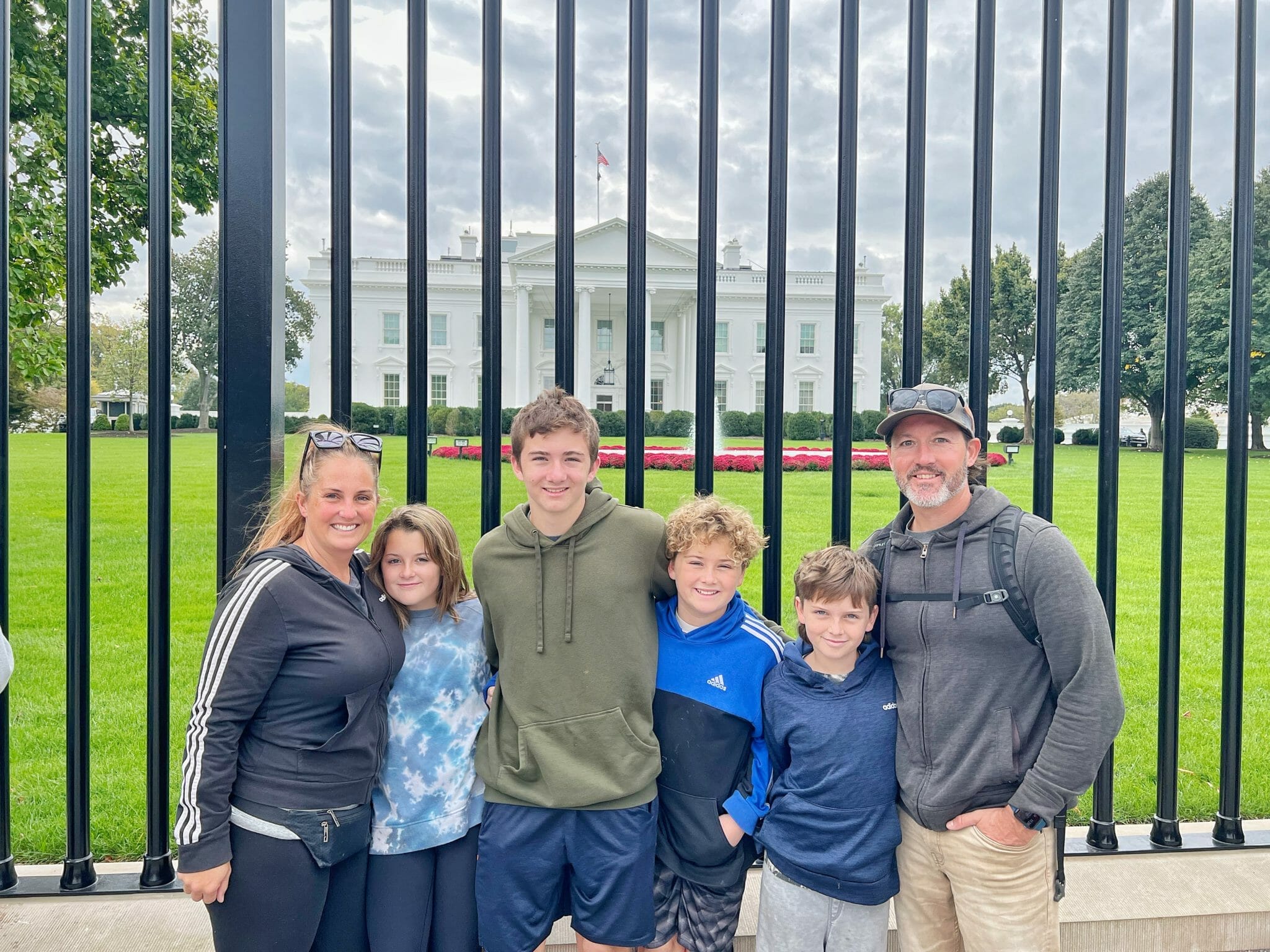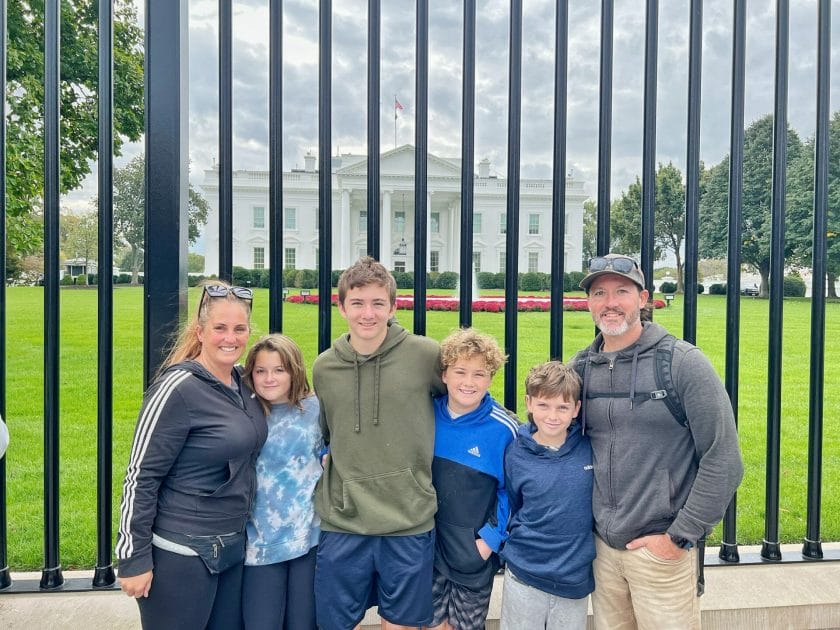 Both times we did similar things, but with the kids being older, it was fun to dive deeper into the history and meaning behind what we were seeing. We also tied this trip into our East Coast road trip, where we also visited New York City, Boston, Philadelphia, Lincoln NH, and a few more places.
Transportation
Both times we went into Washington, DC, we took public transportation to get into the heart of the city. Once from a couple of hours away and the other time from the Cherry Hill RV park. Both times it worked out well and is definitely what we recommend when visiting DC.
The public transit in DC is straightforward to use. Getting around with your family is accessible between the Metrorail and Metrobus services. For those that prefer to explore via two wheels, there are 2 main options both of which provide daily passes up to a year old membership.
Time Of Day To Visit
We are not early risers, so we just go when we get up and get moving. Typically sometime after 11 am. This has never been a problem for us. But it can be if you want to hit a lot of museums since they can close around 4 or 5. If that is what you want to do, be sure to check their schedules.
Eating
Also, note there are few places to eat right within where all the monuments are. So either plan to bring your own food or stop somewhere around the White House before heading further into the monuments.
The other option is the food trucks that are by the museums. There is typically a great assortment of different types and styles of foods offered at the food trucks. This great selection of food trucks can be a fantastic way to experience foods from other cultures.
However, it can be challenging for the food trucks to know the hours and when they will be there. Be prepared to wait in line for some of the more popular trucks.
In DC you will also find a great selection of food tours. These tours can be a great way to taste the popular local delicacies and experience the culture of a neighborhood.
Monuments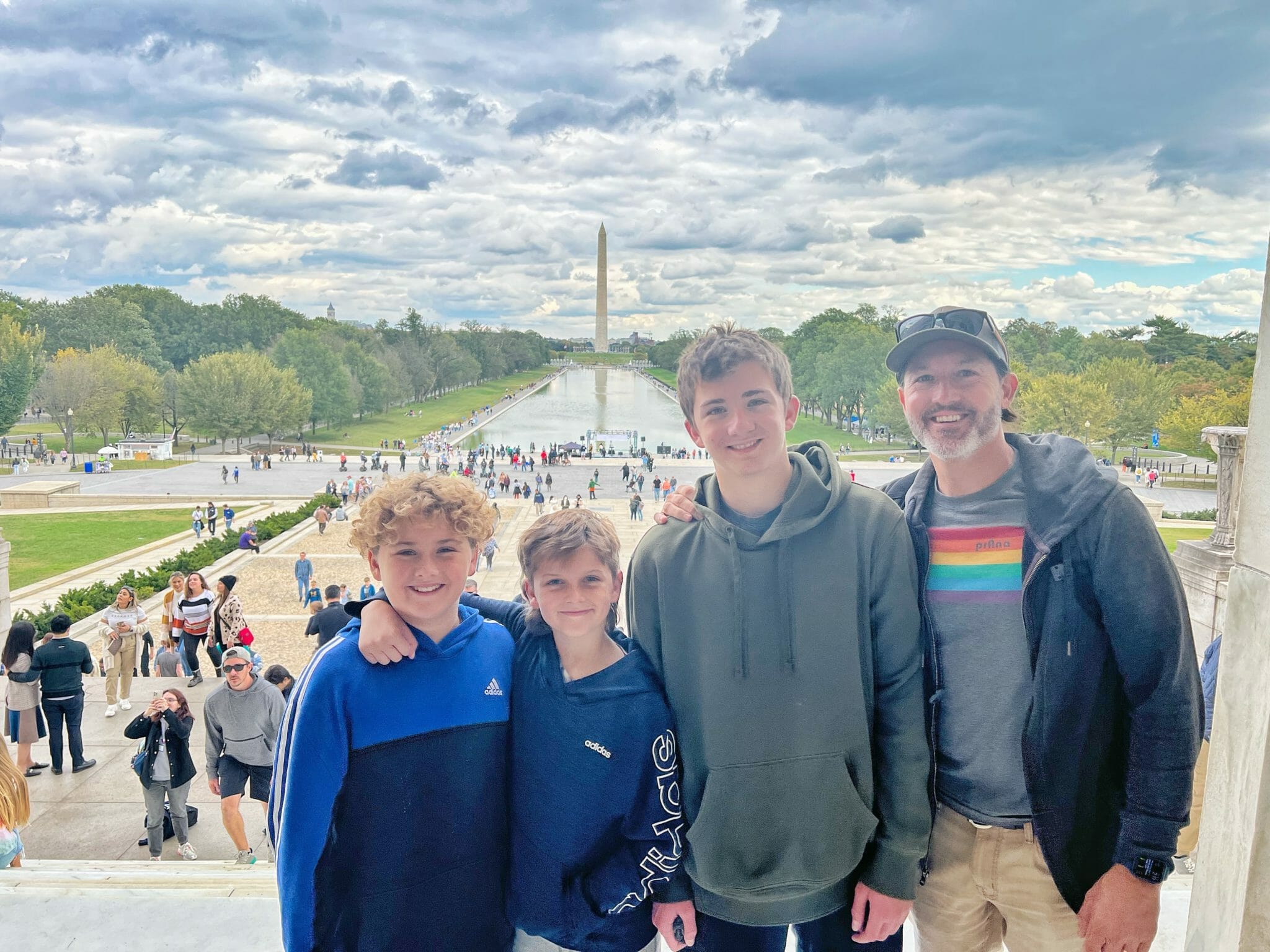 Below I am going to share the route we took to explore the monuments around DC with our kids. We had breakfast before we got there and went knowing we would be eating lunch soon.
White House Visitor Center
The visitor center is not by the front of the White House. Instead, it is a few blocks away. Even if it is a bit out of your way, it is worth stopping at. You can follow the history of the Presidents, see images from the Presidents living in the White House, the First Ladies, and more. See interactive exhibits filled with the history of the founding fathers. This free museum offers an insight into the daily lives of our past presidents, with almost 100 artifacts on display.
You have to walk through a metal detector before entering, so be aware of that.
Black Lives Matter Plaza
This racial equality landmark in downtown DC is a two-block section of the street featuring giant lettering. From the road, it is hard to see much. But it is cool to see the 50-foot lettering and compare them to images we have seen of the street. This is one of the newest landmarks in the capital.
White House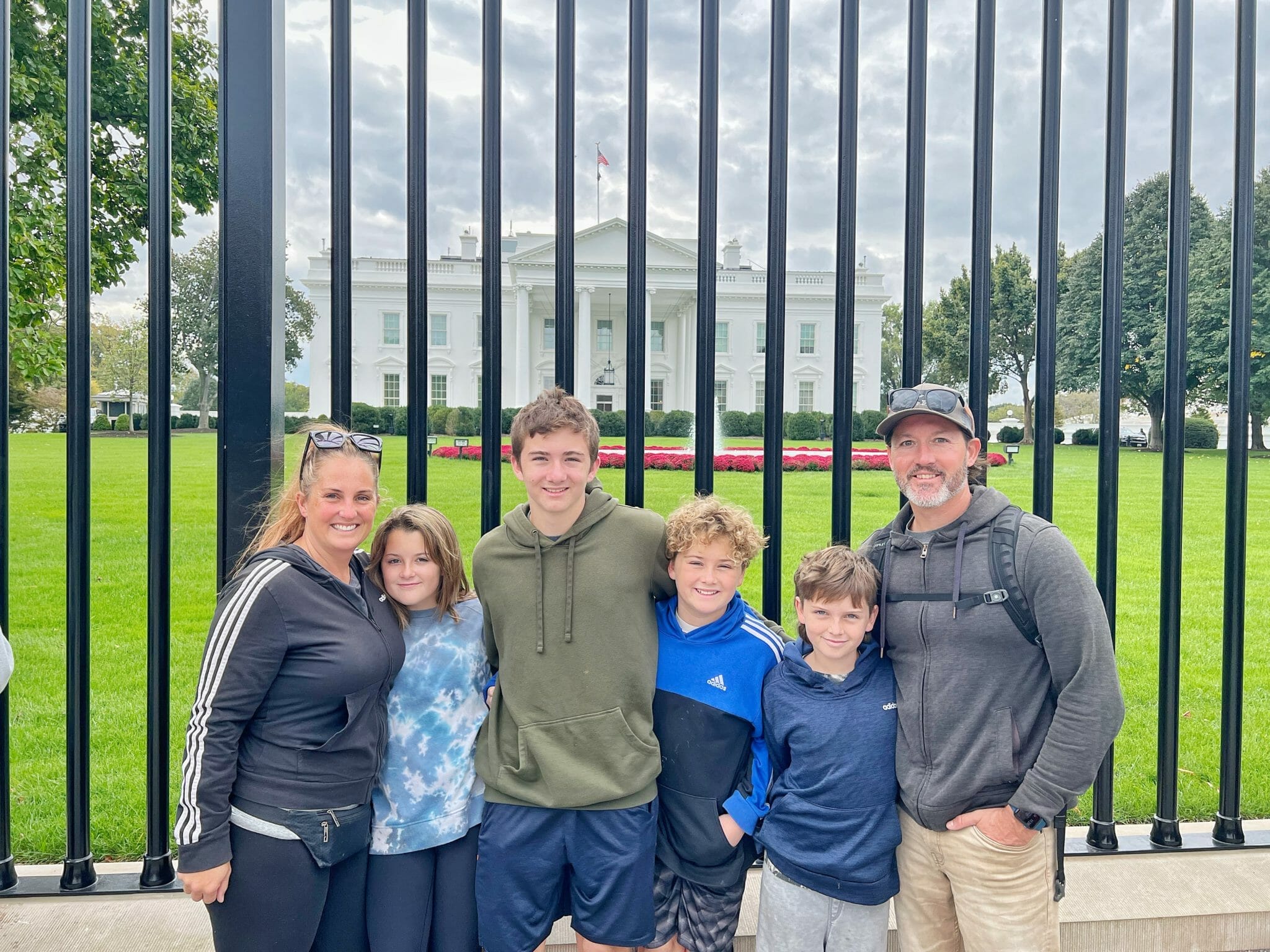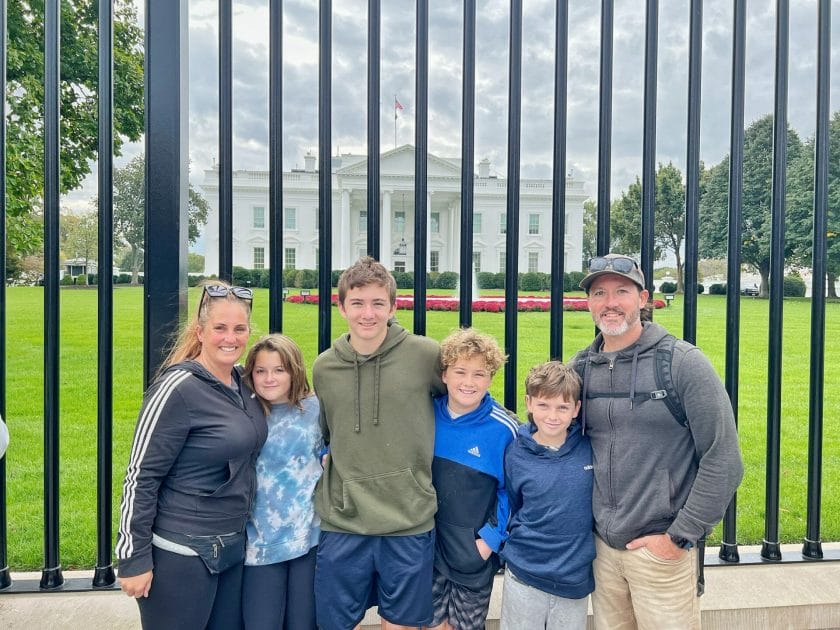 You must go to the White House when visiting Washington, DC. Getting into it is another story – especially nowadays, but we know friends who have done it. We made a last-minute effort to get in, but it was a no-go. To tour the White House, some planning is needed. Requests for visiting need to be submitted to a member of Congress at least three weeks before your planned trip. The good news is that the tour is free of charge. It just requires planning. If you manage to book a tour, note that all persons over the age of 18 are required to present a valid ID upon entry. Flash photography is not allowed during the tour. Secret Service members are stationed in each room if you have any questions.
No matter if you couldn't book a tour, it is still fun to see it from the outside and take a picture in front of it. Download the White House Experience App to help you plan your visit or to tour the White House Virtually.
Washington Monument
The Washington Monument is the world's tallest freestanding stone structure. Seeing this piece of history from the inside requires booking a ticket ahead of time. We aren't good at that. . . so we always check the monument from the outside. T
he kids had fun trying to "hold" the monument in our hands. If you are lucky enough to get tickets, be sure to check out the view from the amazing observation deck. You can order tickets up to 30 days in advance or attempt to get same-day reservations to see this iconic obelisk. Note that the same-day tickets are harder to come by but are an excellent option for those on a last-minute trip.
GCDC Grilled Cheese Bar
The GCDC Grilled Cheese Bar was a yummy place to get Grilled Cheese after visiting the Washington Monument. It was busy, so you should order ahead or be ready to wait. We had to stand around for a while, waiting for a table to open up. From a wide assortment of grilled cheeses, mac and cheese, and quesadillas, every cheese lover in your family will be in heaven.
World War II Memorial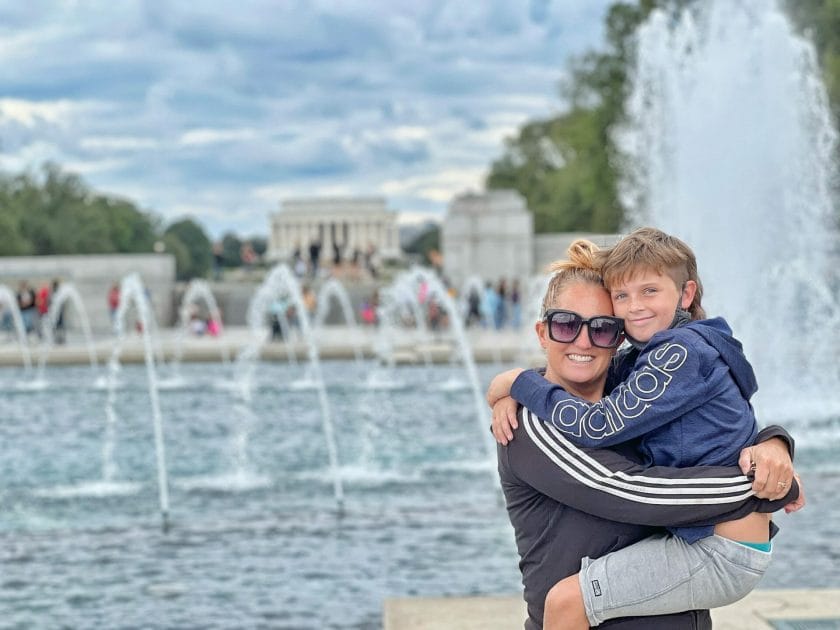 Located by the Smithsonian and the Lincoln Memorial Reflecting Pool, this solemn memorial is dedicated to all service members that gave their lives during World War II. The memorial contains 56 granite pillars. One pillar for each state or territory whose citizens bravely sacrificed their lives for the freedom of others. We always look for our home state of Wisconsin to get a picture next to when visiting this memorial.
Lincoln Memorial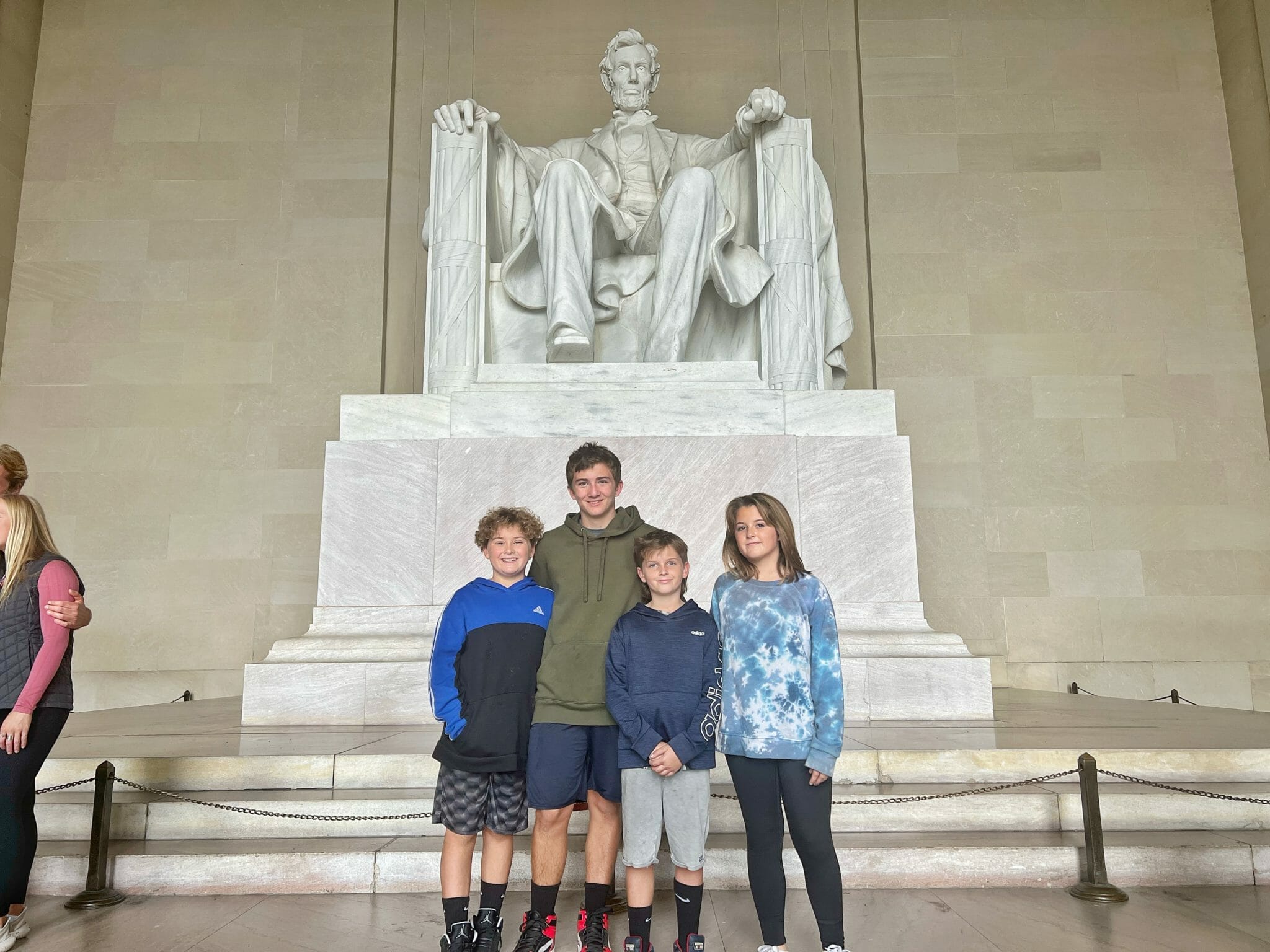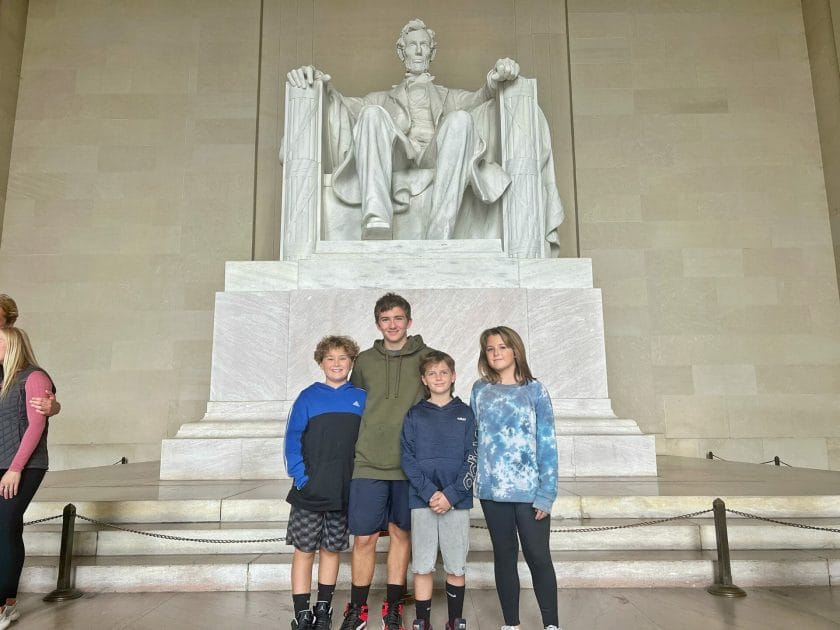 It is a beautiful walk from the World War II Memorial up to the Lincoln Memorial. It is located on the western edge of the National Mall. Once in the Memorial, we read the Gettysburg address etched into the wall and grabbed a picture by Lincoln. The Gettysburg Address was an essential part of Civil War history. Get a photo looking out from the Memorial onto the reflecting pool. The Lincoln Memorial is open 24 hours daily, 365 days a year, making it super easy to fit into any of your travel plans. Ancient Greek inspired the Lincoln Memorial's design Temples. The memorial has been home to many noteworthy moments in America's history, including Martin Luther King Jr's I Have a Dream Speech.
Martin Luther King Jr Memorial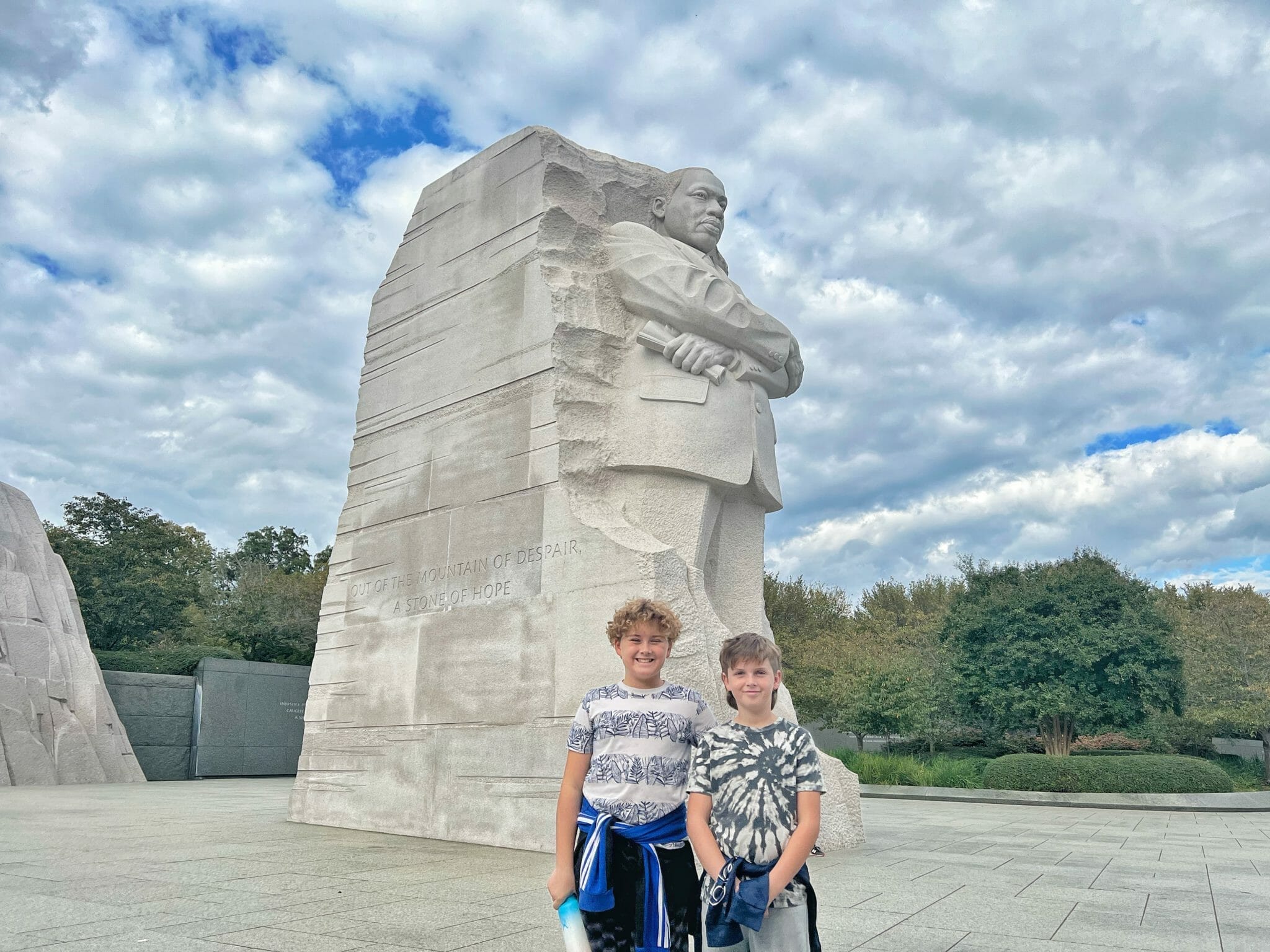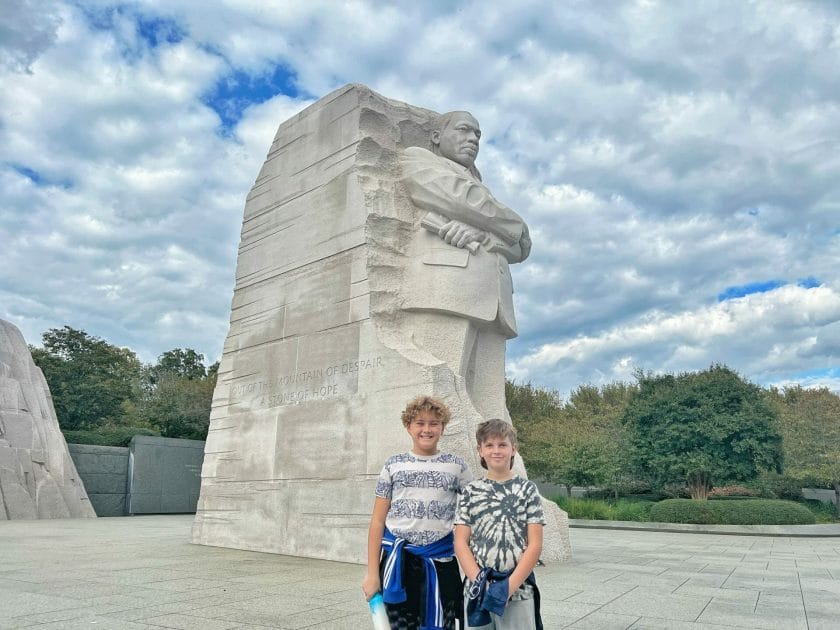 The Martin Luther King Jr Memorial is located by the lake next to the Franklin D. Roosevelt Memorial or can be reached with a 15-minute walk from the Smithsonian Metro stop. This monument has many places to stop to read timeless quotes from his I Have a Dream speech carved into its walls and to talk about the history of this civil rights icon. National Park Service Rangers are on site most of the time to answer any questions you have.
Franklin D Roosevelt Memorial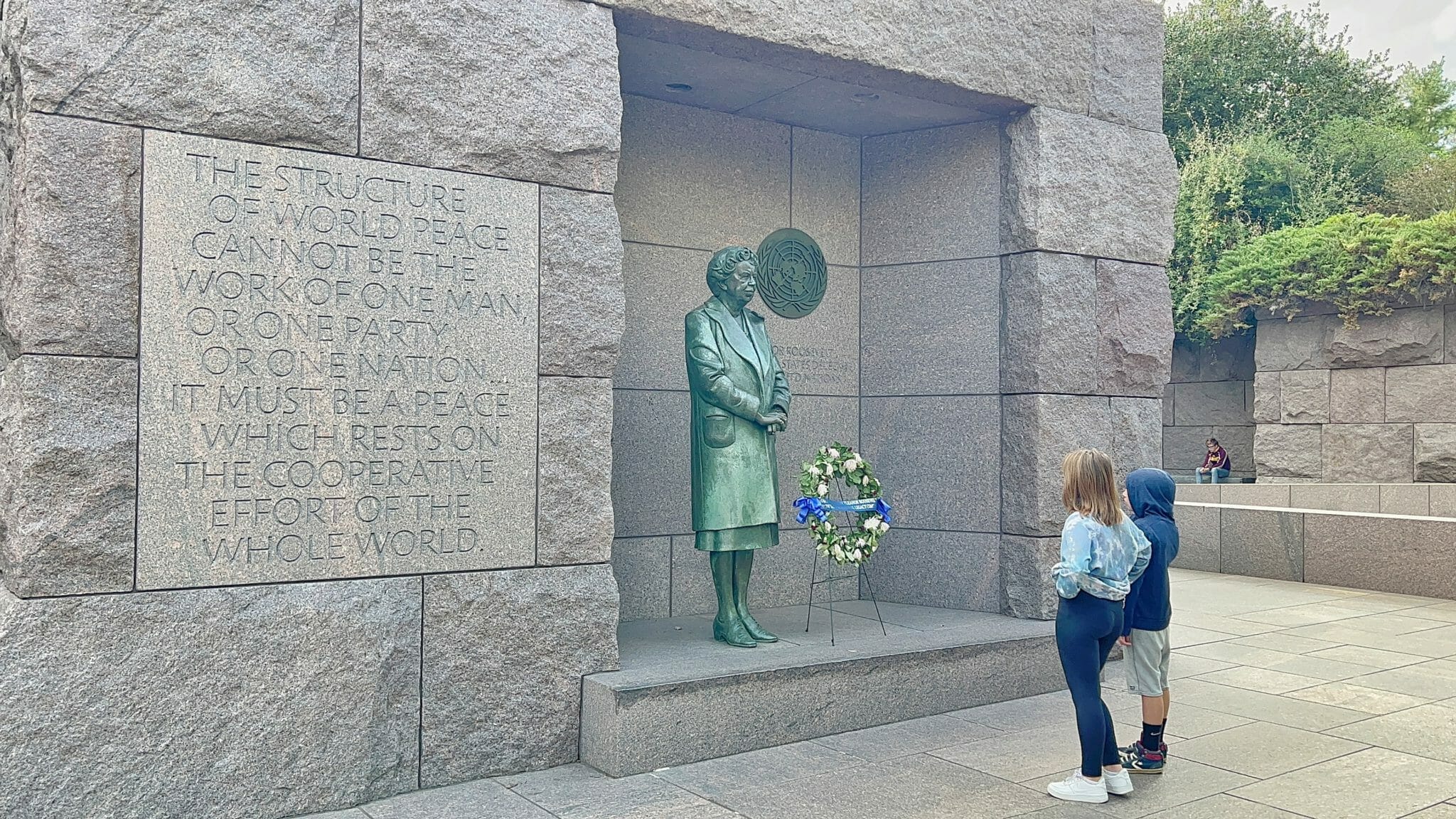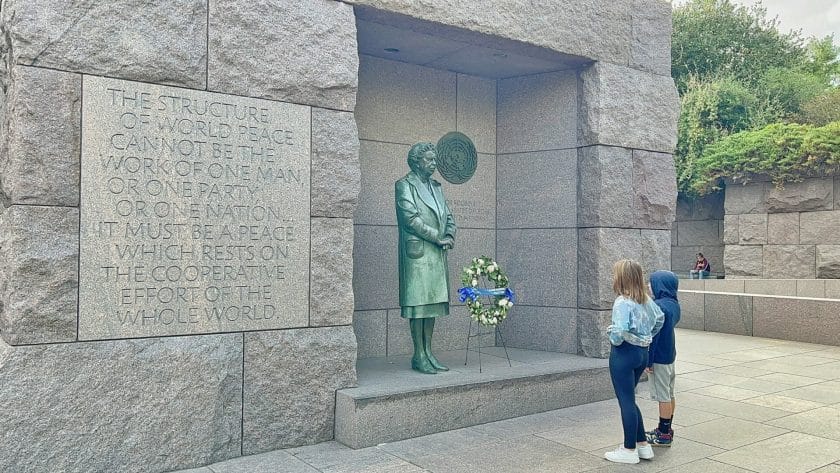 We didn't visit here the last time we came, and I am so glad we did this time. We stopped in the gift shop/visitor center by the monument, grabbed the Who Is Franklin D Roosevelt book, and sat on a bench to read it to the kids.
He had so many great quotes, and seeing them up on the walls was awesome. This memorial guides you back in time to FDRs four presidential terms, where he lead our country through the difficult times of the Great Depression and World War II.
George Mason Memorial
We weren't trying to go here but made a stop while we were taking a walk around the lake to the Jefferson Memorial. This memorial is dedicated to one of the often overlooked founding fathers. Though most of history has forgotten him, George Mason played a vital role in our nation's founding. This memorial isn't on the Tidal Basin Path, so it can be easy to miss.
Jefferson Memorial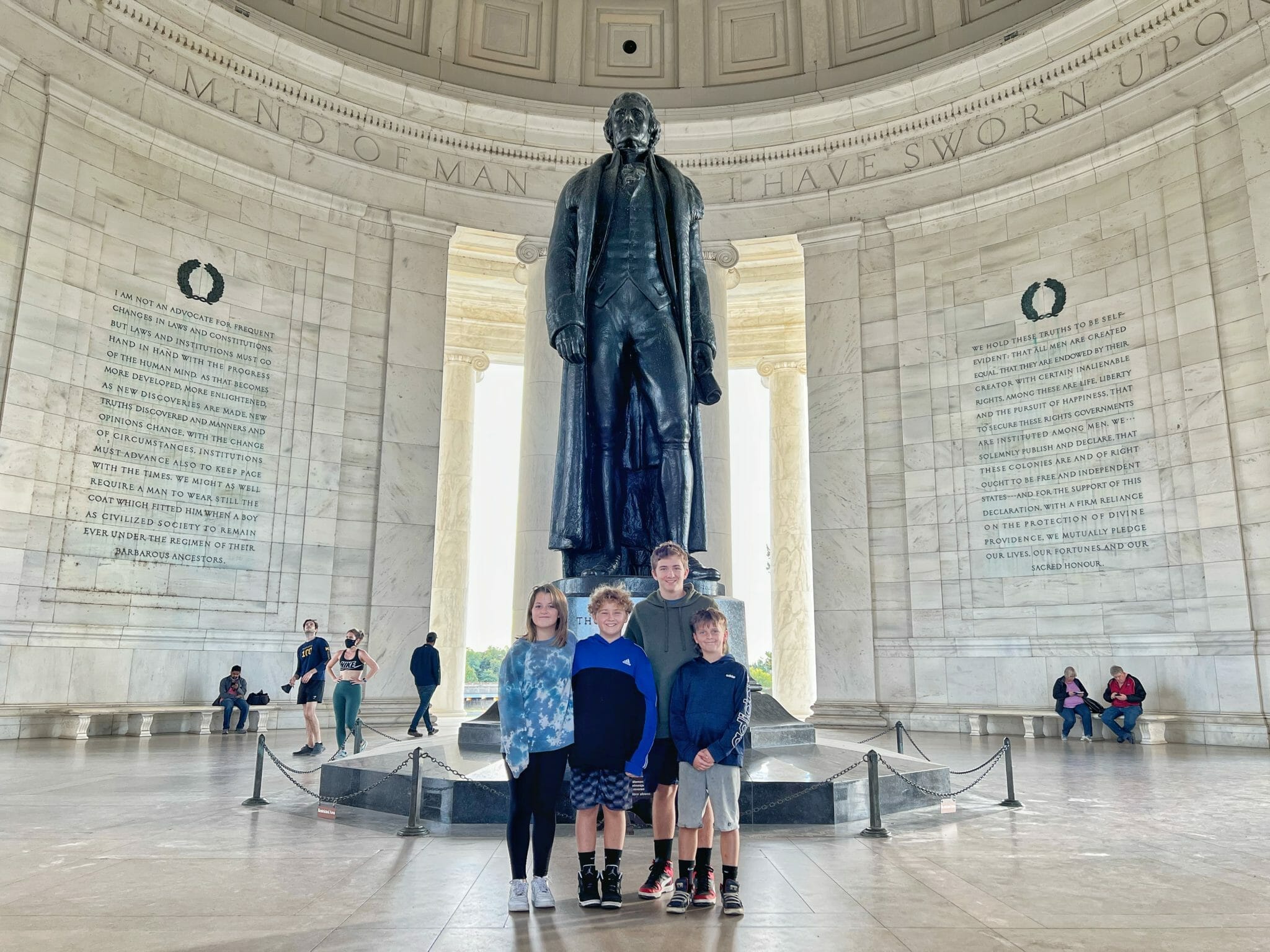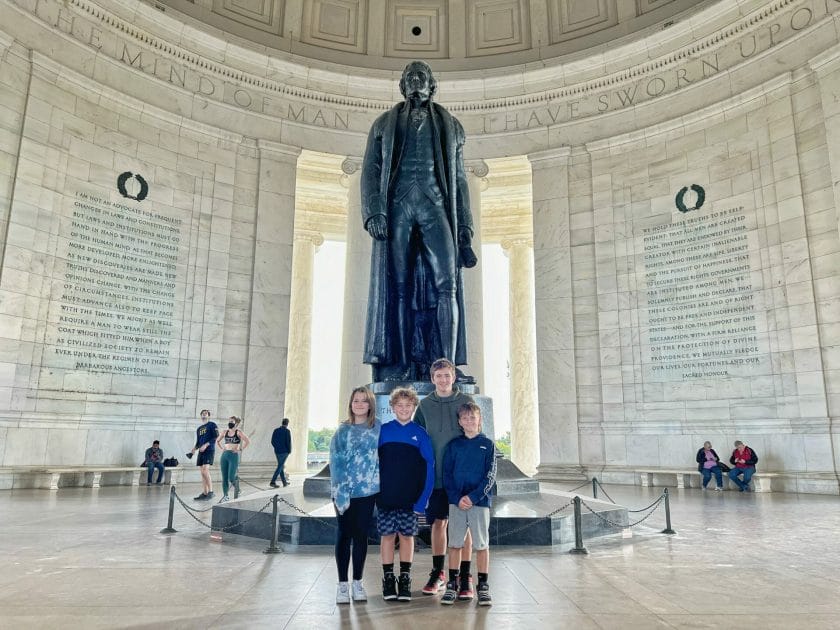 The Jefferson Memorial is located on the Tidal Basin, boarded by beautiful cherry blossom trees. At night the neoclassical architecture can be seen shining over the water. This open-air building is free to enter. You will find quotes from the Declaration of Independence etched on the walls inside. We also stopped at the gift shop here and got a picture with Jefferson facing out over the water.
There is so much history in Washington, DC. It is well worth taking your kids no matter what age they are! It starts a lot of great conversations about our nation's history.
That was a wrap on our day walking the monuments of DC. By this time, and after all that walking, everyone was hungry, so we headed out.
Museums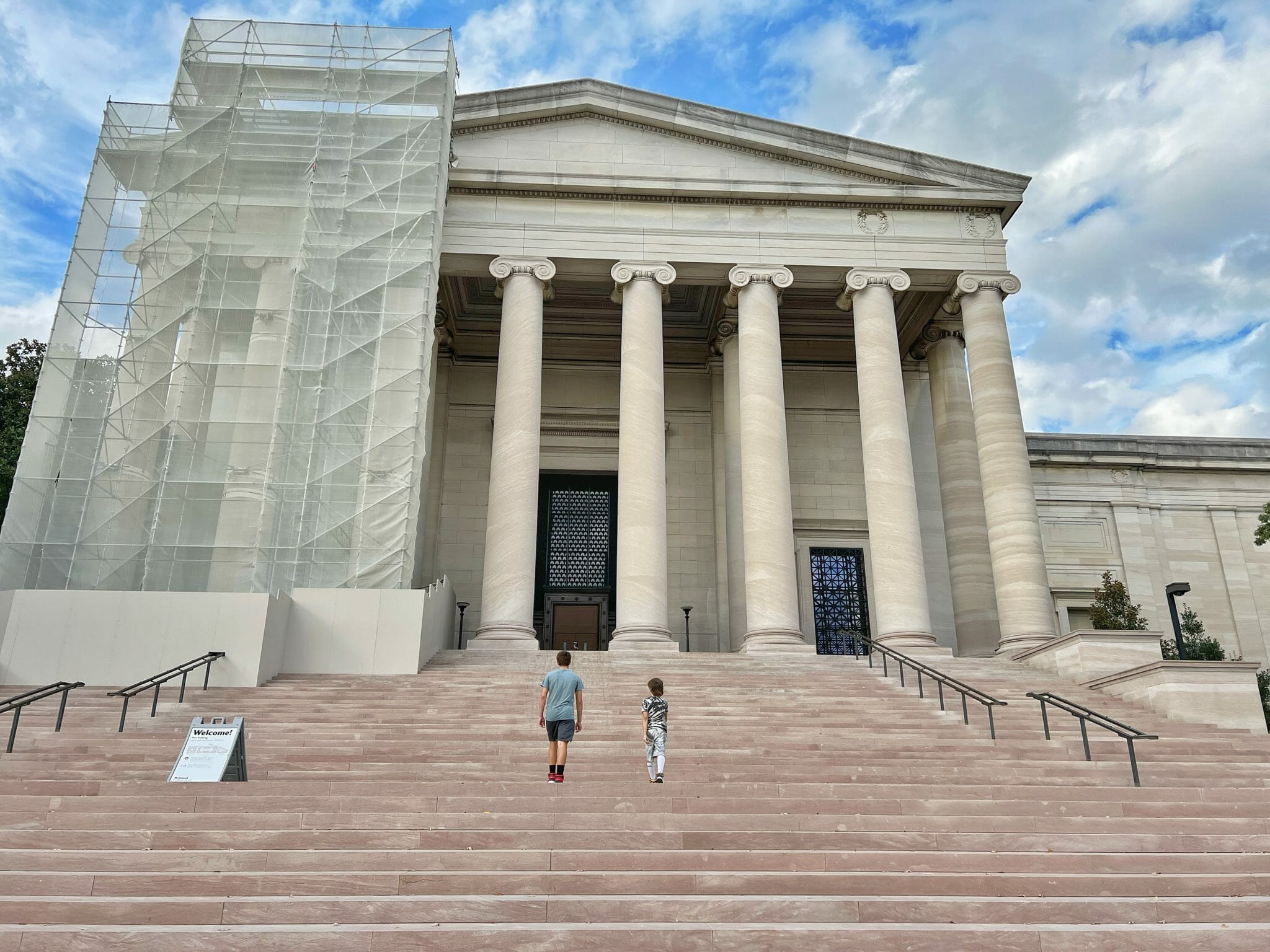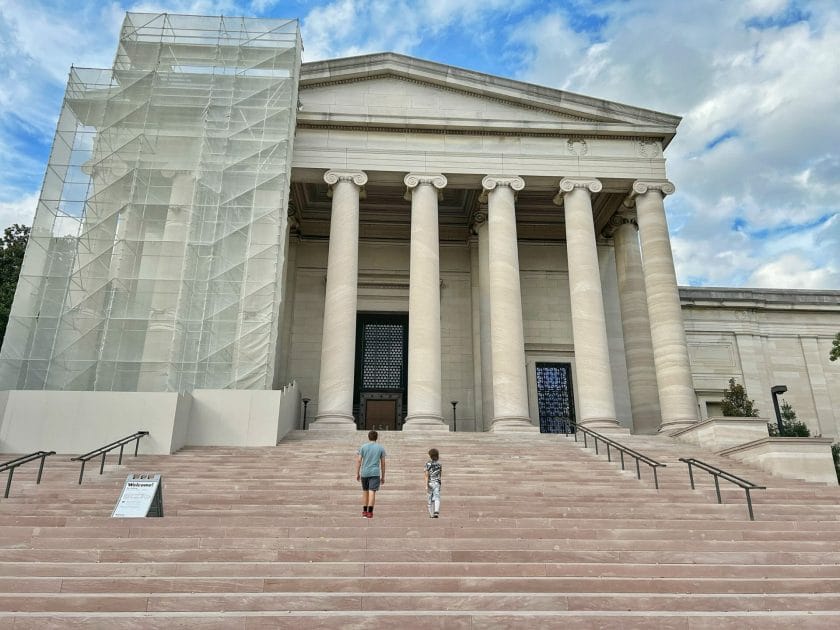 Day 2 was all about the museums. One of the best things about the museums in Washington, DC is most offer free admission. We checked out the following museums:
National Museum of American History
This was a fascinating museum with a visual history of America. Not just text box things but also how people lived, what they wore, etc. The exhibits allowed us to step back in time and experience history. It was not what I expected, but it was very informative, and I am glad we brought the kids here to see it. With its rotating featured exhibits, there is always something new to see and learn about. The best part is that the museum is free of charge, and no tickets are required.
National Gallery Of Art
Located near the Smithsonian National Museum of Natural History, the National Gallery of Art features more than 150,000 pieces of art. The museum offers free guided tours, or you can explore on your own with a self-guided tour via the APP. For any homeschooler or roadschooler, be sure to check out the educational resources available online https://www.nga.gov/learn/teachers.html
National Archives Museum
We went here to see the Declaration of Independence. It was cool to see it in person. When in DC, I recommend checking it out. We didn't have to wait long to see it, and the kids really enjoyed it since we had been talking so much about it. It is a unique experience to see the Declaration of Independence, Constitution, and Bill of Rights up close. Located between Constitution Ave and Pennsylvania Ave, admission is always free. The museum is open to the public every day except for Thanksgiving and Christmas Day.
That is how we spent our two days in DC. There are also a variety of other things you can do in DC with kids.
Itinerary
Here is a high level breakdown and a map of what we did with our 2 days in Washington DC:
Day 1: Monuments
White House Visitor Center
Washington Monument
Lunch: GCDC Grilled Cheese Bar
World War II Memorial
Lincoln Memorial
Martin Luther King Jr Memorial
Franklin D Roosevelt Memorial
George Mason Memorial
Jefferson Memorial
Day 2: Museums
National Museum of American History
National Gallery Of Art
National Archives Museum
Great Paid Tours
Hop-On and Hop-Off Sightseeing Bus Tour See the sites and history of DC from a double-decker bus. This easy bus tour visits the White House, Arlington National Cemetary, Lincoln Memorial, National Captial, the National Cathedral, and more.
Mount Vernon River Cruise On this full-day tour, you will cruise up the Potomac River and visit George Washington's estate. This tour is a great way to experience the history of colonial America while wondering about the home of George and Martha Washington. Be sure to watch the documentary on the American Revolution in the 4-D theater.
African American History Tour On this 4-hour tour, you will see some of the most iconic sites and lesser-known unique landmarks in civil rights history. From the home of Frederick Douglass to African American Civil War Memorial and Museum to Howard University take an in-depth look at the struggle for civil rights.
Monuments and Memorials Bike Tour Bike through the Tidal Basin and National Mall on this self-guided tour. This three-hour guided tour is perfect for all ages and includes bikes and helmets.
Capital Wheel With this flexible date ticket, see gorgeous views of Washington, DC, Maryland, and Virginia from the wheel. The Capital Wheel is located just outside of downtown in the National Harbour.
Tastes of Georgetown Food Tour Learn about the history of DC's oldest and most iconic neighborhood while sampling delicious local foods.
United States Botanic Garden See the beauty of nature for free at this beautiful site. Stop by the Children's Garden for great kid-friendly, hands-on educational programs. For younger kids be sure to print off the coloring book from the website before your visit.
Smithsonian National Air and Space Museum See the history of flight in the US, from the Wright Brother's flyer to the Mars Rover. From the Planetarium, IMAX Theater, interactive exhibits, and even a story time for kids there is something for all ages.
If you want to escape the hustle of the city, check out Rock Creek Park. This piece of tranquility in the middle of the city offers concerts, horseback riding, hiking, and more. Visit the Civil War sites in this picturesque park to learn more about its place in history.
Georgetown Ghost Tour Discover the dark side of this historic part of the city, including visiting the famous Exorcist stairs featured in the movie during this walking tour.
There is also the Capitol Building, International Spy Museum, Smithsonian National Zoo and Glen Echo park.
More Great Family Fun
Escape Game Washington DC
There are 2 great Escape Game locations in the DC area. Visiting Escape Rooms is a favorite activity for our family. Up to 8 people are locked in a room, you have 1 hour to solve clues to escape.
The Escape Game Washington DC has 9 different rooms to choose from. The rooms are varying levels of difficulty. Each room is filled with unique props to help you solve the mystery of how to escape. We highly recommend this great indoor family entertainment. Book your tickets here!
Things To Know
Bring Cash! You can use cash at the Metro to buy set dollar amount tickets. You also need cash to purchase anything from the street vendors.
Metro: Do your research before you get there so you know which stop you should park by and which Metro line you want to get on. Remember you determine that by seeing where the Metro Line will END – that will tell you which train you should get on.
Pentagon Mall – The parking garage worked out great. We were far enough outside of the city that traffic wasn't crazy and we were parked in a parking garage. At the time it was $18 for the day. Bring your ticket with you and pay at the mall before you leave. You then need your ticket to leave the parking structure/lot.
Stroller: You could bring a stroller. All the monuments have elevators. So if you are ok with dealing with that and navigating your way through crowds with your stroller and up and down the sidewalk/street you can bring one.
Walking: No Joke! all the monuments are FAR apart so if you plan to walk to see everything you will be walking for miles.
Water: Bring water bottles. There are drinking fountains at all the monuments and with all the walking you will need water.
If you want to go into the Washington Monument you need to get tickets ahead of time – or potentially in the morning if you are the first one there. Do your research on this one if it is something you want to do.
There is so much to do in Washington DC. If you only have 1 day you can do most of the monuments. But to see everything DC has to offer you would need to go for more than 1 day.
Washington DC Route Map
Here is the map of the route we took when our kids were 7, 5, 5, and 3. We followed a very similar route the last time we went but went through the Franklin Delano Roosevelt Memorial this time.
Here is a great post on apps you should download for your Washington DC trip!
Where To Stay
Hotels
Washington Plaza Hotel This hotel is located close to the White House and Dupont Circle. The hotel offers a wide variety of rooms and suite choices.
Courtyard by Marriott Washington Downtown/Convention Center Stay in the heart of our nation's capital. This hotel has a restaurant, private parking, free bikes, and a beautiful garden on site.
Embassy Suites by Hilton Georgetown This hotel is located near Dupont Circle and just minutes away from the Dupont Metro Station and Foggy Bottom Metro Station. The hotel offers a free complimentary hot breakfast each morning and a small selection of appetizers every evening.
Vacation Rentals
Private Apartment in a Historic Home Located in the center of Northwest DC, this home is located within walking distance of the Metro and monuments and museums. This private apartment sleeps 4.
Luxury Midcentury Modern House Nestled on the famous Blagdon Alley, this showstopping home is unforgettable. This house has four full suites, each with its own on-suite bath which will provide all the space you need for a large family.
Historic Victorian Townhome This beautiful three-bedroom townhome is located in one of the city's most vibrant neighborhoods. Walking distance to restaurants, bars, and the National Mall.
RV Park
We stayed at Cherry Hill RV Park. This is the perfect RV park to stay at for exploring Washington DC. You can even take a bus to the metro station (we opted to just drive and park at the station so we didn't have to manage as many schedules) and that was super easy too!
The park itself is amazing and we were there around Halloween so it was even more amazing!! If you have the time plan to spend a day just in the RV park too.
Note: They have a HUGE laundry room at the RV park.
There really are a lot of great things to do with kids in Washington DC and we are excited to come back again in the future to continue exploring more! Looking to extend your East Coast Trip? Consider visiting New York City, Boston, or New Hampshire!
Discover More Amazing Family Friendly Things to Do
17+ Things to do in Philadelphia with Kids
14+ Things to do in Gettysburg with Kids
37 Stops for the Best Cross Country Road Trip
Visiting New York City with Kids
The Best Things to do in Lincoln New Hampshire
Pin to Family Travel to Save for Later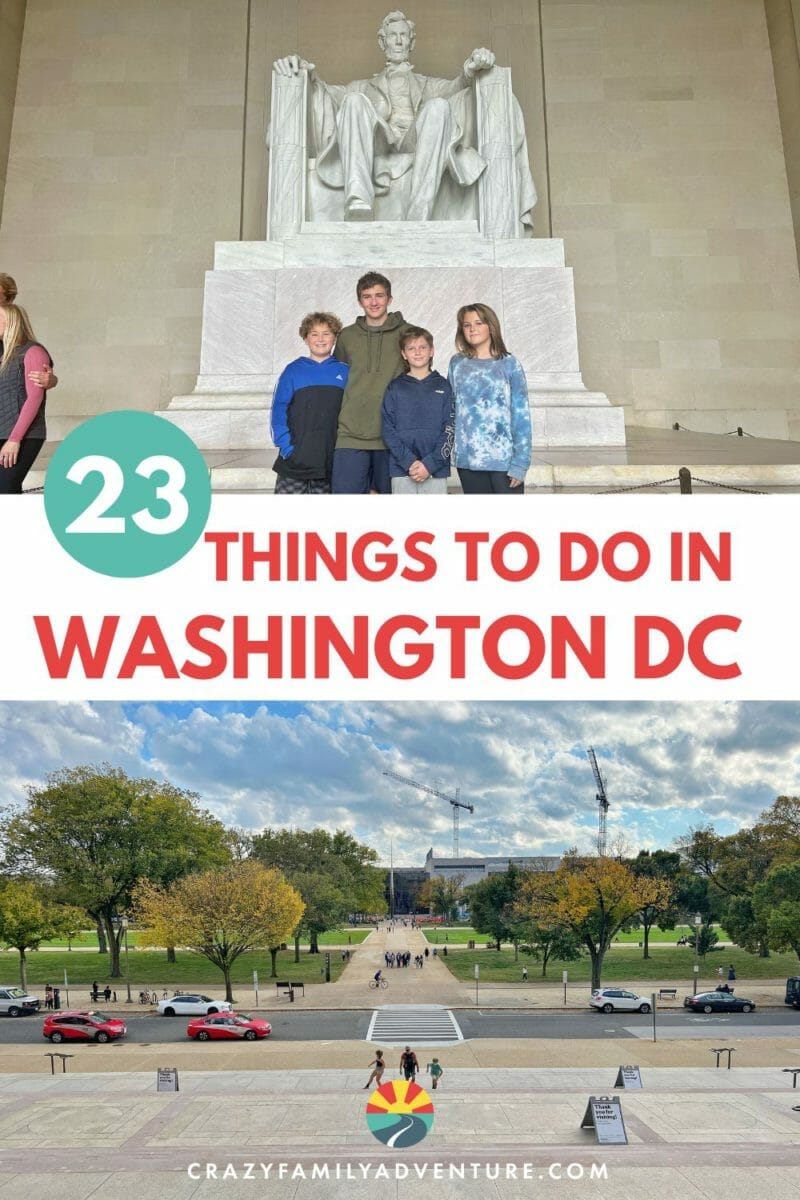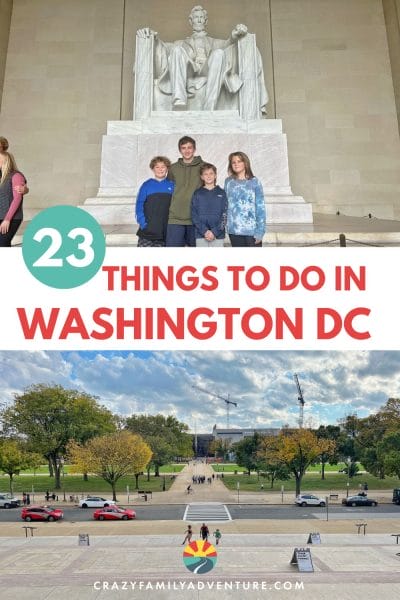 DISCLOSURE: This post may contain affiliate links, meaning I get a commission if you decide to make a purchase through my links, at no cost to you. Please read my disclosure for more info.