Ok, strap in for a good one this week! I am extremely excited to tell you all you need to know about one of the absolute premier seaside boardwalk amusement parks in the United States!! The Casino Pier New Jersey is in Seaside Heights, NJ.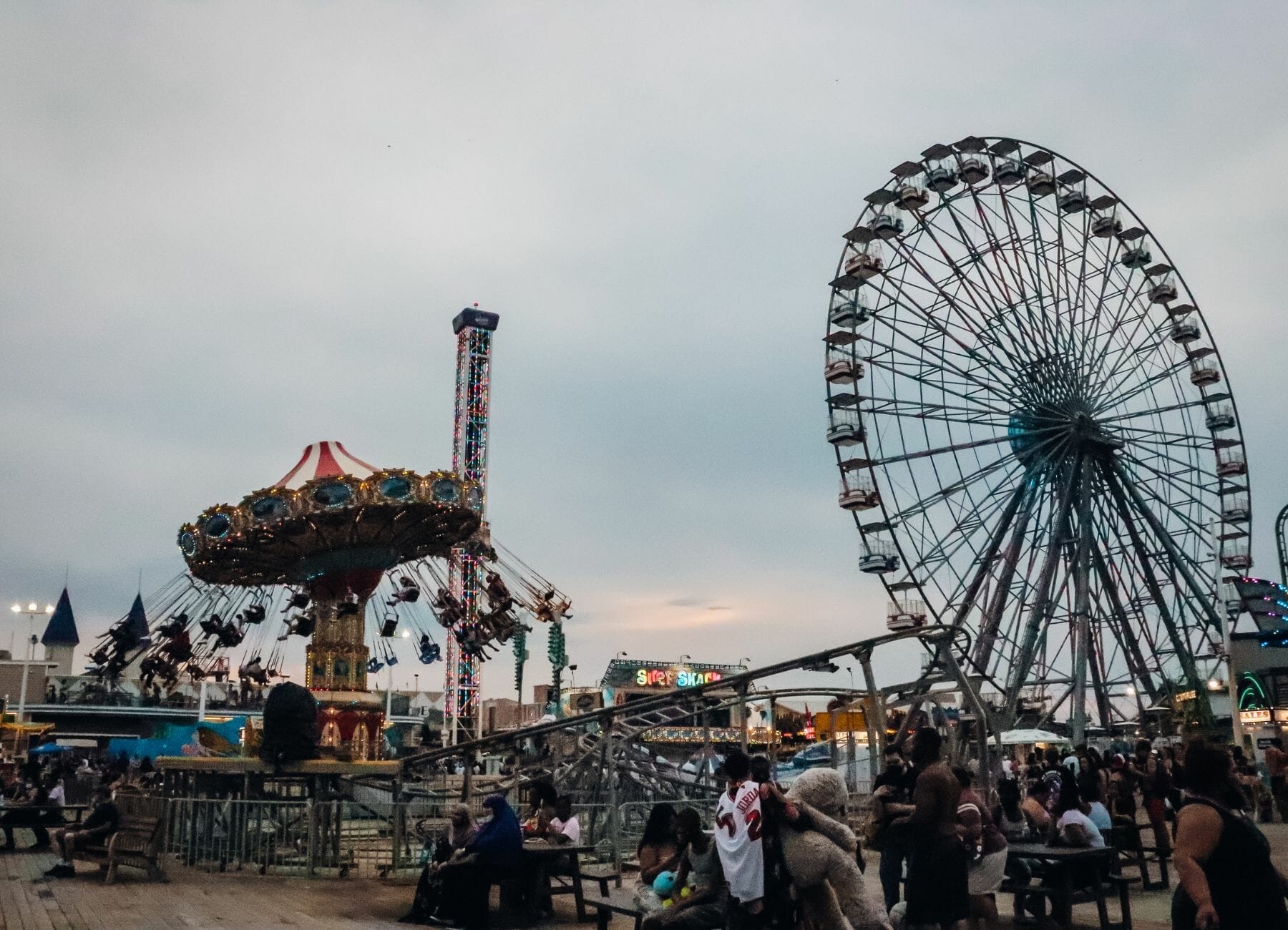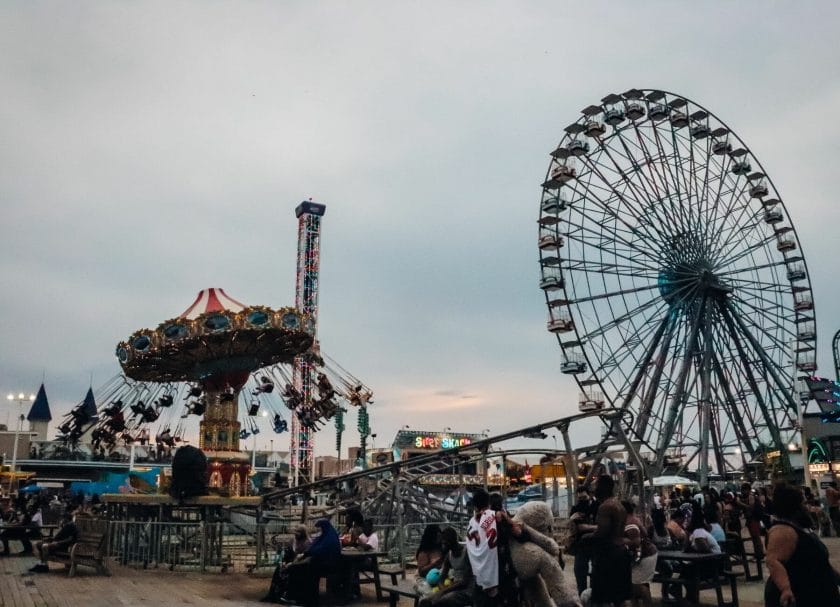 Nothing short of magical, the 2.1-mile Seaside Heights Boardwalk straddles the Atlantic Ocean and is jam-packed with fun and excitement. Everything from rooftop miniature golf, go-kart tracks, and a ferris wheel to roller coasters, Breakwater Beach water park, salt water taffy, and ice cream…. Ooooooh, the ice cream!
You will find it all on the Seaside Boardwalk and Casino Pier New Jersey.
Seaside Heights
Let's start with a little bit of history to set the tone. The borough of Seaside Heights uses the tagline "Your Home For Family Fun Since 1913" because it all began in 1913. I won't go into the entire lineage of events that created the seaside attraction we know today, other than to say it happened rather quickly.
It was identified in what must have felt like a weekend that the new borough had the potential to be one of the most successful beach towns on the entire Jersey Shore.
Situated just north of the quieter yet equally picturesque Seaside Park, The Seaside Heights boardwalk has become legendary over the years. Some of it for the endless fun that can be had, some of it for being the centerpiece to the TV show Jersey Shore and even more for destruction and tragedy such as Hurricane Sandy.
And I was right there for much of it.
I have been spending my summers here from when I was a toddler in the late 70's & 80's all the way through to walking the boardwalk with my children. I know this place like the back of my hand, and its essence is quite literally a part of who I am. I'm gonna give you everything I know.
So let's get to it.
Hurricane Sandy
It's difficult to begin without setting the landscape for what you will experience in today's time. I'm sure you've all seen that famous picture of the roller coaster sitting in the ocean.
The one that fell off the end of the pier right into the waves of the Atlantic. Well, that happened right here at the Casino Pier in Seaside Heights, NJ.
Hurricane Sandy ripped through this place like no other natural disaster before, and it affected my family in ways we never thought possible.
Half of my Grandmother's house in the bordering town of Ortley Beach slid right into the Bay. My brother-in-law's restaurant and the bar were closed for over a year as they cleaned up the destroyed houses, debris, and 4′ of beach sand from the roads.
A long period of rebuilding took place, and the boardwalk was no exception. Almost 100% of the boardwalk you will walk on today has been replaced since the day Hurricane Sandy sent the ocean waves ripping the original boardwalk from its supports.
It affected us all in so many ways, not least because our memories were torn from their supports in a similar fashion as the boardwalk.
The pier, a huge part of my childhood, was cut in two with a large chunk of it, and its rides sent tumbling into the Atlantic Ocean. Never to be ridden again.
The Casino Pier does not look the same as it did for most of its existence. Rather than rebuild the pier in the same way that jutted far out over the waves, the burrough built it wider, running parallel to the ocean on the beach sand.
This will hopefully protect the pier from future storms, but if I'm being honest, it's taken some getting used to.
Casino Pier and Breakwater Beach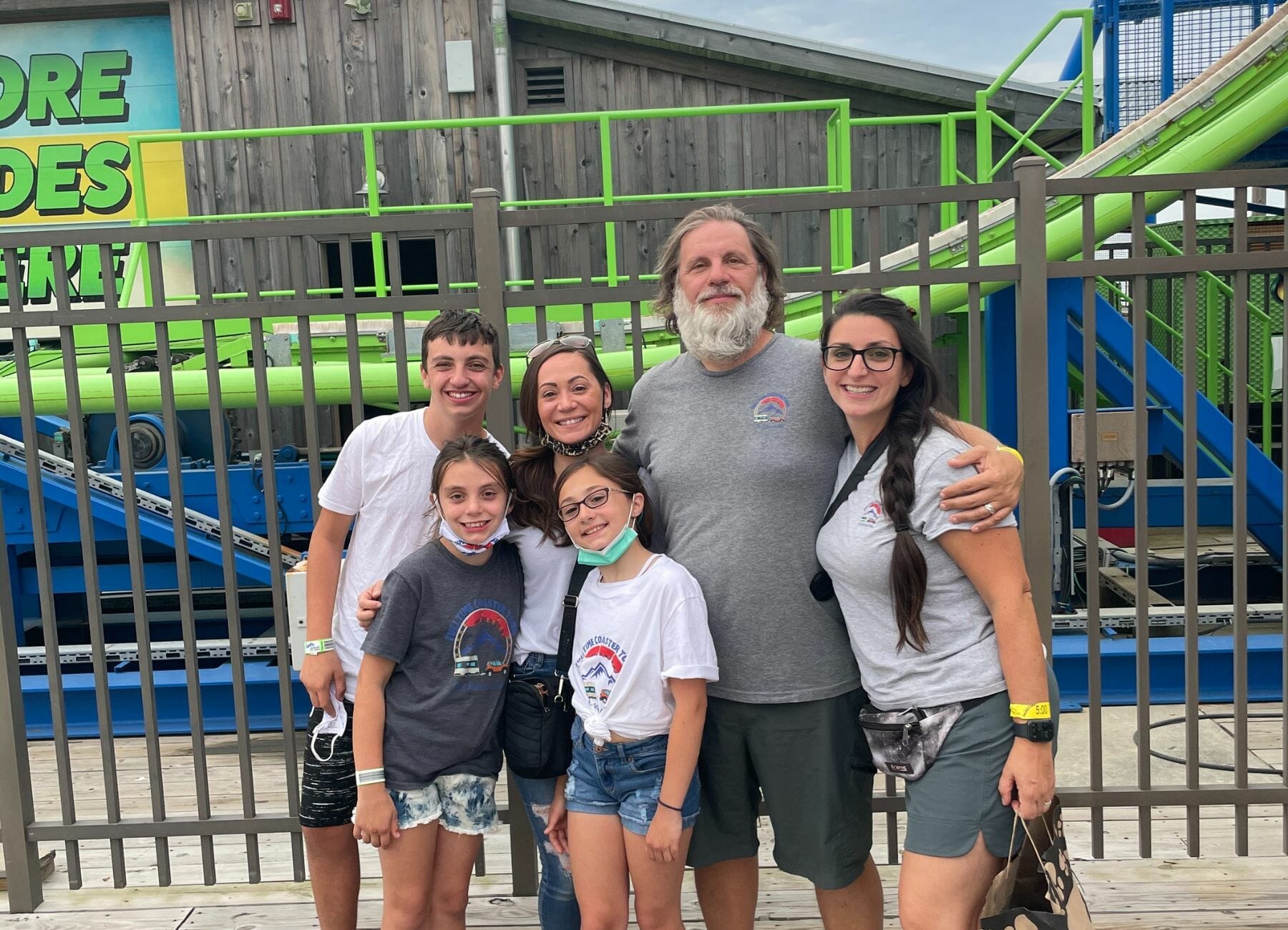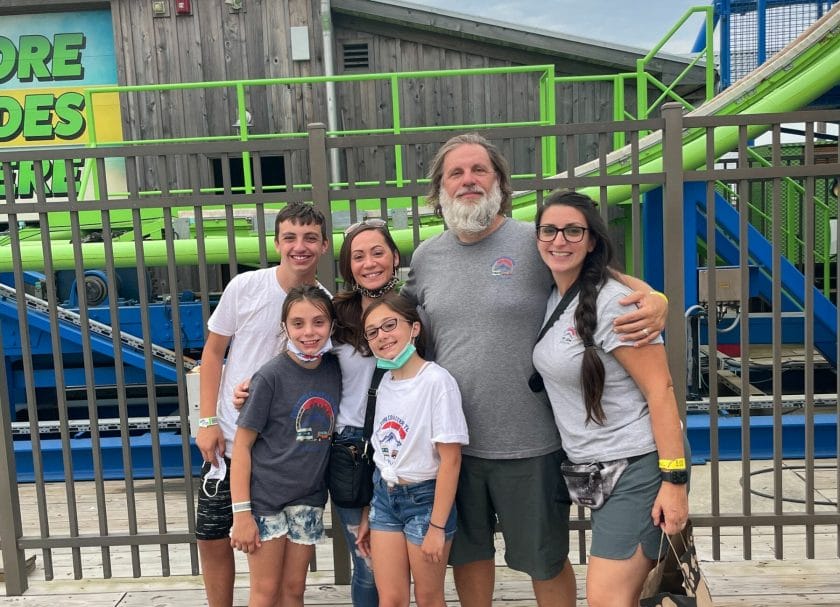 I'm going to break this up into two main sections for you. The Casino Pier section and the Breakwater Beach section. They are right near each other, so it's not that we're talking about two different places per se.
It's just that it's likely you will consume yourself with one OR the other on a given day on the boardwalk. I plan to take you on a little stroll through one of the more action-packed Jersey shore hot spots. I'll add some specifics that can help you maximize your experience.
The Casino Pier New Jersey is up first!
Casino Pier
Casino Pier offerings include an abundance of attractions to see and do. The energetic and literal epicenter of the town, this is where most families are heading when in the area.
Casino Pier Rides
Below I share about the rides on Casino Pier to help you know which ones you want to be sure to visit while you are here!
Hydrus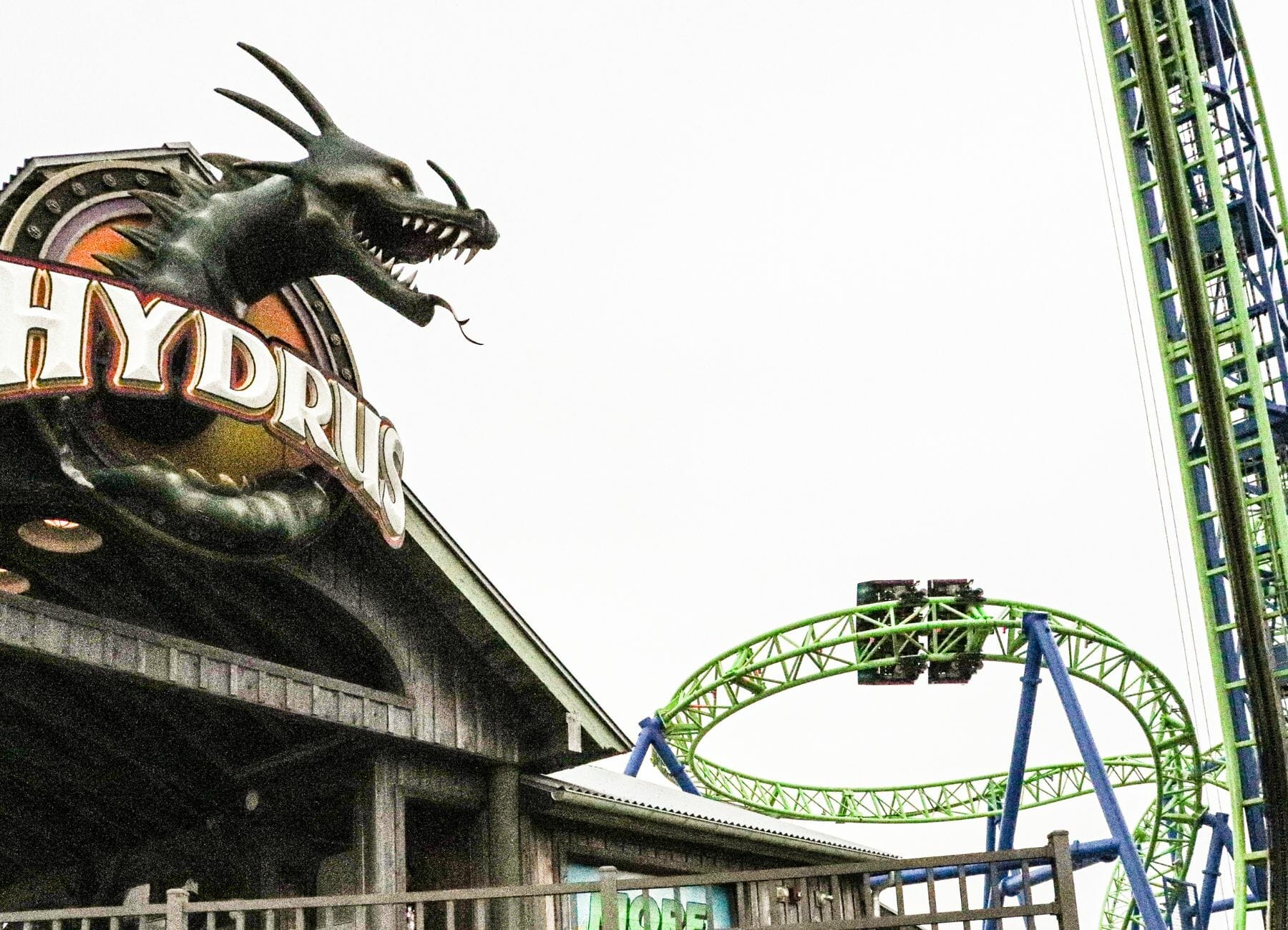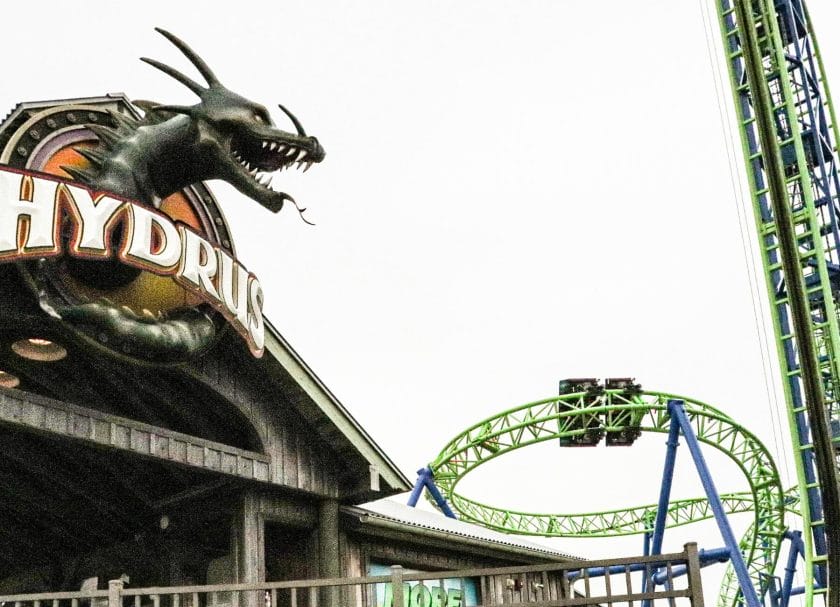 The roller coaster they brought in to replace the clunky old Star Jet coaster famous for its final resting place among the waves is of a totally different caliber. Seaside heights called upon world-famous coaster manufacturer Gerstlaur to install one of their most popular coaster models, a Euro Fighter.
The coaster, appropriately named Hydrus, just might be an ode to the devastating power of the sea. With its bright green color scheme and amazing lighting effects package at night, they wanted to make a statement with this coaster, and it has done just that.
Not the longest ride in the world; it's more about the power of the punch than how many it throws 'atcha.
Beginning with a 90-degree vertical lift hill, this is where most of the screams can be heard. Yes, the lift hill. Cresting the top, it drops you right into a beyond vertical 97-degree drop. This is followed immediately by a vertical loop which is pure joy or relief, depending on how you look at it.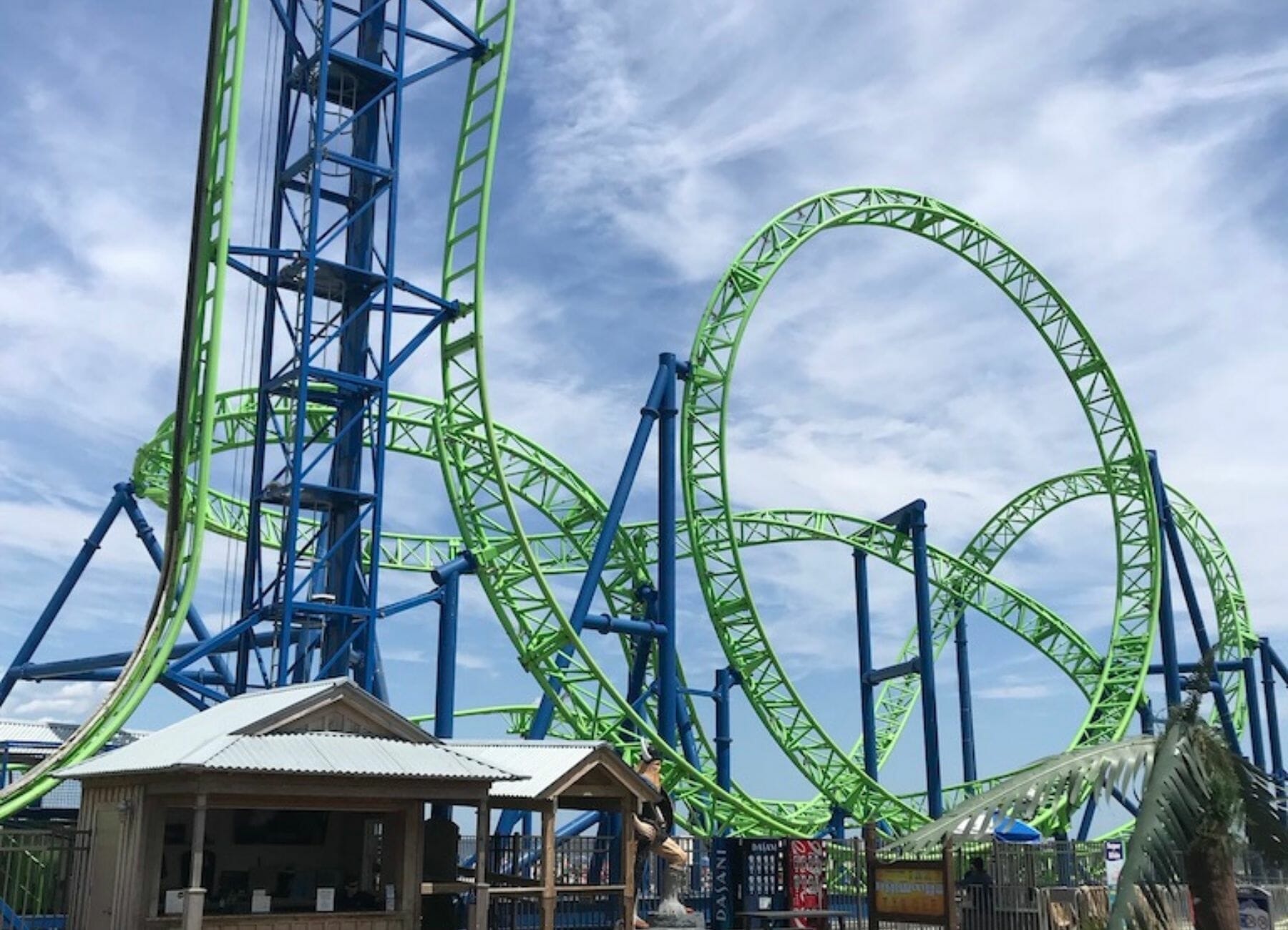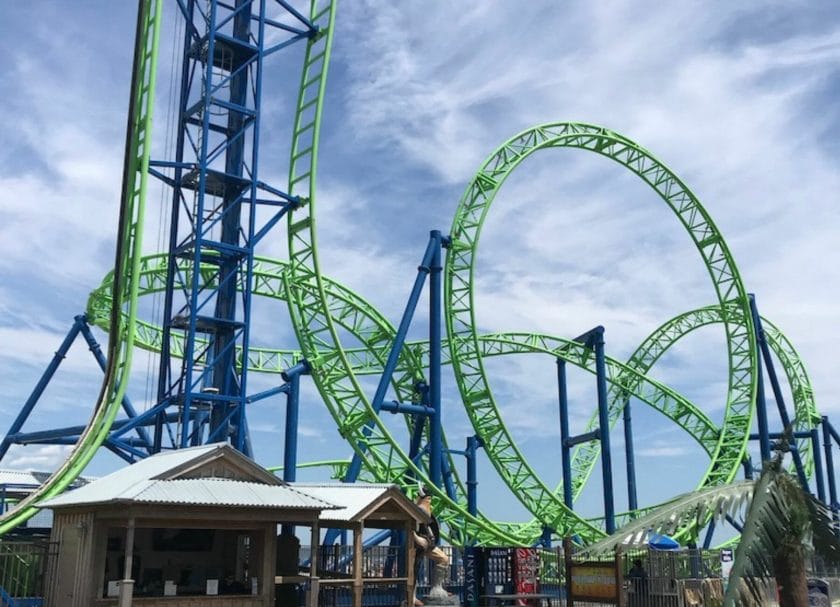 The coaster track then quickly takes you through a sharp cut back and directly into a heartline roll. Then… it's over. Pure intensity followed immediately and suddenly by the end.
I'm not entirely sure if this was by design or not, but if you stand by the brake run of the coaster, you will hear the same sentence over and over again. "I want to ride it again!"
For $5.00 per ride, if buying them individually, a couple of extra go-rounds on the coaster is easy to justify.
It might never have the same seaside pier coaster feel as its predecessors, the Jet Star, and The Star Jet, but it's an undeniable step up from the traditional quality most piers subscribe to when selecting their roller coaster model.
Pirate's Hideaway
While Hydrus occupies a portion of the new wider section of the rebuilt pier, there is another kinda famous coaster toward the back of the older section closest to the ocean waves.
This one is famous, or maybe more appropriately infamous, for being one of the worst coasters in the country. In truth, I'm always amazed to see that it's still there every time I go.
I don't want to throw too much shade at the poor little fella, but the Pirate's Hideaway coaster, built by Wisdom Rides, is almost as much fun to experience as some of the better coasters out there.
Replacing a long-standing coaster on the pier named Wizards Cavern, I guess they decided to retain the charm of a terrible coaster was better than just installing a better coaster.
I'm sure they have their reasons.
Extremely well-themed on the front facade, you think you're about to ride a really well-designed coaster with lots of great theming on the inside.
But that's not the case at all.
With its unique spiraling lift hill, the 4 person car whips through its initial drop and back around for its second drop, all through the front theming and right in front of the onlookers. At this point, anyone watching will think it's a slam dunk fun fest!
Then it takes a right-hand turn into the show building and away from the peering eyes of the crowd.
This is where it loses me and everyone else. So much potential for effects and fun inside that building, but nothin'. It's as if you are riding inside an empty and extremely rough storage container.
It beats you up pretty well in an empty and boring shell. Not a single pirate was hiding away in there.
If you stand next to the brake run on this one, you will rarely hear the same words you hear over by Hydrus.
But it's always been and continues to be a popular ride on the pier. Numerous coaster enthusiast YouTube channels have made the pilgrimage to the Casino Pier New Jersey just to experience this one. It's THAT bad!
You're gonna love it!
Centrifuge
Breaking away from the coasters for a minute will take us to another pretty unique ride. I've only seen this one in a handful of places around the country, but one variation or another has been on the Casino Pier since the late 80's.
The original incarnation, called The Poltergeist, Centrifuge, will be easily spotted by its bright neon sign at night, but it's just a square show building standing just south of Hydrus during the day. This one is fun, and everyone who can handle spinning rides should try it out.
Remember the old scrambler ride that seems to be at just about every single amusement park in the United States? Well, it's really just one of those. So what's so unique about it, you ask?
This one is inside an enclosed building with impressive lighting and sound system. The light show changes everything, not to mention some of the best air conditioning in town.
You strap yourself and your friends into the 'ol Scrambler seat, and then it begins. The lights go out, and it's pitch blackness.
The ride starts spinning, and you begin to feel it picking up speed. Then Boom! Loud music and a light show make the speeds feel like it's another ride entirely. It's definitely not just a Scrambler, and I highly recommend this one to everyone of all ages!
Ferris Wheel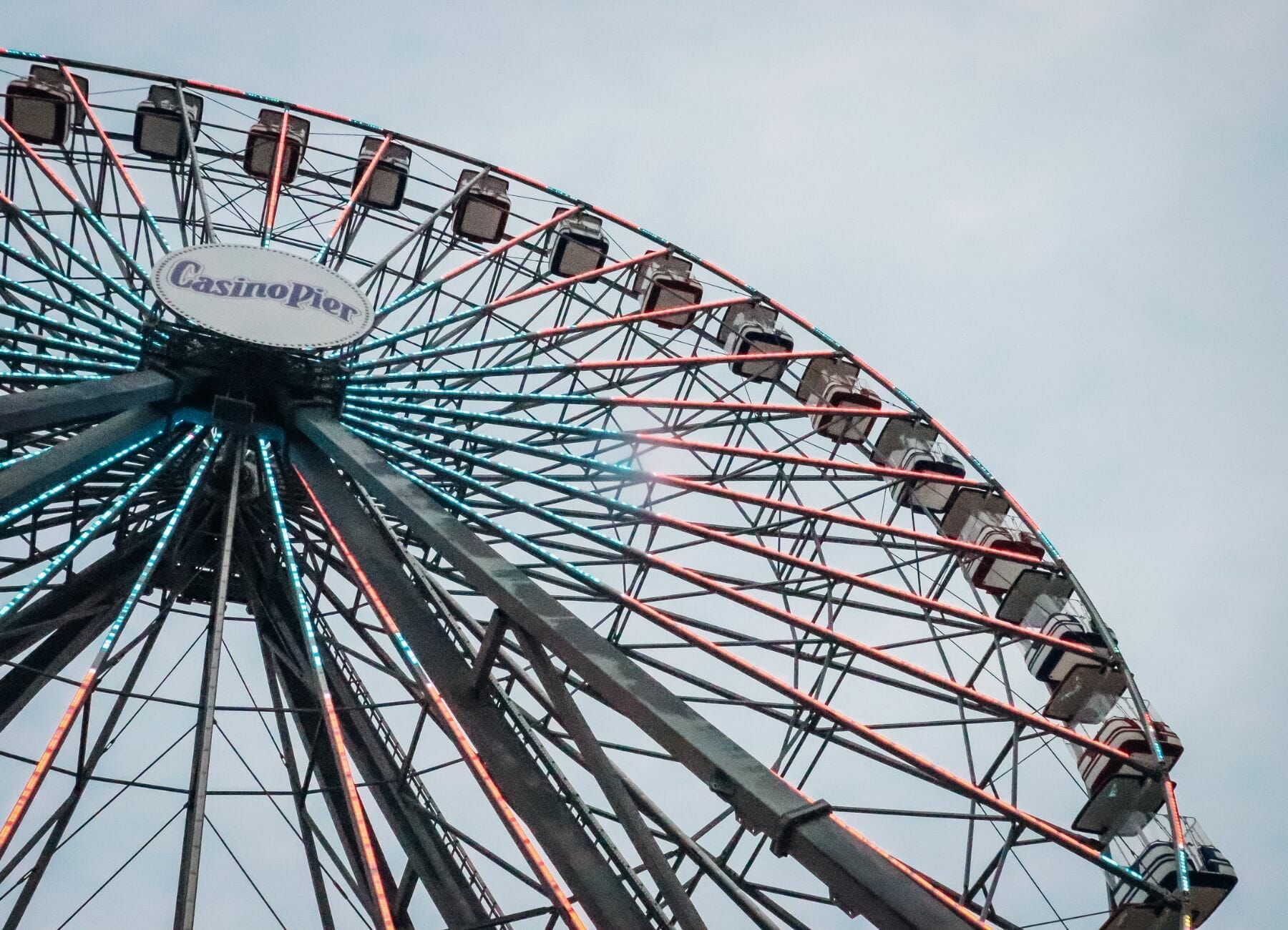 There is also a monster ferris wheel on this pier called… Ferris Wheel! Imagine that! The Seaside ferris wheel used to be located on the old Fun Town Pier (more on that later), but this 131′ new one is right here on the Casino Pier New Jersey.
In a similar fashion as Hydrus and Centrifuge, there was a large focus placed on the lighting packages for Ferris Wheel. It adds something to having bright LED lights that alter their patterns all night. It's beautiful and will inspire excitement from miles away.
The Carousel
Like so many amusement parks around the country, Seaside Heights has a historic hand-carved carousel. Housed in the Casino Arcade right on the boardwalk, the Seaside Carousel has been through its fair share of troubles and was very close to disappearing from where it currently stands more than once.
I remember my Uncle Lou, who lived on Freemont St. about 4-5 houses from the boardwalk, taking me over to the carousel as a little tyke. My Uncle owned and ran the shooting gallery and bozo dunk stands on the boardwalk, and it was a great pleasure to get dropped off at Uncle Lou and Aunt Phillie's house as a kid.
Both having passed on now (Aunt Phillie just this year at 98 yrs old), they had their finger on the pulse of the amusement side of town. They knew everything and everyone!
Uncle Lou's son Louis took me on my first-ever roller coaster when I was 8 yrs old, the Jet Star on this very same Casino Pier. The far superior predecessor to the Star Jet that famously fell into the ocean.
But there was always something special about this carousel. It does something to a little kid's mind.
The fact that Uncle Lou could walk me over and secretly get it to run before the Casino Arcade even opened in the morning might have something to do with it for me. Having this historic ride all to myself with its traditional Wurlitzer-style music was obviously a great memory for me, but it's more than that.
One of only a handful of Carousels that boasts many different famous carvers such as William Dentzel and Charles Carmel. Straight out of the golden age of trolley parks, this is not just one carousel but many. All in one place.
You can stop by the Casino Arcade and gaze upon it with your own eyes for free, or you can pay the small fee and climb on it with your little ones and take a trip back in time.
Small, I know, but I highly recommend this one.
Redemption Games and Boardwalk Games
Most boardwalks on the Jersey Shore have at least a few arcades. Some are bigger than others, and some are better than others.
Seaside heights had massive redemption arcades before they were even a thing. It's part of the DNA of the area.
Redemption games have become somewhat of the rage at arcades these days. You know, you can spend those chance and skill games where you win tickets (now points in many locations) at the prize counter?
Seaside Heights has been doing this since the early 50's with entire walls of ski ball and games with a metal broom pushing stacks of quarters right to the edge of a ledge. I can remember staring at the stacks of quarters as a kid. Just waiting for them to fall over the edge. They almost never did for me, sad to say.
Lucky Leo's Arcade
The big dog in town has got to be Lucky Leo's Arcade. Leo Whalen opened up the original location in 1953, and it still stands right there in the same spot today.
Lucky Leo's is somewhat of an easy landmark on the long seaside boardwalk with its larger-than-life purple sign. "I'll meetcha at Lucky Leo's" was a regular saying all throughout my childhood, and I couldn't wait to get there for hours of fun.
Coin Castle
While there are plenty of smaller arcades you can find up and down the boardwalk, Another one worth mentioning is Coin Castle. With its Medieval castle facade and its location at the geographic center of the over two-mile boardwalk, it's another easy place to find.
Having similar redemption-style games, shoot 'em up, and video games as Lucky Leo's, Coin Castle is one landmark that sticks in people's minds when they think back to their Seaside Heights vacation. It's just one of those places.
Which Arcade Prize Counter Is Best?
Obviously, personal preferences are going to come into play here, but it has been known for many years that the Coin Castle prize counter reigns supreme in this town. All prize counters will have wax lips and spider rings for the kids walking up with 5-10 tickets in their hands, but what about those folks who put in the time AND MONEY to get boatloads of points?
What they will get at the end of the day can be a motivating factor in which arcade they spend the day. Coin Castle has been known for years to give a bit more quality at the top end of the prize ladder.
I can still remember staring at that real Fender guitar I saved up tickets for back in the day. Now, it will look more like an Xbox or Virtual Reality goggles, but the sentiment will be the same for the kids today as it was for me with that guitar way back when.
If I could only choose one prize counter, I have to say it would be Coin Castle.
Where to Eat
There are so many different places you could stop off and grab some good boardwalk food in this town, but I'm going to focus on two true Seaside staples in this article.
Midway Steakhouse
What used to be dead smack in between the Casino and Fun Town piers is the Midway Steakhouse.
The only non pier business that's right in the middle of the boardwalk as opposed to along the sides like everything else. The Midway Steakhouse has a spinning bright yellow sign above it that is just about impossible to miss.
Add to it the 3′ tall bright yellow lemons all around the building, and you'd have to be sleepwalking to slip past this one.
The Midway has all the Seaside specialties such as cheese balls, fried oreos, and funnel cake, but it's really about the Steak and Sausage here!
You will see cheesesteak and sausage & pepper spots every 20′ on the seaside boardwalk, but none have the charm and attitude of the Midway. These guys (and girls) are pros. It's all they do, and slapping super thinly cut REAL steak onto a bun with onions & peppers, and even mushrooms take all of 5-10 seconds.
The weird wrinkle which might even turn me off in other scenarios is the cheese. It's not slices of cheddar or anything like that. It's Cheese Whiz, if you can believe that. Cheese Whiz! Large #10 cans of bubbling cheese are heated right next to the pier grill, and they quickly grab a large dollop of the cheesy goo to coat your steak sandwich with.
Now, it's not necessarily a small sandwich, but it's always been about a 2 biter for me.
Note: Getting cheesesteak juices down your arm is normal and almost expected. Don't be afraid.
Another tip about the sausage and peppers is to try it with the marinara sauce. It's a bit different from a sausage and pepper sandwich, but it's the goods. That makes it the seaside legend it has become.
They will have all of your favorite Coca-Cola products available, but don't mess around with the boring every day when stopping by the Midway. Go for the freshly squeezed lemonade and get the whole Seaside Heights experience!
The Sawmill
If The 2012 hurricane wasn't enough, while they were rebuilding the 2.1-mile boardwalk, a massive fire broke out in this section of the town on September 12, 2013. This was a kick to the gut for an area that was just putting the finishing touches on a long year of hard rebuilding work.
One of my brother-in-law's restaurants burned down in that one, and I thought some of our most beloved businesses and attractions were doomed to throw in the towel. They had to aggressively tear up the newly installed boardwalk just to stop the fire from spreading further.
One of the businesses I thought I'd never see again was the world-famous Sawmill. This is a solid restaurant on the boardwalk that serves sandwiches, salads, seafood, and wings, but they are famous for one thing and one thing only.
The 27″ Jumbo Pizza Pie!
We would make the trek to the "other side" of the boardwalk just to hit this place up for their daily special, which seemed to remain for decades. When I was a kid, we got a 14″ slice of pizza and a 12 oz coke for $2.00.
Sure there are plenty of amazing pizza joints on the boardwalk. 3 Brothers from Italy, just to name one, but the Sawmill is a special place. That slice! You gotta see it!
The full pie itself is almost comical to watch them make. It seems like some sort of food challenge item.
27″ might not sound all that huge, but when you realize large pies are traditionally 16-18″, we're talking almost another foot wide here! Another whole foot of pizza on top of a large pie!
To be transparent, the pie is a little thinner than most Jersey pizzas, which can be on the deliciously doughy side, but it's definitely worth the walk down to the Sawmill. Sadly that $2.00 deal is a thing of the past but grabbing a 14″ slice for $5.00, and a full 27″ pie for $30.00 isn't what I'd call terribly expensive for the area.
It's worth it to try this Seaside Heights staple tradition!
Dessert Foods & Sweets
When ripping through the Seaside Heights boardwalk, you're going to want to get a taste of the sweet side. There are a few definitive recommendations I can make for you to help you experience the area's unique flavor.
Zeppoles
First will be the Zeppoles. What? Yep, Zeppoles. An Italian version of a beignet that reigns supreme in Seaside. Sure, you can go with the funnel cake, but we can get those at any carnival.
Settling in and going with the Zeppole is not going to disappoint. I promise! A little pocket of fried dough covered in powdered sugar is the traditional treat thousands enjoy each year on the boardwalk.
We recently made it down to the legendary Cafe Du Monde in New Orleans, LA, this past year. My first thought while taking the first bite was, "This is almost as good as a Zeppole!". That's what I'm talking about!
Salt Water Taffy
The second treat I'm going to all but insist you consider grabbing is a box of salt water taffy. I've had it up and down the Jersey shore, and for some reason, I always come back to Seaside Heights.
The chewy treat comes in boxes of assorted colors and flavors. It can be easily taken home to enjoy later and keep the spirit of your vacation alive a little longer! I think I ended almost every summer with a box of 100 pieces of salt water taffy. We would gnosh on it for a month into the fall.
My favorite spot for salt water taffy is undoubtedly Berkley's, right on the boardwalk. A little ways north of the pier, Berkley's has been there since the 60's. It was always a staple on my trips down to the shore.
The sweet shop not only has the taffy many have come to love but has all the fudge, chocolate-covered pretzels, and candy apples your heart could desire. It's a true gem of an establishment and is still a family-owned and operated business. I am always happy to support local ran businesses.
One more recommendation for Berkley's would be the caramel apples. I always get mine covered in chopped peanuts, and it's another staple of my childhood that I relish with joy! You won't be disappointed!
Kohr's Frozen Custard
The final sweet treat recommendation is going to make me sound like a broken record. If you've happened upon any of my other blogs for Crazy Family Adventure. But I must tell you where I had my first ever Kohr's frozen custard!
Kohr's!!!
Kohr's was born in Coney Island, NY, way back in 1917. Two dairy farmer brothers had a gas-powered ice cream machine they wanted to put to use. They tinkered with a recipe and took the show to the world-famous Coney Island boardwalk.
After selling 18,000 cones the first weekend they needed a solution to the hot salty ocean air melting the ice cream too quickly. They added eggs to the mixture, and voila! Born was a smoother, thicker, and creamier frozen custard we now know as Kohr's!
I can still remember the exact stand where I had my first Kohr's chocolate and vanilla swirl soft-serve custard! It still stands right where I had that first taste, and I recall the moment every time I see it.
Right at the entrance to the Casino Pier from the boardwalk you will see it. It's the very Kohr's stand I know and love so well.
I make this recommendation with utter confidence and pride. Be sure to include a large cone of either the chocolate and vanilla swirl or maybe even sample their world-famous orange cream swirl before you leave this town! You won't regret it. It's better than ice cream! Who knew that was even possible?
Don't forget the Jimmies! You'll know when you get there!
Breakwater Beach
What would a summer vacation area be without its waterpark? I think it might be written in the Jersey Shore town ordinances that at least one waterpark is required before they can call it a vacation destination!
Seaside has long had its waterpark options. From the legendary Rainbow Rapids and Splash Down in the 80s-90s to Water Works in the 2000's, water slides were always a thing down here!
Breakwater Beach is the newest incarnation of the waterpark in this area. Occupying the same lot as Water Works did previously, Breakwater Beach is just opposite the Casino Pier. It makes for somewhat of an entertainment megaplex right there on the boardwalk!
Breakwater Beach is also connected to Smugglers Quay, an 18-hole miniature golf course, and the Seaside Speedway go-kart track!
Buying Tickets
If you want to ride the waterslides on a hot summer day and that's it, you can buy an all-day pass. This might be a great idea unless you want the day to continue right in the same area of the park.
You can also link up with the other two attractions on the site. Plan to spend just about the entire day right here!
Breakwater Beach is also connected to and follows the same credit system as the rides on the Casino pier. Physical tickets are no longer accepted. A little forethought on what you want your day to look like can go a long way. Let's take a look and try to give you a head start on this one.
The basic price breakdown is as follows:
** Always check their official site for the most recent prices **
$43.00 Breakwater Beach All-day Pass- Over 48″
$37.00- Breakwater Beach All-day pass- Under 48″
Triple play- Admission to Breakwater Beach, 18 holes of Miniature Golf, and Go-Karts
$57.00- Adults
$53.00- Children
All Day Ride and Slide admission to the Pier rides and Water Park
$75.00- Over 48″
$69.00- Under 48″
$40.00- Seniors
Please Note:
You will be required to pay a spectator fee if you just plan on being the den mom of sorts. To enter the water park, you will need to pay the admission prices.
$38.00- Spectator
FREE- Children under 2 yrs old
You can save a little money coming after the midday rush as well!
Twilight Pass – After 3pm
$33.00- Over 48"
$28.00- Under 48"
$23.00- Seniors
There are myriad combinations and packages you can choose from or create yourself, but this guide will give you the general outline of what to expect price-wise.
It's a good time, and buckling down to spend the whole day in this area could be a good bet to save some money. Fill an entire day with fun for the whole family!
Fun Town Pier & Seaside Park
We will only be digging deep into one pier in this article. That's because the other one, the Fun Town Pier, never made it back after Hurricane Sandy. It still bears mentioning in order to fully describe the southern end of the seaside boardwalk, though.
The Fun Town Pier was interesting. Seaside had sort of a dueling pier system for many years. The southernmost pier was the one that had the huge log flume, looping roller coaster and kiddie rides on it. Casino Pier had the larger collection of "big kid" rides.
Most visitors would walk down to the "other" pier just because of that log flume. It was very big for a boardwalk pier. For a single fee they gave you two full circuits around the course.
We would always sit backward for the second trip around the course. That always added something special to the flume ride.
The pier never made it back from the hurricane, and many people, myself included, are still sad about it.
There was a roller coaster on that pier, Looping Coaster, which fell into the ocean as well, but not as famous as the Star Jet's photogenic position among the waves.
There's no huge pier filled with roller coasters or log flumes on the south side anymore. They have replaced some of the kiddie rides at a section called Park Amusement Rides. Just a few kiddie spinners which could help pacify the kiddos while I'm walking you down to an important food spot.
Where To Stay
Seaside Heights has no shortage of places to spend the night. From hotels to motels, to resorts, and even apartments and houses to rent. You can even rent the official "Jersey Shore House," which was where the cast lived during filming.
But you have to be careful and deliberate with your choices in this regard. Seaside Heights is uber-famous as a popular party spot for teens and 20-somethings. That's all well and good, of course, but if you are traveling with younger children, this is an element you should seek to avoid.
Tip:
Don't stay on the boardwalk unless you are seeking the nightlife aspect of Seaside and Casino Pier. Sure, taking the kids to the boardwalk and pier at night is a must. You will want to leave the party behind when you see little fists rubbing little eyes at night.
It's not that you can't find wonderful spots to stay in the center of town. If you do, you will be in extremely close proximity to the noise and hoopla of the night. The looooong and late night!
My advice is to seek lodgings in either Seaside park on the south side of the boardwalk or Ortley Beach on the north side.
My family has owned houses in the Ortley Beach area since we were kids, and the decibel level drops by half the moment you cross over the border. I always loved leaving Seaside behind to get a good night's sleep in Ortley.
You can get twice the accommodation space with multiple rooms for significantly less than a small room on the boardwalk will cost you in peak season. You are still mere steps from the beach in Ortley, and it's a much more enjoyable day with the kids in Ortley Beach than the sometimes overpacked Seaside Heights beaches. Trust me on this one.
Check websites such as VRBO, and you will undoubtedly find plenty of homes and sometimes even a yard or pool. Nicely kept, and everything you want is right there.
The proximity to all of the sights and sounds mentioned above are just a short 15 min walk or 5 min Uber ride away. You will not regret this move. It gives you the best of both worlds and could make all the difference when it comes to a Casino Pier-centered vacation.
Here are a few of our recommendations:
VRBO
Bright and Airy Condo – Walk to Ortley Beach
Check out this Bright and Airy Condo when you are looking for a vacation home where you can walk to Ortley Beach and other area attractions. This 2 bed, 1 bath house is sure to make your trip to the Jersey Shore more enjoyable.
Luxury Ortley Beach House
When you're looking for luxury, look no further than this Luxury Ortley Beach House. This house is within walking distance to the beach and even has a garage under the house to protect your vehicle from the saltwater air.
Hotel
Hershey Motel
Hershey Motel in Ortley Beach area is only 1,000 feet from the beach and offers a large outdoor pool and restaurant on the property. You will enjoy the convenience of the location when planning a beach vacation near Casino Pier.
Sunrise Motel
Although this is an older motel, the location is great when you want to be in the excitement of the area. Sunrise Motel offers clean and comfortable accommodations and an outdoor pool to enjoy.
Picking The Right Place For You To Stay
In Ortley, you're also closer to Point Pleasant and Jenkinson's boardwalk as well which is only about 20 minutes north (depending on traffic). This could be a double whammy of a Jersey Shore vacation with the kids this year! Point Pleasant is significantly smaller than Seaside Heights, but it could be a nice addition to the trip if you're staying in town for a week or more.
For more information on Point Pleasant, check out my blog article on all that Jenkinson's has to offer as well: Jenkinson's Boardwalk NJ (What To Know When Visiting)
When it's all said and done, Seaside Heights has a lot to offer. The area has obviously had an impact on my life. I truly believe it can have a similar effect on you and your family if done right.
Walking in blind can lead you to some not-so-nice and potentially frustrating ends. It's important to know before you go so you can have the best Seaside vacation possible!
I wish you a wonderful summer with splendid memories that will last a lifetime! With the Casino Pier at its hub!
More Info Check Out:
Top 5 Indoor Water Park New Jersey You Won't Want To Miss!
Top 8 Best Amusement Parks In NJ
Jenkinson's Boardwalk NJ (What To Know When Visiting)
The Best Summer Fun At The Wildwood New Jersey Boardwalk
Visiting New York City With Kids [Itinerary Included]
45 Places to Stop on Your Ultimate Vermont Road Trip
Ocean City New Jersey Boardwalk (Everything You Need To Know When Visiting)
Things to do in Cape May New Jersey
11 Things to do in New Jersey Plus Food You Don't Want to Miss!
Pin This Post: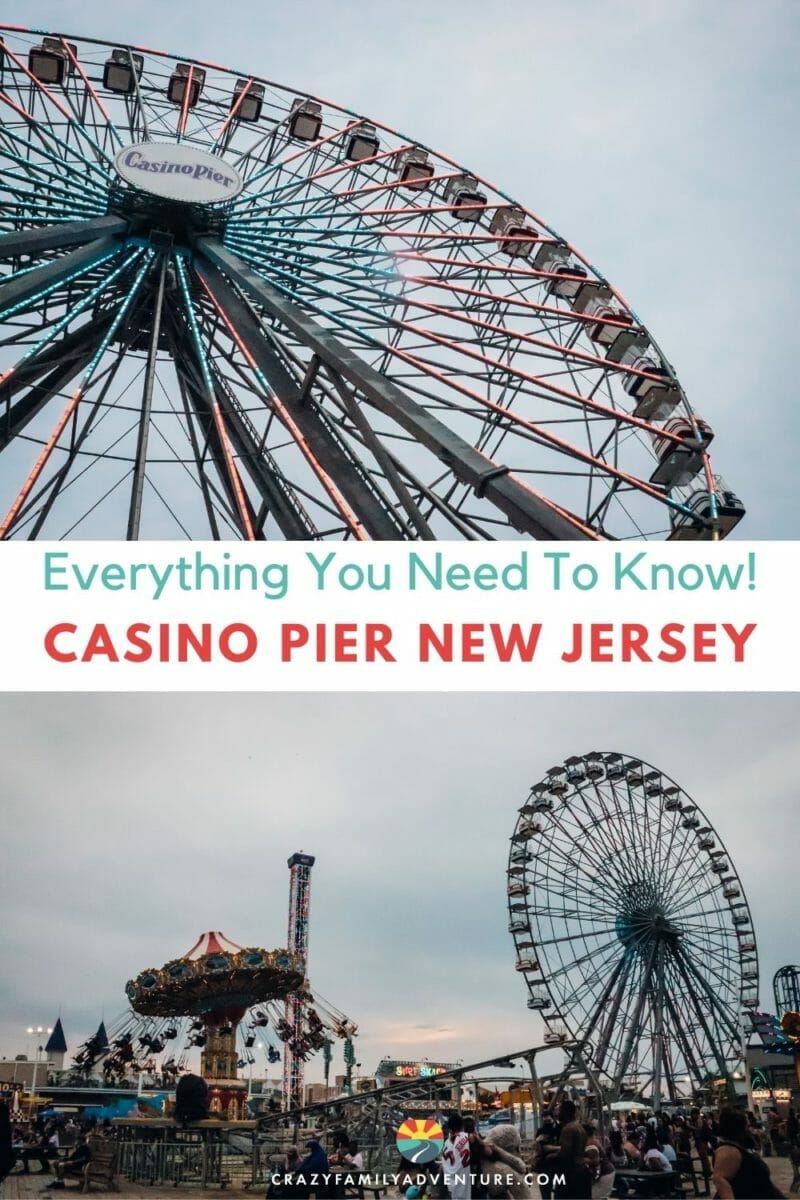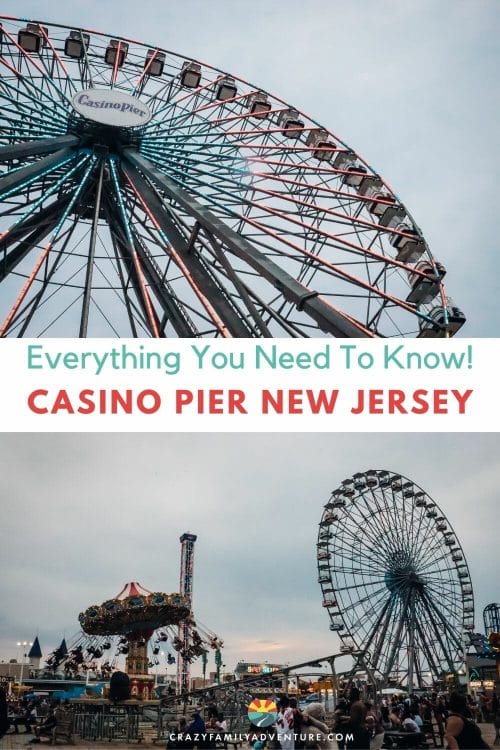 Latest posts by GreenBean
(see all)
DISCLOSURE: This post may contain affiliate links, meaning I get a commission if you decide to make a purchase through my links, at no cost to you. Please read my disclosure for more info.