Finding thrills year-round can be challenging if you aren't looking to head south, but you'd be surprised to find out that Amusement Parks In NJ (New Jersey) has got you covered!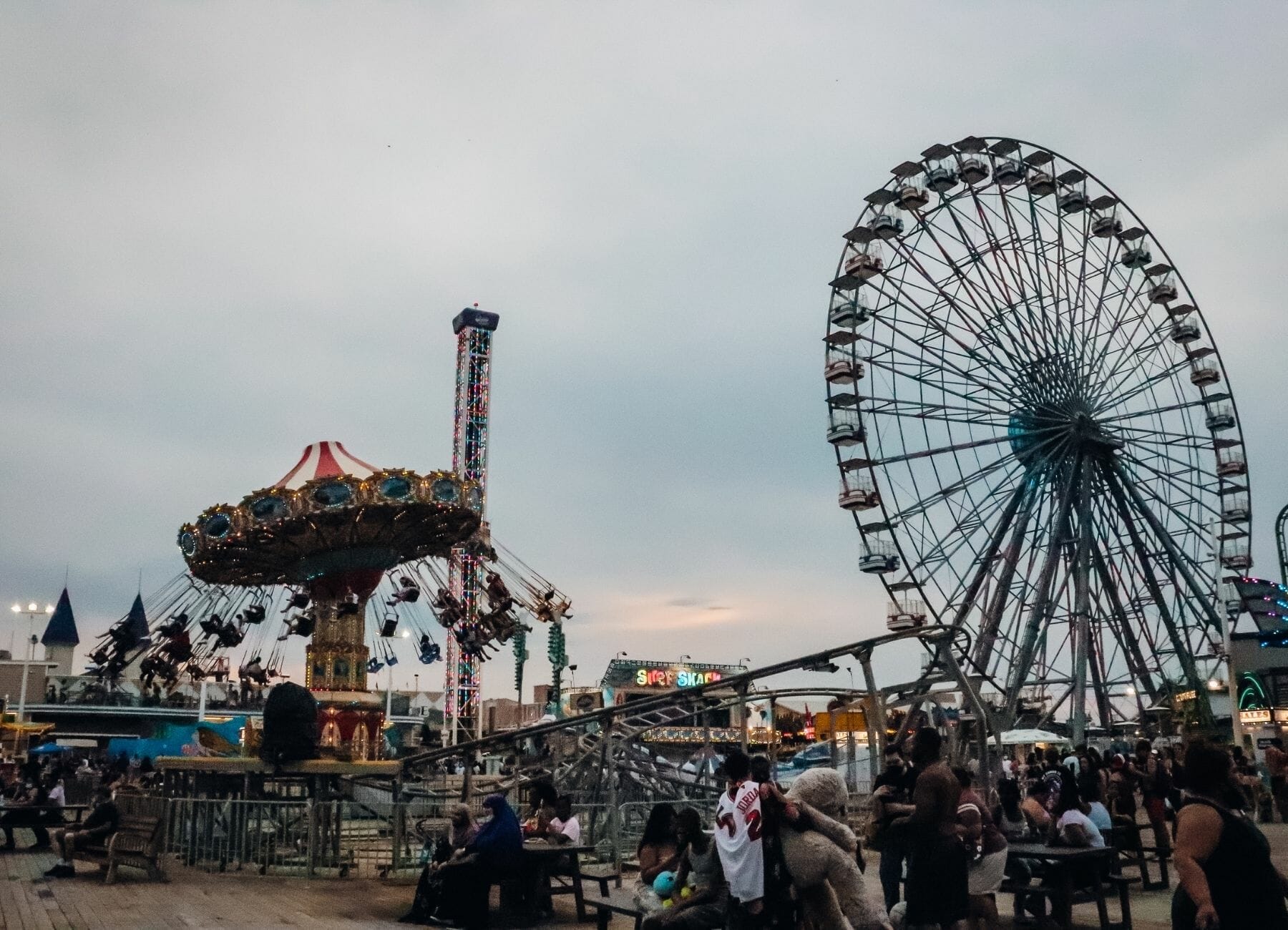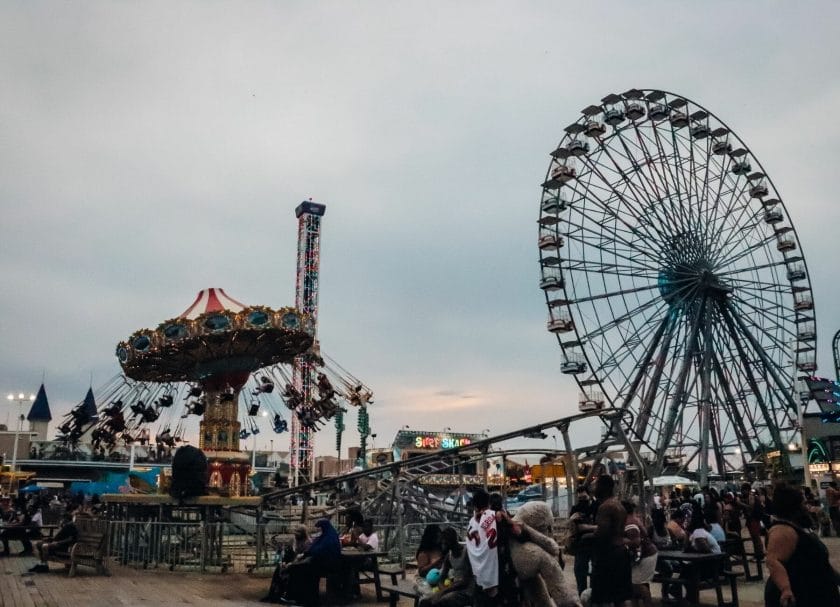 Not only can you find the outdoor theme and water parks like Six Flags Great Adventure and Hurricane Harbor, Storybook Land, Wild West City, and the rides and attractions down at the Jersey Shore like Casino Pier and Fantasy Island, but you can find legit indoor parks with rides including thrill rides, kiddie rides, and fun games.
The indoor venues iPlay America and American Dream are open year-round.
Here is a comprehensive list of fun Amusement Parks In NJ, from ferris wheels to wave pools, tilt-a-whirls to arcade games, laser tag to ice cream!
Six Flags Great Adventure and Hurricane Harbor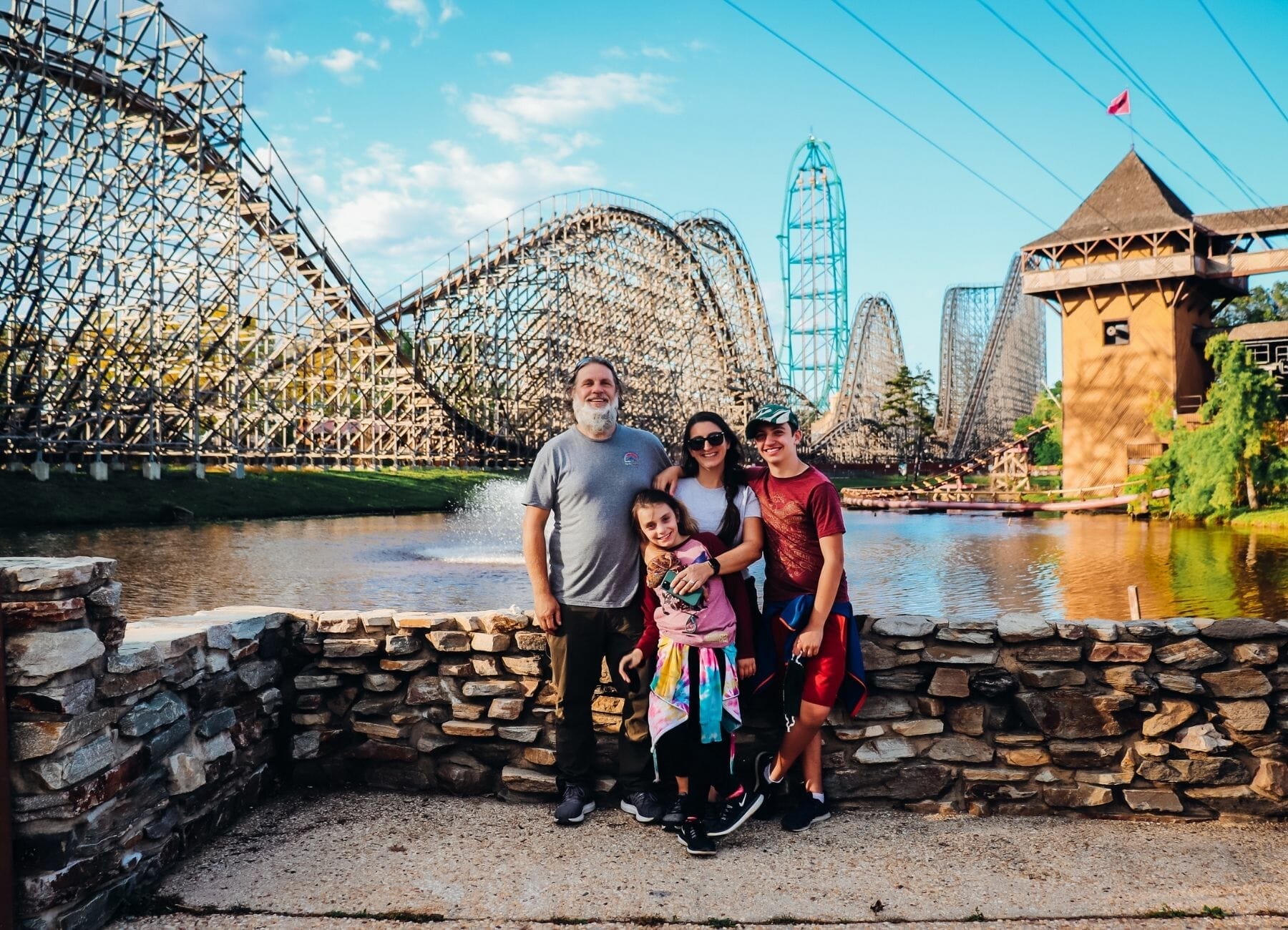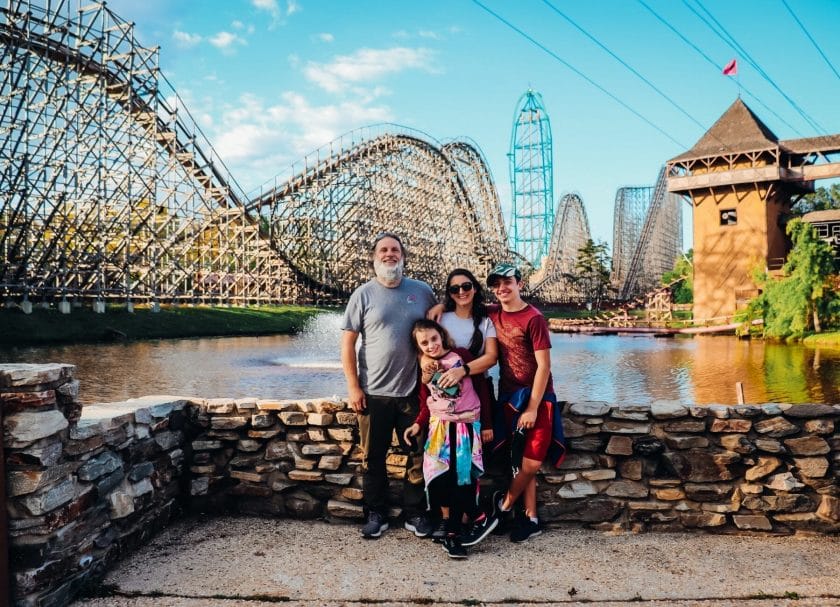 Since we're roller coaster people at heart, I think it's only fitting to begin our Six Flags Great Adventure story with one of the nation's true coaster parks. Boasting 14 world-class coasters is nothing to take lightly. Get out your notebook and add this park to the top of your list of amusement parks in NJ to visit.
Being tied with such parks as Kings Island and Hershey Park for the 6th most roller coasters in the world is something Six Flags Great Adventure is very proud of.
Before the 2008 financial crash, Six Flags had plans to make this park a true destination park. They invested boatloads of money into the aesthetics and theming along with some of the world's best record-breaking coasters. While it never ended up that way, we still enjoy what was completed at this massive theme park.
Kingda Ka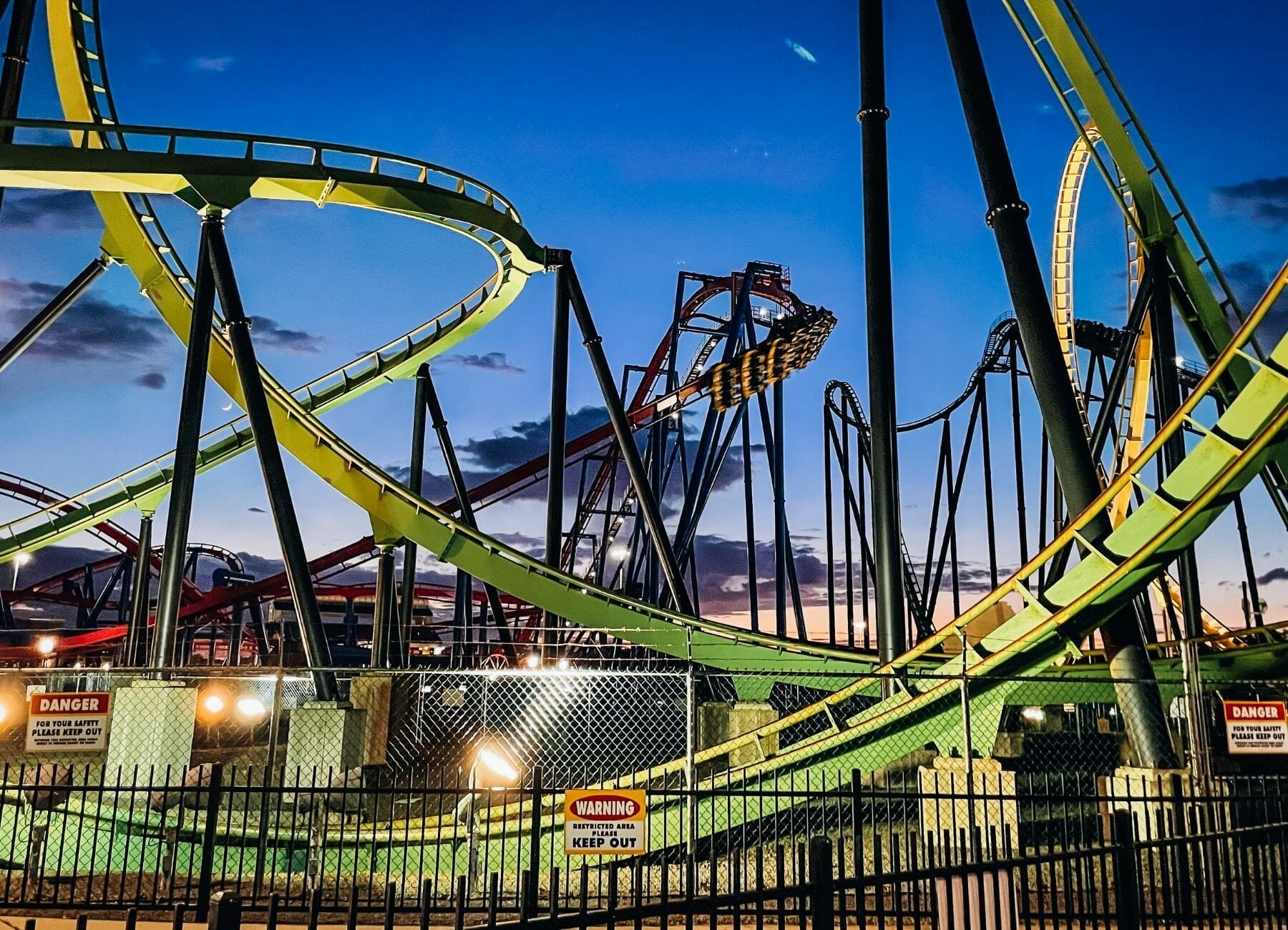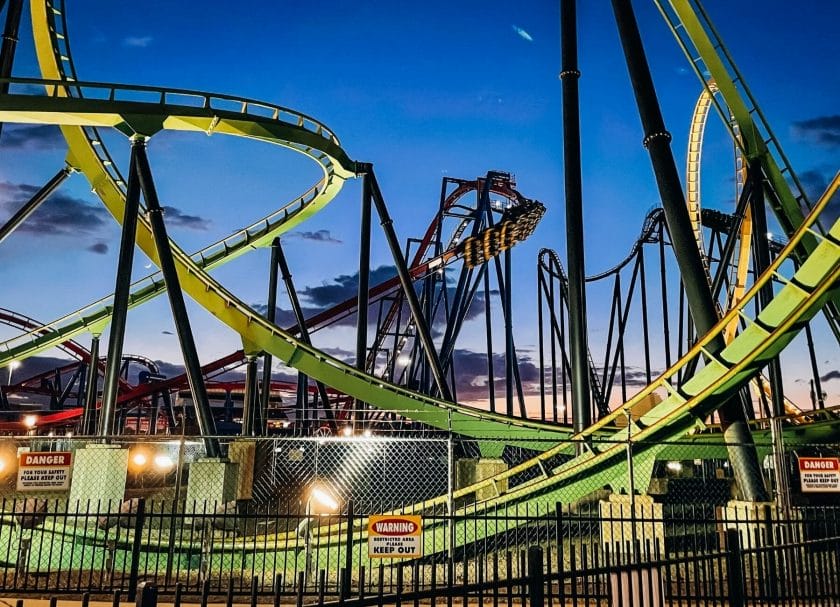 Let's just hit it hard and start right at the top. Did you know the world's tallest roller coaster was right here at Great Adventure? Well, it's true.
Kingda Ka was only the 2nd ever Strata Coaster (over 400 ft) ever built and beat the first one, Top Thrill Dragster at Cedar Point, by over 30′. This monstrosity stands at a whopping 456 ft tall and is the first thing you see when you pull into the parking lot.
If you aren't aware of its presence before you arrive, you realize instantly that you'd better bring your big girl pants into this place.
Also, when built (currently 2nd), the fastest coaster in the world takes you from 0-128 mph in 3.5 seconds. It's a difficult thrill to replicate outside of being a military pilot taking off from an aircraft carrier. If you're curious about what your face being peeled back over your skull feels like, this is the ride for you.
Even though it's not a roller coaster, we just can't leave the Kingda Ka subject without mentioning the ominous vertical orange tracks you'll notice within the Kingda Ka structure. This is the world's tallest drop tower (415 ft) called ZumanJaro.
I'm mentioning it because it's there, but it hasn't been operating much over the past couple of years. It had to do with the multi-purposing of the same structure slowing down the ride times on both rides. The coaster had to wait for the drop tower and vice versa. Whether or not it will be operating in the future is tough to say.
El Toro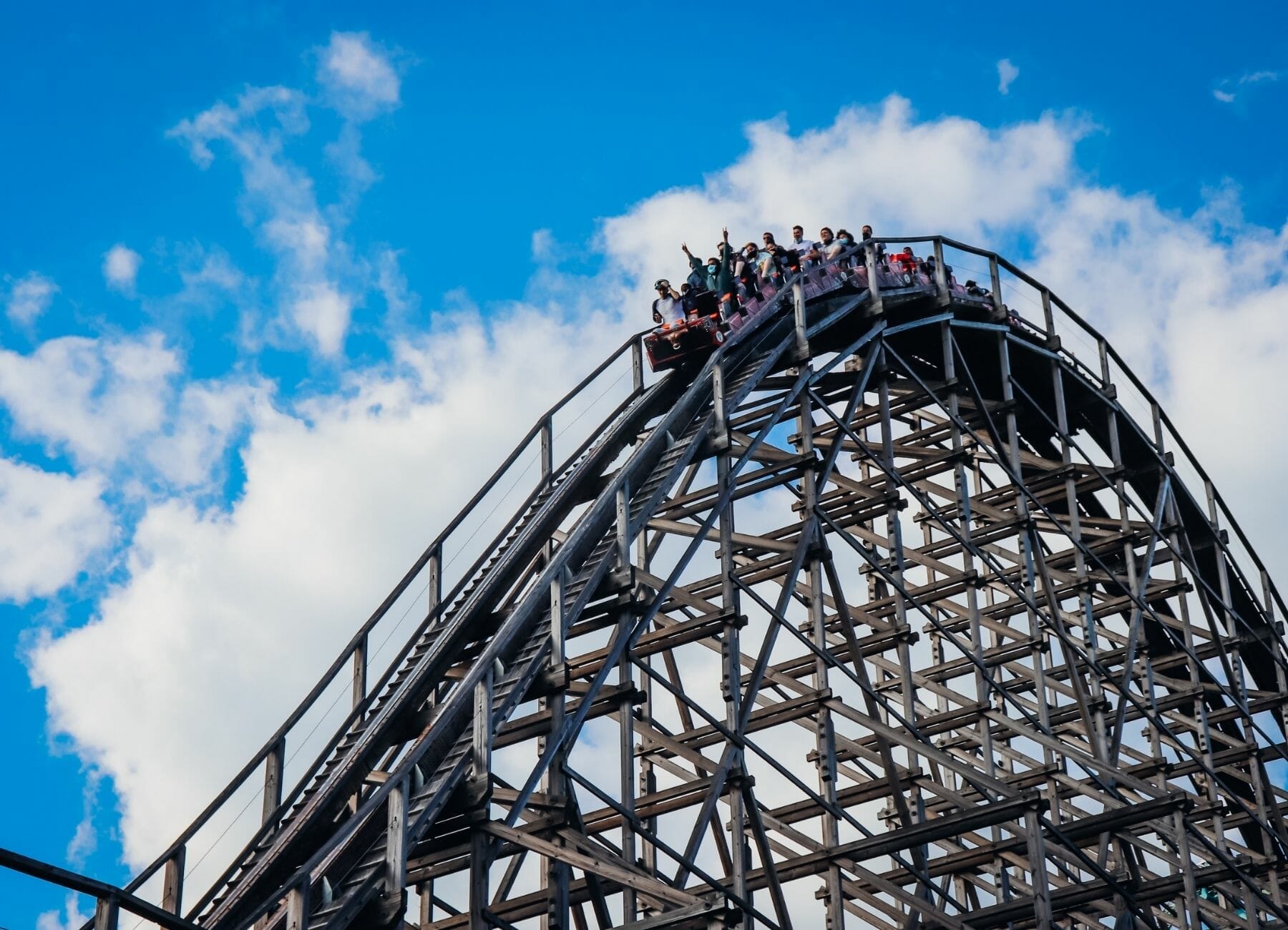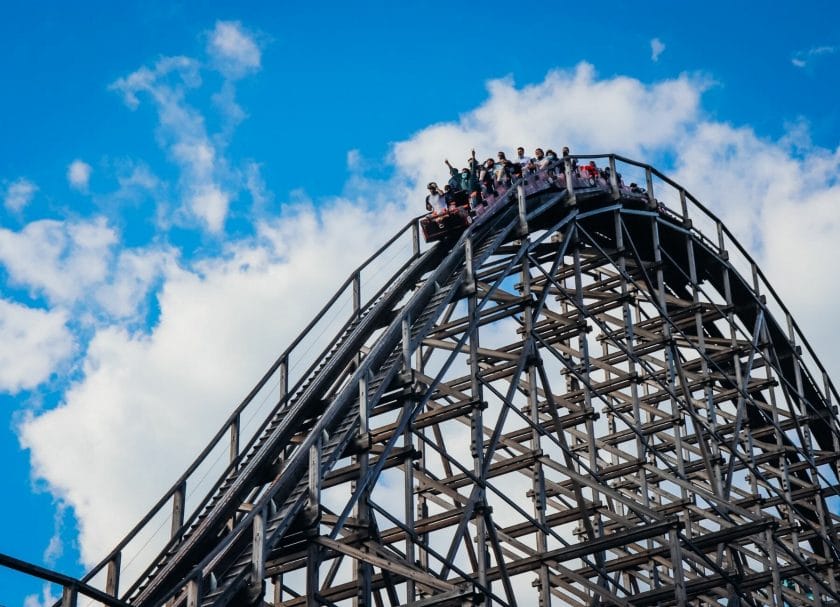 Standing right next to Kingda Ka is widely considered the best coaster at the park, and it is ranked among the top wooden coasters around the world. El Toro is another megacoaster that won the Golden Ticket award for the world's best "woodie" in 2012 and 2017.
Replacing one of Great Adventure's beloved classic coasters, Rolling Thunder, El Toro had a tough job combating the intense love most people had for the older wooden classic. Still, it only took a few seconds for anyone and everyone to realize the upgrade was very real.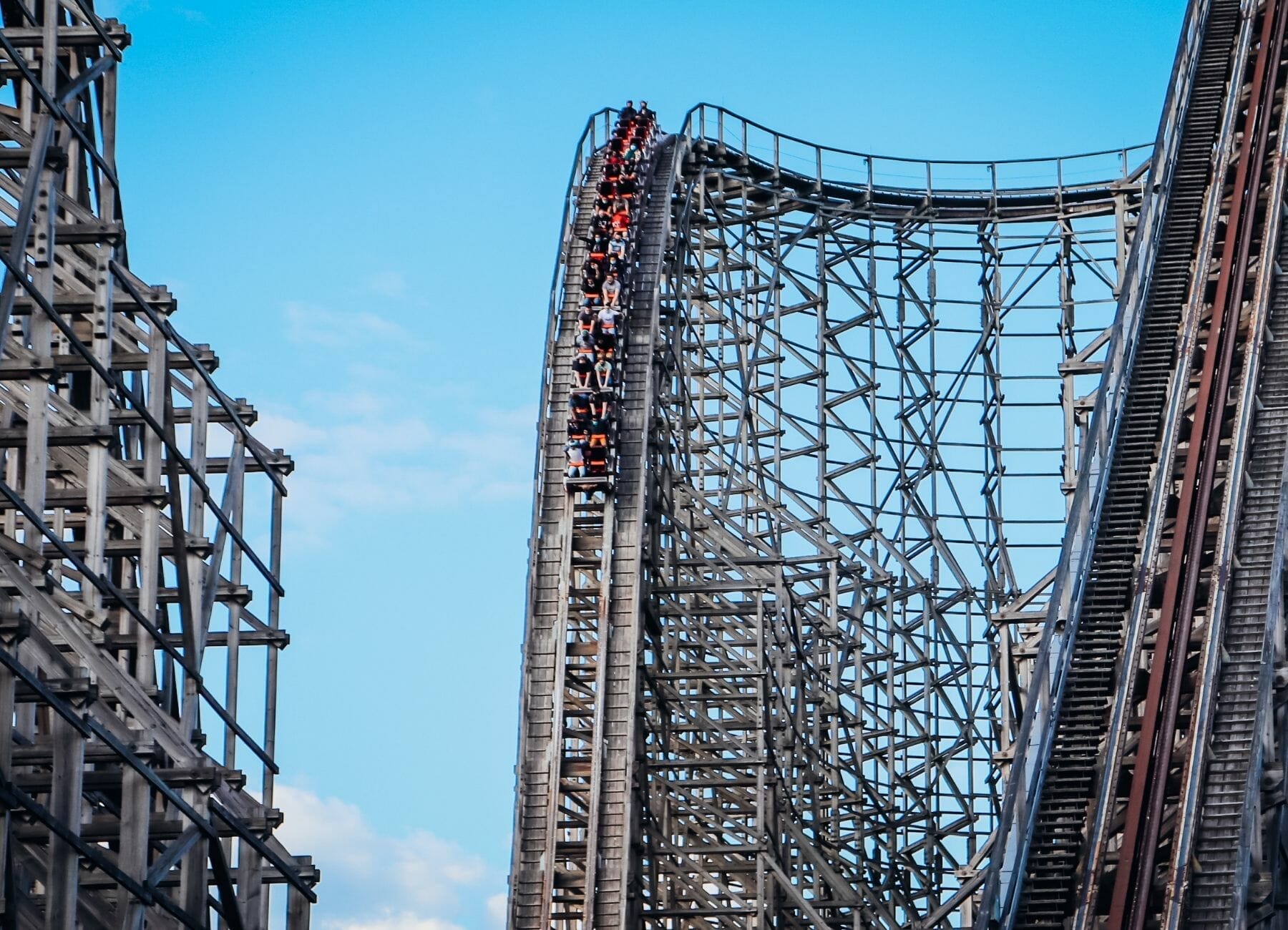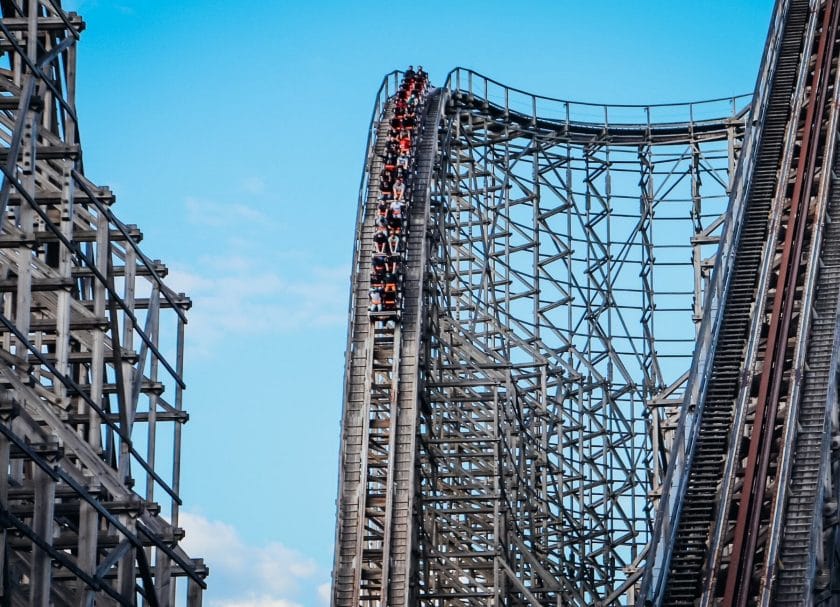 Beginning with the cutting edge cable lift hill, which takes you to the top of the 181 ft faster than ever before. It's actually before the first drop when your heart rate begins to quicken.
Jersey Devil
Great Adventure recently added another record-breaking coaster in 2021 as well. The very fitting "Jersey Devil" opened as the longest, tallest and fastest single rail coaster in the world. Its bright orange track offers a unique coaster experience that only a handful of coasters can offer presently.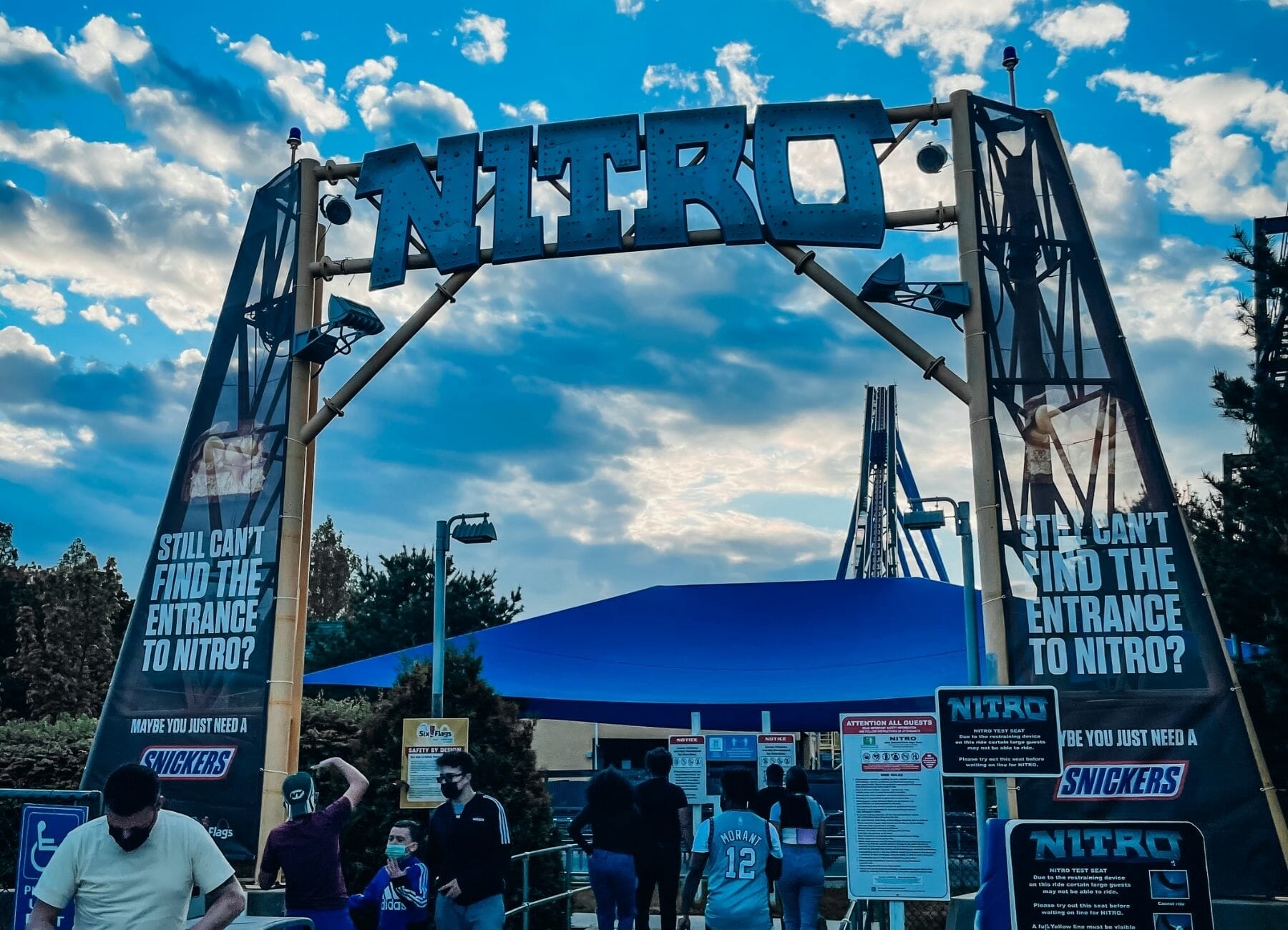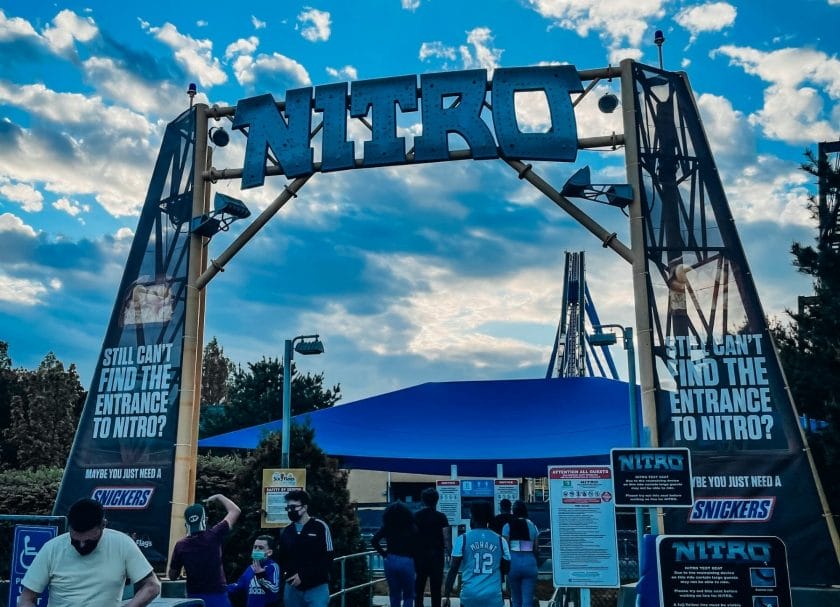 The coaster lineup also includes a stand-up coaster "Green Lantern," a flying coaster "SuperMan-Ultimate Flight," a Hyper Coaster "Nitro," an inverted coaster "Batman," the world's first-ever floorless "Medusa," and two dark coasters, "Skull Mountain" and "Dark Night," to go along with two kids coasters and a classic "Runaway Mine Train."
Drive-Through Safari
While I can talk about Great Adventure's roller coasters all day, that's not nearly all it has to offer. One of the most important pieces we let you on is the drive-through safari. One of the largest of its kind, the 350-acre safari was one of the park's main draws for decades.
A unique and cool aspect of the safari is the recycled usage of former ride pieces strewn about for the animals to climb on. At one time, we were screaming our faces off over a length of The Great American Scream Machine's track, but now the monkeys get to swing and climb all over it. It's a nice historical walk down memory lane, and it warms my heart a little bit to see that at least some of the classic rides escaped the scrapyard.
Another leftover aspect from the attempt to make this park a destination park is the animal attractions within the park. The Golden Kingdom section, one of the areas Six Flags invested in the most, has numerous exotic animal attractions and shows for the whole family to enjoy. This is right between El Toro and the world's tallest coaster.
It's not just a throw-in here. The safari and animal attractions are a huge piece of what they offer.
Kiddie Areas
We know this park has plenty to offer the thrill seekers and animal lovers, but what about the little ones? We have more good news. With over 20 rides specifically geared for the kids in 3 separate and distinct areas. Bugs Bunny National Park, Jr Thrill Seekers, and Fantasy Forest offer a variety, unlike many other theme parks.
We've found that it's very exciting for the kids to finish up in one area and excitedly walk to the other side of the park. There they find and explore a whole new land filled with exciting new attractions, unlike the area they just left. Great Adventure is, well, great in this regard.
Shows
Six Flags Great Adventure also has a reputation for great shows, with a full-size arena within its gates. I'll show my age a bit here by telling you we saw teen sensation "Tiffany" at the height of her stardom right here at Great Adventure back in the day.
Be sure to check their seasonal calendar to check which international acts scheduled dates at the park. What could be better than riding roller coasters all day and rockin' and rollin' all night at the same place?!
Hurricane Harbor
On the same property as the main theme park is their water park Hurricane Harbor. Carrying the same name as all Six Flags branded water parks, Hurricane Harbor was added to the park in 1997 and had some thrilling and fun water slides.
Embracing their inner "Jersey," slide structures such as "Bada Bing, Bada Bang, Bada Boom" offer thrills of a different sort than the dry park next door.
Hurricane Harbor offers everything you'd expect at a big named water park. Top thrill slides such as Tornado, a 60′ tall funnel slide, and Big Wave Racers, a mat slide where you can race your friends through twisting tunnels that open up right before a multi-drop speed slide.
This can be an absolute blast, especially when mom and dad can get to the bottom before the teens. (Keep your head low for maximum speed, dad!)
In 2016 the park made a major investment in the family aspect by adding "Caribbean Cove," a 55 attraction interactive water play area complete with a huge bucket that dumps gallons of water on your head every few minutes or so.
Their wave pool, a 696,000-gallon oasis, is a well-themed area with a pirate ship holding center stage while the whole family splashes and plays in the waves.
Most hurricane Harbor water parks are held to a certain standard, and this one is no different. It will offer a full day of fun in the sun and water with plenty to enjoy while there.
With the safari, water park, and massive theme park, you can easily see why Six Flags had plans to make this one a Disney-style destination park. If you have intentions of visiting and experiencing all they have to offer, it will certainly take a few days.
Tips
Kingda Ka has been known to close down throughout the day. It's a good idea to get this coaster in first if it's operating when you arrive.
The water park has had numerous complaints that it's too small for the crowds they get there. Planning to head there on a weekday, if possible, would greatly increase your chances of enjoying the day.
El Toro had an accident where the back car in the train separated from the track in 2021 and was closed as a result. If that coaster is a major reason for your visit, please check with the park to see when it will reopen before you visit. It would be a major disappointment to find it's closed when you arrive.
Many locals make a weekend out of their trip to Great Adventure and make sure to stop by the nearby outlets. If shopping and roller coasters are up to your alley, this area has got everything you need!
Storybook Land
Now that we've tapped into Central Jersey let's head south down to Storybook Land to visit more amusement parks in NJ. This gem is located about 20 min west of Atlantic City, close to Cape May and other popular South Jersey shore points.
This park is the perfect option for those of you with smaller kids. It's great for a "no-beach day" when staying at the beach.
Storybook Land has been a staple in South Jersey since 1955. Kyle, my husband, remembers going as a child and being in absolute wonder of the rides and attractions based on, you guessed it, classic children's stories and nursery rhymes!
Kiddie Rides
This wonderfully themed park has so much to offer its young visitors. The rides, including the Old Tymer's cars, Alice's Tea Time teacups, the J&J Train, and Bubbles the Roller Coaster, is catered to a smaller height and weight requirement, giving your littles so many options.
When walking around the park, you can't help but appreciate the amazing job at capturing the classic stories of the Three Little Pigs, Mother Goose, and Jack & Jill, just to name a few.
I would count on spending around 3 hours here. It's not a huge park, but that works to your advantage if you're trucking around one or more little ones. They can easily walk the park to feel like the "big kid" that they are.
Tips
I have heard the Old Tymers car line can get pretty long, so plan on making this one of your first stops.
Purchase tickets in advance online as they are more expensive than buying them at the park.
Bring a bathing suit! There is a small water play area where you can cool off on a hot summer day. There are no slides or huge water features, but the splash pads can definitely cool you down when you're feeling the heat!
Where To Eat
There are no famous treats here at Storybook land, but they do have snack bars throughout the park. If you or one of your party members has food allergies, the staff can provide you with a list of ingredients at your request.
You can also bring in your own picnic lunch. No outside commercial food is allowed, but you can bring your own meals and are welcome to picnic within the park. There are plenty of mature trees providing shaded areas and shaded pavilions to enjoy your meal.
Wild West City
We're going to take a moment to head west- not just west Jersey, but to the Old West! About an hour west of Manhattan in Stanhope, NJ, you'll take a step into Dodge City circa the 1800s.
Here folks of all ages can enjoy everything Old West, from stagecoach rides to living museums where you can tour replicas of an old saloon, a post office, bank, and sweet shop.
Live-Action Shows
The most exciting part of this park has to be the live-action shows. I've heard nothing but good things about these. You can watch hold-ups and shootouts just like in the wild days of Dodge City!
The guns used in the shows shoot blanks are the park is extremely diligent in teaching patrons about gun safety and firearm responsibility. But a note of warning: they are LOUD.
Stage Coach Ride, Train Ride, Pony Rides
You can get a feel for getting around the Wild West here, taking a ride on a stagecoach around town, or a train ride around the park. You may even run unto a friendly bandit or two as well!
The little ones can also head over to the Pony Corral for a pony ride. That's something that was always a necessity when the opportunity arose!
Gold Panning, Farm Animals and Minigolf
So the three of these might not go hand in hand, but they are all a rootin' tootin' good time!
Panning for gold is always a fun activity we like to do with our kids. It really shows them the amount of work and patience that had to go into this life back in the day.
Any time there is a chance to see animals, my kids jump on it. They absolutely love the interaction with pigs, goats, horses, and other barn animals. Here they've got it all.
And of course, who doesn't love a well-themed mini-golf course?? We're always down for some putt-putt!
Tips
As noted before, the live-action gunfire is loud, so if you or someone in your party has a noise sensitivity, please note this before attending. In all honestly, you may want to reconsider your visit if this causes a problem.
Check the event calendar before you visit, and make sure you're going to catch the shows you want!
This place is not paved, only dirt paths, so plan accordingly. This could mean a couple of things:

Don't wear your new white sneakers!
If bringing a stroller or wheelchair, make sure it can accommodate dirt paths.
Where To Eat
The food options are mostly of a fast-food nature, but there is a sweet shop, so be prepared for the "Pleaaaaase can I have some???" moment of the day.
You can also bring your food in with you. There are many picnic tables in shaded areas of the park where you and your party can picnic comfortably.
American Dream: Nickelodeon Universe and DreamWorks Water Park
One of the newest theme parks in New Jersey is Nickelodeon Universe. After more than a decade as a major eyesore, the Xanadu project sat vacant in the Meadowlands Sports Complex. New York and New Jersey residents were delighted to learn the newly named American Dream Mall would have two world-class theme parks held within!
To be clear, Nickelodeon Universe is the dry park, and Dreamworks is specifically taking care of the water park side of things. Both parks contain some of the world's largest attractions of their kind.
Dreamworks Water Park has the tallest indoor water slide on the planet earth and some of the most amazing theming you will find at any water park anywhere. Think about sliding down a water slide with Shrek, Kung Fu Panda, King Julian, and the Penguins from Madagascar. It's already more fun than many of its types out in the world.
But for our purposes here, we're gonna focus a bit more on the dry side, which is where the coasters are, Nickelodeon Universe.
The second of its kind for the brand after the success of Nickelodeon Universe in Minnesota, they really went all out with this large but still small theme park. It's how they used the available space that surprises you.
You are on the second level with the theme park below you when you arrive. So the view you get is instantaneously one of amazement.
"WHAT IS THIS???" might be your thoughts as it seems like there is just a coaster track, spinners, lights, and adventure courses interwoven with one another in seemingly impossible ways.
It's an amazing sight for adults, an overload for the tykes. The kids might not be able to contain themselves so keep them close as you head toward the escalator into the park itself.
TMNT Shellraiser
If I asked you where the world's steepest roller coaster was located, you might not consider it an indoor park, but here it sits. Teenage Mutant Ninja Turtle (TMNT) Shellraiser is that coaster and is world-class if I've ever seen it.
A Gerstlaur Infinity model, this masterpiece starts with a barrel roll out of the station, a launch into loops, and what seems like a full roller coaster before you even get to the good part. A vertical lift hill that dangles you over the world's steepest drop (121.5 degrees) in front of a large roof window where you can stare at the New York City skyline while trying to keep your wits about you. It's almost too much to appreciate all at once. Then down the drop, you go into the rest of the coaster.
Even the never easy to please coaster enthusiast crowd gave this coaster rave reviews, and it's an absolute must-do when at the park.
Shredder
If that wasn't enough, there are 4 more roller coasters that somehow fit into this small footprint, with yet another being a record-breaker. Shredder is the world's tallest spinning coaster and is another delight to experience.
What is it when you think of Nickelodeon? It's the kids, right? Well, make no mistake, this place has figured out how to make this a kids' park WHILE having some of the best coasters out there.
Themed Rides
There are dozens of rides for the kids themed after some of their favorite Nickelodeon characters: Dora, SpongeBob, Jimmy Neutron, Aang the Airbender, and so many others are everywhere.
The variety of rides themed to the characters is wide, and you will see amazingly themed swing rides, trains, and play areas aplenty.
Slime Streak
Even one of the most prominent coasters, the Slime Streak, might look imposing at first but is actually a very mild family coaster that gives you a smooth tour of the entire park. Kids will love it as their first coaster and even ride multiple times while you're there.
Skyline Scream
Right next to the Slime Streak is yet another record-breaker, The Skyline Scream. Currently the world's tallest indoor launch and drop tower, it's another ride that capitalizes on the proximity to New York City.
After it launches you to the top of the tower, it gives you some time to think and appreciate the majestic skyline before it drops you to the ground.
The Legend of the Hidden Temple Challenge
This is also the park where you will find the world's tallest indoor Adventure Course. The Legend Of The Hidden Temple Challenge is a 9-story tower where you can spend an hour or so pushing the limits of your fear (or love) of heights after being harnessed in safely.
Nickelodeon Universe is not cheap, so it's important to make sure you are planning the day well before you go. It's not the type of place to pop in for a quick visit. It's a test of endurance when you consider the traffic of the area, the parking, the walk through the mall, the lines to get in, and then all of the attractions. But it's well worth it if you get to spend the day. It's well themed, very clean, and high-quality attractions are at least of the sort where you feel like you're paying for the best.
Tips
Assume there will be traffic getting to and from the park. Plan accordingly and try to get to the park as close to opening as possible. That's the best way to ensure you get your money's worth.
There are many other attractions at the American Dream Mall. From a huge regulation-sized ice skating rink to the world's largest indoor ski slope. That's without even mentioning the over 200 stores. It's important to have a plan before you go, and it's extremely easy to get caught up in its majesty. If the park is your target, go right to it!
The mall itself is a part of a massive sports complex where the NY JETS and GIANTS both play. There are concerts and events all the time as well. Check the schedule for these events before you head to this theme park. Getting caught in NFL Football traffic will change the trajectory of your day dramatically. It can take hours to get in and out of there.
Where To Eat
This one is tough, guys. The fact is, with the proximity to Manhattan, you can get the best of the best with any cuisine within a reasonable drive or train ride into the city. The choices are endless!
iPlay America
Here is another year-round option for those looking for some indoor park options. iPlay is located in Central Jersey, actually not too far from Great Adventure.
This place is the ultimate indoor arcade/amusement park combination! It has something for everyone: rides, arcade games, go-carts, and more.
Rides
Let's start with our favorite part of any park: the rides! It's an indoor park, so while there aren't any large drops, there are still legit rides to go on here.
They've got the carousel, mini-Ferris wheel, Crazy Cab ride, Dizzy Dragon tilt-a-whirl ride, among others. For your kids, this will hit the mark!
The IPA Speedway is also a big draw here! And the good news is the height requirement is only 36 inches, so it can be enjoyed by some of the young ones as well.
Arcade Games
iPlay shines in this department! There are literally hundreds of video games to play and hundreds of prizes to win!
This arcade boasts the latest video games for every age group. They have a card system that can debit your account automatically. It takes away the hassle of token, quarter, or ticket systems.
I find this to be really useful as a parent. I don't know about you guys, but my kids tend to lose small items generally quickly, so when there are multiples of them, there's no chance! The card makes it simple. Stick it in your pocket and go!
Laser Tag and Top Golf Swing Suite
We absolutely love Laser Tag! It's one of those family activities that never gets old, and everyone enjoys it. We have a ton of fun playing, and iPlay has an awesome course!
The Top Golf Swing Suite is another option for the family, especially if you have older kids. You can rent a luxury "suite" in which you can order food, play virtual golf, among other games, and have sports viewing parties.
This is a really nice option for parties, date nights, and events as well. There are five different suites to choose to rent depending on your party size.
Tips
Check out Groupon before heading to iPlay. You can sometimes find some great deals!
The Jersey Shore: Morey's Pier, Casino Pier, Fantasy Island
Okay. We have saved the best for last here, folks. I'm going to leave this one in the hands of my husband and resident Jersey Shore expert, Kyle. His childhood memories of the piers are second to none, and his knowledge of where they currently stand is impressive, to say the least!
He will let you in on three of the largest and most fun piers/parks along the shore and give you all the tidbits to make it the best beach trip to remember!
Morey's Pier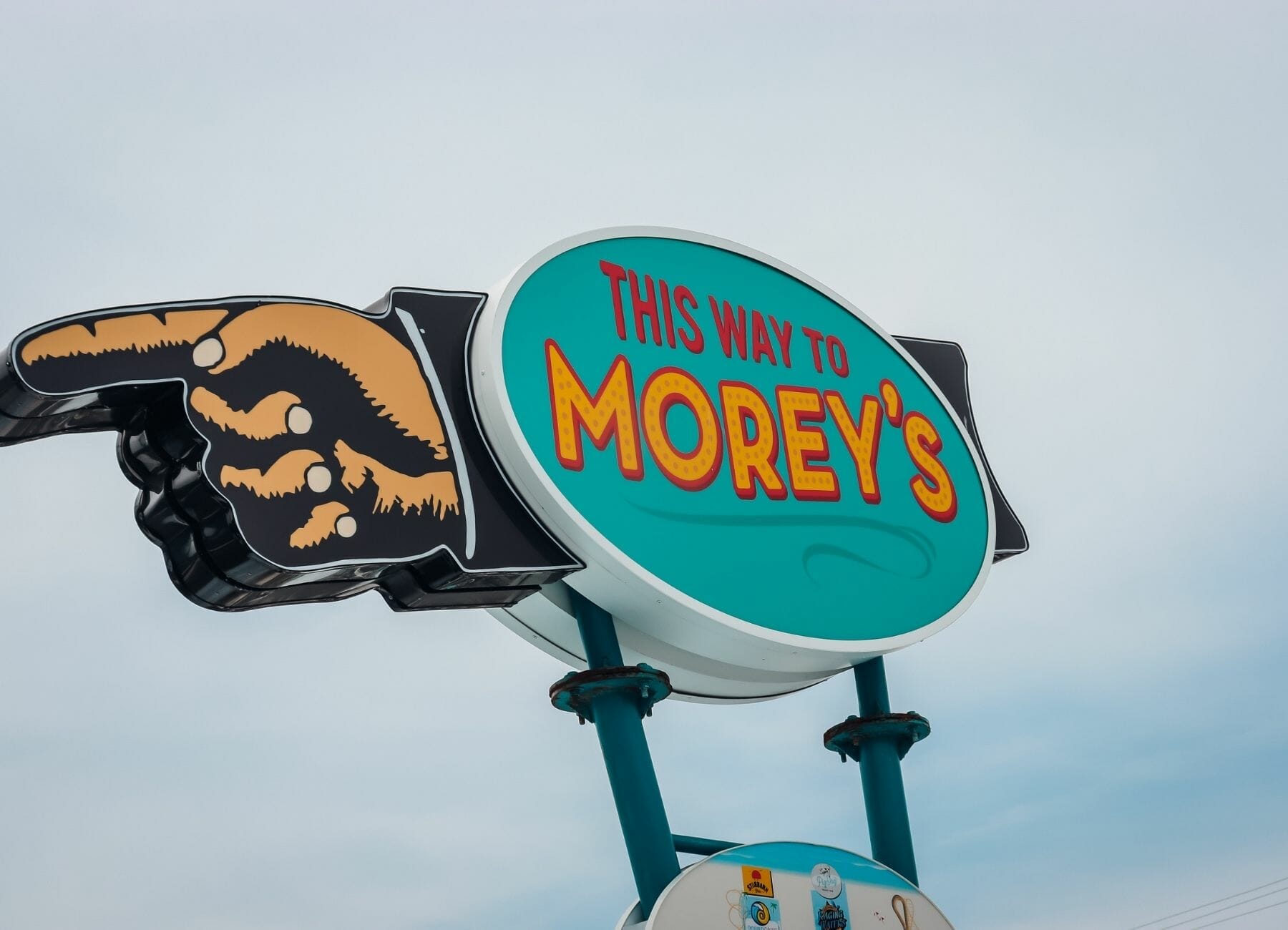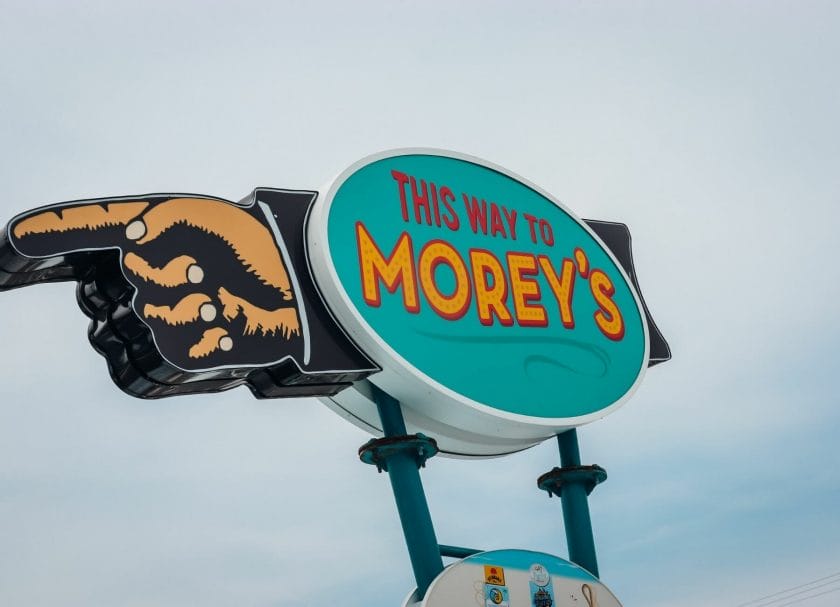 Let us begin this trip of amusement parks in NJ up the Jersey Shore with the furthest south and largest seaside pier on our list: Morey's Piers in Wildwood, NJ.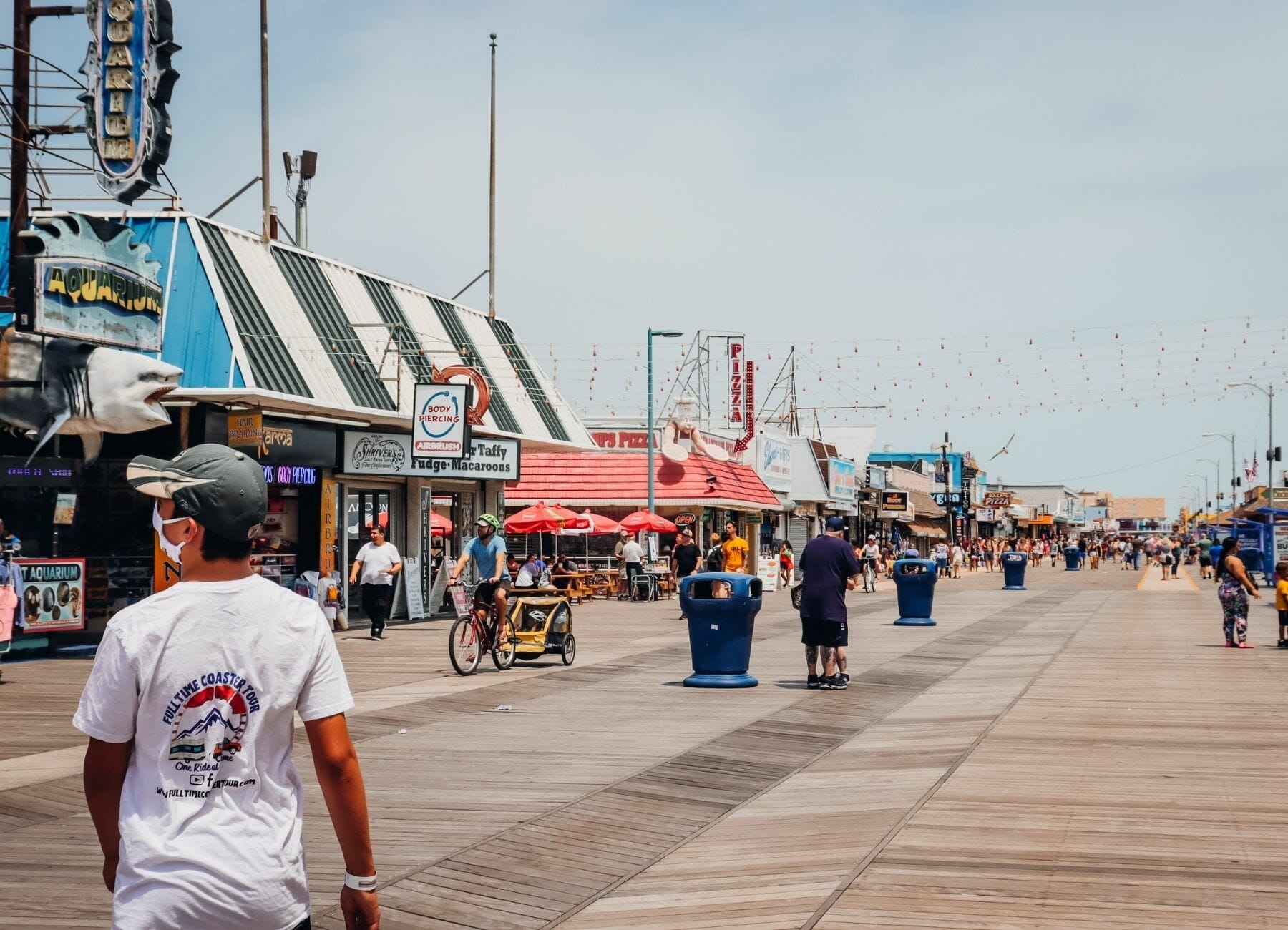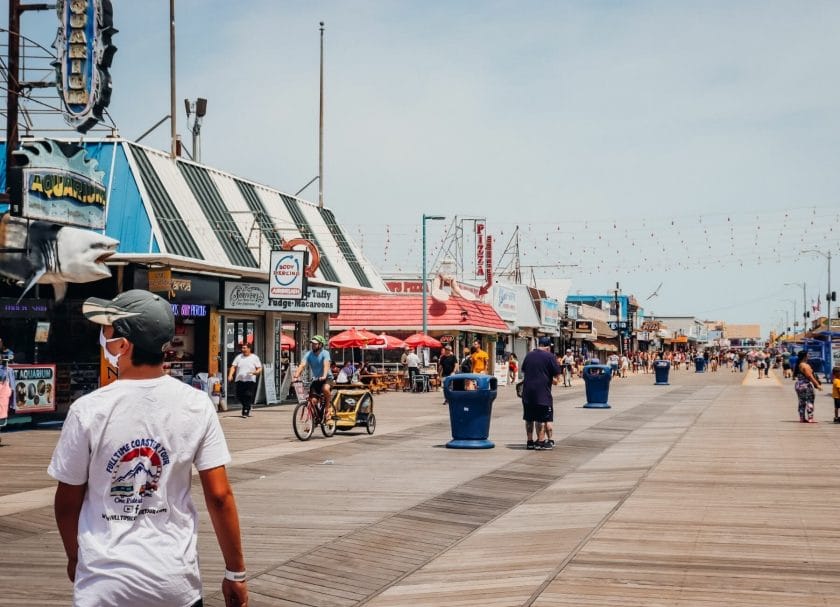 Most of the New Jersey shore towns with attractions will have a traditional boardwalk with a nice long pier jettisoning out over the ocean, and Wildwood technically has that too. It's just that it has that and then some, and then some, and still some more.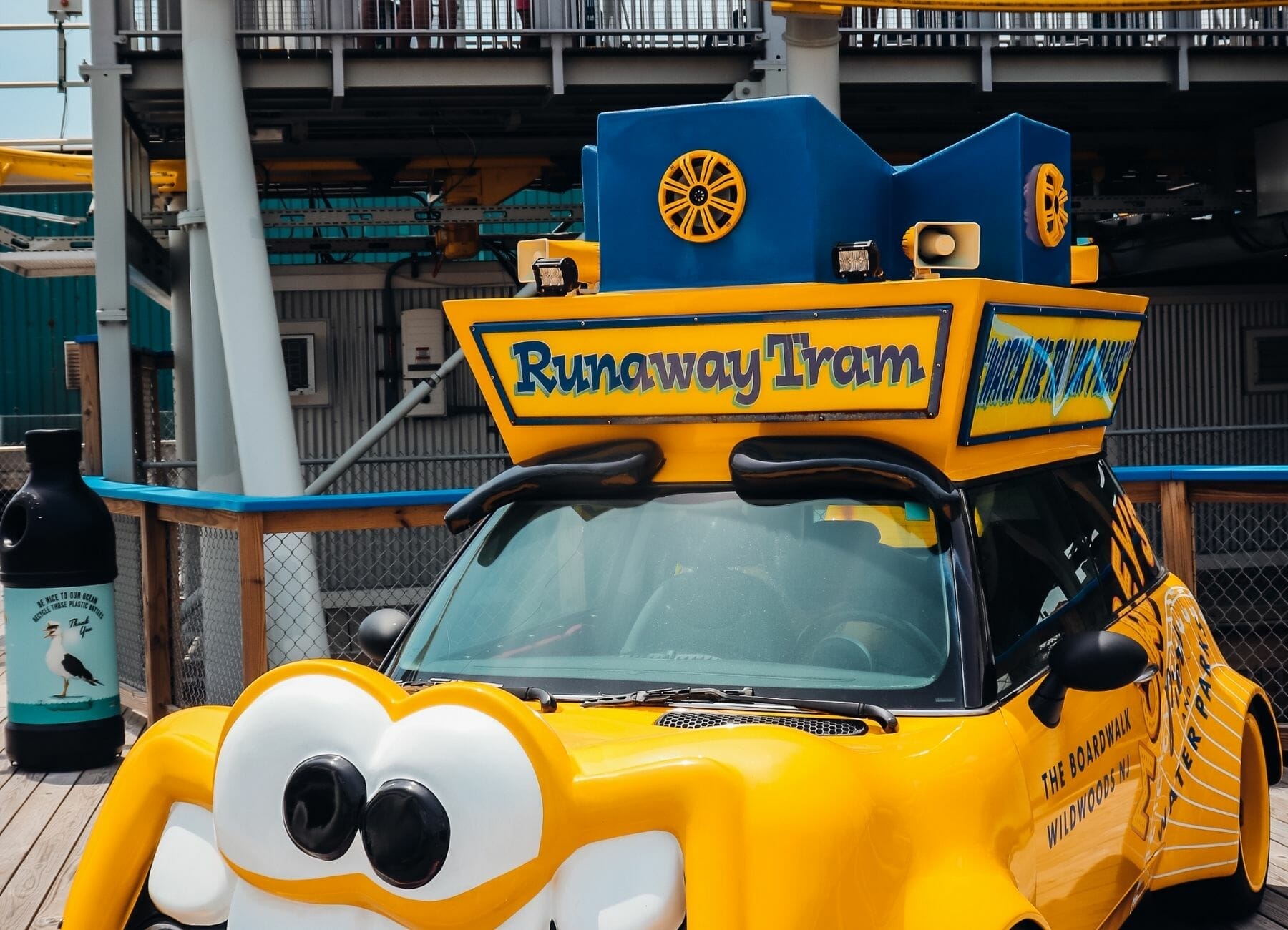 How does the sound of a 2.5 mile-long boardwalk grab ya? In fact, the Wildwood boardwalk is so long that most New Jersians will know Wildwood for one sound above all else. "Watch The Tram Car, Please!"
Tram Car
It is imperative that the city offer something to help with the hike back and forth on this mega walk, and the tramcar is the King of Wildwood.
Think the parking lot trams at Disney World's Magic Kingdom, only with a recorded message that does a masterful job of clearing the car path through the thousands of people walking along the boards on a summer's day.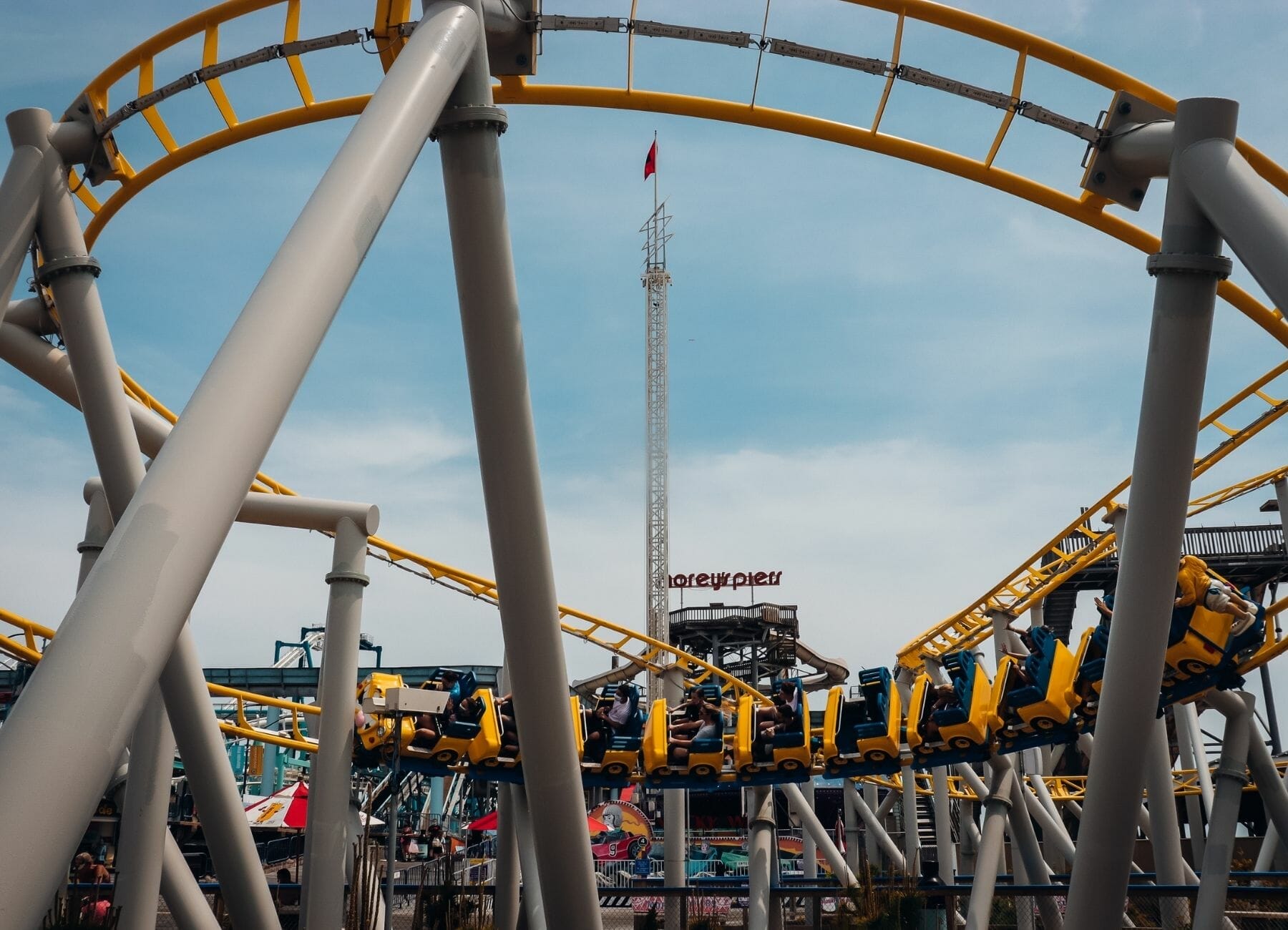 That recorded woman's voice telling you to watch out for the tram car is so iconic that Morey's Pier created a roller coaster named after it. The Runaway Tram is a really fun family coaster that takes advantage of the #1 travel method while vacationing on the Wildwood beaches.
It's an odd icon, but an icon it is. You'll know what I mean within 15 minutes of your initial stroll.
And that's a great segway into what we really want to discuss here. The Pier(s) in the same way the boardwalk is bigger than any other on the Jersey Shore, Wildwood felt it appropriate to have their pier situation stand out as well.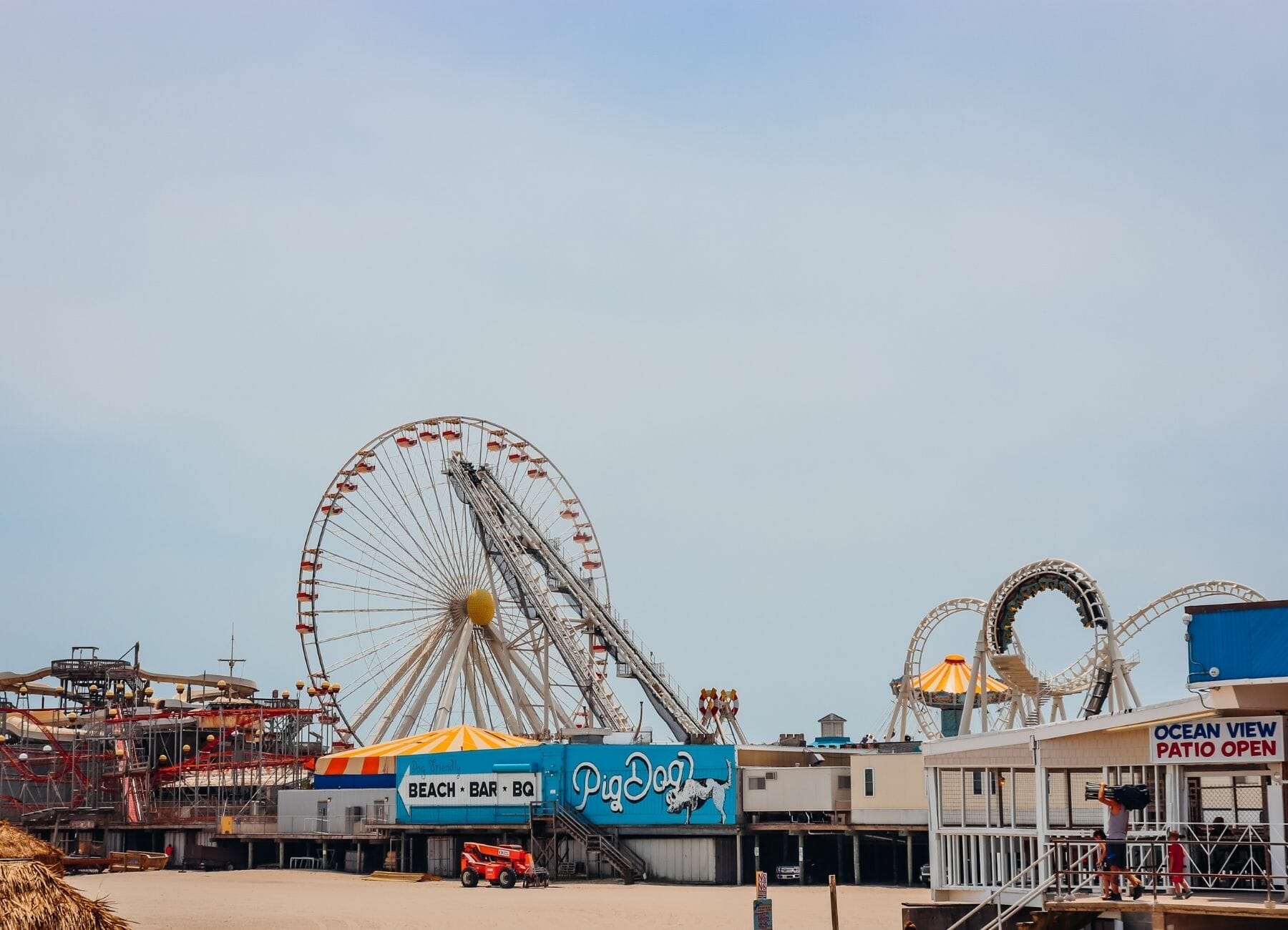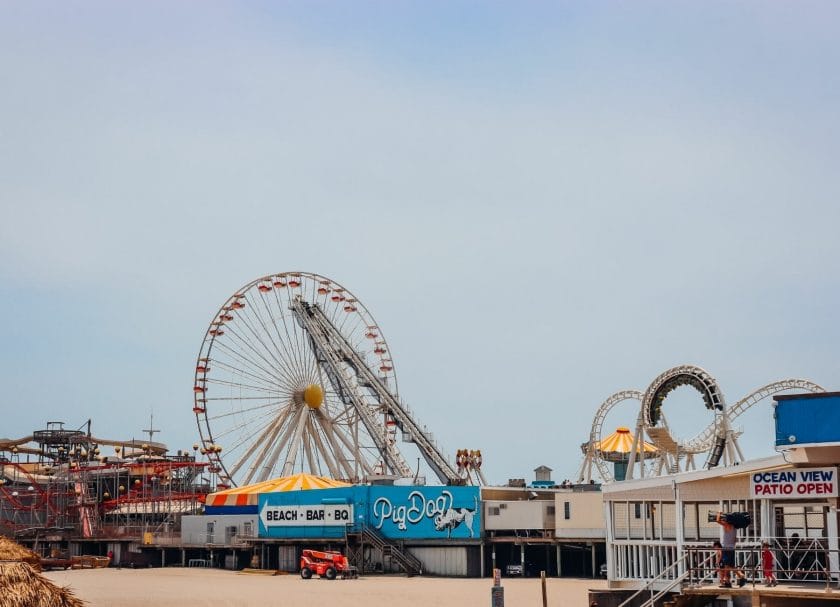 They don't only have one massive pier sticking out over the beach- they have three: The Surfside Pier, The Mariners, and The Adventure Piers. All three are all huge and jam-packed with attractions that could take a week to get through them all.
Surfside Pier
Since we already got into one of the roller coasters, let me start with that pier. The Runaway Tram is one of three roller coasters on the Surfside Pier. This is the northernmost pier in town and is a boatload of fun to begin the day.
The three coasters are only the beginning, though, and you can believe it, this pier actually has a full waterpark on it, complete with a log flume. Their usage of space is quite impressive.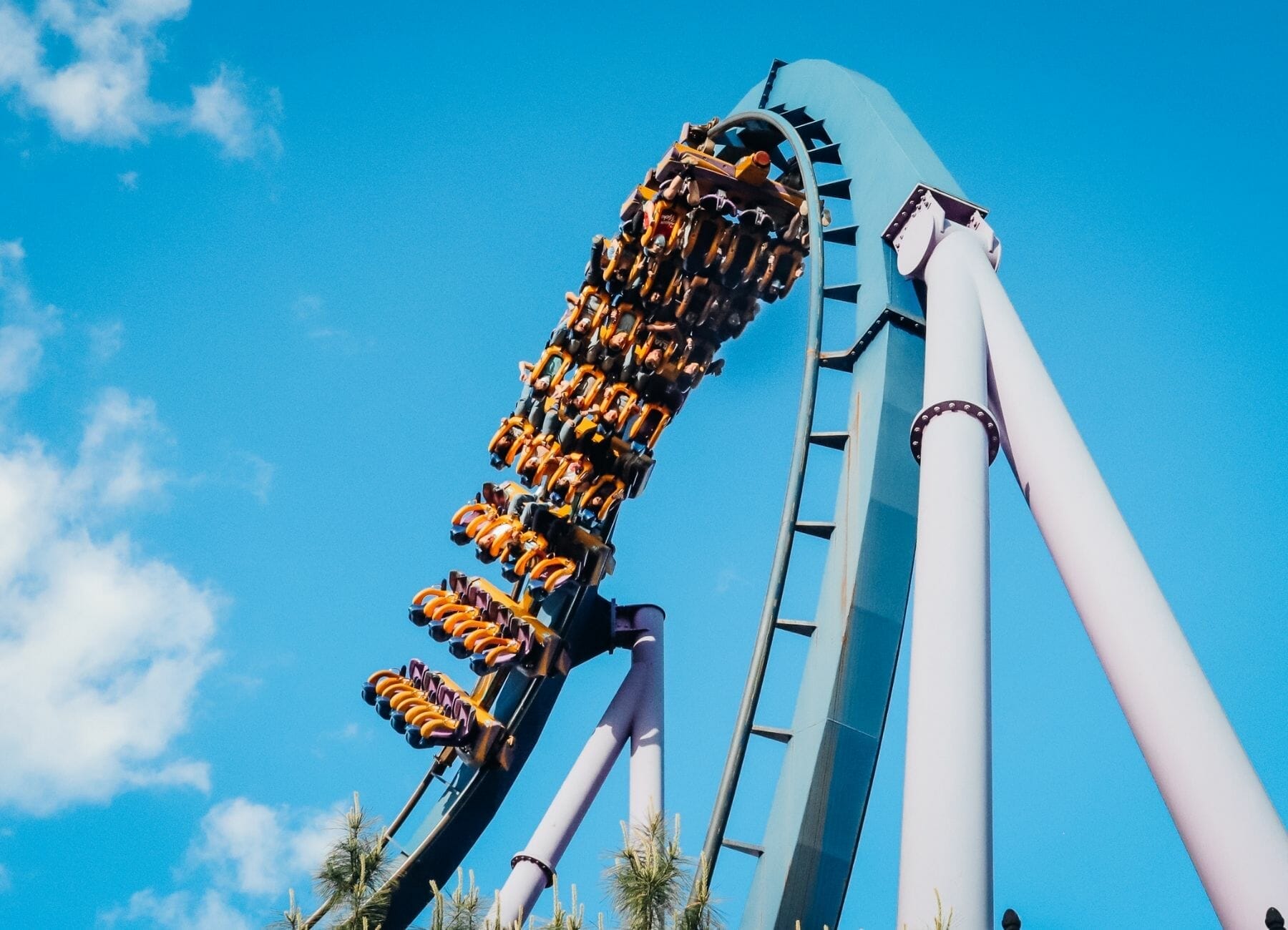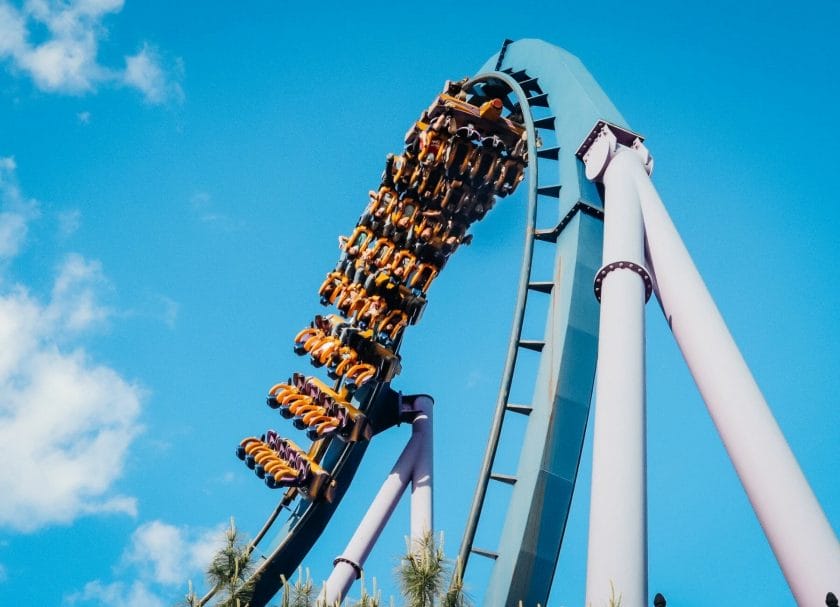 Also, having theme park level roller coasters such as The Great Nor Easter (Vekoma SLC) among the traditional kiddie spinners and water park usually surprises most upon their first visit. You shouldn't leave this pier without getting lunch, but I'll put that info below.
Mariner's Pier
Now, let us re-enter the boardwalk, watching for the tram car, of course, and make a left to head down to the Mariners Pier. Probably the most iconic roller coaster in Wildwood is located right here.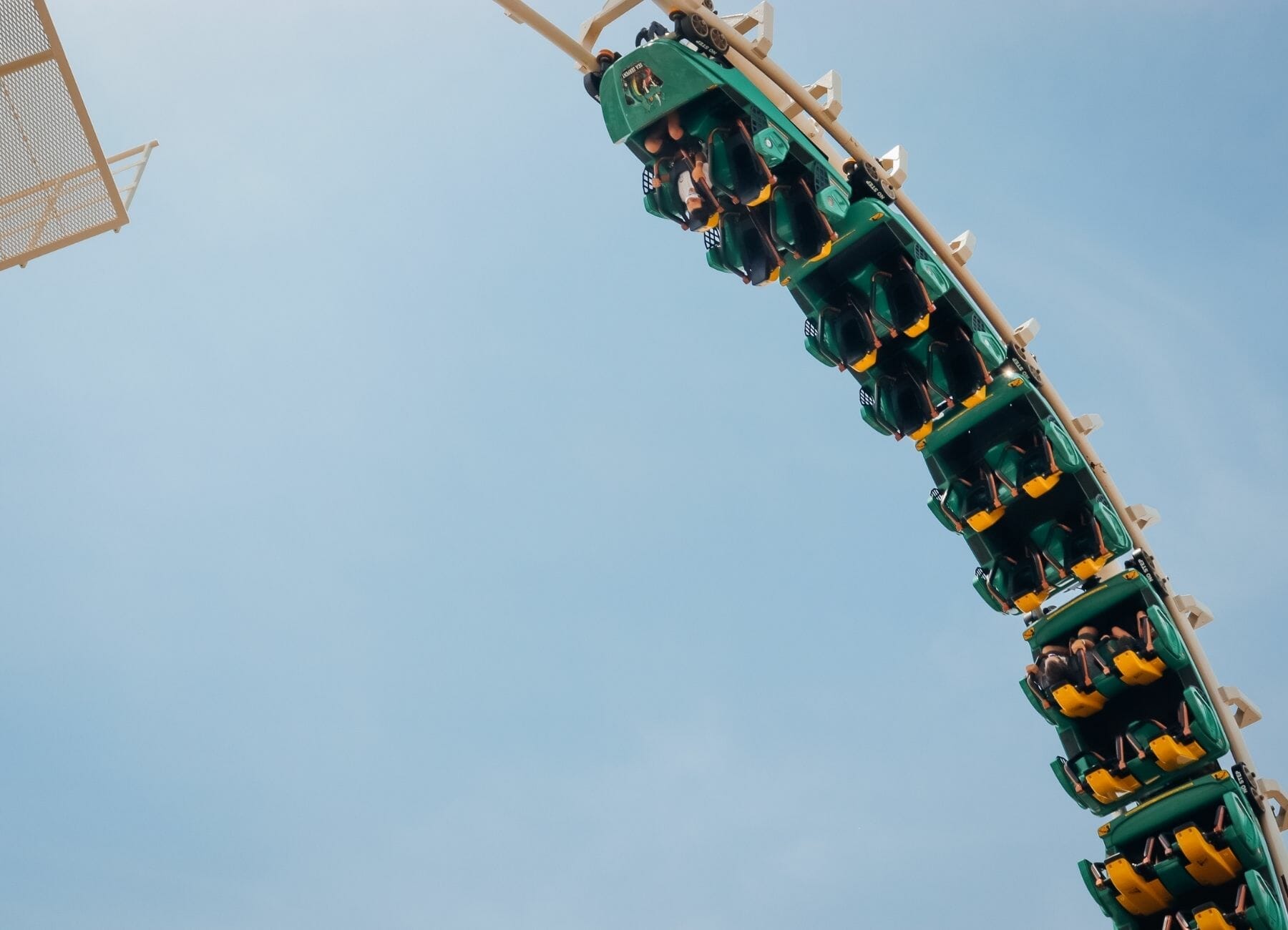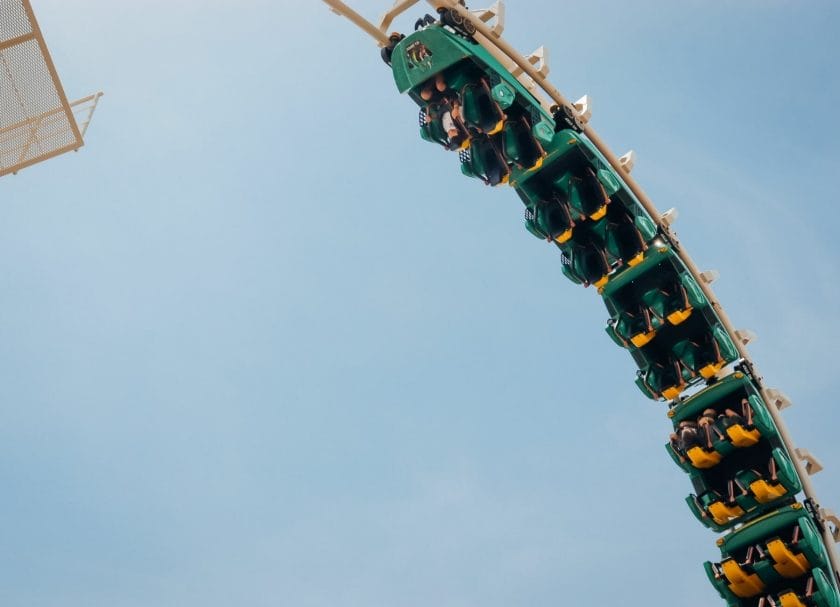 The Sea Serpent is not iconic because of its standing by today's coaster standards. It's iconic for being one of the first legitimate theme park level coasters on a seaside pier. This was far and away from a higher caliber than most other roller coasters you'd be likely to find on the oceanside amusement parks.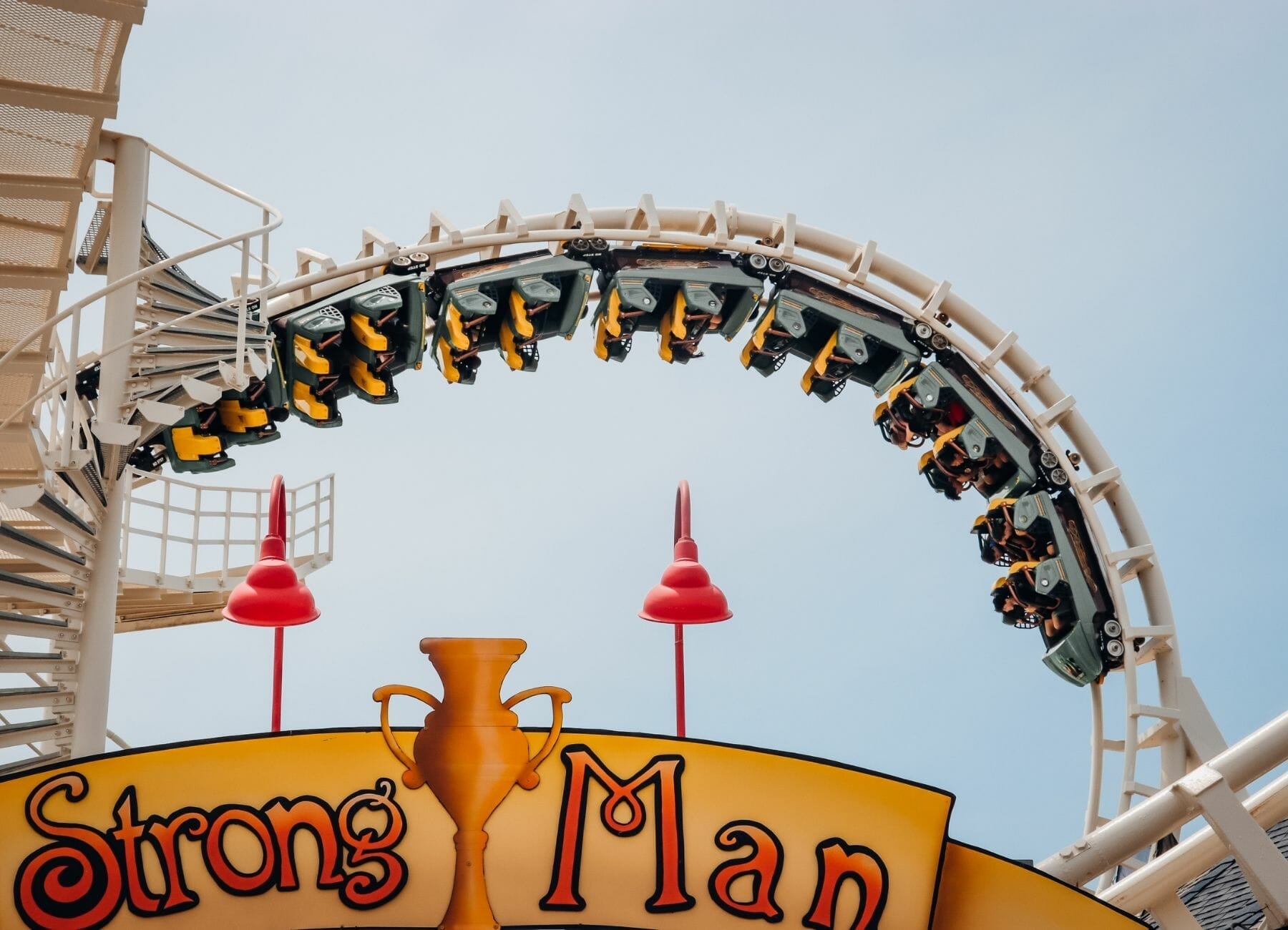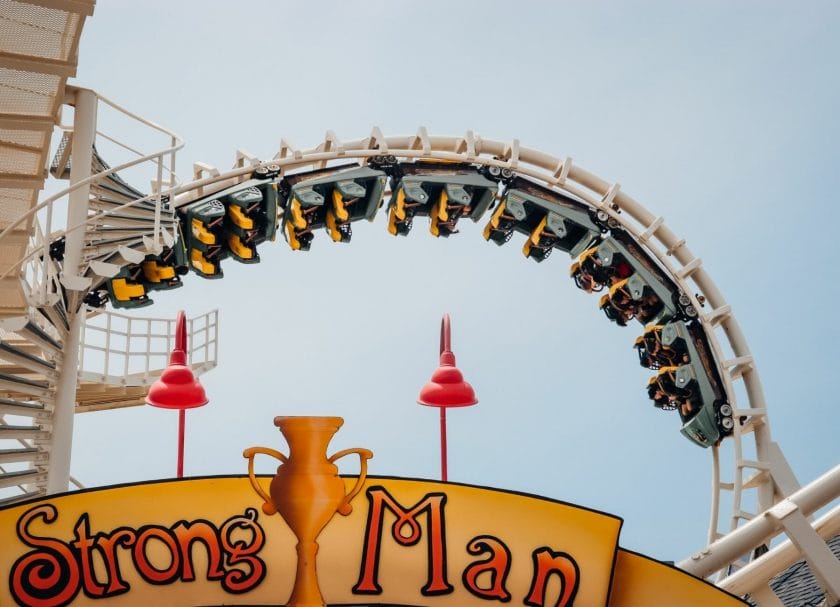 The Sea Serpent (Vekoma Boomerang) is dead smack in the middle of the pier and surrounded by two more roller coasters and an even BIGGER water park which takes up the entire back section of the pier.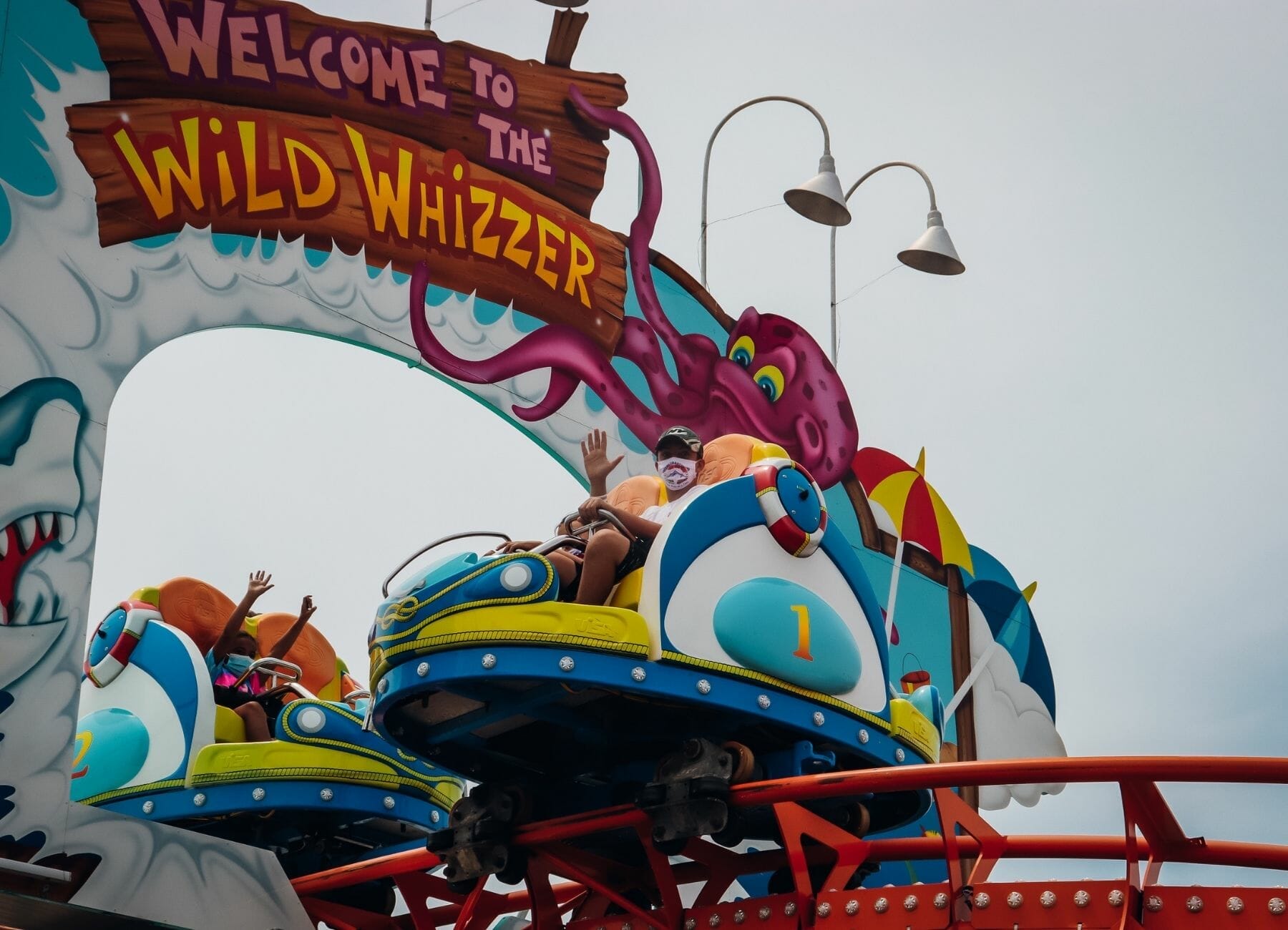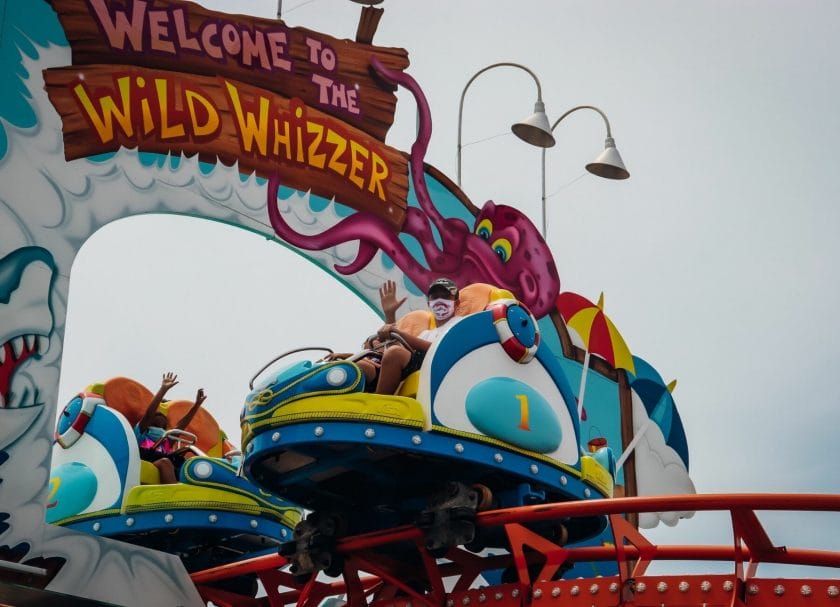 It's almost as if you can look at each pier as the amusement park of the day and get a dose of everything that you'd hope to find without even venturing to one of the other piers.
The Raging Waters water park is widely considered the best of the pier water parks, and if you can only hit one, this would be our recommendation.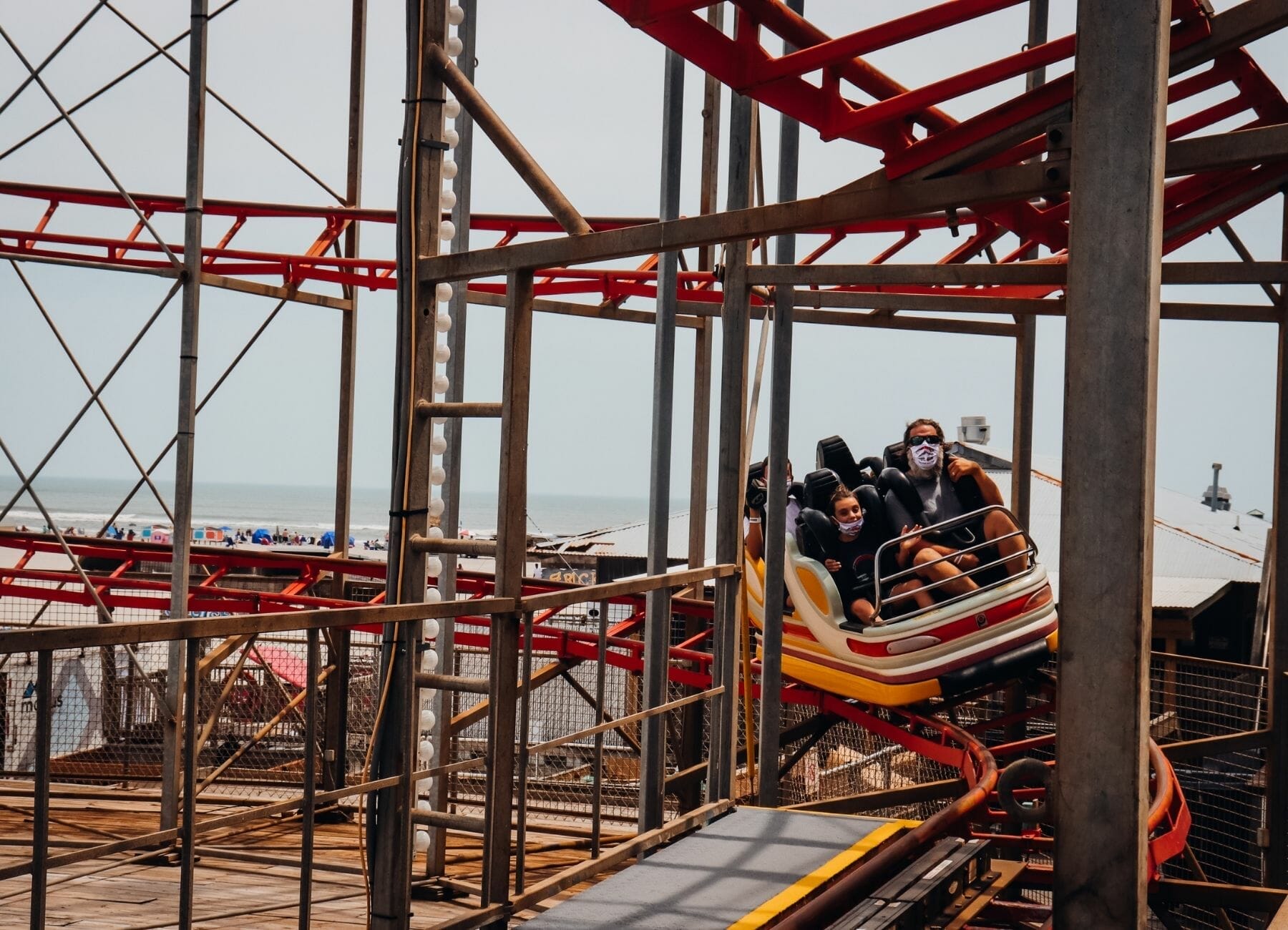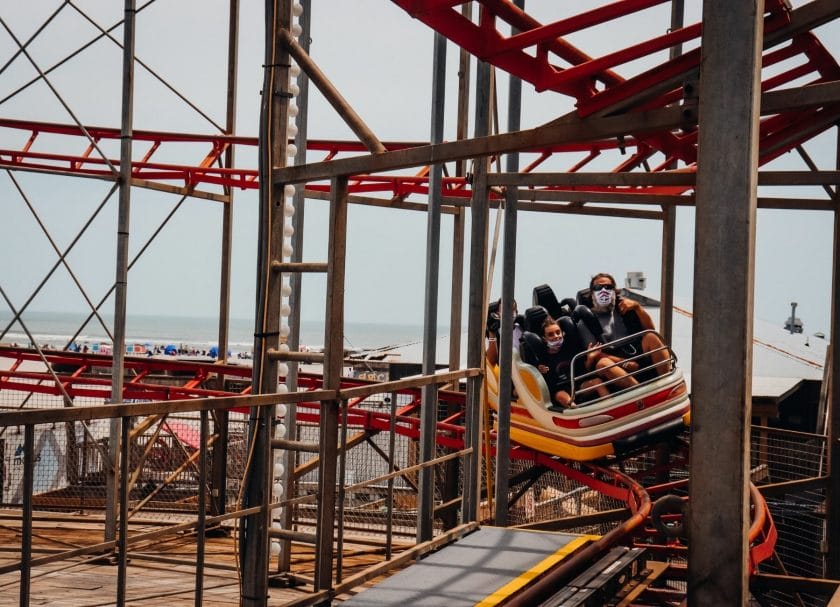 This pier is rounded out by the Giant Wheel Ferris wheel and more of the kiddie spinners, even a double-decker merry-go-round.
Adventure Pier
This brings us to the last of Morey's Piers, the Adventure Pier. I'll cut right to it with this one. You will be drawn to one sight when you get close to this one. The massive wooden roller coaster that… could it be…leaves the pier and actually uses the beach sand for a portion of its course?
That's right. It does just that.
The Great White is a 110 ft, 50 mph wooden mega coaster that is too big for the pier to contain. Built by Custom Coasters International in 1996, this is definitely a must-do when in Wildwood. The Adventure pier also has a Sky Coaster, which is the highest ride on the whole beach, as well as a go-cart track that twists and turns underneath the Great White coaster.
Morey's Piers are a destination all their own but coupled with the games and food of the massive Wildwood boardwalk and beach; it's something we classify as a must when vacationing on the Jersey Shore.
Tips
There are separate charges for each park in addition to the standard ride tickets, so be sure to iron out your plan beforehand to best maximize your visit.
The boardwalk is famous for its food offerings, but pizza, cheesesteaks, and sausage & peppers rule the roost. While most of it is pretty good, you can get a disappointing meal if you stop at the wrong place. Key 1 is not to fear the line. You will see two pizza places next to each other, and you may be surprised to see a really long line at one and no one at the other. There is a good reason for this. The locals know which one is going to satisfy. Join them.
Where To Eat
That said, I can direct you to a very specific spot where you are guaranteed to get the best of the boardwalk. There is a bit of a war going on in Wildwood between pizza lovers. It's between the supporters of Mack's Pizza and Sam's Pizza. People take this very seriously and will sing the praises of their favorite. I'm going to stand strong and make a claim here. While I like Macks well enough, I have to admit Sam's is my "jam," as the kids say.
I recommend Sam's, right at the entrance to the Surfside Pier, without reservation. As a supporting reference, Barstool Sports gave Sam's the highest ever rating for a boardwalk pizza spot!
For a unique meal at the Wildwood Pier that veers just a touch from the traditional fare, get over to Snow White's for one of their famous Roast Beef Sandwiches. You shan't be disappointed!
Casino Pier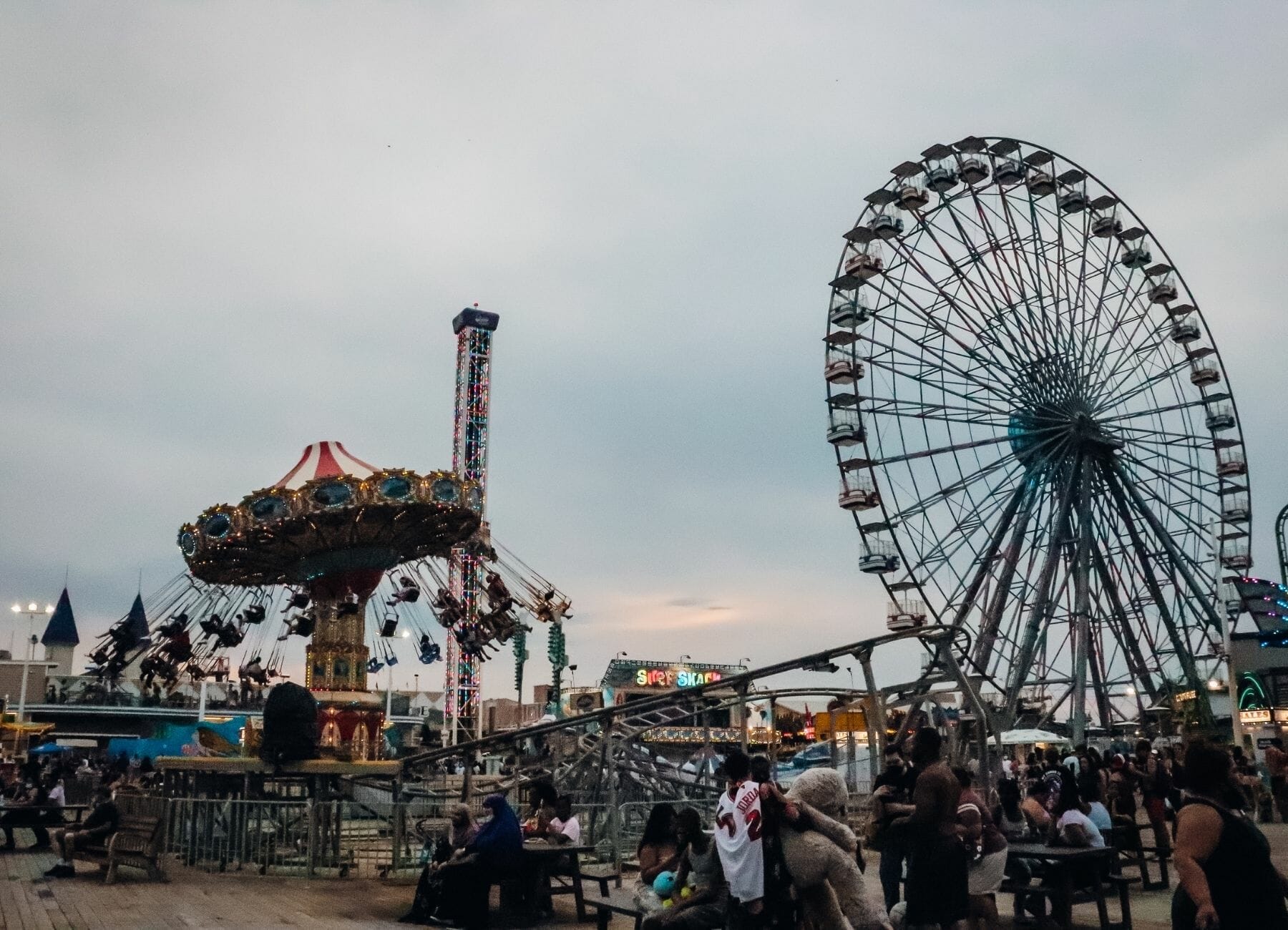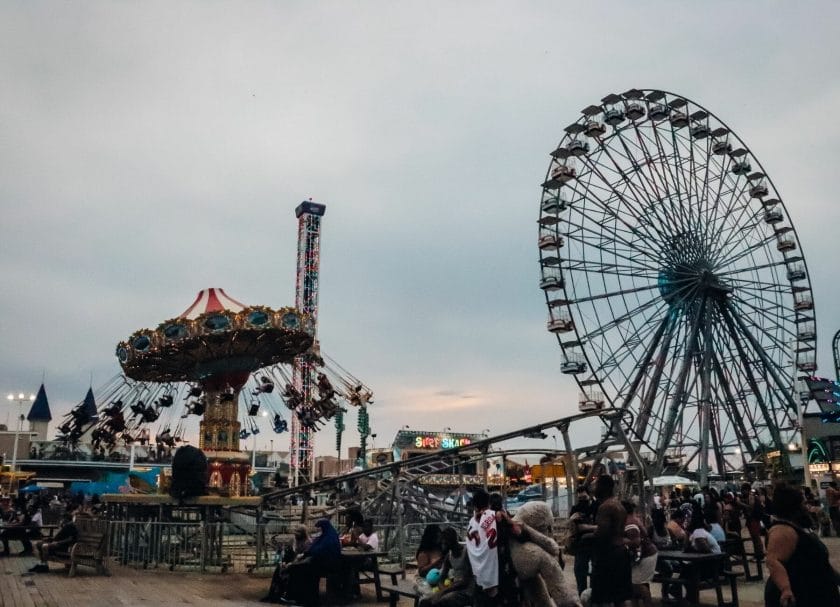 Seaside Heights Casino Pier. Okay, I'm going to begin here by telling you this is the place where I grew up.
My family lived year-round in Seaside Heights, NJ, owned attractions and games on the boardwalk, and my grandmother owned and rented condos on this beach throughout my life.
I spent months or entire summers at a time here from 3 years old until my 30s. As a kid, I knew how to reach into a secret spot and turn the carousel on in the early morning or get free games in the shooting gallery.
No matter what I tell you about this place, I'm going to have to omit a novel's worth of information to fit it into this blog. So I'll try to give you the compressed goods here.
This is the place where I rode my first roller coaster. Where this coaster enthusiast I've become was born. It's also the place where Hurricane Sandy sadly and famously threw that roller coaster right off of the Casino Pier and into the ocean. This is my home and is interwoven through the very fabric of my very soul.
So what can I tell you about it that would help you to gather some of the joy I've been given by this Jersey Shore hotspot?
Boardwalk
Let's start with the boardwalk itself. Not quite as massive as the Wildwood boardwalk, Seaside's is no slouch. Reaching just under 2 miles of games, restaurants, bars, mini-golf, and airbrushed T-shirt stands, the boardwalk contains everything you would expect from a beachfront boardwalk.
After Hurricane Sandy ripped almost the entire length of the world-famous boards from their long-held perch, the town had to replace nearly every board. While that can be a bit of a downer for the old heads like myself, it's been absorbed positively by the newer visitors. It's a brand spanking new boardwalk, and it looks the part.
Walking on those newer boards to the Casino Pier, you have to consider that the hurricane literally ripped the larger half that stuck out over the ocean, and the city planners had to come up with a solution to stop that from happening again.
What they did was built it horizontally instead of simply replacing the damaged portion. This makes the Casino Pier more of a wide area than a traditional lengthy pier reaching out over the waves.
They also had to replace that roller coaster. In my humble opinion, while it could have been a bit longer of a ride, they did a fine job tapping a world-class coaster manufacturer, Gerstlaur, to give the pier a little more bang than in years past.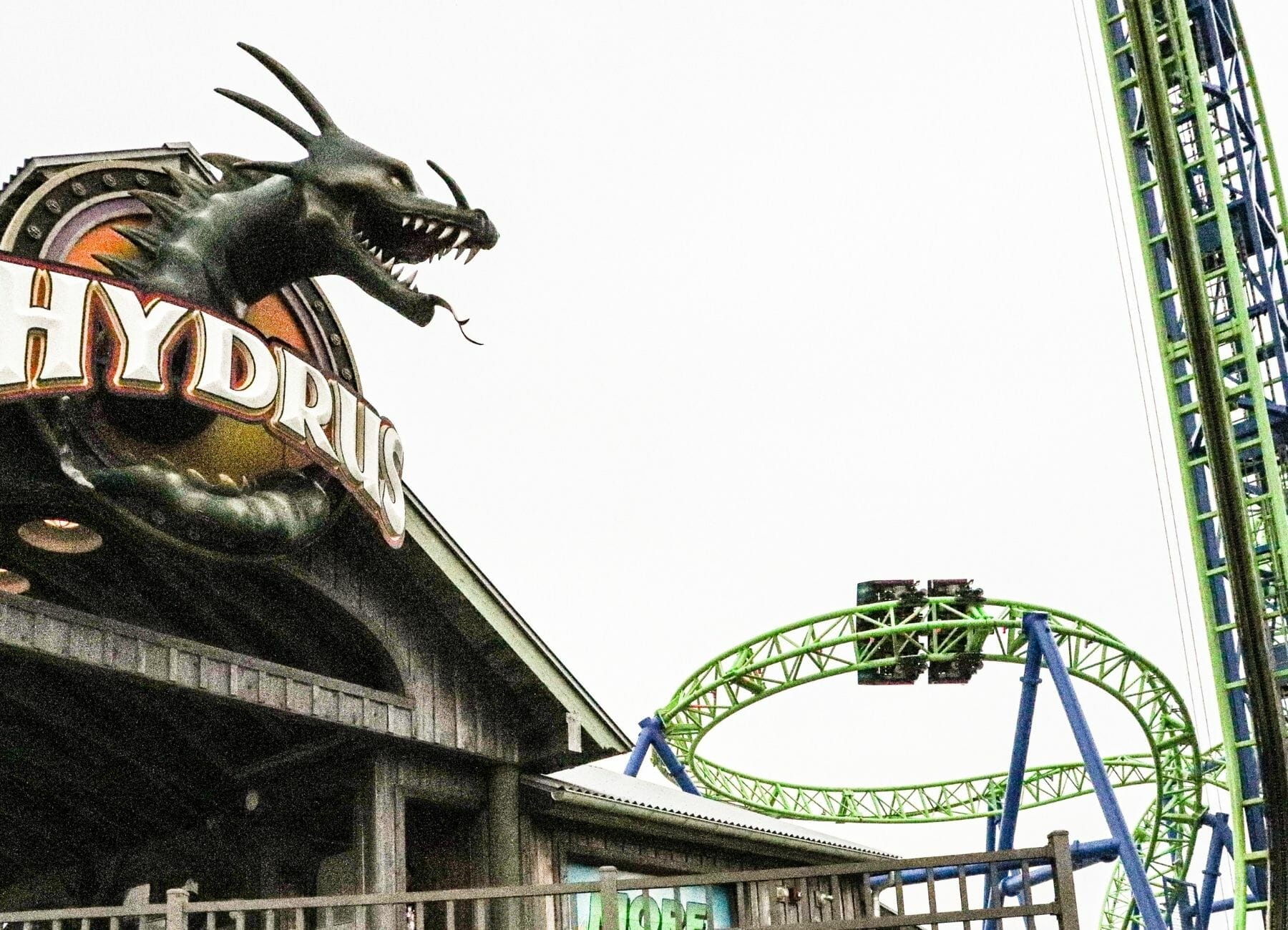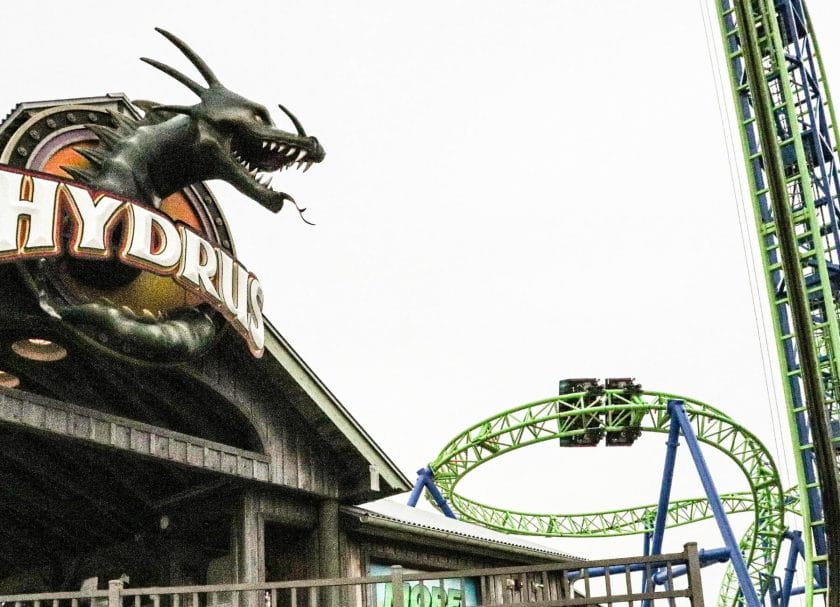 Rides
The Hydrus has been a rousing success, and the super smooth coaster with a beautiful lighting package is an absolute must-do when visiting this pier on our amusement parks in NJ list.
Another unique ride you will find here is the Centrifuge. A classic scrambler contained in a dome with an amazing light and sound system within. You climb aboard, lock yourself in, and boom!
The lights go off, the music gets loud, and the ride begins. I don't know if it's real or not, but I feel like it's 2x as fast as any other scrambler. Such a blast!
The Casino Pier has plenty of kiddie spinners, fun houses, and lots of games to be enjoyed by all ages. Another attraction I can't help but mention is the pier's longest-standing roller coaster.
Currently named the Pirates hideaway, this coaster model has been at the pier since the 70s. Once called the Love Bugs and then The Wizard's Cavern, it's not the exact same coaster, but it's almost identical.
Why am I mentioning it? Is it super fun? Is it a great ride? Nope!
It's because this is possibly the worst roller coaster in the country. The fact that they rebuilt it and made sure to make it just as bad has to be worth something, no?
It looks like a great ride with fantastic theming from the outside, but oh man, that is not the case. It's difficult to even describe how bad this one is. But for some reason, it remains.
Standing the test of gale-force winds, rain, fires, and even time, it stands proudly at the far end of the Casino Pier. It's simply a must-do when you visit. They also have bumper cars if you are into that!
Arcades
The Seaside Boardwalk is also famous for its arcades. Classic structures that have been there since the 1920s, like Lucky Leo's, are huge arcades with everything you can imagine inside.
Kids can spend an entire day inside. Seaside places emphasis on these offerings not seen on the other Jersey Shore boardwalks.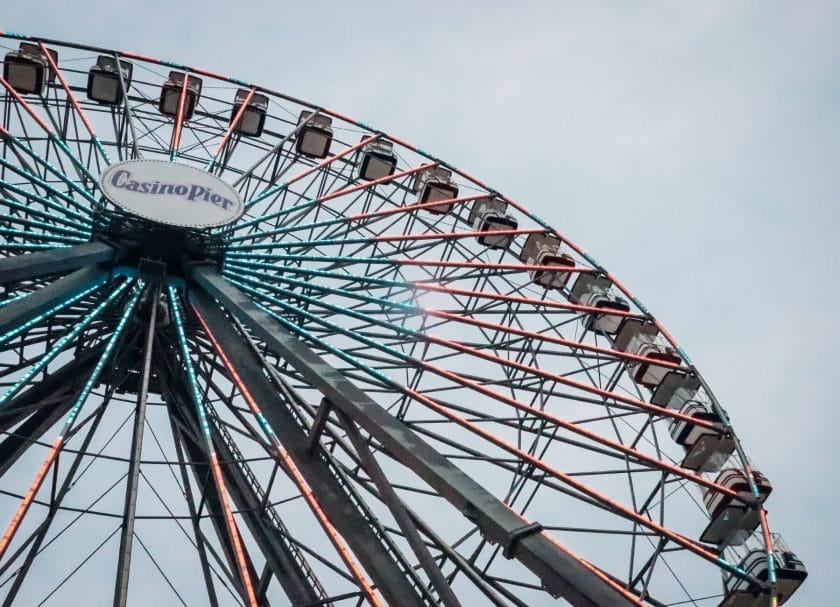 I do recommend hitting the pier at night for the full effect. The lights and music add something to the experience which is hard to replicate during the day. You will easily see why.
Where To Eat
You will find treats every 10 feet on the boardwalk. However, I want to direct you to a few specific spots. These finds will guarantee you get the full experience of what Seaside Heights has to offer:
Sweet Treats
No trip to the Jersey shore is complete without their signature sweet treats. Saltwater Taffy is one. Funnel Cake is another, but the true King of the Seaside Heights boardwalk is Zeppoles. The little dough balls are fried and covered in powdered sugar.
It's funny. We went all the way to New Orleans and tried the world-famous beignets at Cafe Du Monde. My my first thought upon tasting it was, "Hmmm tastes like a Zeppole!" So leave the trip to New Orleans off the calendar and stop by Mama Leone's Zeppoles, and thank me later.
Pizza
Let's talk Pizza for a minute. Seaside is world-famous for its boardwalk pizza places such as 3 Brothers and others. Seaside is known for its large pizza slices, but there is one spot that takes the cake.
Take a walk down to the Sawmill and get yourself a 27″ pie. That's right. More than 2 ft across, and it's not some extra special order we're talking about here. That's just what they do. All pies are that large. Now imagine what a slice of that pie looks like. That's right. It's HUGE.
Cheesesteak
While I wanted to mention Kohr brothers custard (I just did), I think it's even more important to send you to the center of the boardwalk to get the staple every teenager on prom weekend will not leave the store without.
That's the Midway Steakhouse cheesesteak. Sure, you can get cheesesteaks almost anywhere but seek this one out and wait till you get there. Get one with the works and eat it in 2 bites. That's how it's done, and now you know!
Fantasy Island
The next on the list of amusement parks in NJ we are going to discuss is Fantasy Island. Located on Long Beach Island (LBI), NJ. LBI is really known more for the long stretches of peaceful beaches than it is for the excitement.
Sure there are bars, restaurants, and nightclubs. However, Fantasy Island really is the seaside spot on the Jersey Shore people choose for a more relaxing vacation.
When families want to get away to the beach with their little ones, there are going to need options to break up the relaxation. That's where Fantasy Island comes in. No big roller coasters or super intense thrills, but plenty for the young ones to explore and have a blast.
Fantasy Island Rides
Fantasy Island is the epitome of a kiddie park with spinners, mini ferris wheels, and kid-sized thrill rides to enjoy.
If you have children under 10 yrs old, Fantasy Island is going to be a slam dunk. The Hang Ten family coaster is a very popular. The SBF Visa Family spinning coaster that just about anyone can get on and have a bunch of laughs.
The Tilt a Whirl ride is a well-themed affair called Shark Attack. You climb into the mouth of a great white shark and it spins around; just as you'd expect from the classic ride model. I think it's that much more fun when the rides are themed with kids in mind.
Now, if you do have younger teens in your group, there are a few attractions they can enjoy. Such as the pirate ship pendulum ride they call the Sea Dragon. Even though the drop tower, Lighthouse Launch, is smaller than some others, it's still got a height of 80′. That can be more than enough to get your stomach to drop. There is also a nice full-sized Ferris wheel which is always just as fun as ever.
Fantasy Island might not be the type of park to travel specifically to visit, such as Morey's Piers. But what Fantasy Island does offer, they do very well. It's the perfect night out with the kids after a long relaxing day on the beach. Clean, safe, well maintained, and friendly staff, the only amusement park on the whole of LBI is a must when spending time on the Island.
Tips
Check online or call ahead to see if Fantasy Island has any current park offers (Unlimited Ride wristbands). It is done occasionally and can definitely save you a few bucks!
Where To Stay
There are literally thousands of motels, hotels, and places to stay in Wildwood, and they will all smell like saltwater when you first enter the room. It's just part of the deal. Some are better than others, but most are in a similar style and vain.
I will stray a bit from that path and recommend looking into renting a house or condo right near the beach. It's the best way to get the full experience of being able to walk to the beach and boardwalk piers.
It's more expensive, but the trick is to get a larger house with a few more people. Maybe two families and cut that price in half. We've done this many times, and it's the way to go.
VRBO
Wildwood Condo Near Boardwalk
In this property, you will experience the smell of the saltwater. You are less than 1/2 mile to the amusement areas. The condo itself is 1 bedroom, and sleeps up to 6 people. You will be able to enjoy cooking for yourself as well as taking a dip in the swimming pool located on the property.
Charming Beachfront Condo 3 Miles to Boardwalk
The location cannot get any better than this. Located on the beach and only 3 miles from the boardwalk, this 1 bedroom condo is the perfect getaway. Enjoy relaxing on the beach and the entertainment not far away.
Hotels
Blue Palms Resort
The Blue Palms Resort location is great being only a 5-minute walk to Morey's Pier and Boardwalk. On property is a beautiful outdoor pool with a separate kiddie section and 2 sundecks. Be sure to check out what room types suit your family the best since many rooms offer bunk beds.
Dayton Inn & Suites
This motel is updated and ready for your stay. They offer family suites for larger families as well as individual rooms. The pool on the property is perfect for cooling off on a hot summer day. The location is great as well. The boardwalk is less than 1/2 mile away.
All in all, you can see New Jersey has a lot to show its residents and visitors in the way of amusement parks in NJ. Whether you're looking for a beach vacation, a week in the city, or sometimes in nature, New Jersey has a park close by for a solid day trip or more!
More Info Check Out:
Top 5 Indoor Water Park New Jersey You Won't Want To Miss!
Visiting New York City With Kids [Itinerary Included]
19 Best Things To Do In Newport RI
21 Best Things To Do In Mystic CT
45 Places to Stop on Your Ultimate Vermont Road Trip
11 East Coast National Parks You Want To Visit This Year
The Best Summer Fun At The Wildwood New Jersey Boardwalk
Jenkinson's Boardwalk NJ (What To Know When Visiting)
Ocean City New Jersey Boardwalk (Everything You Need To Know When Visiting)
East Coast RV Trip Itinerary – 16 Awesome Stops To Make
Pin This Post: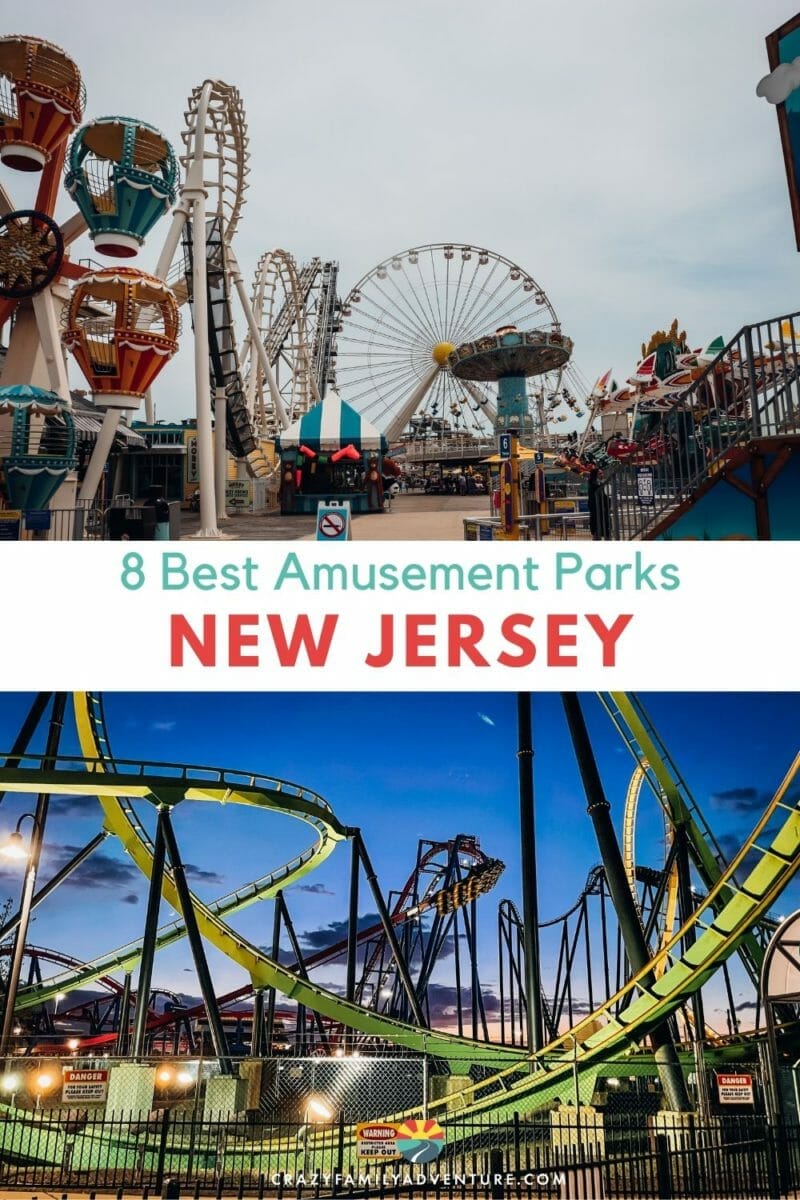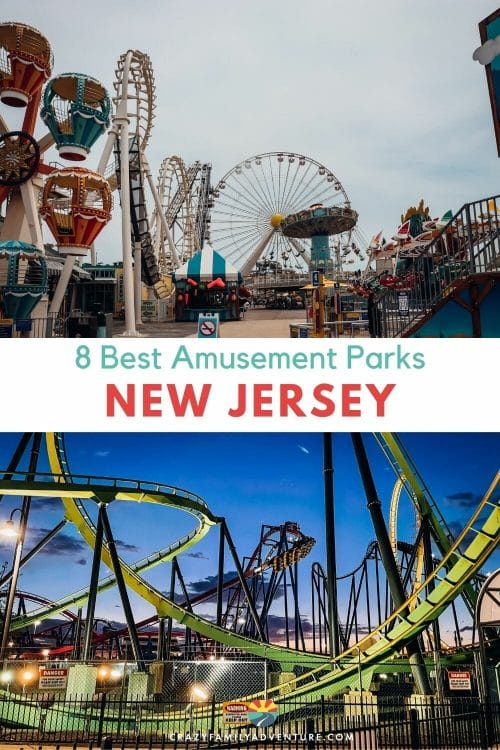 Latest posts by Meryl Kalman-Sarrecchia
(see all)
DISCLOSURE: This post may contain affiliate links, meaning I get a commission if you decide to make a purchase through my links, at no cost to you. Please read my disclosure for more info.