Nothing can get you into the Christmas spirit quite like a good holiday light display. Fortunately, there are tons of amazing Christmas lights in Wisconsin, meaning you can start feeling festive early on and keep that feeling for the entire holiday season!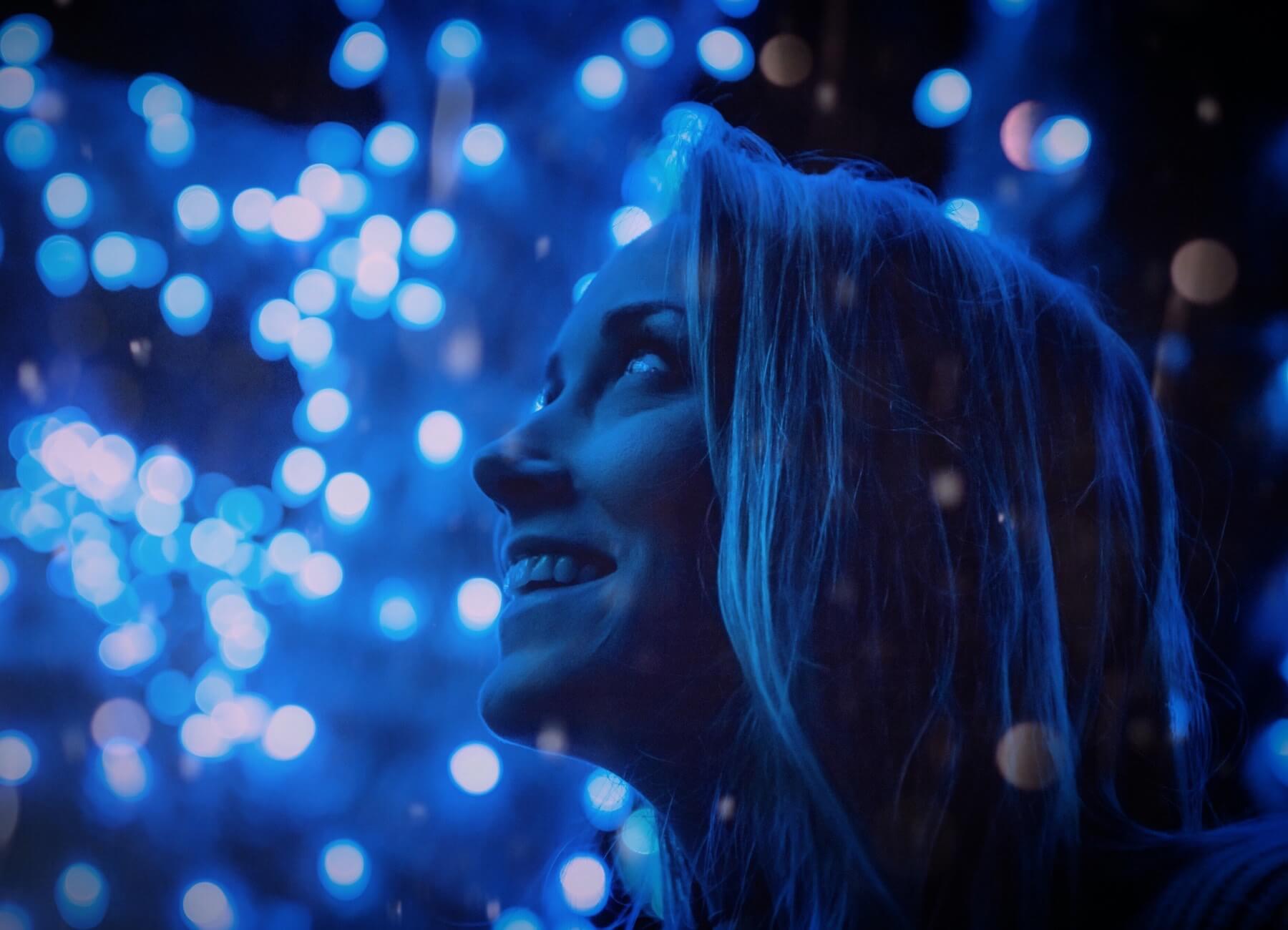 If you are searching for, 'Where can I find the best Christmas Lights near me?' — we've got you covered!
Whether you're looking for A) houses with elaborate lights and decor, B) a free holiday light display run by volunteers, or C) a paid event with a variety of other activities, there's something for you in the Badger State. In many cases, these Christmas celebrations even include an opportunity to get a photo with Santa, see a tree lighting ceremony, hear holiday music, and participate in other socially distanced holiday activities.
Not sure which holiday lights to see? We've compiled a list of our beautiful lights below. Choose from this list and you can't go wrong.
Southern Wisconsin Christmas Lights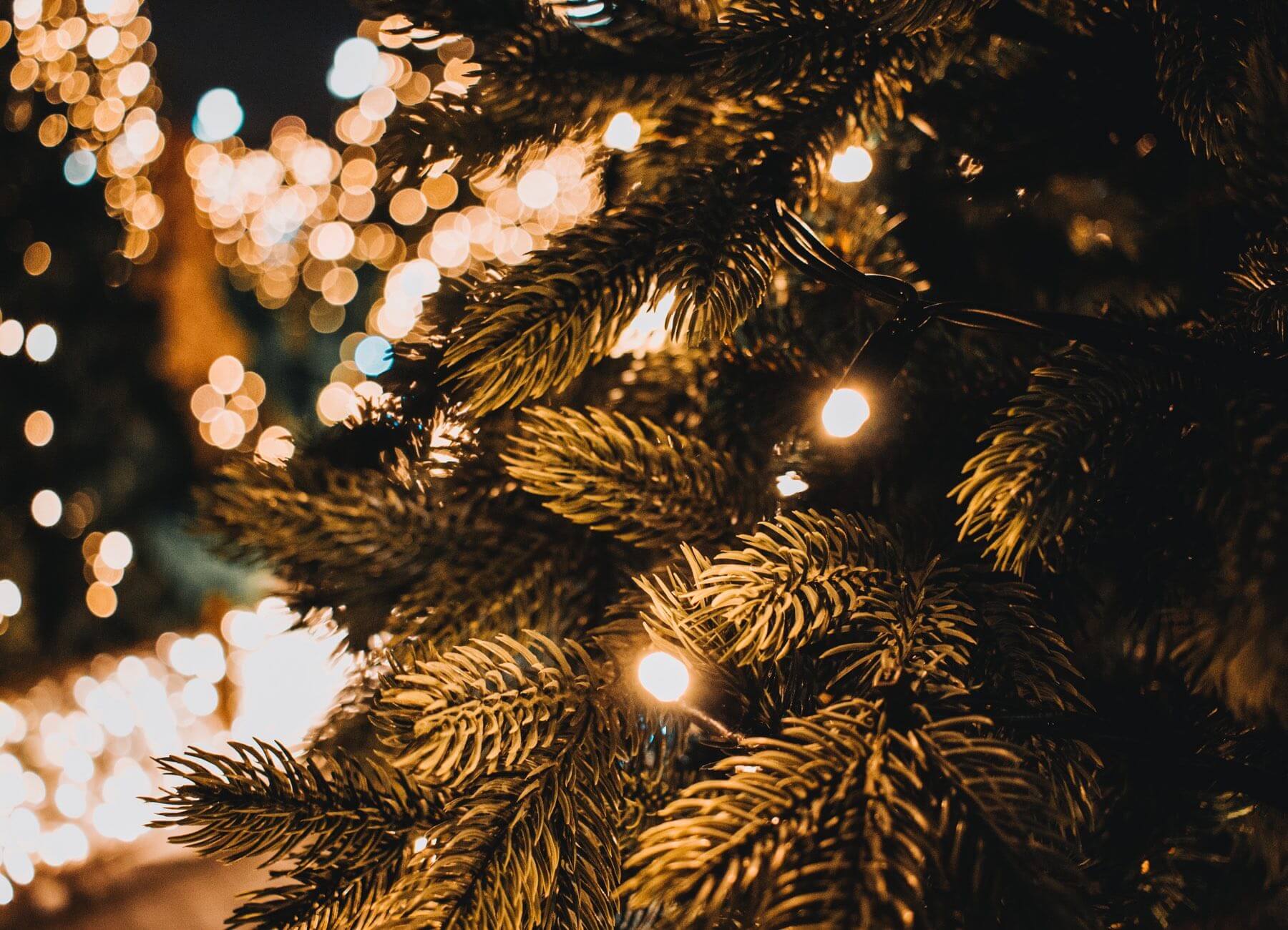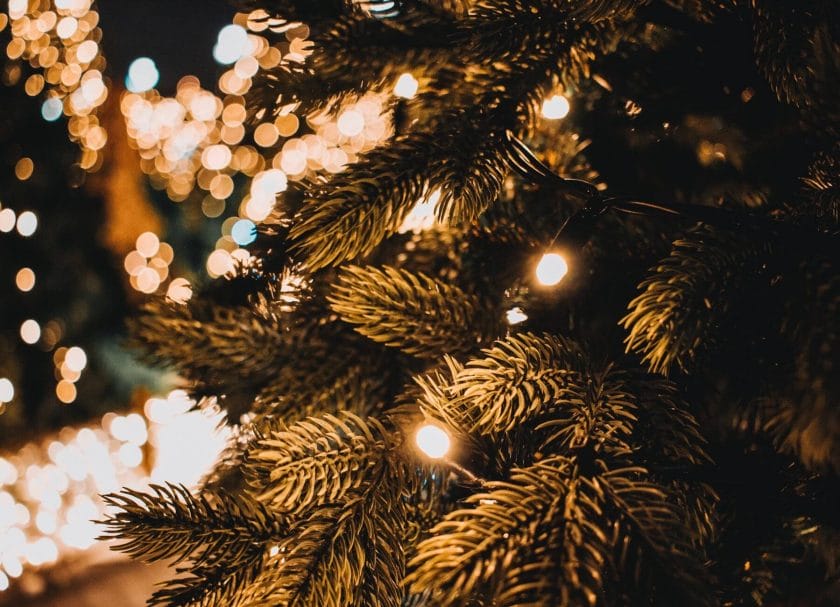 Christmas Lane
Location: Kenosha, Wisconsin
Best known for: Elaborate house light displays on the whole road
Cost: Free! Drive on the street or park and walk on the sidewalk.
One of the best things about the holiday season is the way it brings people together and inspires a spirit of giving. Witness this firsthand by visiting Christmas Lane in Kenosha.
This awesome lights display isn't run by the city or a big organization. Instead, it is created by the families who live on Christmas Lane, each one adding their own family-friendly holiday decor to the lineup. Not only that, folks on surrounding streets get in on the fun too by decorating their own homes, giving visitors even more to enjoy.
While it doesn't cost anything to check out this amazing neighborhood, some houses take donations for local food banks and other charities. Consider donating a little to help perpetuate the spirit of the season.
Wisconsin Christmas Carnival of Lights
Most people visit Jellystone Park during the warmer months for camping fun, but the fun doesn't have to end when the weather cools down. In fact, the holiday season might just be the very best time to visit this local campground.
During the Christmas season, Jellystone Park plays host to the Wisconsin Christmas Carnival of Lights. This drive-through lights display features over a mile and a half of bright colors, favorite characters, and even Santa himself, perfect for a night of holiday cheer!
Besides the lights, this event also features pictures with Santa, hot chocolate for sale, and a cute little gift shop.
Holiday Fantasy in Lights
Location: Madison, Wisconsin
Best known for: LED lights make this an eco-friendly event
Cost: Free; cash donations appreciated
An amazing and free event in Madison, Holiday Fantasy in Lights is a drive-through lights display that the whole family is sure to love. In fact, many local families visit more than one time each year!
Because the display features only LED lights, the event is much more "green" than other similar events. This means you can enjoy yourself fully knowing that much less electricity is being used here than at many other Christmas lights displays. It also means fewer lights will be burned out, so Santa and all his friends will be fully visible as you drive by.
Make sure to bring a bit of cash to donate at the end of the drive-through; this is what keeps the event going year after year.
Country Christmas at the Ingleside Hotel
Location: Waukesha, Wisconsin
Best known for: Largest outdoor drive-through light display in the state
Cost: $25 per car or minivan; larger vehicles cost more
Boasting the largest drive-through lights display in Wisconsin, Country Christmas is an event you won't want to miss. A visit to this winter wonderland is a tradition for many Wisconsin families, and one visit will show you why.
The Country Christmas Trail is the first part of the experience. Drive the mile-long trail to see over a million lights creating scenes such as "Bearville" (where giant teddy bears work and play), a 200-foot tunnel, and more.
At the end of the trail, you will have the opportunity to walk the Streets of Bethlehem area where you can see a nearly life-sized nativity scene. Christmas Village is also located nearby, giving guests a chance to check out an amazing model train display, a photo op, and a concession stand.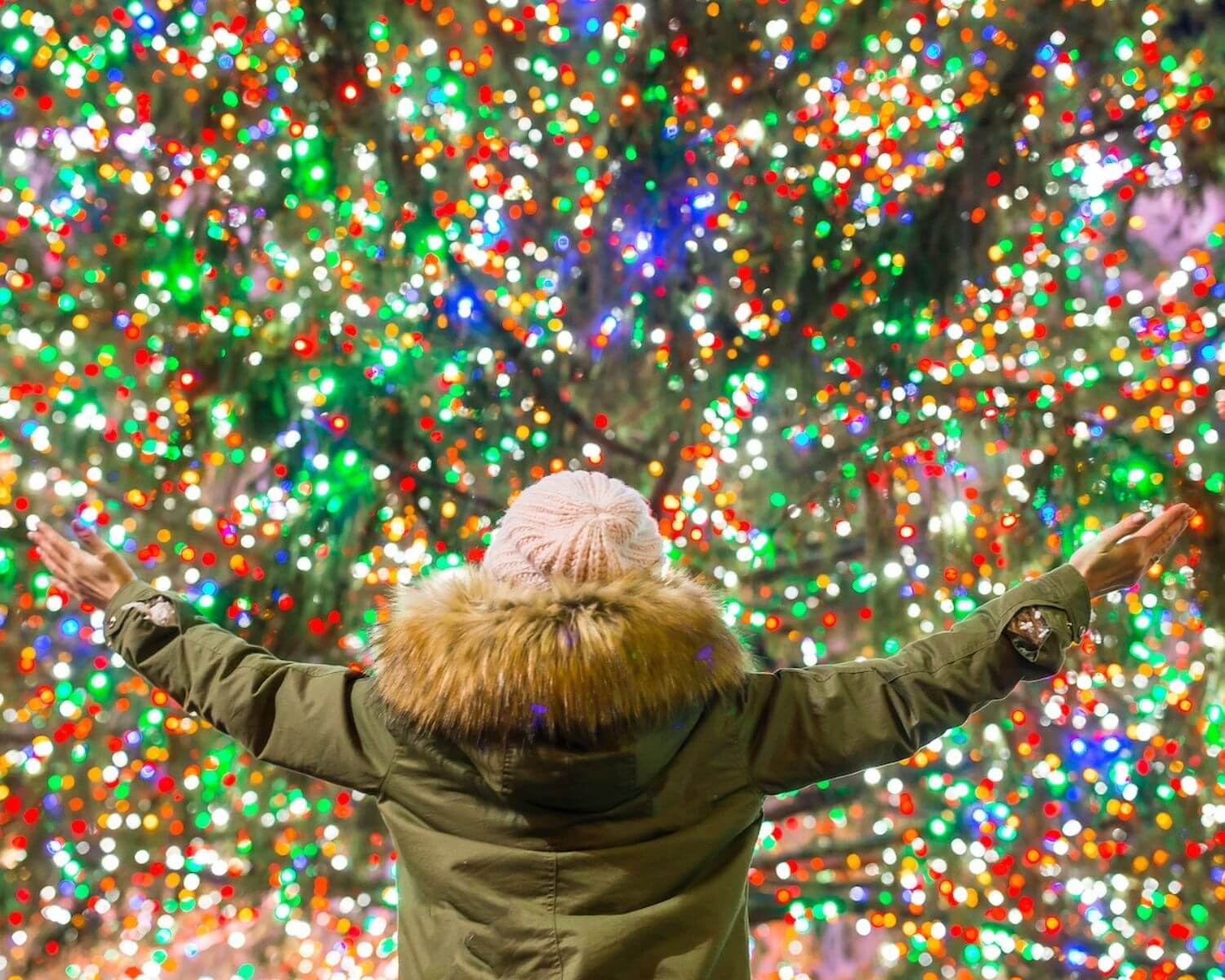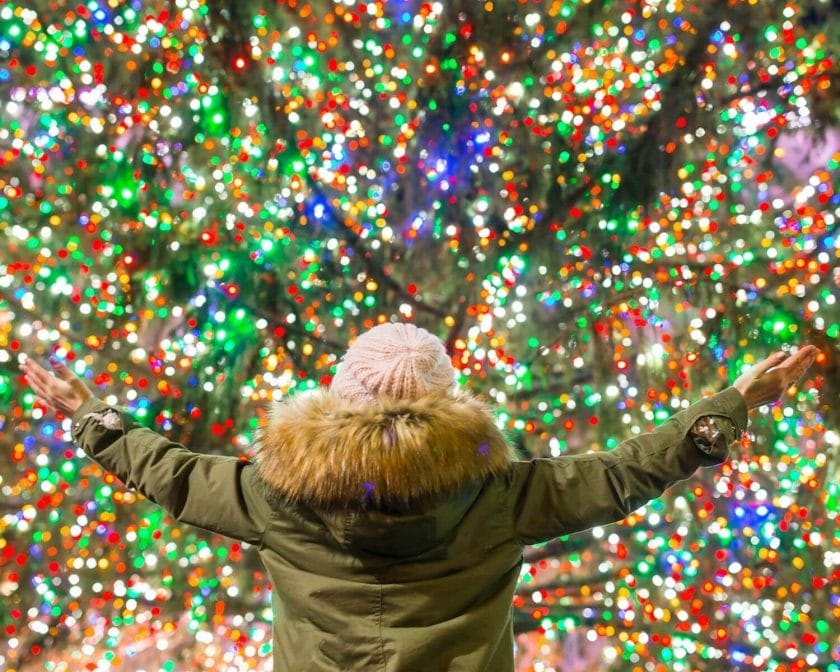 The North Pole Christmas Village
Location: Chilton, Wisconsin
Best known for: Largest indoor and outdoor walk-thru in Wisconsin
Cost: Free, but donations are accepted
A project fuelled entirely by love, the North Pole Christmas Village in Chilton is the perfect place to get into the Christmas spirit. Here you can see an enormous indoor and outdoor collection of holiday lights and decor while enjoying an evening out with family or friends.
For a fee, children can also sign up for Elf University. This class is tons of fun and teaches important elf skills such as how to wiggle your ears. During the class, each little elf will create a gift for a loved one, and every student goes home with an official Elf University Diploma.
While admission to the village is free, monetary donations, donations of non-perishable food items, and letters written to service members who cannot return home for the holidays are greatly appreciated. The mission of North Pole Christmas Village is to help the disabled and provide Christmas cheer for the elderly, forgotten, and far-from-home service members during the holidays.
Lakeside Park Holiday Lights and Light Show
Location: Fond Du Lac, Wisconsin
Best known for: Lights that reflect on Lake Winnebago
Cost: Free!
A beautiful show with Christmas tree displays that are synchronized to music, this rotary light performance is tons of fun for the whole family. It features animated scenes and favorite holiday music that are sure to have everyone smiling.
The show runs from 5 pm- 11 pm nightly beginning on Thanksgiving and running through December 31st. There is a parking lot across the road that is open to the public and provides a perfect view of the show. That said, it can be very crowded during the early evening hours, so plan to arrive early or visit later in the night.
Admission to this 8-minute show is absolutely free, making it a great way to enjoy the holidays on a budget.
Making Spirits Bright
Location: Sheboygan, Wisconsin
Best known for: Displays inspired by popular movies
Cost: Free! Food pantry donations encouraged.
Making Spirits Bright is the number one way to enjoy the holiday season in Sheboygan. This amazing lights display features a number of fun-themed "lands" including a whole Whoville area, a section full of A Christmas Story-themed lights, and a fun Peanuts Gang spot.
All lights are synchronized to music that plays on a dedicated radio station. This means that you can enjoy the sights and sounds of the season simultaneously.
The show runs November 25 through December 31 and admission is free. That said, guests are asked to bring a donation of non-perishable food items for the local food pantry.
Holiday Lights Show at Rotary Botanical Gardens
Location: Janesville, Wisconsin
Best known for: Over a million lights
Cost: $12 for adults, $5 for kids 3–12; under 3 free
Looking for a way to celebrate in Janesville? Look no further than the Holiday Lights Show at the Rotary Botanical Gardens for some amazing Christmas lights in Wisconsin.
This event gives guests the opportunity to walk the garden paths after dark. The paths are illuminated by over a million-holiday lights, including animated displays that are sure to capture the imaginations of all who attend.
This lights show is open on select nights from November 22 through December 30 from 4:30 pm –9:00 pm. There is a small admission fee, but we find the experience is well worth the cost.
Milwaukee Holiday Lights Festival
Location: Milwaukee, Wisconsin
Best known for: Multiple display parks and areas
Cost: Free! Fee for some extra activities.
Nobody does Christmas quite like Milwaukee, and the Milwaukee Holiday Lights Festival makes this very apparent. This event runs for a month and a half and features countless lights spread across several parks and other parts of downtown Milwaukee.
In addition to the lights, guests are also invited to ride the Jingle Bus for a narrated tour of the downtown area and decorations, put a letter in Santa's mailbox, or check out some of the downtown shops to pick up holiday gifts.
While the Jingle Bus does cost a little bit, walking around downtown and admiring the lights is a free and fun way to fill your season with excitement.
Enchantment in the Park
Location: West Bend, Wisconsin
Best known for: Horse-drawn carriage rides
Cost: $10 suggested donation; non-perishable food donations also accepted.
Enchantment in the Park is a beautiful celebration of the holidays. Attending this event is a Christmas must-do for many families, and we highly recommend experiencing it for yourself.
The lights in the park are spectacular and feature characters, animations, tunnels, and more. They can be viewed from your car as you drive through, or you can stroll through the park and take in the sights at a slower pace.
Besides amazing Christmas lights, Enchantment in the Park also features hot beverages and fire pits. Additionally, the popular horse-drawn carriage rides are available on Fridays, Saturdays, and a few other nights during the event's run.
Rotary Holiday Lights
Location: La Crosse, Wisconsin
Best known for: Helicopter rides
Cost: Free! Donations of cash or non-perishable food items are encouraged.
Another fantastic option for Christmas lights in Wisconsin is the Rotary Holiday Lights display. These lights are the perfect way to welcome the holidays but are far from the only way to celebrate at this event. In addition to the gorgeous lights, guests can also enjoy carriage rides, an ice skating rink, and even helicopter rides.
Free s'mores kits and fire are also available for warming up. A model train display, live nativity, and a few of Santa's reindeer help keep things extra exciting, and visits with Santa himself are available on select nights.
Obviously, this event is much more than just lights, and it's well worth the cash or food donation requested.
If you are looking for another neighborhood drive thru you can also check out Candy Cane Lane in West Allis, Wisconsin.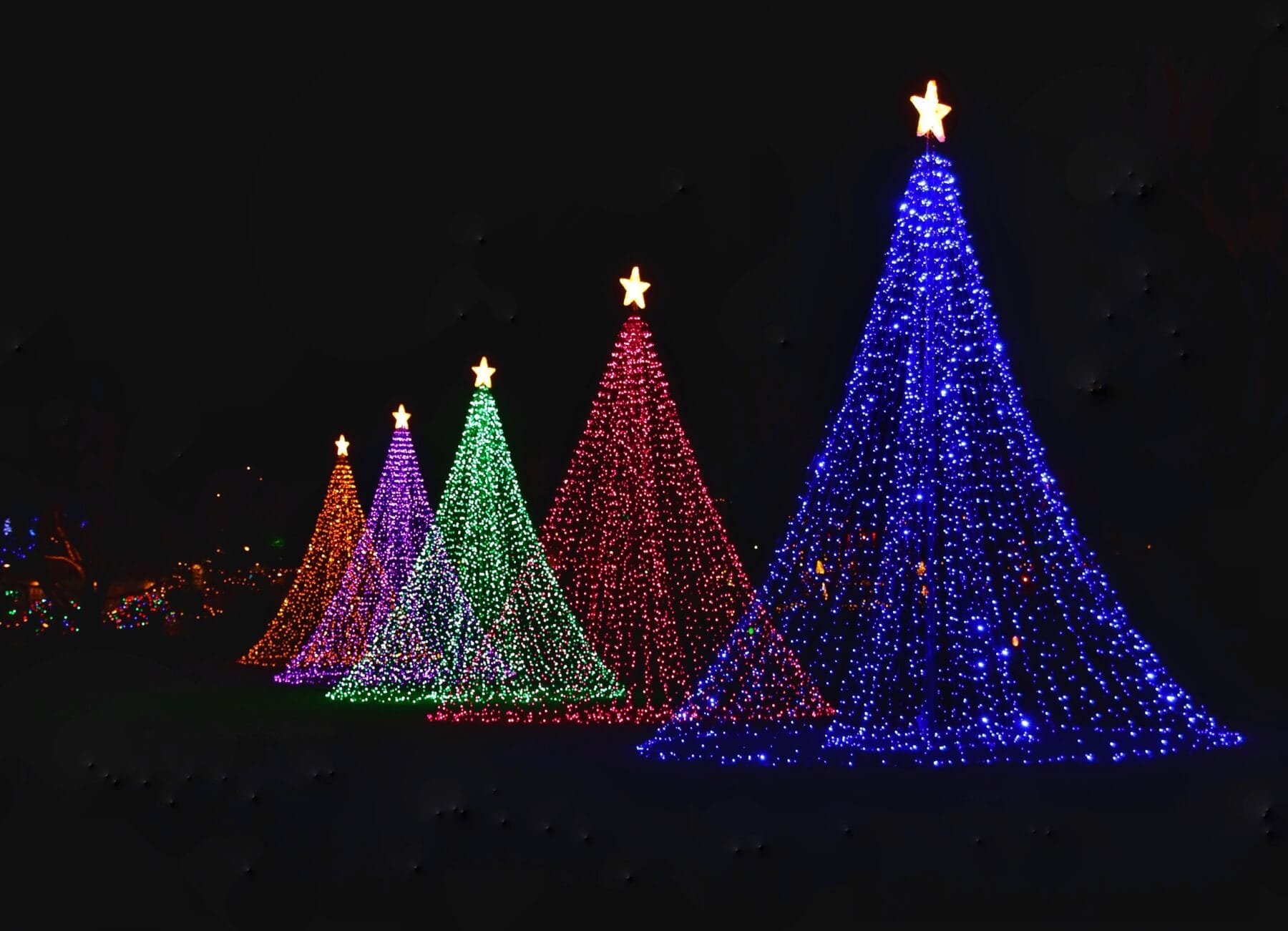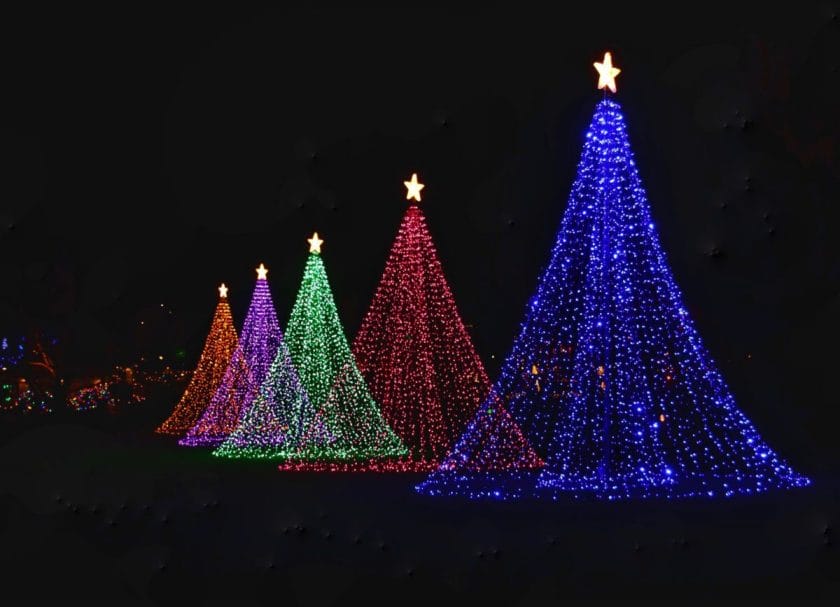 Northern Wisconsin Christmas Lights
Rotary Winter Wonderland
Location: Marshfield, Wisconsin
Best known for: Donating to 27 area food pantries
Cost: Free, but food and cash donations are appreciated.
Marshfield's Rotary Winter Wonderland is a sight to behold. The displays include a number of friendly animals made entirely of Christmas lights, and the trees twinkle with color as you drive by.
The main focus of this spectacular display is to feed the hungry during the holiday season. So far, the folks organizing this event have done a fantastic job. They've collected over 650,000 food items to be donated to food pantries, and expect to add many more to that number this year.
If you'd like to help others during this season of giving while also having a wonderful time yourself, consider visiting this Christmas lights in Wisconsin show and donating cash or food to their cause.
WPS Garden of Lights
Location: Green Bay Botanical Garden in Green Bay, Wisconsin
Best known for: Nature-inspired light displays
Cost: $12 for adults; $5 for kids ages 3–12; under 3 free
A garden-themed Christmas lights display, the event at WPS Garden of Lights is one of the best celebration options out there. Witness an enchanted icicle forest and glistening flowers, then walk through a giant lighted caterpillar.
In addition to the outdoor walk-through lights, you may also have the opportunity to see Santa or Mrs. Claus, enjoy a candy cane, check out the gift shop, or admire the model train collection. Make sure to snap pictures in all of the awesome photo spots!
This event begins at the end of November and runs through the beginning of the new year, so you have plenty of time to get in on the fun.
Weyauwega Winter Wonderland
Location: Weyauwega, Wisconsin
Best known for: Created and run by community volunteers
Cost: Free, but non-perishable food donations are appreciated.
Deputy Justin Malueg is a big fan of Christmas. In an attempt to spread Christmas cheer, this man gathered a huge group of volunteers and created Weyauwega Winter Wonderland, Weyauwega's very own holiday lights display.
The display fills downtown Weyauwega with dazzling lights that dance to the music played on a dedicated radio station. It runs on Fridays, Saturdays, and Sundays beginning at 5 pm and ending at 10 pm, and is free to the community.
You can catch updates about the lights show on the page linked below.
Christmas Village
Location: Chippewa Falls, Wisconsin
Best known for: Run for the Lights 5K
Cost: Free! Donations appreciated.
The Chippewa Falls Christmas Village is an impressive event that includes many life-sized Christmas scenes. These scenes are reminiscent of the Victorian era and fill visitors with a cozy sort of nostalgia for Christmases past.
In addition to the beautiful holiday scenes, visitors will also be treated to an amazing display of over 60,000 lights. These twinkle and glow, filling the park with color and warmth and spreading holiday joy.
Each year, the holiday scenes and light displays grow and change, making this a wonderful event to visit year after year.
Lights in Lincoln Park
Location: Manitowoc, Wisconsin
Best known for: Animal lights displays
Cost: $5 per car; $10 per family for walk-through night
These Christmas lights in Wisconsin are unique because they are run by the local zoo. What does this mean? It means tons of awesome animal displays, of course! These combined with the fun light arches and other lighting effects create a lovely show that your family will definitely enjoy.
While the display is normally a drive-through event, those who prefer to see the lights at a slower pace can visit on the Family Night Fun Walk date. Walking through the park allows you to really take in the beauty of it all.
The cost to visit is $5 per car to drive through or $10 per family to walk through. All proceeds go to the Manitowoc Zoological Society.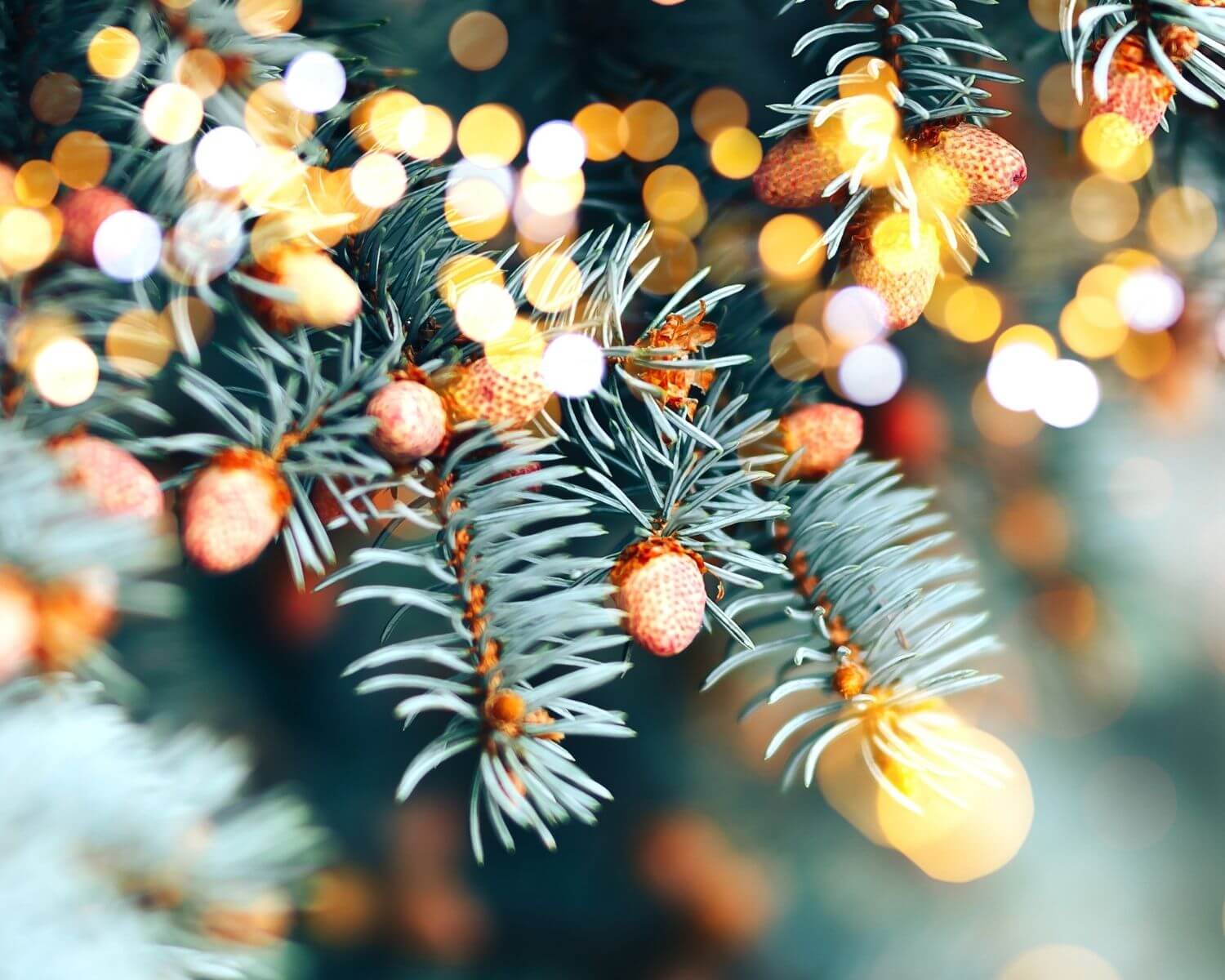 Celebration of Lights
Location: Oshkosh, Wisconsin
Best known for: Special fundraiser and event nights
Cost: $20 per car; $5 off with a donation of a sealed hygiene item or non perishible food item.
The Celebration of Lights in Oshkosh is all about making a difference in the world. Community nights offer free admission to those who may not be able to attend otherwise, food donations are accepted for local food pantries, and special event nights raise funds and take donations for specific organizations.
In addition to the dazzling lights display (which truly is incredible), Santa is also available to visit most nights. Additionally, carriage rides through the grounds are available and drawings take place throughout the season.
General admission to this event is $20 per carload. To save a bit of money and help someone in need, donate a non-perishable food item for a dollar of admission.
Lights of the Northwoods
Location: Rhinelander, Wisconsin
Best known for: Fireworks on January 1st
Cost: Free! Food and monetary donations appreciated.
A beautiful Christmas lights in Wisconsin event that features lights that can be viewed from both a driving and a walking path, Lights of the Northwoods is an excellent choice. This celebration features a huge number of lights, including many animals and other characters.
This community event runs from the end of November right up until the new year and even features a fireworks show on January 1st. If you plan to see the fireworks, be sure to show up early, as the parking area does get very crowded.
While there is no fee to see the lights, it is recommended that you make a donation of cash or non-perishable food in order to help those in need and help the lights continue next holiday season.
Santa's Rock n Lights
Location: De Pere, Wisconsin
Best known for: Themed "worlds" and light tunnels
Cost: $19.99 per vehicle Monday–Thursday; $29.99 per vehicle on Fridays, Sundays, and from November 19th –January 2nd; $29.99 per vehicle on Saturdays
Santa's Rock n Lights are so good they've made their way to four different states. All of these shows are fantastic, and the Wisconsin version is no exception.
Over 700 feet of amazing light tunnels can be found along this drive-through light display route. On top of that, themed worlds are around every corner, including a popular and colorful dinosaur world that kids adore.
You will need to buy tickets in advance, as admission is not sold at the gate. Want to avoid long lines? Avoid Fridays and Saturdays between 6 pm and 8 pm, and you should be good.
Sam's Christmas Village and Light Tour
Location: Somerset, Wisconsin
Best known for: Visits with Santa and reindeer
Cost: $30 for adults, $10 for kids 4–10; 3 and under free; military discount half off; $10 parking
Featuring amazing light displays, visits from Santa and his reindeer, an onsite bar and grill, and an adorable Christmas Market, Sam's Christmas Village is an excellent place to spend a few hours during the holiday season.
While the light display here is usually a walking tour (and we do love walking the lighted paths) there are also drive-through nights for those who can't walk the paths. Vendors are open for business in the outdoor marketplace from Thursday–Sunday, so be sure to visit on one of those days if you wish to shop.
Want a way to warm up during your visit? We highly recommend booking a S'mores Cabin to share with family and friends. These cute little cabins are a great place to hang out after walking the trails. Each one comes equipped with a fire-starting kit and a s'mores kit, and all cabins will receive a special visit from Santa.
Winter Jubilee Light Show
Location: Green Bay, Wisconsin
Best known for: Projection show
Cost: Free!
The perfect addition to any holiday season, the Winter Jubilee Light Show uses a combination of lights, projections, music, and fireworks to put on an amazing show. It is unlike any of the others listed here and is well worth driving to see.
The performance is projected onto the side of Lambeau Field and is best viewed from Titletown's Plaza or from Lots 5 and 6 of Lambeau Field. That said, it's possible to see pieces of the show from other locations.
You can catch this free holiday spectacular nightly between November 26th and December 30th. It plays every half hour between 6 pm and 9 pm and runs for seven minutes.
Clearly, Wisconsin is the place to be if you want to see an awesome family-friendly Christmas light show this holiday season. You also know the weather can be interesting in winter in Wisconsin in winter so always be sure that places are open and don't close due to weather permitting issues.
Pick one of these awesome Christmas lights in Wisconsin events, grab a hot cocoa, tune your radio to the holiday station, and get ready for a fun and festive experience your family won't soon forget and will get everyone in the holiday spirit!
More Winter Fun Around The US
The 15 Best Things to do in Wisconsin in Winter
15 Sledding Hills in Wisconsin You Want to Visit
The Best Snow Tubing In Wisconsin
All The Details On The Amazing Wilmot Mountain Ski Resort
The 5 Best Family Ski Resorts In Colorado
The Top 14 Best Family Ski Resorts To Visit This Year
15 Christmas Tree Farms in Wisconsin Where You Can Cut Your Own Tree Down
15 Best Pumpkin Patches In Wisconsin To Visit
The Ultimate Guide to Santa's Enchanted Forest
Pin This Post: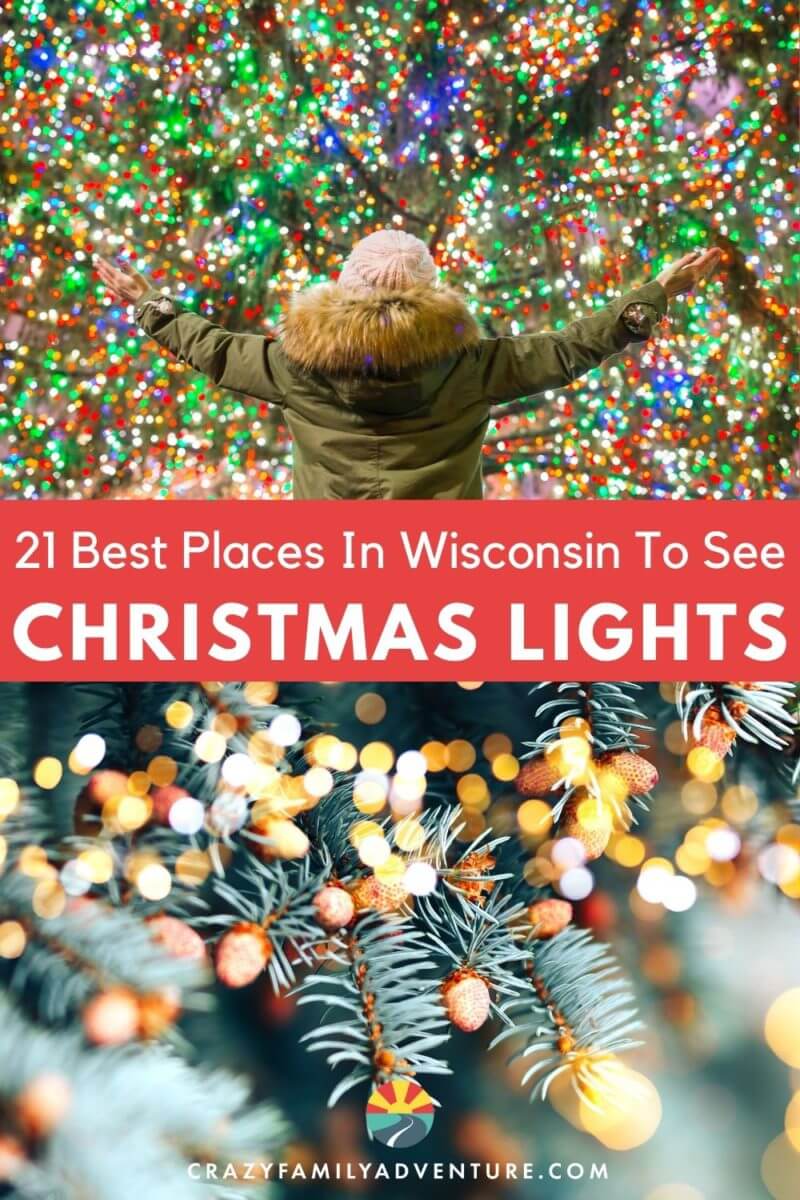 Latest posts by Chelsea Gonzales
(see all)
DISCLOSURE: This post may contain affiliate links, meaning I get a commission if you decide to make a purchase through my links, at no cost to you. Please read my disclosure for more info.