Wisconsin is the place to go for winter fun. The place sees a ton of snow, and the super cold temperatures mean frozen lakes galore. What does this mean for you? Plenty of snow tubing, snowmobiling, skiing, ice fishing, ice skating, and of course, those coveted sledding hills in Wisconsin!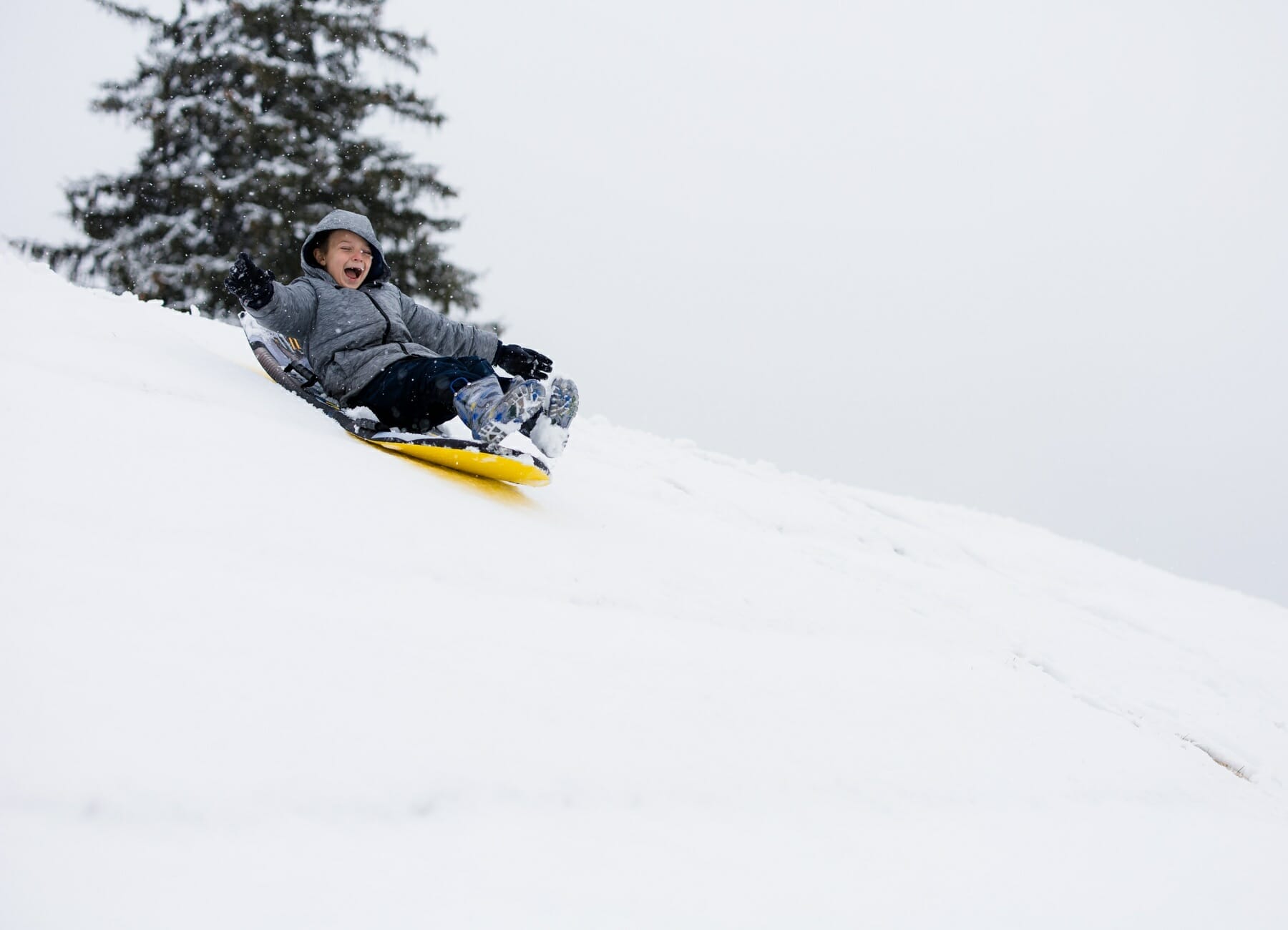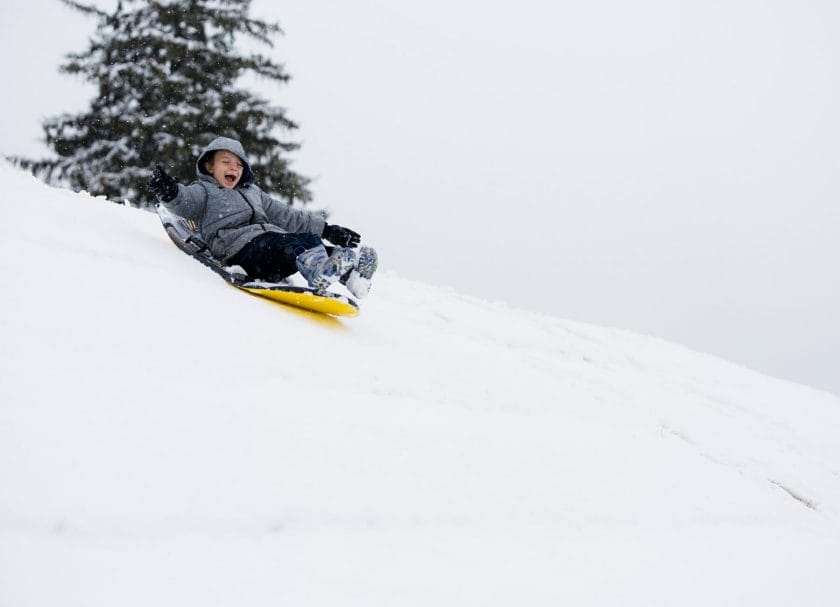 If you are searching for, 'Where can I find the best sledding hills near me?' — we've got you covered!
Whether you head to a state park, a county park, a city park, or a privately owned recreation area, you're sure to enjoy sledding in the Badger State. That said, there are definitely some Wisconsin sledding hills that are better than others.
Not sure where to look for the best sledding hills in Wisconsin? Lucky for you, you've come to the right place. In this article, we will dive deep into the topic and offer you 15 amazing sledding hill options so you can make sure you experience the best of the best when it comes to sledding in Wisconsin.
Southern Wisconsin Sledding Hills
Madison and Milwaukee are both located in southern Wisconsin, and both have some pretty fantastic sledding hills to offer. On top of that, some of the smaller southern Wisconsin communities play host to awesome sledding hills as well, meaning those in this part of the state won't run out of sledding opportunities anytime soon.
Olbrich Sledding Hill
Location: Madison
Cost: Free
A large and beautiful lake park, Olbrich Park is a wonderful place to visit no matter the time of year. It is home to some awesome picnic areas, a playground, and more. That said, we especially love the winter when we can visit this park to enjoy the Olbrich Park sledding hill.
Admission to this metro park is free, and although there are no warming shelters near the hill, public restrooms are available. Additionally, both an ice skating rink and an ice hockey rink can be found in this park, meaning even more winter fun for the whole family.
Hospital Hill
Location: Beloit
Cost: Free
One of the most popular sledding hills in Wisconsin, this hill got its name because there was once a hospital located right next door. The hospital is long gone but the amazing sledding hill remains, and it's a popular one!
Hospital Hill is a large one but is gentle enough for even the littlest of sledders. In fact, many parents even feel comfortable sliding down this one. The only problem? Getting yourself (and your sled) back to the top to go again.
Whitnall Park Sledding Hill
Location: Franklin on 92nd st
Cost: Free
We love the Whitnall Park sledding hill for nighttime sled rides. Why? Because it's well-lit, even on the darkest of winter nights, meaning you can have fun for a long time after the sun sets. In fact, sledding is permitted until 8:30 pm.
Not up for sliding the big hill? You and your tiny sledders might prefer the smaller hill that is just north of the main hill.
Like all Milwaukee county parks, Whitnall park is free, and using the sledding hills doesn't cost a dime. That said, those who want to have an extra good time might consider visiting on the weekend when they can be pulled by a team of sled dogs. Just be prepared to pay for this particular awesome experience.
Hiestand Park
Location: Madison
Cost: Free
Looking for one of the more thrilling sledding hills in Wisconsin? Hiestand Park might be the place for you. The hill here is named "Radar Hill" and is longer and steeper than many others. It's an absolute blast to go flying down!
The park does not have a restroom, so be sure to go before you hit the snow. What it does have however is an absolutely fantastic sledding hill that offers plenty of space for all the people who enjoy sledding here. There is also a lot of room to slow down at the end, making this one of the safer steep and long hills in the area.
Killer Hill
Location: Menomonee Falls
Cost: Free
Yes, this hill is called Killer Hill, and no, it hasn't actually killed anyone. The name likely came about because of the killer climb to reach the top, rather than the sled ride itself. That said, the hill does offer a pretty exciting ride.
The hill is located in Rotary Park and is one of the most fun things to do in Menomonee Falls in the wintertime. Even if you aren't a fan of sledding, you're sure to love the giggles and shouts from the folks enjoying this super fun hill.
Currie Park Sledding Hill
Location: Wauwatosa
Cost: Free
This is a beautiful riverside county park that is fun to visit all year round. Most people visit for the golf course during the warm months. That said, winter is probably our favorite time of year to pay this park a visit. Why? Because of the incredible sledding, of course!
This park actually plays host to more than one sledding hill, making it a great place to go for variety. The hills are lit at night, meaning even those who can only visit during the evening hours can enjoy this awesome wintertime fun. Clearly, this is an awesome pick no matter who you are!
Ardon Park
Location: Janesville
Cost: Free
Another wonderful place for family fun in the winter is Ardon Park in Janesville. The sledding hill at this park is fantastic and is a great place to connect with the local community during the winter months.
We appreciate that Ardon Park has a large parking area, meaning you won't have trouble finding a spot to leave your vehicle. We also love the Little Free Sled Sheds that the city of Janesville has put in place. These are perfect if you want to go sledding but don't have a sled of your own, as they allow you to borrow a sled for the day and return it when you're done.
Elver Park
Location: Madison
Cost: Free
The largest community park in Madison, Elver Park is an excellent gathering place for families and friends. One of the best things about this park? The incredible sledding hill that is found there. This hill is smooth, fast, and great for sledders of all ages.
Because this park is run by Madison Parks and Recreation, it is free for all to use. The park also boasts an ice skating rink and cross-country skiing, meaning you could easily spend hours enjoying winter sports here. Fortunately, restrooms are available onsite, making it possible to stay for hours at a time.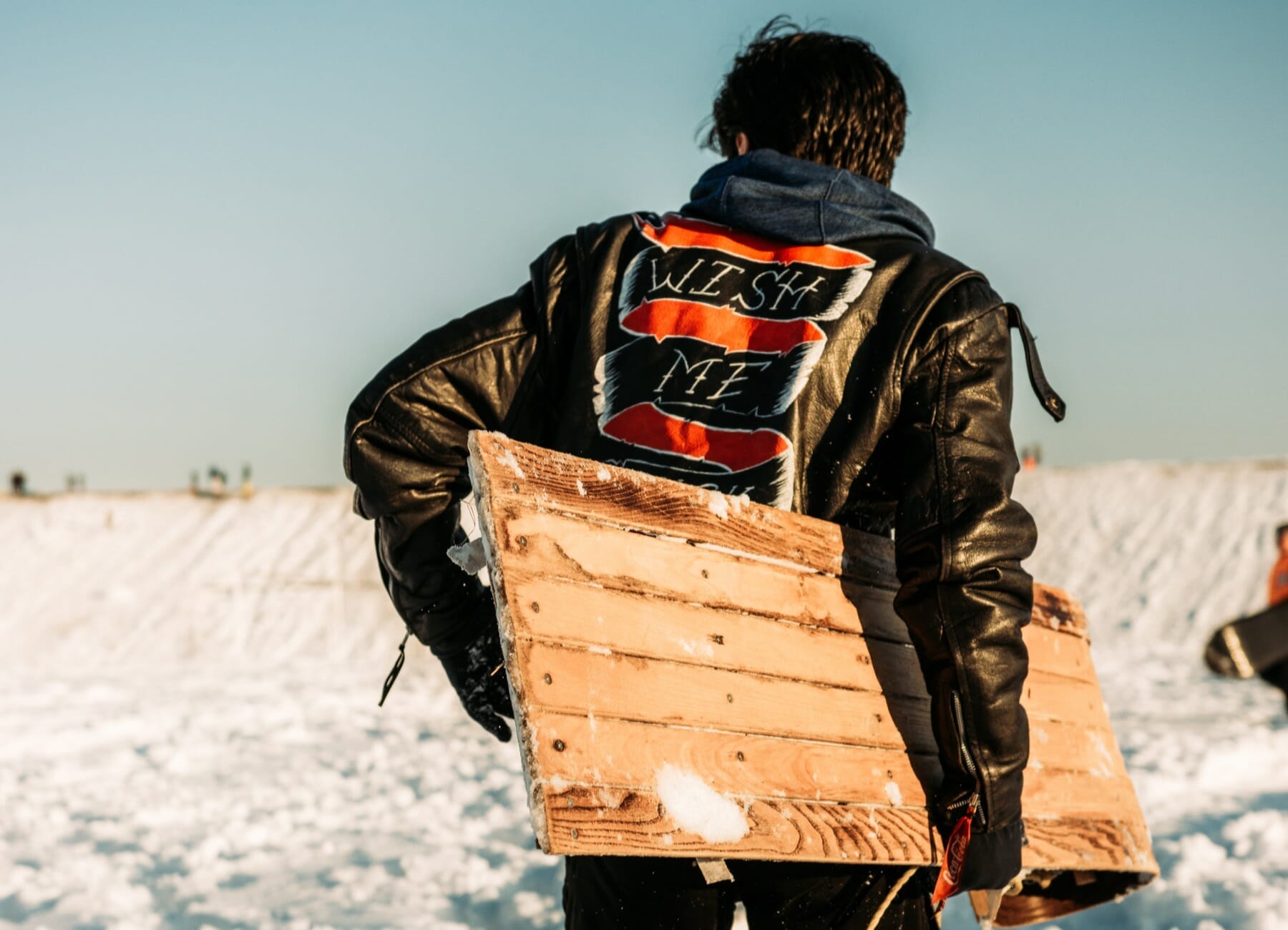 Northern Wisconsin Sledding Hills
The northern half of Wisconsin might be more rural, but fantastic sledding hills don't care how populated an area is. Therefore, you can expect to find just as many awesome sledding opportunities up north as you would down south. In fact, the lower population might even help you by reducing the crowds and making sledding more enjoyable.
Pinehurst Park
Location: Eau Claire
Cost: Free
If you find yourself in Eau Claire, Pinehurst Park is one of the very best places to visit during the cold months. This place is home to what is easily one of the best sledding hills in Wisconsin, making it a very popular sledding destination.
The park also boasts opportunities to try your hand at skiing or snowboarding or to go ice skating. Rumor has it, the park is even working on putting in a tubing hill for those who prefer snow tubing.
No matter how you choose to enjoy the winter weather, you're sure to appreciate the warming shack and fire pit. Be sure to pack a container of hot cocoa to enjoy while you take a break from the cold!
Forest Hill
Location: Eau Claire
Cost: Free
Another great sledding area in Eau Claire, Forest Hill is 100% worth visiting. This hill is a hidden gem, and not many people from outside of town even know to look for it. That said, once you find it, you're sure to be back.
Located on the East Side Hill next to the Forest Hill Cemetery, this hill might seem a bit creepy at first, and its location has even earned it the nickname "Dead Man's Hill". However, it really isn't all that spooky, especially after your laughter begins filling the air as you zoom down the amazing hill!
Like Ardan Park above, this hill features a Free Sled Shed, so you can borrow a sled if you don't have one of your own.
Plamann Park
Location: Appleton
Cost: Free
Plamann Park provides the kind of outdoor recreation every city should have. A lake beach, kids' farm, and a disc golf course offer summer fun. Meanwhile, sledding hills, cross-country ski trails, and snowmobile trails keep folks busy during the wintertime.
The sledding hills in this park come in two sizes: medium and large. Both are super slippery and super fun, and both deserve to be tested by sledders of all ages. Why not give them a try yourself?
Pleasant View Park
Location: Wausau
Cost: Free
Pleasant View Park boasts an excellent hill for sledding and toboggan-run riding. The top of the hill offers a gentle slope and is long enough to make the walk back up the side of the hill worthwhile. There are some trees on the hill, but dodging them is easy enough. That's half the fun anyway, right?
As the name suggests, this place is quite pleasant. The park is located in a neighborhood and we find that it doesn't tend to get crowded. This is a major bonus when vying for the best section of the sledding hill!
Swan Park
Location: Waupaca
Cost: Free
A lovely little escape with plenty of greenery during the summer months, people love visiting Swan Park during the spring, summer, and fall. What many people don't know is that this pretty little park is also a wonderful winter spot thanks to the super fun sledding hill found there.
The hill is large and lots of fun for family sledding, especially with big kids. Most toddlers would enjoy it as well, but some might be intimidated.
The park does have a good-sized parking lot and doesn't tend to get crowded.
Josten Park
Location: Bellevue
Cost: Free
Located just outside of Green Bay, Josten Park is a local favorite for a reason. The sledding hill in this park is smooth and gentle, but still offers a fast and thrilling ride that kids of all ages (if you have brave littles) absolutely adore.
The park is large, as is the hill, meaning there is plenty of room to spread out most of the time. That said because it's so popular, there are times when the hill can become crowded despite its size.
There is ample parking, so finding a place to leave the car on those crowded days shouldn't be a problem. Additionally, there is a public restroom, something parents of young children will appreciate.
Fireman's Park
Location: Green Bay
Cost: Free
Another awesome Green Bay-area sledding spot can be found in Fireman's Park. This community park has been a favorite sledding area of locals for many years and is sure to remain just that for years to come.
Fireman's Park is the perfect place for families to sled because it features more than one hill. There are options for thrill seekers, options for older kids, and even smaller hills for the tiny sledders in your group.
In addition to the different hills, we also like that this park is located in an easy-to-find location with lots of shopping around. This means we can do our shopping on the way home!
As you can see, there is no shortage of amazing sledding hills in Wisconsin. Now the only question is, which ones will you choose to conquer? We recommend trying out as many as you can while the snow lasts, and adding the rest to your bucket list for next winter. After all, you can never do too much sledding!
Other fun things to do in Wisconsin:
The Best Snow Tubing In Wisconsin
15 Best Pumpkin Patches In Wisconsin To Visit
The 21 Best Places to See Christmas Lights in Wisconsin
15 Christmas Tree Farms in Wisconsin Where You Can Cut Your Own Tree Down
27 Wonderful Things To Do In Kenosha, Wisconsin [Including Where To Stay]
18 Amazing Things To Do In Milwaukee This Week
16 Terrific Things To Do In Wisconsin Dells With Kids
39 Reasons You Will Fall In Love With Green Meadows Farm
The 4 Best Indoor Water Parks in Wisconsin
Pin to Family Fun to Save for Later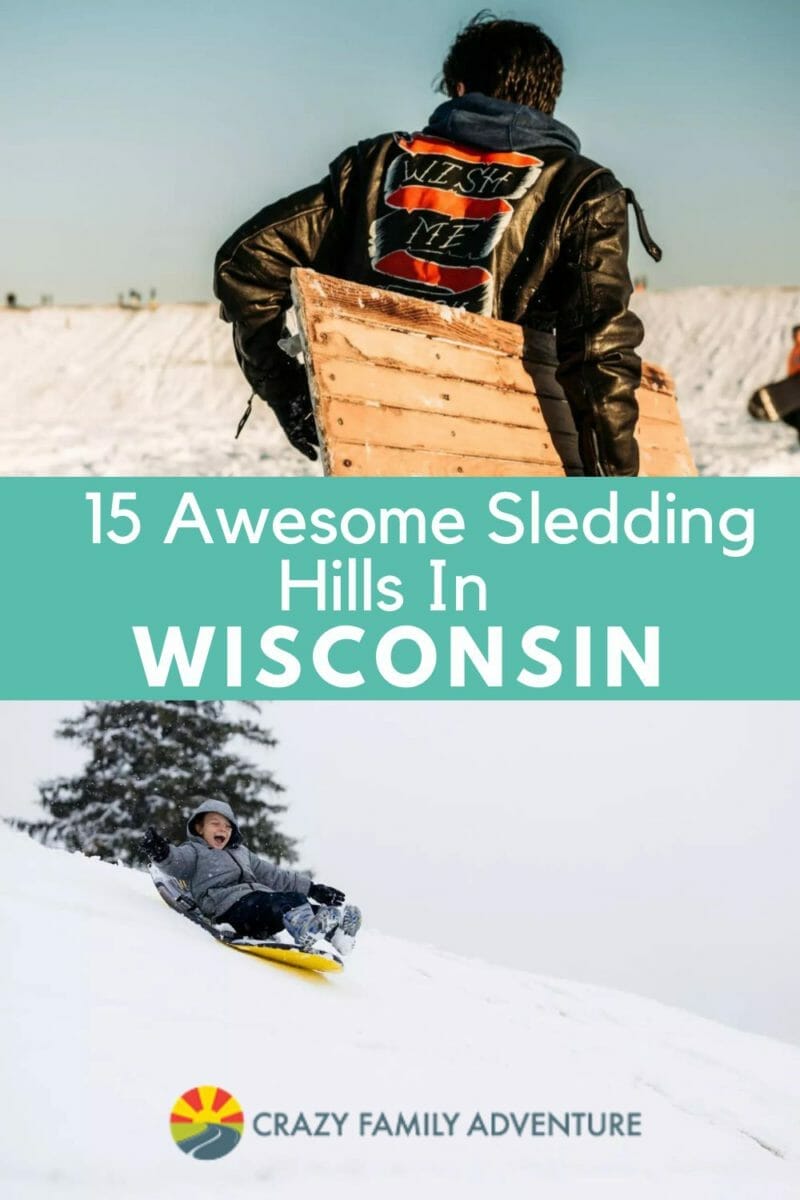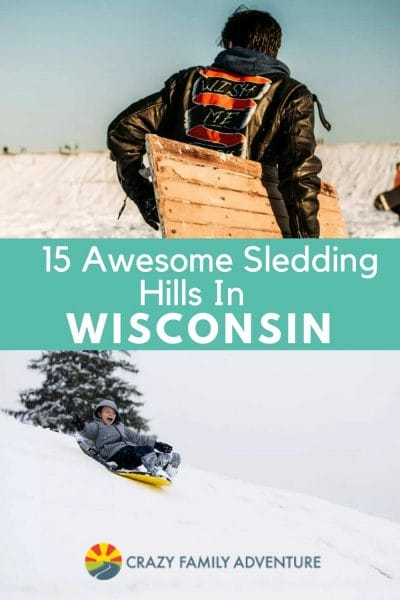 Latest posts by Chelsea Gonzales
(see all)
DISCLOSURE: This post may contain affiliate links, meaning I get a commission if you decide to make a purchase through my links, at no cost to you. Please read my disclosure for more info.