There's nothing quite like winter in Wisconsin. The cold weather makes activities like skiing and snowboarding possible for the entire season, and many people take full advantage of this fact. Of course, not everyone is physically able to take up downhill skiing, snowboarding, or cross-country ski adventures. Some choose sledding instead, but those who are looking for something a little more thrilling might turn to snow tubing in Wisconsin.
Searching for the best Snow Tubing near me? We have you covered! Check out all these great places!
Just as you might imagine, there are tons of opportunities for snow tubing in Wisconsin. From super simple free tubing hills to full-service ski resorts that boast a tubing hill of their own, this state has a snow tubing spot for just about anyone who's interested in giving this fun winter activity a go and having a fun snow-covered day!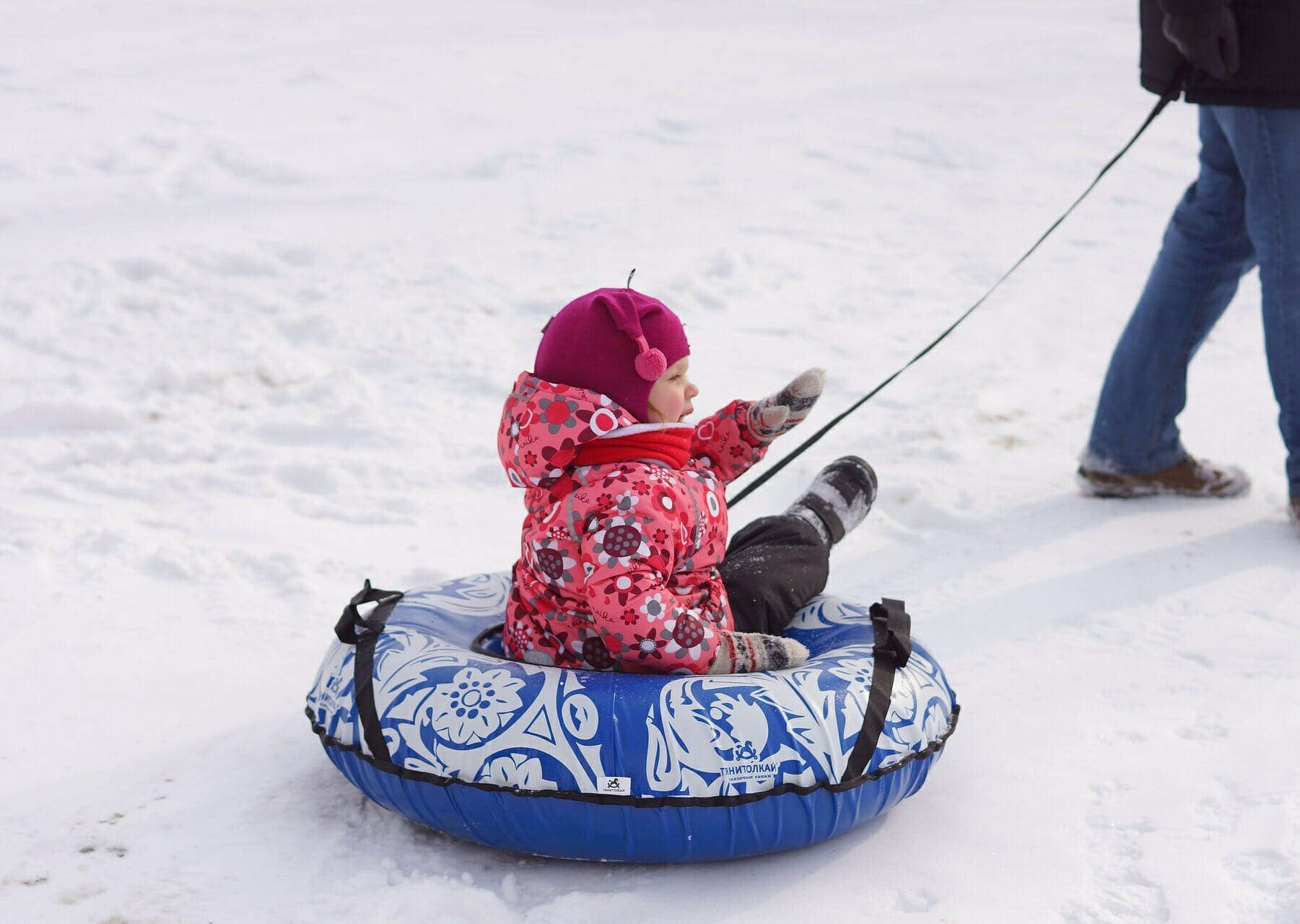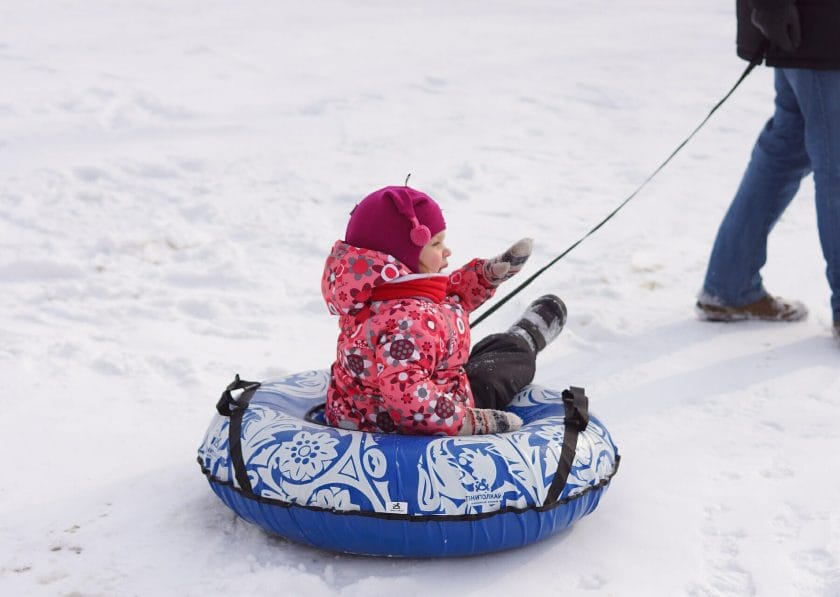 Southern Wisconsin Snow Tubing
We'll start in the southern half of the state. This area has tons of amazing snow tubing opportunities; however, our absolute favorites are listed below. Pick one of these awesome spots and you can't go wrong.
Cascade Mountain
Location: Portage, WI
Cost: $19-$23 for two hours for kids under 6; for everyone else, it's $35–$40 for two hours
Numerous tubing lanes ensure there's room for tubing fun for everyone at Cascade Mountain. These lanes are right at 1,000 feet long, giving you a nice long ride. A magic carpet lift takes you back to the top after you ride, so you can keep going again and again. Best of all, thanks to the snow-making system in place at Cascade Mountain, you never have to worry about whether there is enough snow to tube.
This park is open seven days a week during the winter season. It offers a ski area, snowboarding, and lots of other amazing winter fun, making it the place to go if you want to fully embrace the magic of the winter season.
Christmas Mountain
Location: Wisconsin Dells, WI
Cost: Unknown
A popular destination for fun seekers, Christmas Mountain Village is a wonderful place to escape to. Of course, the tubing chutes area that this mountain resort offers makes it even better.
This snow tube run is over 900 feet long and features a tow rope for getting back to the top. This park is open all week long, making it perfect for those who prefer weekday fun, and skiing and snowboarding are also available to fill out your experience.
It should be noted that it is recommended that children be at least 42 inches tall in order to tube at this location.
Sunburst Winter Sports Park
Location: Kewaskum, WI
Cost: $20- $25 snow tubing ticket for two hours
The largest snow tubing park in the entire country, Sunburst Winter Sports Park is the place to go if you like plenty of variety and tons of fun. This place boasts a full 45 snow tube lanes, including a quarter-mile run that features a 100-foot drop. This hill is serviced by not one but two magic carpet lifts to take you back to the top of the big hill.
Sunburst is open daily during the winter season. Food and drinks are available onsite and are priced fairly. All ages are welcome as long as they meet the 42-inch height requirement, but younger kids might be afraid to slide this one.
The Rock Sports Complex
Location: Franklin, WI
Cost: $20–$35
Located just 15 minutes from downtown Milwaukee, The Rock Sports Complex is a super convenient place to get your winter thrills. The place offers skiing, snowboarding, and tubing facilities, and all three are fantastic.
Tubing is available every day to anyone 36 inches or taller. The 19 lanes at this tube park are amazing, and the surface lift makes enjoying them easy.
All that said, the tubing experience at The Rock Snowpark gets even more fun on Friday and Saturday nights when it's time for glow tubing. This is a fun glow-in-the-dark tubing experience that happens late at night and is an absolute blast. Pay a little extra and get a LED light tube necklace too!
Wilmot Mountain
Location: Wilmot, WI
Cost: $29 for two hours Monday–Thursday; $44 for two hours Friday–Sunday and holidays (tickets can be purchased on their website).
20 snow tubing lanes make Wilmot Mountain one of the more fun places to go snow tubing in Wisconsin. Each lane is 1,000 feet long, and every single foot offers tons of fun and laughter. To make a good thing even better, a covered conveyor lift takes all riders up the hill for another ride as many times as they see fit.
Kids must be at least 5 years old to tube on the main hill at this location. That said, a smaller kiddie sledding hill is available for those under this age limit. Additionally, skiing and snowboarding are available, meaning there is something for every member of the family at this location.
It is located not far from Kenosha, Wisconsin which also has a lot of fun winter activities and great Kenosha restaurants.
Tyrol Basin
Location: Mt. Horeb, WI
Cost: $25 for 4 hours
With 12 lanes that provide a full 700 feet of tubing fun, Tyrol Basin is an awesome pick when it comes to places to go snow tubing in Wisconsin. It's also a great place for a number of other wintertime activities.
The facility includes a wonderful warming house that offers gorgeous mountain views. A bar, concession stand, and lockers can all be found in this building, making it the perfect place to warm up and spend some time relaxing after a couple of hours out on the slopes.
Justin Trails Resort
Location: Sparta, WI
Cost: Free for kids 5 and under; $10 for everyone else
Two different tubing hills are available for your enjoyment at Justin Trails. The smaller of these is 600 feet long and perfect for more timid tubers. Meanwhile, the 1,200-foot run is fun for thrill seekers.
No matter which hill you choose to use, you will definitely get your exercise in, as there are no conveyor lifts or tow ropes on these hills. Instead, you have to hoof it back to the top. That said, we think the low entry fee makes this little bit of extra exercise worthwhile.
Places to Stay in Southern Wisconsin
Hotels
Staybridge Suites Wisconsin Dells
Hampton Inn and Suites Wisconsin Dells
Vacation Rental
Farm Country Retreat near the Wisconsin Dells
Christmas Mountain Village Townhome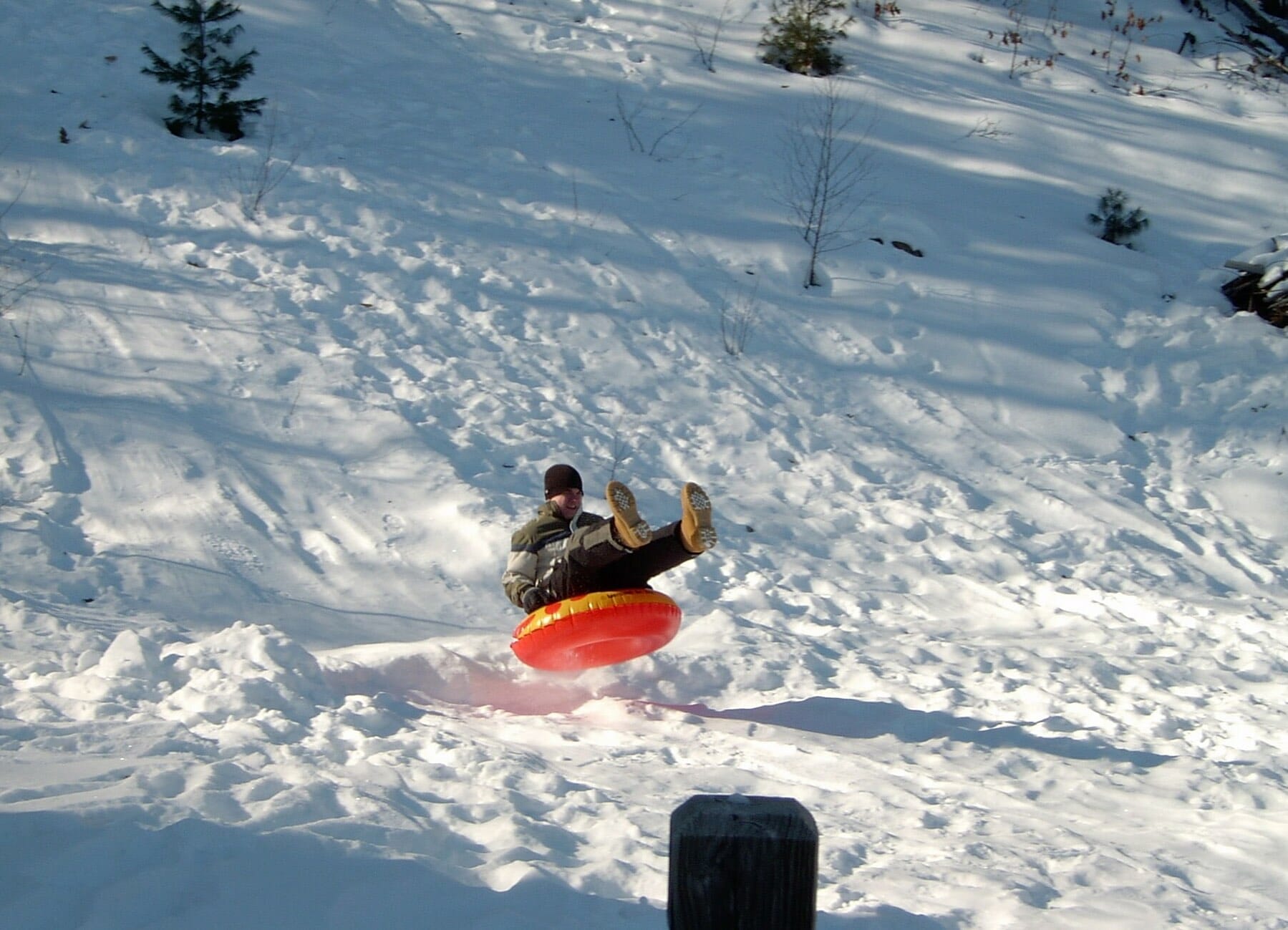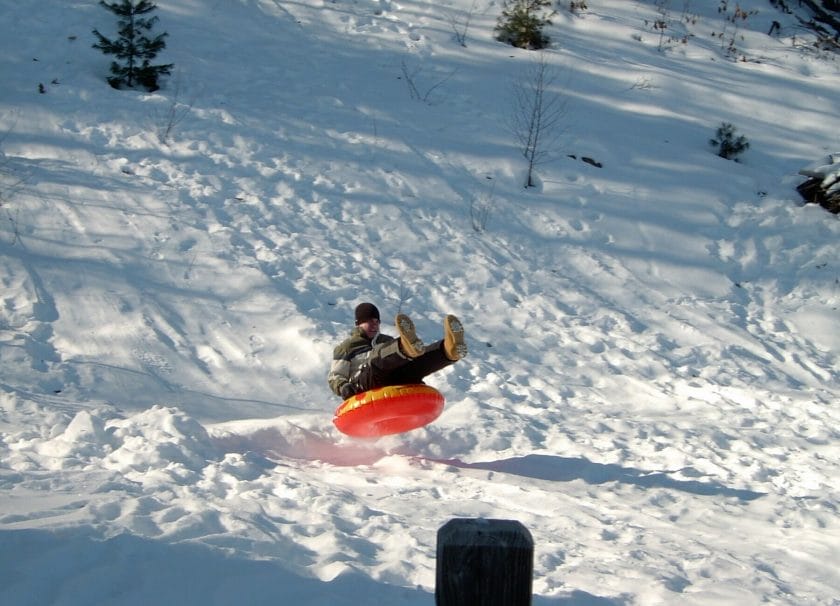 Northern Wisconsin Snow Tubing
Planning to spend time in northern Wisconsin? Not a problem! The top half of the state has a lot to offer in terms of tubing hills as well. Try one or two of these ideas on for size.
Badlands Sno-Park
Location: Hudson, WI
Cost: Unknown
Whether you prefer an easygoing bunny run to enjoy with the little ones or a much more exciting experience, there is a tubing run for you at Badlands Sno-Park. One of the park's most popular experiences is "Turbo Tubing", which sends you flying at high speed down a 1,300-foot slope. How's that for exciting?
Night tubing is made possible in this park by bright lighting, so feel free to plan an evening visit. That said, you will want to make sure you skip the weeknight visits, as the park is open only on weekends throughout the snowy season.
Christie Mountain
Location: Bruce, WI
Cost: $25 for two hours; $10 extra for each additional hour; check the website for special deals
Christie Mountain offers six awesome tubing lanes. It also features a magic carpet lift, making it easy for tubers to return to the top of the hill for ride after ride. Families love that smaller tubes are available for young children, something that makes taking the little ones a bit easier.
The fire pit areas are the perfect place to warm up and have a snack after tubing for a while, and the onsite eatery provides great snacks and meals at a reasonable price.
Generally, this park is open Friday, Saturday, and Sunday during the season. One-, two-, and three-hour sessions are available, meaning you only pay for what you'll actually use, something we appreciate.
Winter Park Recreation Area
Location: Kewaunee, WI
Cost: $10 for two hours or $45 for a family of 5 two hour pass
A super affordable option, Winter Park Recreation Area in Kewaunee is great for those on a budget. That $8 price tag gets you a rental tube and a full two hours of tubing.
The price isn't the only thing that makes this place popular with the locals though. Their five tubing lanes may not be the biggest at 450 feet long, but they are tons of fun. Of course, the surface lift helps out by making the journey back to the top of the hill an easy one.
While there is no set age limit at this tubing hill, small children must be able to ride the magic carpet lift while standing, and cannot be held. Kids under 42 inches can ride in a parent's lap while riding down the hill though.
Minocqua Winter Park
Location: Minocqua, WI
Cost: 5 and under = $11; 6–18 years old = $11; 19–64 years old = $14; 65+ years old = $13
Referred to as The Squirrel snow tubing hill, the 600-foot tube run at Minocqua Winter Park is a fun choice for sure. While this location does offer snowshoeing, ski trails, skiing, ice skating, and other activity options, we have to say that snow tubing is our favorite thing found here. Purchase a pass to do it all, or stick to the tubing-only pass. Either way, you'll be treated to an entire day of fun.
If you plan on tubing with kids, it's good to go in knowing that children must be at least 42 inches tall to participate. Therefore, while we love this cozy little tubing spot, we can't recommend it for those with tiny tubers.
Mont Du Lac
Location: Superior, WI
Cost: $29.99 all-day pass
No matter your preferred thrill level, you're going to adore Mont Du Lac. This place has gentle beginner runs, intermediate runs for those looking for something a bit more exciting, and black diamond tubing lanes for the most adventurous of all.
There is a tow rope available, making this a great option for people of all fitness levels. That said, kids must be at least 7 years old and 48 inches to tube here, something that is good to know before going in.
Sylvan Hill Park
Location: Wausau, WI
Cost: $7.50 for 13 and under; $10 for everyone 14+
Sylvan Tubing Hill at Sylvan Hill Park is a great option for those near Wausau. The park features six lanes on two slopes with an elevation of 133 feet and offers two tows, meaning climbing back up is unnecessary. We love that this park makes tubing so affordable, making it an excellent option for families.
As is the case at many tubing parks, children under 42 inches are not allowed to tube. Additionally, tandem tubing and lap riding are not allowed. Only rental equipment may be used on the slopes, and only single tubes are available—no double-sized tubes.
Triangle Sports Area
Location: Green Bay, WI
Cost: $5 per day
Triangle Sports Area is home to another popular tubing hill in Wisconsin and is also very affordable. Their hill stands 80 feet high and offers a fun but not-too-scary ride that is perfect for most riders. A hands-free conveyor lift is available, and the use of a rental tube and the lift is only $5 for the entire day.
This park also offers skiing and snowboarding opportunities, meaning you'll find something for everyone when visiting. When everyone is finished having their winter fun, meet back up at the heated chalet with restrooms and concessions to warm up.
Trollhaugen Outdoor Recreation Area
Location: Dresser, WI
Cost: $25 for two hours, $5 for each additional hour
The folks at Trollhaugen Outdoor Recreation area really know how to have a good time. This place offers all kinds of amazing winter activities, and the tubing is simply fantastic with lanes that offer plenty of thrills and laughs for all ages.
This park is open on weekends, and generally, sessions last for two hours, but you're welcome to add an hour at a time. Kids under 42 inches or 3 years of age are not permitted to tube, but seeing as how the hill is on the bigger side, we're guessing anyone under this age wouldn't want to tube here anyway.
Places to Stay in Northern Wisconsin
Hotels
Rib Mountain Inn Wausau
Hampton Inn Superior Duluth
Vacation Rentals
Custom Rustic Getaway in Wausau
Close to the Slopes in Wausau
---
Clearly, there is no shortage of places to go snow tubing in Wisconsin and it makes for a fun family vacation or even winter birthday parties. Plus it is a great way to continue to social distance this winter. Not sure which one to choose? Why not try a few and find your favorite in the bunch? We promise you won't regret it!
Other fun things to do in Wisconsin:
15 Best Pumpkin Patches In Wisconsin To Visit
15 Sledding Hills in Wisconsin You Want to Visit
The 21 Best Places to See Christmas Lights in Wisconsin
15 Christmas Tree Farms in Wisconsin Where You Can Cut Your Own Tree Down
The 13 Best Places To Go Camping In Wisconsin For Family Fun
15 Best Things To Do in Wisconsin in Winter
Pin to Your Winter Bucket List to Save!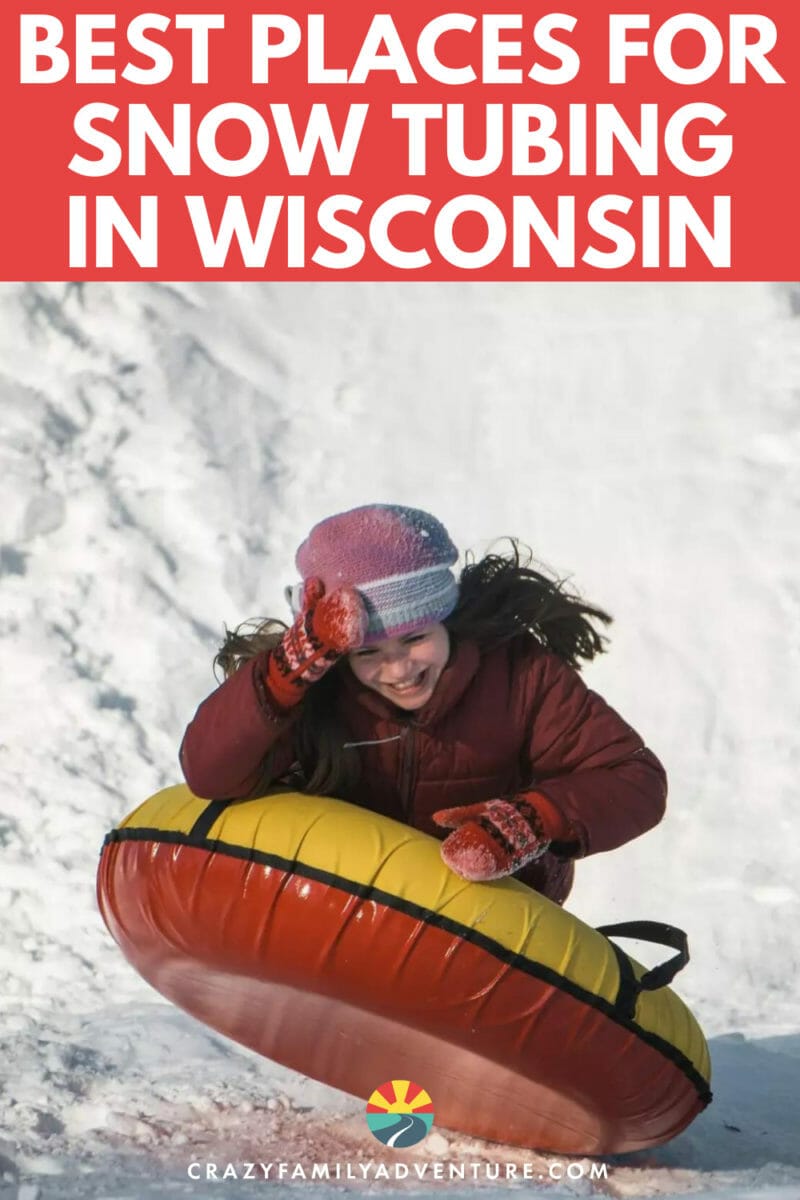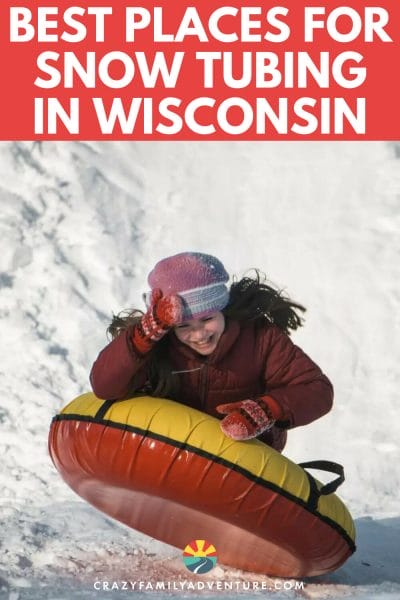 Latest posts by Chelsea Gonzales
(see all)
DISCLOSURE: This post may contain affiliate links, meaning I get a commission if you decide to make a purchase through my links, at no cost to you. Please read my disclosure for more info.