Sleigh rides and Christmas lights are fantastic ways to celebrate winter. However, the very first thing we like to do every holiday season is head to a Christmas tree farm in Wisconsin to choose and cut our very own Christmas tree.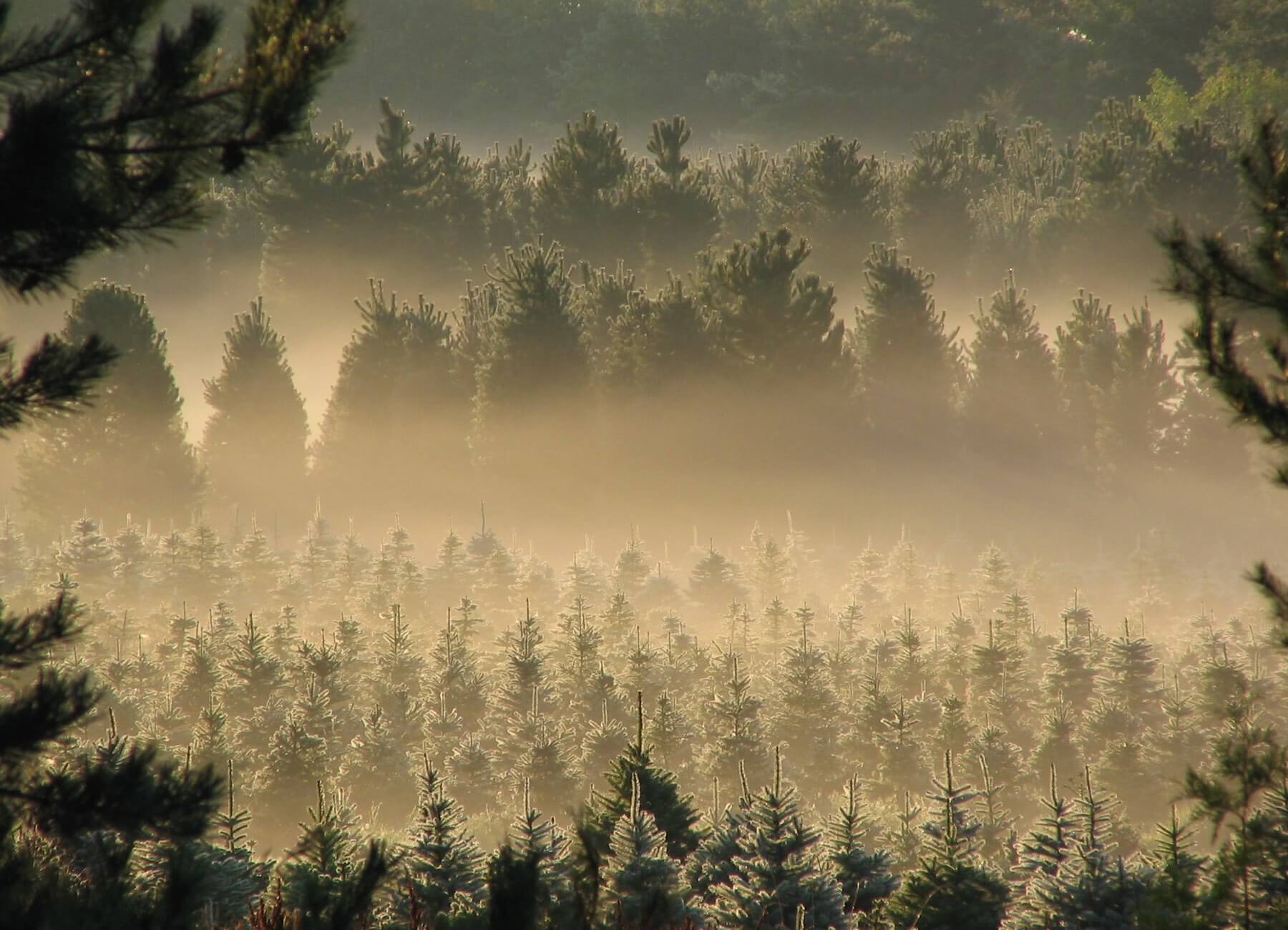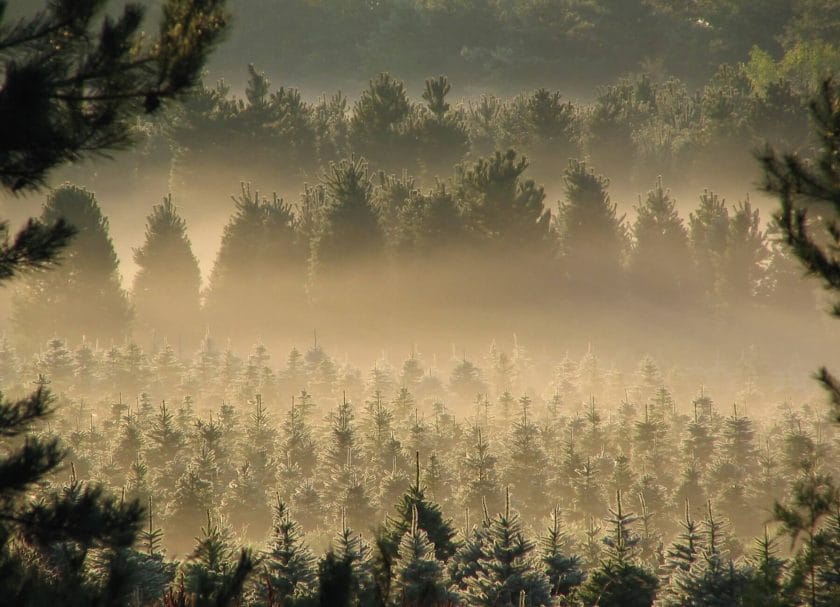 Sure, you could probably find such tree farms in most states, but there's something special about the tree farms up north. They are cold, often snowy, and just feel like Christmas. This is why we prefer the tree farms of the Badger State.
If you are searching for, 'Where can I find the best Christmas Tree Farms near me?' — we've got you covered!
Wondering which Christmas tree farm in Wisconsin is our favorite? We've listed 15 top choices below. Pick and choose from this list and you can't go wrong.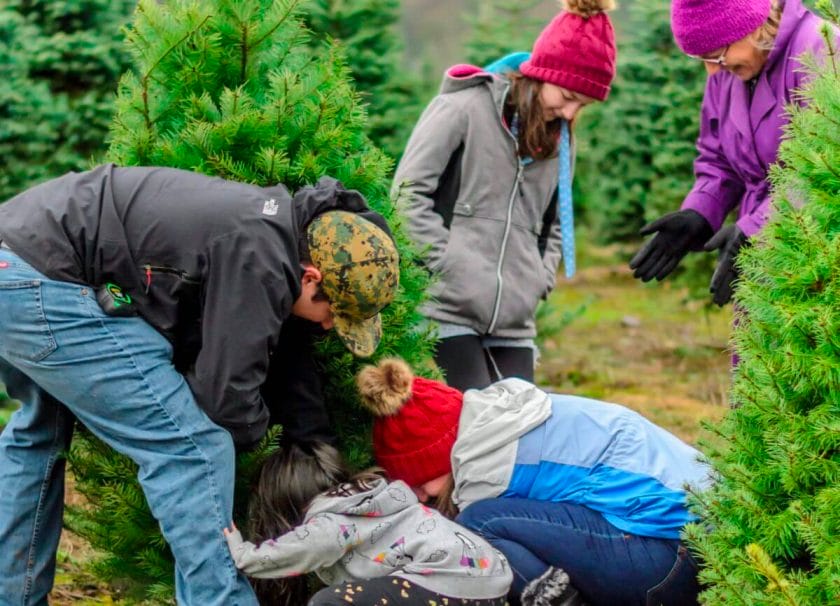 Southern Wisconsin Christmas Tree Farms
Miller's Christmas Tree Farm
Location: Rio, WI
Best known for: Roasted chestnuts
Cost: $6–$8 per foot
We highly recommend wandering the trails through the woods and around the ponds during your visit to Miller's Christmas Tree Farm. The scenery is amazing, and spending time in this winter wonderland is the perfect way to get into the holiday spirit.
Once you find the perfect tree and finish exploring, head into the gift shop to warm up with a free cup of hot cider or cocoa. If you visit on the weekend, you might even get to see Santa!
The real trees on this farm include Fraser, balsam, Canaan, three types of pine, and two types of spruce. You can choose to cut your own varieties of Christmas tree or pick from the cut trees lined up for customers to browse. Either way, tree shaking and baling are included in the price of your tree.
St. Croix Valley Trees
Location: Somerset, WI
Best known for: Historic farm
Cost: $56–$79 for a 7–8 foot tree
Another place that is chock-full of family fun, St. Croix Valley Trees is a favorite of many Wisconsin families. A children's play area with climbing structures, slides and tons of magical touches keeps little ones entertained. Meanwhile, the special treats—like deep fried Vanilla Wafers and Oreos, along with a cup of free cider—will put a smile on anyone's face.
Eleven types of trees are available at St. Croix Valley Trees. Guests can choose from a selection of pre-cut trees, but we recommend you find a Christmas tree you adore and cut it on your own. Hand saws are provided for this purpose.
This is the kind of Christmas tree farm you'll likely return to year after year. Therefore, if you're looking for a family tradition, this might just be the spot for you!
Tannenbaum Acres
Location: Janesville, WI
Best known for: U-cut or pre-cut for easy shopping
Cost: Unknown
Real Christmas trees are abundant at Tannenbaum Acres. Here you can choose from balsam fir, Fraser fir, Canaan fir, scotch pine, white pine, and spruce trees. Some are pre-cut trees, and others you can cut yourself. With so many to pick from, you're sure to find the perfect holiday centerpiece for your family's home.
After you choose and cut the perfect tree, be sure to check out some of the other items this farm offers. Wreaths, garlands, boughs, kissing balls, tree ornaments, and more can be purchased to enhance your holiday decor, and hot chocolate and other refreshments are available for purchase.
For even more fun, be sure to visit the animals on the farm and take a hayride before you go!
Cooks' Woods
Location: Fennimore, WI
Best known for: Handmade decor
Cost: $6.20–$12.50 per foot
Those looking for a simpler yet still magical holiday experience will appreciate Cooks' Woods. Located in the Wisconsin countryside, the drive to get to this tree farm is absolutely beautiful, and the walk to choose the ideal tree is equally lovely.
Six different kinds of Christmas trees can be found here, making it easy to find one that works well for you. Additionally, balsam wreaths and garlands are available. If you like, a custom-shaped wreath (such as a tree wreath or a candy cane wreath) is also possible. These are great for adding even more Christmas magic to your home.
Cooks' Woods is open daily from the end of November through December 23rd from 9 am until 5:30 pm.
Capaul's Christmas Tree Farm
Location: Waunakee, WI
Best known for: Over 35 years of traditions
Cost: $55–$80
Capaul's Christmas Tree Farm has been selling fresh-cut trees to Wisconsin locals for over 35 years. Grab a cup of hot apple cider, wander the fields of Fraser fir, white pine, and scotch pine trees, and find a tree that fits perfectly into your home.
After you've picked up your tree, head to the gift shop to pick out some ornaments for your tree and decor for your home. Handmade wreaths are available, as are a number of other shining and sparkling things that'll bring magic to your space.
At the end of the day, the staff at this Wisconsin tree farm are happy to shake and bale your tree and help you load it onto your car for the trip home.
Hann's Christmas Tree Farm
Location: Oregon, WI
Best known for: Play area and Santa visits
Cost: $65–$570, depending on size and type
Those planning to make family runs to pick out a tree this holiday season should consider Hann's Christmas tree farm. Because of the awesome play area and fun Santa visits, this is the perfect farm to visit with kids. Families also love the popcorn, apple cider, and live wreath-making in the warm barn during Saturday and Sunday visits.
This farm has a variety of cut-your-own and pre-cut tree options, including Colorado blue spruce, balsam fir, Fraser fir, Canaan fir, white pine, and scotch pine. Fresh wreaths are available as well, and a well-stocked gift shop offers a number of other goodies.
This Christmas tree farm in Wisconsin is open daily from 9 am–5 pm, beginning November 1st and ending on Christmas Eve.
Summers Christmas Tree Farm
Location: Middleton, WI
Best known for: Pet-friendly
Cost: $80
Despite their name, the Summers family is all about Christmas. Since 1950, this family has been growing Christmas trees and sharing their holiday cheer with the community, and they're still at it today.
Here, you can cut Christmas trees of your own or choose a pre-cut option from the onsite tree lot. Either way, you'll have several types to choose from, including douglas fir, scotch pine, Colorado blue spruce, white spruce, and more. Wreaths, boughs, garlands, and decorations are also available.
We recommend visiting on the weekend so you can enjoy hot apple cider and apple brats from Appleberry Farm. Both are delicious ways to warm up after hunting down a tree.
Northern Wisconsin Christmas Tree Farms
Curvue Hideaway + Trees
Location: Eau Claire, WI
Best known for: Enormous selection
Cost: $52-$110
Looking to get away from the busyness of everyday life and immerse yourself in the spirit of Christmas for a bit? If so, Curvue Hideaway + Trees is the place for you! Here, guests can take wagon rides to the tree fields and wander a winter wonderland as they let their cares drift away.
Trees here include balsam and Fraser fir trees, and wreaths and porch pots are made onsite. Shearing and baling are included in the price of your tree, and the staff will even drill your tree for the Answer Tree Stand if you like.
The gift shop is cozy and comfortable, offering families a lovely way to warm up after looking for the perfect tree. It's also stocked with a number of wonderful gift options from local artisans, meaning you can support local craftspeople and businesses and get your Christmas shopping done all in one fell swoop!
Pleasant Valley Tree Farm
Location: Elk Mound, WI
Best known for: Free hot beverages
Cost: Unknown
Pleasant Valley is "Western Wisconsin's Premier Family Outing". This tree farm has all kinds of holiday family fun to offer and is the perfect place to kick off the Christmas season.
The Winter Wonderland at this farm consists of a Living Nativity, a cute and cozy Country Store, and plenty of holiday lights that cast a warm glow on the whole scene once the evening rolls around. Be sure to enjoy a free cup of hot chocolate or apple cider and some popcorn as you take it all in.
As far as trees go, you'll find a good selection of pine, spruce, and fir trees in a variety of sizes at this Christmas tree farm in Wisconsin. This means finding the right tree for you will be a cinch.
Aissen Tree Farm
Location: Pilsen, WI
Best known for: Gingerbread playhouse
Cost: $7–$10.50, per foot depending on type
This Christmas tree farm in Wisconsin is another fantastic pick for families with kids. The onsite gift shop contains thousands of ornaments and hundreds of gifts, meaning you'll be able to enjoy a good bit of shopping while your kids have a blast in the indoor gingerbread playhouse. Of course, the whole family will appreciate the free hot beverages that are offered to all shoppers.
On the weekends, visitors will be greeted by the Grinch himself, and Santa makes frequent visits throughout the week. On top of all that, Santa's reindeer are available for meet-and-greets on select weekends.
Don't forget to get a tree while you're there! A variety of trees are available, and you can choose from pre-cut or cut-your-own options. Additionally, there are colored tree options, meaning you can add a burst of color to your holiday decor this year!
Newby's Evergreen Farms
Location: Wausau, WI
Best known for: Supporting "Trees for Troops"
Cost: Unknown
Want to support a great charity when you buy your Christmas tree this year? Head to Newby's Evergreen Farms, a local farm that supports Trees for Troops. You can offer a donation to the cause, but even just supporting the farm is helpful.
During your visit, you can take a wagon ride into the tree fields. From there, wander the rows of beautiful Christmas trees to choose the perfect evergreen for your home. Hand saws are available for cutting, and the staff are happy to help cut and shake your tree and attach it to your vehicle.
To warm up after cutting your tree, gather around the toasty bonfire and visit with fellow tree-seekers while enjoying a free cup of coffee. Make sure to grab a free coloring book and candy cane for the kids too!
Holiday Creek Christmas Tree Farm
Location: Plover, WI
Best known for: "Thomas the Tank Engine"-like tram
Cost: unknown
A beautiful farm and the ideal place for young train lovers, Holiday Creek Christmas Tree Farm is lots of fun for everyone.
Kids love Tommy the Train, an adorable tram that is made to look a whole lot like a famous train we all know and love. This train offers rides throughout the season and is the highlight of the year for many youngsters. Make sure you catch a ride while enjoying some of Grandma's special hot cocoa.
Trees include balsam fir and Fraser fir varieties, and families love the option to choose and cut their own. Shaking and baling are included in the price of your tree, making this a fantastic value.
Other fun activities on the farm include a photo opportunity with an antique sleigh, visits from a snowman friend, and marshmallow roasting around a campfire.
Waite's Fraser Farm
Location: Clintonville, WI
Best known for: Wreaths and other decor
Cost: Unknown
A wonderful family business offering gorgeous Christmas greenery to the community, Waite's Fraser Farm is friendly, fun, and waiting for you this holiday season.
As the name suggests, this farm grows Fraser fir trees, and they have plenty to go around. The staff is happy to help you find a tree if you like, and they will even help you haul it to your car.
On top of the gorgeous trees, absolutely lovely wreaths are handmade onsite at this farm and can be specially ordered for pick-up. That said, we recommend stopping in, browsing the available greenery, and picking up a pretty tree all in a single trip.
Wild Rose Choose and Cut – ANR Tree Farm
Location: Wild Rose, WI
Best known for: Lots of freebies
Cost: $48–$99
Looking for Christmas fun on a budget? At the Wild Rose ANR Tree Farm, free trailer rides, free boughs, and free refreshments all make for a whole lot of fun at a very low price.
White spruce, white pine, concolor fir, balsam fir, and Fraser fir trees are available in a variety of sizes. Free tree shaking is an option, and baling is offered for a fee, making it easier to get your tree home.
People love the ornament store where they can browse a huge number of decorations for their newly purchased trees. Returning customers can present a special card to receive a free ornament.
Whispering Pines Tree Farm
Location: Oconto, WI
Best known for: Interactive reindeer
Cost: $3.95 for pre-cut table trees, $9.95–$39.95 for pre-cut bargain trees, $39–$69 for cut-your-own trees
Not just a tree farm, Whispering Pines offers a large number of attractions. No matter what your age, you're sure to find something that ignites your holiday spirit while visiting this Christmas tree farm in Wisconsin.
Two train friends offer rides to families throughout the weekend, and photos with Santa are available during the Christmas season. Perhaps the most amazing attraction of all is the singing and talking interactive reindeer which delights kids and adults alike year after year.
4 types of trees are available and can be found in all different shapes and sizes. There are even tiny tabletop trees for those who have a limited amount of space or would like to spread Christmas cheer throughout the house.
As you can see, finding a fantastic local Christmas tree farm in Wisconsin is never a problem. Choose one from this list and get ready for an absolutely amazing family outing that'll kick off your holiday season perfectly and provide memories that will last for years to come.
More posts to check out:
The 15 Best Things to do in Wisconsin in Winter
The 21 Best Places to See Christmas Lights in Wisconsin
The Best Snow Tubing In Wisconsin
15 Sledding Hills in Wisconsin You Want to Visit
18 Amazing Things To Do In Milwaukee This Week
All The Details On The Amazing Wilmot Mountain Ski Resort
27 Wonderful Things To Do In Kenosha, Wisconsin [Including Where To Stay]
16 Terrific Things To Do In Wisconsin Dells With Kids
15 Best Pumpkin Patches In Wisconsin To Visit In 2021
The Ultimate Guide to Santa's Enchanted Forest
Pin to Your Christmas Board to Save for Later!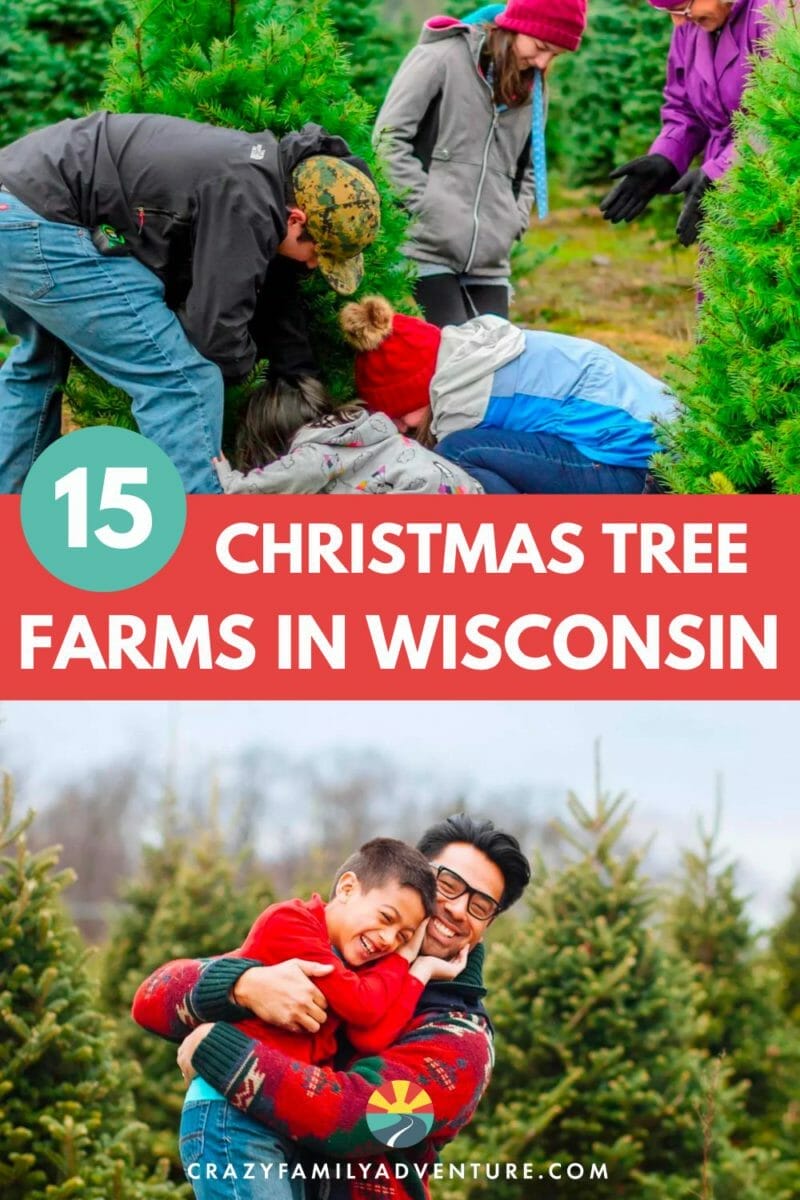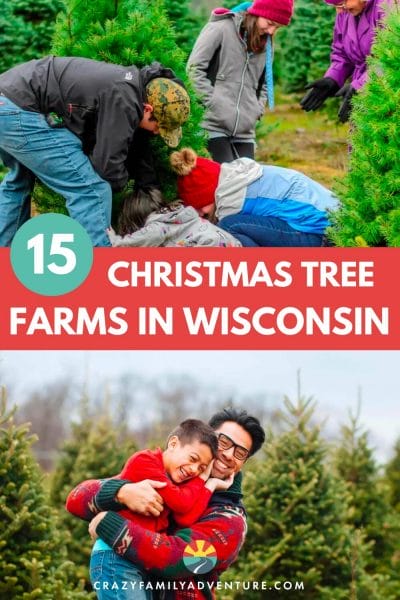 Latest posts by Chelsea Gonzales
(see all)
DISCLOSURE: This post may contain affiliate links, meaning I get a commission if you decide to make a purchase through my links, at no cost to you. Please read my disclosure for more info.