It's almost Christmas time again, meaning we get to talk about the World's Largest Holiday Theme Park, Santa's Enchanted Forest. Enjoying the chance to occupy its largest location yet on 87th avenue and 74th street in Doral, South Florida!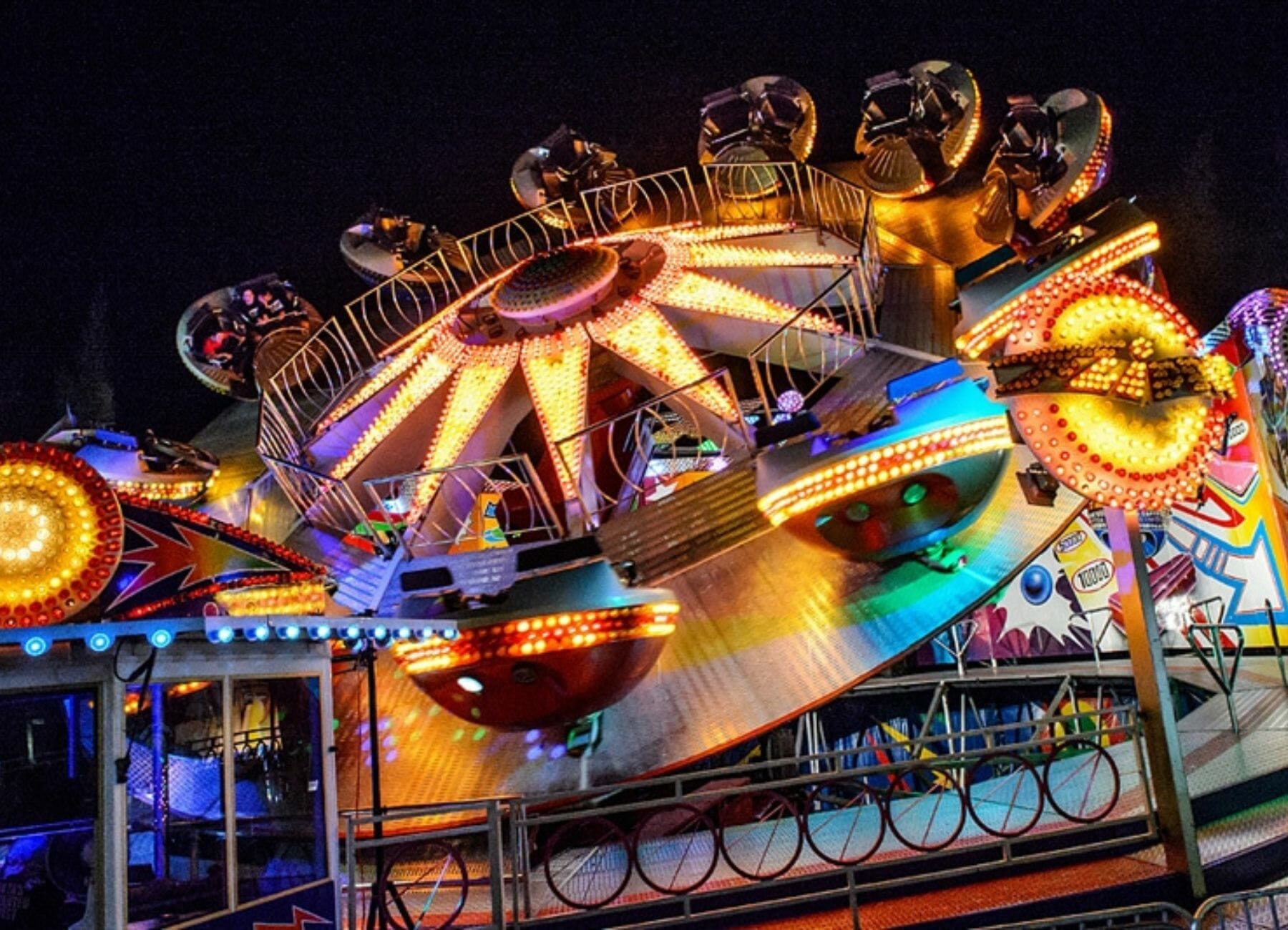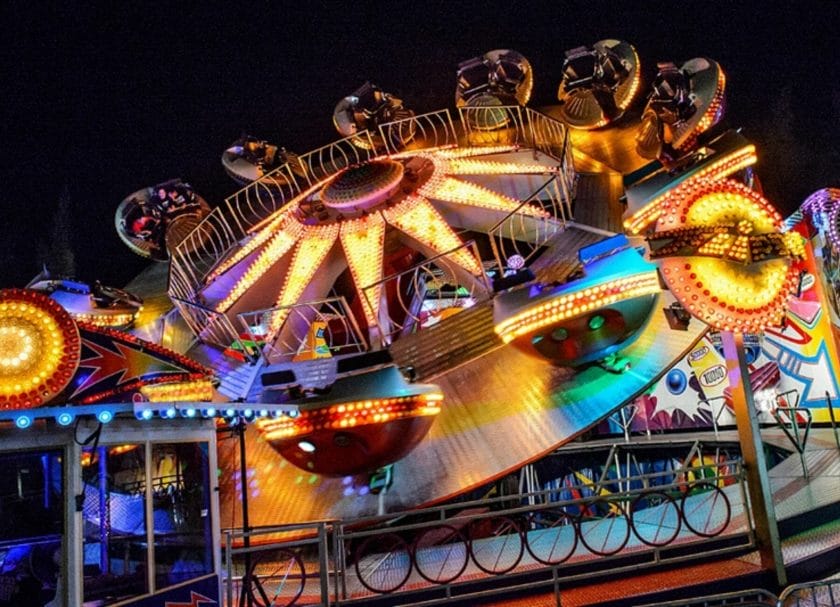 Every year it can seem like the holidays are just flying full speed toward our present moment. While that can be overwhelming in some respects, it also brings with it some of the absolute best memory-making possibilities of the entire year.
Christmas, and the holiday season in general, has many yearly staples associated with it that we know well. Santa Claus, oversized Christmas trees, and Frosty the Snowman are only the beginning.
In the Miami Dade South Florida area, it means Santa's Enchanted Forest is coming back! The world's largest seasonal amusement park is a yearly tradition for thousands of families in that part of the country. It just wouldn't be the holidays without it.
Living in South Florida for over 15 years, I've had the fantastic opportunity to hit this place under various circumstances. As a youngish early 30's single fella, as a new parent trying to figure out which rides and attractions my 2 yr old would enjoy, and as a father of two excited and wide-eyed kids.
And it was a completely different experience for every one of those phases I was living in, too.
From Miami Dade County all the way up to West Palm Beach, thousands of families hold Santa's Enchanted Village dear to their hearts. A magical wonderland of lights, sounds, tastes, and attractions that range from seasonally themed shows and interactive performances all the way up to roller coasters and drop towers.
Although it's been moving around from its traditional spot in Tropical Park on Bird Rd, right off of the Palmetto Expressway, for the past two years, It still continues to have much of its original splendor.
One of the coolest things about this massive park is that it's simply not there when it's not operating. Poof! Gone! That might give you the impression that it's a glorified carnival. Well, you're not wrong.
It very much has a carnival feel, but only 20x the size, and with all of the best attractions a carnival could offer, all packed into the same place.
I grew up going to carnivals. They are usually in the standard format, a circular or straight path surrounded by spinner rides and stands serving cotton candy, popcorn, and cheesesteaks. Each carnival will have one or two of the big draw attractions that stand out as you drive by.
Think the Ferris wheel, a Super Loop, or even a Zipper ride that adds some pizazz to everything else a carnival has to offer.
Santa's Enchanted Forest has every anchor attraction together for the big one! Zippers, Super Loops, Roller Coasters, Drop Towers, and Ferris Wheels. There are even newer carnival rides, such as the 150′ pendulum rides, Disko's, and more.
They are all present and accounted for at this 2-month festival. It's sort of like a Super Carnival!
So, where did this come from? How did it happen, and what does it mean for you? Let's take a deeper look at Santa's Enchanted Forest.
While planning a visit here we recommend looking into a Florida Keys road trip too!
History Of The Festival
For about 3-4 months a year, every year, south Floridians begin to see the highway signs plastered with that excitement-producing jolly old soul they've come to know and associate with the festival.
That same jingle from years past comes on the radio while sitting in traffic on I-95, and they know it's time.
Children begin to beg their parents to commit to a day in the very near future when THEY can spend the night at the king of all temporary amusement parks.
This all began in 1982 when the Shectman family decided to have a Christmas Tree and lights. It wasn't until they added the Merry-Go-Round for the 2nd year that the light bulbs started popping up over their heads.
The ride was such a success that the next year they had 20 rides. It has grown exponentially since then and has become synonymous with extreme Christmas fun for South Florida families for decades.
The park currently boasts 42 rides of all kinds in addition to shows, dioramas, interactive displays, and 3 million Christmas lights. We will get into some of the specifics a bit more in the following sections.
Even though the park is only open from around Halloween to the first week in January each year, it takes the Shectman family and their staff months to set up the layout and Christmas lights. It is no small feat to erect the world's largest holiday theme park every Christmas season.
The park lost its Tropical Park location, where it lived for 36 years, in 2020. They had to find a new location for the 2021 season and ended up in the nearby city after a move to Hialeah Park.
While that reportedly went very well, as progress would have it, a new school and condominiums are claiming the Hialeah location after only one opportunity for Santa's Enchanted Forest to enjoy the spot.
The family went back to the drawing board and came up with what turned out to be its largest location to date. Over 40 acres!
The Doral location is smack dab in the middle of the 87th avenue and 74th Street intersection and is just about 30 minutes from Miami proper. They moved into a vacant lot owned by the Dunn family.
We obviously don't know how the 2022 Doral experiment will work out, but these guys are pros. Thirty-nine years of building and tearing down the largest holiday theme park in the world, give that to you. With the added space, I have to assume it's going to be better than ever.
Arriving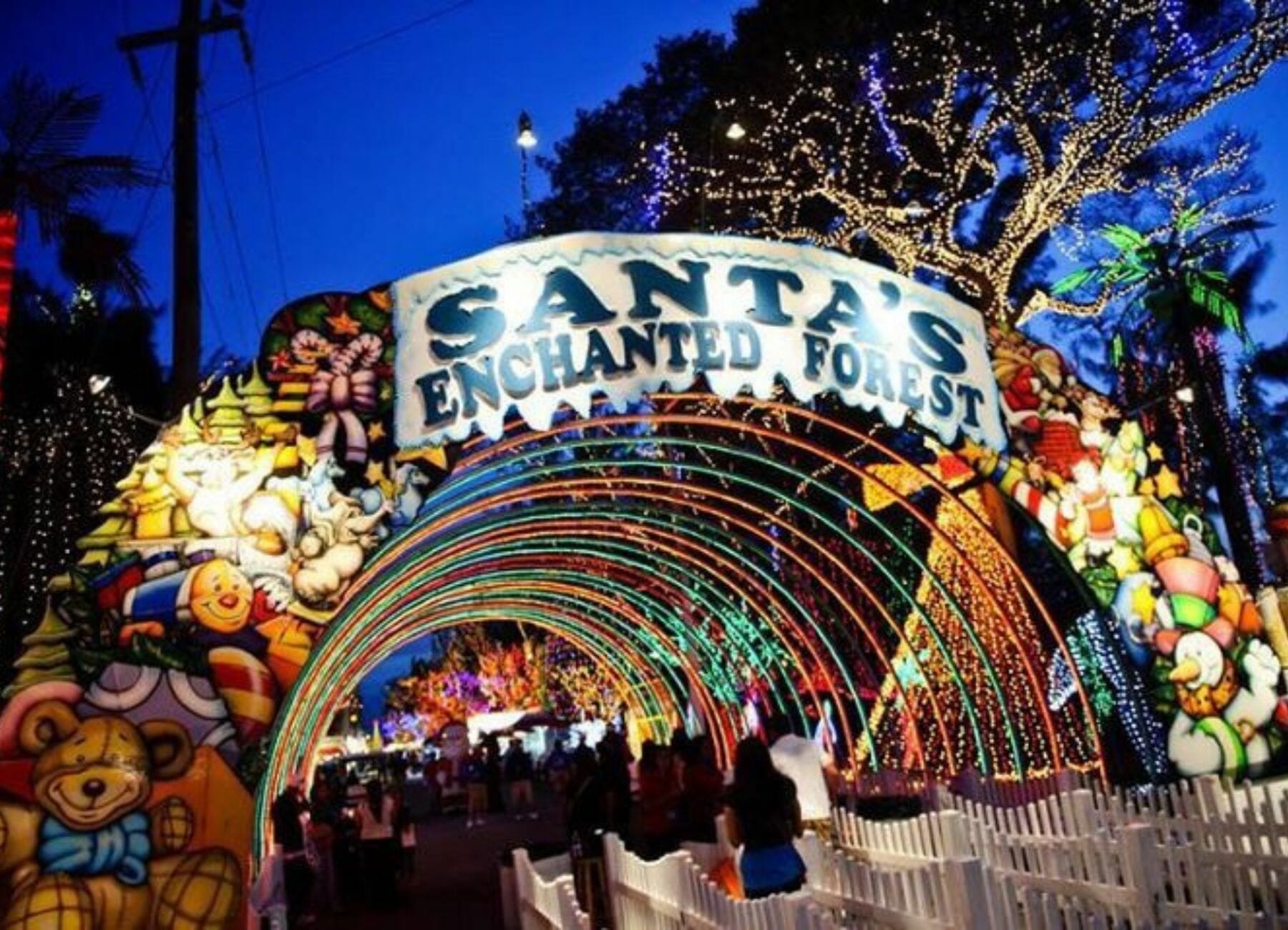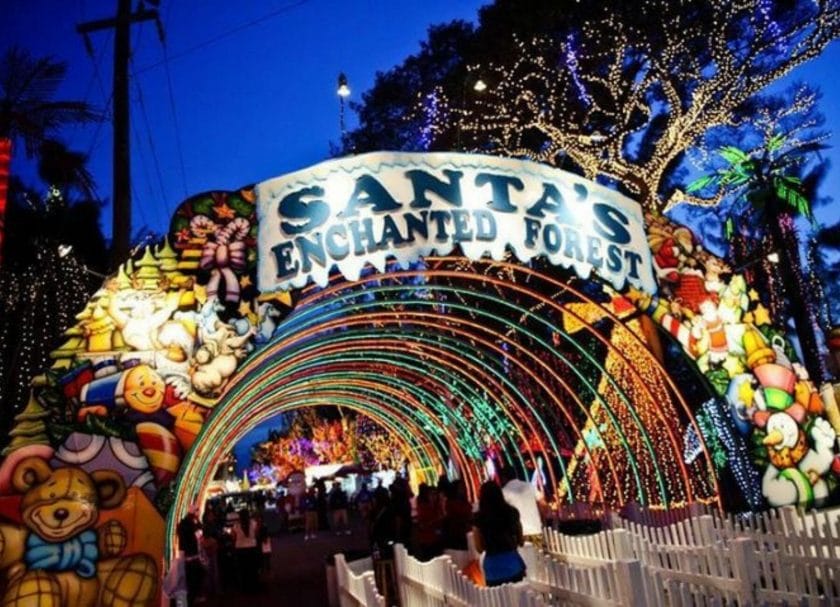 The park is open every day of its operating season from 5 pm-Midnight. Seven straight hours! That's a nice chunk of time for you to get it all in.
I can tell you without much debate that there is a totally different feel after dark than when the sun is still up. The true majesty of the experience Is not fully realized until the period of dusk is behind you.
Then it's on like Donkey Kong.
But that doesn't mean you shouldn't consider getting there as early as you can. There is a huge benefit to doing so. Getting in there before everyone else!!
Like I've said before, I have been to this one a few times. Unfortunately for me, I learned a few lessons the hard way. First on that hard lesson list is when and how to arrive.
I have frustratedly stood in looooong lines watching hundreds of happy people mosey on by me with their pre-purchased tickets. Standing there thinking, "Never again!" And I haven't.
But the other side of that is I've also gone there too late and wasted far too much time in traffic and long lines to enter as well. Here's what I learned to do, and I would recommend you consider the same if you're heading to this park.
Of course, we can always choose to show up at 9 pm without tickets and still have a memorable night, but there are better ways to do this.
Tickets
Buying tickets online is no longer the outside-of-the-box suggestion it was a decade ago, but enough people still resist this idea that the lines can stretch pretty far.
Buying your tickets on their website is a really smart way to begin. Having your tickets when you arrive will place you in the fast lane to walk into the park, and trust me, you will feel it. The burst of positive energy that comes from realizing, "I'm one of the smart ones here!"
It's a great way to start the night!
There is a caveat to the online ticket route, though. The tickets for Santa's Enchanted Forest are specific to the person purchasing them. You will need to show ID when you hand over your ticket (or show your phone)
This is the one aspect that can slow down the prepaid line a tad. No matter how many signs they have or staff reminding folks, there will inevitably be a few people who act like they are hearing it for the first time when they arrive at the gate.
The sporadic big purses dumping out all over the place as the fumbling for the ID begins is just part of it. Know this going in and have yours ready. Not just for your own expeditious entry but for all of the anxious eyes behind you, hoping you know the rules!!
Showing up with someone else's tickets and not having the corresponding ID can result in non-entry. That's no good. We don't want that at all. Follow these simple rules, and we're gonna be fine.
I would also suggest paying for parking online as well. I'm not sure if the new location will have separate lines for prepaid or not, but it's still going to help the cause when you arrive.
We are going to get into the ticket options and pricing further down in the article. Read on to learn more.
Timing
As I began to mention above, the nighttime is the right time at this one, but waiting until dark to head down there could result in much, MUCH longer waits. Not just at the ticket line either.
Miami, and South Florida as a whole, is known for a few things. Beaches, sun, dance clubs, and amazing restaurants for sure.
But there's something else that is hard to escape when traveling anywhere from West Palm Beach down to the Florida Keys, and that's traffic.
It's coming—no ifs, and, or buts about it. Knowing and accounting for this is paramount to mitigating the impact of South Florida traffic on your overall experience.
So here's the plan.
We want to avoid the rush hour traffic if we're going during the week, so we don't want to jump in the car at 5 pm. But we want to arrive at the park before the 8-9 pm masses arrive at the park too.
Trying to slip in between such times will be the sweet spot.
We want to arrive at the park at about 7 pm. The Miami sun stays out longer than most other cities, especially if you're coming from the north, so you will likely arrive with some daylight left. That's ok.
We're going to avoid the madness of cars heading into the parking lot at the same time, and that's worth it in my book.
We remove a lot of headaches and frustration this way, but there is one downside to arriving at dusk, and I want you to know about that as well so you can weigh out your own priorities.
The walk into the park is pretty epic at night, especially for the little ones. It can be pure magic to watch their eyes as they attempt to absorb the lit-uplit-up "Santa's Enchanted Forest" entryway and shimmering palm trees lining the path.
The walking path into the ride and show portion of the park is also where they traditionally keep most of the displays and dioramas. I spent over an hour just along the walking path with my children, and I didn't regret it for a second.
Remember, we are going to walk past all of these displays on the way out, too, so you won't miss them, but if you want that arrival to have as much bang for the buck as you can muster, you may want to brave some of the traffic and congestion issues to get there after dark.
This is up to you, and it's good to know both sides.
What To Do?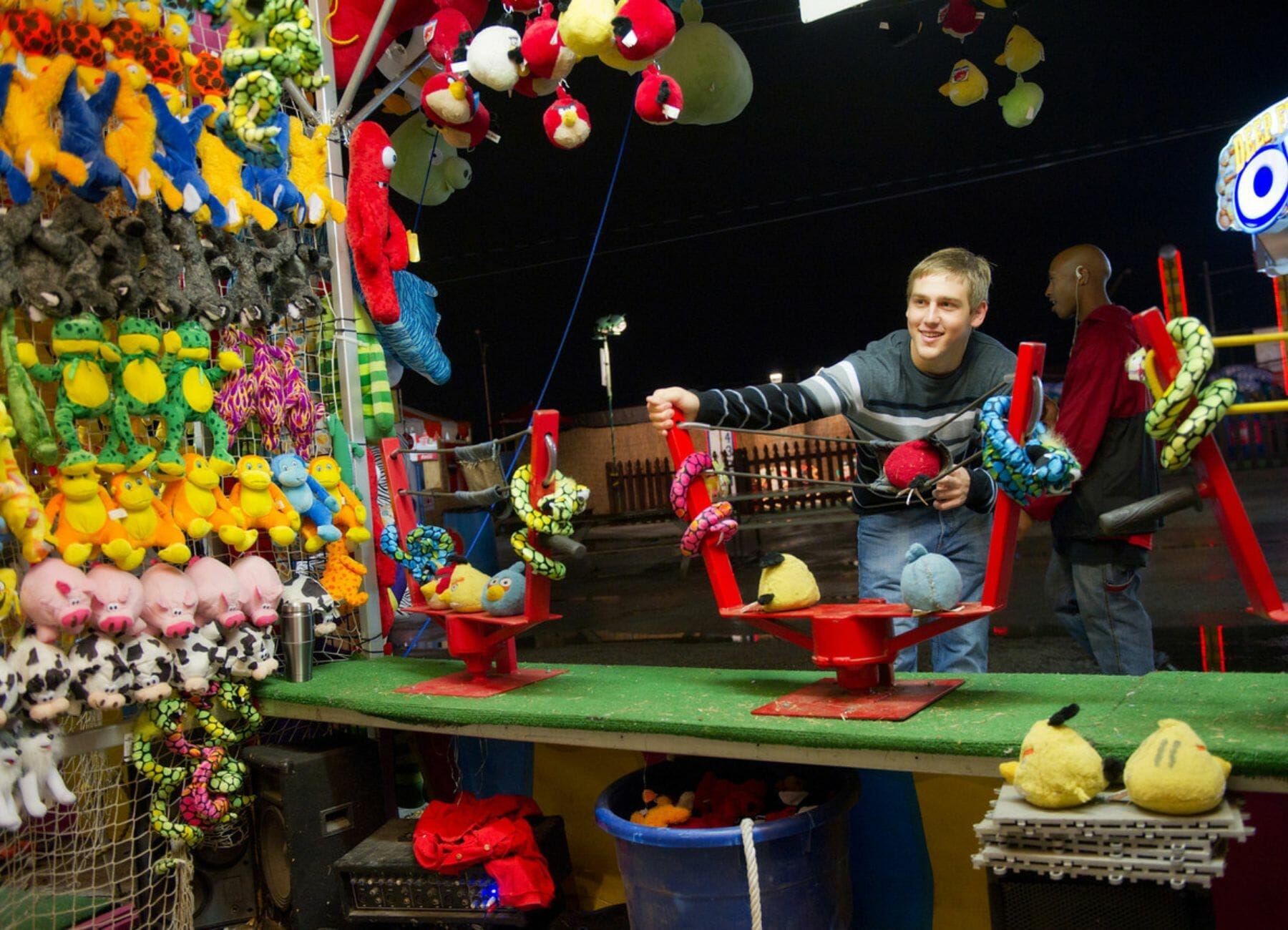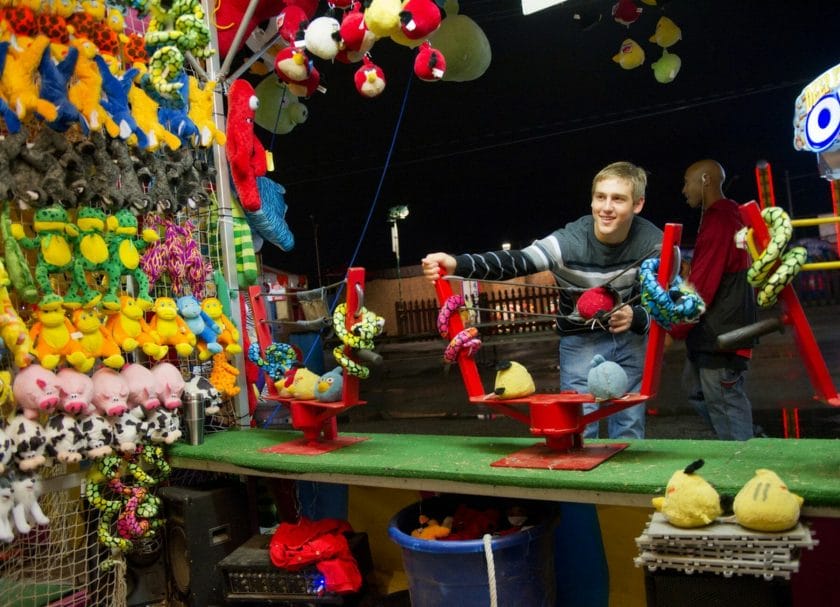 Oh goodness, what to do? What to do?
This is the one area where I am in danger of telling you TOO Much. There are over 100 rides and attractions to choose from. You will struggle to get it all in, so having a more lax and patient approach will best serve the evening.
Try to enjoy the energetic atmosphere as an attraction in and of itself.
Let's repeat ourselves a tad and begin with the initial walk-in. Again, I have not been to the new location (no one has), but I remember the walk into this place always being stunning. Three million Christmas lights can do that to a park.
I can still remember thinking a warm holiday season would be weird in South Florida when I first moved there from the frigid northeast. Palm trees instead of Northern Fir? I mean, come on, right?
Since then, I have really come to appreciate the dedication of Floridians during the holiday season. NOTHING can stop them from celebrating, just like the folks in the colder locations around the country.
It's every bit the north's equal when it comes to decorations and festive attitude.
We do still deal with the question of how Santa slips into the houses when there are no chimneys, but we can broach that touchy subject another day. For now, he's hanging out at his Enchanted Village, the REAL Santa 😉
Queen, Royal, and Foxtail Palms, lit from top to bottom with multi-colored Christmas lights, have their own alluring spectacle to them, and Santa's Enchanted Forest knows how to do it right.
Before we get into some of the specific offerings held within this theme park, I want to prepare you for what this really is. We can avoid a ton of disappointment by employing an exercise like this right here, right now.
Santa's Enchanted Forest is NOT Disney World. It is NOT Universal Studios or even Six Flags. This is a two-month-a-year, temporary, and now traveling setup that does not have the luxury of permanence in its location.
I mentioned the word carnival above, and that's closer to being accurate than any permanent theme or amusement park you've been to before unless we're talking about Camden Park in West Virginia.
The negative reviews I've received from friends and family toward this place usually stem from inaccurate expectations. "That place is not what I thought it would be" or "It's basically just a dirty carnival" are the types of comments I've heard more than a few times.
If you go in thinking this is going to be anywhere near the Magic Kingdom level, you will absolutely hate this place. If you prepare for a carnival experience on steroids, you're going to have a blast.
Rides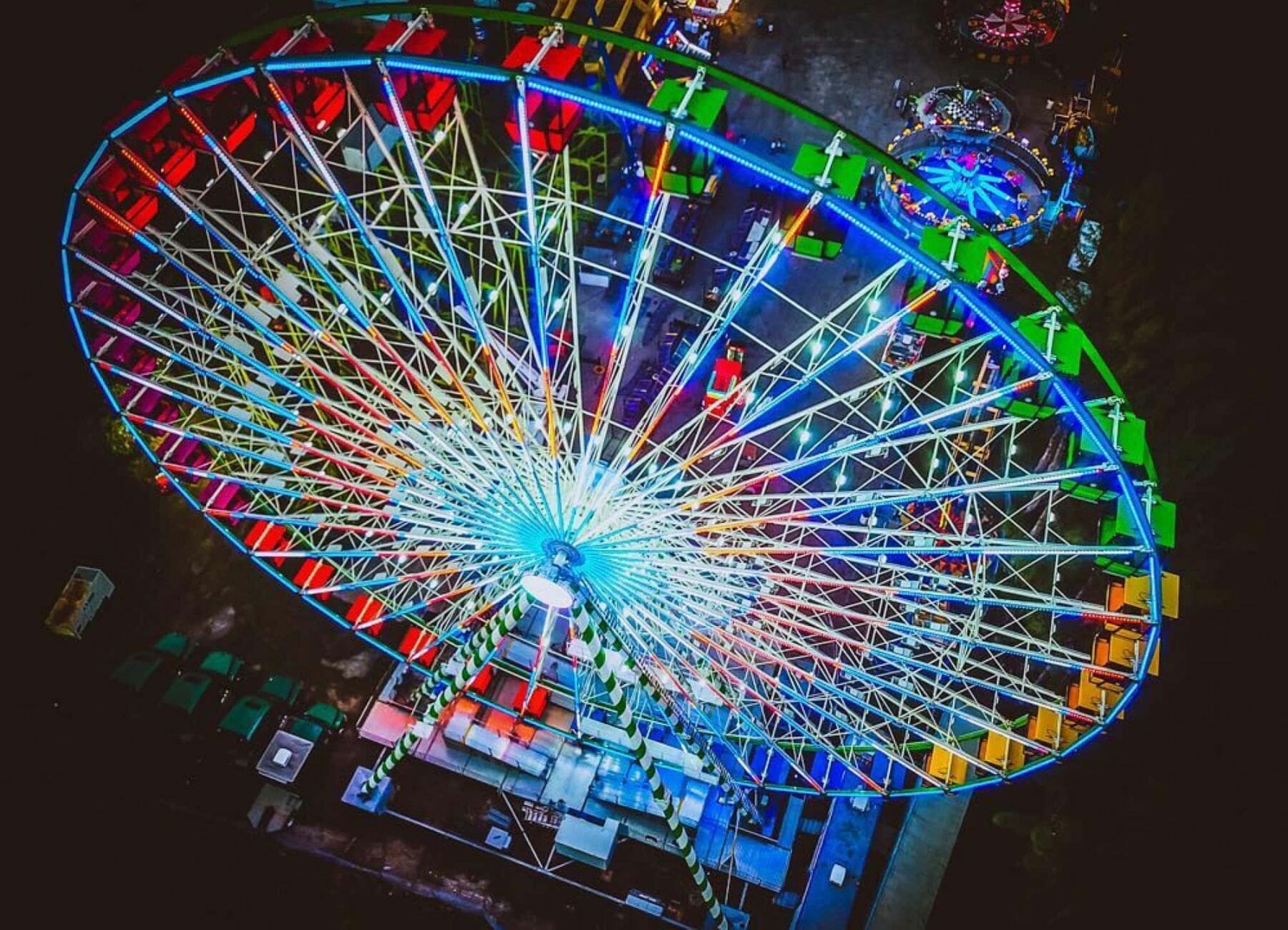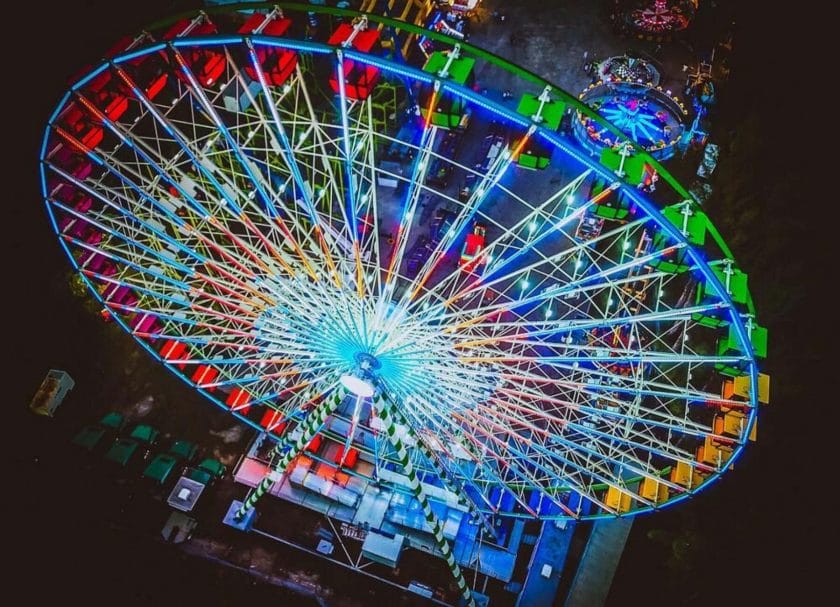 On the last count, Santa's Enchanted Forest boasted 42 different rides. These are the main attraction for many who go there, and there are options for every thrill level.
The impressive number of kiddie rides can keep the little ones feeling as if there is a never-ending supply of new experiences for them. Classic attractions we all know, such as:
The Wacky Worm coaster
You know this one. The little happy-faced worm takes children in an up-and-down circle for a few rotations around the track.
Bumper Cars
Do I have to explain why these are still a staple at almost every amusement park across the country?
Dizzy Dragons
The kids climb into a happy dragon's body and spin around to their heart's content.
Merry Go Round
What would a carnival or amusement park be without a good classic merry-go-round? Rumor has it that this just might be the fastest one in the state.
The Fun Houses and The Monkey Maze Mirrors
I love a good mirror maze. All I'll tell you is to make sure your little one walks slowly and with their arms out in front of them. Very important if this one is gonna be fun instead of painful.
And these examples are just the beginning.
Almost half of the rides are geared toward smaller family members, and I think that's just fine!
Plenty of mid-range rides can offer just enough thrill for most people out there. A few examples are:
The Himalaya
The classic spinner that takes you frontwards and backward at high speeds, all while listening to music selections by the ride operator at the highest volume allowable
Wild Mouse Coaster
I have a love-hate relationship with this classic take on a thrilling roller coaster. I love the second half but hate the first half. The first portion is when it goes back and forth, giving you the sensation that you're about to fall over the edge of the track… 4 or 5 times. Not for me. I always go on these, though. I'm not sure why.
The Starship 3000 (Gravitron)
A spaceship-shaped ride where you climb up the steps to head inside. Walking in for the first time, you might think it's a bit weird that you stand there with your back against the wall. No straps, bars, or restraints of any kind. Just you and the wall.
Once the ride operator, sitting in the center of the spaceship, starts the ride, you realize pretty quickly what's gonna happen. The spinning of the ship creates approximately 3 G's of additional gravity, and you stick to the wall like you weigh 300lbs.
I used to absolutely love this ride! It was among my favorite attractions at carnivals and boardwalk piers. Somewhere along the line, all of that changed.
The last time I went on it, I was approximately 45 years old, and let's just say 3 G's is too much for this fella.
That was when I learned the ride operator did not stop the ride just because the old guy was crying. Lesson learned.
The thrill seekers have their choice of attractions as well. Unique thrills like the
Space Roller
A spinning, twirling mega ride that takes riders high into the air.
Magnum
A crazy take on a classic spinner where the cart has three different ways of spinning simultaneously!
The Pharaoh's Fury (Pirate Ship)
You know this one. Sometimes it's called the Buccaneer, The Galleon, or even the Sea Dragon. The specific theming aside, it's the exact same experience you remember.
The further from the center you sit, the more floaty air time you will get as the ship sways back and forth.
The best part about this ride is that you are facing the people on the other side of the ship. When they go up, you get to see the gleeful terror on their faces.
Just remember, they can also see yours!
The Sky High Wheel
This is their version of the super-sized Ferris wheel. Adding the nighttime light show with different LED patterns really would be a major hole in the lineup if this staple wasn't included.
All in all, the ride selection is impressive. Scattered throughout the entire park, there isn't one area for the rides and another for something else in my experience. It's a mashup of madness that tickles the senses the entire time you're there.
Shows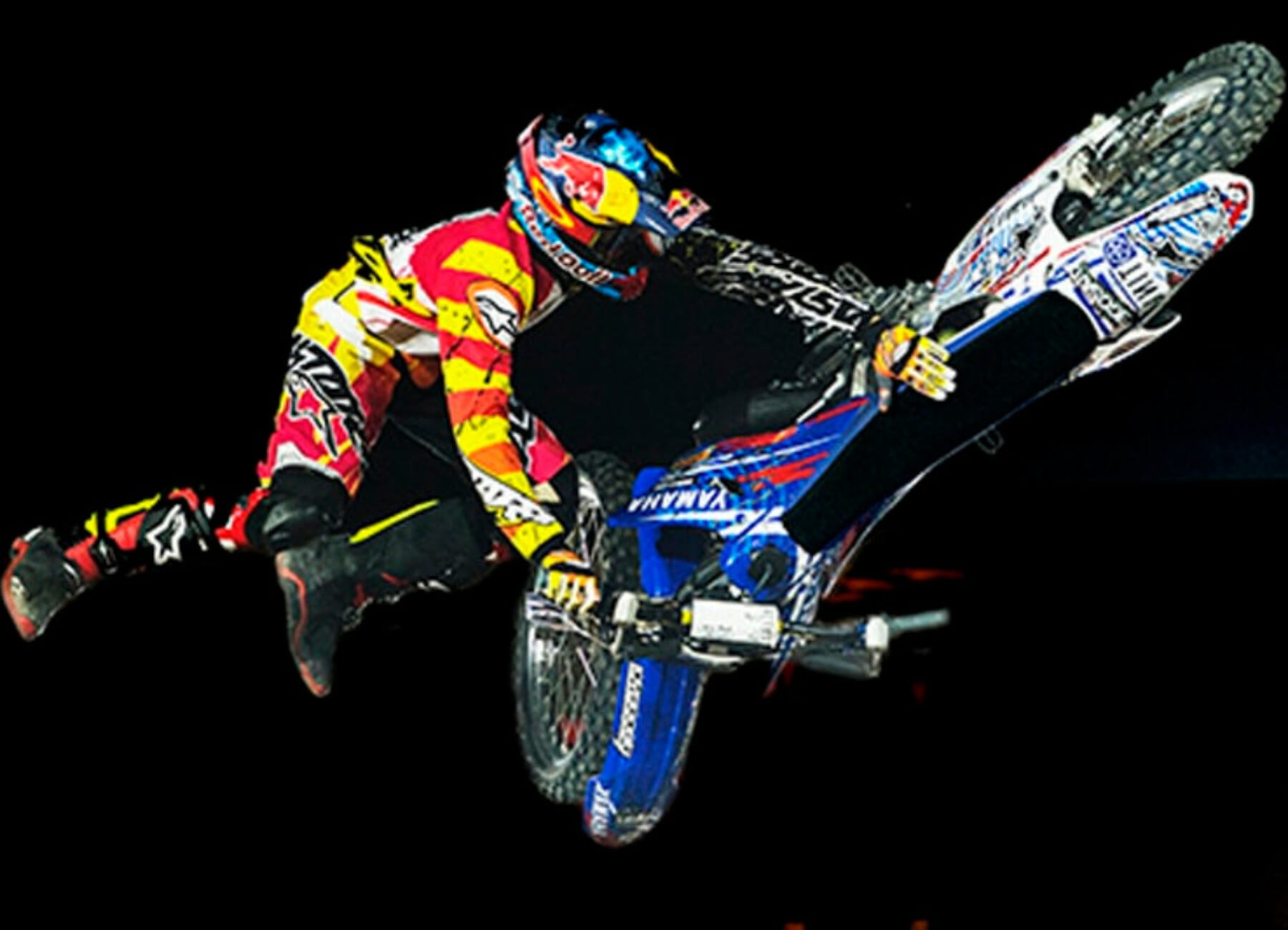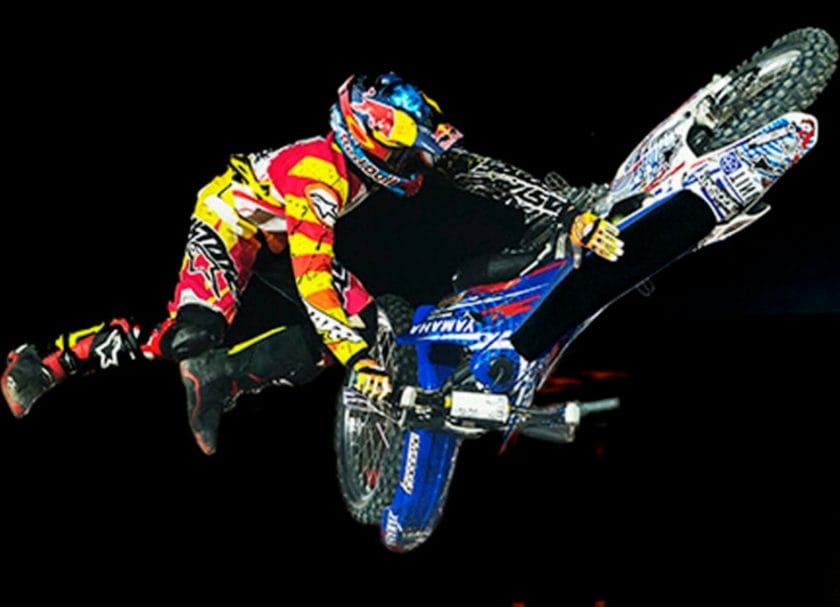 One of the areas where Santa's Enchanted Forest separates from the traditional carnival that might swing into your hometown for the week is the shows.
This theme park puts a lot of emphasis on the different types of experiences you can partake in while you're there. Sure, rides are great, and I tend to revolve around the rides myself.
That said, if you really want to absorb the true spirit of Santa's Enchanted Forest, you should make some time for the shows.
A few examples for you to choose from in 2022 will be:
See The Circus Bee The Circus
I have to admit, while I do understand the treatment of the animals causing people to lose interest in the traveling circuses such as Ringling Bros and Barnum And Bailey, I must admit I miss it.
We used to hit the circus just about every year as kids, and it was a blast.
Santa's Enchanted Forest has collected some of the most beloved acts from the circus for you and your family to enjoy while you're there. The Clowns and acrobats are back and can give your family that taste of the past!
The Circus Globe Of Death
This one is technically a circus act, but it has its own show times where you can relive one of the more impressive feats any circus performer has ever attempted.
This is when numerous motorcycle riders enter a metal sphere and fly around it together at high speeds. Precisely and narrowly missing each other actually got my then 7-year-old son to stand up and cheer the last time we saw it.
This is a must see if you've never done it and a definite to relive if you have.
The FreeStyle FMX Motorcycle show
I really don't know where people find the gumption to do things like this, but the impressive intensity of the tricks is undeniable.
Daring dirt bike riders fly through the air at high speeds pulling off all sorts of acrobatic maneuvers while up there. It's amazing to behold and will have most of the people in your group aghast with their jaws wide open.
There are also magic shows and interactive elements to the show side of things at the theme park. Coupling them with the rides causes midnight to creep up on you really quickly!
*Be sure to check the show schedule on the website when planning your trip to the park.
What To Eat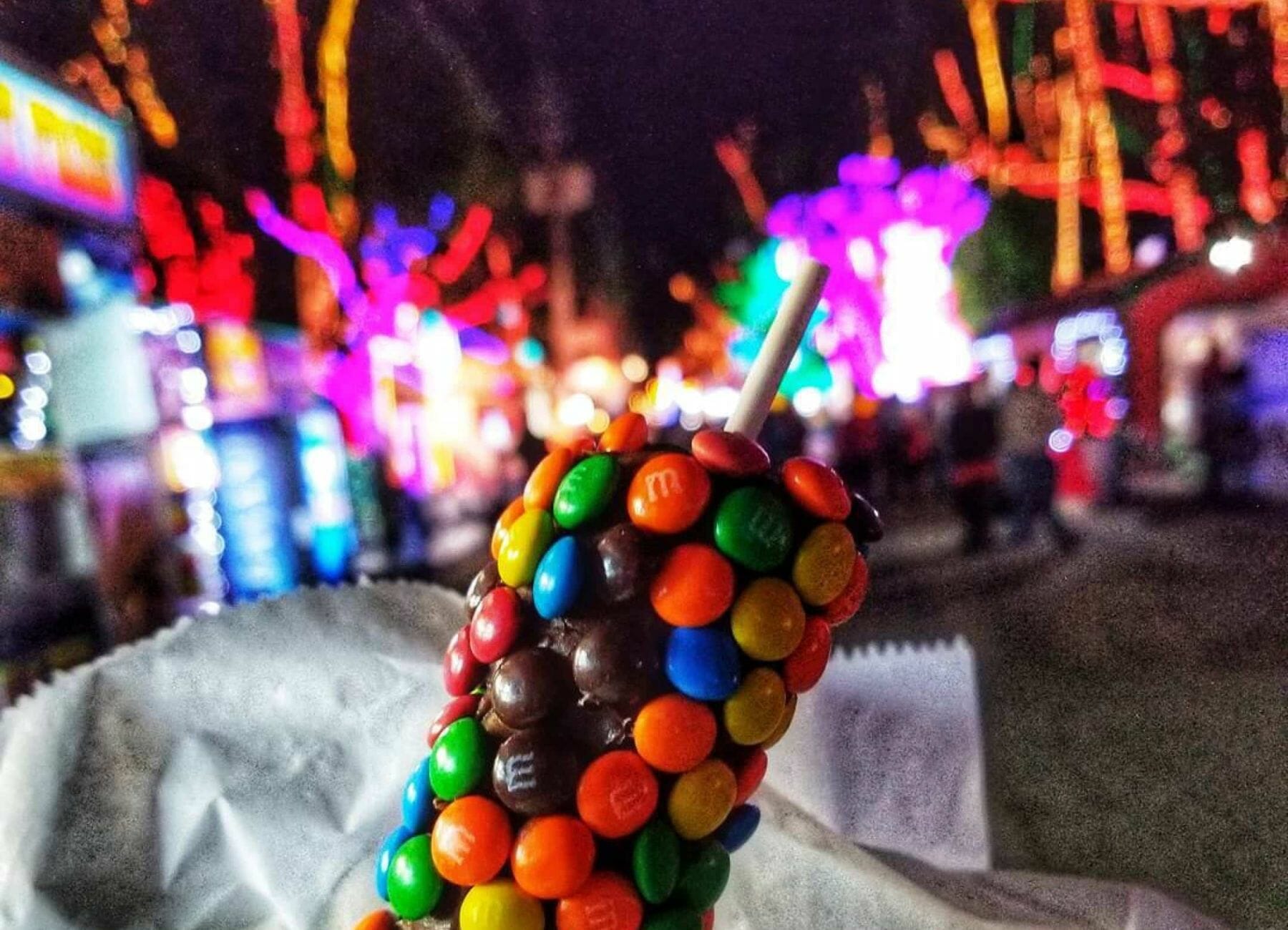 Walking around a massive Christmas-themed amusement park all night is no doubt going to work up an appetite. I have good news for you. That's one of the best parts of the whole place!
Reading through this article, I would be willing to bet you've thought about at least one of the standard carnival foods you've come to love over the years.
Maybe Cotton candy? Or maybe fried Oreos and funnel cakes. Oooooh, wait, I bet you thought of cheesesteaks or sausage and peppers, right?
Well, all of that can be had at Santa's Enchanted Forest and then some. Turkey legs? Check! Kabobs? Check! Burgers and dogs? Of course.
But here's where it once again separates from what you're used to. This is South Florida. One of, if not the best, places in the country to grab some authentic Hispanic food.
Whether it's Cuban, Puerto Rican, Mexican, or Peruvian, you're not going to be disappointed to learn that Santa's Enchanted Forest has them all.
Arepas
One of my favorite "fast foods" you will find in the park are the Arepas, a Colombian and Venezuelan delight made of fried corn (maize) and cheese. Hearty yet sweet this one even pops up at live rock concerts in South Florida. Everyone loves them, and it's a good bet that you will too.
Ceviche
Another favorite at the park the last time I was there was the Ceviche stand. Generally considered Peruvian or Ecuadorian, the raw fish and citrus juice are a simple yet tasty treat that can whisk you away to another world. The versions with fresh chili peppers are widely considered the best!
Chicharrones
This one took me a little while to dig into, but I absolutely love them. A crunchy little treat made from pork skins, this one comes directly from Spain and is a favorite of the folks from the Dominican Republic.
If pork rinds are your thing, take it up a notch and grab some traditional Spanish Chicharrones!
Coladas
Ok, this next one is not for the faint of heart, but all caffeine lovers absolutely MUST get themselves a Cuban Colada. For us large or vente drinking American coffee lovers, we're usually taken aback when the server hands you a tiny styrofoam cup with 5-6 small plastic creamer-sized cups for sharing.
I literally laughed the first time someone turned me on to a colada. "Come on. Really?" I said.
But here's the deal. There is a reason it's consumed this way. A super sweet, highly potent, caffeine-packed coffee drink that punches you square in the chops. This one will help keep you going when you begin to wear down for sure!
There are so many great choices for you to choose from, but I think it would really add to the experience of hitting the world's largest holiday theme park in South Florida by making it a point to try some of the culturally based ethnic food choices.
It's worth it. I promise.
Santa and The Lights
I'm honestly a little surprised we made it this far into the article without mentioning the man of the hour. Mr. Santa Claus himself. I'm almost certain you assumed he would be making an appearance at some point. I know I did.
Over the years, the quality of Santa Claus' has been improving dramatically. Long gone are the days of cotton-like eyebrows and fake beards that the kids would try to pull off of frustrated Santa's faces.
Real beards are all the rage in the Santa world, and Santa's Enchanted Forest takes their Santa very seriously!
A very authentic-looking Santa makes appearances all throughout the day/night. Your children can do the traditional sitting on his lap and take a photo at different times throughout the day. Check the schedule to find out exactly when that happens on your visit day so you can get on over there.
There will obviously be a pretty long line to get a moment with Santa at his very own theme park, so know that going in. Weigh out the importance of getting that Santa picture here over maybe a smaller venue elsewhere at a later date.
For me, I'm not all that interested in using my time at the theme park doing things I can do at other places.
I take my theme park time seriously, but that's just me. I know plenty of people who have a tradition of getting that yearly Santa pic at the theme park. That's fine of course, but it's good to take a moment and consider where your priorities are with this one.
Wasting time that we paid for is a no-no in my book!
The Christmas Tree Light Show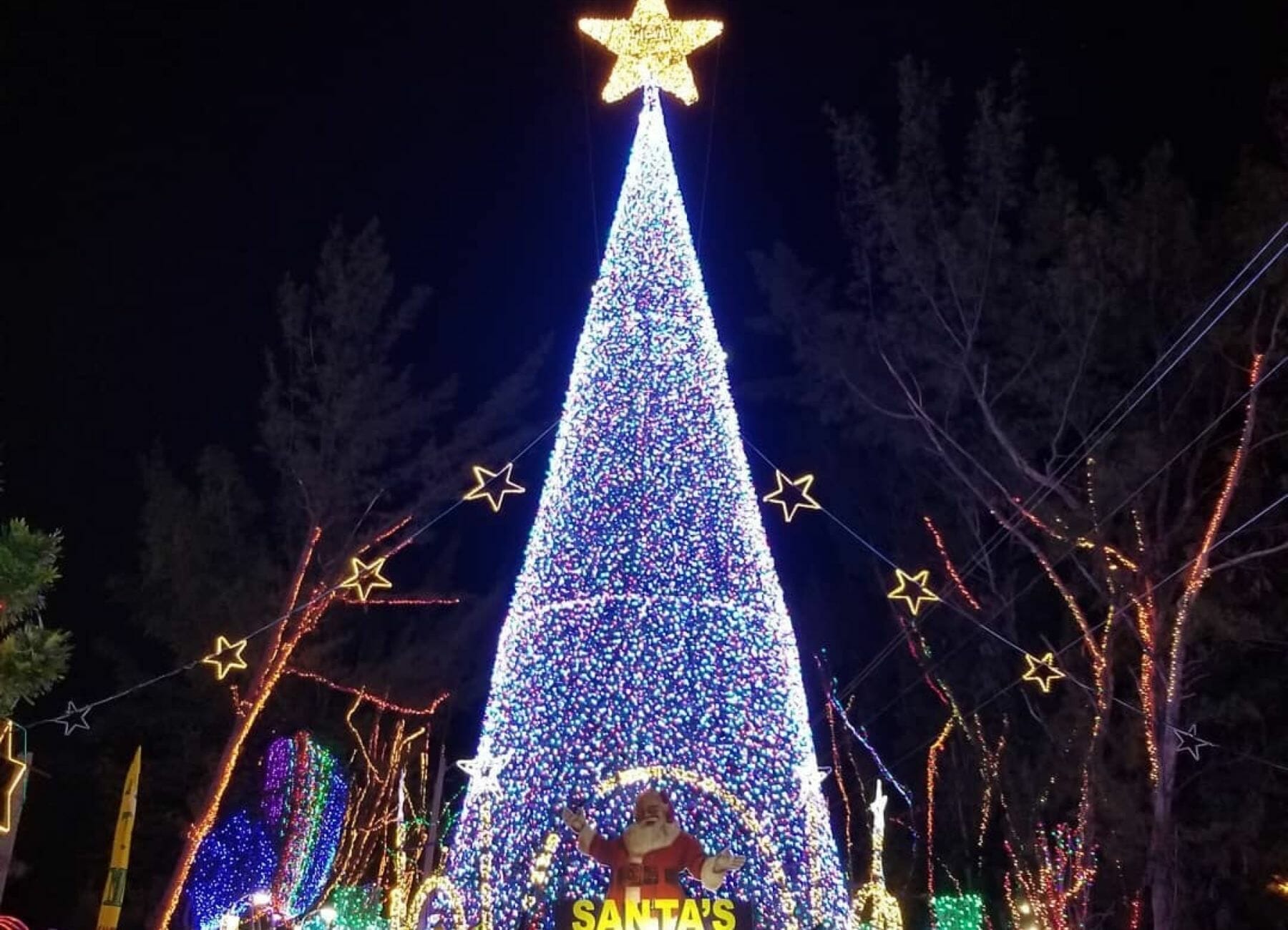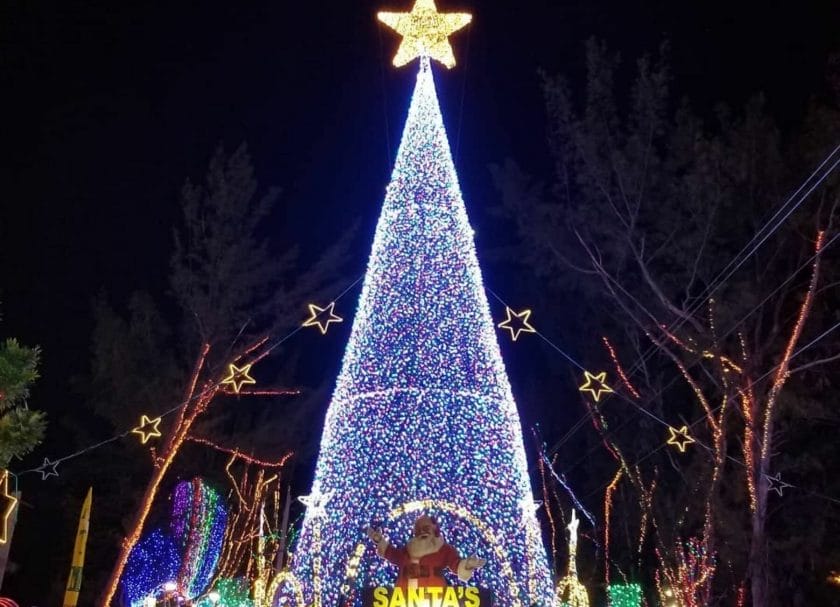 Did you know that this is the place that boasts the largest Christmas tree in South Florida? Well, it's not a real tree like you would find at Rockefeller Center in NYC, but it's beautiful nonetheless.
The park is proud to tell you that they install over 3 million lights each year. Many of the lights are found on the different trees and displayed as you walk in, but even more, are found on or around the main Christmas tree. This is in preparation for their excellent tree light show.
Choreographed to well-known Christmas music, such as the Trans-Siberian Orchestra, make the light show a spectacular moment for everyone in the whole family.
I always like to make sure I know exactly when the tree ceremony is taking place. Particularly if I have some younger kids with me. This way I can make my way over there with enough time to get upfront before the masses catch on.
If it's your first time hitting this theme park, I would say this is about as much of a must-do as anything else in the park.
Pricing Options
This is going to be one of the first things you think of when wondering if heading down to Santa's Enchanted Forest is a good idea.
Remember when I told you This was NOT Disney World? Well, The good news is that it doesn't cost as much as Disney World either! Isn't that nice?
There are a few different options you can choose from here. But I will reiterate, ALL of them should be taken care of beforehand if you're going to alleviate as much aggravation as possible.
The Single-Day Ticket
If you're only going to be there for one day, it makes sense to simply grab a single-day ticket for just about $42.99
For Children, the ticket price drops down to just under $35.00
If you have Seniors in the group, they will only need to pony up the same $35.00 as the children's ticket.
Early Elf Season Pass
If you are planning to go to this theme park more than once, it makes a ton of sense to grab the Early Elf season pass. For $52.00, less than the price of two single tickets, you can enter as many times as you'd like between Nov 9th, 2022- Jan 8th, 2023.
Children will cost $43.45 for the same seasonal access.
Seniors will be the lowest of this bunch, with a cost of $40.56.
Santa's Express Pass
The park makes Santa's Express Pass available on the busiest nights of the season, which includes weekends. This is the way to go if you want to skip all of the ride lines.
The express pass will cost everyone over 3 yrs old in your party the odd price of $28.04
I recommend these types of passes all the time at all sorts of different parks. It can quite literally change the entire experience. But I will tell you unless it's vitally important to get on every ride in the park, I'm not so sure this is necessary.
You can purchase it online, but I would probably wait until I got to the park to get a feel for the lay of the land. If the lines are obnoxious, then maybe I pull the trigger. If not, I'm gonna save the $100+ my brood would cost me.
Parking
Paying for parking beforehand is something I recommended earlier in the article, but I'll simply reiterate it here. My whole gig is to take a little time on the front end so I can save aggravation, frustration, and time once I'm actually paying for it.
If they have a prepaid parking line at the park, you are going to be delighted with your choice to grab it online while you purchase the tickets. Fly right by everyone in all of the cars standing still with a $50 bill in their hands.
At a minimum, if everyone was holding prepaid parking passes, the lines would move much faster. And that's community goodness if I've heard of it!
There are also Military and group discounts available. If this applies to you, there is a request form on the website you can fill out.
Santa's Enchanted Forest is a unique park with plenty of interesting experiences. Memories aplenty are found around every single corner.
It's a South Florida tradition about to broach 40 straight years of operation. They're doing something right down there, and I have had fantastic nights there!
This is one of those parks where knowing what it actually is before you go can make or break your entire experience. False expectations can confuse, frustrate and even ruin the whole trip. It's a good idea to plan the excursion ahead of time.
Santa's Enchanted Forest simply is what it is, and it does that very well! I hope you enjoy your time at this great holiday option!
Other Amazing Family Fun Activities in Miami
Visit the Everglades on this airboat ride and see a wild life show, during this epic 4 hour adventure.
Go Parasailing in Biscayen Bay fly 400 feet above the water in this unique experience.
See the sights of Miami's top attractions with this All Inclusive Pass with over 25 popular attractions included.
Taste the amazing food of Little Havana on this Walking Food Tour with Lunch.
Where to Stay
Hotels
Element Miami Doral this hotel offers a great location close to Santa's Enchanted Village. Amenities include free continental breakfast, an outdoor pool and restaurant on site.
Hyatt Place Miami Doral is located within walking distance of CityPlace and many great restaurants. This hotel is great for families.
Vacation Rentals
Luxury Condo 3 bedroom condo with fitness center, pool and spa. This great condo is great for large families.
Lovely 4 bedroom/ 3 bath home with a private pool is located in a quiet neighborhood in Doral. Just a short driving distance from popular sights, this home has the perfect amount of space for your family.
Pin to Your Christmas Board to Save for Later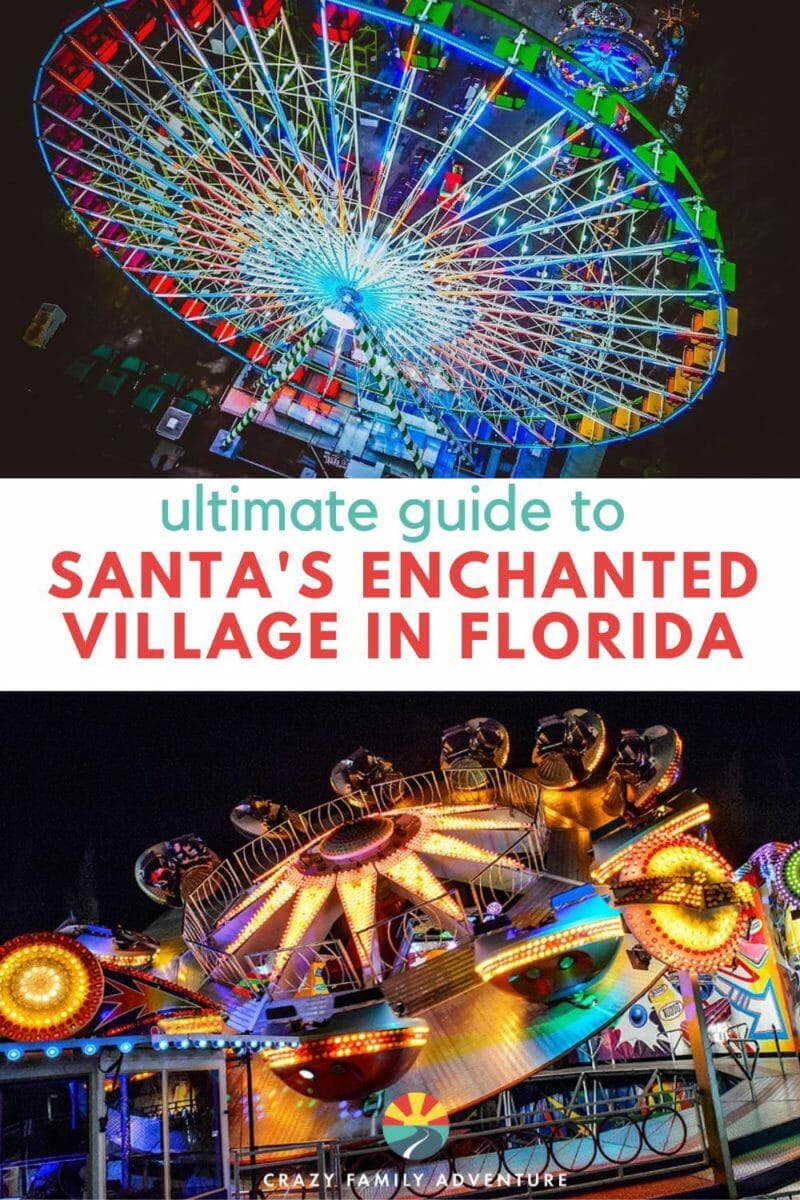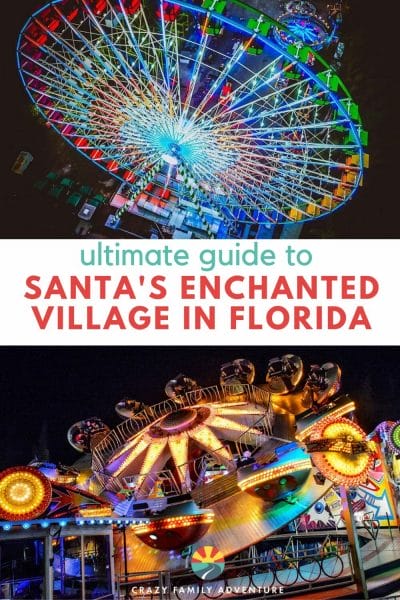 Discover More Fun in Florida
Best 11 Beaches in the Florida Keys
21 Things to Do in Port St Joe Florida
29 Amazing Places in the Florida Keys to Visit
31 Best Things to do in Destin, Florida
Magic Kingdom in One Day- 11 Tips on How to Do it!
24 Amazing Tips for Universal Volcano Bay
16 Top Tips for Orlando Universal Studios
Latest posts by GreenBean
(see all)
DISCLOSURE: This post may contain affiliate links, meaning I get a commission if you decide to make a purchase through my links, at no cost to you. Please read my disclosure for more info.