Palm Beach is a beautiful area with a lot of fun things to do around it! We visited in March and it was he perfect temperature not too hot and not too cold. They have a lot of great family friendly activities from the Zoo to museums and fun activities you can do.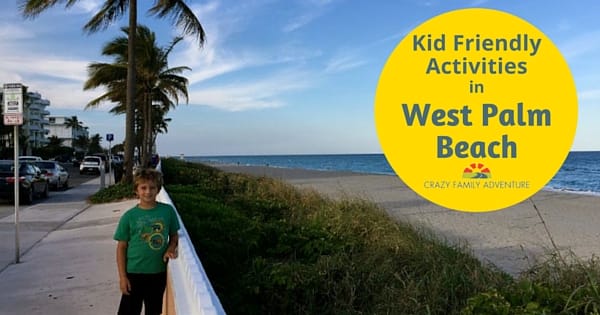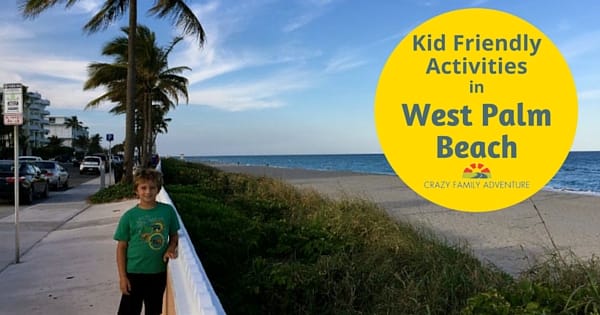 West Palm Beach is a great stop to make on a Florida Road Trip or an East Coast Road Trip with your family!
Here is a list of our top things to do in West Palm Beach with kids:
The Palm Beach Zoo
The zoo and animals at The Palm Beach Zoo were amazing along with the gorgeous setup that the Zoo provides. You feel like you are in a jungle when you are there. Plus a lot of the property is made with recycled material! Everything from marine life to land animals and of course ice cream treats for the kids.
We wrote a post about our time at the Zoo and highly recommend you plan a visit here and make sure to sign up for an animal encounter so you can meet the Sloth! We spent all day at the Zoo so plan to be there for a long time to take in everything it has to offer.
Check out our post on the Palm Beach Zoo here.
Cox Science Center and Aquarium
When we pulled up to the Cox Science Center and Aquarium (formerly known as the South Florida Science Center and Aquarium) our kids went CRAZY! There was a dinosaur outside the front of the building and he was moving. It looked so real. The kids wanted to run over right away to check it out.
We were lucky enough to visit during their Dinosaurs Around the World exhibit and it really was exceptional. The dinosaurs themselves looked so real and then when you walked by them they started moving and roaring!
Be sure to check their site to see what their current exhibits are.
We also had a great time in the hands on area where the kids and us could work on figuring out puzzles, going in the wind tunnel to see what hurricane winds felt like and making shadow pictures of ourselves on the wall. After spending hours in this area we moved on to the aquarium and science center.
Sea Creatures
The sea creatures were really cool to look at and one of the highlighst was being able to stand up and feel like you were right in the middle of the tank with the fish! We also loved watching the soft shell turtle swim around like crazy in the tank.
The kids really enjoyed the science center area which was set up like a science lab along with lab coats that the kids could put on. The kids played here for quite a while and pretended they were scientist, made a bunch of rubbing pictures of dinosaurs and had a great time playing.
At the end of the day we headed into the planetarium to watch the dinosaur movie. It was great for Carson's age (8) and he really enjoyed laying back in the planetarium seats and learning all about dinosaurs and dinosaur bones.
Even though the Science Center was quite a bit smaller then most of the other one's we have been we had a blast!
We were there for almost 5 hours and no one ever got bored! So plan a full day when you visit.
Palm Beach
We took a beautiful drive on A1A right along Palm Beach and saw all the gorgeous houses along the beach. The beach itself was nice and we were able to find a lot of really cool shells. We love exploring these small towns in Florida!
If you are looking to spend the day or afternoon at the beach Palm Beach is perfect for that! It wasn't over crowded and shell hunting is always fun.
Sawgrass Recreation Park
Ever since we arrived in Miami, an airboat ride through the Everglades was high on our list. We were able to make that happen at the Sawgrass Recreation Park in Weston, Florida.
The airboat tour is about 30 minutes which worked out really well for our kids. After putting in some foam earplugs, which were a novelty for the kids, our captain fired up the giant fan on the back of the boat and we glided out into the water.
The captain warned us that he didn't see any alligators on his previous tour (the boats run every 20 minutes), so he said he'd do his best to find one. Well, about 5 minutes into the trip he cut the engine and we all went on high alert.
The Boat Trip
The boat, mind you, is not that big and you could literally reach over the side and touch the water. So a hungry alligator would have no problem lurching out of the water and causing some real havoc on the boat. I've seen enough Animal Planet to know what they can do.
About 50 feet in front of us the captain pointed out the gator. And it wasn't a little baby gator either, it was a good 9 or 10 feet! It was so cool to see the alligator in his natural habitat and doing his thing. That is until he got curious as to what our boat was all about…
He stayed pretty still at first, then he started b-lining right for us! The captain started up the engine and had to make larger and larger circles around the gator as he chased us around. He came right up to the boat! I could have touched the thing, he was that close!
That was really an experience. We've seen quite a few gators this past year being in Florida so long, but this was something special. After checking him out for a bit, we glided off to check out some of the birds in the Everglades.
We saw some really neat birds and even fed them some Cheez-Its. We also learned how to make a bandage from a cattail. I love that sort of stuff.
That pretty much wrapped up our time, so we headed back to the dock. I've gotta say, gliding on an airboat is a pretty cool experience. You feel like a bad ass. I wish I had a machete or something while we were on it.
Exhibits
We thought our day was done after the airboat, but we saw that they also have reptile and other animal exhibits at the park as well. We decided to check it out.
Most of the exhibits were alligators, crocodiles or caimans. They had one exhibit with a bunch of young gators. A couple of the guys working there asked if wanted to hold one, which was a silly question, so they brought one out for us to hold.
It's always cool feeling an alligator with your bare hands. They're surprisingly soft and seem pretty gentle.
We were one of the only people checking out the exhibits, so I think we got preferential treatment because we were also able to watch an awesome barn own fly to his handler. We were up close and got a great view of this beautiful animal.
Sawgrass Recreation Park is a great place to learn about the Everglades and to see it up close. Definitely add it to your list!
Downtown West Palm Beach
We also drove into downtown West Palm Beach. We always like checking out the cities we visit just because you never know what you will find. Well, we hit the jackpot here.
Google suggested driving down Clematis Street, so we did and found a really cool spot called Centennial Square and Fountain Park. We stopped just before dinner and after seeing so many restaurants we planned on grabbing some food. There was quite a buzz happening at the Square and after getting there we saw they were setting up for a concert with food vendors set up around the Square. Score!
We ordered a pizza from Pizza Girls and found a bench to hang at while we listened to Cover Up do their thing on stage. The kids said screw it and got crazy in the splash pad even though it was 7pm and a bit cool. That's what they do.
If you are looking for more adventure?! How about kayaking in South Florida! There is an awesome spot right by West Palm Beach.
Where To Stay
There are a lot of great West Palm Beach Airbnb options. Here is a good VRBO option: Casa Paradiso
Other attractions in the Palm Beach County area:
Manatee Lagoon (so cool to see the beautiful and peaceful sea cows).
See the sea turtles – they nest in the fall.
McCarthy's Wildlife Sanctuary – they have over 170 animals and offer tours and programs.
Lion Country Safari – amusement park and drive through safari.
Okeeheelee Nature Center – walking trails and hands on activities.
Rapids Water Park – waterpark that is great for all ages including a lazy river.
Note: Diva Duck is permanently closed.
Beaches: Juno Beach, Riviera Beach and Peanut Island.
Pin this post for later:
Other posts you may enjoy on Florida:
Disclosure: A big thank you to Discover the Palm Beaches for hosting us on our visit. All opinions here are my own. #truth
DISCLOSURE: This post may contain affiliate links, meaning I get a commission if you decide to make a purchase through my links, at no cost to you. Please read my disclosure for more info.