When you walk into the Palm Beach Zoo, you don't feel like you are walking into a zoo, but instead like you are walking through a forest. There is so much greenery and trees! Don't worry, the animals are enclosed, but the zoo did a great job of not making it seem like they are! Plus everything around the zoo is made from recycled material, which is just amazing and shows how much they care about the animals and the environment.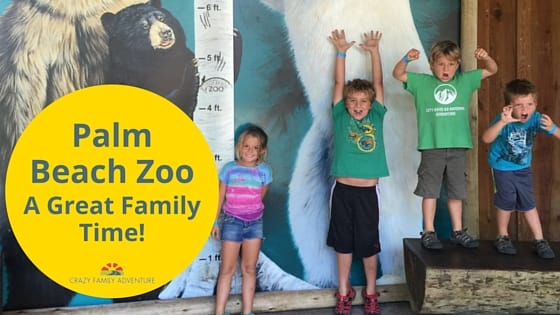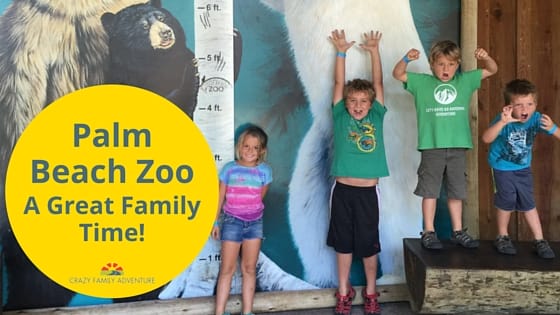 We found out that a lot people get married at the zoo because there are so many beautiful outdoor areas there. Talk about a wild wedding!
Splash Pad at the Palm Beach Zoo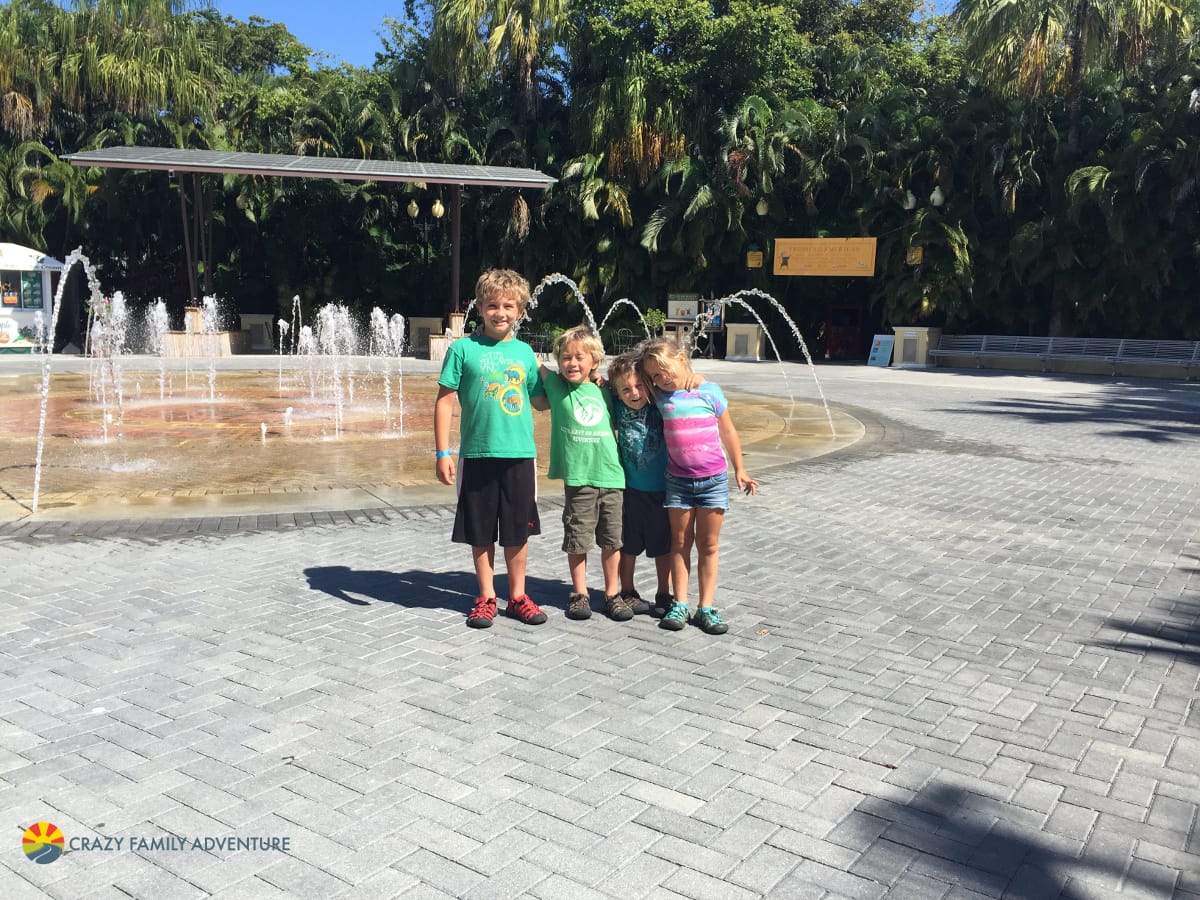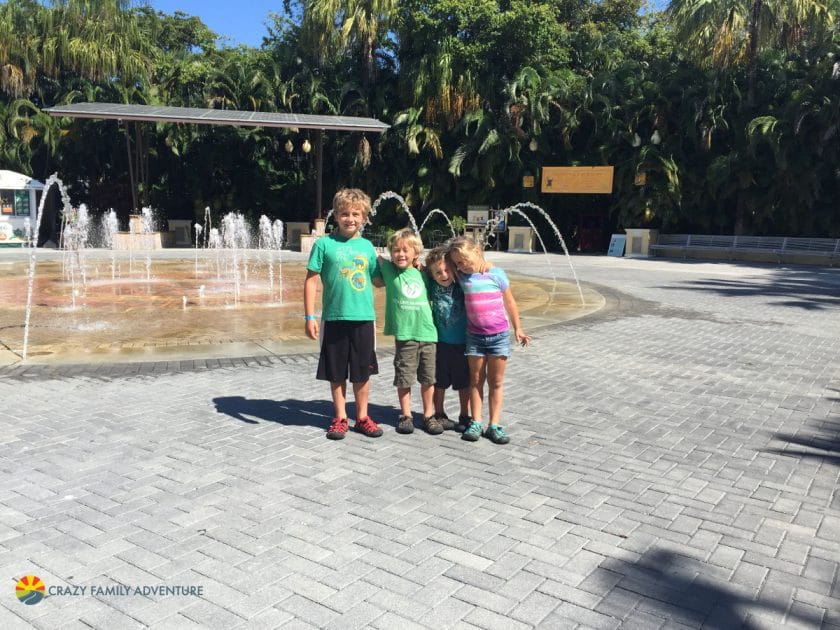 When you come to the zoo be prepared to spend the day and don't forget to bring a change of clothes for your kids and some towels. They have an awesome splash pad right in the middle of the park! What a perfect thing to have at a zoo in south Florida. You can go check out the animals, then head back to the splash pad to let the kids run off some energy. Plus Mom and Dad get a break to sit down and relax while the kids run!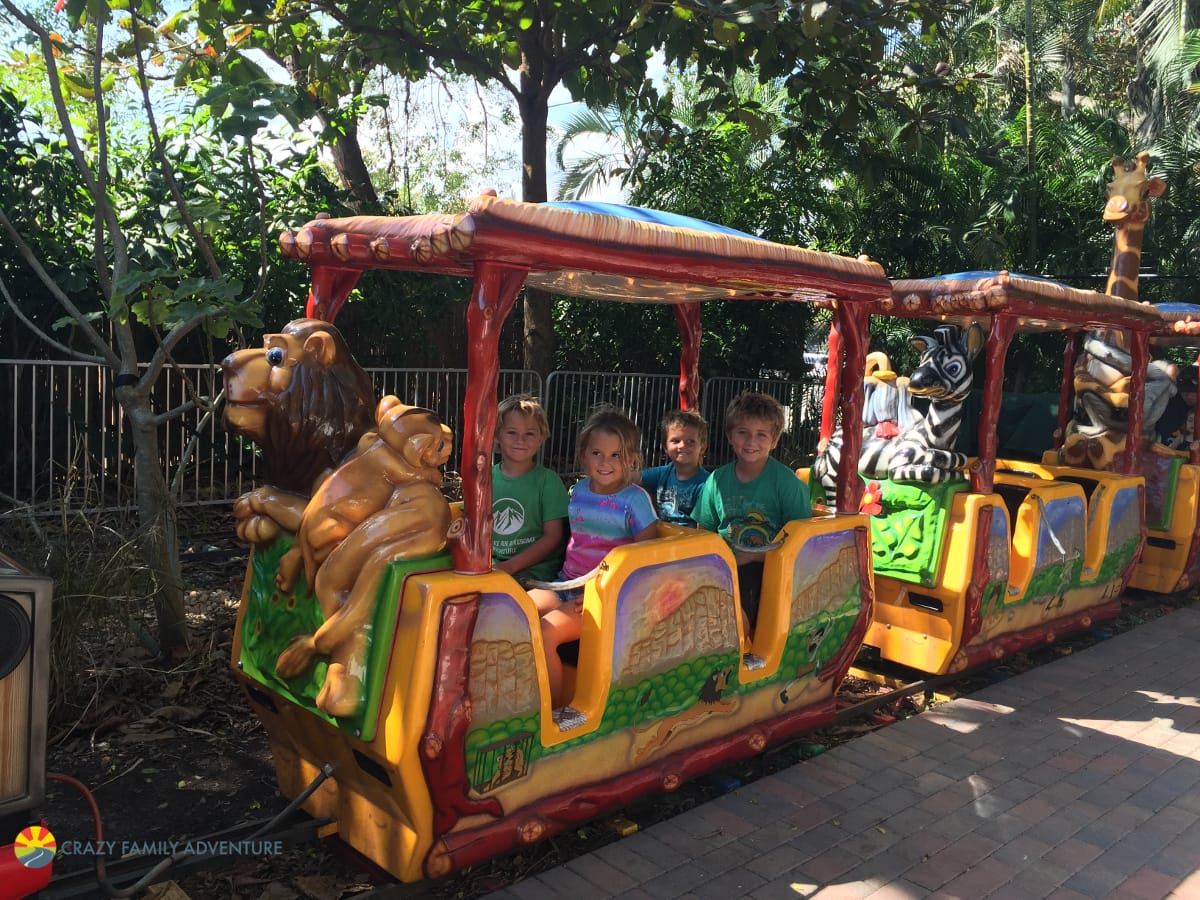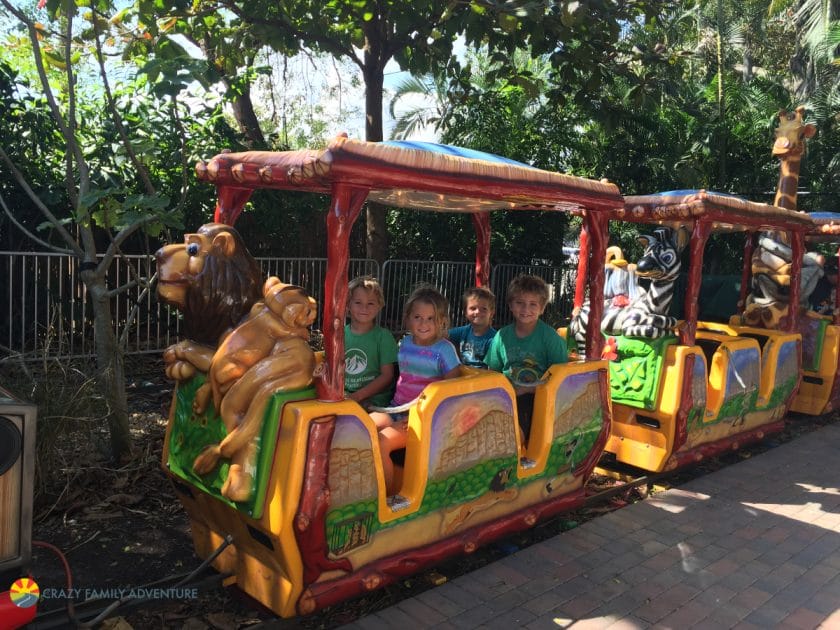 They also have a carousel and train that you can pay a small fee to have your kids ride on. Our kids loved doing this!
Tropics Café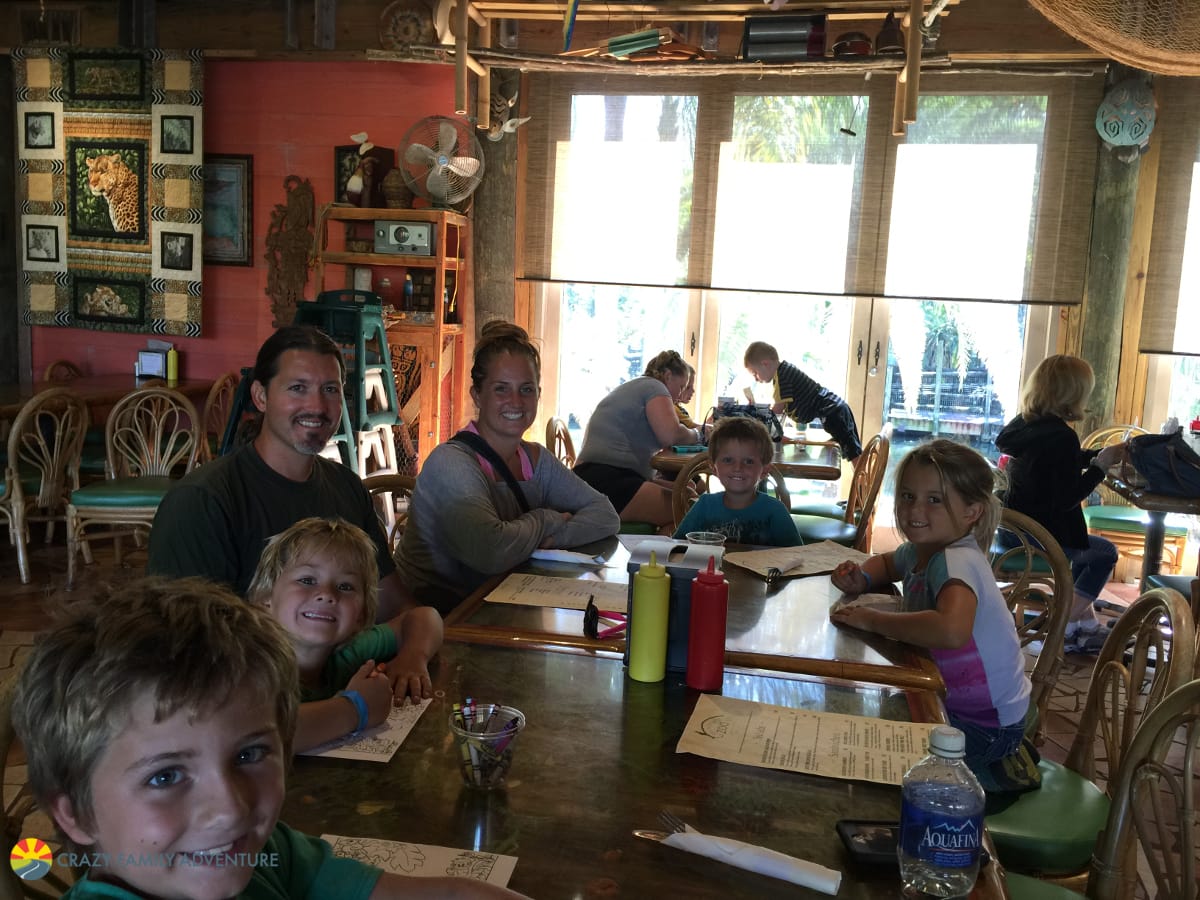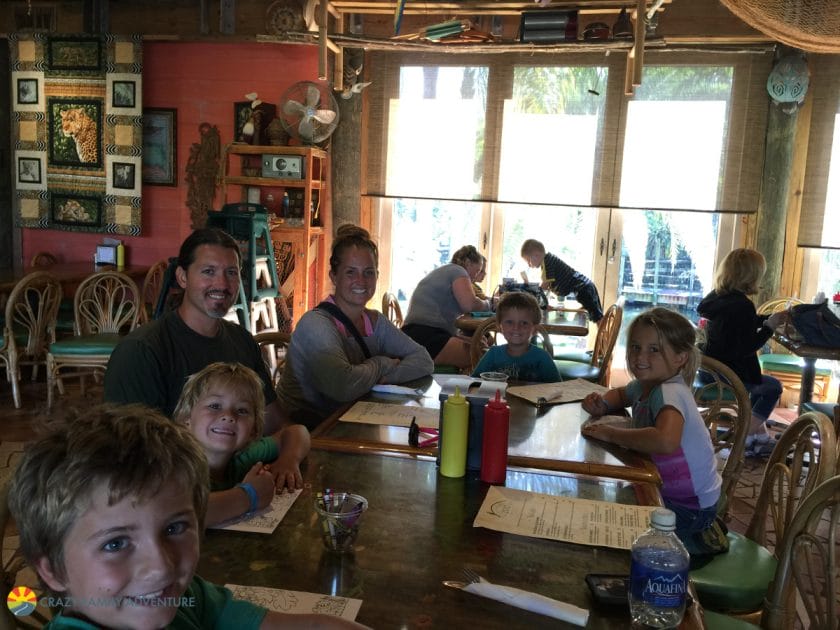 When you are done at the splash pad, head over to the Palm Beach Zoo restaurant:Tropics Café. They have a great selection of food (vegetarian included!) and a kids menu. Plus you can sit at a table that looks out over the cabaraya. So you can animal watch while you eat. And parents guess what, they have craft beer and multiple flavors of wine too!
Check out the menu here: http://www.palmbeachzoo.org/tropics-cafe-concessions
Animals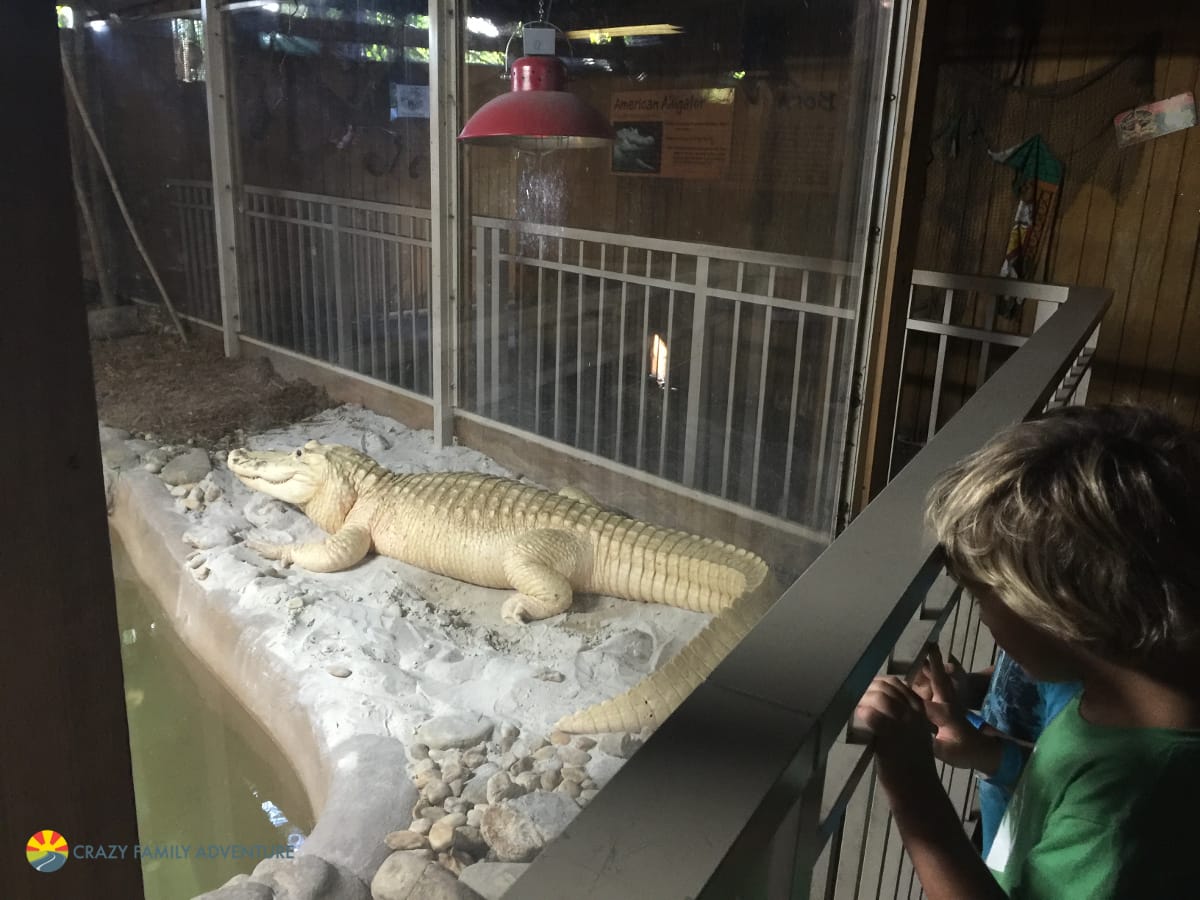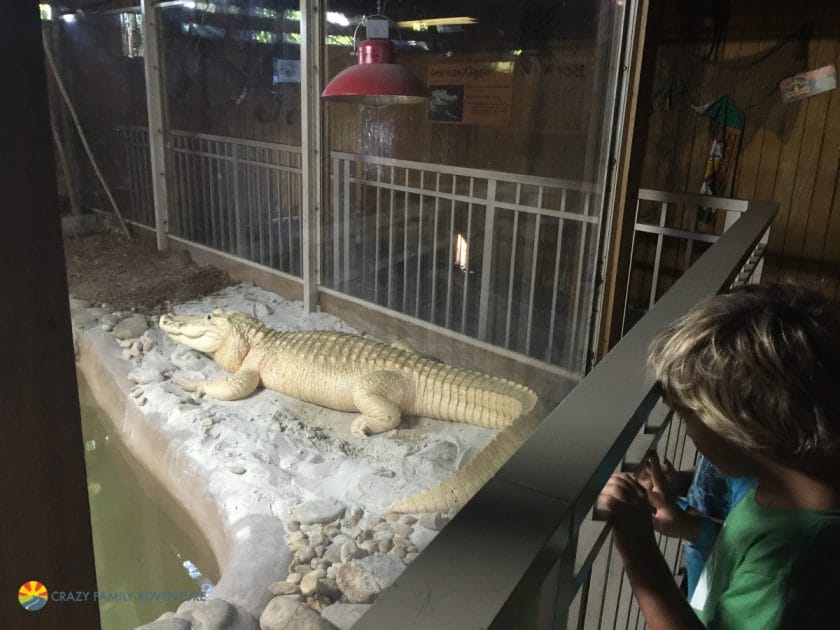 There is an awesome variety of animals from kangaroos, Malayan Tigers, white alligators, Fennec Foxes, lemurs, koalas, monkeys and more! One of the things we really enjoyed were all of the shows they had. Some where full on shows at a stage and others were talks the zoo keepers did right at the animal habitats.
Shows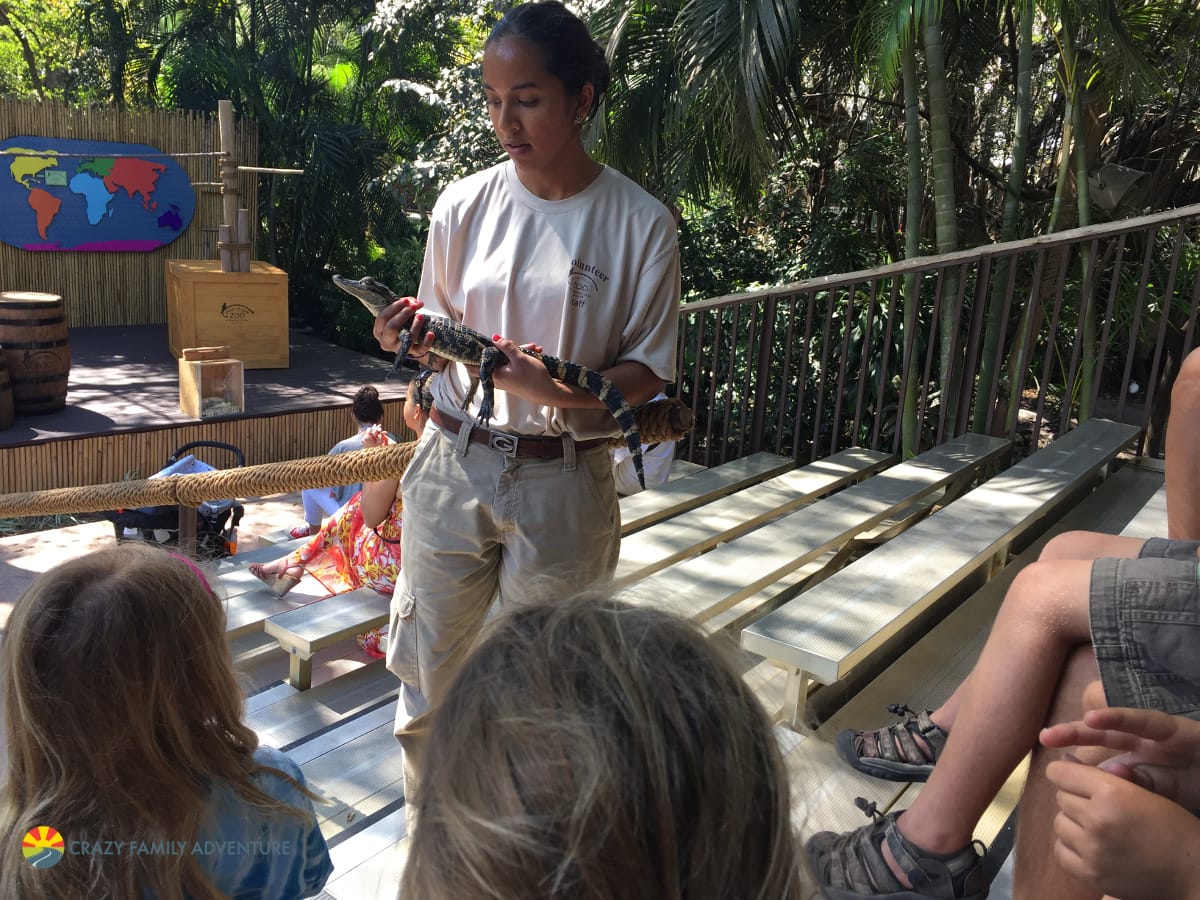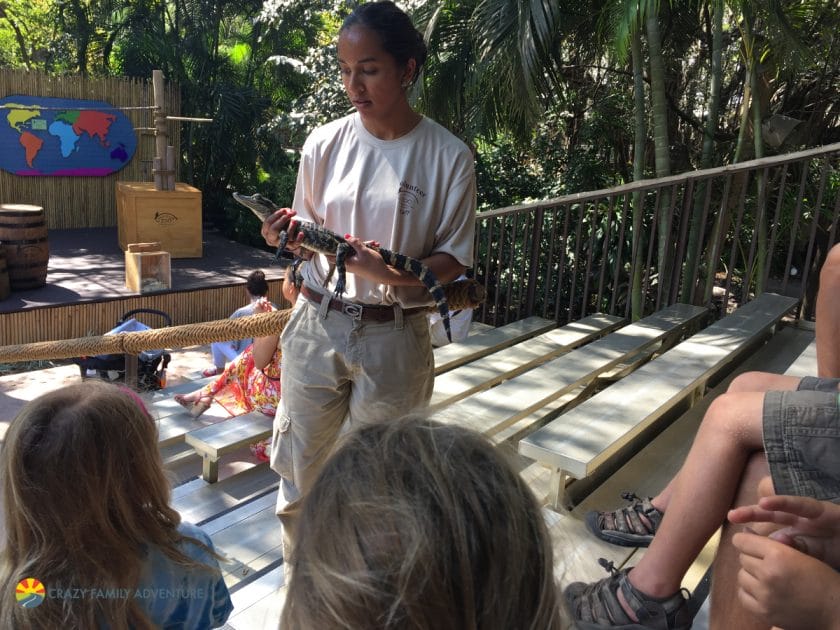 The great thing about all of the shows were they were not super long, which meant our younger kids could handle it. People with young kids, I know you can appreciate that!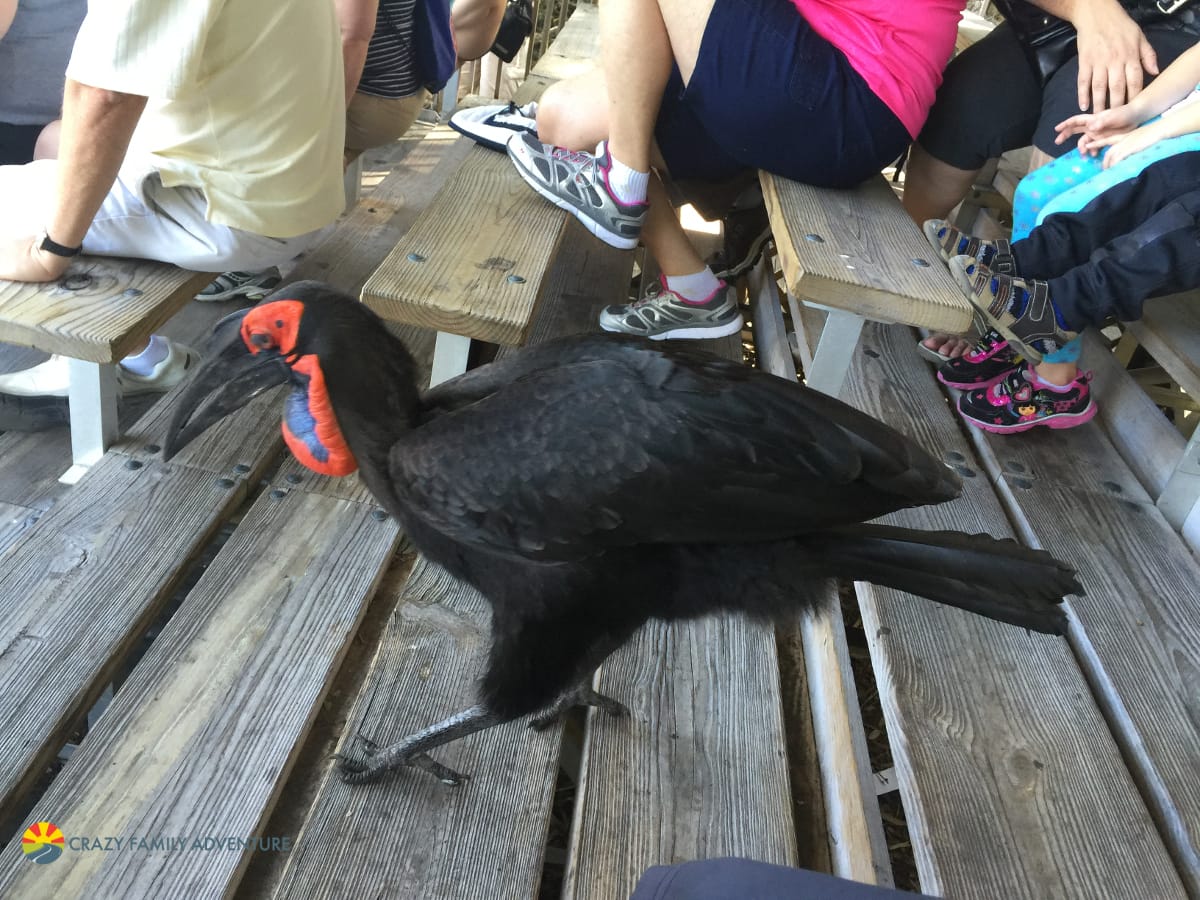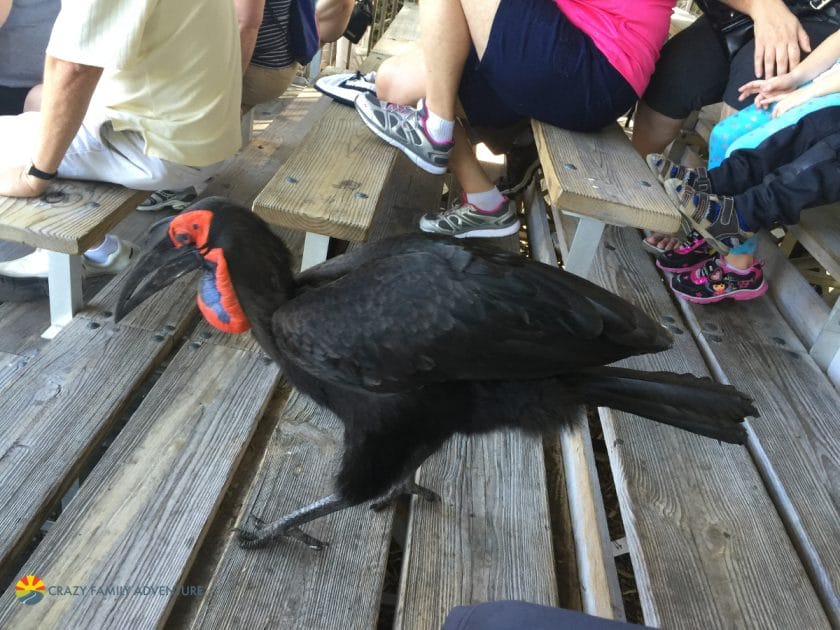 Don't miss the Wild Things show. They bring out a variety of different animals for you to see and at the end they have a parrot collect dollar bills for donations – so make sure you bring your singles so each of your kids gets a chance to give the parrot money.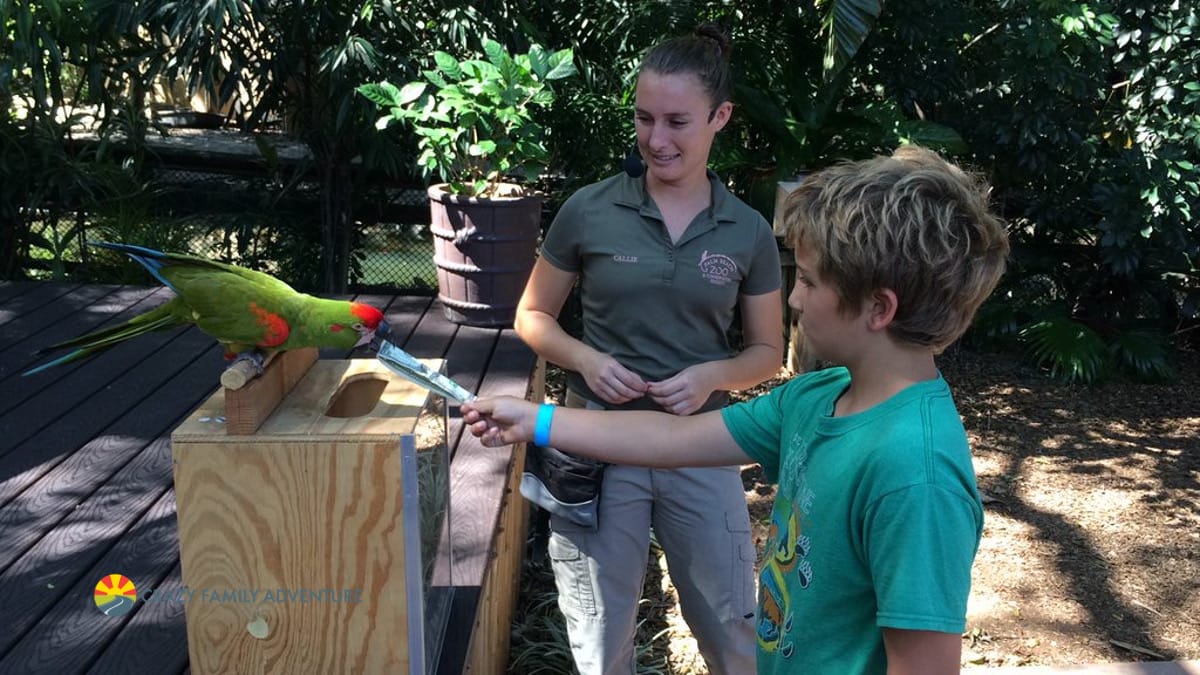 Feeding Stations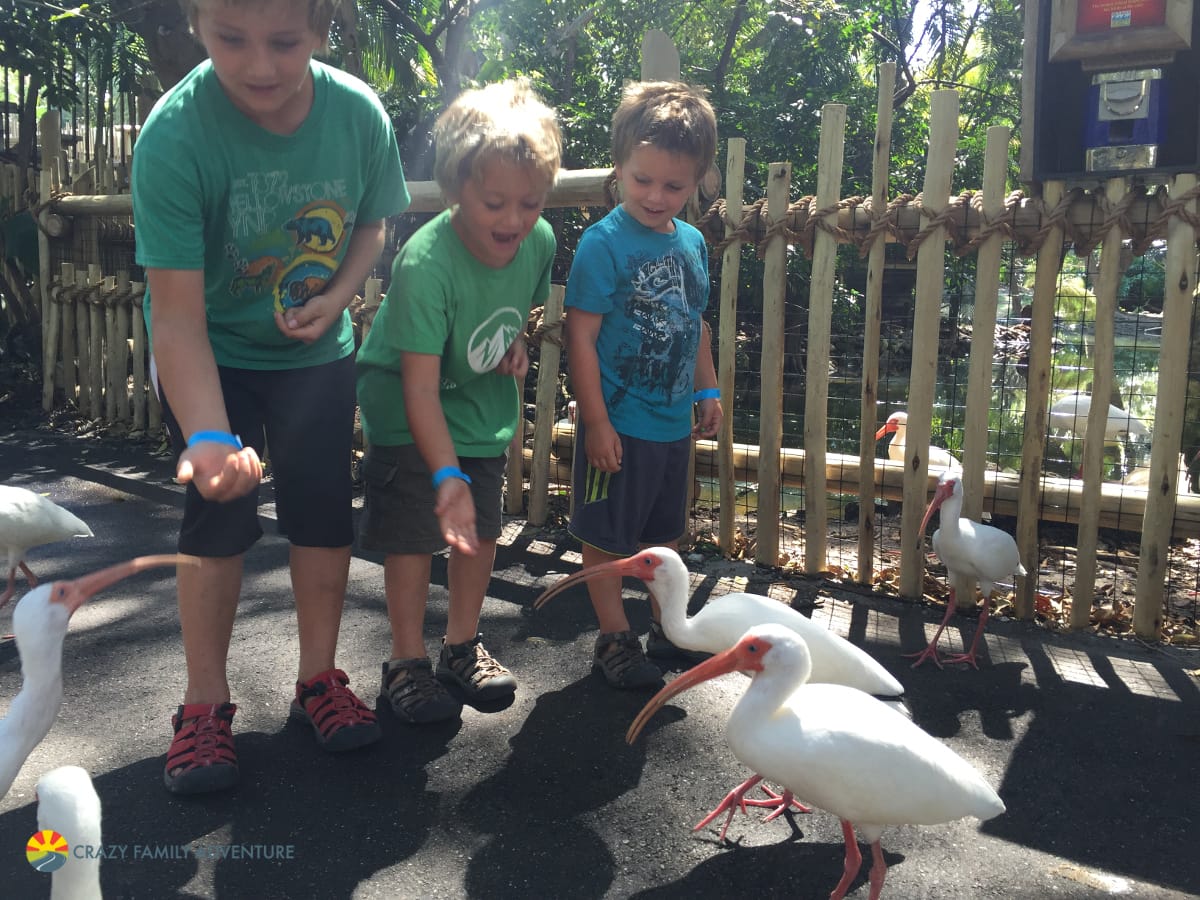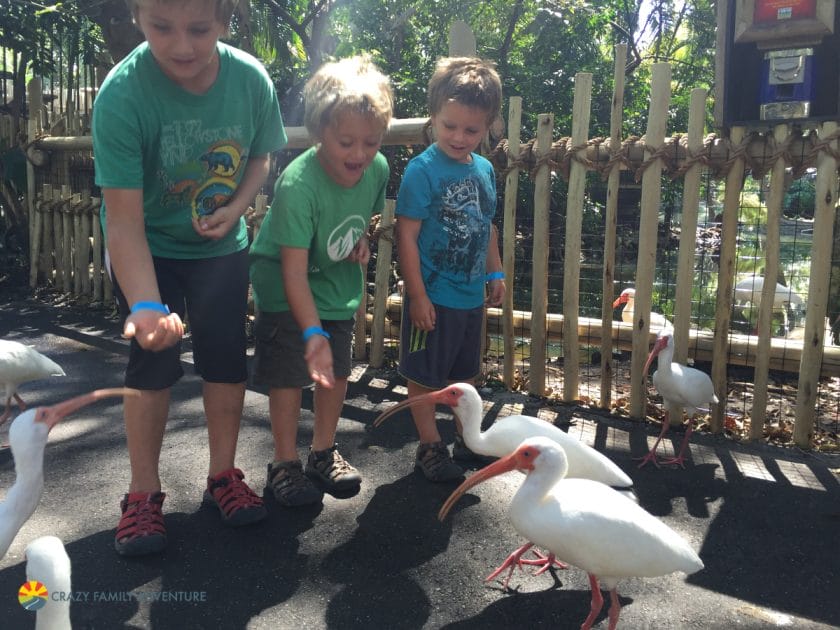 One of the other highlights for us was the feeding stations. As we all know with kids they love looking at animals, but they also love doing hands on things. Throughout the park they have feeding stations (like gum ball machines) that cost a quarter to get a handful of food.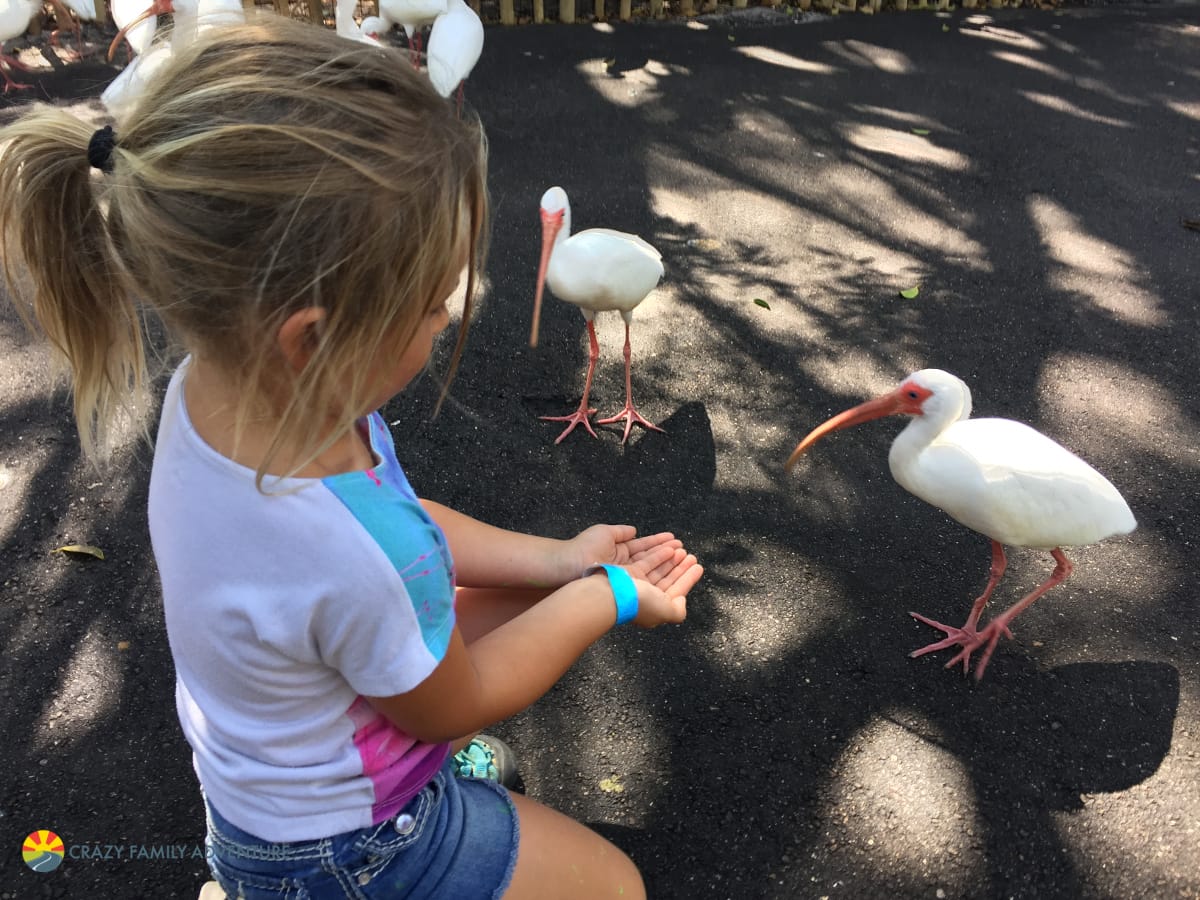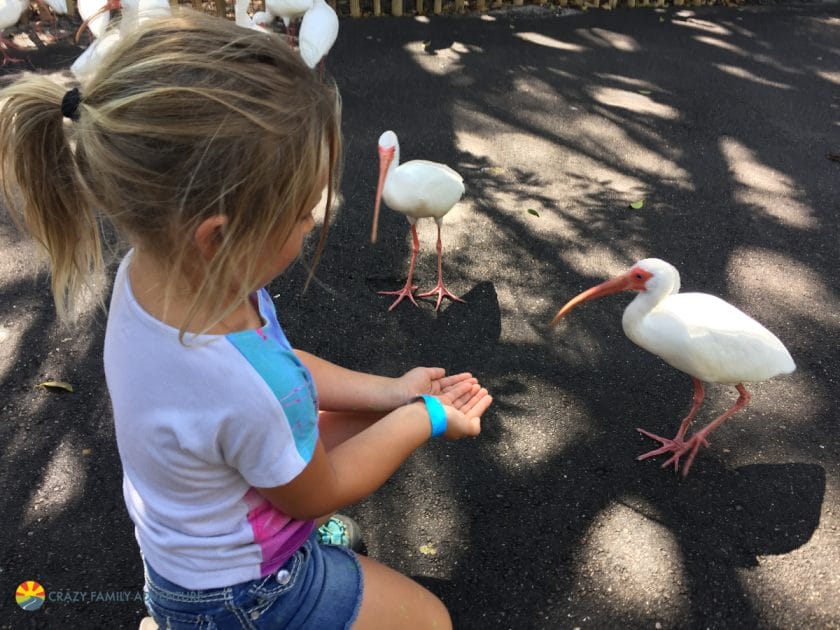 You can feed the ducks and fish in the pond or the ibis birds. That was our favorite part! The birds come and eat the food right out of your hand. The best place to do this is by the Wild Things stage (which you can find on the park map). So don't forget to bring your quarters!
Animal Encounters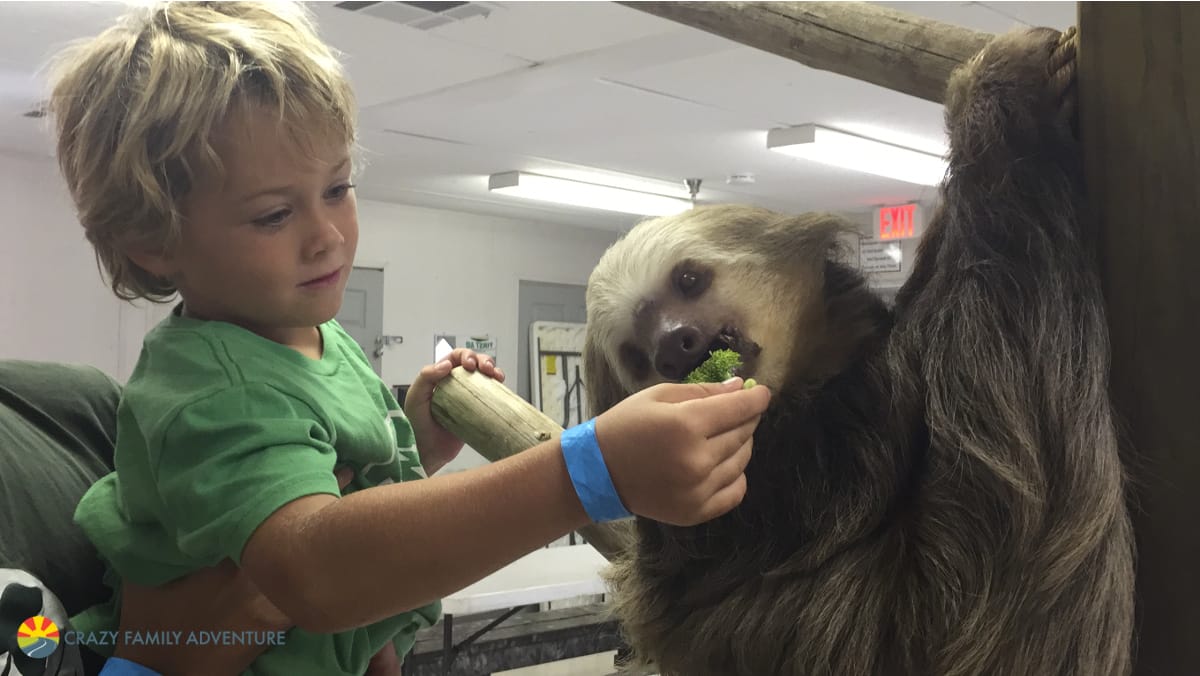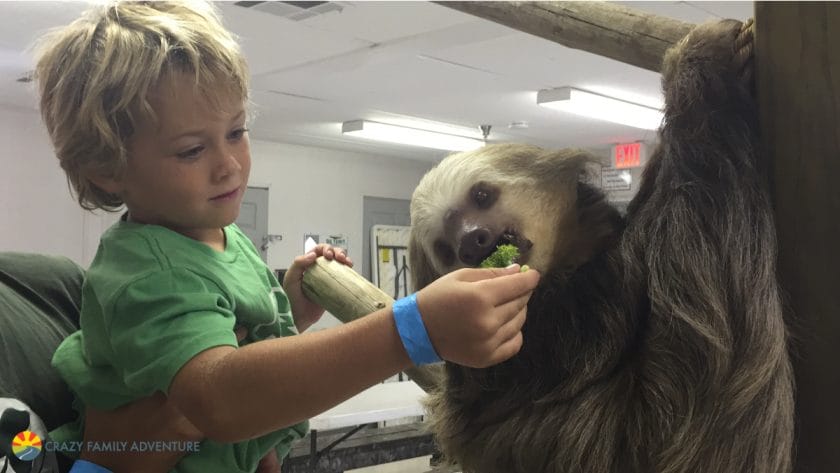 We also loved that the Palm Beach Zoo provided animal encounters. There were multiple options to pick from and a lot of them were understandably age depended. You can check out the selection here.
We were able to do the sloth encounter with Wilbur the female sloth. During the encounter we were able to pet her (all of our kids – our youngest is 3) and we were also each able to feed her! Plus the zoo keeper did a great job teaching us about Wilbur and answering any and all questions that the kids had. It was very family friendly. And how cool is that – that we got to feed a sloth!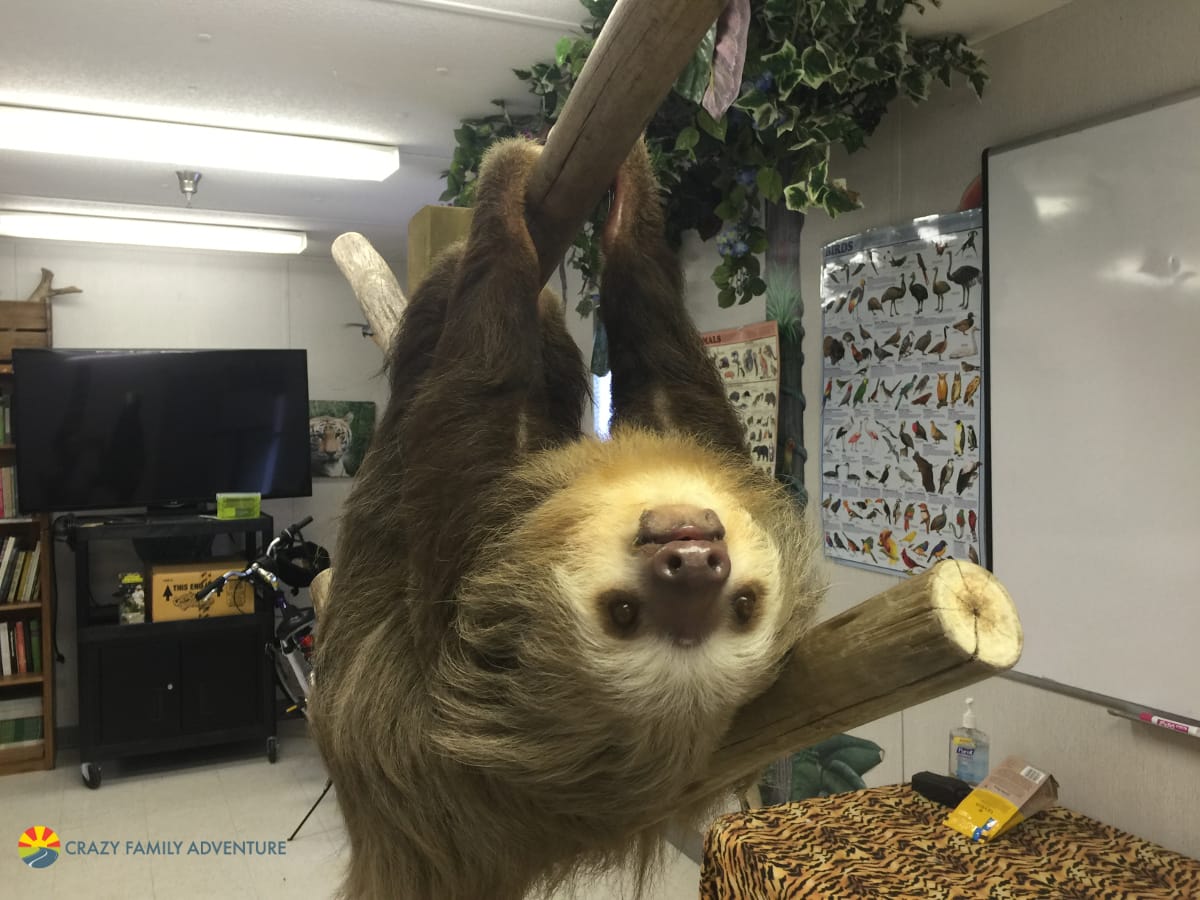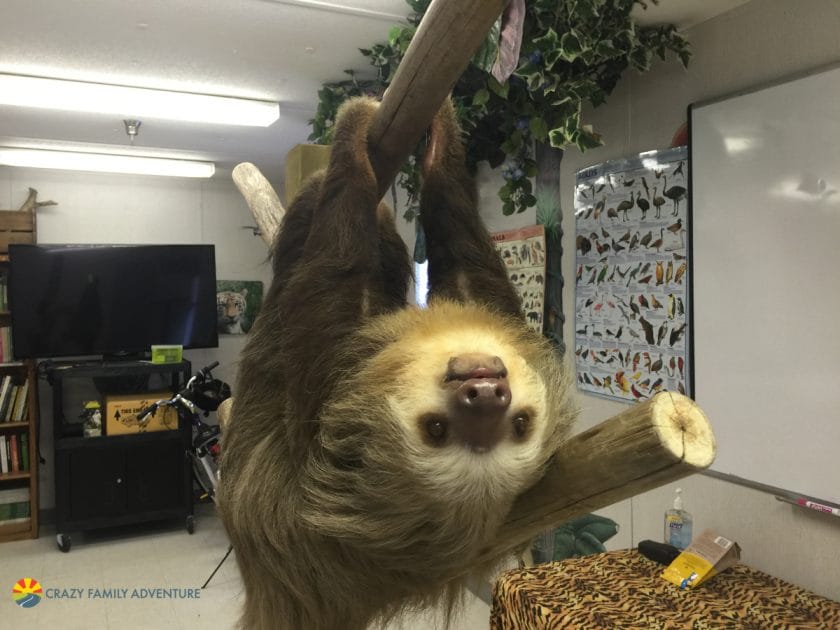 If you are anywhere in the Palm Beach area we highly recommend blocking out a day to come and visit the Palm Beach Zoo. Get there early, book your animal encounter, grab a map, show schedule and get started! Before you know it the day will be over and you will have met some really cool animals, learned a ton, and made some amazing memories for you and your family.
Recap when you visit the Zoo don't forget:
Towels and a change of clothes for the splash pad
Dollars to tip the Parrots
Quarters for the multiple feeding stations
Our kids declared it the best zoo they have been to – and that's saying a lot since we have been to a LOT of zoos around the country!
The Palm Beach Zoo is offering a great deal with their Dual Discovery Pass, which offers entry to the Palm Beach Zoo as well as the South Florida Science Center & Aquarium. Learn more about it out here: http://www.palmbeachzoo.org/dual-discovery-pass
Be sure to check out our partner booking.com to book your Palm Beach visit today!
Disclosure: A huge thank you to the Palm Beach Zoo and Discover the Palm Beaches for hosting us on our visit. All opinions here are my own. #truth
DISCLOSURE: This post may contain affiliate links, meaning I get a commission if you decide to make a purchase through my links, at no cost to you. Please read my disclosure for more info.