When the cooler fall weather rolls in we love to head to the nearest pumpkin patch in Wisconsin to get apple cider, yummy cookies and to find the best Pumpkins to bring home to decorate and carve!
Being born and raised in Wisconsin and now having 4 kids of our own we love to continue the tradition of visiting a Wisconsin pumpkin patch in the fall.
If you're searching for, 'Where can I find the best Pumpkin Patches near me?' — we've got you covered!
Let's take a look at 15 of our absolute favorite pumpkin patches in Wisconsin so you can visit the cream of the crop this fall!
Southern Wisconsin Pumpkin Patches
Jerry Smith Pumpkin Farm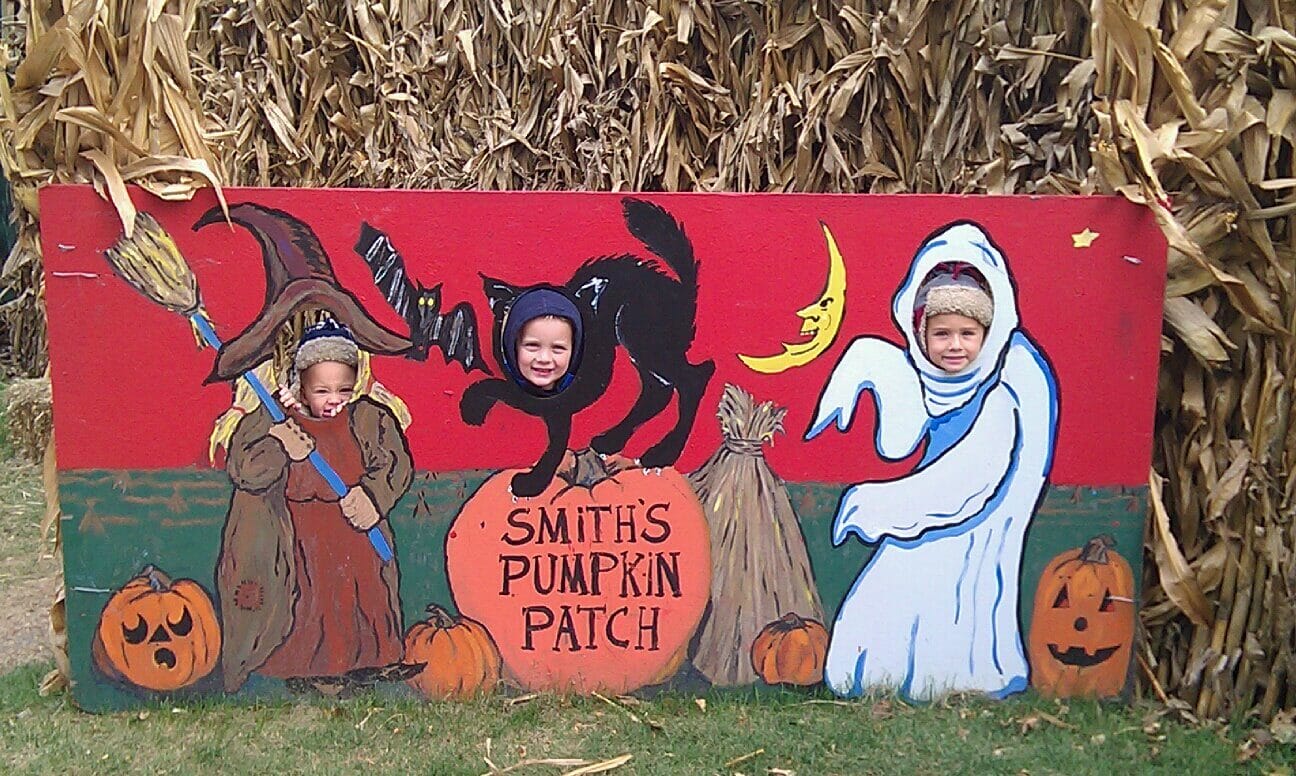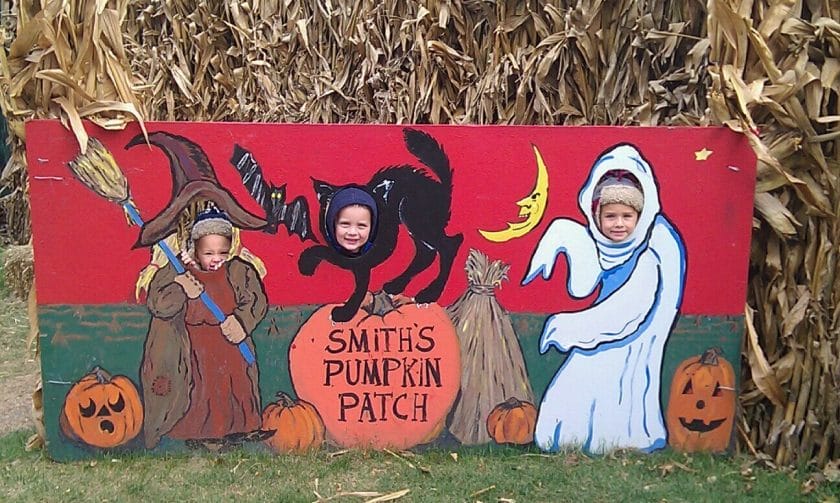 Location: Kenosha, Wisconsin
Best known for: Sugar Cookies – you won't want to miss these!
Cost: Free to enter. Mazes and other activities $7 on weekdays and $12 on weekends. Children 2 and under are free.
Open dates: September 16th – October 31st 2023
Monday: Thursday 4pm – 8pm
Friday: 12pm – 8pm
Saturday & Sunday: 10am – 8pm
October 31st: 4pm – 6pm
An adorable family-owned farm in the Wisconsin countryside, Jerry Smith Pumpkin Farm is worth a visit anytime, but especially during the fall season. During this time, a collection of hand-painted pumpkin displays can be admired at the farm, free of charge. These displays are ideal for use as the backdrop of a fall family photo.
If you want even more fun, pay for a wristband to get into the paid activities. These include a giant bounce pad, corn maze, petting zoo, hay maze, corn maze hayrides, play areas, and more.
Of course, you'll definitely want to pick up some pumpkins and other fresh produce while you're there. Don't forget to grab some of the farm's famous sugar cookies too!
More info on Jerry Smith Farm here!
Elegant Farmer
Location: Mukwonago, Wisconsin
Best known for: Paper Bag Apple Pie – YUMMY – don't skip this!
Cost: Free to enter. Fee for produce, food, and some activities. 
Open dates: September 9th – October 22nd 2023 10am – 5pm
Throughout the year, Elegant Farmer runs an adorable little grocery store that we just adore. However, the store and farm hosts events on occasion, the biggest and most exciting being their Autumn Harvest Festival.
This festival takes place on select Saturdays and Sundays during September and October. During the event, guests are invited to pick apples from the orchard or pumpkins from the patch (prices on their site for this). Other activities include a tractor-pulled hayride, pony rides, train rides, and a corn maze (prices on their site for this).
Besides all of the fun activities, this event also boasts some seriously delicious treats. You'll want to grab some apple cider donuts, pulled pork, chili, and make-your-own caramel apples before you leave. As always, a paper bag apple pie is always a good idea!
More info on the Elegant Farmer here!
Treinen Farm
Location: Lodi, Wisconsin
Best known for: Award-Winning Corn Maze
Cost: September 2nd – November 5th
Friday & Saturday: 9am – 10pm
Wednesday, Thursday & Sunday: 9am – 7pm (not open on November 1 & 2)
Home to what is quite possibly Wisconsin's best corn maze, a fall time visit to Treinen Farm is a tradition for many Wisconsin families. The maze here is so big and convoluted, even adults find it challenging, and it's sure to get some giggles from every member of the family. Not only that, the mazes are themed works of art and are different each year. 
Besides the corn maze, you'll also find a pick-your-own pumpkin experience, hiking trails, slides and tire climbers, and a number of other activities. One could easily spend an entire afternoon at the farm and never get bored.
You will want to buy tickets to Treinen Farm in advance, as some days do sell out.
More info on Treinen Farm here!
Green Meadows Petting Farm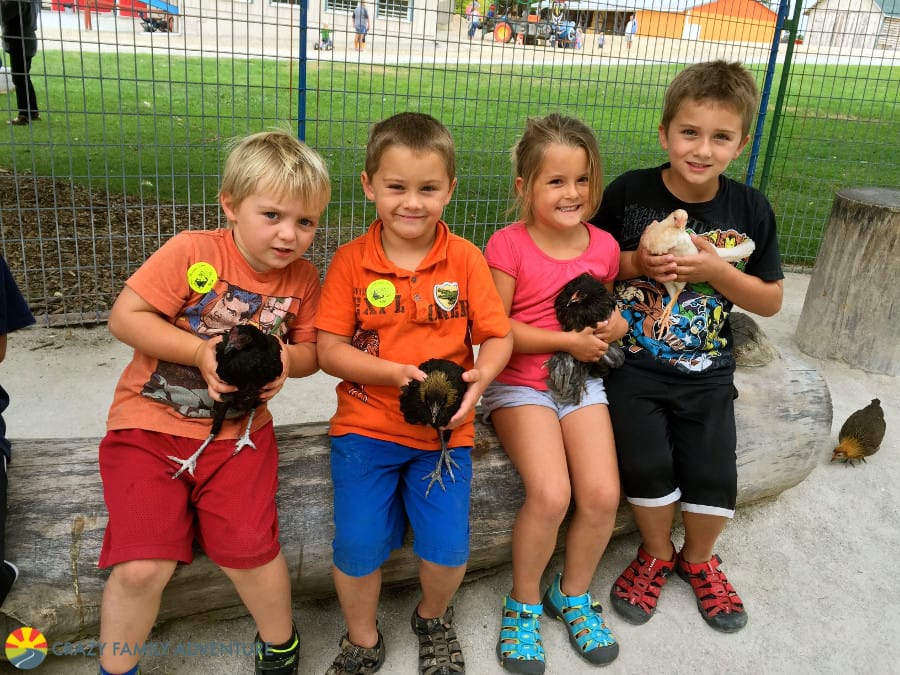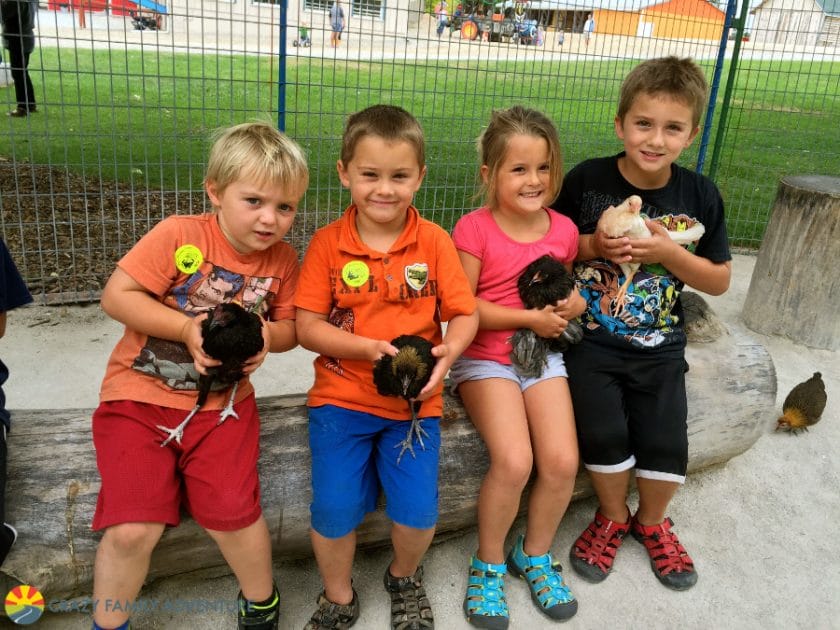 Location: Waterford, Wisconsin
Best known for: Farm Animals
Cost: $14 per person ages 2 and up. $12 for seniors. Be sure to check Groupon for deals!
Open dates:
Summer – September 3rd Tuesday – Sunday 10am – 4pm
Fall: September 23rd – October 29th Tuesday – Sunday 10am – 4pm
Open all year long, Green Meadows Petting Farm is the perfect place to visit with young children. Want to know the best time to go? During the autumn season, this place is chock-full of things to see and do.
During a visit to this place, kids are encouraged to interact with the farm animals. Staff members are available to answer questions and ensure the safety of animals and guests. Some of the hands-on activities you'll find here include lawn games, pony rides, a "kitty farm", and a hayride.
A small pumpkin patch is also available. While this patch may not be enough to satisfy adults and older kids, it's the perfect size for young children who may be overwhelmed by a larger pumpkin selection.
More info on Green Meadows Farm here!
Schuster's Playtime Farm
Location: Deerfield, Wisconsin
Best known for: Huge Pumpkin Patch
Cost:
Weekday Tickets (Monday – Friday) from $7 – $10 with cheaper tickets if you buy ahead of time online.
Weekend Tickets (Saturday & Sunday) from $11 – $14.45 with cheaper tickets if you buy ahead of time online.
Open Dates: Fall September 16th – October 30th
Best to check their site for open days and times as it varies throughout the fall.
Another excellent option for those looking for pumpkin patch Wisconsin family fun, Schuster's Playtime Farm is always a blast. During their Fall Fun event, you can find the perfect pumpkin in their 14+ acres of pumpkin patch and take it home to create an amazing jack-o-lantern work of art.
Besides the pick-your-own-pumpkin fun, you can also wander a corn maze, shoot apple cannons, take a hayride, play putt-putt, explore the haunted forest, or hang out around a bonfire with their after dark fun options.
On your way out, you'll want to snatch up some yummy fall treats. Some of our favorites include hand-dipped caramel apples, apple cider donuts, pumpkin cake, and hot apple cider.
More info on Schusters Farm here!
Busy Barns Adventure Farm
Location: Fort Atkinson, Wisconsin
Best known for: Kid-Oriented Farm
Cost: $13 if paying cash, $13.50 if paying with a card. Children under 12 months are free.
Open Dates: September 23rd – October 29th, 2023 Saturdays and Sundays 9am – 4pm
This is yet another family farm that is perfect for the younger set, and great to visit any time of the year. Still, we much prefer autumn visits, as this is when the weather is perfect and their fall activities are available.
During your visit to this farm's pumpkin patch you can find a wide variety of beautiful and sometimes unusual pumpkins – which can be perfect for carving a crazy jack o lantern pumpkin design. A farm animal petting zoo is also available, as is a super fun corn maze.
Other activities are available on select fall weekends and include corn boxes for playing in, slides, hayrides, and a whole lot more!
More info on Busy Barns Adventure Farm here!
Waldvogel Pumpkin Farm
Location: Beaver Dam, Wisconsin
Best known for: Excellent Value
Cost: $15.99 per person the month of September, $15.99 the month of October. Children 2 and under are free. With deals if you buy ahead of time online.
Open Dates: Opening September 16th
Tuesday – Thursday 1pm – 6pm
Friday – Sunday 10am – 6pm
Waldvogel's farm's pumpkin patch in Wisconsin is popular with locals for a reason. Hop on the hayride to the pumpkin patch and see what you can find. Whether you're looking for the largest pumpkin you can find, a perfectly shaped one, or one with an interesting color, you're sure to find it at this amazing place.
Once you have your favorite pumpkin in hand, head back to the festival area to try some of the other fun activities. These include duck races, a shooting gallery, gem mining, rat races, a train ride, and more than 60 other options.
The best part? Pumpkins range from $2 to $10, and all of the fall activities are included with admission, making this an incredibly affordable family outing.
More info on Waldvogel Pumpkin Farm here!
Apple Holler Restaurant & Playhouse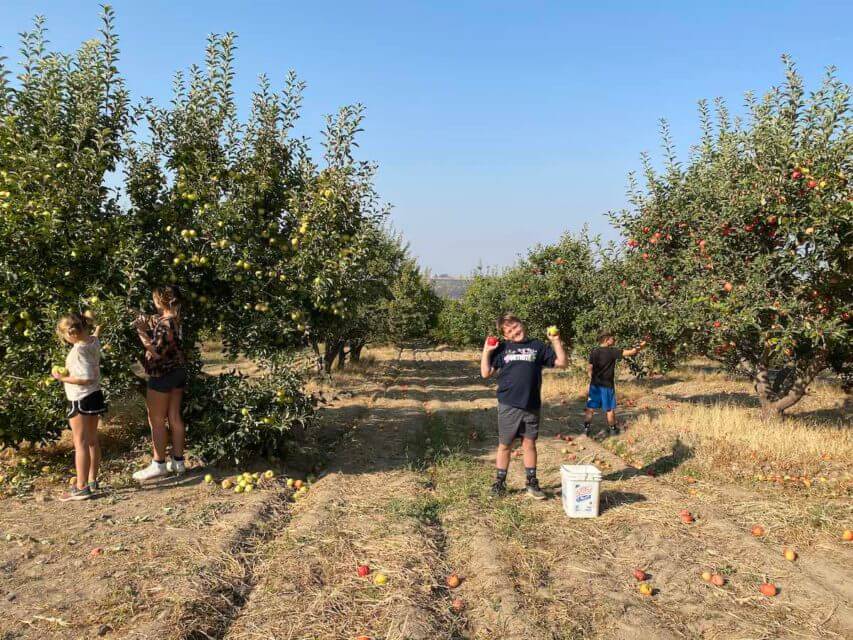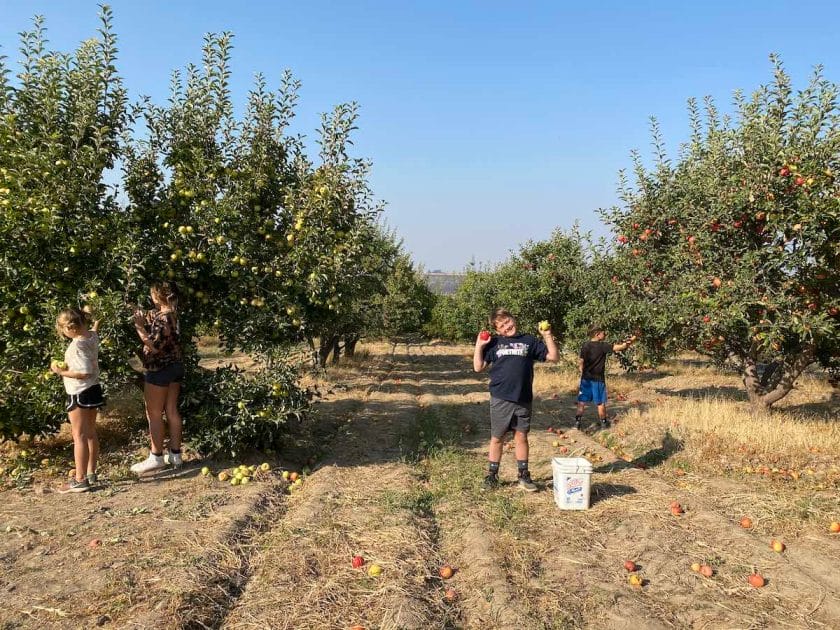 Location: Sturtevant, Wisconsin
Best known for: Excellent On-site Restaurant
Cost: Free to enter. Fee for produce and food. 
Open Dates: Openings vary since the restaurant is open year round so best to check their site.
Picking apples is the name of the game during the fall at Apple Holler Restaurant and Playhouse, and it's a super fun event that includes a train ride to the back of the orchard. That said, apple picking is far from the only thing to do here.
During this time, a pumpkin patch is also available for those looking to choose their own gourd. Fun photo ops can be found here and there as well, and entertainment such as a petting zoo and corn maze are available on select days.
After gathering your apples and pumpkins, return to the front to pick up a delicious to-go meal from the restaurant or the concession stand. Be sure to add on a slice of apple or pumpkin pie from the bakery for dessert.
More info on Apple Holler here!
Skelly's Farm Market
Location: Janesville, Wisconsin
Best known for: Homemade Donuts
Cost: Prices vary depending on what you want to do. You can check out the prices here.
Open Dates: Labor Day – Halloween 2023
A quaint family farm that is open for most of the year. Skelly's is fun no matter the season. That said, fall is the best time of year to visit the little market.
During the autumn season, Skelly's offers wagon rides as well as awesome corn mazes. Additionally, there is an excellent pumpkin patch during this time of year, meaning you can grab your fall decor while visiting.
No matter when you visit, your kids will have access to the wonderful play structure on the farm. Have you ever shot an Apple Cannon? If not, now is your chance. You'll try to hit targets with apples flying across the field.
You'll also be able to shop for gifts and sweet treats. Be sure to grab some of the housemade donuts, as they are to die for.
More info on Skelly's Farm Market here!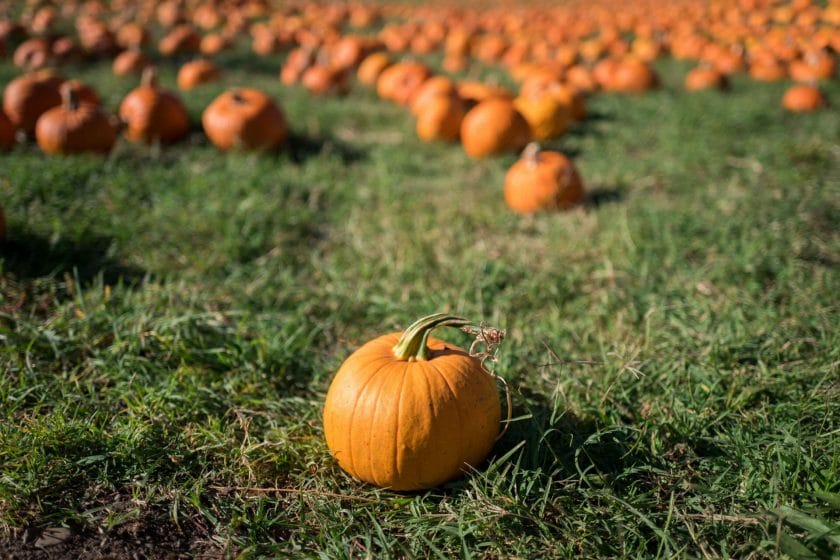 Northern Wisconsin Pumpkin Patches
Mommsen's Harvest Hills
Location: Rice Lake, Wisconsin
Best known for: Pumpkin Chuckin' and Caramel Apples
Cost: Free to enter. $6 for the Petting Farm and Amaizing Maize, $5 for the Mega Maze, $5 for the weekend hayride, $17 for a season pass. Children under 2 are free.
Open Dates: September 1st – October 31st
Have you ever seen a pumpkin launched from a medieval-style catapult? A visit to Mommsen's Harvest Hills gives you an opportunity to see just that, and it's a blast (pun intended)!
If pumpkin chuckin' isn't enough to get you to visit this super fun spot, keep in mind that the farm also offers a petting farm and two awesome corn mazes. The crafts, produce, and other items for sale in the barn are lots of fun to browse, and you will almost certainly go home with something.
In addition to the usual fall fun, Mommsen's also hosts a number of events throughout the season. See their Facebook page for more info on upcoming event options.
More info on Mommsen's Harvest Hills here!
The Burch Barn
Location: Spooner, Wisconsin
Best known for: Giant 100′ Gunny Sack Slides
Cost: $6 per person. Children under 2 are free. Grain Train Ride is $10 per person.
Open Date: Saturday, September 18th, 2023
Friday & Saturdays: 10am – 5:30pm
Sundays: 11am – 5:30pm
There's so much to do at The Burch Barn pumpkin patch in Wisconsin that you might just find yourself staying all day to play. Fun activities include bounce houses, derby horse races, pedal carts, a petting zoo, and a giant corn pit. Of course, the enormous, 100-foot gunny sack slide is the star of the show.
Because you're likely to spend a lot of time here, you will likely find yourself visiting the "feed bin" concession stand. Several snack and light meal options are available for purchase so you can keep the family well fed during your visit.
On your way out, be sure to grab the perfect pumpkin to decorate your home for the fall season. With so many available, you're sure to find one that suits your fancy.
More info on The Burch Barn here!
Valley Pasture Farm
Valley Pasture Farm will not be hosting their Fall Fun in 2023 due to health issues within the family. They are still growing some pumpkins and will sell them at the end of the driveway. They also said on their site: "We will also continue to raise animals for meat and grow sweet corn to supply our community with nourishing food from our farm and at the Menomonie Farmer's Market."
We will keep it on here in hopes that they will be able to have their Fall Fun in 2024.
Location: Elk Mound, Wisconsin
Best known for: Spooky Ridge Trail
Cost: $8 per person. Children under 2 are free. Get a season pass for $12. (Get $1 off admission when you arrive with a non-perishable food donation!)
A wonderful pumpkin patch Wisconsin experience can be found at Valley Pasture Farm. This place has a gigantic jumping pillow that the entire family is invited to jump on. Additionally, there are family games, a four-acre corn maze, wagon rides, an 8-foot slide, a jack-o-lantern launcher, and lots of fun hay bale art to admire.
Those who enjoy a good scare will appreciate Spooky Ridge Trail, a haunted trail that is even better than a haunted house because it winds through the forest, making for even more opportunities to make you jump. This particular aspect is appreciated by families with older kids and teens who might find other pumpkin patches less exciting.
It should be noted that Valley Pasture Farm usually does a food drive during their fall pumpkin patch event, and anyone who brings a non-perishable food item from a specific list will receive $1 off admission.
More info on Valley Pasture Farm here!
Bushel and a Peck Market
Location: Chippewa Falls, Wisconsin
Best known for: Free Fun
Cost: Free activities, fee for food and produce.
Open Dates: August 26th – confirm on their site or on their Facebook page.
An awesome 3-acre corn maze is the big attraction at Bushel and a Peck Market. Folks also really love the outdoor bowling setup, wagon rides, playground, and photo cutout boards. The best part is that these activities are completely free!
Picking your own pumpkins and apples are pretty fantastic activities. Additionally, the on-site bakery serves up some excellent fall treats, and food vendors tend to visit on the weekends. The produce, food, and baked goods do cost money, of course, but they are priced fairly and come highly recommended.
While a visit to this orchard won't fill an entire day, it will certainly give you and your family a few hours of fun and lots of great memories at a very affordable price.
More info on Bushel and a Peck Market here!
Porter's Patch
Location: Bonduel, Wisconsin
Best known for: Make Your Own Scarecrow
Cost: $10.48+ tax – 3 and under free. You DO NOT need to pay admission if just needing pumpkins or fall decor, they have a Huge Display area before the entrance to Farmtoberfest (Farm). 
Open Dates: Open Every Fri/Sat/Sun from September 22 to October 29: 11am to 4pm – weather permitting
"Farmtoberfest" at Porter's Patch is a super fun event that is sure to get your family into the fall spirit. The event happens on Saturdays and Sundays during the fall months and is the perfect way to celebrate fall.
40 or more varieties of pumpkins can be found in this amazing patch. Additionally, gourds, squash, straw bales, and colored corn are available, all perfect for use as fall decor.
As far as entertainment goes, you can expect to be pretty busy. Food and drinks are served by El Agave Mexican Grill. Hayrides, corn maze, rat racers, and water pump races are available. Feeling creative? Be sure to try your hand at scarecrow making, bouquet building, or pumpkin painting while at the farm.
More info on Porter's Patch here!
Polly's Pumpkin Patch
Location: Chilton, Wisconsin
Best known for: Corn Cannons
Cost: Check their site for pricing as there are a variety of options. You may also need to bring cash based on what you want to do.
Open dates: September 15th
Hayrides, farm corn maze games that are unlike any we've seen elsewhere, playgrounds, a petting zoo, and more can be found at this amazing pumpkin patch in Wisconsin. Older kids (and some brave little ones) love the huge 40-foot slide, and the corn cannons are especially popular, giving kids an opportunity to shoot corn cobs through the air.
Of course, you will want to grab some pumpkins while you're at the farm. Lucky for you, a wagon ride will take you right to the patch, making retrieving those pumpkins an easy process.
If you'll be visiting on a Saturday or Sunday, be sure to plan to have lunch at the patch. On these days, yummy light meals are served alongside fresh apple cider and donuts at the snack stand.
More info on Polly's Pumpkin Patch here!
Wisconsin Pumpkin Patches
Of all the places to go pumpkin picking, the northern part of the country is the best. Finding a working farm pumpkin patch in Wisconsin will ensure you're experiencing the best of the best.
By late September, the fall season is in full swing in Wisconsin, meaning you'll almost certainly get the perfectly crisp and cool weather for your pumpkin patch visit. On top of that, the fall fun festivals at the area pumpkin farms and farm markets in this state feature all kinds of fun fall.
Fall fun you can be sure to find in Wisconsin including thousands of pumpkins, duck races, hay rides face painting, train rides, pumpkin patches, fall festivals and pumpkin patch corn mazes, kids games, and much more.
Clearly, finding a great pumpkin patch in Wisconsin isn't too difficult at all. Pick one or two to visit this fall, and you and your family will fully enjoy the season and all the amazing things it has to offer. Also be sure to check live music schedules as a lot of farms offer that as well! In the winter, be ready to look for Christmas tree farms in Wisconsin, too!
Other fun things to do in Wisconsin:
The 15 Best Things to do in Wisconsin in Winter
The 4 Best Indoor Water Parks Wisconsin
15 Sledding Hills in Wisconsin You Want to Visit
The Best Snow Tubing In Wisconsin
18 Amazing Things To Do In Milwaukee, Wisconsin
Kenosha Restaurants You Don't Want To Miss
16 Terrific Things To Do In Wisconsin Dells With Kids
The 13 Best Places To Go Camping In Wisconsin For Family Fun
The 21 Best Places to See Christmas Lights in Wisconsin
15 Christmas Tree Farms in Wisconsin Where You Can Cut Your Own Tree Down
Top 15 Best Places For Apple Picking Wisconsin
Pin This Post: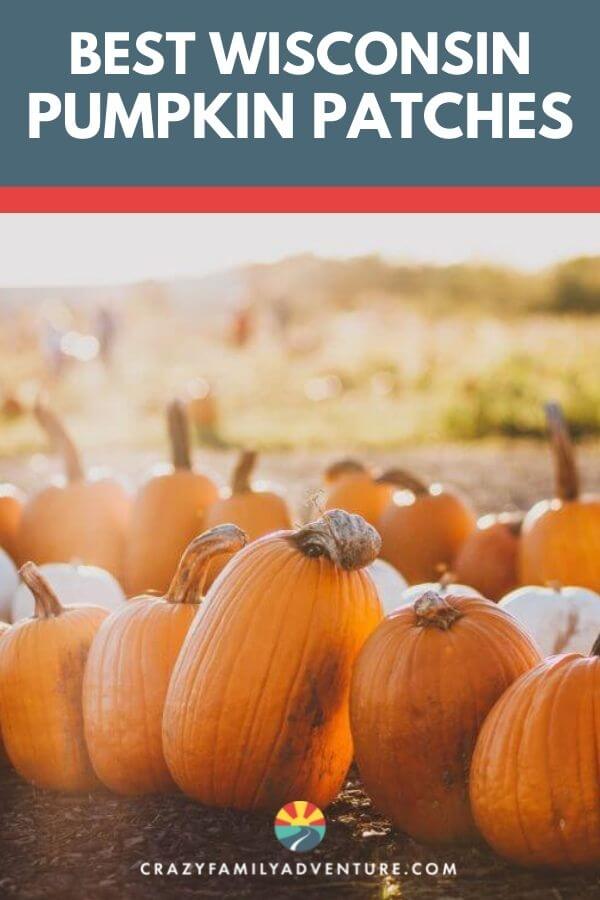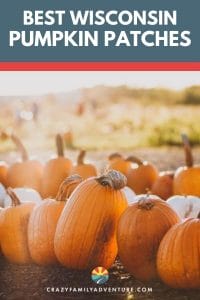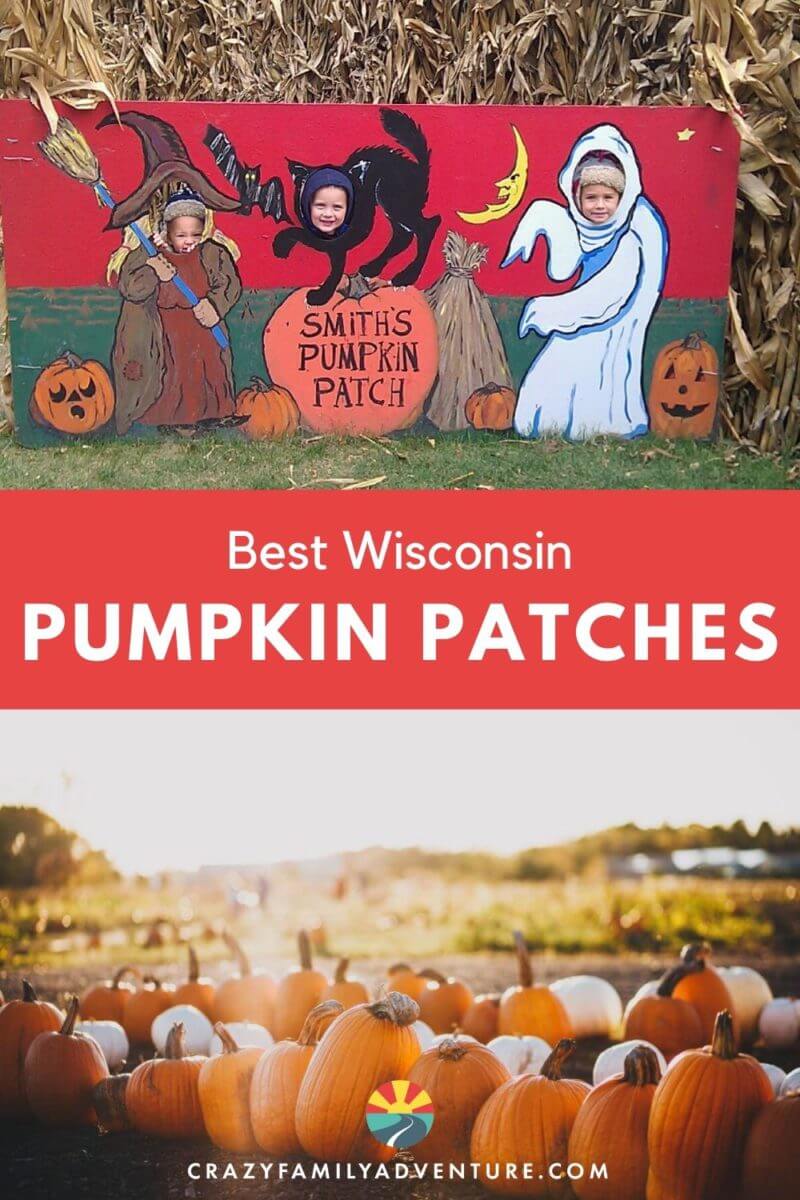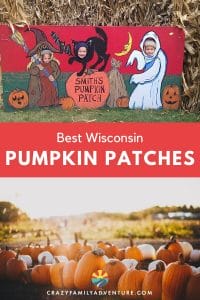 Latest posts by Chelsea Gonzales
(see all)
DISCLOSURE: This post may contain affiliate links, meaning I get a commission if you decide to make a purchase through my links, at no cost to you. Please read my disclosure for more info.