Climbing up and Running down Sleeping Bear Dunes!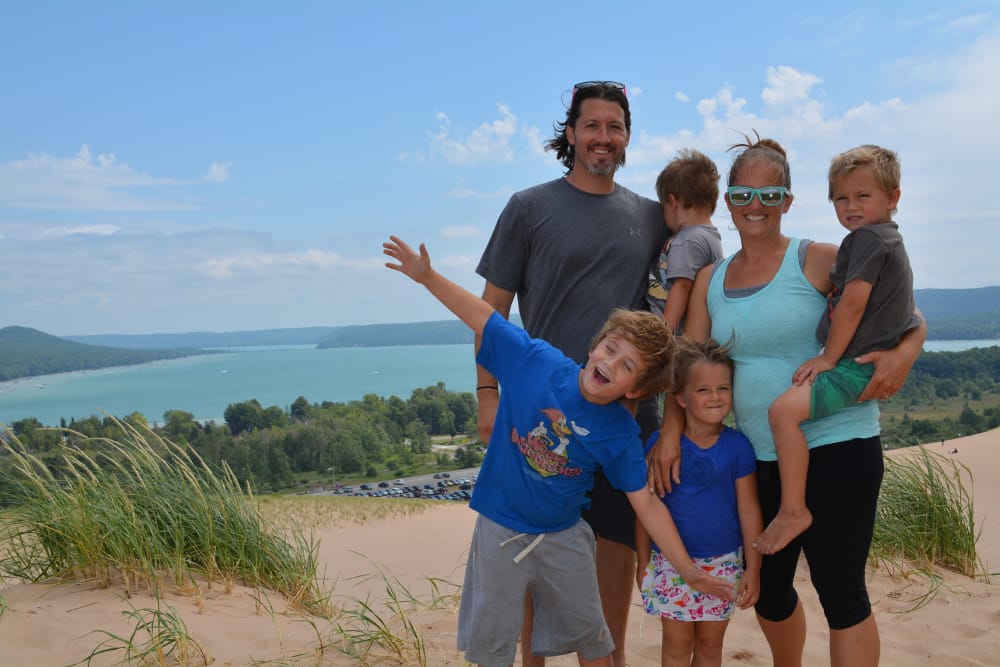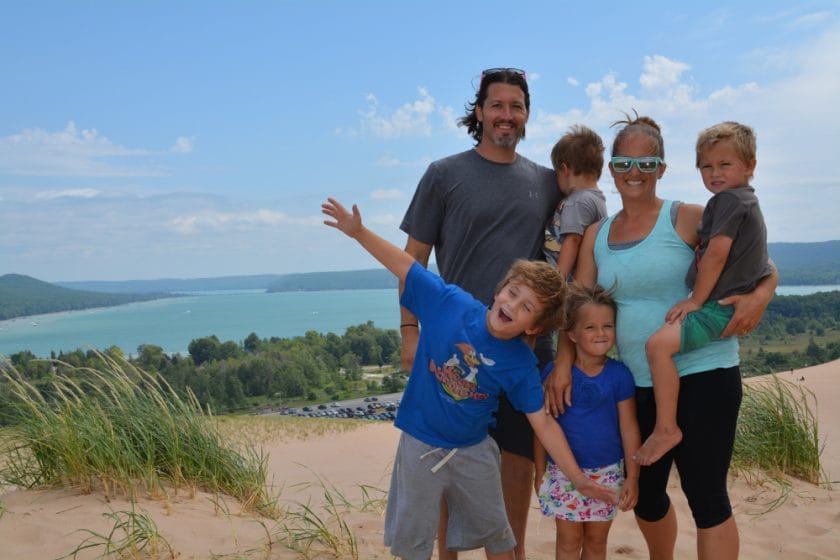 If you are going to be going to Michigan you need to see the Sleeping Bear Dunes. They are amazing! Granted we only made it up the first 2 hills but I can only imagine what the rest of it looked like! I would love to return when the kids are older so we can make it all the way!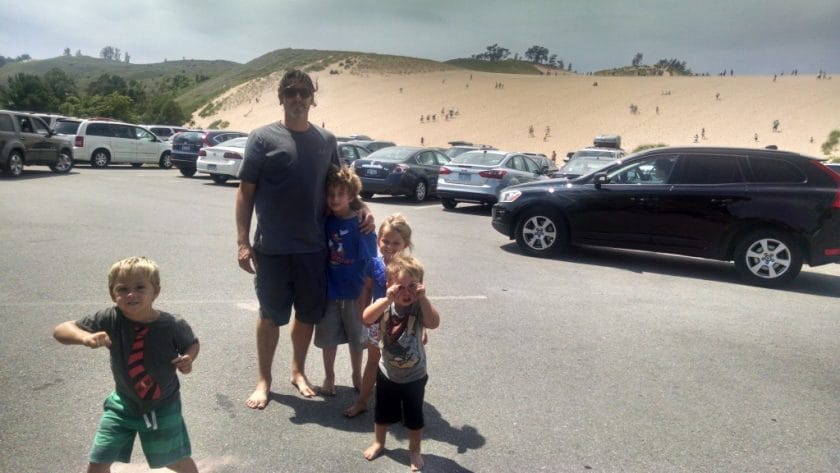 It looked so cool when we pulled up – we couldn't believe how big it was! We started heading up and the kids were doing great! Running up the hill as fast as they could. Then about half way some of them wanted to be carried. Which we understood – we were tired! So we carried them for a while. When we got to the top of the first hill we turned around and we could not believe the view! It was amazing!! We were like are we really in Michigan?? It seemed like we were on a caribbean island somewhere!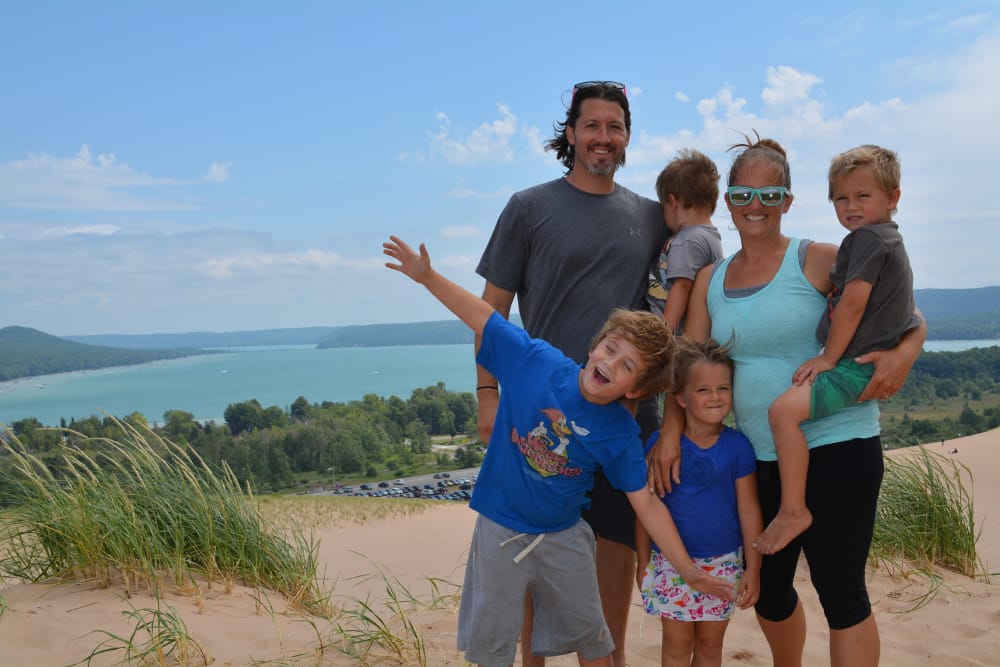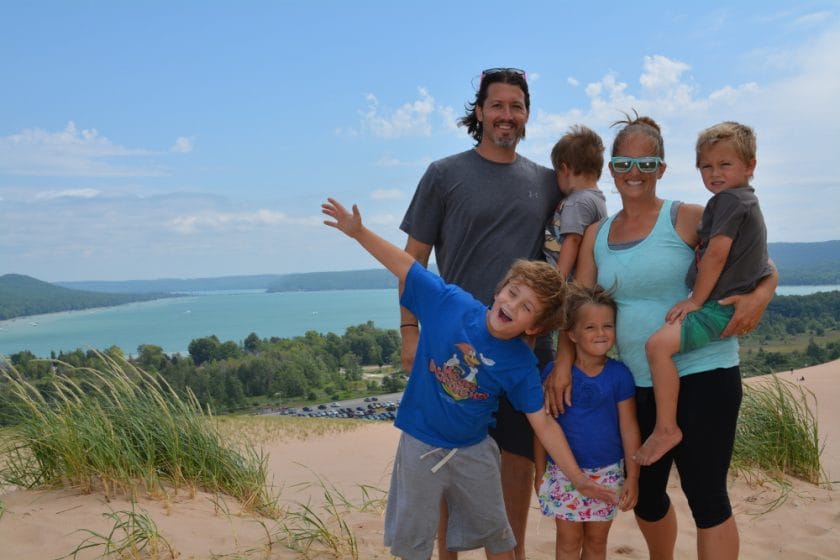 At this point I thought I wish I had my nice camera! I had decided not to bring it up but at this point I realized I needed to take a picture with the good camera! So I decided to run back down to get it . . . about half way down I started thinking – hmm I hope I have enough battery left on the camera. So I made it back and grabbed the camera and made the hike back up. I got back up there got the camera out and went to take a picture – and yup the battery light was flashing!!! We got a quick family picture and that was it! The camera was dead . . . yup I ran all the way down the hill and hiked back up for 2 pictures. At least I was able to get a couple pictures!
The kids were having fun just playing in the sand and hanging out so we looked out to the next hill we would need to climb and were trying to decide if we were going to go for it or not. We made the decision it probably wasn't the right thing to do with 6 kids under 7! So we headed back down the hill. The kids rolled and ran most of the way down. It was definitely more fun going down then up!
When we got to the bottom we got our bikes so we could start riding to a little town that was about 2 miles away. It was a really cool bike ride! In town they had a boat museum and a working blacksmith shop so we checked those out and stopped at the local store before heading back.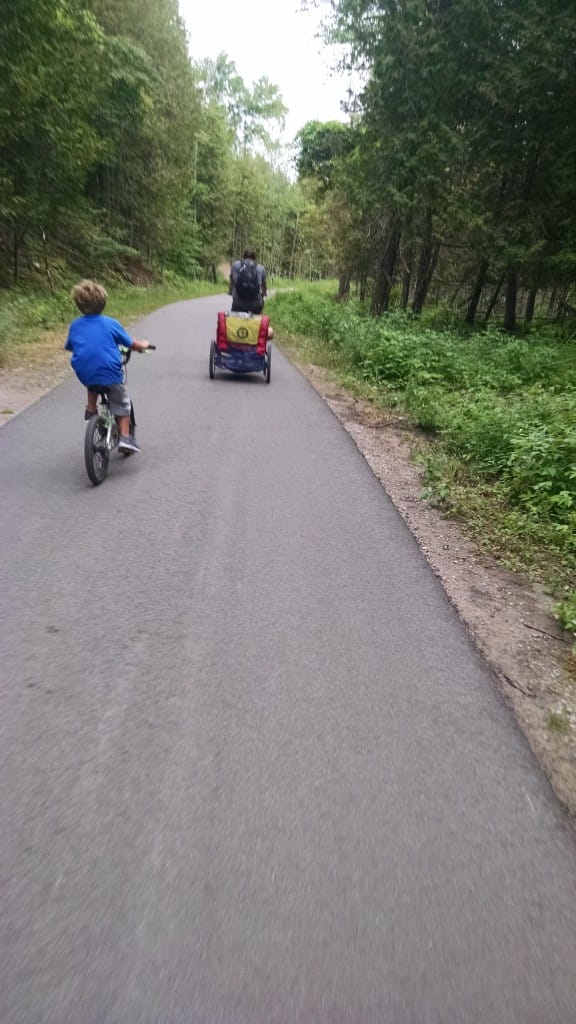 It was really cool and well worth making the stop if you are ever in the area!
Summary:
Cost: $10 per car/RV to get into the park
Website: http://www.sleepingbeardunes.com
Check out this Michigan Road Trip post!
Bring Sand Toys
Don't plan on making it across all the dunes unless your kids are older
Bring a picnic lunch so you can just hang out while your kids are playing in the sand and/or running up and down the sand hill
If your kids are barefoot – make sure your kids stay on the sand – there are sharp weeds in the tall grass area
Bring bikes if you can – the trails are really nice
Read the book "The Legend of Sleeping Bear" by Kathy-Jo Wargin before you go

Very accessible with an RV
Pull-Through RV parking right at the bottom of the hill (with room for towed vehicle)
Craig's Nugget:
Take extra care when running down the hill – you may feel like Ussain Bolt, but pulling a hammy takes a lot longer to heal these days!
Overall Rating (E = empty, 1/4 full, 1/2 full, 3/4 full, F = full – a Must See!!):


Other places to visit:
Things to do in Grand Rapids, Michigan.
7 Amazing Michigan Campgrounds On Lakes To Stay At This Summer
DISCLOSURE: This post may contain affiliate links, meaning I get a commission if you decide to make a purchase through my links, at no cost to you. Please read my disclosure for more info.