We have spent months in and around Yellowstone National Park and we are excited to share with you the ultimate Yellowstone Vacation both in the park and the surrounding area! Everything from where to stay, what to do and where to eat.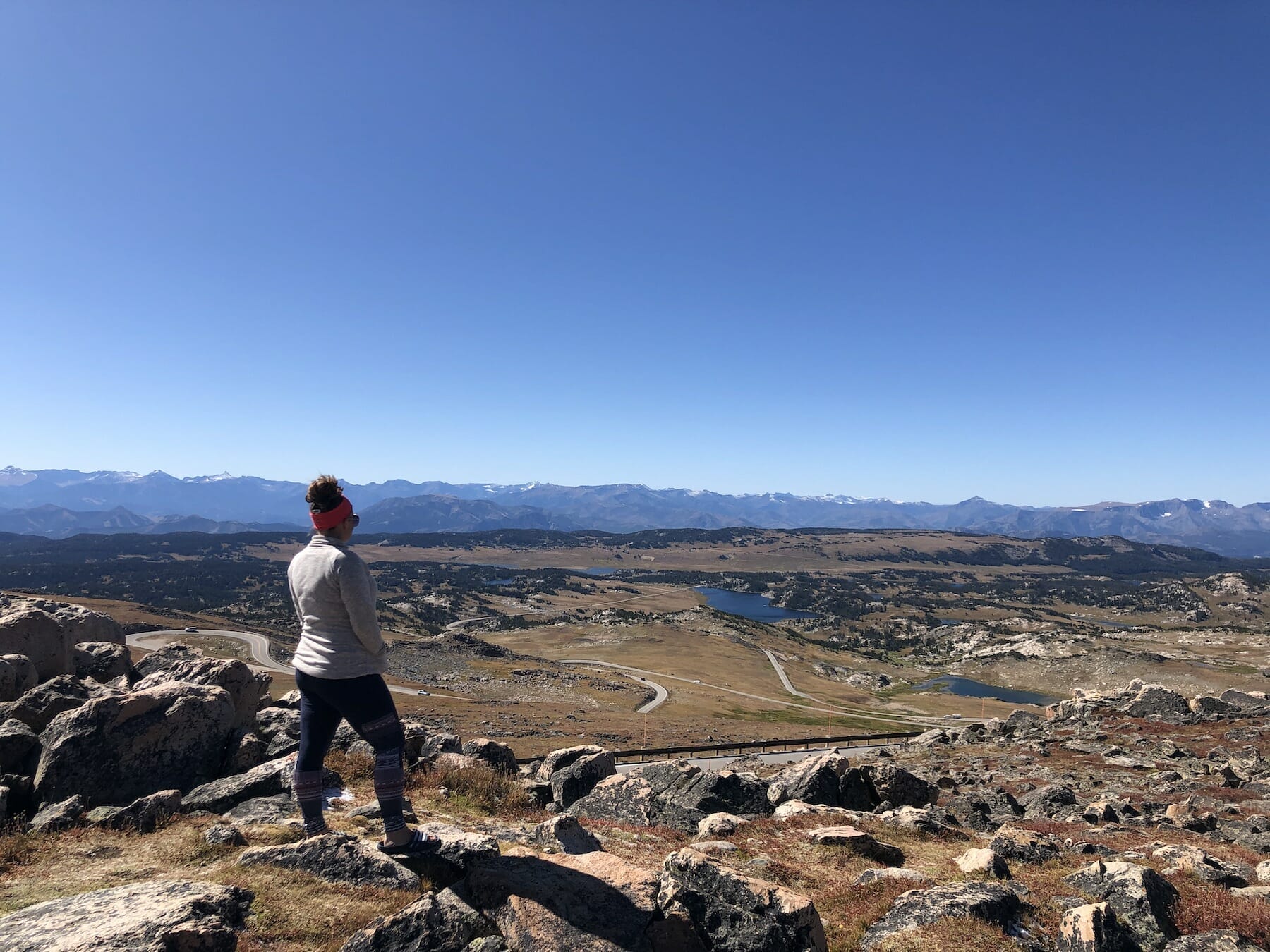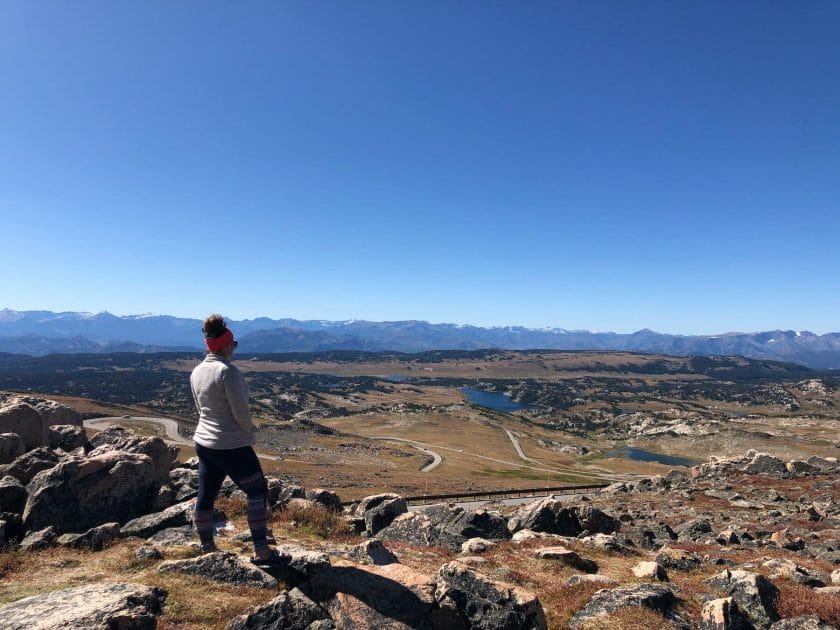 We will cover the cities of: Bozeman, Red Lodge, Gardiner, West Yellowstone and Livingston. While also exploring a variety of things to do in Yellowstone National Park.
Check out this 12-day Bozeman to Yellowstone vacation itinerary below. Or if you are looking to spend 1, 3, or 7 days exploring the best of Yellowstone – explore our guides! We put all of our knowledge into easy-to-follow, step-by-step itineraries that you just have to download and follow.
You will love visiting the geysers and geothermal features spread throughout the 2.2 million acres of America's first national park. Plus the surrounding cities, activities and landscape have a lot of awesome things to offer. There is so much history in the area and it will give you a deeper knowledge of Yellowstone and this amazing area of the country if you explore beyond just Yellowstone National Park.
Since this is the ultimate vacation we are recommending you plan for 12 nights so you can truly explore both the park and the surrounding area. Get ready for activities including rock climbing, horseback riding, UTVing, outdoor adventure and more! If you want more on Yellowstone be sure to check out our Yellowstone National Park page with individual posts on each part of Yellowstone.
Here is a map of our recommended route: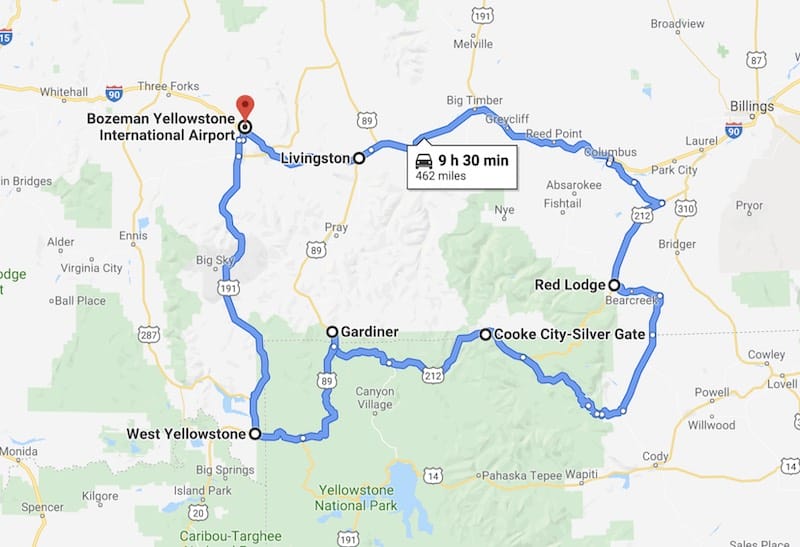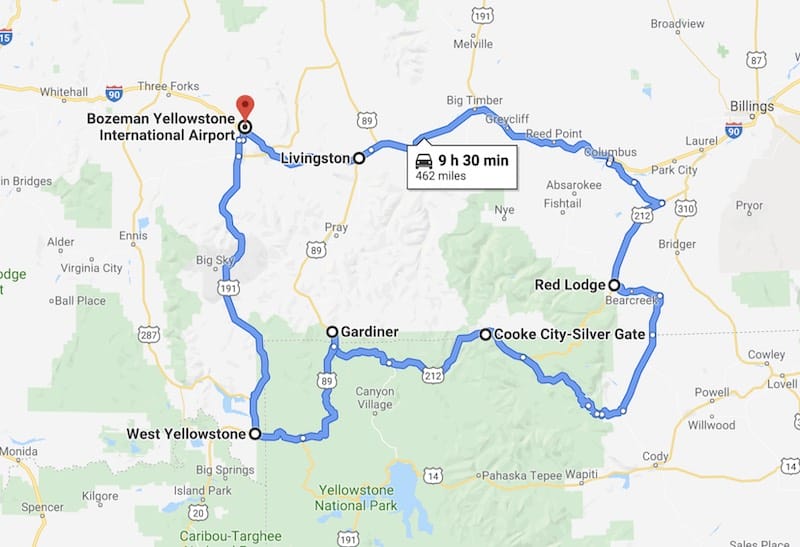 Here is a link to the interactive map: https://goo.gl/maps/NxEvDUEuXLmY5vQm9
Airport – Fly into Bozeman Yellowstone International Airport or drive into Bozeman to kick off your trip. Here is a great article that explains why you should fly into Bozeman.
Start your trip off in the city of Bozeman, Montana. Bozeman has an awesome downtown area, great restaurants and plenty of activities that you can do. It is a great way to introduce you to Montana and should be on any Montana road trip list!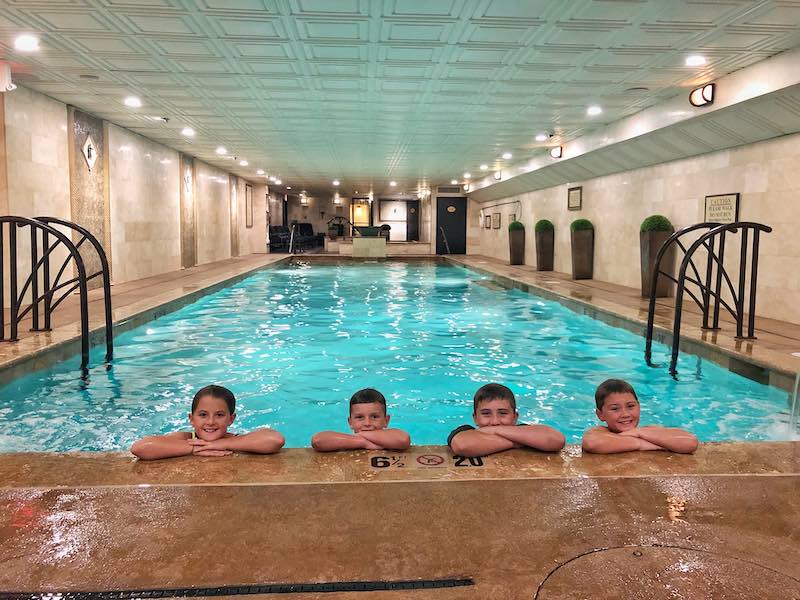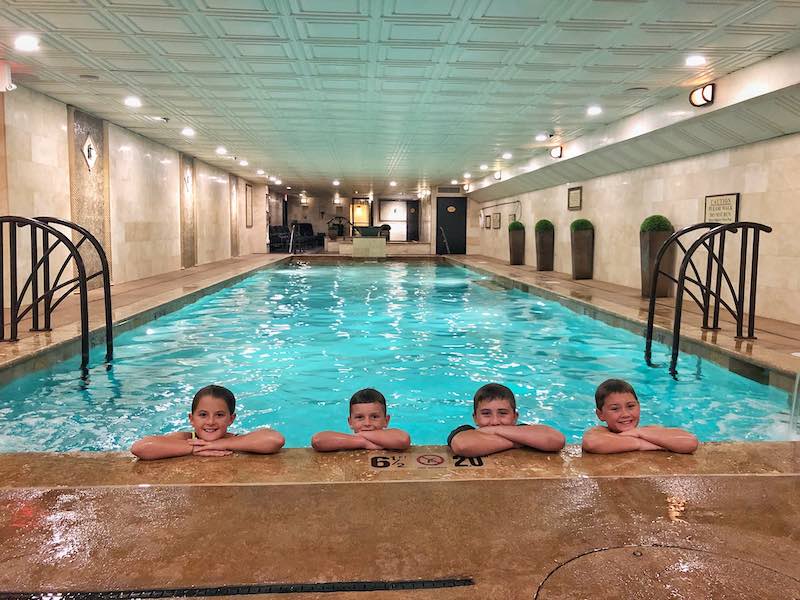 This is a family owned hotel located in downtown Bozeman and is the perfect place to stay while you explore Bozeman. They are all about making you feel like you are a friend stopping for a visit and not just a customer. From their warm welcome to afternoon appetizers and treats offered throughout the day you will feel very welcome.
Plus their pool area is AMAZING and the Eucalyptus spa is so relaxing – all included in your stay. Make sure to block off a few hours to enjoy the pool area.
Click here to book The Lewis and Clark Motel now!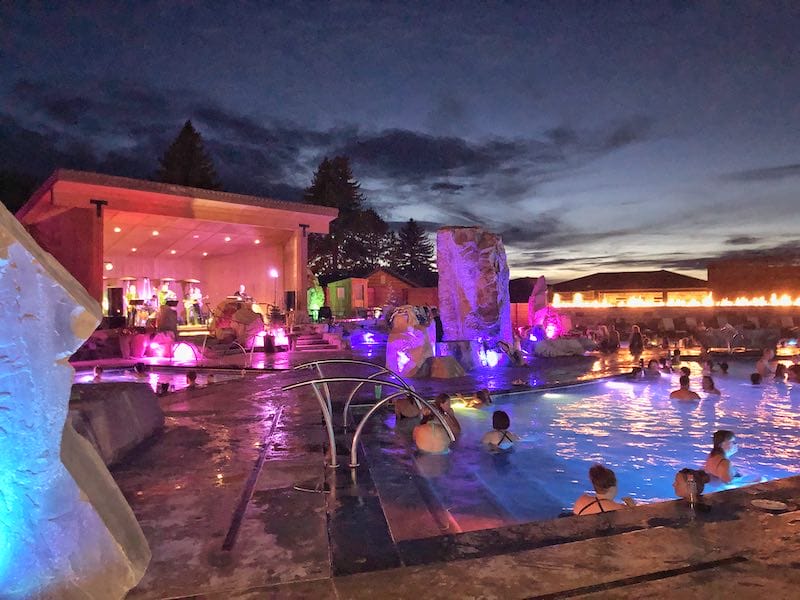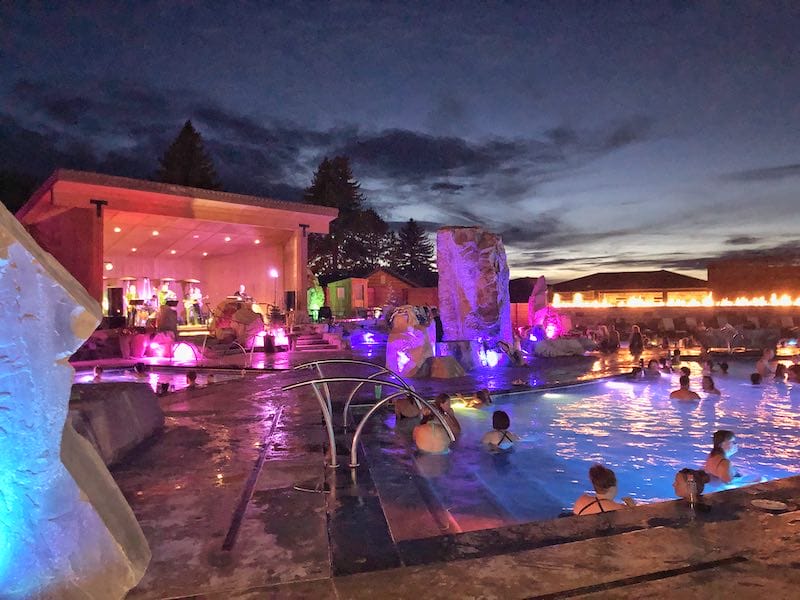 With 12 pools ranging from 57 degrees to 106 you will find a great pool to hang out in. Or check their schedule to see if they have live music playing that night and head here after dinner to soak and listen to the music.
Dinner
With so many options in Bozeman it can be hard to pick where to head for dinner. We recommend checking out one of these restaurants for dinner:
If you are in the mood for Thai with a fun drink menu then Sweet Chili in downtown Bozeman is the place for you.
Looking for more pub food and a good beer? Then Mountains Walking Brewery is the place.
A staple in downtown Bozeman, Montana Ale Works has a large menu with a variety of options from burgers, steaks, pasta and salads along with a great drink menu.
Day 2: Bozeman, MT
** Call Matt's Butcher Shop and Deli in Livingston to place an order for some tasty sandwiches! You'll need these for Day 3, spoiler alert!
Breakfast
Just like with dinner there are a lot of options for breakfast in Bozeman. Here are our recommendations:
A great selection of fresh food and pastries along with good coffee. Grab it to go or grab a seat outside on their patio area.
A unique spot with delicious scones and coffee and a great selection of local pottery to purchase.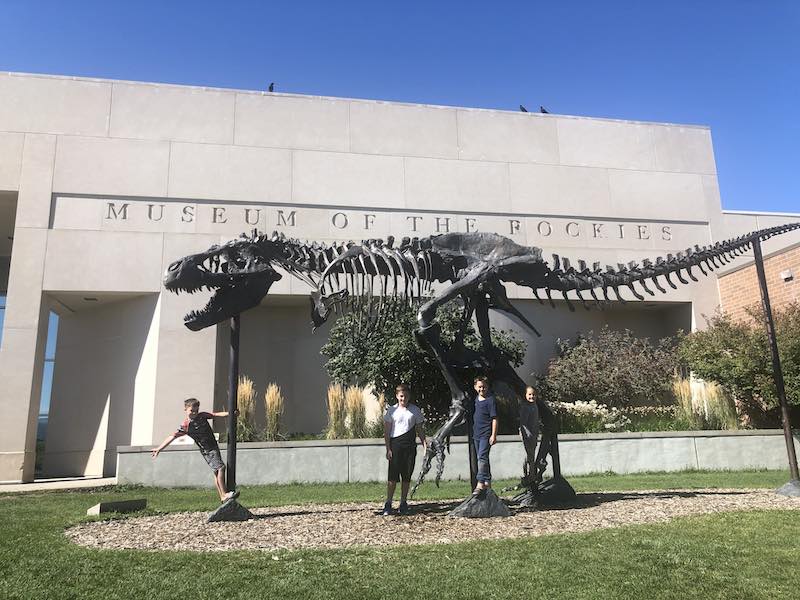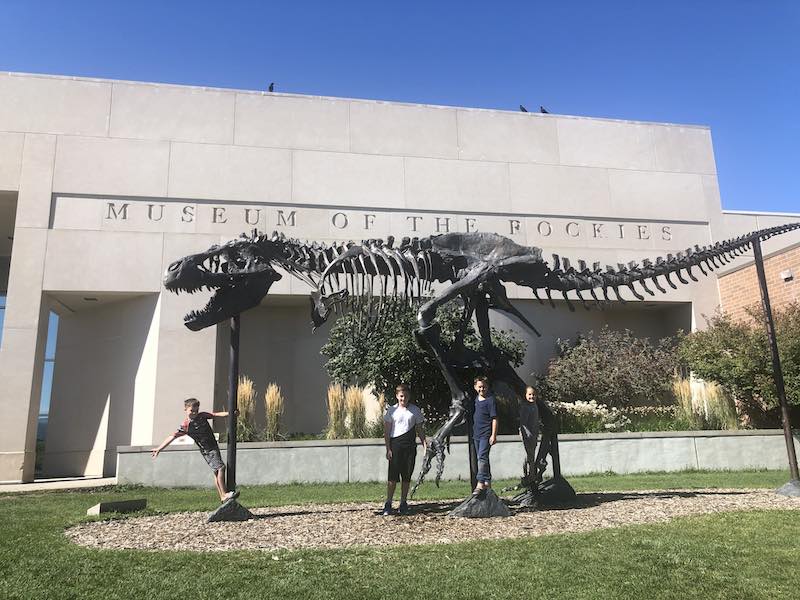 Before planning your day make sure to check the schedule for the Planetarium shows at the Museum of The Rockies. We have seen 2 shows there and both of them were really well done so it is worth planning your time here around the show schedule.
The museum has a great collection of dinosaur bones along with a section on the Yellowstone area and a changing exhibit. Plus if you have little kids they have a kids hands on area upstairs.
The museum is a great way to get an introduction and history of the Yellowstone area!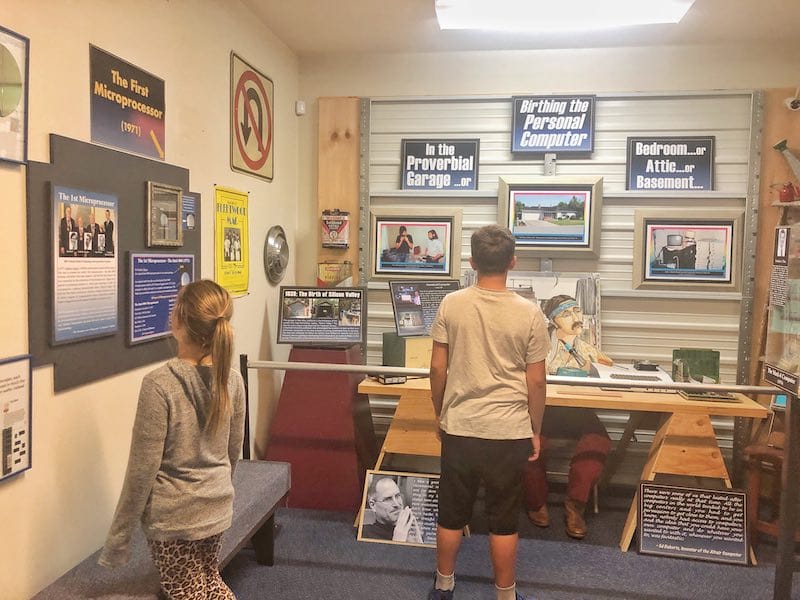 This could be a quick stop if you have kids who don't want to stop and read all of the signs or can't sit through a tour (they do offer those). Or it could be longer if you want to take the time to really look into each exhibit. In any case it is free and well worth stopping.
Lunch
There is a cool renovated area in Bozeman called The Cannery District where they took an old Canning Companies warehouse and factory and turned it into a hip restaurant and shopping area. Located just 1.5 miles from main street in downtown Bozeman it is an awesome place to grab lunch and do some shopping. The below options are all located in the Cannery District:
This was an awesome cafe with fresh and local food. It is the perfect place to stop for a light lunch.
Craving pizza? Then Pizza Campania is a great stop and the prices are awesome and the pizza was yummy.
Grab some locally brewed Kombucha – both alcoholic and nonalcoholic available. Our kids enjoyed the kombucha too!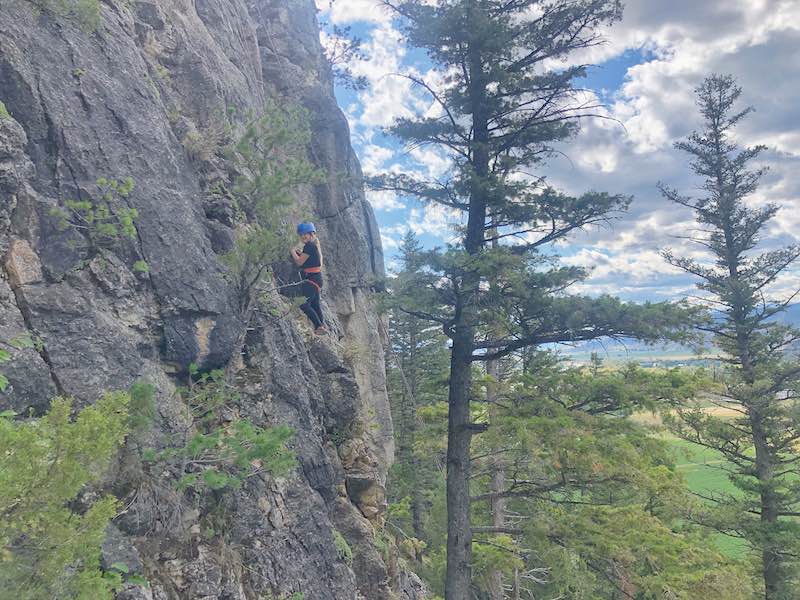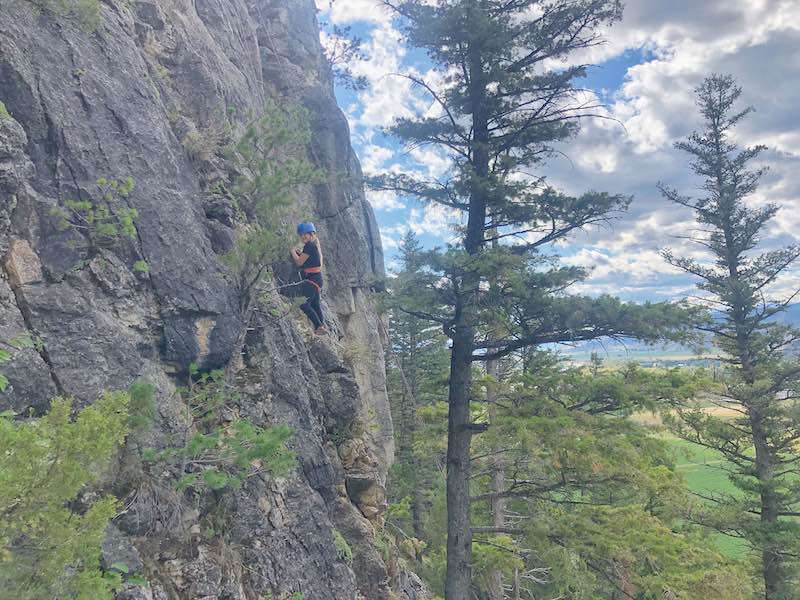 When in Montana you should definitely try to get out and try outside rock climbing and Montana Alpine Guides is a great company to go with. You meet at a designated location, they provide all of the equipment and then take you out to the rock wall.
Once there they take care of getting everything setup and then you are ready to climb. They are very helpful at giving instructions and helping you learn how to climb. They take all ages and skill levels.
Dinner
(Pick from the list above) Sweet Chili, Mountains Walking Brewery, or Montana Ale Works. And if you want to grab a drink before or after dinner head to Map Brewery – the views are amazing and the beer is good too!
Day 3: Bozeman to Livingston
Time to leave Bozeman and head over to Livingston – the original city entrance to Yellowstone National Park. Now a city filled with history and art galleries and located right along the Yellowstone River.
Breakfast
Check out whichever place you didn't visit yesterday in Bozeman before you head to Livingston: Daily Coffee and Eatery or The Coffee Pot (details listed above).
Drive from Bozeman to Livingston
Jump in the car to head to Livingston – about a 30 minute drive. Head straight to Matt's Butcher Shop and Deli to pick up your lunch.
Activity: Head out to Float, Fish or Both!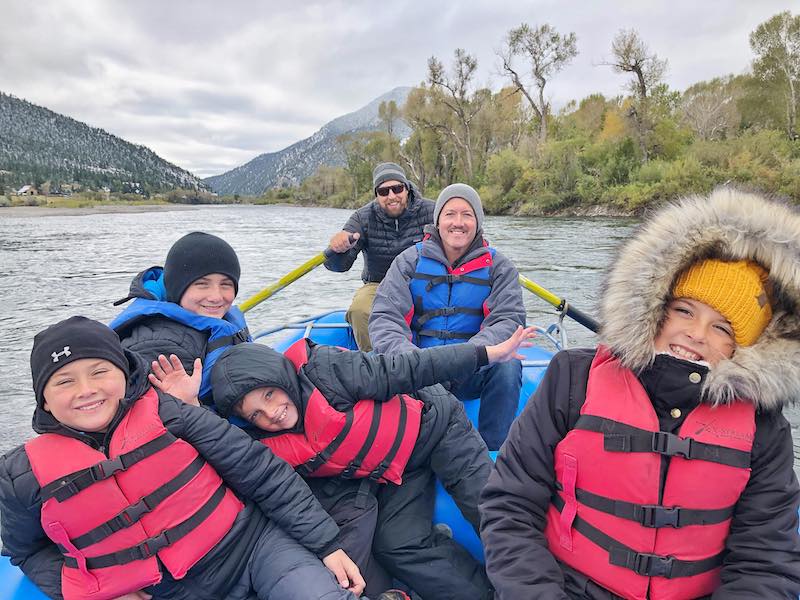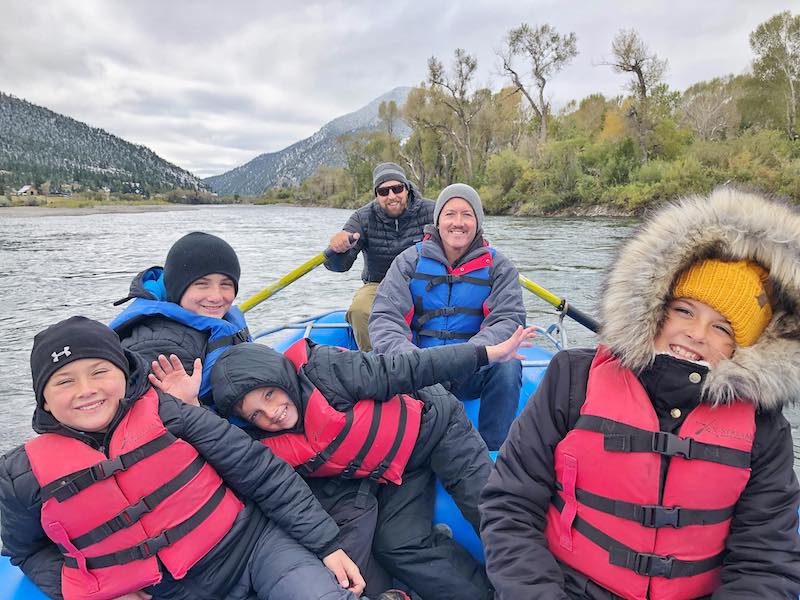 Livingston is such a cool town and it is awesome how everyone works together here to customize your trip and make it what will work for you. You definitely get that small town feel here and it is great. With a family of 6 they split us into 3 on a fishing boat and 3 floating down the river in another boat.
If you need to rent any boots or fishing gear (if you go with an outfitter they will provide fishing gear for you) this is the place for you. Also if you are going to be fishing this is where you can get your fishing license.
If you are looking for a nice float down the Yellowstone River (and if it is warm enough the kids can jump off the boat and swim) there are a couple options: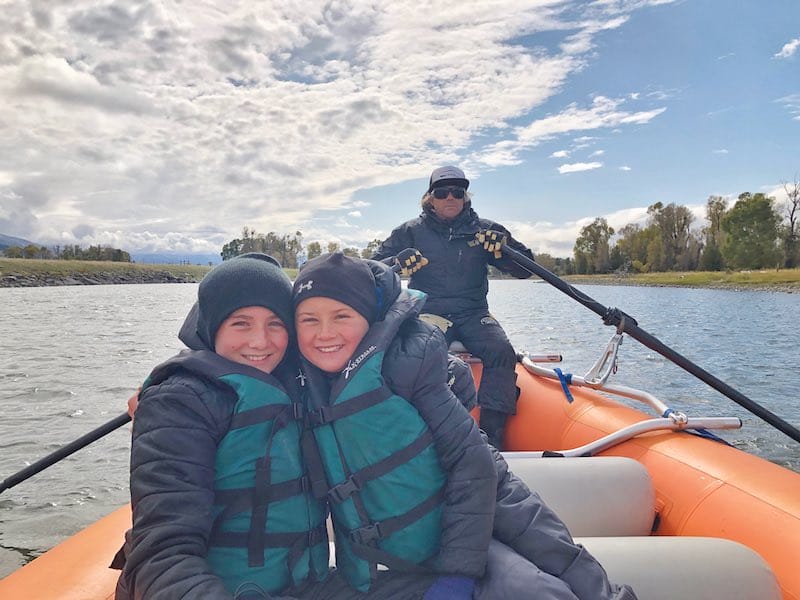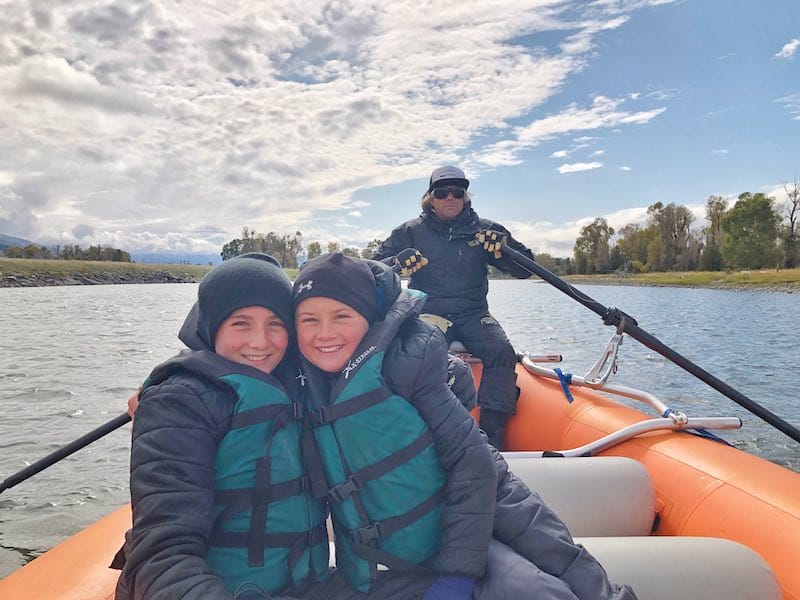 If you are looking for a fishing trip – where they provide all the fishing gear (you would still need to buy a fishing license) then check out:
Montana Expedition Trading Company or Sleeping Giant Tours
Or if you want to do a joint float and fishing trip then just give one of the companies a call and let them know and they will work together to get your custom trip setup.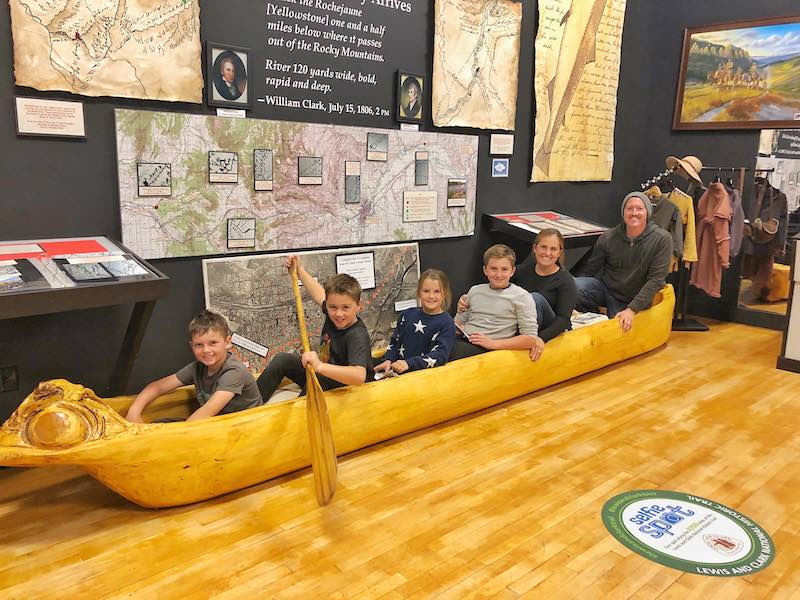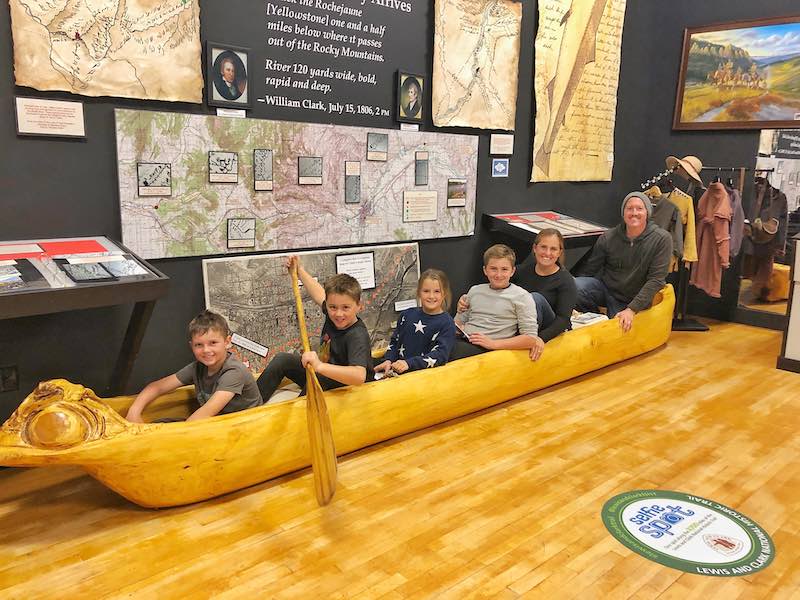 A great museum to go to to continue your history of Yellowstone and the surrounding area. They have a variety of hands on activities for the kids and take you from the past to the present for Livingston, Yellowstone and the surrounding area.
Dinner: Mint Bar and Grill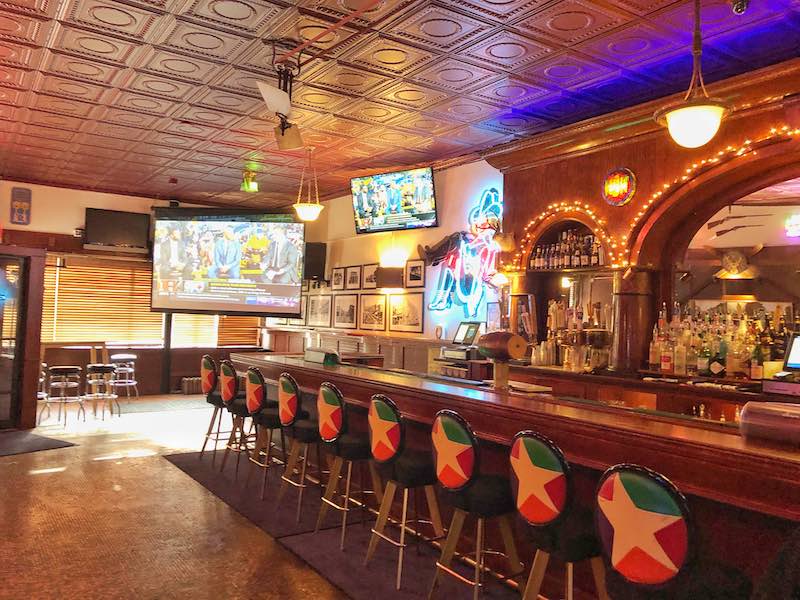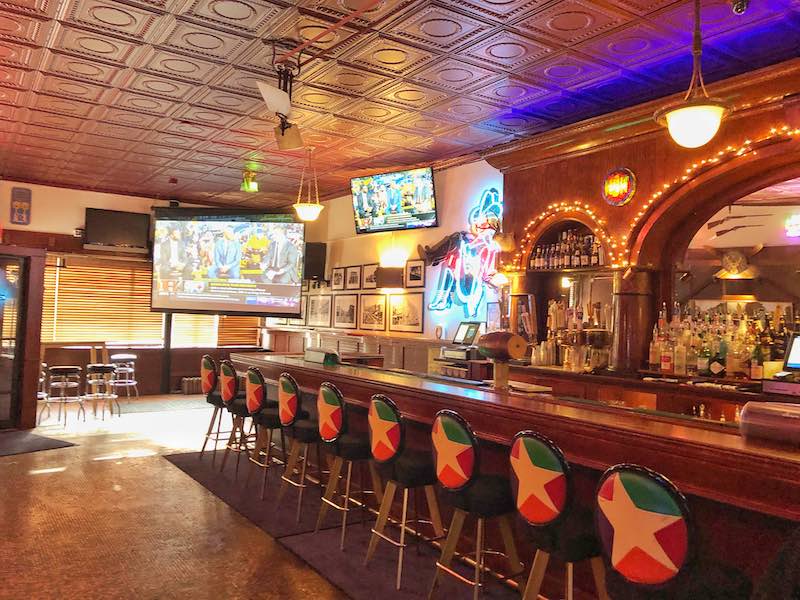 A family friendly bar with a restaurant that participates in "Taste Our Place" so you know you are getting local Montana food. You can feel the history in the building and the food and drinks were delicious.
A nice and clean option for your night in Livingston and close to all of the activities. We were able to get connecting rooms here which was great with 6 people.
Click here to book the Travelodge now!
Day 4: Livingston To Red Lodge
Livingston is a cool historic town with a great story to tell. It is definitely a place worth stopping as you learn more about this area of the country and the history of Yellowstone. Plus it is a great place to get out on the Yellowstone River. Now it is time to head southeast, but up in elevation to the mountain town of Red Lodge.
Breakfast: The Other Cafe
Grab breakfast at The Other Cafe diner attached to the Travelodge – where the pancakes are as big as your plate! Then get in the car for the 2 hour drive to Red Lodge.
Lunch
For being a small mountain town you wouldn't expect the food to be so good. But get ready for a variety of different kinds of restaurants all with amazing food! Below are a few options for lunch.
This was such a unique option for lunch! You order a protein, then select the accompanying plate to go with it.
From meat options to vegetarian options and fun side plants like roasted carrots with truffle vinaigrette and parmesan. Plus salads, sandwiches and a great drink menu. Check out the menu here.
Red Lodge Pizza Company
A great option for pizza and a salad bar. They have some fun flavors of pizza and the crust is really yummy. They also have a great cookie dessert where the cookie is cooked in a small cast iron pan and then ice cream is added on top of it.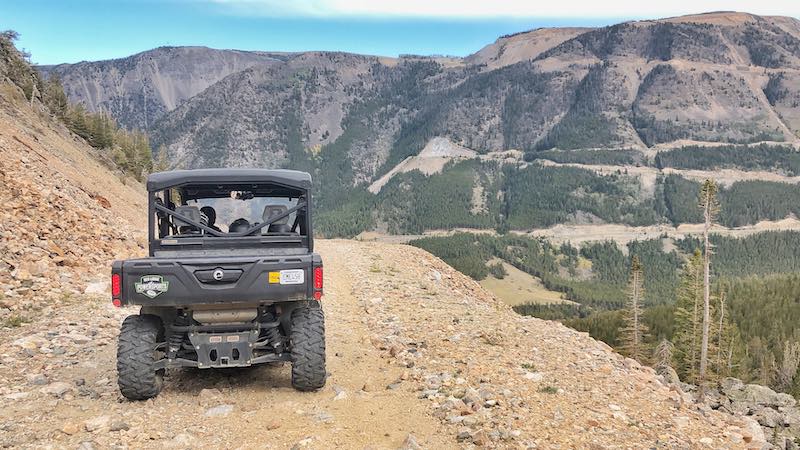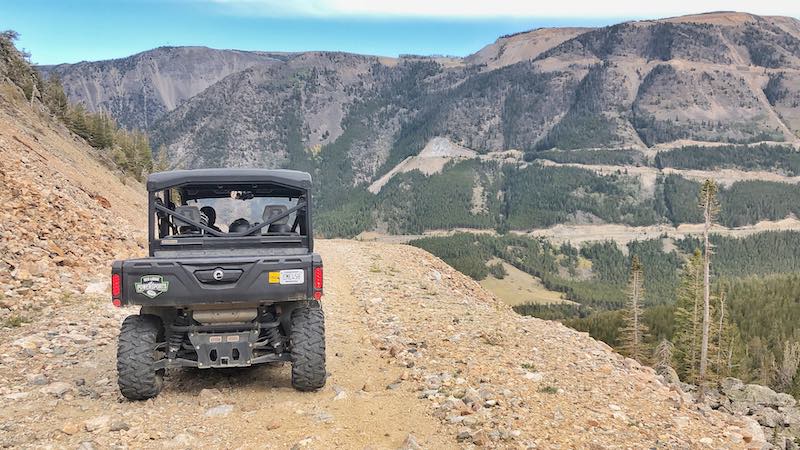 For a fun way to explore the surrounding area rent an UTV from Red Lodge Power Sports. They had a 6 seater and helmets for all the kids so it was perfect! They will share with you different routes to take. We went on the HellRoaring Plateau trail and it was beautiful.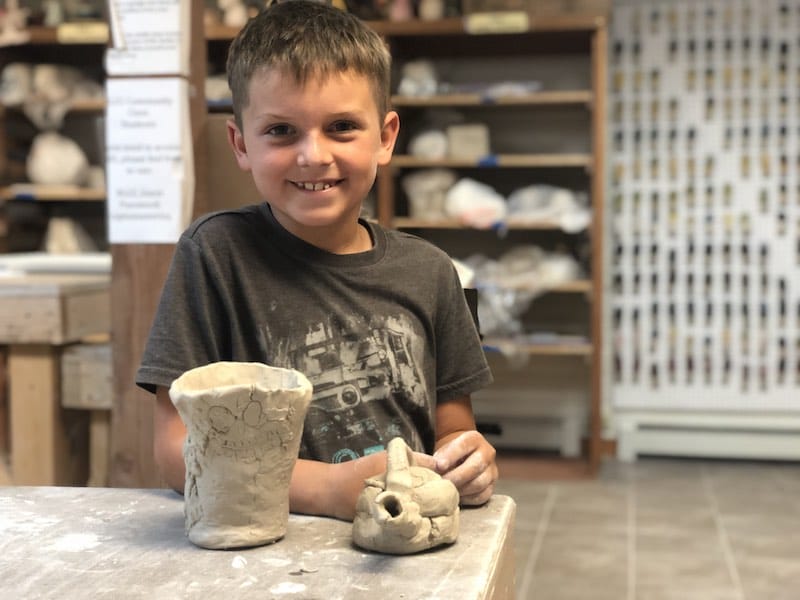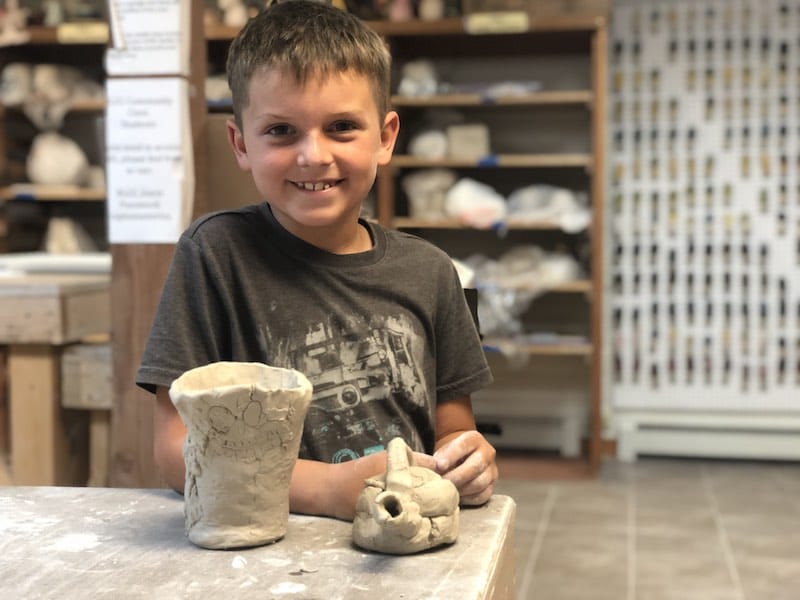 Our kids loved the private clay class we did. One of their resident artists spent 2 hours with us teaching the kids how to make cups and bowls. It was a fun activity and perfect to do on a rainy day.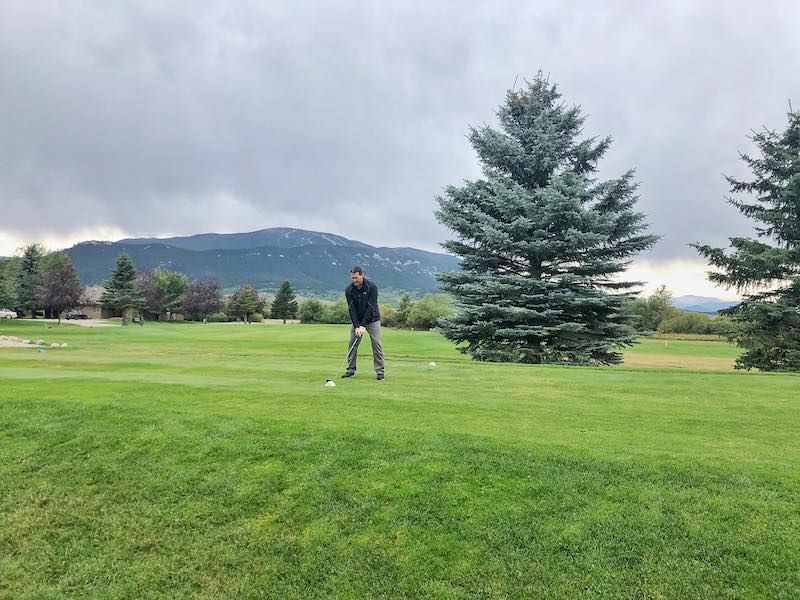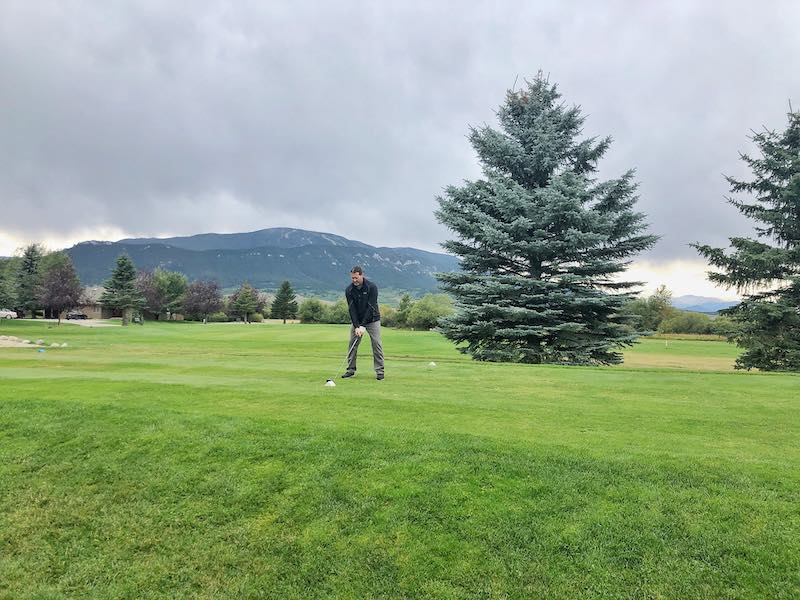 Craig hit the links for a round of golf. There were deer watching him the whole time and the views were beautiful. The course is really spread out so it was nice, wide and open.
Walk Around Downtown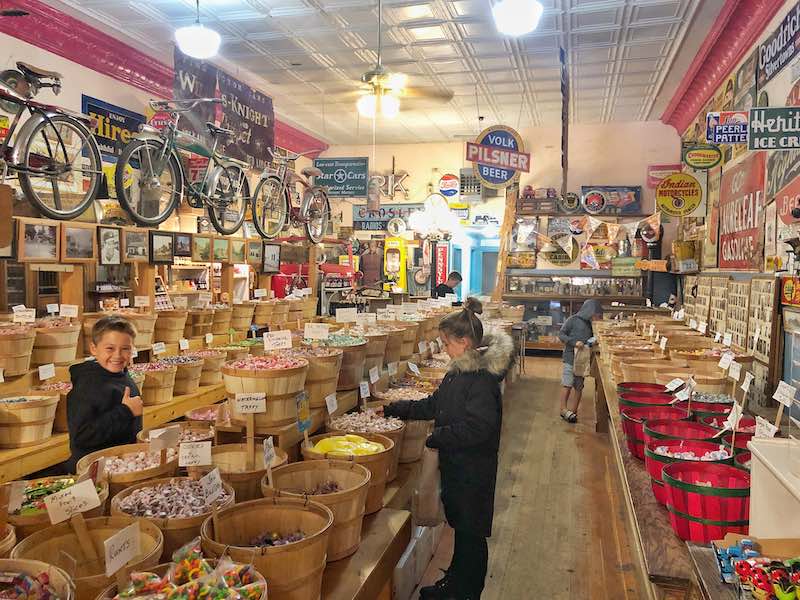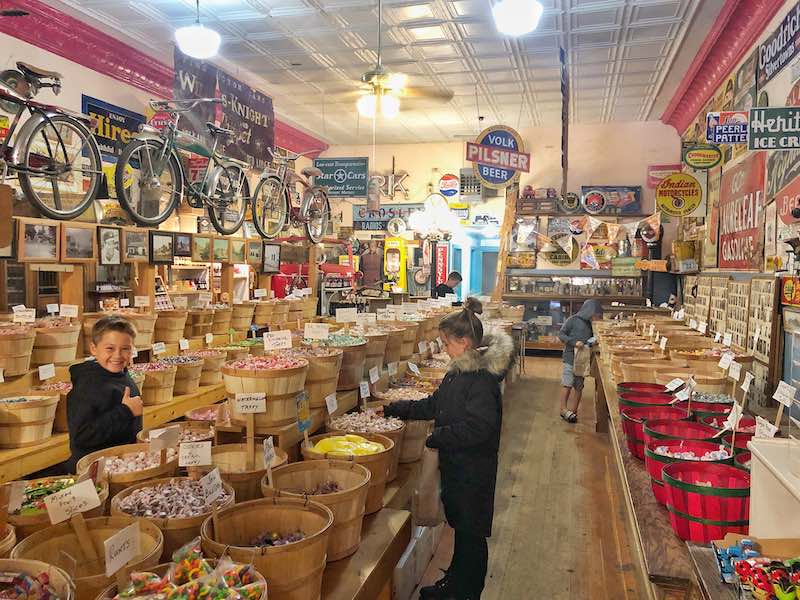 There are a lot of cool shops in Red Lodge. Our kids would recommend the Montana Candy Emporium! I would recommend the Phoenix Pearl Tea Shop – that also has a wall of board games you can play while you drink your tea.
Dinner
Dinner like lunch will be hard to make a choice! Here are 3 more great options for dinner.
For a nice steak dinner – with local options Carbon County Steak House is where you want to be. The atmosphere is more upscale yet jeans are totally fine. Plus the food is really well done and they have a great menu and kids menu along with lots of drinks to pick from. Click here for the menu.
Feeling like a Margarita? Then Bogarts is the place for you! They are known for their Margaritas and for good reason, they are delicious.
The food was good too with a variety of Mexican dishes plus pizza and salads. And they bring out chips and salsa to start which is always a win with our kids. Check out their menu here.
The Pub At The Pollard Hotel
Located right in The Pollard Hotel they offer a delicious menu of steaks, burgers, pasta and salads. Our kids really liked the huge pretzel and cheese sauce.
I really enjoyed my Huckleberry Moscow Mule. They have live music on Friday and Saturday too.
If you are feeling like checking out a brewery then Red Lodge Ale is the place to go. They have a variety of beers they brew on site (their Bent Nail IPA is delicious) and a selection of Ciders that they brew in Billings. They also offer a variety of sandwiches: smoked, Ruebens, paninis, and baked sammies, plus burgers, tacos and salads. Click here for the menu.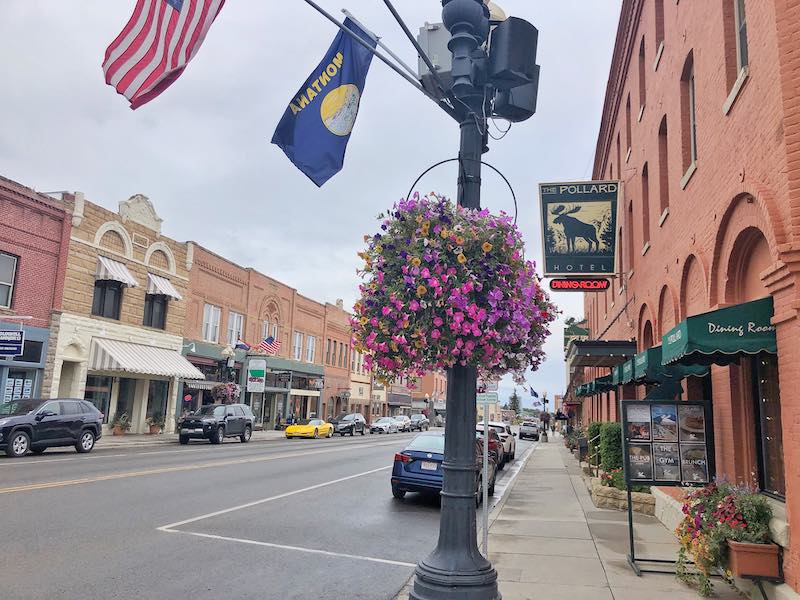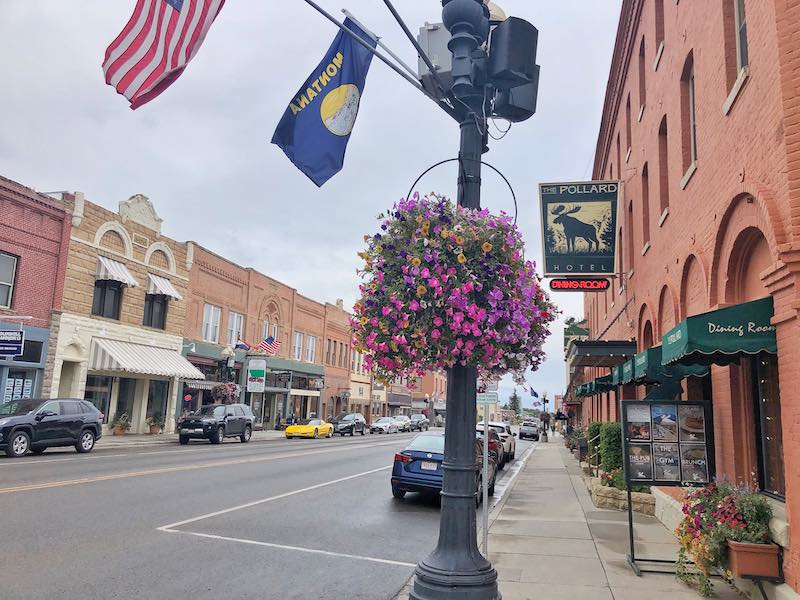 The Pollard Hotel is a historic hotel located in downtown Red Lodge. It is the perfect location for exploring Red Lodge. You can walk to all of the restaurants and they have a gym and restaurant right on site.
Click here to book The Pollard Hotel now!
If you are looking for more Montana getaways check out this great post: 5 Weekend Getaways In Montana
Day 5: Red Lodge to Cooke City
Breakfast: The Pollard Hotel
The hotel offers a delicious sit down breakfast with Montana skillets, french toast, pancakes and everything you would want for a huge and yummy breakfast. Our kids loved getting the hot chocolate to start their day.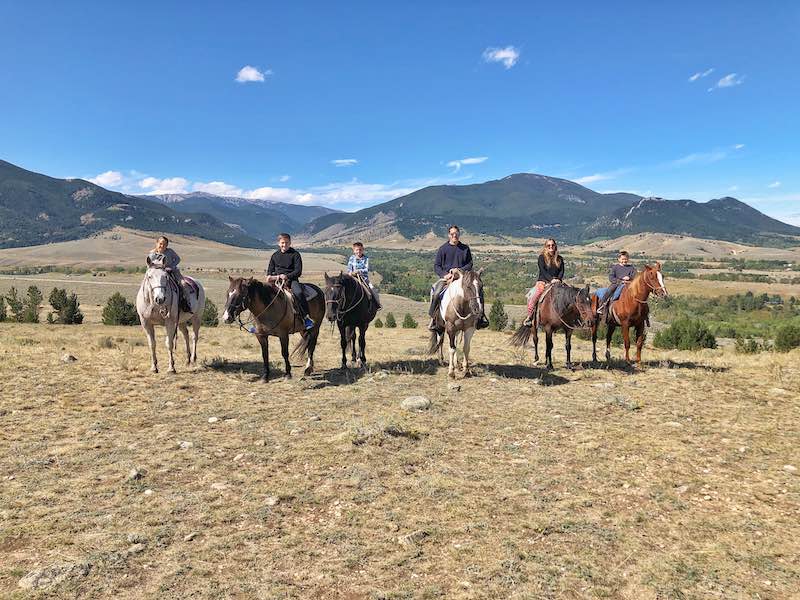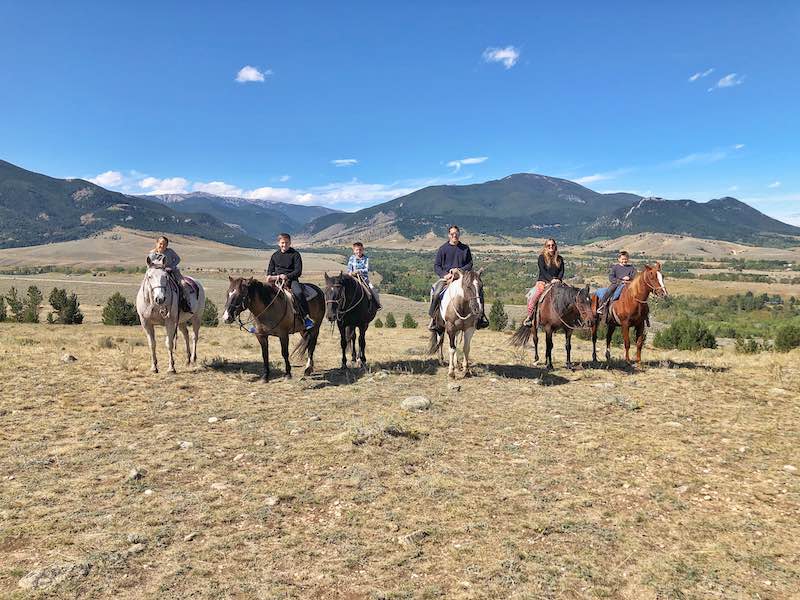 We have gone horseback riding in other flat locations, but going in Red Lodge where we were climbing up the side of mountains and through streams was quite the experience! The guide takes you out on a trail through the water and up the mountain to a beautiful view of 5 mountain ranges.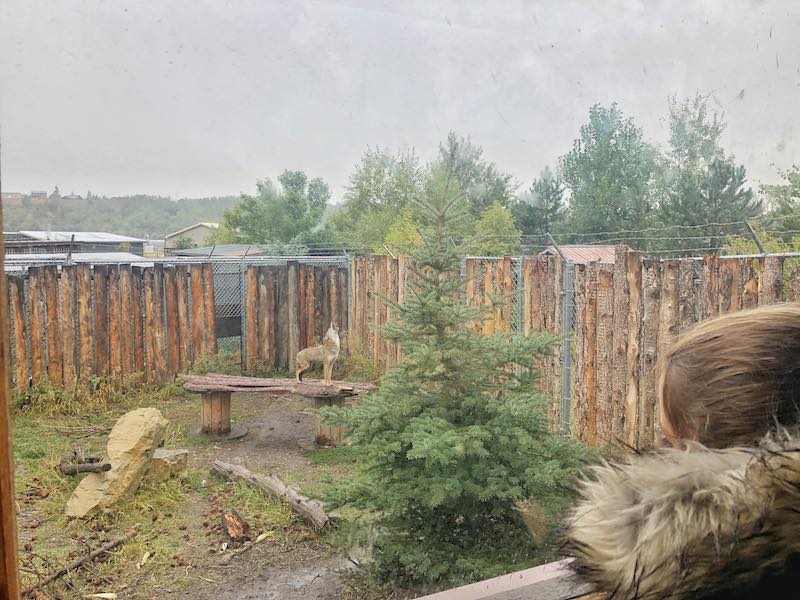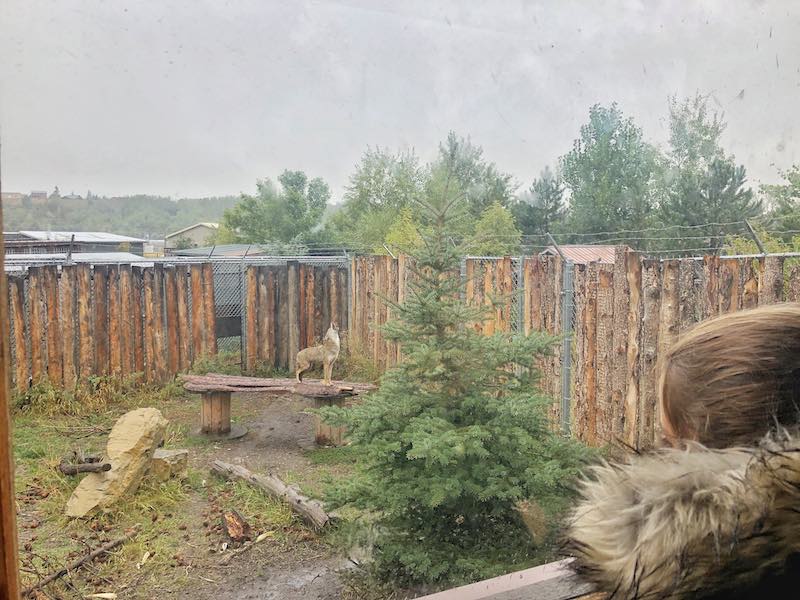 To continue with the educational part of Yellowstone and the surrounding area you won't want to miss the Yellowstone Wildlife Sanctuary. They offer a self guided tour but we would recommend booking a tour with the team here. They will walk around and give you the backstory of how each of the animals ended up there. While also teaching you about this area of the country.
The Yellowstone Wildlife Sanctuary is not associated with Yellowstone National Park but is privately run. We met Gary the owner who is also the author of the Who Pooped In The Park Books.
Check out this post for more on Red Lodge, Montana: 22 Amazing Things To Do In Red Lodge Montana
Lunch
Choose from the many options listed above for lunch or dinner to eat before you head out on the Beartooth Highway!
Drive: The Bear Tooth Highway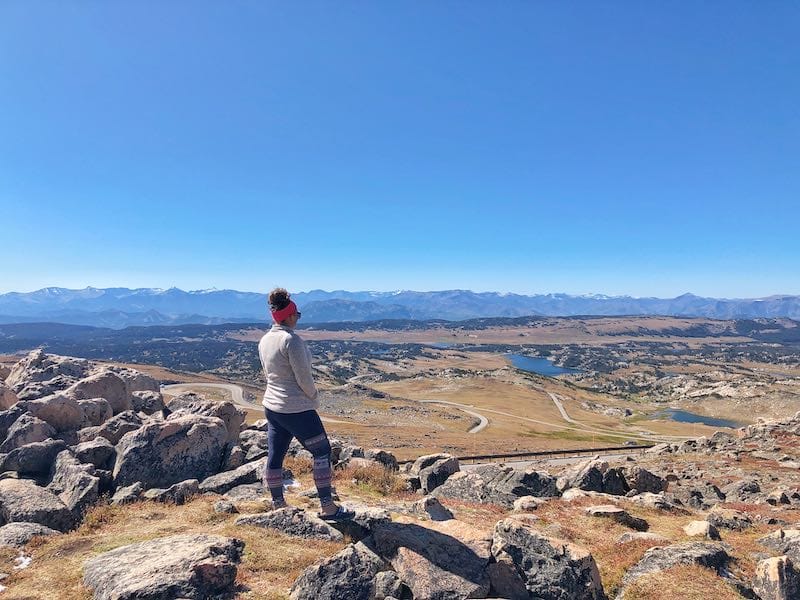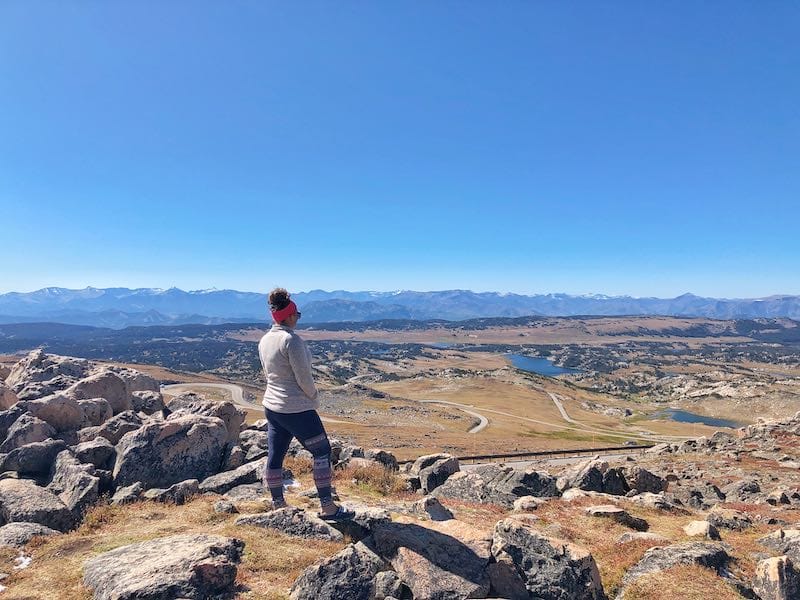 Hit the road to drive the Bear Tooth Highway to get into Cooke City (Count on 2-3 hours). Be prepared to make lots of stops at the pullouts for amazing views and pictures.
A local favorite that is the first restaurant in Cooke City to use local and sustainable food. They offer burgers, tacos, salads, and pizza.
A great rustic but modern Montana Style lodge for your night in Cooke City!
Click here to book the Soda Butte Lodge now!
Day 6: Cooke City, MT into Yellowstone To Gardiner, MT
Breakfast: Pilots Perk
For breakfast head to the Pilots Perk for a coffee and some pastries! Plus they have a selection of local books to pick from if you need some reading material.
Activity: Cooke City – Visitor Center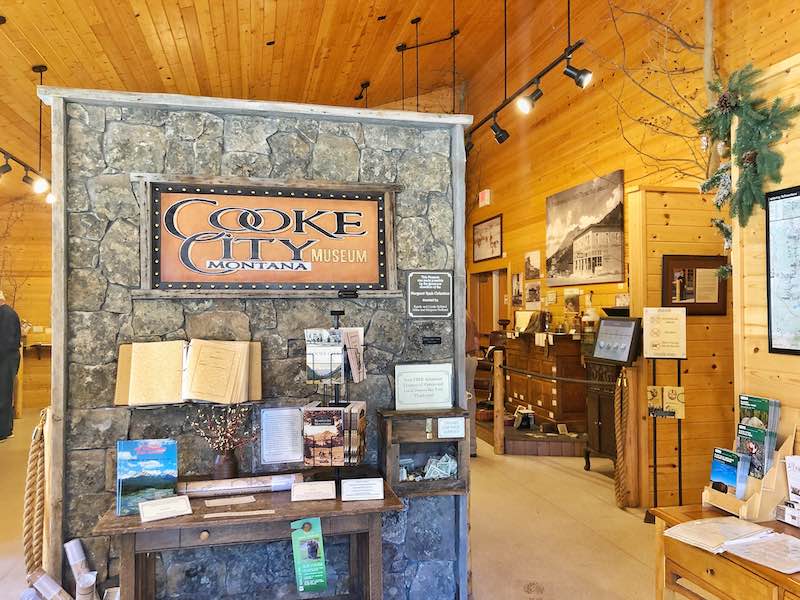 We always recommend stopping at a Visitor Center before heading into the park. It is helpful to get maps, the park newspaper, and to get any updates on what is currently going on in the park. Plus there is a small museum here so it is a great learning opportunity.
Head into Yellowstone National Park
The drive itself is beautiful and you never know with wildlife how long it is going to take. It is pretty common to be stopped on the road while you wait for a Bison to cross or a slowdown for people pulling off to watch a bear or an elk. Especially when you drive through the Lamar Valley area – so keep your eyes open!
Also know you will have to stop and pay the entrance fee to the park. With all the amazing things to see in Yellowstone it is totally worth it. We have the year pass that is $80 and gets us into all the National Parks.
If you plan on visiting more then 1 national park this year it is well worth it. They also have daily and weekly passes and you can purchase all of these at the gate.
We recommend downloading the GYPSY Guide for Yellowstone before heading into the park. It will give you a great audio tour of the area you are driving through.
Tower Roosevelt Area – Towers Fall Hike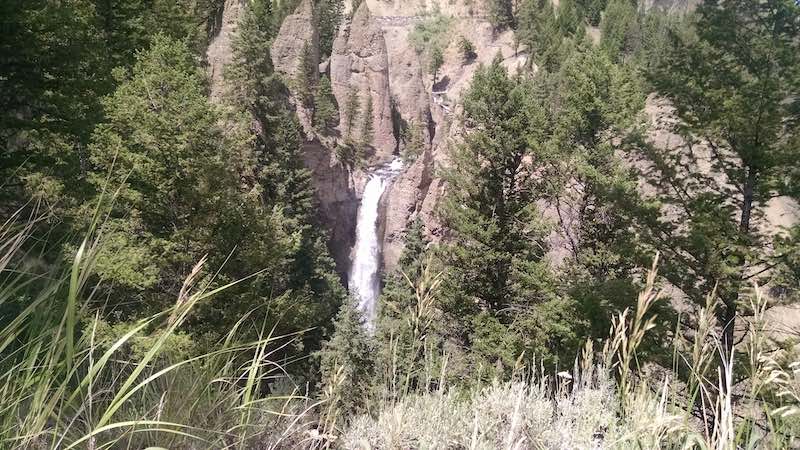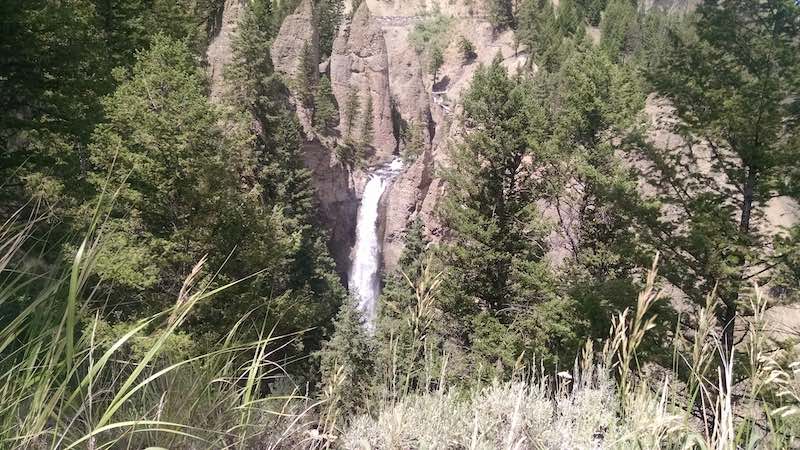 Set your GPS to the Tower Falls hike in the Roosevelt area of Yellowstone. This is a 1 mile hike to a beautiful waterfall. But be prepared it is a steep incline. But it is worth it.
After your hike head to the Roosevelt Lodge to grab lunch – they have a sit-down restaurant with a variety of food options. Check out their menu here. Then grab a drink and sit out on the porch and just enjoy the surrounding area and being in Yellowstone!
Hike: Mount Washburn
This is a 6 mile roundtrip hike up to the top of Mount Washburn. It isn't an easy hike but it isn't super hard either. We were able to do it with our kids when they were 7, 5, 5 and 3. The views at the top are amazing!
Activity: Stagecoach or Horseback Riding
Or if you aren't up for a hike look into the following activities that are offered from the Roosevelt Lodge: Stagecoach Adventure or Horseback Riding,
Dinner
Head into Gardiner to grab dinner at one of the many restaurants in Gardiner. Our recommendations are listed below:
A newer restaurant in Gardiner that is part of the Taste Our Place program that focuses on local ingredients. We loved the atmosphere here and the great variety of fresh food options. Check out there menu here.
KBar Pizza
A fun old school Gardiner pizza joint. The pizza was good and they had a nice drink menu along with a big TV for the kids to watch while we waited for our food.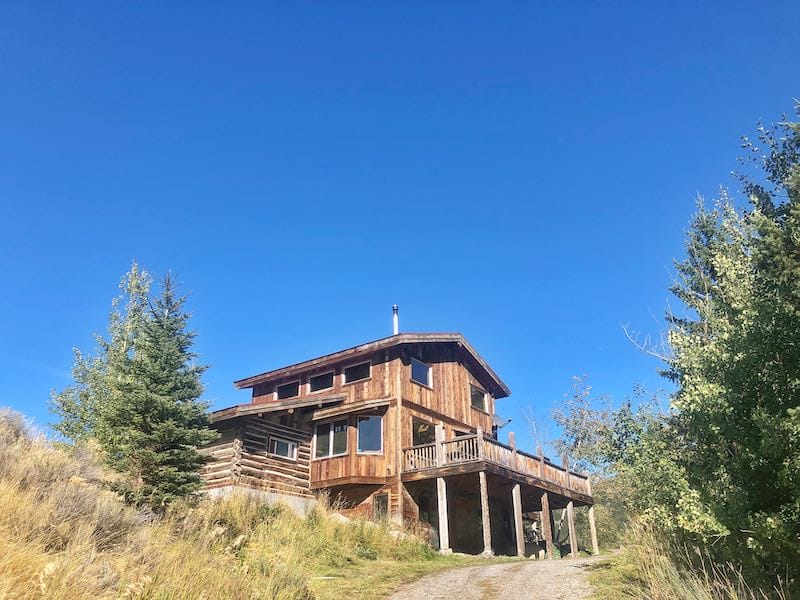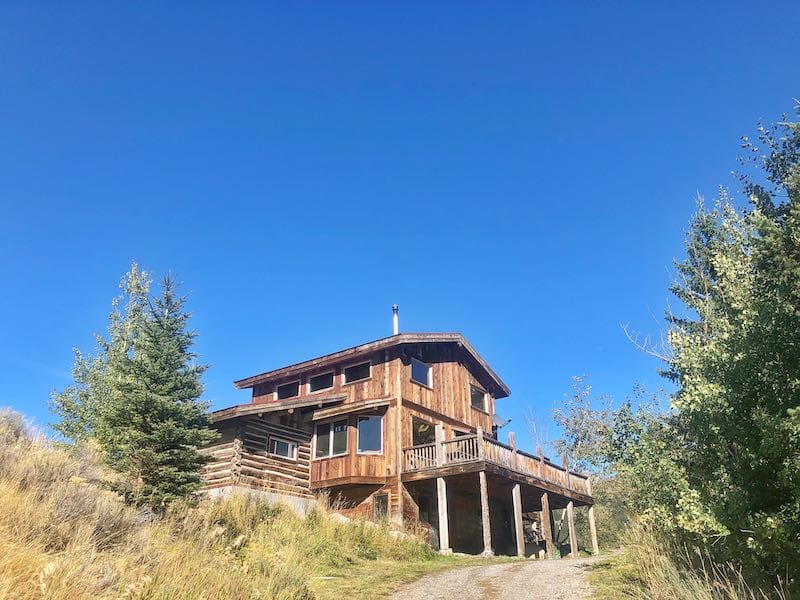 Time for a house stay! And the Sunny Slope is awesome. Located just 15 minutes from downtown Gardiner and up in the mountains it is the perfect Yellowstone Vacation lodging option. Especially if you are ready for some more space and privacy after spending almost a week at hotels.
Click here to book the Sunny Slope House now!
Day 7: Yellowstone Wildlife Tour and Hot Springs
Today you will get up early for an amazing Wildlife tour and then head out to the Hot Springs to relax in the afternoon. And then the next day you will head back into the park for more exploring.
Breakfast: Included in activity
Activity: Yellowstone Wild Tour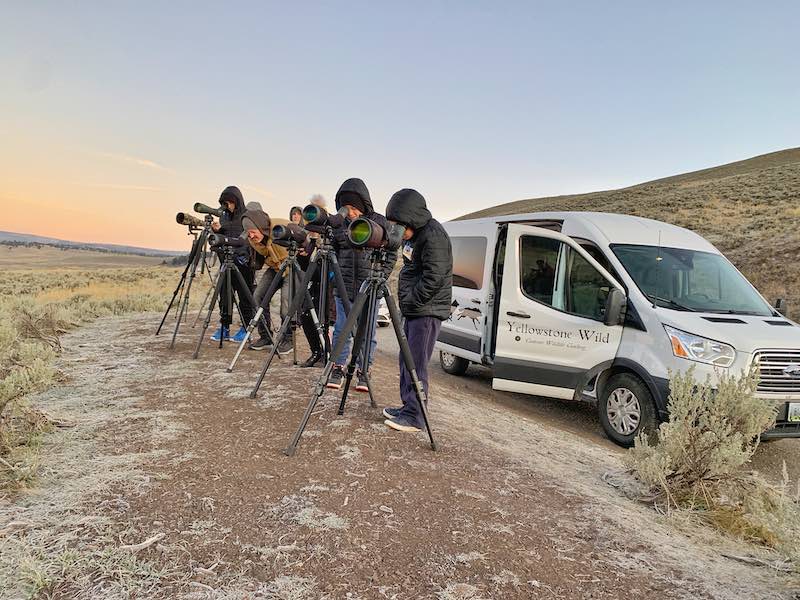 You will have to meet in Gardiner at 5am or 6am depending on the time of the year. But it is totally worth it! You will meet your guide from Yellowstone Wild and will jump into their van to head out to Lamar Valley before sunrise (when the animals are most active). Your guide will start right out of the gate sharing all sorts of information with you about Yellowstone and the animals.
When we reached Lamar Valley we got out and our guide setup our scopes and right away we spotted a Grizzly Bear then Elk then a pack of wolves. We were able to watch the pack of wolves hunt down an Elk. It was amazing! And all of this before breakfast!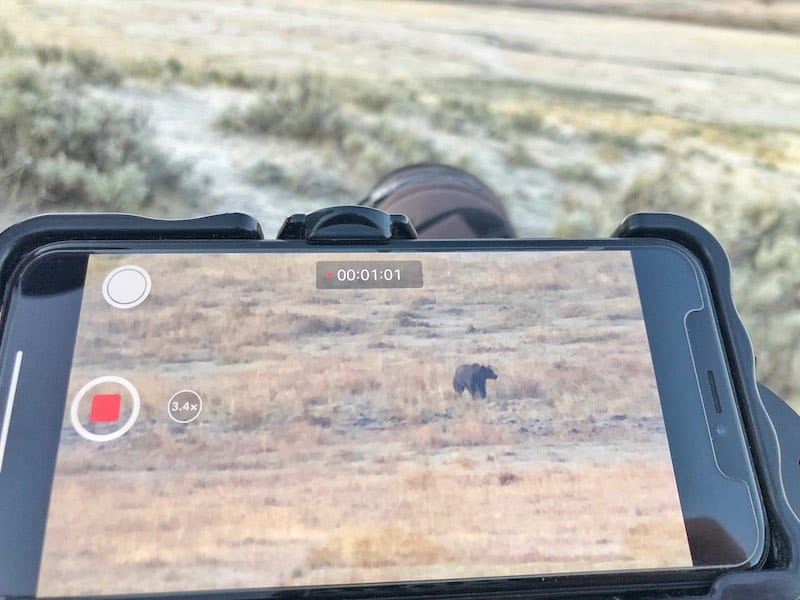 Our guide then brought out fresh baked huckleberry scones, hot chocolate and coffee for breakfast. YUM!
After that we continued throughout the north end of the park looking for more wildlife and found a mountain goat, more bears, more elk, bison and birds. It was an awesome day and our guide was super knowledgeable. The Yellowstone Wild guides are all immersed in Yellowstone and volunteer to help with the animals in the park and have a deep knowledge of the park, the area and the wildlife.
We then had lunch at a picnic area in the park that our guide brought and set up for us. It was a great way to spend a full day in Yellowstone. This is by far the best of all Yellowstone Tours!
Lunch: Included in activity
Activity: Yellowstone Hot Springs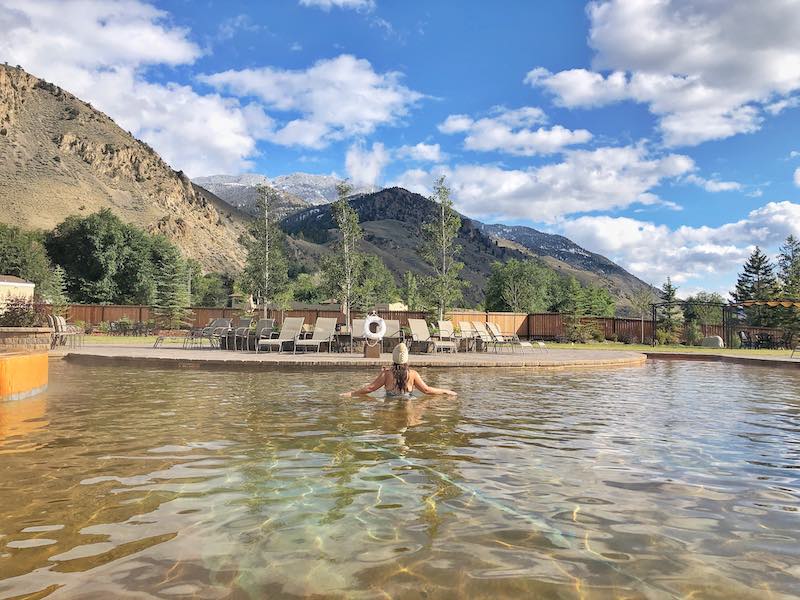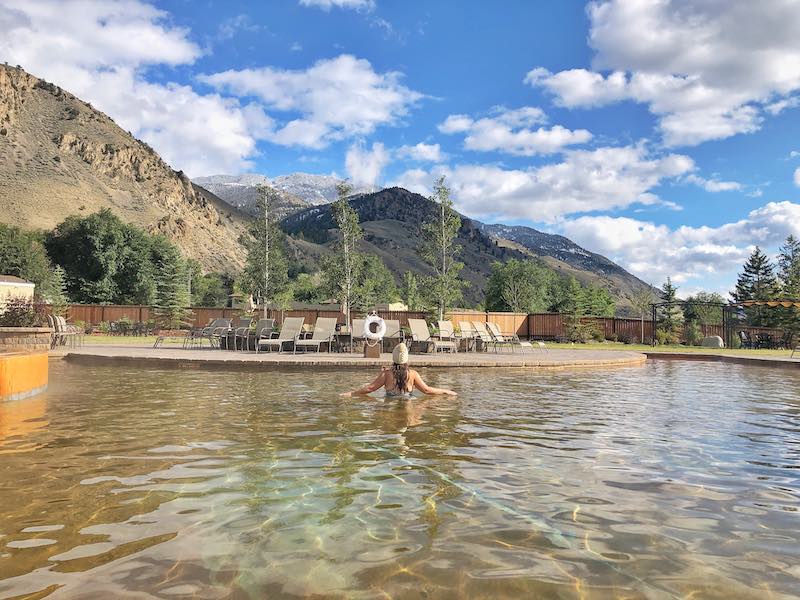 Once you get back to Gardiner head out to the Yellowstone Hot Springs. These beautiful Hot Springs have a cold pool and multiple hot pools and the views are spectacular. Take a few hours to relax and recount your awesome day of wildlife sightings!
Dinner
Head into Gardiner to visit either KBar or Wonderland Cafe for dinner.
**Stop at Gardiner Market to grab breakfast and dinner supplies so you can sleep in and have dinner at the house at least one night.**
Day 8: Explore More Of Yellowstone
You will head into the park to do more exploring today – but before you do that have a relaxing morning and breakfast at the Sunny Slope House.
Lunch – Yellowstone Grille
Head into Gardiner to grab lunch at the Yellowstone Grille before heading into the park. The Yellowstone Grille has salads, burgers, pastries and a variety of different coffees. It is a great place to grab a light lunch before heading into the park.
Roosevelt Arch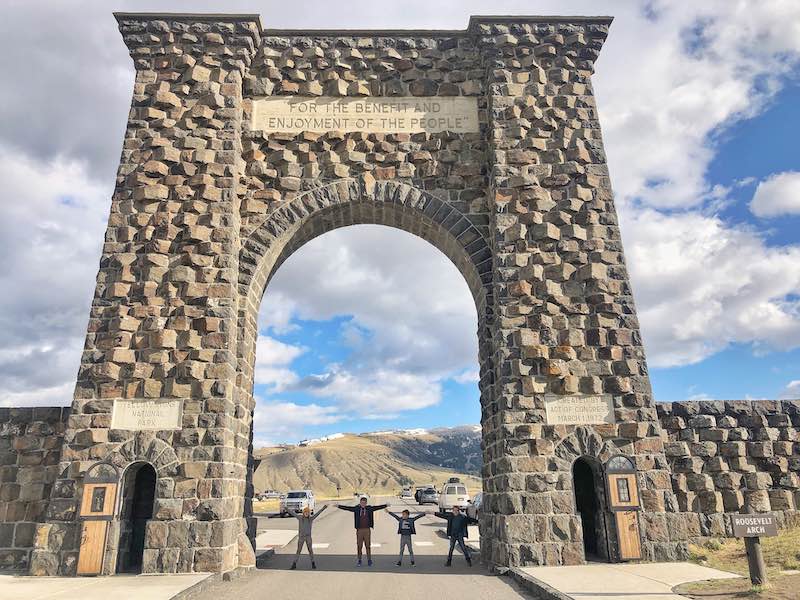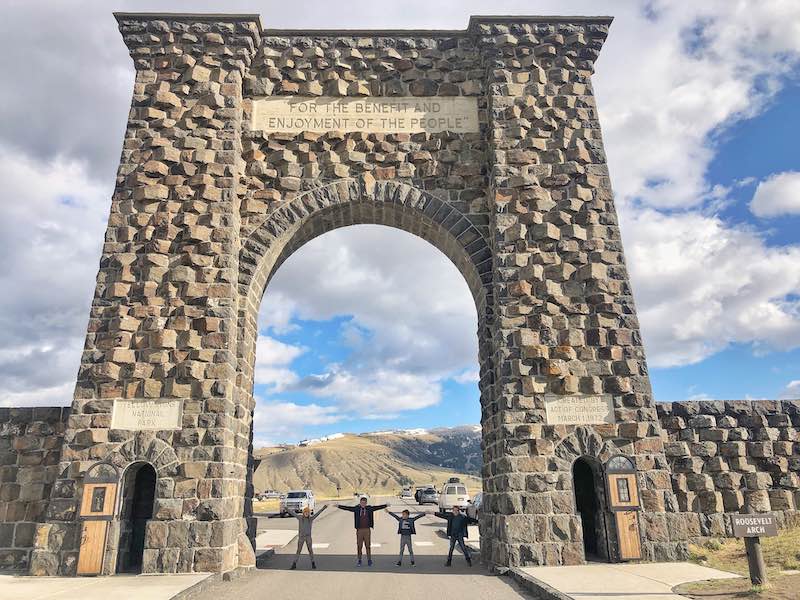 You will drive into the park under the first entrance to Yellowstone – The Roosevelt Arch! Make sure to stop and get out to walk through the doors of the arch and be on the lookout for Elk around the area.
Boiling River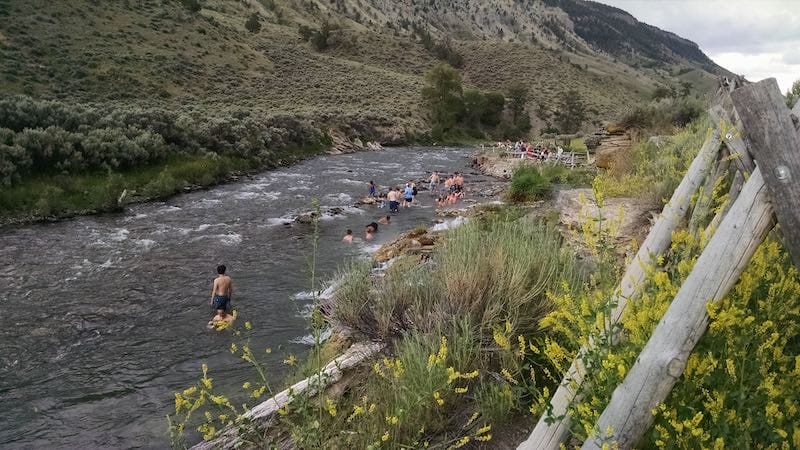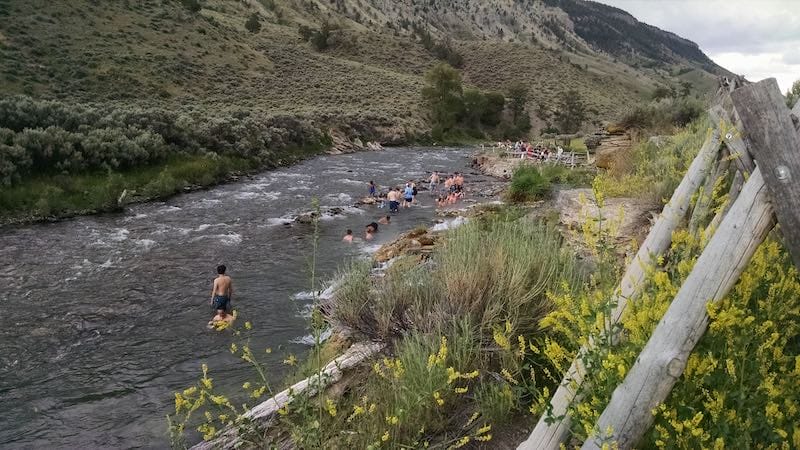 The Boiling River is located in Yellowstone a few miles before the Mammoth Hot Springs area. If you put in the Boiling River in your GPS before you leave Gardiner you can get an idea where you are going. But pay attention since you will come up to a parking lot that goes on both sides of the road. It is before the hot spring and is where you have to park – and there is no sign – so pay attention.
Once you are parked you will walk about 1/2 mile to get to the entrance of the river. It is where the cold water of the river meets the boiling water from the hot springs. It is a really cool experience!
Hike Bunsen Peak
If you are up for a more challenging hike, then head to the Bunsen Peak trail head – past Mammoth. For a 4.6 mile roundtrip hike with a 1300 foot gain.
Visitor Center and Fort in Mammoth Hot Springs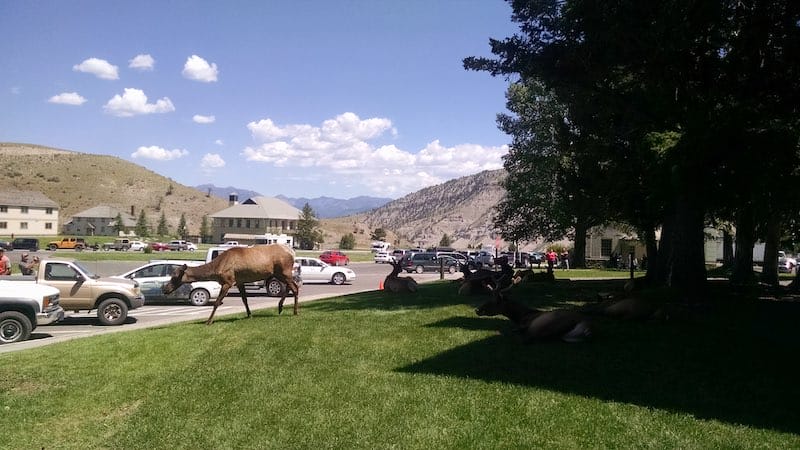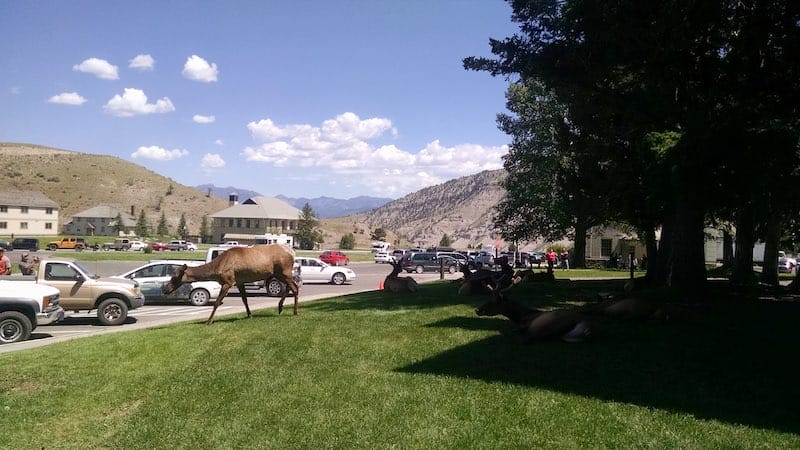 Head back to Mammoth to visit the Albright Visitor Center where you can talk to the rangers, the kids can get their junior ranger books and you can explore the small museum there.
There are most likely going to be Elk all over the place in Mammoth so be prepared for that and keep an eye out! They literally just sit right on the lawn. But still follow the same wildlife recommendations and keep your distance. They may not look very wild sitting on the nicely manicured lawns but they are still wild animals.
Walk over to explore the Historic Fort Yellowstone. It is a .6 mile walk through the Fort and normally takes about 45 minutes to walk through.
Mammoth Terraces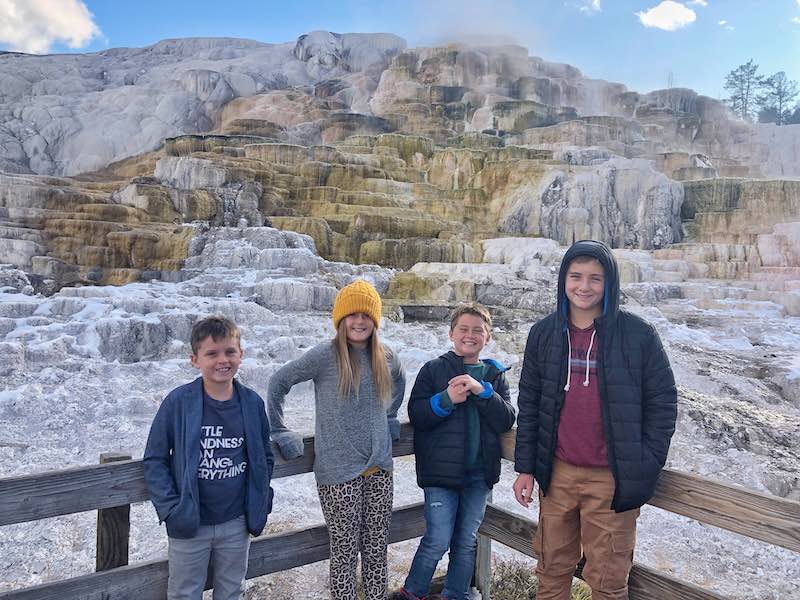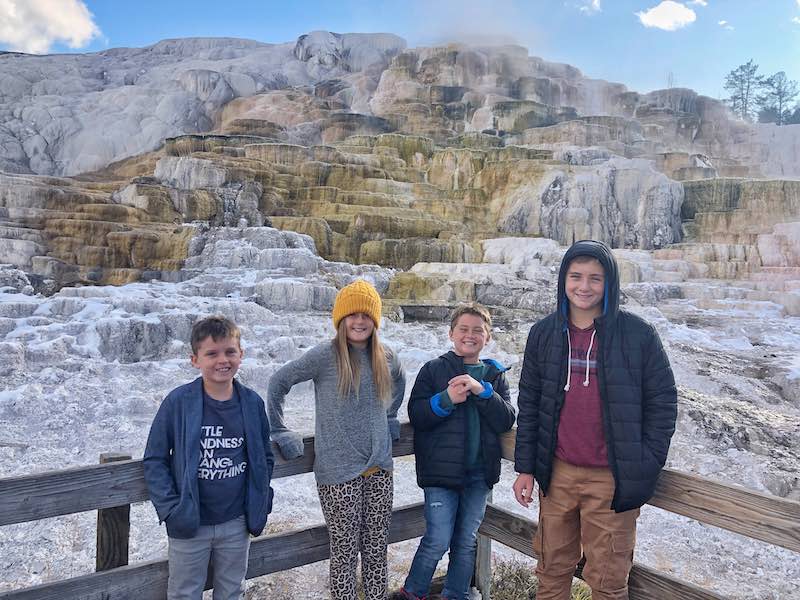 Head over the Mammoth Terraces to hike on the boardwalk through the Terraces and hike up to the top to look out over the Terraces and Mammoth. You can park at the bottom walk among the lower terraces then drive up to the top and walk among the upper terraces or you can hike the whole thing from the bottom to the top and back down.
Dinner
Head back to the Sunny Slope House to make dinner and relax at the house for your last night.
Check out these awesome Montana Airbnb options too!
Added Stay: Sage Lodge and Chico Hot Springs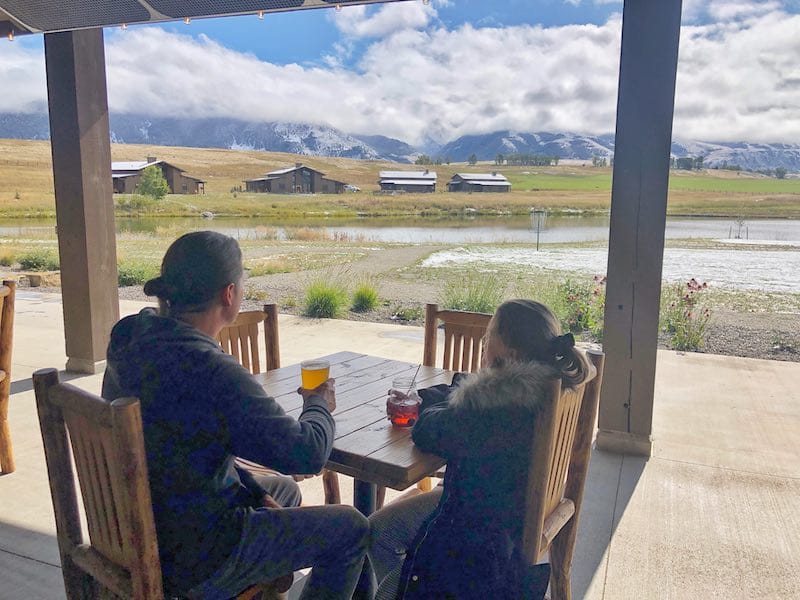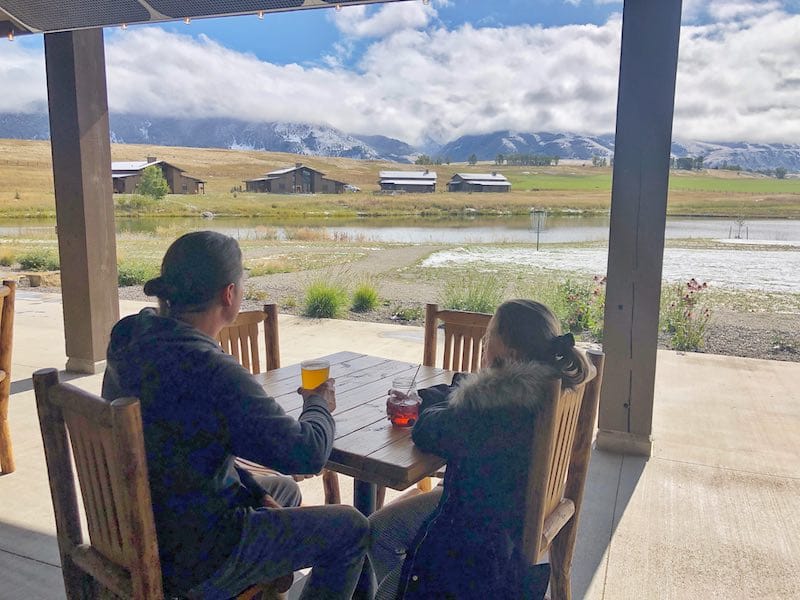 If you have an extra night, then add in a stay at the beautiful Sage Lodge and head over to Chico Hot Springs to play disc golf and visit the historic Hot Springs. If you can't stay the night then see if you can squeeze in an extra day to visit Sage Lodge for lunch and then head over to Chico for a few hours.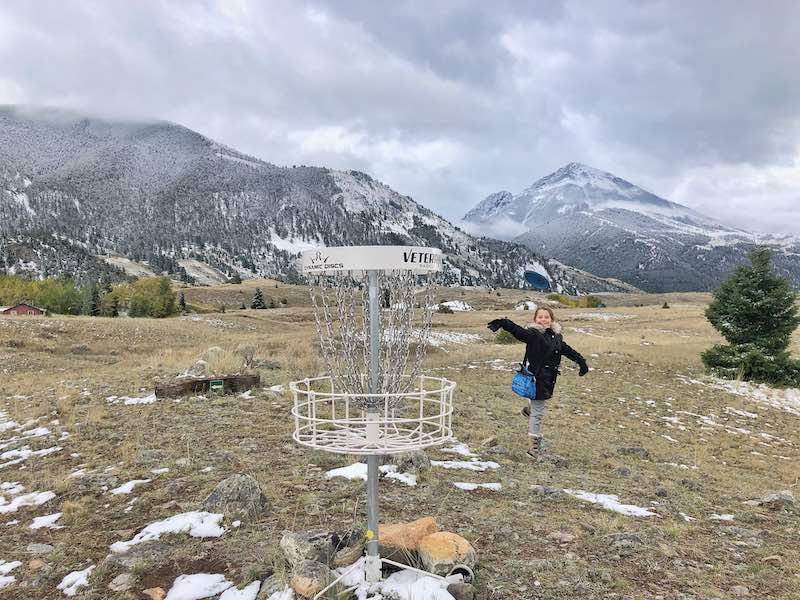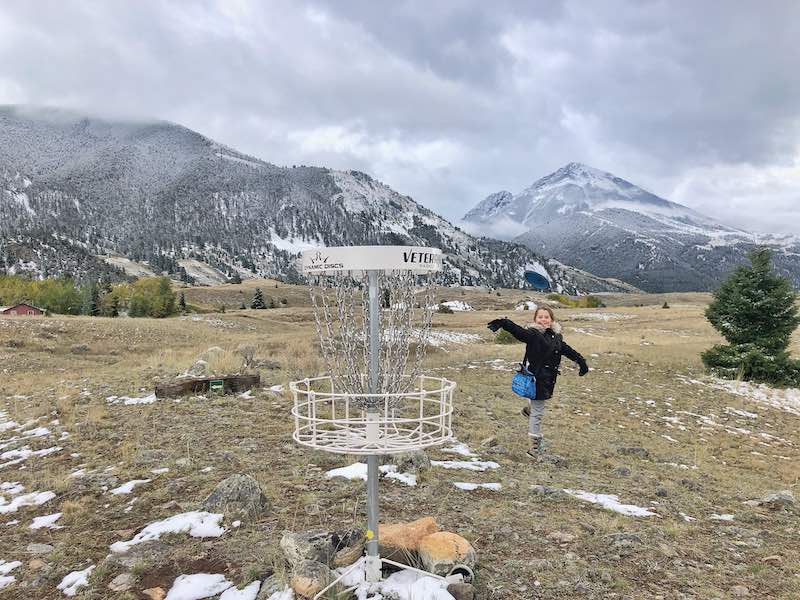 Time to head over to West Yellowstone to explore the geysers and more of the thermal features. Like we mentioned be prepared for animal traffic jams on your drive over.
Breakfast
Have breakfast at the Sunny Slope house as you get everything packed up and ready to check out and head over to West Yellowstone.
Canyon Area of Yellowstone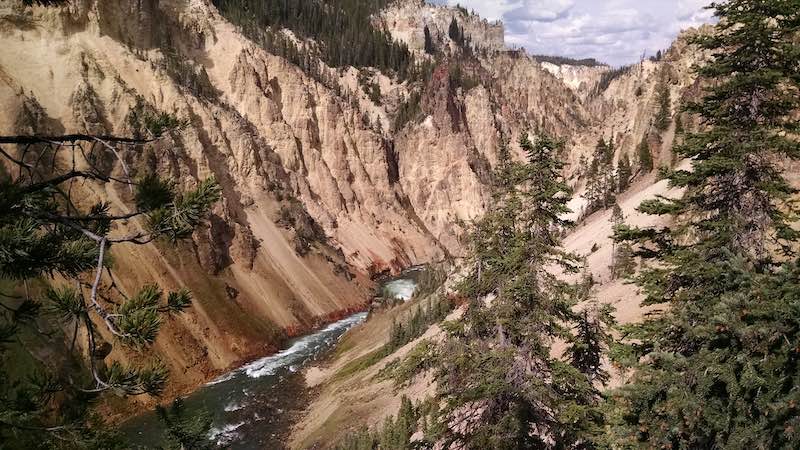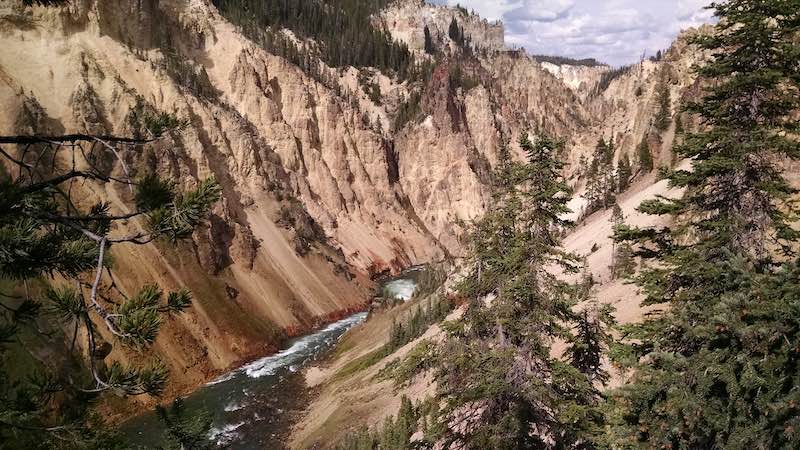 On your way to West Yellowstone plan to stop in the Canyon area of Yellowstone to eat, do some sightseeing and do a hike. This is a side trip that will take you away from West Yellowstone but it is worth it do it and makes sense to do it on your way – since getting here from West Yellowstone would take a decent amount of time.
Lunch
Grab lunch at the Canyon Village. There are a couple different options here for lunch from a full service grill to a cafe. You can check out more of the options here.
Lookout: Artist Point
Drive over to the Artist Point lookout to take in one of the iconic Yellowstone views.
Hike: Uncle Tom's Trail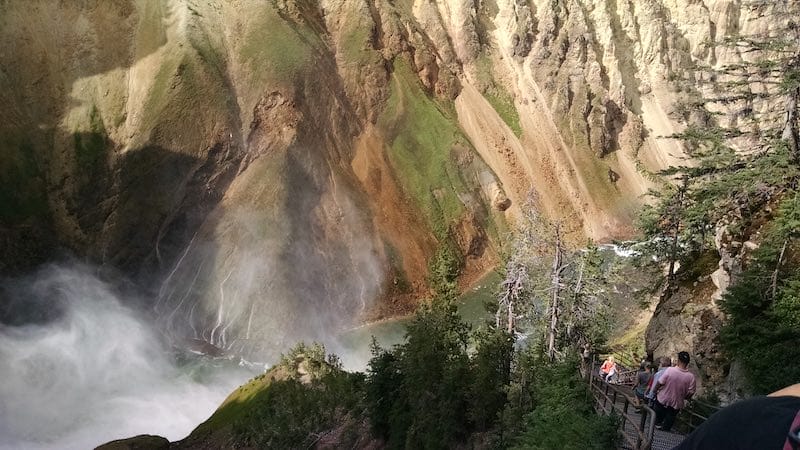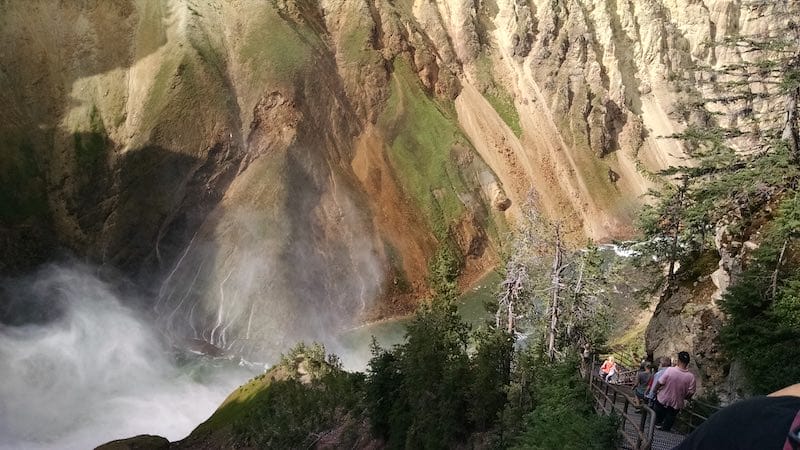 Uncle Tom's Trail is a great way to really get a feel of the "Grand Canyon" of Yellowstone. The trail takes you down 300 stairs and into the canyon to an overlook platform. It is a bit of a challenge getting up and down the stairs but it is a beautiful site.
The other option is to hike the south and north rim trails. We haven't done these but we heard they are beautiful!
Continue into West Yellowstone and check in to the Kelly Inn. Then head out to explore West Yellowstone.
Activity: IMax Show on Yellowstone
Head over to the Yellowstone IMAX theatre to watch the Yellowstone show. It is a great way to get more history on Yellowstone and to learn about how it became a National Park. They have a variety of other movies at the theatre so if you are looking to do something different check out what they are currently showing.
This is a regular theatre with popcorn and candy!
Dinner
West Yellowstone is a tourist town so there are a variety of different dinner options from Pub style to pizza to a bus! Yes you read that right, a converted bus that serves Mexican food. More on our recommended options below.
Slippery Otter Pub
A pub style restaurant with pizza, salads, burgers and steaks. We recommend the jalapeno wontons with huckleberry dipping sauce. They were delicious!
Wild West Pizzeria and Saloon
It is hard to find someone who has visited West Yellowstone and not been to the Wild West Pizzeria. It is a staple in West Yellowstone and serves a variety of different pizza options and pasta along with a yummy Huckleberry Margarita!
Taqueria Las Palmitas
For a unique experience head to Taqueria Las Palmitas which is located in a renovated Bus in downtown West Yellowstone. They offer a variety of Mexican dishes with outside seating and also a few inside seats.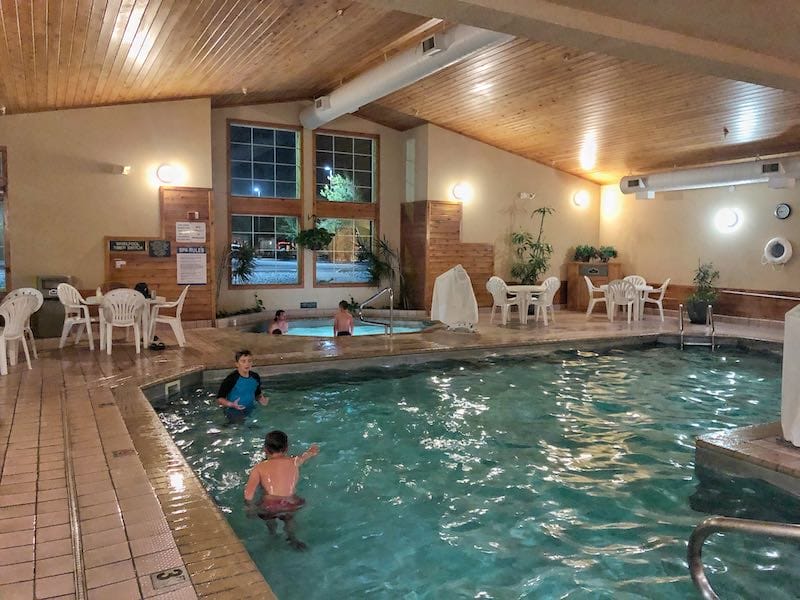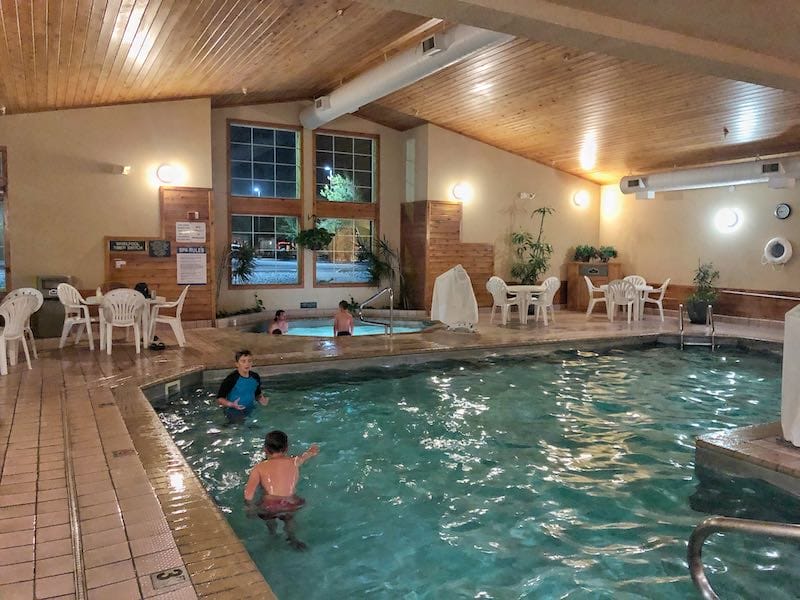 Kelly Inn has a nice pool and hot tub area. It was really nice to end each night sitting in the hot tub while the kids played in the pool. They also have a nice sized continental breakfast available as part of your stay. Plus the location is perfect for exploring Yellowstone National Park and the town of West Yellowstone.
Click here to book the Kelly Inn now!
Day 10: Explore West Yellowstone and YNP
Start your morning off by grabbing breakfast at the Kelly Inn hotel – included in your stay. Then head across the street – literally to the Wolf and Grizzly Discovery Center.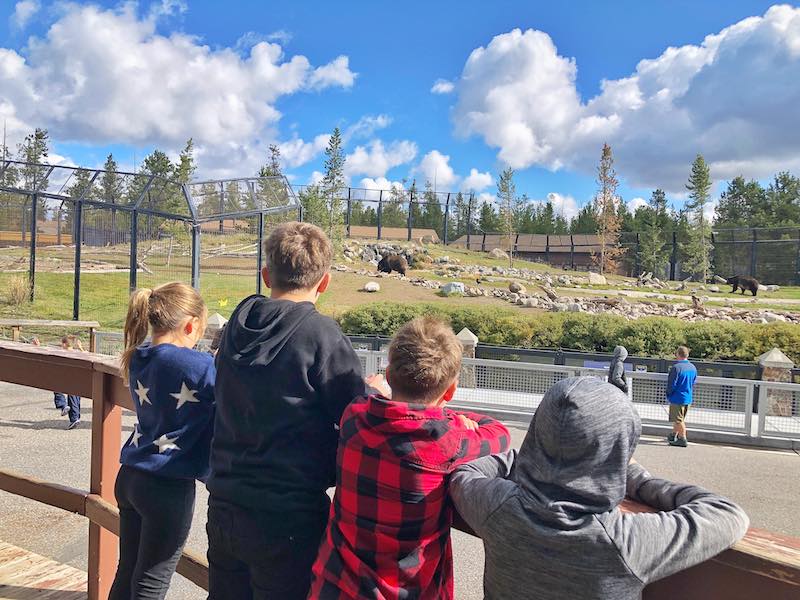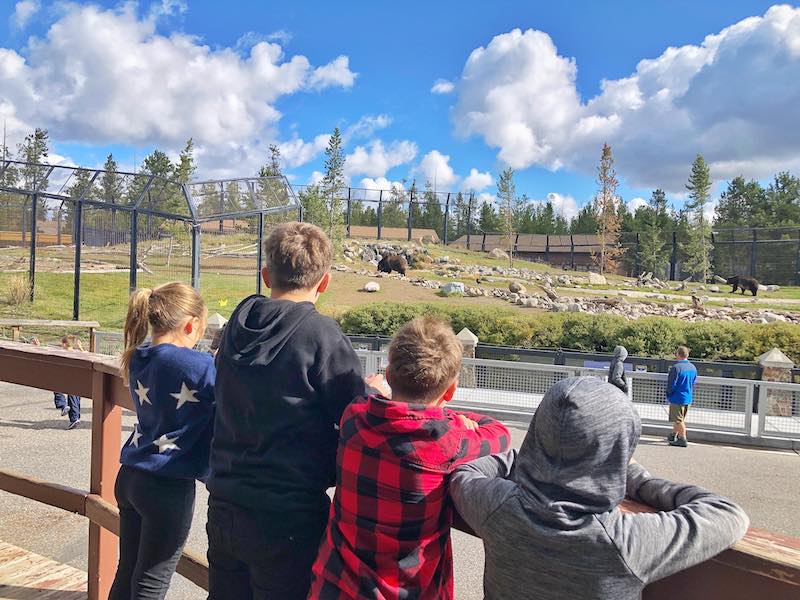 We didn't know what to expect when we went to the Grizzly and Wolf Discovery Center but we were pleasantly surprised and actually wish we had more time to explore! Before you go be sure to check the schedule to see what is going on that day so you make sure to get there on time. We just made it in time for the Keeper Kids option ($5 extra charge per kid) and were so glad we did.
The kids were able to go into the Grizzly habitat and hide food for the grizzlies! They offer a variety of different talks throughout the day and videos so it is good to check the schedule ahead of time.
Activity: Yellowstone Historic Center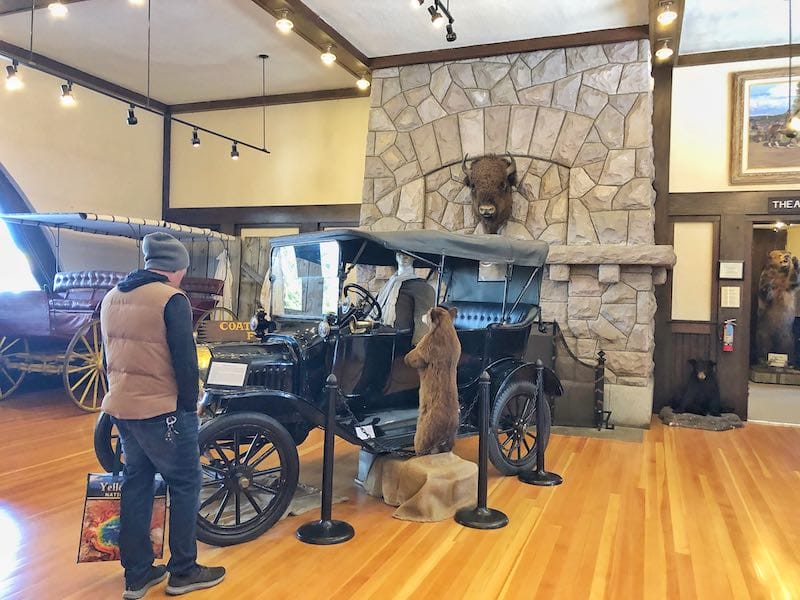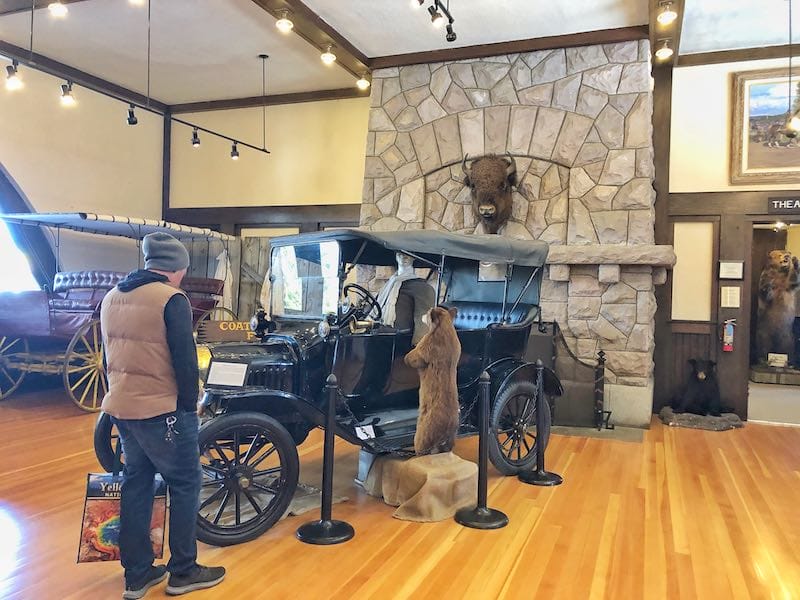 The Yellowstone Historic Center is the next stop on your Yellowstone history tour! It is a small museum but they over a fun scavenger hunt for the kids and there is some great information about the history of West Yellowstone and the park. This will be a quick 1 hour stop but it is worth it.
Lunch
Grab lunch at one of the West Yellowstone restaurants listed above – or if you are looking for something quick check out Ernie's Deli.
Drive into Yellowstone
The rest of the day will be spent exploring the western side of Yellowstone National Park. Don't forget about the animal traffic jams so be prepared to spend some time in the car.
1st Stop: Grand Prismatic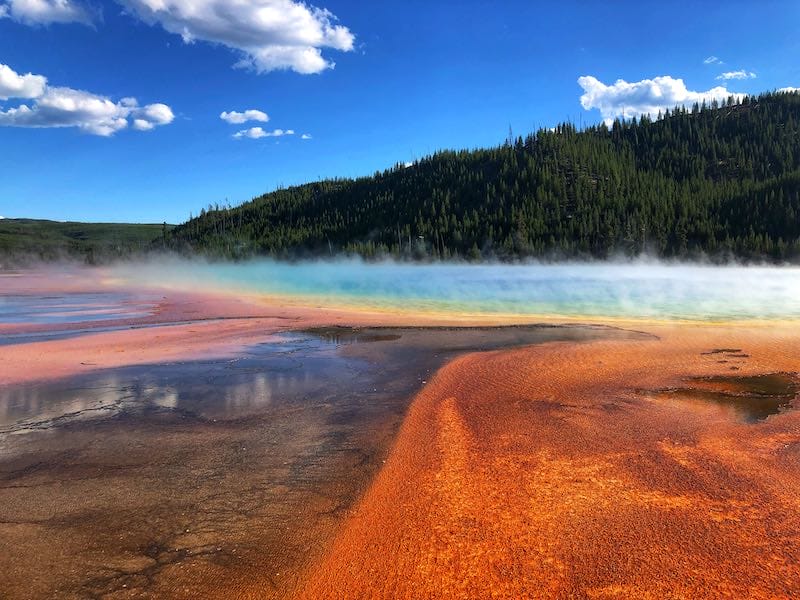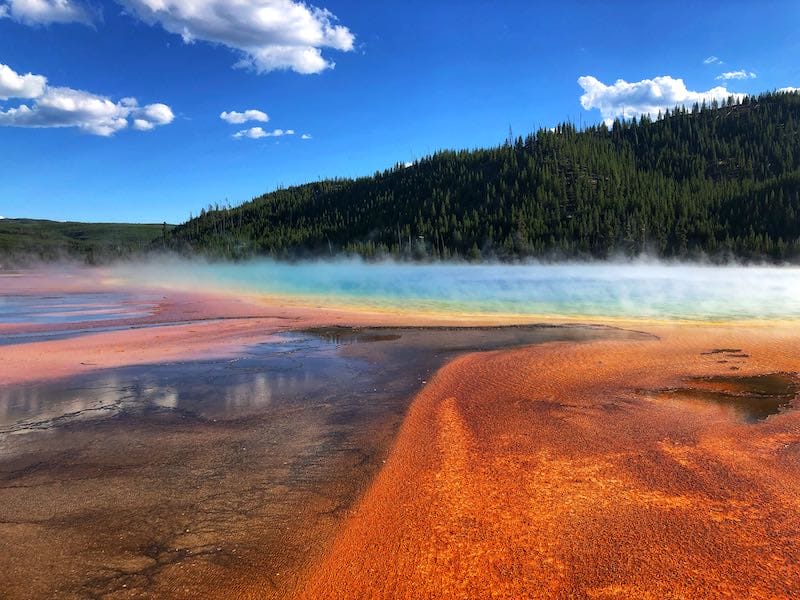 This is one of my favorite places in all of Yellowstone! The colors are so unreal it seriously looks like someone painted it. Stop here to get out and walk on the platform that takes you out to the Grand Prismatic. You can actually feel the heat when you are walking out there and normally it is windy so don't wear a hat.
2nd Stop: Overlook Hike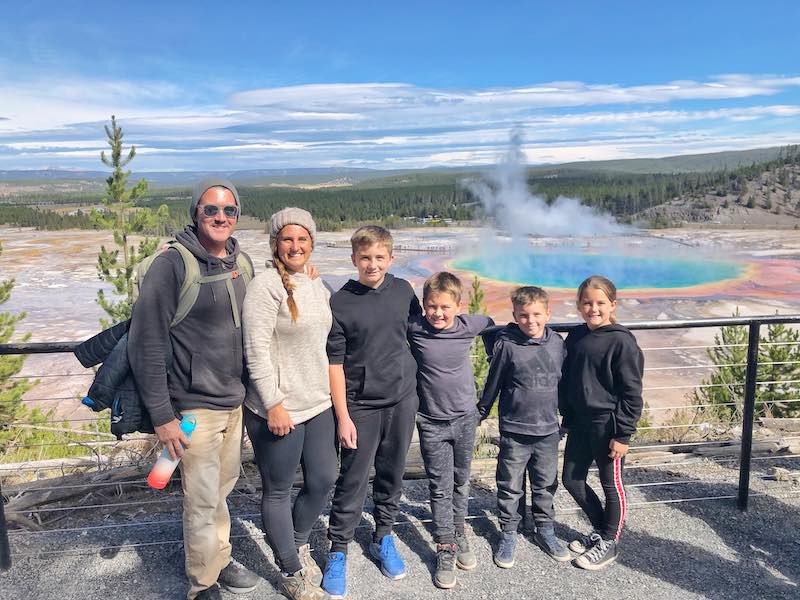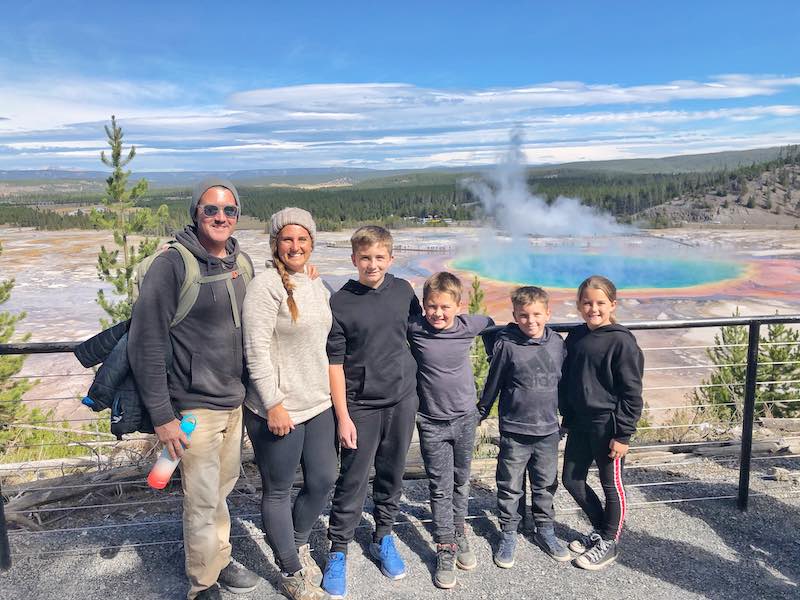 The overlook hike has been closed for years due a forest fire in the area so I was so excited when we went this time and it was open! You will park at the Fairy Falls trailhead and start on that trail until you get to a sign that points to the Overlook – head up there for an awesome view of the Grand Prismatic from above.
3rd Stop: Old Faithful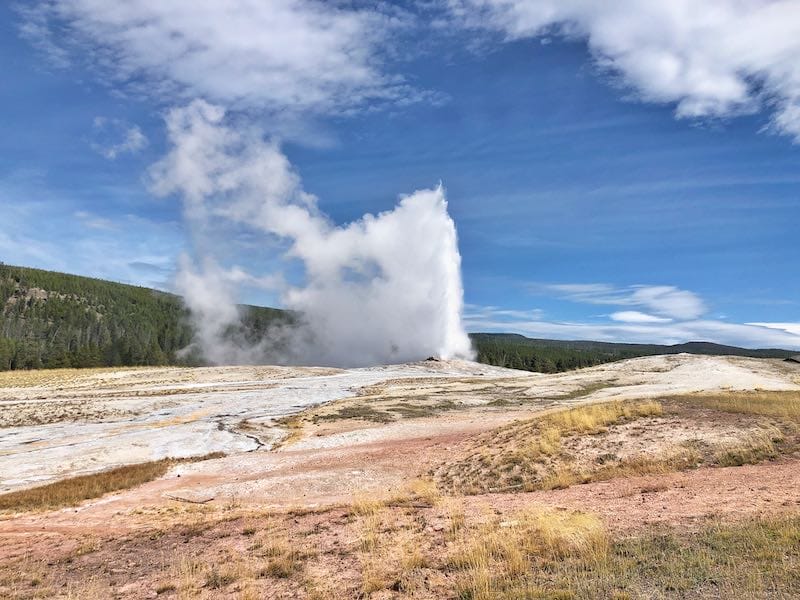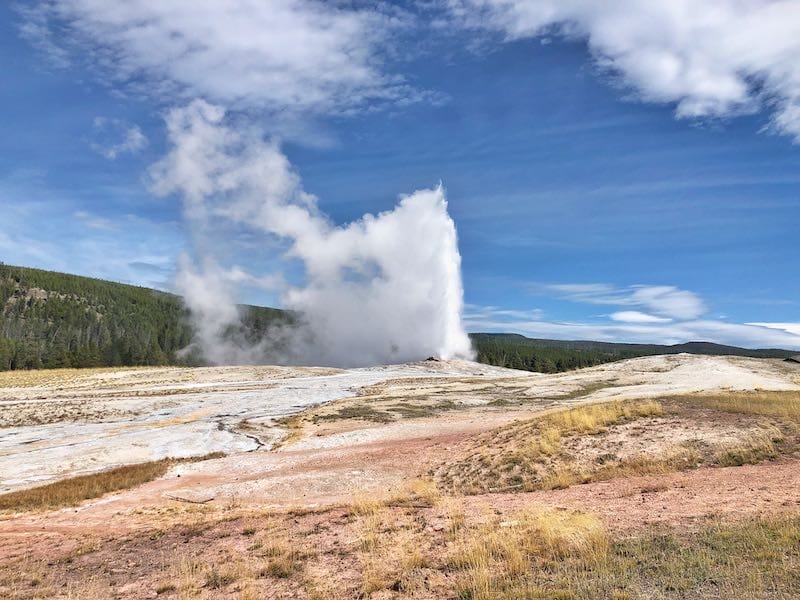 Next head over to Yellowstone's most famous geyser: Old Faithful. What I like to refer to as the Disney World of Yellowstone. Always a busy place with a huge Visitor Center, restaurants, general store, a lodge.
In the visitor center there will be a sign telling you the next predicted time that Old Faithful will go off. It is usually right +/- 20 minutes.
If you are close to the next time it is going to go off there are a few things you can do in the area. You can explore the museum and gift shops in the visitor center. Head over to Old Faithful Inn to admire the inside of the building and grab an ice cream cone or a snack. Or head over to the general store to do some shopping, grab a snack, or grab a $1 ice cream bar.
Make sure you head back to Old Faithful at least 20 minutes before the estimated time so you don't miss it!
Old Faithful Geysers hike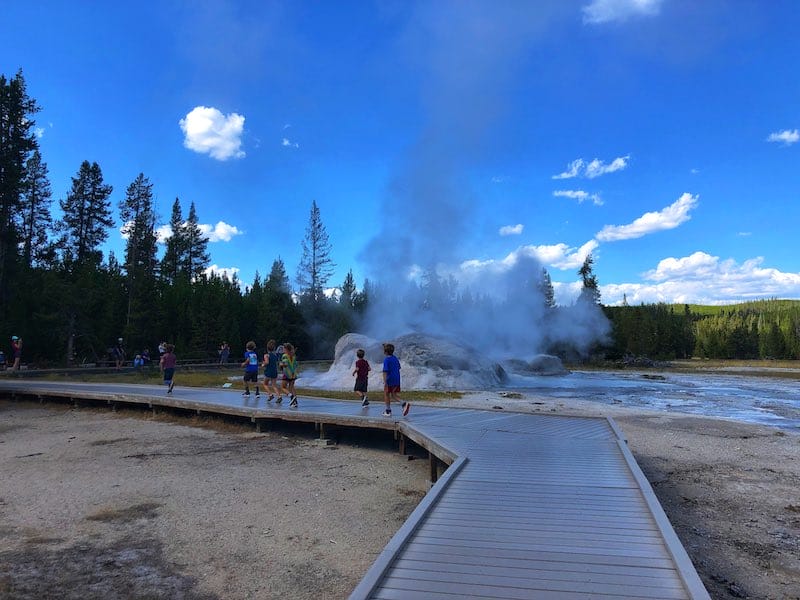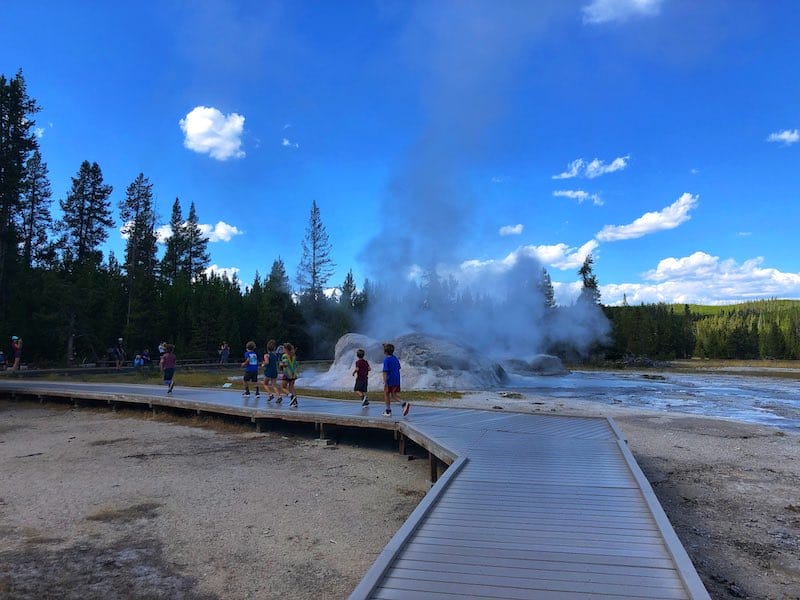 In the visitor center at Old Faithful there is a map of all of the geysers in the area and trails you can go on – right from the visitor center. I recommend heading out to the Morning Glory Pool.
On this walk (it is all boardwalks or paved and is a really easy hike) you will pass multiple geysers. It is about a 1.5 mile walk to get to the Morning Glory Pool. But there is so much to see on the way it doesn't feel like it!
4th Stop West Thumb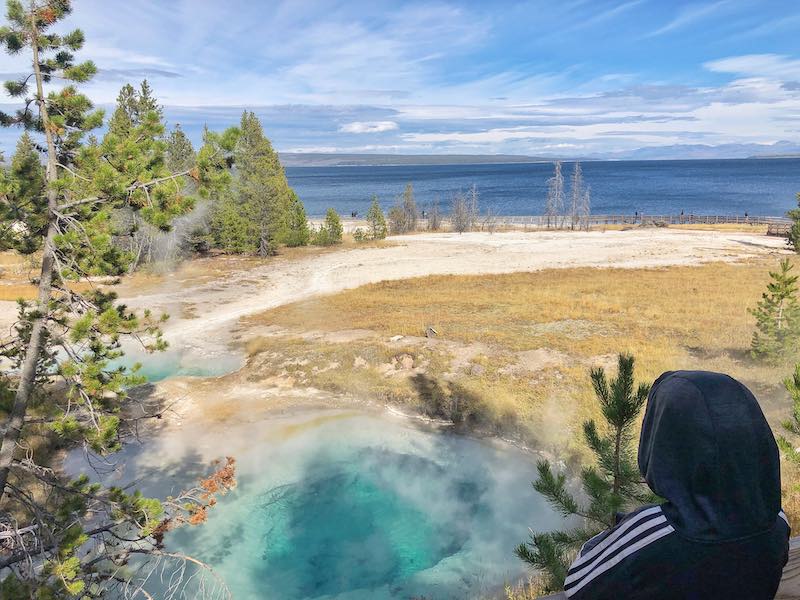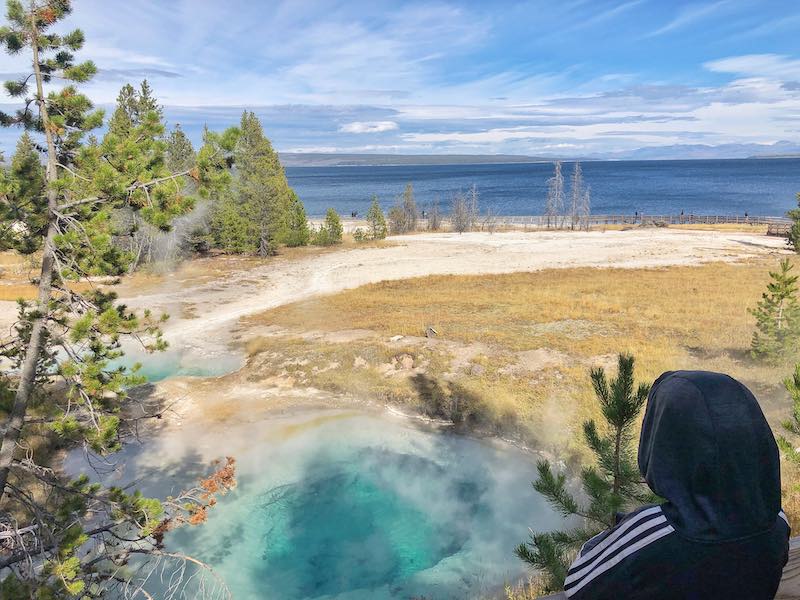 Drive about 30 minutes (unless there is an animal traffic jam) over to West Thumb to walk the loop to see more thermal features and to see Yellowstone Lake. A .6 mile boardwalk trail that is not difficult.
5th Stop Firehole River Swimming Area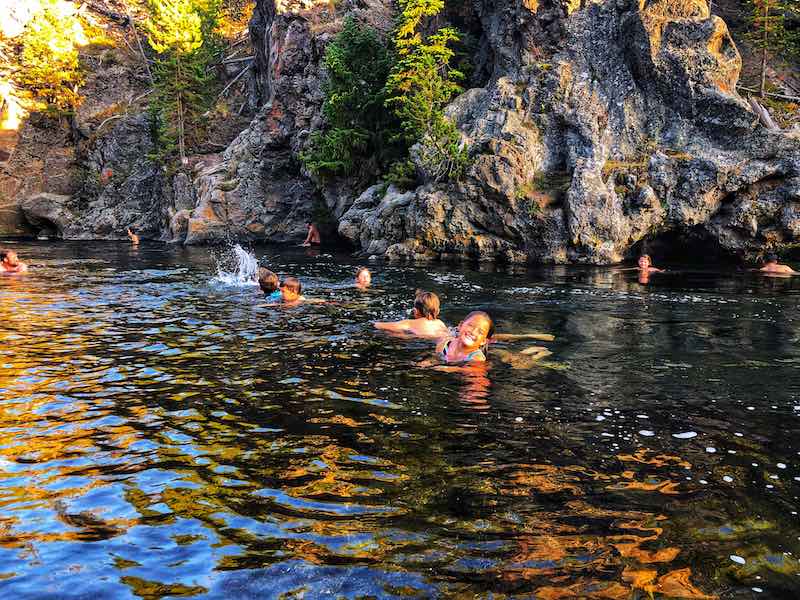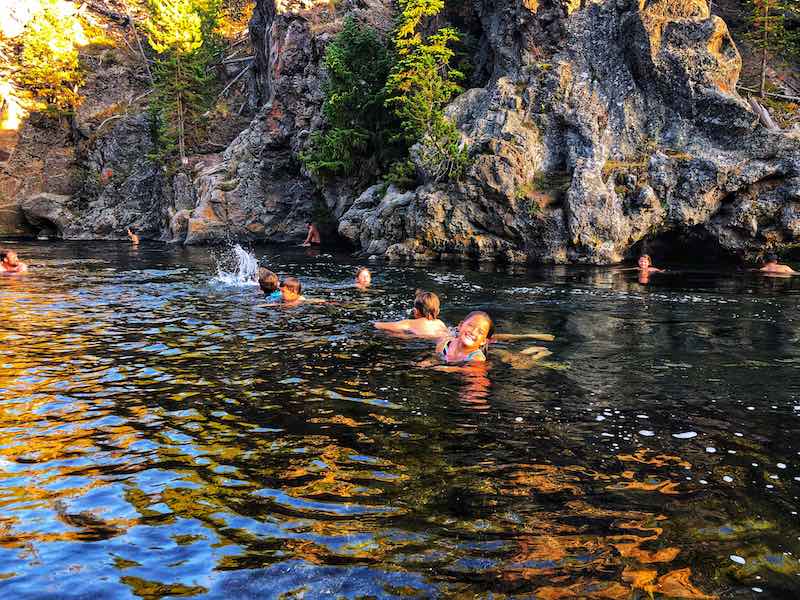 If you have time and want to take a swim stop at the Firehole River swim area on your way back to West Yellowstone. This is by no means a hot spring but the water is warmer than you would expect and it is pretty cool to be swimming in Yellowstone National Park! Plus the drive in is pretty.
Dinner
Grab dinner in West Yellowstone before heading back to the hot tub at the Kelly Inn!
Day 11: Biking and Yellowstone Lake
Sleep-in, grab breakfast at the hotel and then walk around West Yellowstone for souvenirs.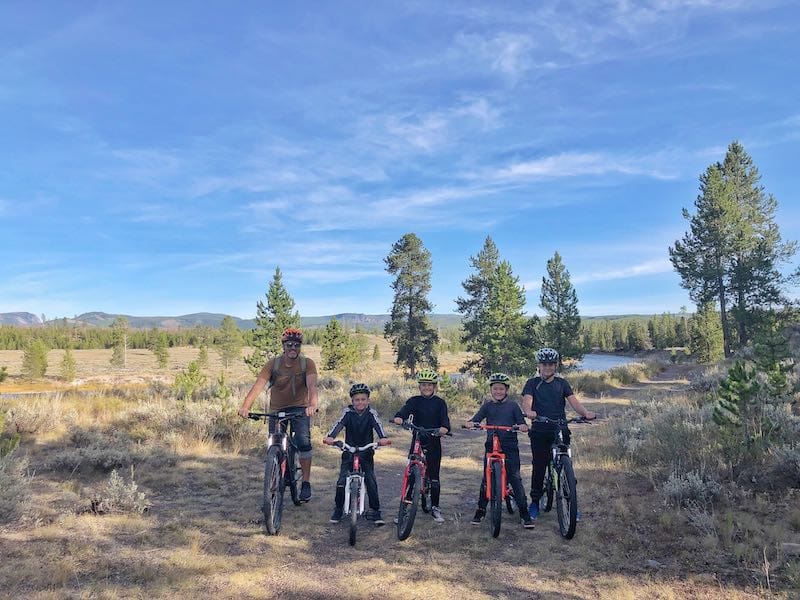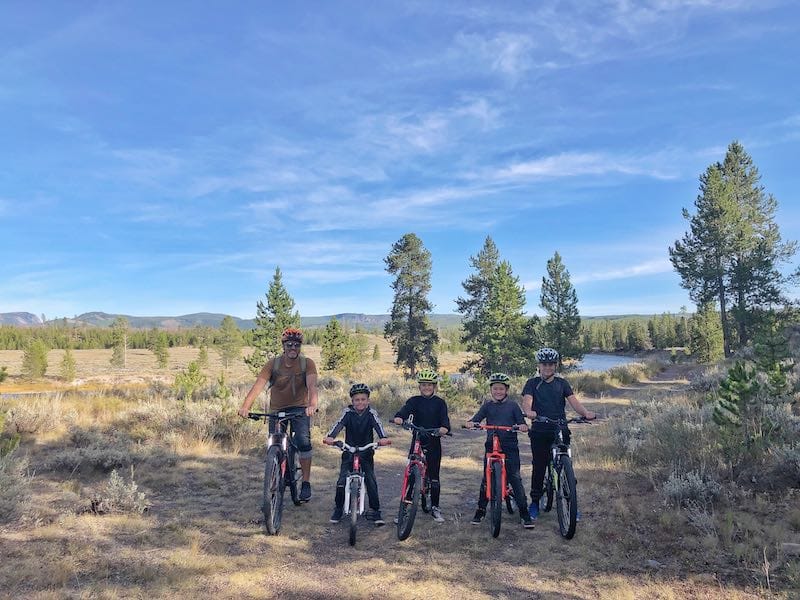 A fun activity to do if you are looking to burn some energy is to rent bikes in West Yellowstone at to ride around West Yellowstone and into the park. There are a variety of trails that you can take right from the bike shop. When you rent your bikes ask for recommendations and they will let you know where to go. You can opt to go on the mountain biking trails in West Yellowstone or take a trail in Yellowstone park.
Lunch
Grab a quick lunch in West Yellowstone before heading back into the park.
Drive Over To The Yellowstone Lake Area
This is a 90 minute drive and like we have mentioned multiple times it almost always takes longer then you expect when driving through Yellowstone. Take the route through Canyon which will then take you through Hayden Valley where there is a high chance to see wildlife!
Fishing Bridge Visitor Center and the Beach
Stop at the Fishing Bridge Visitor Center to check out the museum and then walk behind the visitor center and down to the shores of Yellowstone Lake to walk along the shore. Don't forget this is bear territory so make sure to have your bear spray with you.
Hike: Storm Point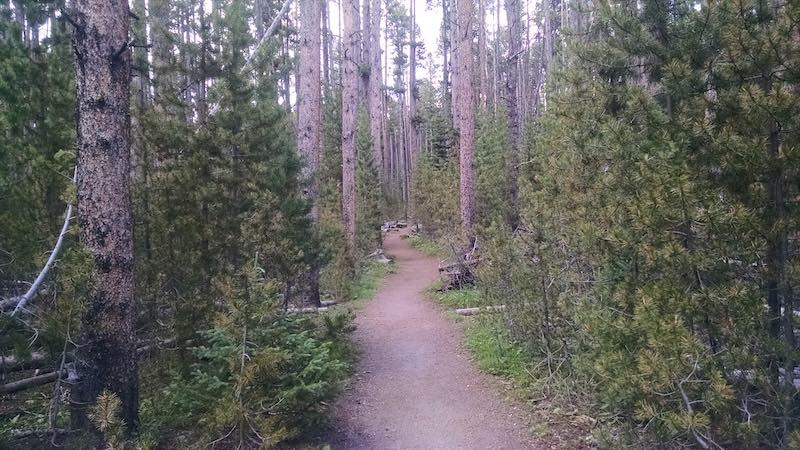 Drive over to the Storm Point trailhead for a 2.3 mile loop hike that takes you along Yellowstone Lake and into an old growth forest. It is a pretty easy hike and you may see marmot, bison or other wildlife.
Lake Lodge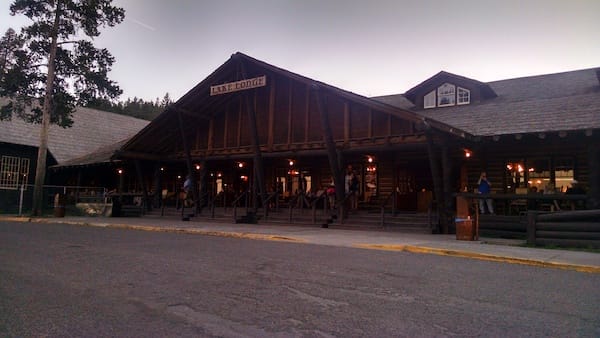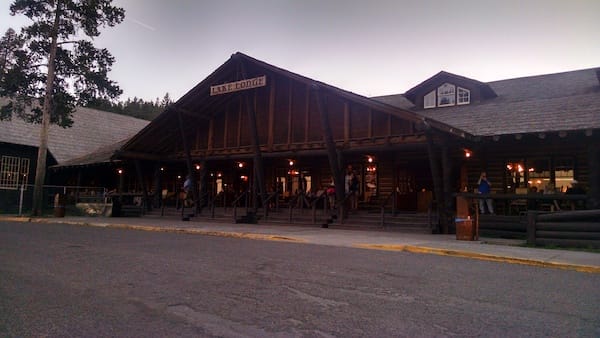 Next head over to the Lake Lodge to grab a drink and sit out on the porch looking out over Yellowstone Lake and the mountains. If you are there at sunset you will see a reverse sunset – where the sun sets behind you, but changes the mountains to a pink color.
They do offer dinner here, but it is more cafeteria style eating. If you want to go for a gourmet dinner you could head over to the Lake hotel to eat. But know that you usually need to make reservations in advance to be able to eat here. They do have a bar area here and a sitting area where on certain nights of the week they have a string quartet that plays.
Dinner
If you didn't grab dinner in the park then head out in West Yellowstone to eat.
Day 12: Fly out of Bozeman
That is a wrap on your Yellowstone Vacation! Check out of the Kelly Inn and make your way up to Bozeman to the airport. Or start your drive home.
We had so much fun exploring Yellowstone Country and much preferred doing it this way than with a Yellowstone vacation package that would have limited our time to explore out side of the park. Next up we would love to come back and explore all of the winter activities that Yellowstone country has to offer!
Extra Days
If you have extra days there are a few more places we would add to the list.
Glacier National Park
Glacier is a unique place to visit and is so different from Yellowstone yet so amazing. It is at top of our list for favorite National Parks. You can learn more about Glacier here: 19 Magical Things To Do In Glacier National Park
Grand Teton National Park
It is awesome that Yellowstone and Grand Teton National Parks are so close together so you can easily add it on to your trip. If you leave Yellowstone out of the south entrance you can just drive right into Grand Teton National Park! Learn more here: 5 Family Friendly Things To Do By The Grand Tetons.
Devils Tower National Monument
Devils Tower National Monument is an interesting stop! You only need one night and one day to explore but if you have the time make the stop. It is a cool place.
For more posts on the area check out:
Airbnb Yellowstone: 21 Unique Places You Will Want To Stay
The Best Glacier National Park Itinerary From 1 to 7 Days
22 Amazing Things To Do In Red Lodge Montana
9 Awesome Things To Do In West Yellowstone
23 Exciting and Fun Things To Do In Bozeman, MT
This post was written in partnership with Yellowstone Country.
Pin This Post For Later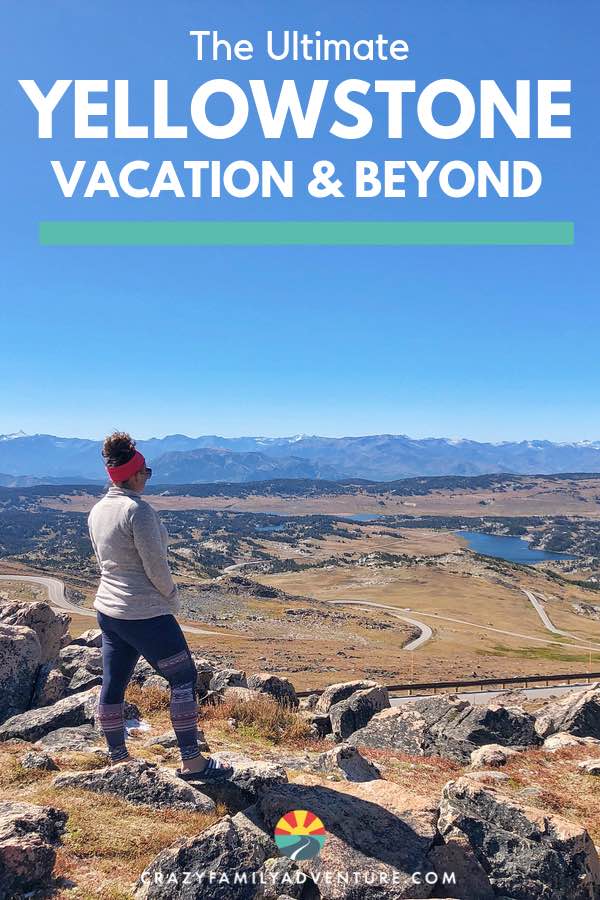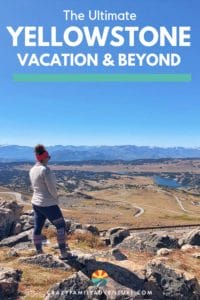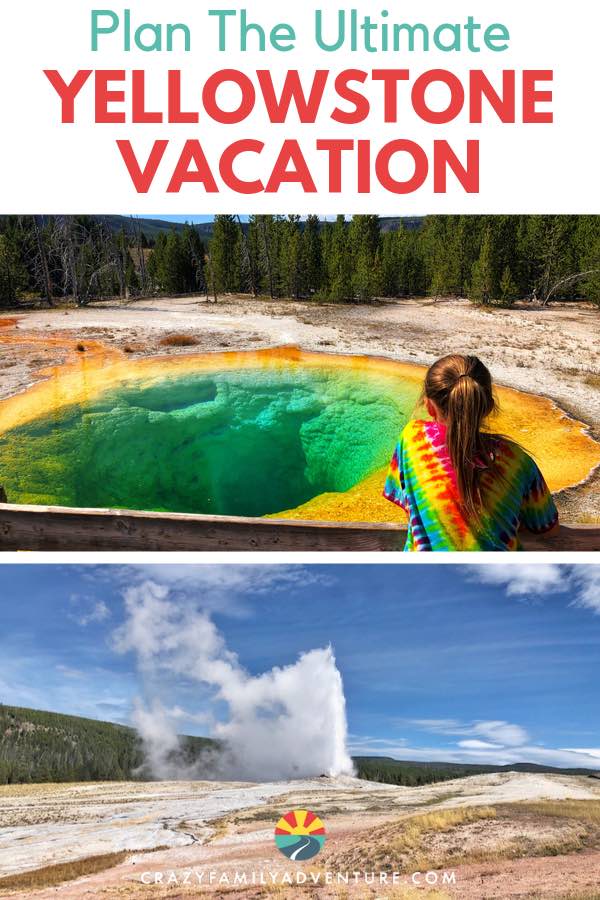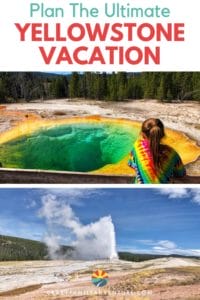 DISCLOSURE: This post may contain affiliate links, meaning I get a commission if you decide to make a purchase through my links, at no cost to you. Please read my disclosure for more info.