The GRAND Tetons. WOW. You drive into the park and the mountains are breathtaking. You feel like you are driving in a valley with Huge Mountains on one side and gorgeous "hills" on the other.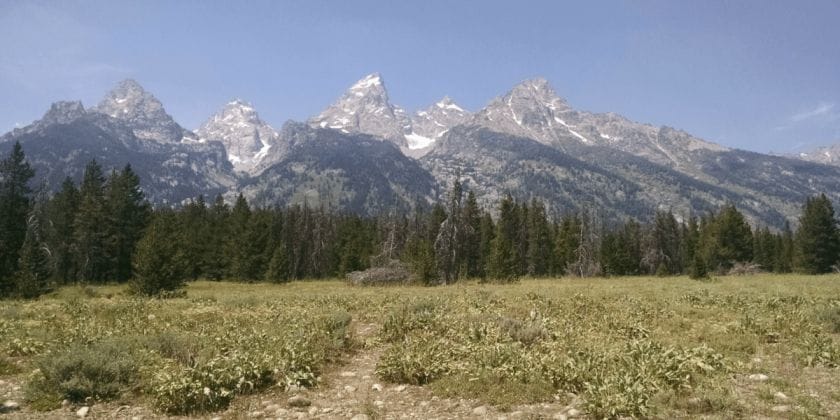 We stayed at Gros Ventre Campground. It was an experience! My parents went down early on a Friday morning and with it being 4th of July weekend all we were able to get were 3 No-Hookup sites. This means no power, water, or sewer! No water and no sewer is no problem – we have large tanks to hold the sewer goodies and a 115 gallon fresh water tank. That will hold us over for well over a weekend.  But no electric was a challenge for us! Our batteries are old and need to be replaced so they don't last long. We have a 7.5kw generator on-board, so we were able to make our own power! So, we made it work!
My sister and I and all the kids drove down late morning on Friday to get our camp sites occupied and to get settled a bit.  Craig and Jake stayed at Yellowstone to finish up their work-day on Friday and headed to the Tetons in the RV's around 6pm.
Our first stop was the City of Jackson for some grocery shopping. I know I have written before about how hard it is to grocery shop in new places! Jackson is an expensive resort type town so it is so hard to swallow the expensive grocery prices! But I did it and we headed back to the campground.
Jackson is a really cool city. It has that vacation/resort feel to it that just makes you feel like you want to spend a lot of money going shopping and to all the neat restaurants!  Must…not…give in….
Here are 5 family friendly things to do in the Grand Tetons National Park and Jackson Hole area: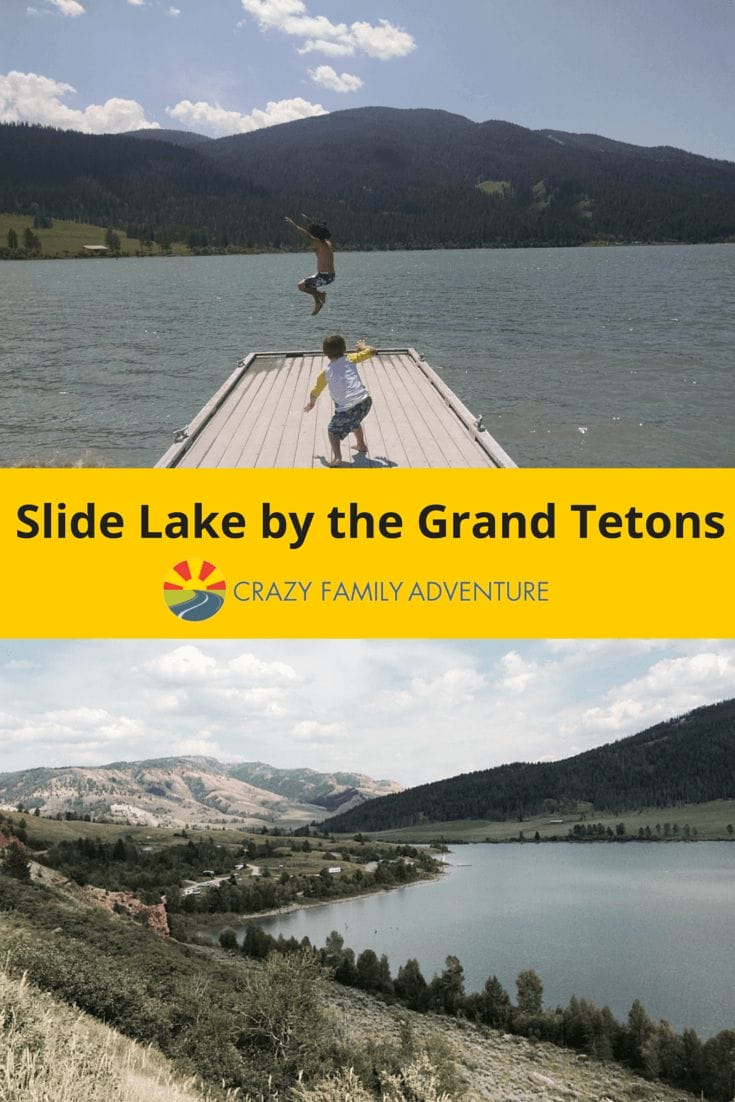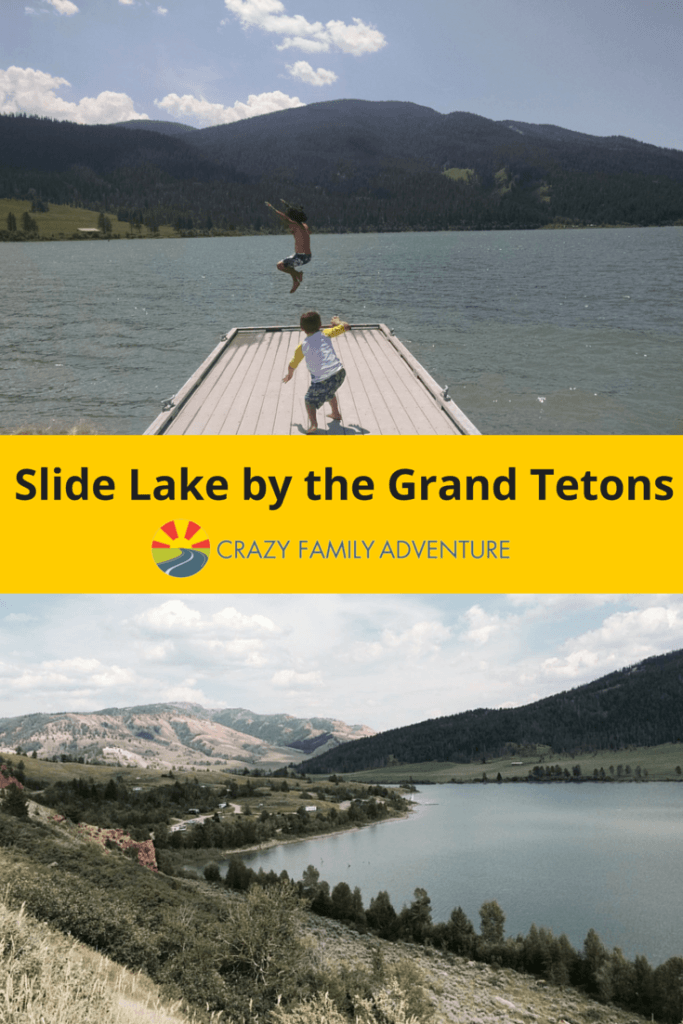 1 – Slide Lake
We have accepted the fact that we just do not get moving early in the morning. So at the crack of noon, we were all loaded up and headed to Slide Lake. It is a gorgeous Lake tucked back in the Teton National Forest. It was suppose to be 90 degrees out so luckily Slide Lake allowed dogs so we brought Indy and Odin with for a swim.
To get to Slide Lake: 

(from Yellowstone)
Take South entrance out of park (follow signs toward Jackson), which becomes 89 South
Turn left (east) on Gros Ventre Road
Gros Ventre Road turns into Lower Gros Ventre Rd
Turn Right on Gros Ventre Rd (shortly after this turn, you'll come up to Kelly Warm Spring which is a warm pool. We didn't stop here because it looked a bit algae filled, but other people were soaking in it)
Follow Gros Ventre Rd about 6 miles as it winds up the mountain
Look for the sign that says "Teton National Forest Campground and Boat Ramp Atherton Creek" and turn right
Lake/boat launch access is past the campground
We got there and found a nice spot on the beach. The water was freezing! But the dogs didn't care and they jumped right in and had a great time playing fetch. It was really cool to be able to bring them with! Everyone else had fun jumping off the pier and just sitting back relaxing, eating, and drinking. We spent the whole afternoon there just enjoying the scenery, watching everyone else paddle boarding and sailing, and relaxing on the "beach" (it was really just a bunch of rocks but it worked).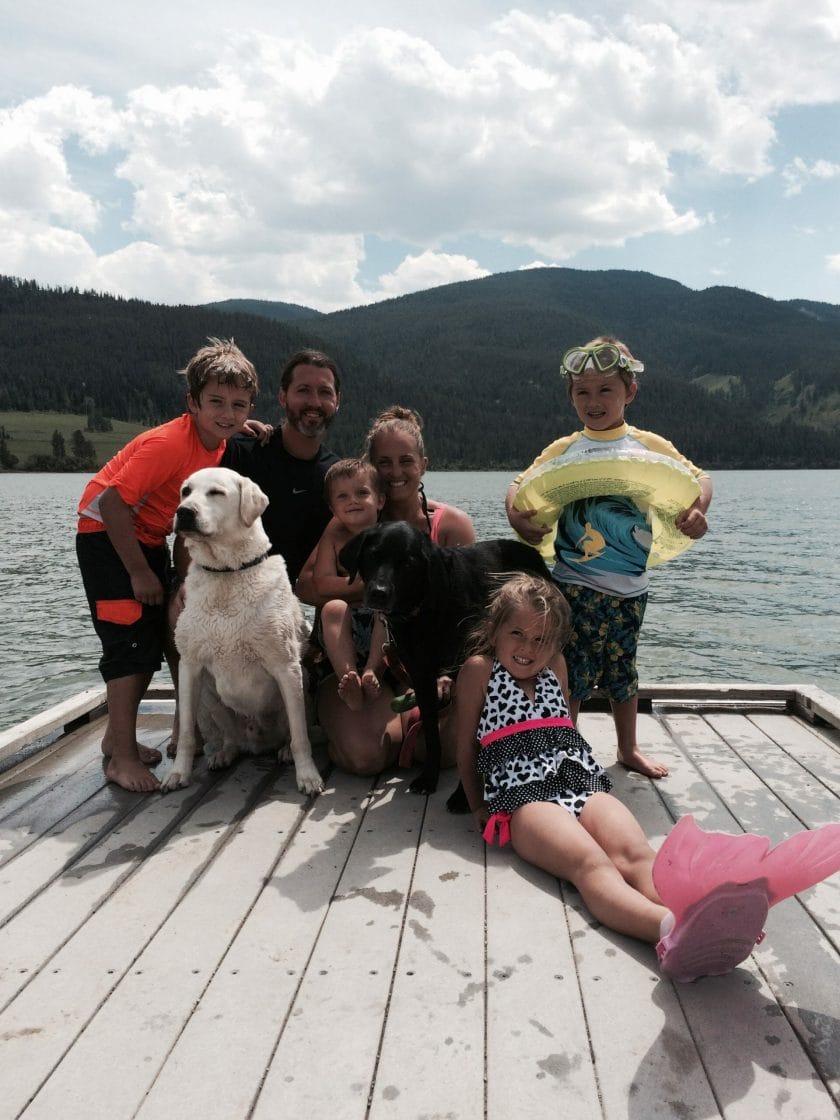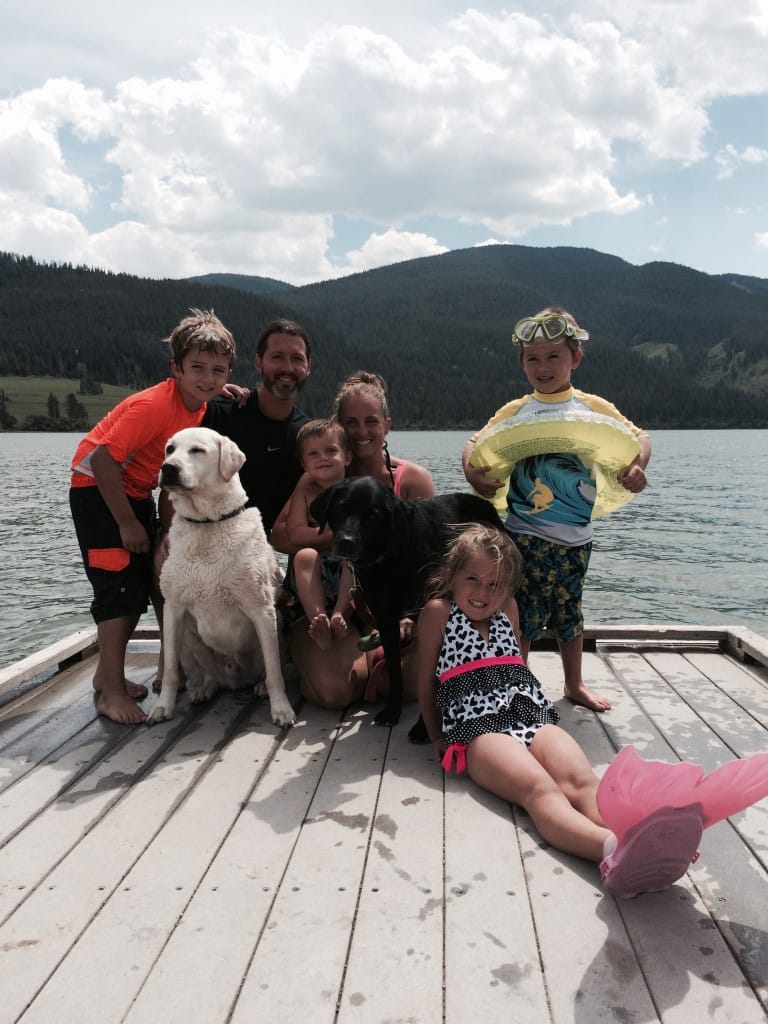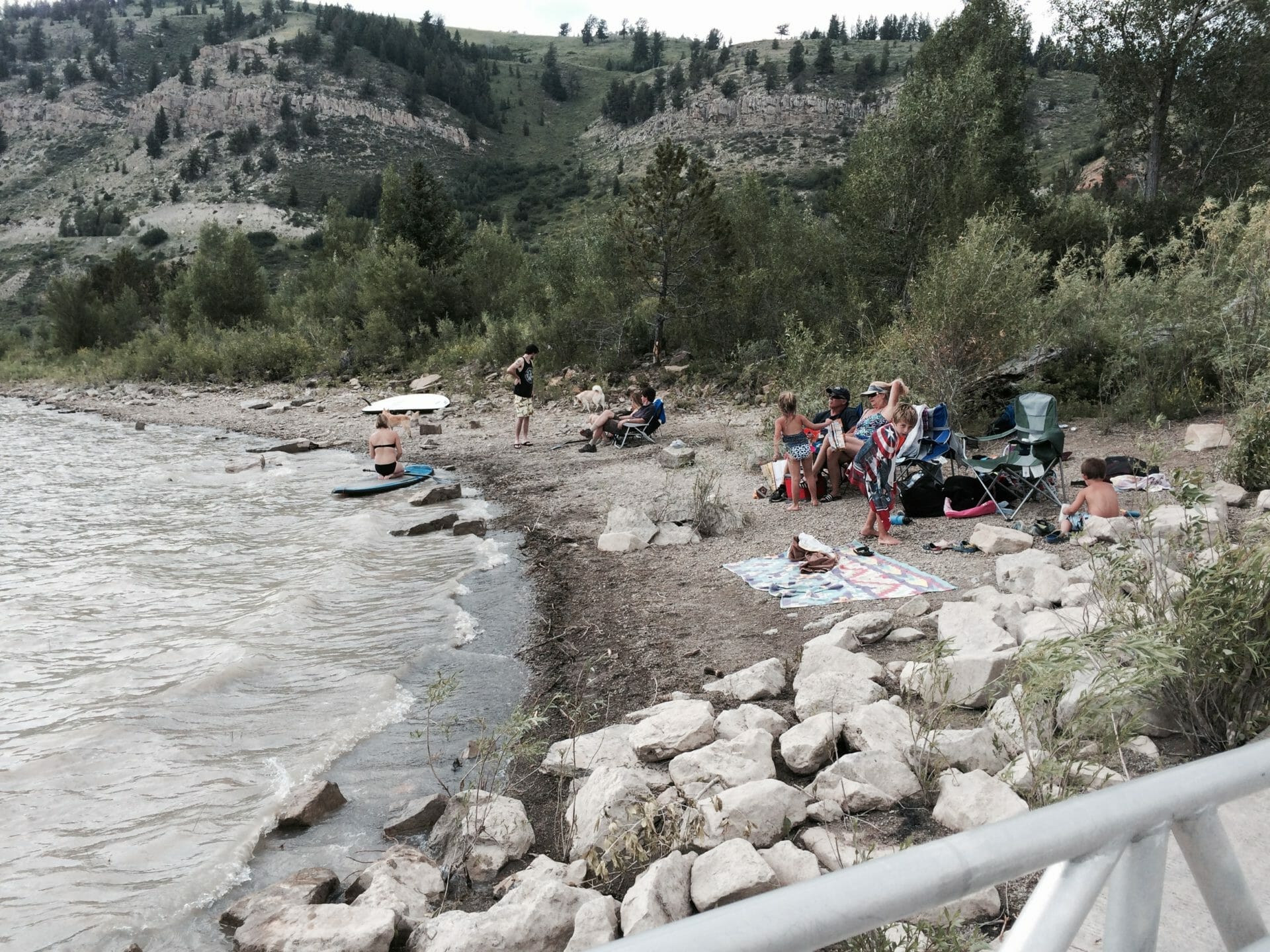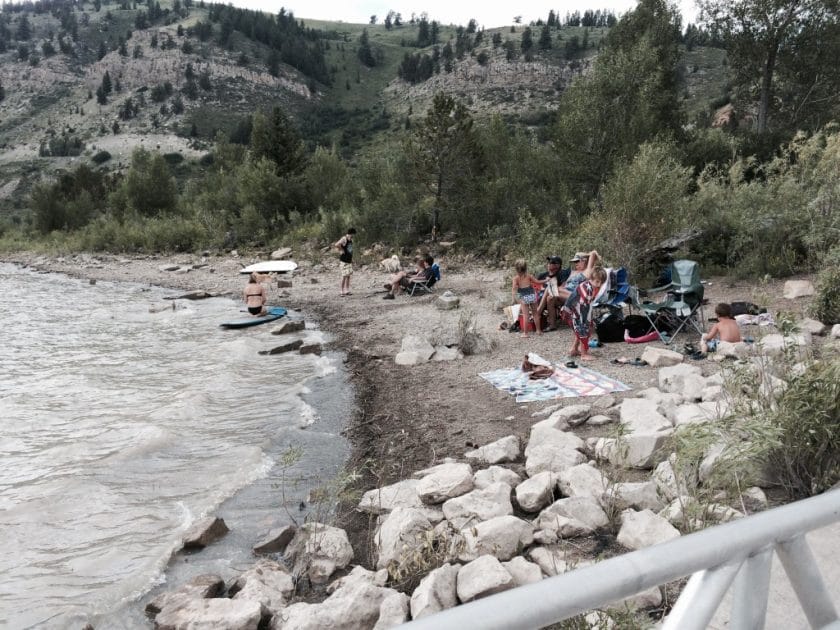 We all left sun burned – the sun is a lot hotter at 6,000 plus feet – exhausted and happy!
Things to know:
If you have water shoes bring them. The shore and beach are rocky!

Bring a picnic lunch with you. Beer and Wine too if you want!

There are bathrooms in the parking lot.

No water available. 

The best beach location is right by the pier. If you go farther down there are a lot of flies. By the pier the wind blows them away.

It is usually windy.

Dogs are allowed off leash.

There is a boat launch.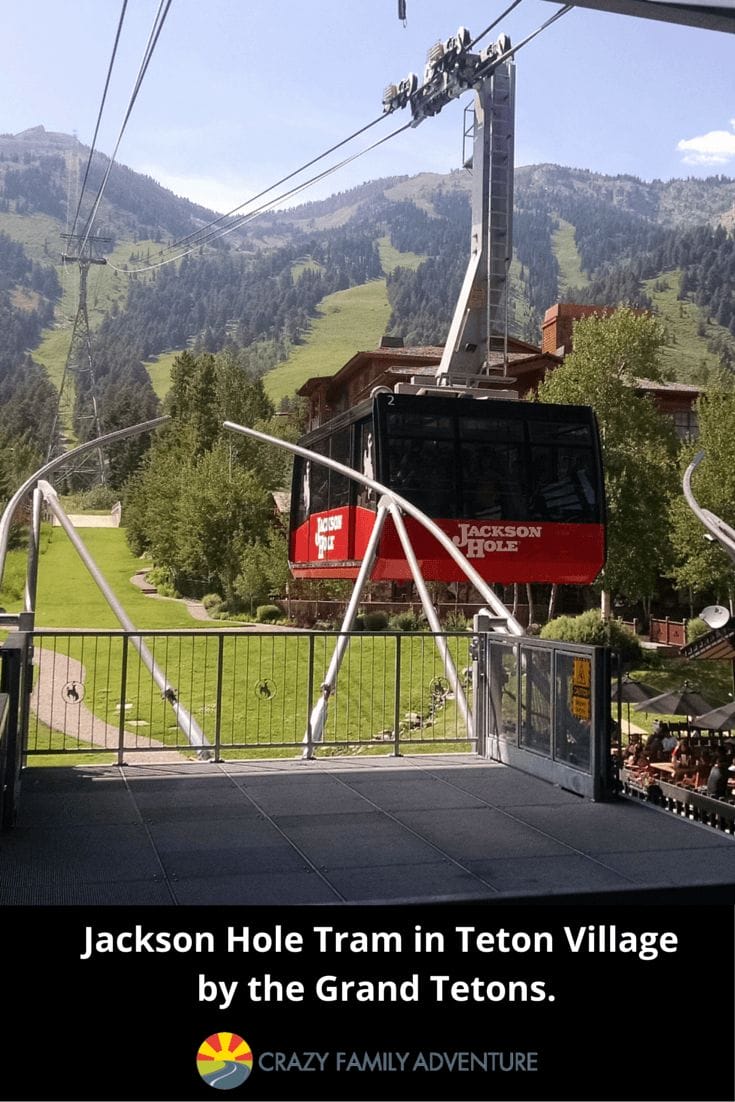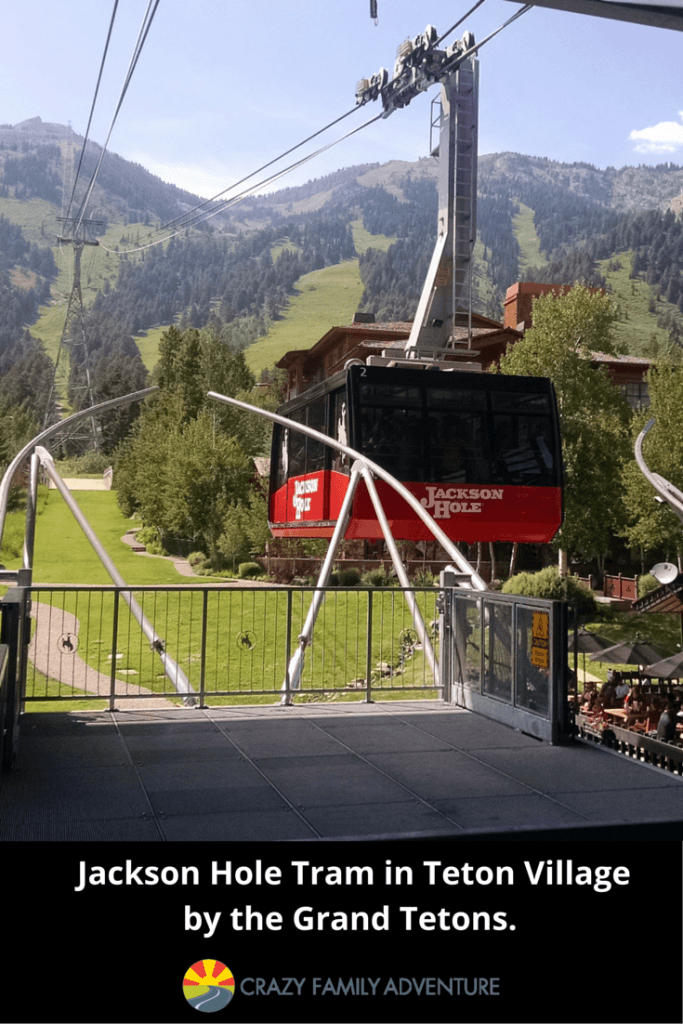 2 – Teton Village Tram
It was the 4th of July. We got up and had a brunch picnic with my Sister and her family. Then our plan was to head to Teton National Park to check it out and visit Jenny Lake. Here's a tip Teton's National Park is BUSY in the summer! Or maybe it was just July 4th weekend. We couldn't find anywhere to park by Jenny Lake or any of the pull offs. So we decided to head to Teton Village. Our plan was to check out the tram and then head back to eat dinner before heading out to watch the fireworks in Jackson.
Plans change when you are having fun!
We got to Teton Village and headed to the Jackson Hole Tram. As you can see, the prices are pretty steep (and you can get a slight discount by ordering online), but it is worth the price when you get the top!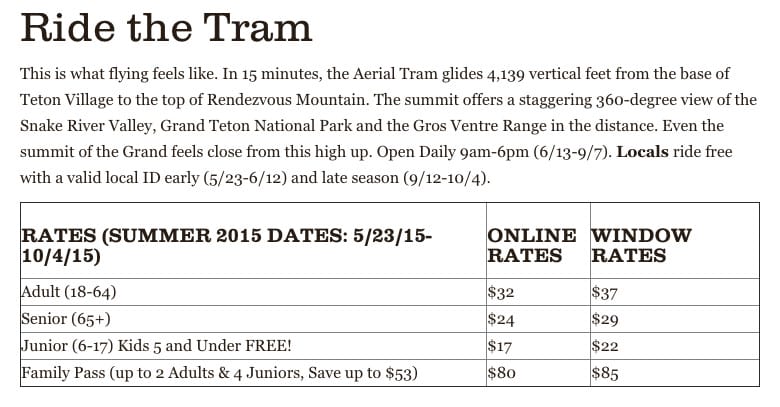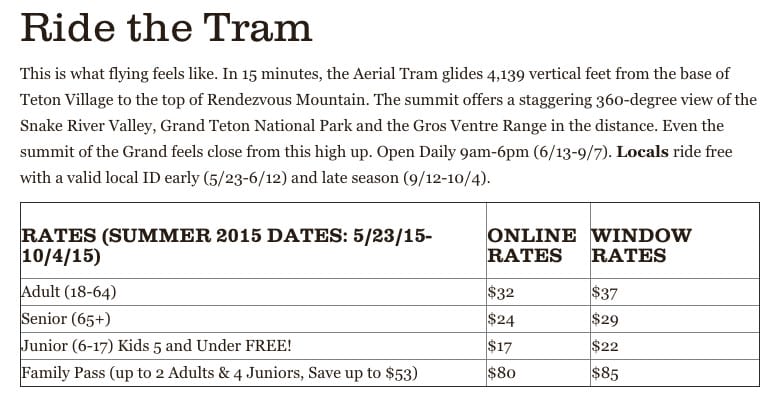 It is awesome looking out the window of the Tram and seeing the breathtaking views on the way up. And then hanging on tight as you go over each support so you don't fall over due to the sway of the tram! When you reach the top you step out and the weather is at least 10 degrees colder than it was at the base. Which on a hot day is very refreshing!  But make sure to bring some layers (especially for little ones)!
The first place we went was Corbet's Cabin for Waffles and Beer! Yes they have Waffles at 10,000 feet (don't ask me how they keep the batter from rising, I've tried it and had no luck what-so-ever)! It is one of their specialties and they were yummy. The beer and wine weren't to bad either 🙂 After that we headed out to check out the views. In one direction you see the Grand Teton (highest point of the Tetons), standing proudly among mountains as far as the eye can see, and the other direction is the town of Teton Village and Jackson. If you are so inclined you can hike back down the mountain but it will take you a good 3 to 5 hours.
We opted to jump back on the tram for a quick ride back down!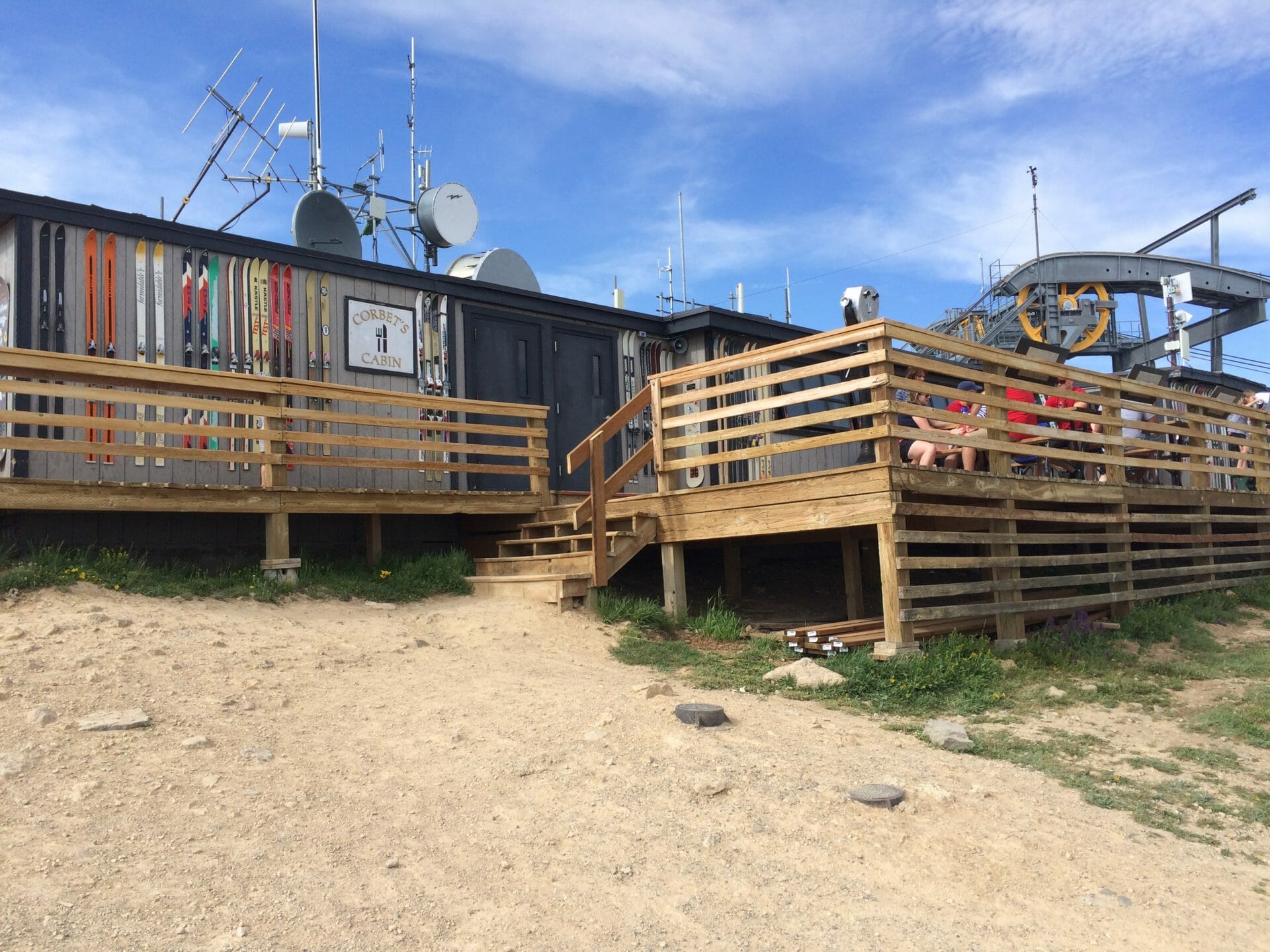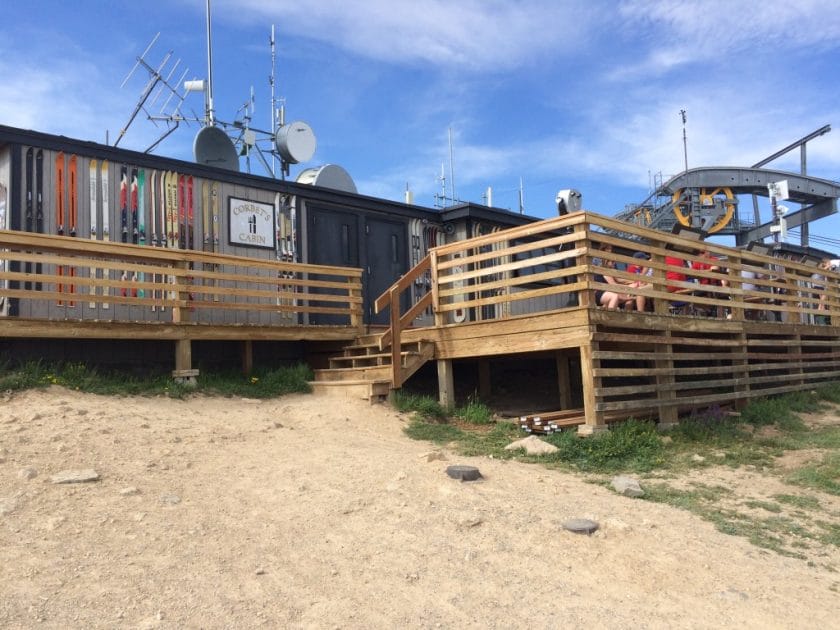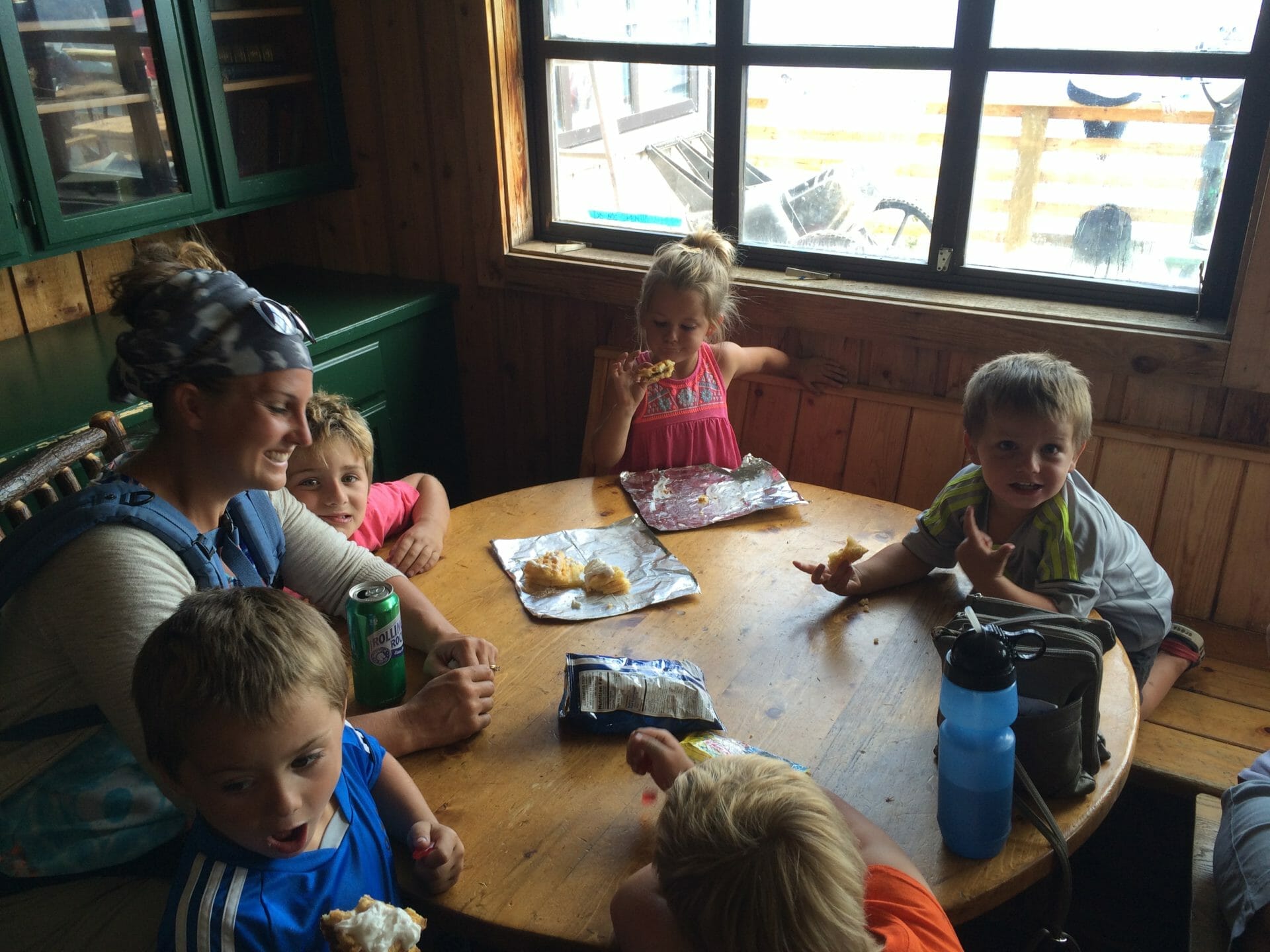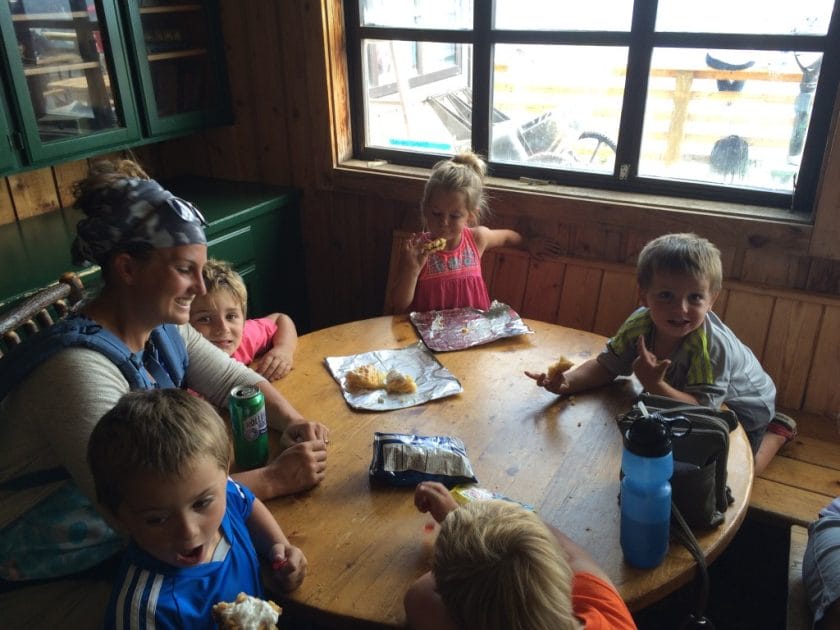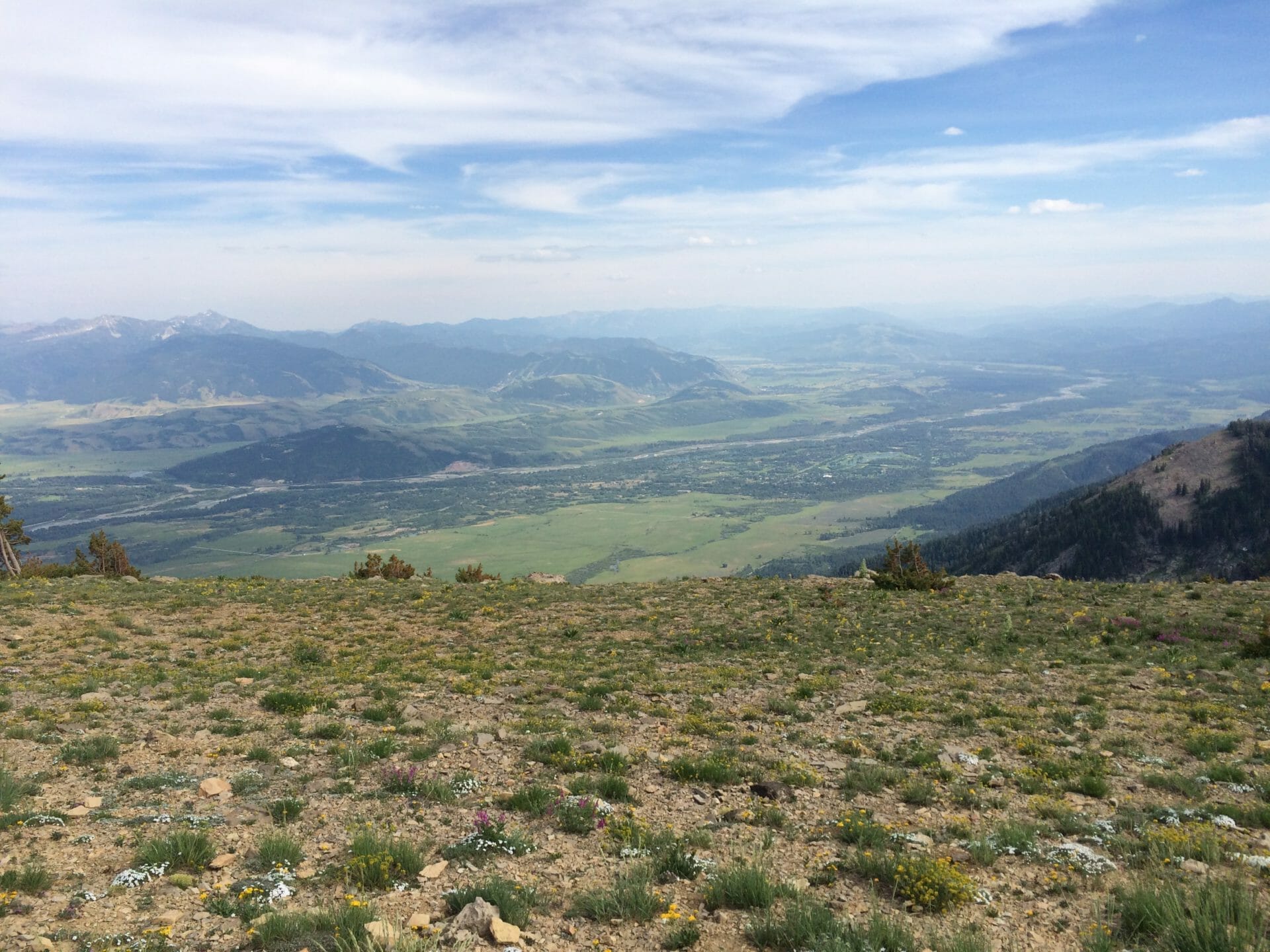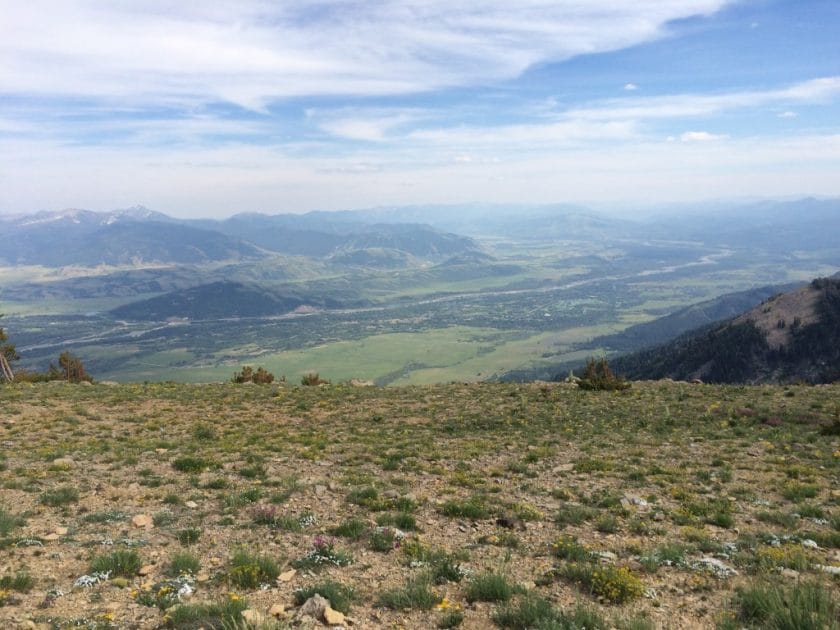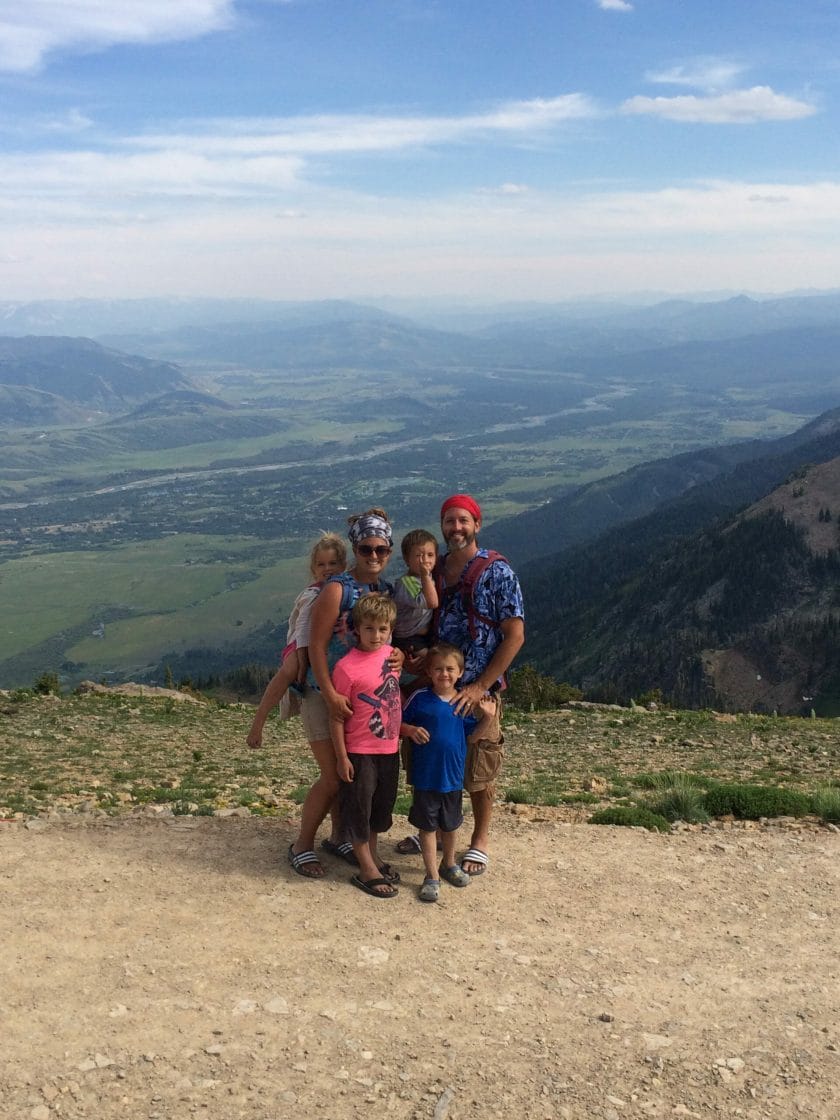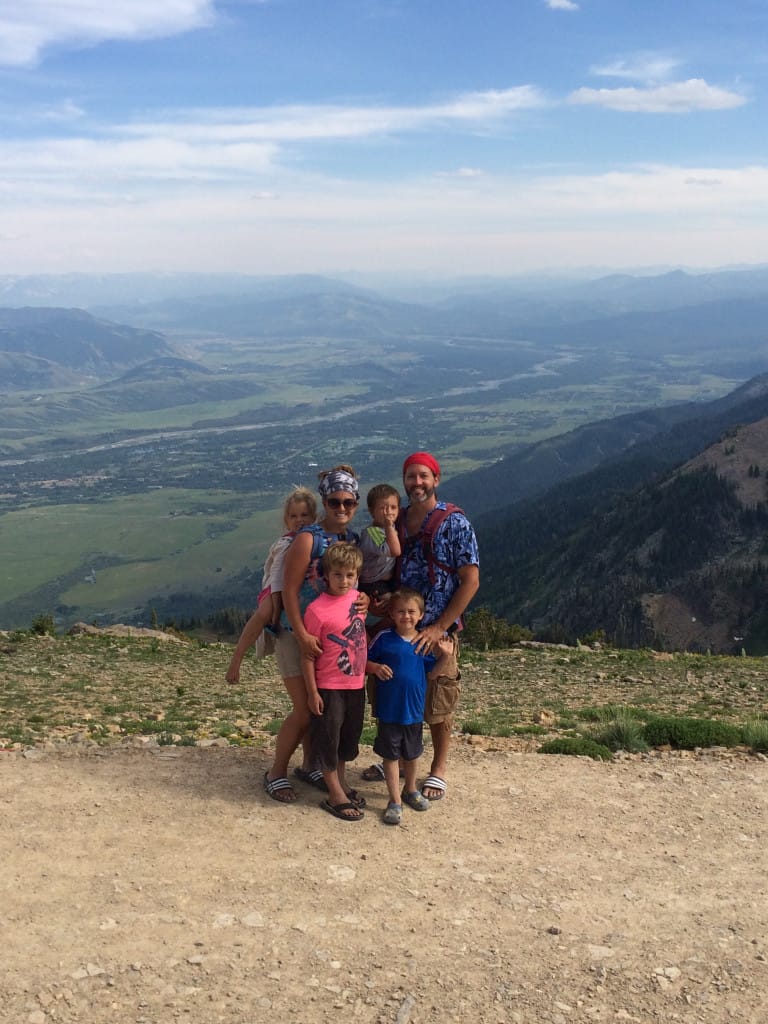 Things to know:
There is a back road shortcut from the Grand Teton National Park Headquarters to Teton Village called Moose Wilson Road. This is about a 9 mile stretch of tight, curvy, bumpy road.  It is closed November – May and RV's and trailers are restricted.  It's pretty scenic and bypasses Jackson traffic.

The Tram runs every 15 minutes.

Waffles, Beer, Wine, and Snacks are available at the top!

Bathroom at the top.

Remember it gets at least 10 degrees colder up top so bring a jacket.

Very windy at the top.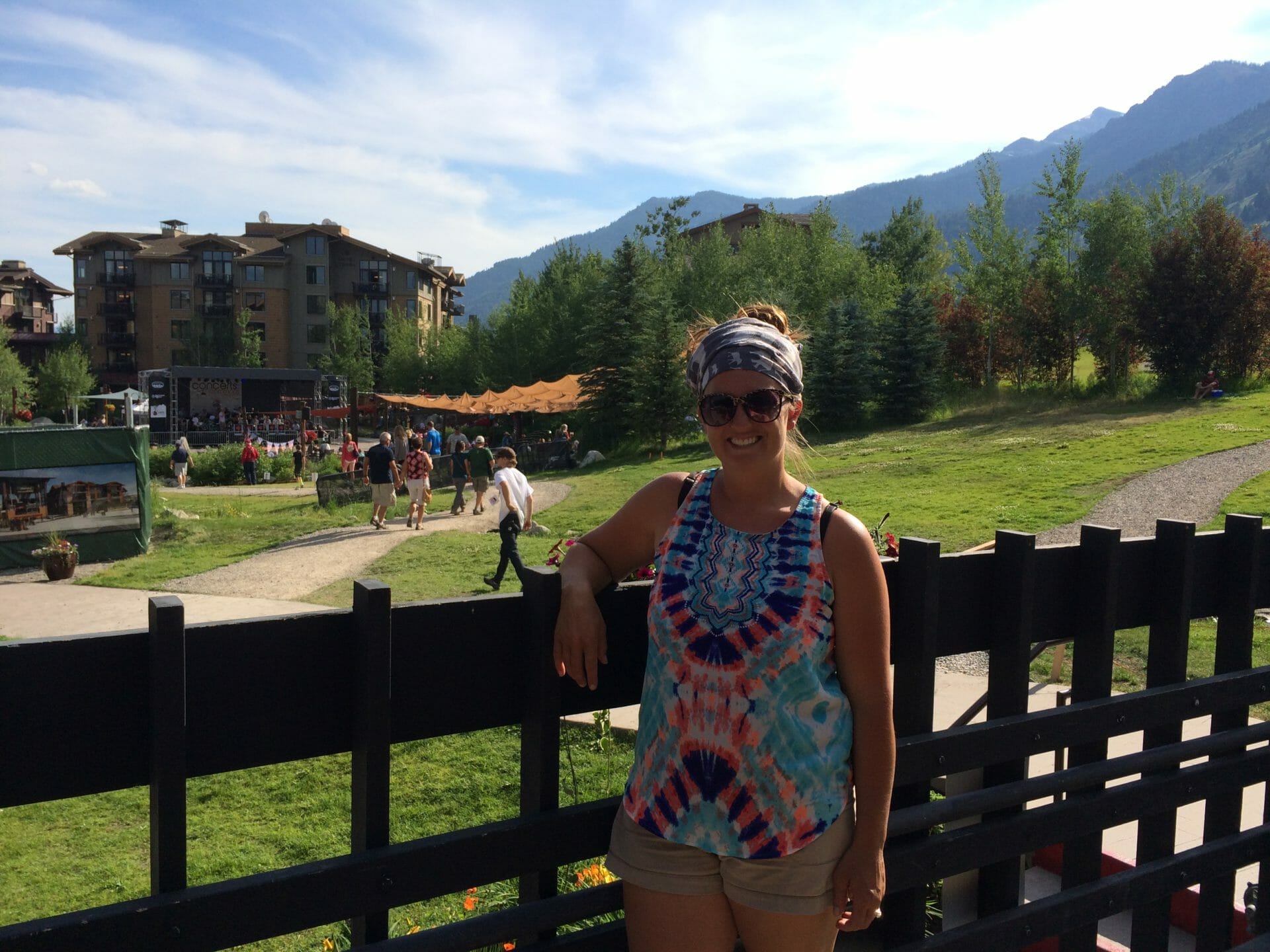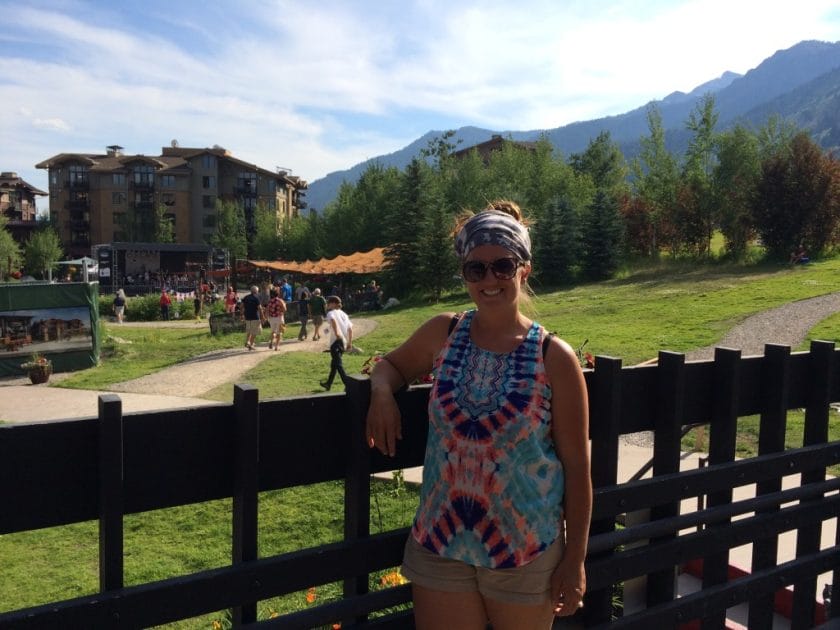 3 – Teton Village
Like I had mentioned we planned to only do the Tram in Teton Village and then head back to the RV to eat and let the dogs out. But we just weren't ready to leave! At the bottom of the tram was a restaurant with a patio overlooking a live concert for the 4th of July. And right next to a stream that the kids could play it. Pizza, beer, and a place for the kids to play??? We weren't moving anywhere to soon!! After we were done eating we headed down by the concert and found a huge Grass field to run and around and play tag with the kids and more streams for them to play in.  Carson asked "Mommy, what is this stuff?" when we saw the grass. He knew what it was but was being funny since there isn't much maintained grass in Yellowstone.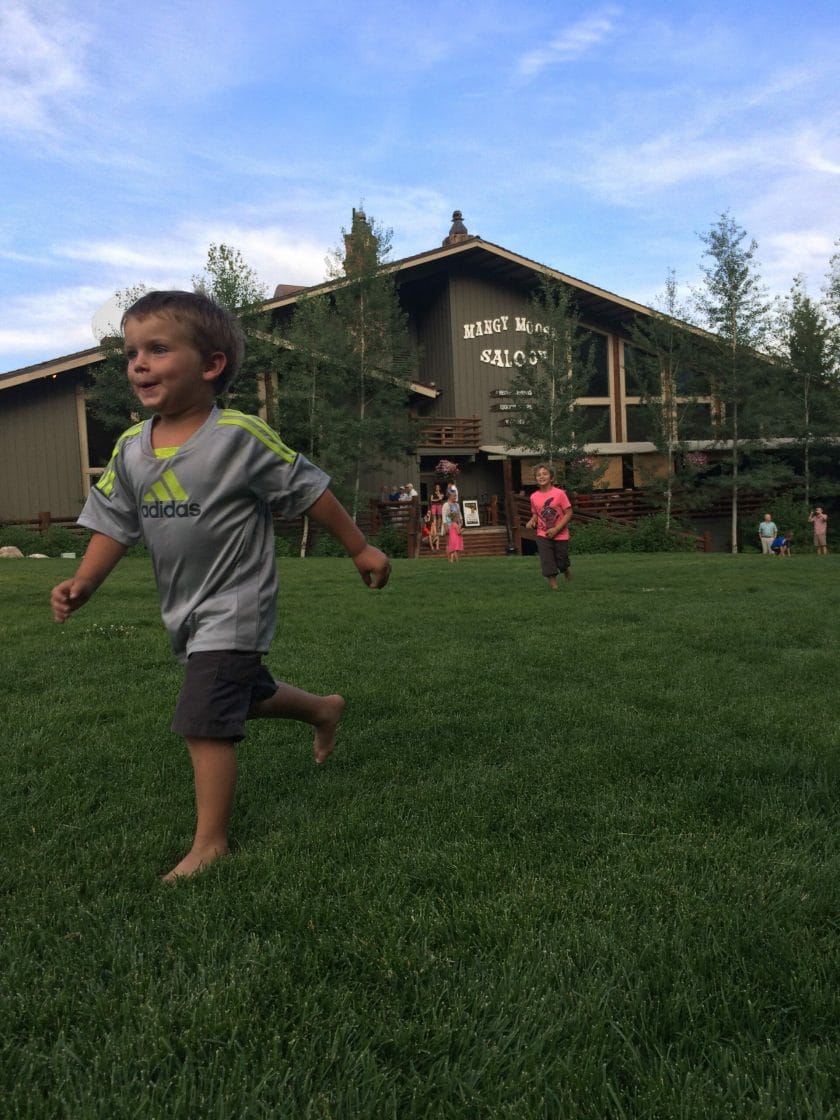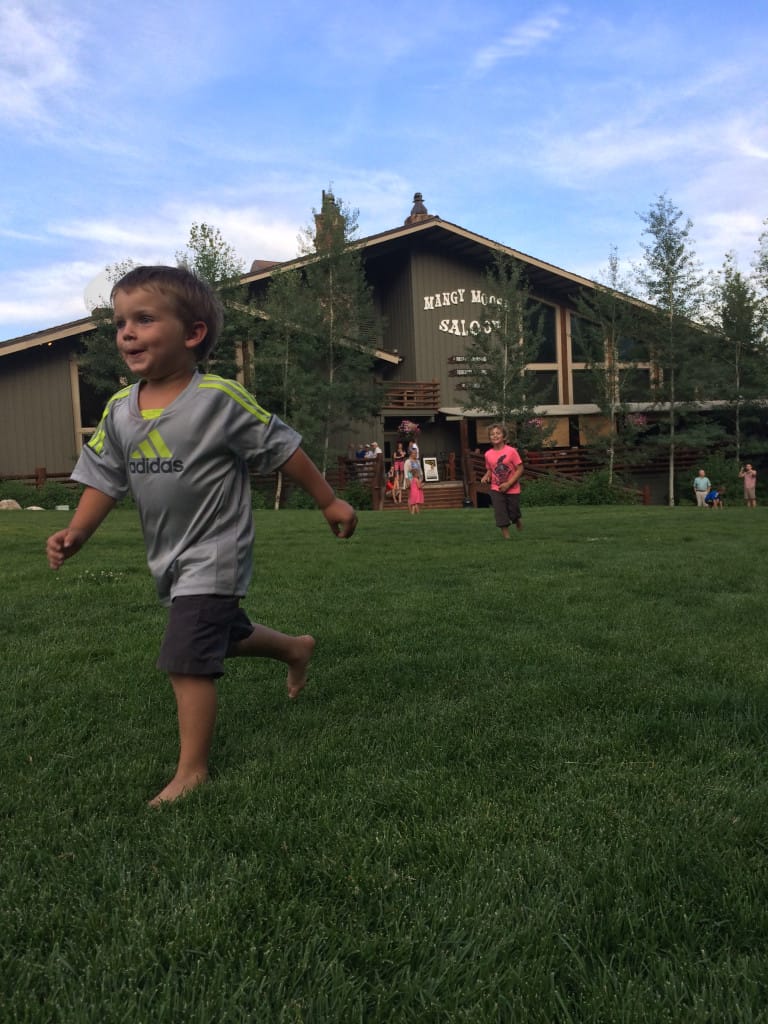 Both my sister and I commented about how Mountain Life is kind of like Florida Keys life. People just don't care as much about rules and restrictions. Kids are allowed to play free in the streams and climb on the rocks and get as wet as they want. The playground was a total madhouse (in a good way!) with kids running all over the place – up and down the slide, up the side of the play structure. Yet everyone was nice and the kids got along young and old and had a great time.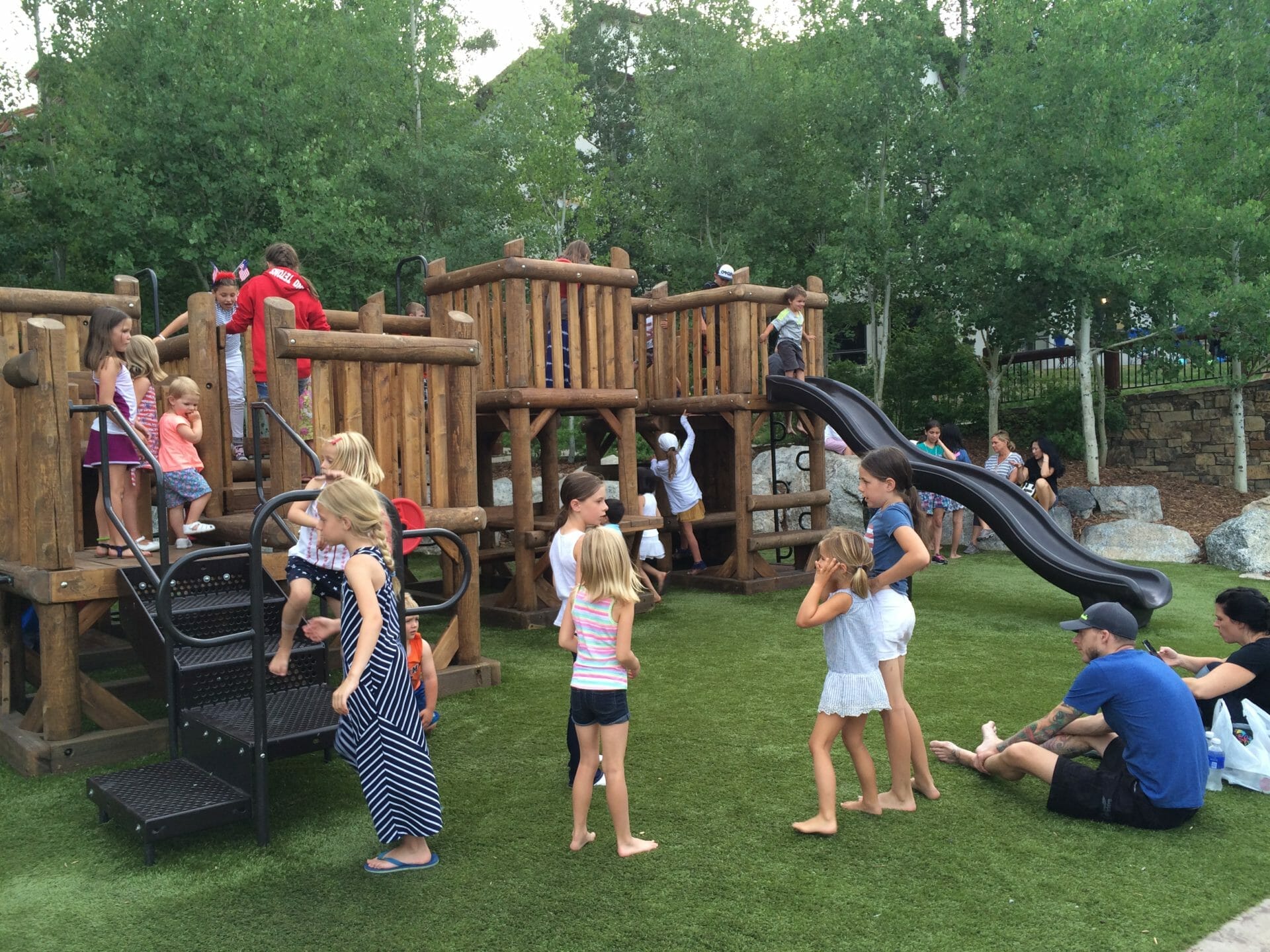 They have an adventure park area that offers a trampoline, rock climbing, and a ropes course. These are the type of things we usually avoid because they get really expensive really fast! And the kids were having so much fun they didn't even know they missed it.
It was getting later and later so we decided to stay for the Fireworks at Teton Village. There were a bunch of restaurants and shops right around the grassy area and playground. We headed into a little grocery shop and got some wine, snacks, and beer (are you sensing a theme here??) and decided to stay.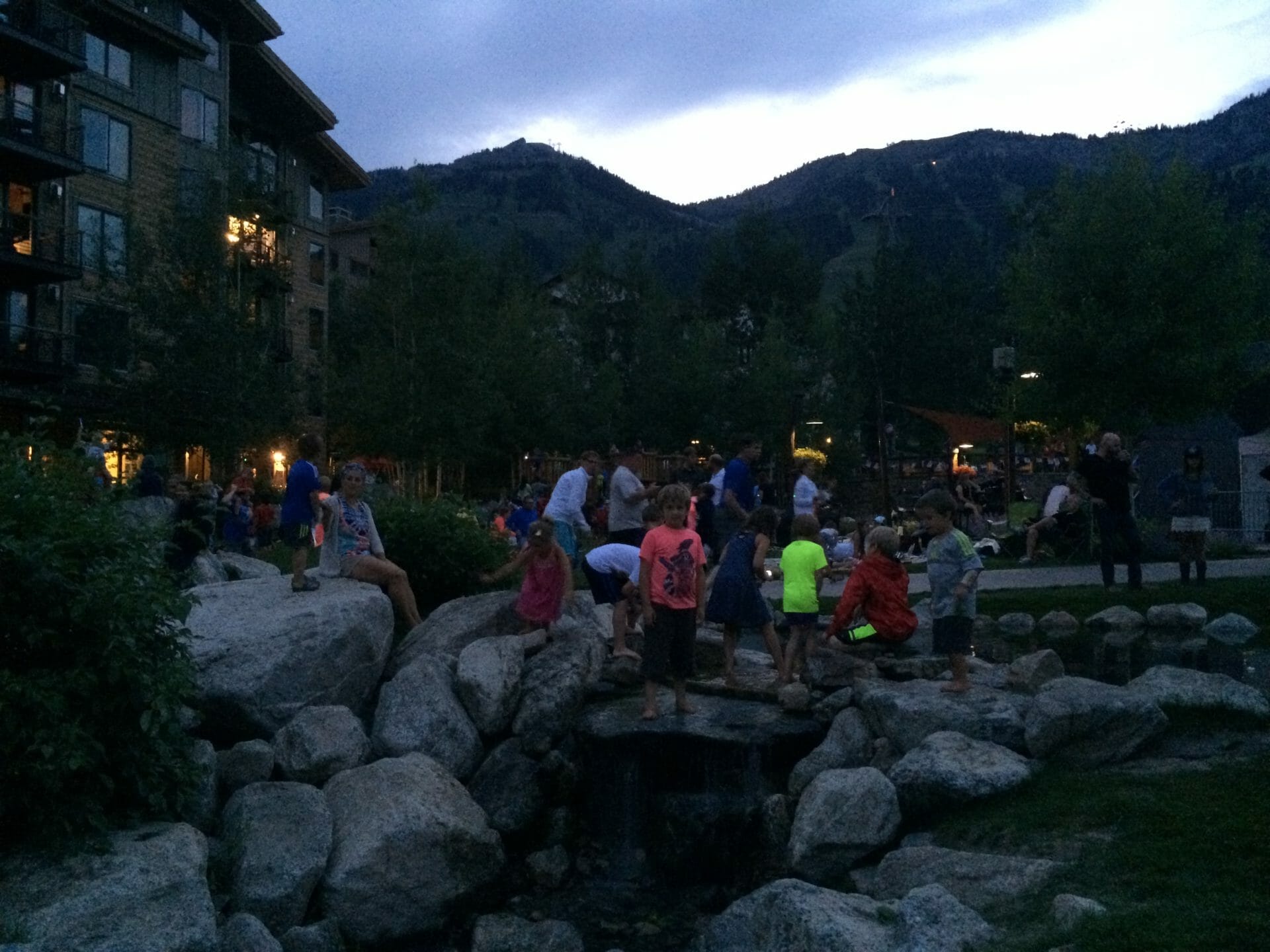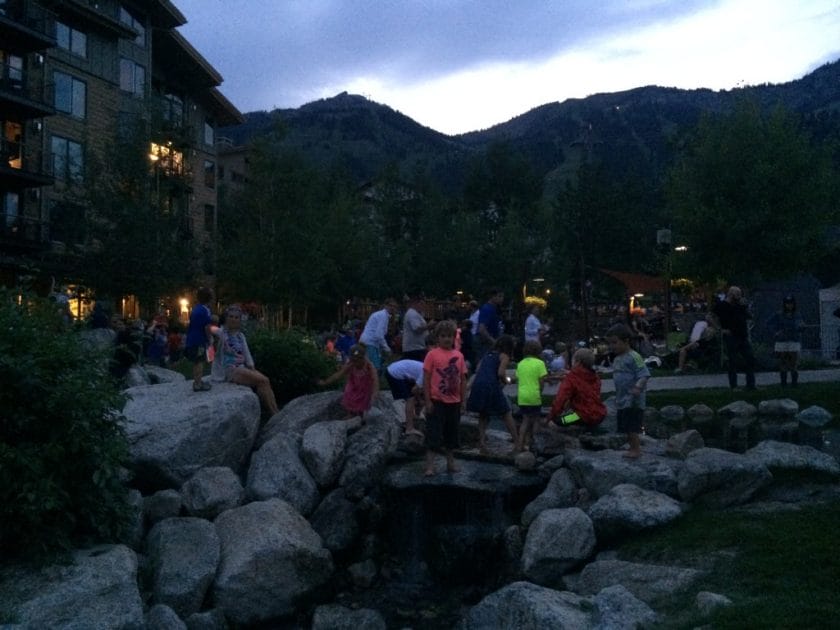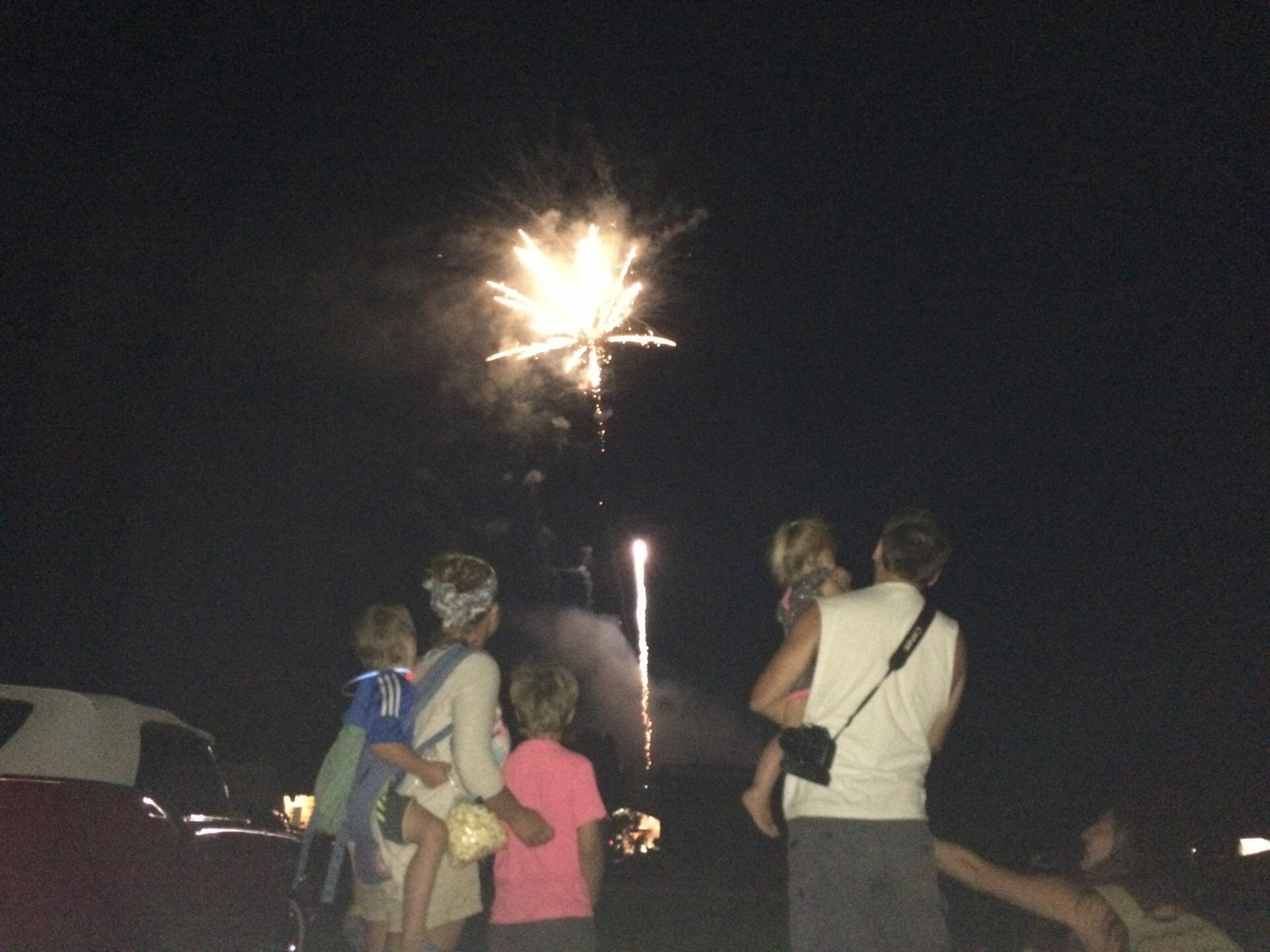 The kids had a blast playing and dancing to the music. And the fireworks show was amazing! We were so close to the fireworks we could smell the smoke from them. On the way home we took Moose Wilson Road again and bypassed a huge line of cars going toward Jackson. That was an interesting ride in pitch black! We kept thinking a bear was going to jump out at us! I kept hoping we weren't going to break down – that would have been scary!
It was a great 4th of July and we are glad we stayed in Teton Village to enjoy it!
Things to know:
You can bring a picnic lunch and just hang out while the kids play in the stream

A bunch of restaurants and stores right around there.

Public restroom available.

Dogs are welcome (on-leash).

Playground and big open grass area.
4 – Jackson
The next day we had to say bye to my Mom and Dad who were heading back to Wisconsin. It is always so hard to say goodbye. But we knew we would see them soon so that made it easier this time around. After they left we headed into Jackson. Our first stop was Miller Park playground (insert joke here Milwaukee friends). Yellowstone has no playgrounds since they worry about the wildlife getting caught in the equipment and getting hurt. So the kids were ready for a playground! We spent some time there and then stopped to get some ice cream and to check out the antler arches.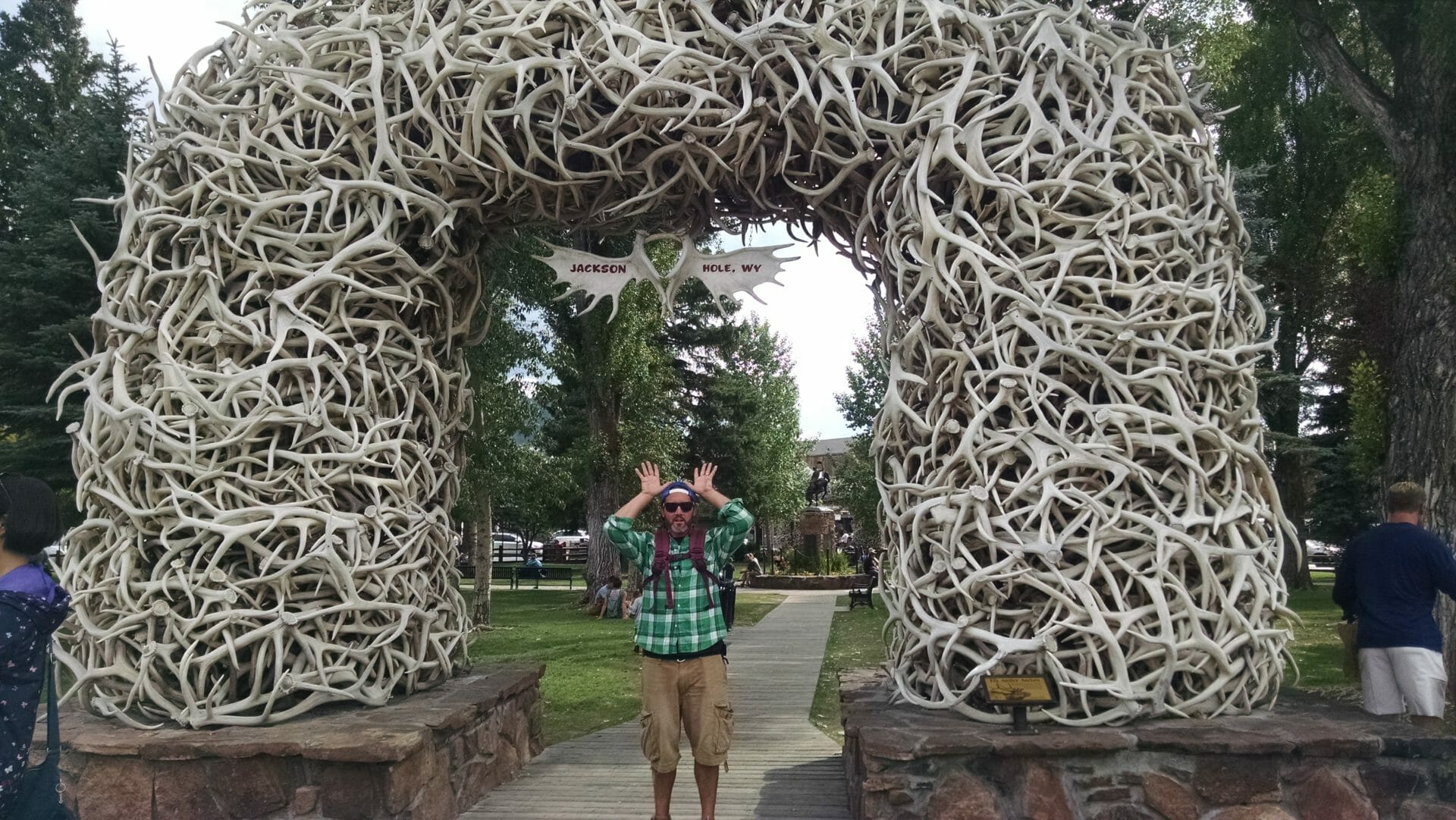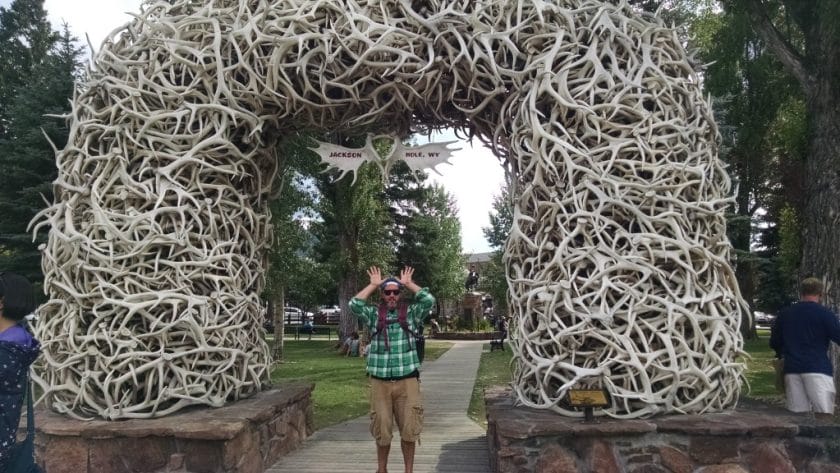 Jackson is a Ski town and was filled with unique shops and restaurants. For dinner we headed out of town a little ways to a cool restaurant called Q Roadhouse and Brewery that had a big outdoor play area for the kids. We're talking a giant back yard with kids and adults playing soccer, football, frisbee, tag, hide-and-seek, and much more.  We were able to sit at our table and watch the kids play. It was awesome! Jackson really is a family friendly area!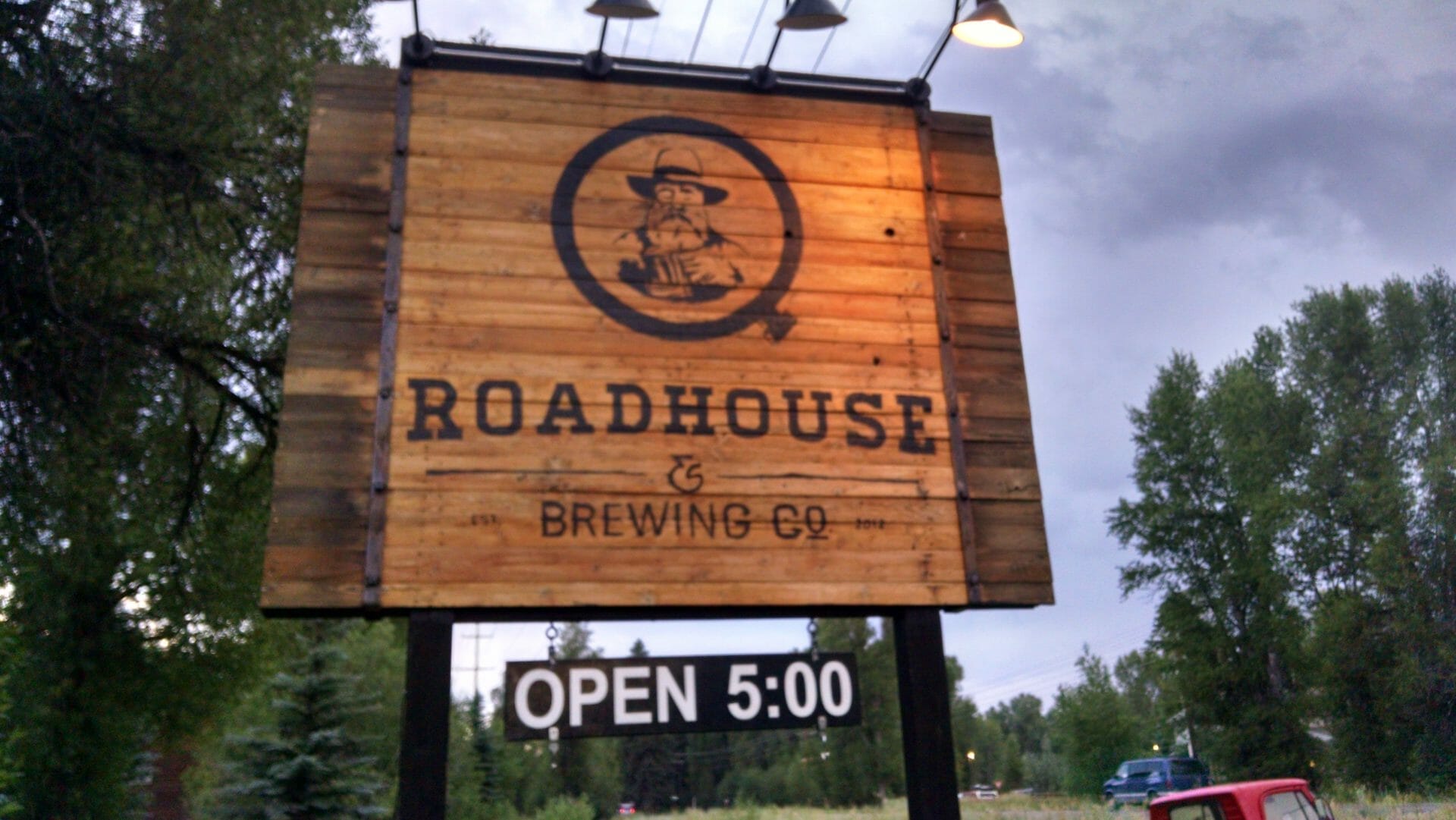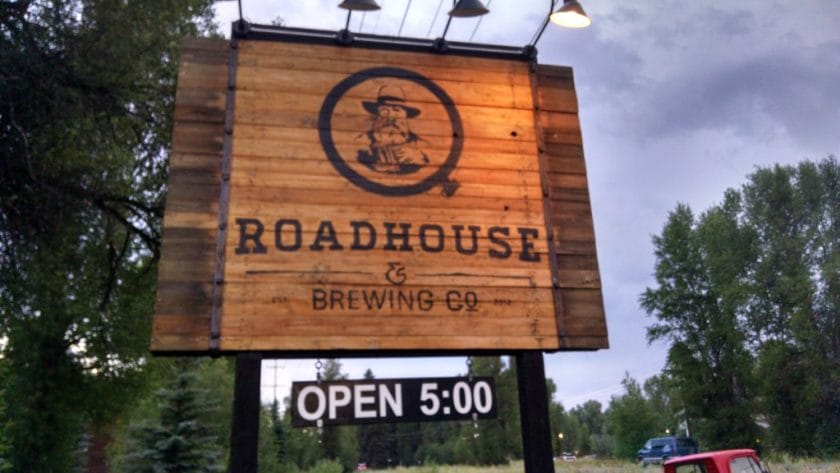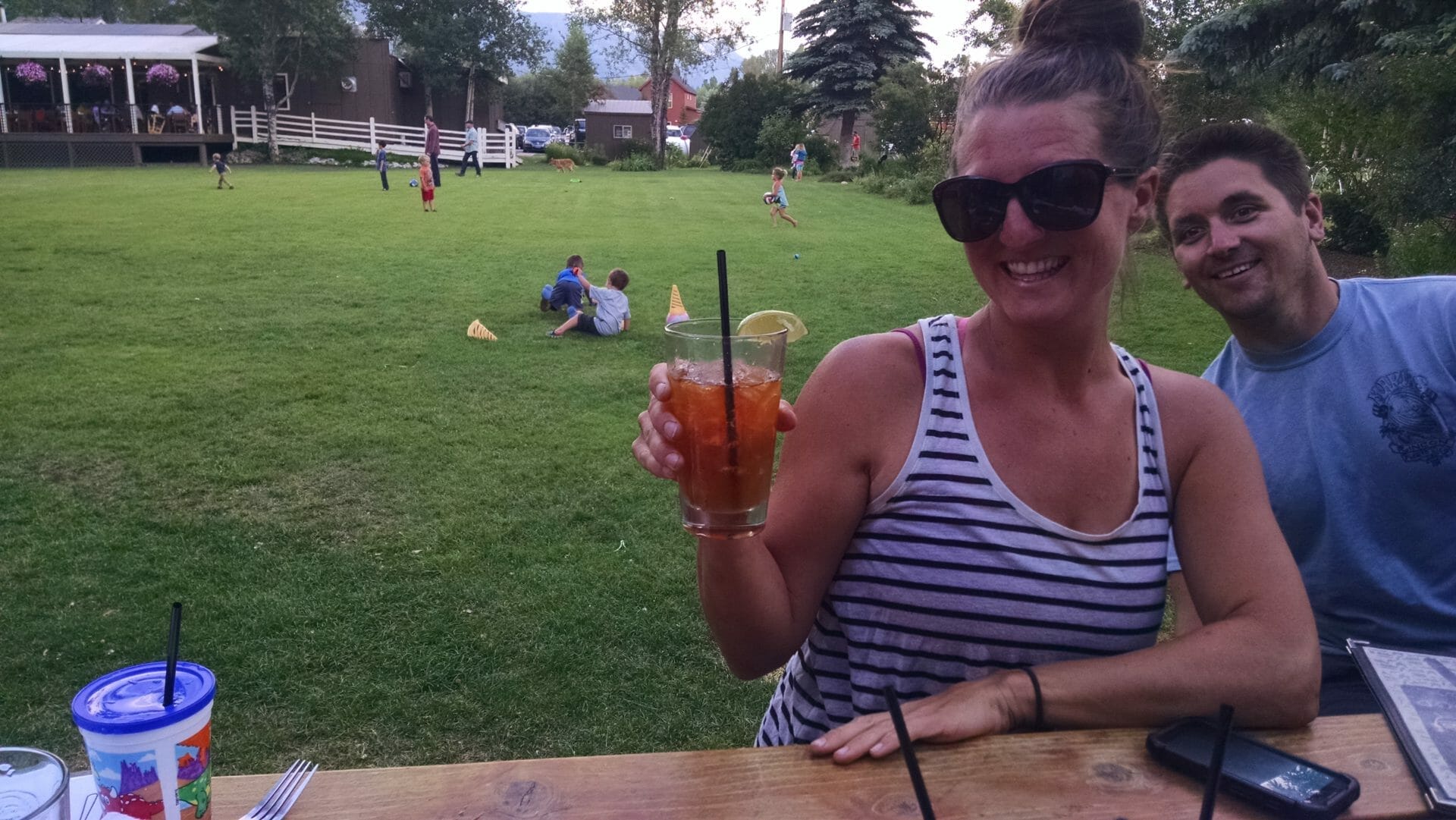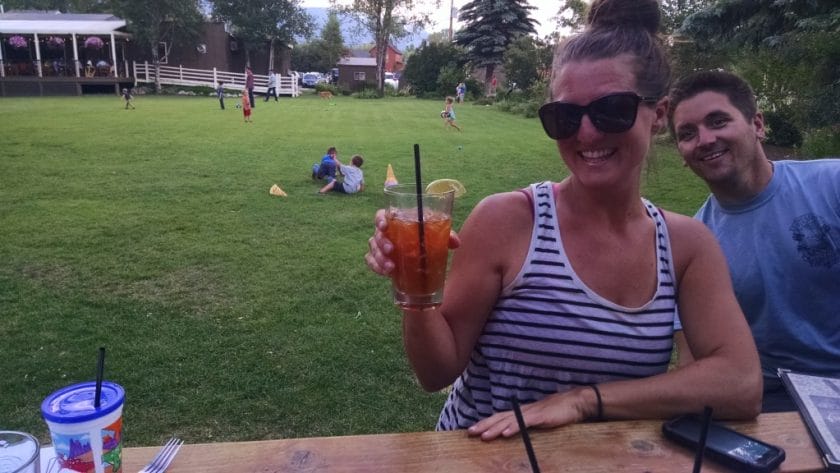 Things to know:
Lots of shops and restaurants.

Everything is pretty much in walking distance.

If it is busy you can park by the playground (where there is a public restroom) and walk over to the main area. To get to Miller Park and parking:

Take 191/26/89 south into Jackson
Turn right onto W Deloney Ave
Turn right onto N Jackson St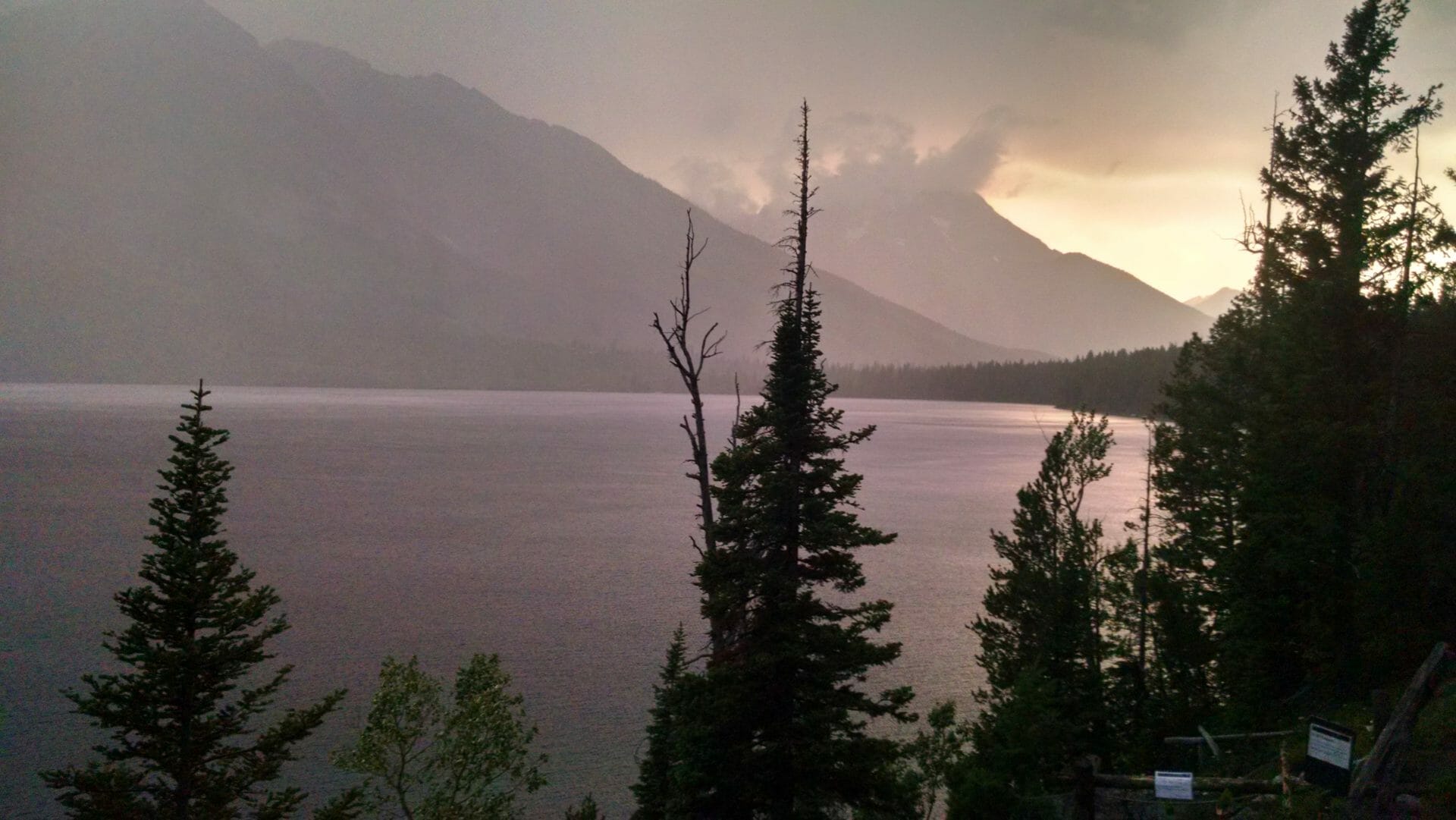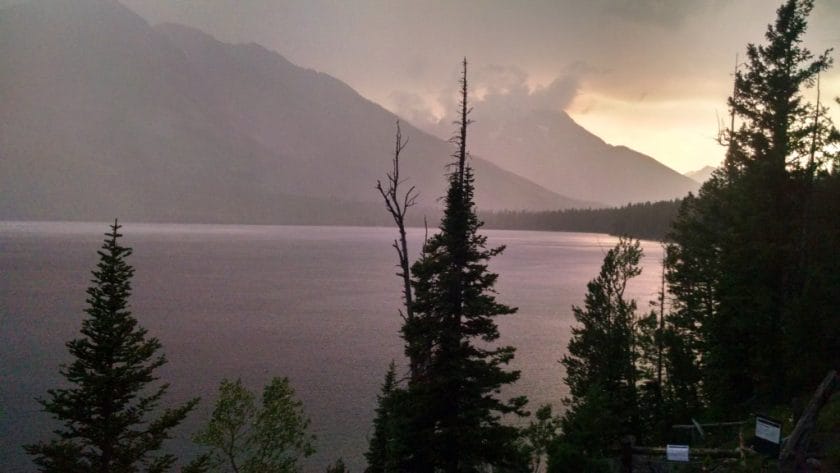 5 – Jenny Lake
Jenny Lake was just not meant to be for us this time! We tried to stop to watch the sunset but there was a thunderstorm so you could barely see anything (FYI, lightning up in the mountains is pretty scary and dangerous!)  It looked amazing with the mountains right there while you played in the lake (swimming is allowed here). I wish we would have gotten a chance to see it. It is definitely on our list for the next time around.
Things to know:
Plan to get here first thing in the morning to get a parking spot!

That's all we know since we never really got a chance to check it out. If you have leave your recommendations in the comments!
Having no hookups was a challenge – and going 4 days without a shower is a long stretch (the campground didn't have showers). But it all worked out. It is great to know if we want to boondock (camp without hookups) again that we can do it! Our plan is to get new batteries when we get home which will make it even easier.
The Grand Tetons and Jackson area has so much more to offer around hiking and activities. Since we were coming from the remoteness of Fishing Bridge, Yellowstone we were ready for a little bit more "city" life and I know my Sister and her family were too! So we really enjoyed everything we did and look forward to going back in the future to do more in the National Park.
Here are more great things to do in the Grand Tetons from We3Travel! If you are interested in kayaking in Grand Teton National Park check out this article!
We have also put together a guide showing 10 unique things to do in Yellowstone. These are not your typical tourist stops! Sign up to get it here.
Pin it for later: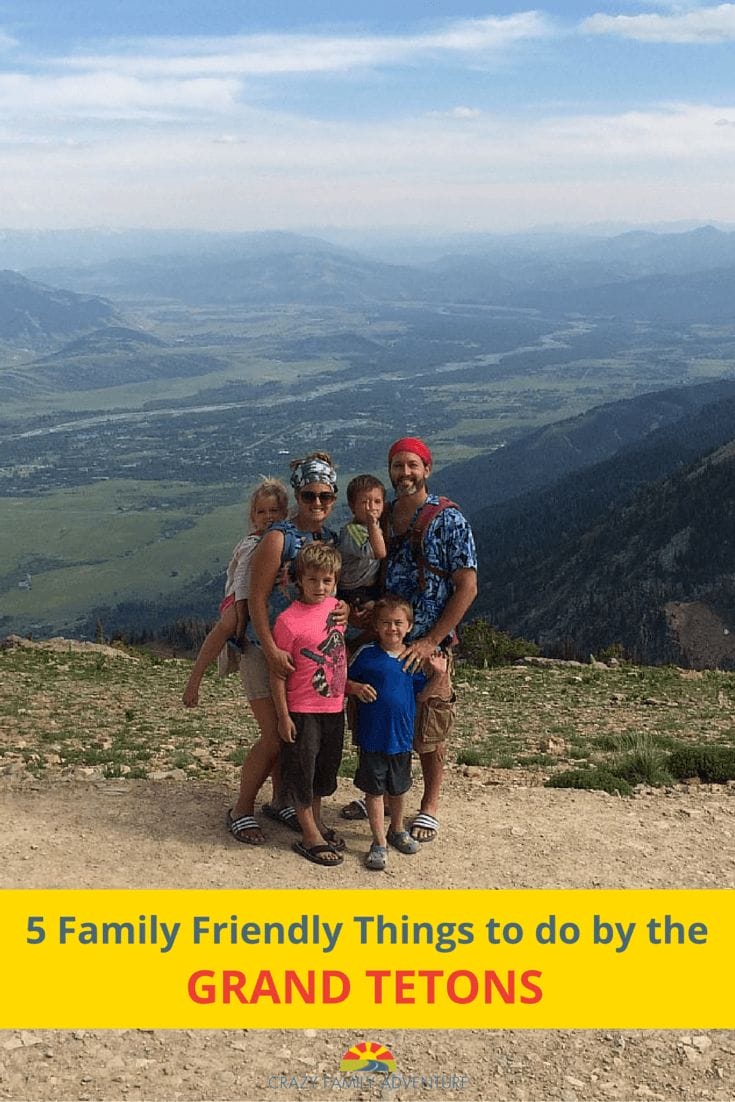 DISCLOSURE: This post may contain affiliate links, meaning I get a commission if you decide to make a purchase through my links, at no cost to you. Please read my disclosure for more info.