Yellowstone National Park is one of those places to visit at least once (and hopefully more than that!) during your life. It's an amazing park that offers surreal views, constantly changing and surprising landscape and wildlife. There are so many great places to visit and things to do in Yellowstone National Park.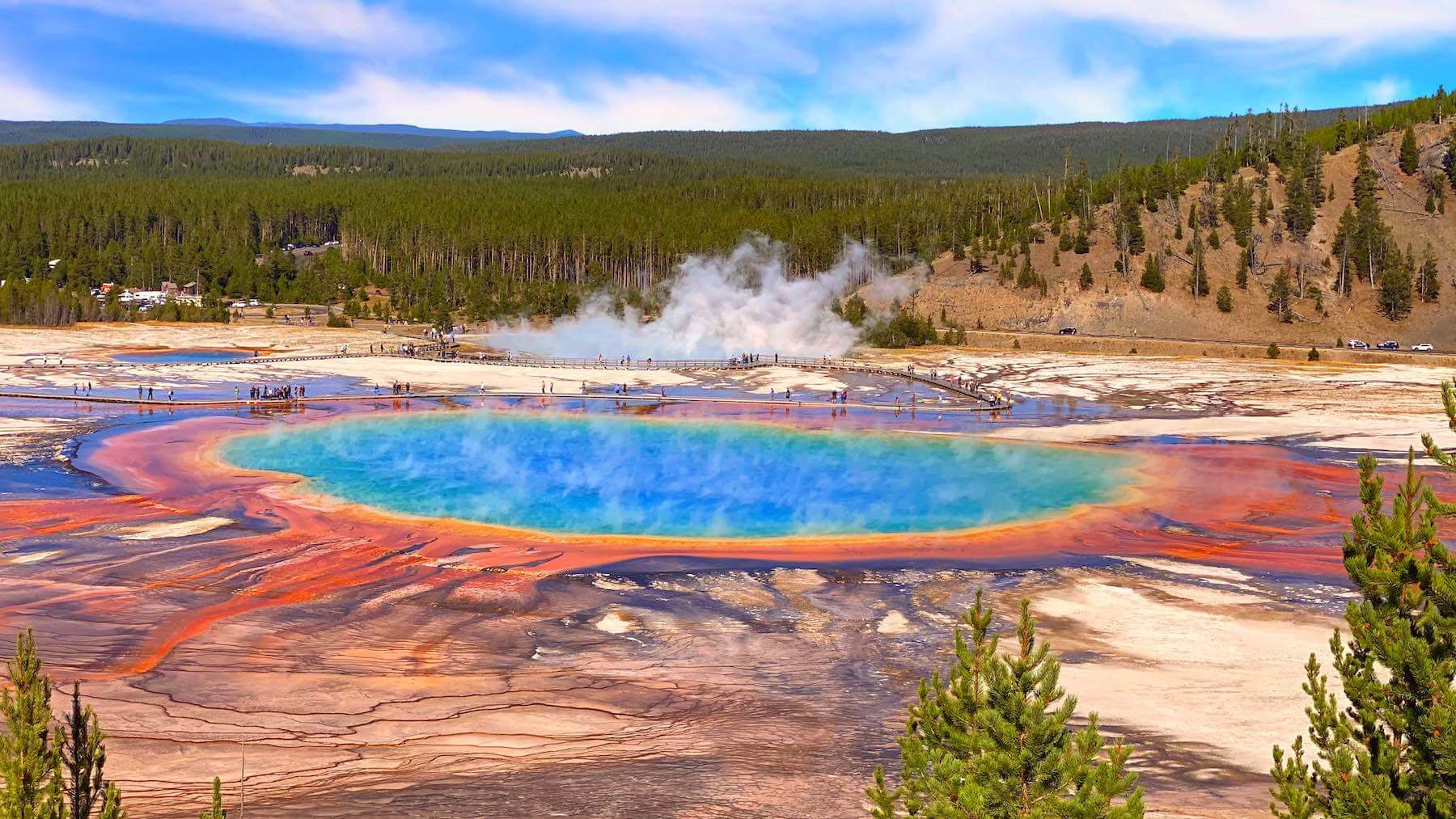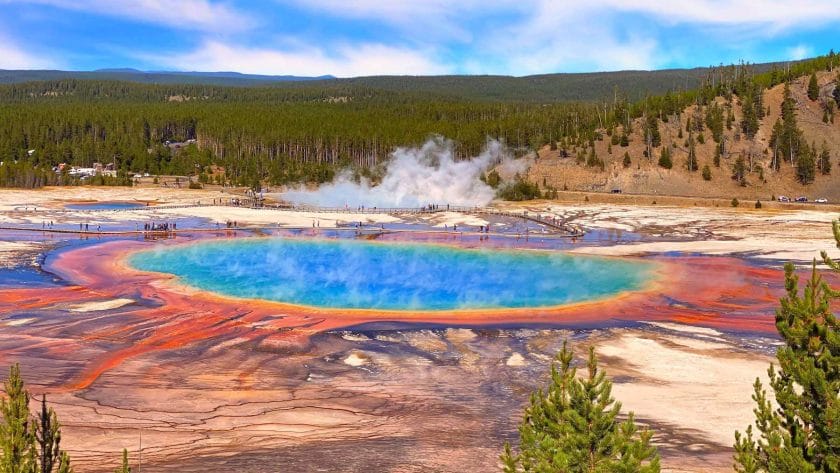 We have stayed in the park for over 4 weeks and have been back to the park multiple times since then. We quickly realized that visitors do Yellowstone like they do Disney World.
Everything is scheduled out, you have to see all the major attractions, and are only there for a limited time, so there's not much downtime to just relax and REALLY explore the park.
Supposedly, 90% of people vacationing in Yellowstone don't go more than 1/4 mile off the main road while there. They're missing out on so much!
Our number 1 tip is SLOW DOWN and enjoy the park and the greater Yellowstone ecosystem. Don't worry about seeing every single tourist attraction. Instead, find a place you like and really take it in letting the magic of Yellowstone sink in.
---
Feeling overwhelmed by all the awesomeness that is Yellowstone?! We get it! The park is huge and there is so much to see and do. We have visited the park over 6 different times and have put together 1, 3 and 7 day guides to help you plan your ultimate trip to Yellowstone:
---
Top Yellowstone Attractions
There are so many things to see in Yellowstone. In this article we share our top picks and tips on how to visit them!
We will cover the Old Faithful area of the park, the Grand Canyon of Yellowstone, Mammoth Hot Springs with the awesome geothermal features, Tower Roosevelt and the Mount Washburn hike and the quieter Fishing Bridge part of Yellowstone. Sharing all of our insider tips after visiting the park 6 different times!
Grand Prismatic Spring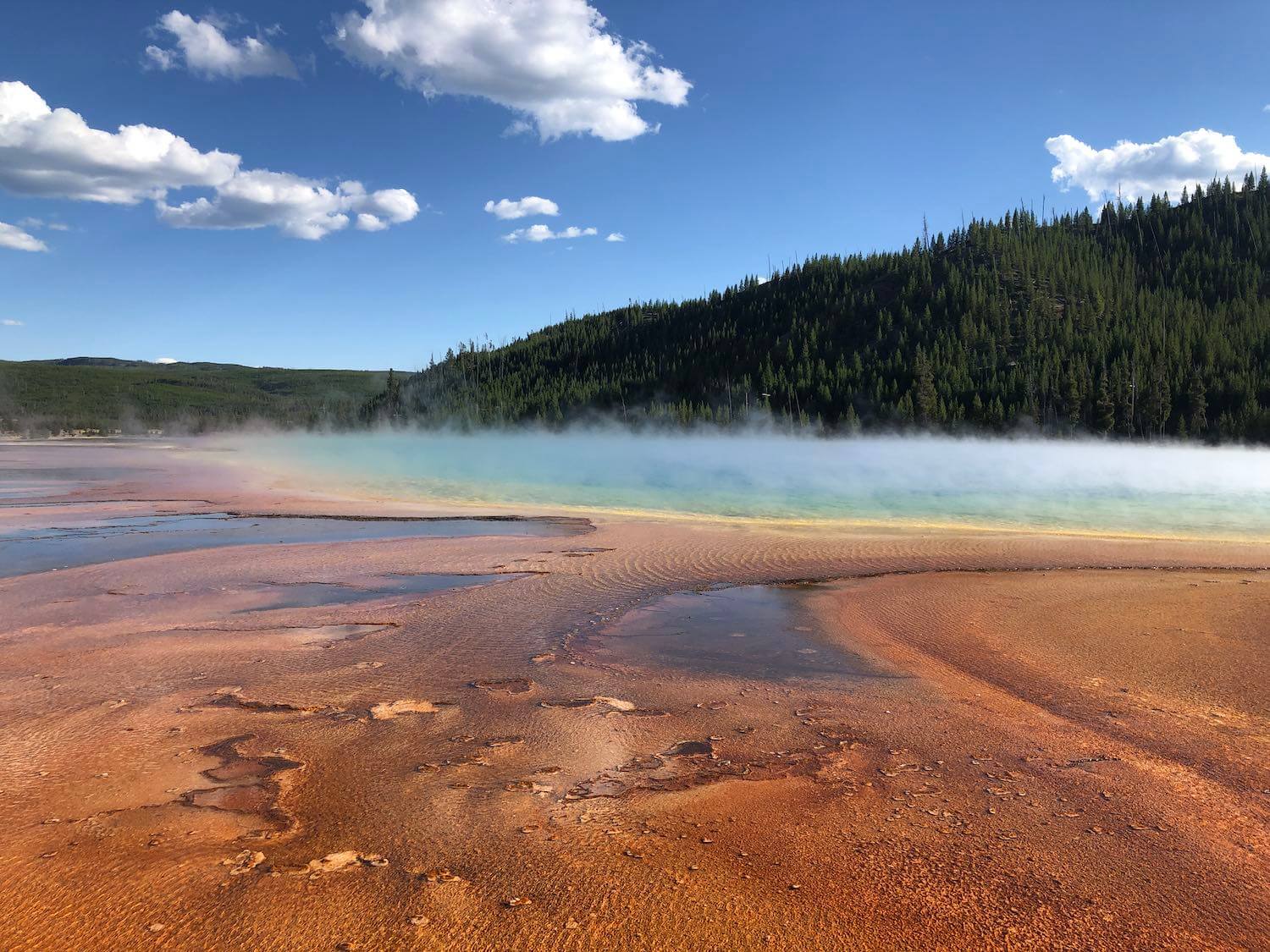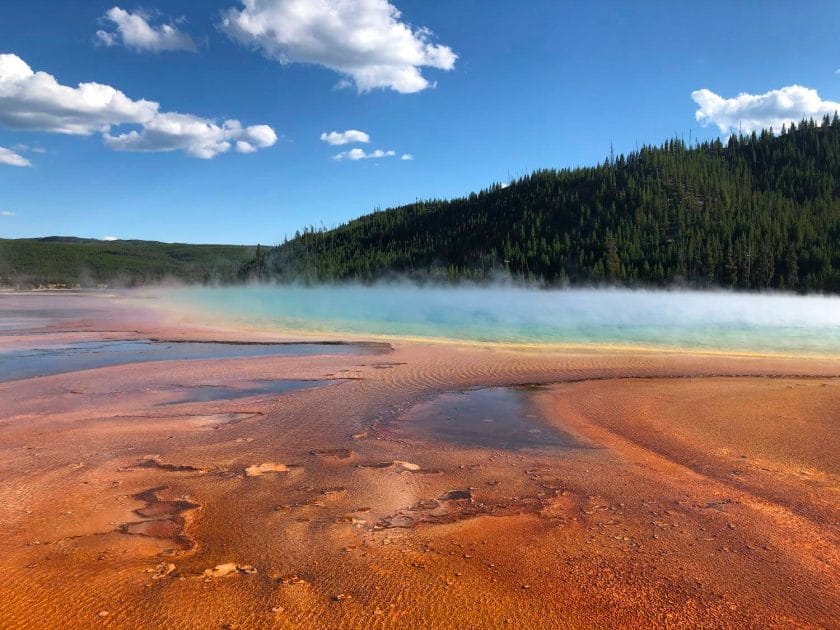 Simply Amazing and Surreal! The colors were spectacular and hard to believe it was all-natural. When you walk up to the Grand Prismatic you feel the hot breeze on your face and can smell the sulfur. I personally think visiting the Grand Prismatic is the best thing to do in Yellowstone.
As you get closer you can't believe how bright the colors are. It really looks like someone dumped a bunch of bright food coloring into the water!
The stop won't take you long, but it was one of the most amazing things we saw while there.
The Grand Prismatic is at the Midway Geyser Basin located a few miles from Old Faithful on the Grand Loop road and closest to the west entrance of the park. In West Yellowstone, you will also find lots of great activities from the grizzly and wolf discovery center to biking trails and the museum of Yellowstone. You can learn more here: 9 Awesome Things To Do In West Yellowstone.
Information To Know When You Visit:
There is a large parking lot that accommodates RV's and parking along the road. It's very busy during peak season (July – August). I would not count on getting a parking spot for a larger vehicle/RV during the busy months.
There are bathrooms by the parking lot – and they can be very busy.
The whole path around the area is a boardwalk. So, if you need to bring a stroller you can. If kids are walking (ours did) just keep an eye on them as their are no railings on the boardwalk.
How Long Will You Be There:
This could be a very fast visit if you just want to walk out to see the spring and walk back. If you just do that it would take about 30 minutes – maybe longer with parking.
If you want to take your time to check out the main attraction and stop to take in some of the surrounding area (which I do recommend). It could take more like 60-90 minutes.
Tips for visiting Grand Prismatic:
If it's windy, leave your hat in the car! We saw multiple hats that had ended up in the basins. Once it's there, you won't get it back.
The ground is a fragile crust that could give way to the boiling water underneath. Best to leave anything that could fly off in the car.
If you want a view from above – like in our picture then head to the Fairy Falls trail head down the road and hike the 1/2 mile up to the lookout. Just don't miss the sign pointing up the hill while you are walking on the trail.
Old Faithful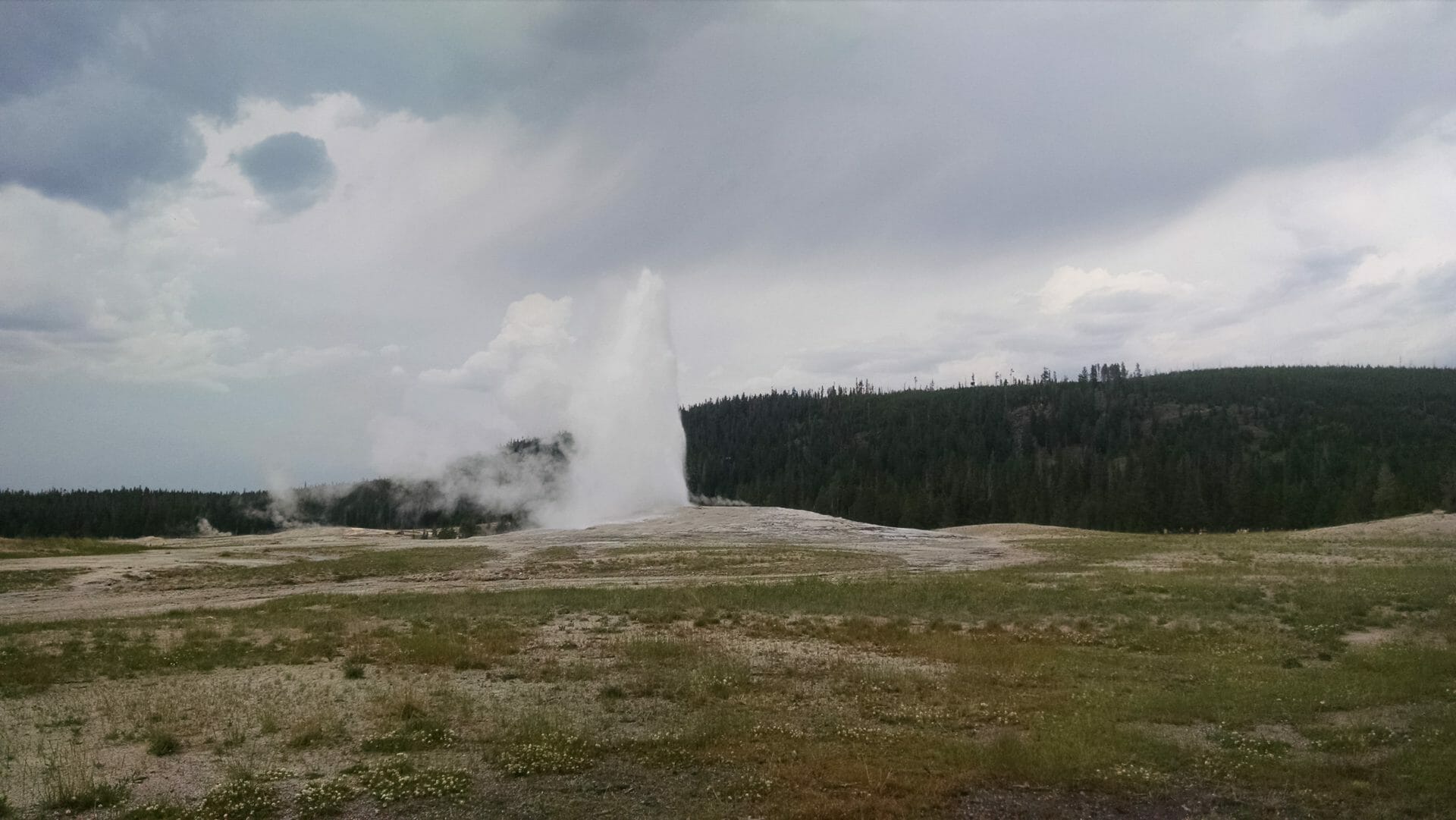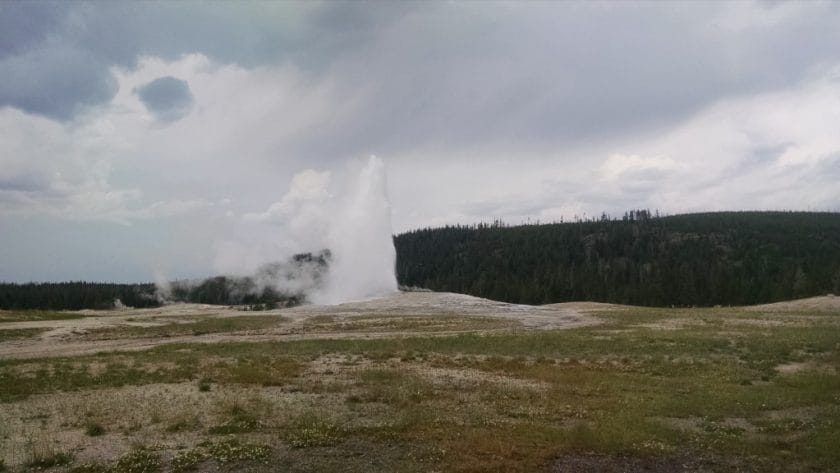 Of course, you can't come to Yellowstone without seeing Old Faithful and for good reason. It's really cool! It's amazing how about every 45 minutes it erupts like clockwork.
When you walk into the Visitor Center there's a sign that tells you the next time it'll erupt – give or take 10 minutes. There's a hotel, gift shop, visitor center, lodge, deli, cafeteria, bar and restaurant close by. The Old Faithful Inn is a must-see. It's the original hotel for the area and a beautiful building inside and out.
Old Faithful is probably the busiest place in the park. We went on a Saturday and had to drive around to find a parking spot. There is RV and big rig parking, but space is limited.
We recommend watching Old Faithful multiple times and at different times of the day. It's amazing to watch in the middle of the day with the sun beaming down. It's spectacular to watch when the sun is setting. And it's magical to watch when dark with the stars and moon shining through!
This is another way of slowing yourself down and really appreciating it – rather than just checking it off your list and rushing through it.
Depending on where you want to begin and how long you want to visit, there are a few ticket options that include a tour of Old Faithful:
Depart from:
Jackson, Wyoming – get Full Day tickets or get 2-Day tickets here (includes an overnight stay in Cooke City, Montana)
West Yellowstone, Montana (if you're looking for an RV park near West Yellowstone, check out Henry Lake which is about 20 minutes away)
Jackson, Wyoming or Teton Village:

2-Day tickets (includes an overnight stay at the Chico Hot Springs Resort)
Information To Know When You Visit:
The Visitor Center has a nice museum in it where you can walk around and learn more about Old Faithful and the park.
The public is welcome to go into the Old Faithful Inn. You should it is a gorgeous building.
There are bathrooms in the visitor center and restaurant area.
Where To Eat by Old Faithful:
There are a few different options for eating by Old Faithful..
The Old Faithful Snow Lodge Geyser Grill
Old Faithful Lodge Cafeteria and Bake Shop
The Old Faithful Snow Lodge Obsidian Dining Room
Old Faithful Inn Dining Room
The Old Faithful Inn Bear Paw Deli
You can learn more about the Old Faithful dining options here.
Information On Where You Can Watch Old Faithful Erupt:
Main viewing area – where everyone else will be. It does fill up fast.
Observation Point trail – a 1.1 mile loop to an overlook. It can definitely be less busy than the main viewing area.
Old Faithful Lodge Porch – if you can grab a seat at the porch and maybe stay through 2 different eruptions!
How Long Will You Be Here:
You could be here for 3-4 hours if you plan to walk the Upper Geyser Basin Trail, watch Old Faithful and eat here.
Tips for visiting Old Faithful:
Avoid the weekend and the middle of the day if there during the busy season.
Visit the Old Faithful Inn – it's beautiful!
Grab some food and sit on the porch of the Old Faithful Lodge and watch it erupt.
More Info on Old Faithful: 8 Kid Friendly Activities by Old Faithful
Upper Geyser Basin Trail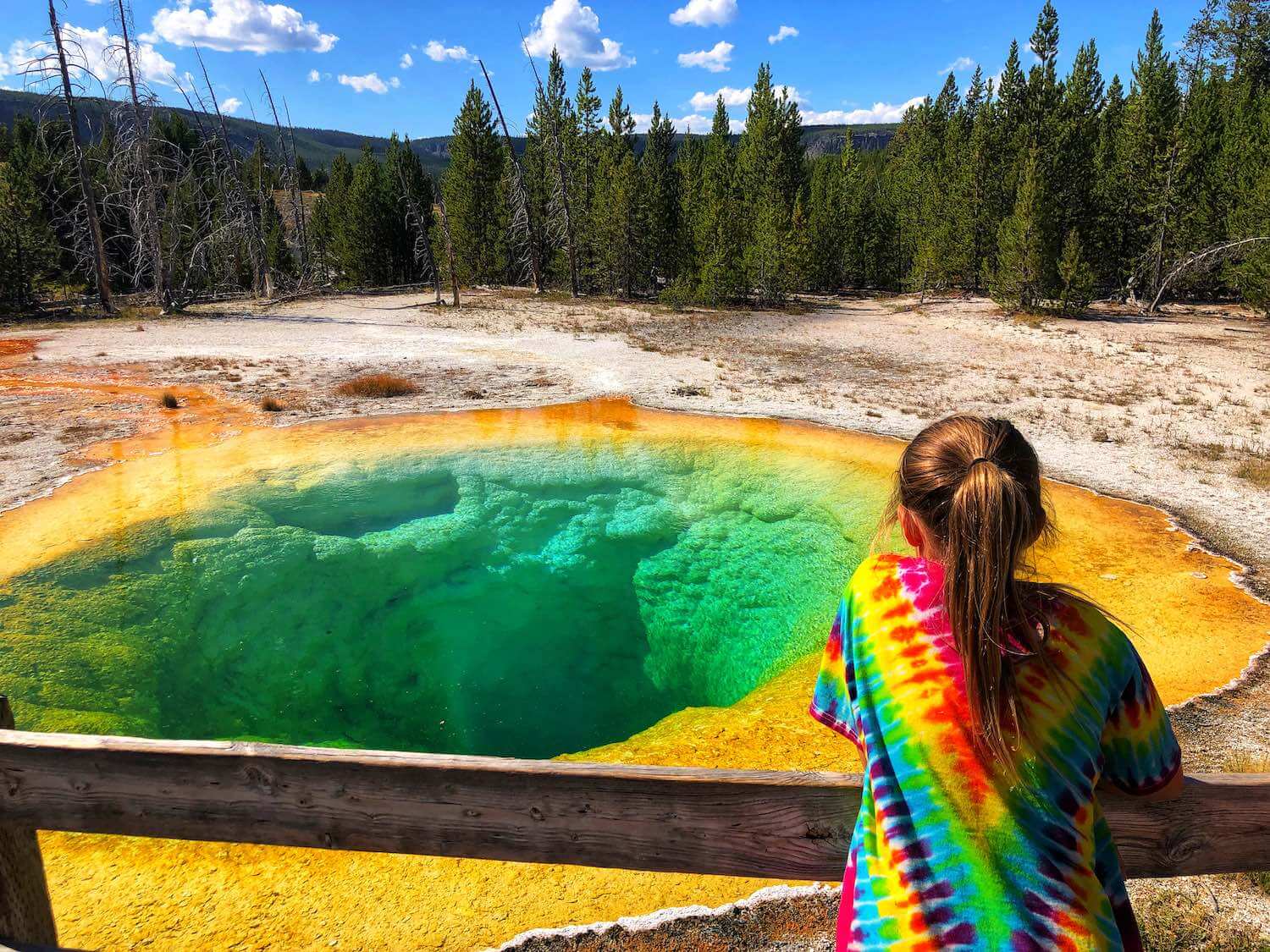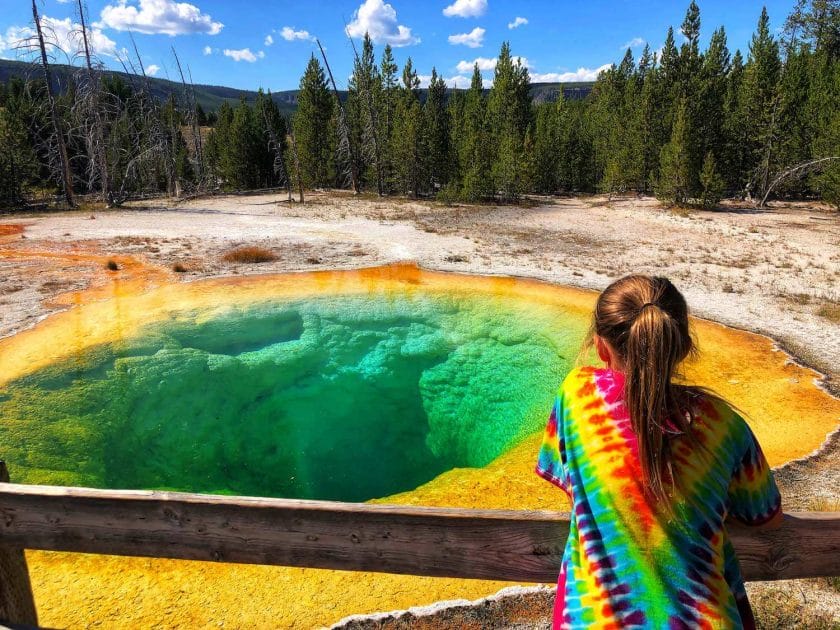 This is a trail by Old Faithful that takes you to a variety of other geysers and thermal features that you can see. It is a great option if you get to Old Faithful and have another 45 minutes until the geyser erupts.
The trail can be 4.5 miles if you walk the whole thing. But you don't have to do that. You can choose to do shorter routes. If you head out to do this while waiting for Old Faithful just watch the time! You can get absorbed in all of these cool thermal features and before you know it 45 minutes has gone by.
We recommend walking out to the Morning Glory pool (pictured above) and back. It is about 2 miles round trip from Old Faithful and passes many other geysers and thermal features.
If this is the case then just plan to spend a few hours walking around here and then head back to catch Old Faithful. This is a cool trail so don't think you have to rush it!
Here is a great post about the geysers here.
West Thumb Geyser Basin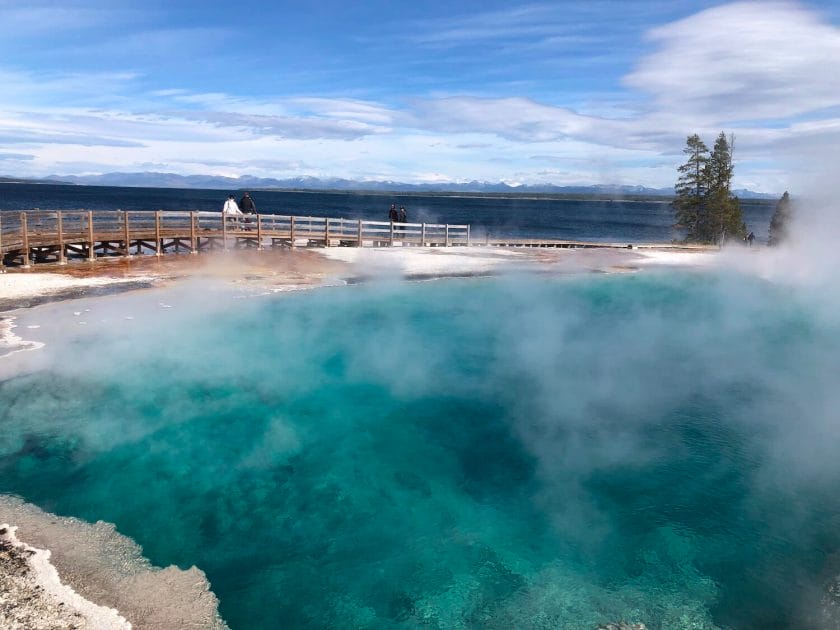 Not as big of an attraction as other places in Yellowstone the West Thumb Geyser Basin is still worth a visit. It is a .6 mile loop trail that is mostly on a boardwalk that takes you to see some interesting thermal features, the Yellowstone Lake and the mountains in the back ground.
One of my favorites was the Fishing Cone. A thermal feature/cone that comes out of the Yellowstone River! I also loved the bright colors of the Abyss pool.
How Long Will This Take You
It should take you about 30 minutes to walk around the boardwalk and take in all of the features.
Check our our time in this area of the park:
If seeing geysers is the top of your list when visiting Yellowstone National Park you can also check out castle geysers and steamboat geyser.
These posts will help you with planning your trip:
Grand Canyon of Yellowstone

It's beautiful! Start by visiting Artist Point. This gives you an amazing view of the pastel yellow, pink, and orange canyon with a waterfall right in the middle!
It's absolutely gorgeous!. There's a parking lot about 1/10th mile from the overlook. So it's easy to access it. You may also want to check out Inspiration Point.
Once you've seen Artist Point, drive back down South Rim Drive and stop at Uncle Tom's trail. This trail isn't easy. But it's worth the view. Start by heading down the canyon on a trail and then walk down 300 steps.
The steps are grated so you can see right through them – cool, but scary! There are a couple spots you can stop to take in the view before you get to the bottom. At the bottom there is a platform looking out at the falls. It's really cool being right down in the Canyon!
After taking in the view, the fun begins of getting back up to the top! We did it with kids on our backs, so you can do it! Just take your time. There are benches throughout where you can rest.
Head over to the Upper Falls platform to look down on this amazing waterfall! So much power.
There's also Canyon Village with a hotel, gift shop, visitor center, lodge, deli, cafeteria, bar and restaurant. You could easily spend a day exploring the Canyon area, especially if you take a hike or two. Hikes are marked on the maps at Artist Point and Uncle Tom's Trail.
Information To Know When You Visit:
Canyon Village is close by and has all the amenities that you need.
This is a very busy area of the park so be prepared for lots of tourists at the lookouts and short hikes.
Where To Eat:
Canyon Lodge Eatery
The Canyon Lodge Falls Cafe
Canyon Lodge M66 Grill
Canyon Washburn Lookout
The Canyon Lodge Ice Creamery
Learn more about the Canyon Dining options here.
How Long Will You Be Here:
Exploring the Grand Canyon area of the park could take you a half a day if you see all of the points of interest. Or a full day if you plan to do the hikes in the area.
Tips for visiting the Grand Canyon of Yellowstone:
If you're going to hike down into the Canyon, make sure you're ready for it!
It's a workout getting back up – but it's short. So don't plan too much. Just do it!
More Info On Canyon: Yellowstone's Grand Canyon is a must see stop on your family trip!
Mammoth Hot Springs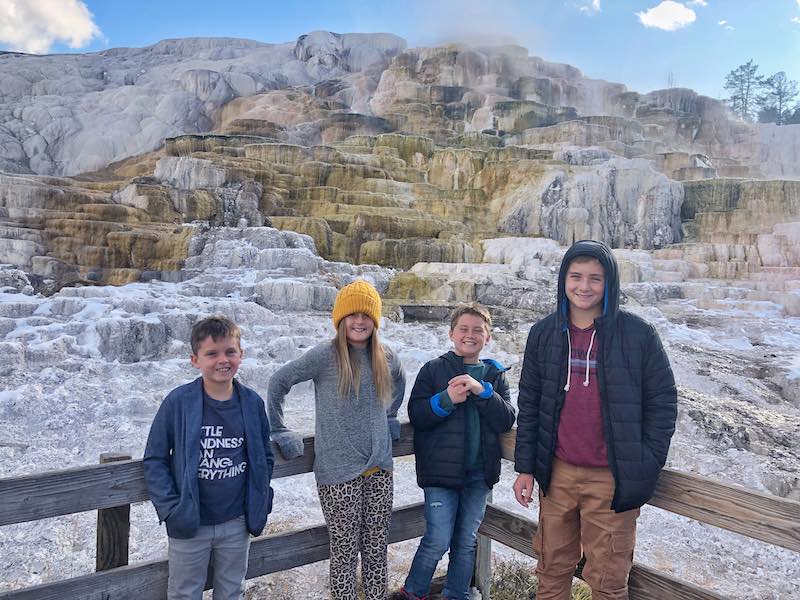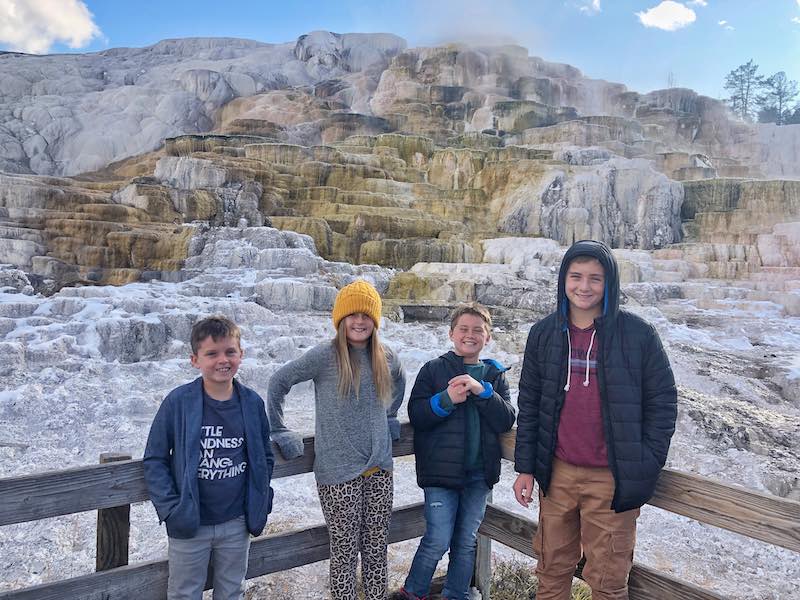 Mammoth Hot Springs seems like a little city within the park. Driving in, you see actual houses, a gas station, restaurant, and a hotel. I think one of the houses even had a trampoline.
Well, you see that every day. Bring on the thermal features! In Mammoth, you can see the Hot Spring Terraces. These are really cool.
They look like something from the planet Krypton. There are different levels to the terraces and you can walk up the boardwalk to see them all.
There are also a lot of Elk that call this area of the park home and they can normally be found all over Mammoth. Chomping on the grass in the middle of this little town. Or sitting under the window by the cafeteria.
Don't be fooled they are still wild animals and you do not want to get close to them. Just patiently wait for them to move on. Or find another route to get where you are going if you are walking.
The Visitor Center in Mammoth has a nice little museum in it and is worth a stop when you are in the area.
You can also tour Fort Yellowstone in Mammoth. This is an actual fort used by the U.S. Army to help control poaching, vandalism, and other problems that were going on in Yellowstone.
We really liked seeing the Roosevelt Arch, which is about 5 miles north of Mammoth Hot Springs and also the north entrance to the park. It's a great photo opportunity!
You can also check out the town of Gardiner, Montana. There are some really cool restaurants that you can actually eat on the roof and overlook the hills of Yellowstone.
Information To Know When You Visit:
This is one of the main places where the employees of Yellowstone live year round.
Elk can be everywhere!
Where To Eat:
Mammoth Terrace Grill
Dining Room in the Mammoth Hotel
Mammoth Hotel Map Room Bar
There is also a gas station and conveient store
How Long Will You Be Here:
Exploring around Mammoth and the terraces will take you about half a day.
Tips For Visiting
You can get out to hike the lower level terrace. Then get back in your car to drive and see the upper level terraces.
Learn more about: 8 Things You Don't Want To Miss In Mammoth Hot Springs
Fishing Bridge – Yellowstone Lake

This a quieter part of the park that still offers many things worth seeing. You can walk out on the historic Fishing Bridge – the name makes it sound otherwise but there is no fishing off of the bridge. But you can look out over the gorgeous Yellowstone River.
Check out the Lake Hotel – guests are welcome to go in and walk around the lobby or grab a drink at the bar.
Rent a boat and go out on the Yellowstone Lake. You can also get a fishing license and fish from the boat.
Visit one of the beaches around the lake. Yes you can actually hang out at the beach in Yellowstone!
Stop at the Fishing Bridge Visitor Center to check out the museum they have there. Go to the Lake Lodge to grab a drink on the porch and watch the reverse sunset over the mountains.
Information To Know When You Visit:
There is a general store and cafeteria by Fishing Bridge.
If you are looking for a less visited area of the park this is it.
Fishing Bridge is closest to the east entrance of the park.
Where To Eat:
Wylie's Canteen at Lake Lodge
Lake Hotel Dining Room
Lake Hotel Deli
How Long Will You Be Here:
This could be another half day if you plan to rent a boat or do any of the hikes in the area.
Learn more about: 11 Reasons To Visit Fishing Bridge Yellowstone
Tower Roosevelt

Tower Roosevelt is known to have some of the most scenic drives in the park. It is also home to Lamar Valley and one of our favorite hikes: Mount Washburn.
If you are looking to get away from the hustle and bustle of the busier parts of the park Tower Roosevelt is a great option. You can check out the Tower Falls and grab a picnic lunch at one of the pull outs.
You can also do the 6 mile Blacktail Plateau scenic drive – be prepared it is one way and bumpy!
Information To Know When You Visit
You will be close to the Cooke City entrance to the park and to the Beartooth Highway. If your group is good with spending more time in the car take a drive to the top of the Beartooths and stop in Cooke City on the way back to grab dinner or to check out the little museum there. This would be a great day trip to add to your Yellowstone itinerary.
How Long Will You Be There
If anything it could be half a day just due to the driving you will do. To visit the falls it won't take long. But if you opt to do a longer hike like Mount Washburn it will take more than half a day.
Where To Eat
Roosevelt Lodge Dining Room
Learn more about: 11+ Fun Things To Do around Tower Roosevelt
Kayaking
Yes you read that right! Kayaking in Yellowstone. How cool is that?! Check out this great article on Kayaking in Yellowstone National Park to see how you can make it happen!
Horseback Riding
If you want to see Yellowstone in a different way head out on Horseback! You can do this from a the Canyon or Roosevelt areas of the park. And go for 1 – 2 hour rides.
Learn more about Yellowstone Horseback Riding here.
Old West Dinner Cookout
Take a horseback ride or a covered wagon ride out to a old west dinnner cookout! The cookout will have authentic cowboy food along with a Cowboy singing. This is a unique way to have an out west experience!
Learn more about the Old West Dinner Cookout here.
Hayden or Lamar Valley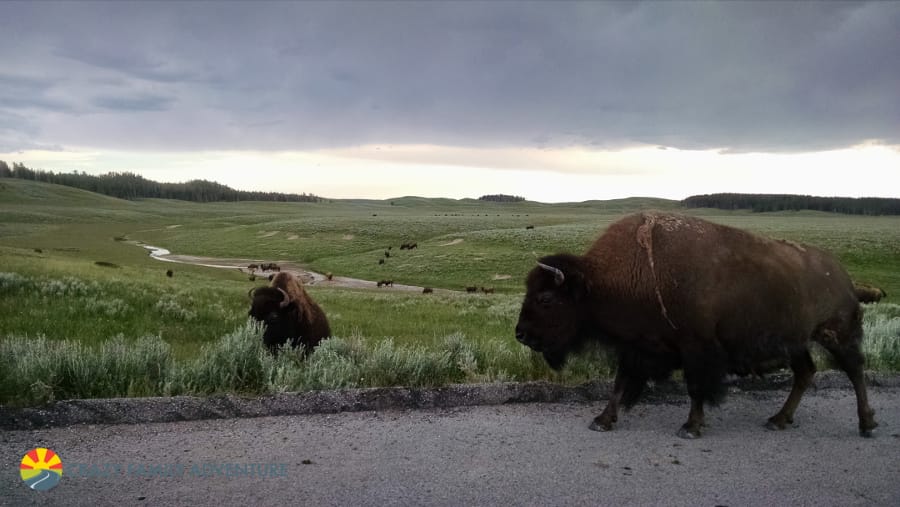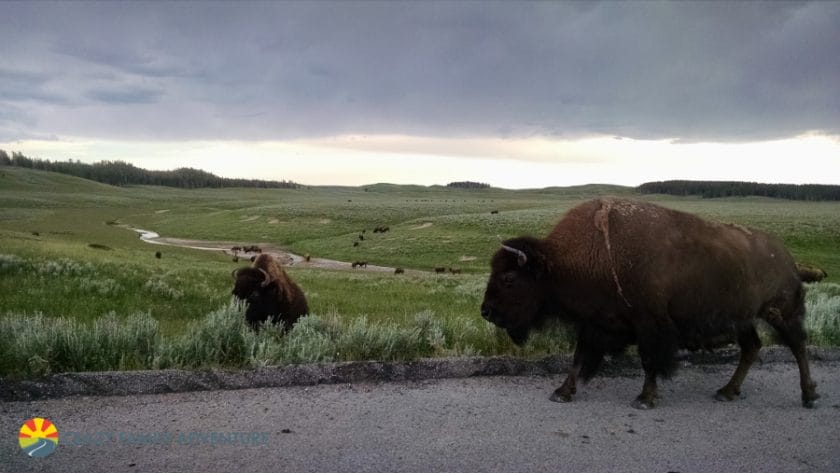 Bison, Bears, Elk, Oh My!! The best place for animal sightings!
The other great thing about Yellowstone is that it's like vacationing inside a zoo. During our visit, we saw HUNDREDS of buffalo roaming the beautiful landscapes in Yellowstone. We also saw a few grizzly bears, otters, elk and other animals during our visit.
A couple of the best places to see these animals are the 2 valleys in Yellowstone. Hayden Valley is right in the heart of Yellowstone and has several pull-outs off the road where you can stop and animal gaze. This is a great place to bring binoculars and just watch the beautiful animals.
The other great spot to animal watch is Lamar Valley which is toward the northeast end of the park. Here you'll see loads of buffalo and in the spring. Lamar valley is also known for having more wolf and grizzly bears than Hayden Valley.
One thing to keep in mind as you are in the park is that as docile these animals may seem, they can be extremely dangerous. There are very specific distances you must keep from wildlife, so please follow these rules. To really enjoy the park, your first concern should be the safety of you and your family.
Here is some more information on staying safe in Yellowstone: http://www.nps.gov/yell/planyourvisit/safety.htm
This is one of the places I would love to visit if we ever get to Yellowstone in winter! My sister and her family went recently and they loved it.
How Long Will This Take:
You could sit in the Valley's for hours waiting for animals. If this is your goal than I would plan to pull off and sit in one of the valleys either at sunrise or sunset for a couple of hours.
Tips for visiting the Valley's:
Watch the sunset from a pull-off in Hayden valley.
Bring lawn chairs and plan on just hanging out there for a while.
Be prepared for it to take a good hour to get through Hayden Valley if you are driving – there tend to be a lot of bison traffic jams.
Morning and dusk may be your best bet for seeing bears. However, we did see them in the middle of the day.
Bring binoculars or rent a spotting scope.
If it is high on your list to see wolf or grizzly bears you may want to get out to Lamar Valley at 5:30am – or before sunrise. This is definitely when the animals are the most active.
We also recommend doing a tour with Yellowstone Wildlife. They meet you in Gardiner at 5:30am and take you through the park to look for animals all day. It was an amazing experience and we saw so many animals – including wolves and a grizzly bear!
Our trip with Yellowstone Wild:
More tour options in Yellowstone
Norris Geyser Basin – a great place to see more geysers!
Private fishing trip to Lewis Lake (departs from Jackson, Wyoming)
4-Day Tour (departs from and ends in Salt Lake City, Utah)
Tour (4 day) (departs from and ends in Jackson Hole, Wyoming)
Winter Tour (4 day) (includes a ride in a horse-drawn sleigh!)
Best Hikes In Yellowstone
Hike Storm Point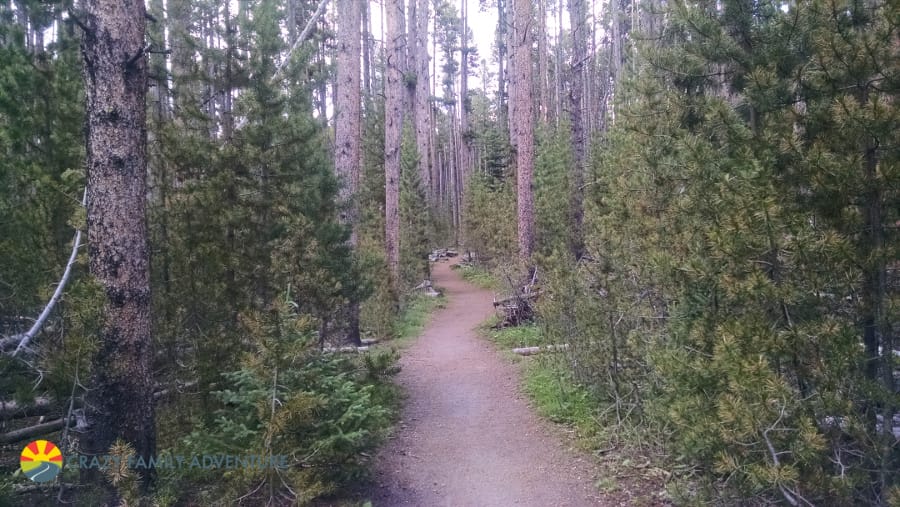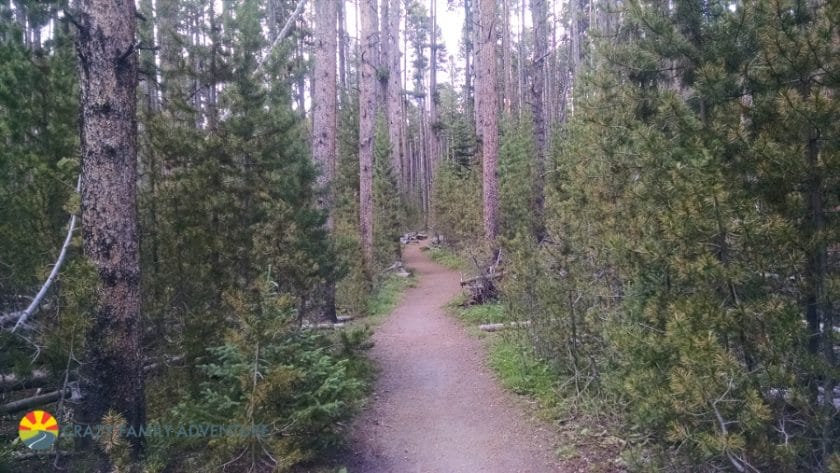 This hike takes you through a variety of terrain and is great for kids! It is about 2.5 miles long and doesn't have a big elevation gain so it is good for younger kids.
Just be sure to have your bear spray with you and keep an eye out for bison! There really are a lot of good hiking trails through Yellowstone and a lot of them are short and easy boardwalk trails.
We highly recommend when visiting the park that you get out and do as many hikes as you can while you are in Yellowstone. You can do it!
Check out our post for more info!
Lone Star Geyser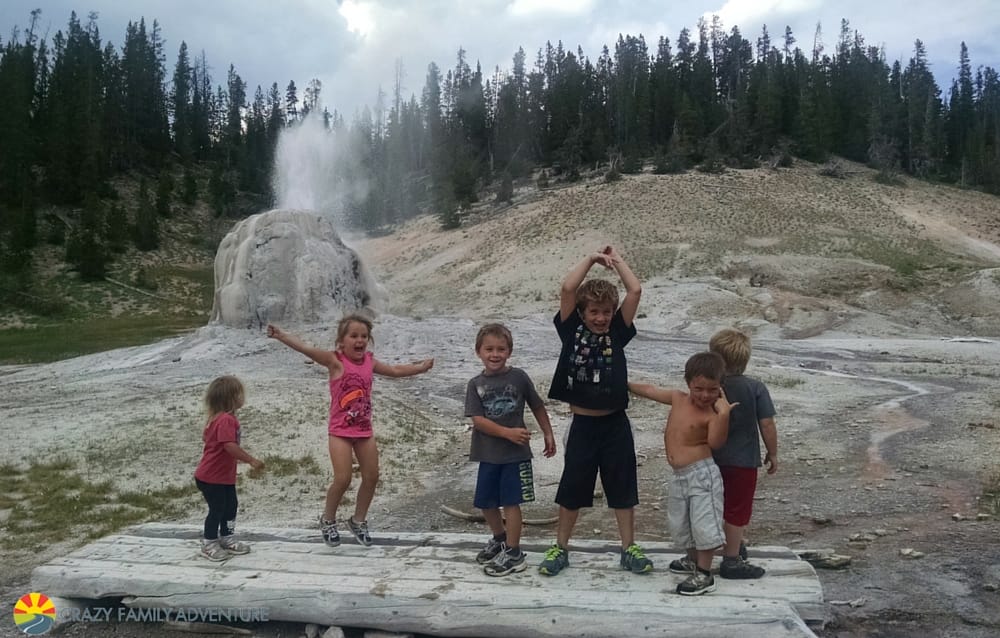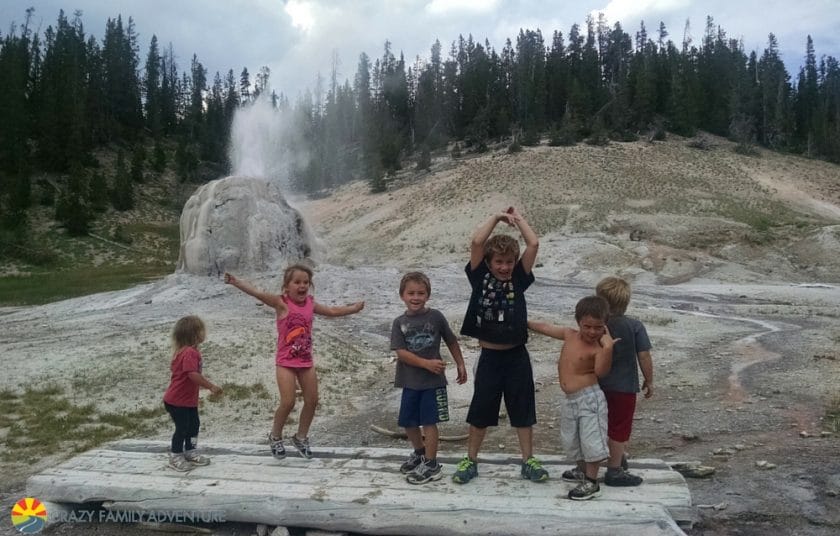 Old Faithful is Old Faithful, but the Loan Star Geyser is a whole other experience. It's a 5.3 mile round trip hike, or bike ride, on a wide trail to get to the Geyser. Once there, you can play in the crystal clear waters of a stream and have a picnic lunch while waiting for the Geyser to erupt.
It erupts about every 3 hours for 30 minutes. We didn't know when it was going to erupt so we headed over to the stream to play. Suddenly, we heard a noise and turned around, and it was bubbling – that lasted a couple of minutes and we thought that was it.
Luckily we hung out a while longer, and then it really erupted! It did last for a good 30 minutes and was really cool because we were so close to it! You could walk right up to the Geyser if you wanted to. Obviously, you wouldn't do that, because you would get burnt.
At Old Faithful things are much more controlled and touristy.
More Information on Visiting Lone Star Geyser:
It is a 5.3 mile round trip hike/bike ride.
Always check to make sure the trail is open – it can be closed due to fires or other reasons.
There is a parking lot at the trailhead but it isn't big.
Tips for visiting Lone Star Geyser:
Take Bikes. There aren't many bike trails in Yellowstone, so take advantage of this one.
If you want to play by the stream, bring water shoes or sandals and a change of clothes for the kids or even their bathing suit!
You really don't know when the geyser will go off so plan a lot of time to get there and hang out. You don't want to miss it!
Hike Mount Washburn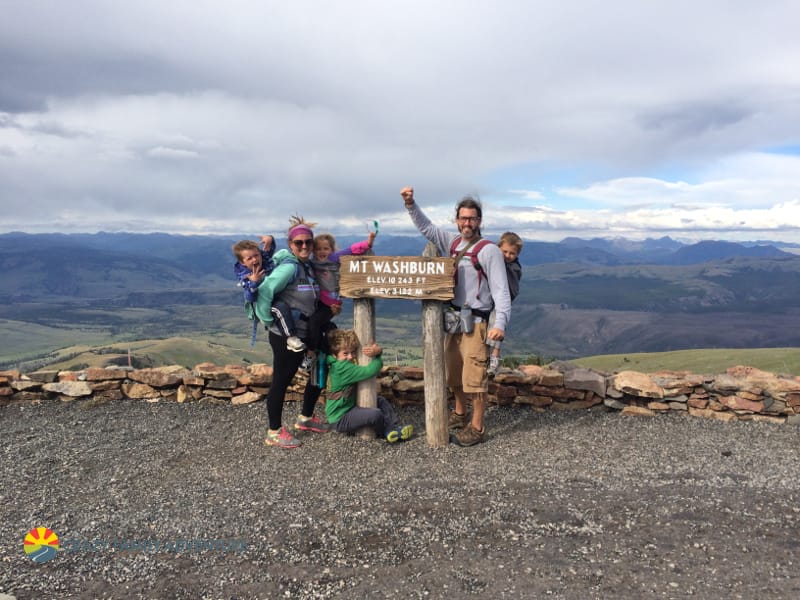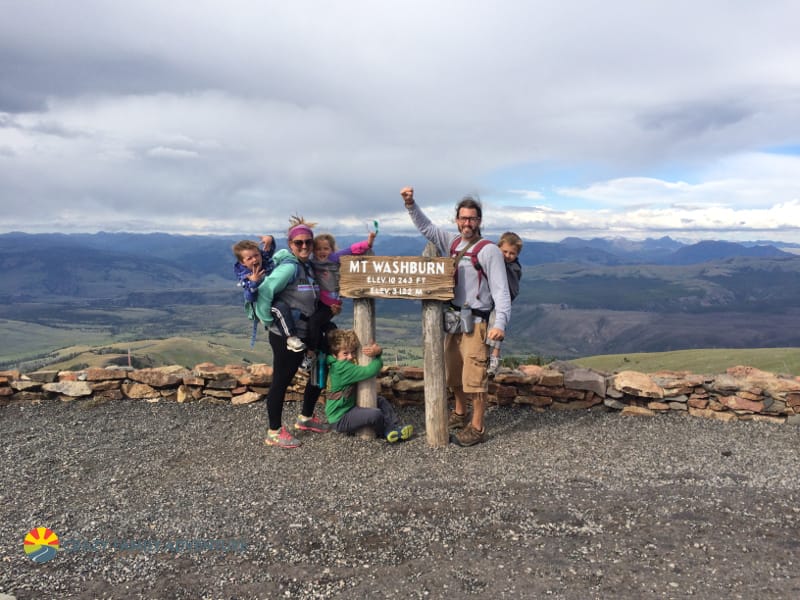 If you're going to do only one hike in Yellowstone, this is the one I recommend. It's not an easy hike, so you need to be in decent shape. Park at Dunraven Pass to start your 3 mile hike to the top of Mount Washburn. While hiking up you'll see some of the most beautiful wildflowers that Yellowstone has to offer, and experience wonderful views of the park!
As you get closer to the top, you're actually above the tree line, so be aware of the weather. You do not want to be out above the tree line in a lightening storm! Once at the top (10,000 feet up!) there's a fire lookout tower, and you can go into the 1st and 2nd floor.
The 1st floor is all enclosed with windows around it. There are pictures in front of the windows showing you what you're looking out at.
The views are amazing and well worth the hike. On the 2nd floor is a deck area. We walked out about 3 steps, looked around and ran back inside! It was very windy up there and REALLY high up!
We brought snacks and drinks and rested while hanging out with the resident ground squirrel, who ran around the room looking for crumbs. After a bathroom break we started our hike down. On the way a family of bighorn sheep walked right across the path in front of us.
Further down the trail, there was a male bighorn sheep who was not going to budge! We quickly scrambled up the side of the mountain and got out our bear spray! Luckily, he just walked by, giving us the stink eye and a grunt!
The downhill hike was much easier! Find out more about our Mount Washburn Hike in Yellowstone with Kids!
More Information On Mount Washburn:
6.8 miles round trip
Elevation gain of 1394 feet
How Long Will It Take:
This hike will take longer than you think it will due to the elevation gain.
Plan on at least 5 hours to complete the full hike. If you are a seasoned hiker and don't have kids with you it may go a lot quicker.
Tips for hiking Mount Washburn:
It is important to wear comfortable hiking shoes – so you don't slip on the trail. The kids fell a couple of times on the loose gravel.
Bring bear spray – if you don't have any, you can rent it by Canyon Village.
Pack plenty of water and snacks for hiking and celebrating at the top!
We recommend that you provide "Power Pellets" for the kids (aka Tic Tacs) – they give them a little burst of energy while hiking!
If you have little ones, I recommend an Ergo backpack carrier or something like that. It's a long way for little legs! During the hike our 7 year old had no problems walking, but our 5 year olds needed to be carried multiple times.
This hike will take you a good 4 to 5 hours doing it with kids. It's recommended that you go in the morning to avoid thunderstorms. We decided to do the hike in the afternoon, since we aren't morning people, and a storm did come through, but it blew over.
Best Place For Sunset – Lake Butte Overlook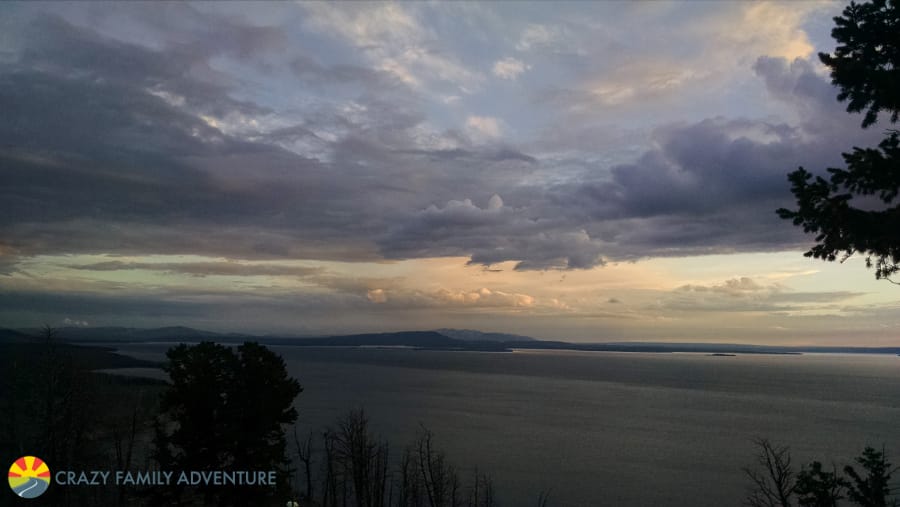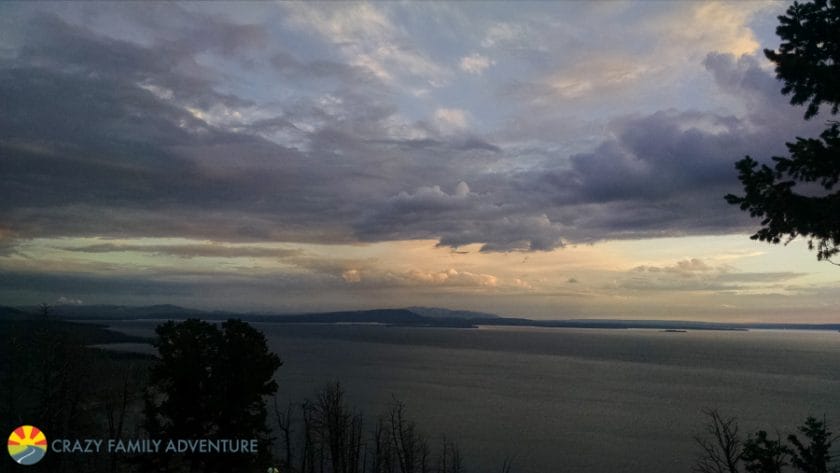 This is a perfect place to watch a sunset. You drive up to the site, park and walk about 10 feet to get to the overlook. You look out over Yellowstone Lake and watch the sun set behind the trees. Even if it is cloudy, it makes the clouds amazing colors and is worth seeing.
Tips for Lake Butte Overlook:
Bring blankets or a sweatshirt – it gets cold up there at night!
Give yourself about an hour to watch the whole sunset.
There is an outhouse/bathroom at the top.
Best Place To Grab A Drink: Lodge Porch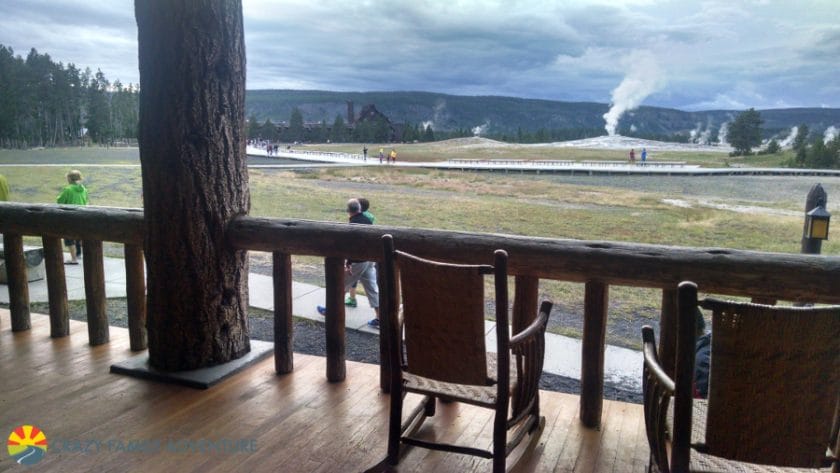 If you're in the park for any stretch of time, you'll find out how exhausting it is! Luckily there are several lodges around the park that have big beautiful porches lined with rocking chairs. Grab a drink from the lodge bar and rock yourself to sleep on the porch!
We recommend checking out the following lodges:
Old Faithful Lodge Porch – looking out over Old Faithful geyser as it erupts.
Yellowstone Lake Lodge Porch – looking out over Yellowstone Lake. You can watch the reverse sunset – the sunsets behind you but puts beautiful colors on the mountains across the lake.
---
Feeling overwhelmed by all the awesomeness that is Yellowstone?! We get it! The park is huge and there is so much to see and do. We have visited the park over 6 different times and have put together 1, 3 and 7 day guides to help you plan your ultimate trip to Yellowstone:
---
Best Place For Kids To Play: Gull Point Beach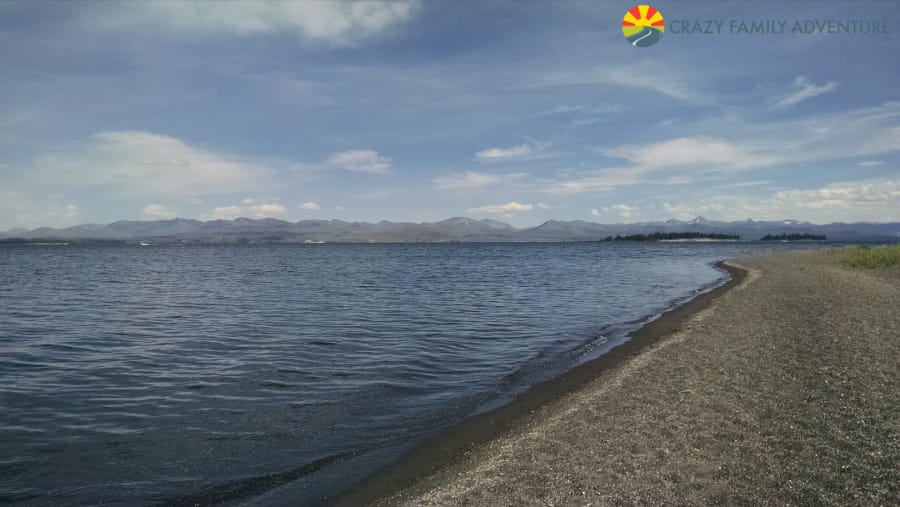 What can I say, we're beach people! Going to a beach in Yellowstone is a bit different than going to one in Florida or California, but sand + water = happy kids, no matter where we are!
And how cool is it to say you went to the beach in Yellowstone! When we did this we were the only ones at the beach and this was in August – one of the busiest months in the park.
Bring some sand toys, your beach chairs, and a cooler and plan to hang out for the day. The water s really cold so I don't think you will do much swimming but you can if you want to.
If you would rather get out on the water you can rent a boat to take out on Yellowstone Lake to either go fishing or just to get out on the water. If you want to fish you do need a fishing license.
Check out Bridge Bay Marina Rentals for your boat rental. You can learn more about getting your fishing license here.
Best Hot Spring: Boiling River**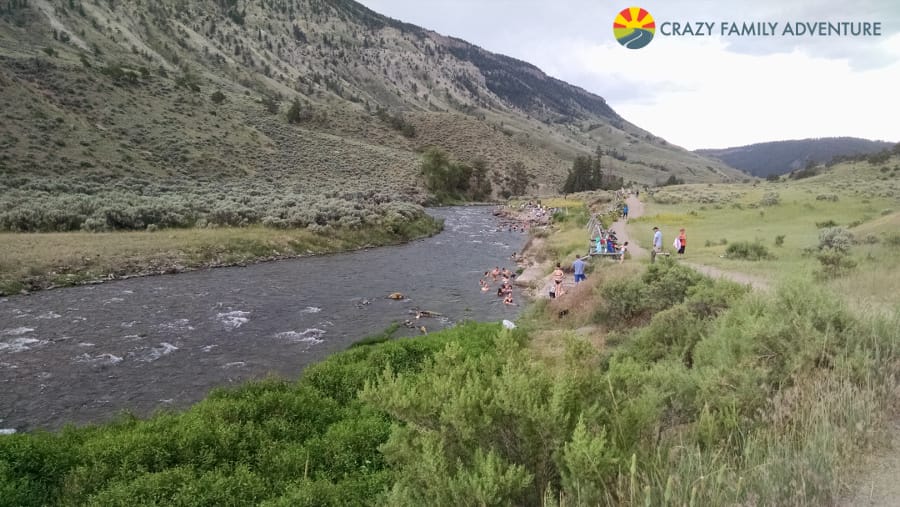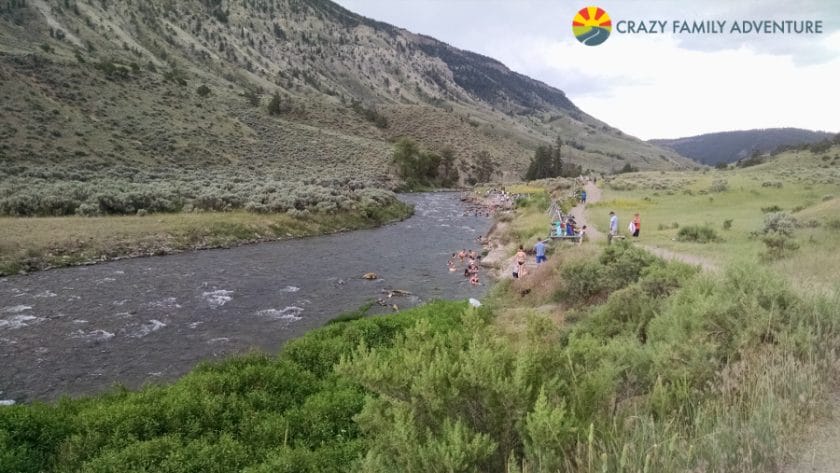 **NOTE with the flooding that happened in 2022 the boiling river no longer exist. We hope they will do something in the future to make these amazing hot springs accessible again but nothing has been announced.
In between Mammoth Hot Springs and Gardiner, just on the Montana border, there is a spot called Boiling River. This is where the Gardiner River, which is usually ice cold, meets up with a hot spring. The result is great place to get in the river and feel that perfect combination of hot and cold.
You can easily miss this parking lot -as it isn't marked – BUT it is normally busy and there is parking on both sides of the road.
You park here and then walk about half a mile to get to the river. There is a pit toilet by the parking lot . . . but you probably won't want to change in there. So change in your car or before you come.
The Gardiner River moves quick, so beware. Keep a tight hold on small children and watch your footing as you go. There are some larger boulders in place to block some of the current, but navigating the river can be tricky.
The other thing I would suggest is wearing some type of toe-covered water shoe. The rocks in the river hurt our feet and you don't want to stub your toe while trying to stay upright.
There you go the best things to do in Yellowstone National Park! Want more?! Check out this post on awesome activities to do in Yellowstone with kids!
If you are interested in planning a Yellowstone Vacation that includes more than just the park be sure to check out this post: Yellowstone Vacation: 12 Day Itinerary for Visiting In & Around The Park
There you have it! Time to plan your road trip to what many consider the best National Park in the United States. For us it is a close second to Glacier National Park. But a very close second!
Check out our Yellowstone page for a guide to Yellowstone and to help you plan your trip to Yellowstone. And our Airbnb Yellowstone post for tips on places to stay or this post from our friends at 365 Atlanta Traveler about Glamping in Yellowstone.
Related Content:
6 Epic National Park Road Trip Ideas [Maps Included]
9 Awesome Things To Do In West Yellowstone
12 Amazing Things To Do In Gardiner, Montana [Plus Where To Stay]
22 Amazing Things To Do In Red Lodge, Montana
Grand Teton National Park and Jackson Hole
15 Amazing Things To Do In Stanley, Idaho
Pin This Post: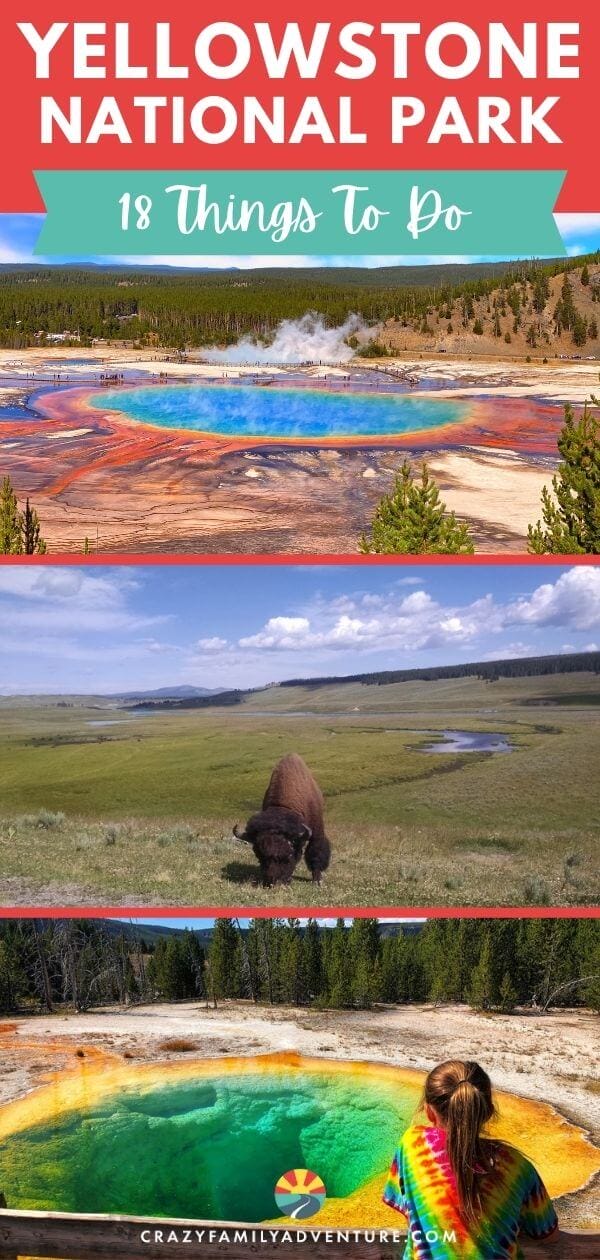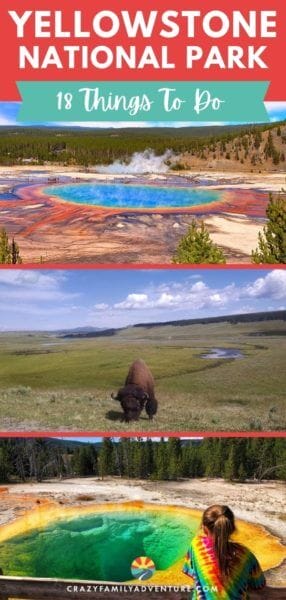 DISCLOSURE: This post may contain affiliate links, meaning I get a commission if you decide to make a purchase through my links, at no cost to you. Please read my disclosure for more info.