Tower Roosevelt should definitely be on your list of places to explore in Yellowstone National Park. Not only is it a beautiful area to drive through but also has some great things to do. Below we share our recommendations on what to do in and around the Tower Roosevelt area.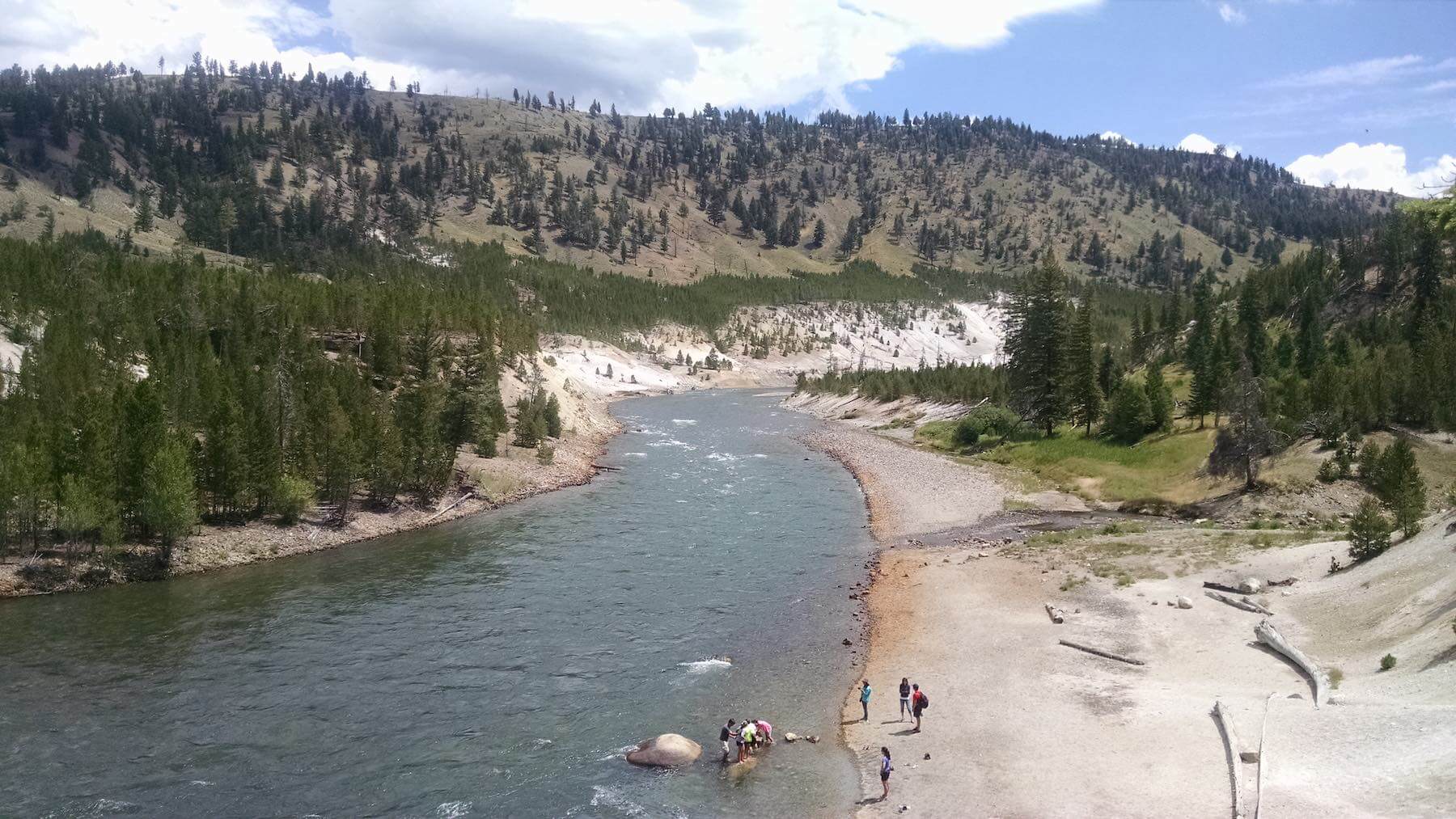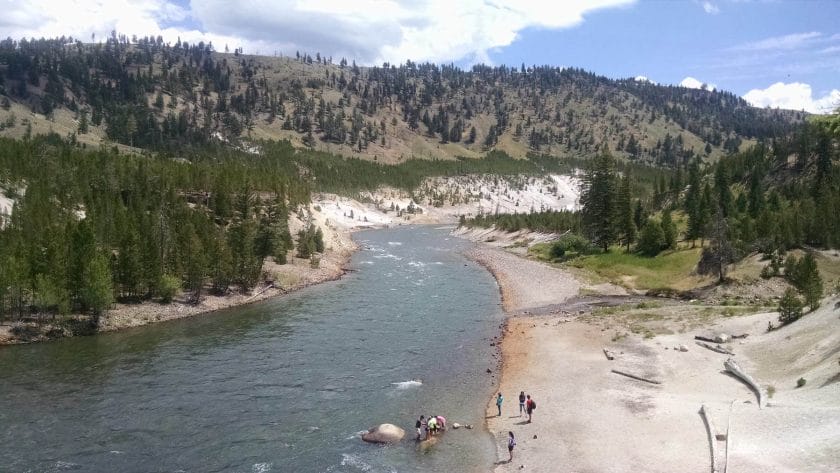 Cooke City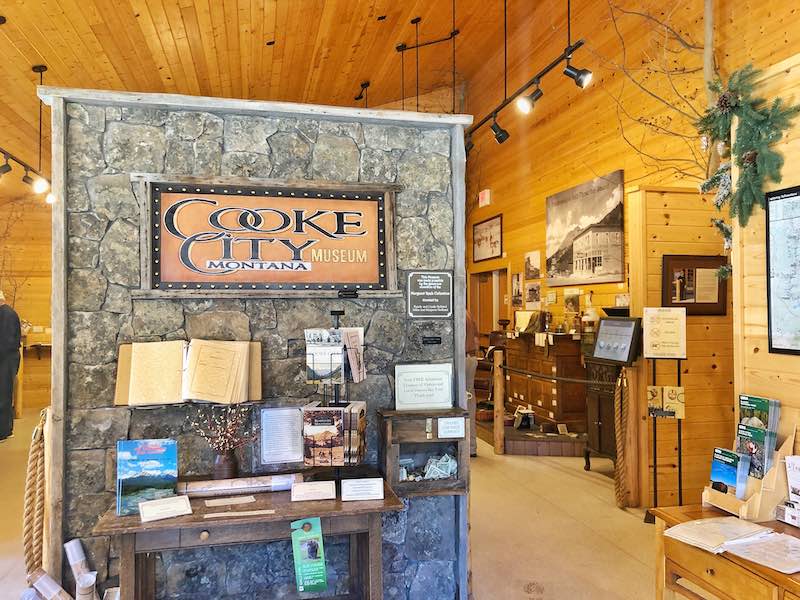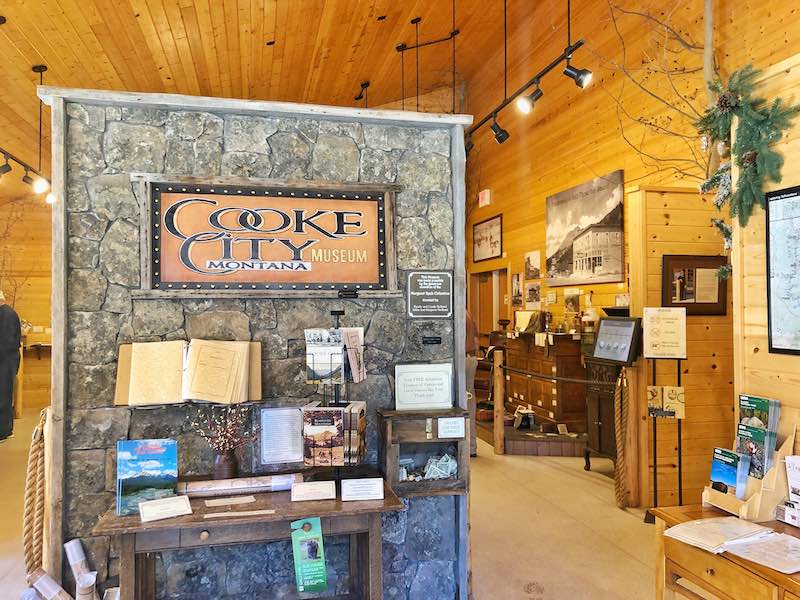 Cooke City is a cute little mountain town with a main street that has a few stores and restaurants on it. Plus a coffee shop. There is also a small indoor and outdoor museum you can stop at here to learn more about the history of the area and get information on Yellowstone.
North East Entrance Ranger Station
The station is a National Historical Landmark and was built in 1934 in the "parkitecture" style that was common during that time. You will drive through here from Cooke City to enter the park.
Tower Falls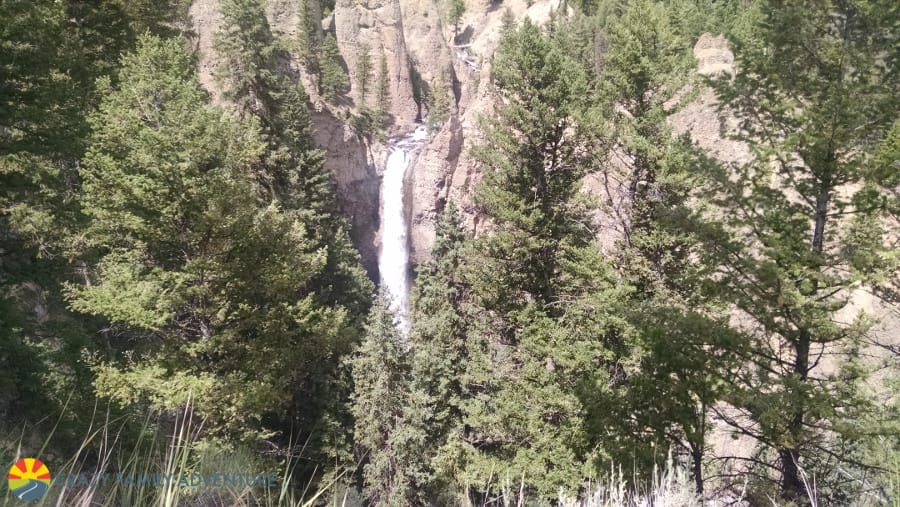 Tower Falls is a short but steep 1 mile loop trail. Be ready for it it is full of switchbacks and is a workout. You can get great views of the falls from the lookout.
Tower Falls General Store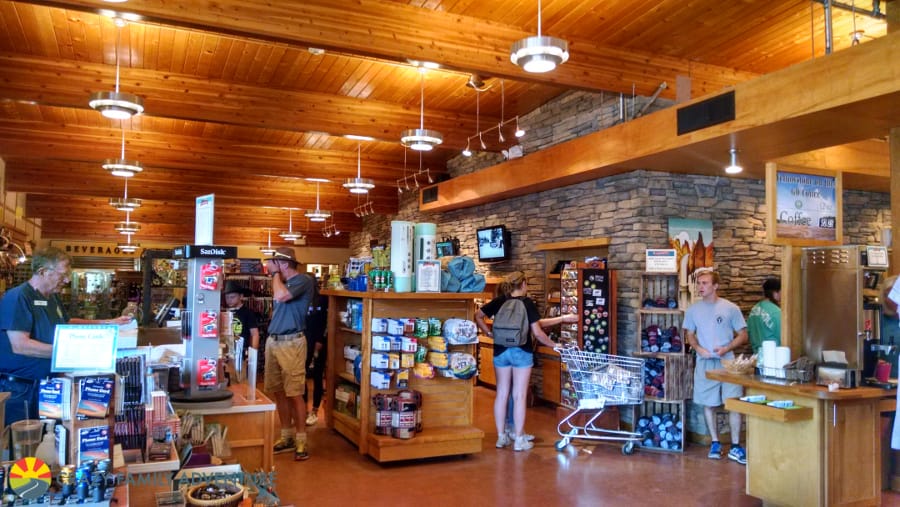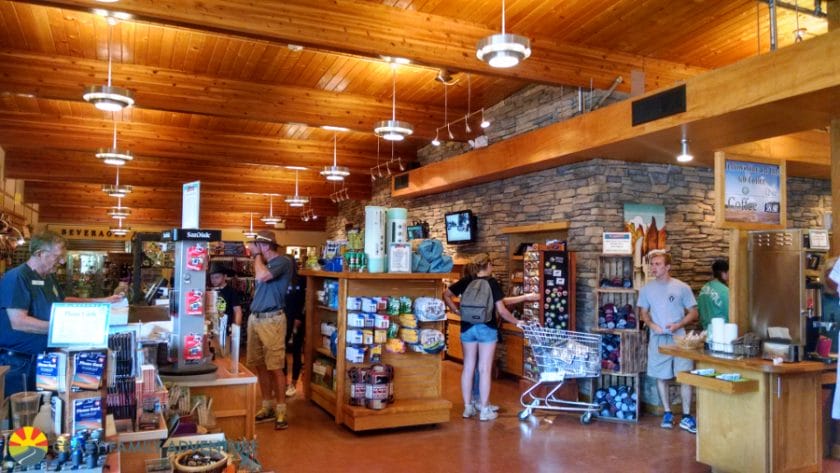 We drove into the Tower area right around lunch time, which was quite obvious because of the packed parking lot. Tower Falls has a general store with an ice cream shoppe inside as well as souvenirs, groceries, and light meal/fast food available.
Slough Creek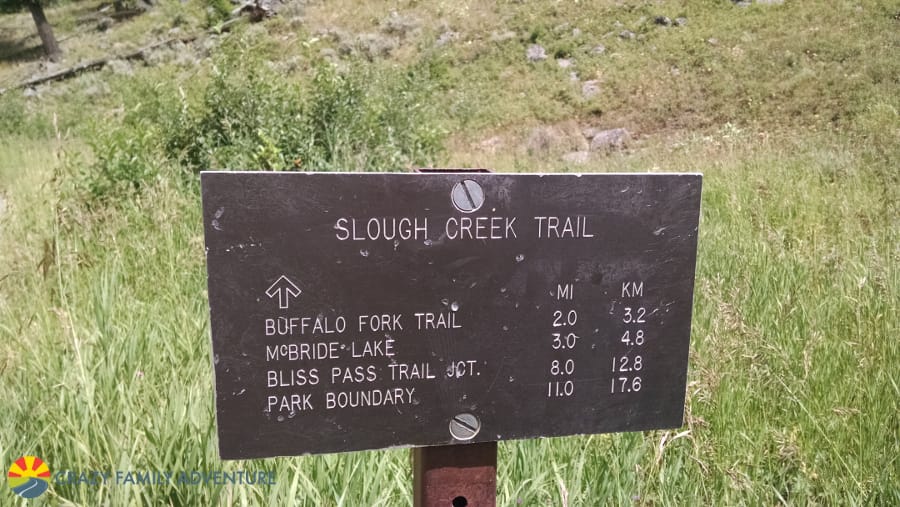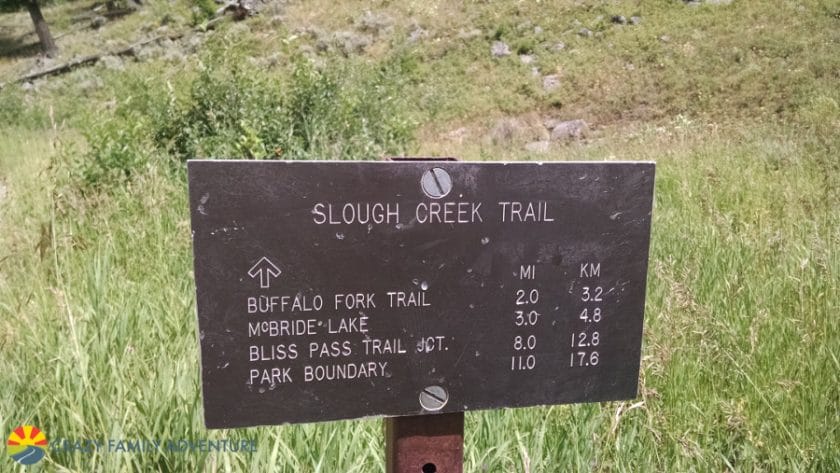 After hiking back up the Tower Falls trail, which turned out to be a bit harder on the kids than we thought, it was time for lunch. We packed a picnic lunch before we left the RV and planned on finding an off-the-beaten-path place to eat. Enter Slough Creek.
We drove north out of Tower Falls and turned right at Tower junction toward the northeast entrance. The Slough Creek campground is about 10 miles from the junction. We pulled in and drove about 2 miles on a gravel road to the parking lot. The parking lot is for the Slough Creek Trail, which seemed like a very cool trail to hike.
We were more interested in eating at this point than hiking, so we skipped this trail. We did see a few people hiking with fishing rods and waders. There is a good fishing lake about 3 miles down the trail. You can also hike all the way into Montana if you'd like, it's about 10 miles away.
There were a few picnic tables at the far end of the parking lot, and being the reasonable man that I am, figured we'd set up over there to eat. The kids had a different idea.
There were large boulders in a tall-grassed field next to the parking lot. They paired up and each found their own boulder to eat on. Hey, when in Rome, I guess… All I could do was crack a beer and eat my salad.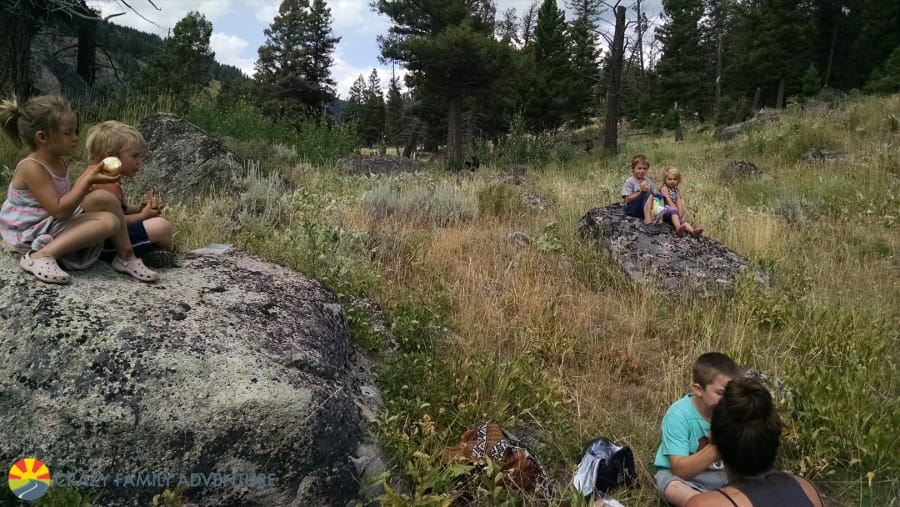 Lamar Valley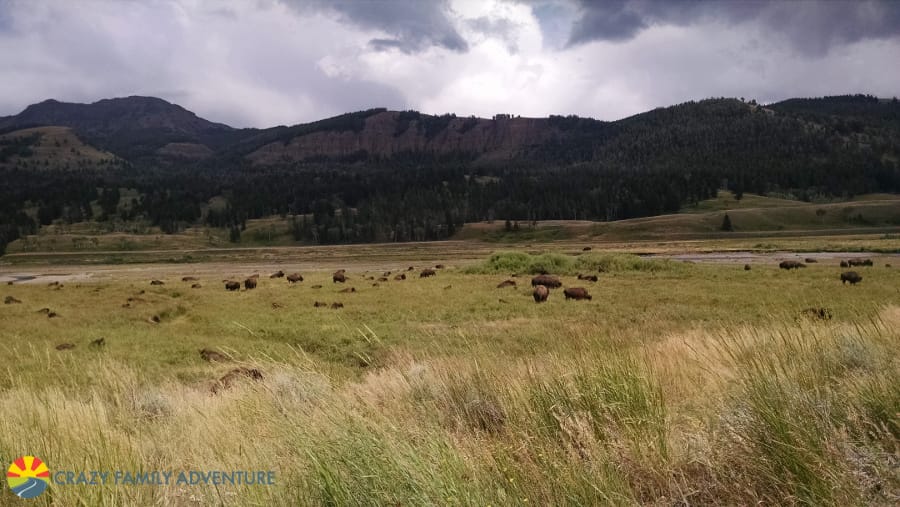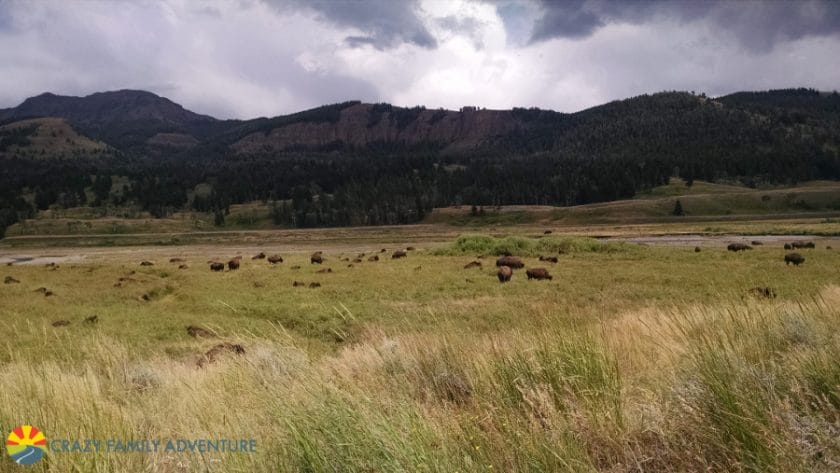 After lunch, our next destination was Lamar Valley. We went through Hayden Valley several times and saw hundreds of bison and other animals, so we were excited for Lamar Valley. We heard that Lamar Valley is known for having wolves roaming around, so we were really hoping to see one.
Unfortunately we weren't that lucky, but did see gorgeous landscapes. Just like Hayden Valley, this would be a great place to bring dinner to and watch the Valley come to life around dusk.
When we came back here on a different trip we did the Yellowstone Wildlife tour and it was amazing. We had to meet our guide at 5:30am in Gardiner. Yes it was early for us! Then he took us into Lamar Valley so we could be there before sunrise.
That time we did see wolves and not just 1 but a whole pack that was hunting elk! We got to watch the whole hunt. Our guide then took us around the park and we also saw a grizzly bear, black bear, bison, birds, bighorn sheep and probably more that I am forgetting. It was an amazing experience.
Roosevelt Lodge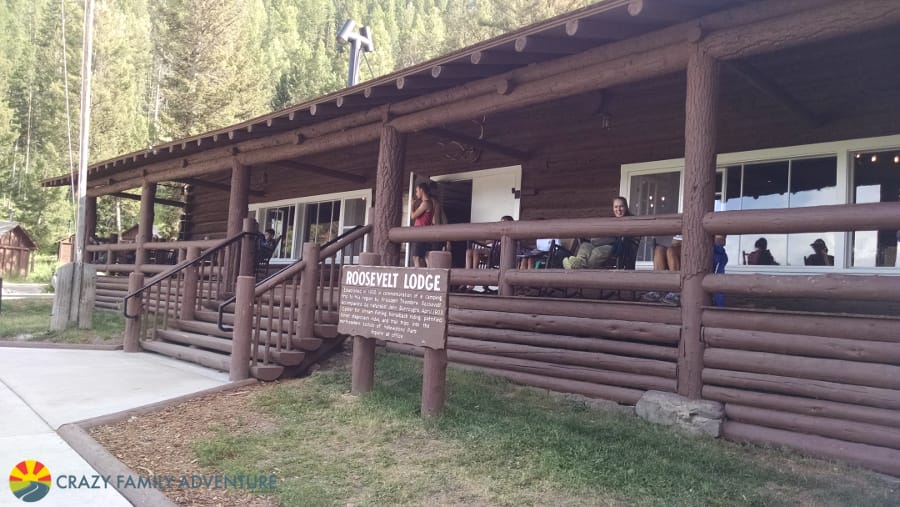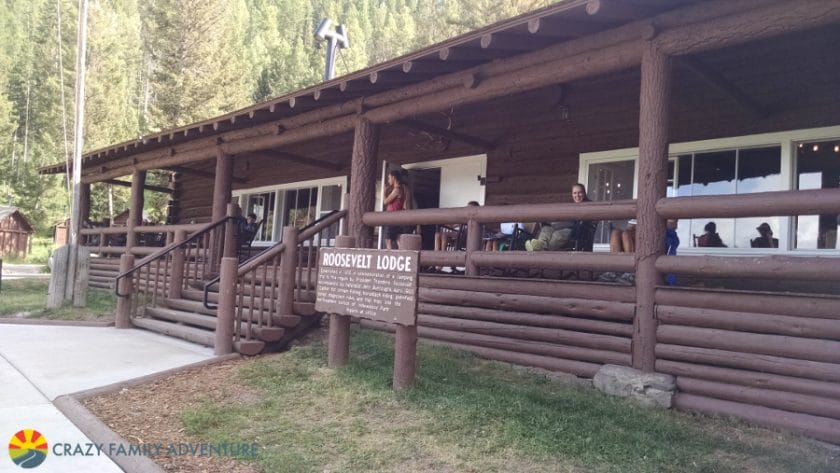 The Roosevelt Lodge area is like taking a step back in time to the Old West. There is a big porch out front all lined up with rocking chairs for hikers to rest their feet.
The dining room at the lodge serves Old West faire including Wild Game Chili, their Famous Roosevelt Baked Beans, Wyoming Cheese Steak Sandwiches, sizzling steaks, mashed potatoes, and more.
Across from the dining room there is the lounge bar. I'd suggest grabbing a glass of wine then making your way out to the rocking chairs on the porch.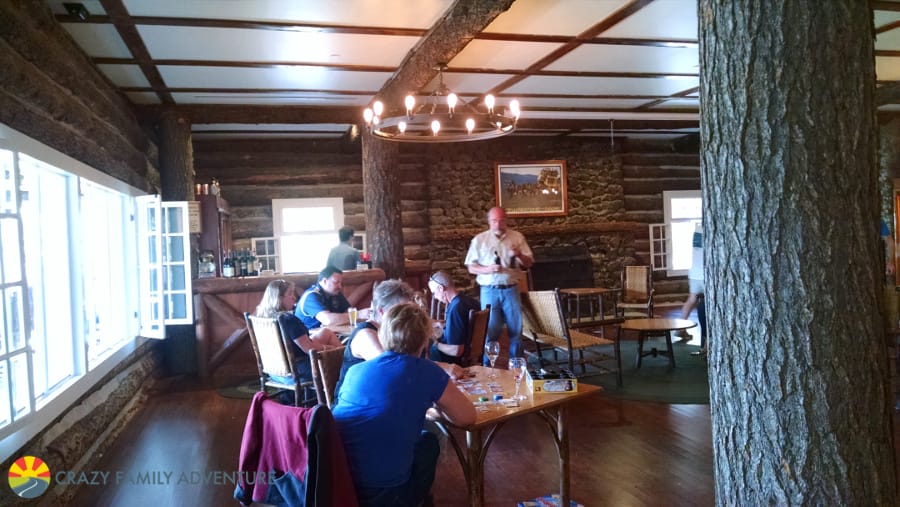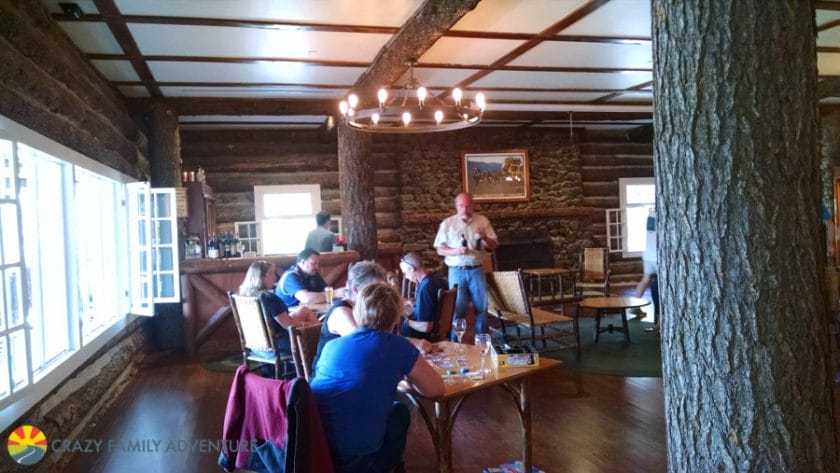 Along with the food, there are also Old Western things to do in Roosevelt. They have horseback riding as well as stage coach rides that operate several times a day.
Specimen Ridge
Specimen Ridge has the largest concentration of Petrified trees in the world! You can see petrified examples of trees that are no longer in the park and learn more about the history of the area through these plants.
Calcite Springs Overlook
This overlook gives you a beautiful view of the mountains and the Yellowstone River. Calcite Springs also marks where the Grand Canyon of the Yellowstone River ends. It is a beautiful site! You can also see smoke from some of the geothermal features along the river.
Mount Washburn Hike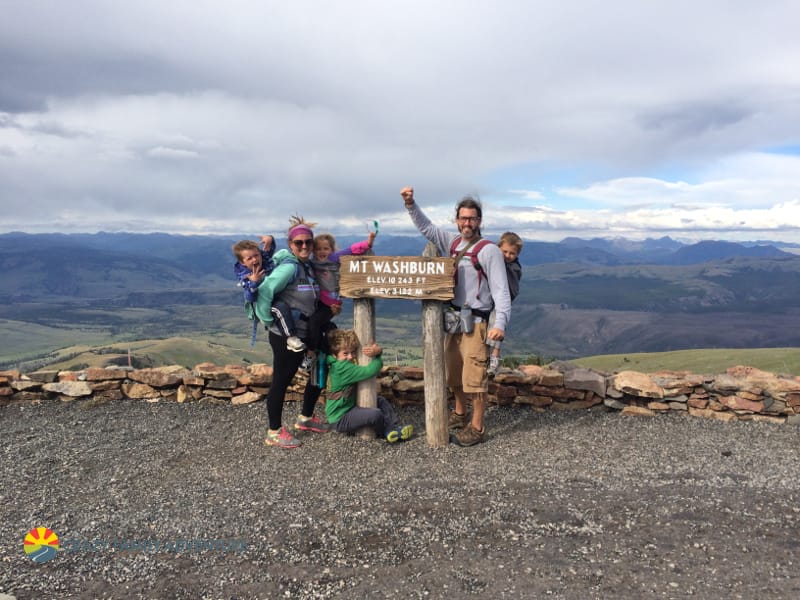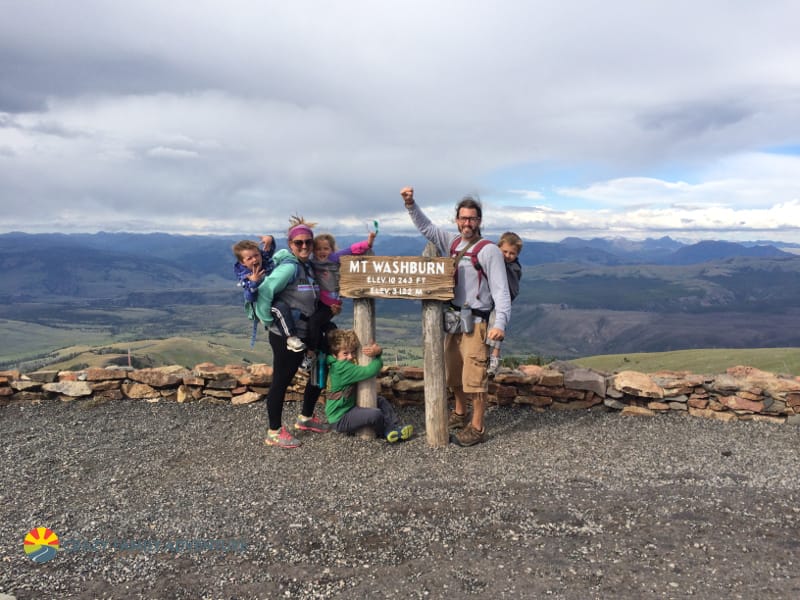 This is one of our favorite hikes in the park. It isn't an easy one at 6 miles round trip and you are climbing up, up, up to the top of the mountain! But it is an awesome hike and the views are amazing.
Blacktail Plateau Drive
This is a one way 6 mile scenic drive that takes you up to a Plateau. You do have a good chance to see wildlife on the drive but of course nothing is guaranteed! Also note this road is rough and there are a lot of potholes. You can not take RV's or trailers on this road.
Horseback Riding
Take a horseback ride through Yellowstone National Park! Take a 1 or 2 hour ride through this gorgeous part of the park.
Learn more about Horseback Riding in the Tower Roosevelt area.
Old West Dinner Cookout
Take a horse or a horse drawn covered wagon out to Pleasant Valley. When you arrive the cooks will be making a good old fashion cowboy meal. Plus there will be old western songs song by the singing cowboy!
Learn more about the Old West Dinner Cookout.
The Tower-Roosevelt area was really beautiful and we are glad we took a day to make the trip out there! There really isn't a bad location in Yellowstone. Just another reason we recommend staying at least a week and taking your time to not only see the main attractions but to also drive through the park and see all that Yellowstone has to offer!
Where To Stay
Check out this post on Airbnbs in Montana and stay in the Red Lodge area.
Or check out the Roosevelt Lodge and Cabins.
Check out our other posts about Yellowstone and the surrounding area:
Why You Should Stay at Fishing Bridge in Yellowstone National Park
8 Kid Friendly Activities by Old Faithful, Yellowstone National Park
Yellowstone Packing List: 17 Things You Will Want To Bring
Top 10 Things To Do In Yellowstone National Park
Planning Your Trip To Yellowstone: 15 Things To Know
5 Family Friendly Things to do by Grand Teton National Park
Yellowstone Vacation: 73 Places To Visit In & Around The Park
9 Awesome Things To Do In West Yellowstone
22 Amazing Things To Do In Red Lodge, Montana
Pin This Post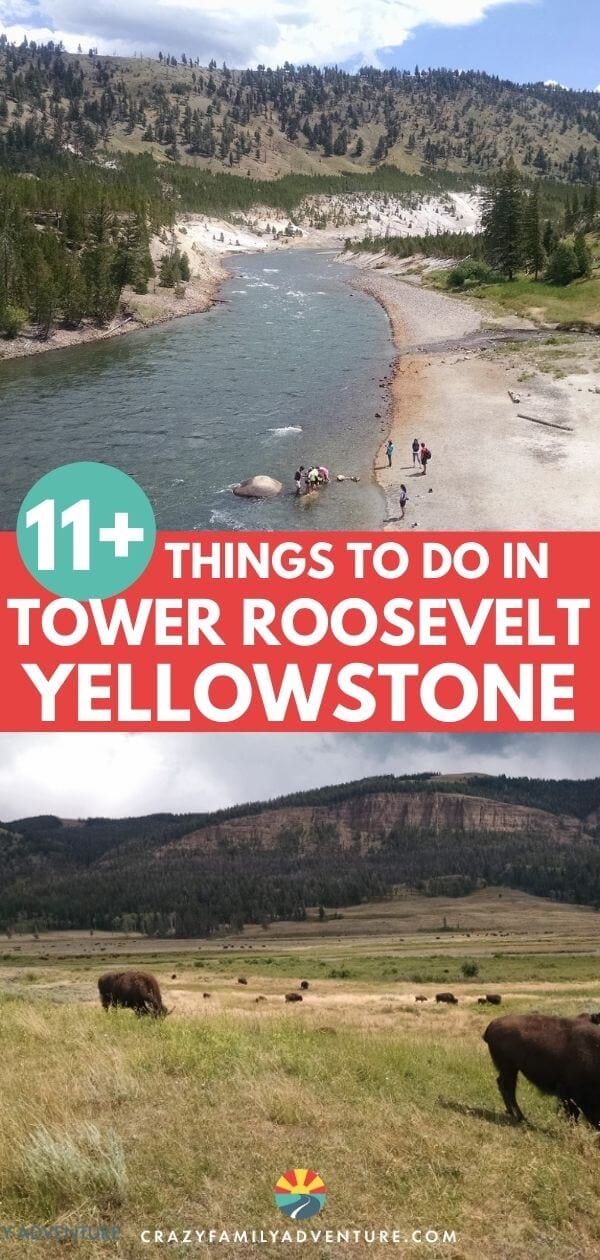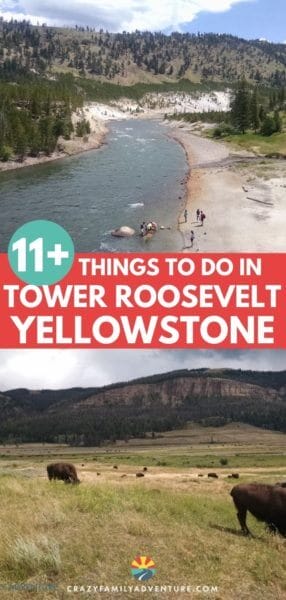 DISCLOSURE: This post may contain affiliate links, meaning I get a commission if you decide to make a purchase through my links, at no cost to you. Please read my disclosure for more info.