Old Faithful is the busiest place in Yellowstone National Park. For an obvious reason when people think of Yellowstone they picture the beautiful Geyser that is Old Faithful shooting up into the sky! So everyone has to stop to see it. Old Faithful is amazing and there are a lot of other Kid Friendly activities to do in the are.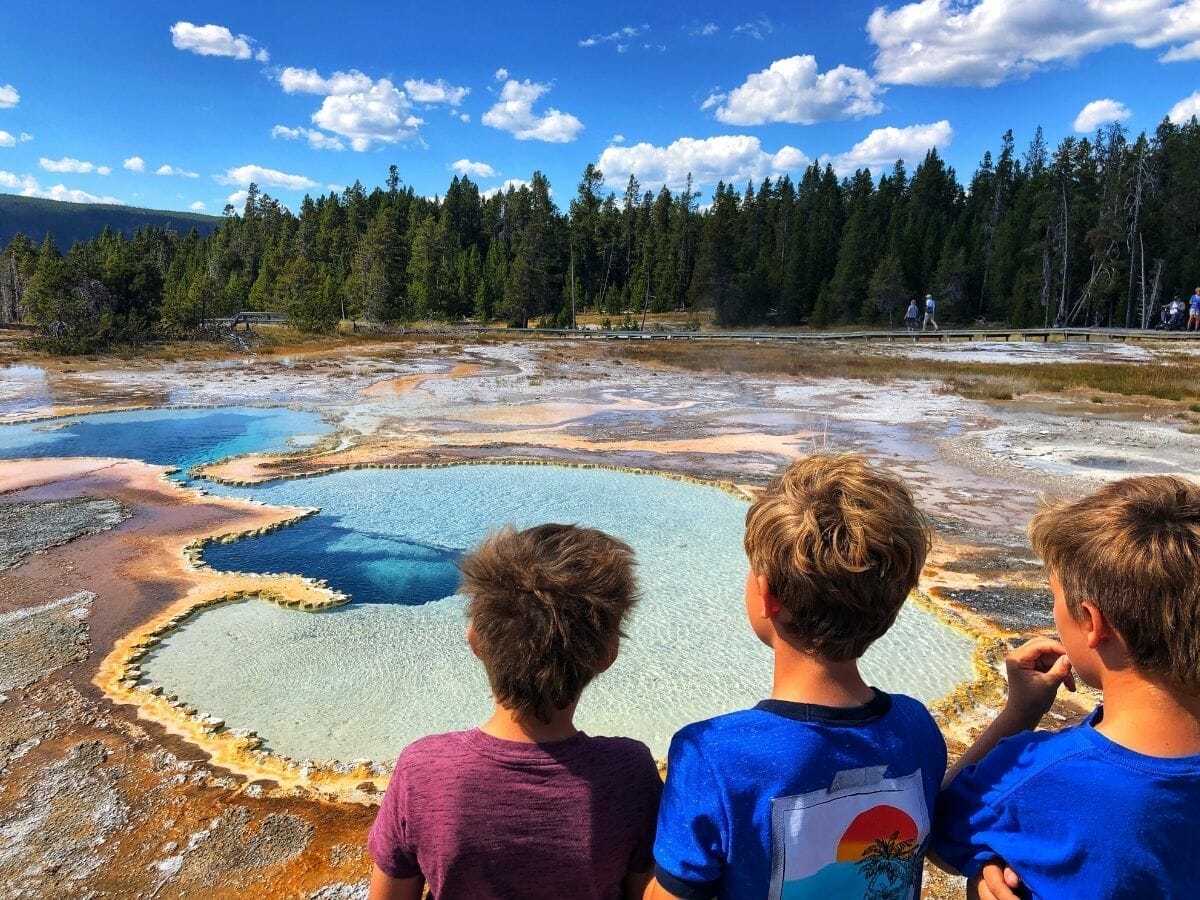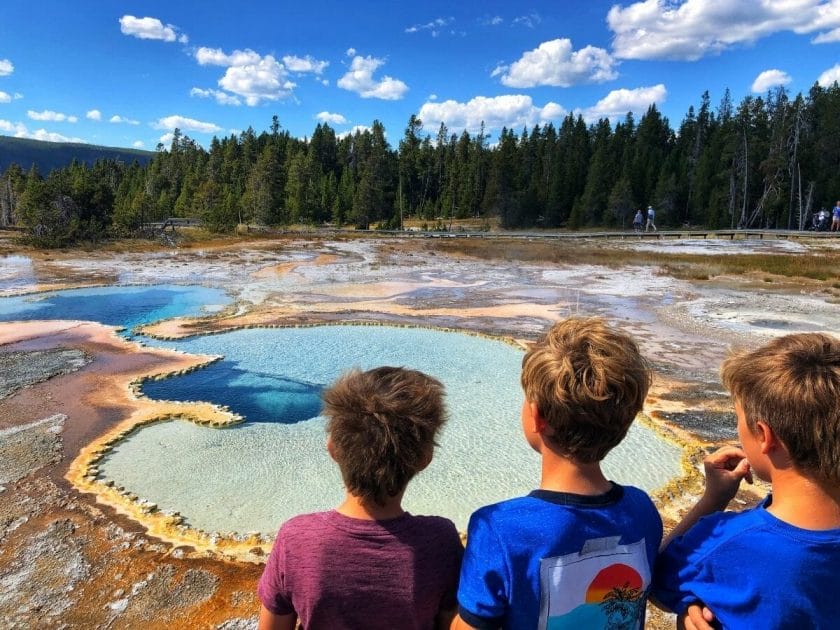 The Old Faithful area – has a cafeteria, snack shop, souvenirs, a sit down restaurant, general store (like a gas station sized grocery store), ice cream, cookies and gas.
The Grand Prismatic and the Midway Geyser Basin
Yes, this is another highly populated tourist attraction that everyone who visits Yellowstone National Park stops to see – but it is so worth fighting the crowds to see it. It is beautiful, amazing, and crazy that all those colors come out of the ground! The Grand Prismatic is a must see when you are in Yellowstone.
The hike through the Midway Geyser Basin is all boardwalk, so it's easy to navigate, but it also means standing shoulder to shoulder with strangers while soaking in the colors and trying to take pictures.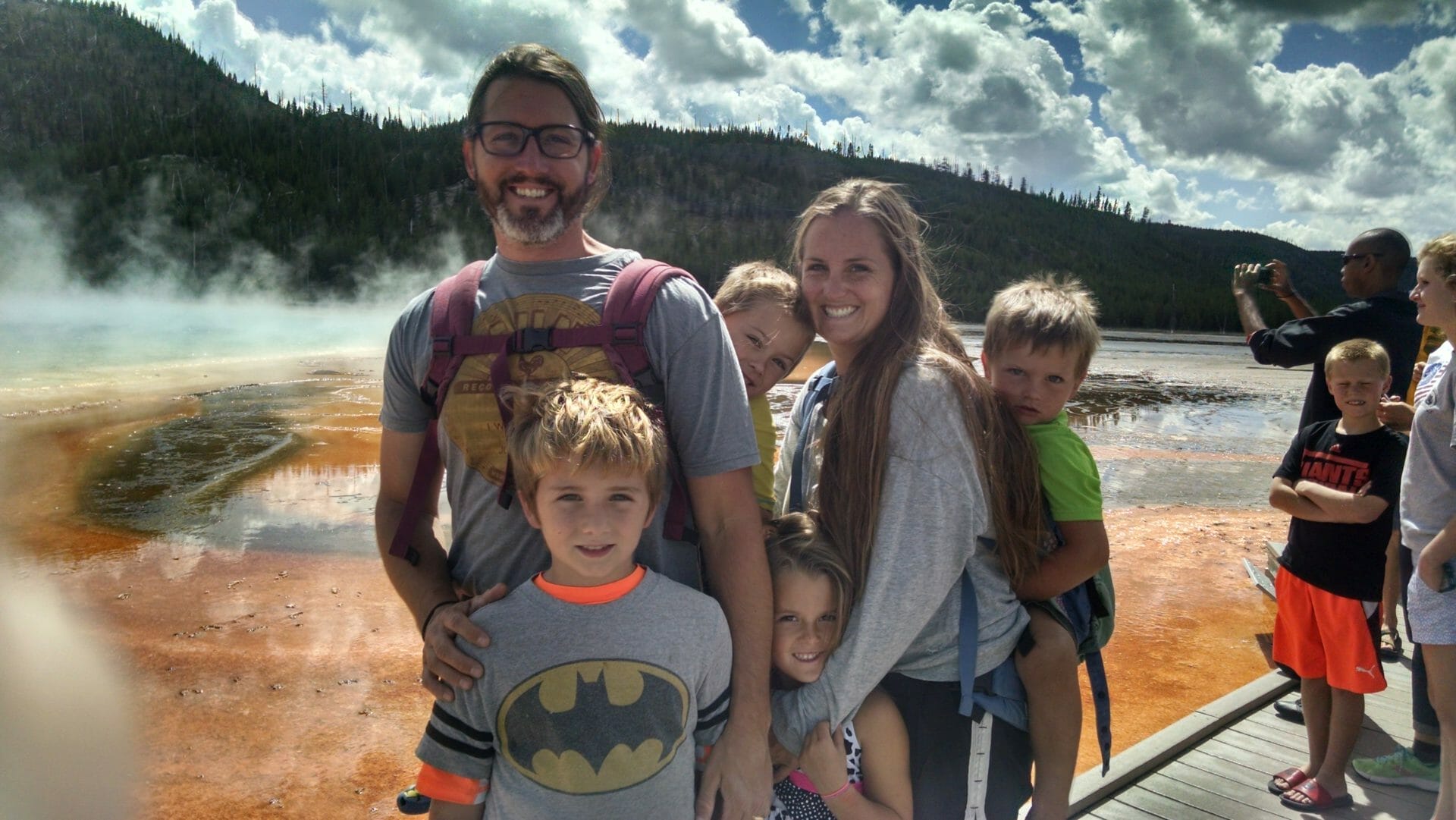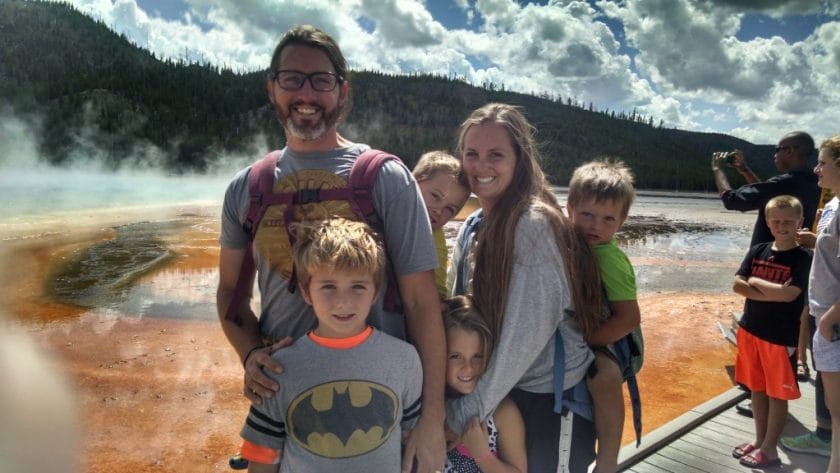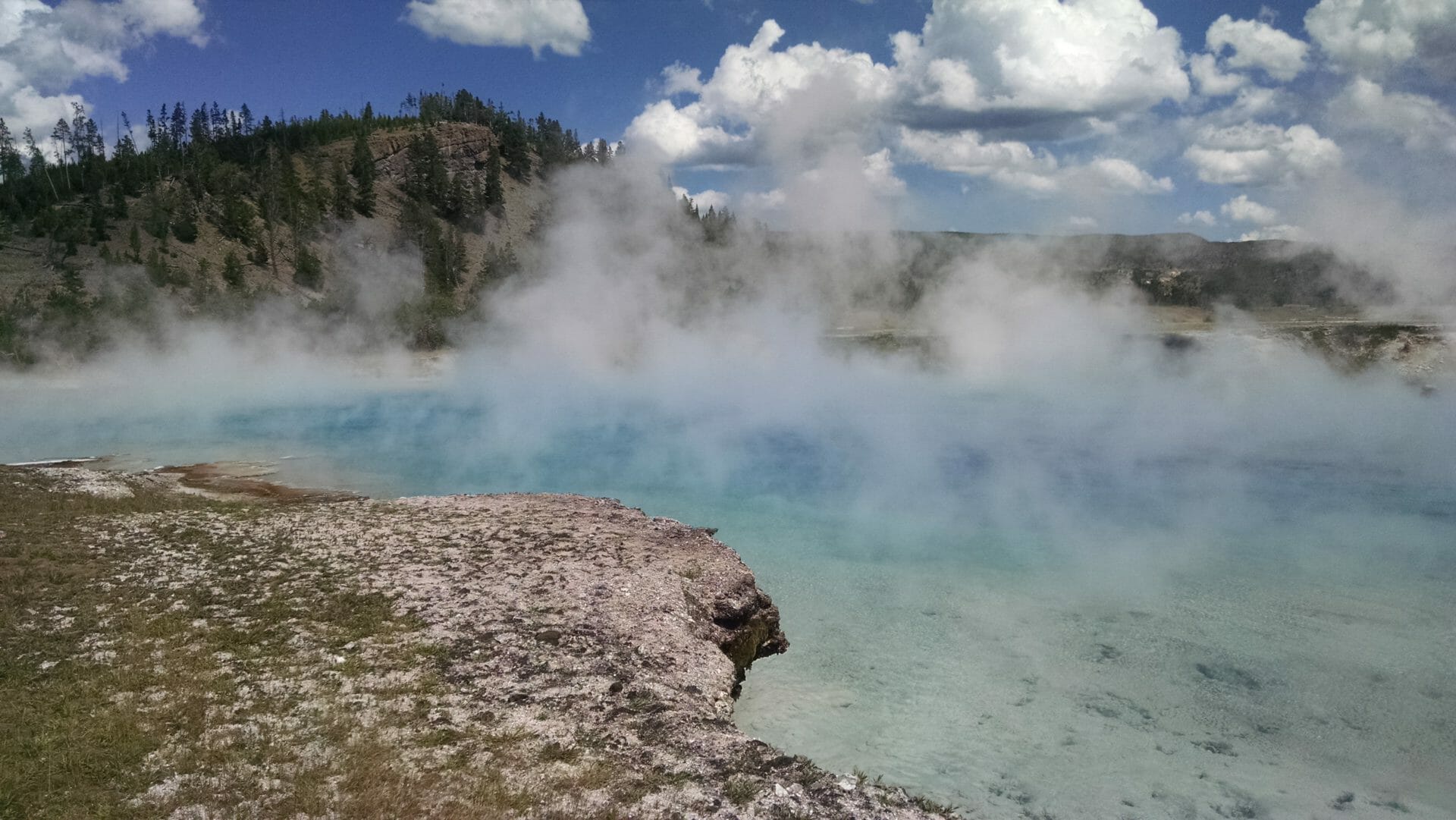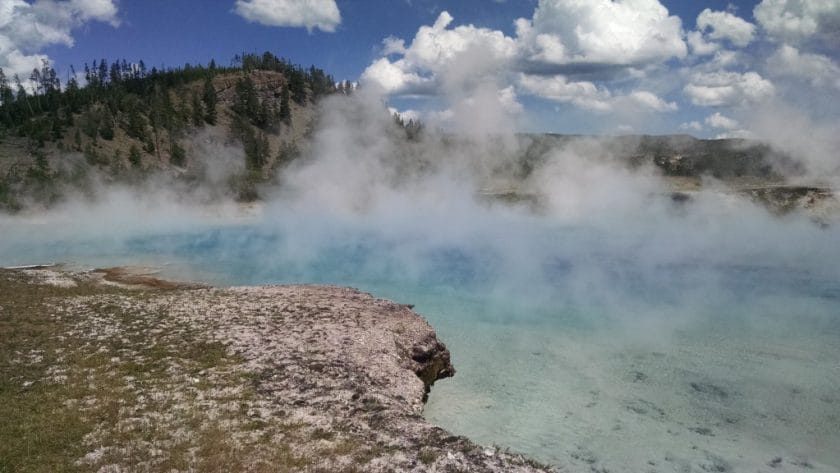 Take note it can be really windy here. If you have a hat leave it in the car – or it may end up in the Springs! Also if you have kids make sure to hold their hand. The boardwalk does not have any railings or anything like that.
I loved how when you were walking on the boardwalk you could feel the heat coming out of the ground. This is one of my favorite places in Yellowstone.
View the Grand Prismatic Springs From Above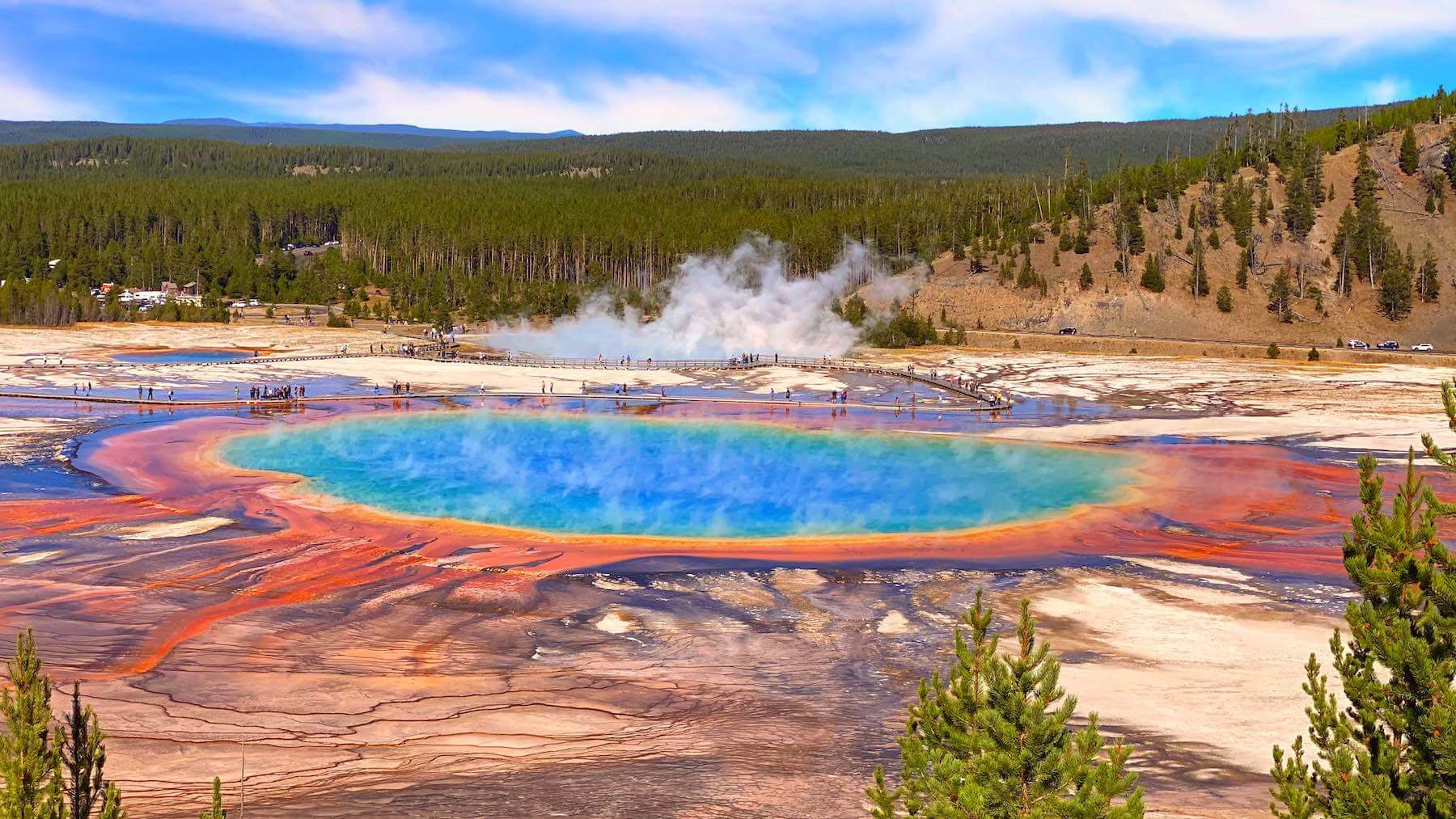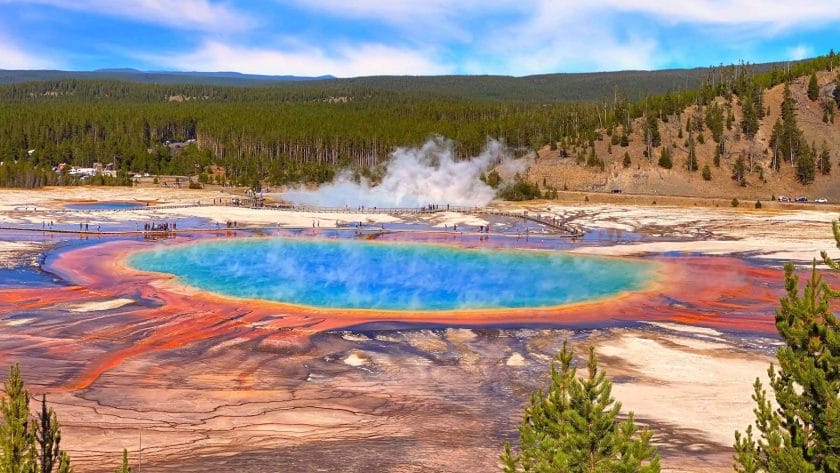 When stopping here plan on walking around the geyser so you can feel the heat and get up close to it. But also plan to drive up the road to the Fairy Falls trailhead and hike up to the Grand Prismatic Overlook.
It is a 1/2 mile hike that starts on the Fairy Falls trail – just short of a 1/2 mile up the trail there will be a small sign pointing up the hill. Don't miss it!
This is where you can walk up and look down on the springs. It is an amazing view! Look at those colors!!
Lone Star Geyser
This is my FAVORITE recommendation (a close second to the Grand Prismatic!). Old Faithful is Old Faithful but imagine Old Faithful without all the people and hoopla. That is what you get with the Lone Star Geyser.
It is a 2 mile bike or hike to get back to the Geyser. You can check out our post on West Yellowstone to learn about where you could rent bikes in case you didn't have that on your Yellowstone packing list.
Check out: 15 Tips For Hiking With Kids
Then once you get there you can go and play in a stream that has shallow, crystal clear water while you wait for the Geyser to go off. There is about a 3 hour interval between eruptions so it really is a matter of luck if you get there right before ir goes off, right after, or somewhere in the middle.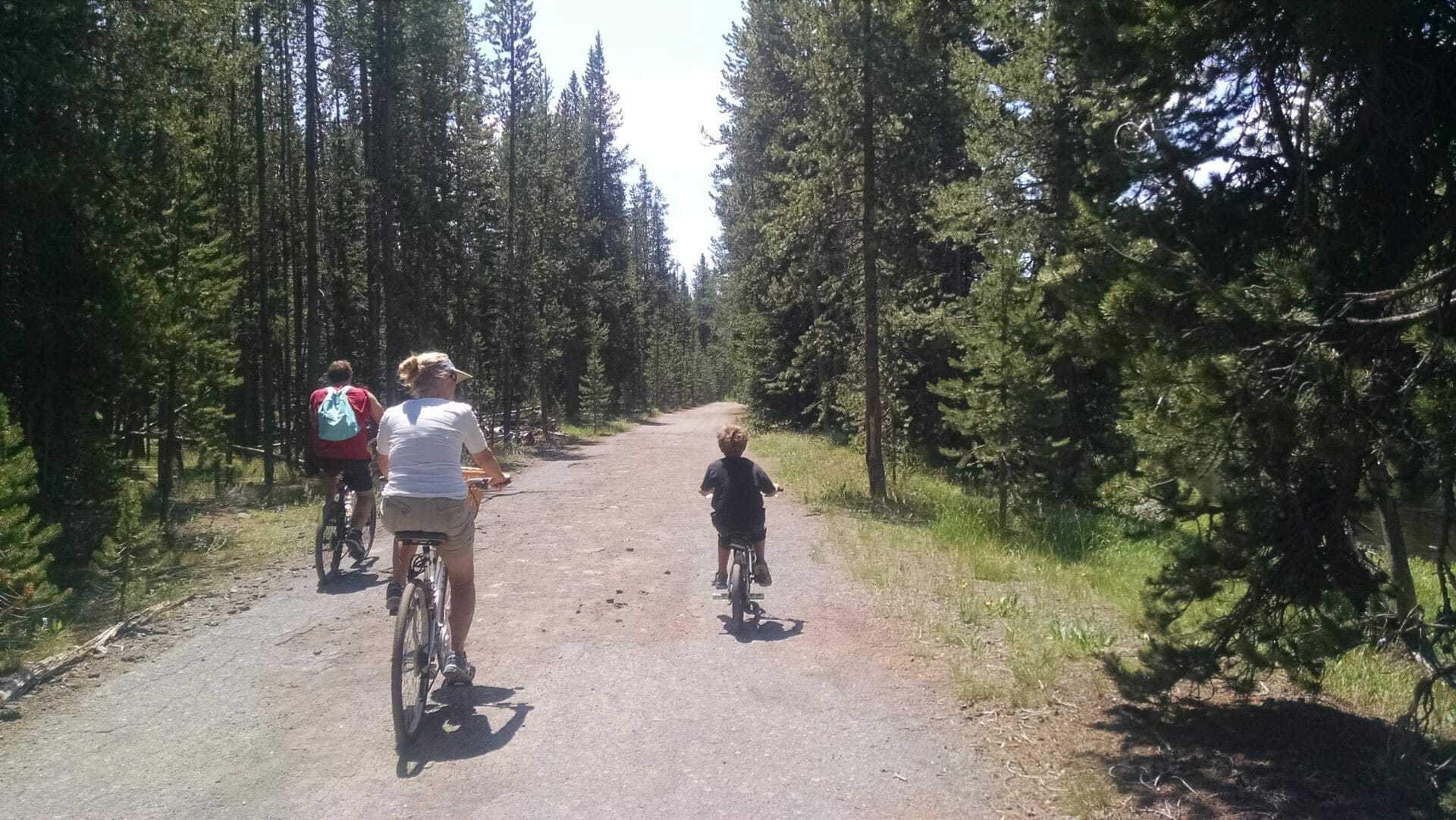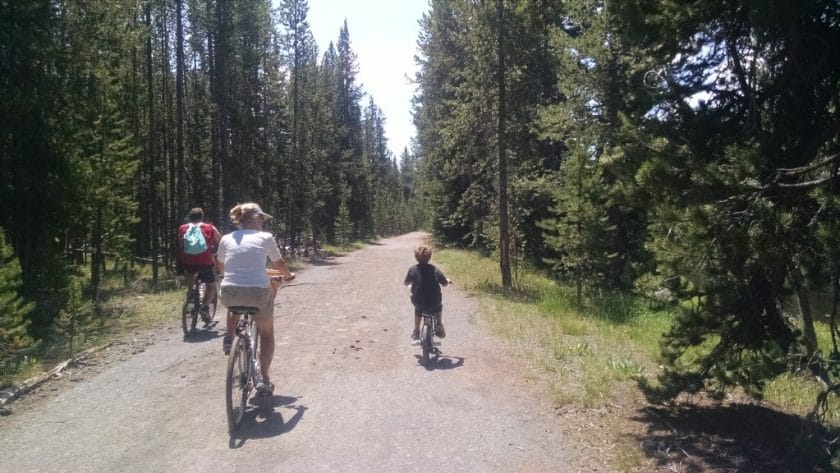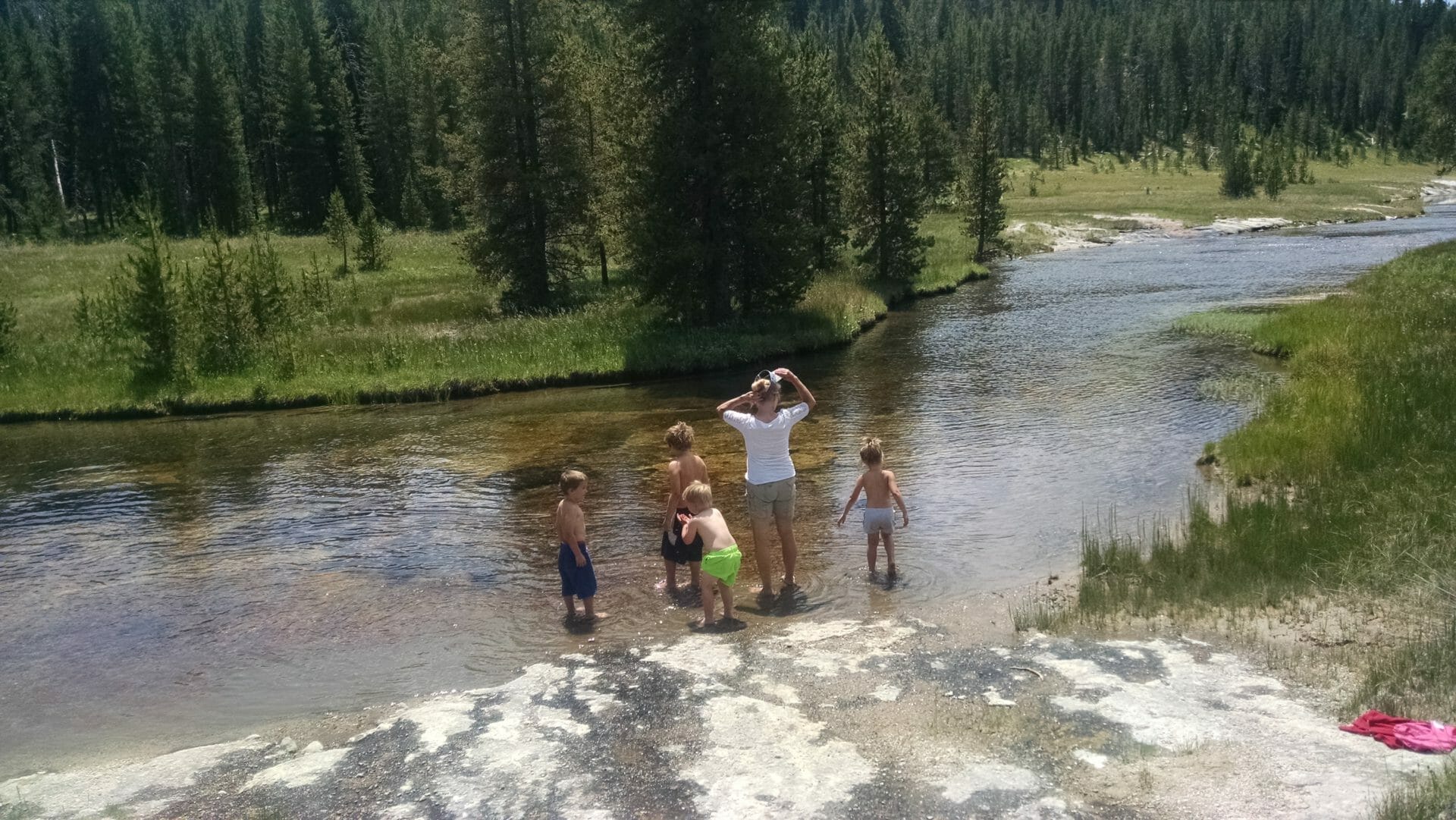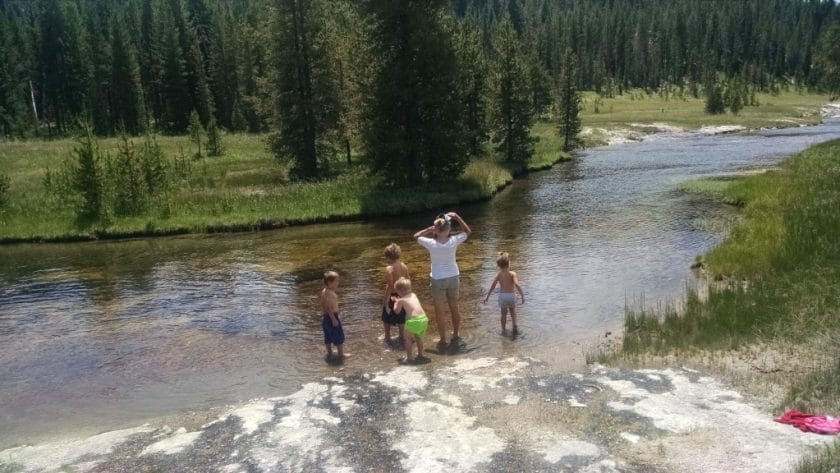 We weren't sure when it was going to blow so we went to play in the stream and have a little picnic while we waited. All of a sudden we heard this noise and there it was! The Geyser started going off – it quickly stopped and we thought that was it.
We kept picking on my sister because she told us that it would go off for 30 minutes. Luckily we waited because sure enough it went off again and this time it lasted for a good 30 minutes! We chose to ride our bikes in and it was so worth it!
You can literally walk right up to the Geyser if you want. Obviously you wouldn't do that because you would get scalded! But if you were so inclined you could.
They also have a log book there that you could write down your name and date you came. It was a really cool experience and one I would highly recommend!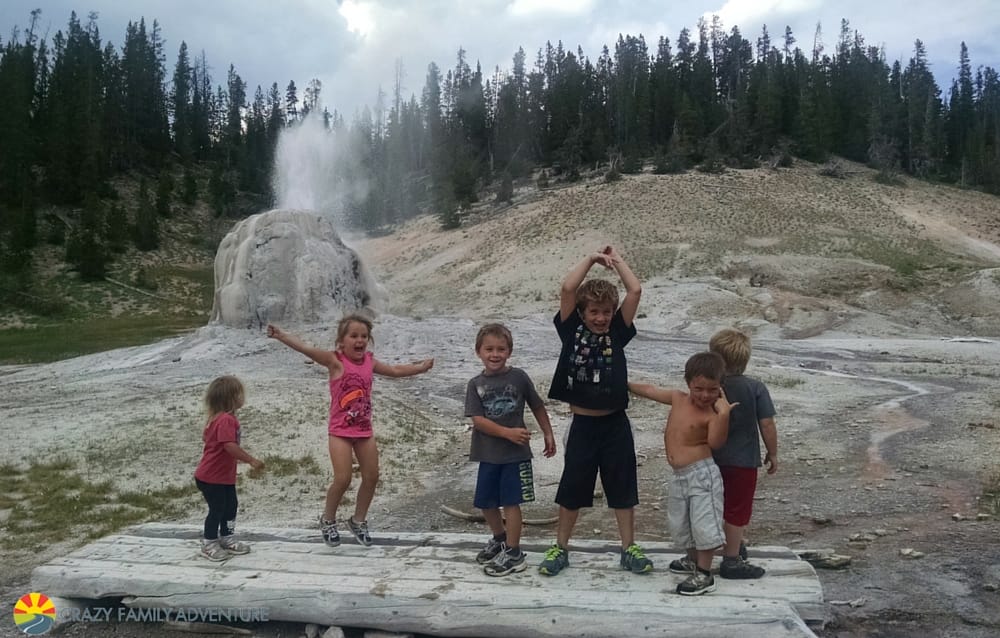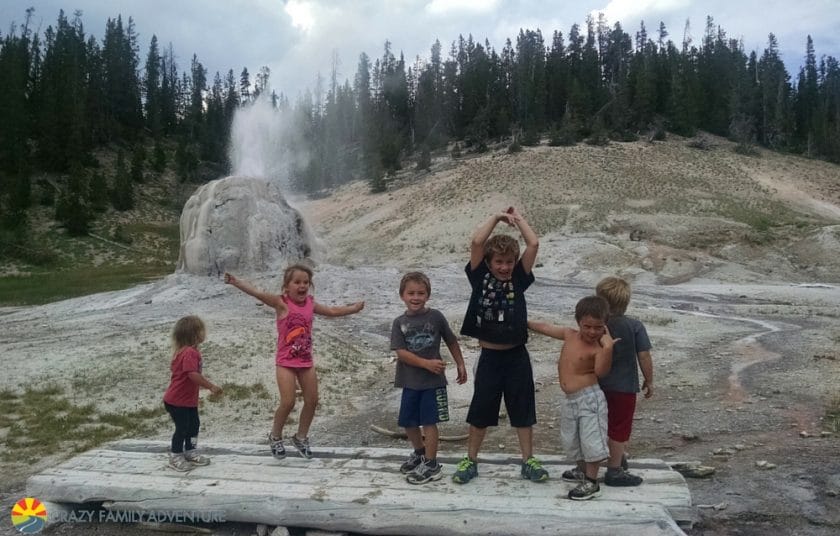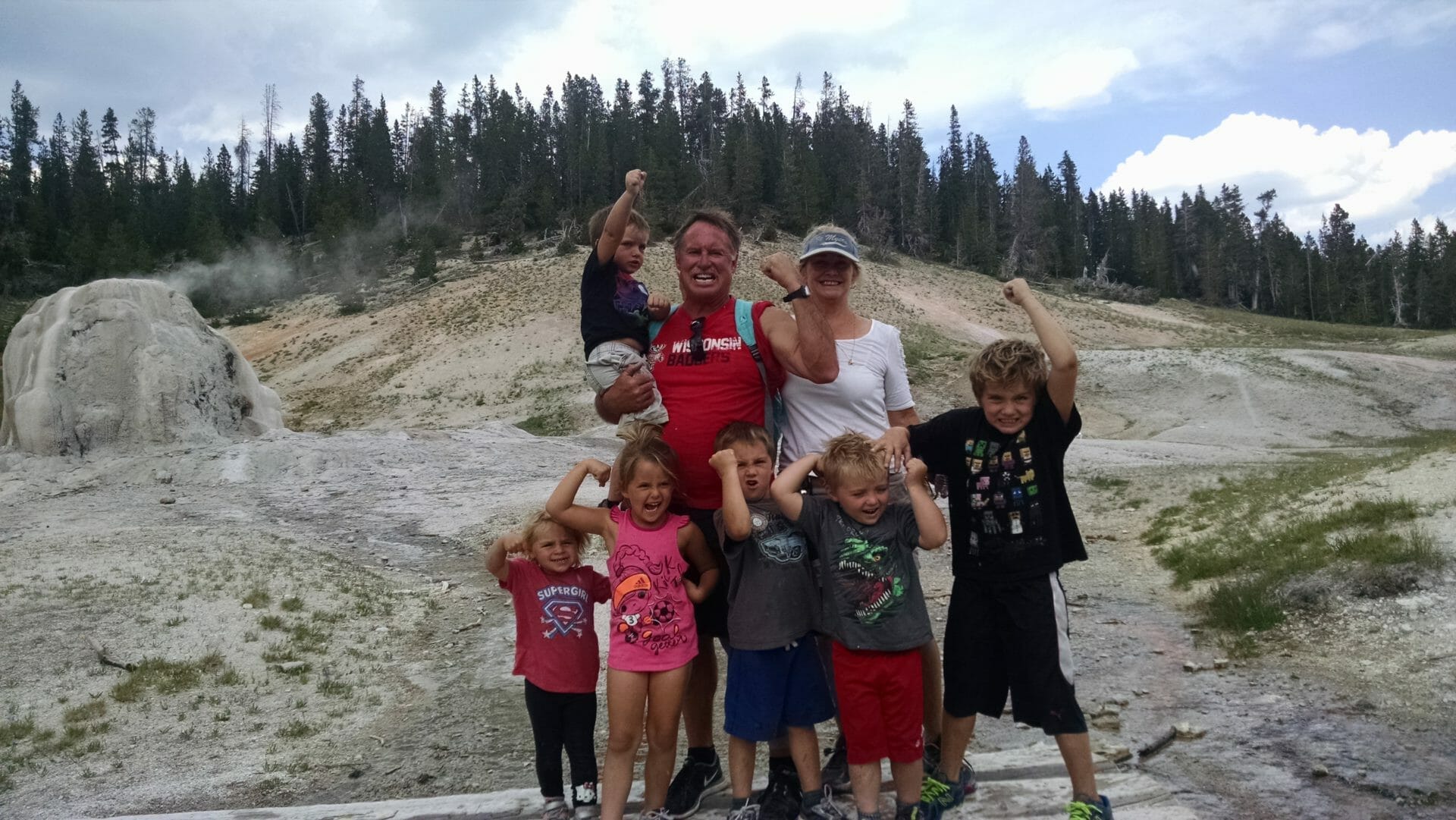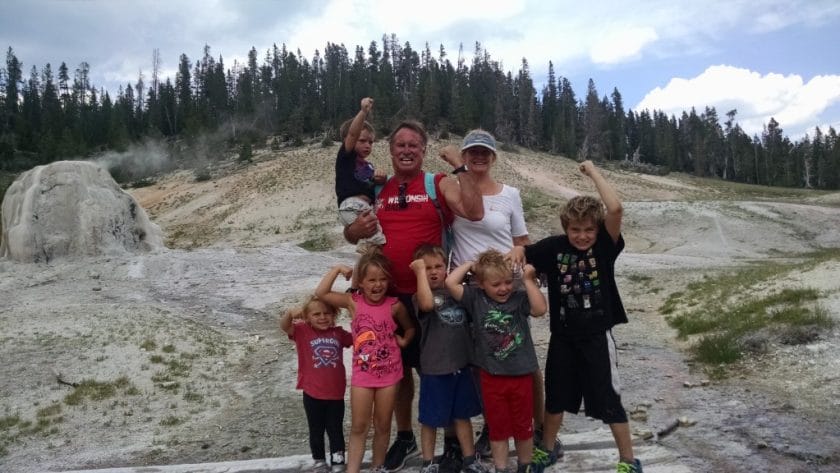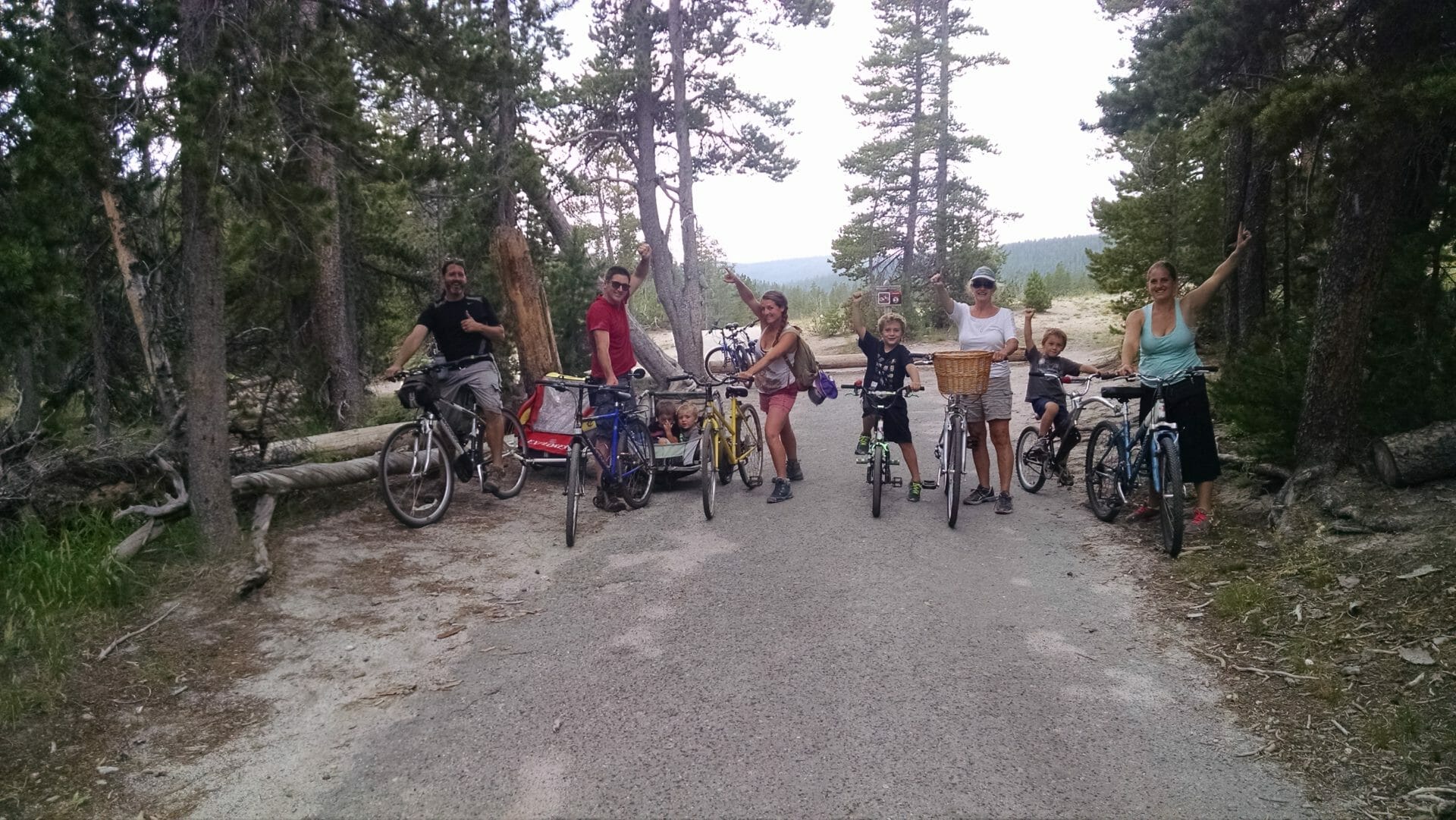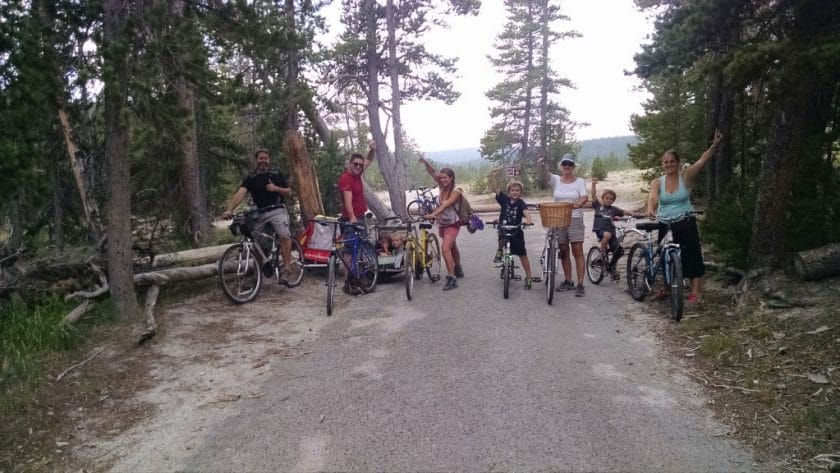 Old Faithful Geyser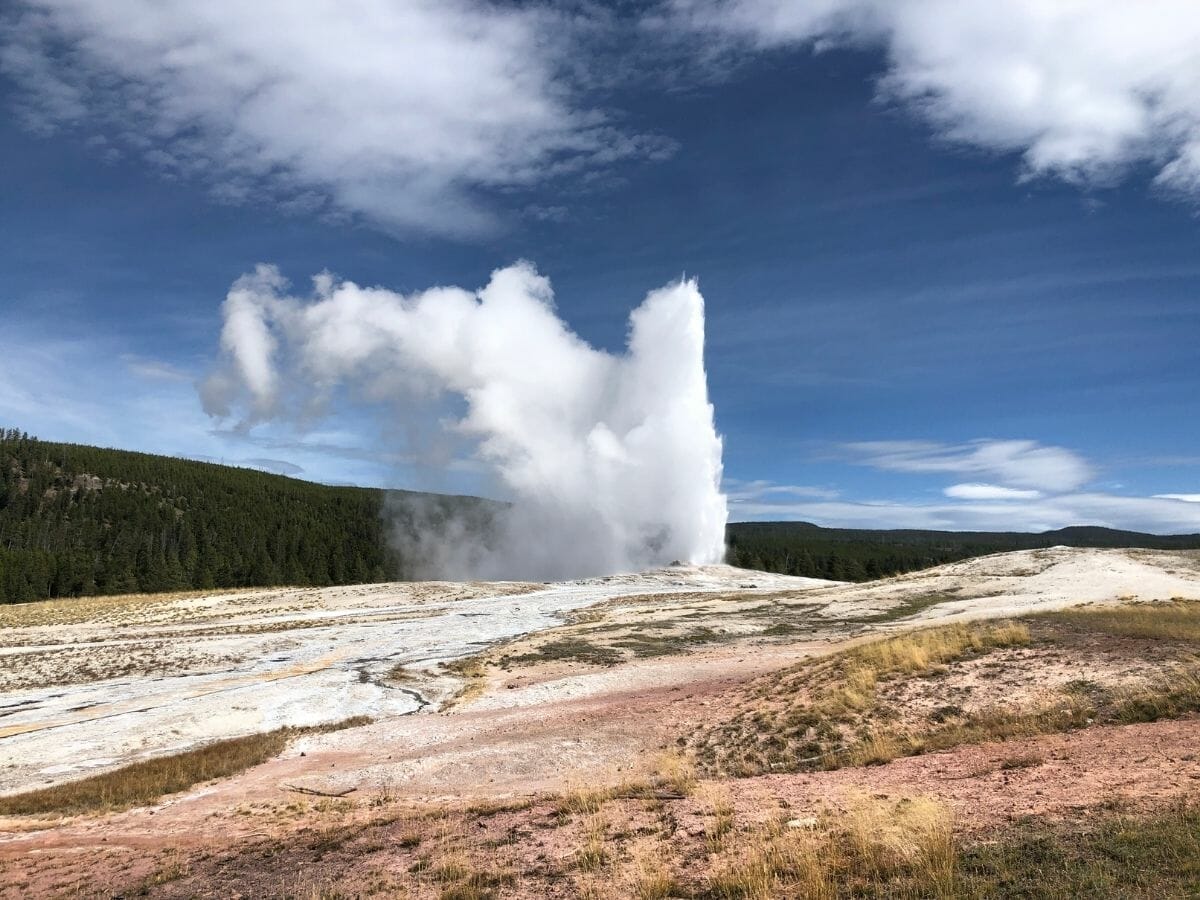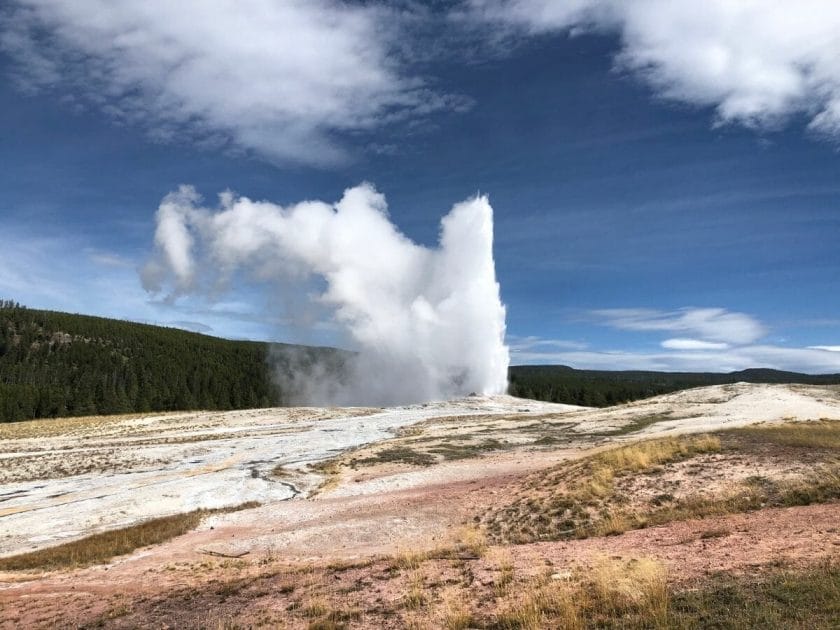 The Disneyland of Yellowstone and the most famous geyser! Even with all the businesses it is worth coming to the visitor center to explore and then going out to watch Old Faithful. A LOT of people come to watch Old Faithful the biggest geyser in Yellowstone National Park go off so if you want a front row seat you have a few options.
Check the time in the Visitor Center for an approximate time that the geyser will go off (the time they provide is + or – 10 minutes). Then head out well before the set time to get your seat. (The geyser erupts about every 90 minutes or so – this is the average interval between eruptions – but it can vary!).
Walk around the trails at Old Faithful and watch it go off from a back view. A lot of people have said that is even a better view than the benches in front of Old Faithful.
There is also a trail that takes you up to a higher point to watch it go off from above: The Yellowstone Observation Point trail.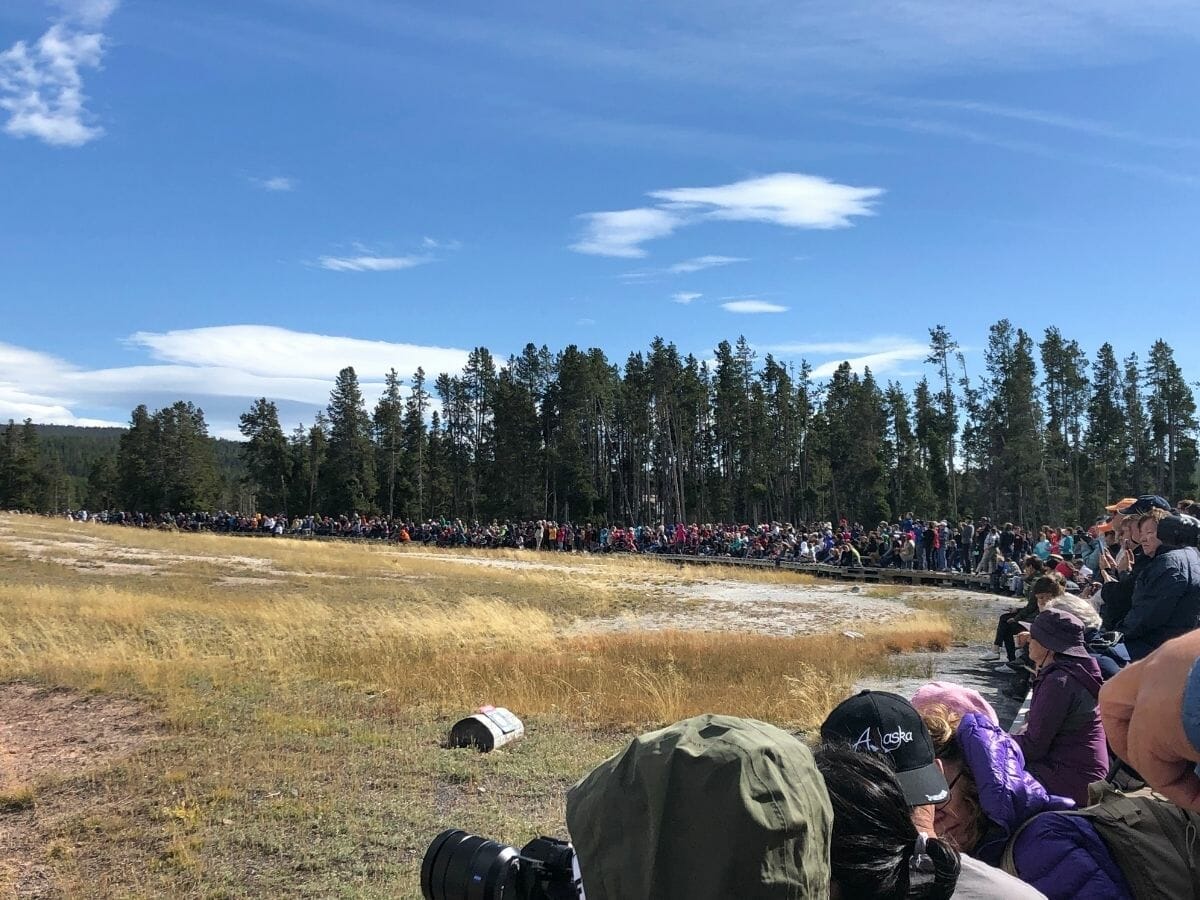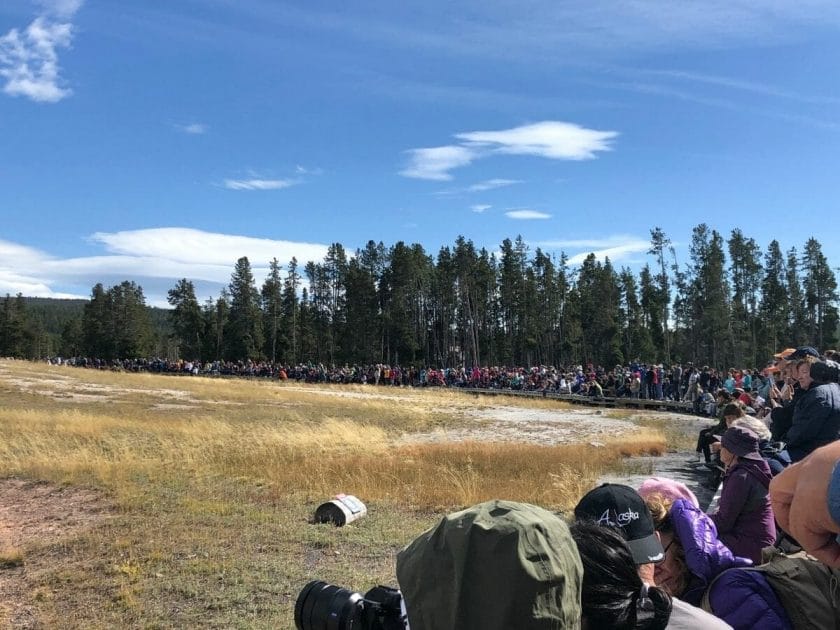 Our recommendation is to watch Old Faithful from both view points and to make sure you come back to watch it at sunset and when it is dark outside.
Yes we recommend watching it 4 times. But as you will see each way gives you a different view point of Old Faithful! And no, they don't light it up at night. This place is rustic, man!
On average the geyser will hit 130 feet in the air! And can release from 3,700–8,400 gallons (14,000–32,000 l) of water every time it goes off. A pretty epic site!
While you are waiting for it to erupt you will see boiling water bubbling up from the ground too – it makes you think it is happening and then it stops! This happened over and over again to us before it actually went off!
** Recommendation – as soon as you get there rush right into the visitor center to see what time they are predicting Old Faithful erupts. They have a board right when you walk in that tells you. The worst is when you are in the parking lot and hear it go off and know you just missed it!
Old Faithful Inn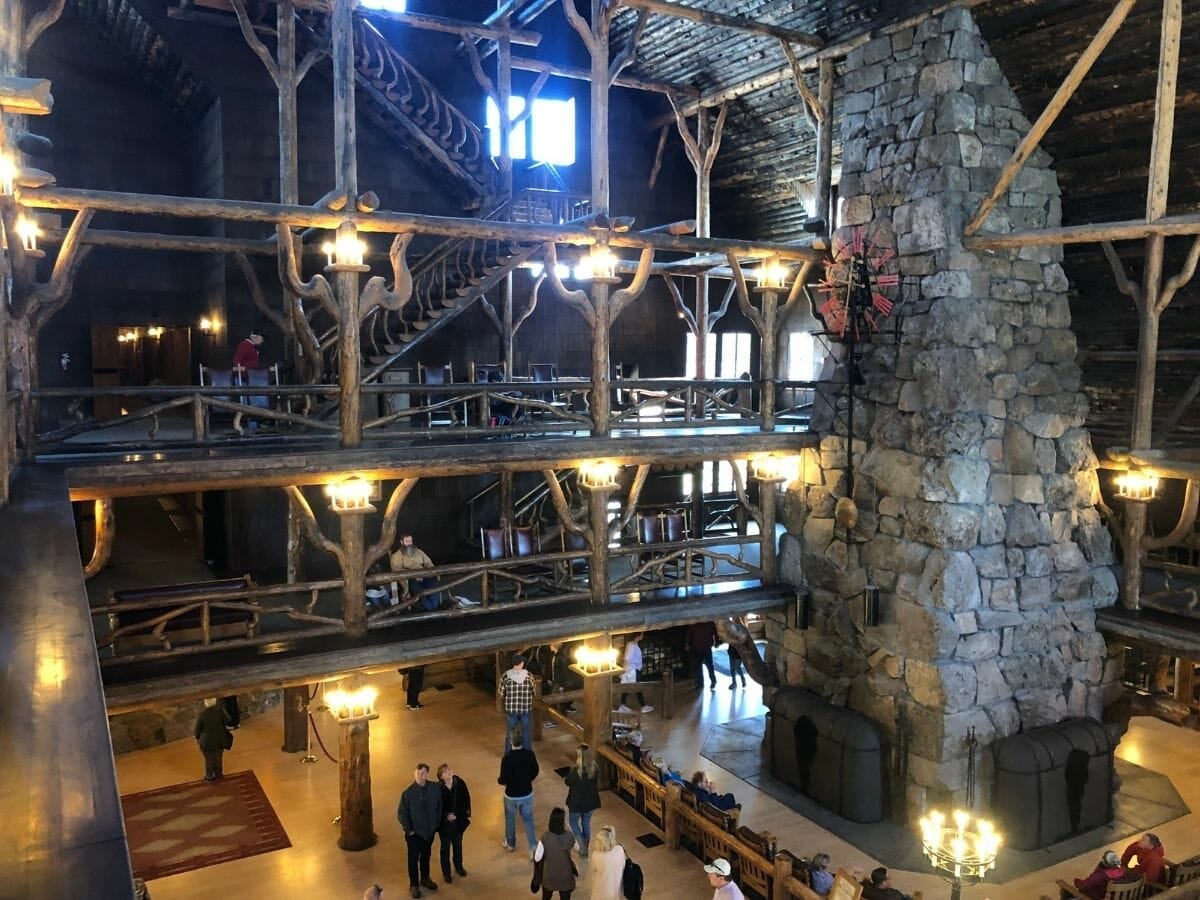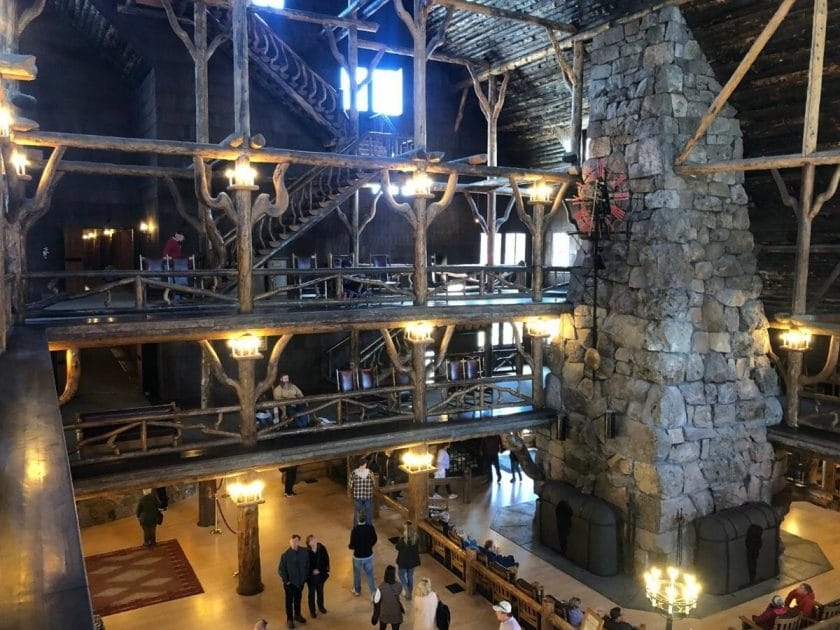 When you are by Old Faithful it is worth it to walk over to check out the Old Faithful Inn. It is a beautiful building and has a magical feeling when you walk into it. If you have the time you can get an ice cream cone and hang out in the lodge to take in the architecture and coolness of the Lodge! It has a huge vaulted ceiling which is awesome to see!
Click here to learn more about Old Faithful Inn.
Old Faithful Visitor Center – Old Faithful Visitor Education Center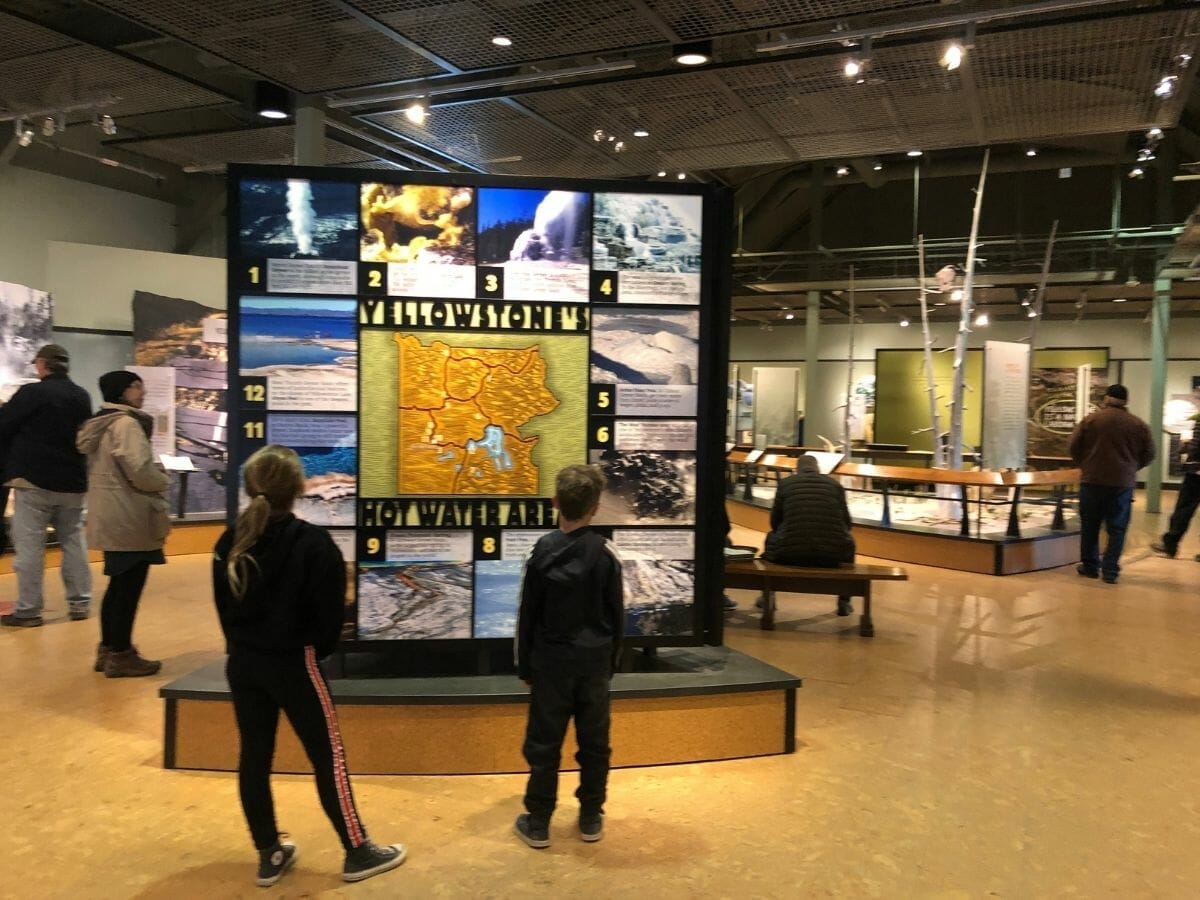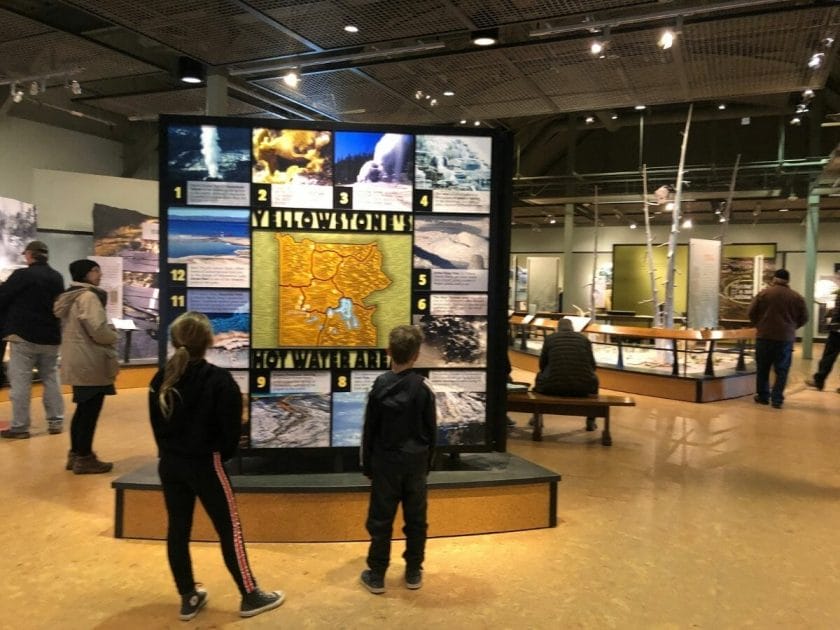 It is a large Visitor Center that has floor to ceiling windows on the back wall where you can watch Old Faithful go off from inside! It has a large museum area that has a hands on area for kids.
The National Park Service is here to answer questions you may have on the area. This place gets busy! Everyone hangs out here waiting for the next eruption, so be prepared.
Old Faithful Lodge Porch
If you are lucky enough to score a seat, there is a porch with rocking chairs where you can sit with your ice cream, beer, or dinner to watch Old Faithful go off! They also sell cookies at a snack bar area in the building that your kids will love.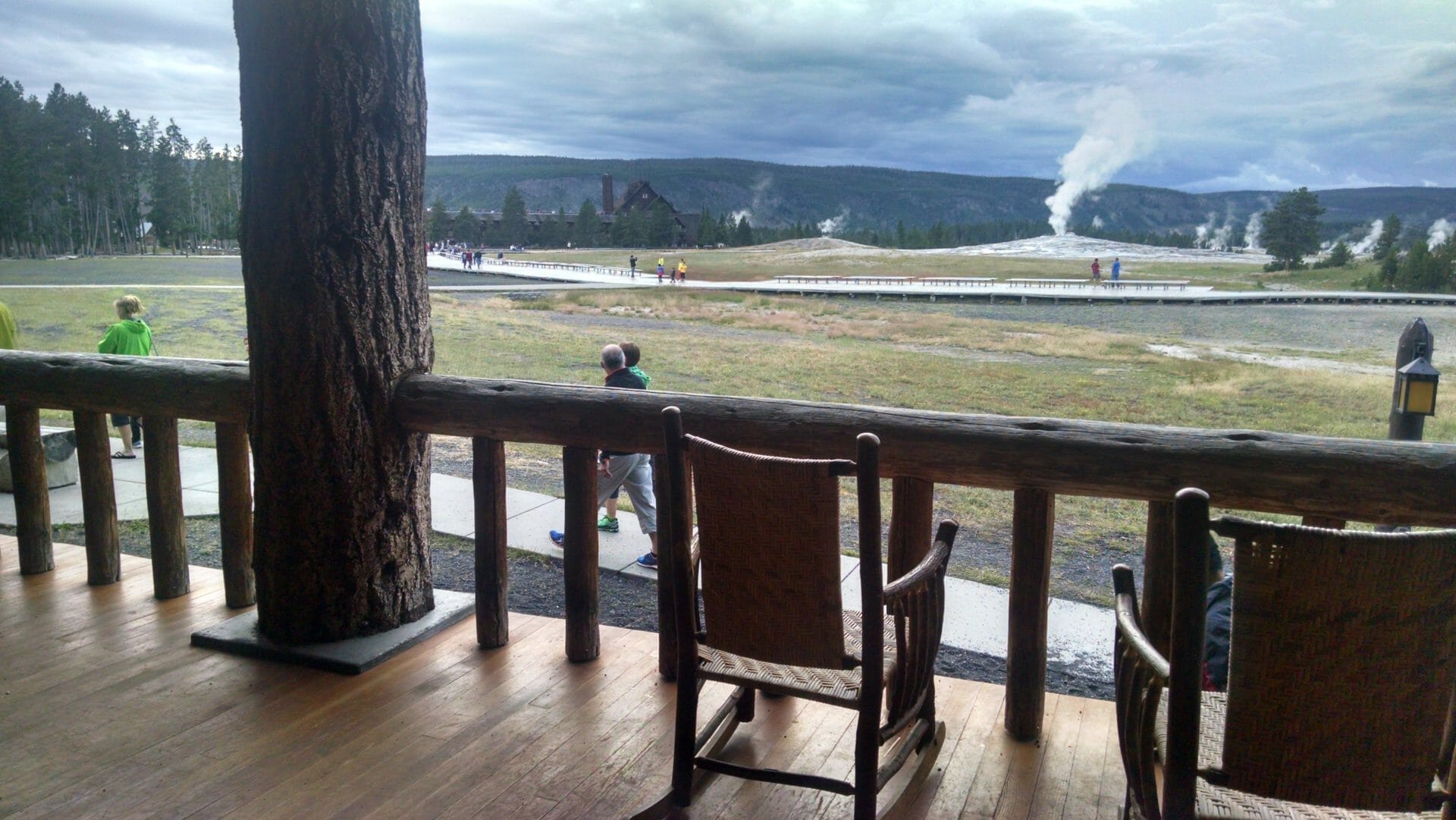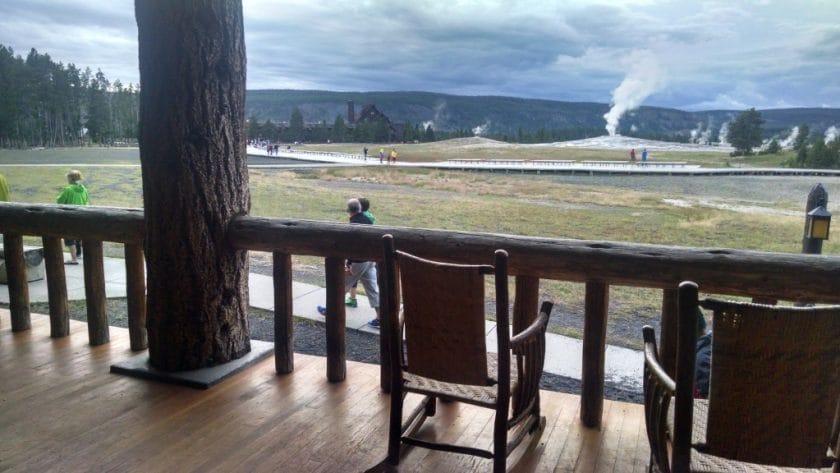 They have a restaurant here so if you need to eat anyways you might as well plan to do it here so you can keep an eye out for when Old Faithful will go off while you are eating. Now the food isn't the best but it is good enough.
Old Faithful Geyser Loop Trail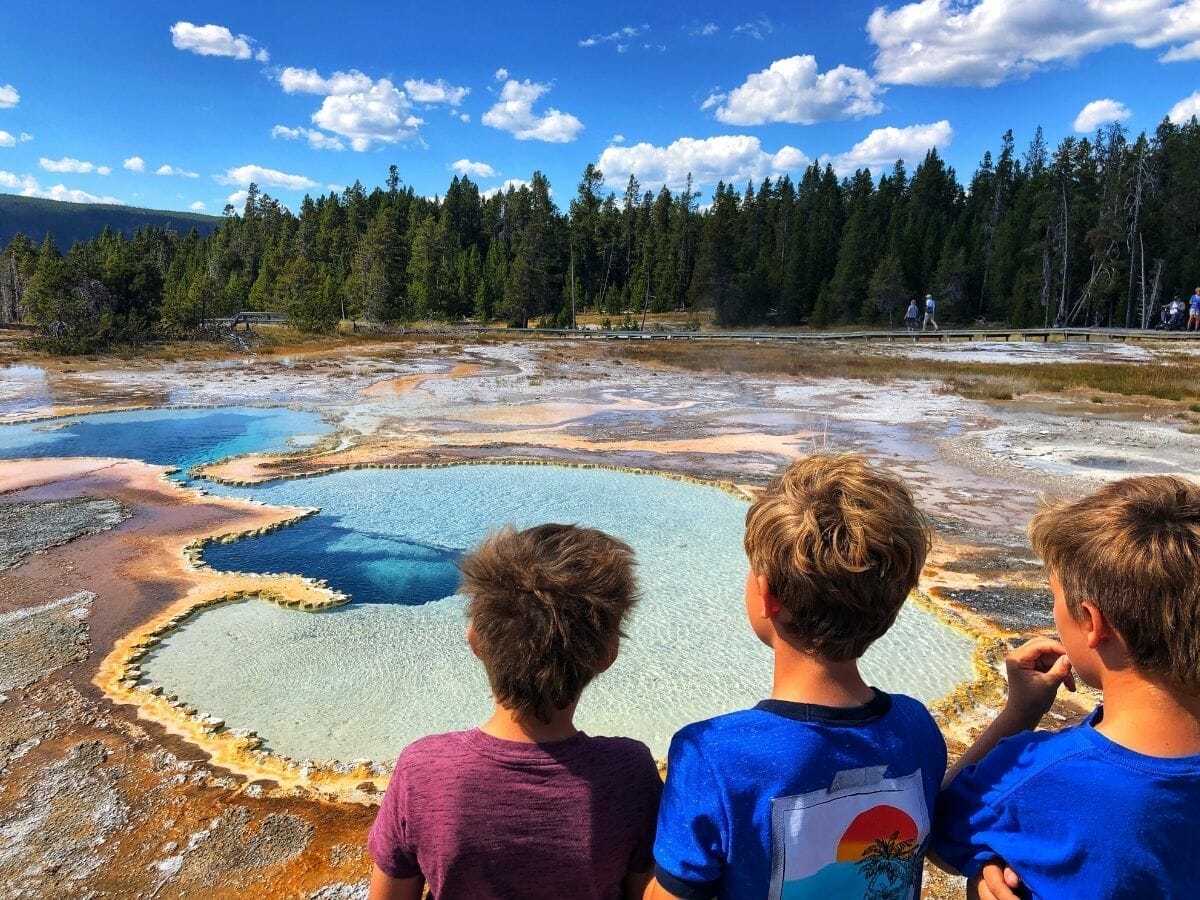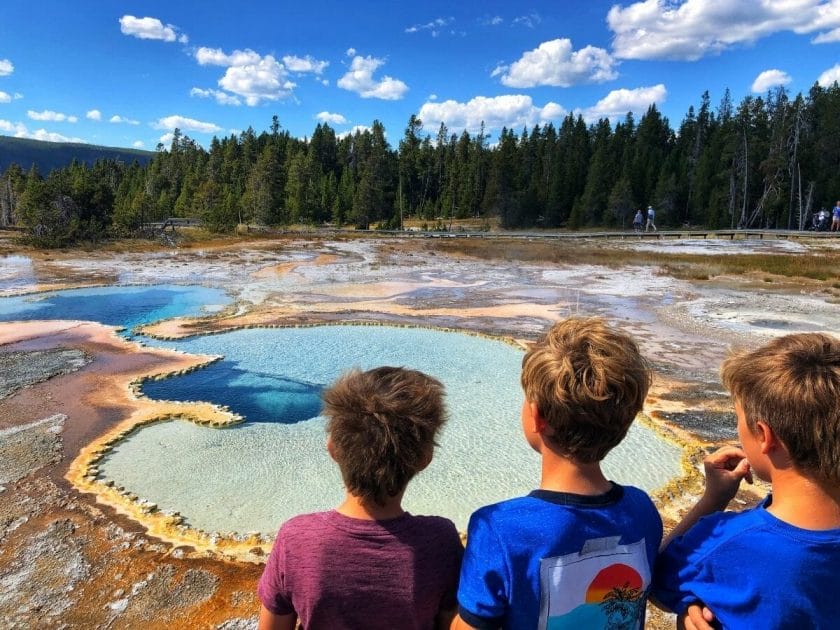 This is a loop trail that takes off from the Old Faithful area and brings you to a ton of Geysers and thermal features. We didn't do this trail the first time we were by Old Faithful and I don't know why! It is an awesome trail and well worth doing. If you only have time for one hike while you are here this is the one you should do!
This is also something that you can do while you are waiting for Old Faithful to go off. Just be sure you watch your time and know the time between eruptions so you don't miss Old Faithful! You could spend a lot of time on this trail just waiting for the other geysers to go off and easily lose track of time.
It is .7 miles so very doable. When you reach a geyser just ask the people standing around how long they have been there to see when it should blow again!
You can learn more about this loop here: Old Faithful Geyser Loop Trail
Upper Geyser Basin Trail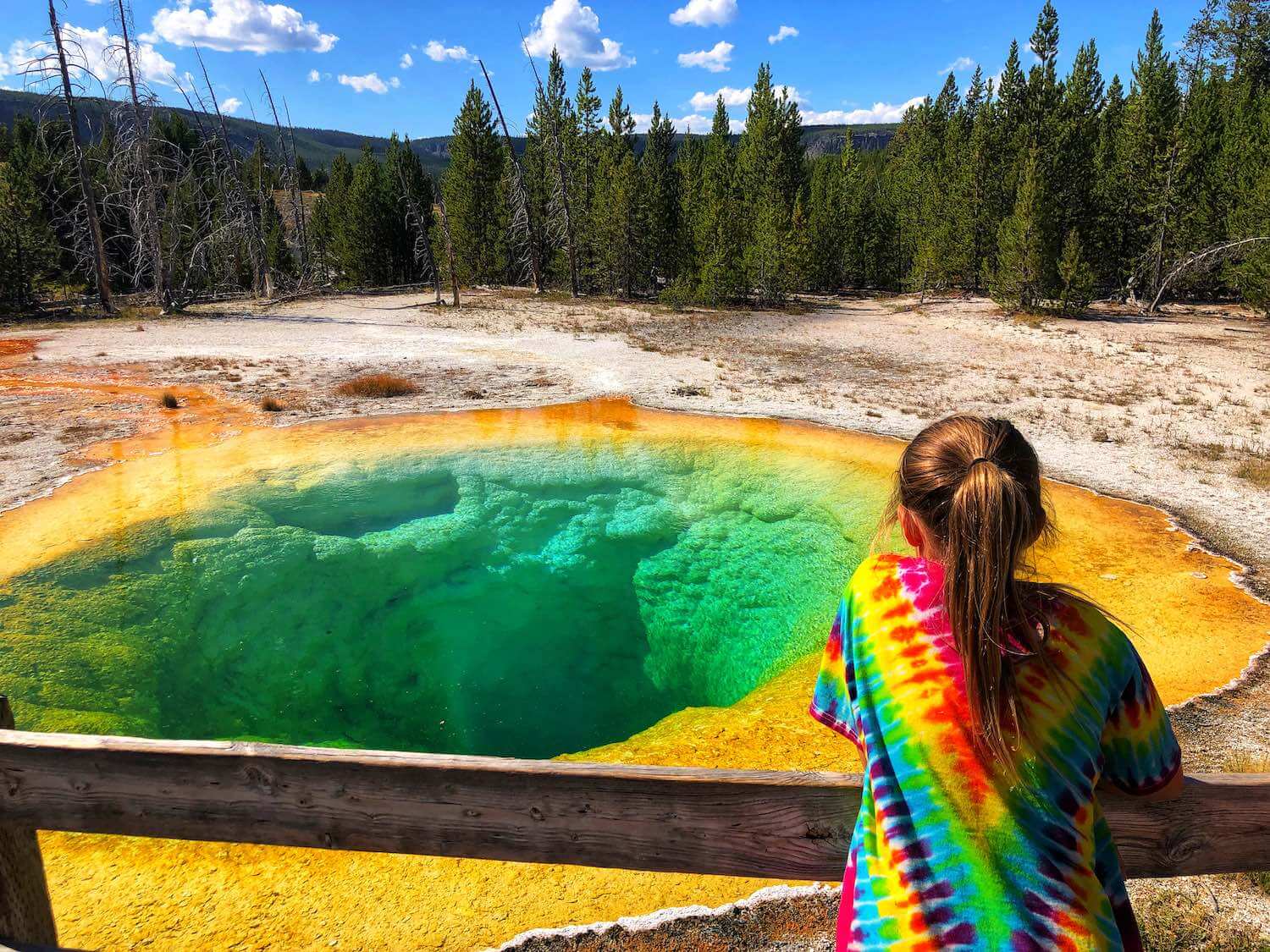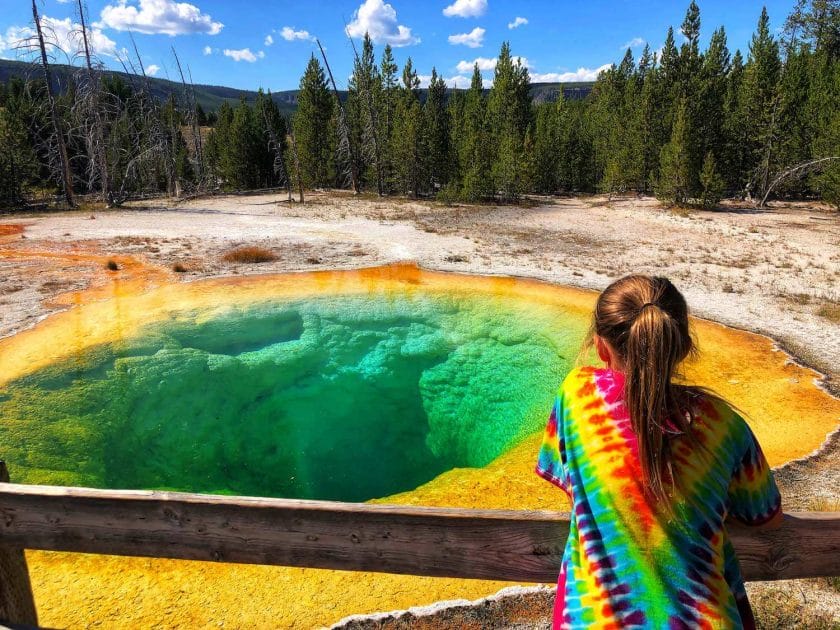 Upper Geyser Basin Trail is the extended version of the Old Faithful Geyser Loop Trail. There is a whole collection of trails around this area so you can really pick and choose what you do and how far you go.
Morning Glory Pool is usually the stopping point and you turn around – which if you have the time do it! It is pretty amazing. You can check out one of the trail options here: Upper Geyser Basin. There is also a map of all the trails in the Old Faithful Visitor Center so you can check that out, get distances and take a picture to have the map on your phone.
This is a great place to see geysers in Yellowstone and to see a lot of them!
Kepler Cascade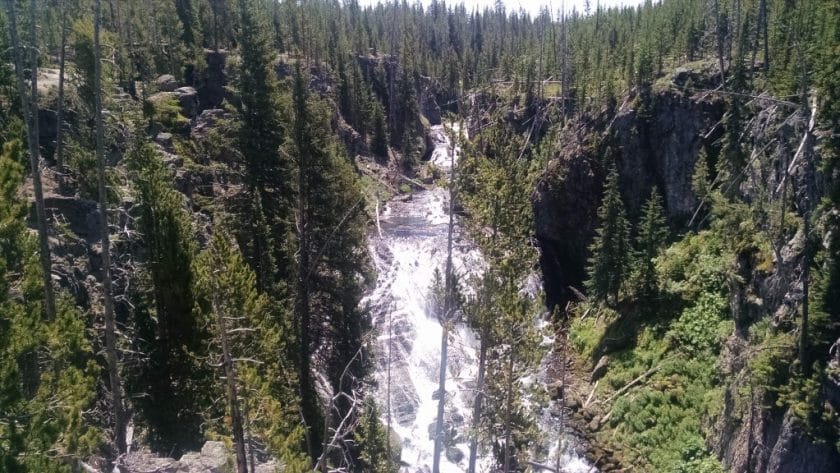 These are worth a stop! It is a beautiful cascade of water with a lookout area that you walk out to so you get a really good view – right off of the parking lot. It is worth the stop!
Firehole Lake Drive
After seeing the Grand Prismatic, nothing will quite compare but it is still worth it to drive down Firehole Lake Drive to see a collection of geysers and hot springs. Some go off right next to the road and the Firehole river so you may get a bit of overspray from a geyser!
Paint Pot Trail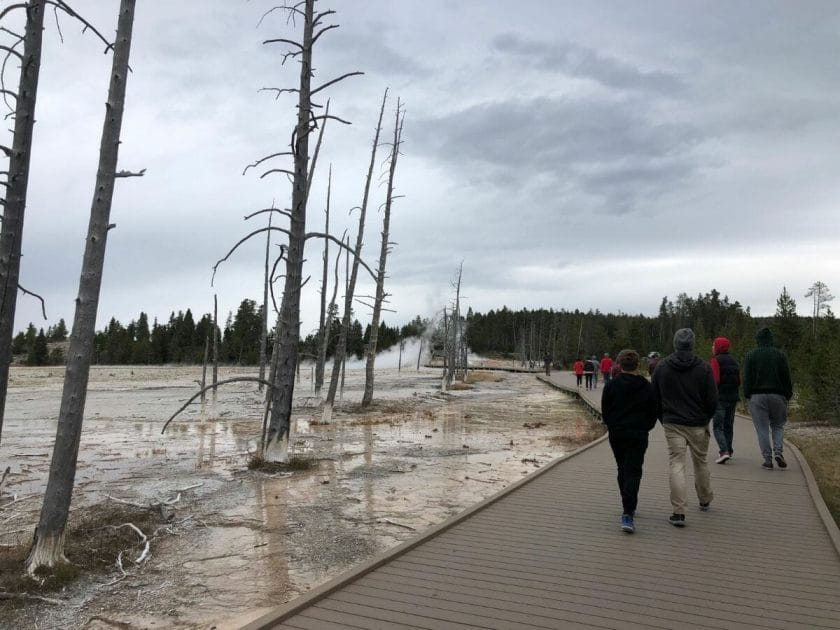 This is a .6 mile boardwalk trail – with a few points of incline. You will see 4 different hydrothermal features: hot springs, geysers, mud pots and fumaroles.
It is cool to see all 4 of these in one place! Be sure to stay on the boardwalk as the ground is hot and unstable.
Biscuit Basin Trail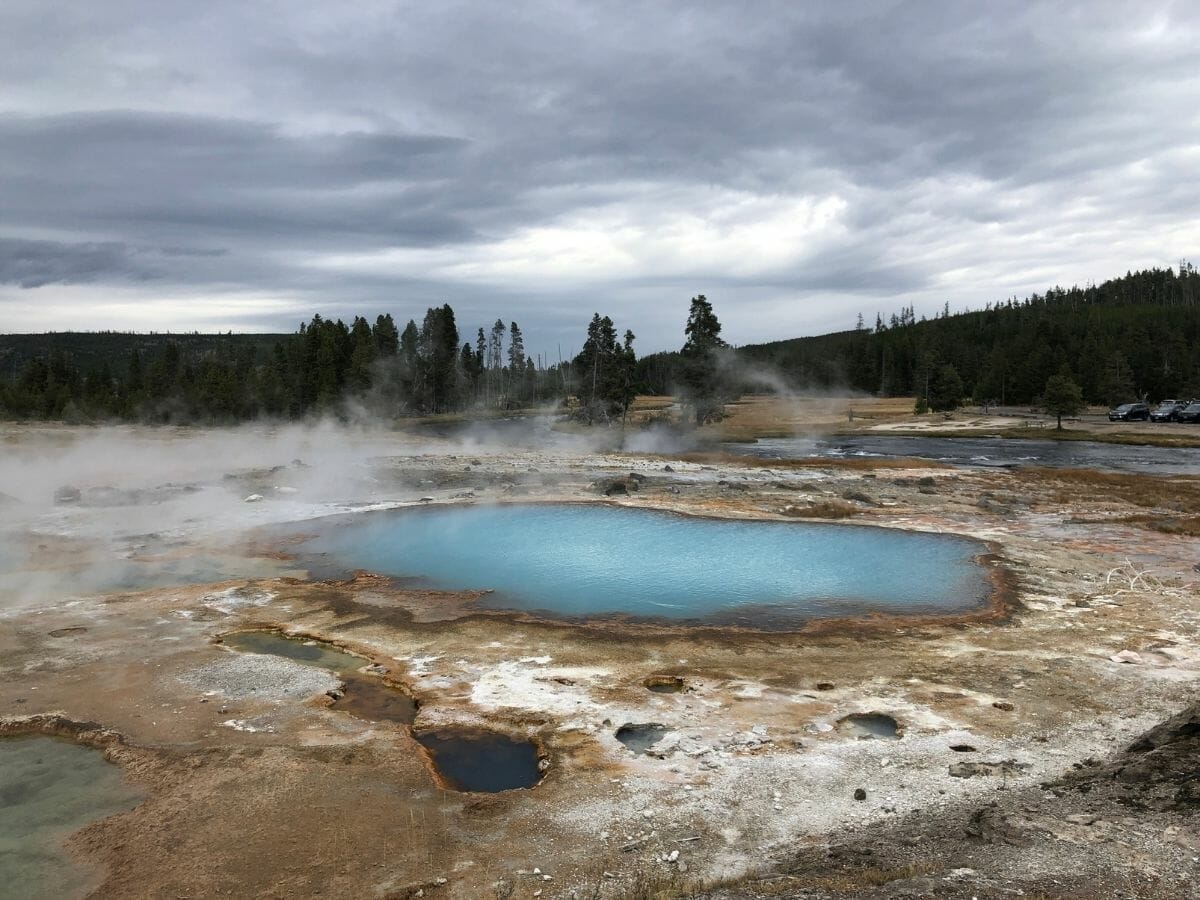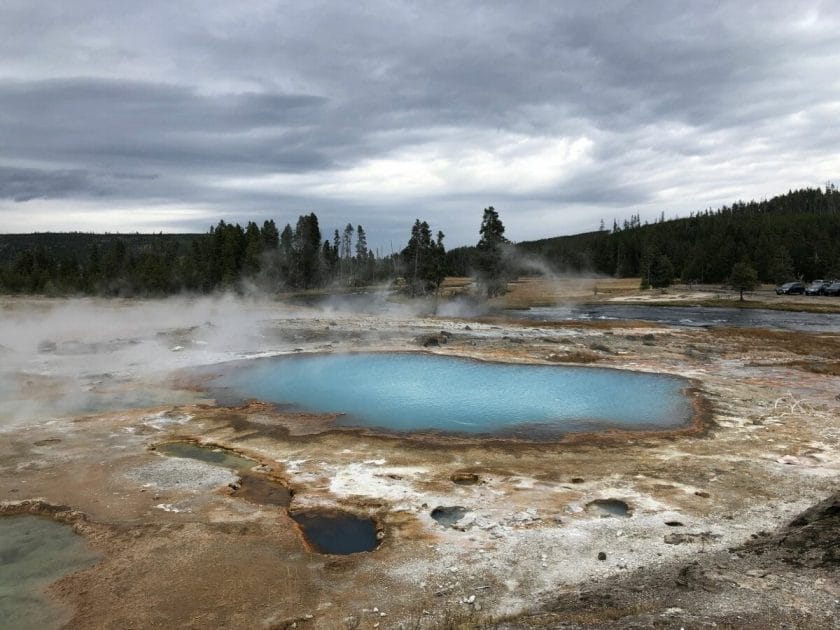 This is another boardwalk trail coming in at just .6 miles. If you want to see more hydrothermal features this is the trail for you! Look for Jewel Geyser, Sapphire Pool and Avoca Spring!
Fairy Falls Trail
If you are looking for a long hike in the area Fairy Falls is a good one! It is a 4.8 mile out and back hike and ends at the waterfall before you turn around and walk back. This is also the trailhead you go on to get to the Grand Prismatic Overlook.
I wouldn't rank this as one of our favorite hikes in Yellowstone but really any hike in Yellowstone is worth it if you have the time!
Learn more about the Fairy Falls trail here.
Old Faithful 1 Day Itinerary
1st Stop: Fountain Paint Pots Nature Trail
2nd Stop: Biscuit Basin Trail
3rd Stop: Grand Prismatic
Lunch: Pack a picnic Lunch and bring it to Old Faithful to eat while you wait for it to go off.
4th Stop: Old Faithful
5th Stop: Old Faithful Inn and Visitors Center *If you have time add part of the Upper Geyser Basin Trail
6th Stop: Keppler Cascades
7th Stop: Lone Geyser Trail (can bike this!) or West Thumb or both!
Optional:

Dinner in your car or late dinner back by your hotel. (Bonus Option: head back to Old Faithful to eat your dinner at Old Faithful Lodge and try to get a spot on the porch after dinner to watch Old Faithful go off at night.)
Fairy Falls Trail
Old Faithful Area Tips
This is one of the busiest parts of Yellowstone. Be prepared for that. This could mean having to drive around to wait for a parking spot.
But be aware that most of these places (minus Old Faithful) people are only at for a short time so spots do turn over. You just have to be patient.
Ice cream – check the general store by Old Faithful for some cheap ice cream options.
Old Faithful Porch – depending on where you are staying you may drive through this part of the park more then once on your stay. Don't forget about the Old Faithful porch and adding in a happy hour stop to sit on the porch on your way to your hotel!
Old Faithful Inn – if you can get a reservation stay here at one of the hotel rooms. It would be an awesome base to have in the park! Learn more about Old Faithful Inn here. The inn is part of the Old Faithful National Historic Landmark. The east wing is closer to the geyser!
Old Faithful Lodge Cabins – Another option are the Old Faithful Lodge Cabins. We always say anytime you can stay in the park do it!
Eating – Check out this list of places to eat by Old Faithful. Honestly none of the places in the park are really worth eating at – except for the Lake Hotel restaurant (reservations needed). We always recommend bringing a picnic lunch and finding a cool spot to sit and eat – why waste your time in Yellowstone eating cafeteria style food!
That being said if you don't want to deal with packing a picnic there are plenty of options in the park for eating. But be prepared that you may have to wait in line for a table and/or food. So if possible schedule to eat at more off times. Like a 3pm lunch or a 9pm dinner.
Learn more about Volcanic activity in Yellowstone here. It is quite interesting! Or about the Washburn expeditions to Yellowstone.
There you have it! Our top 9 things to do by Old Faithful – Enjoy!
More Posts on Yellowstone
Planning Your Trip To Yellowstone
Things To Do In Yellowstone National Park
Yellowstone Vacation: 12 Day Itinerary for Visiting In & Around The Park
6 Epic National Park Road Trip Ideas in the United States [Maps Included]
Yellowstone in Winter: 11 Things to Know and Do!
Pin This Post: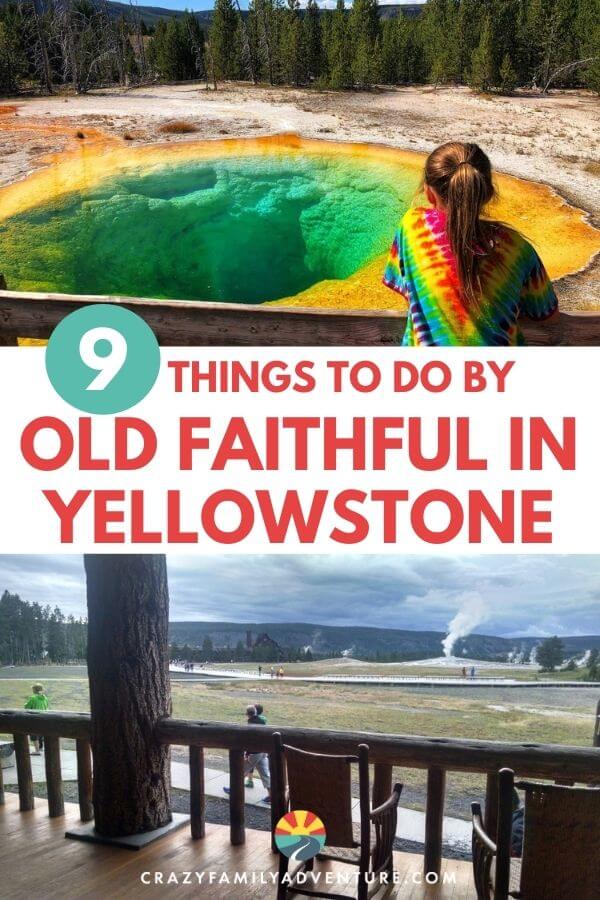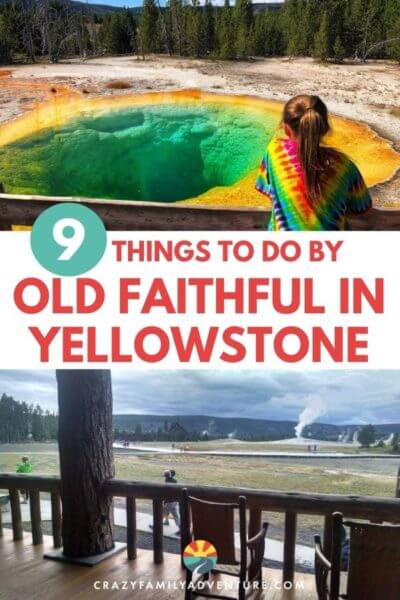 DISCLOSURE: This post may contain affiliate links, meaning I get a commission if you decide to make a purchase through my links, at no cost to you. Please read my disclosure for more info.