Fishing Bridge Yellowstone is one of the quieter parts of the park. Don't get me wrong, it's still busy in the main season (June – August) but it is nothing compared to Old Faithful, Mammoth Hot Springs, and Canyon. If you favor a slow-paced atmosphere, I definitely recommend it.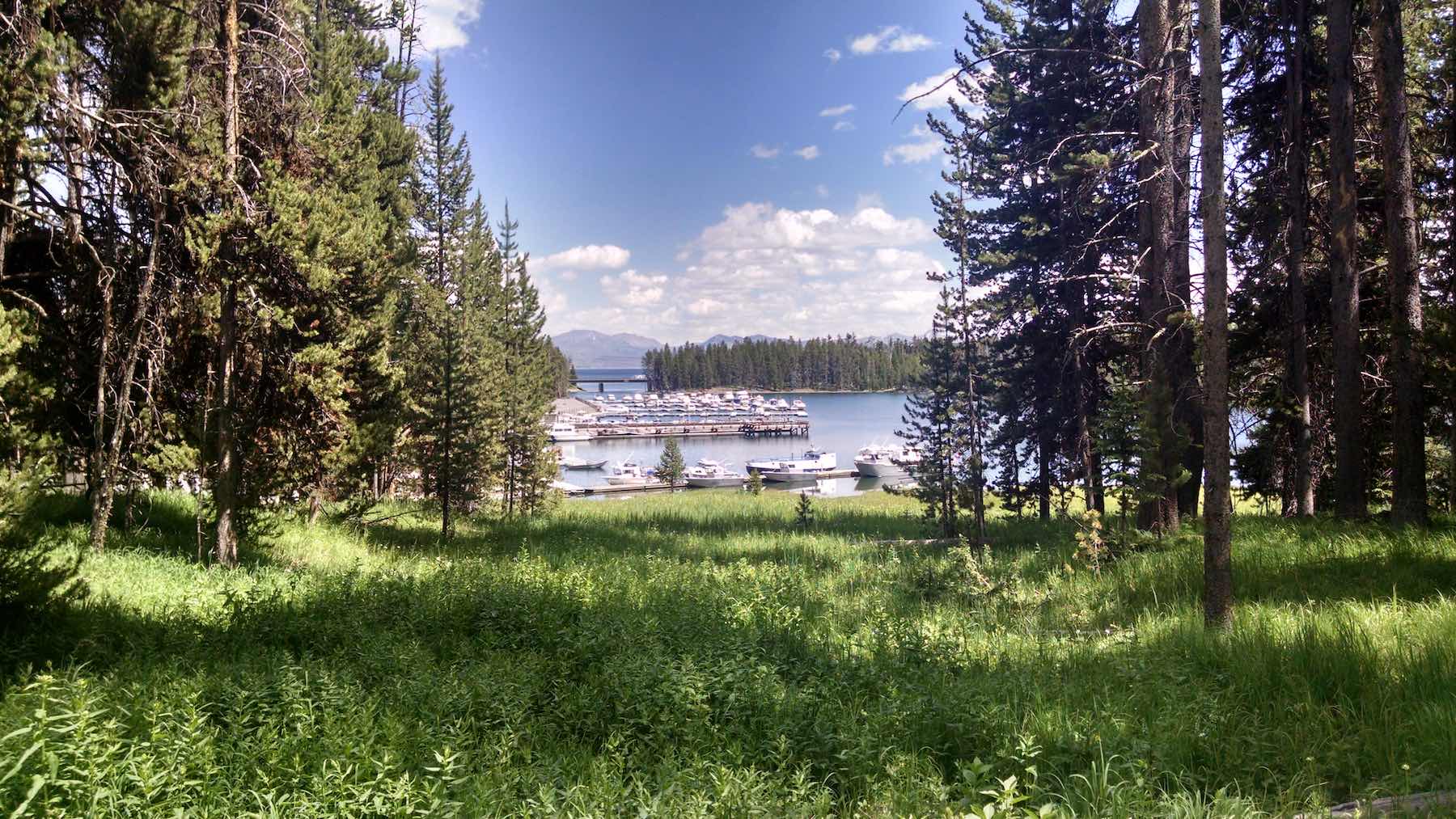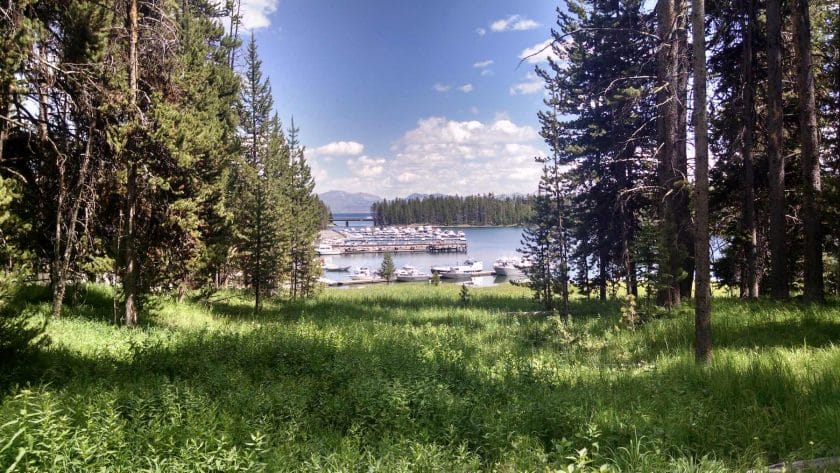 Hike the Storm Point Trail
You can find the trailhead about 3.1 miles east of Fishing Bridge junction. It is a beautiful hike that takes you to Storm Point Lookout and then you walk along Yellowstone Lake until you enter an old growth forest. It is a loop hike so once you start you walk in a loop to get back to your car.
The first part of the hike takes you to a beach area where the kids could have spent hours climbing up and down a ridge that overlooked the beach. It is so awesome to see them working together to climb to the top of the ridge and then slide back down. Yes they got dirty but we are hiking so it's all good! (This is why an extra pair of clothes would be a good idea – just in case!).
Right before the lookout you come to a marmot colony. It was awesome to see them sunbathing and to watch their little heads poke up in random places. When you get to this point, you can walk out to take in an amazing view before heading along the Lake.
Beware, there was a bison right along the path and we made sure to give him a wide area. He left us alone but gave us the stink eye a few times. A few days after we hiked the trail we heard about a 60-year-old women that did not give him his space and she was actually gored by the buffalo and had to be flown by helicopter to the nearest hospital.
Bison seem docile but they get nasty when you get too close, so don't count on them leaving you alone. Instead always give them the recommended space (25 yards) and have your bear spray ready just in case.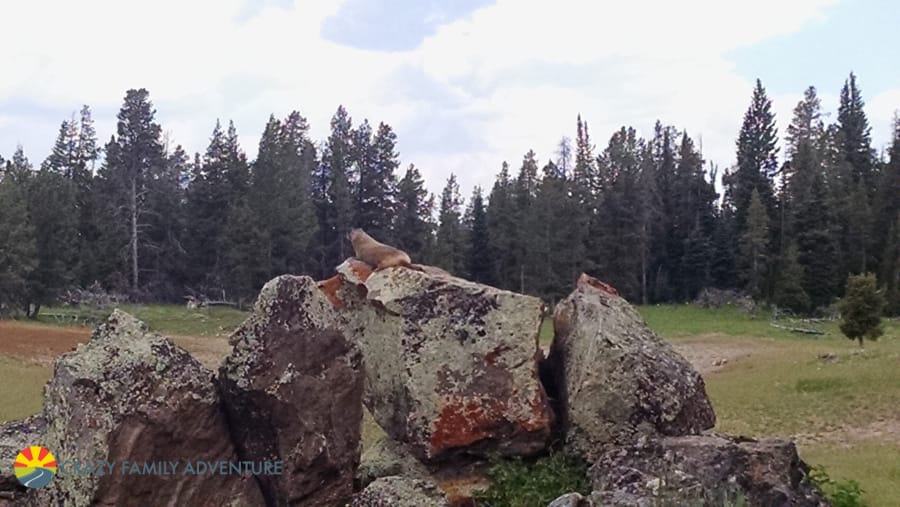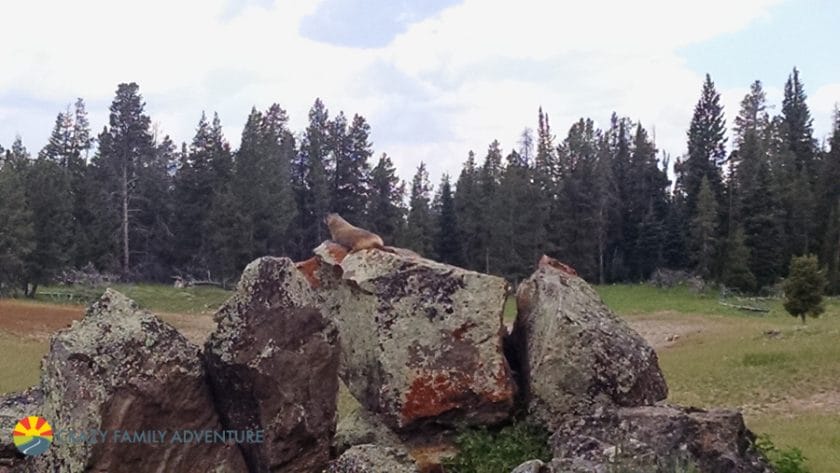 Moving along from Storm Point lookout, the trail takes you along Yellowstone Lake. It is a beautiful view! After walking along the lake for a little while the trail heads into the old growth forest.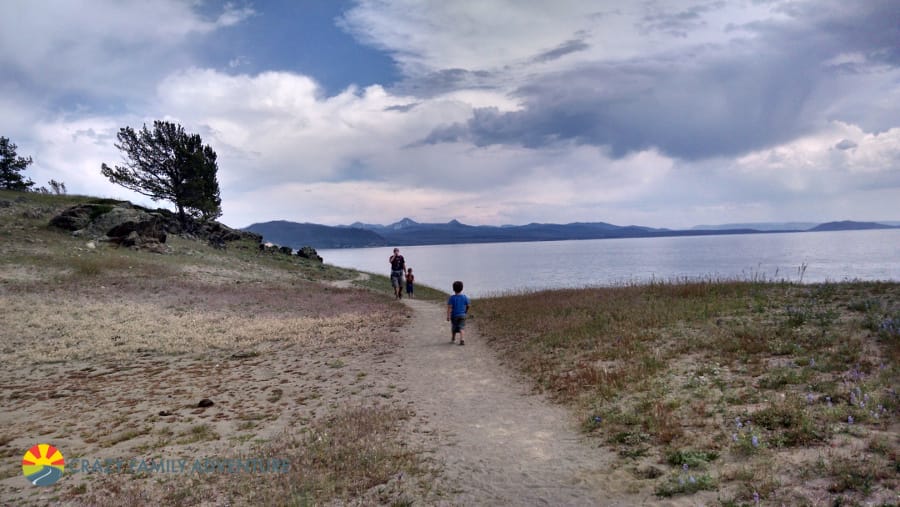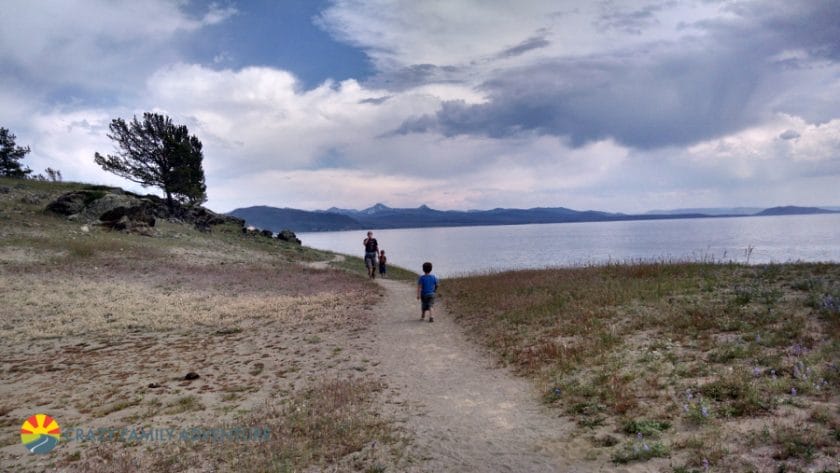 The old growth forest felt like walking into another world. The farther you got into the forest the more enchanted it felt. When we were in the middle we stopped and told everyone to be quiet. It was amazing how still and quiet it was.
You looked all around and all you saw were trees, trees and more trees. Then all of a sudden a big bunny hoped across our path. We quietly snuck up to it and watched it hop across the path and into the forest.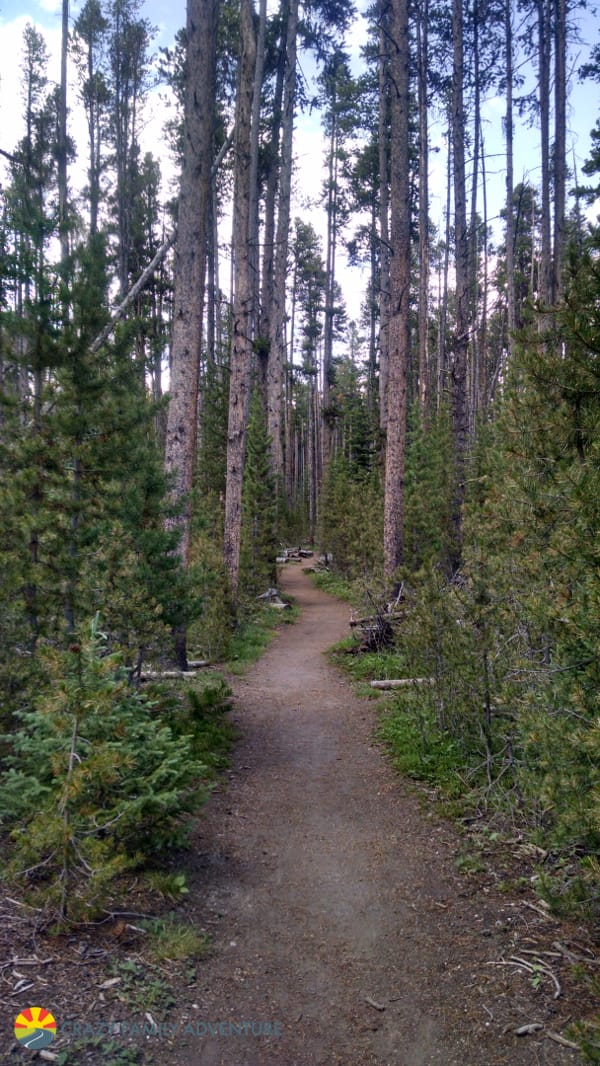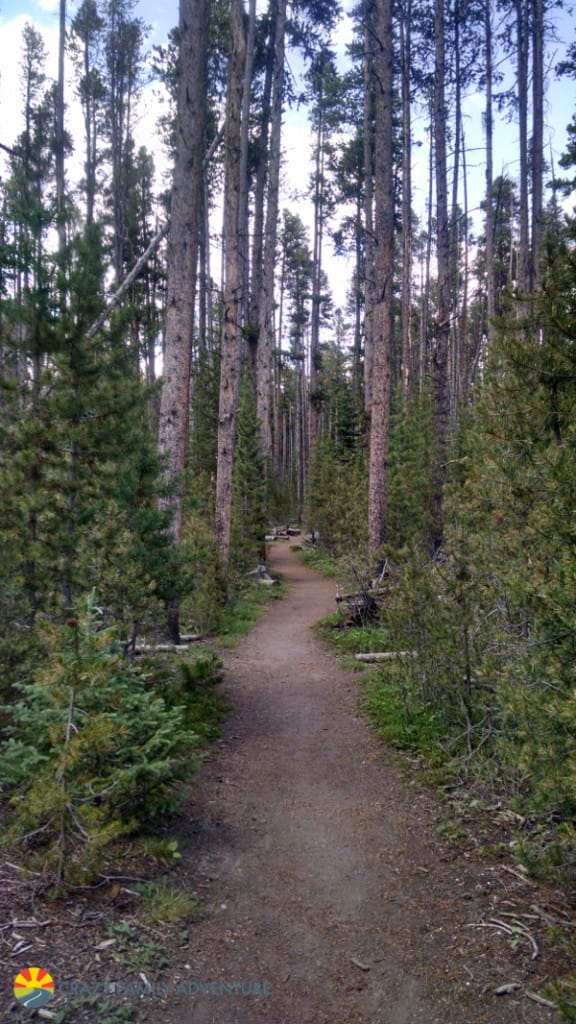 When you come out of the forest you are back to where you started. This is a great hike to do with kids. It is about 1.5 miles.
We highly recommend the Ergo carrier. The recommended max weight for the carrier is 45 pounds and Melia and Cannon are right at that point, so it still works great for them.
We also recommend lots of snacks, suckers, and Power Pellets (Tic-Tacs) to help the kids finish the hike! The hike should take you a couple of hours – longer if you plan to stop to have a picnic at the Lookout or along the beach area.
Check our our Hiking With Kids Tips.
There really isn't a perfect spot for a picnic and there aren't any picnic tables along the way, so it would just be a matter of picking a spot to stop. The lookout is good for this if you don't mind sitting on a rock. However it was really buggy when we were there so if there isn't a steady breeze, that may be an issue.
Things to know:
Bring bug spray
Bring Bear Spray – Grizzly bears are in Yellowstone so be prepared!
The Forest area is shaded but before that you are out in the sun.
---
Feeling overwhelmed by all the awesomeness that is Yellowstone?! We get it! The park is huge and there is so much to see and do. We have visited the park over 6 different times and have put together 1, 3 and 7 day guides to help you plan your ultimate trip to Yellowstone:
---
Hike Natural Bridge
This is a fun medium length hike at about 2.5 miles. It's called Natural Bridge because there is a large arching rock formation over a small waterfall. When you get to the Natural Bridge you walk up to it and turn around and walk back the same way you walked in.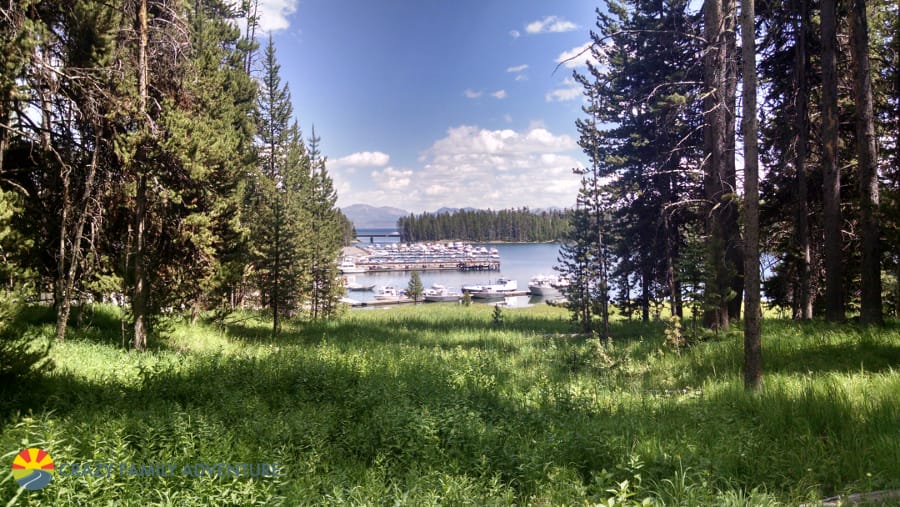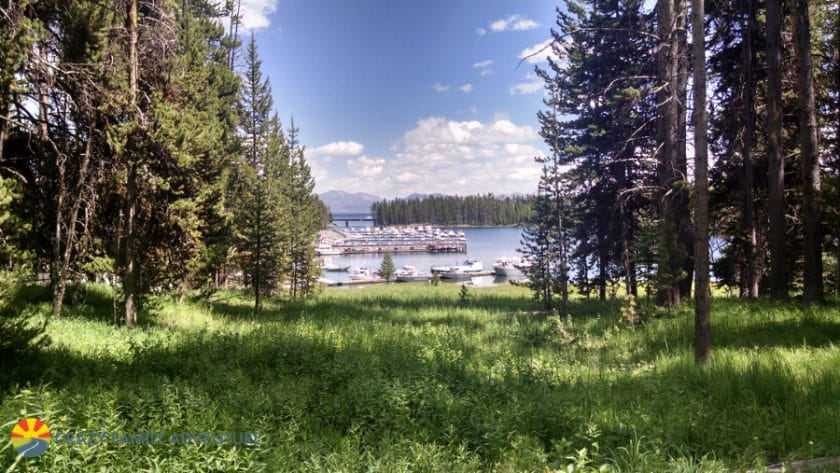 The trail is super wide and usually busy. It is a pretty flat hike and as you are walking to the bridge there are a lot of pretty views. Once you reach the bridge area there is a small creek (if there is water in it) so you can hang out there to rest and play for a minute (always remember those extra clothes for the kids) and look up at the bridge.
Or you can decide to hike up a short distance to get to the actual bridge – I recommend going up on the right side of the creek. You can't walk out across the bridge, but there is a cool view of it from the top and the creek that runs under it.
Once you are at the top you can look out and actually see Yellowstone Lake. It is worth the hike to the top! Then on the way down you go on the left side of the creek and it is a fun switch back trail back down!
The trail is located just south of Bridge Bay Campground.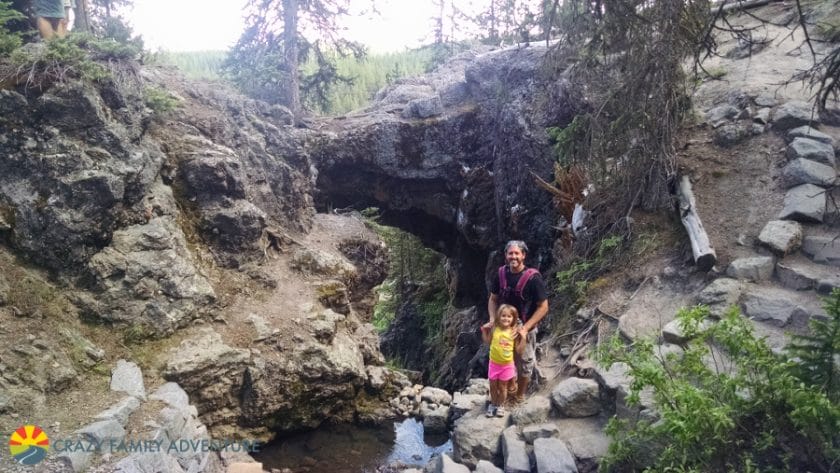 Definitely worth the stop if you are looking to get out and stretch your legs!
Fishing Bridge Store
The Fishing Bridge store has a lot to offer. There is a diner type place to eat: burgers, grilled cheese, bean burgers, fries, etc. They also serve breakfast. The prices are what you would expect for a resort/vacation place but they aren't too crazy.
There is also an ice cream area and a small grocery store where you can get some essentials – at a high price! The best deal is the cheese and crackers packets.
Then there is the souvenir area. You can get 10 magnets. 20 stickers, 10 t-shirts, and more!
They also have wine, beer, and liquor at the store you are going to pay an arm and a leg but it is there! They also have a gas station and an RV and Auto repair shop.
Fishing Bridge Visitor Center and Beach
If you go across the street from the store, you will find the Fishing Bridge Visitor Center. There is a small display area and they have Ranger led talks here. You can find the schedule for these in the newspaper they give you when you come into the Yellowstone entrance. The National Park Service does a great job with their ranger programs.
You can also get your Junior Ranger books here. They are $3 a person. Once you complete your age level you can go to any visitor center to get your badge.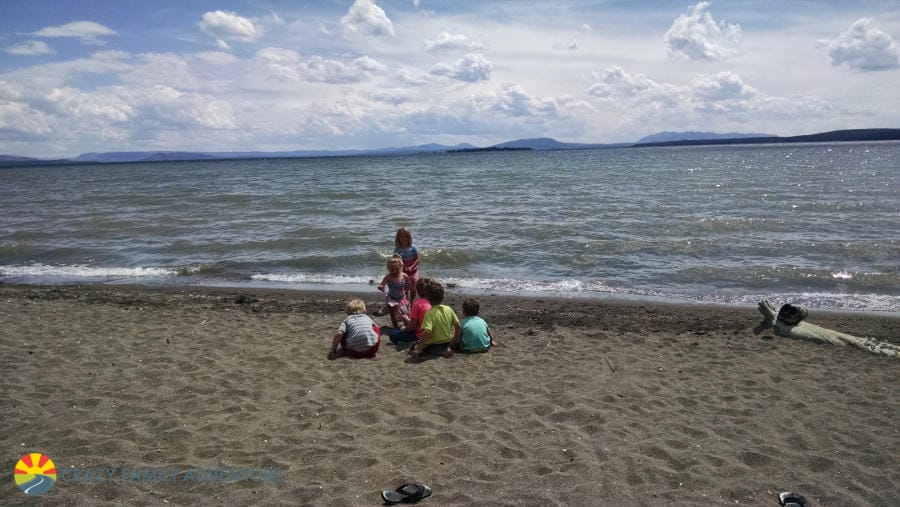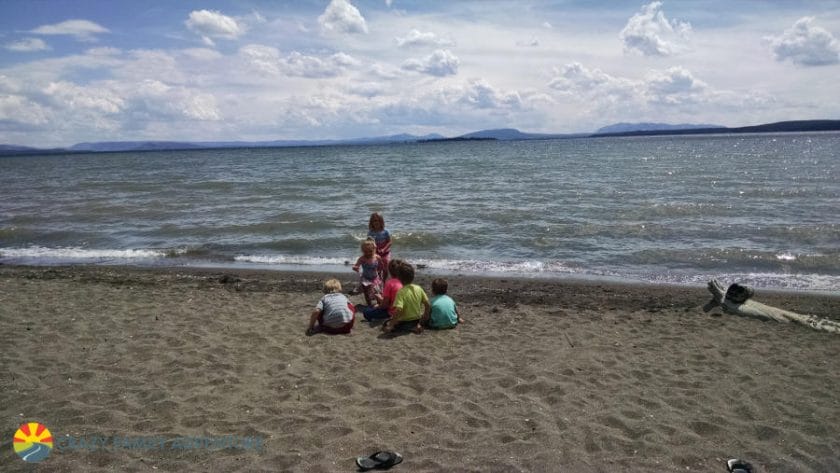 Once you are done with the Visitor Center you can head out the back door and make your way down to the beach. It is a really nice beach with sand (nothing like white Florida beach sand) but it is sand and rocks. The kids really enjoyed playing on the beach and wading into the water.
The water is cold but they still had fun. This is a good place to bring a picnic lunch and hang out for a while. The view from the beach is beautiful! Be on the lookout for White Pelicans that nest in the southeast arm of Yellowstone Lake.
Fishing Bridge
You can also walk out on the Fishing Bridge to take in the beauty and history of the area. Today fishing from the fishing bridge is not allowed due to the decline in the cutthroat trout population. It is still worth it to walk across the bridge and look down the Yellowstone River.
Rent A Boat
Rent a boat from Bridge Bay Marina and head out on the Yellowstone Lake! If you buy a fishing permit you can fish from the boat. This is a fun way to get out on the water in Yellowstone.
Learn more about renting a boat here.
Lake Hotel
The Lake Hotel has been newly renovated and it is gorgeous inside with huge windows looking out over Lake Yellowstone. They have a nice sit-down restaurant. But in order to eat dinner there you are probably going to need a reservation – especially if you are there during busy season. We ate dinner there one night and the food was ok.
If you get a table by the window the view is amazing! You can also stop in the lobby to get a drink at the bar, hang out in the plush chairs and couches, and shop in the upper end store. And – don't miss this one – they serve Starbucks drinks and pastries in the deli!
When you walk into the main entrance of the hotel you go left and the deli is down the hall on the right. To stay at the Hotel, it is expensive, but the rooms are beautiful. But if that is out of your price range you can also stay in one of the cabins which are usually about half as much as a hotel room.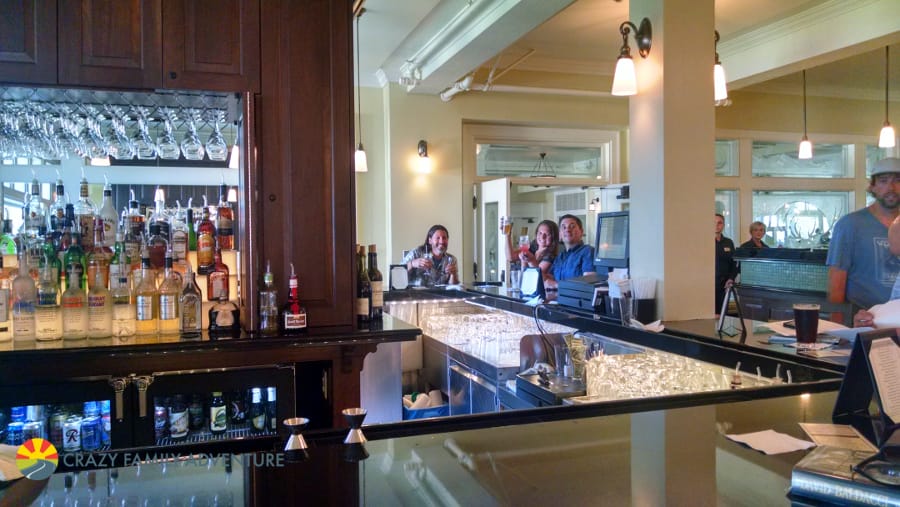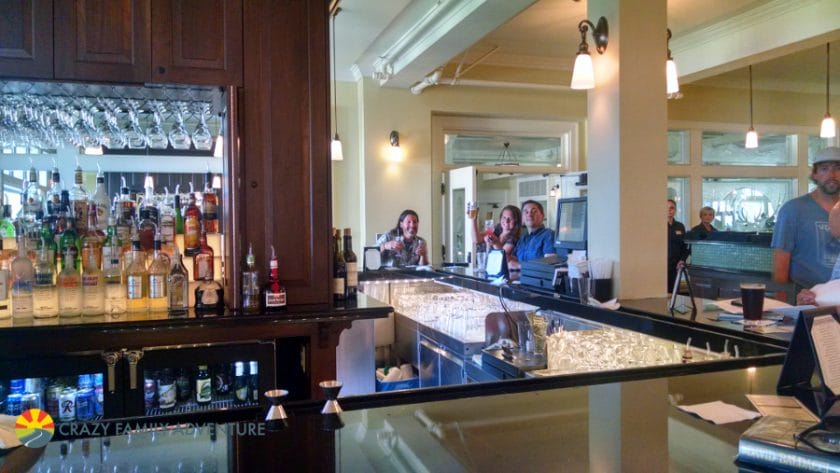 Mud Volcano and Sulfur Cauldron
This is a great stop to take a short hike to see some thermal features (mud geysers, churning caldron, mud volcanos) . And you can check out the dragon's lair, which is called Dragon's Mouth Spring. It's a cave that looks like a dragon is blowing smoke out of it!
You will know you are getting close to the stop because you will smell the sulfur! My sister calls them Dragon farts! You can smell them through out the park.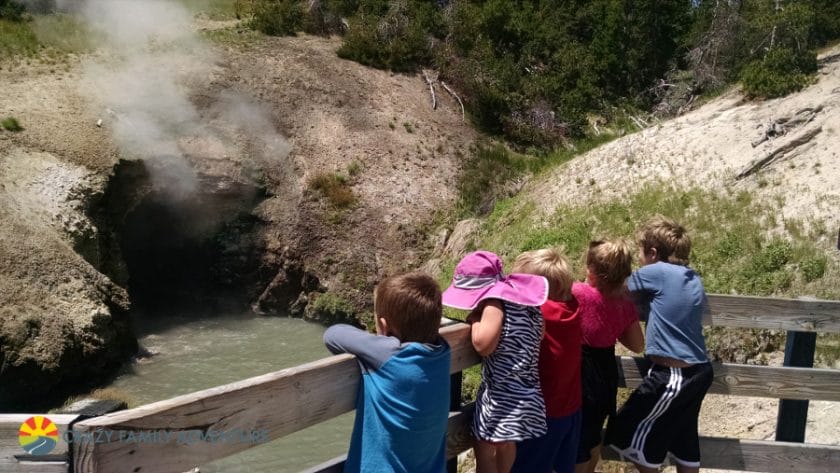 The hike is all on a boardwalk so you can take a stroller if you are willing to push it up and down a few hills. Be on the lookout for Bison too! They like to sit in the area because it is warm. Up the street from the Mud Volcano is where you will find parking for the Sulfur Cauldron.
It is a cool lookout and is worth stopping. At first I was nervous about taking the kids but the boardwalk has railings on it so as long as you are paying attention it will be fine.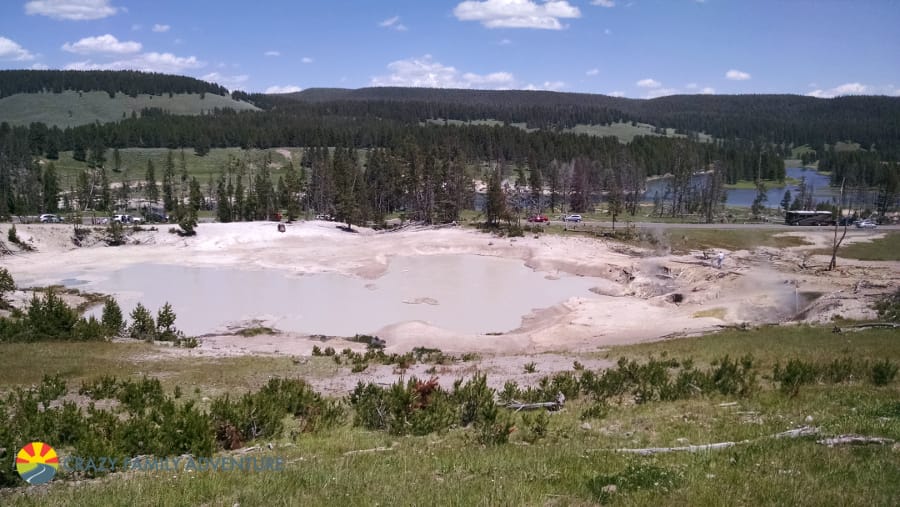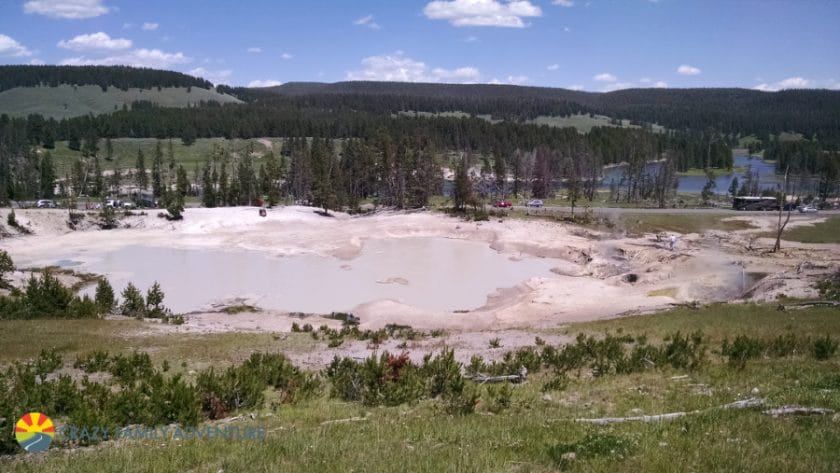 Le Hardy Rapids
Le Hardy Rapids is a nice big pull off (RV's would fit) where you can park and walk a short distance down to the rapids and a small beach area. They also have picnic tables. There are multiple pullouts where you can stop to have a picnic and I recommend taking advantage of them!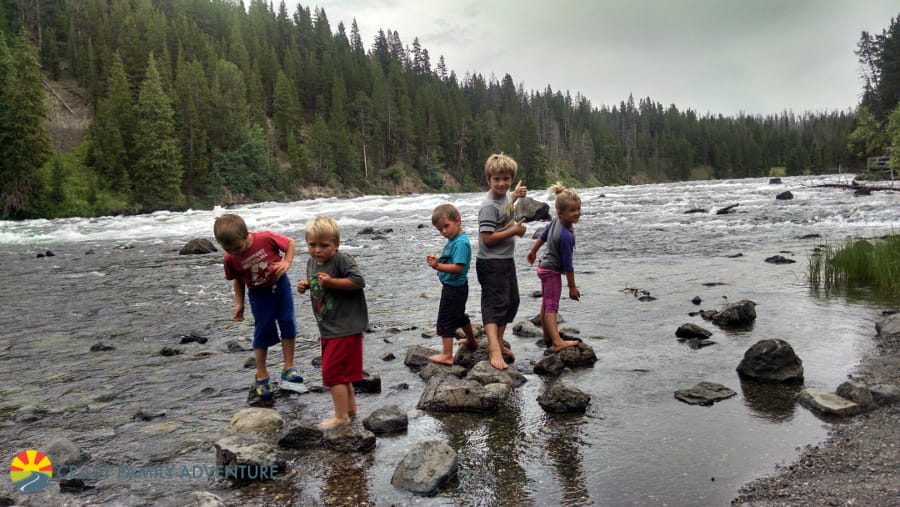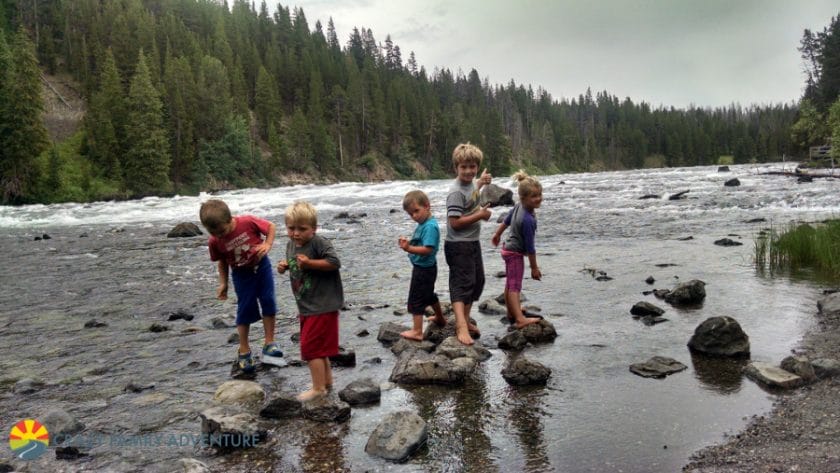 Hayden Valley
We have a love hate relationship with Hayden Valley. It is beautiful and you will pretty much for sure see some kind of animal. Usually bison but also bears, wolves, foxes, coyotes, etc. The problem is there is almost always a Bison traffic jam!
You are lucky if you can get through Hayden valley without stopping (during the busy season). And the stops may take you up to an hour!
It is either people stopping to look at the animals or waiting for a Bison to cross the road. Yes literally a Bison can literally be walking down the middle of the road! Or else it may be a bear crossing the road.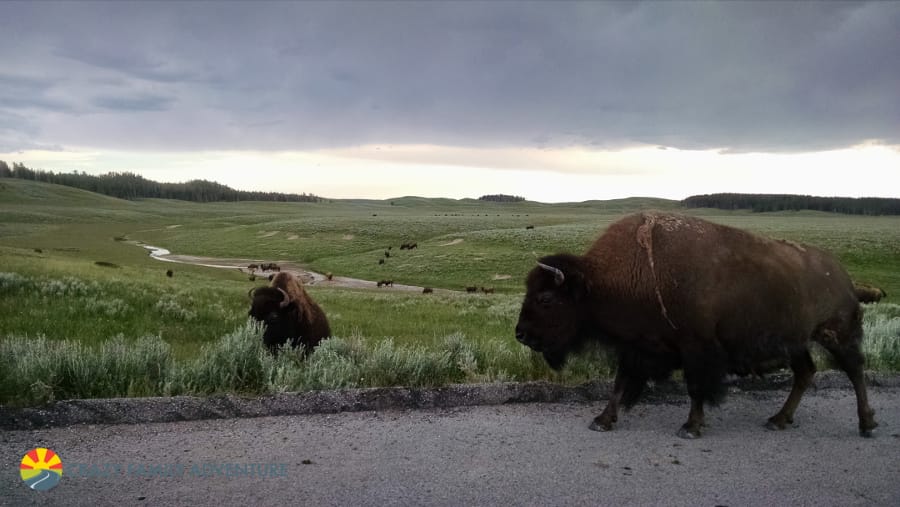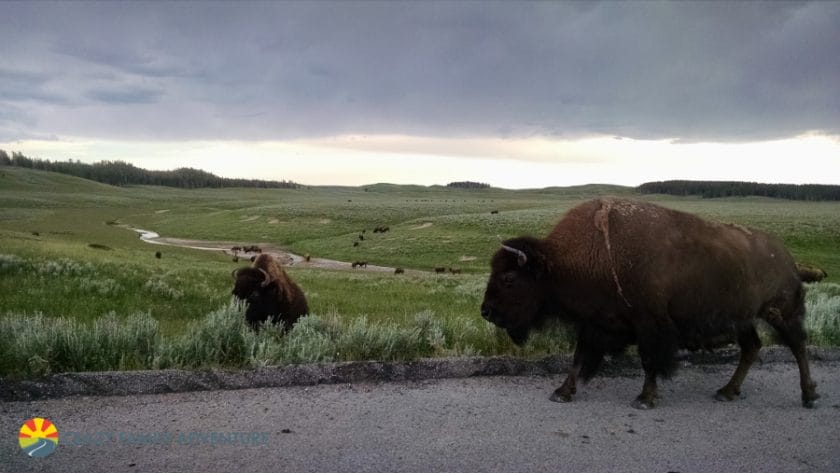 So YES it is really cool to see all of the animals. BUT if you are trying to get through Hayden Valley to get to your next location it can be frustrating – just like any traffic jam is. The best advice is just to go into Hayden Valley assuming you are going to have an hour delay. Then relax sit back and enjoy the view and the animals!
If you have the time you can stop at one of the pullouts take out your lawn chair and picnic and just sit back relax and watch Hayden valley come alive in front of you! It is also a great place to see the sunset. But get there early. People camp out for hours to get the best spots!
Where To Stay
Lake Hotel – there are hotel rooms and cabins here. This is definitely a favorite of park visitors which is why it can be very difficult to get a reservation.
Fishing Bridge RV Park – has 172 RV sites and is the only campground in Yellowstone National Park that offers full hookups. It also has a dump station, showers and laundry. Fishing Bridge Campground is a great recreation vehicle park to stay at when visiting Yellowstone Fishing Bridge area.
More Posts On Yellowstone and The Surrounding Area:
9 Awesome Things To Do In West Yellowstone
Yellowstone Packing List: 17 Things You Will Want To Bring
Planning Your Trip To Yellowstone: 15 Things To Know
11+ Fun Things To Do around Tower Roosevelt in Yellowstone
Top 10 Things To Do In Yellowstone National Park
Yellowstone's Grand Canyon is a must see stop on your family trip!
8 Kid Friendly Activities by Old Faithful, Yellowstone National Park
Yellowstone Vacation: 73 Places To Visit In & Around The Park
Yellowstone in Winter: 11 Things to Know and Do!
Pin This Post For Later: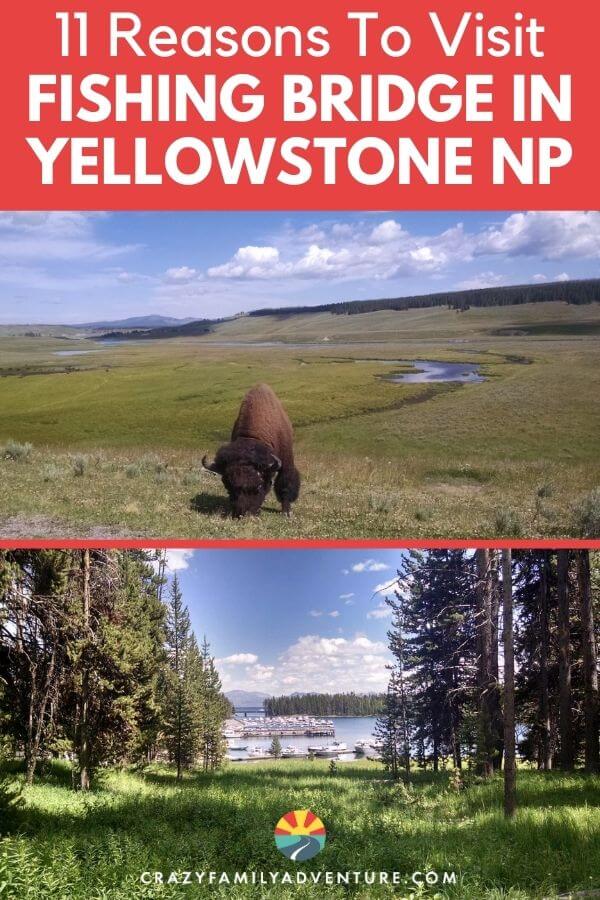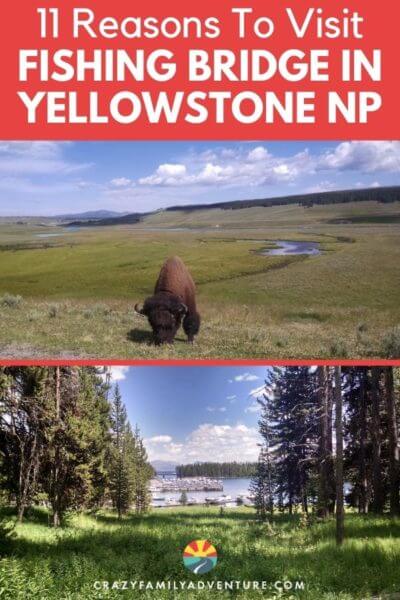 DISCLOSURE: This post may contain affiliate links, meaning I get a commission if you decide to make a purchase through my links, at no cost to you. Please read my disclosure for more info.