The Canyon Area is known as the Grand Canyon of Yellowstone. It is a beautiful area and must see stop when you are in Yellowstone.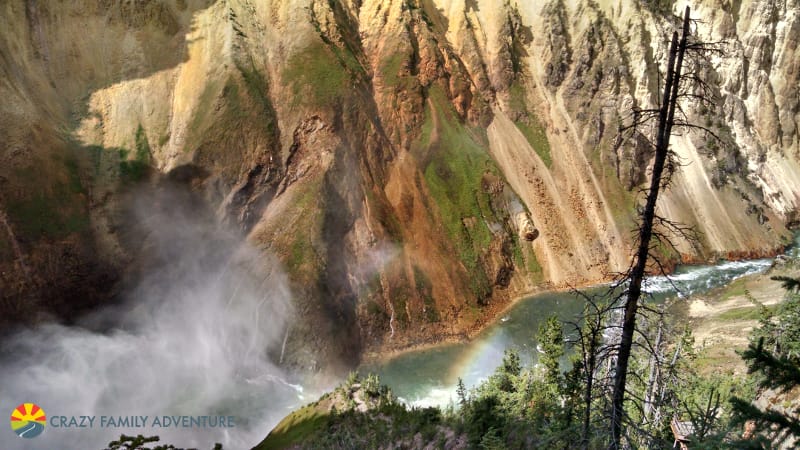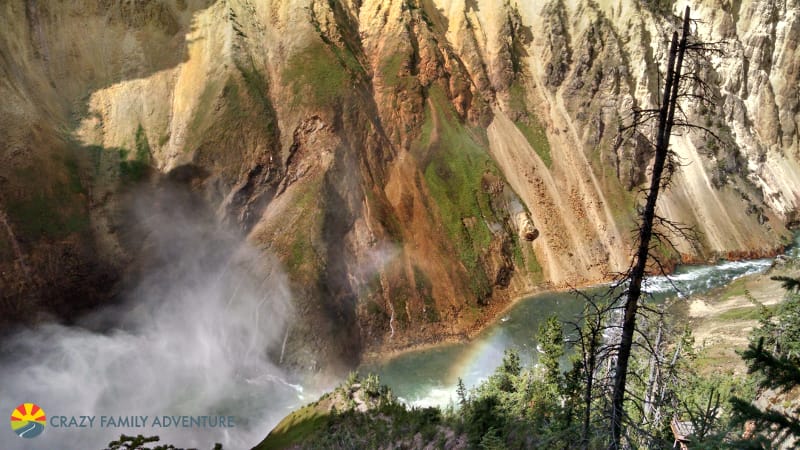 The Canyon Village has a large Visitor Center with a museum/information area to explore. A general store (like a gas station sized grocery store), diner, cafeteria, souvenirs, Ice cream, and gas station.

1. Artist Point
You will go on South Rim Drive all the way to the end of the road. You will come to a large parking lot – it will probably be really busy! Park and walk a short distance to the lookout area. The view of the waterfall is amazing!
It is called Artist Point because it is a famous location for artists to come paint pictures of the waterfall. You will probably recognize it from a painting or image you have seen in a magazine or hanging on the wall somewhere.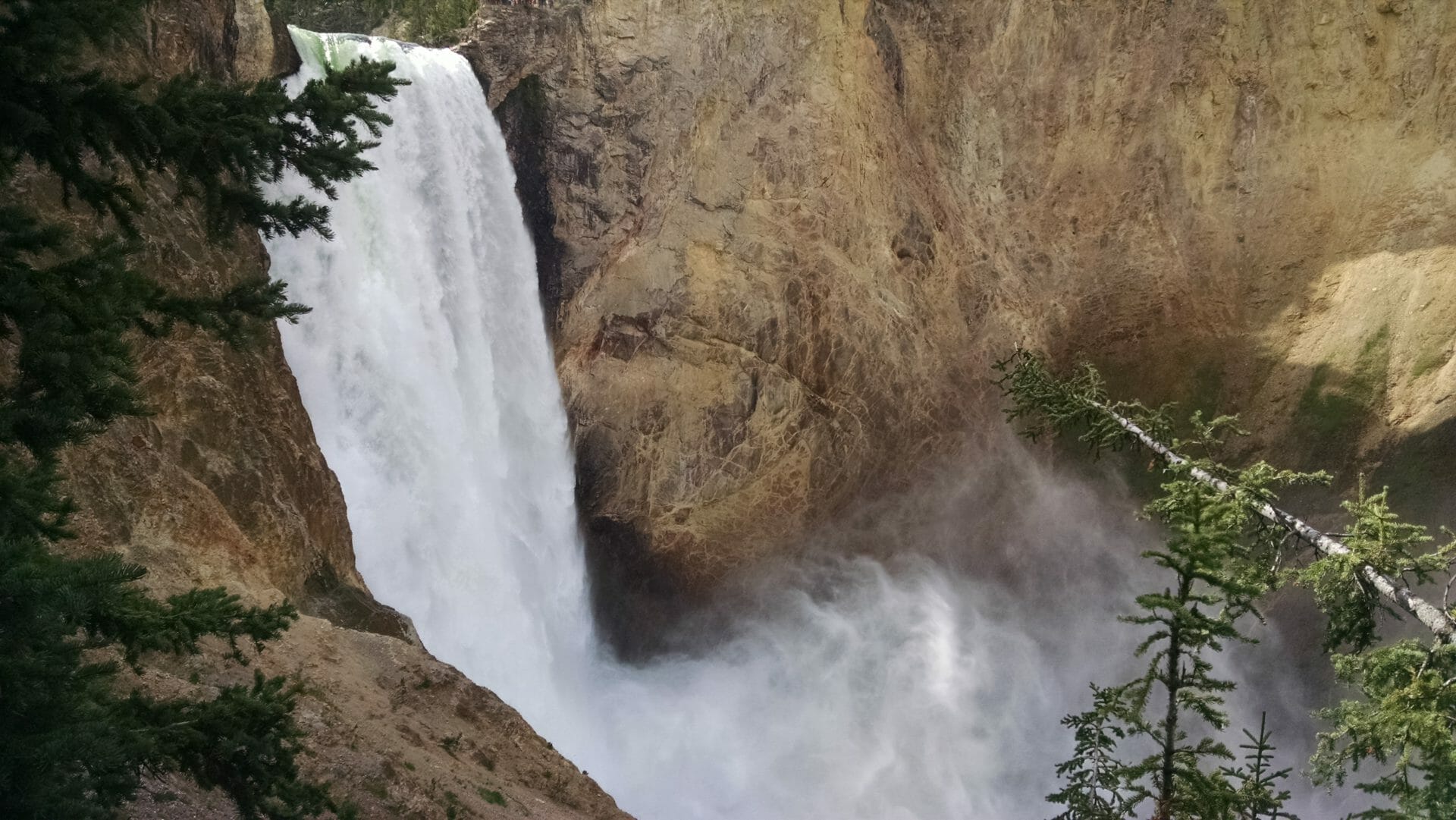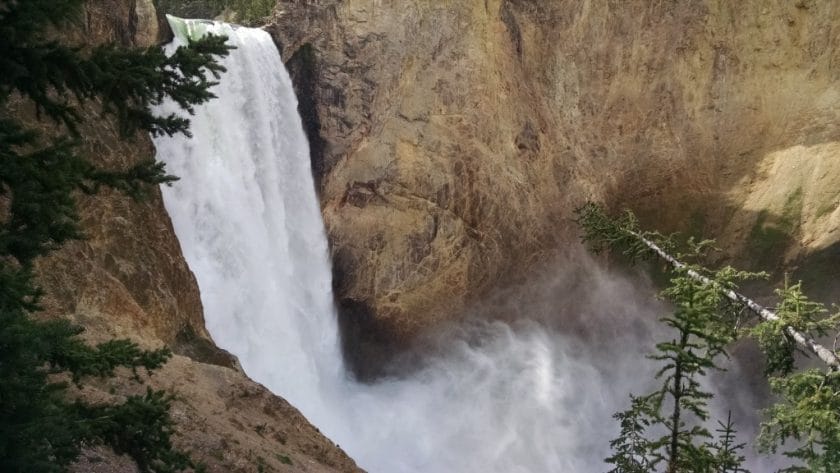 2. Uncle Tom's Trail
As you drive back to the main road on the South Rim Drive you will come to the parking lot of Uncle Tom's Trail. This is no easy hike but you should do it. It is really cool and the views on the way down and at the bottom are amazing.
You hike down a short path and then take 300 stairs down to the lookout. It is a little scary going down because the stairs are grated so you can see right through them! It is also really cool and has a lot of great views.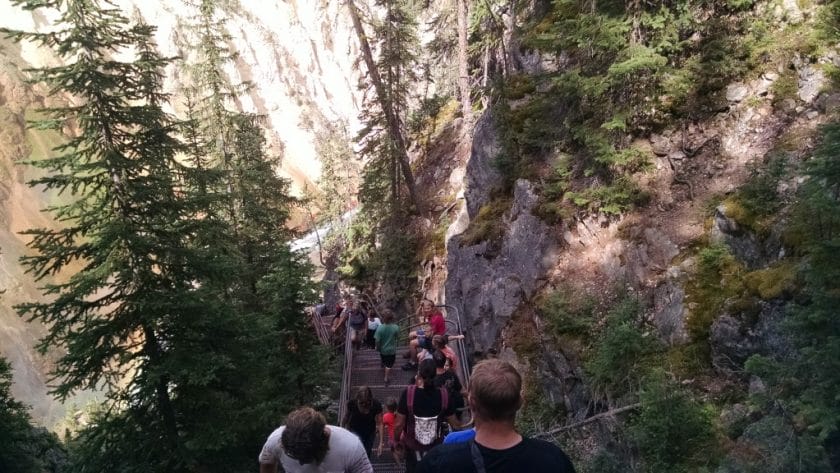 Obviously the way down isn't too bad *BUT* the way up is a challenge unless you are in great shape – then it will be no problem! Craig and I walked back up the 300 stairs with kids on our backs in the Ergo so it is totally doable! There are spots you can stop for a breather if you need to.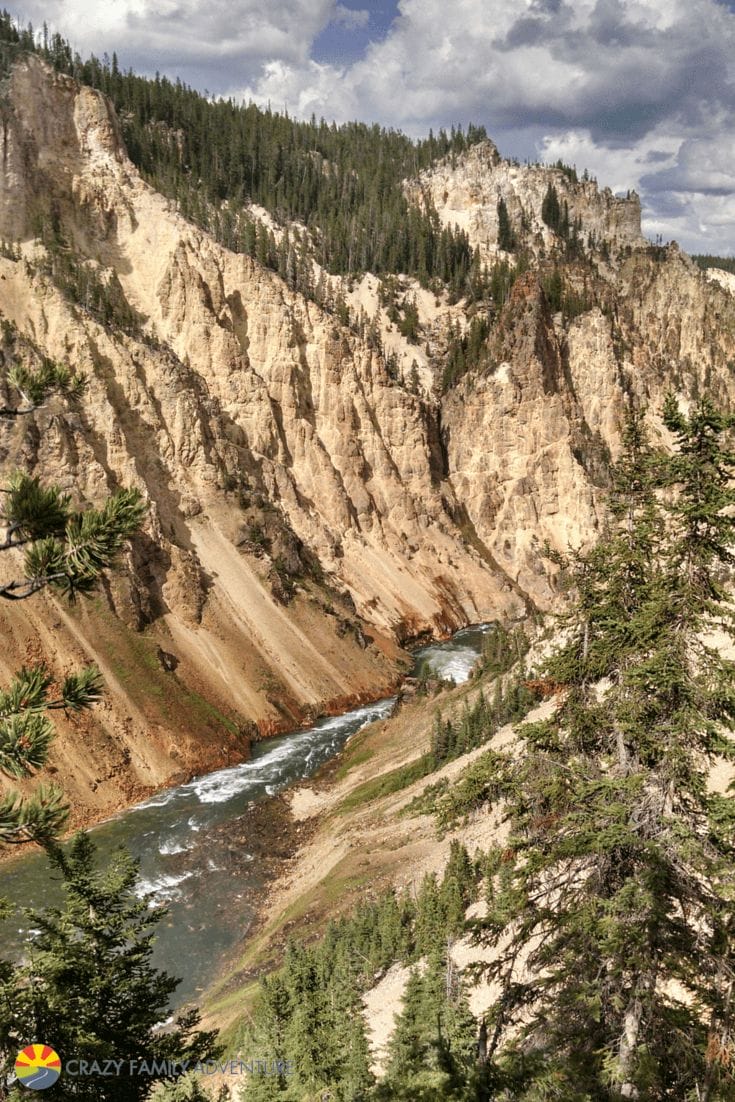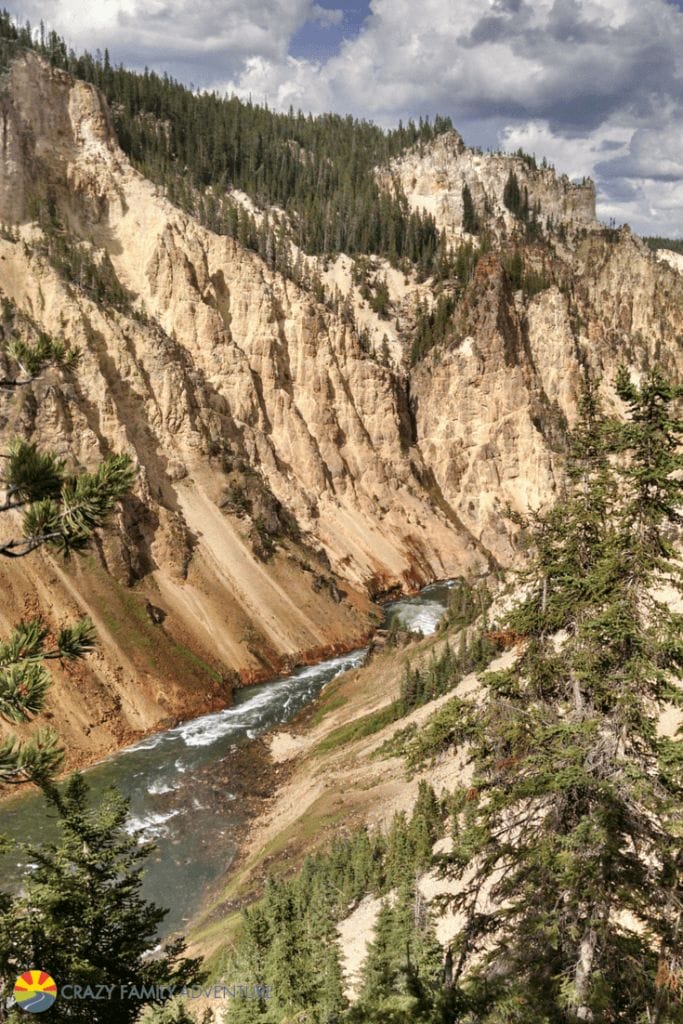 3. South and North Rim Trails
We didn't hike either of the Rim Trails. But we heard that they are beautiful and that you should check it out. Both trails provide you with spectacular views. If you have hiked these trails comment on this post and let us know how it was!

4. Hike Mount Washburn
This is an AMAZING hike that takes you 3 miles up to the top of the mountain. When you reach the top you will be at over 10,000 feet! The coolest part about it is there is a lookout tower at the top. You can go inside and use the telescope to look out over Yellowstone and they have a handful of images that show you what you are looking at in each direction.
Check out our post on Tips For Hiking With Kids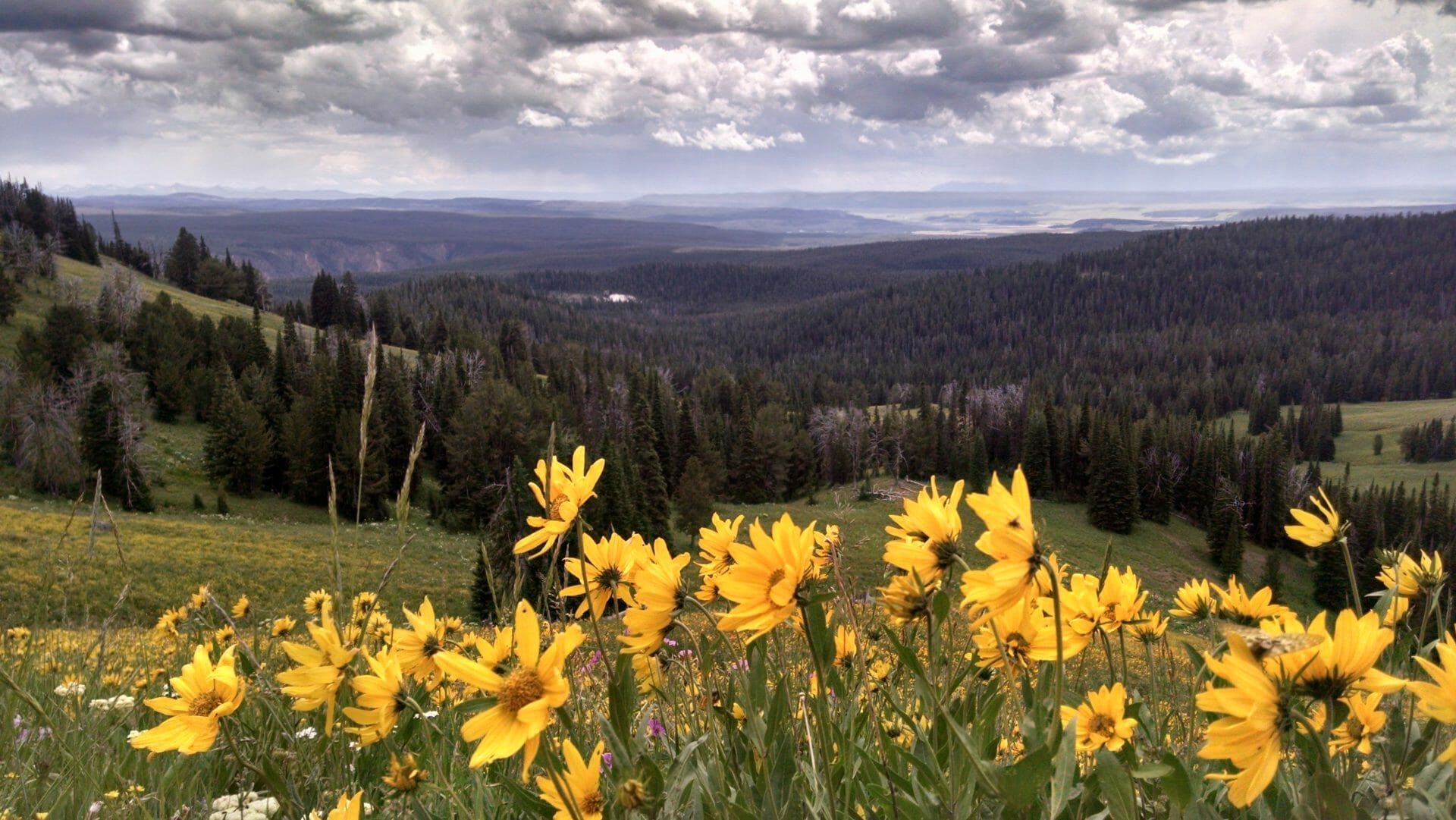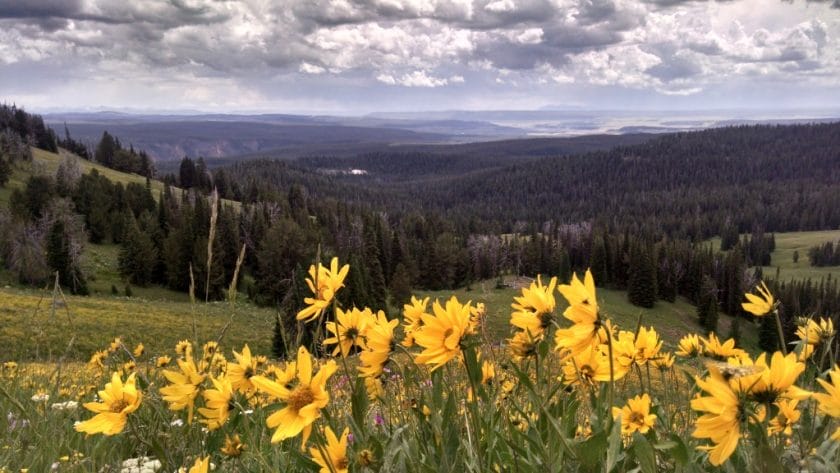 We started the hike from Dunraven Pass. The kids had their ranger vests on, exploring fanny packs, and backpacks. They were all ready to go! The first part of the hike had amazing wildflowers – we wanted to go run through them (we didn't)! About a 1/2 mile up the kids found a cool rock wall to climb.
We quickly learned when we stopped to take a break we couldn't do it by a rock wall if we wanted the kids to actually rest for a minute!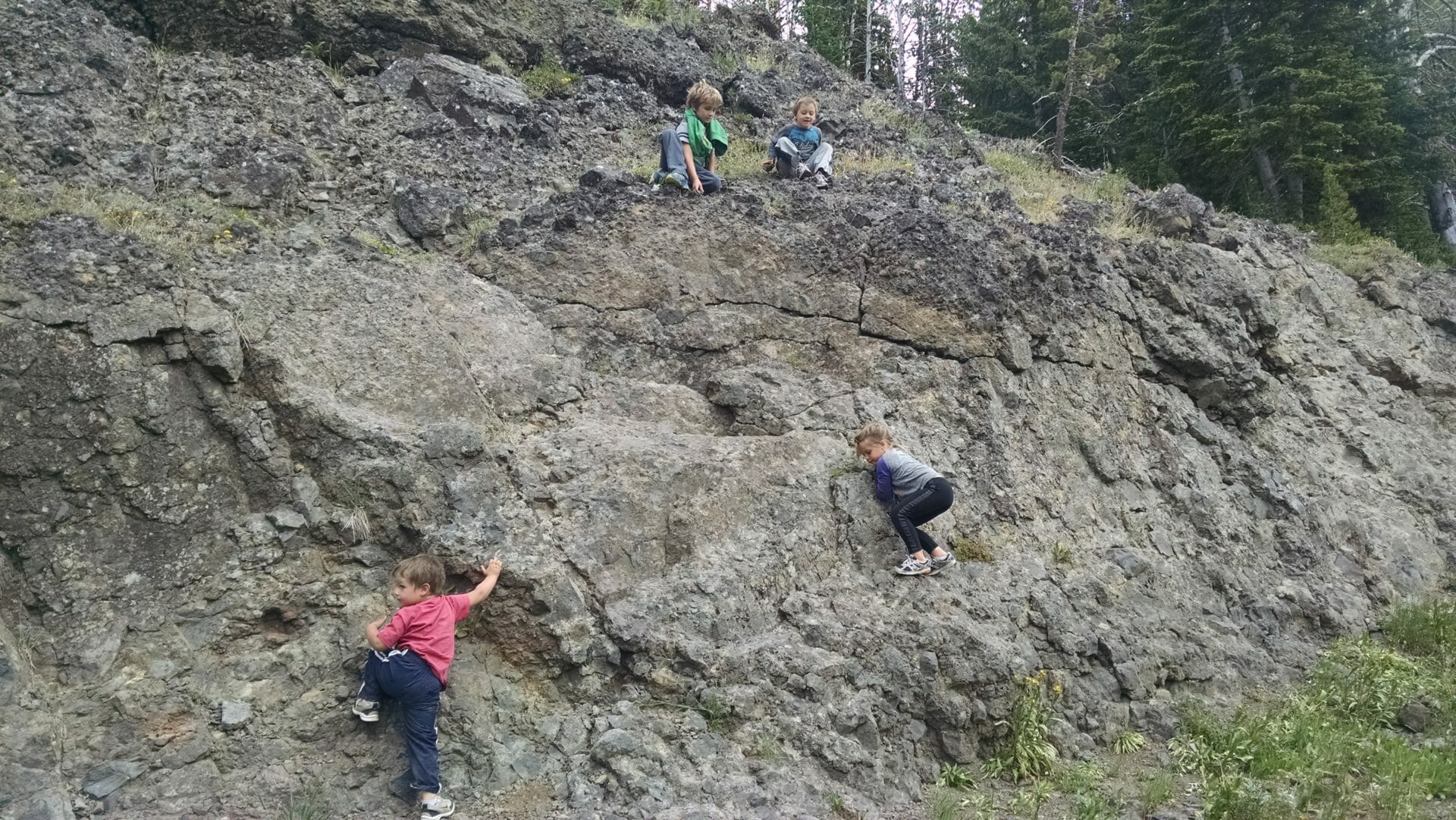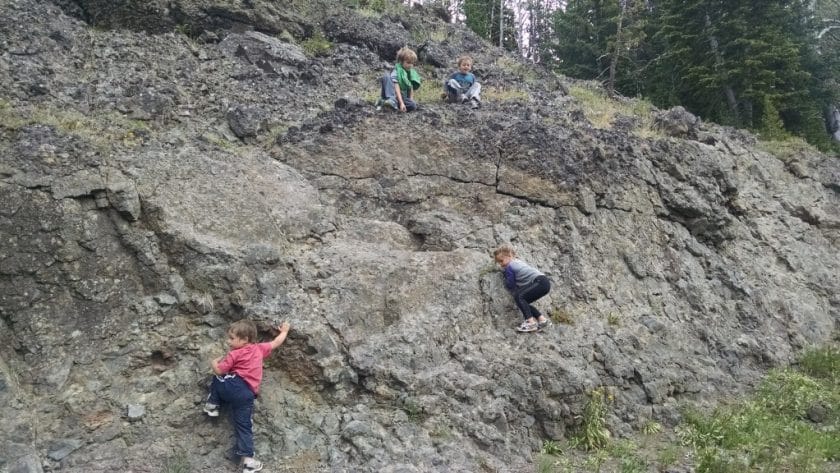 We continued up the mountain. At a few spots you could see the lookout tower. It looked so close yet oh so far! At one clearing Ivan spotted a fox! All 4 of us carried a kid for the majority of the hike so that was a challenge!
We were also worried about the weather because it looked like a thunderstorm was coming and you don't want to be hiking above the tree line on a mountain when a thunderstorm is happening!
At one point we thought we were getting really close to the top and then we turned a corner and looked, NOPE, the tower was still really far away. As soon as I came around the corner I said "Oh My", right behind me Megan walked up and said the same thing!
We kept moving. When we started to get close to being above the tree line the thunder started. Hmm…this isn't good! We all stopped for a few minutes under the only trees we could find and waited it out. The funny thing was one of the trees we stopped by looked like it had been hit by lightning!
We hoped the old saying that lightning only strikes the same place once was true! Luckily the storm quickly passed and we never saw any lightning.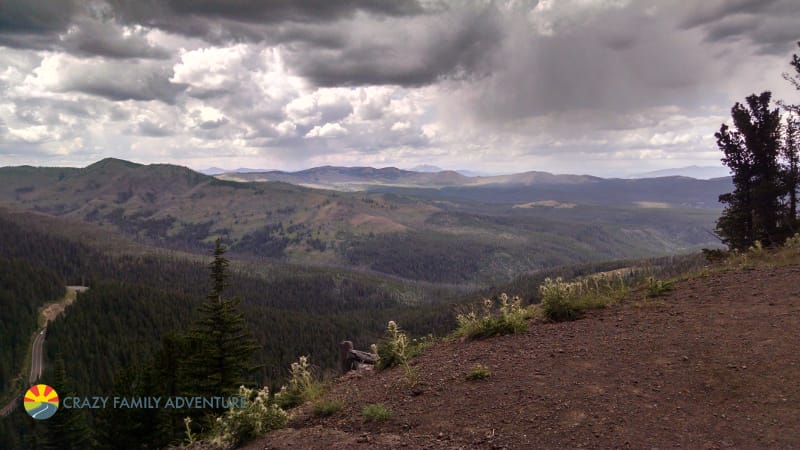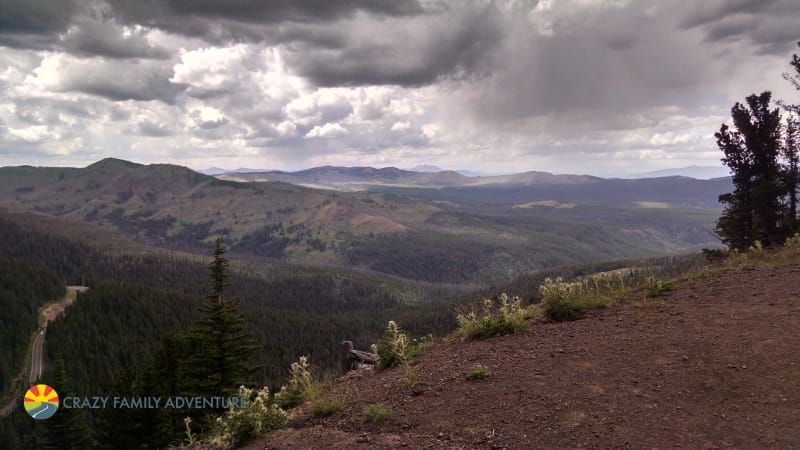 We continued up. As you can image the higher we got the more beautiful the views became and the windier it got. We turned a corner and we saw the lookout! We got up to the top – quickly took a picture by the sign – the storm looked like it was coming back and then held onto the kids so they wouldn't blow away as we made our way into the lookout tower!
When we walked in one of the couples that had passed us on our hike up started clapping. Yes we made it! We took out our snacks and hung out in the lookout tower with the resident chipmunk running around our feet. They had a lookout area outside on the second story of the lookout tower.
I went to check it out, took a few steps out, and said ok I am good! You were way up high – there was a railing but I didn't trust it would keep me from falling! Everyone else checked it out and everyone did the same thing. Yup Ok saw it now get me out of here!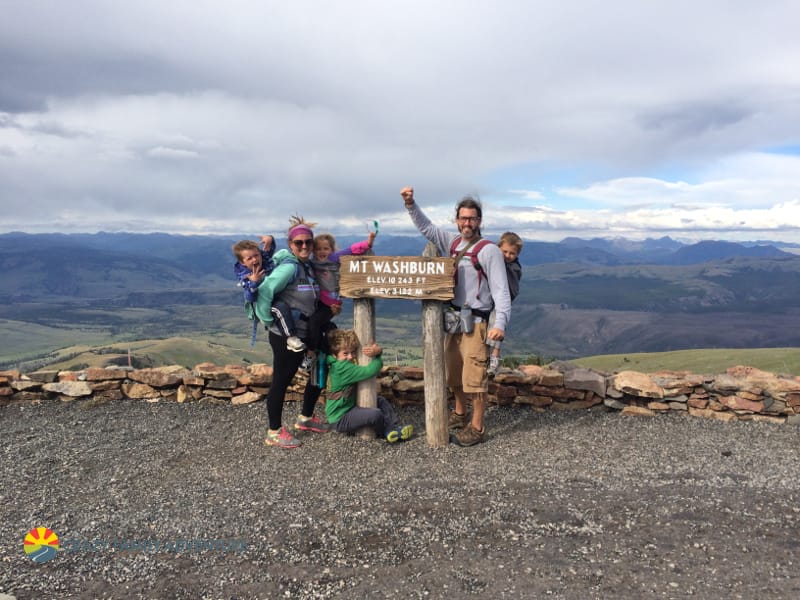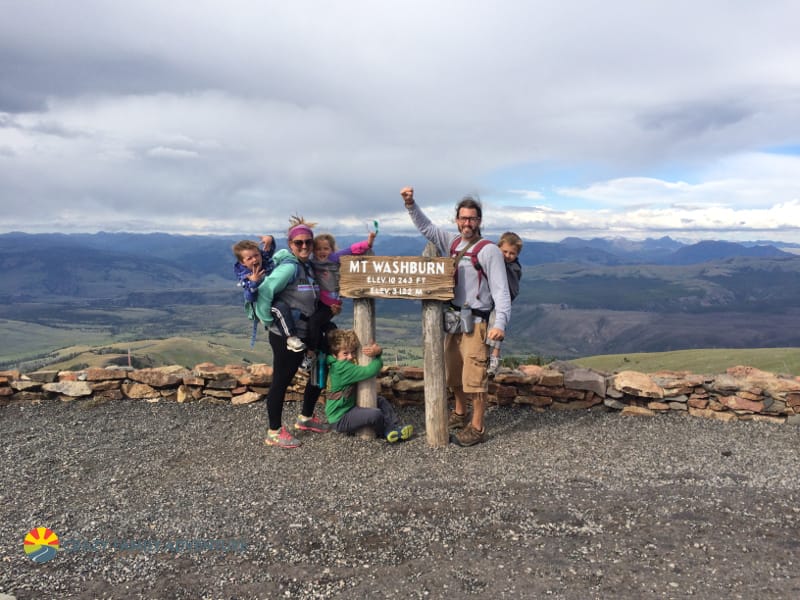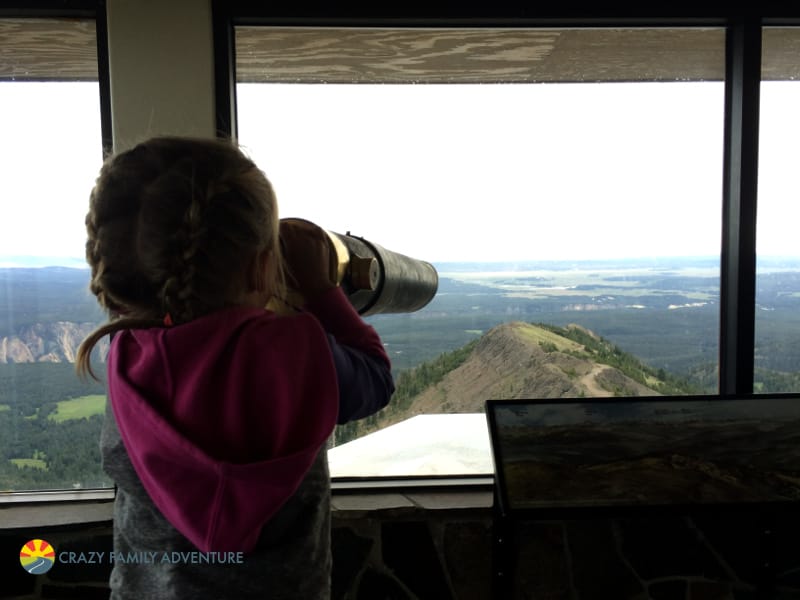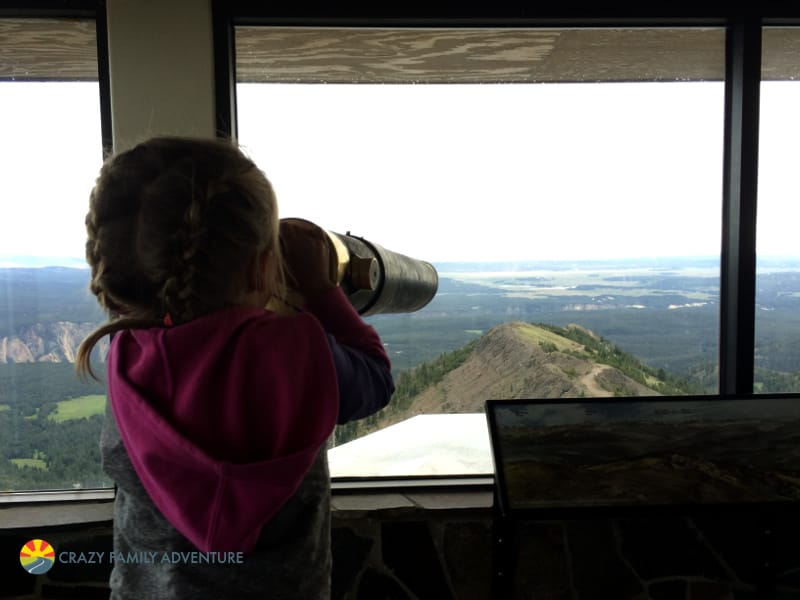 It was nice to be able to hang out INSIDE the lookout room for a while before we started our hike back down. On the way up everyone we passed kept telling us about the Big Horn Sheep that were at the top. We still hadn't seen any so we were wondering where they had gone.
Then on the way down just below the lookout tower area we saw them! As we continued to walk down the path we all of sudden saw one pop its head up on the side of the trail. We all stopped and quietly waited. A whole family with babies walked right across the path in front of us! It was so cool to see!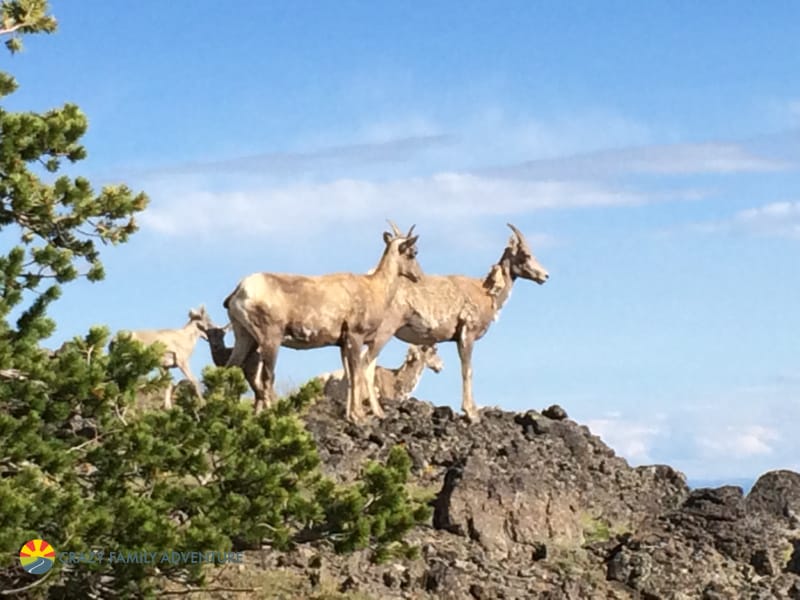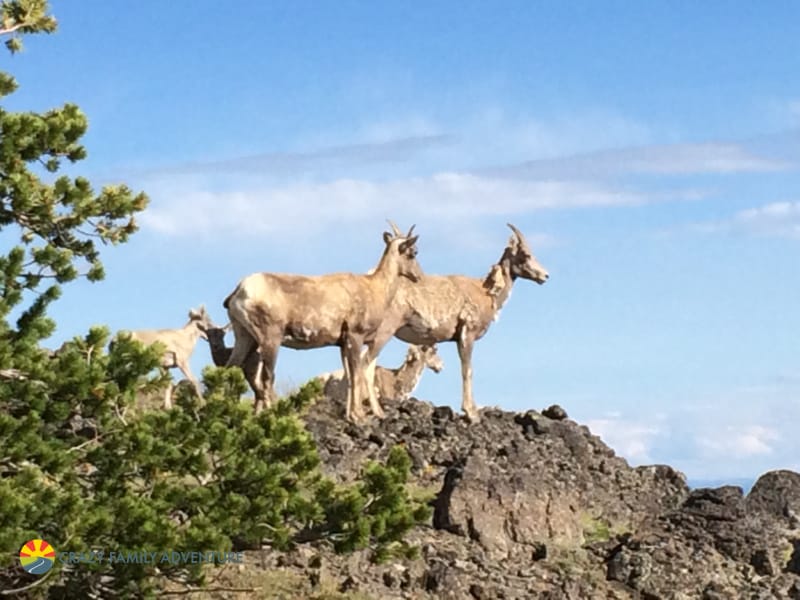 We continued walking down until we came to a turn and saw a big male Big Horn Sheep. We stopped to wait for him to keep going BUT he didn't! He turned around and started walking on the trail right towards us. Ahhh!!
We grabbed the kids and scrambled up the side of the mountain off of the path so he could pass. The guys had their bear spray ready just in case and as he walked by he totally gave us the evil eye and a snort. Luckily he kept walking and we were able to move on. That was scary and cool at the same time!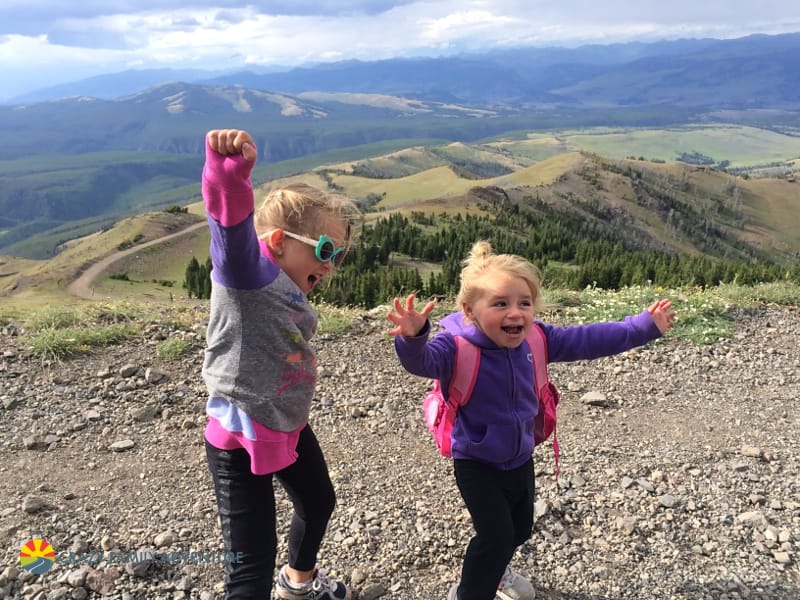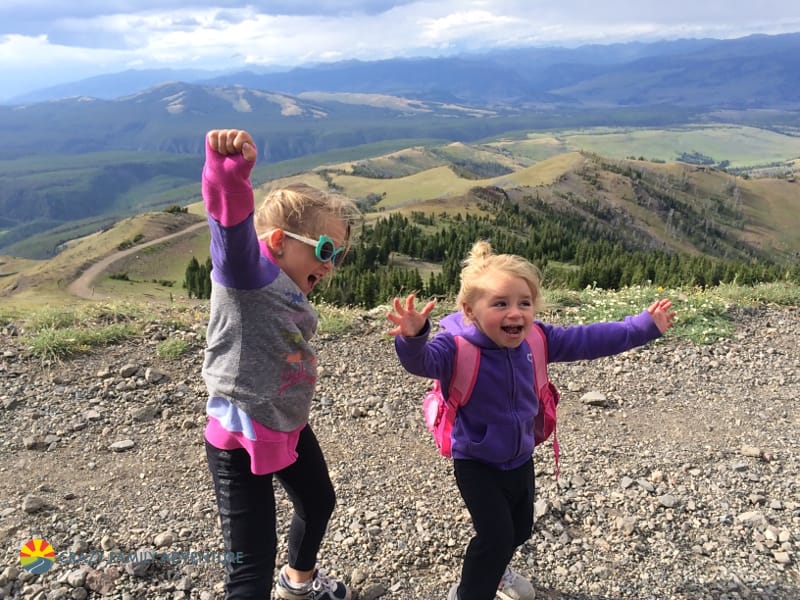 At this point the kids were getting pretty tired but luckily we were going downhill so we played some games with them as we hiked and talked about everything we had seen. And of course we had Power Pellets (aka Tic Tacs!).
Carson did amazing and walked the whole way. Cannon and Melia rotated who was in the backpack and Knox was mostly in the backpack. We made it back to our car and decided we were going to get pizza and beer for dinner! We were exhausted but loved it and would totally recommend it!
More on Yellowstone:
Yellowstone Packing List: 17 Things You Will Want To Bring
Planning Your Trip To Yellowstone: 15 Things To Know
18 Top Things To Do In Yellowstone National Park
11+ Fun Things To Do around Tower Roosevelt in Yellowstone
8 Kid Friendly Activities by Old Faithful, Yellowstone National Park
8 Things You Don't Want To Miss In Mammoth Hot Springs
11 Reasons To Visit Fishing Bridge Yellowstone
Yellowstone Camping: Your Complete Guide To A Perfect Spot
Pin This Post: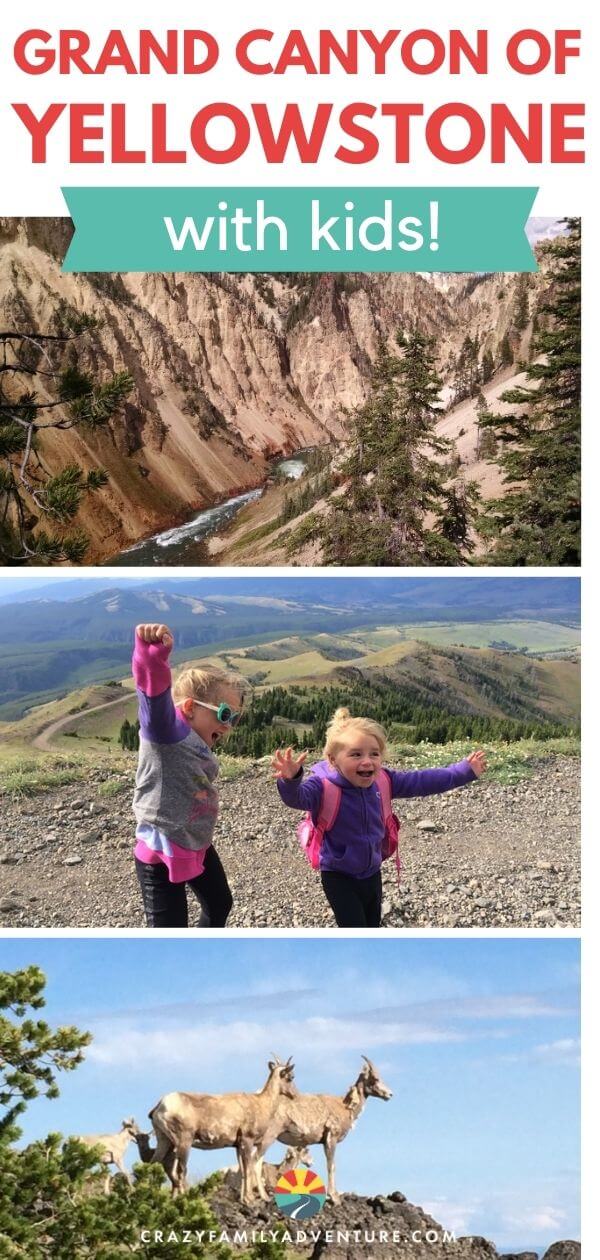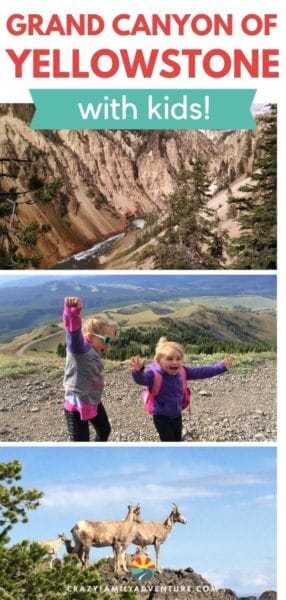 DISCLOSURE: This post may contain affiliate links, meaning I get a commission if you decide to make a purchase through my links, at no cost to you. Please read my disclosure for more info.