If you are thinking about a Yellowstone vacation, we recommend you stay for at least 1 – 2 weeks. Be sure you know all about wildlife safety, permits & reservations, activities you can do, what to do about food and supplies and park regulations before you go. We have been to the park 7 times and share our tips for planning your trip to Yellowstone below.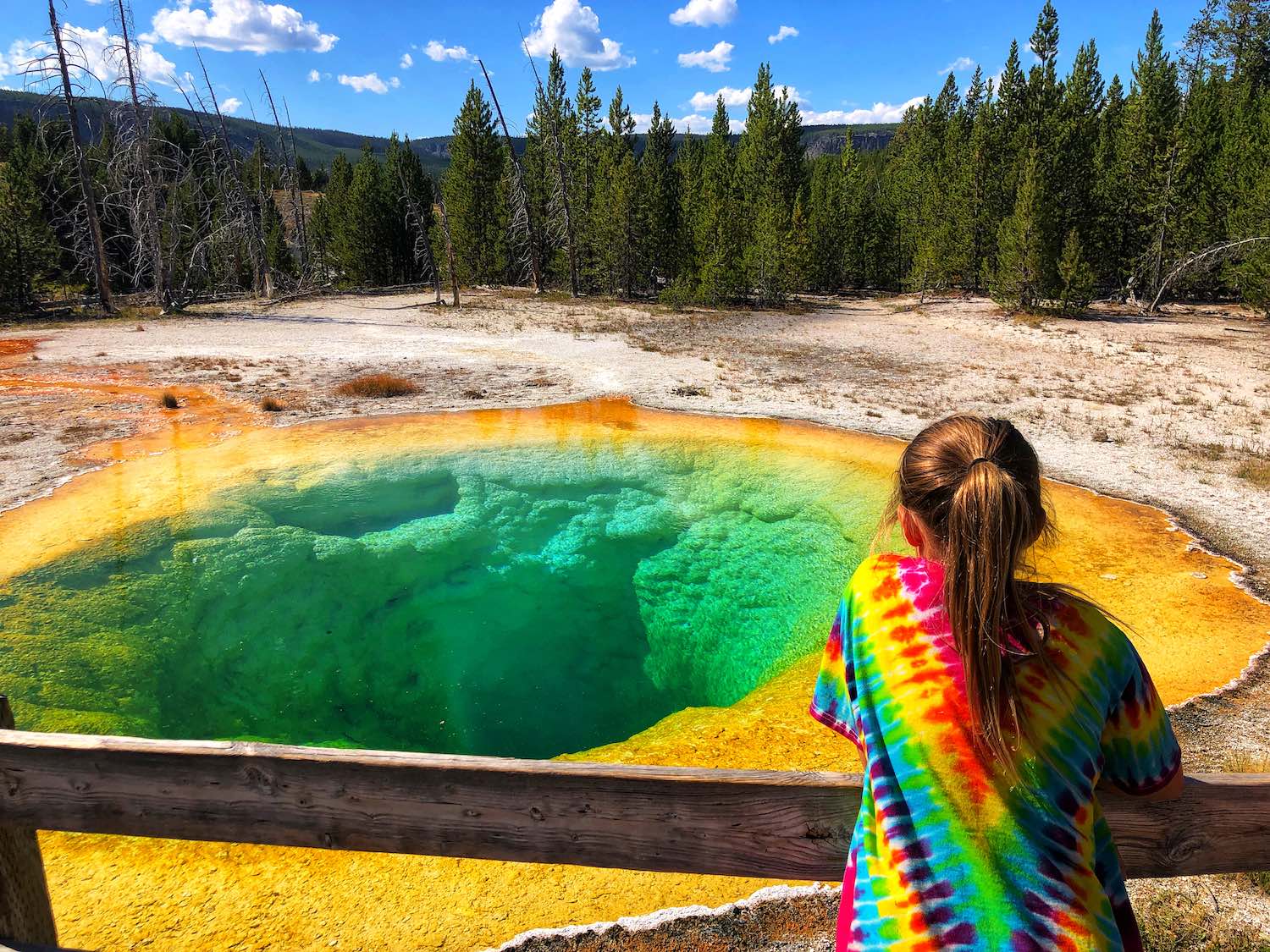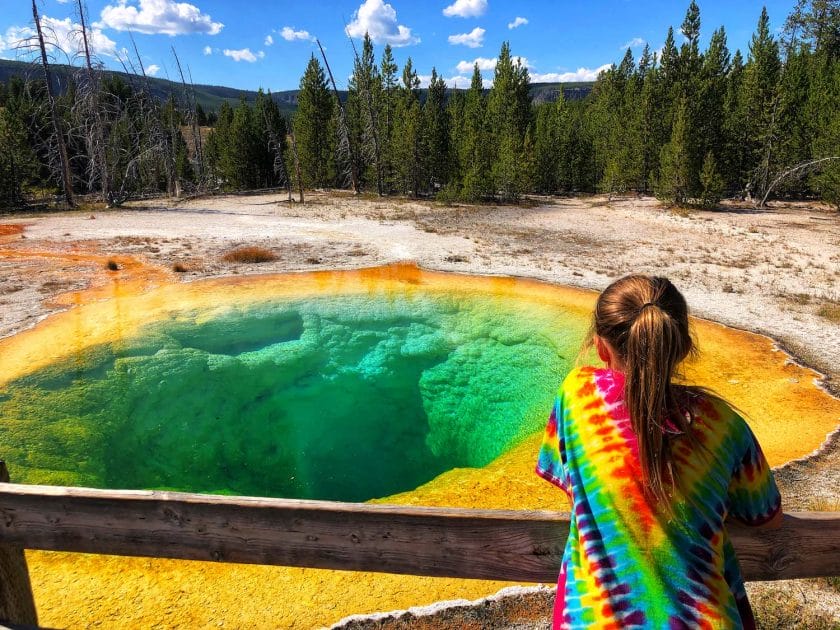 We heard a statistic that is crazy. 90% of the people that visit Yellowstone never go farther than a 1/4 mile off the main road. WOW.
They are missing out on so much that Yellowstone has to offer. Please make sure you plan to get off the main road as often as you can!
---
Are you researching the ultimate family vacation in Yellowstone? Planning a trip to Yellowstone is a lot of work! Let us help you!
Feeling overwhelmed by all the awesomeness that is Yellowstone?! We get it! The park is huge and there is so much to see and do. We have visited the park over 6 different times and have put together 1, 3 and 7 day guides to help you plan your ultimate trip to Yellowstone:
---
Tips For Planning A Trip To Yellowstone
Booking Your Stay
If you want to stay in Yellowstone – which we do recommend – there are a few options. Staying in the park makes the whole experience different. You become more immersed in the park and the Yellowstone way of life.
Versus having to drive in and out of the park each day. BUT take note this means you probably won't have good cell service the whole time. On vacation that isn't a bad thing!
You can book your Yellowstone Hotel or Yellowstone Lodge accommodations starting on May 1st for the FOLLOWING year. So on May 1st, 2023 people were booking for July and August 2024. So book early people!
The prices vary. If you are willing to have a cabin that has a shared bathroom (kind of like camping but you get to stay in a bed!) then you will be paying less. If you want a cabin with a bathroom it is more. Decide how much time you plan to spend at the resort/cabin and make a decision based on that.
If you are looking to stay in a campground or RV park it is the same thing. However do note that they have first come first serve campgrounds as well. But these campgrounds do not have hook ups for your RV – you can stay here but you will be boondocking (Staying without hookups).
If you want full hookups you will want to get into the Fishing Bridge campground.
There are also some great Yellowstone VRBO options outside of the park like these:
One of a kind cabin – located by the West Yellowstone Entrance
Elk Crossing – by the West Yellowstone Entrance
Modern cabin – by the North Entrance
I know I said stay in the park. BUT if you can't get a reservation in the park know that the towns outside the park are pretty cool too and even if you weren't staying in them I would recommend you visit them.
The town of Cody is going to be the furthest away. For that reason we recommend Gardiner or West Yellowstone if you are really planning to explore Yellowstone.
How Long To Stay
We recommend a week because it gives you a chance to breath and to really get out to explore and enjoy the park during your Yellowstone vacation. Yellowstone is totally like Disney World where visitors have an agenda and they are knocking everything out as quick as they can.
You miss so much about the experience and the atmosphere of the park when you do that. We would really recommend 2 weeks – but understand that isn't always possible for people. But if you can swing it then do it!
We would recommend staying a few nights of your Yellowstone vacation at each location that offer places to stay. For example:
I know, a lot of moving, but it is a short distance and you won't be spending much time in your room anyways. Doing this will allow you to see and experience more of the park.
Also if you are able to stay over a week you can spread out your time at each place.
Take note that Yellowstone is HUGE and can take up to 3 hours to drive from one entrance to the other. Maybe 4 if there is a buffalo or bear sighting next to the road.
By staying in multiple places it allows you to not have to spend so much time in the car each day. Plus you can better immerse yourself in that area of the park when you are staying there.
If you aren't staying in the park we would recommend you stay in either Gardiner or West Yellowstone. And since these are relatively close to each other you could pick just one for a home base. That being said if you aren't against moving you could spend half your time in Gardiner and half your time in West Yellowstone and plan your Yellowstone park trips around those areas.
When To Go
You can really visit the park any time of the year! And each season brings something different to the experience.
Spring – bear cubs! Need we say more?! But also could be cold and snowy and everything may not be open.
Summer – busiest time to go. But also a great time to see everything.
Fall – this would be our favorite time to go. Less busy yet pretty much everything should still be open. And you may get a brief snow storm while you are there! Yellowstone is gorgeous covered in snow.
Winter – a whole different experience that we have not tried yet. But have heard told from workers in Yellowstone that it is their favorite time of year to be in the park and that it is just magical.
If you can plan multiple times to visit try to come during each season!
Food
Bring a cooler and perishable items. The locations have ice so as long as you replenish you can keep things in the cooler the whole time. I recommend trying to do at least one meal a day out of your cooler to save money. Peanut Butter and Jelly works out great!
They also have a few "restaurants" or more snack bar/cafeteria type of places throughout the park where you can grab a burger or chicken sandwich. But I would say for the most part inside the park is not known for its cuisine.
But if you don't want to worry about bringing food this is an option. Just be sure to check all opening times as the restaurants are not just open all the time. You can click here to learn about the restaurant options in Yellowstone.
There are multiple general stores located throughout Yellowstone where you can grab something as well and these are open all day long. You can click here to learn about the general stores in Yellowstone.
Unless you opt to go to some of their nicer restaurants like at the Lake Hotel. But take note a lot of these require reservations.
There are also a few bars located throughout the park and we definitely recommend getting a cocktail and heading out to sit on the patio and watch the sunset or look for buffalo walking by. We really like Wylie's Canteen at Lake Lodge. Take note the rangers are on the lookout for people that are drinking and driving – be smart and have a designated driver.
Animal Safety
LISTEN to what the Rangers say about staying away from the animals! They are amazing to see but you have to give them their space. The Bison seem so docile – but they are NOT! They can charge at a moments notice, and they are fast.
When you are out on trails or walking around be alert. You never know what is around the next corner so talk loudly and be prepared. We carried bear spray with us every time we went hiking or biking.
The rangers give a range of how far away you should stay based on the animals. My recommendation stay at least 100 yards away from all wild animals. Yes – if you are in your car they will get closer then that – just be sure not to provoke them or you may end up with a lot of damage to your car!
Respect the animals they are wild. A fear of wild animals is not a reason not to go to Yellowstone. If you follow the guidelines and are alert and smart about what you are doing. You and your family will be safe.
Cell Service
There is a Verizon tower in the park. So you can get a cell signal if you use Verizon *BUT* it is not consistent through the park and data speeds are REALLY slow during the day. It works great at 2am :)!
The Lodges do give you an option to buy access to their internet there. To use it you have to be at the Lodge you can usually buy 1 hour, 24 hours or 72 hours of internet use. So if you have to work when you are there it is possible – but not something I would 100% count on working all the time.
The signal is better at the main Lodge's, Mammoth Hot Springs, and Old Faithful. I recommend just not counting on having service. The Lodge's have pay phones (yes you read that right!) so if you have to make a call you can pay for time and make one. Oddly enough, I don't know if they accept change or not, so think about a calling card as you plan.
This could be another reason you want to stay outside of the park. West Yellowstone and Gardiner have cell service. However if at all possible use this as a time to disconnect! You will be so glad you did.
Mindset
You have to get into a relaxed mindset when you enter Yellowstone. There is one road that runs the length of the park and it only has one lane on each side. RV's and trailers drive slower, buffalo constantly cause traffic jams, and anytime there is an animal siting you will be waiting in a line of cars to get your chance to catch a glimpse!
This is also a really cool thing and Lamar Valley and Hayden Valley are great places to look for animals. Of course early morning is best and by that we mean like 5am before the sunrises to get to Lamar Valley to find a place to pull off and wait for animals to hopefully come!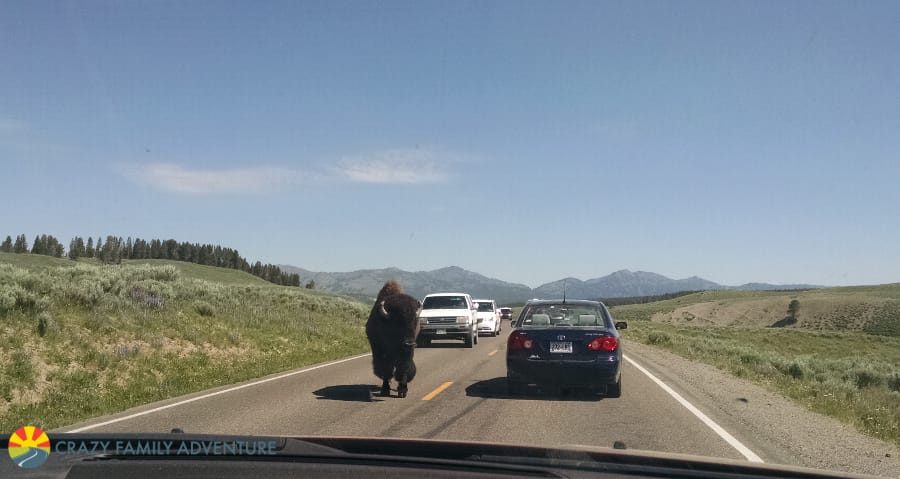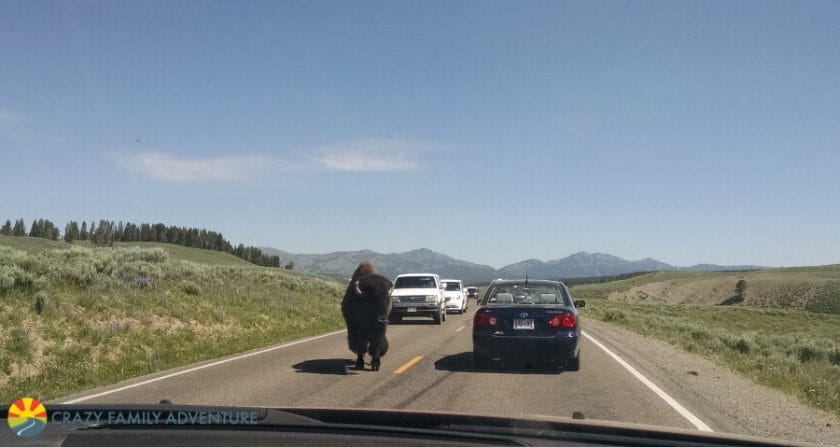 If you give yourself a chance to sit back and really soak everything in and feel the magic that is Yellowstone (not just the tourist attractions) you won't want to leave! Between the views, wildlife, and thermal features, there is really something special about this park!
If you are in the middle of the park it is going to take you a good 2 hours to get to a city. Which is kind of cool. So just accept it and be ok with that.
Here is our post about what to pack for your trip to Yellowstone.
Here are 20 Tips For Visiting Yellowstone With Kids.
What To See
Each area in Yellowstone has its own unique thing to offer. Below are links into each section of Yellowstone and what we recommend doing there. Use these as a trip planner to determine what you want to see when you visit.
One of my favorite things is the Grand Prismatic Spring by West Yellowstone and Old Faithful.
We always recommend stopping in at the Visitor Center. The Rangers for the National Parks Service have so much information and are great at recommending what you should do based on weather, time of year and who is in your group.
Here are our posts on each of the different areas of the park and what to do at each of them:
Mount Washburn Hike in Yellowstone with Kids
Take a road trip to Yellowstone National Park is an amazing time!! You should plan before you go but also be willing to change things up and go with the flow when you are there and don't over schedule yourself.
A Yellowstone trip can also include visiting other areas around the park. You can turn your Yellowstone National Park vacation into a multi stop trip with everything there is to do around the park.
Towns around Yellowstone to visit: Red Lodge, West Yellowstone, Bozeman, Livingston, Gardiner. If this interests you be sure to check out our Yellowstone Vacation post.
Yellowstone and Grand Teton National Park are basically connected so if you can add time to your trip to go to Grand Tetons National Park. It is outside of the South Entrance of Yellowstone.
And while you are at it go to Glacier National Park too. Did we say 2 weeks lets make it 4 and add these parks to your trip too! And check out our Yellowstone Vacation guide for all the fun things to do in Montana just north of the park.
Pin This Post: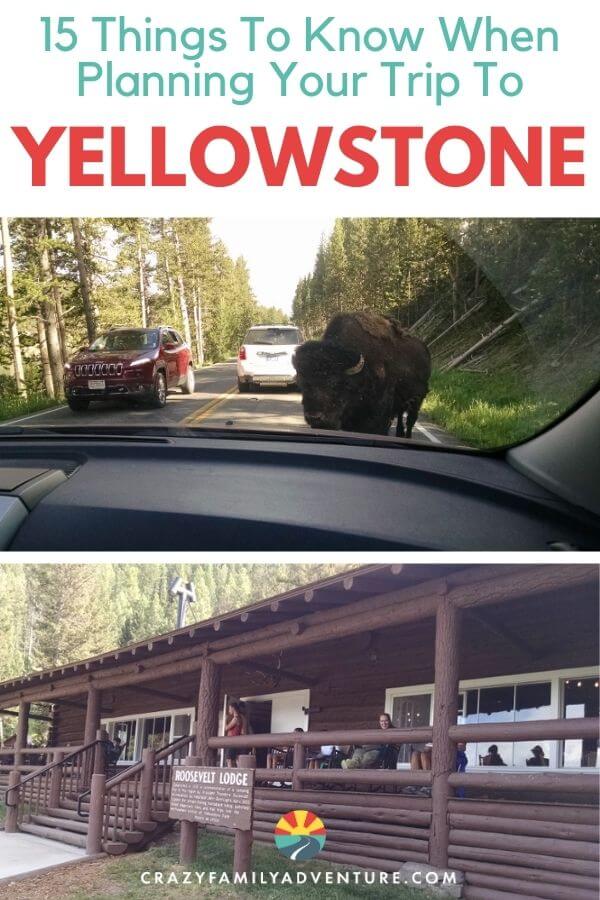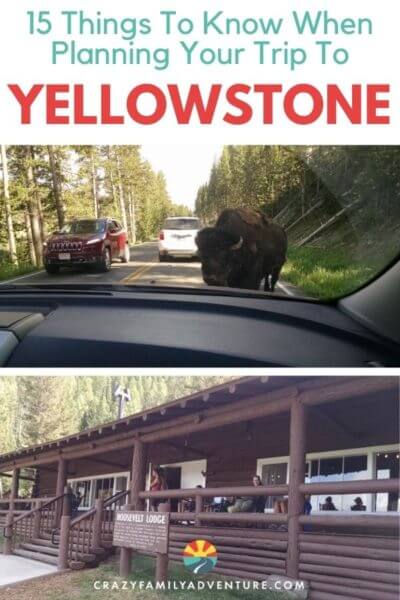 DISCLOSURE: This post may contain affiliate links, meaning I get a commission if you decide to make a purchase through my links, at no cost to you. Please read my disclosure for more info.