West Yellowstone, Montana is a great location to pick as your home base as you explore Yellowstone National Park. There are so many great things to do in West Yellowstone that will help to compliment your time in Yellowstone National Park.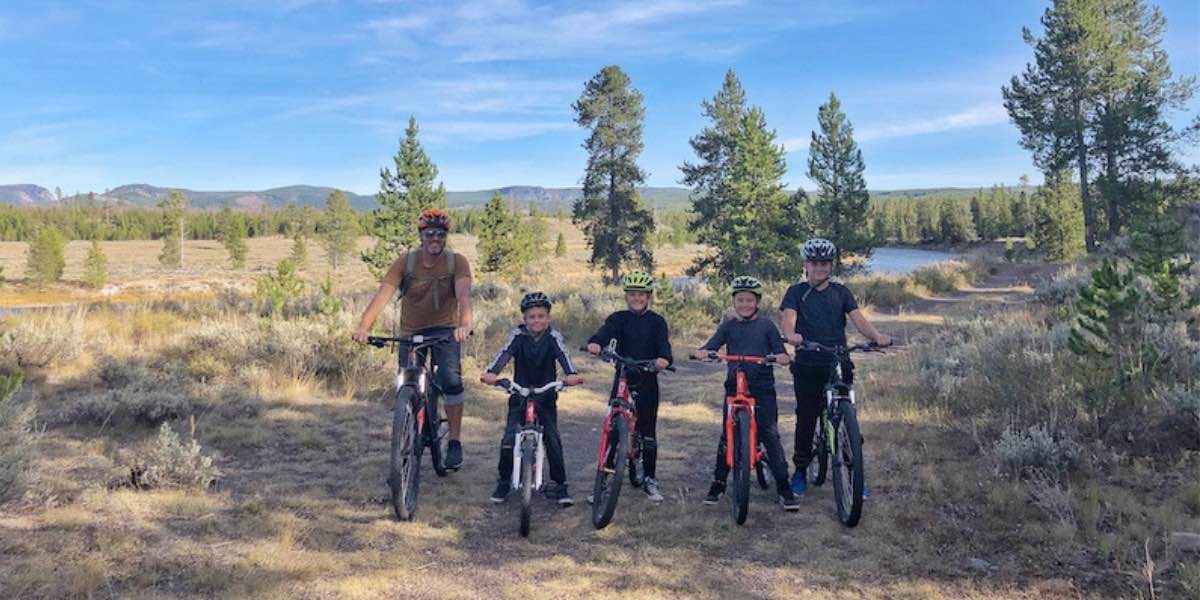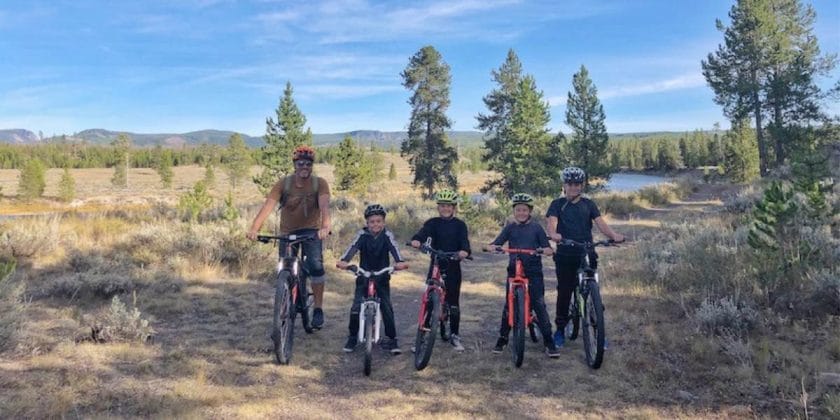 Below we share our list of things to do on your trip to West Yellowstone along with where to eat and where to stay. Interested in having your whole Yellowstone trip planned out for you?! Check out our Yellowstone guides by clicking here. We have 1, 3 and 7 day guides.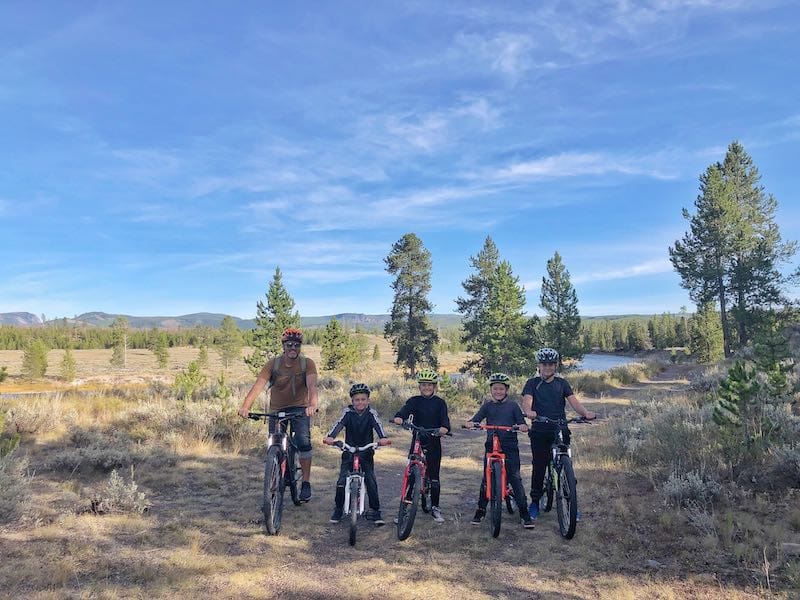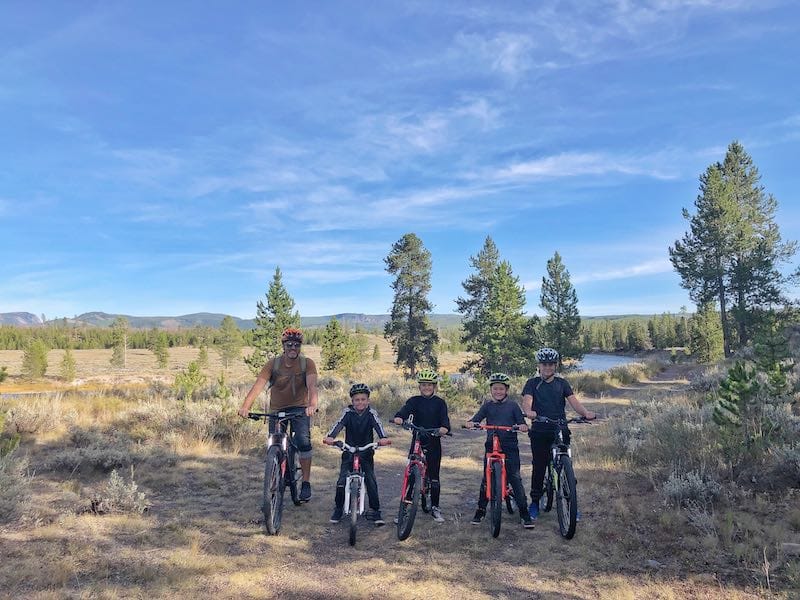 There are a ton of trails that take off right from West Yellowstone, so it is a perfect place to rent bikes and let the kids burn some energy and to get a quick workout in.
The bike shop gave us a variety of different options for trails we could take (a lot of them are cross country ski trails in the winter). Some of them were in the park and some of them were in West Yellowstone. The one in the park was definitely more scenic as it cruised along the Madison River, but the trails in West Yellowstone were more challenging and fun (the kids loved the big hills we went down!).
The shop has really nice mountain bikes and helmets for all ages, plus they do have bike trailers if you have little ones that won't be able to keep up. They are super helpful and knowledgable on the area so just tell them what you are looking for and they can point you to the right trails!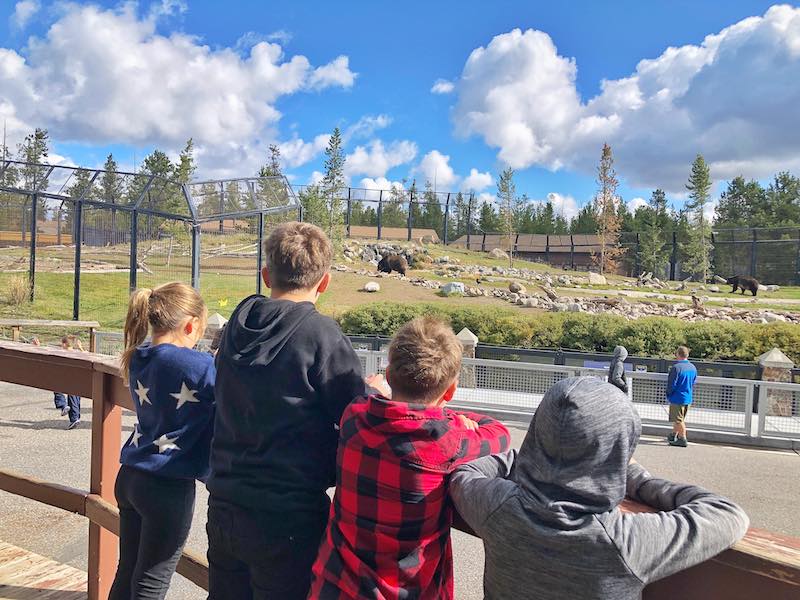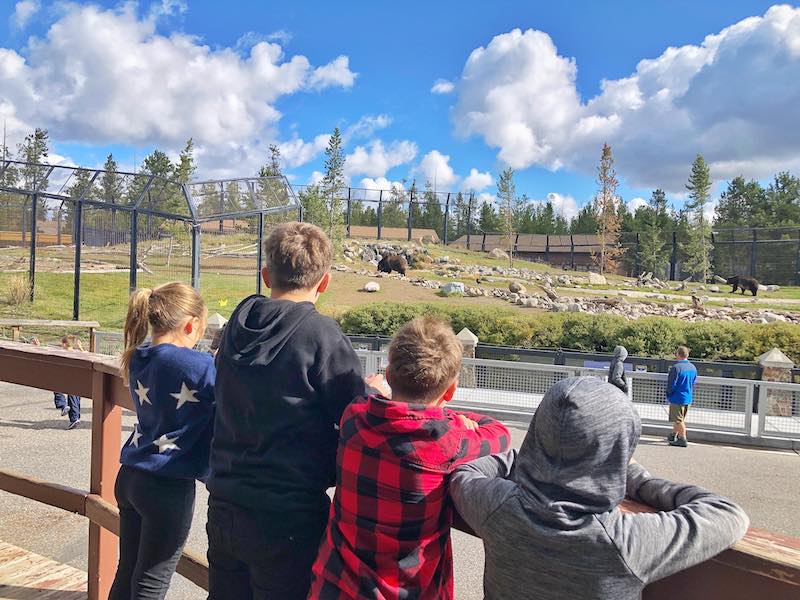 We did not plan enough time to truly explore the Grizzly and Wolf Discovery Center. Honestly we thought it was going to take us about an hour since it is such a small space. Instead we could have spent all day there!
We got there on time in the morning so we could sign the kids up (5-12) to be Kid Keepers – which meant they got to set out the food for the bears to find when the grizzlies came back in the habitat. This also included getting an animal pin and hearing from one of the workers all about the grizzlies and the center!
It does cost extra and took about 1 hour, but it was so worth it for the kids to go behind the scenes and actually into the habitat. Then they were able to watch the grizzly bears come out to search for their food which was really cool.
They also have wolves – who were gorgeous and really active, otters that we could watch under water, bald eagles and more. Throughout the day they have a variety of talks where you can learn all about the animals. Plus they have multiple movies – and they all looked awesome.
Check by the front for information on doing a scavenger hunt with your kids through the museum section. These are always a great way to help the kids learn and stay focused!
I wish we would have planned to spend a whole day here watching the grizzly bears and wolves along with the other animals (they switch out which bears are in the habitat you can see about every hour), the talks, and the movies. Plus there is a great gift shop so prepare yourself for that.
Make plans to at least stop in to see the Yellowstone IMAX show. It is a great way to learn about the history of Yellowstone and how it was found and the studies they continue to do on it.
They also have new release movies and a couple other documentary films that also looked really interesting. They do have a snack station just like a regular movie theatre and an awesome gift shop if you want to pick up some Yellowstone National Park gear.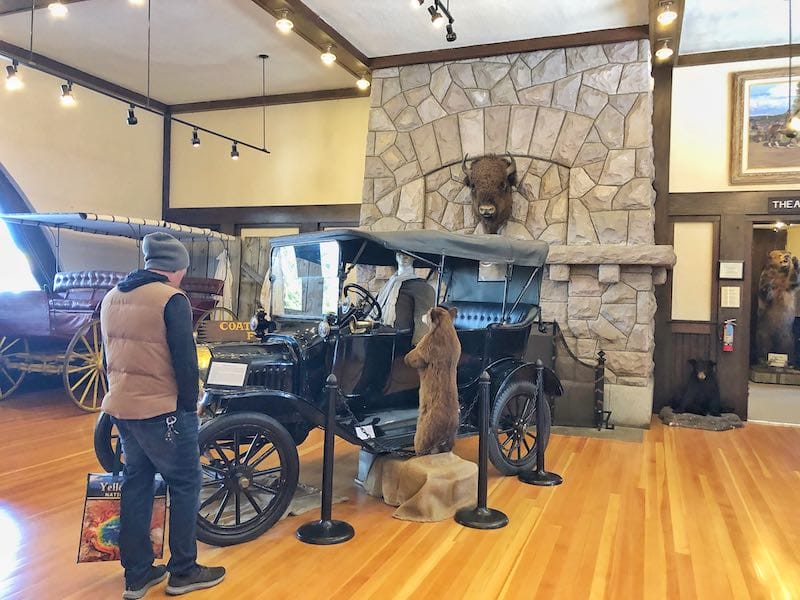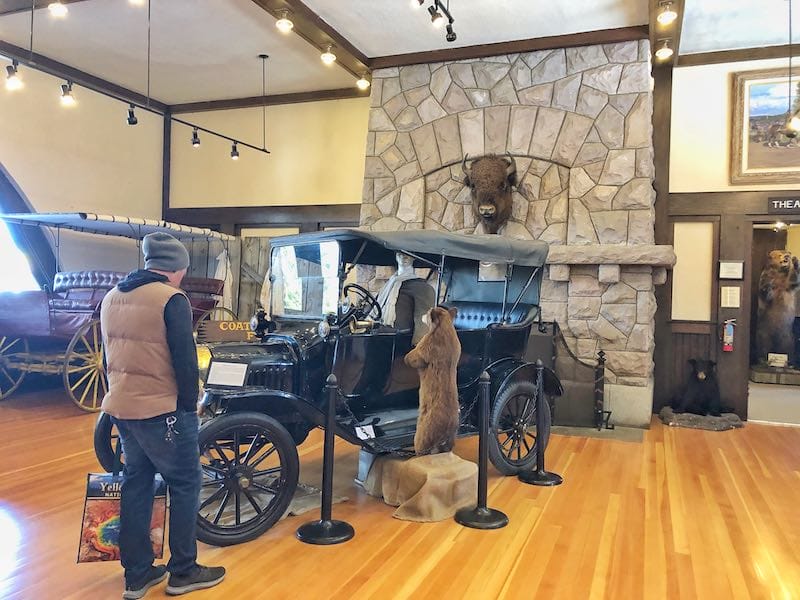 To continue with the history lesson, head over the Museum Of The Yellowstone in the old train station that was a depot for the Union Pacific Railroad. The museum isn't very big, but they have a great I Spy game for the kids to play and when they finish it they get a prize.
They also have movies that talk more about the history of Yellowstone and the area. If your kids are like mine, they can be done in a museum in 5 minutes . . . the nice thing about here was with the I Spy game it kept them occupied so Craig and I could look around more and read through more of the exhibits.
If it is important to you and your family to learn more about the history of Yellowstone and West Yellowstone, be sure to stop here.
For another fun thing to do with your family check out the Playmill Theatre schedule to see if there is a performance while you are visiting. The Theatre has been producing amazing live entertainment for over 50 years!
Shopping
Set some time aside just to walk up and down the streets in West Yellowstone to do some shopping or to stop for Ice Cream – there are a LOT of Ice Cream places! There are some nice souvenir shops and also great outdoor gear shops like the Madison River Outfitters and the store in the Free Heel and Wheel shop where you can rent the bikes.
In the summer there is also a Ropes Course that would be another fun activity for the kids to do to break up sightseeing and hiking in Yellowstone. They have a variety of different packages including an aerial adventure one, horseback riding and an option to mine gemstones and fossils. Basically a great collection of things that kids would love to do!
Yellowstone National Park
West Yellowstone is right outside the west entrance of Yellowstone and is close to a lot of the top locations in the park. Beware that if the map says an hour it will probably take longer to get there. Every time we went in and out of the park we were stopped or slowed down due to an animal sighting. This is an awesome thing, so embrace the slower pace and set your expectations around it.
As part of that, it makes sense to bring some snacks and water along with you – in case you are sitting and waiting longer than expected. Before you get in the car grab a small cooler and toss a few things in just in case you need them. Note there are general stores in the park too along with places you can eat.
Here is a map to show our recommendations: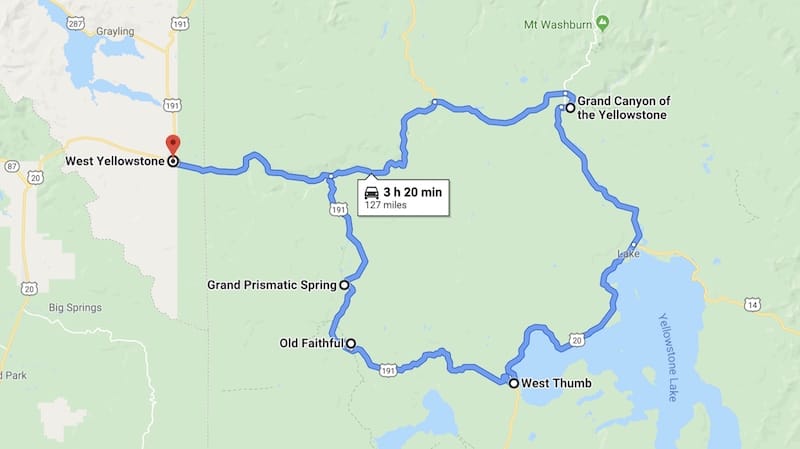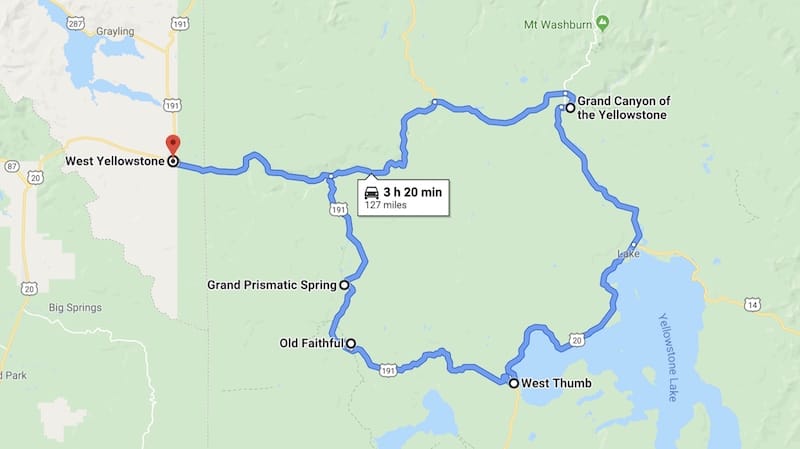 Click here for an interactive map.
If you're interested in booking a guided tour, check out this West Yellowstone Park Tour and visit the entire Lower Loop in a day!
Grand Prismatic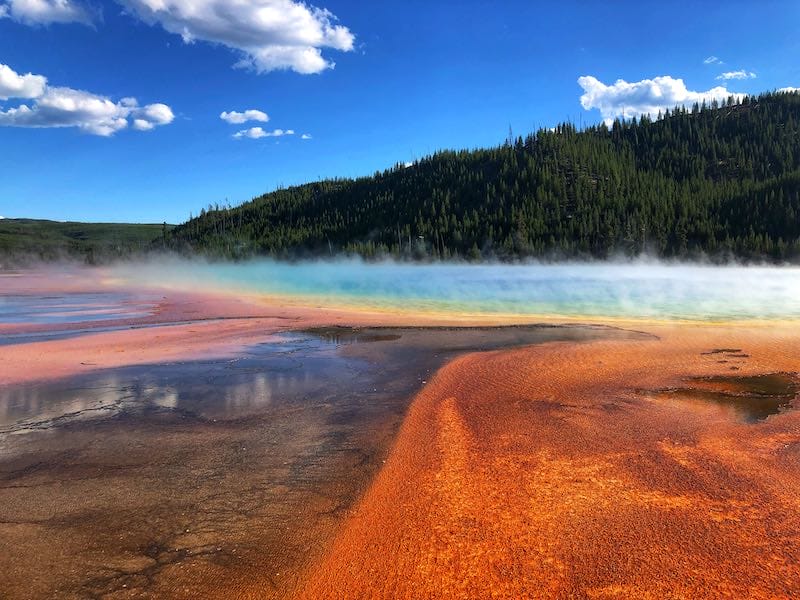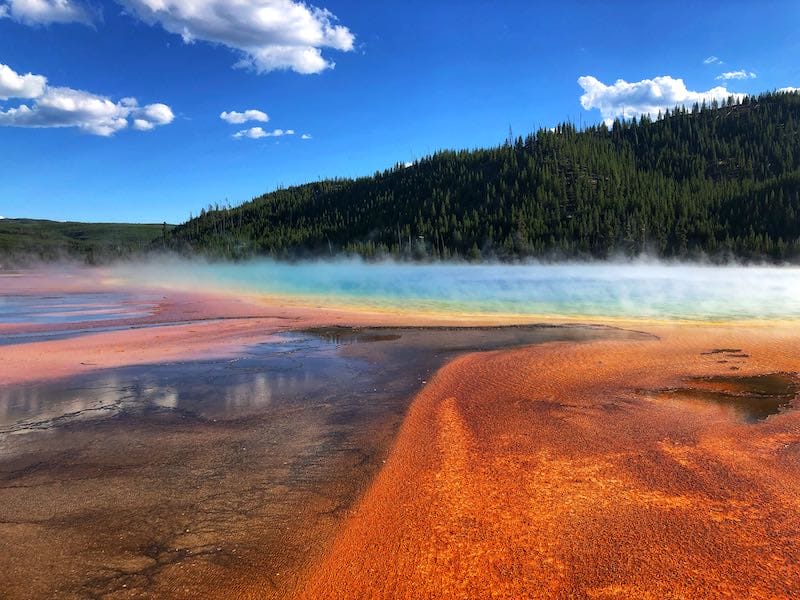 One of my favorite places in Yellowstone! Walk next to the Grand Prismatic on the boardwalk that takes you right out next to the hot spring where you can feel the warmth coming off of the hot spring and you can smell it!
Next up, get back in the car and drive over to the Fairy Falls trailhead where you can hike up to the overlook. It is really cool to see the hot spring from both locations – right up close and from up high. It is always crazy to me how bright the colors are. Grand Prismatic is an amazing sight and one well worth seeing from multiple locations.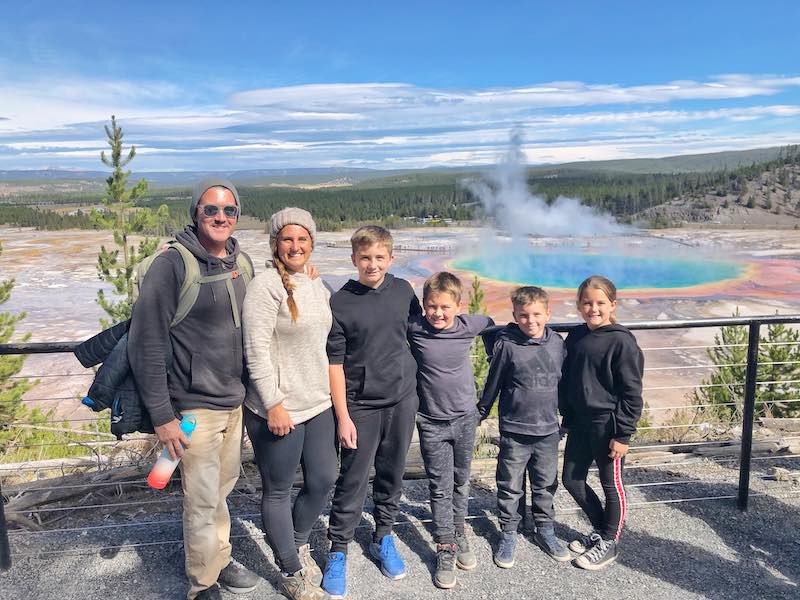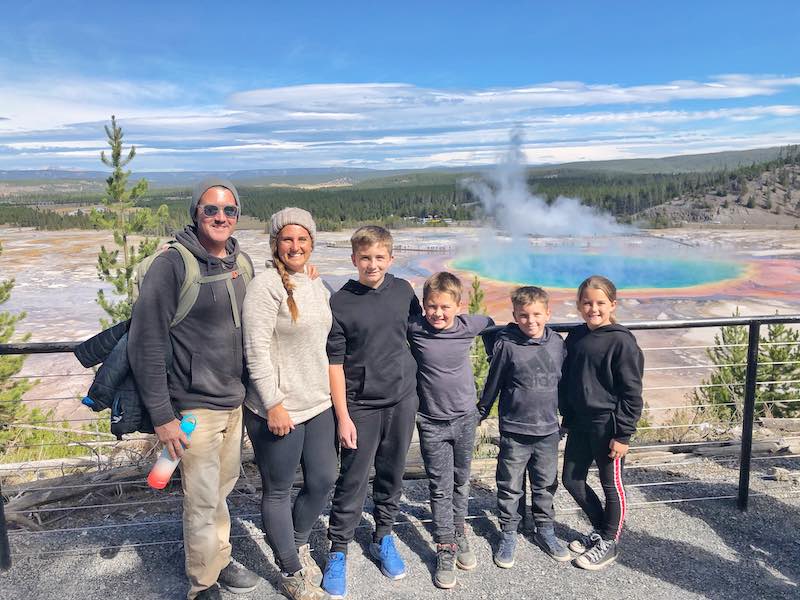 Distance from West Yellowstone: 25 miles or about 43 minutes. assuming you don't get stopped by any wildlife traffic jams – which you most likely will. So be prepared for that.
On the way to your next stop at Old Faithful you could stop to check out the Biscuit Basin a beautiful thermal pool.
Old Faithful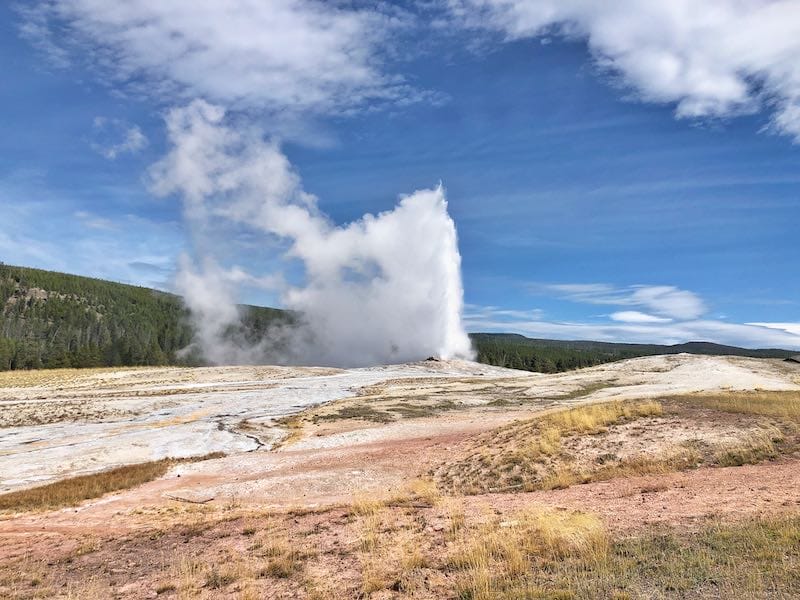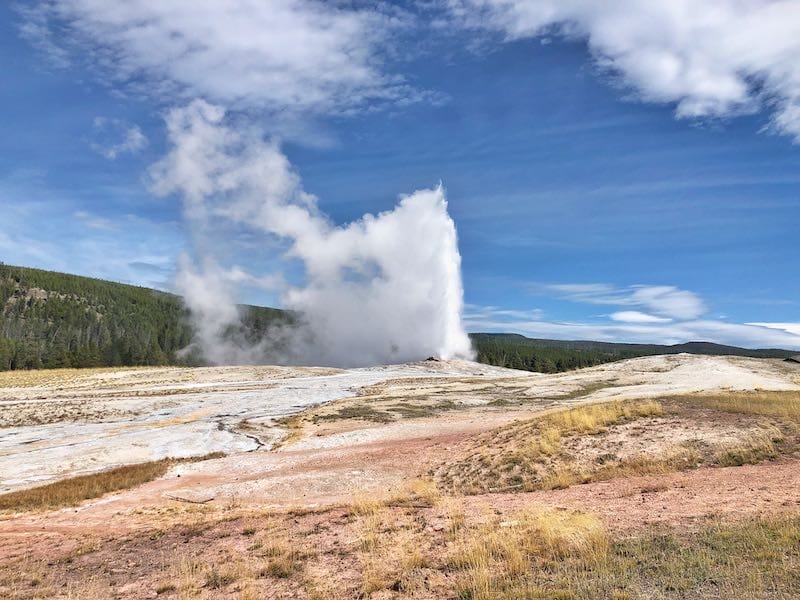 Visit the famous Yellowstone geyser: Old Faithful and do the geyser hike – which is about 3 miles long. Plus there is a great museum in the visitor center, restaurants and multiple general stores.
Distance from West Yellowstone: 32 miles and 51 minutes, but same as above – assume it is going to take longer and that there will be animal sightings or backups on the way. Old Faithful goes off about once per hour, but if you get there right after it goes off don't stress. There are tons of things to do around the area.
West Thumb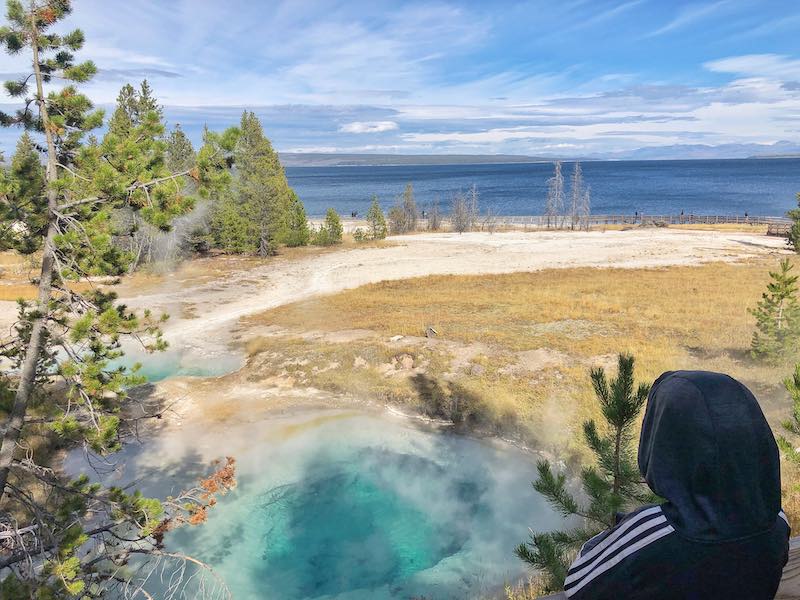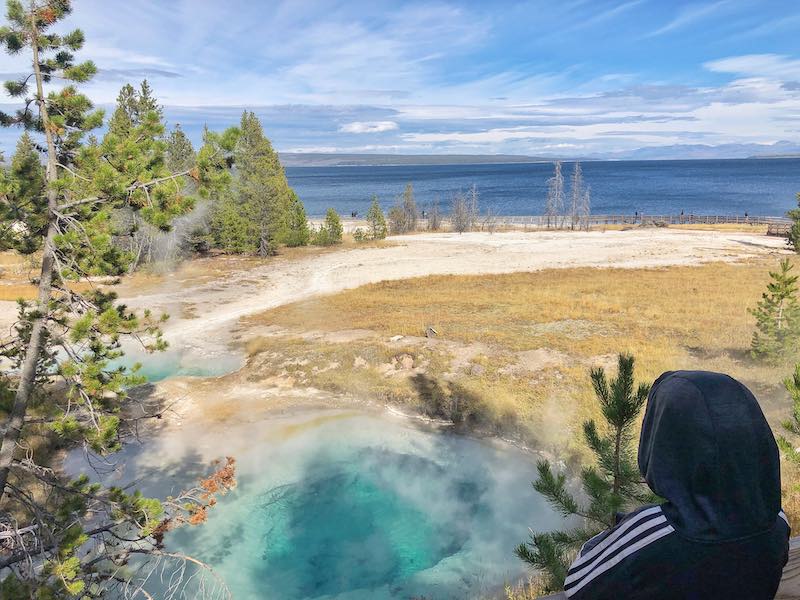 See a variety of thermal features right next to Yellowstone Lake. Walk along the West Thumb Geyser Basin Trail to take in all beauty of the area.
Distance from West Yellowstone: 48 miles or 1 hour and 18 minutes – give or take due to traffic and animals.
Grand Canyon Of The Yellowstone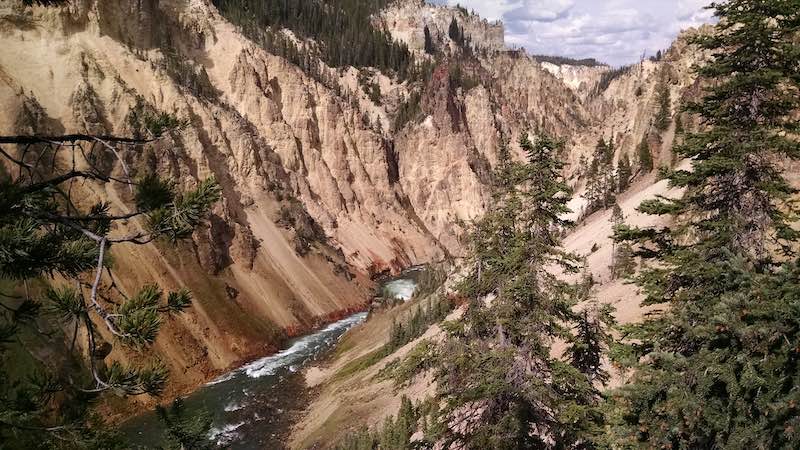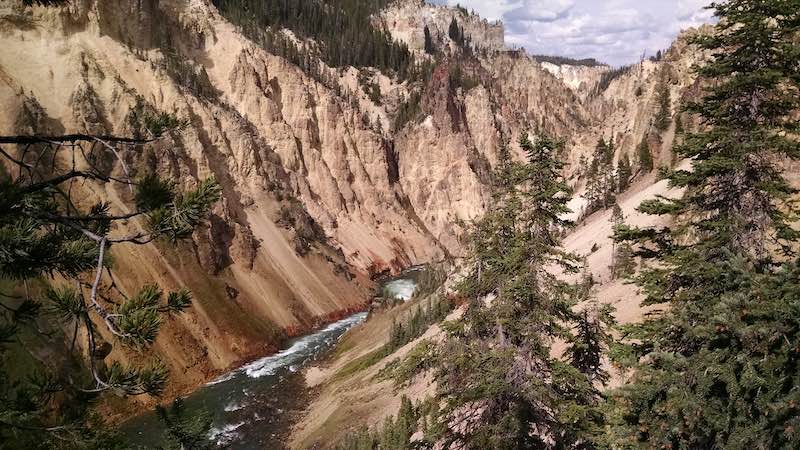 Head over to the Canyon area of Yellowstone to visit the Grand Canyon of Yellowstone, Artist Point, and the Uncle Tom Trail.
Distance from West Yellowstone: If you go directly here from West Yellowstone it is 41 miles or 1 hour 10 minutes – give or take with traffic and animals.
There are a lot more things to see and do in Yellowstone from hot spring fed rivers you can swim in to unbelievable hikes and great places to grab a drink. If you are traveling with kids you can put together an awesome Yellowstone itinerary with kids!
You can click the link below to get more information about planing your time in Yellowstone.
Click here to get more information on visiting Yellowstone National Park.
Feeling overwhelmed by all the awesomeness that is Yellowstone?! We get it! The park is huge and there is so much to see and do. We have visited the park over 6 different times and have put together 1, 3 and 7 day guides to help you plan your ultimate trip to Yellowstone:
Where To Eat
The restaurants in West Yellowstone have that Out West feel to them with a focus on Pubs and Pizza places. The good part is the pizza is good and so are the drink options (Huckleberry Margarita anyone?!).
Slippery Otter Pub and Grill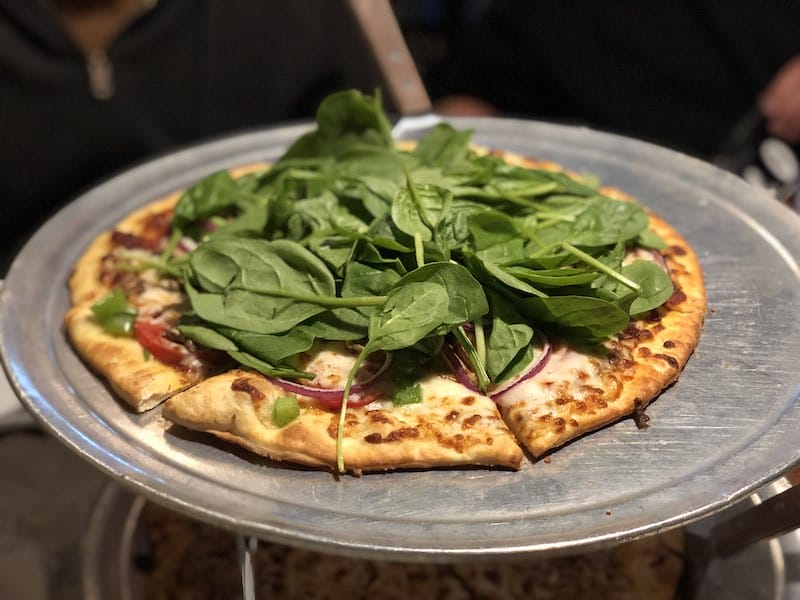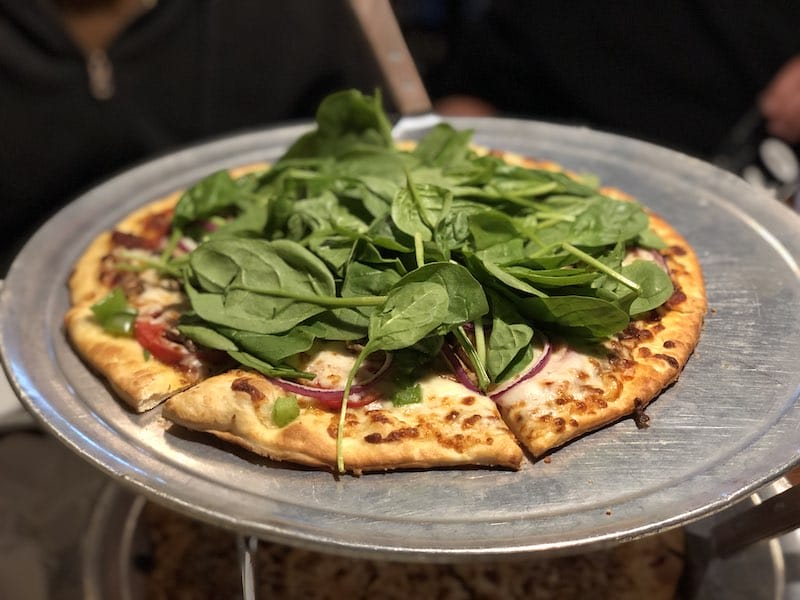 A good restaurant with large salads, pizza and more. We got the jalapeno poppers with Huckleberry sauce for an appetizer and they were delicious. We also got a few pizzas and they definitely hit the spot.
Make sure to check the back of the menu for 20+ questions you can ask your kids to help them learn fun facts about Yellowstone while you wait for your food.
Wild West Pizza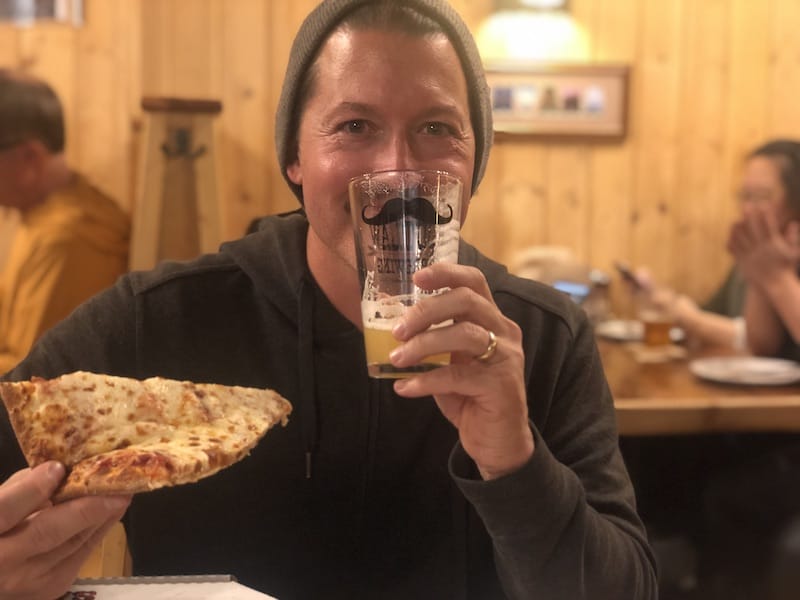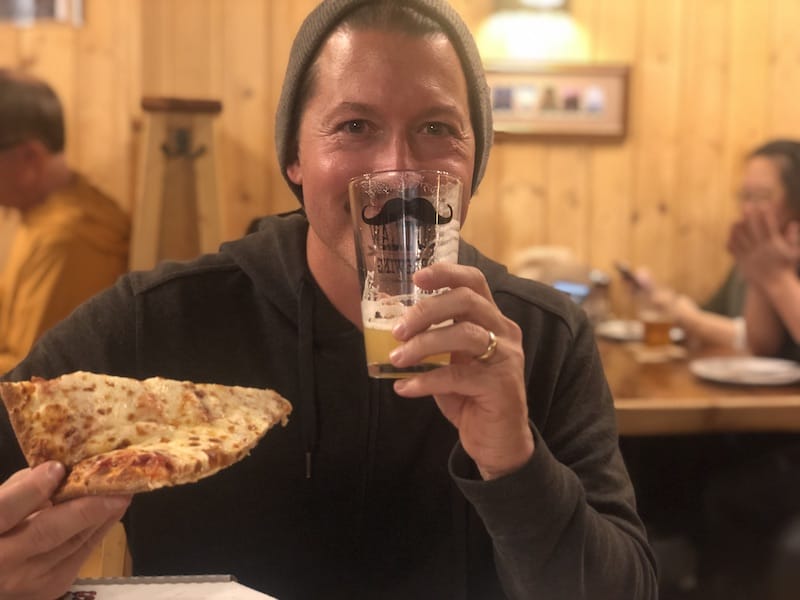 One side of the building is the Pizza place and the other side is the bar – no one under 21 is allowed in the bar area. Seating is somewhat limited in the pizza place so if you don't want to wait, try to get here earlier or later at night.
I really liked the variety of pizza flavors they had to choose from. Not just normal pizza flavors, but things like white sauce and artichoke. We got the Calamity Jane and it was delicious! This is also where I got the Huckleberry Margarita and it was yummy.
Where To Stay
There are a variety of hotels and RV parks right in West Yellowstone which means you can walk to a lot of the restaurants and attractions. Plus they are all really close to the West Entrance of Yellowstone National Park.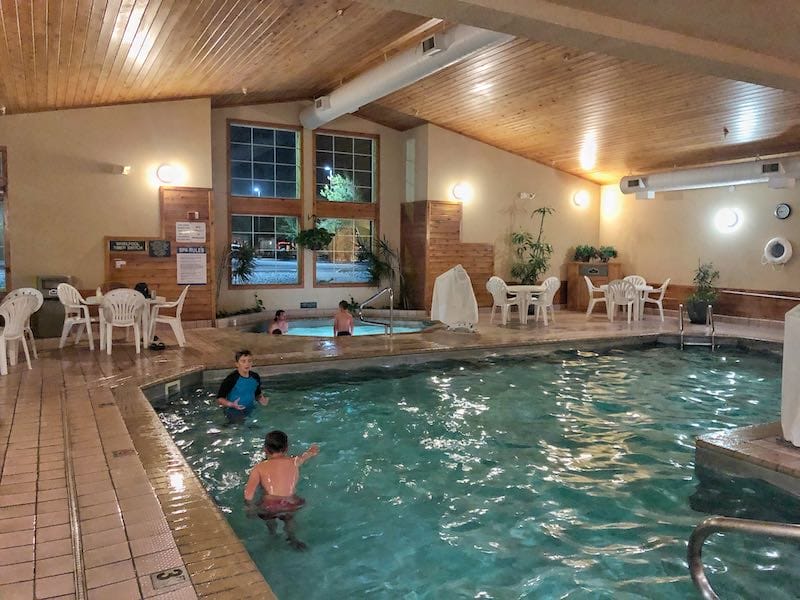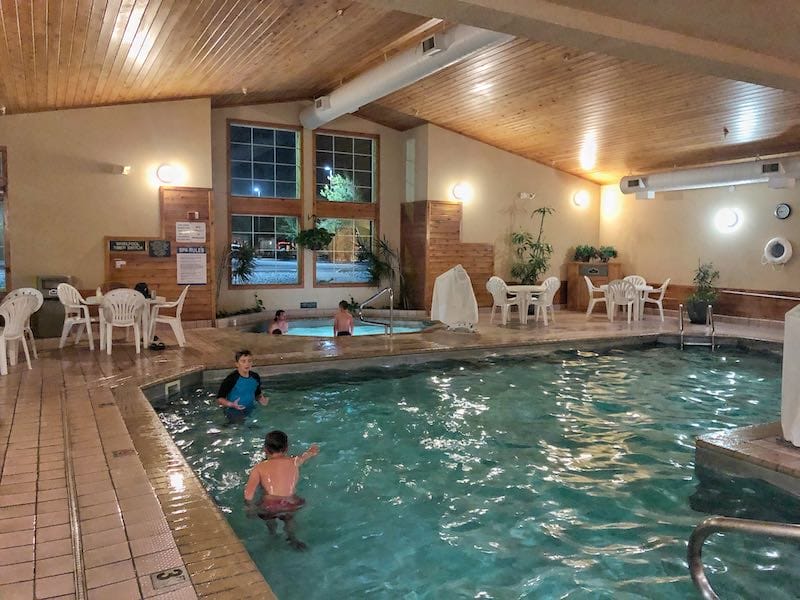 We really enjoyed the Kelly Inn and would definitely recommend it as a place to stay when you come to visit. All the rooms on the first floor have doors that open inside and outside to the parking lot. Plus they have adjoining rooms you can get if you have a larger party.
They also have a nice indoor pool and hot tub and a continental breakfast with lots of options. It is directly across from the Grizzly and Wolf Discovery Center and the Yellowstone Giant Screen Theatre and right down the street from the Historic Museum.
In the rooms you have a small fridge and a microwave as well in case you want to bring in some of your own food.
The staff was awesome and super accommodating when we got there and nice throughout our stay. And dogs are welcome! It was a great experience at the Kelly Inn and we were sad to leave.
Click here to book your room at the Kelly Inn now!
This RV Park is located right by the Giant Screen Theatre so it is a great location if you want to be able to walk to everything in West Yellowstone.
Other Campgrounds
Only 15 minutes from Yellowstone, Valley View RV Park Campground is another good option close to the National Park. Yellowstone Hot Springs is further out in Gardiner (about a 2 hour drive) but offers another option for camping.
If you are interested in camping in the park there are a lot of Yellowstone Campgrounds too. Take note a lot of them do not have full hook ups.
Vacation Rentals
The Big Sky Meadow condo is perfect for the golfer but also offers shopping and dining within walking distance. With an amazing view of Lone Peak, enjoy watching sunrises and sunsets from the deck or nearby swimming pool!
If you need space, this 3-bedroom 3-bath chalet may be the perfect choice. The Cozy Chalet also features a large fireplace and hot tub!
Check out more awesome Montana Vacation Rental options here!
West Yellowstone is an awesome place and we highly recommend adding it to your road trip of the greater Yellowstone area and the first National Park in the United States. For a full itinerary of how to plan a trip in Yellowstone and the surrounding area check out: The Ultimate Yellowstone Vacation and Beyond click here.
More content on Yellowstone Country and the surrounding area:
22 Amazing Things To Do In Red Lodge, Montana
23 Exciting and Fun Things To Do In Bozeman, MT
12 Amazing Things To Do In Gardiner, Montana [Plus Where To Stay]
Best Things to do in Livingston, MT and Paradise Valley
Yellowstone in Winter: 11 Things to Know and Do!
In partnership with Yellowstone Country and West Yellowstone.
Pin This Post For Later: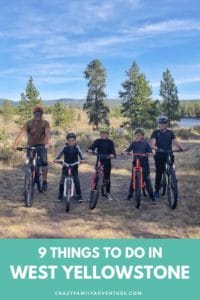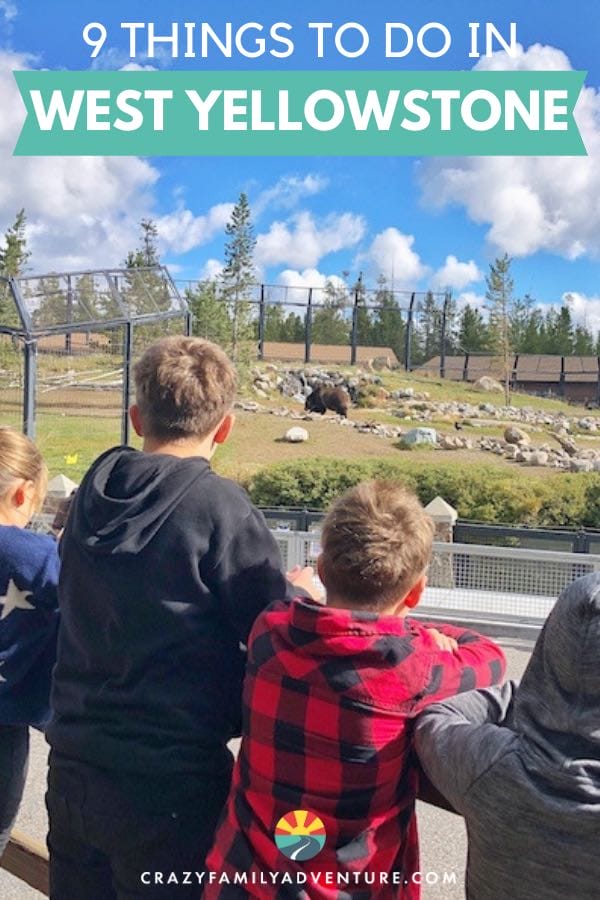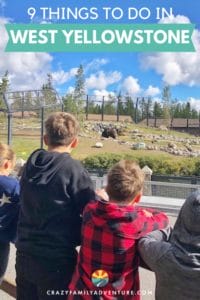 DISCLOSURE: This post may contain affiliate links, meaning I get a commission if you decide to make a purchase through my links, at no cost to you. Please read my disclosure for more info.