Mammoth Hot Springs is a very unique community in Yellowstone National Park. It feels like you are visiting a little town. As you drive in, it looks like a neighborhood just like you see in any suburban area around the country.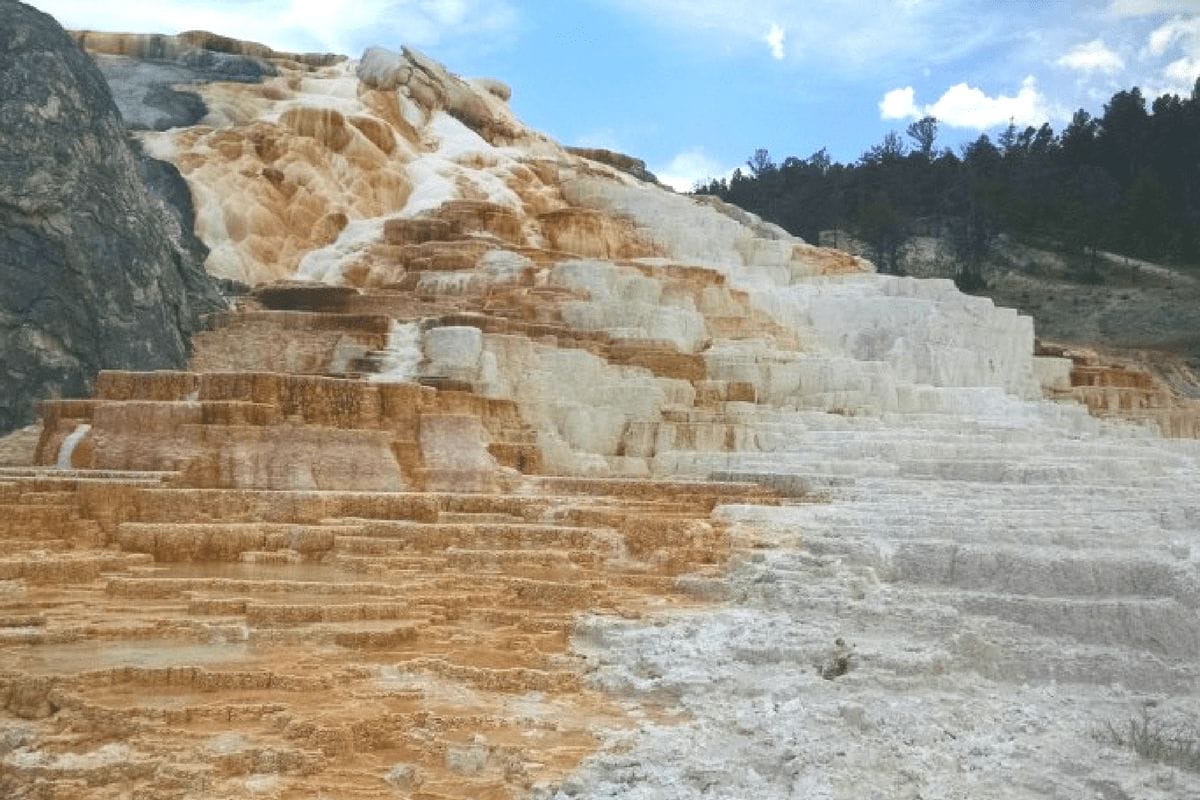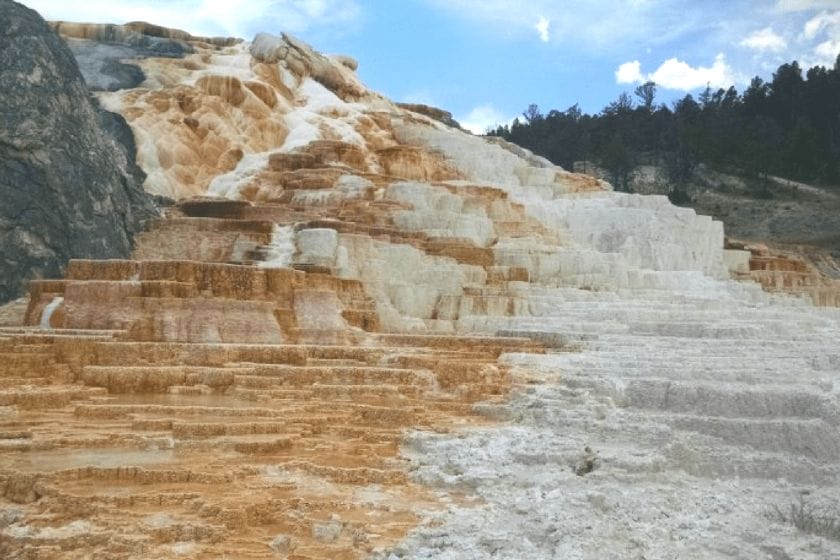 Mammoth village area has a large National Park service employee housing community which is why it has this feeling to it. There is even a privately owned house! The drive into Mammoth from the main roads in the park is beautiful.
**Take note – if you have driven in to Mammoth prior to 2022 you can expect different views this time around. The flooding in 2022 took out the road going to Mammoth from Gardiner. They quickly got a temporary road in place and it sounds like that may now be the permanent road.
The Mammoth area is located very close to the north entrance of the park. Meaning they are quite bit away from the other attractions in Yellowstone like Old Faithful, Canyon, Fishing Bridge or the Lake Hotel but they are definitely worth the drive when visiting Yellowstone.
Here is a map of where it is in comparison to the rest of the park: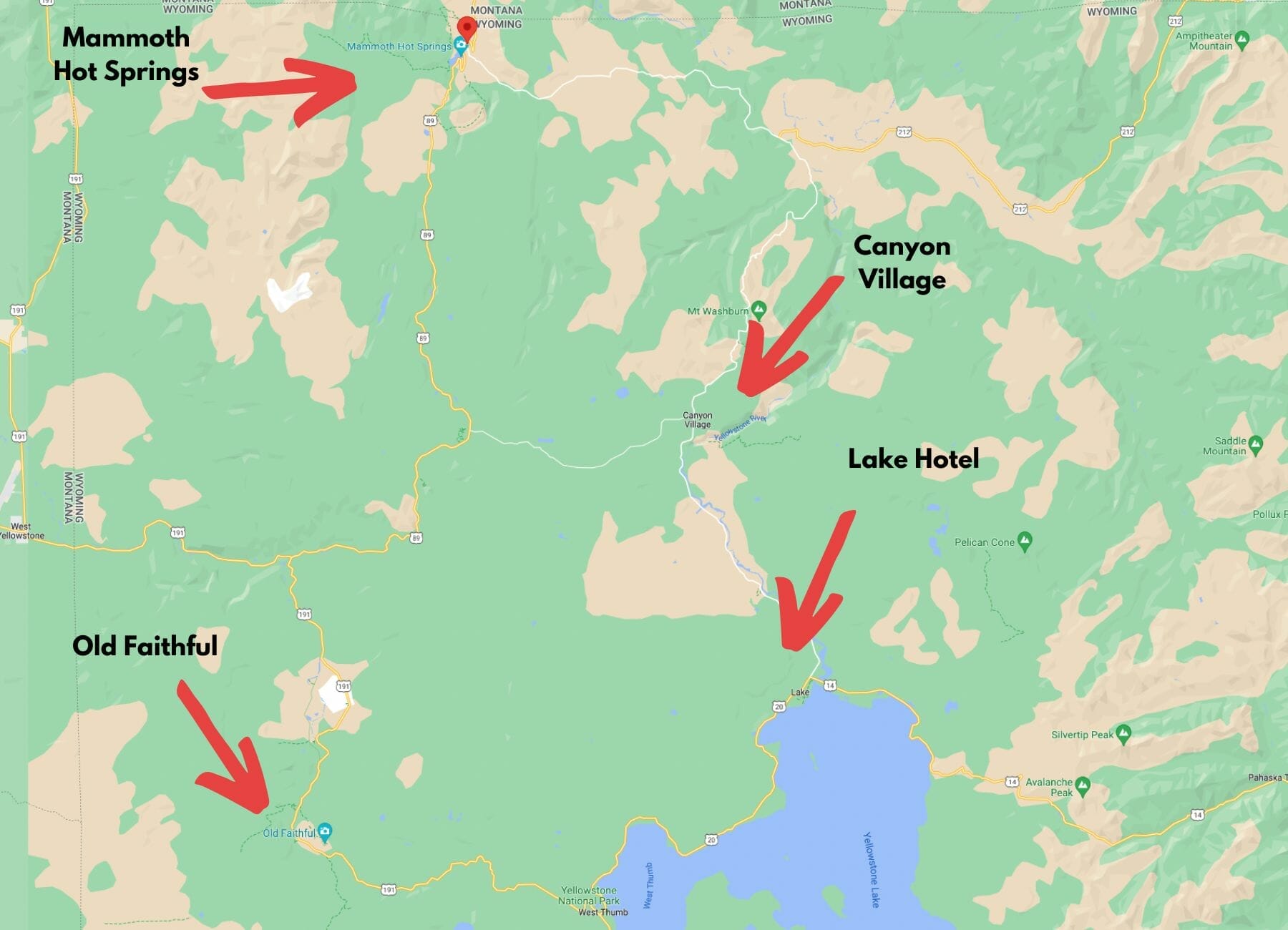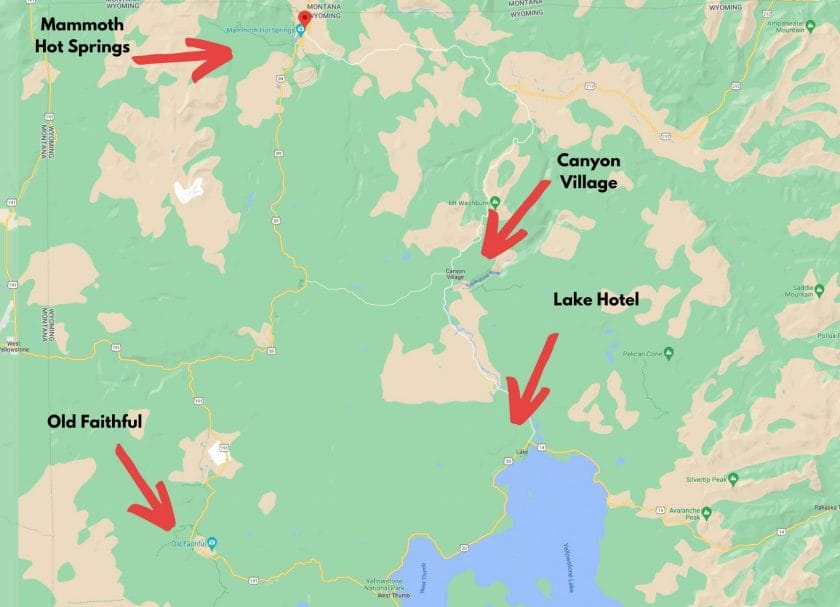 Mammoth Hot Springs offer a lot of cool things: The terraces are beautiful and the town of Mammoth is unique. Plus there are a lot of fun things to do in and around the town of Gardiner which is located just outside the north Yellowstone entrance.
How To Get To Mammoth Hot Springs
You will most likely fly into Bozeman, Montana if you are taking a flight and drive from there to Bozeman. The airport is about 1 hour 45 minutes from Mammoth Hot Springs.
You could also drive in from anywhere in North America with an RV or a car and enter via the North entrance of Yellowstone National Park.
When To Visit Mammoth Hot Springs
Mammoth Hot Springs is one of the few areas in Yellowstone that are open year round. We have always visited in spring or summer. Summer can be very hot! So be prepared for that.
We would love to visit in winter and see the hot springs with snow all around! It would also be great to visit the Yellowstone Hot Springs (outside of Gardiner in the winter).
All that to say I don't think there is a wrong time to visit the Mammoth Hot Springs I think it just depends on what you are looking to do during your trip.
If you want to do a lot of hiking and wildlife spotting spring/summer would make more sense.
Mammoth Hot Springs Terraces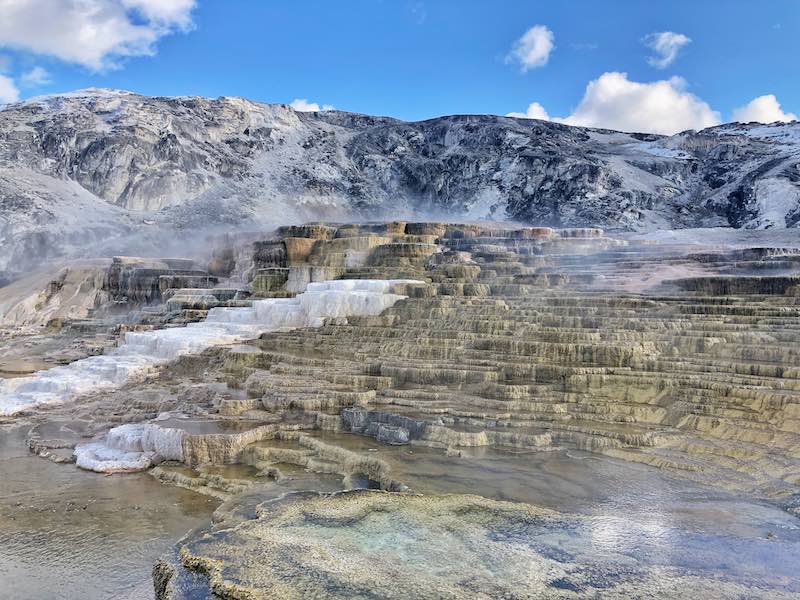 The Mammoth Terraces are one of the major geyser basins in Yellowstone and we believe one of coolest looking thermal areas in the entire park. The colors range from a pristine white to pink to dark red. The thing that caught my eye is that the different levels of the terrace are extremely flat and level. Being someone who can spot diverging lines from a mile away, I really appreciated this!
Exploring these travertine formations that were created over thousands of years is a treat for the whole family. There is parking for the lower terrace along the roadside and its just a short walk to the terraces themselves. There is a boardwalk trail that runs from the parking lot and goes the entire length of the lower and upper terrace so you could bring a stroller if that will make it easier for you. The whole boardwalk is 1.75 miles.
The boardwalk connects to the upper travertine terraces level, so you can walk the entire way, or you can take your car to the upper terrace drive if you've had enough walking. It can be very hot here so don't be fooled thinking it is a short walk/hike. Instead bring water and be prepared. Our advice is to just take your shirt off, tie it around your head, and keep on keepin' on!
Did you know? Mammoth Hot Springs deposits about 2 tons of calcium carbonate or travertine limestone per day! They also believe these terraces were formed around the Pinedale Glaciation.
---
Feeling overwhelmed by all the awesomeness that is Yellowstone?! We get it! The park is huge and there is so much to see and do. We have visited the park over 6 different times and have put together 1, 3 and 7 day guides to help you plan your ultimate trip to Yellowstone:
---
Albright Visitor Center

Mammoth Hot Springs has a nice visitor center called the Albright Visitor Center. Along with very straight lines, my other weird fetish is grass. I'm talking lush, green, soft, golf course grass.
I didn't see any grass in Yellowstone, it was more like hardy patches of weeds strewn about…except in Mammoth. I'm not the only one who appreciated this grass either. There was a family of elk grazing and laying in the grass.
It's worth stopping in the Visitor Center to check out the displays and learn about some history of Yellowstone National Park. There are a bunch of stuffed wild animals on display in the visitor center, pretty much all of the animals that live in the park. The kids liked seeing the life-sized animals up close without having to worry about things like, you know, getting eaten!
Mammoth Hot Springs Hotel and Cabins

There is the Mammoth hotel, hotel dining room and lounge, Terrace Grill, gas station, and general store. If you plan to stay at the hotel, you have to book WELL in advance.
Reservations open in May to book a room for the following year. So book early! The hotel dining room and lounge looked pretty fancy.
When we got into Mammoth, one of the first things the kids wanted was ice cream since it was so hot! We went toward the restaurants and mistakenly went in the fancy dining room.
With 6 kids barging in the door, I heard the record skip and everyone look up at us. I quickly corralled the kids and we went next door to the Terrace Grill which was much more our atmosphere. We grabbed 6 cones, a few beers, and sat down to relax in the a/c for a bit.
The Terrace Grill also has a decent selection of food for the family. Things like cheeseburgers, ham sandwiches, chicken fingers and even a bean burger. Plus they have a kids meal.
Boiling River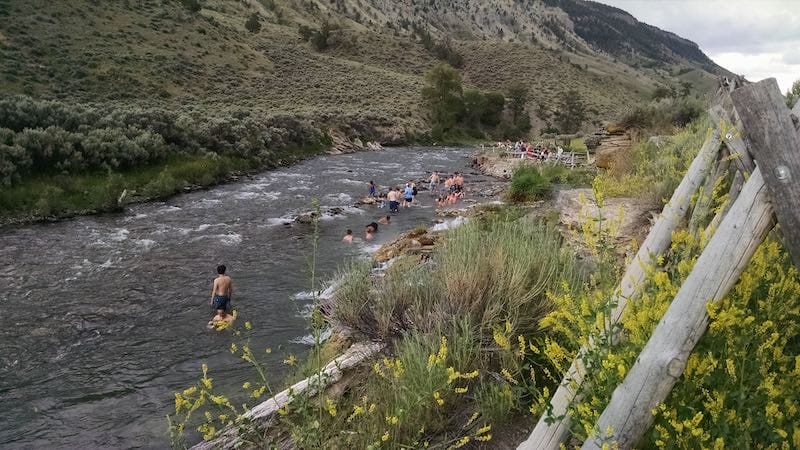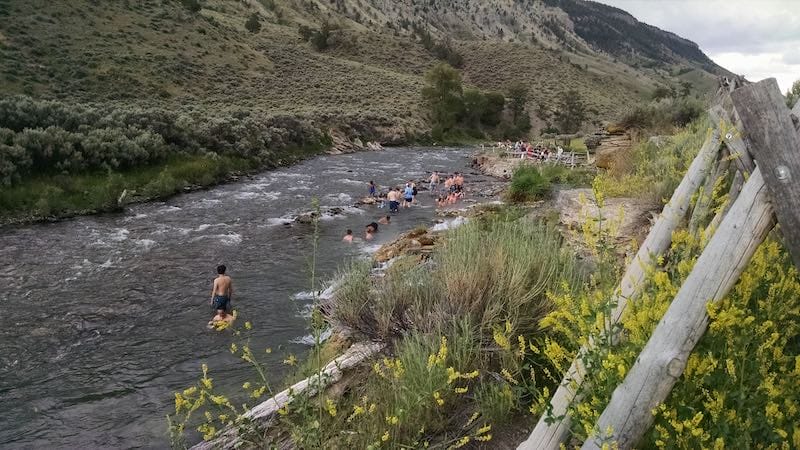 The Boiling River is a really cool place to visit in Yellowstone. We love hot springs and natural hot springs are even better! To get to the boiling river you have to walk a little over 1/2 a mile to get there.
**Due to the Yellowstone flooding the boiling river is no longer there. We are very sad about this and hope that it might return in the future?? But we have not heard any updates on it.
Once there you can walk down into the river where the hot water from the thermal features in Yellowstone mix with the cold water of the Yellowstone River. The bottom of the river can be rough so if you have water shoes wear them.
We did go with our kids but you definitely need to be super careful with them. Some of the water is really hot and the Yellowstone River is moving pretty fast.
When in Yellowstone you will want to check this out! There is a bathroom/outhouse by the parking lot – but you may just want to change into your suit in the car.
Hiking – Bunsen Peak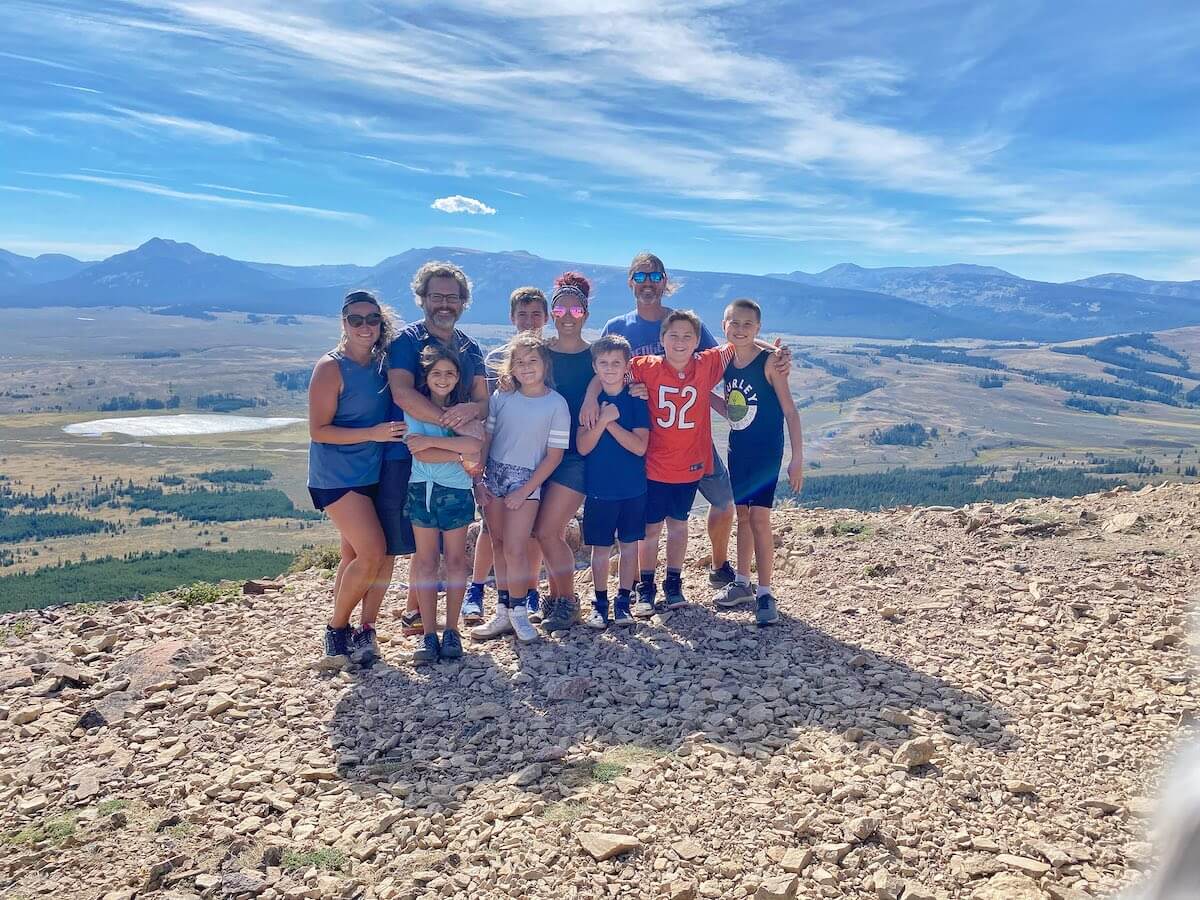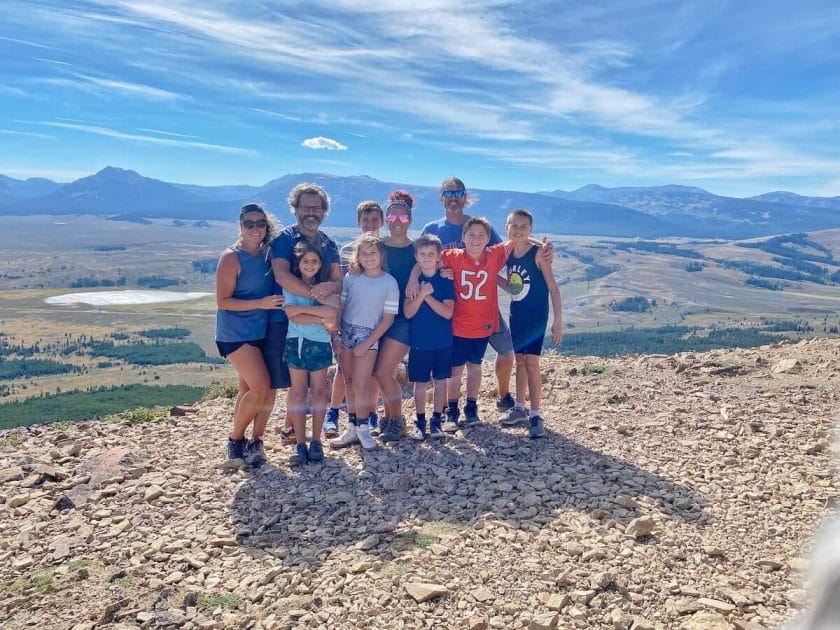 There is a difficult but beautiful hike close by Mammoth – Bunsen Peak. It is 4.6 miles roundtrip and climbs 1300 feet through a forest to get to the summit of the mountain. If your crew can do it we highly recommend it.
We were able to hike it with our kids (9, 6, 6 and 4 at the time) but the way up was tough so we made sure to bring snacks to celebrate when we reached the top! The way down was a lot easier and more enjoyable.
We actually did this hike again when we went back with our friends Zula Life. At this time the kids were 13, 10, 10 and 8. We still brought snacks to celebrate at the top :).
Distance: 4.4 miles total – out and back
Elevation Gain: 1282
Gardiner, Montana
Alright, let's be honest, after being in Yellowstone for a while, we started missing the city life a bit. A coffee shop. A pizza joint. Heck, even a post office.
Well, if you go just 5 miles out of the north entrance you'll be in Gardiner. You can get a taste of city life here even though it's a very small city.
We wanted to check the city out and especially see the Roosevelt Arch.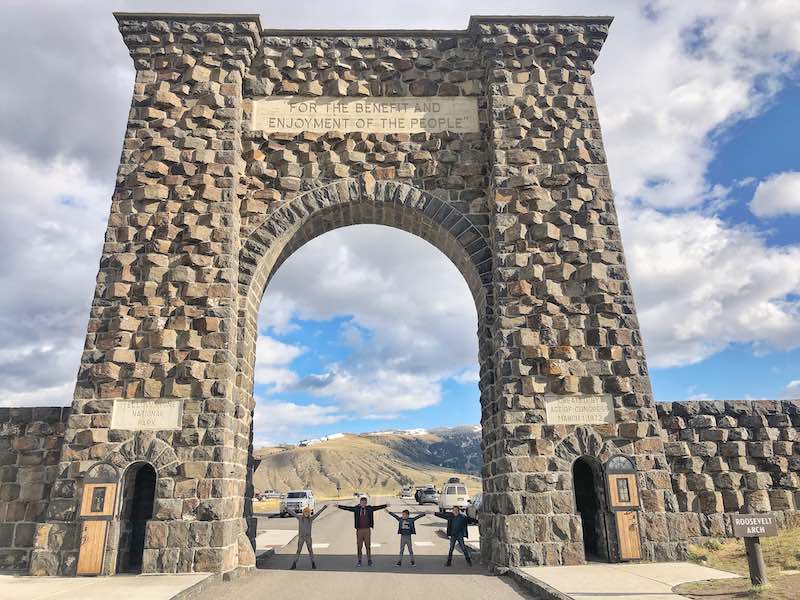 There are a bunch of cool things to do in Gardiner. We share some of our favorites below and you can check out our post: 12 Amazing Things To Do In Gardiner, Montana [Plus Where To Stay] for more details.
Yellowstone Hot Spring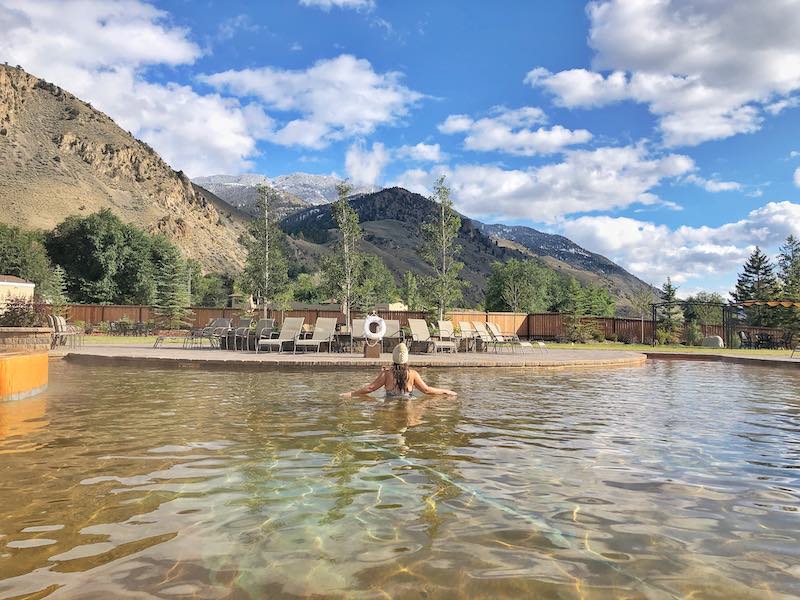 We are always unsure about commercial hot springs but the Yellowstone Hot Spring is awesome! They built the complex to still give you the feeling like you are out in nature. They have a hot pool, a less hot pool and a cold pool.
It is well worth a stop here!
Yellowstone Raft Company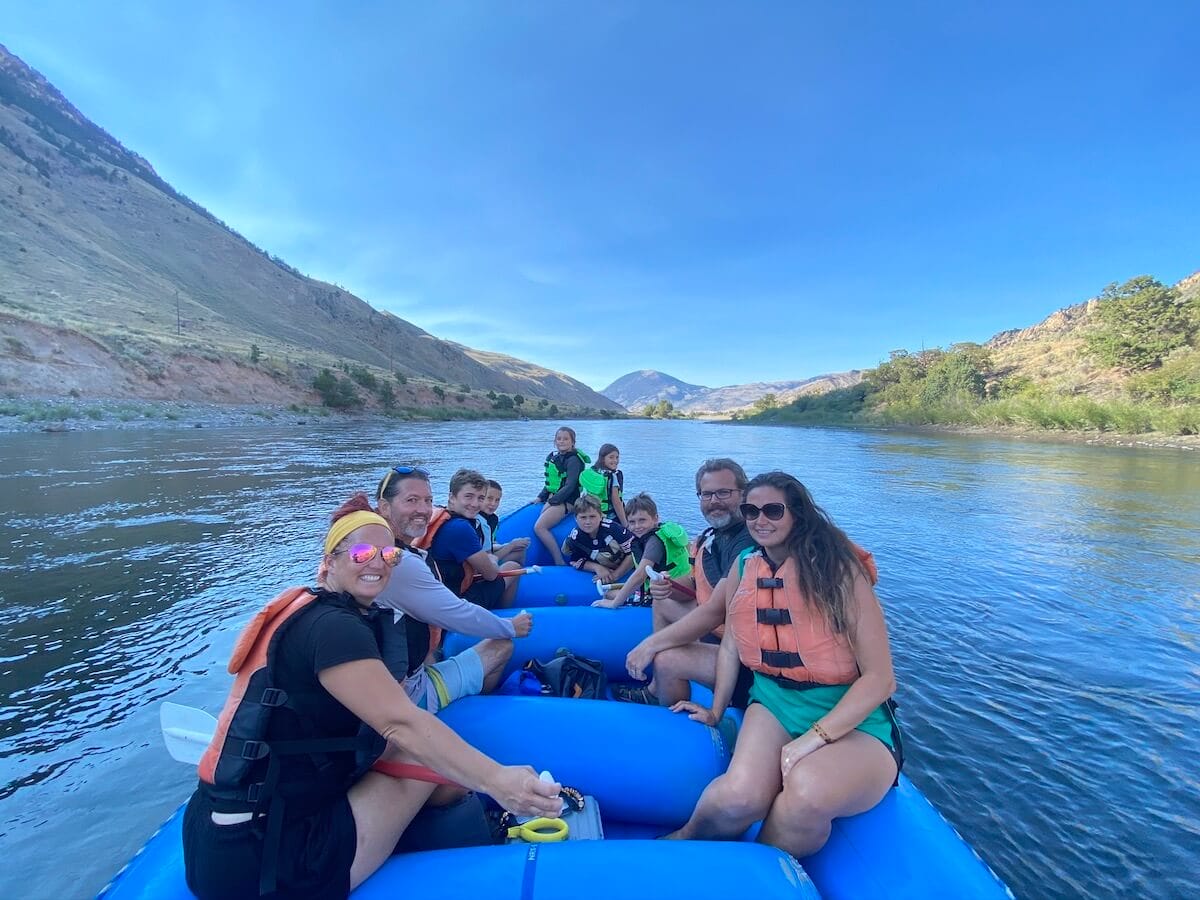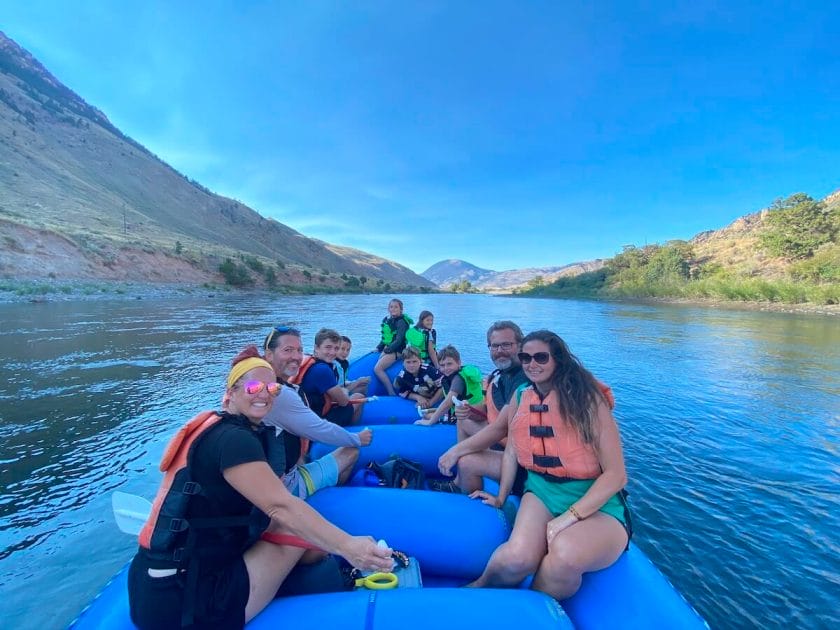 You can also raft on the Yellowstone River while you are in Gardiner. It was a perfect rafting trip to take with our kids. There was even a point we could all get out of the boat and float down the rapids with our life jackets on!
It was definitely an enjoyable afternoon out on the water.
Yellowstone Wild Tours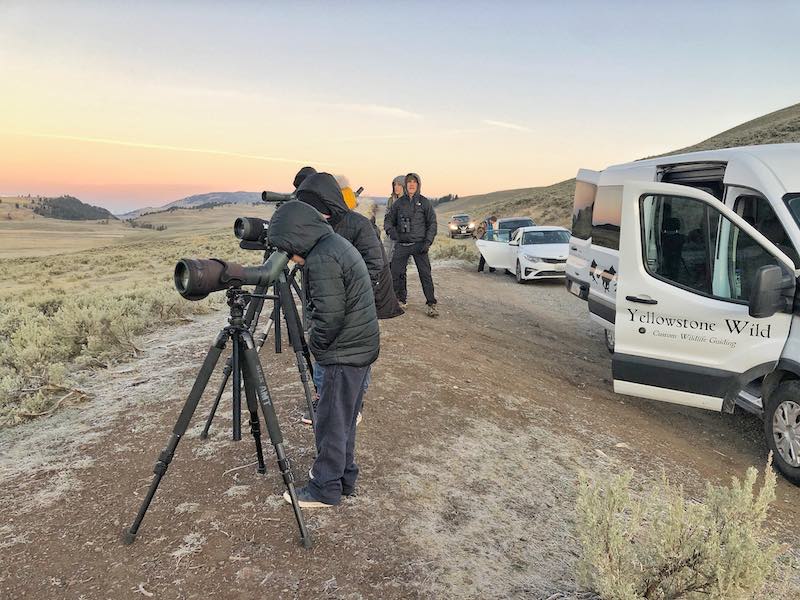 I would be the first to say that we don't pay for tours . . . then we did this tour and it was totally worth it! We had to get up super early to get into the park before sunrise. That was hard for us be we are glad we did.
Our guide met us in Gardiner and then took us into the park to search for wildlife all day. He also provided us with breakfast and lunch. We saw so many animals!
Wolfs, black bears, grizzly bears, elk, buffalo and probably a few more I am forgetting. Our guide was also super knowledgable and taught us a ton about Yellowstone and the wildlife.
Wanderland Cafe
An awesome place to get scones for breakfast or a delicious meal for dinner!
Yellowstone Pizza Company

Ok, as I said, a good pizza joint is something we had a taste for. There were a couple of them on the main road in Gardiner. We ended up choosing Yellowstone Pizza Company because it had roof-top seating. With 4 small kids, what could go wrong with eating on a roof?!
Well, luckily nothing did go wrong and instead, something amazing happened. As we got out onto the roof, some rain clouds were forming just over our heads. We knew the weather in Yellowstone was weird, it would pour one minute, then the next be super sunny, so we stood our ground and got a table up on the roof. A few minutes later, the sun started peeking out and a huge rainbow started to form!
It was a full rainbow too, and the end looked to be in a patch of grass just a few hundred yards from the restaurant. I darn near jumped off the roof to go look for a pot of gold, but I restrained myself.
A few more minutes passed and we noticed there was a second rainbow sitting right over the top of the first. A double rainbow! 2 pots of gold!! Sadly, the only gold I got that day was the in the liquid form in my beer bottle, which wasn't a bad consolation prize :).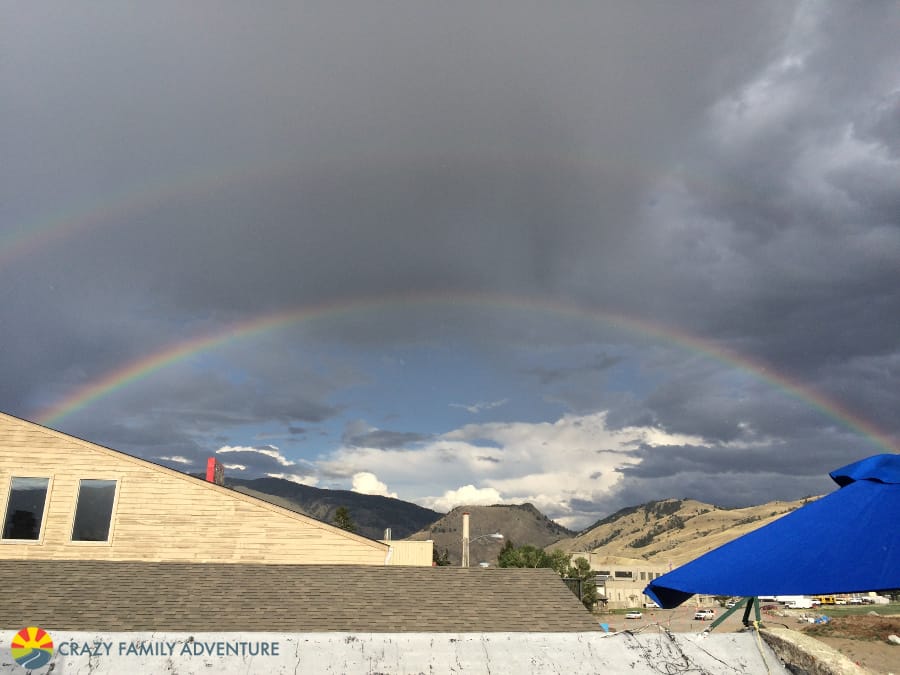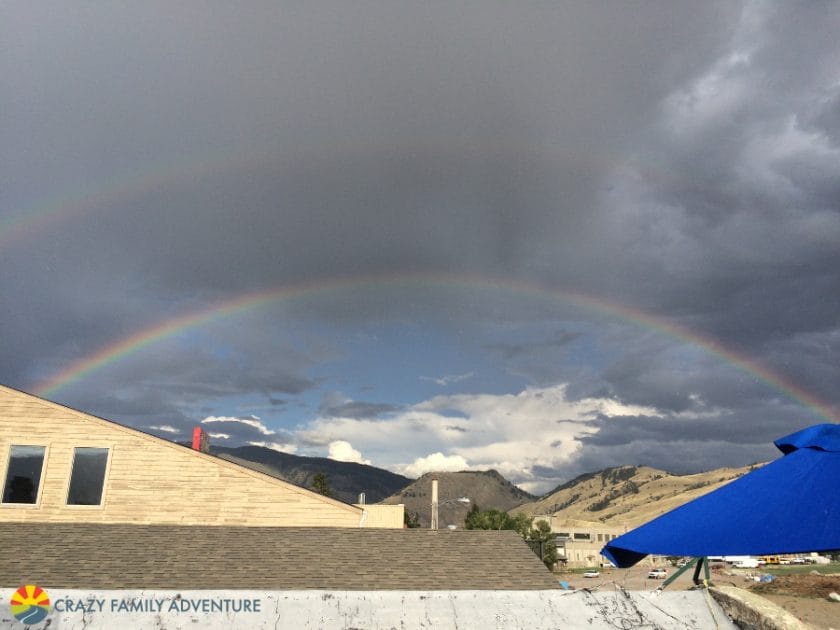 We really recommend eating at Yellowstone Pizza Company. The pizza is reasonably priced and tasted delicious!!
Others to-do's
Here are a couple other things that we didn't get a chance to do, but would if we went back.
Rent a Spotting Scope. If you are going to be in the Mammoth area you can rent a spotting scope for the day. This would really come in handy when checking out the animals in Yellowstone.
However, you do need to bring it back to the city of Gardiner on the same day. It's a pilot program they are running so make sure to call to verify they have one available if that is the only reason you are making the trip.
Visit Fort Yellowstone. The fort is near the visitor center and was used by the US Army starting in 1886 to help the park's first superintendent get a handle on all the poaching, squatting, and vandalism that was plaguing the park.
Click here to learn more about Visiting Fort Yellowstone.
The Norris Geyser is the next closes major geyser basin in Yellowstone – you can get here by going south towards the Norris section of the park.
Where To Stay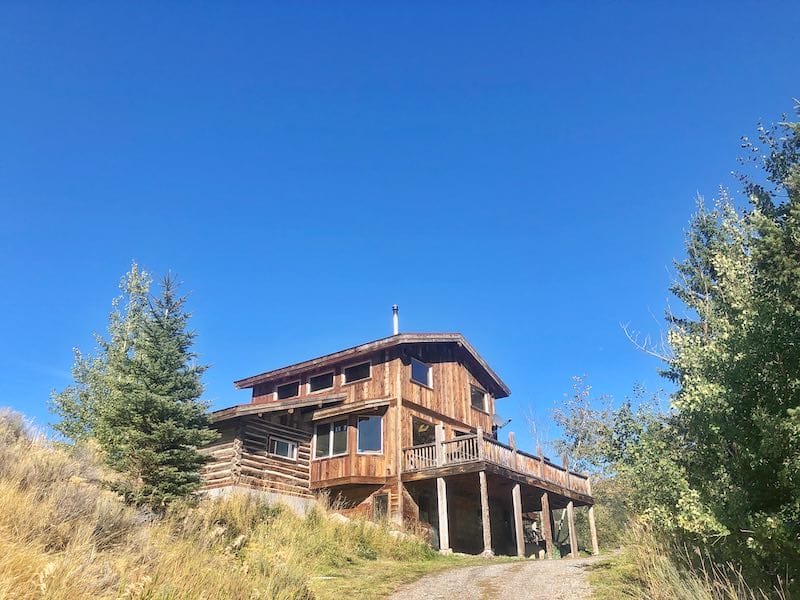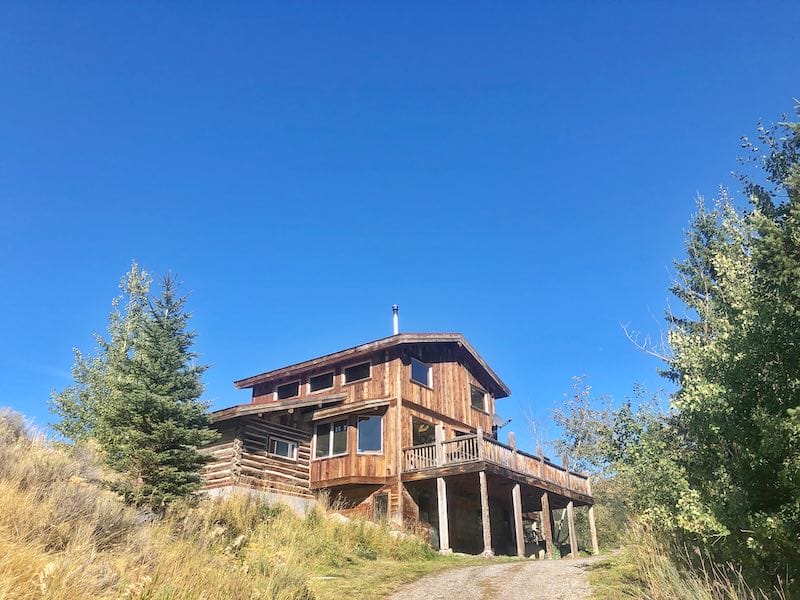 Like we mentioned above you could try to get reservations at the Mammoth hotel. Or you could do a house rental in Gardiner. We stayed at the Sunny Slope Lodge and loved it!
Here are a few more Montana Airbnb options.
If you are coming in an RV you can check out the camping in Mammoth Hot Springs or are favorite place to camp is the free boondocking spot at Carbella Recreation Site. Yellowstone Hot Springs is in Gardiner and would provide a great location to visit everything in the area. Or if you want to stay further out, Valley View RV Park in Island Park, ID is an option about one hour and 45 minutes away from the area.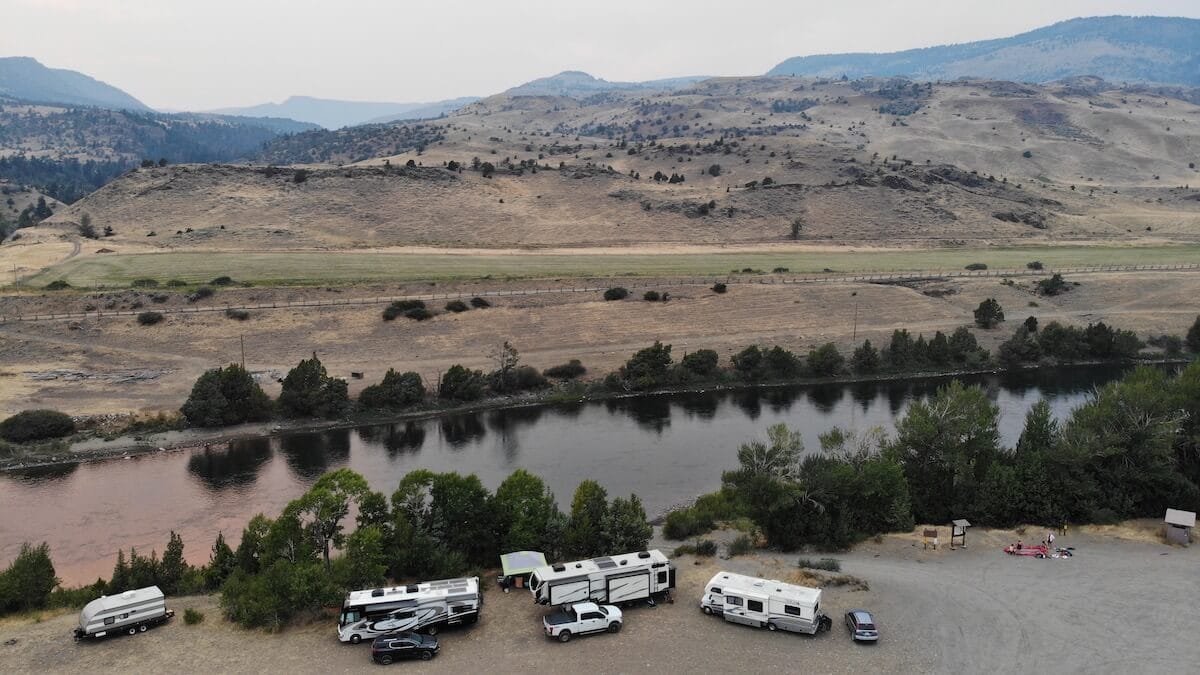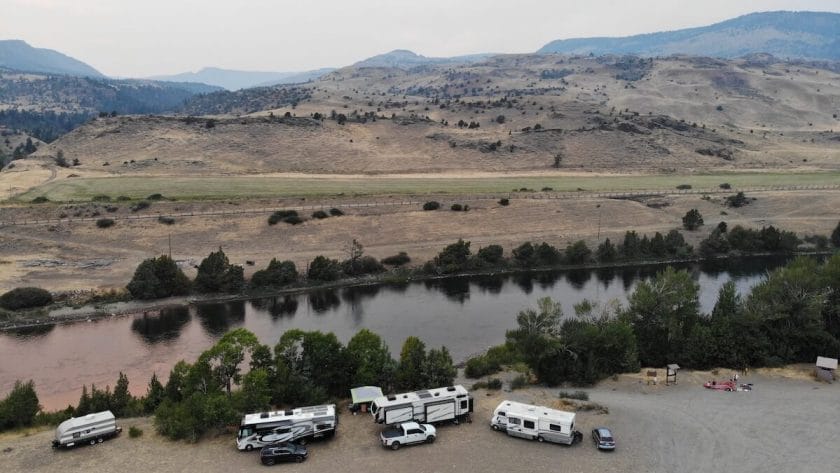 More Posts On Yellowstone and the surrounding area:
12 Things To Bring To Yellowstone National Park
Preparing For Your Yellowstone Vacation
Yellowstone Camping: Your Complete Guide To A Perfect Spot
23 Exciting and Fun Things To Do In Bozeman, MT
9 Awesome Things To Do In West Yellowstone
22 Amazing Things To Do In Red Lodge, Montana
Best Things to do in Livingston, MT and Paradise Valley
8 Breathtaking Places To Visit Near Yellowstone National Park
DISCLOSURE: This post may contain affiliate links, meaning I get a commission if you decide to make a purchase through my links, at no cost to you. Please read my disclosure for more info.