Stanley is a small mountain town but well worth a visit and definitely a highlight of central Idaho. There are a lot of cool hiking trails, hot springs and restaurants in the area. Plus the gorgeous views of the Sawtooth mountains, the valley and the river are unbelievable in the Stanley area. Here is it our top recommendations of things to do in Stanley, Idaho.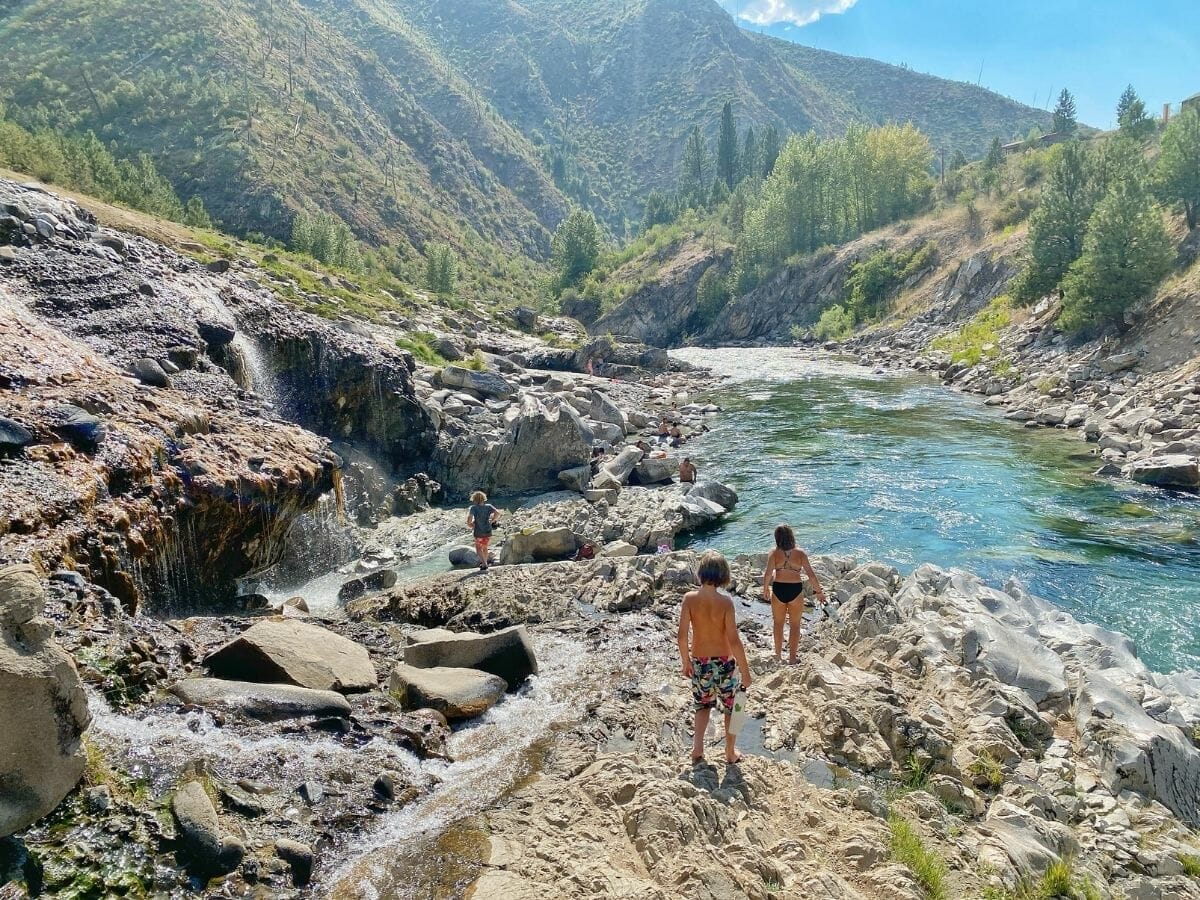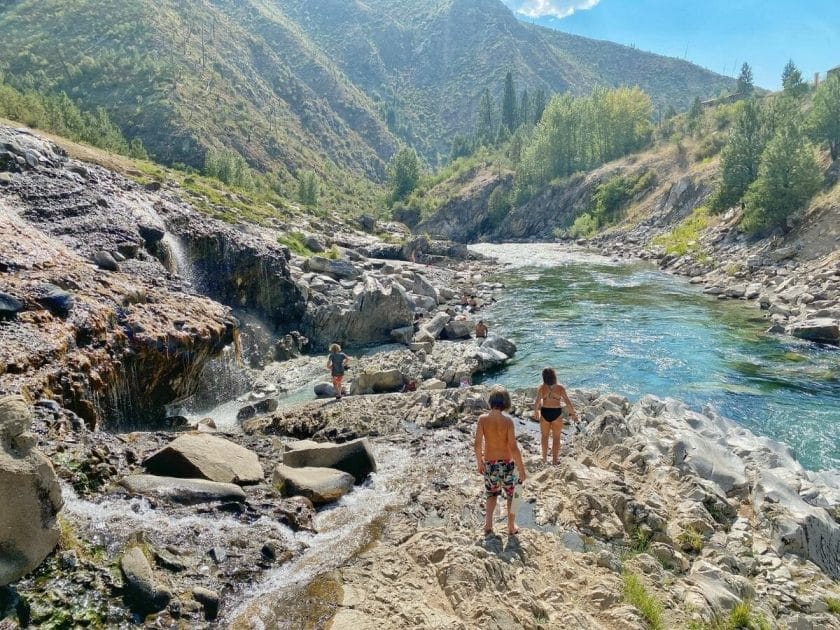 We also recommend adding a stop to Yellowstone National Park and Glacier National Park when you are visiting this part of the country!
When To Visit
We have always visited Stanley in the summer or just into fall. In the summer months there was more opportunity to swim in the lakes and more things were open. But due to the hot springs fall was a great time to come and enjoy those! But be aware a lot of places do close down after the summer and not as many things are offered in the area.
Stanley Lake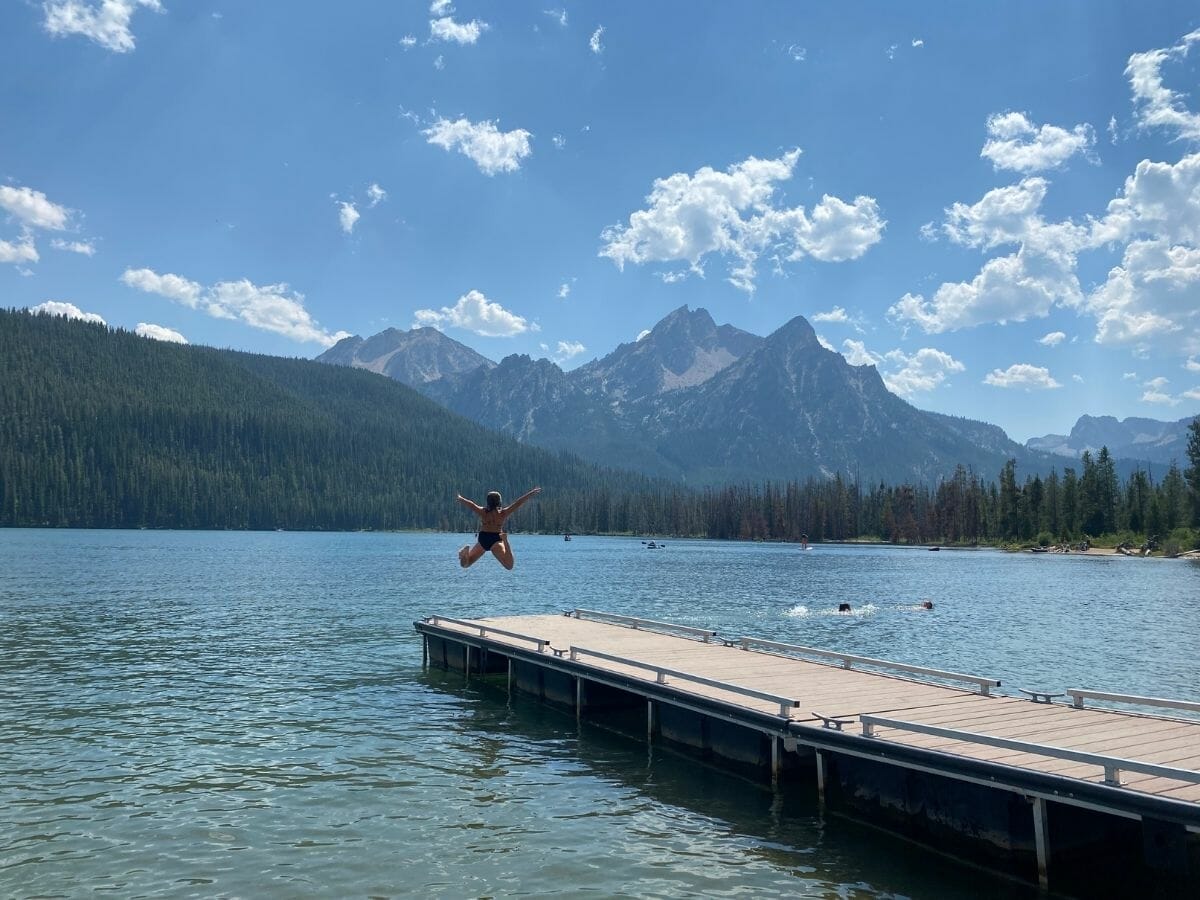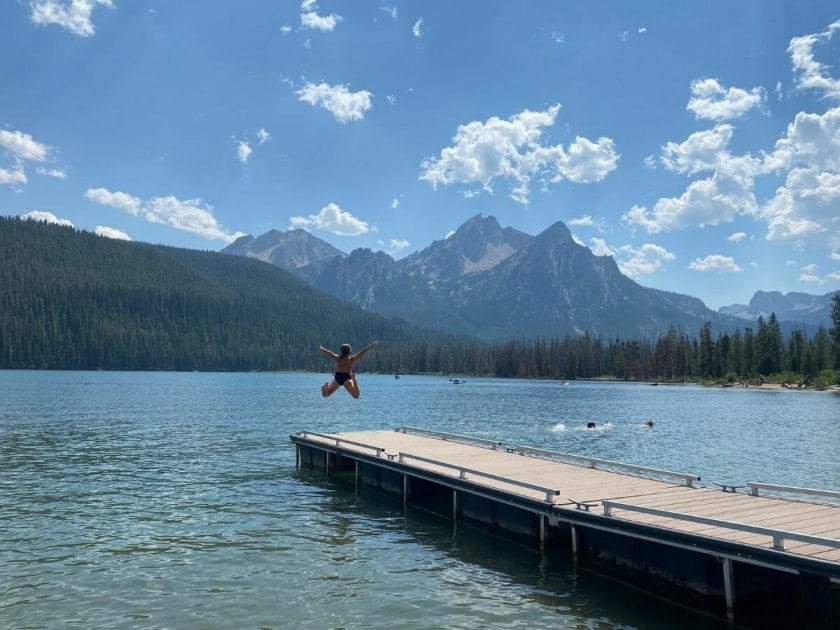 If you are looking for an alpine lake day this is the spot. You can park at the campground in the day use area by the overlook or further down by the boat ramp.
There is a small section of beach area so bring sand toys and chairs. It is also a great lake for paddle boarding and kayaking. Just be aware there are motorized boats on it too.
With the views of the Sawtooths and the crystal clear water you could spend all day here.
Redfish Lake and Lodge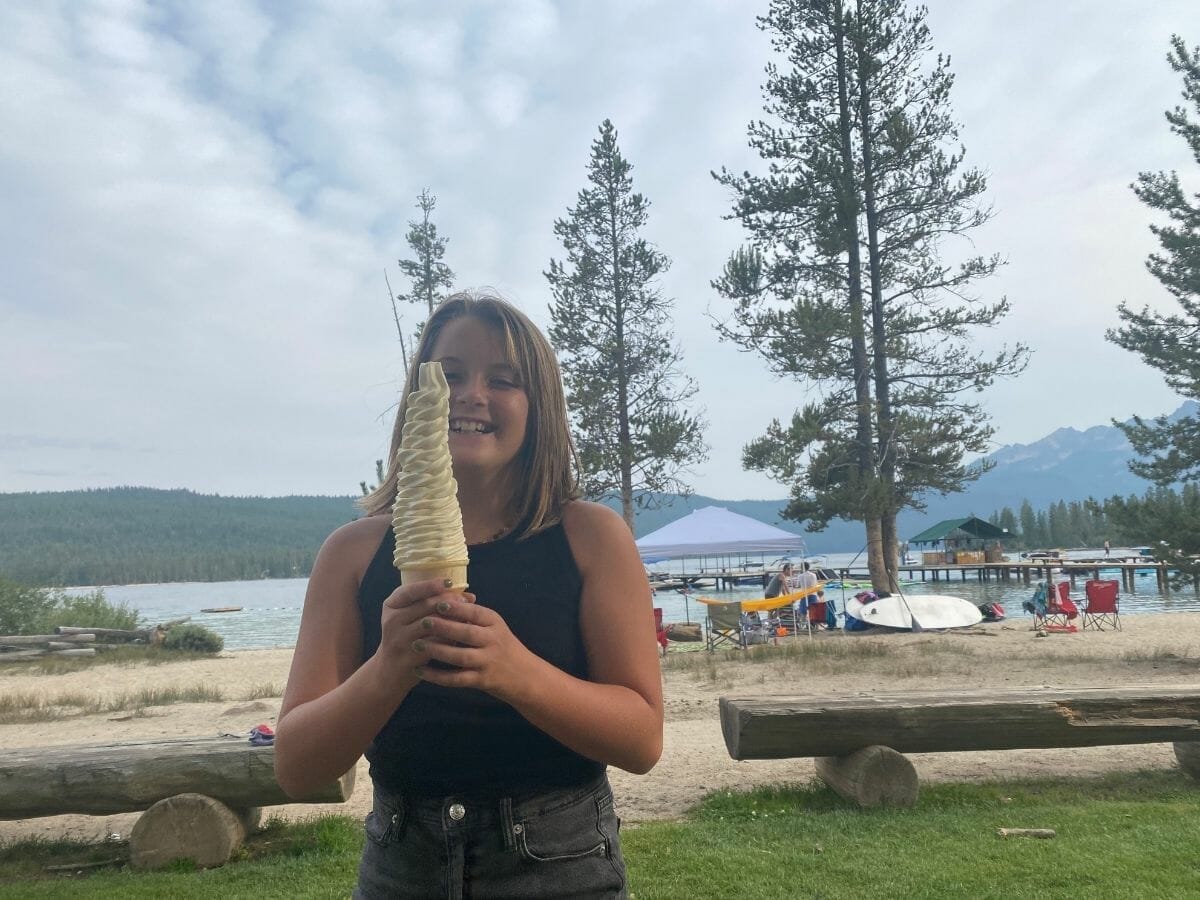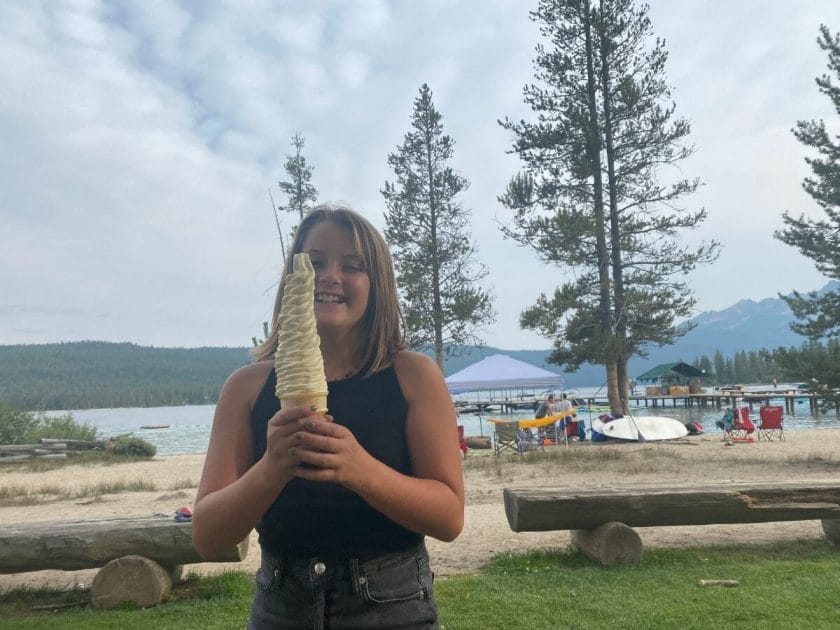 For a more resort feel and amenities head to Red Lake Lodge. Here they have a full indoor restaurant, outdoor grill, a full bar and all sorts of water rentals for the lake.
You can rent kayaks, paddle boards, pontoons, motor boats and more. Plus they have a nice swim area right by the lodge and restaurants.
We came one night and ordered dinner from the outside grill – things like burgers, veggie burger, chicken and fries. And sat at the picnic tables with a view of the lake. We finished it off with their signature ice cream cone that was as big as the kids head!
If you want to visit the lake and have access to all of the things I listed his is a great place to hang out.
If you want to be a bit away from all of this head up to North Beach – which is just up the road but is more of just a beach area.
You can also rent bikes at the Redfish Lodge to take on the lake trails around the lake.
Horseback Riding
If you are interested in horseback riding check out mystic saddle ranch for all the options that they offer.
Fishhook Trail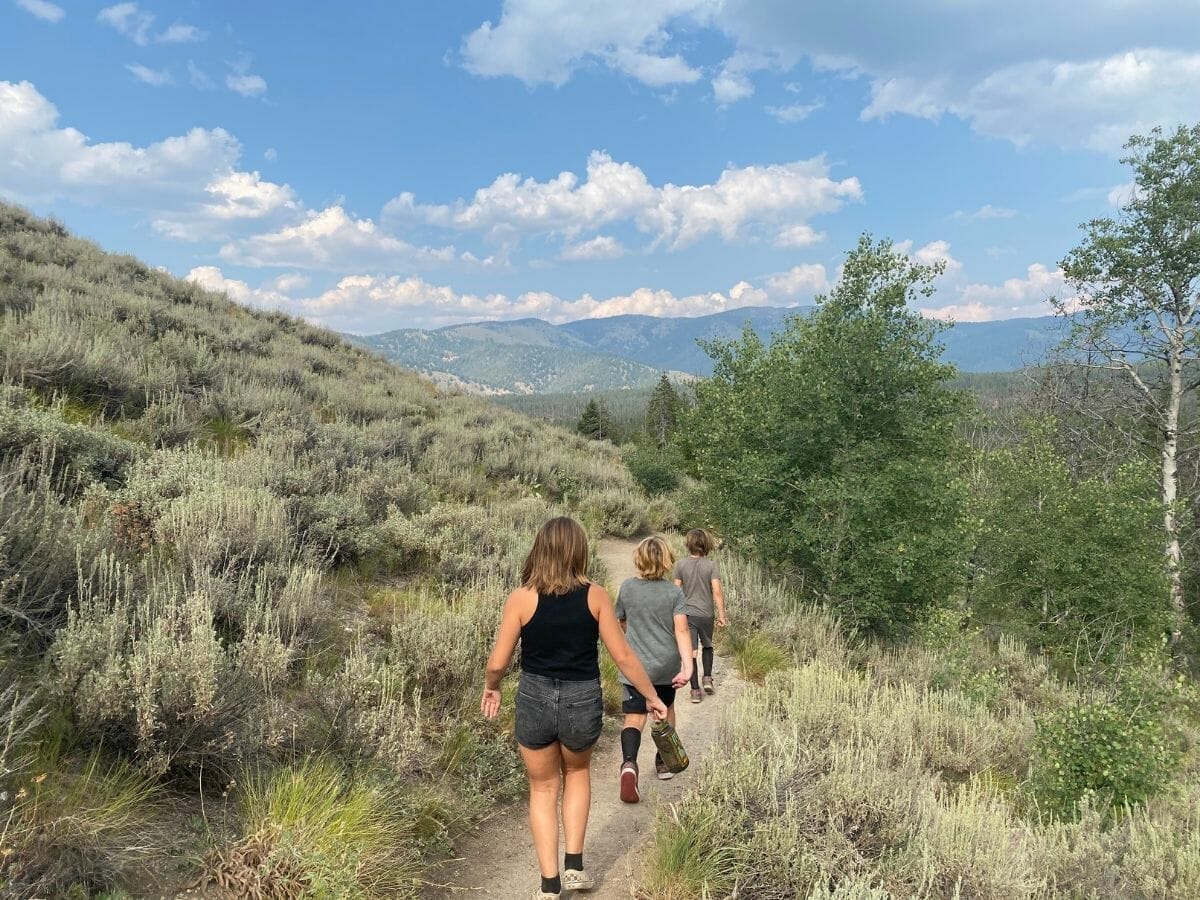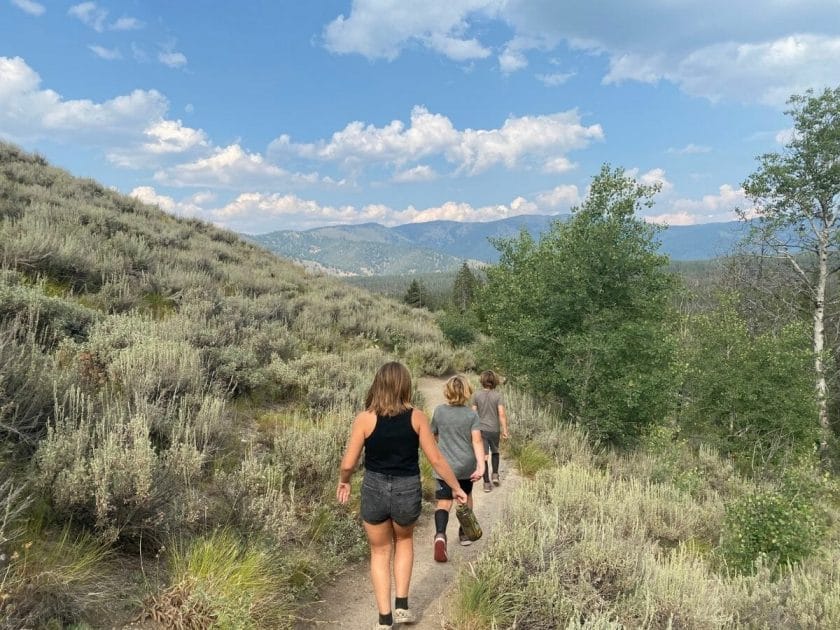 If you are looking for a relatively easy hike check out the Fishhook trail. It is 4 miles round trip – out and back – and only a 250 foot elevation gain. We attempted to go on it but got the name mixed up and ended up going a few miles up the wrong trail! If you know the name the signs are easy to follow :).
Sawtooth Visitor Center
If you are looking for some more complicated hikes – they have a lot in the area. Head to the Sawtooth National Forest Visitor Center to get information and recommendations on the hikes in the area.
Picnic and Fishing Day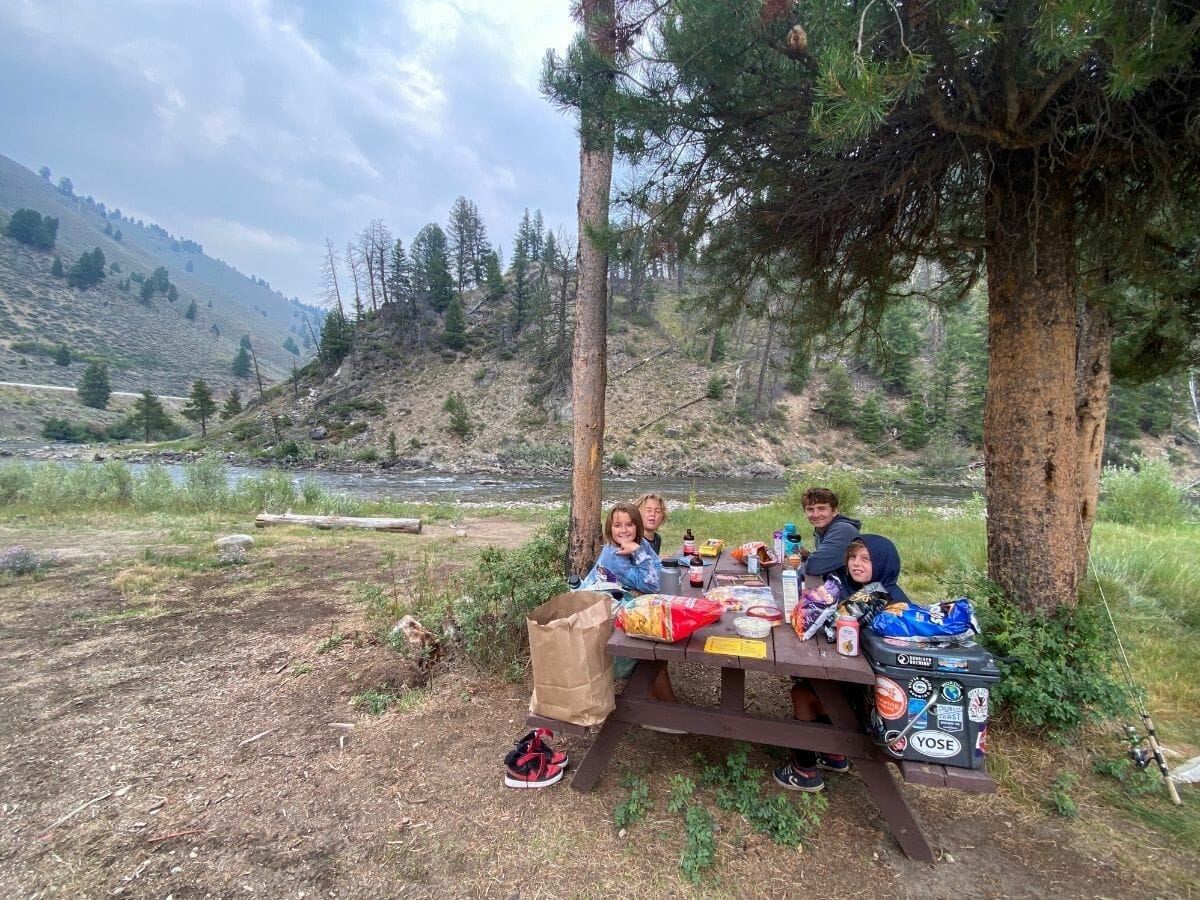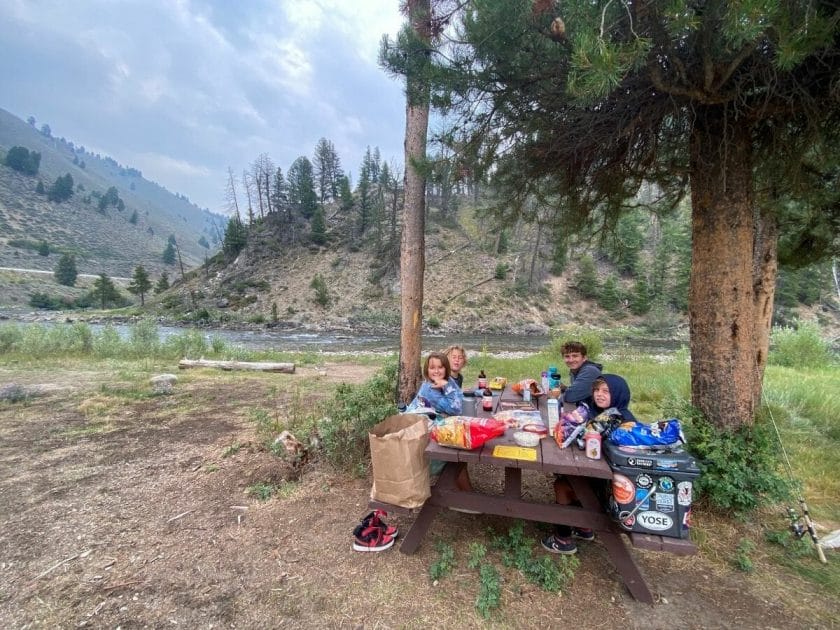 There are multiple pull offs by the Salmon river where you can stop and have a picnic and do some fly fishing and regular fishing! You do need to get a fishing license for over 16 year olds – but this can also change so always be sure to check the local website.
We opted to do this down by the Cove Creek Hot Spring where they also had a picnic table. It worked out great!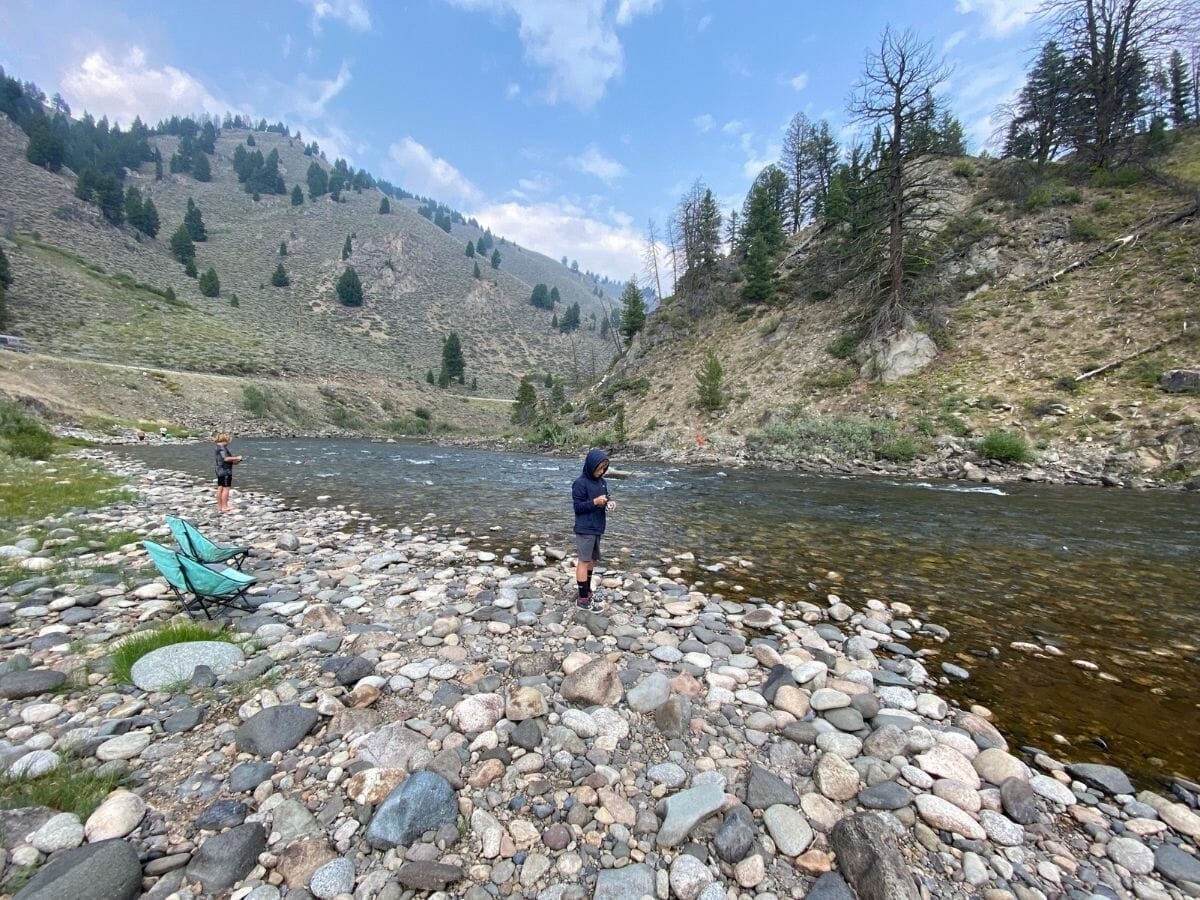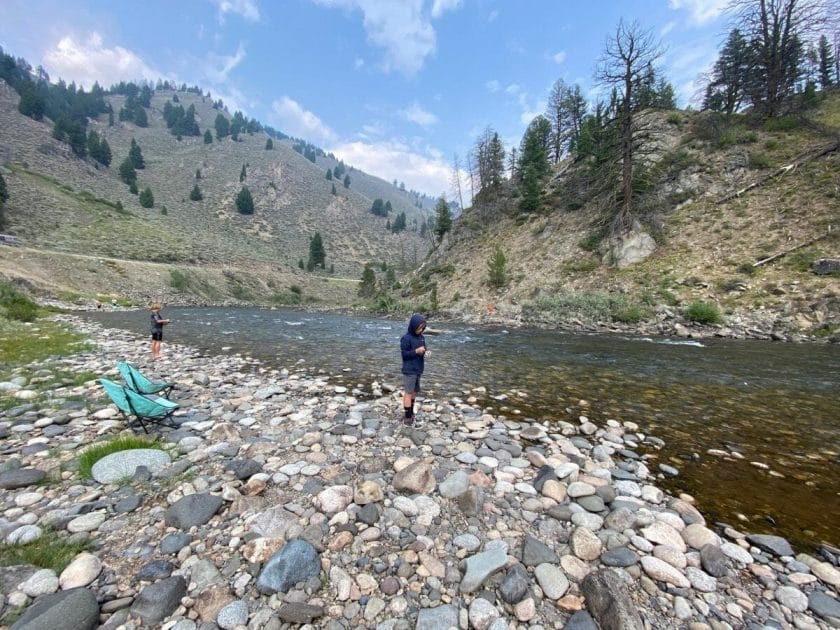 We picked up all of our picnic supplies at the Mountain Village Mercantile in Stanley and we were on our way.
Music
We were surprised to see that multiple places around Stanley offered free music throughout the week! Redfish Lake Lodge had outdoor music one night and the Kasino restaurant in Stanly did too. There was probably more places. If you like things like this I would be sure to ask around in town when you are there or look for fliers.
Downtown Stanley
Not as much a downtown as it is a road with a few restaurants and stores on both sides. But hey it totally fits with the vibe of Stanley and if you are looking to grab a drink, a snack or a meal they have some good options!
Stanley Museum
A small museum in Stanley that showcases pictures and artifacts from the early pioneer days in the Sawtooth Valley area.
Hot Springs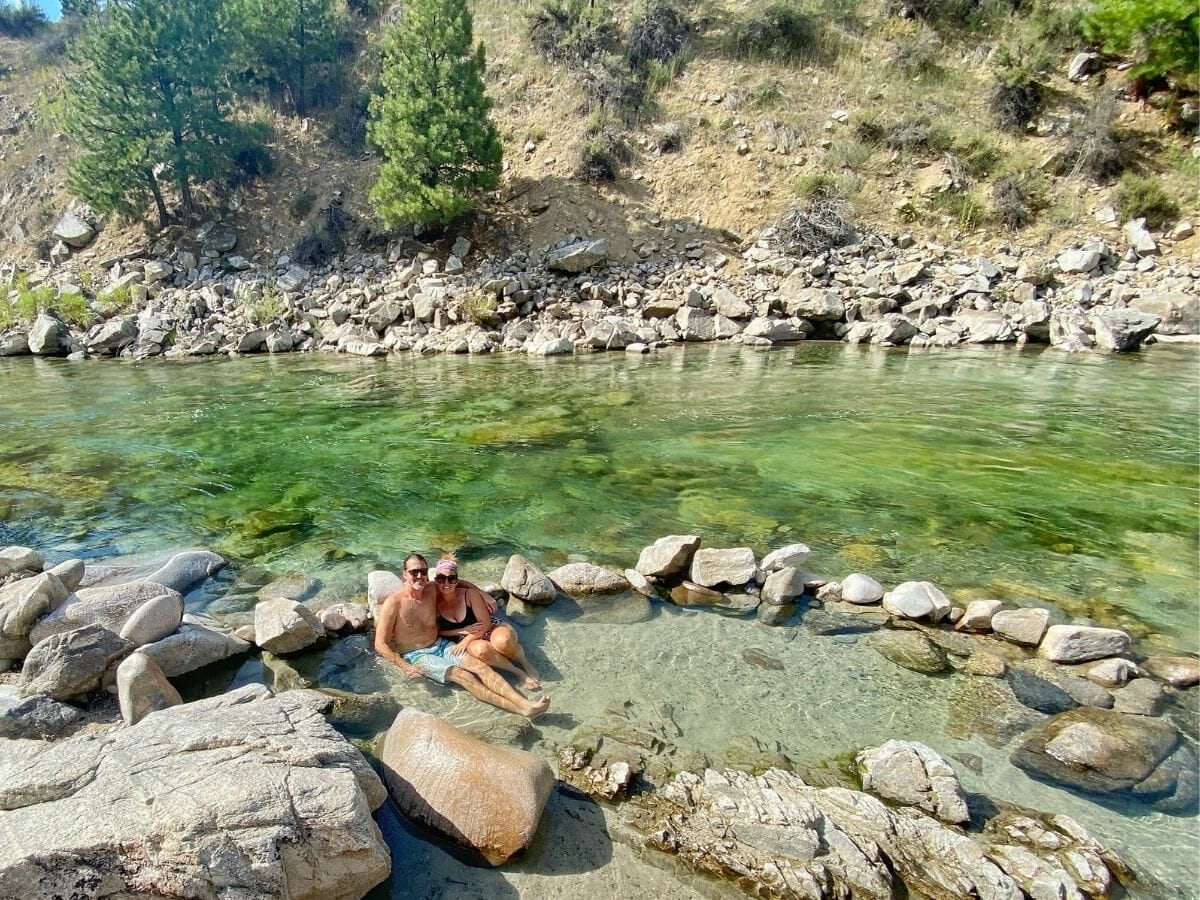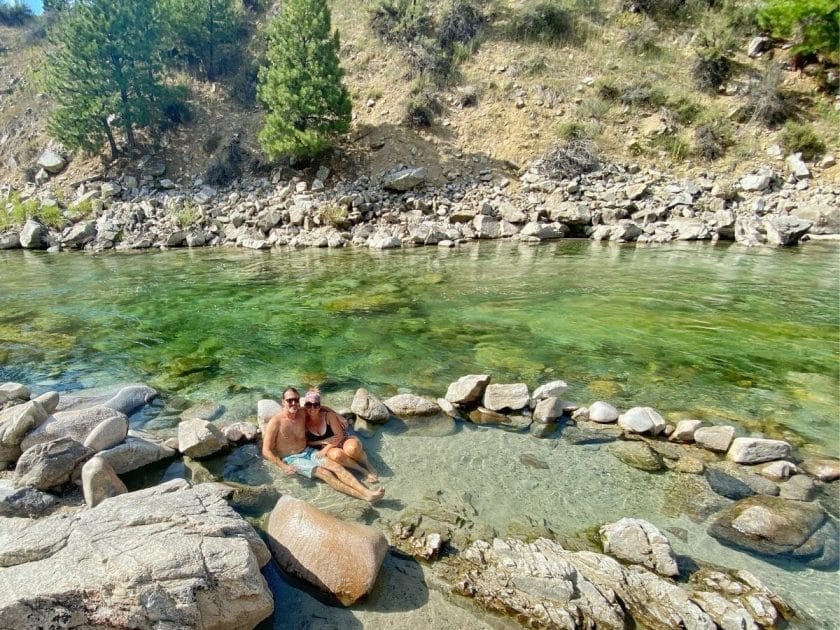 We love coming to Stanley to visit the Idaho, Hot Springs!! They have some of our favorites in the country!
Boat Box Hot Spring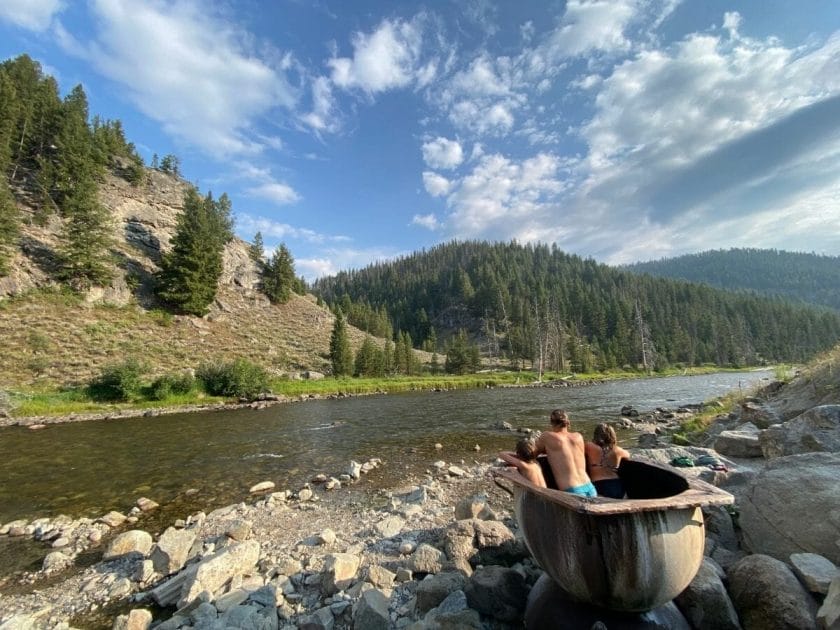 This unique hot spring is one of my favorite! It is a big cauldron right off the side of the road. There is a tube running from the hot spring in the mountain straight into the cauldron. The cauldron was big enough for 3 Mom's and 3 young daughters to sit in together.
You have awesome views of the river while you soak in the tub. There is a bucket there so you can add cold river water if it gets to hot.
This one use to be on Google Maps but has been removed. For that reason I think the locals are trying to keep it a bit of a secret. For that reason all I will give you is this: It is a few minutes outside of Stanley and if you are driving north it will be on your right hand side. You can't really see it from the road unless you are looking for it or if there are cars parked in the tight pull off there. Happy hunting!
Sunbeam Hot Spring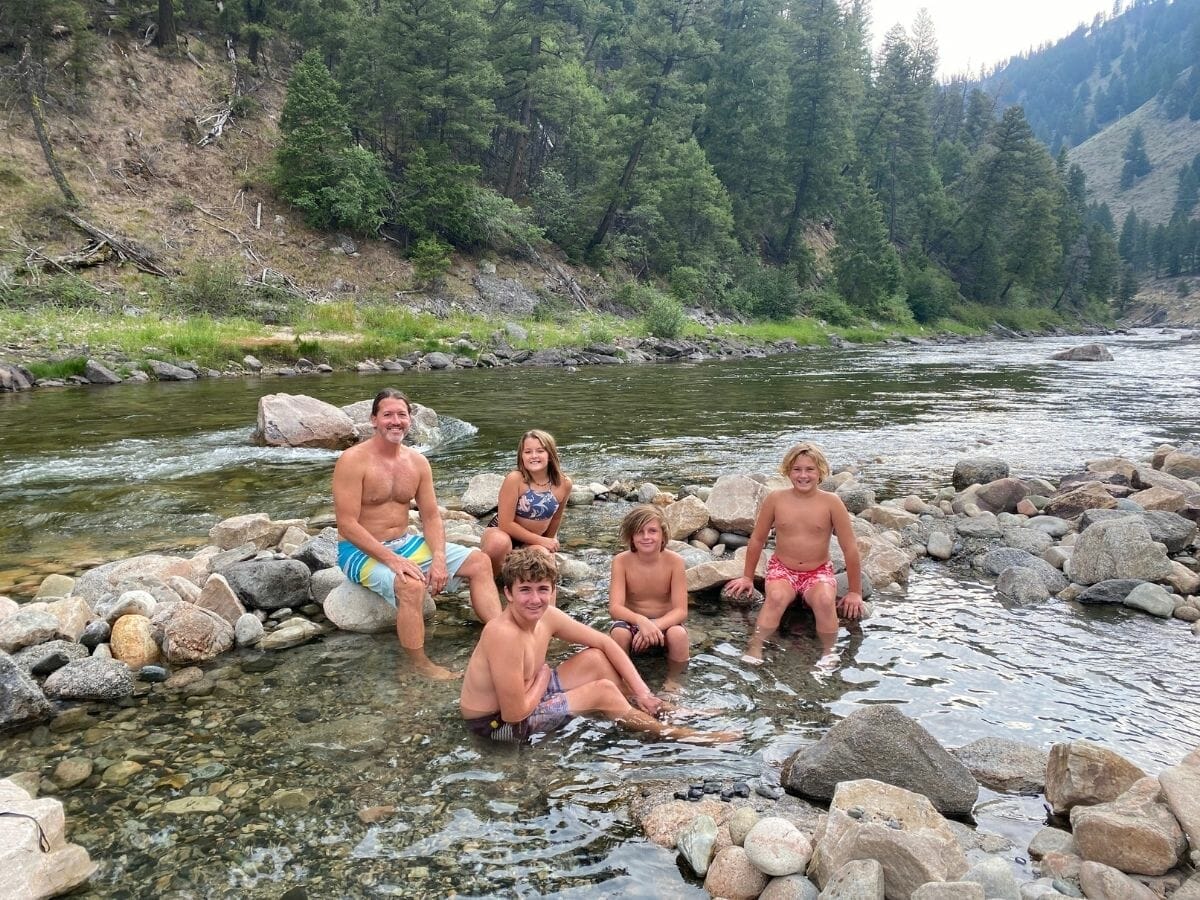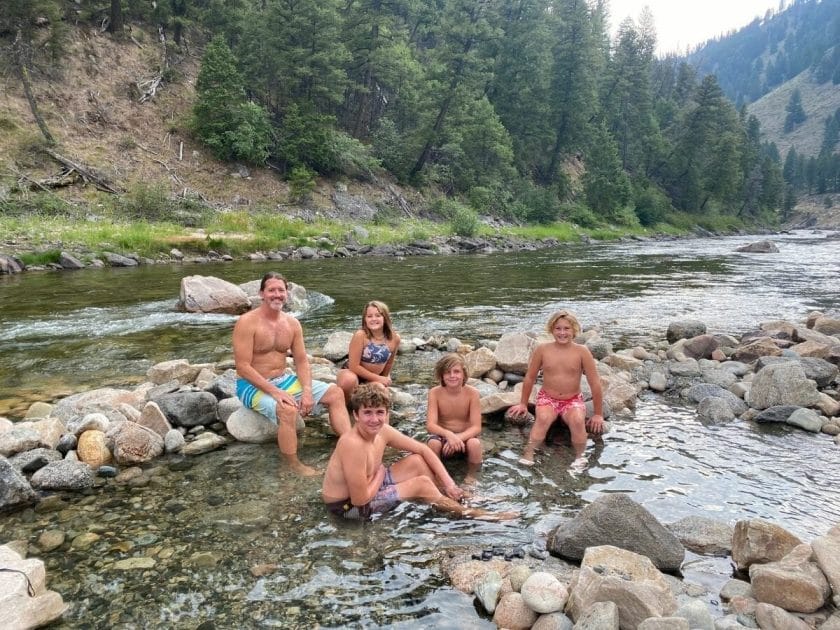 Sunbeam is located in the river with rocks around it to keep the hot water hot and the cold water out. It is fun since you can jump from one little pool to another finding the perfect temperature.
This one is located right in the river so it is fun to watch the river water rush by while you sit and soak.
Cove Hot Spring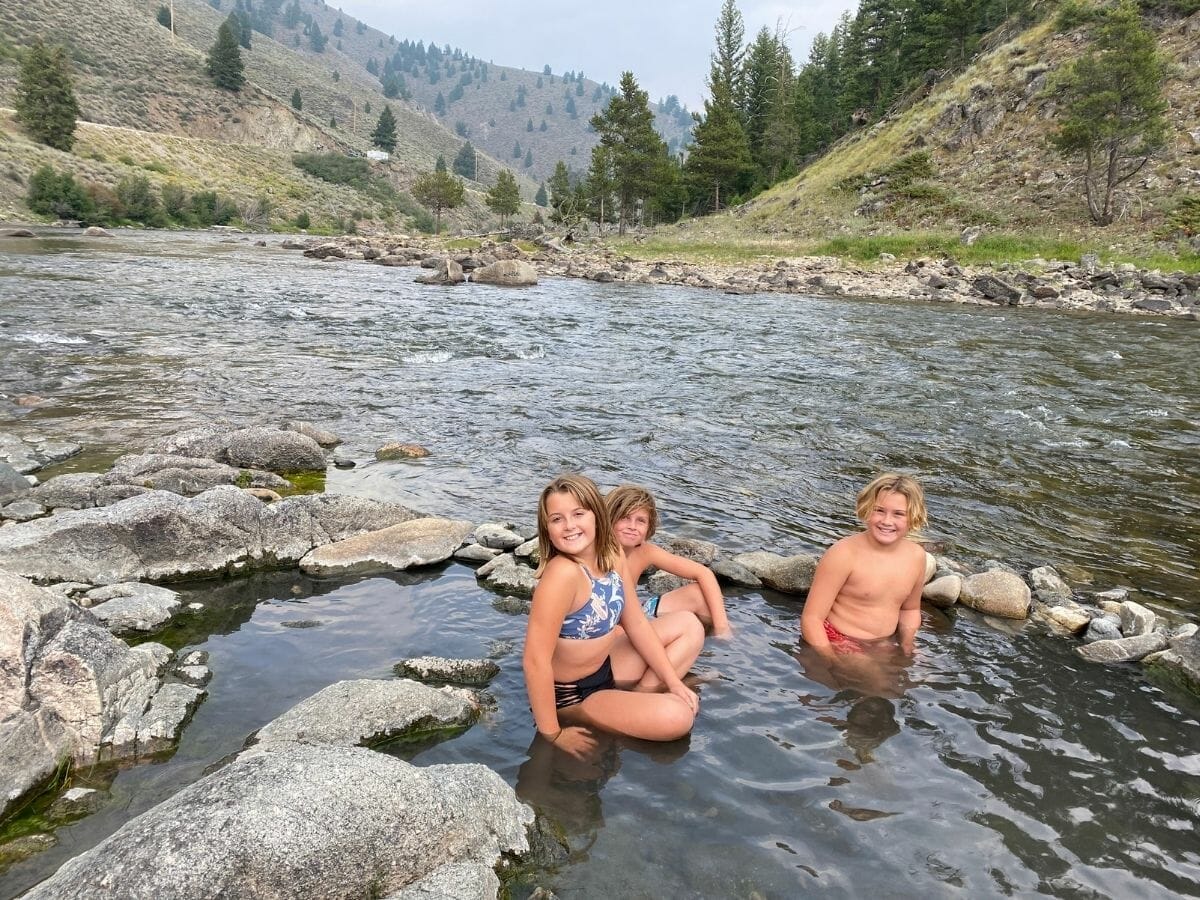 This one has a nice pull off and bathrooms. Plus there are picnic tables by the river. The Hot Spring is small but very natural and has pools of different temperatures.
Kirkham Hot Spring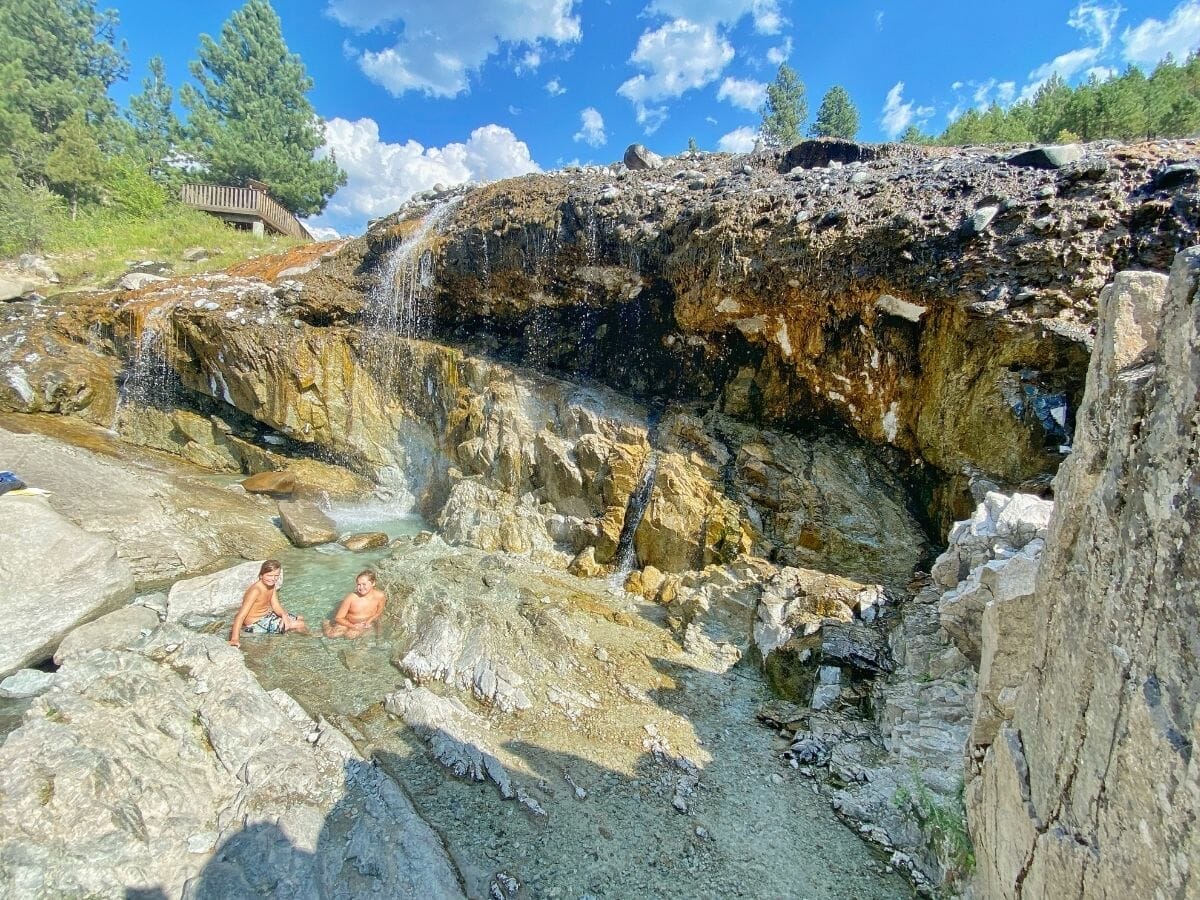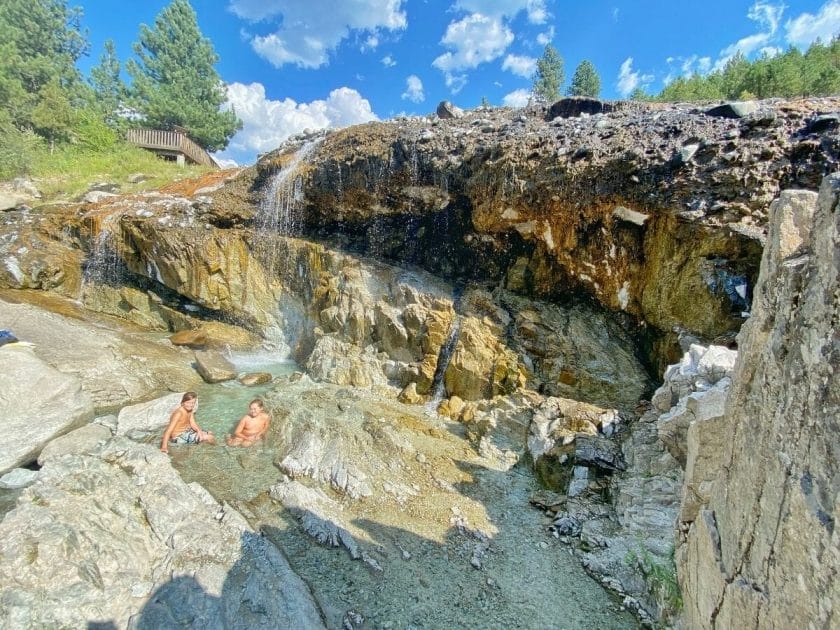 Located about an hour from Stanley but well worth the drive is Kirkham Hot Springs – this makes for a great day trips from Stanley. This place was AMAZING!! It is located through the campground – that currently does not allow camping. There is about a 10 minute walk from your car down to the Hot Springs.
It is a bit of a challenging walk down to the hot springs so be aware of that. Mainly just slippery gravel on the downhill walk and then some scrambling over the rocks to get to the hot spring pools.
It was super easy for our kids and Craig and I were fine if we took it slow and were careful. Not like the kids who just scrambled and ran over the whole thing!
Once there they have a waterfall of hot spring water down into these gorgeous pools. Then pools further down that run right along the river. The pools had varying temperatures.
There is an area when you first get there with a hot spring waterfall right into a pool of water by the river. This area was always crowded – we didn't end up hanging out here at all but instead went down further.
The kids loved going in the rushing river water – up by where the waterfall was and body surfing the rapids down to the hot spring pool we were sitting in. I even did it a few times and it was fun!
Where To Eat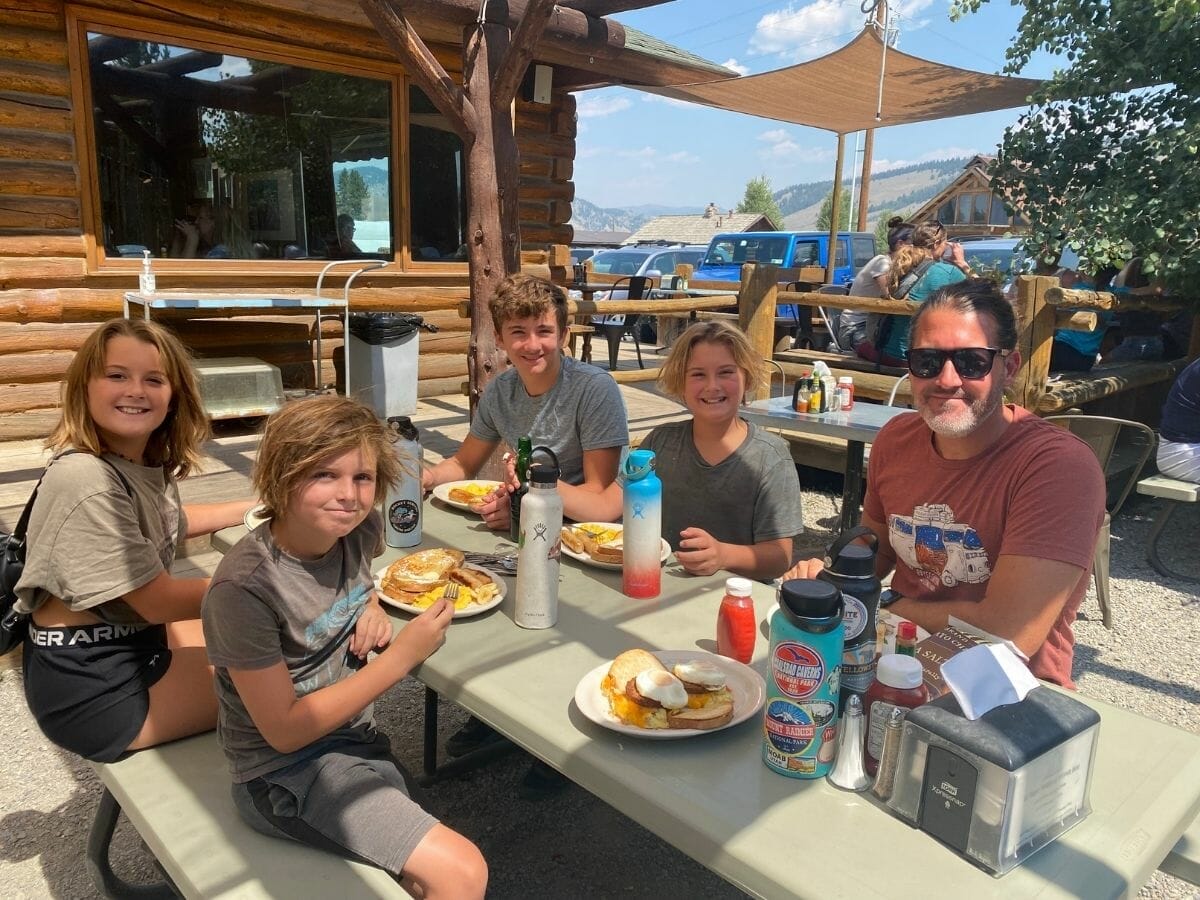 Stanley Bakery
We heard a lot about the Stanley Baking location so we knew we had to check it out. It had yummy breakfast pastries and unique lunch options. Plus there was nice outside seating.
Take note there is usually a line out the door to order food. If you just want a pastry or coffee you can go to the outside window. But for the full menu you have to go inside to order. You go in order and sit down and they bring the food out to you.
Mountain Village Restaurant and Bar
They had a good bar food menu and their signature Stanly Mule – their version of a Moscow Mule. You can order at the bar and sit outside and they will bring your food out to you.
The seating area outside is nice. Plus they have baggo you can play.
Mountain Village Mercantile
There is a general store in town that has an amazing selection of Beer – Craig found a lot of the beers he likes from Bend there! They have a decent selection of food and even some organic options. We couldn't have done a whole weeks worth of shopping here but it was good for picking up a few things and for putting our picnic lunch together when we went down by the river to fish.
Where To Stay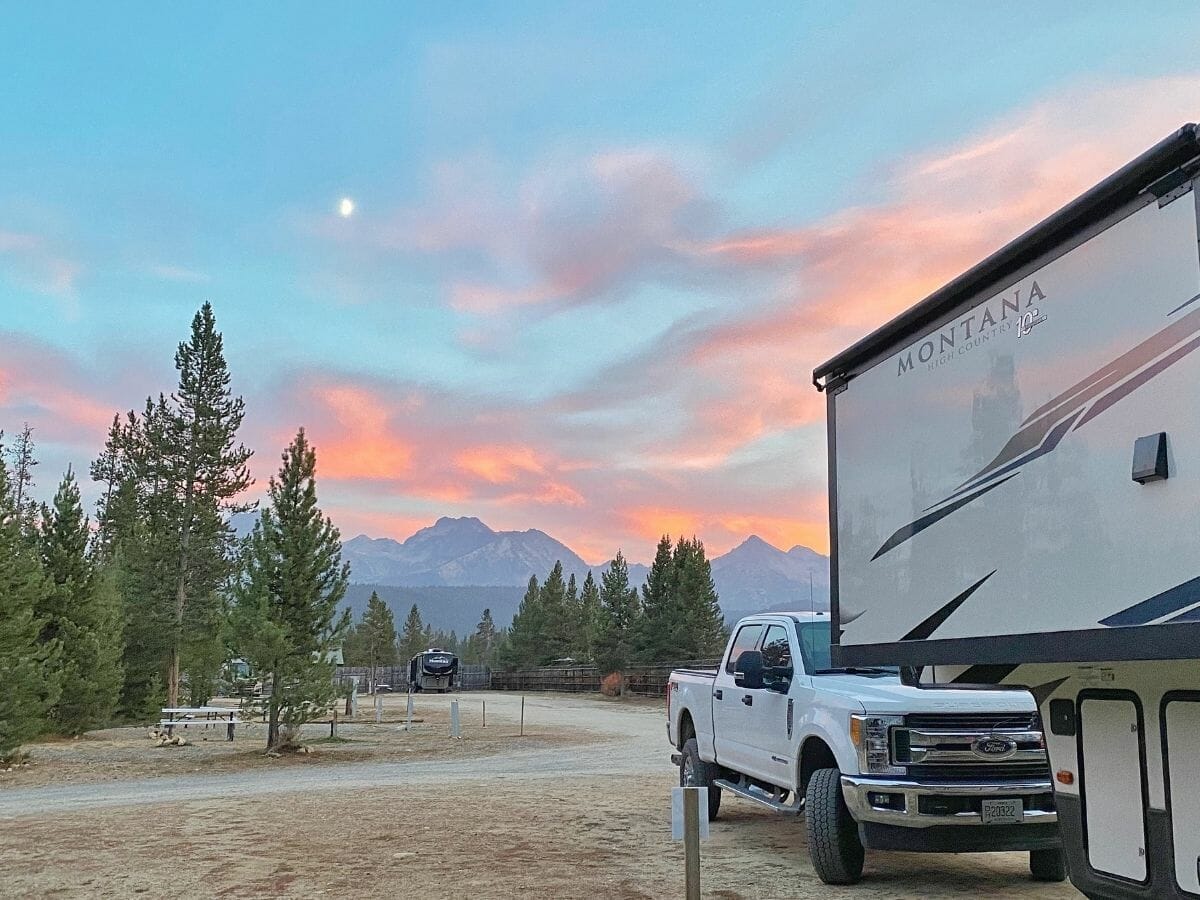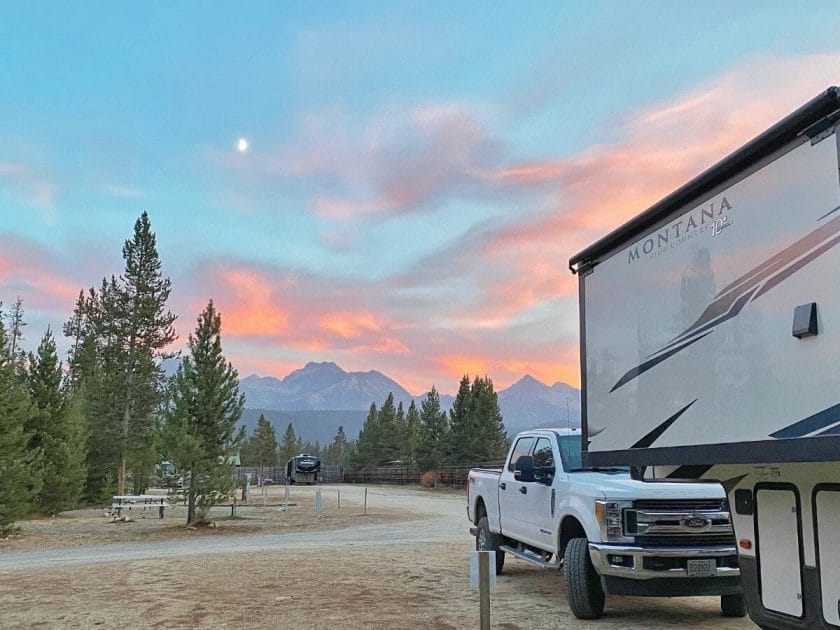 Stanley is a great RVing destination. There are a variety of campgrounds and boondocking spots in the area. Note that some of them do not have hook ups or internet. If you are looking for full hook ups you will want to check out the RV parks in Stanley.
If you stay at one of the places without hookups there is dump station at the ranger station just outside of Stanley. They have dumpsters, a dump station and a drinking water hose. They ask that you leave $5 in the envelope if you use the dump station. Take note when we left on a Saturday at 11am there was a long line of people for the dump station.
RV Options
This is an awesome RV park that is really doing it right! Slightly outside of town it is a great place to stay plus you have Verizon coverage here.
Boondocking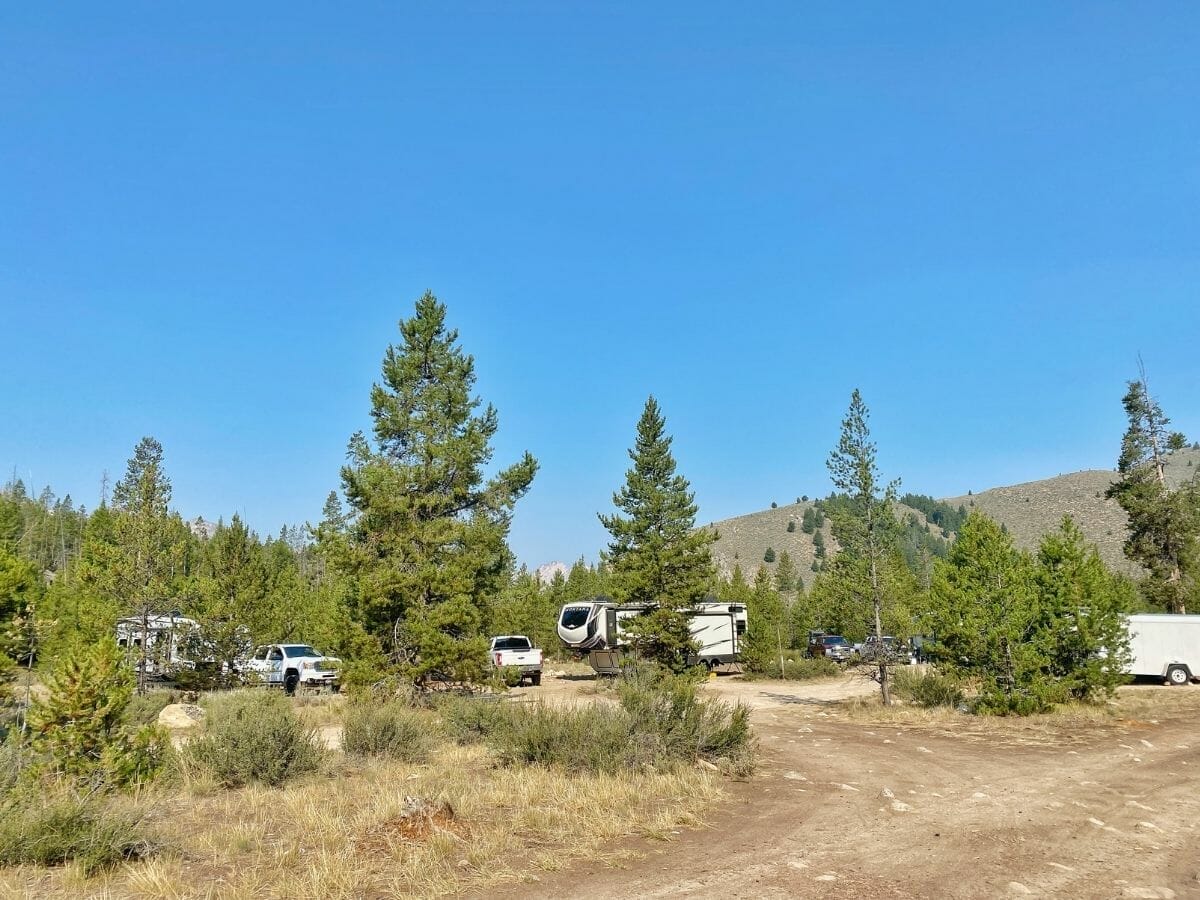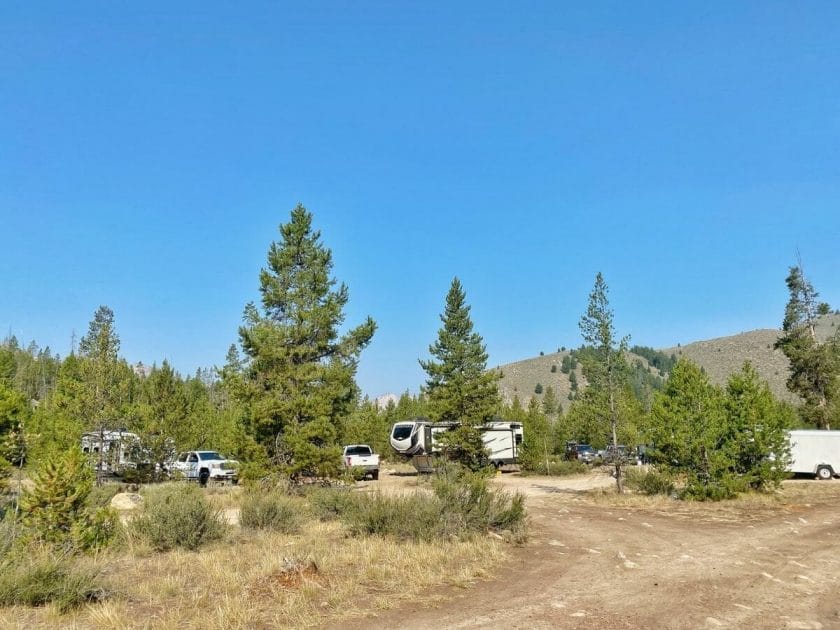 If you want to stay for free on BLM land there are a variety of places but this one: Salmon River #2.
Was where we stayed since it had Verizon coverage – since we work from the road it is good to have it when we are staying somewhere.
There weren't any amazing views or anything but the location was good, sites were big and it was right by the river.
In Stanley
Another option would be to stay at: which is right in downtown Stanely. We tried to get in here but it was full:
Mountain Village Resort
We drove through and these looked like awesome sites! But I don't think there was any cell signal. But that can be a good thing!
Hotel Options
Located right on the main street in Stanley this is a great option for doing all the things in Stanley.
Just down the road from town and right on the Salmon River. A beautiful place to stay!
VRBO Options
If you are looking for a larger place to stay this looks like a great option!
Stanley really is a magical place and somewhere we have come back to multiple times. Each time we wish we stayed longer and can't wait to get back to visit again!
Pin This Post: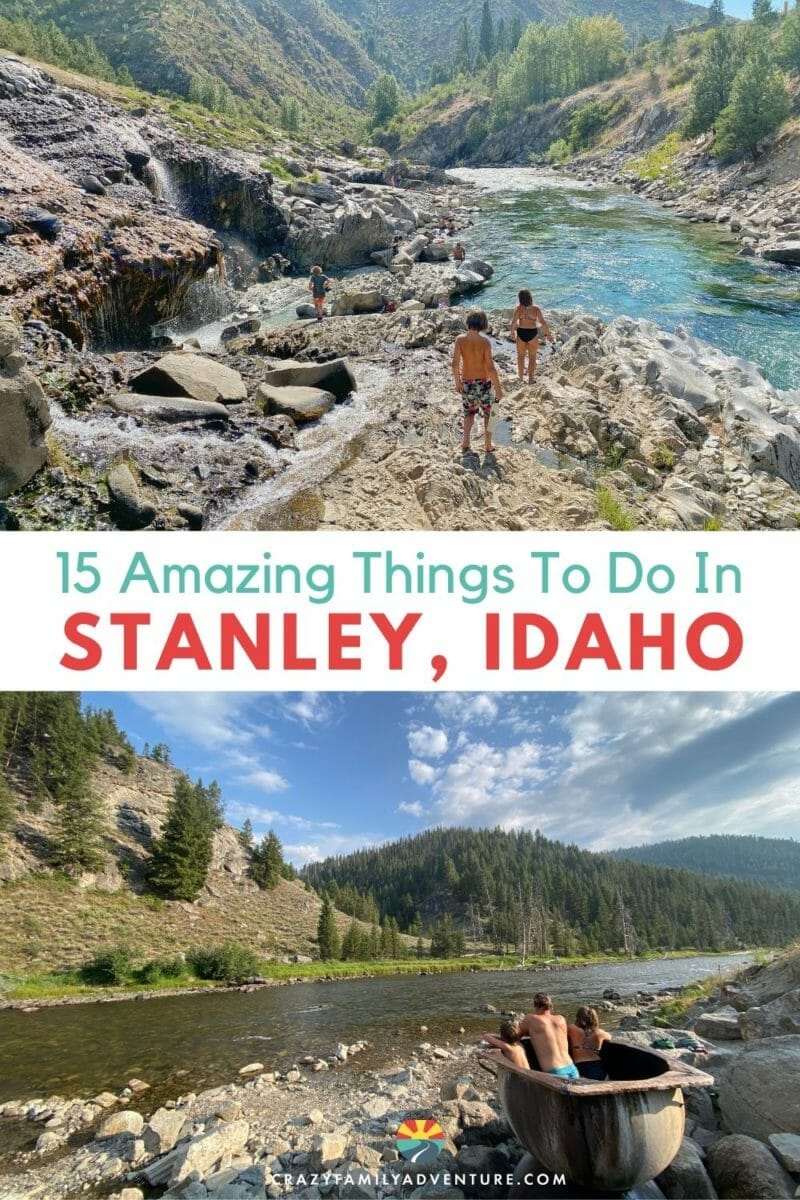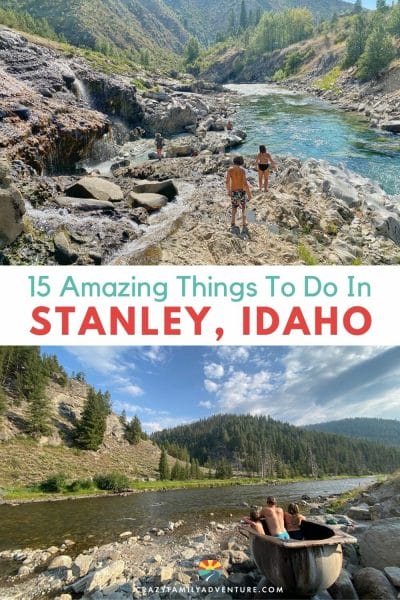 More post to check out:
18 Top Things To Do In Yellowstone National Park
Yellowstone Vacation: 12 Day Itinerary for Visiting In & Around The Park
21 Epic Things To Do In Glacier National Park [Map Included]
17 Amazing Things To Do In North Cascades National Park
12 Amazing Things To Do In Gardiner, Montana [Plus Where To Stay]
23 Exciting and Fun Things To Do In Bozeman, MT
Best Things to do in Livingston, MT and Paradise Valley
22 Amazing Things To Do In Red Lodge, Montana
6 Epic National Park Road Trip Ideas [Maps Included]
DISCLOSURE: This post may contain affiliate links, meaning I get a commission if you decide to make a purchase through my links, at no cost to you. Please read my disclosure for more info.