For those eager to experience Glacier wilderness and to get away from the crowds, plus have an amazing pastry head to Polebridge Mercantile and Bowman Lake – Montana.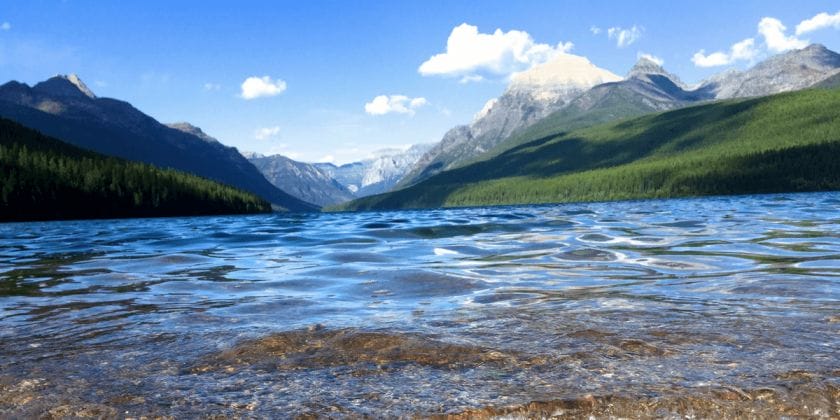 When you visit Glacier National Park you will want to add this to your itinerary! If you need help planning your trip, check out our 1, 3, and 7 Day Glacier Guides that include fun stops like these.
***PLEASE NOTE – Glacier National Park has started requiring a reservation and a ticket to travel the Going To The Sun Road. This will impact your trip. You can check out more details here: https://www.nps.gov/glac/planyourvisit/gtsrticketedentry.htm
Polebridge Mercantile
Polebridge Mercantile was the outpost for the first explores to Glacier National Park. The building has been around for over 100 years! The building is run on generators and gigantic solar panels and gives you that feeling like you are off the grid in a way that people hundreds of years ago lived.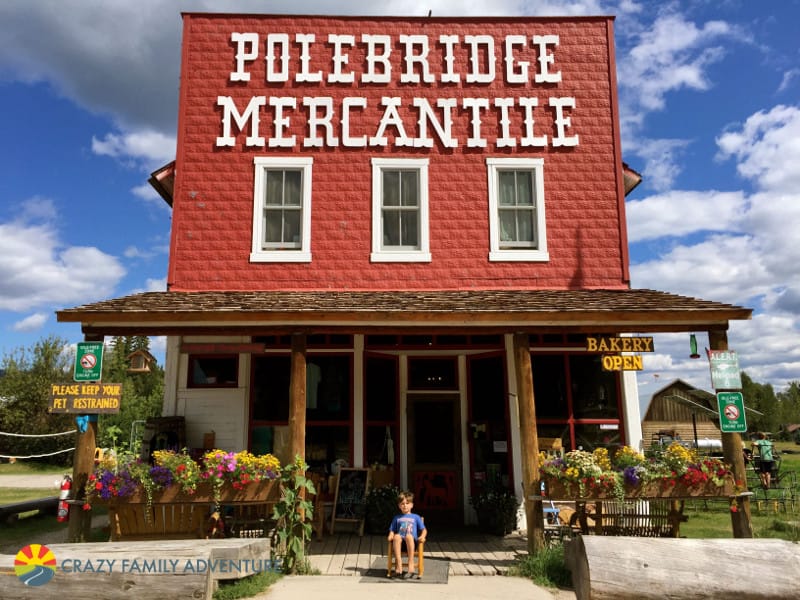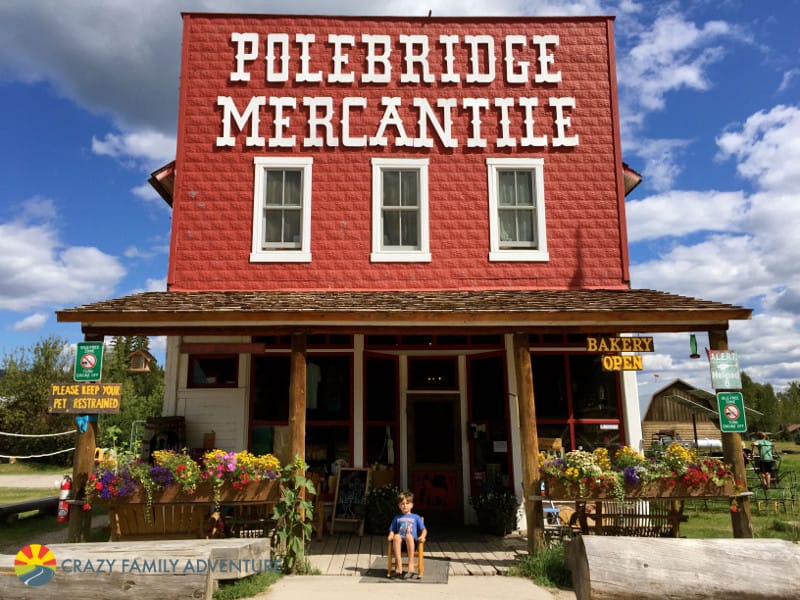 At Polebridge Mercantile, they offer some of the best pastries we have tired. Of course with Huckleberry and without if you don't like huckleberry. Plus fresh picked fruits and vegetables. And a selection of souvenirs.
We recommend getting a fresh baked Huckleberry bear claw or the cinnamon rolls. Really all of their baked goods are delicious! This tiny community of Polebridge is well worth the trip.
If you want grab a few things or bring your own packed lunch then get a pastry for desert and head to one of the outdoor picnic tables to enjoy a peaceful lunch.
The Polebridge Mercantile is open 9am to 6pm every day it is about 42 minutes from West Glacier and 53 minutes from Columbia Falls. And is the only town that the North Fork of the Flathead River passes through.
Road To Bowman Lake
After filling up on pastries and other goodies in the town of Polebridge, you can get back in your car and head down the narrow and windy dirt road (If you are facing Polebridge Mercantile, it is the road to your left. You do not go back on the road you drove into the Mercantile on.) – which doesn't look like a road you should be driving on, but it is.
The scenic park roads wind through evergreen and hardwood forests. Just be prepared for the roughness and pothole and it is a long, narrow and windy road. This is also the road to the campground.
This road takes you to a park entrance where you will have to pay or show your pass. We weren't expecting this, but since we have a yearly pass it was no big deal. Once you get into the park you go left and follow the signs for Lake Bowman.
Be prepared, this is a 2 lane road that is really about 1 1/2 lanes wide. You will have to pull over at some point to let someone pass. And there are ledges, bumps, and tight spots.
But it is worth it. Stay with it! The road is about 6 miles long, but given the condition of the road it will take a while to get there. We went about a max of about 15mph.
**Take note that larger vehicles are not allowed on the road. It is a 1 1/2 lane road so I can see why.
Bowman Lake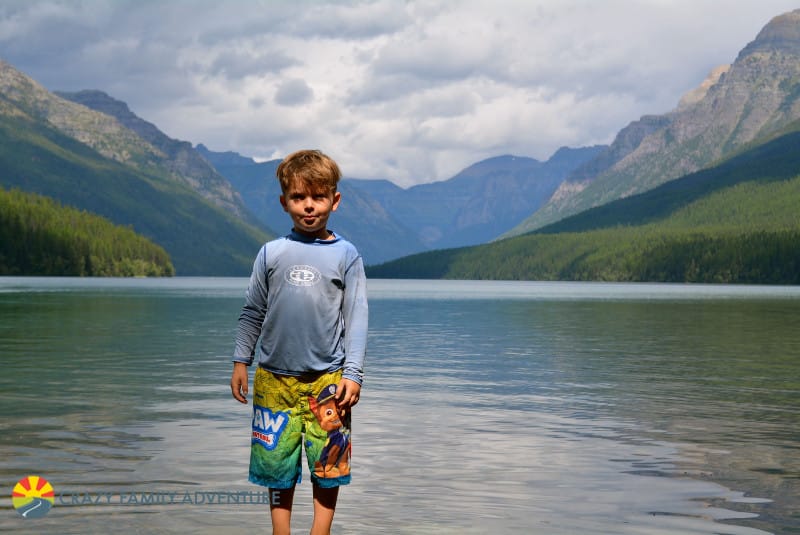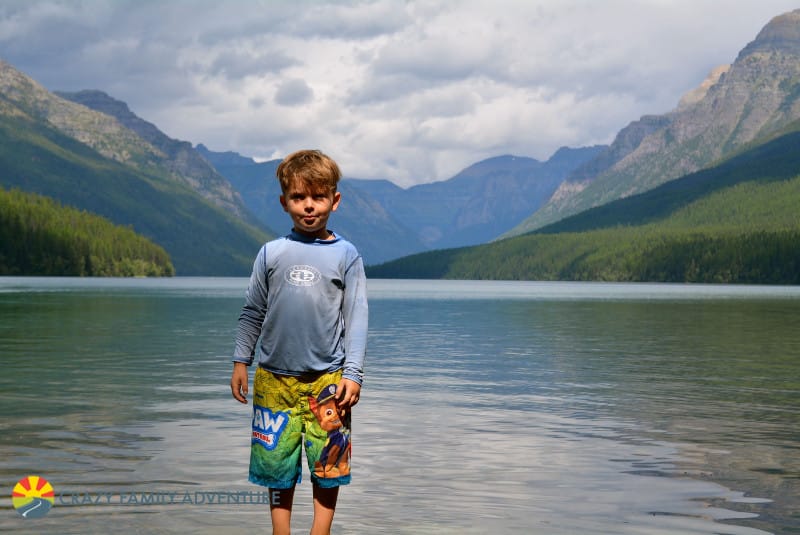 Once you get there (you'll start seeing signs for the Bowman Lake campground) you can find a place to park either by the campground parking lot or the picnic area and then you walk to the lake. You cannot park by the lake, but you can drive down there to drop off a kayak or your family but you cannot leave your car there. You may think no one will care, but a ranger did show up one of the times we were there.
Bowman Lake is beautiful with mountains surrounding it and great recreational opportunities. I wish we had had an inflatable SUP or kayaks to take out on the lake.
Instead we brought a blanket and had a picnic lunch and then jumped in the water for a little while (it was freezing!). Don't forget your Keens or snorkel gear! The water is super clear for snorkeling!
When we went in early August there were a lot of people there. Nothing like the Logan Pass area or the Trail of the Cedars, but there were a quite few people there. When we went later in the month it was just us and a few other people.
We actually went twice when we were in Glacier for the month of August because we enjoyed it so much! Getting to Polebridge takes you through some dirt roads, but everything was drivable and my sister and her family actually did it in their 21 foot RV.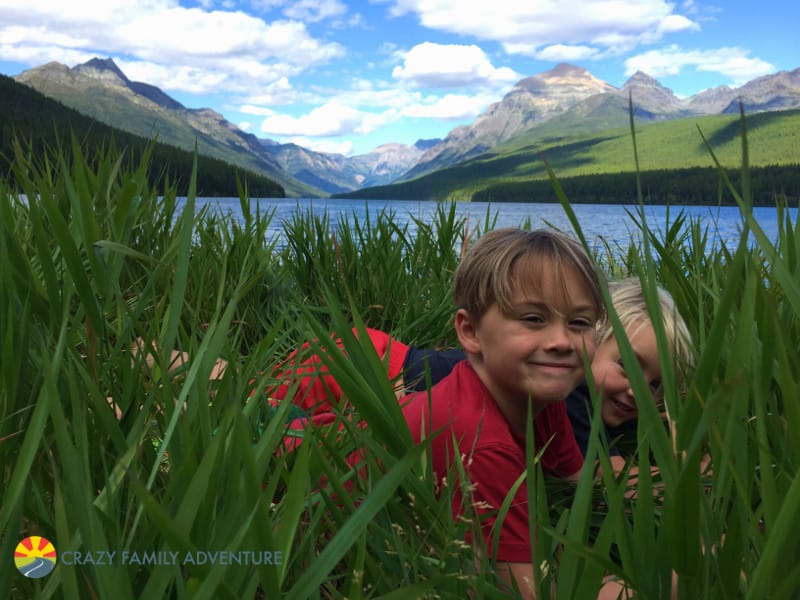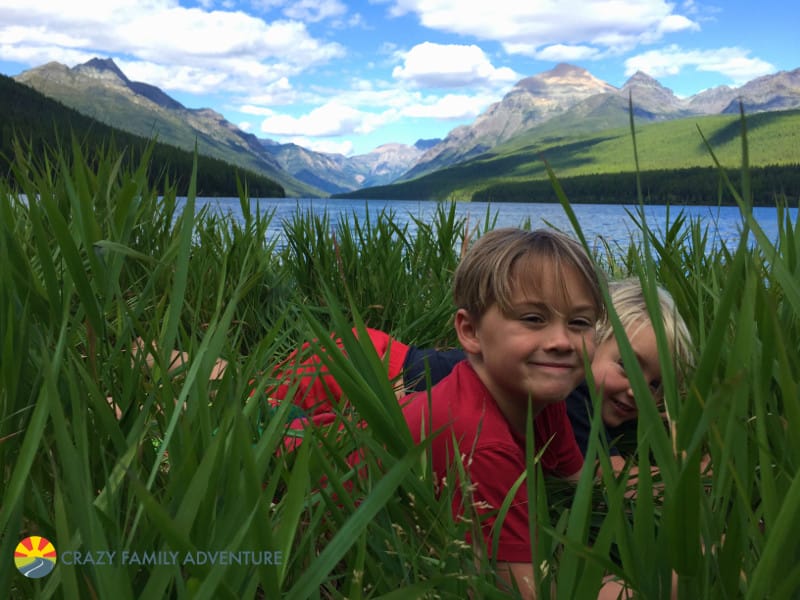 After leaving Polebridge, we drove for a few minutes before coming up to Home Ranch Bottoms restaurant. It was a great place to stop and get some dinner before heading back to the West Glacier area.
The food was good and so were the drinks. Plus, the outside picnic table area was perfect with the kids. It was a little pricey which is to be expected when you are out in nowhere!
Camping at Bowman Lake
Bowman Lake is a camper paradise and the campground is located close to the lake. But you have to be prepared. There is no electricity or water at the sites. But there are drinking water spigots throughout the campground and pit toilets.
Also truck and trailer combinations are not recommended at Bowman Lake due to the nature of the long windy roads getting in.
Hiking Trails
This is a 26.2 mile trail that is marked as difficult. It sounds like an amazing trail but you have to be ready to hike 26+ miles!
Click here to learn more about the Bowman Lake Trail. Or here to learn more about day hiking opportunities by Bowman Lake.
Where To Stay
North Fork Hostel in Polebridge would be a unique place to stay.
When visiting Glacier we highly recommend adding the off the beaten path location of Polebridge and Bowman Lake to your list of places to visit!
Also, don't miss our post on Hiking With Kids in Glacier National Park, Going To The Sun Road and Many Glacier as well as these other fantastic destinations when near Glacier: Whitefish Mountain Resort and Montana Raft!
Pin it for later!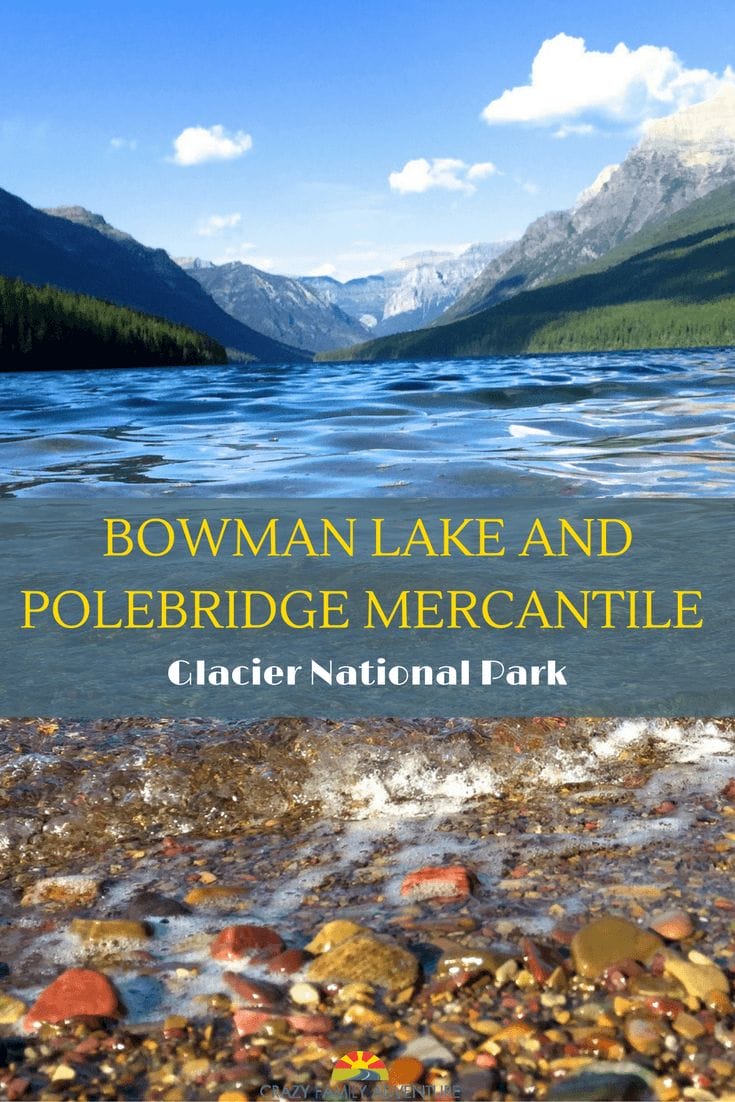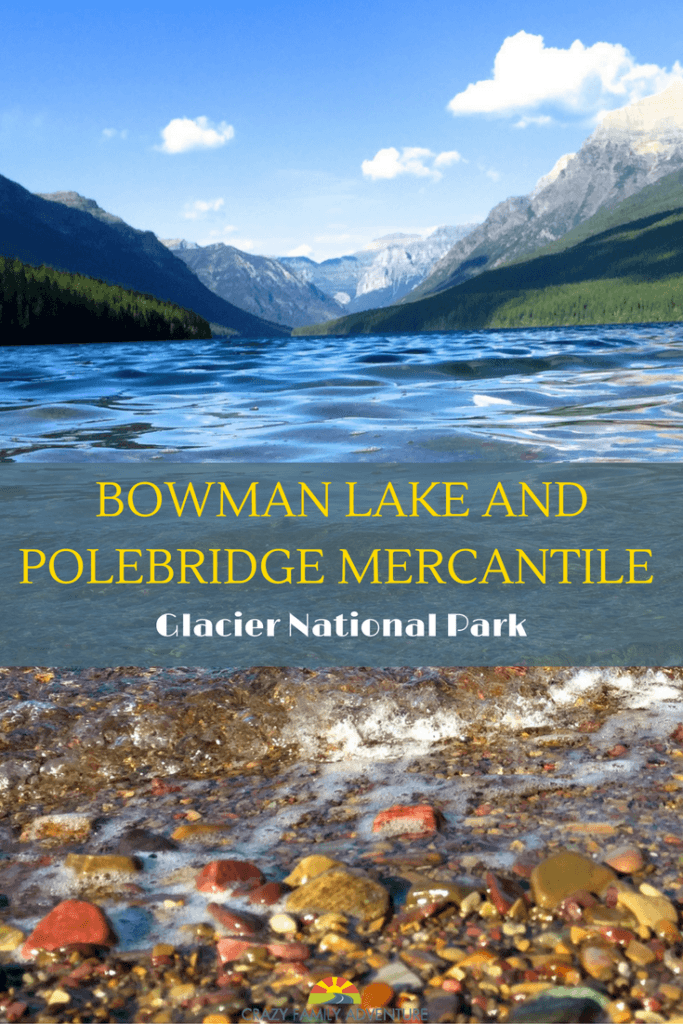 DISCLOSURE: This post may contain affiliate links, meaning I get a commission if you decide to make a purchase through my links, at no cost to you. Please read my disclosure for more info.