Whitefish Mountain Resort is a great place to spend the day with your family in the summer! The resort itself is beautiful and the attractions are so much fun, we recommend checking them out when planning a trip to Glacier. This ski resort has a ton of options during warmer weather, so be sure to check out these Whitefish Mountain Resort summer activities!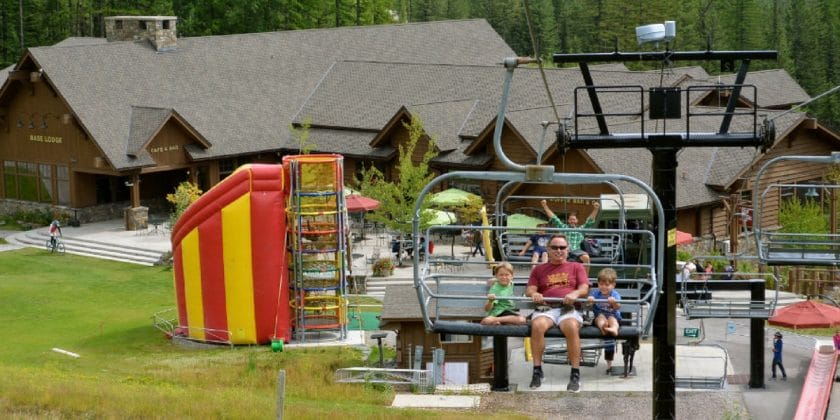 Whitefish Mountain Resort Summer Activities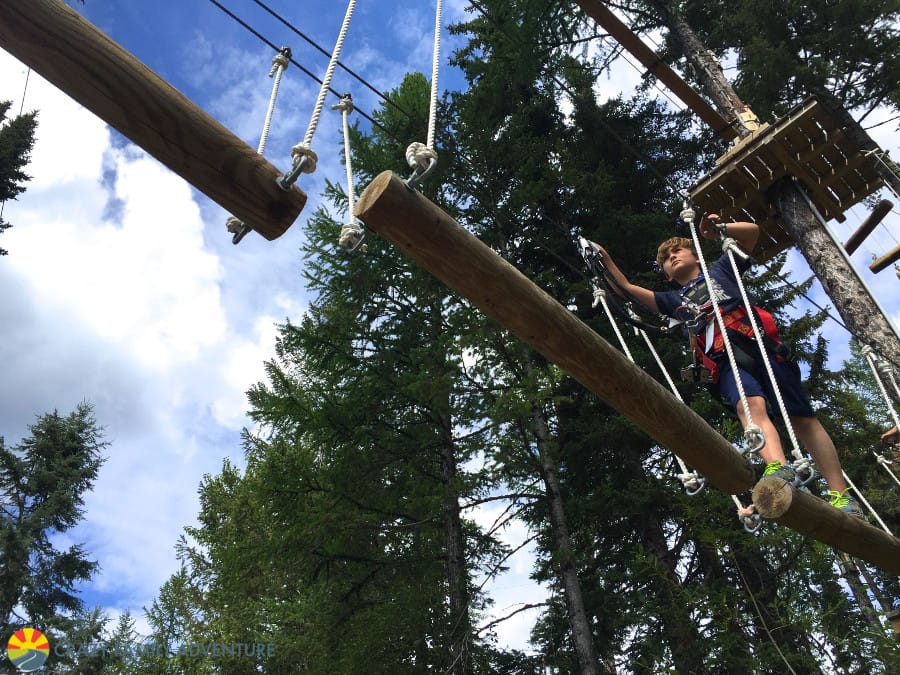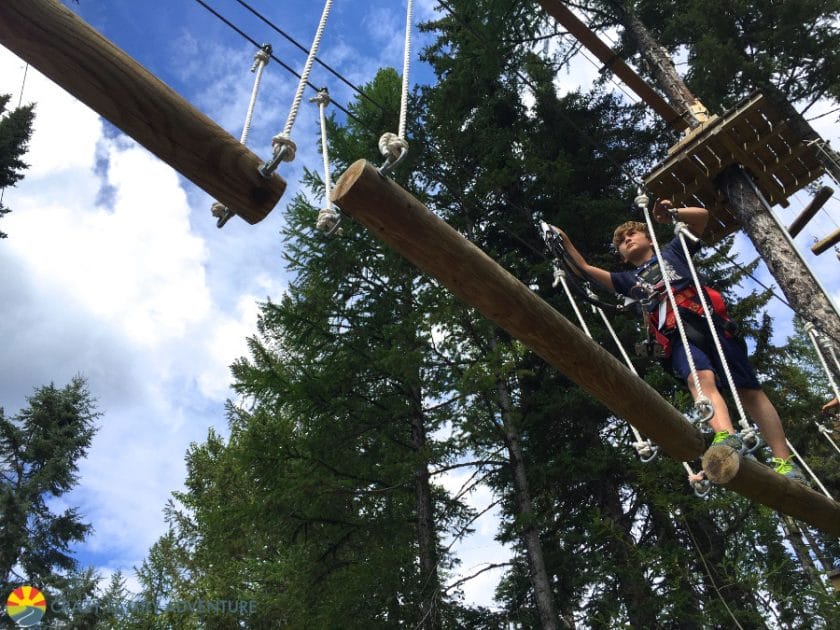 Aerial Adventure Park
Craig, Carson, and I started the day at the Aerial Adventure Ropes Course/Zipline. You had to be 7 and 60 pounds to go on the course, so the other kids weren't able to join us. Luckily, we had Nana and Boppa with us so they watched the kids by the Spider Monkey play area, bought them lunch, and got them all you can drink soda!
First step was to get suited up and go through the training course to learn how to work the clips so you don't fall! This is important stuff. Luckily it's pretty fool proof since one carabiner is always locked. Carson was easily able to manage all of this on his own. And we got to say a really fun word: Tweezle. Yeah, it's a real thing.
The ropes course has 3 different levels of difficulty. Beginner, Intermediate, and Advanced. The courses are labeled by age. If you have never done a ropes course the beginner level is a great place to start. And just because they are beginner does not mean they are easy!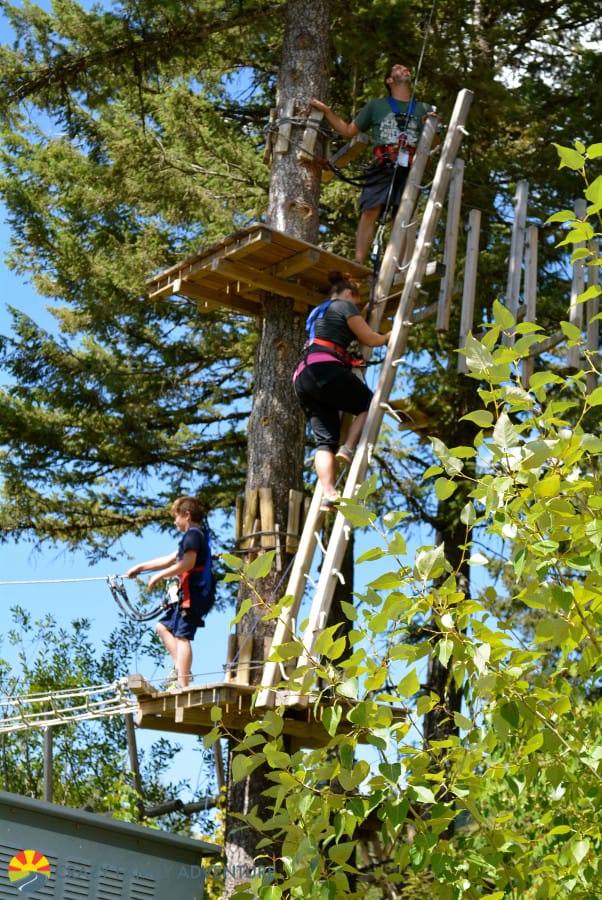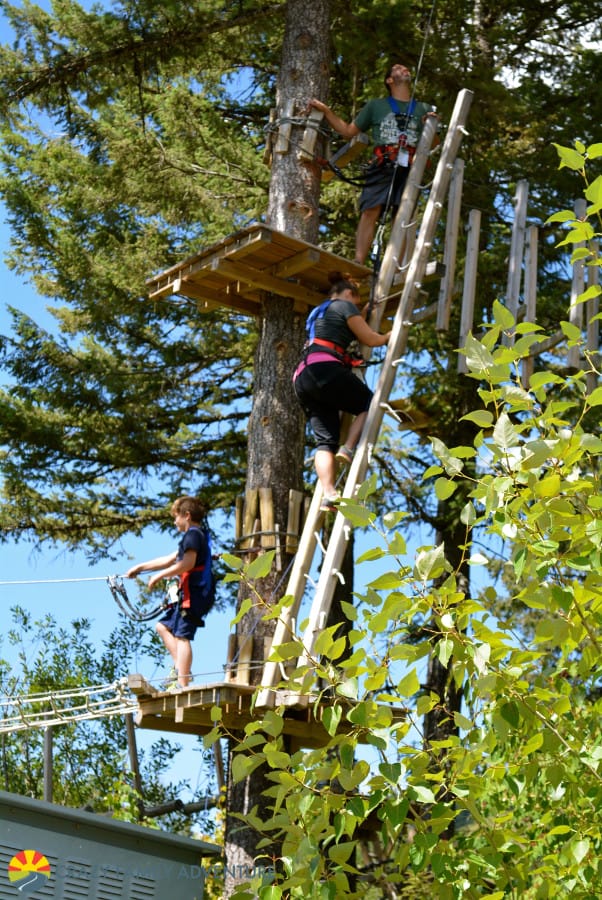 I almost fell off on the first leg of the beginner course. Then the worker told Carson a tip to make it easier to cross. Thanks man! I think he was enjoying watching me struggle through :). All of the workers were super helpful with the course and made sure that everyone there knew what they were doing and felt comfortable.
After the first leg, we started to move more quickly through the course and had a lot of fun! We all really enjoyed the zip line portions of the course. There are 2 beginner levels so we completed the first and then headed to the other one.
Each of these courses took us about 30 minutes. After completing those we went for the intermediate level and were glad we did. The course was a little more challenging, but definitely worth it!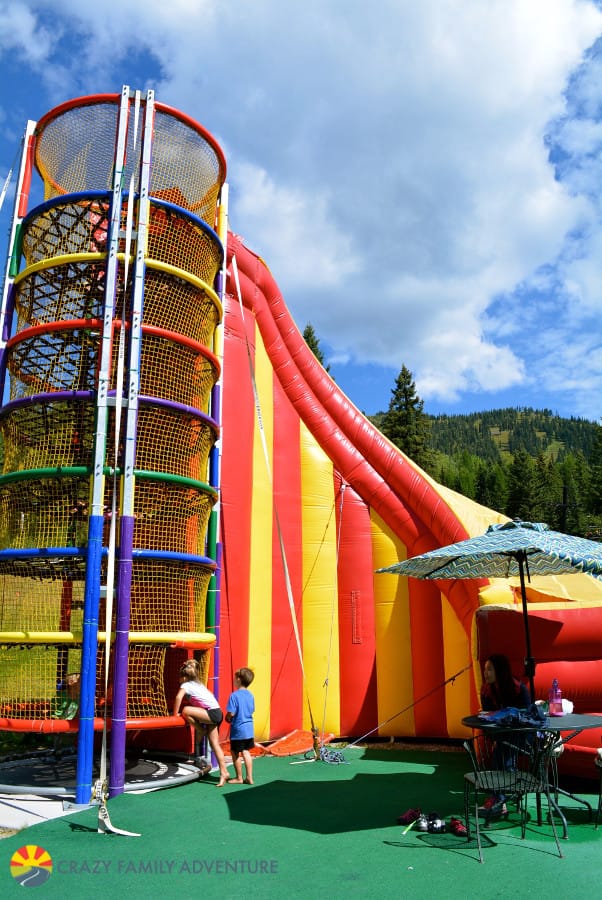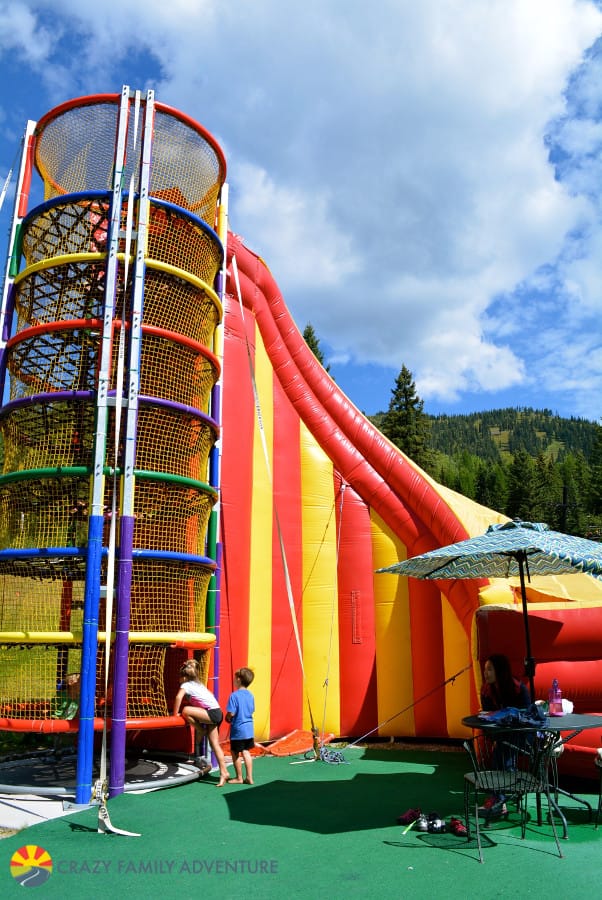 Spider Monkey Mountain
This multilevel inflatable climbing structure was great for Melia (6), Cannon (6), and Knox (4). They had to climb up and through a bunch of cargo net platforms to get to the top. Then at the top they went down a big blow up slide. It was a little tough for Knox to climb up since he wasn't quite tall enough, but with the other kids help he was able to get to the top.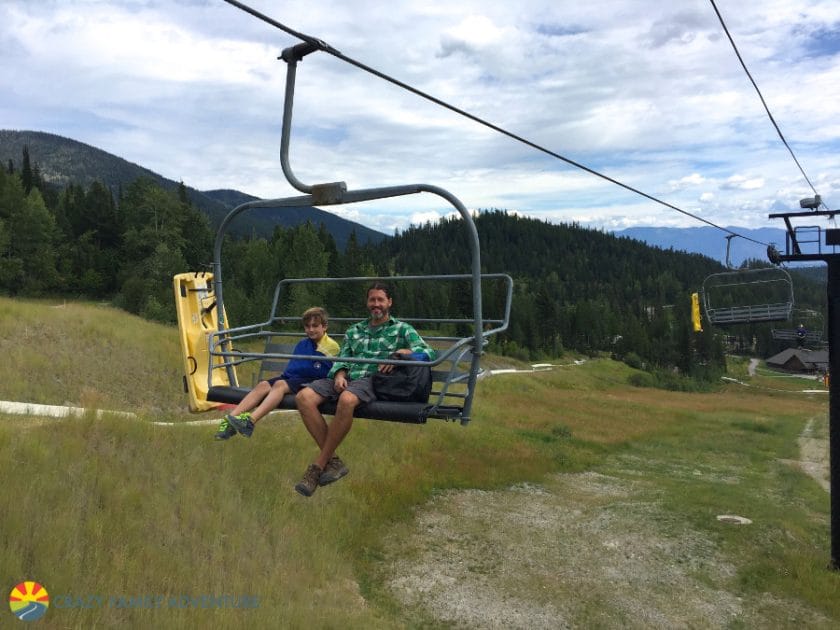 Ski Lift
You can ride the ski lift up for free over and over again. Or just sit on the lift and go for a ride all the way around.
It was a beautiful view and nice to just hang out and ride. The kids did this a few times while we are the ropes course.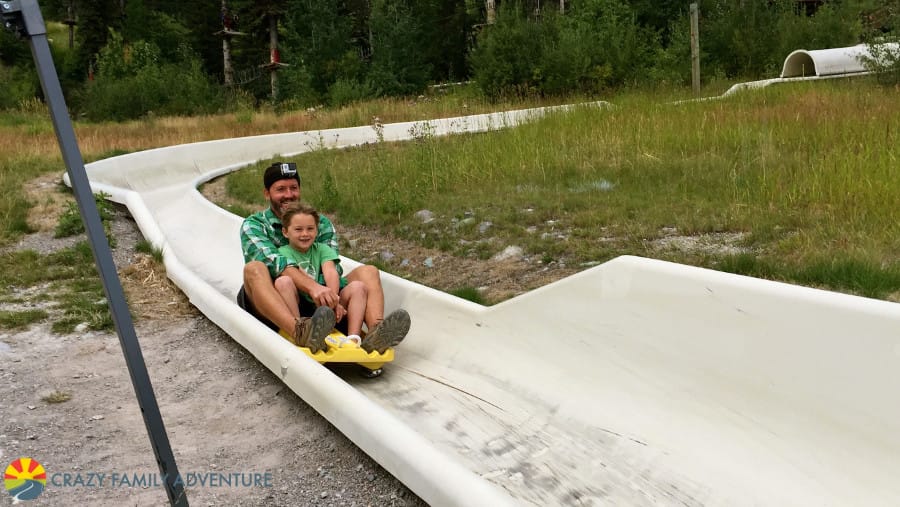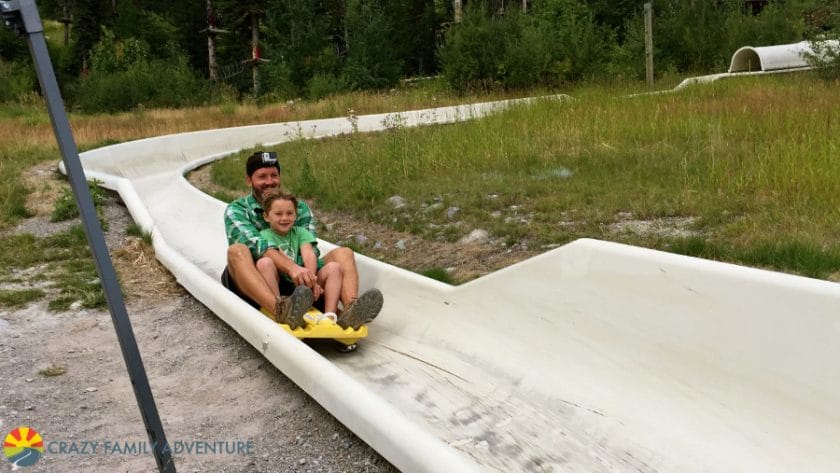 Alpine Slide
You also take the ski lift when you go up to do the Alpine Slide. On the slide you sit in a sled that rips down a luge at high speeds! The sled has a break on it where you can control your speed. We saw one guy ignore the "Slow Down" signs around the tight turns and he ended up flying out of the sled and his GoPro went soaring. Luckily he was ok, but I'd love to see that video!
If you are under 48 inches tall, you have to ride with someone who is over 48 inches. Inga (my niece) and I went down at a nice and leisurely pace. Everyone else went faster. I could see doing it multiple times and picking up the pace each time. Once I was comfortable with how it all worked, I was ready to up the pace. It was a fun ride!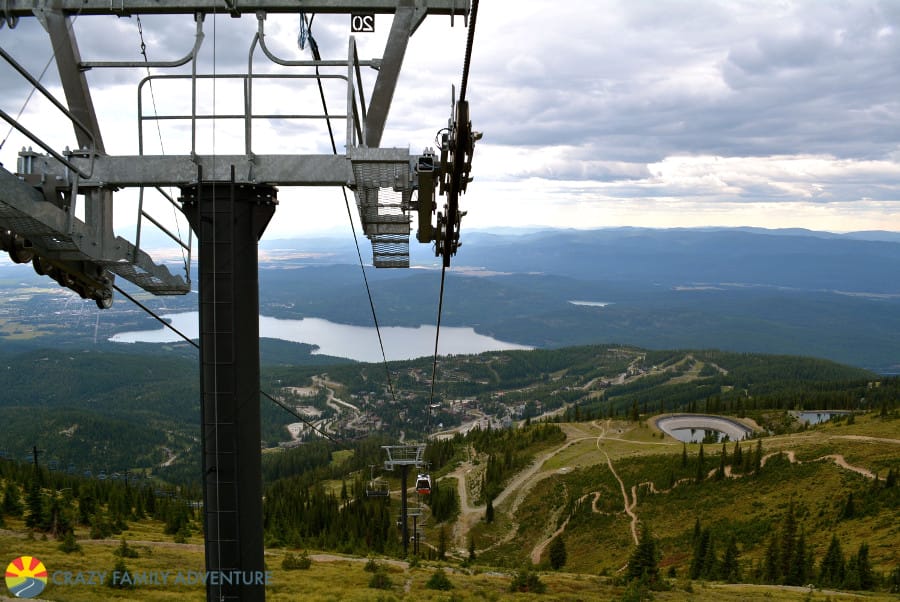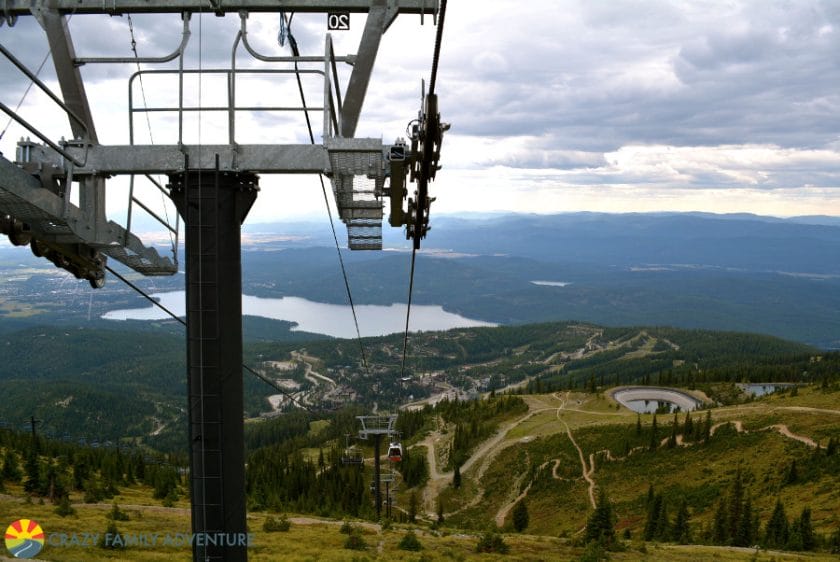 Scenic Lift
We weren't sure if this was going to be worth it or not, but we are so glad that we did it! You take the free ski lift up, then you have to buy a ticket to go up the next lift to the summit. You can either ride in an enclosed gondola or you can go on the open ski lift. It gets cold on the ski lift, but can get warm in the gondola, so choose wisely. Also note you are way high up so if you are afraid of heights you may want to do the enclosed gondola.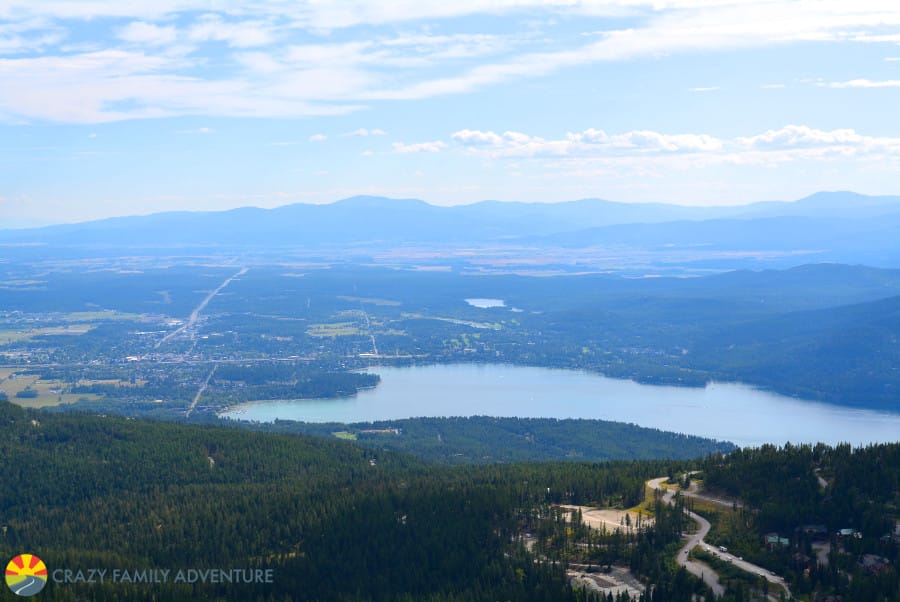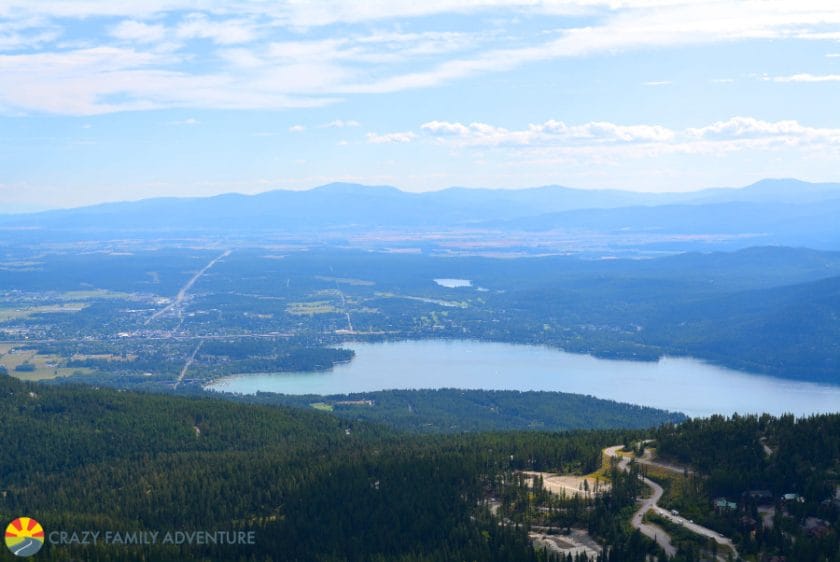 The views on the way up are breathtaking! Whitefish Lake and the town of Whitefish itself offers a great view! Then, at the summit, you have panoramic mountain views on every side. It is amazing.
They have a nature center where you can learn all about the wildlife and plants of the area. There is also a restaurant and bar with a nice lookout area.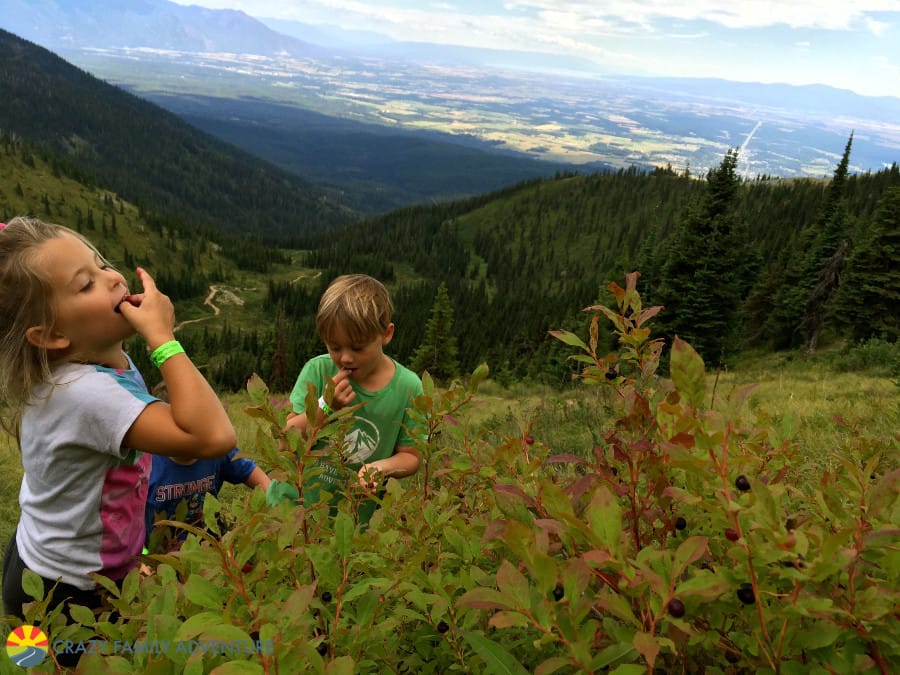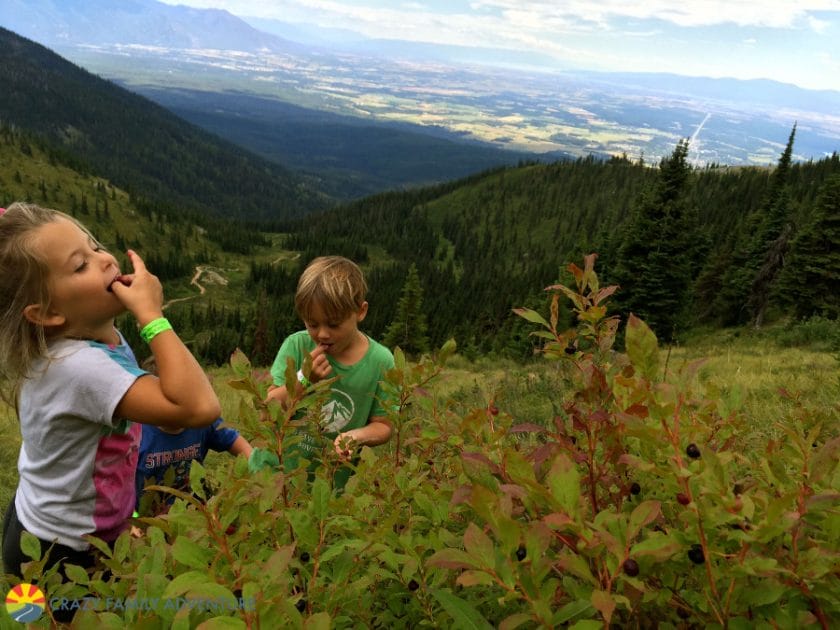 The highlight for us was huckleberry picking on the side of the mountain. From the restaurant you can take a hiking path all the way down the mountain. We heard it was a 4 mile hike. We just went about 100 yards down the path and found huckleberry bushes filled with huckleberries. We all ate them right off the bush and they were yummy!!
We then got back on the lift to head down and just sat back and took in the amazing view out over Whitefish.
We kept talking about how beautiful it must be in winter with all the snow. It would be an awesome ski resort to come and stay at! They had a cafeteria style restaurant, coffee shop, and bar at the resort.
When we were going up on the ski lift you can see some of the condos you can stay at and a lot of them had hot tubs on the patio. It would be awesome to sit out in the hot tub and watch the skiers.
These Whitefish Mountain Resort summer activities are open from 10am to 6pm and you could get there at 10 and be busy until 6pm! They had to kick us off Spider Monkey Mountain at 6pm.
Other Whitefish Mountain Resort Summer Activities
A few other things they offer that was a bit out of our league at the moment are a zip line course and an amazing mountain biking course. The ski lift actually takes your bike up for you. Cannon wanted to try that…someday buddy, someday.
When visiting northern Montana, definitely check out all the Whitefish Mountain Resort summer activities!
Here are some more posts on Glacier National Park:
19 Epic Things To Do In Glacier National Park [Map Included]
The Best Hikes in Glacier National Park With Kids
7 Awe Inspiring Things To Do In Many Glacier in Glacier National Park
Visit The Magnificent Bowman Lake and Polebridge Mercantile
Tips For Driving The Stunning Going To The Sun Road
Rafting With Kids With Montana Raft
Pin it: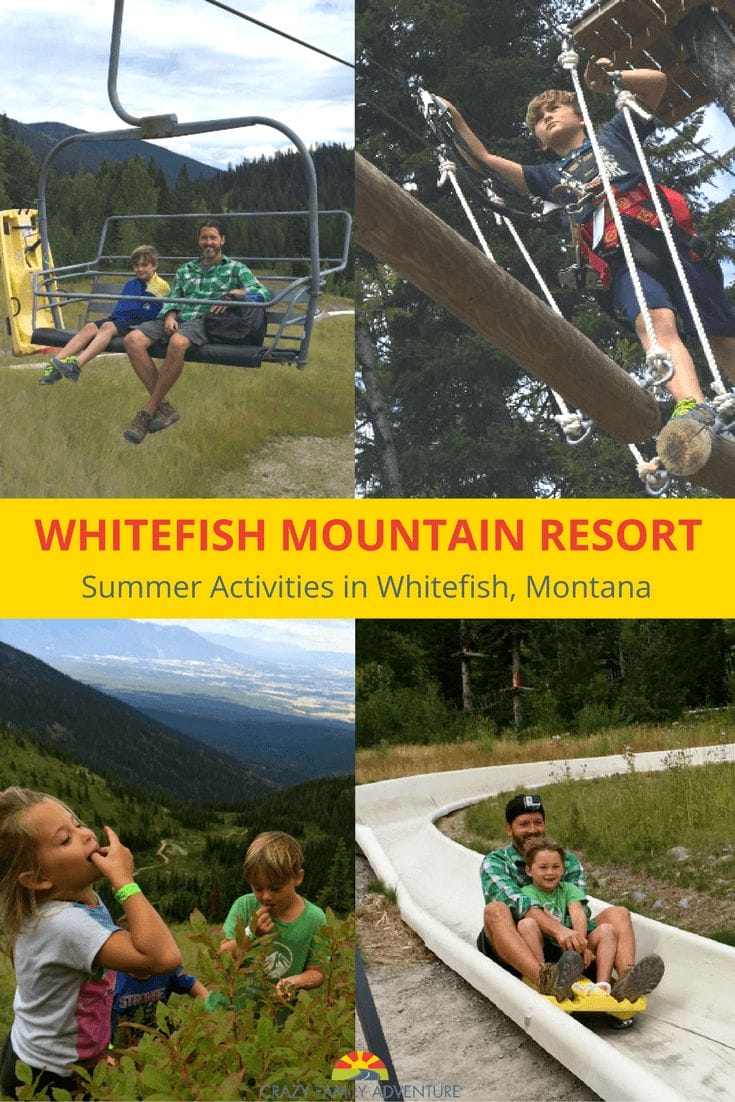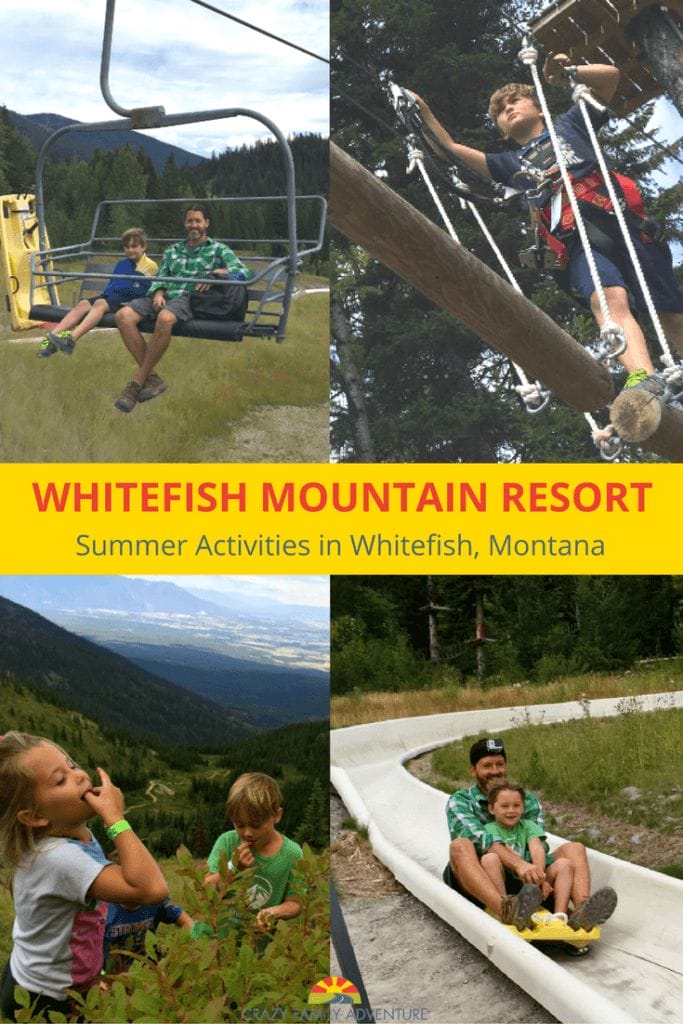 Disclosure: A big thank you to Whitefish Mountain Resort for hosting our visit. All opinions here are my own. #truth.
DISCLOSURE: This post may contain affiliate links, meaning I get a commission if you decide to make a purchase through my links, at no cost to you. Please read my disclosure for more info.