We recently upgraded to a 2020 Montana High Country 335BH 5th wheel (we have been living in an RV since 2014 and this is our 6th RV). There was a bit of a learning curve going from a travel trailer to a 5th wheel, but here are the basic 5th wheel accessories we got plus some RV upgrades you may want to look into as well!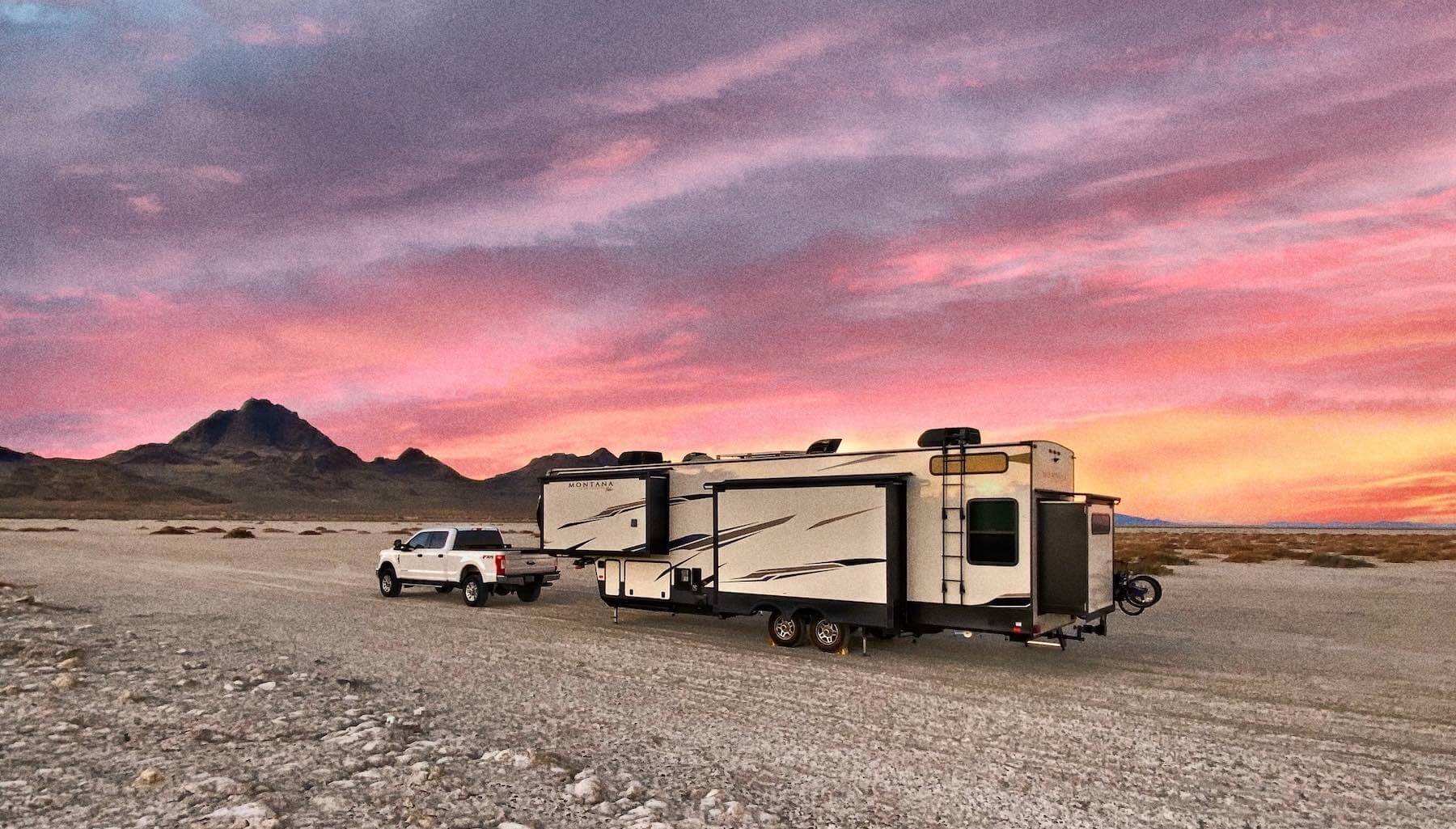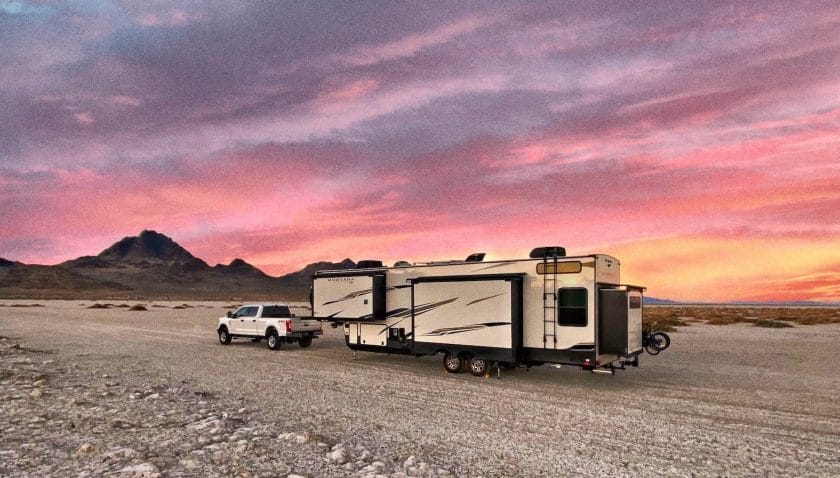 25 5th Wheel Accessories
Tow Vehicle
Truck Bed Size
Hitch
Pin Box
Truck Upgrades – Air Bags – Airlift 5000 Ultimate Plus kit
Truck Upgrades – SumoSprings
Truck Upgrades – Breaks – Power Stop Extreme Duty brake pads and rotors
Truck Upgrades – Bed Liner
Campsite Accessories – Leveling – leveling jacks
Campsite Accessories – Leveling – wheel chocks
Campsite Accessories – Power Protection
Campsite Accessories – Water Hook Ups
Campsite Accessories – Sewer Hooks
Campsite Accessories – Bikes
Campsite Accessories – Propane Fire Pit
Campsite Accessories – Outdoor Rug
Campsite Accessories – Comfy Outdoor Chairs
Campsite Accessories – Outdoor Kitchen Table
Campsite Accessories – Blackstone Grill
Campsite Accessories – Extension Cord – you will need one for something . . . 
Campsite Accessories – Table cloth for picnic tables
Boondocking – Large Water Bladder
Boondocking – Portable Sewer Tote
Boondocking – Battery
Boondocking – Generator
Now that you have the high level list let's get into the details!
Tow Vehicle &Weight Limits
If you've read or seen any of our previous posts, we talk a lot about weight. Since you're looking to get set up in a 5th wheel, I have to mention it one more time. Be sure the tow vehicle you plan to pull the 5th wheel with is rated for the weight of the fully loaded trailer.
The truck will have a sticker or two on the inside of the driver's side door. Study this sticker carefully. There are 3 numbers on the sticker you want to pay attention to – the GVWR, the GAWR and the carrying capacity or payload.
GVWR and GAWR
The GVWR (Gross Vehicle Weight Rating) is the maximum the truck can weigh after it is fully loaded. This means with all passengers, full tank of gas, 5th wheel hitched up and any other gear that may be in the bed of the truck, the weight must be less than the GVWR on the sticker.
The GAWR (Gross Axle Weight Rating) is the maximum amount of weight each axle is rated for. You should have a front and rear axle rating on the sticker. This again applies after the truck is fully loaded, each axle should weigh less than the numbers on the sticker.
The carrying capacity or payload of the truck is the amount of weight that can be put into/on the truck before it hits the GVWR. So basically it is the GVWR minus the curb weight of the truck. This rating is good to know if you already own the truck and are shopping for a 5th wheel. Typically, the pin weight of a 5th wheel is about 15-20% of the weight of the 5th wheel.
Weight limits are the reason many 5th wheel owners opt for a dually truck. These are the kind that have dual sets of wheels on the rear axle. Duallies can carry much more weight than single rear wheel trucks and also have a much higher rear axle weight rating, which is where the 5th wheel sits on the truck.
These weights can all be taken at weigh station usually found at truck stops. We suggest weighing a few times throughout your travels as you accumulate and purge things.
Truck Bed Size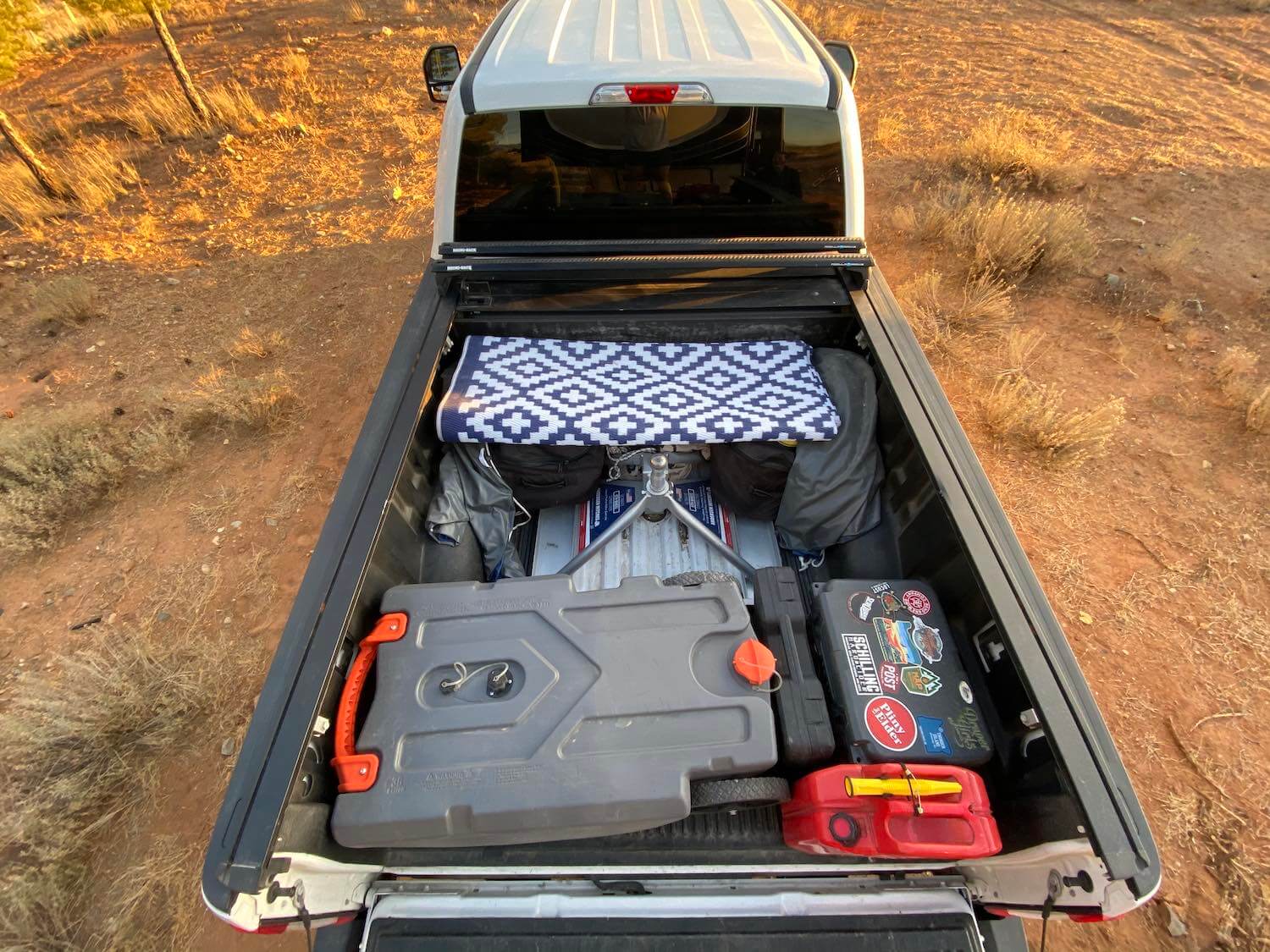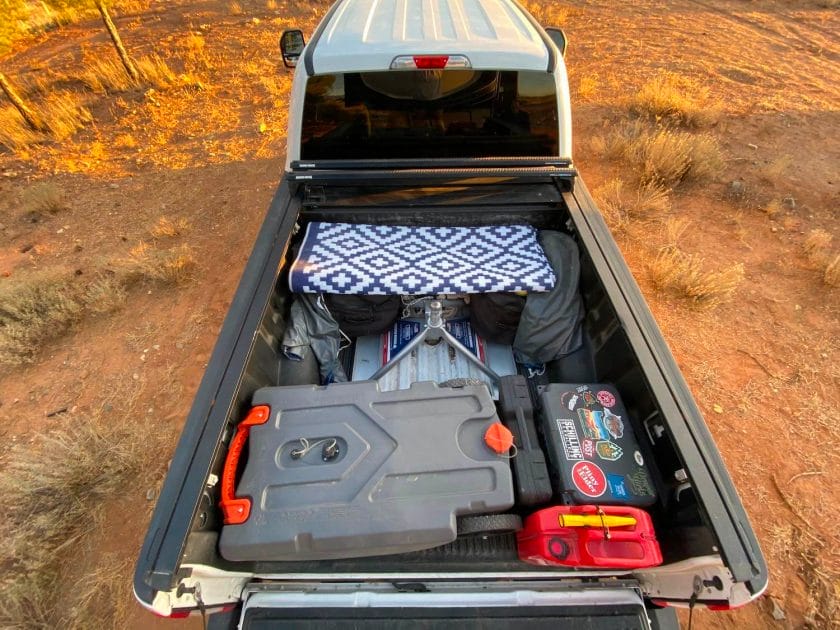 Trucks come with different size beds. Some are as short as 5.5′ and some as long as 8′. The longer the bed, the more flexibility you'll have with a 5th wheel. That being said, driving a truck with an 8′ bed around town when you're not towing can be challenging.
Many hitches today can accommodate for shorter bed sizes, so having a short bed is can give you the flexibility of being able to tow as well as having a manageable truck to drive around town.
We currently have a Ford short bed, which is 6′ 9″ and it works just fine for towing our Montana.
Hitch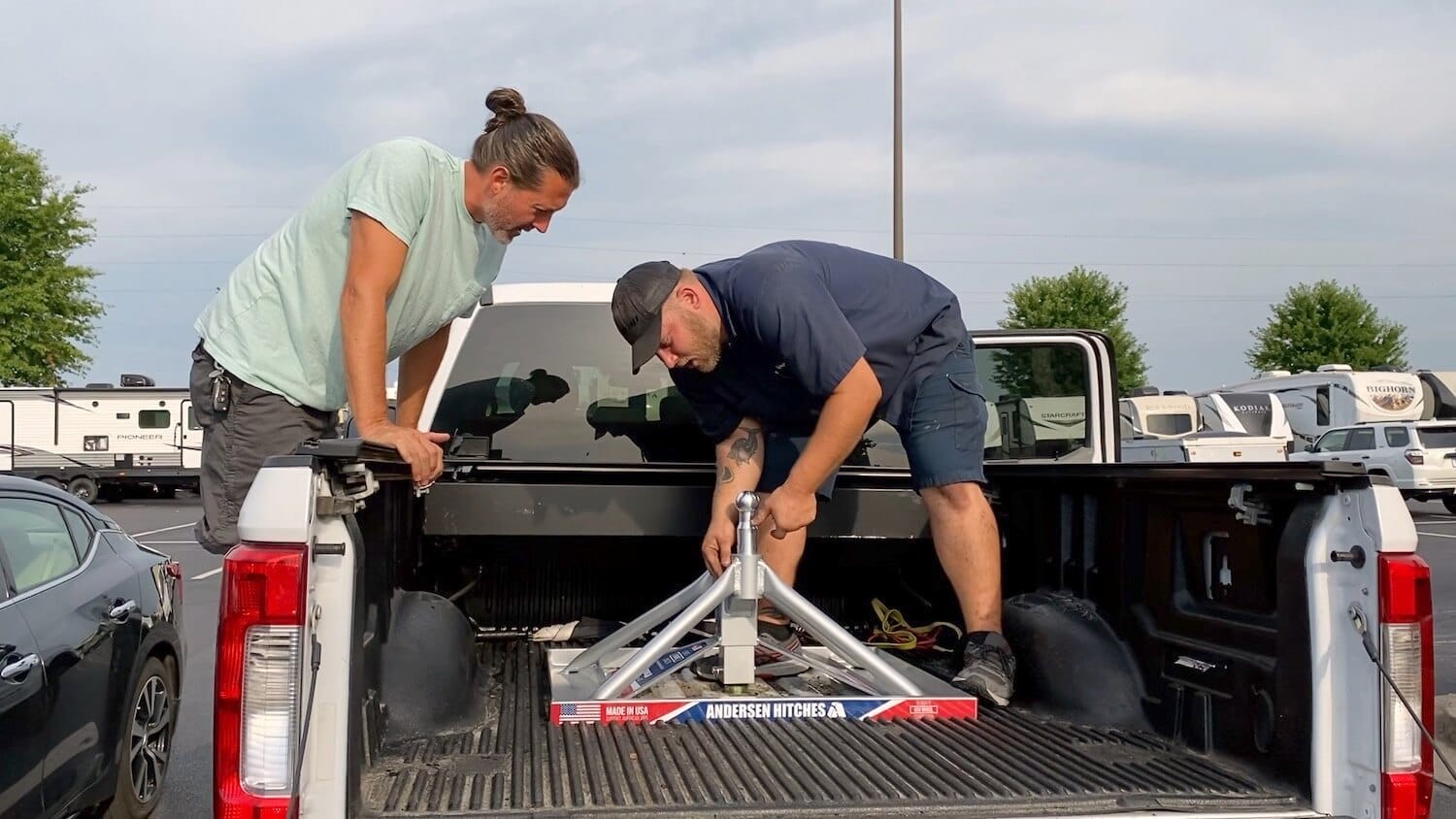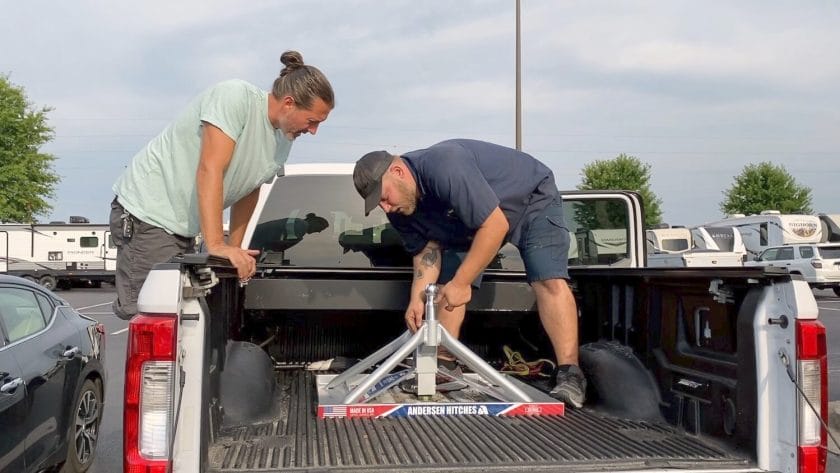 Choosing the right hitch is a very important part to having an enjoyable towing experience. There are many different types of hitches out there and many different brands to choose from.
The 2 main types of hitches are the standard 5th wheel hitch and a goose-neck style hitch.
The standard hitch has a big clamp that opens with a lever, accepts the kingpin from the 5ht wheel, then closes around the kingpin to secure the 5th wheel onto the truck.
The gooseneck style hitch typically has a ball mounted in the bed of the truck and the gooseneck attachment on the 5th wheel drops down onto that ball to secure it onto the truck.
From my research, there really isn't a "better" option, its more of a preference.
If you opt for a standard 5th wheel hitch, there is something called a slider hitch. This is the kind that allows you to slide the hitch back if you come to a tight turn or need a little more clearance between the back of the trucks cab and the front cap of the 5th wheel. These are usually easy to operate and can be very beneficial if you need it.
Andersen Ultimate 5th Wheel Hitch
We chose the Andersen Ultimate 5th Wheel hitch. After researching many different hitch options, as well as know ing our weight limits, the Andersen seemed like the best choice. It is more of a gooseneck style hitch where the hitch in the bed installs onto a ball located just over the rear axle. The Ford truck we have came with a pre-installed B&W Turnover Ball system, which is compatible with the Andersen.
I also liked the fact that the Andersen hitch weight 35 pounds compared to almost 300 for some of the other standard style hitches. We have a single rear wheel 1-ton truck, so any weight I can save on the hitch is welcome. The hitch is also easily removed from the bed so I can take it out to have full access to the truck bed if needed.
The Andersen also has about a 6 inch offset from the rear axle, so it gave me a little more clearance from the back of the cab.
So far, we have been very happy with the Andersen.
We got our hitch and had it installed and fit for our truck/5th wheel setup at Camping World. The service team did a great job getting it installed and showing me how to hitch up and un-hitch.
Pin Box
Another thing to be aware of is the pin box on your 5th wheel. All 5th wheels come with one installed with you purchase it, but it can be swapped out for a different or better option.
Reasons for switching would be to have an extended pin box, which would give more clearance between the truck and 5th wheel if you have a short bed. Also, there are some pin boxes that offer more cushion when hitting bumps to avoid that "chucking" effect.
So if you need more clearance or are experiencing an uncomfortable ride, you may want to look at a different pin box for your 5th wheel.
We upgraded to MORryde's Rubber Pin Box and have been very happy with it!
Truck Upgrades
Here are a couple upgrades that you can easily do to your truck. They are relatively low cost, but are definitely worth it.
Air Bags
Once the 5th wheel is completely resting in the truck bed, you may notice a little sag on the back end of your truck. This is normal and how much sag depends on the weight of the 5th wheel and the rigidity of your truck's suspension.
To get rid of the sag and restore your truck to a level ride, you may want to install air bags to the rear suspension. This is an easy and relatively inexpensive thing to do that will make your ride much more comfortable.
We installed the Airlift 5000 Ultimate Plus kit on our truck and love it. The truck rides level and the bags take a lot of stress off the leaf springs, which is great.
I also added some helper springs on our 5th wheel. They're similar to the air bags added to the truck, accept they are springs instead of bags. This means after a simple install, they're good to go for life. No inflating/deflating, just enjoying a much smoother ride.
I used SumoSprings, which I found on etrailer. I watched a couple of their videos on the install and had them on our Arcadia in under an hour. The ride is noticeably better and to prove that, the stuff inside the RV is in the same place as it was when we left for the trip even after going over some pretty gnarly roads. I definitely recommend getting some of these put on your rig.
If you're looking for other suspension upgrades for your 5th wheel or trailer, check out these other options from etrailer!
Brakes
I also upgraded the brakes on our Ford F350 to these Power Stop Extreme Duty brake pads and rotors. I really liked the slotted and drilled rotors to keep them cool when stopping with such a heavy load in the back. So far they've been a great upgrade.
Bed Liner
Many trucks either come with a bed liner or owners have them put in after purchase. Bed liners are great for protecting the bed, but can an annoyance when putting in a 5th wheel hitch.
Most drop-in liners are too big and bulky for the 5th wheel hitch to fit tight and snug against the bed of the truck. Because of this, the liner must be cut in order for the hitch to fit correctly and safely.
This is usually not the case for spray-in liners. These are much more form fitting to the bed of the truck and do not get in the way when installing a 5th wheel hitch. They also provide the same amount of protection, so if you have a choice, go with a spray-in liner.
Our truck came with a drop-in liner, which Camping World cut really nicely to fit our Andersen hitch. It wasn't a problem, but I may have the drop-in liner removed and upgrade to a spray-in liner at some point.
Camp Site Accessories for your 5th Wheel
Now that your truck is all set and you're ready to tow to the campground, you want to be sure you have everything to set up and enjoy your stay when you get there. Here are a few RV accessories we recommend.
Leveling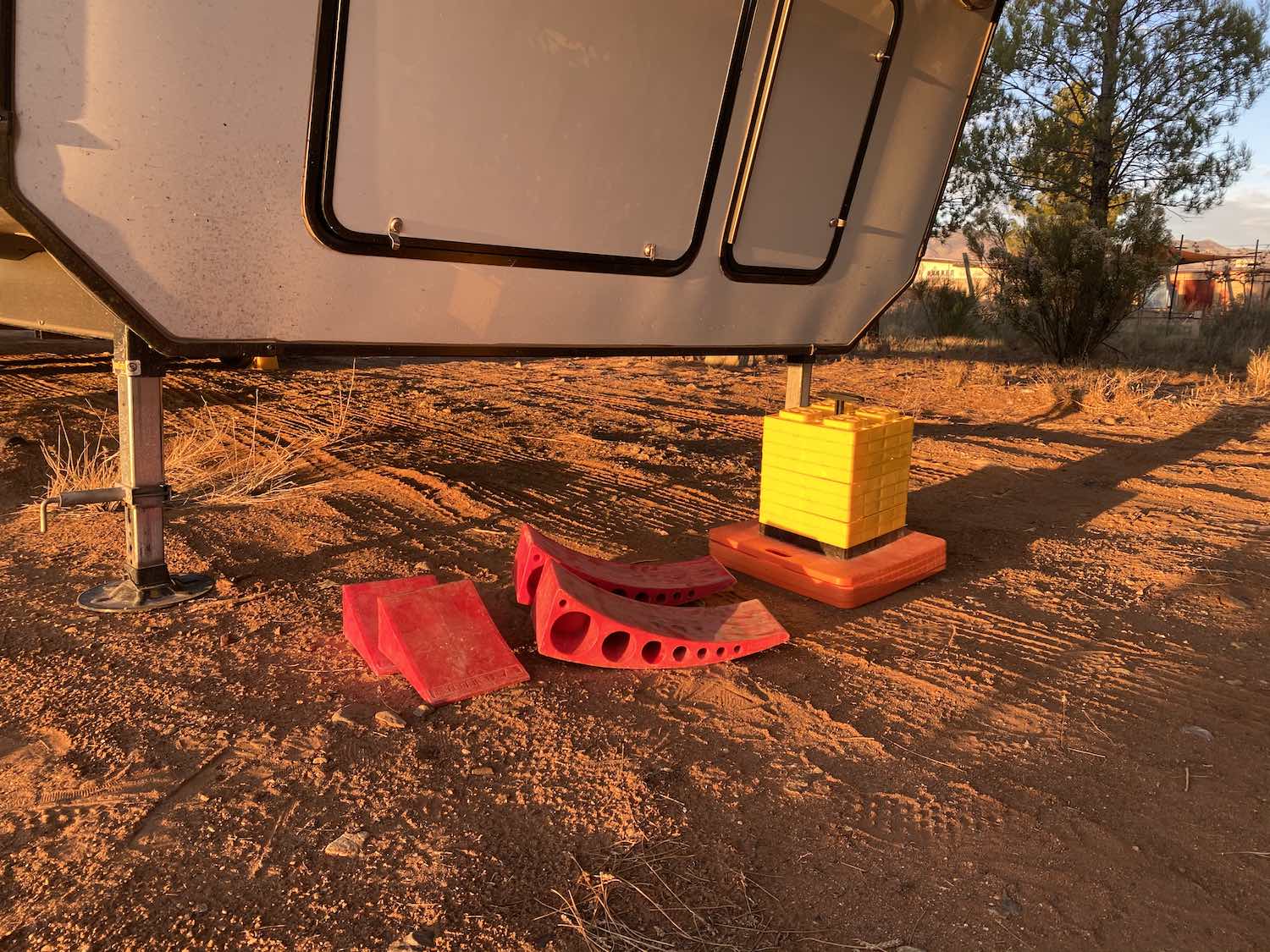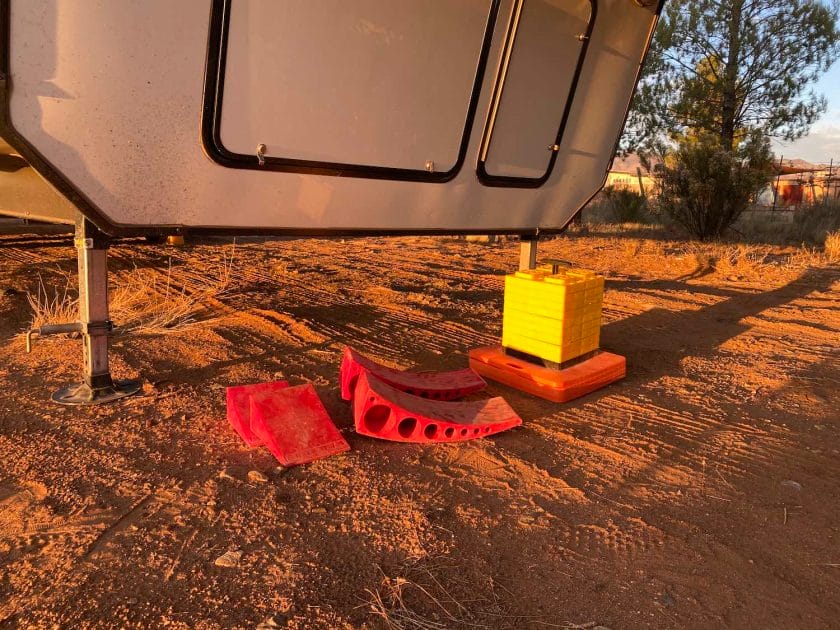 Unfortunately not all sites you pull into will be level. You will need some accessories to help make sure your rig is nice and level. When you first park you will want to check to see if you are level using a leveler. You can also add a leveler to the side of your rig. If it is not level you will need to roll back or forward onto leveling blocks. This will get it as level as possible before putting down the jacks.
I found that etrailer also has a huge selection of leveling blocks and leveling jacks to get your rig perfectly level. They have models for 5th wheels, trailers and even motorhomes, so you'll definitely find what you need there. And having it shipped right to you is always a huge plus!
Click here to check out all of leveling blocks from etrailer!
Once it is level you will want to put your wheel chocks in before unhooking so the rig doesn't roll!
Power Protection
Unfortunately, the reality of a lot of campgrounds, the electric can be a little outdated. This means connections inside the power pedestal can be worn, coming loose or have other wiring issues.
To protect your rig and all the appliances in it, be sure to have some sort of power protection unit like a RV surge protector. We really like the Progressive Industries EMS-PT50X. This is specifically for 50 amp rigs, but they also make them for 30 amp rigs.
This will really save your bacon if there's an electrical problem or a surge hits the campground.
Water Hookups
If you're going to hook up to the water supply at the campground, you'll want to make sure you have a drinking water hose. These are usually white like this Camco one.
I also recommend investing in a really good water filter. We are using the Clearsource Ultra Onboard Pro RV Water Filter System and after a very simple install, I am loving the convenience and peace of mind this amazing filter gives.
I don't have to mess with inline filters anymore that were just ok, I have an advanced filter system that is ready to go as soon as I hook up the hose. Say goodbye to rust, sediment, contaminants and viruses with a filter system from Clearsource!
Lastly, you'll want to get a water pressure regulator so you can be sure the pressure isn't too much for your rig's plumbing lines. Typically they recommend around 45-55 psi to stay safe.
Sewer Hookups
Ahh yes, the not-so-glamorous part of RVing. Well, it's a necessity, so here's what you'll want to get to make sure you keep it clean when it comes to sewage.
You can get pretty much all you need in a kit like this Camco 20′ kit. I like the Camco Rhino line because the sewer hoses are pretty durable because they tend to get stepped on every now and then. The kit also includes the 90 degree elbow that goes into the sewer inlet at the campground. This can also be used at dump stations.
Always make sure you have septic safe toilet paper! It doesn't have to be RV toilet paper – septic safe toilet paper that you can get at the grocery store will work.
Bikes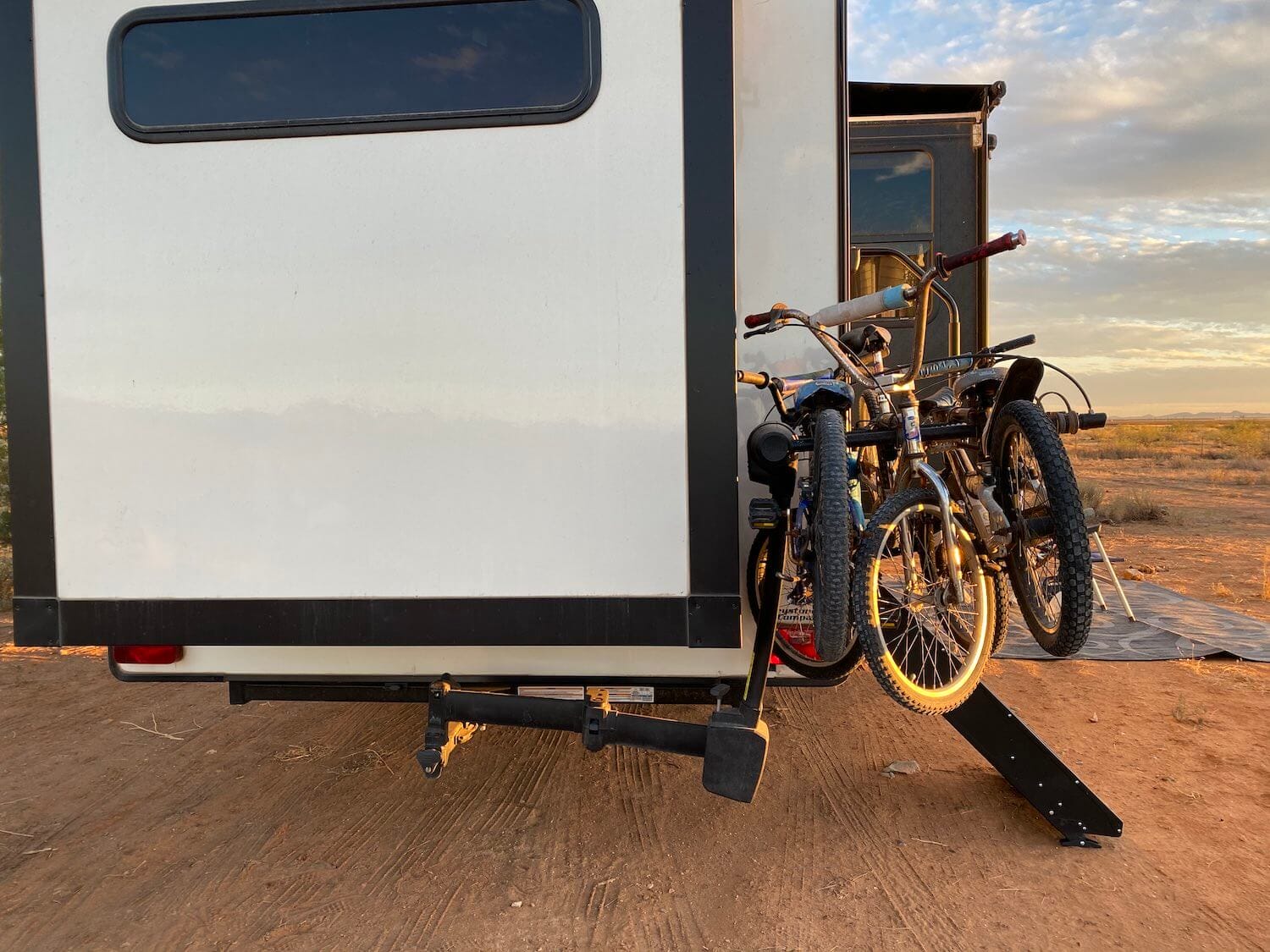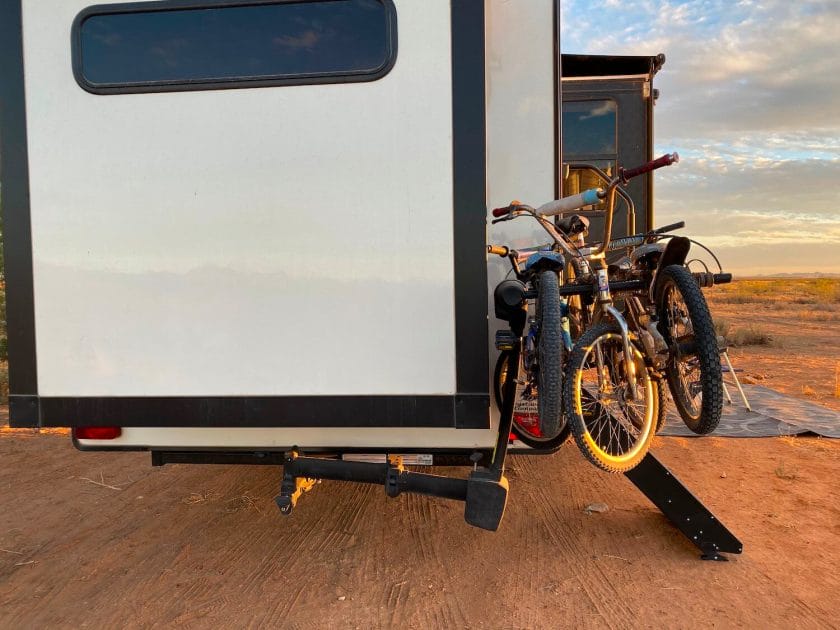 Bikes are great to have when you get somewhere, especially if it's a place known for epic trails or scenic rides. Transporting bikes can be somewhat a pain though, especially for 5th wheelers.
On our Montana, as with many other newer 5th wheels, it came with a legit trailer hitch on the back of it. It's rated for 350 pound tongue weight and 3500 pound tow capacity.
If I'm just hauling bikes, that means they need to weigh less than 350 pounds. I bought a great Thule Swing which has worked great since we had to accommodate for the rear slide out.
The cool thing about having a hitch installed on the back of your 5th wheel, it will work with pretty much any bike rack that has a 2″ receiver.
Campsite Accessories
When you're all set at your campground and you want to head outside to enjoy a beverage or a beautiful sunset on your camping trips. You'll want to be sure you have what you need to be comfortable outdoors.
Our top rv camping accessories include:
Blackstone Grill
Extension Cord – you will need one for something . . .
We don't have just one RV kitchen accessory we recommend but instead have a whole post on it! Check it out here: RV Kitchen Accessories For Your Family RV Trip
Boondocking Must Haves
If you plan to get off grid with your 5th wheel, be sure to check these things out. It makes it a much more enjoyable experience. RV parks are great but mixing in a few boondocking spots is a real treat.
Boondocking Power
For power, you haver a couple options. You can either do solar, which the 2020 Montana High Countries come with a great solar prep package. Meaning all the wiring is in place from the roof, to a bay where the solar controller would be installed, then from there to the battery bay.
There is also a wire that goes from the solar controller area to an inside cabinet. With this you can install a remote display for the solar controller. This is a true prep package that will save hours of labor on the install saving you tons of money.
A good solar setup includes a few panels up on the roof. You can go anywhere from 100 watts to over a thousand, depending on what you want to do. The solar controller will need to be sized accordingly to the amount of panels you have and how they're set up.
Then you'll want to get an inverter so you can invert the 12 volt power from your batteries to 120 volts so you can power electronics inside your rig. You may also want or need to upgrade your batteries depending on how much you boondock or how much power you use.
We had ours installed by Future Solutions in Indiana and we are really happy with it!
Currently we have 600 watts on the roof and 4 lithium Battle Born batteries. We will be upgrading this system because we tend to boondock quite a bit and our power consumption is pretty high with 6 people and too many devices to count.
Another option for power is a generator. We have a small Honda generator which works great when there isn't enough sun to keep your batteries topped off. It's super quiet, easy to move around and very fuel efficient.
Boondocking Water
For water, we have 2 options for refilling our holding tank. We started with this 5 gallon fresh water jug, which has worked great for us for years. I recently upgraded to a 60 gallon bladder as well as a water transfer pump which has been fantastic. It refills our fresh water tank completely reloading us on water for a few days.
For sewer, we bought a Camco portable sewer tote which lets us dump the sewer from the RV into the tote and take it to a dump station. This kit came with all the connections which is great as well as it's the Rhino line, which I really like.
Well, hopefully that will get you on the road and set up nicely at a campground or boondocking spot. Obviously, this isn't a complete list since you can bring pretty much anything you want in your rig, which is the beauty of RVing. Well, whatever you bring, make sure to have fun!
More great RV content!
31 Amazing RV Upgrades You Can't Live Without
40+ Helpful Tips For Planning An RV Trip
Everything You Need To Know To Pick An Awesome Family RV
RV Checklist To Make Your Trip A Success
RV Living – 68 Things You Will Want To Know [Free eBook]
21 RV Apps That Are Super Helpful For Your RV Trip
18 Tips On How To Rent An RV [Discount Included]
29 RV Kitchen Accessories For The Best RV Kitchen
7 Best RV Roof Sealant Options
Pin this post: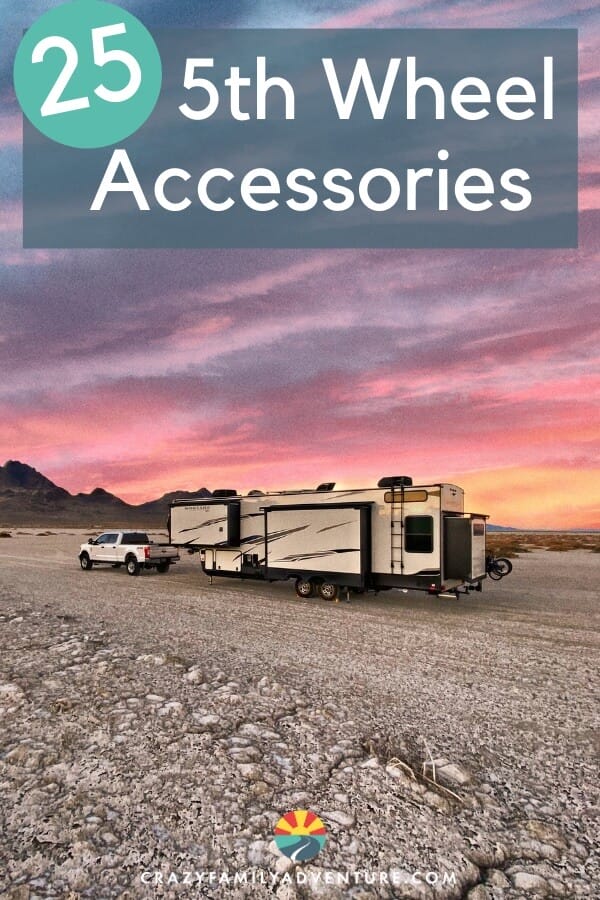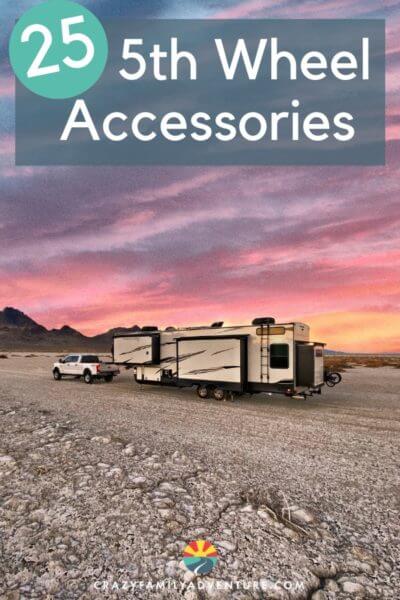 DISCLOSURE: This post may contain affiliate links, meaning I get a commission if you decide to make a purchase through my links, at no cost to you. Please read my disclosure for more info.