MORryde has several innovative products when it comes to improving the RV lifestyle. We had the opportunity to partner with them on a few upgrades to our Montana High Country 5th wheel. So far they have been amazing!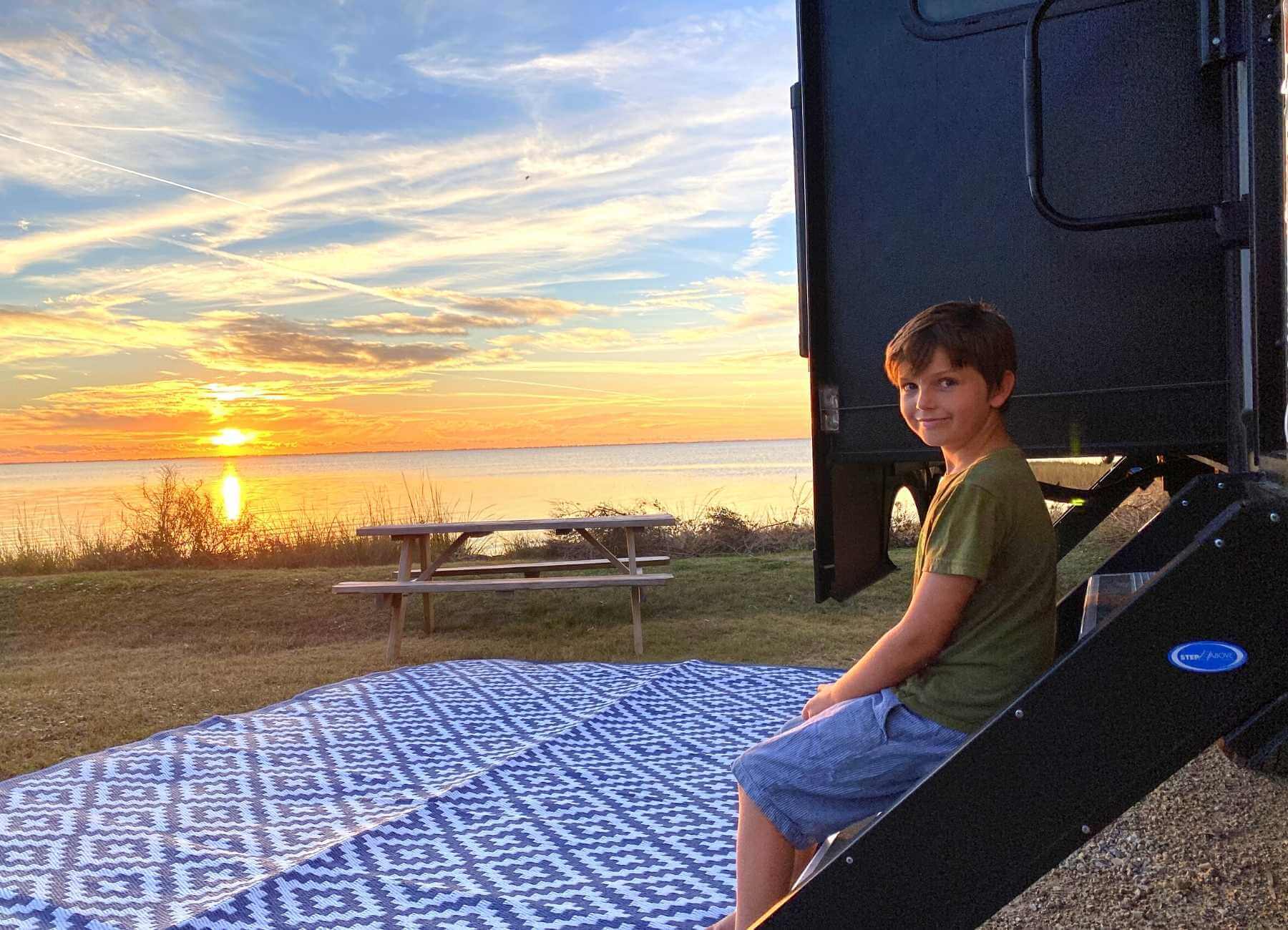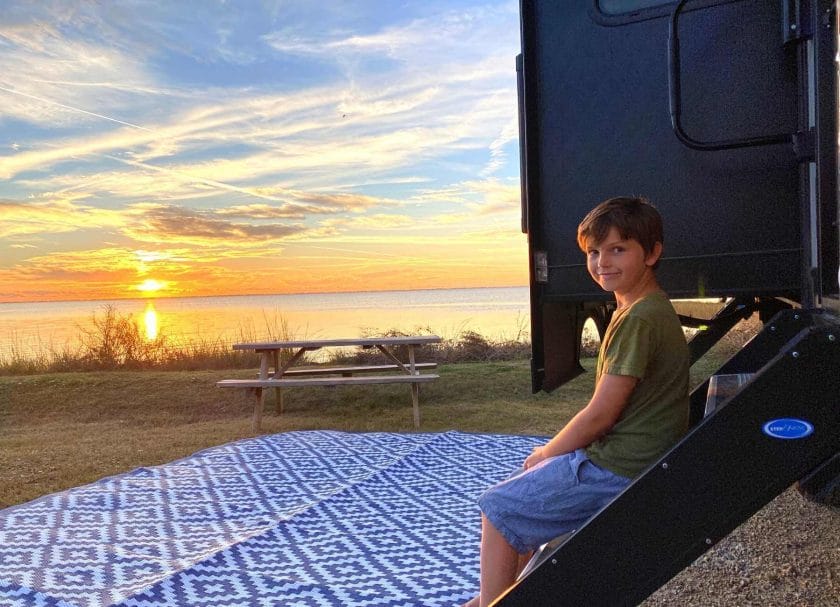 Everything from improving ride comfort when towing to adding convenience to our storage bays, MORryde has it all! These products are a must when upgrading your RV or looking for the top 5th wheel accessories to get.
Independent Suspension System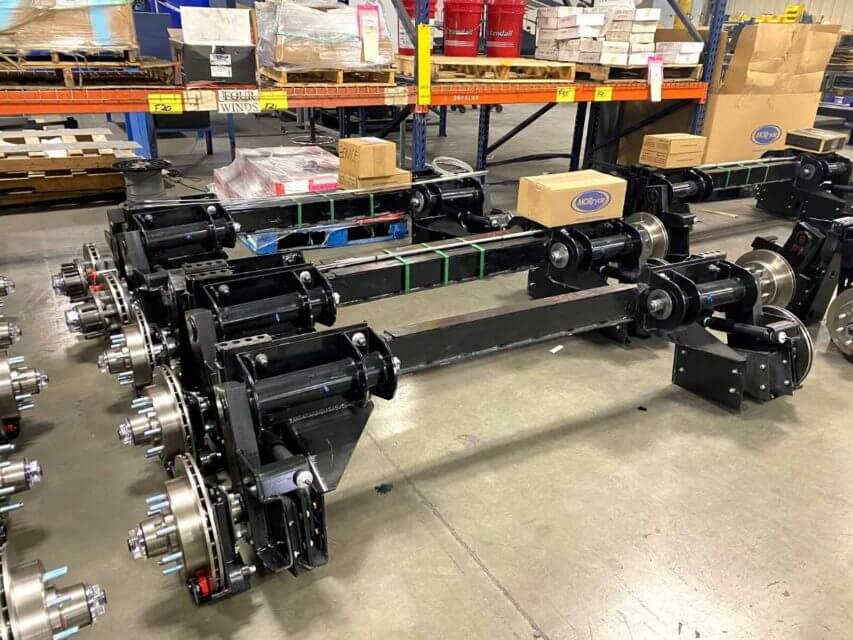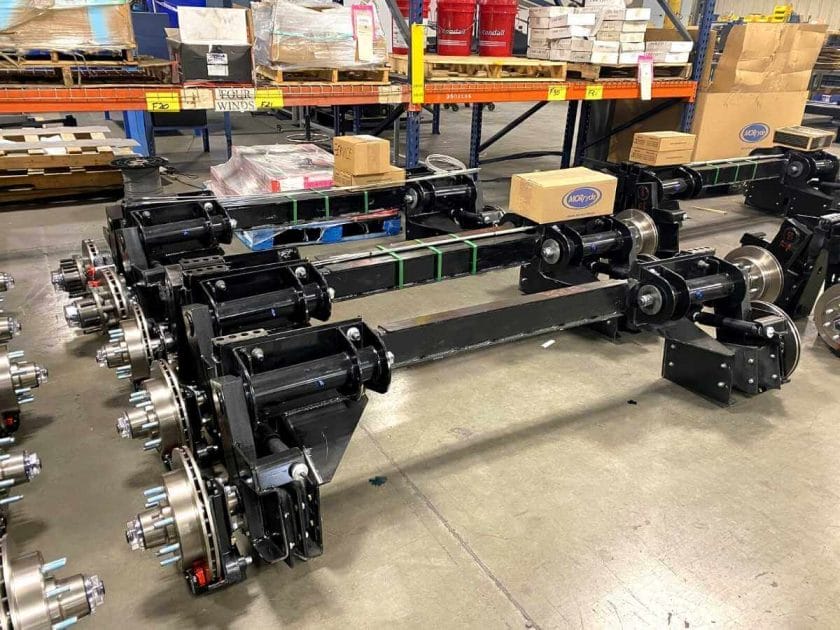 Adding one of MORryde's independent suspension systems to your rig to replace the conventional leaf springs is an absolute game changer for towing. Your rig will glide along as you hit rough roads, pot holes and bumps along the way.
Independent suspension gives you 5 inches of suspension travel compared to about 2 inches with leaf springs. This means most of the road shock you encounter will be absorbed by the independent suspension, which is great. All the stuff in your rig won't feel any of it.
I really like the fact that they leveled out our rig to match our truck height with the new suspension. The suspension also really reenforced the frame with super heavy duty cross members.
This suspension system gives me peace of mind that it should protect our 5th wheel and the stuff inside it for years to come.
Check out our blog post for more info on MORryde's Independent Suspension!
Disc Brakes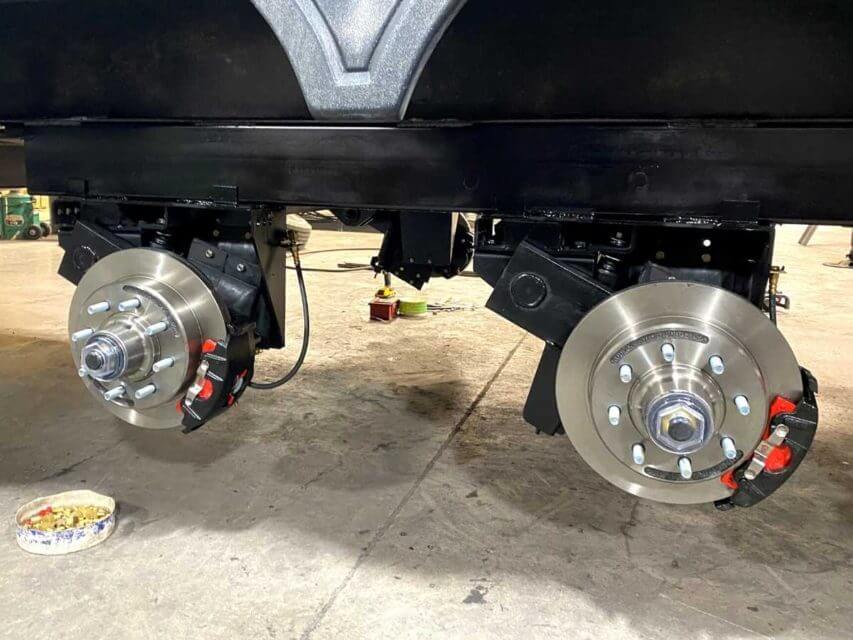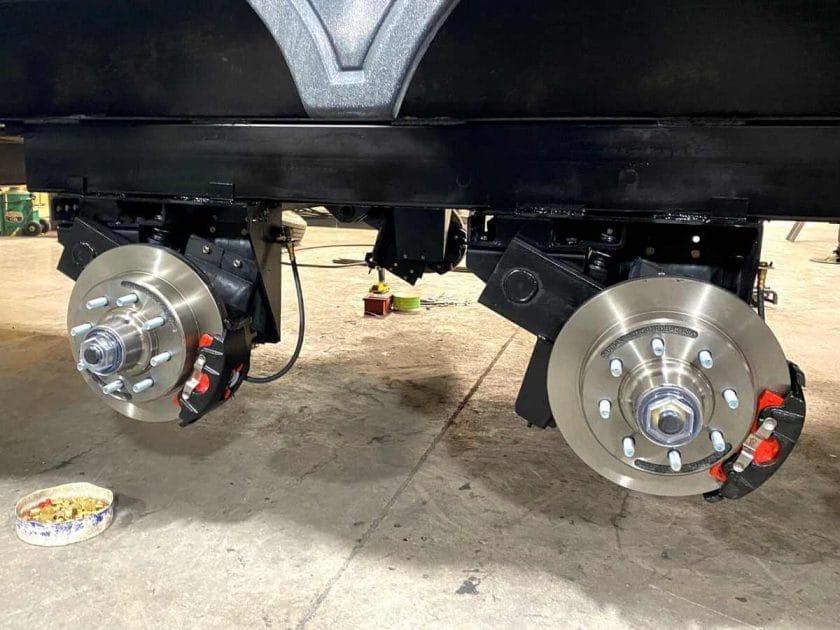 Another game changing upgrade for towing is going from the conventional electric brakes on trailers to MORryde's hydraulic disc brakes. This reduces stopping distance by 30% which can be the difference between stopping safely and not so much.
This was extremely noticeable on our test drive right after the upgrade was finished! It felt like the trailer was stopping the truck! I reduced the brake effort setting in the truck quite a bit since the disc brakes were so much more powerful.
I love the fact that I now have the stopping power to stop our rig exactly when I want to. Whether that be in stop and go traffic or coming down a long grade, I have complete confidence in these brakes.
Check out our video for more info on MORryde's Independent Suspension and Disc Brakes, including how they install it. It's fascinating!
Rubber Pin Box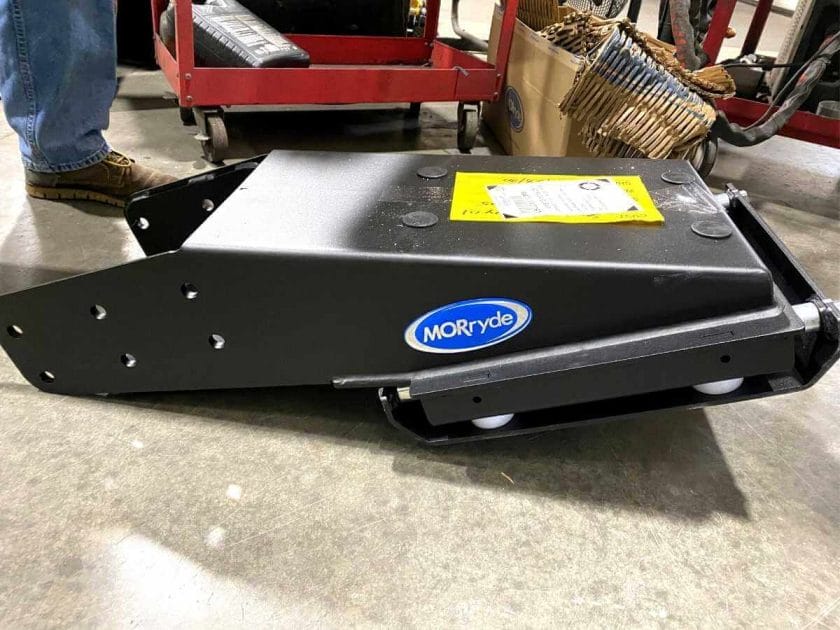 Upgrading to MORryde's Rubber Pin Box is another way to isolate road shock. This gives you a much more comfortable ride in the cab while protecting your stuff in the trailer.
Most 5th wheel hitches are made of steel that allow little or no movement. MORryde's Rubber Pin Box has a large rubber sheer spring built into the middle of the pin box. This allows 3 inches of travel front to back and an inch and a half side to side. No more chunks or clunks when you start and stop your trailer.
The pin box will also help eliminate the chucking and bucking. This is from hitting bumps in the road which makes the truck start bucking because the trailer is bouncing. The pin box absorbs a lot of that energy keeping your ride smooth and safe.
Check out our video for more info on MORryde's Rubber Pin Box!
RV Stabilizers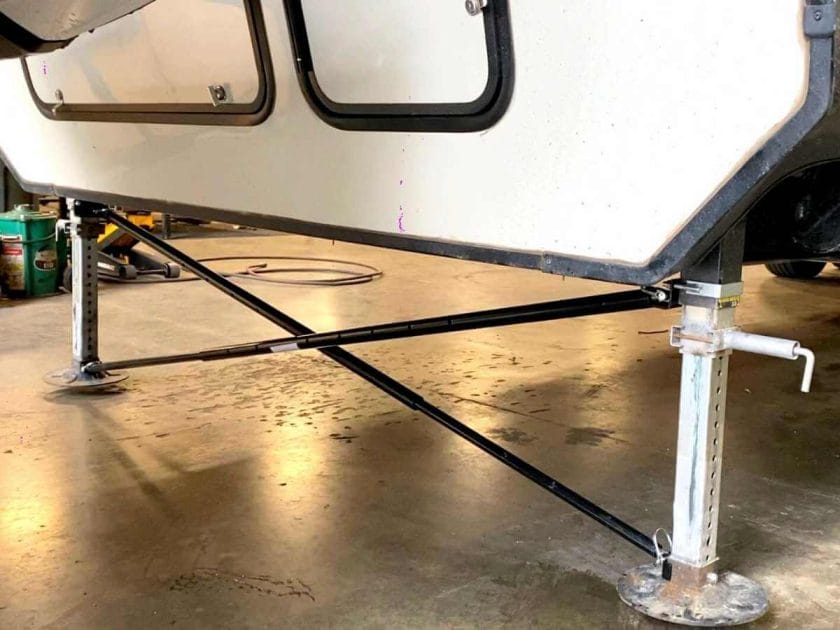 With 4 kids that like to wrestle, you can imagine how our RV feels like a ship out at sea. And I'm talking about when we're parked! MORryde offers Stabilizers to help with that.
You can easily add the X-Brace Stabilizers to existing stabilizers or levelers with little or no tools. They also can remain on the rig when not in use and you are traveling. They set up in minutes which is another great thing about the product.
There are a few different components to the X-Brace. This depends on if you have a trailer, 5th wheel or motorhome. It also depends on if you have a 2″ hitch receiver on the back of your rig.
Stabilizers For Existing Jacks
If you have a towable, you may have scissor jacks on the front, rear or both ends of your rig. For these jacks, there is the Scissor Jack Stabilizer. They are basically 2 tension bars that attach to the scissor jacks with pins (no tools!) in an X formation.
You add tension to the bars by twisting them until they are tight. This adds exceptional stability for the jacks.
If you have a 5th wheel, you can add the 5th Wheel Stabilizer to the front landing gear. This attaches and functions very similar to the scissor jacks. They cross in the middle to add a ton of lateral stability.
When you're ready to leave your campsite, simply turn the bars the opposite direction to relieve tension. Next, remove the pins that lock them into place and you can retract your stabilizers/levelers as normal.
Hitch Mount Stabilizer
For RV's with a 2″ hitch receiver on the back, you can add the Hitch Mount Stabilizer. This applies to both motorhomes and towables. I was really excited about this one. We have over 10 feet from our rear stabilizers to the back of our rig. Guess where the kids mostly hang out?
Adding the Hitch Mount Stabilizer, we added another point of stabilization to really shore up our 5th wheel. This stabilizer is basically 2 legs that are connected to a hitch mount that goes into your 2″ receiver. The legs then adjust down to the ground and are pulled together using the provided ratcheting strap.
Storage for this is very easy as well. Simply release the ratcheting strap, fold the legs vertically in the air and pin them together. I cut a pool noodle and bungeed that around the feet of the stabilizer. This protected the back of our rig from the stabilizer scratching it when we're traveling. I also used the ratcheting strap to tighten it up so it wouldn't bounce around while we were driving.
We use both the 5th Wheel Stabilizer and the Hitch Mount Stabilizer and the difference is amazing. We don't feel the shaking, bouncing and rocking we used to when the kids would be running around or wrestling. It also helps on really windy days that used to move the 5th wheel.
These are very simple add ons that are so worth it!
Check out this MORryde video to see the X-Brace Stabilizers in action!
MORryde StepAbove Steps
We've always had the flip out style steps on our previous trailers, which I couldn't stand. They felt so unstable and really rocked the whole trailer when someone would come in or out.
MORryde Steps make a world of difference when going in or out of our 5th wheel. The steps are so much more solid it feels like a permanent structure staircase.
The steps are made of aluminum and are very wide. This makes them super light and easy to pull down and put up while also making them very stable. They also have legs which extend all the way to the ground making them extremely solid. The legs extend independently so if you're on uneven ground, no problem.
StepAbove Accessories
In addition to these amazing steps, you can also add a few really cool accessories. There is the strut-assist step, which adds a couple of gas struts to the stairs. This makes putting them in or out a breeze. We have this and I can put them up or down with one finger.
They also have an attachable handrail which can give you even more stability. One thing to know is that the handrail stays attached to the steps even when they're put away. You have to be sure you have enough room for them inside your rig when they're packed away.
A lot of rigs are now coming with these steps from the factory, our Keystone Montana High Country 335BH did. However, if you are replacing your steps, you can also add a storage box where your old stairs were. This is a handy spot to store some tools or anything, really. This really maximizes that precious storage space everyone needs more of.
A new accessory that you can add to the StepAbove are motion activated lights. These are really cool lights that turn on when you're nearing the steps. This makes it much easier and safer to find your footing when going in or out. They run on a couple AA batteries which last a long time due to the LED bulbs in the lights.
Sliding Cargo Tray
Storage space is always a premium in RV's, so having a MORryde Sliding Cargo Tray is a really great upgrade.
We typically pack our bays pretty full of stuff. This usually results in stuff getting lost in the middle of our pass through bay. To get to that stuff, we have to take everything out, get what we need, then put everything back.
With the Slide Out Tray, we simply slide it out and everything in the middle is accessible. When done, the tray slides right back in and locks into place. Much easier!
The trays come in several different sizes, depending on the size bay you have as well as bay opening. They also have a tray that can fit the full length of your pass through bay. This tray can slide in both directions.
Installation is a breeze. You only use a few provided screws to mount the base of the tray to the floor of your bay. Then the drawer slides into the base and you're all set.
This cargo tray has allowed us to easily get to all the contents in our storage bay with out having to dig things out every time. We love this added convenience!
These are the 6 MORRyde products you need on your rig! MORryde also offers many other products such as TV mounts and power cord reels. They all add comfort, convenience and functionality with simple, low-maintenance designs. I definitely recommend them! For more upgrade ideas for your 5th wheel, check out our post for 31 upgrades you can't live without!
Pin it for later!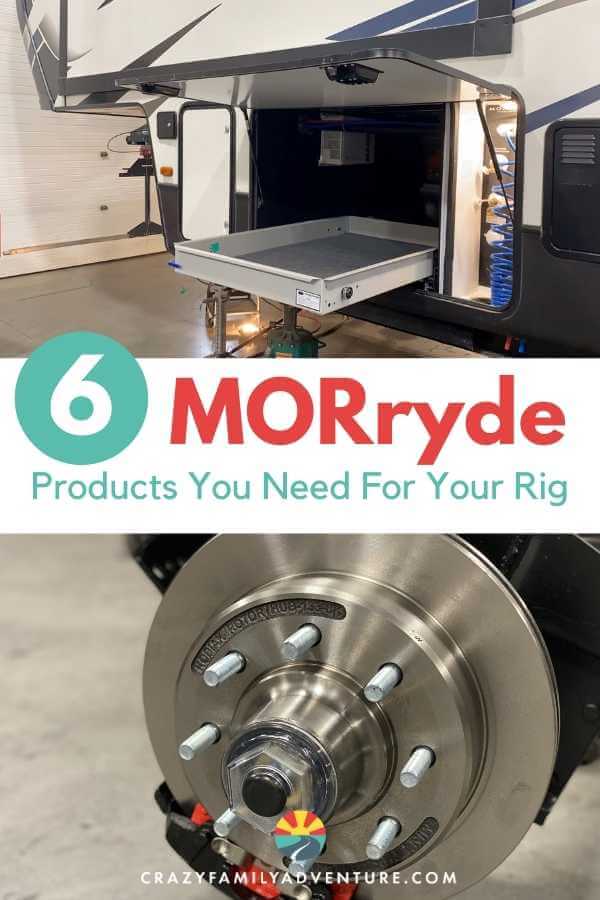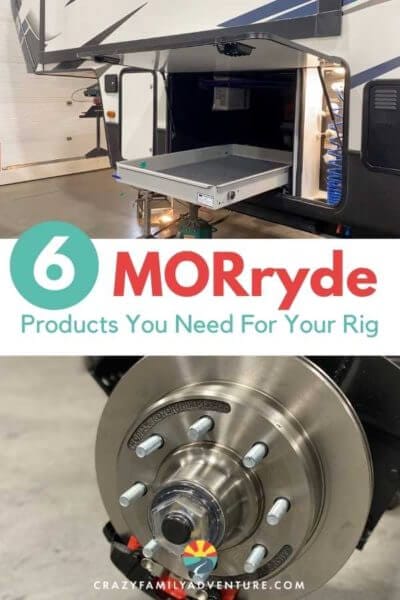 DISCLOSURE: This post may contain affiliate links, meaning I get a commission if you decide to make a purchase through my links, at no cost to you. Please read my disclosure for more info.