If you're looking for the best RV steps available, look no further than MORryde's StepAbove steps. We have these steps on our Montana High Country and they are absolutely amazing.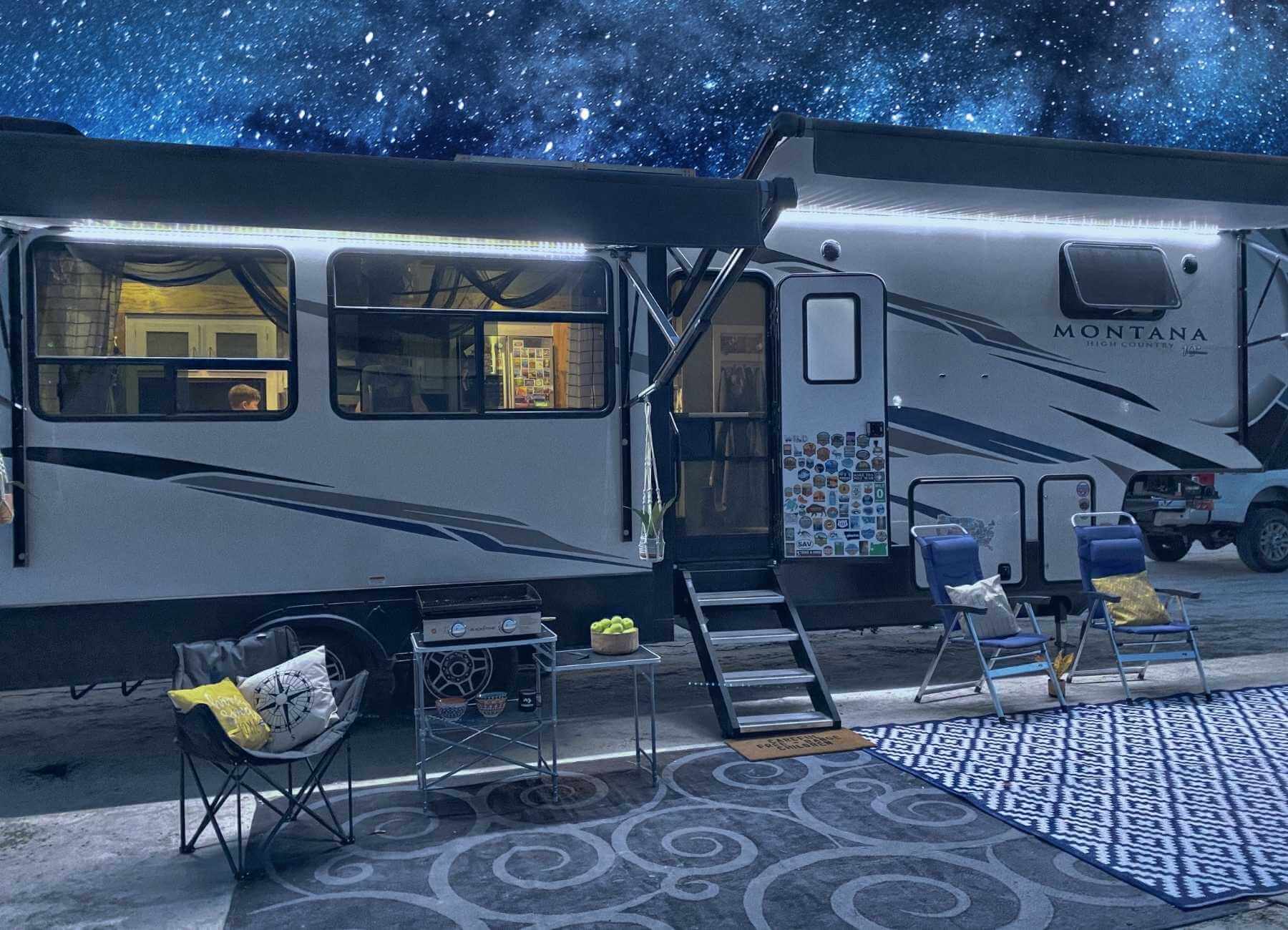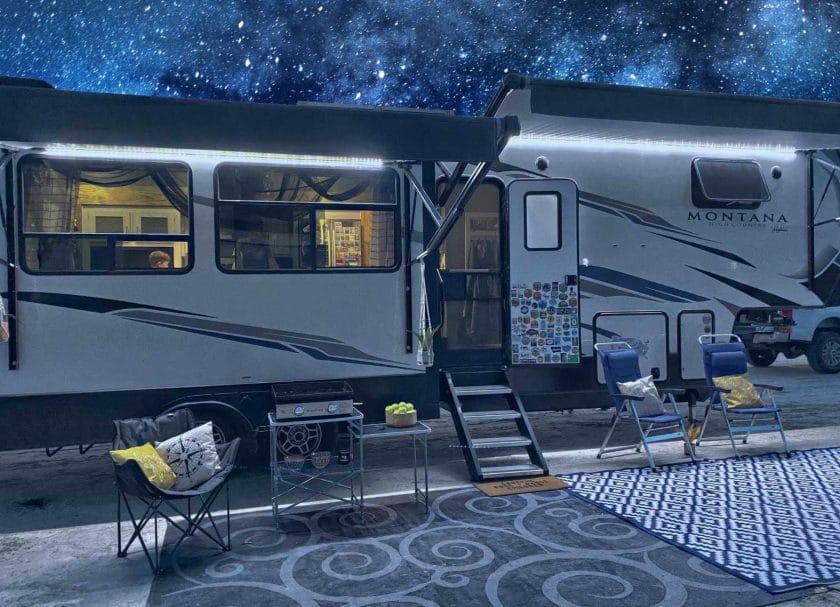 On our previous travel trailer, we had a conventional RV folding step. It felt like the whole trailer was tipping over when someone would go in or out. That all changed now that we have the StepAbove.
You can't even feel when people are going in or out with the StepAbove. More importantly, when you're the one going in or out, you feel stable and secure. This is so important to us since we live in our RV!
Quality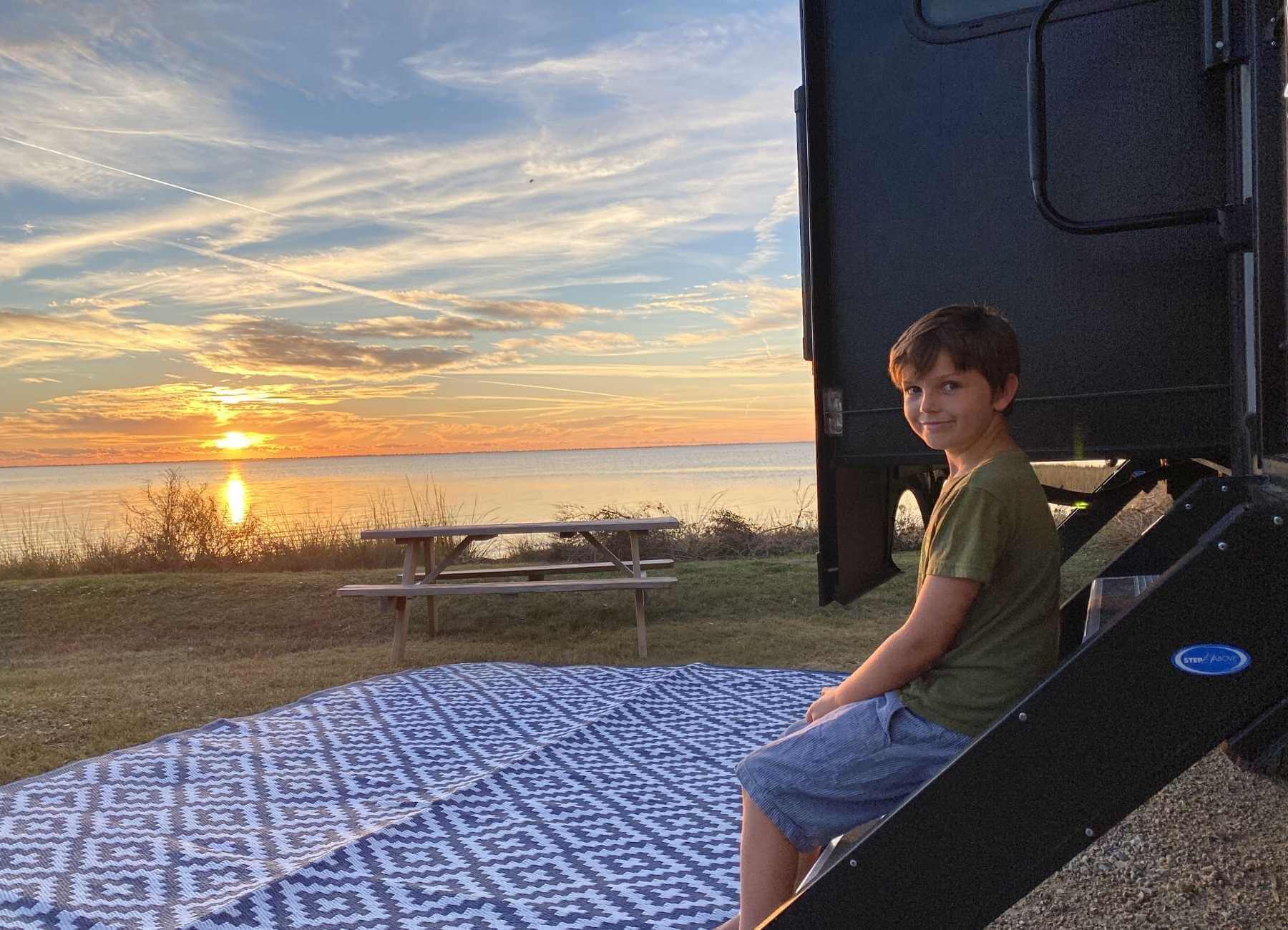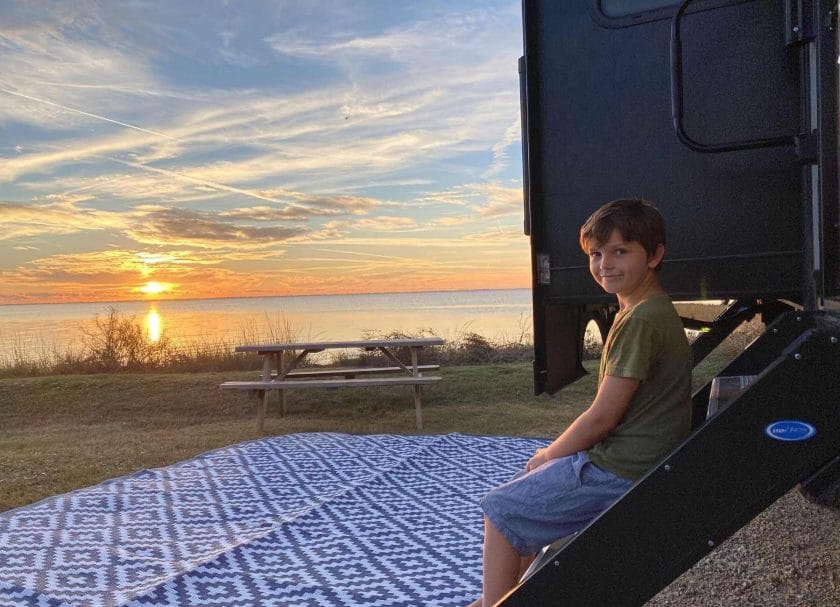 The quality of these camper steps is right on par with all the other products MORryde makes. They're exceptional.
The aluminum platform step is lightweight and very strong. They also have an anti slip strip on them to help with footing while going up or down the steps.
The powder coated rails are protect the steps from rust and have a great look to them. We've had these steps for almost 9 months and they look as good as they did on the showroom floor.
We've also thoroughly tested the durability of these steps. With 4 kids who run up and down them dozens of times a day, not to mention all of their friends who do the same, I can vouch that our set of steps have stood up to that challenge.
There are many other brands out there that make similar products, like the Solid Step or a Stromberg Carlson Step Stool, which is more of a portable RV step, but none are made with the quality that MORryde provides.
Installation
Even though many newer trailers and 5th wheels come with MORryde's StepAbove steps from the factory, you can still install them on almost any model.
The first thing to do is to go through MORryde's Step Qualifier guide to make sure you get the steps that will fit your rig. Here, you're basically measuring the RV door width as well as the height the steps need to be from the door threshold to the ground.
They have 2 step models that range from 25 – 29 inch heights, 3 step models that range from 30 – 36 inch heights and 4 step models that range from 36.5 – 42 inch heights. They do not have a single step model.
Here is their guide on measuring all of this: MORryde StepAbove Measuring Guide.
After you have ordered and received the right fitting steps for your RV, next you'll remove your existing RV entry steps.
Next you place whichever StepAbove step assemblies you ordered centered in the doorway. Then slide it back 15/16″ back from the threshold and drive 2 screws in the outermost positions of the steps to temporarily hold it in place.
Next, close both the screen and outside door. Make sure there is no interference with the steps when they are closed. If there are no problems, screw the rest of the screws in to securely mount the steps.
Once it is fully mounted, open the doors and pull down the steps to be sure it is aligned properly and comes out perpendicular from the RV. If the steps don't touch the ground, the adjustable feet will extend to the ground as needed.
Operation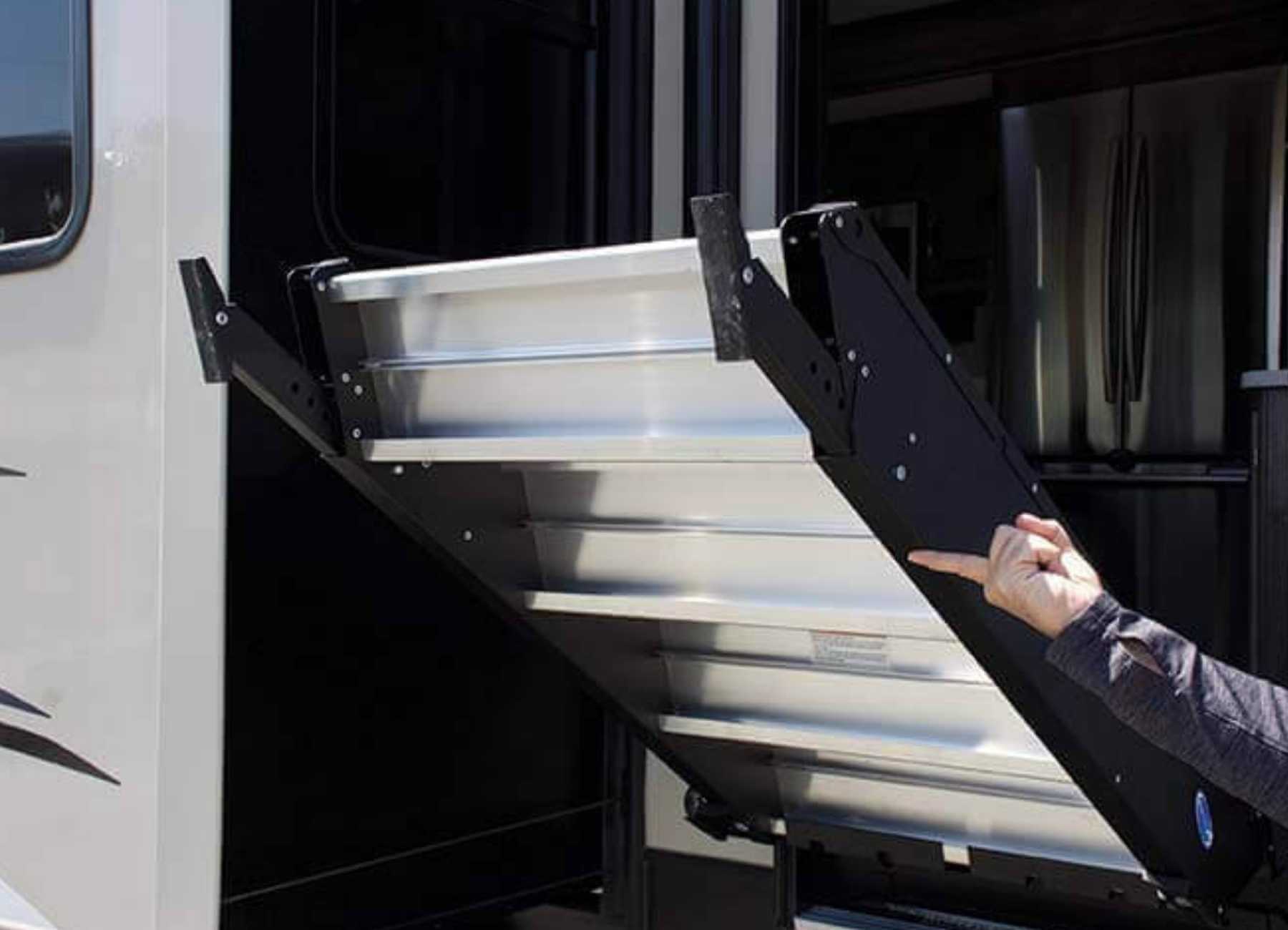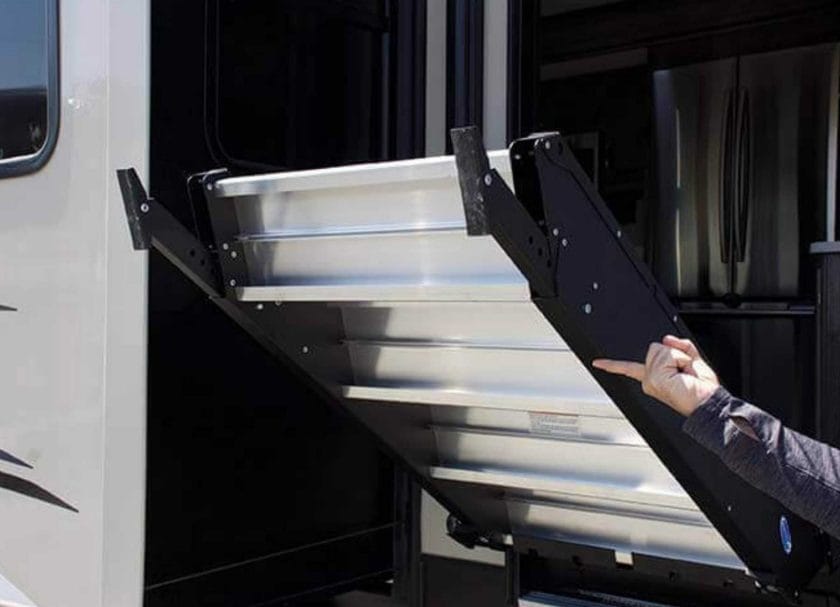 Now that the steps are installed, operation is a breeze. To deploy the steps, simply open the door, turn the locking handle, if you have one, and pull toward you until the steps are fully extended.
The legs have an adjustable height, so you may have to extend them to reach the ground. If you are on unlevel ground, the legs can be extended to different heights.
Putting the stairs away is just as easy. When you're ready to go, just lift from the bottom stair and swing it up into the doorway.
I like to give it a couple of shakes before putting it all the way upright inside the doorway to get all the dirt, dust or sand off of them before it ends up inside the RV.
Once fully inside, twist the locking handle if you have one and the door is ready to be closed.
A couple things to be aware of with these steps is that you should never try to raise the steps with the door closed as it can damage the door.
Also, if you are at a campsite that is unlevel enough to where you can't extend the steps all the way, your door may hit the steps upon closing. We had this happen to us a couple of times and were able to fix the problem by digging out around the feet of the steps a little bit so they could sit the holes.
Accessories
The StepAbove steps are pretty great on their own, but MORryde also offers a few accessories for the steps that really take them to the next level.
These accessories can come with your StepAbove steps when you order them or you can easily add them on later.
Strut Assist
The strut assist available for the StepAbove is a gas strut that attaches to the steps making it incredibly easy to raise and lower. It's so light, you can lift it with one finger.
We have this option on our steps and it allows our kids to easily raise and lower the steps without our help.
When the steps are stowed for travel, they stay put with the strut, which is another perk. We don't have the twisting lock on our steps because the strut holds it in place pretty firmly when it's put up.
Handrail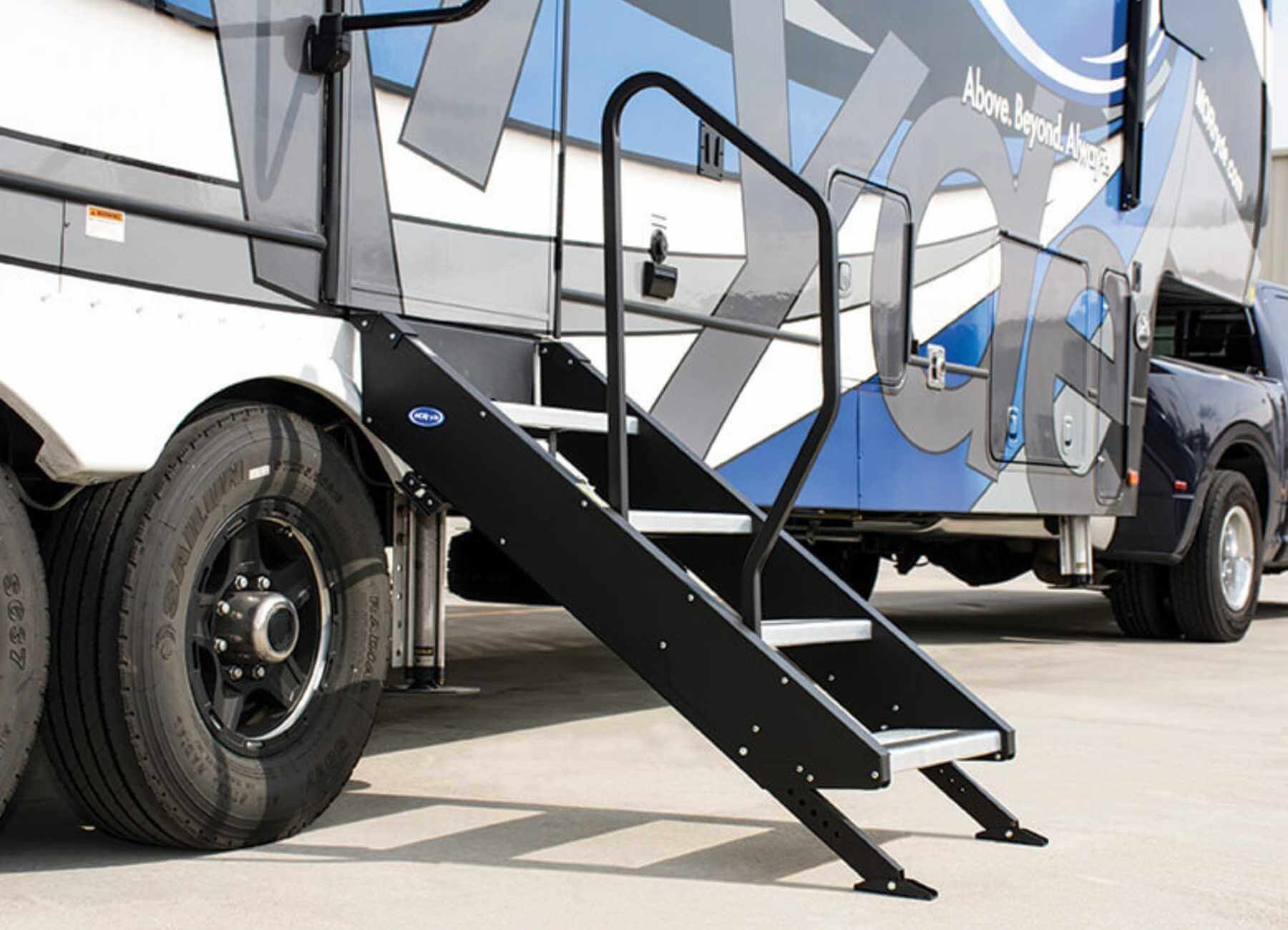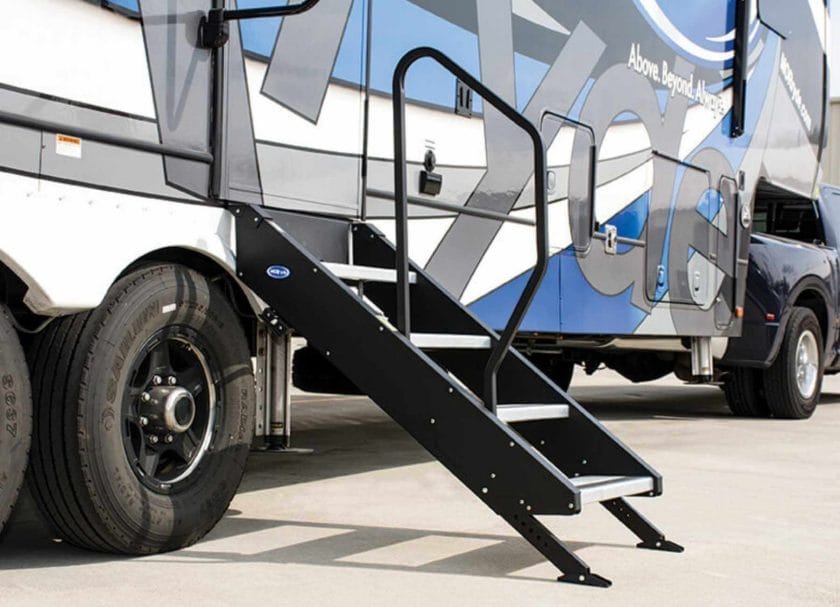 Even though the steps are super sturdy, having a handrail always helps when going up or down stairs. The StepAbove steps have an optional handrail that can be mounted to the steps, which is a great feature.
With just a few bolts, you can permanently mount the handrail to the steps. You can mount the handrail to either the left or right side of the steps depending on your preference.
Keep in mind that the handrail stays attached even when the steps go in. You need to have enough clearance for the handrail when the steps are inside.
Unfortunately we didn't have the clearance inside our RV for the handrail when the stairs are put in. There is a countertop that would interfere when closing in the stairs.
Depending on the number of steps you have, there are different handrails available. There is the 3 step model as well as the 4 step model.
They also recently introduced their safe-t-rail which looks amazing!
Motion Activated Lights
Having a well lit set of RV steps is very important to keeping your footing while going in or out. MORryde offers a set of motion activated lights that attach to each step of the StepAbove.
With just a few screws, you can install a set of these lights on your stairs in minutes. The motion activated LED lights that have built in daylights sensors last months on just 2 AA batteries.
To change the batteries, just pull the light off the magnetic strip and swap them out.
We really like these lights on our steps. We have a 4 step StepAbove, so you don't want to miss one and take a tumble!
Storage Box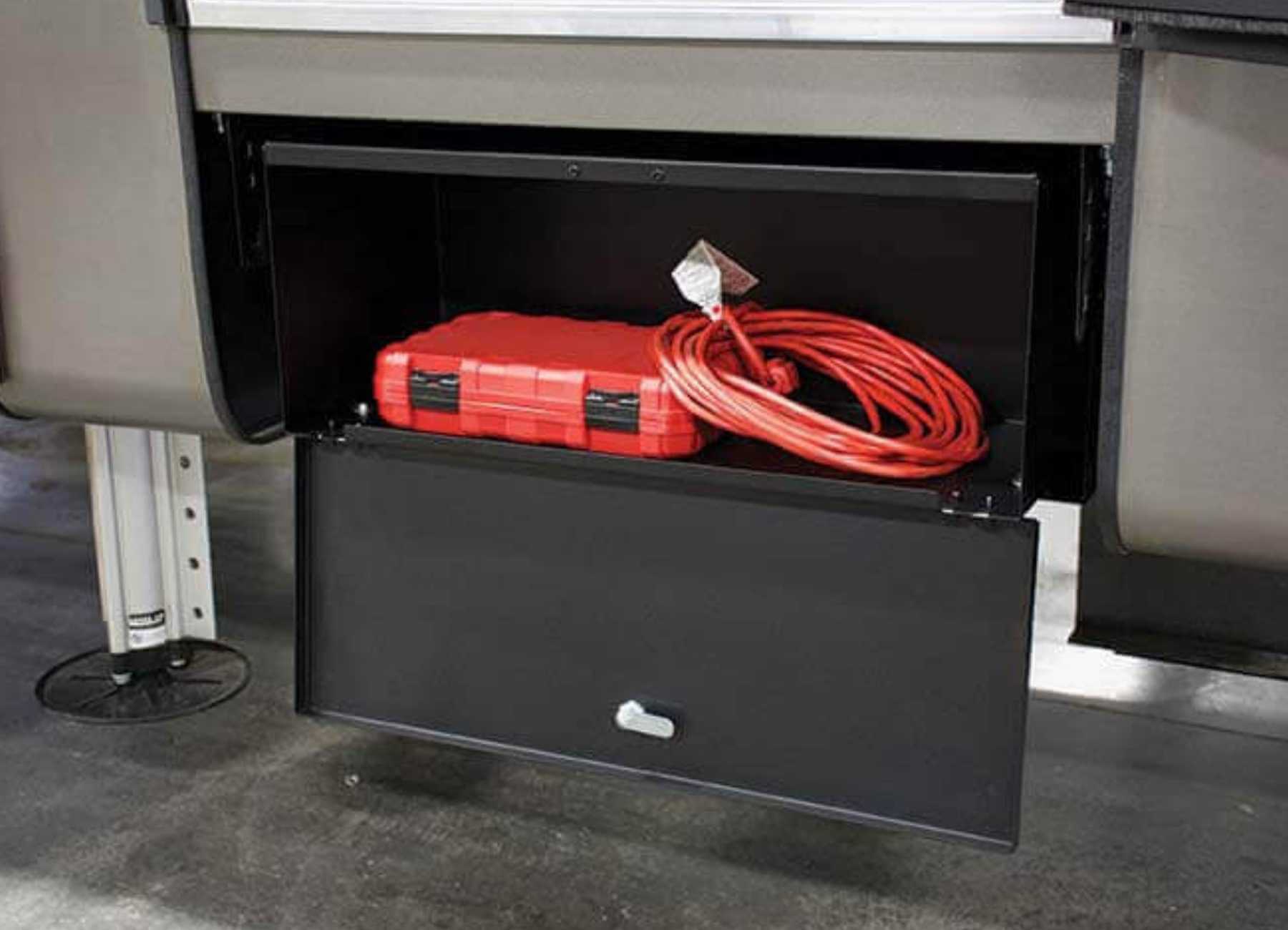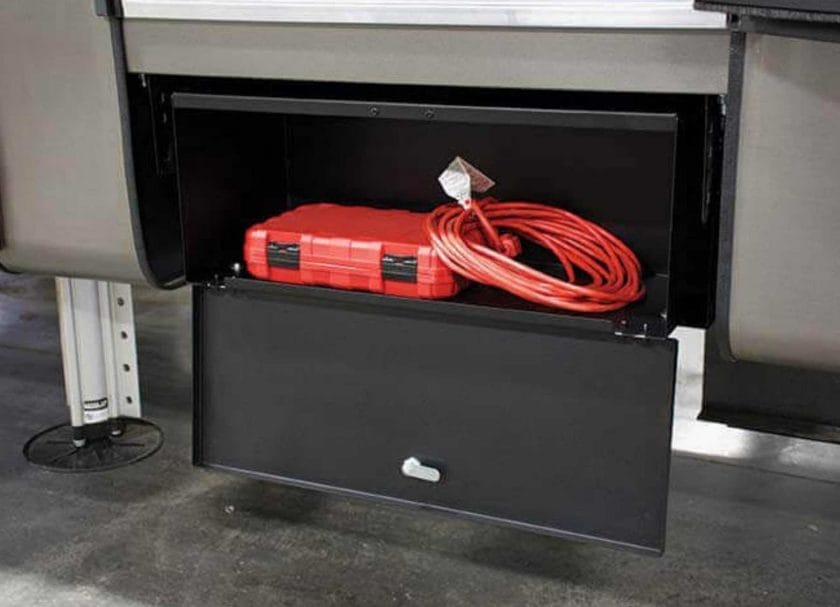 When you For those who upgrade their existing RV or portable steps, there can be a bit of a hole left on the side of your RV where you removed the old steps. I know how valuable storage space is, so MORryde came up with a great way to re-use that space.
The Step Storage Box fits perfect in that space and can hold up to 50 pounds of stuff. A perfect storage space for those odd items that just don't seem to have a home anywhere else. Things like leveling blocks, tools, etc.
After having these MORryde RV steps for a while now, I can say they are worth every penny. Ever since transitioning to a travel trailer, I've been super annoyed by folding RV steps. The StepAbove definitely solved that problem!
Our combination of the StepAbove, strut assist and motion activated lights is a great combination and is just a very nice touch that makes our camping experience that much better!
Be sure to check out MORryde and grab yourself a set of their StepAbove steps. You won't regret it!
Pin it for later!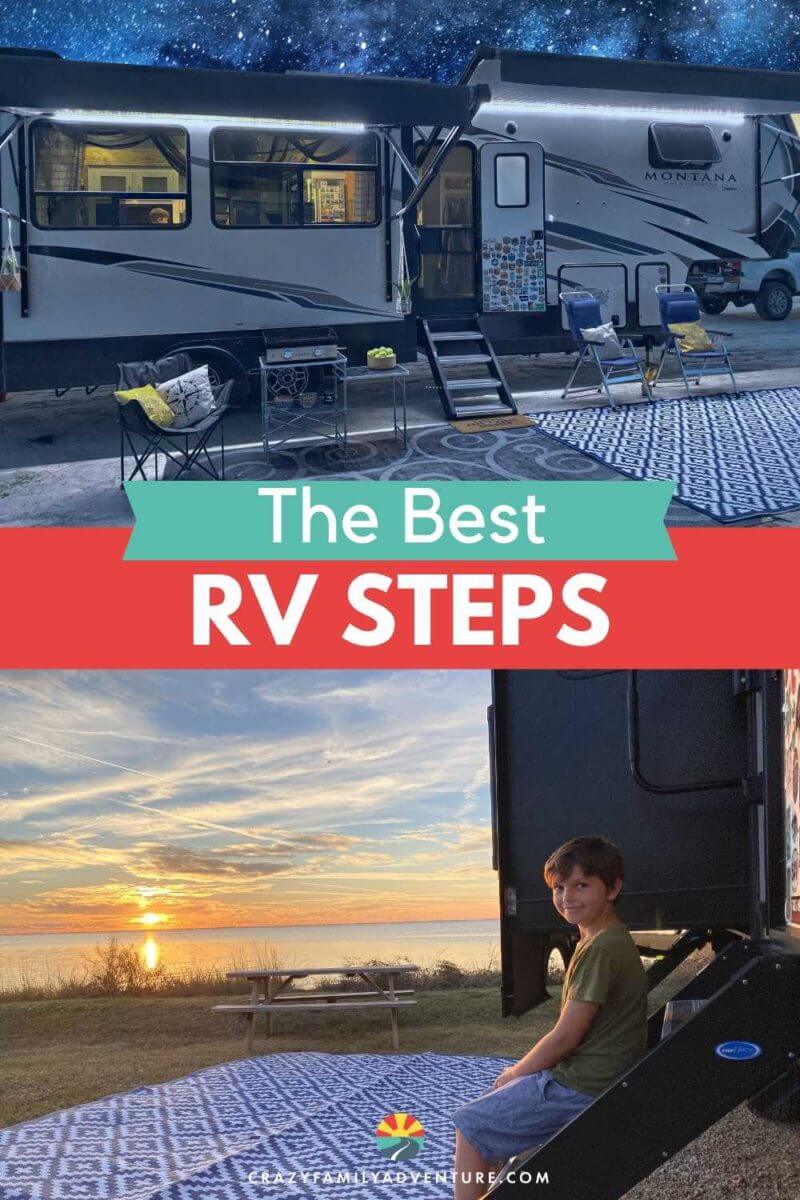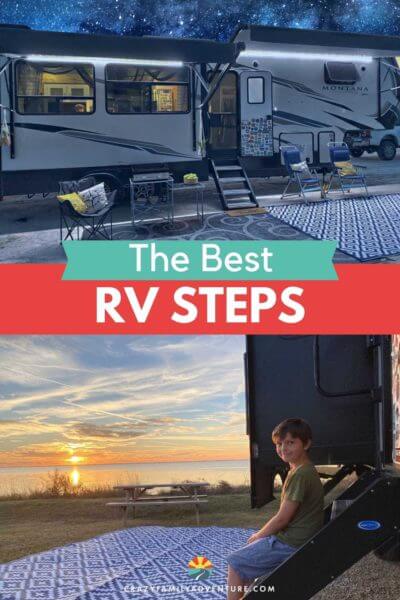 DISCLOSURE: This post may contain affiliate links, meaning I get a commission if you decide to make a purchase through my links, at no cost to you. Please read my disclosure for more info.