One of the most important things when you head out to go camping or RVing is having awesome accessories to make your trip even better!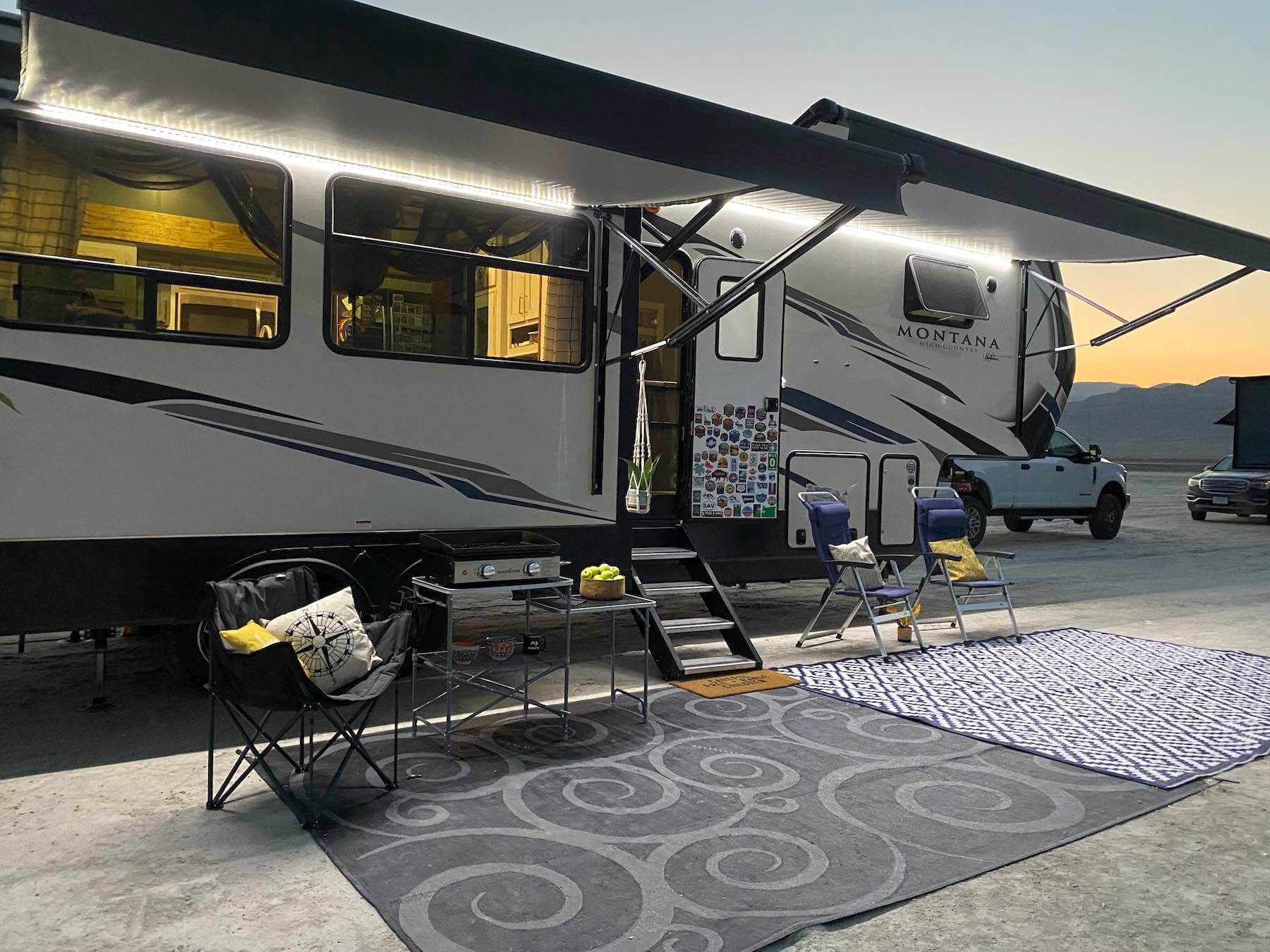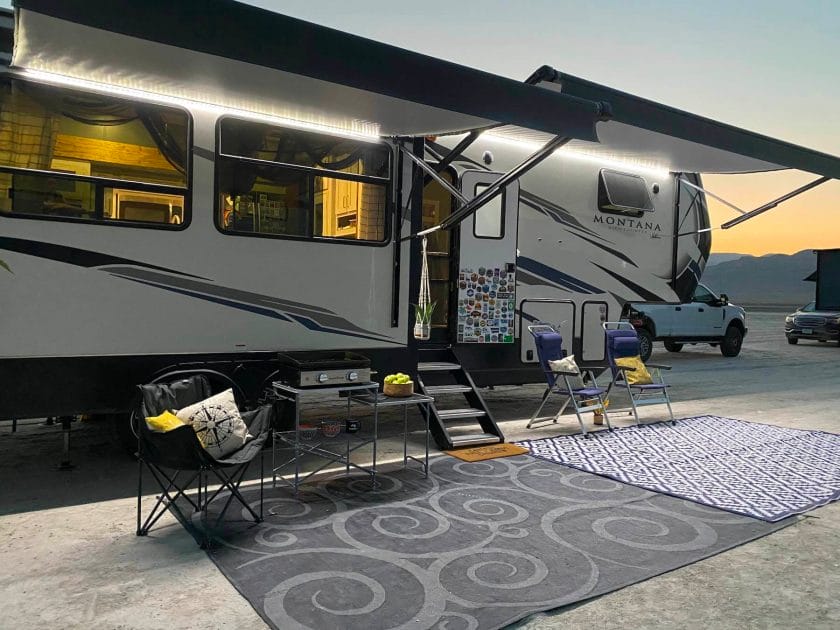 We have been on the road for over 6 years so we have had our fair share of camping chairs and outdoor accessories. Below we will share our thoughts on Dometic's line of outdoor products.
Camping Chairs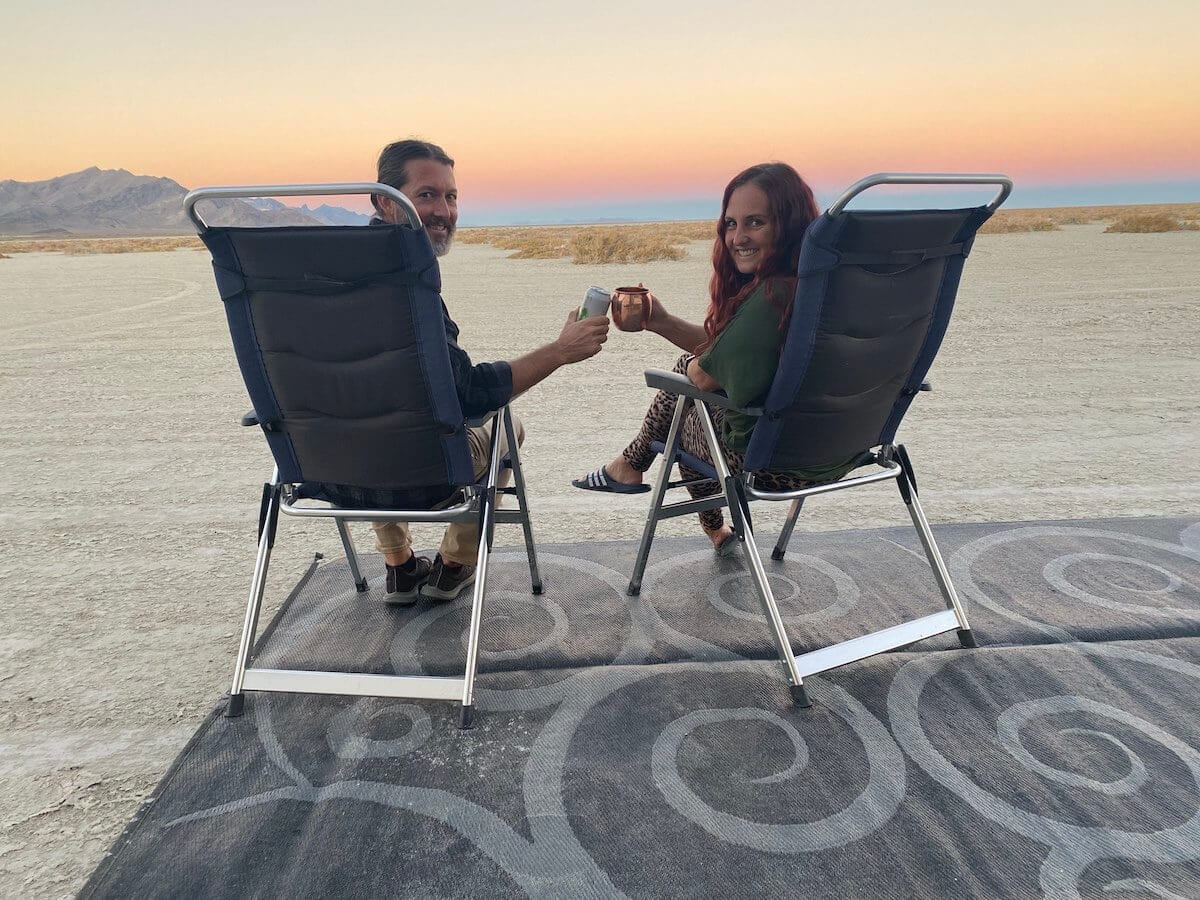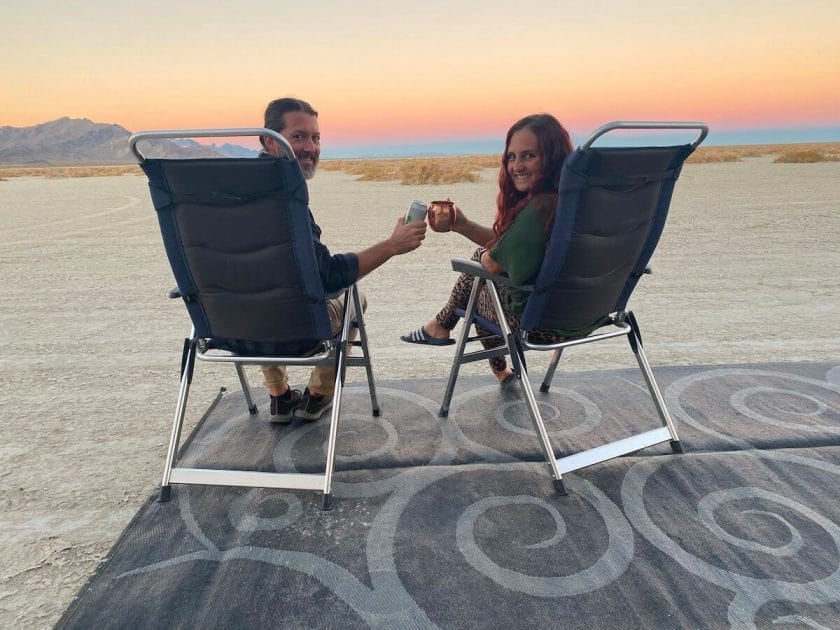 If you are a camper/RVer you know how important your camp chair is! You spend a lot of time sitting in it either for morning coffee, an afternoon break, happy hour or sitting around the campfire at the end of the day.
For this reason you want a comfortable chair! We tested out the Dometic Quattro Milano chairs and they are great! They have a high back with an adjustable pillow for your head. You can also easily tilt them back for when you really want to get some relaxing in.
They also fold up nicely so they are easy to store. If you like to sit and rest your head back these chairs are a perfect choice. If you want even more comfort you can get the matching foot rest as well.
We also tried out the Dometic Tub 180 and this is a more boxy chair that gives a lot more room for sitting and spreading out. I love this chair since it means there is room for a kid to comfortably sit on my lap.
If you are someone that often has little ones (or bigger kids) running to jump on your lap than this is a great option for you!
Outdoor Kitchen Table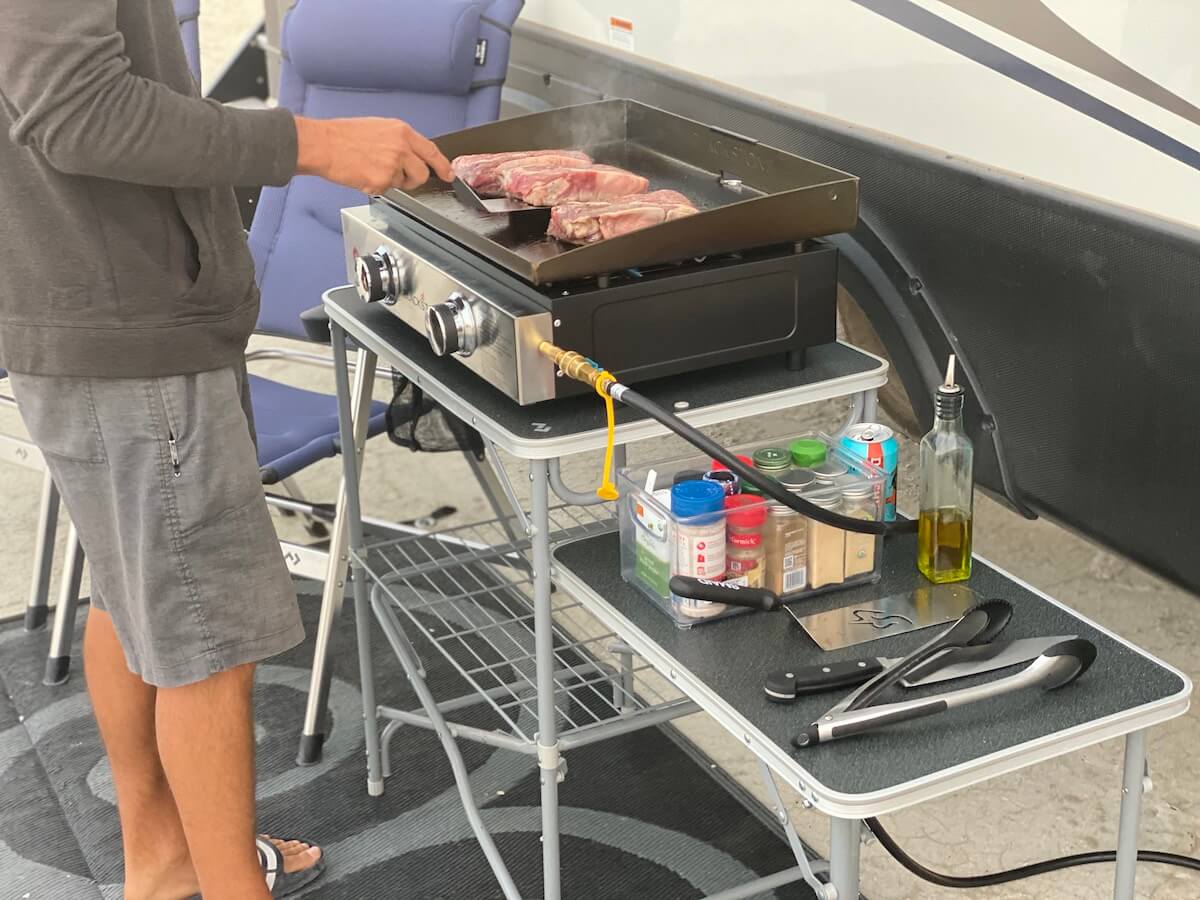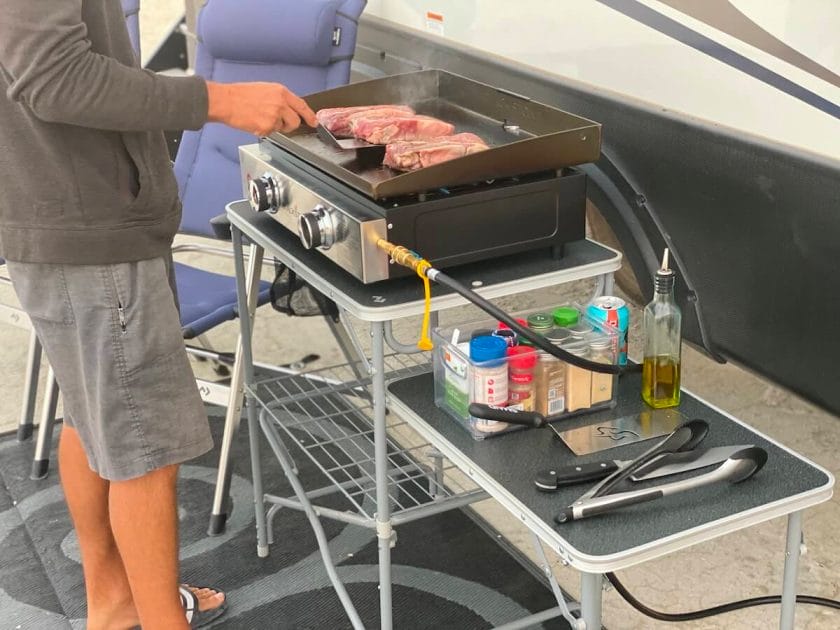 We had gotten a Blackstone Grill and were looking for a great kitchen table to use to make it easier to cook on the Blackstone. In came the Dometic Colonel Field Kitchen.
This table is great as there is room to put the grill on top and you still have multiple other places that you can put things. There is a rack below the main table top that can be used for storing plates.
There is also a side table where you can put your grilling accessories and a netted bag on the side for anything additional you want out with you while you are cooking.
This field kitchen folds flat with the rack, bag and table tops fitting nicely into a storage bag. The whole thing is light weight, but sturdy enough to hold a heavy Blackstone with no problem.
Having an outdoor kitchen has made it easier and more enjoyable to get the grill out and cook up some delicious meals.
Outdoor Table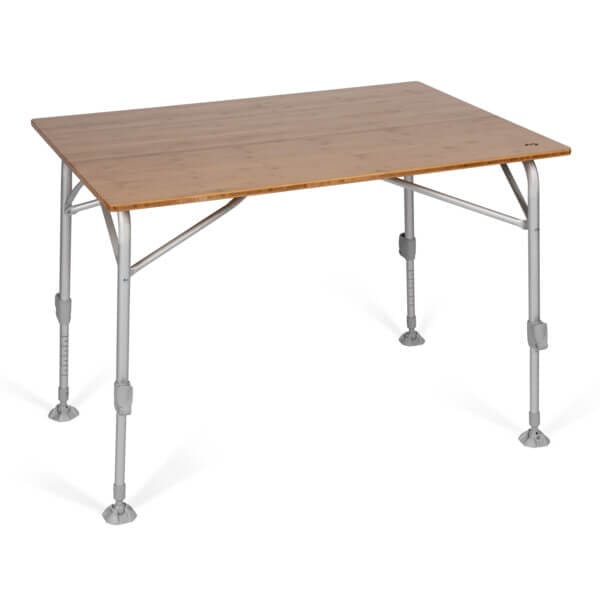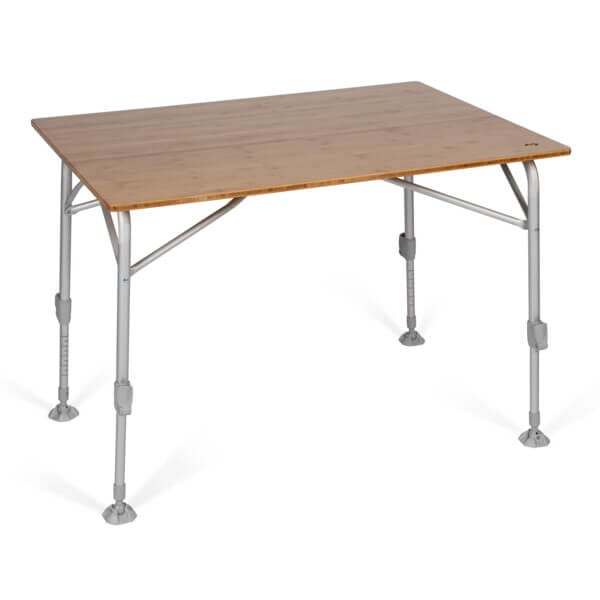 We like to do a lot of boondocking. Boondocking is camping in places to camp that don't have any hookups. What this normally means is there also aren't any picnic tables my our campsite.
The outdoor Dometic bamboo table is a perfect alternative! You can set it up right in front of your site and you are all set for a place to eat your meals, set your drink or play a board game with the kids.
The table is a great size for eating or using as a serving table, but folds down very compactly to store in your rig or vehicle. The table is very strong and sturdy with the frame made out of aluminum and the table top being bamboo. This is also great because it is light weight and won't add too much unneeded weight to your carrying capacity.
Tent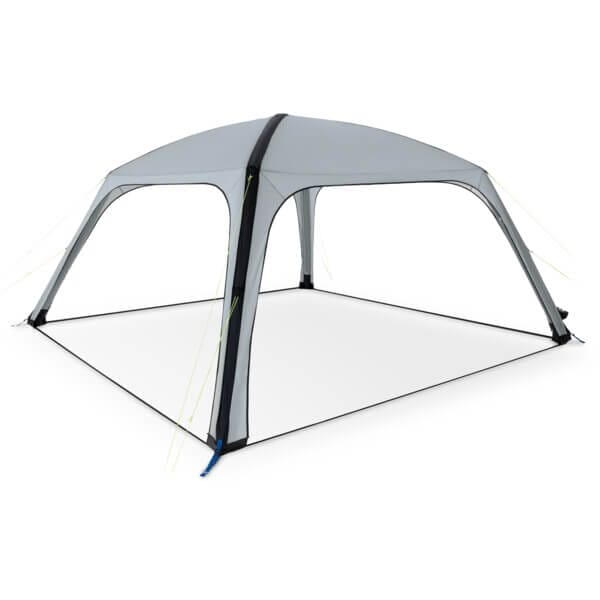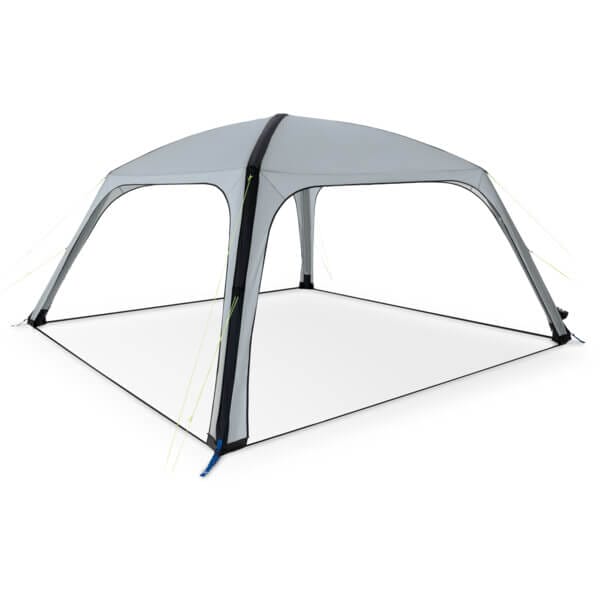 These outdoor tents are a perfect accessory to have with you while you are out RVing. There are many nights where the temperature drops and makes it pretty chilly to sit out around a fire.
With this Dometic Air Shelter 400 you can put your propane fire pit right inside and it warms up nicely. It is basically a portably outdoor living room! During the day you can have it open so a nice breeze can circulate through, then when the temperature drops as the sun goes down you can easily zip on the side panels to close up the shelter and keep the warmth in.
We have spent many nights hanging out in a tent and enjoying a late night fire or meal with friends.
Before heading out on your next camping adventure be sure you have all of these awesome accessories to make the trip even more enjoyable!
Dometic also has great slide toppers for your RV slide-outs and RV awnings
This post is in paid sponsorship with Dometic.
More RVing posts:
RV Living – 68 Things You Will Want To Know [Free eBook]
Why Having An RV Surge Protector Is An Absolute Must!
The Best Trailer Hitch On The Market – ProPride 3P
Keystone Montana – 7 Owners Share What They Love About It
40+ Helpful Tips For Planning An RV Trip
21 RV Apps That Are Super Helpful For Your RV Trip
DISCLOSURE: This post may contain affiliate links, meaning I get a commission if you decide to make a purchase through my links, at no cost to you. Please read my disclosure for more info.